Fashion
NARS Cosmetics Holiday 2023 Collection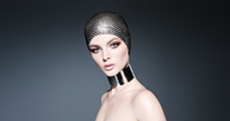 'Tis the season to dazzle, and what better way to make a statement than with the NARS Cosmetics limited edition Holiday 2023 Collection. This collection is a curated blend of bestsellers and rising stars, featuring exclusive, radiant sets. The 'Endless Nights Eyeshadow Palette' promises an unforgettable night with its nine highly pigmented, seductive eyeshadows. From shimmering neutrals to vibrant pinks and violets. Embrace the festive spirit with captivating colours like "Let Loose," a shimmering peach-champagne, and "Starlet," a glittering bronze gold. 'All That Glitters Light Reflecting™ Cheek Palette' is a limited-edition palette featuring six vibrant Light Reflecting™ blush shades, adorned with glitter for that extra touch of glamour. From the metallic cool pink of "Silver Screen" to the satin terracotta-red of "Sabrina," each shade is carefully curated to enhance your natural glow. In other news, NARS proudly marks the 10th anniversary of the essential Radiant Creamy Concealer, with a commitment to inclusivity, the Concealer boasts an extensive range of 30 shades, catering to all skin tones. What sets this concealer apart is its infusion of Multi-Active Botanical Blend Technology, tightening the skin, reducing redness, and fortifying the skin barrier. Its availability in a mini size makes it the perfect on-the-go companion. Discover the timeless Radiant Creamy Concealer and the Holiday 2023 Collection as a celebration of all things glitter, glamour, and boldness.
www.narscosmetics.com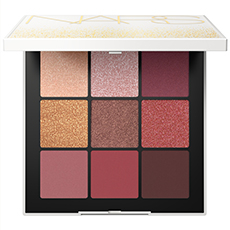 Fashion
Stüssy & Levi's Infused Capsule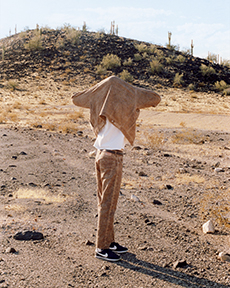 In a nostalgic nod to their Californian roots, Stüssy and Levi's have collaborated once again, blending Stüssy's distinctive design ethos with Levi's classic garments. The result? A captivating capsule collection featuring trucker jackets and jeans in three striking colourways: black, brown, and pink. Crafted from jacquard fabric and adorned with two-tone garment dyes, each piece exudes a one-of-a-kind charm, reminiscent of washed vintage aesthetics. The Stüssy & Levi's collection drops on Friday, November 10th available for purchase on both stores and websites. Levi's has been an emblem of timeless American style and continues to evolve with a relentless commitment to innovation. Stüssy, born from the Southern California surf scene in the late '80s, reshaped casual wear with a unique ideology. As Stüssy resonated with an international network of creatives—musicians, skaters, DJs, and artists—the brand's ethos spread globally. These brands merge seamlessly resulting in an innovative collection with trendy pieces.
www.levis.com 
Fashion
Breitling's Avenger Collection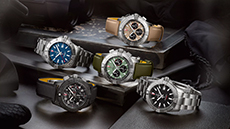 For more than two decades, Breitling's Avenger has soared through the skies as a symbol of precision, durability, and unparalleled design. The new Avenger collection, recently announced in a press release by CEO Georges Kern, is set to redefine aviation watches with its elegant detailing, wear-resistant materials, and the formidable Breitling Manufacture Caliber 01 in the chronograph models. The watch pays homage to the brand's pioneering HUIT Aviation Department, which crafted precision instruments for aviation and pilot chronographs. The collection, available in three versions - 44mm Chronograph, Automatic GMT 44mm, and Automatic 42mm - promises not just style but substance. The Avenger B01 Chronograph 44 and Night Mission, powered by the Breitling Manufacture Caliber 01, boast a 70-hour power reserve, a five-year warranty, and COSC certification. The bold design choices, including coloured dials and a stainless steel rotating bezel, make a statement both in and out of the cockpit. The Avenger Automatic GMT 44, tailored for pilots and frequent travellers, features a red GMT hand for easy Zulu time reading. With a steel case and a choice of dials, it's a compact companion for globetrotters. The Avenger Automatic 42, a well-balanced timepiece in a 42mm diameter, offers robustness in a compact form. Its COSC-certified mechanical automatic movement ensures precision, while design options cater to varied tastes. The Avenger can withstand the toughest conditions in the cockpit and never backs down. The redesigned collection is not just a watch; it's a statement, ready for action-packed adventures in the sky.
www.breitling.com
Fashion
Montblanc StarWalker SpaceBlue Collection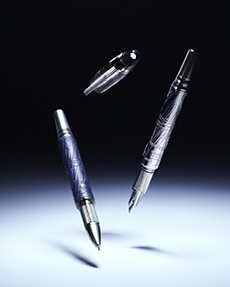 Embark on a cosmic journey with Montblanc's latest masterpiece, the StarWalker SpaceBlue Collection, where the allure of the universe converges with the art of fine writing. This collection pays homage to the marvels of space, drawing inspiration from the mesmerizing beauty of galaxies and the enigmatic Widmanstätten structure found in iron meteorites. The central design element of the SpaceBlue Collection, the Widmanstätten structure, is a testament to Montblanc's commitment to innovation. Whether recreated through an injection moulding technique in precious resin or etched in metal, the structure's tactile feel and midnight blue hue echo the mysteries of the night sky. Comprising three distinct editions, including one in matte blue textured precious resin with dark ruthenium-coated fittings, a Doué edition blending textured resin with a metal cap, and a metal-only edition, each instrument in the collection promises a unique and immersive writing experience. To complement the writing instruments, Montblanc introduces a lined notebook in blue leather with the special Widmanstätten pattern, alongside matching dark blue ink. The collection is perfected with steel and lacquer cufflinks featuring the characteristic translucent StarWalker dome design. It is available at Montblanc boutiques worldwide and online, inviting enthusiasts to discover the celestial allure of fine writing. As galaxies remain uncharted territories, this collection invites you to explore the mysteries of the cosmos and pen captivating stories with its modern aesthetics and innovative technology.
www.montblanc.com
Art
Brionvega Exclusive Cherrywood Finish for rr26 fo-st Radiofonografo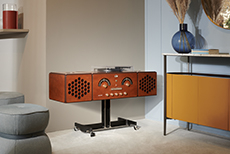 In a celebration of timeless design and craftsmanship, Brionvega introduces the Cherrywood finish for the iconic radiofonografo, originally designed by the Castiglioni brothers in 1965. Limited to only 100 numbered pieces, this exclusive edition invites passionate enthusiasts to become the custodians of a truly unique art piece, destined to be cherished across generations. Following the global success of the limited Canaletto walnut edition in April 2023, the Cherrywood finish is set to captivate aficionados with its dual nature—symbolic of strength and compactness, yet embracing the gentleness and elegance associated with cherry blossoms – a tree representing rebirth and beauty. Each radiofonografo undergoes meticulous handcrafting in Italy, the natural grain of the cherry wood adds a unique character to every piece, elevating the radiofonografo into an embodiment of rare and timeless beauty. Available for customer orders from July 1, 2023, this limited series offers partners an exclusive pre-order opportunity in June 2023. Brionvega's commitment to sustainability is reflected in the concept of creating products designed to be enjoyed for a lifetime and beyond. As Brionvega continues its mission to globally relaunch the icons of Made in Italy design, the Cherrywood radiofonografo stands as a testament to the brand's dedication to the preservation of timeless beauty.
www.brionvega.com
Fashion
Casio and G-SHOCK Launch the New MR-G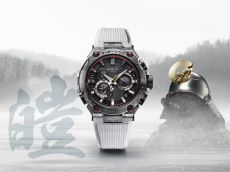 Casio releases in Tokyo the MR-G, a new watch whose design is inspired by the iconic Kabuto Helmet, specially crafted for G-SHOCK 40th anniversary. The G-SHOCK limited edition of the watch is available with only 700 pieces worldwide, and is a new addition to Casio's MR-G series. The design of the watch is a tribute to the traditional Japanese combat band Ito Odoshi, exactly because of the white band, while the bezel is engraved with a tiger design, which evokes the strong determination of samurai warriors that stay true to their own convictions. The concept and idea behind the watch, is to deliver the ultimate technology and art in toughness-driven watches: indeed, the new MR-G elevates itself as the pinnacle of the G-SHOCK brand, crafted down to the smallest detail and incorporating the newest technologies in terms of watch resistance and metalworking techniques. In addition, Casio superimposed the kabuto helmet in the design of the watch, symbolizing both strength and functional beauty, while the shock-resistant construction of the watch embodies bold determination thanks to the white band featuring a bezel engraved by a master metalsmith, also showcasing a tiger design. Overall, Casio's new MR-G watch in collaboration with G-SHOCK symbolizes passion and success, resulting in a beautiful commemorative timepiece.
www.casio.com
www.gshock.com

Art
Hublot Design Prize 2023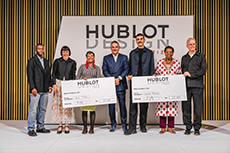 Hublot, the renowned Swiss luxury watchmaker, recently held the prestigious Hublot Design Prize award ceremony at the new extension of the Kunsthaus Zurich on October 2nd. Since its inception in 2015, the international competition has recognized and celebrated original design, with a focus on designers under 40, spanning diverse realms of creative expression. This year's ceremony witnessed the spotlight on two exceptional talents. The Hublot Design Prize 2023 was awarded to Aqui Thami, whose fluid multidisciplinary practice encompasses graphic and social design, art, and performance. The jury commended Aqui for her deep activist engagement, evident in every aspect of her work, showcasing a profound social impact and inspirational approach. The Pierre Keller Prize found its deserving recipient in Gabriel Fontana, lauded for his innovative use of sport as a catalyst for redefining societal roles and norms. Fontana's work aims to create a positive impact, challenging preconceived notions of identity and inclusion. His exploration extends to developing non-stigmatizing clothing for sports and community activities. The Hublot Design Prize serves not only as a recognition of exceptional talent but also as a springboard for young designers' careers. The ceremony at Kunsthaus Zurich brought together the six finalists, the esteemed jury, and an invited audience, marking another milestone in the ongoing commitment to celebrate and foster creativity on a global scale.
www.hublot.com
Fashion
BOSS | Samsonite Aluminium Capsule Collection
In a harmonious fusion of elegance and durability, BOSS and Samsonite have joined forces to create a capsule luggage collection, ensuring that you can always travel in style. This collaboration marries BOSS's commitment to bold, self-determined style with Samsonite's legacy of durable travel solutions, reflecting premium quality, innovation, and timeless design. Crafted from high-quality aluminum, the BOSS | Samsonite shells are embellished with an anodized signature BOSS monogram pattern in a tone-on-tone black motif, adding a sleek luxury touch. The interior features the iconic BOSS camel color, complemented by prominent branding and adjustable packing straps for convenient organization. What sets this collection apart is not just its aesthetic appeal but also its thoughtful design for fashion-forward explorers. Co-branded leather handles, paired with high-performance wheels, a secure TSA lock, and the option to add your personalized touch through initials, exude sophistication. Samsonite CEO Kyle Gendreau expressed excitement about the collaboration, emphasizing both brands' dedication to delivering high-performance products. The luggage seamlessly aligns with the new BOSS FW23 collection. Available in limited edition from October in select BOSS and Samsonite stores and online, the BOSS | Samsonite capsule collection offers four models, including a cabin, two check-in suitcases, and a trunk. For those who refuse to compromise on style, this collaboration is a passport to jet-set elegance, marking a new era in the intersection of fashion and travel. As the collection extends its availability in 2024, it promises to continue offering fashion-forward travelers the perfect blend of sophistication and functionality with ever-lighter and stronger products.
www.samsonite.de/boss_samsonite/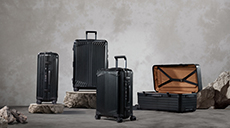 Fashion
Paris Fashion Week - Dior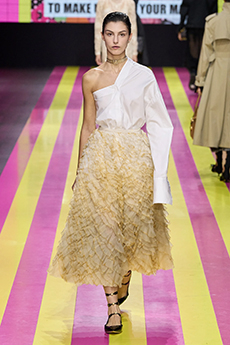 Maria Grazia Chiuri, the creative force behind Christian Dior, delves into the intricacies of time and feminism in her SS24 collection, seamlessly weaving together past, present, and future. In a collaboration typical of Dior's visionary approach, Chiuri joins forces with artist Elena Bellantoni in designing the show's space. 'NOT HER', the video installation covering the walls in an electric mix of pink and yellow, is unmissable. The 7-meter-high LED screens respond to sexist advertisements with counterpoint phrases challenging the dominant stereotype. From the neon pink and yellow hues to the dark, Parisian neo-grunge vibes on the runway, Chiuri's vision is a powerful statement against the conventional norms of fashion. The collection draws inspiration from iconic women rebels like Ingrid Bergman and Maria Callas, bringing a sense of empowerment to the designs. Opening with a statement of black lace gowns, metallic knitwear and bewitching accessories, all elements converge to create a spellbinding visual journey. Witches as custodians become emblematic figures in this narrative—symbols of feminine strength and independence. The Middle Ages provide a historical backdrop, interpreted in an abstract and contemporary manner. Prints and embroideries draw inspiration from the celestial, featuring phases of the moon, suns heralding seasons, medicinal herbs, and fantastical animals. A modern twist acknowledging Dior's historical Bar jacket and '50s haute couture, the iconic jacket is transformed with eased waists and frayed hems, and the pleated New Look circle skirt is disrupted with leg-flashing slits and bold prints. Chiuri rejects the notion that collections must adhere to a single reference: beyond being a showcase of fashion, they hold the duty to empower women. SS24 reflects the need for fashion to be relatable, the exploration of feminism through time and the rebellious spirit of witches, offering a wardrobe that allows the personalization of style.
www.dior.com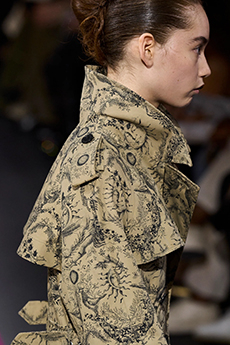 Fashion
Milan Fashion Week - Ferrari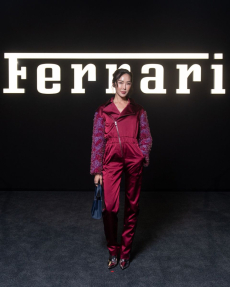 Ferrari unveiled its SS24 collection at Teatro Alcione during Milan Fashion Week, focusing on the power of desire. Connecting to the strength and the passion that has always driven Ferrari, the collection focuses on the unconditional passion and the continuous dedication that traces the contour of the legendary brand. The collection is built around a sentiment that constantly strives for excellence and elegance, be it in design, performance, or innovation. Ferrari's Creative Director Rocco Iannone leans towards a new dimension of complex simplification, focusing on feelings that guide the path to emotions, resulting in a collection that exudes Ferrari's powerful allure through fashion. The brand's style codes, racing, workwear, and tailoring, are filtered through the creative director's lens putting the body and its silhouette at the center stage. The silhouettes are carved, molded, and exaggerated through volumes and sharp lines, which also contribute to the dynamic feel of the garments. Iannone goes to the core of forms and materials, de-saturating colors to emphasize the shapes. Through tightness and voluptuousness, a new language of the body is born as a symbol and the expression of the brand's perpetual desire to create, innovate, and communicating the passion that drives it.
www.ferrari.com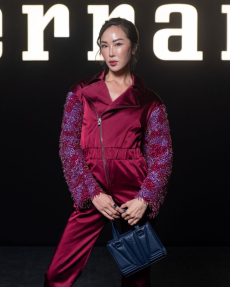 Fashion
Milan Fashion Week - Bottega Veneta
The Bottega Veneta Summer 24 collection presented at the Milan Fashion Week is the continuation of a journey of transformation and escape following the vision of Matthieu Blazy, Bottega Veneta's creative director. In this collection, the travel is both literal and metaphorical, encompassing an array of influences from all over the world. The models traverse the world of the show walking across the continents and oceans that spread before them in a quest for inspiration through dislocation, at the border between reality and imagination. The trope of the journey becomes the emblem of the effortless passage between ordinary and extraordinary, encompassing both the manmade and primitive world. The clothing showcases the ethereal nature of this journey through simple silhouettes that challenge the notion of "getting changed". Clothing from the previous season is metaphorically shed, brought in oversized, basket-woven intrecciato bags. The collection explores all kinds of journeys, from the city commute to the journey of a castaway. The notion of a "national dress" transforms into that of an "international dress", which borrows and takes inspiration from cultures all over the world. Newspapers are morphed into foulard bags, and highly crafted leathers take on a new meaning, in this collection where everything appears to be possible.
www.bottegaveneta.com
Fashion
Milan Fashion Week - Diesel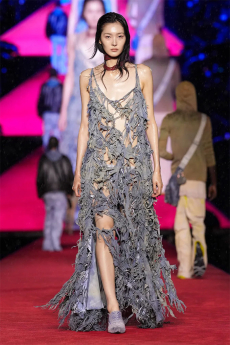 The Diesel fashion show, held on September 20th at the Milan Fashion Week presenting the brand's SS24 collection, was an ode to the brand's creative spirit. The brand's newest collection takes as its main inspiration partying and letting loose. One's truly authentic self and the beauty of freedom are reflected in the garments of the collection and in the attention and care that went into the fashion show. The main pillars of the collection are impact, experimentation, play, and pleasure. Diesel hits the nail on all these characteristics, presenting a unique collection that showcases once again the creative spirit and ability of the brand's creative director, Glenn Martens. The brand's love for denim, pop, and artisanal craftsmanship is pushed to the limits with unique distressing effects on every garment, devoré denim, and floral prints. Utility pieces feature zip-up denim and cargo pockets held together by straps, adding an edgier side to the pieces. Through this collection, the House of Diesel once again confirms its ability to surprise, engage, and innovate. Every garment and outfit is a pop culture statement, staying true to the brand's pillars and yet always innovative. The feel of the collection is that of a fading film poster, nostalgic yet always relevant and reflective of pop culture.
www.diesel.com
Fashion
Valentino Black Tie Campaign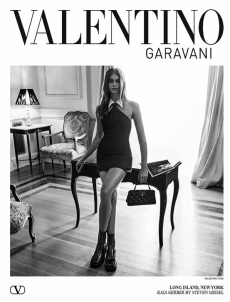 The Italian maison Valentino presents its new Black Tie advertising campaign. The brand's concept is centered around the description and the codification of a style, not simply a dress code. The face of the campaign is American actress and top model Kaia Gerber, who with her effortless beauty and impeccable style perfectly embodies the character and personality of Valentino's Black Tie campaign, which represents the universal language of fashion. The campaign was shot by Steven Meisel at Oheka Castle in New York, a place that symbolizes the Maison's attention towards timeless fashion and style that is perennially elegant. Through Valentino's creative director Pierpaolo Piccioli, the black tie is reclaimed as a symbol of self-expression, which, from its traditional association with formal menswear, becomes a versatile and outspoken piece. In Valentino's campaign, the black tie stands for individual representation and the breaking of solidified boundaries that are reclaimed, and thus hold a different, stronger power. The reinterpretation of the black tie as an element and as a symbol represents a shift towards inclusivity and diversity, imbuing this classic symbol with new meanings. The campaign perfectly represents the shift between past and future, maintaining elegance while at the same time gracefully embracing what is to come.
www.valentino.com
Fashion
Louis Vuitton Presents Fantastical Jewels by Francesca Amfitheatrof
Louis Vuitton is constantly expanding its jewelry repertoire with a new collection designed by the creative director of Louis Vuitton Jewelry Francesca Amfitheatrof. Through a book offering an enthralling glimpse into four extraordinary jewelry collections, the designer brings a fresh, innovative perspective to the ancient art of jewelry design, telling about the creation of revolutionary collections for the Maison. Each of the collections, masterfully designed and conceived in the heart of Paris, is approached by Amfitheatrof through conceptual themes that ultimately tie them together. In the same way that a writer approaches the plot of a novel, Louis Vuitton Jewelry's creative director develops collections that tell a story about the history and the origins of the craft of jewelry. The pieces of the collection are made of the most ancient materials on our planet, gemstones that have been on Earth for as long as time, such as diamonds, colored stones, and gold. The book recounts the most minute and intricate details of the alchemic journey that brings to the creation of precious pieces of jewelry. It is written in a journal-like style and is embellished by exclusive sketches, collages, and personal photographs of Francesca Amfitheatrof, who, together with art director Fabien Baron, has created a personal volume that goes to the core of jewelry artistry.
www.louisvuitton.com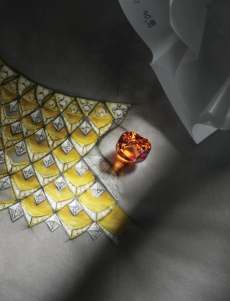 Fashion
CARTIER MINI BAGS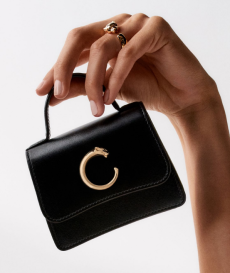 The artistic vision of Cartier has continuously amazed us through timeless charm for modern women for a long history. Ranging from watches and jewelry to accessories and fragrances, the creative territory of the French Maison Cartier is infinite. Introducing a new micro bag collection, Cartier suggests new proportions for the classic handbag line through a minimalistic and elegant touch. The Cartier mini bags are another form of exceptional artistic expression as well as the core message that speaks to all women. The brand's iconic identity was distinctively expressed on the three micro bags that come in one hand, featuring the metal logo punctuated with enamel or the resurfaced metal logo C with a panther's head of Panthère de Cartier collection, perfect for making a statement as well as serving a piece of jewelry. Along with the jeweled clasps, the bag collection features a simple rectangular shape, a curved-edged flip, and an elegant chain strap that lifts the look to be timeless and chic. Also, the strap is available with either a leather or metal chain, giving the wearer multiple ways of styles - either worn on one shoulder or cinched around the waist. As tiny as it can be in Cartier's collection, these small bags are both portable and casual, giving them a touch of lightness. Additionally, the fabric comes in either soft or hard-grained leather, depending on the model whose color ranges from black, cherry-red, or pale pink. Three different designs of the mini bags are all unique yet faithful to Maison's emblematic codes. www.cartier.com
Fashion
A Bag for Everyday: the Louis Vuitton GO-14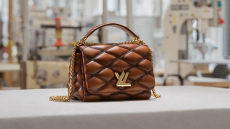 Since its launch in 2014, the Louis Vuitton GO-14 Bag has been an everyday staple in many women's wardrobe. Its shape, material, and simplicity make it versatile while at the same time keeping it a trendy accessory that can be brought effortlessly from day to night. The GO-14 is now being revamped and reimagined with new textures, materials, and shades. One of its latest editions is in brown malletage lambskin leather, featuring the quilted pattern distinctive of the brand's iconic trunks. The leather that makes up the bag is sustainably sourced and produced according to the highest environmental standards. The gleaming golden twist lock displays the Maison's logo, rendering this accessory a unique everyday staple for every woman's wardrobe. The versatile aspect of the GO-14 is accentuated by its top handle, which can be converted into a leather pad on the chain, allowing the bag to be carried comfortably across the body. The brown lambskin leather employs the same iconic material of the original GO-14 while giving the bag a classic and modern twist through the variety of brown shades and gold detailing. The inside of the bag comes with both a large pocket and a smaller patch pocket, allowing to take advantage of the bag's space. From day to night, the new look of Louis Vuitton's GO-14 bag makes it an essential accessory
www.louisvuitton.com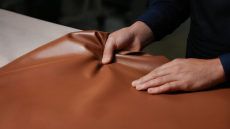 Fashion
Elie Saab X Aubade - New Capsule Collections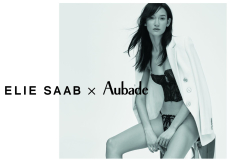 Aubade announces its collaboration with haute couture brand Elie Saab on three luxury lingerie capsule collections for winter 2023. Through its lingerie, which celebrates glamour, beauty, and strength, Aubade aims to express the essence of French sensuality. It does so through high-quality materials, seductive designs, and a purpose to bring joy and comfort to whoever wears their lingerie and nightwear. Aubade's pillars pair perfectly with the brand Elie Saab, known for its dedication to high craftsmanship and its dreamy collections. Elie Saab pays particular attention to understanding the female body and creating sophisticated compositions that pay homage to it. The two brands have created lingerie and nightwear collections that bring the feminine form to the forefront, embracing every silhouette with flattering materials and designs. The "My Desire" lingerie collection and the "Whimsical Affair" nightwear collection are designed with a playful seduction in mind which materializes in feminine forms through the workings of a chiaroscuro effect on the skin. The collections are available in two color palettes, "Naughty Black", a deep black, and "Love Affair," a nude rose. Elie Saab's understanding of the female body, and Aubade's sophisticated glamour, evoke a sensual interplay through beautiful details and careful use of materials and fabrics.
www.eliesaab.com
www.aubade.com

Fashion
Bottega Veneta Supports Biennale Danza for the Third Year
In lieu of its ongoing collaboration with Biennale Danza, Bottega Veneta is supporting the event for the third year in a row. Biennale Danza is the International Festival of Contemporary Dance, which, this year, marks its 17th edition. The festival is famous for its international, diverse program and for representing a platform for new and emerging artists on the international dance scene. The new Biennale College Danza's project is titled "When I Am Facing U" and developed under the supervision of notable Chinese dancer Xie Xin. Bottega Veneta is not only supporting the event for the third time but is ever present in the show. In fact, the costumes worn by the dancers of Biennale College Danza during their performances have been designed by Matthieu Blazy for Bottega Veneta. The costumes feature denim silhouettes replicated on viscose silk, thus creating an interesting contrast between the rigidity of the pictured denim and the fluidity of the silk. The lightness and malleability of the shapes and the feel of the clothing reflect the sensuality imbued in the choreographies performed. Through radical minimalism and departure from form and context, the show leaves a lot of space for improvisation and freedom of interpretation. The choreographies are explorative and experimental, perfectly enhanced by Bottega Veneta's costumes.
www.bottegaveneta.com
Fashion
Berlin Fashion Week - Fassbender
"Original" is the provocative title of Fassbender's SS24 collection presented at the Berlin Fashion Week 2023. The collection indeed plays with the meaning of the word "original," which stands for both the real thing that already exists and something completely new. The Hamburg-based label, formed by Christina Fassbender and Matthias Louwen, combines elegant and sophisticated tailoring with comfort and functionality, resulting in a unique style that appears effortless in its complexity. The brand was founded in 2017 alongside Christina's brother, Sebastian Steinhoff. With a strong focus on sustainability, the brand uses the most innovative techniques and findings to ensure that its garments are made sustainably throughout the process without compromising style and affordability. Fassbender believes in a solid circular economy, contributing to the well-being of nature and living beings. The garments manufactured in Europe are made to adapt to a constantly evolving wardrobe: they are versatile and wearable on multiple occasions. Fassbender's passion for innovation is evident in their interest in using AI in fashion design, something the brand's creatives are eager to integrate into their process. One of the brand's goals is to draw attention to the work of craftsmanship that takes place behind the scenes of every collection. The care that goes into crafting each garment is part of the sustainability behind the brand, which poses itself in direct contraposition to the culture of fast fashion, emphasizing the timelessness of their clothing.
www.myfassbender.com
Fashion
Berlin Fashion Week - William Fan
At the 2023 Berlin Fashion Week, William Fan brings a collection focusing on the play with different materials, finishes, and colors. The German designer, whose homonymous label has been producing clothing, shoes, bags, jewelry, furniture, and objects since 2015, conceptualizes his designs according to the critical Euro-Asian dialogue he conducts within himself, thus honoring his Asian roots. Indeed, his designs mix European elements with Chinese influences, resulting in a proper merge between the two cultures. Indeed, according to the designer, the inspiration for his collections comes from his past and future experiences and environment. In this context, the city of Berlin represents a significant source of inspiration for the designer, as it is a melting pot of different cultures and a place where it is easy to live immersed in the art scene. The collections focus on neither gender nor age, adopting gender neutrality as one of the main principles of the brand. Instead, the clothing is directed towards expressing Fan's purpose of telling a story through his fashion shows. William Fan has studied fashion and worked in the industry in The Netherlands, London, Hamburg, and Berlin, where he finally founded his brand in 2015. The brand has been a part of the Berlin Fashion Week since its beginning and still views the event as a major support to its growth.
www.williamfan.com
Fashion
"In Conversation with a Flower" - Prada's FW23 Campaign
The flower is the symbol at the center of Prada's FW23 men's and women's campaigns. Through the metaphor of the flower, symbolizing tenderness and affection, Prada explores timeless values such as humanity and emotions. Those human-sized flowers represent both everyday and extraordinary beauty, and they are vehicles through which the intangible is expressed. The size of the plants gives them the role of protagonists and active participants in the scenes. In the campaign, flowers interact with five global stars, among whom are Benedict Cumberbatch and Hunter Schafer. Those cinematic figures reflect Prada's relationship with the world of cinema as a way to express cultural ideals and evoke strong feelings. A dialogue composed of surreal conversations that are both literal and visual develops between the flowers and these figures. The imagery for the campaign was captured by Willy Vanderperre, who masterfully captured the intangible dialogue between the flowers and the characters in conversation with them. The campaign also features a short film, which sees the cast engage in actual conversation with the improbable character of flowers, which are, in this instance, almost anthropomorphized. The script of the short film is the work of Michael Cunningham, the Pulitzer Prize author who wrote The Hours (1998). The flowers represent a dichotomy in these paradoxical conversations, juxtaposing different aspects of their nature that is both strong and fragile, eternal and yet ephemeral. Prada uses flowers as a metaphor to represent and embody the human experience in these seemingly unreal images.
www.prada.com
Fashion
An Archaic Past is Revived in Dior's FW23/24 Collection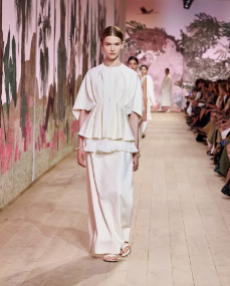 Maria Grazia Chiuri presented Dior's FW23/24 Haute Couture Collection in the afternoon of July 3rd. The collection is constructed around the idea of time, reflecting the care that is put into creating couture. The past is integrated into the present: the sketched form is immediately translated onto the dress without making use of any paper patterns. The forms are simple, morphed into archetypal sartorial elements such as the peplum, the tunic, or the cape. Maria Grazia Chiuri has worked on the collection presentation with the artist Marta Roberti, transforming the catwalk into an art gallery that evokes archaic artistic elements such as goddesses and animals. The artist assembles these elements to represent myths of a distant world where the female figure was revered above all else. The Mediterranean region is a reference point, as the ancient cultures in those areas produced the anthropomorphic and zoomorphic images present in Roberti's art for the Dior fashion show. The models' composition recalls divinities through a vertical silhouette and flat shoes. The main colors are white, beige, silver, and pale gold, with coats evoking the shape of classical statues. The shimmery dresses are intertwined with pearls, symbolizing purity. Overall, the presentation of this collection aims to represent the strength and fragility of femininity through the cult of goddesses, enhancing sensitivity and attention to detail.
www.dior.com
Fashion
Moose Knuckles' Partnership with the Prism Prize for Music Videomaking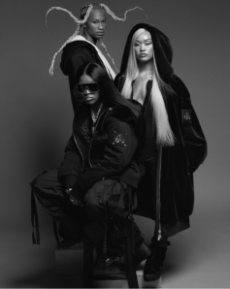 The Prism Prize, awarded yearly to videomakers, has partnered with the Canadian clothing brand Moose Knuckles. The Prism Prize yearly awards videomakers with the Heatmakers Grant. One of Moose Knuckles' priorities is to support emerging creatives, and the brand is excited to uplift promising Canadian artists that can have a positive impact on the future of the hip-hop scene through their videos. This vision pairs perfectly with that of the Academy of Canadian Cinema & Television, which aims to promote and encourage local artists. The award, which can be worth up to $35,000, is intended to promote the production of high-quality videos in the Canadian hip-hop scene. The winners of this edition, announced by the Academy of Canadian Cinema & Television, are Sean Leon, iaamSam, and Skiifall. The three artists are a diverse representation of the Canadian hip-hop music industry. Sean Leon, who was awarded the title of "Ambassador," has been present on the Canadian music scene for over a decade. iaamSam is a self-taught multidisciplinary audio-visual artist, while Skiifall is a music creator quickly building visibility. The commission awarding the Heatmakers Grant is composed of music and fashion professionals, such as Canadian all-round musician Kardinal Offishall and Moose Knuckles' Global Artistic Director Carlos Nazario. With more than 170 applications from all around the country, the committee had to shortlist 25 artists to determine the three recipients. The winning artists will work alongside a creative team to bring to life the music videos financed by the Heatmakers Grant.
www.mooseknuckles.com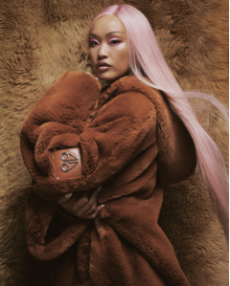 Fashion
Paris Fashion Week – Hermès Men's SS24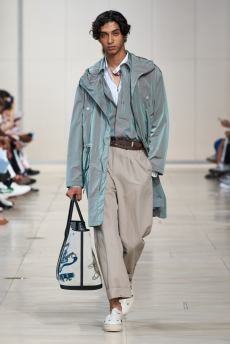 A serene, calm, soft, and joyful summer is probably what everyone is wishing for and exactly what the Hermès SS24 menswear collection embodies. Inspired by architectural elements, a summer paradise is constructed through clothing. Daylight becomes weightless and fresh garments, landscapes make up the color palette, and adventures become fabric and texture choices. Silhouettes are brought to life with the pieces we live through.

Shorts, jackets, and short trench coats allow bodily movement for a man's free-spirited lifestyle. Technical fabrics such as cashmere, silks, and cotton are found on tunics and beach blazers with parasol stripes. Rolled-up trousers, breezy knits, and suit jackets allow for a relaxed and breathable fit for the hottest of summer days. Desert hues, icy shades, sage greens, and steamy grays point to a mineral-inspired color palette: colors that reflect and react to one another, hinting at a certain playfulness with light and patterns. We find reversible leathers, layering possibilities, and contrast in fabrics. Accompanying the Hermès summer breeze looks are a variety of bags, such as the Cordage tote bag and the iconic Haut à courroies bag, and footwear, such as sole leather sandals in black, brown, and cream. Hermès conveys a certain quiet luxury feel with subtle and ready-to-wear aesthetics.

www.hermes.com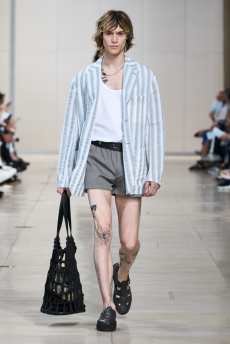 Fashion
Etro's Allegories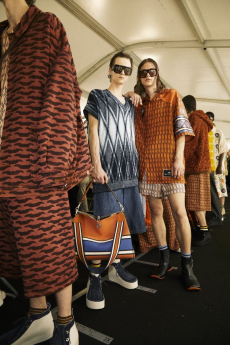 While visiting his hometown in the city of Messina, Etro's Creative Director Marco de Vincenzo wandered into an old bookstore and stumbled upon a copy of Cesare Ripa's Iconology: a seventeenth-century repertoire filled with allegorical images depicting virtues, values, and vices. Upon a superficial glance, the allegories appear as relics of another time, yet deeper consideration reveals strong ties and communicative powers in relation to the present moment. Allegories use figuration to express concepts, messages, and stories without the bounds of one language. Aren't our memes, GIFs, and TikTok simply a modern form of allowing images to say something else, and communicating in non-verbal ways?

The SS24 Etro collection was born from this intuitive, deliberately non-scientific idea: isn't the act of putting together an outfit, also, an allegorical deed with the power to express and communicate through making an image? Allegoric images of Augurio Buono, Bellezza, Eternità, Lussuria, and Tenacità pop up in prints or jacquards along with playful glittery touches. Rhythmic patterns that can be mixed and matched move in a life of their own in flowing silhouettes that barely touch the body. Blazers, bermudas, jumpsuits, fuzzy jumpers, football tops, long cardigans, and thick blankets that turn into coats allow for ease of inspiration in telling a story through styling. The SS24 runway also featured the debut of Etro's latest eyewear collection in partnership with Safilo, portraying the charm of the ancient Pegaso. Ultimately, fashion is symbolism, a metaphorical expression of our human experience through the guise of clothing, accessorizing, and styling. Fashion is ultimately, day by day, an allegory.

www.etro.com
Fashion
Santoni Souvenir
The earth has many shades, each landscape with its own deep essence and story to be discovered. Santoni hones in on the story of the Marche region, rich in the rural countryside and expanses of wheat fields lined with limestone cliffs and sandy coves. Their SS24 collection is a journey, a story that guides sophisticated, traditional craftsmanship into a contemporary perspective where materials, shapes, and colors exist in a perfect alchemy.

The collection begins with its workmanship, creatively rooted in ancient manual traditions that grant fluid forms and unexpected details. Santoni's formal shoe lines are predominantly guided by original classicism and technical virtuosity, with iconic special lacing, perfectly pure lines, and poetic ton-sur-ton engravings. The new Figaro model, classic loafers, and the Andrea moccasin are proposed each in a selection of material and color treatments for every occasion. Clean shapes with unique details form the timeless casual and sneakers lines. The DBS Olympic takes a slightly retro shape and flavor with contrasting colors, the Sneak-Air variants are offered in new colors, while the Double Buckle Sneaker is dressed in classic calfskin.

Shoes throughout the collection, as well as the extensive collection of accessories and leather goods, are imprinted with a deep connection to the Marche region. Cantalupo, Vela, and Centofinestre are three sophisticated graphics that capture the memories of every step of the journey through the landscape. Nature-inspired hues tie into this fil rouge, rounding off a true homage to the Satoni Souvenir of the season.

www.santonishoes.com
Fashion
Men's Milan Fashion Week – Brioni
For its Spring 2024 menswear collection during Milan Fashion Week, Brioni transforms a quality embedded in its spirit into a creative perspective. Lightness becomes this season's guiding principle, providing ease and freedom to enrich possibilities of self-expression. Instead of being overpowering, the new garments dissolve into the everyday: a practical tool to fit the wearer's daily needs and occasions. Intrinsic to life, clothing becomes your best companion in exploring new ways to look at the world and live in it accordingly. This season, the embodiment of this newly embraced perspective is what Brioni is about.

At the top floor of a stern-looking, hard-edged building, guests are immersed in Brioni's world of light as the aerial view of the city unfolds in front of their eyes, setting the ambiance for the collection's presentation. Nodding to the history and spirit of Brioni, the collection is suffused with painterly Roman hues. Formalwear remains impeccable in craft, but attains a certain softness with a relaxed fit and construction achieved through fuller volumes and hollowed shoulders. Similar levity is found in the treatment of nubuck leather and suede, while at night, lightness takes on a mantle of muted shine.

The circularity of intents defines a fluidity of new perspectives.

www.brioni.com
Fashion
Men's Milan Fashion Week – Ten c
The Italian brand Ten c focuses its attention on technical fabrics. Its unique and iconic fabric, the OJJ – Original Japanese Jersey is for the first time created in lighter tones such as light blue and pink in the Men's SS24 collection.The inspiration for the shades of the year-round sweatshirts and jerseys is taken from the reflection of the light over the Berici Hills of Vicenza, where the photoshoot of the collection was filmed.

The Laminated RIP-Stop and the ultralight sanded nylon with a cotton hand are among SS24's novelty in Ten c's menswear collection. The pieces take inspiration from the British navy and army, and have been designed with the purpose of creating a total look. The OJJ is mixed in the clothing of the new collection with the new material, thus maintaining it as the iconic material of Ten c; at the same time, it becomes a visual symbol of the brand through external hot-stamping applications. The OJJ remains the focal point of the collection, with sweatshirts dyed in the light hues that characterize the collection and a new Japanese model reminiscent of American varsity sweatshirts. In the men's SS24 collection, Ten c maintains its technical style proposing it in different, lighter tones.  

www.tenc.com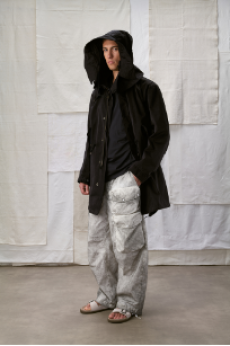 Fashion
FENDI's SS24 menswear collection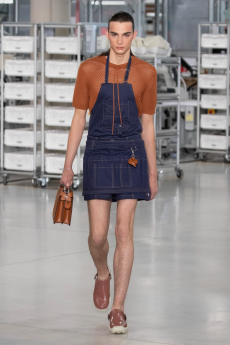 Dedicated to excellence in fine leather goods, the new FENDI Factory in Capannuccia becomes the desired destination for the artisans of the future. Designed by Silvia Venturini Fendi, FENDI's SS24 menswear collection pays homage to this new adventure and historic return to Florence – a place entrenched in FENDI's history. The collection and show are a metafictional reflection on process. Exploring the liminal space distinguishing man and machine, past and future, nature and innovation: the industrial and handmade are linked in perpetuity. This season's silhouette celebrates the archetype of the 'corporate artisan'. Patch pockets of workwear belts, the apron as halter neck collared shirts, and the zip-off suit trousers indicate that a game of proportions is afoot. The presence of the Tuscan landscape is not only visible in the factory's space, but heavily informs the color palette: a stratum of mineral shades from burnt umber to deep indigo is diffused by a soft haze of sage, limestone, and chalk. For the SS24 accessories collection, the 'corporate artisan' is taken up through an exploration of tactile expressions: structured and deconstructed bag shapes complement new styles, textiles, and patterns. Punctuated by the FENDI KENGO KUMA project, the accessories form part of a new artistic dialogue between Italy and Japan.

www.fendi.com
Fashion
Gucci's Green Doors Reopen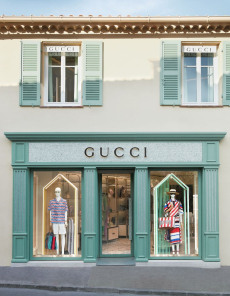 Gucci is reopening its newly renovated boutique in Saint-Tropez, between the port and the Place des Lices. The store is situated in a classic Saint-Tropez house at 72, rue François Sibilli characterized by green shutters that typify the surrounding landscape. Guests are invited to immerse themselves in a world that blends Gucci's spellbinding summer charm with the immaculate beauty of the French Rivera.

Through pastel hues, local materials, and classic design elements, the interiors of the boutique are perfectly complementary to the pristine beauty of the French Rivera. Liberty-style mosaics on the floors, natural oak on the walls with woven rattan finishes, and newly designed brass racks come together in harmony to immerse guests in a unique Gucci experience. In the private garden which crowns the boutique, guests can relax around a preserved well and enjoy the greenery, sunshine, and fresh air.

Within the space, which spans over 200 square meters over two floors, visitors can explore pieces for both men and women, from ready-to-wear, footwear, and accessories to the house's signature handbag lines and a selection of precious jewelry. The boutique additionally showcases the Gucci Valigera collection, designed for the dream holiday.

Gucci also imprints its unique aesthetic in collaboration with the renowned Loulou Ramatuelle Beach Club. After a captivating transformation, the beach club will host a temporary Gucci pop-up. An exclusive Saint-Tropez capsule collection will be available alongside the Summer Stories collection and a special selection of cocktails and menus by Giardino 25 from June 1st until the end of September.

www.gucci.com
Fashion
Smells of Well-ness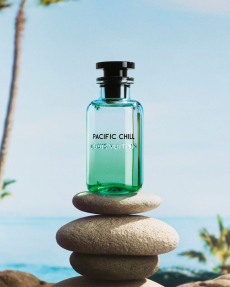 The dramatic landscape and extravagant beauty of America's Pacific Coast form the inspiration for the ethereal scents of Louis Vuitton's Cologne Perfumes. Master Perfumer Jacques Cavallier Belletrud has captured the magnetic energy of Los Angeles, creating an olfactory adventure within each bottle. Each member of the Cologne Perfume collection has a personal story about the light in the city, from the gentle glow of the dawn to the sparkles that light up the streets at dusk. The newest addition is "Pacific Chill," inspired by the detoxifying fresh breath of morning light on the skin.

California's cool and purifying vibe is not only attributed to the regenerative vigor of its ocean views and energizing force of its green rolling hills but also its renowned health and wellness culture. Pacific Chill was crafted in line with this sense of balance and well-being, an exhilarating scent that caresses the skin with an uplifting spirit. Belletrud drew further inspiration from characteristics and experiences unique to the LA lifestyle – beloved detox smoothies and energizing morning hikes before the heat settles. The scent palette opens with blackcurrant, held aloft with cedrat and lemon, amplified with coriander and ambrette seeds, basil, peppermint, and orange essence – an impeccable attention to detail. Iridescence is brought out of an essence extracted from carrot seeds with apricot, date, and fig. A hint of May Rose is the final seal offering a floral sweetness.

Los Angeles-based contemporary artist Alex Israel has collaborated with the Maison on their previous Cologne Perfumes and once again paints an exclusive image to accompany Louis Vuitton's latest scent upon a Fragrance Trunk and Travel Case.

www.louisvuitton.com
Fashion
One Stop Shop All Summer Season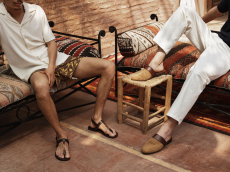 Mr. Porter, a destination for discovery for men around the world seeking inspiration for all styles, has an unparalleled product offering. Through a seamless online shopping experience and express worldwide shipping, Mr. Porter offers something for everyone: from the most sought-after menswear and lifestyle brands to exclusive capsule collections. Their latest campaign and their biggest to date, Summer Stories, is a celebration of the sun-kissed festivities from June to August. The standout collection features 125 brands and 49 exclusive ranges that embrace the warm weather for every occasion.

The campaign began on May 29th, with 5 multi-faceted chapters encompassing ready-to-wear, swimwear, shoes, accessories, luxury watches, jewelry, and lifestyle that will be unveiled throughout the next three months, solidifying Mr. Porter as a one-stop destination all season long. The capsule began with "For Sun, Sea And Sky," with the foundations of a vacation wardrobe and poolside essentials that promise unforgettable memories to come. "Al Fresco" will be released on June 19th, consisting of the unmatched Italian brands and craftsmanship that are loved worldwide. On July 10th, "Bohemian Spirit" will be released, a selection of designer and contemporary brands catered to the adventurous hearts and souls unleashed through warm-weather activities. With a focus on new watches and exclusive jewelry, the offerings of "At The Bazaar'' will gleam under the summer sun from July 24th. And last but not least, "Pacific Dream" will round off the season with laid-back ready-to-wear for long, lazy evenings after days full of adventure.

www.mrporter.com
Fashion
A Higher Standard of Luxury for Golf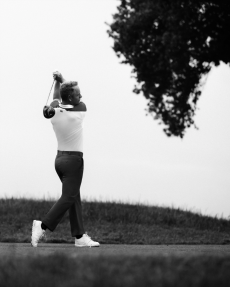 Loro Piana, the Maison known for its distinctive understated elegance and celebration of Italian excellence, has announced that they will once again collaborate with Team Europe for the Ryder Cup, Golf's greatest team contest. The greatest team contest in Golf will be held at the "Marco Simone Golf & Country Club" in Rome from September 25th to October 1st. Loro Piana will dress the athletes and their entourages for all the official events, inspiring players through the highest standard of clothing and the savoir-faire that has been the Maison's hallmark for six generations. Through meticulous design and craftsmanship, the garments will be functional and comfortable, without cutting short on style and elegance. Loro Piana used 3D technology to stimulate the clothing's reaction to the fine movements of golf, guaranteeing ease of movement for each and every swing. Six looks especially designed by the Maison will include a short-sleeved polo, a high-neck shirt with a zipper, a waterproof vest, and classic tailored trousers. The technical materials of each have been chosen for maximum softness and stretch, as well as for special features that enhance ergonomic performance to guarantee unparalleled wearability. In addition, a selection of the Team Europe uniforms, collectors' items, complete with the Team Europe and the players logos, will be available in the Maison's boutique in Rome exclusively during the competition for golf lovers to experience the wardrobe for themselves.

www.loropiana.com
Fashion
Old-fashioned Craftsmanship and Modern Design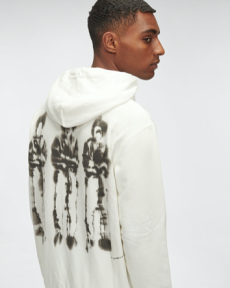 C.P. Company explores new ways to incorporate handmade and old-fashioned craftsmanship techniques in its forward-thinking, cutting-edge design process. A special capsule of T-shirts, sweatshirts, and shirts made in complete antithesis to serial mass production and elevated through the use of such artisanal techniques. Not to mention that they also keep alive the know-how of Italian printers and graphic designers.

This special capsule includes both prints and designs developed with the Italian artists of the Stamperia Artigiana Marchi, as well as handmade pieces made with modern digital screen-printing techniques. The Stamperia has been running since 1633 and specializes in wood block printing. Quantities are limited and each piece is unique as the manual technique causes slight imperfections. The prints are crafted using a method employed since the shop's foundation. The process begins with the realization of the mold, carved by hand from pear wood. The natural pigments are fashioned by the printer, who then spreads them on the mold and beats it with a wooden hammer to transfer the design on the T-shirt, which is then dipped in a special liquid and hung to dry. Also producing one-of-a-kind garments, which are numbered with the date and time of their creation, are the designs developed by screen printing the outline of the iconic British Sailor and dampening the fabric with a cloth while the ink is still wet – producing smudges, an unpredictable expansion of pigments, and stains which are then fixed into the fabric.

This special capsule is now available in stores.

www.cpcompany.com
Fashion
Cut Throat Waves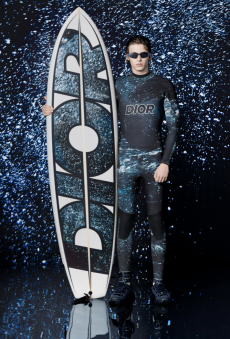 Creating with the future in mind, for the second year in a row Kim Jones, the Artistic Director of Dior Men, has collaborated with Parley for the Oceans, an environmentally conscious organization that works to combat threats to the ocean. Parley for the Oceans, started in 2012 has been protecting marine life through a strategy called Parley AIR: Avoid, Intercept, Redesign. Together, Dior and Parley have created a Men's beachwear capsule collection that reflects the deep connection Dior has with nature whilst making sure to protect the said nature through conscious designs and meticulous attention to detail.

Christian Dior is well known for his passion for flowers and gardens, however, this collection was deeply inspired and formed around his love for water and the ocean, first blooming when he was lulled by the song of the waves in Granville. Kim Jones, sharing Christian Dior's passion, created a collection made from 96% recycled materials to ensure the presence of beaches in the future of our world to wear these garments at. The garments relay a confident relaxation– bold colors catch the eye and a joyful declaration of living is embedded into each fold and thread of the garments. From mules to bags to wetsuits, this capsule collection has integrated every aspect of the beach. The wetsuit accompanied by a dazzling surfboard, sports a graphic water overlay under the iconic Dior logo, embracing the natural elements and playing into the function of the garment. The surfboard, also embellished with a graphic overlay of splashing water is sure to increase your speed as you cut through vicious waves.

www.dior.com
www.parley.tv
Fashion
Louis Vuitton Channels Squid-Games in South Korea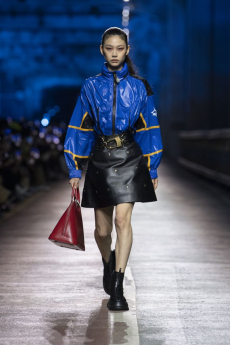 Submerged in the watery illusions of blue and orange light, Louis Vuitton took over the Jamsugyo Bridge in Maison's first Prefall show in South Korea. The living monument atop the Hangang river is the perfect allegory for Louis Vuitton's Creative Director Nicolas Ghesquière's vision of the Prefall 23 collection. The Director of "Squid Game" Hwang Dong-hyuk helped build the scenography for the show, based on the symbolism and cultural significance of the bridge.

The Prefall 23 collection is a tale of to and fro, communicating the never-ending evolution of Louis Vuitton: from Gangnam to Gangbuk, from the West to the East, from K Maison's origins to its modern philosophies. Louis Vuitton essentials take on new features in a diplomatic journey as they are transformed from one shore of imagination to the other.

As the audience huddled together in the stormy weather, the models walked through the night's rain unbothered with windswept hair. HoYeon Jung, the "Squid Game" star and Louis Vuitton brand ambassador was first on the catwalk in a bright blue windbreaker and studded leather A-line skirt. The looks, highlighting the brand's most recognizable silhouettes and elements from recent collections, celebrated French style with a sci-fi twist. Windbreakers and halter neck jumpsuits in bright primary colors reminiscent of the K-thriller were paired with chunky boots, oversized outerwear and belts with supersized buckles. The final looks took a Bohemian turn with maxi skirts and floor length dresses featuring stripes and floral prints.

www.louisvuitton.com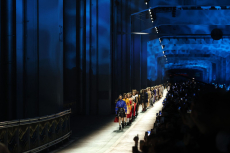 Fashion
The Third Edition of the BVLGARI AVRORA AWARDS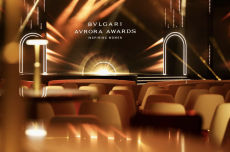 With a mission to celebrate inspirational and talented contemporary women, the third edition of the BVLGARI AVRORA AWARDS ceremony was held on April 26th. The start studded award show dates back to Bulgari's initiative on March 8th, 2016, named after the Roman goddess of dawn, a symbol of intelligence and creativity. The first edition of the award ceremony was held in China in 2019 to pay homage to contemporary Chinese women's creativity and transformative power. Full circle, in collaboration with the official media partner of the luxury brand Marie Claire, the BVLGARI AVRORA AWARDS ceremony is back in China to celebrate and highlight the achievements of Chinese women.

The third edition of the awards ceremony hosted many iconic and talented names among them were, Mr. Vincenzo Pujia, Bulgari Retail & Customer Experience VP and Greater China Managing Director, Mr. Emanuele di Lorenzo Badia, The Charge' d'Affaires ad interim of the Embassy of Italy to the P.R.C., Bulgari brand ambassador Liya Tong, Wen Qi, Fan Chengcheng, Bulgari PR ambassador Kai Xu, Famous actress Kara Wai, Zhuo Tan, as well as celebrity friends of Bulgari - Nazha, Li Zhang, Duling Chen, Lingzi Liu, Keni Zeng, Yunrui Li, Keran Lu. Moreover, the ceremony was also blessed by the appearance of this year's nominators and the winners of this and past years' BVLGARI AVRORA AWARDS.

Dedicated to honoring the creative and transformative power of modern Chinese women, and constructing discourse about their journeys of growth and innovation – the BVLGARI AVRORA AWARDS ceremony celebrated a total of seven nominators and nine winners from fields such as film, art, and dance. These winners include the versatile actress Jingyi Zhang, the coveted young director Dongmei Li, swan-like dancer Jiejing Zhu, and more powerful and awe-inducing women.

www.bulgari.com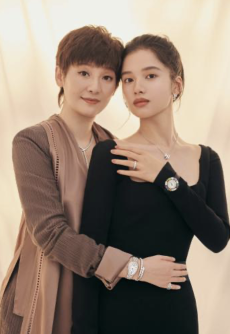 Fashion
Cartier Libre: An Exploration of All Possibilities of Creation
With total creative freedom, the ability to push boundaries and challenge conventions, as well as question form and design, the Cartier creation studios are taking jewelry in an avant-garde direction. Bold and radical, limited edition pieces embody a spirit of powerful curiosity and a constant pursuit of innovation as they take on lines, volumes, contrasts, and mobility with a unique creative mindset.

The Tressage Jewelry collection, the latest addition to the Cartier Libre collection, embraces three aesthetics that reinterpret the work of gold, volume and the interplay of contrasts. These stylistic signatures spring from the influence of Cartier's first female Creative Director since 1993, Jeanne Toussaint. Toussaint, aka the Panther, is not one to shy away from defying limits – a creative freedom expressed with this collection. The first aesthetic is 'gold bead chains and precious rollers'. The challenge was to create the illusion of a continuous chain that would twist on itself to create volume, which was ultimately achieved through a multitude of strands of moving gold beads. The second aesthetic is 'materials in tension', which includes three Tressage rings and bracelets and centers on the jewelers' remarkable talent to transform hard materials like gold and stone to give the illusion of supple, animated forms. 'Twisted coral, braided diamonds and gold', the third aesthetic, honors Toussaint's chromatic heritage. The ring and bracelet's band, a powerful trompe-l'oeil, required the meticulous assembly of a succession of metal elements to compose the pattern. The Tressage Jewelry collection epitomizes the endless possibilities of creation.

www.cartier.com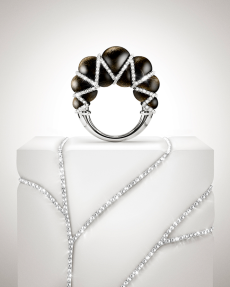 Art
Loro Piana Interiors & Cristián Mohaded: Apacheta
Loro Piana Interiors presents its new project, Apacheta, with Argentinian designer and artist Cristián Mohaded. As piles of stones that outline paths and passes in the Andes, the Apachetas are the direct link to the Andean tradition that has always accompanied travelers. In fact, it was the courageous travelers who walked great distances carrying a stone in honor of Pachamama's spirit (Mother Earth). As time passed, stones accumulated, and travelers came and went, the Apachetas became massive towers of irregular rocks. "Apacheta is a message to our Pachamama, it is history, it is culture, it is honesty and respect", comments Mohaded, who takes them as an inspirational starting point for his collaboration with the Maison.

Inside Loro Piana's Milanese headquarters, the Cortile della Seta is molded into a dreamlike landscape for the installation. Covered with fabrics from Loro Piana's old collections, 12, eight-meter high towers rise from the ground – indulging one to consider the possibility of reusing discarded materials. Stone-like sofas, stools, a bench and courtesy tables take on a certain softness using wood, fabric, and ceramic – Loro Piana Interiors' tactile materials. "Cristian has not only put all his magic into the materials, but has infused the design with all the values we share", explains Francesco Pergamo, Director of Loro Piana Interiors Division. Juxtaposing materials and textures, the installation recreates the original contrasts of Catamarca's landscape, transforming each visitor into a traveler.

The installation is open to the public during the Milan Design Week, and Apacheta pieces are available upon order only.

www.loropiana.com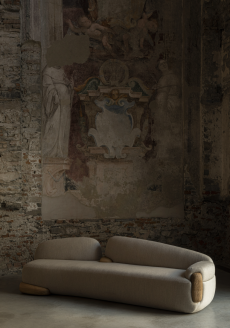 Fashion
Horizons Truly Never End with Louis Vuitton & Lionel Messi
As a football legend and recent world champion, it is rather inevitable that Lionel Messi is frequently on the move. Entirely fitting, then, is the fact that Messi stars in Louis Vuitton's new travel campaign, Horizons Never End. Captured by fashion photographer and filmmaker Glen Luchford while seated in an airport terminal with his legs stretched out on his Horizon rolling cabin bag or seated upon the iconic Louis Vuitton trunk amidst the planes of the airport apron, Messi appears ready to take on countless adventures with his Horizon luggage by his side.

With this Horizon luggage collection dreamed up by Marc Newson, the Maison remains devoted to its founder's art of travel, while also reshaping it with Newson's numerous contributions. Newson developed "the ultimate contemporary backpack" for his debut collaboration with the Maison, as well as designed and engineered many Louis Vuitton travel essentials. His new-iconic Horizon collection marked a true accomplishment for the Maison's luggage family in terms of design, durability and functionality when it was first launched in 2016. Packaging space, a crucial necessity for an itinerant, is optimized through a generous, flat-bottomed interior, whereas a highly maneuverable exterior trolley system with silent, miniature wheels grants 360° directionality. The Maison's trunkmaking legacy peeks through with the ultra-lightweight cases in molded mesh composite, covered in specially developed Monogram or Damier canvas and trimmed with natural cowhide.

Starting April 14th, 2023, the first chapter of the Horizon collection will debut internationally in print and on Louis Vuitton social channels.

www.louisvuitton.com
Fashion
Seventh Edition of the Loro Piana Knit Design Award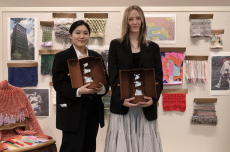 The seventh Edition of the Loro Piana Knit Design Award, an international competition between talented students dedicated to a creative interpretation of iconic yarns that represent the excellence of the Maison, has recently come to a happy ending. Since 2016, the first Edition of the Loro Piana Knit Design Award, students from the most prestigious international design schools have participated in the exciting competition. The theme for 2023 was "Regenerate" and the students from the six participating schools– the Fashion Institute of Technology of New York, Heriot-Watt University of Edinburgh, Donghua University Shanghai, Hong Kong Polytechnic University, Università IUAV di Venezia, and Institut Français de la Mode– were requested to develop a creative idea with a focus on sustainability and recycling, which will in enhance the value of Maison's exclusive yarns in the long term.

After the initial brief, the competing students were given a chance to fly to Italy to see first-hand Maison's extraordinary heritage and a general outline of the production process explained meticulously by the Research and Development team through guided tours of the wool mill. The finalists, presented on the 6th of April, were judged by international experts and internal representatives including but not limited to CEO Damien Bertrand. The winning pair were students Sumin An and Blake Dewitt of the Fashion Institute and Technology of New York. An and Dewitt were graciously celebrated for their win, leaving Italy with a prestigious Loro Piana Knit Design Award 2023 handmade silver trophy, along with a scholarship and an employment contract with the company. Loro Piana's efforts to merge teaching and professional experience allow for the company to shorten the distance between education and the job market– providing youthful creatives with an opportunity to showcase their talents to the world with no time to spare.

An and Dewitt's finished pieces, supported by expert artisans, will be exhibited in Pitti Filati, to be held in Florence from the 28th-30th of June.

www.loropiana.com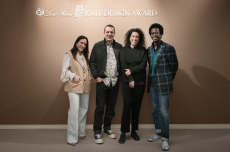 Travel
An Italian and Japanese Dance in the Sky
On the 4th of April, Bulgari Hotels & Resorts celebrated a momentous occasion: the opening of the brand's newest luxury hotel, the Bulgari Hotel Tokyo. The new hotel combines Italian tradition and glamor with Japanese history and culture to adorn the 40th-45th floors of Tokyo Midtown Yaesu, a new ultramodern skyscraper overlooking the iconic Tokyo Station, the Imperial Palace Gardens, all the way to Mt Fuji.

This incredible addition to the Tokyo hospitality scene was first celebrated by a ribbon cutting ceremony led by the Bulgari Group CEO Jean-Christophe Babin with the Governor of Tokyo Yuriko Koike, Italian Ambassador to Japan Gianluigi Benedetti, famed actress Anne Hathaway, the singer and actor Tomoshisa Yamashita, Executive Managing Officer of Mitsui Fudosan Co. Yutaka Kawamura, Executive Vice President Bulgari Group Silvio Ursini, General Manager of Bulgari Hotel Tokyo Yuji Tanaka and President of Bulgari Japan Vincent Reynes in attendance. The acclaimed group of individuals was later joined by 400 guests on the 40th floor to enjoy early performances by Simona Molinari and later on DJs Ami x Aya and Alisa Ueno. The night ended with Miyavi, a star guitarist, surprising the crowd and joining DJ Alisa Ueno on stage for an impromptu live collaboration!

A devout follower of the essence of audacity and bravery, Bulgari associates each of its glamorous hotels and resorts with a rare and precious gem. The Bulgari Hotel Tokyo is married to the pink diamond – an elegant homage to the beauty and harmony threaded into Japanese culture and Sakura season. As Babin expertly states in the brand's press release, "Jewelry and hospitality combine perfectly to meet Bulgari's client's expectations of a high level".

www.bulgari.com
Fashion
Louis Vuitton's Unveilings at Milan Design Week
This Milan Design Week, from 19 to 23 April 2023, Louis Vuitton's latest Objets Nomades, the Cabinet of Curiosities by Marc Newson, and the Marc Fornes pavilion will all be showcased at Palazzo Serbelloni.

The Louis Vuitton Objets Nomades collection grows with the unveiling of 11 new innovative furnishings and objects created by a renowned selection of international designers. Creations from Atelier Oï, Raw Edges, Atelier Biagetti, Marcel Wanders, Zanellato/Bortotto, Studio Louis Vuitton, and Campana are exhibited in a space especially curated in the historic Palazzo Serbelloni. Amongst the new additions are designs inspired by Louis Vuitton's iconic monogram, such as Atelier Biagetti's Flower Tower lamp, with 15 glass bubbles that appear to float when lit and Studio Louis Vuitton's Flower Carafe and Twist Glass, handmade by Venetian artists.

Louis Vuitton will also premiere the fascinating Cabinet of Curiosities by Marc Newson. A hard-sided travel trunk transformed into a presentation case with 8 doors and secret compartments by the Australian industrial designer. The trunk houses 19 leather-covered metal cubes in 3 sizes and 3 colorways. The cubes can be arranged in over 1,000 configurations to display books, art, souvenirs, or anything the heart desires.

Finally, the Maison presents its annual exhibition of nomadic architecture in the palazzo's courtyard. Architect Marc Fornes designed the structure from 1600 uniquely shaped anodized aluminum sheets. The structure resembles a coral-like, living entity, and will host a series of events throughout Milan Design Week.

www.louisvuitton.com
Fashion
BOSS Legend Series: Bruce Lee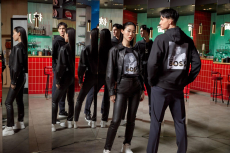 BOSS has announced their latest capsule collection as part of the inspiring BOSS Legends series. The next instalment is a tribute to the legendary martial artist Bruce Lee. The collection celebrates and channels his pioneering and courageous spirit; a call to be your own BOSS.

Bruce Lee is a true, global icon. He created a legacy not only in martial arts, with his unique hybrid philosophy, Jeet Kune Do, but also in pop culture, where he bridged the gap between East and West. In both worlds Lee was one of the most influential figures of the 20th century and is still well-known today. He transcended the idea of having a single goal, instead seamlessly combining his passions to revolutionise martial arts and cinema. From his massive impact on centuries of fixed styles and systems in martial arts, to his trailblazing career as a movie star and director, Bruce Lee's legacy is exemplary of the unbelievable feats that one can achieve through the power of self-belief.

The capsule collection has a laid-back, casual and gender-neutral style, but each piece packs a punch. Black, white, and blue T-shirts and hoodies are printed with snapshots of his signature, unforgettable moves. A baseball cap with 3D embroidered calligraphy rounds off the collection. His popular stage name, "Lee Little Dragon," is spelled out in traditional Chinese characters throughout the collection. This capsule is next in the series, which has previously spotlighted Freddie Mercury, Muhammad Ali and Frida Kahlo.

www.boss.com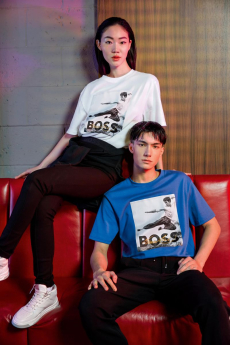 Fashion
The World of Ralph Lauren Arrives in Miami
In April of 2023, Ralph Lauren welcomes consumers around the globe to its newest luxury concept store in Miami's iconic Design District. The store is an immersive shopping destination that integrates the brand's signature vision of timeless luxury with it's goal of implementing digital innovations and interactive experiences.

An assortment of the Men's Purple Label and Women's Collection apparel and accessories, alongside one-of-a-kind handbags, and accessories exclusive to the Design District location will be available in the store. Additionally, interactive digital screens throughout the store unlock access to all the Ralph Lauren products available across North America and personalize the shopping experience with options to book styling appointments and more. This will be the first of Ralph Lauren's locations to accept cryptocurrency as a form of payment, including Bitcoin (BTC), Ethereum (ETH) and Polygon (MATIC), thanks to a partnership with BitPay.

Drawing inspiration from the contemporary yachts and elegant waterfront residencies outside its doors, the store features a sleek, crisp, and modern design. From warm teakwood to blond mahogany and black ebonized detailing, the space embodies the brand's devotion to effortless sophistication. Furniture from the Ralph Lauren Home Collection and carefully curated artworks fill the space, inviting local and touristic shoppers alike.

In late April, the world of Ralph Lauren comes to life to celebrate the stores opening. Guests are invited to a three-day exclusive and fully immersive experience at a water-front private estate in North Miami.

www.ralphlauren.com
Fashion
Dive into the BOSS Metaverse
BOSS took a bold step into this year's Metaverse Fashion Week in late March offering a fully immersive, interactive experience centered around their SS23 collection.

Fans worldwide are welcomed into a virtual BOSS showroom created with artificial intelligence for a gamified digital buying experience. The visual identity of the space is a deep dive into the physical event's liquid theme, contrasting ethereal open air and tranquil pools of water with brutalist architecture. The SS23 BOSS collection, already introduced in the BOSS Miami Fashion Show, awaits discovery, exemplifying BOSS's aim to lead the fashion industry in the use of digital innovation.

The BOSS Metaverse features menswear and womenswear separates that epitomize the brands timeless design codes of the German company and draw in the details and colors introduced on the Miami runway. Users guide an avatar to find five looks linked to product pages on the BOSS online store. Collecting prizes throughout the space rewards them with a digital blue BOSS suit fresh from the Miami runway which can be worn in the muti-game avatar platform Ready Player Me.

BOSS immersive showroom is an exciting leap into the future of fashion made possible by Spatial. As one of the co-hosts of the 2023 Metaverse Fashion Week, it offers a platform for virtual events that bridge the gap between physical and digital fashion realities. Furthermore, the showroom is the result of a collaboration with the Web3 agency Exclusible and Polycount, its studio for Metaverse experiences.

www.hugoboss.com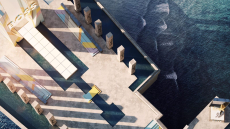 Fashion
W&W Vacheron Constantin: The Essence of Watchmaking
This year, the very essence of watchmaking art took precedence above all else in Vacheron Constantin's show at Watches & Wonders in Geneva. While in the past we saw "Classic with a Twist" and "The Anatomy of Beauty", this year's theme, embodying the spirit of the manufacturer, is Less'ential. The Maison took technical mastery and the originality of artistic crafts as its guiding principles for its new novelties, as well as its new booth architecture. The outcome? A perfect balance between shape and design; a new form of elegance and sophistication; timepieces where mechanical complexity and a meticulous attention to detail devote themselves to beauty. All the new designs symbolize Vacheron Constantin's artistic priority. The Overseas moon phase retrograde date, a sporty-elegant steel watch, combines the precision moon phase – an astronomical complication – with the retrograde display. Inspired by the 1950s designs, the Patrimony retrograde day-date watch's hour markers and hands follow the gentle curve of the dial. The Traditionnelle tourbillon retrograde date openface watch expresses an avant-garde aesthetic, where the opening onto the architecture of the 2162 R31 movement highlights the watch's mechanical power. Among the new releases we encounter new pieces for the Overseas collection. Yet, one of the most eye-catching designs is a one-of-a-kind double-sided watch in white gold: Les Cabinotiers Dual Moon Grand Complication, which captures 11 noble horological complications in one refined casing. Vacheron Constantin's new releases are a celebration of excellence, featuring mechanical perfection enhanced by the combination of creative inspiration and refined skills.

www.vacheron-constantin.com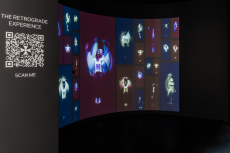 Fashion
Etro Makes Sail
Vela is the first bag designed by Marco De Vincenzo, Etro's new Creative Director. It takes its inspiration from the nautical world. With a sharp silhouette, like a sail by the winds of the sea, it is molded with dynamic curves and contours. It takes its name from this image, as "vela" is "sail" in Italian.

Natural and timeless, the bag is finished with innovative and captivating details, like its V-shaped closure with a flexible zipper. Vela is adaptable, with a double detachable shoulder strap that allows it to be worn on the shoulder or across the body. The zipper features a distinct chain to which a medal is attached; engraved with the same technique used to mint coins, the Etro logo shines on one side, and a Pegasus on the other. The Vela Bag is made of a luxurious calfskin, available year-round in black, ivory, and gianduja chocolate, along with a rotation of seasonal colors.

The bag was released with a series of editorial images featuring Italian top model Bianca Balti. Like a siren in the sea, she exemplifies an audacious and alluring femininity. Centered in an essential background with colors reminiscent of the open ocean, she creates a sensual connection with the Vela Bag that embodies its timeless beauty.

www.etro.com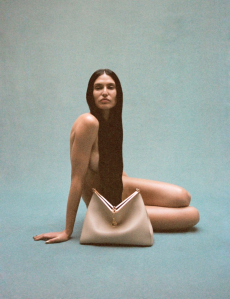 Art
Blue Makes Radiofonografo Infinite
Blue is infinite: the color of the endless sky, the relaxing constancy of the ocean's waves, the four walls of our earth. Since the beginning of art, blue has been an emblem for loyalty, courage, and beauty. Now, the radiofonografo becomes blue. Brionvega will present the latest version of its radiofonografo in a deep, unforgettable blue alongside many other new products at the Salone del Mobile in Milan in April 2023.

Brionvega's radiofonografo was originally created in 1965 by designers Achille & Pier Giacomo Castiglioni, but it is much more than a modern design object. Originally conceived to flawlessly reproduce music, the radiofonografo is a true work of multi-sensory contemporary art. It has become a key figure in stories and memories, an ebullient companion that brings people closer to music and technology.

The radiofonografo was and is a friend for life for some of the greatest icons of the 20th and 21st century. David Bowie was a tireless collector of art of every kind. His love and devotion to the radiofonografo represents one of the greatest tributes to its one-of-a-kind design. Francis Ford Coppola, one of the greatest directors in the history of cinema has expressed his fascination with Brionvega over the years, particularly his admiration for the unmatched performance of the radiofonografo. The radiofonografo has, as such, gained value over time. Owned by icons of the present such as Kendall Jenner, it will continue to prevail as it is passed onto future generations.

www.brionvega.com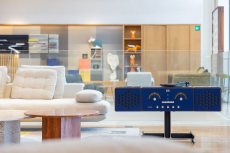 Fashion
Everyone's Favorite Puffer
MM6 Maison Margiela and CHENPENG's collaborative FW23 collection combines the new fresh and cool attitude of MM6 and the iconic puffer silhouette of the Chinese label. The mutual wit, character, and abilities of the brands work together to produce the quintessential puffer jacket.

The silhouettes are imbued with lines that provide structure to the jackets and tie in an experimental architectural element to the independent posture of the jackets. The collaboration features three classic puffer jacket silhouettes – reimagined and reinvented to showcase the MM6 charm and the exceptional CHENPENG mastery. The three different puffer styles: a nylon textured parka-length coat with an in-built padded scarf detail; a cropped jacket with contrast faux leather sleeves and a faux leather gilet featuring similar contrast paneling with contrasting high shine nylon provide versatility and comfort for any situation and climate.

The puffers, integrate innovative design and aspects to ensure comfort, and each piece embodies the practical yet style-minded perspective that MM6 is known for. The capsule, exuding comfort, style, and mystery is the perfect high-quality integration to an everyday outfit. The collection is now available at MM6 retail locations and e-commerce site – including selections in some multi-brand stores as well.

www.maisonmargiela.com
Fashion
Premiata at KaDeWe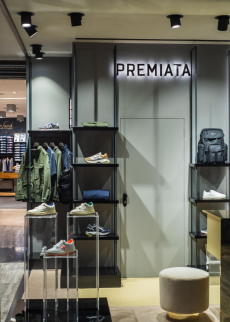 The Italian brand Premiata celebrated the long-awaited opening of its new store in February of 2023. Located on the first floor of KaDeWe in West Berlin, the space spans 20sqm, offering a wide range of the brand's products. Premiata specializes in high-quality jackets, backpacks, and a variety of shoes that are expertly crafted with Italian style and sophistication. The illuminated Premiata logo invites customers into the concept 'Corner Store', reduced to the essentials while offering Premiata's latest designs. The selection of materials creates a space that reflects the purity and elegance of Premiata and its products. The design elements in the space coexist in a way that emphasizes the products on display, such as the current sneaker collections. The new store is reminiscent of the other Premiata location, with glossy black surfaces that harmonize with accents of brass and plexiglass. The store and the products unite in a common language: light and minimalist, yet technical and modern. A small area of the store is furnished with a carpet and velvet stools to provide seating so customers can find their perfect fit. With the opening of the Premiata Corner Store opening at KaDeWe, Berlin, Premiata invites its customers into the world of Italian style and high-quality craftsmanship. www.premiata.eu
Fashion
Porsche x BOSS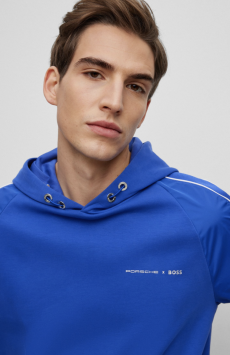 Porsche and BOSS's collaborative SS23 collection features an intimate pairing of innovative designs and a distinctive L.A. essence. The brands' collaboration celebrates the notable friendship between the luxury fashion brand and the renowned German automobile manufacturer specializing in high-performance luxury sports cars, SUVs, and sedans. Putting forth a collection perfect for a multitude of activities on a warm day, Porsche and BOSS once again showcased their potential as a duo.

In January, the beloved Colombian singer Maluma was announced as one of the faces of the global campaign. The world-renowned singer is also featured as the lead in the Porsche x BOSS collection.

The SS23 collection features a series of transcendental athleisure garments and premium casual wear pieces imbued with the charisma of seasonal colors such as bright white and warm royal blue. The silhouettes feature several jersey and nylon styles, such as polos, hoodies, and more, which are embellished with color-gradient detailing that imbues the garments with notions of speed and adrenaline. Lightweight essentials: jackets, sweatpants, hoodies, and sneakers are adorned with white stripes and piping inspired by elements of the active warm-weather lifestyle. The allure and excitement of the collection are sewn into the essence of smart casual wear paired with the elevated L.A. vibe.

www.hugoboss.com
Fashion
The Chosen Four
Succeeding C.P. Company's 50th Anniversary project, the SS023 ADV campaign follows the stories of four individuals. Stemming from diverse cultural backgrounds while also differing in age, gender and interests, the chosen four interpret seasonal looks with their own personal style. They represent the brand as an engine for social change and innovation by virtue of their experiences.

The ADV campaign is attended by five-year-old Leo and his father Diego, who frequently skates at Milano Centrale, a source of aesthetic inspiration. The brand's attention to detail prompted an immediate attraction during his search for practical jackets, essential for wintertime skating. Representing his story, Diego wears a workwear-inspired Ba-Tic Light jacket together with his own camouflage cargo pants. The brand's affinity to pursue utility and functionality is shared by Louison Bahurel. The brand's garments, he explains, are fashioned as tools, "helping you preform actions more easily thanks to their ergonomics and adaptability." Wearing a 50 Fili Tr-P jacket with a concealable hood is Gabriel Moses, a successful photographer and video maker from South London. This versatile jacket with a military inspired fabric and a polyurethane coating secures an ideal hard-wearing outwear piece. Sofia Pace, a New Yorker, found herself a one-of-a-kind piece for her closet. Representing the brand's wide array of experimental fabrics, she wears the reflective Kan-D jacket with a detachable hood, crafted using a flattened monofilament nylon yarn.

This entrancing partnership epitomizes C.P. Company's pioneering urban sportswear and its hybridization of functional menswear and Italian fabric innovation – characteristic of all pieces.

www.cpcompany.com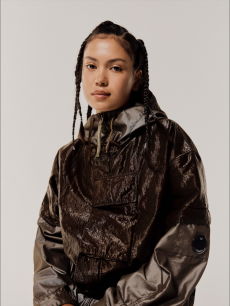 Fashion
Louis Vuitton and Yayoi Kusama's New World of Infinity
Louis Vuitton has collaborated with artists for years, an impetus which continues with perhaps the pre-eminent global artist of the 21st century. Yayoi Kusama's transformative imagination is embraced by the Maison, taking over all its product lines. The gift that sparked their relationship in 2012 exemplified their shared vision. Kusama hand-painted her characteristic INFINITY DOTS, known for giving a glimpse into infinity, onto of the most timeless, emblematic Louis Vuitton objects - the trunk.

This collection unites the two in their pursuit of crafting fantastical objects with an investment to detail and infinity in mind. A cascade of Kusama's captivating motifs in vibrant, joyful colors furthers the limits of Louis Vuitton's savoir faire in Drop 2 of their collaboration.

In stores starting March 31st, 2023, PUMPKINS, FLOWERS, FACES, INFINITY DOTS, and INFINITY NET encompass the ready-to-wear, bags, shoes, accessories, luggage, trunks, and fragrances available to men and women. The winsome form of PUMPKINS is integral to Kusama's hallucinatory world. They take center stage, inspiring new forms, and playful new designs on iconic pieces. The women's world receives special attention inspired by the psychedelic FLOWERS painting from 2004, with delicate embroideries and prints of elegant hyper-florals. FACES, especially chosen for the collaboration, are married with the new signature blue of Louis Vuitton, combining chicness with chaos especially in ready-to-wear. A second wave of INFINITY DOTS introduces enthralling new colors to accessories and men's footwear. Finally, the Capucines bag is entirely enveloped in the mesmerizing rhythm of Kusama's INFINITY NET motif.

www.louisvuitton.com
Fashion
Longchamp's New Ambassador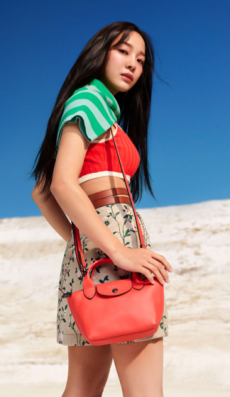 Longchamp has revealed its newly appointed ambassador: South Korean singer and actress Kim Se-jeong. "We are delighted to welcome Kim Se-jeong to the Longchamp family," comments Creative Director Sophie Delafontaine. "Not only is she an exceptionally talented performer, but her joy and energy make her great to be around." In addition to making a name for herself in her native country, the talented actress shot to international stardom with her award-winning role in the SBS romantic comedy series Business Proposal – one of the most popular non-English shows on Netflix in 2022. Her lively and relatable personality is the key source of her burgeoning fan base. Her Instagram account, where she tells us to keep an eye out for her future work with the brand, has over nine million followers. "It is an honor to collaborate with Longchamp, which to me epitomizes the style of the Parisienne," Se-jeong explains. "I feel we can maximize the relationship by playing to our strengths and similarities". With her natural warmth and sparkle, Se-jeong was the ideal choice to embody the energy and authenticity of Longchamp as well as to front its SS23 campaign. The visuals shot in Seoul display Se-jeong modeling key looks from the SS23 collection, characterized by a synergy of bold colors, prints and materials, in combination with Longchamp's star bags, such as the new Box-Trot in natural canvas and leather or eye-popping candy-pink. The Longchamp SS23 campaign with Kim Se-jeong is available for purchase on the brand's website.

www.longchamp.com 
Fashion
MFW - Bottega Veneta FW23 - Unfolding Endless Possibilities
Taking over as Creative Director, Matthieu Blazy has brought his 'Italia' trilogy of shows to an end with Bottega Veneta FW23. Showcasing his future ambitions for the house, Blazy continues to honor Italy's history with craft in motion. An artistic vision expressed in the show's theme: a parade. "The alchemy of the street is in the difference", Blazy explains, "it is the surprise of the encounter that has importance". Looking "at what makes people gather together in a place without hierarchy, where everyone is invited", he debuts a versatile and relatable yet also elevated collection.

Past techniques, motifs, characters and creatures voyage through space and time to materialize in the present and future. Roman bronze runners and a Boccioni statue decorate the runway. The mythology of antiquity and Futuristic influences heavily inform the designs. Blazy's parade is a place of joy, entertainment and endless possibilities – a place of priests and playboys, sleepwalkers and streetwalkers. Craft is reconfigured as innovation: cuts, fabrics and proportions take center stage. Shaved leather appears weightless, intricate silk hand embroideries are recreated and rearranged, cascading scales and ostrich-feathers decorate leather pieces and a fringed coat was woven in one piece rather than embroidered. Tailoring divides the figure: wide shoulders and pinched waists become a trend, while cuffs and collar create dimension. Transformed through cut, fantastic and chimerical creatures emerge as skirts allude to a mermaid's fishtail. Representing a sheer variety of occasions across the 81 looks, Bottega Veneta's all-inclusive collection has something for everyone.

www.bottegaveneta.com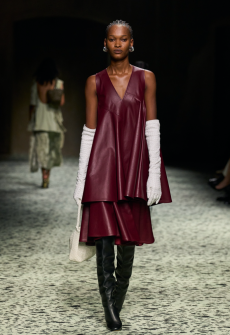 Fashion
PFW - RICK OWNENS FW23 - Goth Goddesses
The Egyptian city of Luxor granted Rick Owens a creative stimulus for its FW23 women's collection. This eye-catching and evocative ready-to-wear-line draws on the monumentalism, mystery and exoticism that permeates throughout the breathtaking ancient ruins, pyramids and deities of the city. Taking place at the Palais de Tokyo, the show encapsulates the spirit of goth goddesses and punk pharaohs as fog machines lead the way for models to start walking down the runway. Black stripes cover faces and black lenses cover eyes. Muted tones of lime green, art deco pink and bordeaux catch our attention in contrast to the predominant use of black. The human figure is almost unrecognizable: sleeves are prolonged down to the leg and voluminously inflated garments covered in matte black and pink sequins encircle the body. Ribbed knits made from GRS-certified recycled cashmere and indigo denim from Japan, which had been treated with mineral was and shredded by lasers produce amusing outcomes. Coats appear to be decomposing. Skirts, on one side, show the hip bone, while, on the other side, cloth trails behind them – conveying the impression of a mummy. Armor-like features are apparent in platform boots that rise over the knee and flowy capes. Sculpturesque jackets appear as if something was about to break free from their protruding shoulders. The designs sway from fantasy to reality, protection to vulnerability, to reveal an aesthetic yet realistic approach that recognizes both the beauty and harshness of the world. This is an all-around Rick Owens spectacle.

www.rickowens.com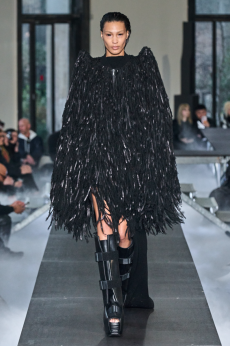 Art
Traveling Affairs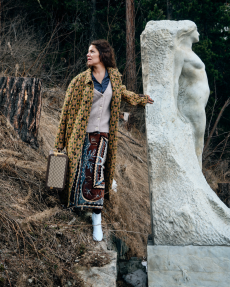 This winter, NOMAD – a one-of-a-kind art and collectible design fair – begins an exhilarating journey with a multifaceted curatorial project, Artists in Flux, powered by Gucci. In accordance with NOMAD's ambition to devise a unique platform where art, design and architecture can dialogue world-wide, this project explores travel culture through ideas of mobility and encounter.

Three internationally praised artists traveled with their Gucci luggage to hotel Grace la Margna in St. Moritz, where they presented their work from February 23rd - February 26th 2023 for the project's first chapter. Concentrating on their artistic experiences and approaches, they also participated in a round table conversation organized by Monocle radio. The works of American artist Lola Montes Schnabel and Swiss artist Yves Scherer were displayed in parallel in the exhibitions organized by Nilafur and Golsa, while Nepalese artist Tsherin Sherpa collaborated with Mt. Refuge, a design studio at the front of Himalayan heritage. Schnabel's recent work centers on tile paintings made from volcanic ash and clay from Mountain Etna in Sicily. Fluid lines and limpid forms allow her work to sway between figuration and abstraction. Scherer creates enveloping environments – narratives combined with fanfic and celebrity culture offer a romantic lens that transforms the viewer's perception of the self, relationships and the everyday. Sherpa reconceives and reappropriates identities, symbols, colors and gestures in order to transcend their chronological and cultural limitations. His work is a scene of tension and continuous negotiation between tradition/modernity, sacred/secular and settlement/movement.

The collaboration's resulting material will be available on NOMAD and Gucci networks.

www.nomad-circle.com
www.gucci.com
Fashion
Giorgio Armani's 10 Corso Como Collection
A deep exploration of one element synthesized by established details- Giorgio Armani's 10 Corso Como Collection renovates the essence of the old west through slim and androgynous silhouettes. This second collaboration with 10 Corso Como showcases the "new Giorgio Armani" - pushing the limits of the possibility that coherence provides.

The entire collection is made of denim - the elusive intimacy that the intense blue of the unwashed denim tailored into thin, elongated forms and coupled with cognac-colored elements transforms the garments into an avante-garde expression of passion and persistence. The brand's dedication to coherence is admirable - an established loyalty to the coarseness of denim opens the door for elegant details such as subtly formidable boots or belts to shine. A relationship between traditionally masculine and feminine tailoring allows the brand to play with harsh lines, denim ties, and structured garments to accentuate the feminine confidence and sexuality of the models.

The experience that Giorgio Armani curated includes Flavio Favelli's Mobilia Essay- a 20-square-meter installation that entails luminous hangers and grand armchairs upholstered in rubber. Differing armchairs will be exhibited in Giorgio Armani's boutique stores around the world. The 10 Corso Como Collection is an avante-garde praise of denim as a lucrative medium of creative expression.

www.armani.com
Fashion
MFW - Genetics: the legacy of house Gucci - FW23
Taking on the concept of genetics, Gucci highlights its intention to foreground the house's legacy for its women's FW23 collection. Describing itself as an "ecosystem of designers and artisans whose shared understanding of the house has passed down and evolved from creative to creative for over a century", Gucci evokes a dialogue between past, present and future to honor the contribution of the visionaries that propelled the house and paved its future. In line with this vision, the house of Gucci is the focal point throughout the show: from cast and sound to scene and collection. In the Gucci Hub, elevators move the collection from building to runway – mirroring the creative process that traces its starting point, the archives, all the way to its final destination, the runway. A nostalgic attitude pervades the silhouettes, drawing on Gucci's early 1990s and 2000s erotic form language and the 2010s energetic color palette. Voluminous shoulders and dropped necklines outline oversized wool or leather suits. Evening wear, such as the drop-waist skirt of a double-duchesse bustier dress, takes on the shape of a heart – a Gucci symbol. Colored visor sunglasses, which allude to a classic Gucci flacon, convert vision through Rush-tinted glasses. In honor of an iconic archival piece, the Jackie bag is softened in its composition and adapted in two-tone colors while keeping its original shape. The veneration of the old and a devotion to the new pays tribute to the creative culture and community found at the heart of Gucci's legacy.

www.gucci.com
Fashion
Fendi Women's FW23
For Fendi's womenswear FW23 collection, Kim Jones takes Delfina Delettrez Fendi as an inspirational starting point. Drawing on her instinctively chic and pervasive form of individual expression through her Fendi archive wardrobe, this Creative Director presents a collection marked by a nonchalance illusion and a lens of subtle subversion that explores classicism and elegance, and entertains with binary constructions. An admiration for DIY and a critical attention to deconstruction elevated the designs into luxurious pieces, capable of being worn in all manner of ways. Feminine sophistication is disrupted through the interpolation of gender stereotypes: masculine tailoring and fabrics are deviated from their traditional purpose to now compose feminine forms. A touch of sensual femininity is visible in intimate apparel occasionally peeking through, thigh-high lace-up boots and layered lace. A perfected and more chic punk style is apparent throughout the collection along with influences from Karl Lagerfeld's 1981 sketches. Knitwear is cleanly slashed or carefully wrapped, ribbed knitted pieces are left unbuttoned or worn asymmetrically. Glances into the history and innate features of house Fendi are omnipresent. Jones draws on graphic motifs from the FW 1996 Fendi archives. The brand's multipurpose sensibility is shown with Silvia Venturini Fendi's introduction of the Fendi Origami. By design, this new handbag is two things in one – it transforms between two distinctive silhouettes. Silvia's daughter, Delfina, shows off Fendi's appreciation for duality with her jewelry designs – directly in line with the collection's essence. Fendi's ability to transform complexity into simplicity, purity and sophistication hints at the collection's success.

www.fendi.com
Fashion
An Ode to Connectedness
On February 22nd of 2023, Tiffany & Co. hosted an exclusive dinner party in Berlin with the newly appointed ambassadors of the house, Ruby O. Fee and Matthias Schweighöfer, to celebrate the LOCK collection. Staying true to the brand's desire to prioritize diversity and inclusion as well as positively impact the communities with which it works, this unisex collection follows the motto: "No rules. All are welcome." The iconic jewelry pieces point to the power and importance of personal connections in our close environment, as they constitute who we are as individuals. LOCK resonates with Berlin, a diverse and busy city characterized by sharp contrasts, and a united metropolis where creativity and art flourish in ever new forms. Who better than one of Germany's power couples to represent this collection? The event transpired during the 73rd Berlin International Film Festival, where many friends of the house and beloved couple – including figures from the film, music and art industries – walked the carpet wearing Tiffany & Co.'s designs. Matthias combined a dark blue velvet suit with the Tiffany Lock Pendant in rose and white gold with diamonds and displayed various Tiffany Lock Bangle styles along with his girlfriend Ruby. The event commenced with an exclusive dinner at the iconic Schinkel Pavillon. Soon after, Anna Liset of Women of Style entertained the attendees – among which we find Yusra Mardini, Lea van Acken, Riccardo Simonetti and Jerry Hoffmann – with a DJ performance. Honoring the collection, the event embodied the celebration of friendship and of Tiffany's innovative designs.

www.tiffany.com
Fashion
TUDOR becomes official Timekeeper of the Giro d'Italia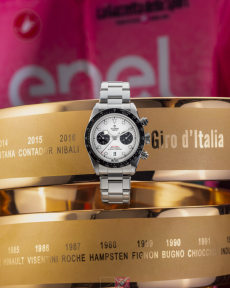 The world of competitive sports today has become more competitive than ever before. Through research, developments and optimization of training methods, the athletes' performances are brought to a peak. Races are no longer decided by seconds, sometimes it's merely fractions of a second which decide about winning or losing. The world of pro cycling is by no means an exception. One of the biggest happenings in the yearly cycling calendar is the Giro d'Italia which is considered to be one of the most prestigious and gruelling races in the world. In its 106th edition this year, riders from all across the world are once again chasing the maglia rosa, the Pink Jersey, handed to the overall winner of the tour. For the first time, TUDOR will now be the official timekeepers of the Giro d'Italia. But the Swiss watchmaker will not only be the timekeeper of the Giro d'Italia, but for all the RCS races which include classics such as Milan-San Remo or Il Lombardia. TUDOR and pro cycling have longstanding ties, as both are connected through the shared values of courage and team spirit as well as a constant striving for perfection. This is also embodied by the TUDOR Pro Cycling Team competing in races and tours all across the world. The Giro d'Italia will take place between May 6th, 2023 and May 28, 2023.

www.tudorwatch.com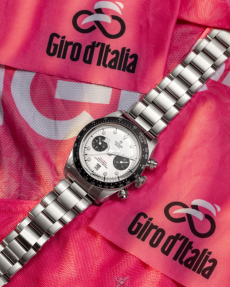 Fashion
Rebirth of an Icon: The Lady 95.22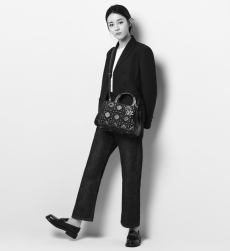 Building upon an immensely rich history, there is a special aura surrounding a Maison like Dior. Not only did the ateliers perfect their craft throughout the decades, but some of the leading creative minds of their respective eras were able to leave their imprint on the Maison, resulting in an archive which becomes a perpetual source of inspiration and an embodiment of the Maison's DNA shaped over time. To honor this DNA, this unique heritage, Dior has now revisited one of its iconic bags, the Lady Dior, giving it a modern makeover and hence bridging the past and present. First introduced in 1995 and revived in 2022, both moments in time are reflected in the bag's new name, The Lady 95.22. First introduced at the DIOR FW22/23 ready-to-wear show, the new icon is defined by its ultra-contemporary silhouette, with its architectural shape being enhanced by the emblematic macrocannage in combination with the new graphic maxicannage pattern. After this first unveiling on the runway, Chinese actress and Dior ambassador Dilraba Dilmurat is now shot with the iconic black leather bag. The resulting imagery isn't solely a prefect metamorphosis between the wearer and her bag, but an expression of the pure essence of Dior style, audacious yet elegant, an eternal source of inspiration and self-affirmation.

www.dior.com
Fashion
Instilling Womens' confidence
Since the beginning, women stood at the core of the Tory Burch empire, named after its founder. Tory Burch recognised a gap in the market, the overlooked, yet successful women seeking affordable quality with the timelessness of good taste. From the very beginning, her pieces resonated with these mid-career women who helped transform the brand into what it is today. The newest collection remains in line with the brand's underlying philosophy and is a celebration of the strength of women, the power of femininity, motherhood and family. According to Tory herself the collection's purpose is to empower women and to instil confidence. To put it in her own words, 'Women don't want to feel restricted, and they aren't interested in rules. They want to dress for themselves and express their individuality.' This is perfectly captured in the seasonal imagery starring Emily Ratajkowski and her son alongside Vittoria Ceretti and Ugbad Abdi set in the expansive, sun-drenched horizons of the Hollywood Hills. Styled by Brian Molloy and photographed by Jamie Hawkesworth. Throughout the captivating imagery, the three muses wear a selection of looks off the runway, showcasing the range and diversity within the collection. They also highlight the new standout accessories of the season, such as shoes, eyewear and watches, as well as the newest iterations of signature Tory Burch handbags.

The Spring 2023 collection is available in Tory Burch stores and selected retailers as well as online.

www.toryburch.com
Fashion
HUBLOT Ambassador Novak Djokovic wins Record-Breaking 10th Australian Open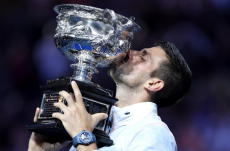 What similarities do Swiss watchmaking company Hublot and living tennis legend Novak Djokovic share? Not only is the Serbian professional a Hublot brand ambassador, but both also share many values such as their relentless pursuit of excellence and performance. Whether it is on the tennis pitch or within Hublot's fine watchmaking ateliers, each step needs to be perfect with each movement having been refined over and over again. During the past weekend, Djokovic confirmed his status as the most successful player in men's tennis history with a record 10th Australian open and a record-equalling 22nd Grand Slam win. To congratulate its ambassador Novak Djokovic, also known as Nole, Ricardo Guadalupe, Hublot CEO, stated, "There's no one like Nole! First, unique, different – and the most successful tennis player in men's tennis history. What a player! On behalf of all your friends at Hublot, I want to congratulate Djokovic on an incredible tournament, on extending your record and on your 22nd Grand Slam. Wow! You are truly a unique athlete and we admire your dedication, generosity and will to win so much. You are an inspiration, and we are proud to call you not just a Hublot ambassador, but a friend. Good luck with the rest of the season!"

www.hublot.com
Fashion
Josephine Baker Lives On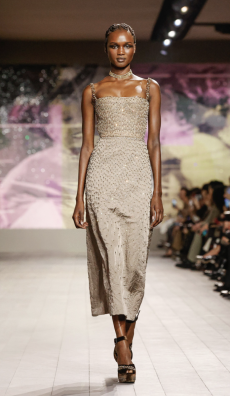 Since her emergence on the stages of Paris in the early 1920s, Josephine Baker has been a cultural icon – a symbol concurrently of the glitz and glam, as well as the struggles that defined her time. Born in 1906 in St. Louis, Missouri, Baker eventually renounced her American citizenship after reaching instant success in a France that did not have the same degree of racial segregation as her home country at the time.

Baker was a showgirl, a siren; lauded for her sexuality, style and magnetism (one needs only see a photo of her in the iconic banana skirt to find this claim justified). At the same time and more importantly however, Baker was also an activist, a proud African-American woman and member of the NAACP, and even a part of the French Resistance during WWII, helping to smuggle information on the locations of Nazi soldiers via her music sheets.

For all her courage and style, and her fascinating story, it is no wonder that Maria Grazia Chiuri took Josephine Baker as the muse for her latest collection for the Dior Maison. Conflating fashion and politics is a feat the Creative Director has received much attention and praise for in her decade-long tenure at the Maison.

Paris is an apt location to premiere a collection devoted to the woman who lived and breathed Paris in the Jazz Age. The line designed by Chiuri is filled with references to the great Josephine Baker and the historic times in which she lived – Art Deco inspired headbands, flapper dresses, velvet dressing gown coats. The artwork featured prominently as the set of the show tells the story of other important African-American female figures of the 20th century, celebrating their accomplishments in their respective fields and their trailblazing contributions to society. HZ

www.dior.com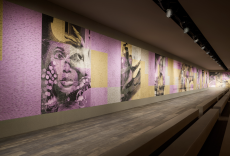 Fashion
The Passage of Time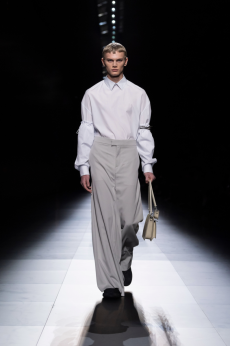 The changing of the seasons, the passing of time. The cycle of life moves through the motions – like a river; always moving, never still. Stillness in movement, in change. The passage of time, of life and death, of renewal and mutability, have been themes that have absorbed artists and philosophers alike for centuries. Such was the inspiration behind Kim Jones' latest collection for DIOR Men Winter 2023-2024.

In a release to the press, DIOR explains the river as a symbol of inspiration to the designer; ever-changing, a parallel to the constant flow of movement that is fashion. Jones has often been praised for his unique ability to pay tribute to the history of the iconic Maison whilst bringing in novel elements such as streetwear, striking a careful balance between the codes of the past and the ways of the present and future.

In this collection, Jones especially pays tribute to one of his predecessors, Yves Saint Laurent, who was the immediate and chosen successor to the father of the Maison, Christian Dior. The Spring/Summer Collection of 1958 is mainly drawn upon for inspiration, yet Jones brings in elements of himself and the time in which he lives to provide freshness and relevance. Mixing male and female elements, as well as a sense of modernity in the ease and practicality of the garments, Jones abides faithfully by the Maison's mission to reinvent its codes in ways that fit to the lifestyle and agency of the modern wearer. HZ

www.dior.com
Fashion
In The Skies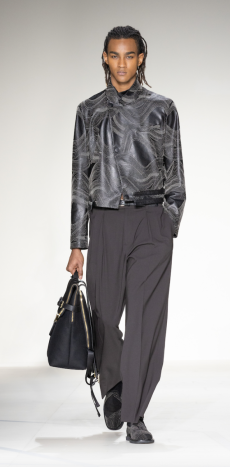 Circling above Milan at an unknown altitude, the models of Emporio Armani's Milan Fashion Week show glided gracefully over the runway like the brand's characteristic eagle. In fact, the models and looks they were donning were no more elevated than the rest of Milan, yet the optical illusion provided by the floor of the showroom – a military style birds-eye map of Milan – together with the old-fashioned pilot accessories, worked together to vividly simulate the theme of aviation that spanned the entire collection and show.

In keeping with the nostalgia for the early days of flight, the entire collection acted as a tribute to the revered figure of the 1930s aviator (an assuredly widespread male fantasy). Sophisticated and adventurous, an explorer by nature; the gentleman in the skies requires (at least as much so as the gentleman on the ground) a suitable attire, that is at once as sophisticated as he himself, yet also accommodating in his sportive ventures. In this pursuit, the Emporio Armani FW23 collection presents the perfect wardrobe companion for such a man. Soft, high-impact materials, designed in the classic sartorial gentlemen's styles such as Houndstooth and Prince of Wales checks, take shape in varied silhouettes – trench coats, double-breasted pea coats, cropped trousers, and more. Accessories help to enhance this effect: combat boots, aviator shades, vintage-style bomber jackets, to name just a few. Adding extra points in the categories of both Timelessness and Elegance is the color palette, made up of beiges, grays and caramels in the former part of the collection, with occasional splashes of color in the latter half. HZ

www.armani.com
Fashion
ZEGNA'S OASI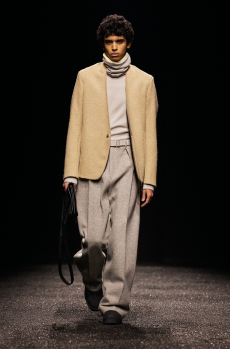 THE OASI OF CASHMERE, ZEGNA's new winter collection 2023, showcases a thorough dedication to the central fabric distinguishing this collection from those prior. "Matter matters" – a central tenet to the collection – encapsulates ZEGNA's belief that innovation in clothes making begins with fibers, and the treatment thereof throughout the design and production process. From the inception, to the weaving, to the handling, ZEGNA's sartorial codes of conduct show a great dedication to the art of textiles. Named partially after the Oasi Zegna, the historic home of the brand, the collection reflects the values that have accompanied its makers for many years. The Oasi Zegna is a nature park in the heart of the Piedmont region of Italy, which has garnered much praise for its part in preserving the nature of the area, and even won the prestigious Biodiversity Conservation Award at the Sustainable Fashion Awards 2022. The brand remains faithful to its sustainability principles, with the new Oasi Cashmere collection acting as a central component in ZEGNA's Road to Traceability, its commitment to certify all the fibers used as fully traceable by 2024. HZ

www.zegna.com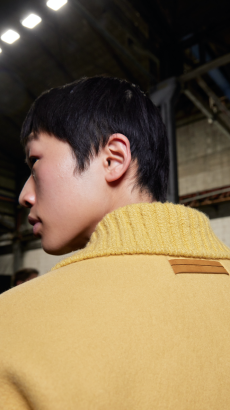 Fashion
LOIS // OSLO
"Casual chic" is perhaps the best way you could describe the new FW23 collection by Lois Jeans, inspired by 1980s New Yorker street style. Sub-themes of Groovy Chic and Preppy Chic also ran throughout the collection, lending the collection a certain versatility.

Set against the dramatic backdrop of the Oslo Opera House, the unveiling of the collection was accompanied by dramatic live music and ballet dancing, creating a formidable experience for the guests in attendance. The Opera House is an architectural marvel; designed by the Norwegian architectural firm Snøhetta, it unfolds neatly into the cityscape thanks to its low-slung form. Music played a central role in the event as well: the full show was accompanied by an orchestra of 22 Norwegian music students, to the tune of the celebrated Boléro by Maurice Ravel. Due to its grand yet sleekly elegant interior, the opera house was the perfect venue for the convergence between fashion, dance and music that took form through the Lois Jeans FW23 show.

In the words of Creative Director Arthur van Rongen: "In this show, everything for me came together; my favorite classical piece of music in one of the most beautiful buildings of the world, my favorite ballerina in the world in one of the most beautiful countries of the world. For this show. I've really listened to my dreams, and together with my team we made it happen and with our audience it felt for 30 minutes we were all together in a bubble of love. This is what fashion should be like for me." HZ

www.loisjeanstore.com
Fashion
LV & Ski
Ski, slopes and sun. What better way is there to spend a winter season? For those lucky enough to make it to the mountains this year, Louis Vuitton's new LV Ski Collection comes like a belated Christmas present. Sporting everything from snowsuits to furry hats to ski boots, the collection has an item for every occasion, whether that be racing down the slopes or having the odd drink or two at the après ski. Puffer jackets made of genuine goose down padding and recycled nylon fabric will keep you warm in the cooler climates; technical nylon and waterproof stretch gabardine will allow for optimal movement while bracing you against the cold. Louis Vuitton also commemorates the winter season with a remixed version of the famous LV logo, giving rise to a reworked version of the Snowflake motif alongside the LV Flocon logo.

In a nod to traditional nomadic architecture, Louis Vuitton has also opened a new pop-up in the famous Alpine town of St. Moritz in the shape of a yurt. The structure is emblazoned on the outside walls and throughout the interior with the familiar LV logos and patterns, and houses a cozy yet sophisticated vibe, complete with plush sofas and a fireplace in the middle.

The Louis Vuitton Yurt Pop-Up is open from December 16th until April 10th on Via Maistra in St. Moritz. HZ

www.louisvuitton.com
Art
Simplicity, clarity and logic
Going back three generations, the family-run Carl Hansen & Søn has been committed to passionate craftsmanship. With the aim of preserving Danish design classics as well as representing influential contemporary designers, the company seeks to gather the best and most iconic modern furniture designs under one roof. The brand's partnerships with designers are premised on a shared respect for thoughtful design and production, holding at the core the Danish Modern principles of simplicity, functionality and craftsmanship.

These values continue to guide designers of the brand today, as for example in the most recent AH Outdoor Series, designed and developed by the late Alfred Homann. Born in 1948, Homann was an esteemed architect and designer, having won multiple awards for his work before his death in 2022. The founding of his own studio in 1978 in Copenhagen at just 30 years old saw Homann develop his own personal style, with a particular taste for simplicity, clarity and logic. The Outdoor Series, released in time for the new year, reflects Homann's personal style and pays homage to his keen eye for detail and sense of soft shapes that pervade the collection. Eleven pieces carved out of untreated teak comprise the series, each meticulously polished by hand by the seasoned craftsmen at Carl Hansen & Søn. HZ

www.carlhansen.com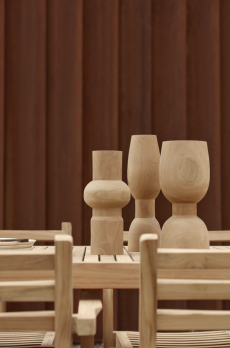 Fashion
Stone Island SS023
The brand Stone Island cherishes a culture of research, experimentation and usability. With its sharp focus on textile research and design innovation it continues to push the bounds of fashion production. It is a project based on fashion beyond mere aesthetics, taking as its observatory the study of workwear for the sake of understanding the functionality and evolution of clothes. The DNA of the brand lies in scientific innovation and investigation, as it seeks to transform and reinvent the make-up of fibres and fabrics, as well as of dyeing processes.

The Stone Island Spring Summer '023 collection is yet another stitch in this pattern, representing state-of-the-art fabric and garment dyeing technology, in terms that will set the average layperson's head spinning. In terms of styling, the collection explores the world of 1980s youth subcultures, with a vibrant palette of colors – magenta, yellow, orange, sienna, green – that ensure a visual blast to the past. Despite the technological innovation and fashion focus of this new line, the brand remains true to its essence: keeping functionality at the very heart of the collection. HZ

www.stoneisland.com
Fashion
ETRO Christmas Capsule Collection
ETRO – Milanese fashion house, family business, and connoisseur of textiles – celebrates the oncoming festival season with Marco De Vincenzo's latest SS23 Collection, "Step into the Holidays." De Vincenzo, a veteran of the Milan fashion scene, was named Creative Director of ETRO, the over 50-year-old brand, a mere few months ago.

Presented in Milan during Fashion Week this last September, the ready-to-wear selection includes bags, shoes, accessories and jewelry, and features two of the brand's most characteristic visual codes: the arnica motif and the colored stripes. ETRO's visual brand identity is strongly associated with the paisley design, popularized in the early 1970s, but representing an ancient decorative symbol born in Mesopotamia.

The campaign images look like the scene from a retro-futuristic dream, shimmering and surrealistic against the night sky. Appealing to the imagination, the campaign reintroduces us to some of ETRO's more iconic designs, as well as introducing us to some newer and more eclectic designs, including the new Love Trotter shopping bag with 3D Pegasus embroidery, a gold metal apple jewel bag and Aladdin's clogs.

The Step into the Holidays preview will be available exclusively from November 28th on NET-A- PORTER, etro.com and in a selection of Etro boutiques worldwide. HZ

www.etro.com
Fashion
Armani in the Alps
St. Moritz – luxury ski resort town and host to not one, but two, historic Winter Olympics – played host yesterday to another major event, the Giorgio Armani Neve Autumn/Winter 2022/23 show. Held against the backdrop of the Olympia Stadium one one side, and a 360 degree panorama of the glorious Swiss Alps, the Giorgio Armani Neve event drew a throng of over 300 gracious guests.

"Neve", Italian for snow, is the name of Armani's elusive skiwear collection, launched only a few years ago, in response to a growing demand for high-fashion skiwear. Armani is certainly not alone in answering to this call – by now, droves of fashion brands are ambling into the style-meets-ski arena – however "what makes Neve different is the balance of performance and style, and the span of the offer, which is dedicated both to skiing and après ski," according to the namesake founder/designer Giorgio Armani himself.

Armani is leading by example as a major fashion label. Together with the Swiss Tourist Board, the Armani Group worked to organize a show with minimal environmental impact throughout the entire affair, avoiding single-use plastic and food waste, as well as ensuring the reuse and recycling of materials. The brand is also committed to offset all event-related emissions through nature-based solutions, including making a sizable donation to "MortAlive," a Swiss organization working to protect glaciers all over the world. HZ

www.armani.com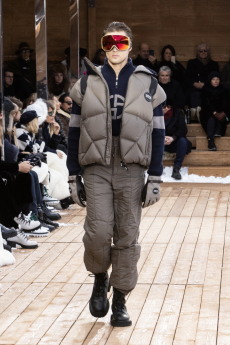 Fashion
Eastpak x Super Mario
It's-a-me, Mario! Nintendo's poster boy, one of the most well-known and loved characters on video game screens, is coming back to schools and offices. Since the early 1980s, Mario has been delighting people all over the world in his quest to save Princess Toad and the Kingdom from Bowser and the Koopa Troopa, the clan of evil turtles known for their black magic.

Out of his familiar native Mushroom Kingdom, Mario now comes riding back in on what is surely another familiar household name, the Eastpak. The brand is well known for its functional, stylish and timeless luggage, accompanying millions to school and work every day. "Built to resist", Eastpak products come with a thirty-year warranty as another guarantee of the durability and robustness of the product, thus reducing waste and promoting more sustainable patterns of purchasing.

Across multiple products, from Padded Pak'r backpacks to Eastpak's Springer bum bags, pencil cases, suitcases and lunchboxes, a sense of childhood is woven into the exteriors, with familiar Super Mario motifs embossed and embroidered in. The collaboration is rife with imagination and nostalgia, bringing a little bit of that early 90s feel to everyday life. HZ

www.eastpak.com
Fashion
CHANEL IN DAKAR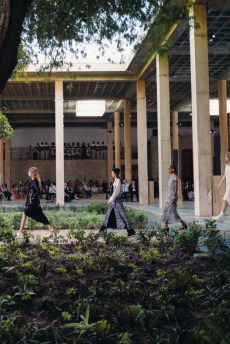 Dakar, the Senegalese capital and westernmost city on the African mainland, was host this season to the CHANEL 2022/23 Métiers D'Art Show. It represented a significant moment in fashion, as the first fashion show by a European luxury brand in sub-Saharan Africa. The show took place a week after Dakar had hosted the 20th edition of Dakar Fashion Week, Africa's longest-running fashion event. Preceded by "real dialogues, nourished over the long term," the show was intended as a celebration of the vibrant local culture. The collection and show come as the results of multiple creative encounters with artists, choreographers, directors, musicians and writers from the local scene. This collaboration was evident in the show itself, featuring performances by special guests such as local singer Obree Daman and dancers from the local École des Sables dance school.

During the creative process, CHANEL Creative Director Virginie Viard drew heavy inspiration from the 1970s – a time of freedom, revolution and enormous energy – with heavy tweeds, warm color palettes, flared trousers and platform shoes forming integral elements of the collection. The collection also emulates this iconic chapter in fashion history with precise details, such as plant motifs, sequins, sparkling pendants and geometric motifs.

A four-part short-film series published on the Chanel website and directed by the students of the Kourtrajmé film schools, tracks the story behind the 2022/23 Métiers d'art CHANEL – DAKAR collection and show. HZ

www.chanel.com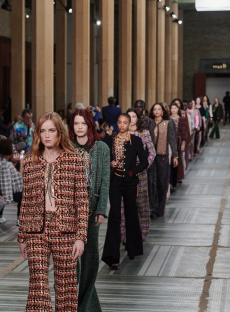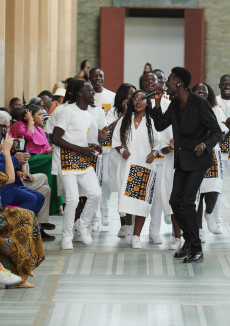 Fashion
Dior in the Dunes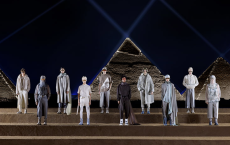 Emerging from a desert landscape, the formidable silhouettes of the pyramids crowning the background, the models of Dior take to the stage. Set against the Great Pyramid of Giza, a relic of over four millennia of human history, the Dior Men's Fall Show 2023 was a nod to the past as well as a look to the future, a symbolic gesture to the House's 75th birthday. The contrast between the ancient site and the retro-futurism of the designs bore witness to this unification of past and future.

Aptly titled "Guided by the Stars", the collection draws on a fascination with technology and sci-fi themes. Artistic director Kim Jones conceived a lineup that played with patent astronomical references, even collaborating with NASA on some designs that used telescope images for print galaxies. Complementing the background, desert hues such as white, gray and sand stood out in particular, with occasional splashes of yellow and orange. Accessories like stormtrooper helmets and racer-style sunglasses completed the theme, creating looks reminiscent of David Lynch's 1987 adaption of "Dune." A fusion of elegant tailoring and futuristic design permeates the collection, with kilt-like overlays often hung to one side over sharp tailored trousers. Thick neck scarves, sheer fabrics and capes helped to complete the Dune-like aesthetic.

Using a range of techniques, Kim Jones managed to create a collection that was at once futuristic and utilitarian, explorative and celestial. With 75 looks to commemorate 75 years of Dior, the new Men's collection celebrates past, present and future. HZ

www.dior.com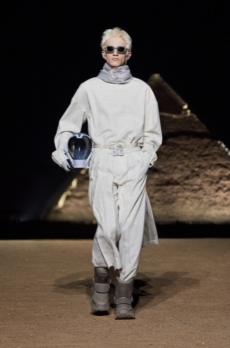 Art
At the Intersection of Champagne and Art
Ruinart's relationship with art is inscribed in its history. The historic link was forged in the late 19th century when the French Maison showed audacity and modernity with its first advertisement created by Czech artist Alphonse Mucha. Ever since then, Ruinart has maintained these close ties to the world of art and the artists, who have reinterpreted its universe time and time again. In line with this continued commitment to not only creating excellent champagne but also artistic expression, Ruinart has partnered up with German-Dutch artist BD Graft for PAN Amsterdam. For this collaboration, the artist created 20 limited edition magnums which were not only exhibited but also auctioned off with all the proceeds having gone to the World Wildlife Fund. As Ruinart stated, "Nature loss and climate change affect all life on earth. To stop this, we need more nature. WWF will use the proceeds to secure forests worldwide. This fits in perfectly with the sustainability objectives that Maison Ruinart has set itself." For each of the limited edition bottles, the 100% biodegradable "second skin" featured unique designs, numbering and a signature of this special artist. BD Graft has found success through his simple, yet recognizable visual language with nature and the human condition being central aspects of his work. Displayed at the Ruinart Lounge, in the middle of the art fair, each of the bottles was the embodiment of the iconic Maison, combining the art of champagne making with the artistic expression of a chosen artist.

www.ruinart.com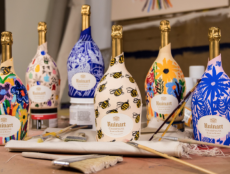 Fashion
Furla Cruise 2023 Collection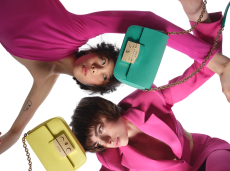 Founded in 1927 by Aldo Furlanetto in Bologna, the brand Furla has long been hailed as an industry leader in its craft. Drawing on its long-standing expertise, the Italian brand strives to create pieces made from a sense of beauty and quality, reaching at the same time for new heights in design innovation and creativity. With its atelier based in Tuscany, the brand stays true to its DNA of producing goods of traditional Italian craftsmanship. Furla stands for optimism, bringing a sense of colorful and cheerful creativity into each creation.

True to form, colors and youthful playfulness make up Furla's Cruise collection 2023. Furla paints the picture of a woman – "curious, enthusiastic, creative: a woman who is not afraid to experiment." Its newest collection of handbags is designed to equip this modern woman. Available in both bold and vibrant as well as neutral and classic colors, the Furla handbags are readily wearable for any occasion. Soft and geometric shapes can be found throughout, creating a visually versatile range of purses and bags.

www.furla.com
Art
The Swingin' Sixties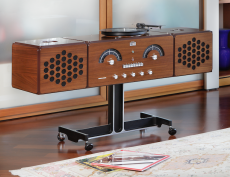 The Italian design brand Brionvega is announcing the release of PRIMO, a faithful reproduction of the original RR126 Radio, 55 years on from the release of the original model. The radio-phonograph was designed by brothers Pier Giacomo Castiglioni and Achille Castiglioni in 1964 and eventually became an iconic example of 1960s design movements – examples of it are today on exhibition at places like the MoMA in New York, the Victoria & Albert Museum in London and the Milan Triennale. Coveted by design and vintage lovers alike, the time-honored piece has come to represent a relic of the past, embodying a nostalgia for Italian industrial design and the age of the 1960s. The PRIMO radio-phonograph (product code rr-226 NOCE CANALETTO) brings this past treasure into the modern age. It stays true to its predecessor in many ways, from design and materials to production and manufacturing. Wooden panels sanded with sandpaper, the handcrafted frame made by sand casting, hand-painted frame holes, silk skin print – all elements that, then as now, reflect a high degree of mastery and craftsmanship. The rebirth of the cult object comes in only 100 pieces of the PRIMO radio-phonograph, available in-store in limited edition. HZ

www.brionvega.it
Fashion
A Lesson in Victory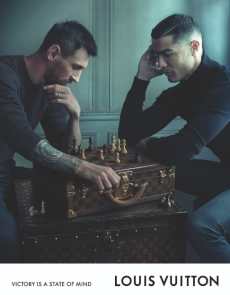 A single photograph, a chessboard, and the two reigning football champions of our generation. A photograph taken by legend Annie Leibovitz has rocked the world in the new Louis Vuitton brand campaign featuring none other than Cristiano Ronaldo and Lionel Messi. The campaign, entitled "Victory is a State of Mind" shows the two football legends consumed in a game of chess improvised out of and played on top of a Louis Vuitton Damier attaché case. It follows on from an earlier campaign, shot also by Annie Leibovitz for Louis Vuitton that similarly featured the football hall of fame greats Pele, Maradona and Zinedine Zidane, poring over a game of foosball in a dusty bar in Madrid, LV baggage sitting idly by in a corner or draped over a chair. "Three exceptional journeys. One historic game." – the name of the former campaign.

Louis Vuitton once again shows an exceptional feat of marketing, capturing the hearts and minds of football fans across the world with its image of these two icons enthralled in a game that is, like football, as old as time. The game in fact mimics an iconic match between Chess Grandmasters Magnus Charlsen and Hikaru Nakamura, played at Norway Chess in 2017. Ahead of the FIFA World Cup 2022, it is certain that the eyes of the world will be locked upon these two stars, as they enter into what it is to become both of their final World Cups. An historic moment for the world of sports and popular culture, for which Louis Vuitton has secured itself a place amongst these two victors. HZ

www.louisvuitton.com 
Fashion
Cool in the Cold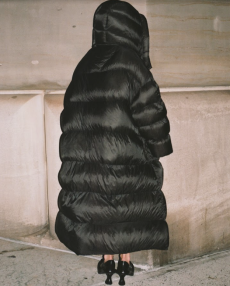 The FW collection 22/23 represents a second collaboration between Canadian luxury outwear brand Moose Knuckles and American fashion label ECKHAUS LATTA. The collection brings Moose Knuckles' specialization in innovating and engineering to create high-quality outerwear together with Eckhaus Latta's cutting-edge design. "Fearless yet functional fashion" is the purpose behind this collaboration, according to Moose Knuckles' Chief Marketing Officer Ayal Twik. As one of the world's leading producers of luxury outerwear, Moose Knuckles has garnered over 100 years of experience in the business of creating "resilient garments for the most unforgiving conditions". The brand specializes in product design and technical expertise, invoking special knowledge of fabrics and fashion engineering in order to produce the highest quality outerwear.

ECKHAUS LATTA is an American fashion label established in 2011; the brainchild of Mike Eckhaus and Zoe Latta, who met during their studies at the Rhode Island School of Design. At the time, the two founders were studying Sculpture and Textile Design respectively. This intersection between art, design, and fashion remains a core tenet of the brand even today, which regularly participates in art installations and exhibitions with projects, videos, and collections – exhibiting for example at the Whitney Museum of American Art in 2018. The designs, at times grunge and edgy, sometimes colorful, are unfailingly inventive. A partnership of "artistic and technical exploration" has resulted in a revisiting of some of Moose Knuckles' core styles, reinterpreted by ECKHAUS LATTA to offer a more contemporary look using oversized, exaggerated proportions. Moose Knuckles' technological mastery is most evident in the puffers – filled with RDS-certified down but designed in hyper-light form for better mobility. The accompanying campaign was shot by Mary Manning and styled by Matt Holmes, under the artistic direction of Eric Wrenn. HZ

www.mooseknucklescanada.com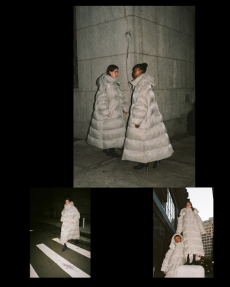 Fashion
Belvedere: New Global Campaign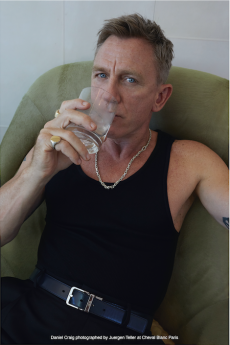 Belvedere, the world's first super premium vodka, is a Polish rye vodka, which receives its name from the Belweder, the Polish presidential palace in Warsaw. Representing 600 years of Polish vodka-making tradition, the production processes adhere to the traditional regulations, using only Polska rye, purified water, and a distillation process by fire, without any additional additives. For its newest campaign brings together a stellar community of creatives inspired by pure emotion captured by a moment of feeling gloriously free. In this spirit, Award-winning filmmaker Taika Waititi, photographer Juergen Teller and choreographer JaQuel Knight create exciting visuals, a perfect mise-en-scene for the campaign's face, Daniel Craig. Through Waititi's unique lens, we get to follow Daniel Craig in picturesque Paris, making his way through the luxurious Cheval Blanc Paris arriving at a spectacular suite, and dancing his way to the Belvedere bar, where he takes an ice-cold sip before we hear the director yelling cut and giving instructions to take it from the top. It's a unique take that brings together the choreographed mise-en-scene as well as snapshots of how life might look like when the cameras are not rolling. This coming together of an inventive and gifted group of provocateurs, each with a taste for the unconventional results in the captivating yet unique campaign, a nod to Belvedere's longstanding beliefs of self-expression, authenticity, and style.

www.belvederevodka.com
Fashion
Tommy Jeans x Martine Rose
Tommy Hilfiger is teaming up with British designer Martine Rose to launch the gender-inclusive capsule collection "Tommy Jeans x Martine Rose". Fusing the DNA of brands, the 35-piece collection takes archival icons from Tommy Hilfiger and reinterprets them through Martine Rose's unique lens, highlighting the British designer's trademark out-of-the-box and experimental approach. The collection itself is defined by an elevated streetwear aesthetic with ironic touches expressed through powerful play of color and graphics which can be seen on garments characterized by exaggerated proportions in a typical Martine Rose style. A fan of the brand herself, Rose comments that, "Tommy Hilfiger has always been a brand that I've drawn inspiration from, so this partnership was such a natural and organic marriage." The collection's imagery was shot in Miami by renowned photographer Buck Ellison attempting to redefine traditional Americana by showing a diverse couple in a classic setting. Martine Rose's aesthetic is mirrored in the campaign's imagery which brings the spirit of Americana into the 21st century, highlighting the beautifully diverse spirit of modern America.

The collection will be available on November 7th, 2022 at select Tommy Jeans stores and online.

www.tommy.com
Art
Ninth Edition of the Max Mara Art Prize For Women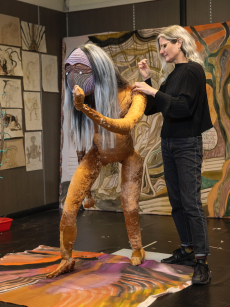 In 2005, Max Mara and Whitechapel Gallery brought the Max Mara Art Prize for Women into being. This biannual award, aiming to promote and support artists, identifying as women, hence enabling them to develop their potential with the gift of time and space, is the only one of its kind and awards its winner a six-month Italian residency tailored to fit the artist's needs to realize her winning proposal. During this residency, organized by Collezione Maramotti, the winning artist will have the opportunity to realize an ambitious new project which will then be presented in a major solo exhibition at the Whitechapel Gallery in London and at Collezione Maramotti in Reggio Emilia, which will then acquire it. As Bina von Stauffenberg, chair of the Max Mara Art Prize for Women jury, states, "It could not be more urgent or relevant to ensure that women artists are championed, and heard on the world stage. For more than a decade, this unique prize has successfully enabled women-identifying artists at different stages of their careers to develop their potential in extraordinary ways." In late October, the eighth edition's winner Emma Talbot's exhibition The Age/L'Età was presented in Reggio Emilia after having been revealed earlier this summer at Whitechapel Gallery in London. On this special occasion the five shortlisted finalists, Rebecca Bellantoni, Bhajan Hunjan, Onyeka Igwe, Zinzi Minott and Dominique White, for the ninth edition have also been announced. Rebecca Bellantoni is an artist who currently engages in research looking at the city and its multiple worlds in relation to the psyche, soul and body of the city dweller. She realizes this through her wide-ranging practice encompassing moving image, installation, performance, photography, textiles, printmaking, sculpture, sound-text and ceramics. Bhajan Hunjan is a trained painter and printmaker closely associated with the Black British Art Movement. Through her practice defined by a very individual visual language of free-floating lines, symbolic colors and shapes, repetition and script motifs, she is encouraging the viewers to reflect on social, spiritual and emotional environments. Onyeka Igwe is an artist and researcher who engages with the question "how do we live together?" in her practice. Particular interest is given to how spatial, sensorial and non-canonical ways of knowing can provide answers to these questions, resulting in "figure-of-eights" drawing upon archives, narration and text to expose a multiplicity of narratives. Zinzi Minott's practice is focused on the relationship between dance, bodies and politics and how dance can be perceived through the prisms of race, queer culture, gender and class. She is especially interested in the Black female body and Caribbean stories, such as the Atlantic Slave Trade and the migration of the Windrush Generation. Dominique White's practice is weaving together the theories of Black Subjectivity, Afro-pessimism and Hydrachy with the nautical myths of Black Diaspora into a term she defines as the Shipwreck(ed) in relation to "a Black future that hasn't yet happened but must."

www.maxmara.it
www.collezionemaramotti.org
www.whitechapelgallery.org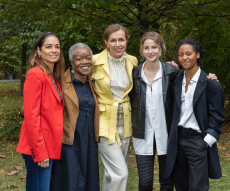 Art
Saint Laurent Rive Droite invites artist Elladj Lincy Deloumeaux
Marking Art Basel Paris +, the Saint Laurent Rive Droite stores in Paris and Los Angeles present a series of specially commissioned artworks created by the artist Elladj Lincy Deloumeaux. The Paris-based artist investigates the relationship between people and ideas, which he addresses in an open and vibrant way in his artworks. With a particular focus on Afro-Caribbean images, he emphasizes aspects of everyday life, mythologies, iconography, beliefs, and religious heritage. His art evokes a dual identity by incorporating found or familiar objects into still life and painting series.
The exhibition was organized in partnership with the Cécile Fakhoury gallery, which has been based in Abidjan since 2012 and in Dakar and Paris since 2018. In order to achieve the goal of promoting contemporary art across the African continent, Cécile Fakhoury is developing a perennial infrastructure thus creating and establishing awareness, creativity, and diversity. The gallery unites artists whose artworks use barrier-breaking language while rejecting geographic stigmatization.
The exhibition includes about thirty artworks, which will be displayed in Paris, and two large artworks in Los Angeles: Antan Lontan and Au bord du ruisseau. JW

www.cecilefakhoury.com
www.ysl.com
Fashion
The Palace Gucci Collection
Italian luxury and London streetwear melt together as Gucci's creative director Alessandro Michele invites Palace Skateboards to an astonishing collaboration. Although the two brands appear to be opposites at first glance, the Palace Gucci Collection discovers their common ground of approaches, obsessions, and meanings. The designs focus on modern street culture as they unite the creative universes of both Palace and Gucci, captured in surreal imagery accompanying the collection. The film by Max Siedentopf connects the two different realities, thus encouraging viewers to discover their own anomalous affinities.
The collection includes accessories and clothing for all genders, that is Palace presents for the first time women's ready-to-wear designs. Alongside Gucci icons, such as the Horsebit loafer, Palace's staples are represented as well, meaning soccer tees, denims, and tracksuits. Within the collection, Gucci's heritage gets revamped, as for instance, the legendary monogram canvas incorporates a Palace 'P' while duffles appear reshaped in a pyramidal form. The fusion of the diverse aesthetics culminates in the logo, which merges Gucci's double-G with Palace's Tri-Ferg.
The result is an inspiring collection of high-end streetwear, which bears the signature of two modern and acclaimed brands that have discovered new sides of themselves together. JW

www.gucci.com
www.palaceskateboards.com
Fashion
Alexander McQueen presents SS23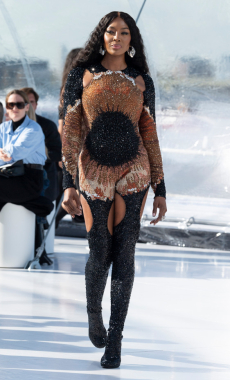 During an exceptional fashion show amid the Old Royal Naval College in Greenwich, Alexander McQueen introduced its Spring Summer collection 2023. Within the collection, Alexander McQueen's creative director Sarah Burton explored the search for humanity as well as human connection. "The eye is a symbol of that humanity, a register of emotion, an expression of uniqueness.", she says. The clothing items in the collection are designated to have an empowering effect on their wearers, which is why the designs focus on cut, drape, and bold silhouettes. In order to create the magnificent pieces, Sarah Burton gathered inspiration from the Dutch Painter Hieronymus Bosch, whose works are attached to the late Gothic as well as the Renaissance. The creative director was deeply fascinated by the dark yet beautiful paintings, from which she took on some elements for the collection.
High-profile models such as Naomi Campbell walked the circular runway, presenting black leather pieces, white mesh bodysuits, trenchcoats, cropped tailored jackets, and many more extraordinary garments in a rich color palette. In front of internationally renowned celebrities, including Janet Jackson, Sheila Atim, and Christopher Kane, they put together a magical show, perfectly staging the elegant clothing items. JW

www.alexandermcqueen.com
Fashion
Hublot and Shepard Fairey present a harmonious watch design
Cooperated for the first time in 2018, Hublot and Shepard Fairey now return with a fascinating collaboration, exclusively available in North America. As the internationally renowned street art artist aligns with Hublot's spirit of crossing boundaries and setting new limits, the collaboration came naturally to both of them. In various fields, the artistic all-round talent and founder of the fashion brand OBEY Clothing was able to achieve success. He gained particular notoriety for his poster Obama Hope from 2008 or the large-scale installation Earth Crisis from 2015, the first-ever installation to be seen on the Eiffeltower.
To follow up on the last collaboration between Shepard Fairey and the Swiss luxury watch brand from 2020, they choose again a model from the Classic Fusion-Collection. This time, Shepard embellishes it with a mandala, to which the watch's elements are attached. Distinguished by its all-black design, it consists of a chronograph movement, a ceramic case, and Hublot's classic black rubber strap as well as sapphire glass that covers the bottom of the case. The mandala, the core of the outstanding design and significant to Fairey's work, exudes harmony, as it connects the artistic skills of the two exceptional cooperation partners. JW

www.hublot.com
Fashion
Gucci presents Valigeria imagery with Ryan Gosling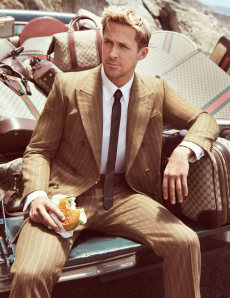 For the Gucci Savoy collection, creative director Alessandro Michele and photographer Glen Luchford created an imagery which takes us into a reality-adjacent dream of a present built on the possibilities of the imagination and of an encounter. Featuring actor, screenwriter, director and musician Ryan Gosling, the collection's images and video follow him and the exceptional Gucci suitcases on a journey to surprising places and fantastical worlds, which are first and foremost mental places, as Michele explains.
The narrative depicted is not unfamiliar to the maison's history: At the beginning of the 20th century Gucci's founder Guccio Gucci left Italy when he was seventeen years old and started working at The Savoy hotel in London. Getting a taste of the magical world of travel, which back then was synonymous with discovery, discussion and cultural exchange, the young Florentine transferred this experience of the unexpected into his work, that is his first suitcases. Honoring this first part of Gucci's rich history, the trolleys, hard and soft suitcases, duffle bags, trunks, hat boxes and beauty cases of the Savoy collection get to tell the a story of possibilities in the Gucci Valigeria imagery, as they are more than containers, but repositories of dreams. JW

www.gucci.com
Fashion
Stone Island launches exclusive pieces for its 40th anniversary
This year marks a special anniversary for the Italian fashion brand Stone Island. 40 years ago, the international and avant-gardistic label was founded, presenting streetwear, fashion, and luxury in a unique mix from the beginning. First worn and acclaimed by the Milanese paninari, a subculture of the 80s, Stone Island soon found its way to fashion lovers all around the world. To celebrate this significant anniversary, the brand launched a series of garments within the Autumn Winter 2022 2023 collection. For the core of this special collection, the brand chose to revamp the iconic 982 Tela Stella Cape. Distinguished by a new choice of fabric, it is composed of two materials. The outer one references a fabric from the Stone Island archives and is called MICROFELT WITH RIPSTOP COVER. Protecting the outside due to a translucent polyurethane cover with a ripstop motif, it consists of a very light non-woven fabric made out of compact nylon fibers, creating a paper-like effect. The fabric that lies underneath is crafted in woolen cloth. An additional anorak is fabricated in the same materials as it further incorporates the PrimaLoft Silver padding, which is an exclusive 100% recycled blend. The exceptional materials used for these garments mirror Stone Island's demand for itself to provide high-quality, which it consistently followed for the past 40 years. JW

www.stoneisland.com
Fashion
Moose Knuckles teams up with Post Malone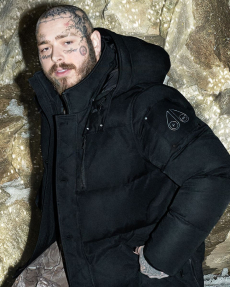 Over one year ago, Canadian luxury outerwear label Moose Knuckles and Global superstar Post Malone started working on an exciting collaboration behind closed curtains. Now, the 10-piece gender-neutral capsule collection is finally out. As someone experimental who expresses himself through his inventive style, Post Malone seems to fit perfectly with the rebellious spirit of Moose Knuckles. He explains: "This partnership with Moose Knuckles felt super organic from the beginning. The collection is about celebrating and doing things your own way based on your natural instincts." Composed of iconic Moose Knuckles silhouettes, the collection includes amongst others the 3Q jacket reworked in Realtree camouflage print in black and customized golden yellow. Furthermore, the collection is characterized by further customized design details such as all-black metal hardware, zippers, and a special edition logo on the above-mentioned 3Q jacket. Beyond that, the insulating "Bunny" hoodie in black sherpa, equipped with a detachable lamb shearling hood is featured in the collection alongside a matching sherpa jacket and jogger. In terms of accessories, the collaboration offers a sherpa baseball cap adorned with a new logo patch. For the first time in a collaboration, Moose Knuckles will also include the 3Q for children, providing the whole family with the eye-catching collection. JW

www.mooseknuckles.com
Fashion
ICEBERG presents its Fall Winter 22-23 collection Back in Black!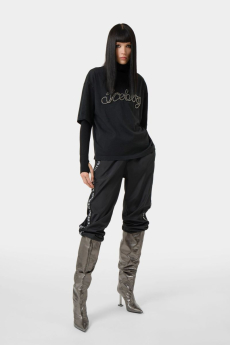 ICEBERG's new Fall Winter 2022-2023 collection for men and women welcomes the cold seasons of the year in its unprecedented black aesthetic. Designed by the brand's creative director James Long, the collection embodies his vision of "traveling without moving and being present and visible without being physically there". Portraying the Italian chill, a lot of the garments link traditional dress codes with outerwear thus making them more suitable for fall and winter.
The collection stands out with unique clothing items, such as heavy leather jackets and elegant jumpsuits, combining exciting cut variations in their catchy appearance. One of the highlights of the ICEBERG Fall Winter 2022-2023 collection is the eco-leather embellished jacket for women, which features a lurex entwined furry collar alongside crystals, rounded studs, and Iceberg logo engraved buttons. Exuding to the spirit of the brand, its name ICEBERG is spelt out on both sleeves with rounded gunmetal studs. Also in terms of accessories, James Long delights with his new creations. The Black Square Base Heeled Boots are particularly striking and essential to every woman's wardrobe. Defined by clean and elegant lines, these pointed-toe boots have an exceptional stiletto heel with a square base. JW

www.iceberg.com
Fashion
Bulgari presents the SS23 Leather Goods & Accessories collection at MFW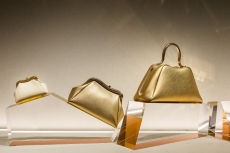 Bulgari presented its new Spring Summer 2023 Leather Goods & Accessories collection during Milan Fashion Week. In its Milanese home, the enchanting Bulgari Hotel the renowned jeweler set up a showroom and furthermore hosted an evening event there. Under the title "Shades of Wonder", Bulgari showcased a world of vibrant nuances, testifying to the brand's captivating creativity and unrivaled mastery. More than 400 members of the international press joined the showroom to explore the new Spring Summer 2023 collection which is defined by intense colors inspired by the most precious gems.
These colors and gems were mirrored by the garden of the Bulgari Hotel at sunset, which lit up thanks to the light installation "PRECIOUS SHADES" by Studio Mandalaki. The special optical bodies of the Halo Edition lights appeared just like the rare stones incorporated in Bulgari's fine jewelry, creating a unique and magical atmosphere in the midst of the buzzing city of Milan. It thus evoked a both visual and sensory experience which is liked to the concepts of the new collection. JW

www.bulgari.com
Fashion
Prada's SS23 shifts between realities
Miuccia Prada and Raf Simons showcased a sequence of realities for the Prada Spring/Summer 2023 womenswear collection, titled Touch Of Crude, and presented during Milan Fashion Week. The collection investigates the contrast between delicacy and roughness, shifting between different visions and alternate realities. Some of the garments mirror the show space, a black panopticon, as they are made of a paper-based fabric, torn against the body. Intentional rifts, twists, creases, and folds define and shape many of the collection's pieces as they depict traces of human life and memories of beauty. It is this rawness that evokes fragility, reflecting humanity as reality.
Day and evening clothes alternate and blur the lines between distinct realities, fusing opera coats with leather jackets and intimate loungewear with outwear. Continuing with accessories, Prada presents reinterpretations of classic Prada handbag silhouettes in an antique nappa and with patinated, pressed, and wrinkled surfaces.
For the fashion show Film director, Nicolas Winding Refn presented fragments of his short films through raw apertures punched through the décor, giving the audience the opportunity to look into a different reality, remaining in the context of the Touch of Crude collection. JW

www.prada.com
Fashion
FENDI SS 23 goes back to the 2000's
For Fendi's Spring/ Summer 2023 collection, presented during Milan Fashion Week, Kim Jones dived into the brand's prestigious history. That is, he freshly approached previous collections and gathered inspiration from Karl Lagerfeld's work for Fendi. He explains: "It's about continuity. I am interested in looking at things that Karl has done, and seeing, how we can develop them - both visually and technically." In the course of this, the designer reimagined a floral print of the Fendi archives as well as a logo from the year 2000.
The garments are reminiscent of the time around the turn of the millennium as they link minimalist ease with pop-infused eclecticism. Both effortless and refined are the floating layers of technical organza as well as the nylon jersey adorned with lacquered embroidery. While the collection is kept in neutral tones, Jones added bold pops of colors in vibrant pink, blue and green. Furthermore, the fabrics which include cashmere, fur, and leather appear lighter than ever before, layered with technical fabrics. In terms of accessories, Fendi presents a Peekaboo in a revamped variation. Sliced in half, revealing the mechanisms of the bag, it becomes the key accessory of the new season. JW

www.fendi.com
Fashion
Stone Island presents the Shadow Project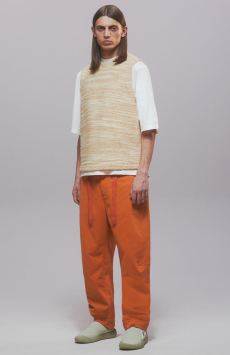 For the cold seasons of the year, Stone Island presents the Shadow Project Fall Winter '022 '023. Adapting to the needs of winter, the collection focuses its features on a more functional aspect. As the designs are divided into two chapters, the Shadow Project celebrates the traditional value of truthfulness. In this sense, the collection also testifies to the fact that Stone Island is eager to innovate and venture into unfamiliar territories while remaining truthful to the brand's core.
The garments are distinguished by their choice of material, which reflects the thought process and the honest idea behind the project. As Stone Island decided on seasonal fabrics, which can be described as rough, unpretentious, and industrial, it paid extra attention to the functionality, warmth, and comfort of the clothing items. The color palette is distinguished by neutral shades which emphasize the special feel of the materials. The two chapters mentioned above differentiate in their color spaces. Hence, chapter two presents clothing characterized by a spectrum of reds, from rustic orange to warm berry. All in all, this results in a coherent overall picture of appealing and high-quality pieces that fit perfectly into the upcoming season. JW

www.stoneisland.com
Fashion
Uncut Gem
Raw sex appeal and lingering subtlety. The cologne which Frédéric Malle created in collaboration with the perfume legend Maurice Roucel exudes a unique and warm charm. Uncut Gem is the name of the beautiful and irresistible scent, which reinvents the idea of a masculine perfume. It took Frédéric Malle five years to persuade Maurice Roucel to work with him on this chic scent, which revolves around the renowned perfumer himself. Echoing his uncompromising, bold character as well as his technical brilliance, Uncut Gem depicts a very personal, even autobiographical cologne. "He seems rough around the edges at first glance," says Malle, "but it's a deliberate choice! He's a force: incredibly refined intellectually and filled with humor and love of people. I'm not the only one who thought that he smelled good, but I am the only one he'd work with to evolve the scent from a rough sketch into something refined" As one of his first collaborations, Frédéric Malle offered total creative freedom to Roucel while remaining an overarching sensibility.
Notes of ginger, bergamot, mandarin, angelica root, and nutmeg top off the core of the perfume, which is composed of a leathery accord, vetiver, frankincense as well as amber, resulting in a straightforward and enigmatic perfume. JW

www.fredericmalle.com
Art
Unseen celebrates its 10th edition
Celebrating its 10th anniversary, the international photography fair Unseen is returning to Amsterdam. For this special occasion, 70 galleries, 65 publishers, and 12 special projects gather on the Westergasterrein in the Dutch capital. Creating an epicenter of the international world of photography, the event is defined by its intimate atmosphere and its high quality. The group of participants is composed of long-standing Dutch galleries such as Galerie Ron Mandos which presents photographs of Erwin Olaf and newcomers like Bitforms Gallery which specializes in digital art. International contributions are also made by the Indian gallery Nature Morte and the Robert Morat Galerie from Berlin. This year, Unseen presents for the first time NFTs, as it explores the innovative offering of the digital art world. Investigating the boundaries of the photographic medium, the prestigious fair also shows works of various artists in the exhibition UNBOUND. The Book Market showcases photography and art books of independent and international publishers, featuring a new Book Award in collaboration with GOST Books. Director Roderick van der Lee explains: "This year we have worked closely with several galleries to present this 10th edition of Unseen, making another global reflection of the latest developments in art photography, which has worked out very well. With 70 galleries from 16 countries, including the US, Mexico, Morocco, India, Iran, and South Africa, this edition (presents) an inspiring picture of the direction in which the art form is moving."
The photography fair Unseen will take place from the 15th to the 18th of September, 2022 at Westergas in Amsterdam. JW

ERWIN OLAF
Kleines Requiem VI, 2022
Courtesy of the artist and Galerie Ron Mandos

www.unseenamsterdam.com
Cinema
Cartier returns as the official partner of the Venice Film Festival
For the second year in a row, the French Maison Cartier returned as the official partner for the 79th Venice Film Festival "Biennale Cinema 2022". This partnership, which started in the year 2021, manifests Cartier's deep passion for art, in particular film. As part of its initiative, Cartier presented the "Cartier Glory to the Filmmaker Award", which went to film director, writer, and producer Walter Hill. His new movie Dead For A Dollar, starring Christoph Waltz, Willem Dafoe, Rachel Brosnahan, and Benjamin Bratt premiered at the Venice Film Festival.
Furthermore, Cartier is hosting the "Cartier Art Dialogues", two master classes that highlight the interaction between film and music. Promoting art and culture is deeply rooted in the French Maison's history as Cartier pieces are featured in a variety of world-famous films and can be seen on red carpets around the world, worn by icons such as Grace Kelly and Josette Day. For this reason, Cartier decided to organize an exhibition, showcasing jewels from the Cartier Collection, during the Biennale. Beyond the borders of the Festival, Cartier also engages in other projects in Venice to not only preserve the cultural heritage of the glorious city but also to support the ongoing development of its cultural life. Senior Vice President and Chief Marketing Officer Arnaud Carrez explains: "Dialogues with the art world have always been a source of creative inspiration for the Maison. (...) Our collaboration with the Mostra is a new opportunity to bridge between all the artistic disciplines that are close to our hearts". JW

www.labiennale.org
www.cartier.com
Fashion
Neo.Fashion. promotes young designers at Berlin Fashion Week
Neo.Fashion. returned to Berlin Fashion Week this season for its 6th edition, promoting aspiring talents and fashion designers. As a hybrid event, Neo. Fashion. presented shows as well as a showroom at Reinbeckhallen in Berlin. In the course of the event, graduate shows took place, in which ten universities presented designs of their most promising students. In this context, over 80 graduates got the chance to show their garments to a larger audience. This also included the digital Graduate Show, which introduced 12 graduates of the National University of Technology and Design Kiev, showing ongoing support for Ukrainian fashion designers while the country remains at war with Russia. Once again the Neo.Fashion. Awards have been given to the best German fashion design graduates as part of the Best Graduates Show. One of the lucky winners is Nanyi Li, who won in the category Best Sustainability Concept. For this edition, Neo. Fashion. is also launching its new format, titled Aspiring Designers to further support young creatives. The new format includes collective fashion shows, panel talks, and workshops, helping aspiring talents to find an entry into the industry. Stephan Schwarz, Senator of Economic Affairs, Energy and Operation says: "I am very pleased that Neo. Fashion. focuses on young fashion designers and promotes them sustainably. Neo.Fashion. has become an important format at Berlin Fashion Week. We want to use it to support the international visibility of graduates and up-an-coming designers and also underline how important the development of the creative scene in Berlin is to us." JW

www.neofashion.de
Fashion
MARTAN recycles Hotel textiles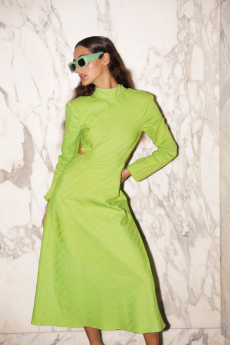 The sustainable brand MARTAN opened Amsterdam Fashion Week in the Grand Hotel Amrâth Amsterdam. The hotel not only served as a location for the event but also as a major inspiration and as the fabric supplier for the collection. MARTAN is known for using luxury hotel textiles, which it transforms into colorful garments.
Built 107 years ago and known as "Het Scheepvaarthuis", the hotel's architecture and history are referenced in the collection. For instance, the iconic railing of the hotel inspired a print and the tiling of the floor influenced the design of the earrings. Another pattern is distinguished by the motif of wavy lines which can also be found in the silhouettes of the clothing items, imitating the flow of the oceans. The trenchcoats are a highlight of the collection, defined by their shiny coating. Ranging from soft shades of pink, blue, and camel to bold colors of Green and Fuchsia, the color palette provides an exciting and refreshing contrast. It is almost impossible to tell that these garments are fabricated in old hotel linen. For Fashion Week director Char Li Chung created a story of people traveling to different destinations. Worn by models and actors such as Susan Visser and Joes Brauers, the collection and the fashion show represents the history of the Amrâth, the event's core. JW

www.martan-official.com
Art
Prada exhibits Who the Bær by Simon Fujiwara
First shown at Fondazione Prada's Milan venue in 2021, the Italian brand now presents the exhibition Who the Bær by Simon Fujiwara at the Prada Aoyama Tokyo. At the center of the exhibition is the cartoon bear Who, a completely undefined personality, who takes on the chaotic journey through a "Whoniverse" of images in order to find and shape their identity. Simon Fujiwara created this character as a mirror of our society, which is obsessed with finding one's true self. Thus, Fujiwara and Who explore a variety of current topics, ranging from climate change to plastic surgery.
Inspired by fantasy literature, the artist lets Who's story begin with the question "Who is Who?", depicted on a collage in the form of a book cover. He continues with a stop frame animation titled "Hello Who?" posing philosophical, authenticity questions to the cartoon bear. The exhibition also includes childlike drawings which show how Who is able to change his identity at any given moment, referring to today's logic of social media. In this manner, the bear continues his journey of self discovery.
The artwork reveals a paradox of our society as we strive for fantasy and authenticity all at the same time. Reflecting the real world by leading the audience through his fantastical and sometimes disturbing universe is significant to Fujiwara's body of work.
The exhibition Who The Bær by Simon Fujiwara will be open to the public from October 15th, 2022 to January 30th, 2023 at Prada Aoyama Tokyo. JW

www.fondazioneprada.org
Fashion
SF1OG presents UNTITLED
During Berlin Fashion Week the young label SF1OG presented its latest collection called UNTITLED. In a world of increasing disconnection and artificial realities, fashion designer and founder Rosa M. Dahl wanted to create something that revolves around craftsmanship, referring to material, tools and method. The collection is based on a personal experience from Dahl's childhood, which inspired the way she approached the collection: When she was growing up, Rosa M. Dahl used to create sculptures together with her father in his studio. Made out of material remnants and found objects, these joint projects taught her the importance of craft, timeinvestement and concept. Within UNTITLED, materiality plays an important role, as it is the source of inspiration and attaches imperfect yet exciting notes to the designs. To complete the outfits presented, SF1OG partnered up with Converse and Sides Step. They supplied the Berlin-based label with various converse styles, such as the Chuck Taylor All Star Terrain.
The fashion show took place at the Feuerle Collection, which used to be a telecommunications bunker during the Second World War. Later it was renovated by British architect John Pawson. The space exhibits contemporary art pieces alongside ancient Asian works, creating a dialogue between different eras and cultures as well as a unique energy. The artworks presented blend in with the fashion collection's themes of material and contemporary witness. JW

www.sf1og.com
Art
Brussels Gallery Weekend - Sofia Pashaei at Ballon Rouge
On the occasion of Brussels Gallery Weekend Ballon Rouge is presenting Sofia Pashaei's first solo exhibition Meaning in the off hours.
The exhibition is showing paintings, which revolve around relationships individuals have with themselves and other people. An important component in the settings portrayed is time. It is depicted in the change of architecture and objects decorating the scene, creating a narrative which then again takes time to fully grasp. Seamlessly and smoothly, the Swedish artist paints interiors and pieces of furniture transitioning in one another, thus a couch can become a bathtub and so on. In these sceneries Pashaei refers to human identities, which can be similarly structured as many dissonant, but woven rooms. Hence, the architecture depicts splitted identities, common for families of immigrants. Nevertheless, a room or a house holds and reveals all parts of the identity of the person living there. In many cases the painter uses the same symbolism in her works, such as a toy-like bird silhouette which represents childhood. Another popular one is the lemon, referring to the saying "When life gives you lemons, make lemonade". Depicted in various ways, the meanings differ from one to the other, for example a halved lemon symbolizes a secret gladly revealed. Touching the heel of a foot or the mouth, the lemon shows the supporting yet inhibiting effect of the changing form of one's identity.
The exhibition Meaning in the off hours by Sofia Pashaei will be open to the public from September 8th to October 23rd, 2022 at Ballon Rouge in Brussels. JW

SOFIA PASHAEI
The Blue Room, 2022
Oil on linen, 80 x 60 cm
Photo credit: Seppe Lewaut
Courtesy of the artist and Ballon Rouge, Brussels

www.ballonrougecollective.com
Art
Brussels Gallery Weekend - Xavier Mary at Baronian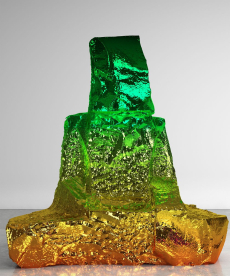 As one of the longstanding participants of the Brussels Gallery Weekend, Baronian once again opens an exhibition of contemporary art in the course of the event. This year the gallery shows the works of Belgian artist Xavier Mary (1982). In his solo show Black Hole Sun, the artist investigates the discrepancy between spiritual dimensions and modern society in a conceptual and poetic manner.
His works combine mythological and technological elements, making them seem to be located in the past, the present, and the future at the same time. Reflecting on modern civilization, humankind, and consumer culture, the artist takes a critical stance toward our industrialized world. The inspiration for his exhibits originated from his travels through Southeast Asia, where he experienced both spirituality and highly innovative technology. The ancient architecture and mechanics of the sculptors, as well as the contrast between the vibrant cities and the untouched nature of the jungles, fascinated him deeply. Xavier Mary combined these impressions in his post-industrial sculpture and post-apocalyptic, mythical realism, creating art of absurd cleverness and technological motorized skills.
The exhibition Black Hole Sun by Xavier Mary will be open to the public from September 8th to October 8th, 2022 at Baronian in Brussels. JW

XAVIER MARY
3x Bouddha
Courtesy of the artist and Baronian Brussels

www.baronian.eu
Art
Brussels Gallery Weekend - Andrea Büttner at Jan Mot
In the course of Brussels Gallery Weekend, Andrea Büttner is showing the second part of her exhibition Painted Ceiling and Floor at Jan Mot.
The German artist had previously shown the first part of this exhibition in an art gallery in London in the year of 2019. This time however, the artwork, a painted ceiling, rather resembles a painted grid. Büttner had already shown such a grid in another gallery the previous year. The artist's main focus is to show ceiling painting as the connecting element between architecture and painting. Furthermore, her works are reminiscent of Romanesque chapels, where the ceiling paintings have a special significance for the viewer's experience. Besides the ceiling, the floor of the gallery also becomes a work of art, as it is also painted by Büttner. In doing so the artist wants to entice a change of view from top to bottom since she is particularly interested in this kind of movement as a social and economic condition as well as one part of doing labor.
The exhibition Painted Ceiling and Floor by Andrea Büttner will be open to the public from September 8th to October 29th, 2022 at the gallery Jan Mot in Brussels. JW

ANDREA BÜTTNER
Painted Ceiling and Floor
Vue d'installation Jan Mot in Brussels (detail), 2022 
Photo credit: Philippe De Gobert
Courtesy of the artist and Jan Mot, Brussels

www.janmot.com
Fashion
Bottega Veneta shows craft in motion
Exchange and teamwork are at the core of the imagery for Bottega Veneta's Winter 22 collection. Gaining new perspectives on the brand and the collection from one another, creative director Matthieu Blazy brought together a cross-generational cast, composed of different fields, such as photography, cinematography, and modeling. In doing so, the creation of the imagery reflects the tradition and history of the luxury brand, as Blazy puts it himself: "Bottega Veneta was created by a collective of artisans. This is the history and this is how we approached (the project) (...), with many different ways of seeing." The series consists of 41 still and moving images mainly shot on film. Since the imagery was produced over several weeks, the participating talents were able to form deeper connections, leading to an exciting exchange which then again enriched the outcome of the project. Some of them have never worked in fashion before, others have a long history in it, hence the images link fresh and more experienced approaches to presenting the collection. Exploring the intimate, yet carefully constructed space between the creation and the capture of a moment, the images are distinguished by Blazy's notion of craft. They portray the true character of the brand, composed of movement and pragmatism as well as high quality and luxury. JW

www.bottegaveneta.com
Art
Johan Tahon exhibits sculptures from another dimension
During his upcoming exhibition RAY, the Belgian artist Johan Tahon offers new insights into his work, which he displays in the gallery Gerhard Hofland. To create his art, Tahon draws inspiration from his own life and environment as well as his subconsciousness. His sculptures seem like creatures from another, superordinate world who have been instructed to deliver messages and truths, while also posing fundamental questions to humanity. An ancient atmosphere builds up around them, making them seem intense and kinetic but also strange as if they do not belong here. Fragile and yet tremendous, the sculptures are defined by their uneven surface, covered in hand-mixed glazes of a glowing palette of blue, white, and silver. Tahon explores the boundaries between the subconscious, our empirical world, and the beyond, resulting in timeless artifacts, distinguished by their deep gravity and vigorous materiality. In his work, he moves closer and closer to a universal essence echoing the human urge to create a larger meaning. The artworks by Johan Tahon involve the audience in a special aura, inviting it to reflect, contemplate and understand or even discover one's own person.
The exhibition RAY will be open to the public from September 2nd to October 8th, 2022 at the gallery Gerhard Hofland in Amsterdam. JW

www.gerhardhofland.com
Fashion
Borbonese opens boutique in Porto Cervo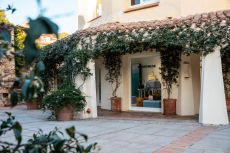 After having a pop-up tour in Germany, the Italian bag and accessory brand Borbonese now opens up a new boutique in Porto Cervo for the summer months. In the enchanting town of the Italian island of Sardinia, where the high society of Europe likes to enjoy its vacation, the brand unfolds a new concept, which will later be adopted for further openings. The concept consists of combining elements of a boutique with elements of an art gallery, thus creating a unique retail experience and content conveyor. For this matter, the brand has furnished the selling room with sustainable furniture, which can later be changed in position and composition to display the bags in different ways. As LED videos and neon elements round off the appearance of the store, a real and at the same time virtual experience emerges.
The boutique will present new models from the Fall Winter 2022 collection, including the Epoque and 011, as well as the Strapcycle line of last season, made of a special and completely recycled polyester canvas by using Italian techniques of fishing and weaving. Alessandro Pescara, CEO of Borbonese explains that the brand chose Porto Cervo as the location, as it represents the brand's most important values, "creativity, digital innovation, sustainability without neglecting the historical heritage of the brand." JW

www.borbonese.com
Fashion
UNDERCOVER meets Eastpak
For its latest collection, US bag brand Eastpak collaborated with Japanese designer and founder of UNDERCOVER Jun Takahashi. To capture the unique spirit, heritage, and outlook of both brands, the Tokyo-based designer created packs that combine military utility with urban subculture in three highly functional styles. Made from recycled materials in various, bold monochromes and emblazoned with the words "Chaos/ Balance", the collection gives a unique overall picture.
The UC Padded Doubl'r stands out not only for its striking colors but also due to its high functionality as it is equipped with a padded laptop sleeve, inner and outer zippered pockets, and other smart details. For this piece, Takahashi chose to also create a version in UC Black Denim that deviates from the usual monochromes, used for this collection. The UC Crossbody, which can also be worn around the waist, is characterized by its zippered main compartment, inside stash pocket, and detachable shoulder/ waist strap. Finally, the UC Stand+ makes a great travel companion. It is fabricated from recycled lining, binding, and webbing and comes with a padded laptop sleeve and removable shoulder strap, thus joining the whole collection in its functionality and cool effortlessness. JW

www.eastpak.com
www.undercoverism.com
Fashion
MCM launches new Travia Bags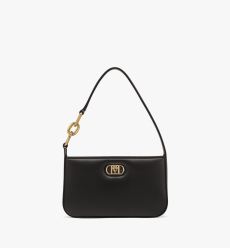 German luxury brand MCM just launched its new Travia Bag in different designs and colors. Made out of high-quality lamb leather, the bag meets the brand's high standards of craftsmanship and materiality. Its different models are suitable for everyday life, thus bringing timeless elegance into one's daily routine. Adorned by the brand's architecturally inspired logo, depicting the three capital letters MCM in 24 karat gold edged in a ring, the Travia Bag exudes true class.
The series shoulder bag takes the center stage of the launch, alongside its little sister, the Travia crossbody bag, which appears just as noble, whether with a gold chain or a leather strap. The latter version includes a little leather pouch in the same color as the bag. As a complementary accessory, it can carry Airpods or similar-sized valuable items. Furthermore, there are two sizes to choose from, ranging from mini to small.
Each design of the chic leather goods is available in bold pink, classic black, or neutral beige. While setting varying accents, the differently colored and shaped models are united in evoking "Old Hollywood Glam". Thus, the elegant designs have real potential to become true It-bags. JW

www.mcm.com
Art
"Come Home Again" by Es Devlin highlights London's endangered wildlife
British artist Es Devlin has teamed up with Cartier and the London Wildlife Trust to present a large-scale public artwork in the Tate Modern Garden in central London. "Come home again" draws attention to the 243 most endangered species of London's Wildlife, including insects, birds, and plants. The illuminated sculpture depicts a sliced open-scale model of the dome of St. Paul's Cathedrale, swarmed with Devlin's pencil drawing of each of the living creatures. The visitors are invited to participate in the artwork, as QR-Codes within the choral tiers will guide them to more information about London's wildlife. Thus, the artist aims to motivate the visitors to further engage with the issue presented. Furthermore, London-based Choral groups will accompany the artwork each evening at sunset with an interpretation of Choral Evensong, a kind of sung evening prayer. Devlin combines the singing with the voices and sounds of the species, illustrating London as the interconnected web of species and cultures that it is. In doing so, Devlin wants to build a connection between London's residents and the non-human inhabitants of the British capital.
Cyrille Vigneron, CEO of Cartier, explains that "Art and creativity are important in order to talk about today's world in a human and touching way. Coming Home Again represents how we can be inspired by the beauty of the world wherever it may be".
The exhibition will be open to the public from the 16th to the 25th of September 2022. JW

www.wildlondon.org.uk
www.cartier.com
Fashion
The New Gucci Décor Collection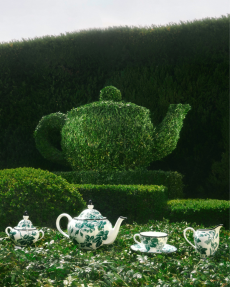 Over the past years, the world has become aware of the importance of the home, as a space of peace, which should radiate a sense of peace. Not just a place to rest, but a place of comfort in line with one's own taste. In this sense, the new Gucci Décor Collection is providing an eclectic selection of decorative homeware which will offer customers the opportunity to dress their living space with the compelling visual narrative of Gucci's contemporary romanticism. By introducing new forms of archival floral print and animal totems, this new collection brings the physical and spiritual beauty of nature to the home. Romantic and whimsical, each piece is a unique objet d'art perfect to accentuate one's living space according to one's individual taste, keeping in line with the House's spirit of self-expression. It is a surprising and joyous juxtaposition of hues, patterns and designs, which forge new connections between previous opposites. The campaign envisioned by Alessandro Michele and realized with photographer Max Siedentopf perfectly encapsulates the Gucci Décor items' natural iconography through a mise-en-scène in the pristine setting of a topiary garden. The lighthearted landscape with its lush greens provides the ideal poetic setting from which the natural curiosities seen throughout the collection can faithfully emerge.

The Gucci Décor Collection will be released gradually in select Gucci boutiques across the globe and online.

www.gucci.com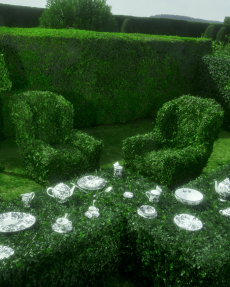 Art
"The Age / L'Età" by Emma Talbot, Winner of the 8th Edition of the Max Mara Art Prize for Women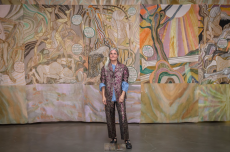 Since 2005, Max Mara and Whitechapel Gallery have partnered up to award the Max Mara Art Prize for Women. This is a biannual award supporting UK-based female artists who previously have not had a major solo exhibition, with the goal of promoting female artists and providing them with a platform. As part of the prize, each winning artist is awarded a six-month bespoke residency in Italy organized by Collezione Maramotti in order to create new works and evolve as an artist. Emma Talbot was the winner of the 8th edition of the Max Mara Art Prize for Women. Following her win, Talbot spent her six-month residency in Italy researching textile craftsmanship, permaculture, classical mythology and exploring the countless historic sites and institutions. The resulting body of works of this time is entitled "The Age / L'Età", which is now on display at the Whitechapel Gallery in London. This new body of work explores the topics of representation and ageing, power and governance, and attitudes towards nature. It is a mixture of different mediums and materials, combining animation, free-hanging painted silk panels, three-dimensional work and drawings. Talbot taught herself animation during the lockdown and the resulting 12-chapter animation is a central part of her exhibition. Inspired by the Twelve Labors of Hercules, her protagonist also has to overcome a series of trials. But different to Hercules, who employed methods of destruction, theft, deceit and murder to overcome his obstacles, her protagonist finds solutions inspired by the 12 principles of permaculture, a practice of living sustainably and ethically with the land.

The exhibition "The Age/L'Età" by Emma Talbot was curated by Laura Smith in collaboration with Wells Fray-Smith and Bina von Stauffenberg and is on display at the Whitechapel Gallery in London until September 4th, 2022. Afterwards, the exhibition will travel to Collezione Maramotti in Reggio Emilia from October 23rd 2022 until February 19th, 2023.

www.collezionemaramotti.org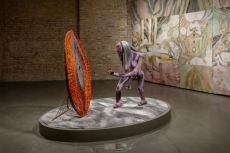 Fashion
HUBLOT LOVES SUMMER
The summer has finally started. With the rising temperatures, many of us are flocking to Europe's favourite beach resorts to spend a relaxed summer holiday or in search of new summer adventures. Either way, one should never come unprepared without the perfect accessory in the form of a timeless Hublot timepiece. Inspired by three legendary summer destinations, St. Tropez, Capri and Ibiza, to which Hublot also sails with its pop-up boutiques, the Swiss watchmaker now presents three limited editions, made from Hublot ceramic, the Classic Fusion Aerofusion Chronograph Ceramic Capri Boutique, the Classic Fusion Aerofusion Chronograph Ceramic Blue Ibiza Boutique and the Big Bang Unico St-Tropez Boutique. Each of these three editions dives into the blues, each shining in a distinct shade of this truly essential and endless versatile colour. Each of these distinct shades of blue reflects the destinations by which these limited edition timepieces were inspired. The Big Bang Unico St-Tropez Boutique, limited to 30 pieces, mirrors the turquoise blue seas and the sky of this seaside citadel echoing the colours of Tahiti and Pampelonne beach. The Classic Fusion Aerofusion Chronograph Ceramic Blue Ibiza Boutique, limited to 50 pieces, shines in colours that echo the island's white walls and the deep blue of the horizon from Cala Conta, the contrasting shades underneath the boats moored at Cala Saladeta and the seabed at Cala Xarraca. The last of the three, the Classic Fusion Aerofusion Chronograph Ceramic Capri Boutique, also limited to 50 pieces, reflect the magic of the turquoise waters of the Grotta Azzurra contrasted with the dark grey of the grotto. Each of these three timepieces evokes the essence of the places which have inspired them, and they represent Hublot's invitation to rest your feet on dry land, whilst fully admiring the sea.

www.hublot.com
Fashion
Cartier announced new Amsterdam Boutique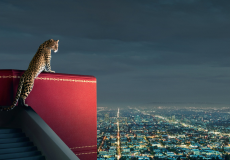 Cartier is synonymous with luxury with each of its pieces symbolizing the convergence between exceptional craftsmanship and timeless signature. Open-minded and ever curious, its creations reveal beauty wherever it may be found. This philosophy has been realized by the supreme craftsmen and artisans who translate each design into immaculate examples of jewelry, high jewelry or watchmaking. For 45 years, these resulting pieces have charmed residents and visitors of Amsterdam with its first boutique in the famous P.C. Hoofstraat opening in 1994. This winter, Cartier is opening its new boutique at P.C. Hoofstraat 129, an open window to a world of style and timeless design. The design of the boutique is not solely inspired by Cartier's heritage, but also by the unique atmosphere of the Dutch capital. About this special occasion, Valérie Ahner Boudier, Managing Director Cartier Benelux & Nordics, states, "When the iconic red box arrived in the Netherlands, it created a ripple effect between the people and the unique savoir-faire of the Maison that still echoes through the city today. Cartier's designs connect people in an unforgettable manner. The new boutique will be an open window to timeless design, celebrating creativity and craftsmanship. A perfect reflection of Cartier's distinctive blend of traditions and innovation."

The new Cartier boutique will open this winter at P.C. Hoofstraat 129 in Amsterdam. Until the opening of the new store, the current Cartier boutique will remain open.

www.cartier.com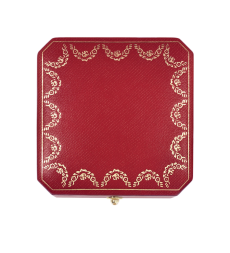 Fashion
Stone Island Prototype Research_Series 06_Dévoré with Kevlar Core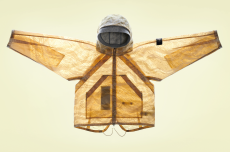 Stone Island has long been amongst the most innovative and forward-thinking brands when it comes to textile research. From its beginnings, the brand has positioned itself as a symbol of extreme research of fibres and textiles utilized in innovative designs, gaining a loyal following throughout the decades. With the Prototype Research Series, Stone Island now offers the opportunity to acquire pieces that feature fabrics or treatments born from research and experimentation processes that have not yet been industrialized. Only available in very limited numbers, this series represents and embodies the cutting-edge research for which Stone Island has gained prominence. For the sixth edition of the Prototype Research Series, the brand now offers its Short Fishtail Parka in Dévoré With Kevlar Core, a fabric resulting from the close collaboration between R&D and the Stone Island research and experimentation department. For this piece, a fine Kevlar yarn is covered in cotton, which is, in turn, disintegrated through the dévoré printing technique, revealing an all-over pattern in a Kevlar characteristic yellow color, resembling a technical lace. These are then treated with resin to add texture and strengthen the fibres.

The Series 06_Dévoré with Kevlar Core will be exclusively available on their website starting June 12th, 2022.

www.stoneisland.com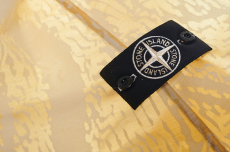 Fashion
CHANEL Haute Couture FW2022/23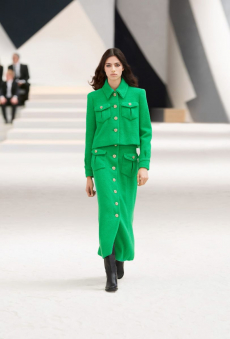 For Virginie Viard, the FW 2022/23 Haute Couture collection was a continuation of the previous show, a fact underlined by artist Xavier Veilhan returning to collaborate with the French Maison for the second time in a row. This time, he is also joined by Sébastien Tellier and Charlotte Casiraghi. Throughout the show, one could see the instantly recognizable and familiar CHANEL elements such as the tweed or the suiting, and one could feel the influence of her two predecessors. Yet, Viard achieved to make the collection her own, taking references and inspiration from the works of Mademoiselle Chanel and Karl Lagerfeld as a starting point to transform the pieces through her own vision. By working together closely with extraordinary makers and textile designers, this collection is defined by its interplay of textures, the masterful use of different materials and the gentle flow of perfect pleats which move just beautifully as they are elegant. Each piece bears witness and is an ode to the extraordinary savoir-faire of the CHANEL ateliers, the skilful hands of the craftspeople who mastered their craft, as well as the fournisseurs who supply the French Maison with the textiles, accessories and embellishments of unparalleled quality.

www.chanel.com
Fashion
Louis Vuitton announces newest House Ambassador: Cate Blanchett
Louis Vuitton already has an impressive roster of brand ambassadors from all over the world, covering all different fields, ranging from the worlds of sports to cinema and entertainment. Now, yet another big name is announced as the French Maison's newest house ambassador, iconic actress Cate Blanchette. For this reason, the Australian actress is captured by Sølve Sundsbø, featuring Louis Vuitton's latest High Jewellery collection, Spirit, in an expressive and enchanting series of portraits. Cate Blanchette, synonymous with elegance and charm, is not only a perfect match for Francesca Amfitheatrof's creations, as she is an effortless embodiment of the collection's themes of liberty, fantasy, grace, radiance and destiny, but she is also a personification of the timeless and modern Louis Vuitton woman. As Blanchett puts it herself, "I am extremely excited to have this opportunity to collaborate with Louis Vuitton - a truly iconic House with an enormous cultural reach. To wear the magnificent pieces created by Francesca Amfitheatrof is a bedazzling pleasure, and Nicolas Ghesquiere, as ever, amazes and inspires me."

www.louisvuitton.com
Fashion
Versace Resort 2023 Collection
Versace Resort 2023 Collection exudes fresh young energy. Designed to address the new generation, it combines a rebellious spirit with clubby acid florals. In a game of contrasts, hard and soft, masculine and feminine, formal and playful, the collection shows Versace's true essence. The Italian brand has presented a series of new outfits where clothes are paired in unusual ways. Floral chiffon dresses with 3D flower embroidery and jersey tops in Versace logo print are juxtaposed under biker-inspired dresses and jackets, as well as ultra-square shouldered tailoring is layered over sportswear pieces. Then, the collection continues featuring pinstripe cargo pants and studded washed-denim jeans in a wide-leg cut, evening dresses in nocturnal neon colors, and knitwear and leggings with cutaways in a diamond motif. For accessories, Versace introduced new sunglasses, pumps, sling-backs, and kitten heels studded in metal, together with La Medusa bags made punk in all-over tonal point finishes. Studs, metallic neon iteration with 3D floral embroidery, and pop colors embellished the whole Resort 2023 Collection. VB

www.versace.com
Fashion
Cartier: Beautés du Monde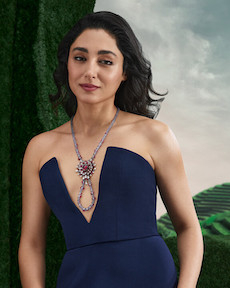 Celebrating Cartier's new High Jewelry collection Beautés du Monde, an exceptional reception took place in Madrid at the prestigious Palacio de Liria. Its added rich history and splendor make this the perfect location for the various interpretations of beauty created for the new collection. The unforgettable event was attended by many friends of the Maison. Following a visit to the property, the guests attended the Haute Couture show of the Maison Alvarno, created by the designers Arnaud Maillard and Alvaro Castejon. The Beautés du Monde collection captures the essence of an aquatic flower. Each piece is articulated to form a bright architecture like the back of a stained-glass window. The "Recif" necklace has a distinctive chromatic contrast, enhanced by a twisting movement given to emerald and coral beads. The "Water Aspis" depicts a hypnotic snake whose beauty and incredible flexibility have been enhanced through this new interpretation. Also featured, is the "Rituel", paying tribute to the beauty of embellishments, and more precisely to the traditions behind Mesoamerican jewelry. Overall, each piece contributes to a captivation of beauty through a spectrum of colors, shapes, and evocative materials, inspiring and transporting us into a new dimension. GH

www.cartier.com
Fashion
Brioni SS23
The Brioni SS23 collection reflects the aura of the nonchalance of Rome, captured in uncontrived shapes, in the softness of tailoring that suggests a relaxed way with formality. The soft and light materials are perfect for summer, in painterly colors. With a suit, trench coat, small-collared blouson, and field jacket, each piece is sartorially made, with an effortless finish. Garments are made to fit an array of occasions, from spontaneous to leisure, always with an urban, dignified feel, embellished with round-toe loafers and leather sandals. A seersucker is worn with a matching shirt and no necktie. The materials consist of washed silk, seersucker, extremely light wools, and linen, light knit for the underpinnings, and textured knitwear meant as outerwear. The colors depict the image of Rome, with rich and muted tones, dense and bright, inspired by the city's artistic and natural heritage. There is an array of cognac brown, earth, yellow, blue, grey, black, and white along with accents of pink, orange, and baby blue in the suits defined throughout the collection. Eveningwear in the collection is inspired by the Brioni archives, with creativity expressed through couture fabrics and unexpected colors. Overall, each garment is made to accompany life, in the long run, seeking eternal beauty. GH

www.brioni.com
Fashion
Giorgio Armani Men's SS23 Fashion Show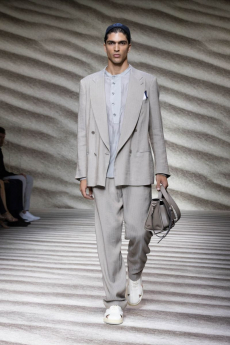 Lightweight fabrics, easy silhouettes, and a carefree mood define Armani SS23 Menswear Collection. An ode to summer timeless elegance. Held at the intimate Via Borgonuovo basement space under his HQ and alongside his own house, Giorgio Armani revealed a fashion show that brought us on a journey through the desert dunes. Images of sand ridged by the wind, projected on the background, have accompanied the models who walked down the runway in pajama-like suits and shirts with extra long tails. The pale colors, white, sand, and dabs of black, as well as subtle textures, were outstanding. Then, watery blues and navy followed in the collection, exalted in seersucker, linen, and washed and necktie silks. In the end, derby sandals with cut-out uppers, velcro-fastened espadrilles, and loafers completed the looks, replacing the classical sneakers with a renowned touch of lightness and boldness. VB

www.armani.com
Fashion
Polo Ralph Lauren Unveils New Uniforms for Wimbledon 2022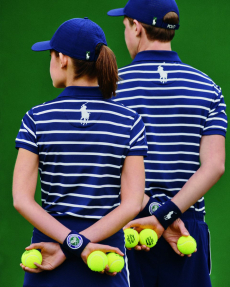 Polo Ralph Lauren has unveiled the new 2022 uniforms for all Wimbledon on-court officials, including chair umpires, line umpires, ball boys, and girls. Celebrating the 100th anniversary of Centre Court in its current location on Church Road, Wimbledon, the brand designed a collection that combines the heritage of Polo Ralph Lauren with modern fabrications and silhouettes, focusing on the use of more sustainable materials. Inspired by the elevated sense of style that spectators bring to The Championships, Polo Ralph Lauren designed a belted back sportscoat lined with a commemorative Ralph Lauren-designed signature Wimbledon print and paired with a wide Bengal stripe shirt, trouser, or white skirt with pearl button closure, specifically for umpires. Line umpire uniforms, instead, are refreshed with navy cardigans featuring a white and Wimbledon green striped cuff. Then, for ball boys and girls, the brand presented the iconic Ralph Lauren Polo Shirt reinterpreted in a navy blue and white wide stripe in recycled material. The result is exclusive garments that emphasize comfort, breathability, moisture management, and ever-present craftsmanship, alongside contributing to have to positive social and environmental impact. VB

www.ralphlauren.com
Fashion
CD 1947 Capsule Collection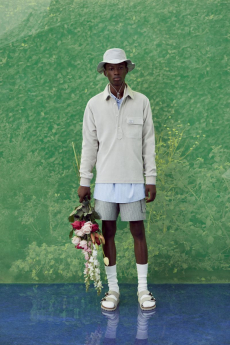 Dior has unveiled the CD 1947 Capsule Collection, a dialogue between Kim Jones and the legacy of Christian Dior. The line features a new "Christian Dior" signature connected with "1947," the year of the first Dior défilé. It presents some iconic classics of the Maison as the Dior Saddle Bag in typical Dior Grey grained leather, introducing, at the same time, a great novelty: an exclusive collaboration with Birkenstock. Dior's Creative Director has chosen to reinterpret two signature silhouettes of the German shoe manufacturer, the Tokio Mule and Milano Sandal, taking inspiration from Christian Dior's love of gardening. Celebrating this influence, the two silhouettes mix functionality, and elegance in tribute to the couturier. The mule and sandal also arrive in a variety of finishes, including black nubuck calfskin, grey felted wool, and, for the Tokio Mule, a "Greige" nubuck calfskin. The CD 1947 Capsule Collection is available on Dior's website. VB

www.dior.com
Fashion
adidas x Gucci Pop-Ups
Gucci has announced the arrival of a brand new series of Gucci Pop-Ups, with the initiative of connecting and engaging with clients across the world and their surrounding communities. The pop-ups will showcase a variety of products in an immersive, dedicated environment which reflects Gucci's unconventional approach to luxury fashion. Another exciting factor is the pop-up debuts in Alsterhaus in Hamburg. adidas x Gucci merges the emblems of each house to create iconic tailored streetwear creations. Expanding from the initial adidas x Gucci lookbook, the collection involves a spectrum of sport-inspired pieces, distinguished by the same retro aesthetics of the show. With the heritage of both brands encoded in a trio of lines, a fixation of stripes plays out across ready-to-wear and accessories including Gucci's own take on the famous adidas Gazelle sneaker. The kaleidoscope aesthetics of the collection are reflected in the creativity of the Pop-Ups dedicated to it. The space is defined by a perimeter of illuminated pointed arches complemented with vintage-inspired furniture. Elements featured are coated in the energetic retro print taken from the collection, combining the GG monogram with the sportswear brand Trefoil, amplifying the two legacies. GH

www.gucci.com
Fashion
Hortus Deliciarum: The New Gucci High Jewelry Collection
Creative Director Alessandro Michele has unveiled the third act of Hortus Deliciarum, the Gucci High Jewelry collection. A fantastical journey more than just a simple collection, it presents unique pieces that seem suspended in time and space. Inspired by an imaginary Grand Tour, the jewelry reflects an ethical and aesthetic value by bringing together different cultures and restoring the splendor of rarities existing side by side. Alessandro Michele himself becomes the traveler of this voyage, telling us a story through the new Gucci creation, a story that is divided into five chapters. The first theme develops the idea of the Grand Tour, a journey of indefinite duration undertaken by European nobles and intellectuals from the eighteenth century onwards. Rome was the ultimate destination and so the starting point of this third Gucci High Jewelry collection. Necklaces, bracelets, earrings, brooches, and gold pendants featuring red and pink spinel, blue topaz, and colored diamonds evoke the historicity of the typical Roman landscapes. From the Eternal City, the journey continues in the India of the Maharajah between the magnificence of the royal palaces and the lush nature of the gardens. Red is the color that characterizes this chapter: rubellite, imperial topaz, yellow beryl, tourmaline, and garnet adorn the jewels embodying the hypnotic quality of twilight. The third theme pays homage to the mythological origins and symbolism of the pearl, a gem born from the foam of the sea and solidified on Aphrodite's skin. Alessandro Michele's travel diary dedicated the last pages to the New World when Modernism abounded and skyscrapers soared into the sky. These necklaces and bracelets come in geometric shapes in chains with asymmetrical, flexible modules. To complete the collection are pieces in psychedelic colors evoking the pop culture, free self-expression, and the desire to discover foreign worlds typical of the 1970s. VB

www.gucci.com
Fashion
The Power of Love: Pomellato Speaks up for Pride Month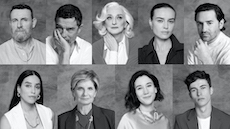 Pomellato has extended its support to the LGBTQIA+ community, with the inspiring "I Am Here" video. The black and white video features key celebrity members of the community and allies talking to the camera as they explore profound questions surrounding the nature of love, freedom, tolerance, the meaning of pride, and the need for change. In 2017, the Italian jeweler launched the Pomellato for Women program, advocating for gender equality, diversity, and inclusivity. Now extending its support to the wider community, Pomellato once again recognizes the importance of leveraging its visibility to bring meaningful conversations to the table. The lineup of individuals showing their support includes Italian actor Alessandro Gassmann, activists Lea T and Sibel K, and Kasia Smutniak, alongside many more members and allies. Pomellato's CEO Sabina Belli and Creative Director Vincenzo Castaldo also appear on camera, adding their voices to this message joined by celebrities and activists that have opened their hearts. GH

www.pomellato.com
Fashion
Marni opens the doors of the new Milan flagship store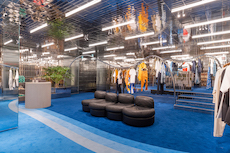 At the very heart of Milan's shopping district, via Montenapoleone 26, Marni has opened its new store during Salone del Mobile. The vibrant and modern atmosphere of the new boutique engages visitors in a sensorial path that allows for discovery, pleasure, and culture. The store is the perfect merge of fashion design, interior design, and creativity, due to the collaboration between Creative Director Francesco Risso and the in-house architecture team. The all-over, blue-toned carpeted floors are juxtaposed with reflective walls clad in beveled silver mirror ceramic tiles, creating a contrast between solidity and refraction, and between the imposing presence of color and the elusive immateriality of a mirror. The mirrored effect creates an engaging system of visual multiplications that emphasize the interplay of clarity and boldness. The modular layout is truly a vessel for creativity. Accessible from the second of three floors, this incubator-like structure appears from the outside like a mobile home and will periodically be offered to different talents as a creative studio. This reaffirms Marni's tendency of being a creative playground that holds a constant dialogue with art. GH

www.marni.com
Fashion
Christian Louboutin Introduces GREEKABA, A Modern-Day Odyssey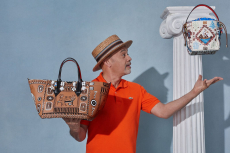 Christian Louboutin takes us on another adventure around the world. This year's destination is the Mediterranean, in particular Greece, a land that boasts ancient history, myths, and legends. The new GREEKABA capsule collection, presented by the French Maison, represents this journey from Athens to the Cyclades, a modern-day Odyssey inspired by the countryside and the sea. Made in collaboration with multimedia artist Konstantin Kakanias, the pieces feature his illustrated alter ego, the stylish Miss Tependris, in the role of Christian Louboutin's personal tour guide of the Greek islands. The new collaboration between the two combines their mutual love of travel with the rich cultural heritage and craftsmanship of Kakanias' native Greece, along with the duo's playful sense of humor, which the artist regards as an important means of expression. Each item is unique, depicting different scenes that tell a story: Christian offering his host, Miss Tependris pair of custom Christian Louboutin shoes, or they raising their glasses to toast Christian's arrival. The sketches are designed on a smooth leather base with motifs that evoke the friezes of Antiquity in warm earthy tones. The GREEKABA bags, inspired by the land, are finished to the finest detail, from the lining inside the bag crafted with a new and vivid LOUBIEYE print which reimagines the traditional "blue eye," to the handles made of satin and metal pearls that bring a sophisticated touch. Then, Maison's signature Caraspikes in a matte white makeover, recalling the columns of Ancient Greek temples, embellish the final look. To complete the land theme, are the cabas also available in a smaller bucket style, a CARASKY version, and a new LOUBIPHORE silhouette. At this point, leaving the mainland towards the islands, the sea becomes the new protagonist. The color palette assumes blue and white tones typical of Greece, while the detailed embroideries on each panel take their inspiration from traditional Greek folk art. The sea GREEKABA bags also feature the one-of-a-kind LOUBI ODISSEY print, which depicts our two heroes, Christian and his friend Miss Tependris sailing through the Mediterranean Sea to discover its wonders. In addition, Christian Louboutin launched a capsule collection of men's and women's shoes and accessories to match the GREEKABA offer. As with all the previous cabas percentage of the proceeds will be donated. This year's contribution will go to Together For Children, a Greek non-profit providing help and support to children and young adults with disabilities and their families in need. VB

www.christianlouboutin.com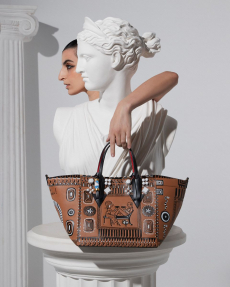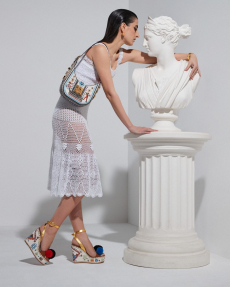 Art
Versace Home Takes The Stage at Milan Design Week 2022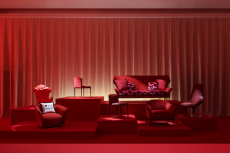 The opulence of the Versace world is embodied in a new installation held at Palazzo della Permanente during the Milan Design Week. For this occasion, Donatella Versace worked with architects and designers Roberto Palomba and Ludovica Serafini to give life to a dreamlike scenario where art and design merge together. In this space, Versace's comprehensive home collection and all-new outdoor line take center stage. Contemporary seduction is the key. The red color is spread all around: across fabrics, leathers, precious silks, jacquards, and throughout the display. The La Greca motif is extended into the interior decor with an almost architectural three-dimensionality. Then in terms of collections, Versace presented the La Medusa collection composed of a sofa, a Trono armchair, and an upholstered bed covered in an all-new vinyl material. These pieces mix a youthful design with beautifully detailed stitching. The Stiletto collection introduces new objects in white, beige, and brown, and the Stiletto Outdoor collection features a three-dimensional weave of fabric straps coordinated with large, cozy cushions. This line is exhibited in the Secret Garden of the palace. VB

www.versace.com
Art
Stella McCartney Launches The Second Installation of "Future of Fashion" at Salone del Mobile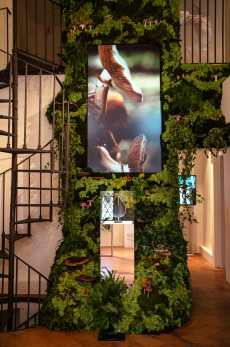 Stella McCartney has announced the second edition of the "Future of Fashion: An innovation conversation with Stella McCartney" exhibition launching during the 60th annual Salone del Mobile. The installation will display from 7 to 12 June at the historic Porta Nuova in Milan. Future of Fashion aims to invite the world to discover the limitless possibilities of material innovation for creating a more nature-positive market. This year, to keep inspiring people to undertake future actions, Stella McCartney has presented an exhibition that combines cutting-edge fashion and design in partnership with Bank of America, as well as first-ever interiors collaborations with B&B Italia and heritage British wallpaper house Cole & Son. With the Italian furniture maker, the British luxury fashion house reimagined the iconic Le Bambole armchair, an iconic piece originally designed by Mario Bellini in 1972 and now produced by B&B Italia using sustainable techniques and circular composition. Instead, Stella McCartney x Cole & Son Wallpaper presents a revival of the Summer 2022 hand-drawn Fungi Forest toile de Jouy print. The graphic has been reworked as burgundy and navy wallpapers by Cole & Son with renewable fibers and introducing a manufacturing process that uses 30% fewer greenhouse gases. All display materials will be recycled for future events to limit environmental effects. In addition, Future of Fashion will offer its guests the possibility to explore curated items by Stella McCartney as the Frayme Mylo bag, the first-ever luxury bag crafted from mycelium created in partnership with Bolt Threads. VB

www.stellamccartney.com
Art
Armani Casa 2022 Collection
In the brutalist spaces of Armani Silos, Giorgio Armani has set up a unique installation to present the new Armani Casa 2022 Collection. The Italian brand has designed furniture and accessories that combine design research, material richness, subtle multiculturalism, and a distinct sense of rarefaction for the Salone del Mobile 2022. The exhibition is structured into eight themes that correspond to eight different environments. Each piece is set in context with the inspiration from which it originated in a way that visitors can feel and imagine the creative journey that leads from the starting point to the finished piece of furniture. Starting with the water: this section is characterized by a calm and peaceful ambiance, with natural references and 1930s and 1940s elegance that give life to the MORFEO bed and other unique objects. The space devoted to China presents a powerful contrast between red, the color of joy and good fortune, and non-color. Here, the JYLIA chairs in lacquered wood create a symbolic four-lobed figure within an environment entirely clad in black. Then, a third room dedicated to nature, travel, and discovery, exhibits the painting of a tiger, the feline that dominates the current year in the Chinese zodiac. In this space, the RENOIR sofa covered in the SAO PAULO fabric is the main protagonist. In the end, there is the sailing ship ensemble, which includes the PASCAL armchair and the SPACE table, both inspired by early twentieth-century ocean liners. In addition, accessories such as a wool blanket with matching cushion, thermos flask, and croquet mallets, among many others, complete the proposal. VB

www.armani.com
Fashion
Louis Vuitton's FW22 Spin-Off Show in Bangkok
Louis Vuitton's FW22 Spin-Off Show has landed in Bangkok, Thailand, unveiling nine unseen looks from the original collection. In honor of Virgil Abloh's legacy, the decision to showcase the collection in a second location is based on Abloh's focus on circularity, a central theme in his practice, alongside other key topics such as the coming-of-age premise, the global perspective, and the cycle of creativity. Just like the first presentation in January, the Creative Director framed the show in childlike whimsy, a Louis Dreamhouse, displaying the wonder that exists within boyhood. Opening the show was a cinematic prelude by director Sivaroj Kongsakul portraying the Boyhood Ideology® key to the philosophy of Virgil Abloh. Based on the filmmaker's childhood memories, the story follows the early experience of an 11-year-old boy in rural Thailand, illustrating Abloh's belief in a global youth. "We might go to India or Kansas or Cuba, but wherever we go the focus is youth: the stage in your life before you've been taught or programmed to do, think, or wear certain things. And in that study, you realize that teenagers on opposite sides of the world are dealing with the same things. It reflects the fact that, fundamentally, we are all one." VB

www.louisvuitton.com
Fashion
La Vacanza 2022 Campaign
Summer means freedom, sea, sun, and vacations, exactly what Versace portrays in the new La Vacanza 2022 Campaign. Starring model and actress Iris Law, the images depict a group beach holiday with unapologetic flair and energetic fun in the Very Versace style. Barocco print bikinis, silk shirts, and swimming trunks, together with silk scarves tied around the La Medusa basket bag, are bold, seductive, and joyful items that will make your summer days exciting and vibrant. Wide canvas tote bags featuring the Versace logo and Medusa plaque are the perfect styles for the beach, as well as the new colorful sandals made both for men and women. In addition, new leather footwear with light rubber soles and golden Medusa Biggie medallion hardware, along with the innovative Medusa Dimension sliders crafted from molded super-lightweight rubber with swirling Baroque flourishes, are added to Versace's repertoire. Captured by photographer Camille Summers-Valli, the campaign results in a series of searingly bright and fiery images celebrating the most anticipated season of the year. VB

www.versace.com
Fashion
Pomellato: Nudo Solitaire
Since 2001, the Nudo ring has been a pioneer in the jewelry industry. This simple yet game-changing silhouette of the Nudo was Pomellatto's unique take on the omnipresent diamond engagement ring. Made to be stacked, women quickly fell in love with the Nudo, starting a twenty-year journey of continued success and a rainbow of color gemstone options. Now, twenty-one years on, the Nudo Solitaire has been born, unmistakably Nudo, but in a new sparkling white guise. This is Pomellato's singular vision of the diamond ring. This piece could be an unconventional engagement ring or could be fitting as a glamorous right-hand ring. The ring features a 0.5-carat central diamond, surrounded by more than 60 diamonds for a dazzling effect maintaining the iconic shape of the Nudo gemstone cut. Seamlessly giving way to a glittering pavé, the diamonds are perfectly set into a smooth halo around the central diamond. The opulence of this new Nudo design is further highlighted by the shank being set with a row of diamonds that taper down the side of the ring. The ring is made in Fairmined white gold, a certified source of gold direct from artisanal mines in South America, and the diamonds are sourced from certified suppliers. The Nudo Solitaire overall confirms the enduring success of the original concept that continues to be Pomellato's signature design. GH

www.pomellato.com
Fashion
Fendi announces the opening of its new Mykonos Boutique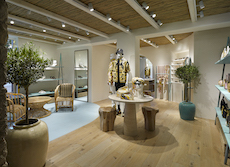 As the peak of summer is fast approaching, Fendi has announced its opening of a new boutique on the sunny Greek island of Mykonos. Located inside the Nammos Village, the unit is the brand's first store in Greece, making this upscale shopping destination the perfect location. Inspired by Mediterranean culture and local architecture, the 90 square meter store is installed in a two-level white building, with sunlight filtering inside through elongated windows. The boutique welcomes the entire FENDI universe, with all categories from the womenswear and menswear lines. The look and feel across the spaces are chic and elegant, combining natural elements such as oak wood flooring with light blue resin inserts. Raffia wallpaper and elements nodding to a marine theme define the fitting rooms, while the furniture includes bespoke pieces in travertine mixed with wood, rattan, and bamboo pieces. Two terraces are designed to give continuity to the indoor feel. A special rendition of the Fendi Peekaboo ISeeU medium bag will be offered as an exclusive for Europe in the Mykonos boutique. Available in white croco, with white leather lining featuring a shiny finishing together with a Pequin motif wooden handle and palladium accessories. GH

www.fendi.com
Fashion
Stone Island and C2C Festival Celebrate Indipendent Contemporary Music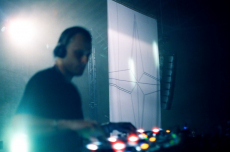 As part of Stone Island Sound, a curatorial project that supports independent artistic production, the Italian clothing brand partnered with the C2C Festival to celebrate contemporary music. The project aims to create a global sound map of avant-garde and new pop. This year, STONE ISLAND PRESENTS event took place in Berlin at Wilhelm Hallen, the former Winkelhof iron foundry, now transformed into a vast post-industrial space famous among the local creative community. On May 19th, 2022, a lineup of artists performed on the stage: Bill Kouligas, the founder and artistic director of PAN, Beatrice Dillon, who was declared "the most thrilling new voice in British electronic music" by The Guardian, and the Canadian group, Pelada. Then, the duo composed of Chris Vargas and Tobias Rochman made its appearance, followed by the unique performance by Warp Records Italian experimental musician and visual artist Lorenzo Senni. To close the event were Skee Mask AKA Bryan Müller and Kenyan artist KMRU. The result was multicolored chaos of genres to promote cultural independence and quality productions. VB

www.stoneisland.com
Fashion
The Navitimer Cosmonaute: The Original "First Wristwatch in Space"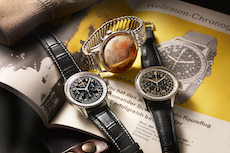 60 years after its journey to space, the mythic Navitimer Cosmonaute is once again set to lift off in a new release that pays tribute to the historic mission. Marking the occasion, Breitling is offering the first-ever public viewing of the original Cosmonaute, revealing the watch's incredible story. 362 pieces of the tribute piece are available, recognizing both the spacecraft's circumnavigations of the Earth, and the year the mission made history, marking a crucial step in crewed spaceflight. At first glance, the new Cosmonaute is very similar in appearance to the original, made timeless with an all-black dial and black alligator strap or seven-row stainless-steel bracelet. This time, the elegantly proportioned 41mm watch is packed with new features, including a platinum bezel that makes the edition even more of a collector's piece. Whilst honoring the aesthetics of the original Cosmonaute, subtle updates work almost imperceptibly to give it its modern retro appeal. As a final tribute, the case back is engraved with the date of Carpenter's mission, "ONE OF 362", and the phrase "First Swiss wristwatch in space". GH

www.breitling.com
Fashion
Balenciaga Spring 23 Fashion Show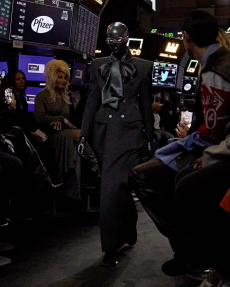 Taking place in New York, on the trading floor of the New York Stock Exchange, Balenciaga's Fashion Show unlocks a new chapter in the brand's history by presenting a collection that is a mix of ready-to-wear, eveningwear, and Balenciaga x adidas. The models walked down the runway covered in black fetish bodysuits as obscure identities. Over this latex layer, they wore Demna Gvasalia's creations which spanned from suiting, separates, and outerwear featuring bold silhouettes and precise tailoring with minimalist construction techniques. The collection also presented extra-formal clothing such as bodycon gowns, reconstructed tuxedos, floor-length silk trenches with trains, and the collaboration between Balenciaga and adidas. This line included a wide range of products from garments, shoes, and bags to jewelry and accessories embroidered with the adidas' trefoil motif and Balenciaga logo reinterpreting Balenciaga's creative language. In addition, the Spring 23 Collection includes the oversized, padded XL Pump, thick steroid boots, and the Stage Shoe featuring a heel-less sock pump on a flat platform connected only to its toe. VB

www.balenciaga.com
Fashion
Dior Maison Presents The Aquarius Collection
Approaching the summer season, Dior Maison has unveiled a new tableware collection dedicated to the fascinating underwater world. Sea creatures of all colors and shapes are hand-embroidered on white linen napkins and painted as frescos on ceramic plates. A golden fish, made of glass, seems to float inside a carafe, while a bigger specimen in luminous shades of blue and green serves as a centerpiece. The Aquarius Collection, as the previous one realized by Pierre Yovanovitch and inspired by places dear to Christian Dior in the south of France, celebrates a special site loved by him. Designed by Art Director Cordelia de Castellane, the new pieces are a poetic reference to the river that flows past the mill at Monsieur Dior's country home in Milly-la-Forêt. A haven of peace where Christian Dior found refuge, far from the hustle and bustle of Paris. VB

www.dior.com
Art
Gerhard Hofland Presents New Work by Johan Tahon, Michael Kirkham and Ralf Kokke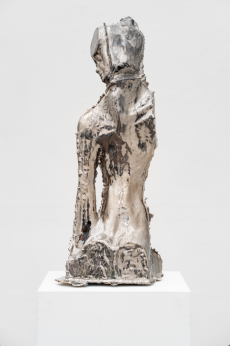 On the occasion of Art Rotterdam 2022, Galerie Gerhard Hofland presents new works by Johan Tahon as well as those of Michael Kirkham and Ralf Kokke. The Belgian artist studied at the Royal Academy of Fine Arts in Ghent and went undiscovered for several years until 1995, when Jan Hoet, the then-director of the SMAK, invited him to participate in the museum's new building's opening exhibition. Johan Tahon's works are a tangible and visual representation of his youth; his difficult situation at home forced him to reflect on the fundamental questions of life, bringing him to create masterpieces that border craft and invocation, hunger, and higher-calling. His sculptures combine different materials such as plaster, ceramics, and bronze. Their surface is turbulent, drenched in hand-mixed glazes of celestial blues, ancient whites, and more recently, silvers rendering the work both ethereal and aglow. In addition, fundamental parts of Johan Tahon's art are collaborations, such as those with Lee Ronaldo of Sonic youth, Belgian Poet Peter Velhelst and Till Lindemann of Rammstein. The art fair will take place at Van Nelle Fabriek in Rotterdam from May 19 to 22. VB

www.artrotterdam.com
www.gerhardhofland.com
Fashion
Dior Men Spring '23: "California Couture"
"California Couture" not only refers to Christian Dior's time spent on the West Coast, and the influence America had on the growth of his business but also to the region's rise in importance in today's fashion landscape. This resort collection was presented on an ocean-blue runway with two cresting waves for set pieces. Here, a merging of art and life took place, of art and fashion's role in the artistic direction of the not-so-everyday silhouettes emerge. Cleverly, the collection captured perfection and subversion, tempered with a sincere appreciation of everything. Guest designer Eli Russell Linnetz, described the collection as "a coming together of chaos and perfectionism", seen through the everyday sensibility that belies the precision of tailoring and mastery of fabric in the atelier. There is inside-out tailoring in Christian Dior's classic gray, which is also a nod to Kim Jones' first collection for the house. Kim Jones discussed that when designing this, "it was both familiar and revelatory; reaffirming why we both dreamed about working in fashion in the first place". The collection pays homage to both designer's biographies, as well as infusing the Maison's classic motifs writ larger than life. Repeated throughout is a quilting made from satin and leather on skate sneakers and the unraveling of crystal-encrusted trousers. The Dior Saddle bag is rendered in tinsel as well as molded gold metal with a skater-boy chain handle, and the sunglasses are named after Linnetz's dog Lucky. GH

www.dior.com
Art
The Mondriaan Fund Presents The Exhibition Prospects During Art Rotterdam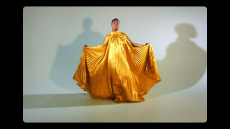 Lovers of contemporary art can once again discover the work of emerging and established artists at Art Rotterdam 2022. This year's exhibition features some unique novelties, from outdoor installations to new projections and the expansion of "Prospects," the Mondriaan Fund's exhibition. It is the 10th consecutive year that the public fund for visual art and cultural heritage in the Netherlands presents this kind of exhibition showing the work of 88 artists from 19 to 22 May 2022, helping them to kick start their careers thanks to a financial contribution. This time, the exhibition, curated by Johan Gustavsson in collaboration with junior curator Gabija Seiliute, is also on display in the Expedition Building, directly opposite the entrance to Art Rotterdam. Among the work of hundreds of artists from all over the world, the one who particularly stands out is Tarona with her artwork "Pivot." It is an 11 minutes video that takes a closer look at Black performances in white spaces. Conceived as a contemporary interpretation of the famous "Serpentine Dance" (1899) by the Lumière brothers, the artwork shows a Black performer who resists the expectations of a white audience while dancing expressively in a striking golden dress that almost becomes a character in its own right. The video was made in collaboration with Chanel Vyent, Qianwei Tong, Sam van Eenbergen, Ivan Hidayat, Imane Saksou, Gaea Studio, and de Makeover Factory en Captcha!. VB

www.artrotterdam.com
Fashion
Versace by Fendi, Fendi by Versace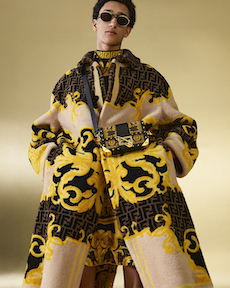 Not just a collaboration, but described by Kim Jones as "a swap, […] done out of friendship", the output of Donatella Versace, Silvia Venturini Fendi, and Kim Jones is arguably a pinnacle of fashion collaborations. Named Fendace, the collaboration pays homage to the return to the nightclub. This reimagines classic silhouettes from both houses. Featuring the Versace chain mail and a Medusa motif on a nano Fendi baguette bag, as well as slick Fendi dresses that are stitched together with Versace safety pins. The collection takes on a more is more approach, where print and color is loud and emotive, and fun logoism is embraced. Further enhancing the garments are embellishments that gleam across gem-studded accessories and jewelry that combine the two houses' iconic brand codes. A unique moment in fashion, where the Fendi FF logo meets Versace's Medusa, the collaboration is a clear statement of the collection's intent to create authentic designs with respect for each fashion house at its core. This collection launched on May 12th through a series of global pop-ups at events that encapsulate the decadence of the Fendace experience. GH

www.versace.com
www.fendi.com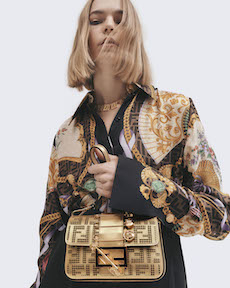 Fashion
BE YOUR CHANGE
Brunello Cucinelli started the #BeYourChange project in order to use its voice to touch on important issues such as hope, courage and the future. By joining forces with various personalities, the house's message of trust and reflection for the new generations on how change always starts with people, is echoed. For the fifth series of the project, Brunello Cucinelli teams up with Ramla Ali, the first female boxer representing Somalia at the Tokyo Olympics. Her path to success was not predestined, on the contrary Ali had to overcome multiple obstacles, such as fleeing the ongoing civil conflict in her home country. In this edition, Ali talks about her personal story and how boxing has helped her to find a voice, to grow as a person and to stand up to prejudice, fear and insecurity. A successful athlete and activist, Ali now shares the empowering lessons she took from boxing with other women. In 2018, she founded the Ramla Ali Sisters Club, a weekly, free boxing session for women in London aiming to provide a safe space without discrimination. Through the #BeYourChange project, Ramla Ali uses her voice inviting everybody who wants to listen to pursue your dreams with courage. FM

www.brunellocucinelli.com
Fashion
Applications open for Cartier Women's Initiative 2023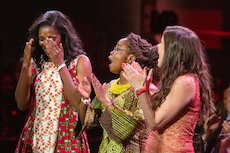 Cartier is once again seeking to drive change by empowering women impact entrepreneurs through its Women's Initiative program. This provides female changemakers with financial, social, and human capital support to grow their business and build their leadership skills. Launched in 2006, Cartier Women's Initiative has supported 262 female entrepreneurs to support their businesses that are all driven to solve the most pressing global challenges. Since its 15th anniversary on International Women's Day, the program has been looking for ways to extend opportunities to more entrepreneurs around the world and ensure the program evolves alongside new developments in its global ecosystem. Because of this, for its 2023 edition, the program is expanding with the creation of new Regional and Thematic Awards. The Regional Awards will be expanded to two new regional categories: Francophone Sub-Saharan Africa and Oceania. This is to increase the impact of the program and refine its support to different regions. Three fellows will be selected from each of the nine regions. In addition to the Science and Technology Pioneer award launched in 2021, a Diversity, Equity, and Inclusion Award will be created to encourage entrepreneurial solutions designed to close gaps in access, outcome, or opportunities that have been underrepresented or unserved. Based on being around inclusivity, this pilot award is open to all genders, three fellows will be selected for each of these two thematic awards. Impact entrepreneurs across the globe can apply from May 16th, 2022, until June 30th, 2022 for these awards. The top three applicants for each award will be announced in April 2023, and the awardees will be selected by the jury during the Cartier Women's Initiative awards ceremony in May 2023. The first-place awardee will take home $100,000 in grants, while the second and third places will respectfully receive $60,000 and $30,000. Finally, the 33 awardees will all benefit from tailored mentoring and coaching, media visibility, networking opportunities, and the in-person INSEAD Social Entrepreneurship Program and Executive Education program. GH

www.cartier.com
www.insead.edu
Fashion
La Grande Dame 2012 x Yayoi Kusama
Today, the destinies of Veuve Clicquot and Yayoi Kusama have converged in an unparalleled collaboration. The Champagne house based in Reims has unveiled the new La Grande Dame 2012 Edition, an artistically decorated magnum bottle supplemented by an exceptional object reminiscent of a flower created by the Japanese artist. Entitled "My Heart that Blooms in the Darkness of the Night," this unique and colorful work of art is a symbol of love and optimism. Yayoi Kusama is one of the most successful contemporary artists, becoming famous for her signature polka dots. A signature pattern that she reworked for this special occasion to symbolize the perlage of the champagne. This collaboration is not the first time they have met. It all started in 2006 when the artist created a portrait of Madame Clicquot covered in red polka dots for a charity auction in Tokyo. But this time, their partnership reaches a new sparkling, daring, and optimistic climax. L'Objet d'Art that wraps La Grande Dame 2012 Magnum, with happiness and vibrancy, celebrates the joie de vivre. In addition, Yayoi Kusama designed La Grande Dame 2012 Limited Edition (0.75l) which will be available from June. While the "My Heart that Blooms in the Darkness of the Night" artwork is available exclusively on request through Moët Hennessy Private Sales. VB

www.veuveclicquot.com
Fashion
So-Hee Han Joins OMEGA
So-Hee Han has joined the OMEGA universe of female talent, which already includes Cindy Crawford, Nicole Kidman, and Kaia Gerber, amongst many other celebrities. The South Korean actress, born in 1994, began her career as a supporting character in several TV series, "Money Flower" (2017) and "100 Days My Prince" (2018), to name a few. Then, she quickly took up leading roles in the JTBC series "The World of the Married" (2020), where she played a villainous yet charming character, and in the Netflix-produced feature "My Name" (2021). In the future, she will also appear in the drama "Gyeongseong Creature." Today, So-Hee Han, with her charisma and captivating presence, has become a member of OMEGA's ambassador family, stepping out in front of the camera wearing the most elegant watches. She is a rising star in the world of entertainment, and her talent and acting skills are inspiring, the reason why the Swiss watch manufacturer has chosen her to be the new face of the brand. So-Hee Han embodies many of the qualities and values that OMEGA stands for. VB

www.omega.com
Fashion
The Armani Group Opens The First A|X Armani Exchange Store in Berlin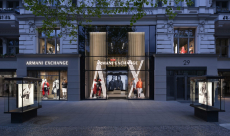 Following the openings in Milan and Amsterdam, and to strengthen its presence in Europe, A|X Armani Exchange lands in Berlin at Kurfürstendamm 29, one of the most visited streets in the German capital. The new store is set inside a historical building from the 19th century. Here, past and present are merged in a unique architecture characterized by a wide, double-height central window displaying the large, illuminated letters A and X, the brand trademark. Extending over two floors, the A|X Armani Exchange store has been built according to the already existing design of the stores opened in the other European cities. Customers can visit the men's clothing, accessories, eyewear, and watches area on the ground floor, while the women's collection is on the first floor. The interiors are developed by Giorgio Armani in collaboration with his team of architects, in the name of sustainability. The materials involved are removable, reusable, and recyclable, the lighting system uses the latest generation LED technology to minimize waste, and the walls are made in natural oak slats to provide support systems and a minimal style that contrasts with the original structure that has been preserved. In addition, the shopping experience is even more unique thanks to videowalls, Smart Checkout, and POS mobility for smoother payment. VB

www.armaniexchange.com
Fashion
Luxury Essential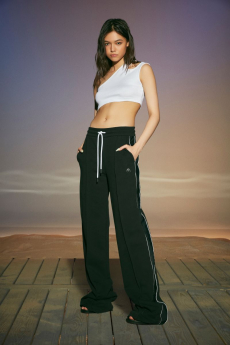 Moose Knuckles Canada has unveiled its new Luxury Essential styles from the SS22 Collection. The Canadian brand, known worldwide for crafting resilient garments for the most unforgiving conditions, from the tundra to the city, has designed new pieces exclusively for the summer season, addressing everyone's need to stay and look cool. The Luxury Essentials line presents familiar outerwear and sportswear morphed into more relaxed silhouettes to maximize airflow and minimize restriction to movements. In this way, Moose Knuckles offers a luxurious yet casual attire consisting of coordinated sets and matchable pieces made of french terry 360 sustainable cotton blend. For women, the brand created four different looks that include the Dunes Trucker Jacket, Bayside Hoodie, Malibu Pants, and Sonoma Shorts, while for men, it realized a range of products such as the Wabasso Pullover, Wabasso Jogger, Siesta Key Hoodie, Greyfield Pullover and many others, that express the same irreverent spirit and energy typical of the Canadian brand. VB

www.mooseknucklescanada.com
Fashion
A Watch For Champions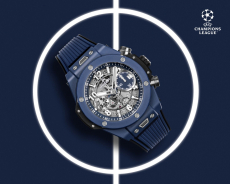 Hublot, in partnership with UEFA Champions League has created a new, exclusive edition of the Big Bang Unico: a watch made to capture the greatest soccer moments. The Swiss watchmaker started its collaboration with the world's greatest club competition on the occasion of the UEFA EURO in 2008, and since then, it has been part of unforgettable moments. In 2015, the brand was appointed as the official timekeeper and watch brand of the UEFA Champions League and Europa League, as well as the official supplier of referees' timepieces. Then, in 2018 Hublot became a partner of the UEFA Europa Conference League, and in 2019 joined the UEFA Women's Champions League. In football competitions, dynamism and time are key factors, and Hublot is the ideal partner for measuring time with extreme precision. This year, to celebrate seven years of collaboration, the Swiss brand has decided to present a new 100-piece limited edition Big Bang Unico made of glass-bead blasted ceramic, wrapped in the iconic UEFA Champions League blue. The new timepiece also features the Hublot Manufacture Unico 2 chronograph movement, a highly complicated, innovative movement that will measure the decisive moments on the pitch. VB

www.hublot.com
Fashion
Dior Fall 2022 in Seoul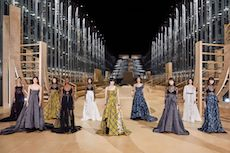 Dior and Ewha Womans University in Seoul have joined hands to celebrate youth, education, and hope. Here, the Maison presented its FW22 collection that represented visual poetry, a dialogue between the history of Dior and the ever-changing constellation that is the contemporary world. The transmission of savoir-faire, education, and sisterhood have always been fundamental values at the heart of Dior culture. Thus, these shared values with Ewha Womans University make it the perfect setting for launching the collection surrounding the symbol of a new sisterhood, with the motto L'union fait la force (strength through unity). To add more celebration in Korea, Dior will also be hosting a one-of-a-kind concept store in Seongsu-dong, a former industrial zone that is now one of the trendiest and most innovative neighborhoods in Seoul. Maria Grazia Chiuri became interested in school outfits and, above all, in the way students dust off, revamp, and update the tropes of these garments, personalizing with distinctive details, verging on punk overtones, before venturing through urban landscapes in search of spaces of freedom. The collection is composed of pleated skirts, black and white, kilts; jackets that borrow from men's wardrobe, rethinking the iconic Bar jacket; men's long coats and ultra-short skirts; biker shorts matched with white blouses and black ties. Elsewhere, 3D embroidery reveals itself through knitwear, while a fantastic, pixelated zodiac is rendered in the style of a video game. By continuing to uphold its social responsibilities, Dior is also offering a supportive and comprehensive CSR program at Ewha Womans University, providing students with a scholarship, a Women@Dior Internship Program, Retail Management Training Program, and masterclasses from the Maison's leaders, giving students a platform to express their personality and opinions openly and creatively. This reflects the show's presentation of looks that overall evoke the concepts of involvement, communication, and sharing. GH

www.dior.com
Fashion
Saul Nash Wins International Woolmark Prize 2022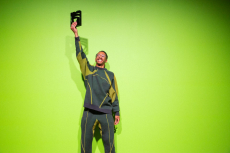 The expert jury of the International Woolmark Prize 2022, including Ben Gorham, Carine Roitfeld, Edward Enninful OBE, Ibrahim Kamara, Naomi Campbell, Pieter Mulier, and many others, has announced Saul Nash as the winner of this year's edition. MMUSOMAXWELL received the Karl Lagerfeld Award for Innovation. The 2022 event, in partnership with the Isamu Noguchi Foundation and Garden Museum, celebrated the art of play: the immersive final exhibition in London was inspired by Isamu Noguchi's sculptural playscapes, offering the possibility to physically and socially interact. The seven finalists, each of which presented a collection that explored textiles, design, and responsible business practices to drive change and innovation for a cleaner, brighter future, had the chance to showcase their creations surrounded by colorful and architectural displays. The winner, London-based designer Saul Nash, crafted a collection using deadstock, recycled membranes, and zero-waste technology to push the boundaries of sustainable design. The whole features a modern use of Merino wool, building a link between active solutions and more formal requirements. VB

www.woolmarkprize.com
Art
düsseldorf photo+ Biennale for Visual and Sonic Media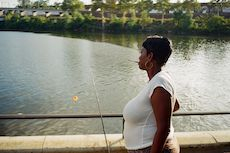 Over 50 exhibitions and events, participating institutions, galleries, and satellite venues of the Düsseldorf art scene will partake in the second exhibition of düsseldorf photo+ Biennale for Visual and Sonic Media. Taking place on May 13th, the exhibitions will shed light on current themes and challenges in the field of photography and time-based media. Within the exhibitions, not only are there works and installations by numerous national and international artists, but düsseldorf photo+ also invigorates the city's own established art and photography scene. The main exhibition titled "Think We Must", curated by Pola Sieverding and Asya Yaghumurian, forms the thematic focal point of the Biennale and will open on May 12th at the Akademie-Galerie. This group exhibition explores how thinking with photographic images can constitute and alter reality, history, and social discourse. Also featured, in the K21 Kunstsammlung Nordrhein-Westfalen, will be the exhibition titled "Shifting Dialogues. Photography from the Walther Collection" with images from Africa and the African diaspora. Angelo Novi will present the symbiotic relationship between film and photography, viewed alongside Astrid Busch at Rupert Pfab. An extensive supporting program consisting of panels, lectures, talks, and workshops and a twelve-part podcast series for its entire duration. The exhibitions will be available from May 13th-June 19th across selected Düsseldorf galleries, fringe spaces, museums, and foundations. GH

www.duesseldorfphotoplus.de
Fashion
Paul Smith and Ahluwalia unite for a capsule collection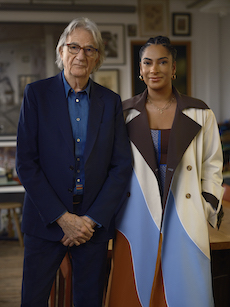 Supported by the Paul Smith Foundation, &PaulSmith has launched its inaugural collaboration and mentorship program, with an innovative capsule collection in partnership with the celebrated London-based menswear brand Ahluwalia, founded by Priya Ahluwalia. &PaulSmith tends to offer a fresh and authentic approach when creating partnerships to mentor and nurture the next generation of emerging and untapped talented designers. The 11-piece limited-edition Ahluwalia &PaulSmith collection is spurred by the designer's shared passion for creativity, innovation, and sustainability. Paul Smith has said that "While our styles may appear different at first glance, we're coming at it from the same place: a real conviction that clothes should be a source of joy". Distinctive codes and signatures from each designer are combined here, from Paul Smith's check fabrics and Ahluwalia's seaming and paneling techniques, creating a rich collage-like effect. Inspiration is drawn from a variety of instances, such as Priya's personal archive of photographs taken in Nigeria and India, and Paul's collection of cycling records. With the shared interest of sustainability in mind, the collection utilizes surplus Paul Smith fabrics found in the brand's archives, as well as sustainable alternatives where new cloths were developed. Premium fabrics and finishes elevate the traditionally relaxed silhouettes and a purposeful meshing together of graphic influences, merging branding from both houses to one incorporated logo dedicated to the project, This collection is available on both brands' websites, in selected Paul Smith shops, and exclusively at SSENSE. GH

paulsmith.com
ahluwalia.world
Fashion
LOUIS VUITTON for UNICEF: The New Silver Lockit Bracelets by Virgil Abloh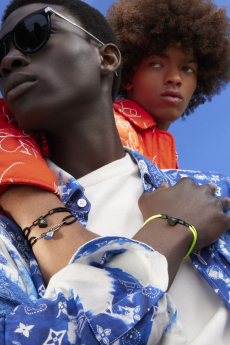 Louis Vuitton has launched a new collection of Silver Lockit bracelets designed by Virgil Abloh, carrying forward solid cooperation with UNICEF. This year the Creative Director of the French Maison, who passed away last November, created a collection including bracelets and pendants that recall his first Silver Lockit collaboration but with new colors and materials. The LOUIS VUITTON for UNICEF partnership started six years ago to help bring vulnerable children life-saving support in humanitarian situations, assisting the international organization in responding quickly to emergencies or disasters worldwide. Since 2016, to support this initiative, Louis Vuitton has annually presented new versions of the Silver Lockit bracelet to raise money to donate to UNICEF. Given the success of these sales, the brand let Virgil Abloh reinterpret these items with his stylistic signature bringing a breath of fresh air to the collection. The Men's Artistic Director added a bold chain linked to a thicker cord, a silver padlock, and a Louis Vuitton charm that in the current collection come in natural and black titanium and are combined with neon yellow, rainbow, or black cord bracelets. VB

www.louisvuitton.com
Fashion
Virgil Abloh and Mercedes-Maybach Create The Ultimate Legacy Car
Mercedes–Maybach and Virgil Abloh have presented the ultimate legacy car. The project MAYBACH, born from the creative cooperation between the luxury car manufacturer and the late polymath artist, architect, creative director, and fashion designer Virgil Abloh, has come to an end, unveiling its last chapter. The new vehicle, which was finalized before Abloh's untimely passing in November, represents the symbiosis between innovative design and ultimate craftsmanship, setting the new boundaries of luxury experiences. The Maybach by Virgil Abloh is a fully equipped Mercedes-Maybach S-Class S680, a one-of-a-kind model from exterior to interior, designed in collaboration with Mercedes-Benz Group AG Chief Design Officer Gorden Wagener. The vehicle exterior, presented in a two-tone color scheme developed for Project MAYBACH, features the upper half of the car lacquered in a glossy obsidian black and the lower section, side flanks, and custom forged rims painted in a sand hue. While not to be outdone, is the vehicle's interior crafted with an identical two-tone color scheme and a special Mercedes-Maybach and Virgil Abloh logo inscribed on the center console panel. In addition, the limited-edition S-Class features ultimate cutting-edge technologies such as a bespoke user interface. The result is a car that creates a truly exceptional customer experience, ensuring maximum comfort and safety. The launch of the limited-edition bespoke S-Class coincides with the release of a capsule collection designed by Virgil Abloh and in collaboration with Off-White, which includes sand-colored t-shirts, hoodies, baseball caps, and racing gloves refined with a black spray effect. VB

www.mercedes-benz.com
Art
MOLOCH: The New Solo Exhibition by Martin Eder
The artist organization Augsburg Die Ecke e.V. in collaboration with the Kunstsammlungen und Museen Augsburg present MOLOCH, a solo exhibition by Berlin-based artist Martin Eder. Held at H1 – Zentrum für Gegenwartskunst im Glaspalast Augsburg until June 12, 2022, the exhibition will display over 50 works, spanning over a decade of Eder's career. Since the beginning of his career, Martin Eder has always explored the illusory possibilities of painting and their meaning. His art does not want to answer questions but to provoke: the sentimental, the filthy, and the sublime are the core elements of his works that break the generally accepted notions of what fine art should be, undermining conventional hierarchies of images and subjects. Eder's oil paintings reveal surreal encounters, cute kittens, and cuddly puppies juxtaposed with candid nudes in a combination of beauty and ugliness. The artist explores the uncanny, all that is strange and mysterious in this world. The exhibition, made possible by the support of various German and European art collectors, is paired with the release of a catalog on May 21, 2022, and the presentation of three motifs selected by the artist and produced in a limited edition of 25 pieces. VB

www.martineder.com
www.kunstsammlungen-museen.augsburg.de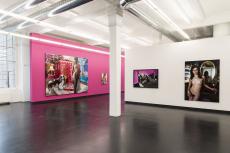 Fashion
Alanui x Suicoke SS22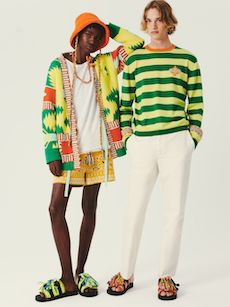 Tropical vibes through the vibrant colors of the Alanui island make us yearn for the summer season. This call has been answered, with the third chapter of the collaboration of Alanui with Japanese footwear brand Suicoke, an embodiment of what we need this season. The perfect blend of Alanui's signature bandana graphics with the unisex Suicoke Moto Fringed slippers presents us with cool and eye-catching styles, perfect for the sun. The footwear is characterized by the iconic bandana pattern and embellished with multicolor fringes that feature recycled plastic beads. These come in a wide range of exciting colors: ocean turquoise, bright orange, yellow lime, and military green, fitting to the theme. The newest addition to the collaboration is a brand new laced-up sandal. This is an Alanui twist to the Suicoke GUT Sandal, presented in black, military green, and sugar brown. Timeless and emblematic, the silhouette features a chunky rubber sole and tassels, embellished with multicolor recycled plastic beads, seashells, and the iconic Saint Cristopher medal. The collection is available now online at Alanui, right on time for the alluring summer. GH

www.alanui.it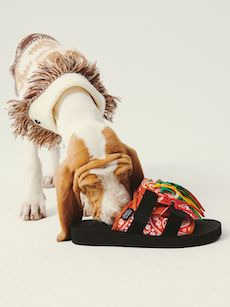 Fashion
Hublot: Art of Fusion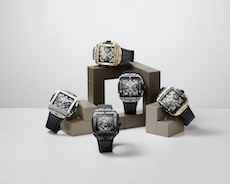 For the first time, Hublot is being represented at the Watches and Wonder fair in Geneva. Proudly presented, are the four novelties that underline the house's masterful "Art of Fusion":
The Hublot Big Bang Integral Ceramic is displayed in its integral element. Made integral by the monobloc architecture, with a bracelet integrated into the case, monomaterial made from ceramic, and four new monochrome colorways: blue indigo, sky blue, sand beige, and jungle green. Each model is available with a limited edition of 250 pieces. The piece is equipped with a slimmer design, new architecture, easier assembly, and enhanced legibility and functionality.
The Big Bang Tourbillon Automatic Purple Sapphire is a new frontier for the art of sapphire. This new, powerful, expressive, and precise shade of purple shows the subtle alchemy that has gone into extensive research and development. The complex design made from the disruptive sapphire material reaffirms the brand's Motto: to be first, unique, and different. What truly separates this watch from the rest is that when wearings its Tourbillon next to the skin, there is a sensation of a completely translucent case that reveals every detail.
Five years of collaboration between Hublot and Orlinski has led to now, where they have unveiled the missing link of the shared collection: a series of watches adorned with a new metallic bracelet using the facets of the French artist's famous sculptures. Suited to all wrists and all genders, four versions of the watch are cleverly made by fitting the Classic Fusion Orlinski Bracelet with a new integrated metallic bracelet. Like a jeweled piece of art, the architecture is beveled and faceted in titanium and composed of 83 parts.
Inspired by the brand's iconic Big Bang, Hublot is introducing its own interpretation of the square watch, new geometry for the watchmaker. This adds a new pillar, "The Shaped Collection" to sit alongside the Spirit of the Big Bang. Unlike other brands, Hublot has taken the approach of hiding non of its movement. The chronograph has a column wheel visible at 6 o'clock, while its bicompax display dispenses with a dial, to reveal its secret inner workings. A collector's edition of this model is also available in all black, limited to a minuscule 250 copies. This is a rare design for those who prefer to take the path less traveled. GH

www.hublot.com
Fashion
Gucci Osteria da Massimo Bottura Opens in Seoul
The contemporary Italian restaurant Gucci Osteria da Massimo Bottura has landed in Seoul. The third venue outside Italy, after Rodeo Drive in Beverly Hills, and Gucci Namiki in Ginza is located on the top floor of the Gucci Goak flagship store in the district of Itaewon and has already opened bookings on its website. Mixing creativity, elegance, playfulness, and sensuality with traditional Italian cuisine, Gucci Osteria Seoul offers a unique dining experience that incorporates the diversity and identity of its location. The menu, developed by internationally acclaimed chef Massimo Bottura, Karime Lopez, Davide Cardellini, and Seoul Executive Chef Hyungkyu Jun, is a fusion of Italian and Korean cultures, juxtaposing signature dishes such as Tortellini with Parmigiano Reggiano Cream with new seasonal Korean-inspired creations. The restaurant is ready to welcome its guests and serve lunch, dinner, and Italian aperitivo. The experience is made even more exclusive thanks to the interior design inspired by the original Florence outpost, with references to the Italian Renaissance and the eclectic mix of aesthetics embraced by Gucci. The Gucci Osteria Seoul da Massimo Bottura evokes the atmosphere of a winter garden with a color palette composed of vibrant greens spread from the bar patio doors to the velvet chairs. VB

www.gucciosteria.com
Art
TEFAF Maastricht 2022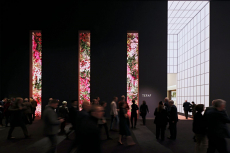 After two years of absence due to Covid-19, TEFAF The European Fine Art Foundation will return to Maastricht in June 2022, hosting the next installation of TEFAF Maastricht. Established in 1988, TEFAF Maastricht is known worldwide as the world's premier fair for fine art, antiques, and design. It exhibits modern and contemporary art, photography, jewelry, 20th-century design, and works on paper, along with the traditional categories of Old Master paintings and classical antiquities, covering over 7,000 years of art history. TEFAF Maastricht brings together 275 art dealers from more than 20 countries, checking the quality, authenticity, and condition of the works of art and following rigorous vetting standards to create an atmosphere in which exhibitors can sell and buyers can buy art pieces with confidence. This year TEFAF Maastricht will take place from 24th to 30th of June. Tickets will be available on the TEFAF website. VB

www.tefaf.com
Fashion
Dior Maison Presents The Midi Collection By Pierre Yovanovitch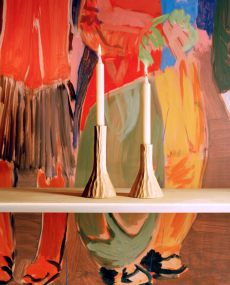 Dior Maison has presented the MIDI Collection designed by Paris-based interior architect Pierre Yovanovitch: a set of fifteen objects that evokes the meeting point of two stories rooted in the south of France. On the one hand, the story of the Château de la Colle Noire, a property that Christian Dior acquired in the 50s in the village of Montauroux, and on the other hand, the Château de Fabrègues. Like Christian Dior, who often stayed in the Callian plain, Pierre Yovanovitch is a child of the south, born in Nice and attached to its territory. A deep bond that the designer has shown through the collection. Named MIDI, a term for the south of France, the collection is "simple, solid and noble," in tune with the words of Christian Dior defining his residence at the Colle Noire. Pure and functional, MIDI highlights traditional woodwork techniques, assemblages of local and sustainable materials selected for their beauty and timelessness, and hand-blown glass. This project realized with Pierre Yovanovitch is part of a long tradition of collaborations between Dior Maison and the greatest names in contemporary design. VB

www.dior.com
Fashion
Hogan Enters The Metaverse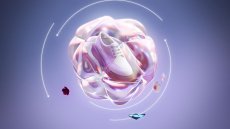 Hogan has teamed up with Exclusible and Boson Protocol for the first Metaverse Fashion Week in Decentraland. Exclusible, the fast-growing marketplace for luxury NFTs and Italian luxury House Hogan will debut the brand's first NFT drop at a special "Hogan-X" afterparty on March 26th. The event will present the first-ever dance competition in the virtual world, with prizes consisting of POAPs, pre-sale NFT spots, and exclusive NFTs, and will be hosted by acclaimed Dj superstar Bob Sinclair. The "Hogan Untraditional NFT Collection" lets Hogan takes a stand from traditional to untraditional, from Web 2.0 to Web 3.0. It is an edgy and immersive collection that celebrates the re-edition of the brand's first-ever sneaker. This item, conceived as a white canvas, is reinterpreted, without any creative limitations, by several artists such as Silvio Rondelli, Yoann De Geetere, Linear, Vincent Ghiotti, and Finn Berenbroek. It is an innovative approach that sets the standard in how the ethos of the Web 3.0 community should be celebrated, cherished, and communicated. After the "Hogan-X" afterparty premiere, the NFTs artists series will be available for sale to the public on April 3rd, 2022, on Exclusible's website. In addition, a virtual pop-up store in partnership with Boson Protocol, a metaverse marketplace for buying luxury and exclusive physical products as NFTs, will be located in Decentraland. VB

www.hogan.com
Fashion
Hublot Campaign with Kylian Mbappé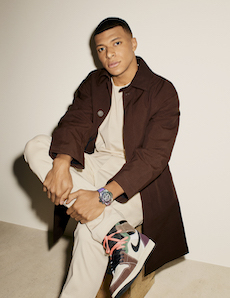 Footballer Kylian Mbappé is the new face of Hublot's latest campaign. He is the perfect fit for the brand based on his shared values with Creative Director Ezra Petronio of having long-standing respect for creativity, work, integrity, and the quest for perfection. Kylian Mbappé is considered one of the world's best footballers, his sporting intelligence, spirit, and dedication are perfectly captured in the watch collection. He has stated that "I love simplicity and the beauty of lasting things that have a soul". The brand has discussed that the intensity of his direct gaze and his openness that the internationally-acclaimed photographer chose to focus for the new campaign. Ezra Petronio has said, "what fascinates me about Kylian - apart from his creativity and the perfection of his art - is his passion, his intelligence, and the inner strength that drives him". This aesthetic is captured well in the campaign images as well as Hublot's tendencies of consistently being ahead of the curve with a highly visionary future. GH
Fashion
Versace Jeans Couture SS22 Campaign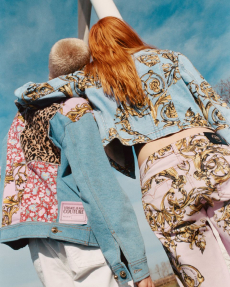 The Versace Jeans Couture SS22 Campaign reinterprets the coming-of-age story reflecting the new season collection's mood of youthful experimentation and possibility. Versace Jeans Couture presented for the SS22 season a Women's collection made of romantic and sensual silhouettes with a contemporary twist: printed jackets paired with matching skorts and skirts, twin sets and slip dresses reimagined with ruffled flounces; and chunky footwear to add a contrasting street edge to soft, pastel, and floral ensembles. While, for men, the Italian brand presented a range of clothing with a sportier attitude influenced by the American culture. The collections convey a young and carefree outlook that has been reinterpreted in a series of images by Finnish photographer Osma Harvilahti for the new Versace Jeans Couture campaign. Through his playful and colorful style, Harvilahti tells an optimistic story of youth, portraying the models full of joy and spontaneity as they fool around and reclaim their suburban environment. The images focus on the intensity, purity, and uncontrolled emotion of young adulthood echoing through the collection's eruption of clashing prints and color, with looks that feel haphazardly put together reflecting the young cast's embrace of life in its myriad forms. VB

www.versace.com
Fashion
Tommy Hilfiger: "Make Your Move" Brand Campaign
"For me, fashion has always been about celebrating individuality and self-expression", says Tommy Hilfiger when describing the brand's new "Make Your Move" campaign. This features Grammy-winning, Golden Globe and Emmy nominated performer Antony Ramos. The campaign is a vibrant clash of modern prep styles from the Spring 2022 Tommy Hilfiger collection with Anthony's world of music and pop culture, resulting in a fresh take on iconic pieces. The campaign has been launched online and in select Tommy Hilfiger flagship stores. Storefronts will feature a QR code that activates augmented reality mannequins on Instagram. These will showcase dance moves and encourage fans to take photos with them to share on social channels. Elevating this campaign to a different dimension, a #MoveWithTommy TikTok activation will take place in April. Here, users can give their interpretation of Modern Prep to the "Stand Up" soundtrack by Grammy-nominated American rapper Ludacris. This song will be featured on all video assets with sound throughout the Spring campaign, as well as on dedicated social activations and across the brand's digital advertising platforms. Hilfiger has described this as the brand "embracing the best of modern technology to bring this message to our fans around the world, and I'm excited to invite them to Make Your Move". Anthony Ramos showcases modern prep styles in new silhouettes, including the double pleated chino as well as fresh patterns as seen in the mixed striped icon sweater, all with an understated collegiate code. The campaign further features a diverse cast of talents and a select mix of dancers. The Spring 2022 Tommy Hilfiger collection celebrates stylistic self-expression with key pieces in both the men's and women's collections. Building on the brand's mission to waste nothing and welcome all, the collection is made using more sustainable methods and materials, and is now available online and in Tommy Hilfiger stores worldwide. GH

www.tommy.com
Fashion
The Next Era
The Dior FW22 Collection is suspended between present and future, beating to the rhythm of simultaneity and synchronicity, in tune with the times. Surrounded by a gallery of paintings created by Italian artist Mariella Bettineschi, the show has brought on stage Maria Grazia Chiuri's concept of (re)constructing a performative relationship between the body and the garment in a succession of operations associating forms, savoir-faire, materials, and futuristic technologies. Titled "The Next Era," this art installation is composed of large-scale portraits of women from the history of painting from the 16th to the 19th Century, that with their cut-up, stacked eyes question the judgment that has conditioned women past and present. Dior's Creative Director has presented a hybrid collection that opens up unsuspected creativity through the use of embroidery, which adorns technical knitwear, waterproof materials, nylon, and cashmere. In addition, Maria Grazia Chiuri revisited heritage to conceive the lines of tomorrow, reinterpreting the iconic Bar jacket. The original structure has turned into a system that manages the body humidity and warms it up using novel techniques created in the D-Air lab laboratories, while a bodysuit keeps the temperature constant. VB

www.dior.com
Fashion
Exclusives by G-Star RAW: Innovative designs meet elevated constructions
Exclusives by G-Star RAW encapsulates the limitless creativity of the brand. Inspired by the Dakar Rally, the designs are expressed without restraint whilst employing the G-Star DNA in its purest, most extrovert form. Rising Berlin-based talent, Langston Uibel is featured in the recent campaign shoot for the brand. Features within the garments mimic those of the hard-wearing "Enduro" equipment, developed solely for the demanding racing environment. Bold and complex, the garments each include surprising elements such as reversible features and unusual silhouettes, coinciding with an ease of wearability. The palette is inspired by desert tones, ready for the Spring season. Another inspiration from the collection is drawn from Japanese workwear, which originates from the Japanese military uniform. The design team experimented with denim-focused garments to create elevated and refined styles with a considered, conceptual twist. Aspects taken from these uncompromising and unique garments include a wider leg with an abruptly narrower fit at the calf. Superior construction techniques, premium fabrics, and hybrid design features aim to encapsulate the stories behind each piece in the collection. Each piece with slight inspiration from the G-star RAW archive, the collection consists of a high fashion trench coat, a 72H lifesuit, washed leather jacket, lifevest shirt, bomber jacket, and cropped jeans. The Exclusives by G-Star RAW became available in selected stores and online from February 17th, 2022. GH

www.g-star.com
Fashion
LOEWE x On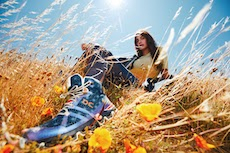 LOEWE has announced a collaboration with performance brand On with a limited-edition capsule collection of shoes and apparel designed for modern adventure. The designs reimagine long-established craft skills, combining a focus on sustainability with an emphasis on applying the handmade to technical pieces. In the collection are LOEWE editions of On's iconic Cloudventure and Cloudrock performance shoes for both men and women. This outdoor footwear is available in five colorways with six ready to wear pieces for women, and seven for men, each built with a unique blend of performance properties and key On features - weather adaptable Running Pants, a moisture-wicking Waterproof Anorak, temperature regulating Performance-T t-shirts, and a unisex customizable insulation three-layer Parka. Each of the ready-to-wear pieces is available in two colorways for each gender: an organic palette of khaki, blue, and orange that takes inspiration from nature, applied, applied in gradient effects that suggest prolonged exposure to the elements en plein air. Alongside the Japanese sashiko-inspired needlework print that resembles a starry night, these effects are the result of a meticulous technical process to craft the perfect color and pattern. The finishing process is carried out by hand, ensuring that the printed gradients match across all components of each item. Similarly, the marble effect soles are processed individually and manually, making each shoe unique. There is extensive use of recycled polyester for production to be responsible. The collection launched on March 9th online and in selected LOEWE stores on March 10th. GH

www.loewe.com
www.on-running.com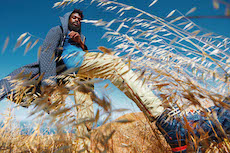 Fashion
Valentino Pink PP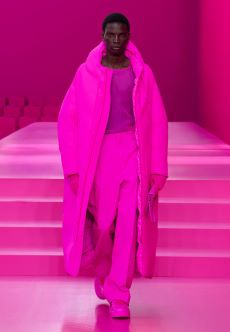 Creative Director for Valentino, Pierpaolo Piccioli has conceived the brand's new collection following the experimental urge of a radical gesture. The entire collection is based around a single hue of vibrant pink, this maximizes the expressive possibilities in what would originally seem like a lack of possibilities. The distinctive shade by Piccioli is being collaborated with Pantone Color Institute to create a unique identity that is individual and unrepeatable in itself. A variety of bodies, attitudes, and physicalities are enhanced by the monochromatic palette, bringing the vision to life. The accumulation of pink elements is produced with the aim of eliminating the visual shock to bring out the unique character of the individuals. The signs that shape the figures into a silhouette, the textures give the garments consistency, and the decorations are part of the construction. Large volumes are sculpted on the body by geometric tucks that highlight the gesture of tightening, sensual s-shaped lines, very short hemlines, and cinched waists. Also featured throughout, are bows, ruffles, petals, lace, and embroideries. The shoes throughout, stand on massive platforms in the same shade of pink. The pink-out is an experimental yet deeply human gesture that enhances individuality, capturing values and feelings. GH

www.valentino.com
Fashion
032C WORKSHOP X SNIPES
SNIPES and 032c WORKSHOP just launched their exclusive capsule collection titled BREAKING BARRIERS. With it, both brands showcase their distinct take on streetwear, and influential creators and VIPs from the realms of fashion, street style, and arts flocked to 032c WORKSHOP's pop-up shop in Berlin for a sneak peek. TJ TurnUp, rappers Ufo361, and ASAP Nast, as well as celebrity stylist Bloody Osiris, were among the illustrious crowd. In 2016, 032c WORKSHOP started out as the merchandise extension of the eponymous Berlin-based magazine and has since gained a cult following in its own right, with drops generally being sold out in a heartbeat. And this unisex streetwear collection goes to show how perfectly their creative approach vibes with SNIPES. Having been started in 1998 in Germany, SNIPES has since evolved into a true household name in the realms of streetwear and sneakers having expanded widely into different European markets and the United States. Together, they have also added graffiti icon MODE2 to the roster, who contributed graphic elements to the designs. The result of the creative hive mind? An intersection of high fashion and authentic style influences directly from the streets. BREAKING BARRIERS features understated, contemporary streetwear essentials from accessories such as laces, socks, and bags to track pants, shirts, and jackets with impeccable details. The muted color palette of greys and black with some pops of bright green provides the perfect canvas for logo prints and MODE2's intricate artworks.

032c WORKSHOP x SNIPES limited BREAKING BARRIERS collection will drop on March 5, 2022, in 8 select SNIPES stores across Europe and online.

www.snipes.com
Fashion
Marni's Objects of Affection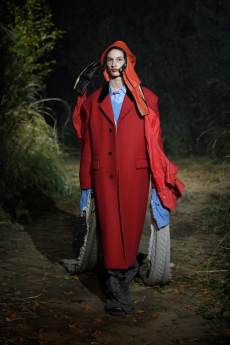 For the FW22 Season, Marni presented a collection about courage, time, and feelings condensed into objects of affection that are kept, cherished, and mended. These objects are like an identity card for the show protagonists: talismans to which their courage is attached. Marni, the Italian luxury fashion house with a history of humanist values combined with an experimental approach to materials and colors, is a state of mind, a playful spirit more than a brand. It is an expression of quirky elegance with an avant-garde attitude that holds a constant dialogue with the world of art. With the FW22 collection, Marni wanted to tell a story where objects were part of the plot. Objects inspired by tradition, mended objects, objects that seemed stolen from a museum, all jumbled together. While models shared the same wardrobe, each one of them was wearing clothes in their way and mixing them with their items of affection. They walked down the runway in big coats, shredded dresses and trousers, shrunken jackets, and outsized jumpers with sleeves dangling to the floor. To complete the collection, sartorial suits completely handmade by Attolini captured the emotion of tradition in the touch of the hand, defying mechanical reproduction. Old things become new, assembled with courage and affection. VB

www.marni.com
Fashion
Walk of Fame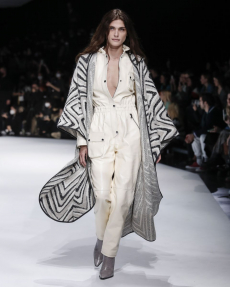 Missoni, the brand that stands for zigzags, presented its FW22 Collection during Milan Fashion Week: a unique show that portrayed an array of celebrities walking down the runway. Founded in 1953, the Italian brand is a synonym of impeccable knitwear, refined tones, and meticulous details that, for this season, are reinvented through clothes with imperfections and cuts, adding a patina of fondness as if telling a long story. The FW22 Collection pays homage to the inner strength that pushes someone out of their comfort zone. It features feminine and masculine shapes combined, while light, bright, opaque, soft, metallic, and shiny materials complete the whole. An unexpected lifestyle enters the wardrobe given by a unique mash-up. This new lifestyle is, then, interpreted by different women and bodies. Missoni wanted to represent a strong and sweet woman, assertive and private, alternating between melodic and rock in the rhythm of a heartbeat. Celebrities such as model and actress Elisa Sednaoui, wearing a zebra motif maxi cape and a cream utility leather jumpsuit, appeared on the catwalk. But also Italian actress Greta Ferro, with a black and white geometric pattern knit with ultra baggy alpaca work pants, American actress and producer Marsai Martin, and French surfer Victoria Vergara took part at the fashion show. Not to mention top model Eva Herzigova, who wore a multicolor skin-tight knitted dress with a metallic coating. In addition, leading names of the Italian and international scene appeared on Missoni's guest list. Mia Regan, Maria Sole Pollio, Veronica Yoko, and Lorenzo Viotti, among many others, attended the FW22 Show. VB

www.missoni.com
Fashion
Blooms With Furla
During Milan Fashion Week, Furla launched the Bloom Bag, a new item that marks an important step towards a greener future. With a long craftsmanship tradition linked to a stylish design, Furla is a one-of-a-kind brand that has always preserved its traditional roots while keeping up with the times. In fact, for this season, the Italian House, according to current trends and to do a step towards the environment, decided to embrace new sustainable materials and technologies. Furla presented The Bloom Bag 1927 crafted with a unique paper whose main component is FSC® certified wood pulp. The result is a product made of organic substances, biodegradable under controlled composting conditions, and free of petroleum-derived elements. The Bloom Bag is a revolutionary accessory that recalls the ancient Japanese art of folding paper. It is flexible, supple, and light, just like an origami flower, and it expresses the beauty of craftsmanship and Italian style. Complex in its simplicity, beautiful and functional, the handbag becomes a precious product celebrating change, joy, and blooms. VB

www.furla.com
Fashion
Loro Piana Modern Icons: Seaside Walk and Summer Walk
For SS22, luxury Italian house Loro Piana has relaunched its iconic footwear in the modern evolution of classic espadrilles: Summer Walk and Seaside Walk. The shoes are designed for summers spent outdoors, sailing, at the seaside, or in town. They have a sporty, casual spirit while also excluding the natural sophistication that has always been synonymous with the brand. Summer Walk was inspired by the classic boat shoe, but over the years has become an emblem of a comfortable, dynamic, and versatile wardrobe. There is a space on the heel for engraving the wearer's name, a practice originated for sailing enthusiasts to recognize the pair. The shoe has technical elements exclusive to the brand for better stability and traction, such as hand-stitched seams with the waxed thread of shoemaking tradition, and Loro Piana's signature white sole. The Seaside Walk espadrille is perfect in its simplicity. Available in soft, lined suede or Wish® wool knit, it is made with superior materials, artisanal craftsmanship, and the innate class that makes the house so unique. Both the Summer Walk and Seaside Walk are available in an array of neutral and bright tones, perfect for the summer wardrobe. GH

www.loropiana.com
Fashion
Lacoste SS22
Lacoste continues to be a pillar of French sportswear, with its SS22 campaign celebrating a modern shift towards the perception of classic sports references. The collection features new variations of the brand's signature patchwork tennis shirt in their classic shades of green, dark blue, taupe, black, and optically white. This is reworked on knitwear, where close-fitting, striped rib dresses and matching ensembles are a new variation. The classic Lacoste polo is reimagined on a printed mesh. On top of this, there is a new color selection that emphasizes warm, bright tones such as scarlet, emerald, burgundy orange, and neon yellow. Breathable and ventilating clothing features logo mesh decals and ventilating inserts in cycling jerseys, track shorts, and basketball jerseys, while ergonomic perforations have been manually laser cut in neoprene baseball jackets. Soft parachute fabrics and glossy finishes accentuate the playful transparency along with the outerwear featuring rubber-embossed brand logos zip-and-drawstring anoraks that evoke the feeling of being indispensable and lusting after speed. Trendy accessories perfectly embellish the look, ranging from molded leaf slippers and Jacquard weaved knee socks to tinted sunglasses with neoprene cords, bottle holders, and cross-body messenger bags with buckles. The collection is a true reflection of Louise Trotter's fascinations within the codes and culture surrounding sports, merging sportswear and everyday outfits closer together, these blur the lines between sports clichés and streetwear. GH

www.lacoste.com
Fashion
MiuMiu Workout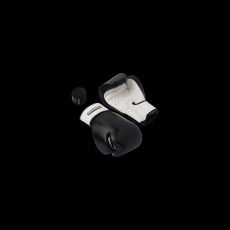 MiuMiu has introduced a capsule collection of sports accessories to facilitate a search for inner balance and outer strength. Born from the independent and unconventional spirit of Miuccia Prada, MiuMiu illustrates the most rebellious and seductive core of contemporary femininity. It is a youthful and playful brand that, this year, decided to embrace women's sporting spirit launching a line of yoga mats and bricks, drawstring gym pouches, boxing gloves, and water bottles. Each item is adorned with the instantly recognizable MiuMiu logo and made functional thanks to adjustable webbed straps for cross-body or over-the-shoulder carrying. While the color palette of soft pink and classic black combined with white stripe detailing revokes MiuMiu's naïf energy and iridescent subversion. The capsule collection is an emblem of empowered femininity and belonging to a community of like-minded, free-spirited souls. MiuMiu Workout is already available at selected Miu Miu stores worldwide and on the brand's website. VB

www.miumiu.com
Fashion
Dior SS22
Maison Dior have launched their SS22 campaign, inspired by the colorful questioning of the role of play in our lives, it is the perfect shift towards spring that we need. The technicolor versatility within the collection is an ode to the work of Anna Paparatti, designed by the house's creative director Maria Grazia Chiuri. Set against a monochromatic zebra crossing-esque background, playfully infiltrated with bursts of color, the campaign's color-block aesthetic is able to capture the eye with ease. Photographer Brigitte Niedermair brings the campaign to life in the same hyperkinetic chromatic spirit. In the collection, models are draped in cubic silhouettes and 3D embroidered cuts similar to the ready-to-wear collection shown in Paris in 2021. The campaign also revisits some of the brand's celebrated accessories, including the miniature Lady Dior Bag and the classic MissDior sunglasses that complete these magnetic silhouettes with their 50s allure. The energising campaign video is illuminated by a flash of lazers in the same block color palette of the garments. The joyous undertones of the campaign makes Dior stand out yet again, continue to revolutionize the women's fashion industry. GH

www.dior.com
Fashion
Armand Basi - Project 01: No Gender Tailoring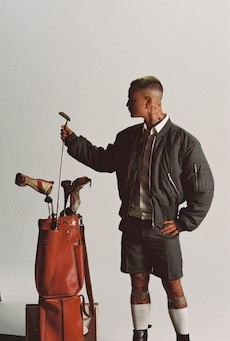 Armand Basi has been relaunched their eponymous label under the creative direction of Eva Basi, granddaughter of brand's founder. Armand Basi was one of the benchmarks of 80s Spanish designer fashion, parading on international catwalks with its first store in London. The revamp named "Project 01: No Gender Tailoring" has been designed by Joan Ros, a designer specialising in tailoring. Ros' imaginary is shaped by his family origins, the countryside of tailoring, as well as the British aesthetic. The collection turns the concept of traditional tailoring on its head with British youth counter-culture styles as inspiration, eradicating gender and season. The rebellious tone throughout the collection is based on the diplomatic line representing tradition in clothing, but applied to the garments that come from counter culture. The collection features various visual games, such as silky-looking cottons, tailoring with zip-fastenings, and knitwear that looks destroyed but with an exquisite technique. Accessories with the capsule collection also presents us with somewhat an illusion; from a distance they seem to have come from an alternative setting, but close up we can see that they're watch chains. The collection also advocates up-cycling, as most of the fabrics have been recovered from the surpluses of fashion companies.GH

www.armandbasi.com
Fashion
A Lock To Celebrate Love
DoDo celebrates San Valentine's Day 2022 by launching a new bracelet and necklace embellished with a lock, a universal symbol representing any kind of attachment and bond. Known to offer high-end jewelry to a broader unisex audience combining playful aesthetics and expressing a personal message, DoDo, for this special occasion, decided to celebrate love in all its forms creating a new charm in the shape of a lock. It is a commonly used object that throughout its history has always been loaded with meanings that have transformed it into a powerful motif without labels. The new DoDo Lock, available in rose silver or silver, has been redesigned with soft volumes and rounded shapes by skilled master craftsmen. The result is a unique jewel with an enameled keyhole on the front, vertical engravings, and a screw-shaped decoration on the base, an appropriate gift for every type of relationship.

www.dodo.it
Fashion
Cole Sprouse x Versace 2022
Versace have launched their new 2022 capsule collection, with Cole Sprouse taking centre stage as the perfect embodiment of the Versace name, branded as the epitome of eloquent, expressive masculinity. Captured by internationally renowned photographer Steven Klein, the campaign imagery was taken through a hand-held camera to fully capture Sprouse's movement, charisma, and innate star power. Featured in the collection are the VE2242 Medusa Focus sunglasses. The perfect symbol of Versace's bold, striking aesthetic, the metal navigator frames feature multiple of the house's iconic features, including the Greek Key and brand logo at the temples. The model is available with light grey lenses and a black mirror effect, completed with a small, embossed Medusa on the frame, a staple to the brand. Another feature are the VE2243 Medusa Mesmerize, glamorous sunglasses with a futuristic look, featuring a wrap-around metal mask frame and clip-on details along the profile of the lenses, adding a magnetic vibe to the model presented. Completing the collection with a more sophisticated profile, are the VE1279 Medusa Dream. This optical model epitomizes the urban chic cosmopolitan spirit. Repeated throughout the collection is the Versace logo engraved on the temples for a luxurious finish and contemporary appeal.

www.versace.com
Fashion
Push Your Limits
For 2022 The North Face presented the latest generation of the NSE collection. With iconic graphics, eye-catching colors, and wearable pieces, the brand created timeless garments designed to push the limits in any environment. The NSE line celebrates individuality with a fresh and culturally influenced design, combining the mountain roots of the brand with an urban style that stands out in both women's and men's collections. Realized in bold colors, both of them feature iconic pieces such as the Safety Green Phlego DryVent Jacket, the Polar Fleece, and the Graphic Tee for the male wardrobe, and The Phlego Synth Jacket in Brilliant Coral for women. This piece is the highlight of the NSE collection. A line that stays true to The North Face's DNA, inspiring individuals to strive for something more, to wonder why, to be themselves, and to go their own way. The NSE collection will be available from February 8th, 2022 on the brand website and in selected The North Face stores.

www.thenorthface.nl
Fashion
Marsèll's Uniform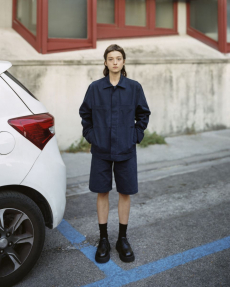 Marsèll SS22 Collection renovates an iconic shoe design with a new ultra-light sole, while also launching a partnership with GRASSI 10000, a workwear brand that explores the concept of modern uniforms. For this season, Marsèll, an artisan business devoted to the study and exploration of forms, has chosen to transform the iconic style and trademark of the brand, the Gommello, into a shoe of extraordinary lightness thanks to new research on the rubber soles. Entitled Gommellone, this modern take comes in Chelsea and Derby styles and over ten different colors. The Gommellone then became the protagonist of the collaboration between Marsèll and Grassi 10000. The company restyled it with a made-in-Italy uniform consisting of a jacket, pants, coat, and Bermuda made of peached cotton in blue or green. The garments, shot by photographer Jonathan Frantini, are an extension of the workwear concept: essential lines and high-quality materials that give rise to a new formal urban style that fits into any daily environment.

www.marsell.it
Fashion
Gregoris Pyrpylis is the Creative Director for Hermès Beauty
Greek make-up artist Gregoris Pyrpylis has been appointed as the new creative director for Hermès Beauty. He is described by Agnès de Villers, President of Hermès Parfum & Beauté, as "an expert in colors, textures, and gestures that express and elevate beauty". The make-up artist has embraced the aims of Hermès that "seek to provide its community with an experience, a journey, during which each personality can be expressed, each form of beauty revealed". The Hermès Beauty métier launched in March 2020, starting with Rouge Hermès lipsticks, and has since been expanded with Rose Hermès blush line and Les Maines Hermès nail varnishes. Pyrpylis will be the driving force for the development of these collections. Pyrpylis has announced "it is a great joy to be able to create, spread, and share this common vision of beauty as creative director for Hermès Beauty".

www.hermes.com
Fashion
Valentino Anatomy of Couture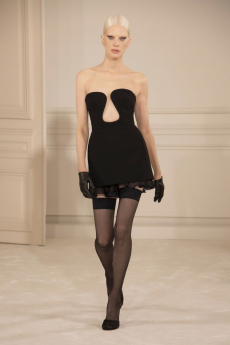 The Haute Couture SS22 Collection by Creative Director Pierpaolo Piccioli has been imaged as a quest for beauty that welcomes all of its manifestations, ending in a performance that transcends age, background, and shape. Haute Couture has always been a chase for perfection expressed through the body of the house model, on which everything is conceived and built. As the body of women and their beauty canons are changing over time, Pierpaolo Piccioli felt the urgency to adapt, to rethink the rituals and processes behind couture. The Valentino Anatomy of Couture collection has therefore not been imagined on an idealized body, but on a variety of women of different physiques and ages, a true reflection of the richness and diversity of the contemporary world promoting an idea of beauty that is not absolute, but embraces a more democratic spirit . The collection was built as a composite harmony of physical types and clothes that dress them. Studied through a long process, both scientific and poetic in a dialogue between who thinks the clothes, who makes them, and who wears them. The silhouettes follow the body or detach from it, while nudity glimmers from extremely short hems, peeping from deep necklines that reveal the torso.

www.valentino.com
Fashion
HUGO BOSS: New Start
HUGO BOSS launched two simultaneous star-studded global campaigns for its brands BOSS and HUGO. This release is the first visual representation of a true 360-degree rebrand. Both BOSS and HUGO now with a new, modern brand identity are focussing on a younger and global audience and a more playful and casual aesthetic. With the branding refresh, HUGO BOSS aims to become a top 100 worldwide brand without losing its original codes of dressing excellence. The new era of HUGO BOSS starts with the release of the BOSS #BEYOUROWNBOSS campaign, their first social campaign, shot by acclaimed fashion photographer Mikael Jannson. The campaign features an all-star cast, from Kendall Jenner and Hailey Bieber to international TikToker Khaby Lame with whom the brand established a strategic partnership. The launch will be then followed by an impressive digital activation of 200 talents that will post their personal BOSS stories on different social media channels as a concrete means to connect with a new audience. While BOSS is launching #BEYOUROWNBOSS, HUGO is launching the #HOWDOYOUHUGO campaign, activated across different channels. The campaign is covering various artistic fields and features an international cast of celebrities, most notably top model Adut Akech, rapper Big Matthew, SAINt JHN and American dancer Maddie Ziegler, who are act as the faces of the campaign.

www.hugoboss.com
Fashion
CHANEL Haute Couture SS22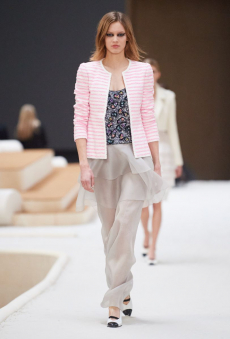 For the Chanel SS22 Haute Couture Show, Creative Director Virginie Viard has invited French contemporary artist Xavier Veilhan to realize the set design of the show. It is the first time that Chanel entrusted a contemporary artist to imagine the staging of the show. Part landscape, part garden, and part open theatre stage, the project combines key topics close to both parties: from the equestrian paths to the principle of lightness and constructivist motifs. The show was opened by Chanel Ambassador Charlotte Casiraghi on horseback, dressed in a black tweed jacket with jeweled buttons, setting the tone for a collection in between the realms of fantasy and reality. The Chanel SS22 Collection expresses an ethereal lightness made of bright and joyful silhouettes set in sharp contrast to the geometric decor. Ethereal dresses float as if suspended while embroidered patterns such as constructivist camellias in black, white, and coral beads pay homage to Gabrielle Chanel in a conversation that crosses time. In addition, Chanel also released a series of short films that feature two personalities close to the French House: musician Sébastien Tellier, who can be seen in one of the graphic compositions, and Charlotte Casiraghi.

www.chanel.com
Fashion
Yohji Yamamoto FW22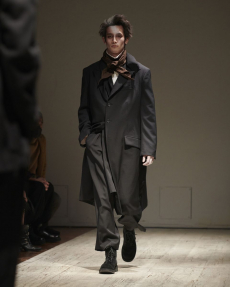 Going back to the roots, Yohji Yamamoto's FW22 fashion show took place in his Aoyoma flagship store in Tokyo rather than Paris due to COVID. Five well-known Japanese actors were included in the cast, which emphasized the local character of the show. The collection draws inspiration from Japanese calligraphy and artworks of the Polish painter Zdzislaw Beksinski, known for his distinct version of dystopian surrealism. Much of the collection was inspired by 19th-century menswear. Exposed seams with hanging threads meet tied ascots and waistcoats, resembling the work clothing of a chimney sweep. Yamamoto's continued fascination for the cult of punk becomes visible in patches of leopards prints on black suits and coats. Romanticizing the image of Edward Scissorhands, the model's powdered hair signified both ashes and age. Yamamoto's FW22 collection brings innovation and consistency together. Setting an example of strength and integrity he provides a body of work that draws on wisdom, creativity and rebellion.

www.yohjiyamamoto.co.jp
Fashion
Dior Men's FW22
Artistic Director Kim Jones says about the inspiration behind the Dior FW22 menswear collection: "I wanted to look at the archive, at the purity of the beginnings of the house, at its original impulse. We looked at the initial collections and focused on the architecture, taking these elements and transforming them almost instinctively in a masculine way for today, always keeping the joie de vivre at the heart of Christian Dior's clothing." Presented in Paris on the Pont Alexandre III, the silhouettes emerge in motion reflecting the colors of the sky and the passage of time during the show for Paris Fashion Week. The looks reflect the movement of time and the continuum of designers who unify the past, present, and future of the House's legacy. This season is an homage to heritage, a living history paving the way for the future. Fluctuating between masculinity and femininity, the garments blend gender-boundaries in a contemporary manner. During the show, the scent of lily of the valley fills the air, symbolically fusing nature and culture, a connection dear to Dior. For the 75th anniversary of the House, Kim Jones engages in the ultimate conversation and association with Christian Dior himself. Two men's paths collide, forming a new legacy for Dior.

www.dior.com
Fashion
LOUIS VUITTON FW22 MEN'S COLLECTION BY VIRGIL ABLOH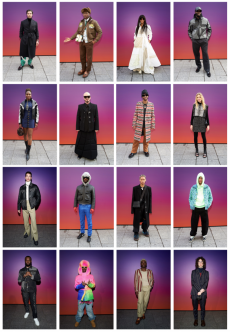 Virgil Abloh was known to use fashion as a tool for definition and redefinition and to understand the world. For FW22, Louis Vuitton presents Collection 8: In the Grand Scheme of Things by Virgil Abloh. Supported by his seasonal vocabulary – "a liberal definition of terms and explanation of ideas" – the visionary's eighth collection is rooted in the desire to challenge conventional ways of seeing. The collection's premise lies in using fashion to decode the biases inherent in human appearance. Abloh's goal was to change the way we look at each other and treat each other. Virgil Abloh's creations are deeply rooted in imagination – the everlasting driver of his life's work. It's what brought him to Louis Vuitton and what leads his legacy at the Maison. The recently deceased Men's Artistic Director of Louis Vuitton embedded his view of fashion as a social, political and cultural signifier and mediator of change for FW22 like never before. Driven by this conviction, the Louis Dreamhouse™ created by Virgil Abloh serves to convey the themes and messages of the arc he created at Louis Vuitton. It's an octology that plays out in the tradition of the hero's journey: the age-old story of the underdog, who is tried and tested and becomes a sensation in the eyes of his spectators.

www.louisvuitton.com
Fashion
Paul Smith FW22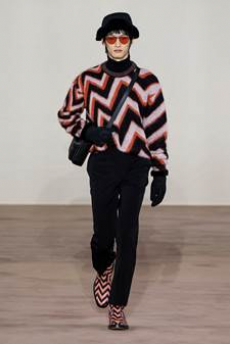 Paul Smith delves into the rich world of arthouse cinema for the Men's FW22 collection, highlighting the unique aesthetic techniques of the greatest filmmakers. With intricate textures, a cinematic color palette and otherworldly photographic prints, the collection culminates in a confident new look for the season. Inspirations for the color palettes from sepia and monochromatic films of the 1930s to the 1960s, to the rise of technicolour and the emergence of striking new cinematic techniques. Including icy neutrals, vibrant greens, blues and reds, the collection features a multi-faceted color adventure. Photo prints, a longtime Paul Smith signature, are intriguingly vibrant with an otherworldly quality reminiscent of vintage movie posters and old cinema interiors. The intoxicating Starlet print, inspired by studio headshots of screen stars during Hollywood's golden age, is rendered in three distinct tones meant to reflect the evolution of cinematic styles.

www.paulsmith.com
Fashion
DoDo celebrates the Chinese New Year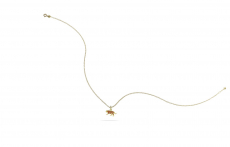 Introducing a new tiger pendant design, DoDo celebrates the Chinese New Year 2022. The jewellery piece is a precious miniature tiger that represents the fourth pendant of the Chinese zodiac. DoDo joins the celebrations of the festival with a fine jewellery addition, dedicating the design to another year under the sun in honor of the strong sign of the tiger. The wild cat embodies a powerful, courageous and unpredictable spirit. It loves challenges and adventures, lives to the fullest and evokes strong emotional connotations. Made of 18K gold, the DoDo tiger pendant has a fur to stroke with red lacquer-enamel stripes. The leitmotif of the special collection stands for luck, wealth and love. The artisans of DoDo have created the cat of prey delicately and added a charm that becomes a stylish touch to the emblematic look.

www.dodo.it
Fashion
CHANEL x 2022 César Revelations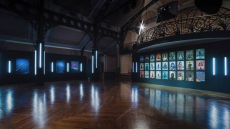 For the fifth consecutive year, CHANEL is the Official Partner of the Académie des Arts et Techniques du Cinéma for the César Revelations project. This partnership is an opportunity for the House to support the young talents of today and tomorrow, while reaffirming its commitment to creation. It features thirty-two young actors designated by the Revelations, who are set to assist the members of the Academy in the voting process of the categories of Best Emerging Actress and Best Emerging Actor at the next César ceremony, which will take place on Friday 25 February 2022. This year, the César Revelations are brought together in a short film directed by the duo Thierry Demaizière and Alban Teurlai, whose film "LOURDES" was nominated in 2020 for the César Award for Best Documentary Film. Parigot and Zbeida Belhajamor as well as actresses Ludivine Sagnier, Irène Jacob and Mélanie Thierry who are featured in the film were dressed and styled by CHANEL.

www.chanel.com
Fashion
Prada FW22: Body of Work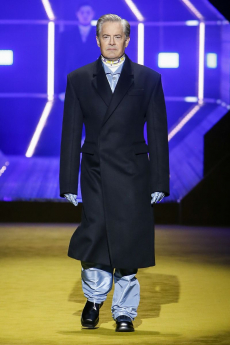 The Prada FW22 Menswear Show at Milan Fashion Week examined the concept of work as a state of reality and an essential component of life in the twenty-first century. Reality disrupts the idyllic fantasy of the aesthetic of the show by utilizing theater and cinema as mirrors of truth. For this season's breathtaking show by Miuccia Prada and Raf Simons, the Deposito of the Fondazione Prada is reimagined by AMO as a stage for action, a representation of a heightened actuality. The cast of actors includes ten renowned actors: Thomas Brodie-Sangster, Asa Butterfield, Jeff Goldblum, Damson Idris, Kyle MacLachlan, Tom Mercier, Jaden Michael, Louis Partridge, Ashton Sanders, and Filippo Scotti. Recognized personas, which add a sense of reality. The show is an artistic attempt to valorize daily life by weaving elegance and sophistication into its patterns. An interplay that gives the uniform – conventionally associated with work-life – a new meaning, emphasizing the societal value and multi-faceted nature of work. Pragmatic clothing receives a reinvented dignity, creating uniforms of reality, rematerialized in precious leather and silk tech as a mark of respect and value. Pragmatism and elegance collide in the language of sartorial tailoring, a formality that conveys importance.

www.prada.com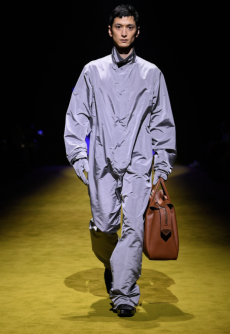 Fashion
J.W. Anderson Menswear FW22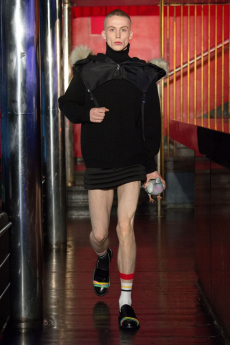 Fascinated by the endless possibilities of experiencing masculinity, the J.W. Anderson FW22 menswear show at Milan Fashion Week impresses through its enthusiasm for exploration. Anderson is deeply inspired by the transformative nature of garments and the discovery of their meaning in current times. Playing with the role that sounds play in the hyper-stimulating online media environment, Anderson created menswear tunics with rubber bands and sweaters featuring tube-shaped extensions along the hem, designed to generate a sound through movement. The designer intended to make a reference to the current ASMR and TikTok culture, in which sounds are at the core of expression. Anderson: "A lot of the materials have these odd sounds qualities that are kind of almost sexual… there's a kind of tension." A tension that paves the way for creative opportunity filtered through the label's sense of luxury and beauty.

www.jwanderson.com
Fashion
Brioni FW22: The Allegory of Air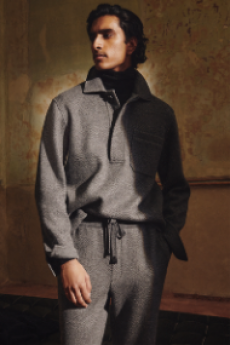 Ever in pursuit of its core purpose, the creation of clothing defined by its timeless beauty and comfort, the Italian house of Brioni has understood that the customer and their demands are changing and realized a need to reflect on the wider world around. A comfortable piece of clothing needs to adapt to a variety of different situations while offering the wearer a maximum amount of comfort, two previously strictly divided menswear universes come together - the formal and the casual. Norbert Strumpf, Brioni Design Director, explores this common ground applying progressive design to artisanal know-how, creating pieces of unmatched lightness conveying unparalleled ease and pleasure for a modern, dynamic wearer. To create substance, despite the minimal weight, textures become paramount. The vision, articulated through unmatched materials and fabrics such as Prince of Wales cashmere and ultrafine 180 wool, stresses the clothes luxurious feel and Brioni's material expertise. Tailoring is hybridized, suiting is deconstructed, resulting in the workwear suit, an ultralight herringbone field jacket paired with matching trousers and the jogging suit, pairing a half-button rugby shirt and trousers. Our notion of sophistication is changing and our clothing needs to adapt. With this in mind, Brioni seeks to create menswear that empowers its wearer with timeless urban elegance while enjoying ease and comfort. For the first time in its history, the Italian house is expanding its vision to the realm of womenswear, presenting a capsule collection of six looks of pieces developed from the menswear and cut for the female form.

www.brioni.com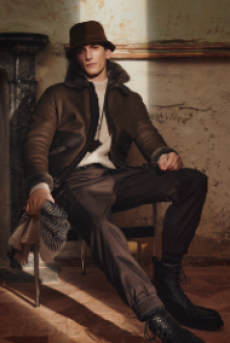 Fashion
Zegna FW22: Looking at the world through the Zegna lens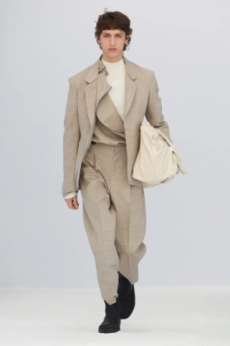 Zegna and their Artistic Director Alessandro Sartori have spent the last few seasons searching for the modern man by asking the very important question "What makes a man?" The modern man is complex, influenced by a myriad of factors and if one thing has become clear, he has outgrown the classic suit, an evolution that has become more and more apparent since 2008. With the FW22 collection, Alessandro Sartori updates the classic suit for a modern man, with this collection representing a bold and fresh new start without the categorical imperatives which have dictated menswear for so long. The collection itself is a perfect example of a new way of tailoring, its traditional codes updated and combined with elements of sportswear, utilitarian and streetwear, as well as new construction techniques utilizing new materials. Highlights of the collection were the deformalized jackets achieving a sharp silhouette without the need for padding, as well as a gabardine jacket featuring one of the most interesting and unusual notch lapel construction whilst also relinquishing the buttons at the split cuff. Overall, the collection was a perfect representation of this modern man, uncategorizable in regards to outdated standards, but an organic coming together of many influences all coming together as one.

www.zegna.com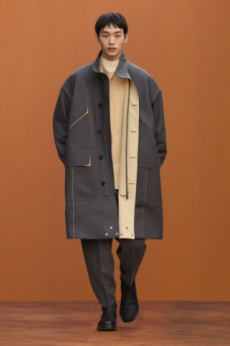 Fashion
La Rose Dior
Victoire de Castellane was inspired by the different facets of the rose - Monsieur Dior's favorite flower - in La Rose Dior jewellery collection which launched in January 2022. The new Rose Dior Couture collection follows other emblematic collections such as Bois de Rose, Rose Dior Bagatelle or Rose Dior Pré Catalan, completing the universe dedicated to the unique flower. An expression of elegance, which lives on and never fails to impress. "Fortunately, there are flowers," Monsieur Dior confided in his memoirs, which implies his deep belief in the sensual power and aesthetic of flowers. His fascination for the rose is foregrounded in the new La Rose Dior collection and reiterates his passion for the eternal source of inspiration. Artistic Director of Dior Joaillerie once again adds to the precious garden of collections he has cultivated in the name of the rose and creates a pluralistic story reflecting multi-faceted femininity.
Fashion
Hermès Rouge - SS22 Limited Edition
The new SS22 edition of Rouge Hermès comes across like a bouquet of light. Three shades inspired by an artist's garden celebrate the harmony between the sky, sun the shimmer of reflecting water on an early spring morning. The trio of color vibrations depict a fresh, magical vibrancy, and a graphic fantasy modelled by light and inspired by vivid flowers. The colors of the tubes, designed by Pierre Hardy, creator of Hermès Beauty objects and creative director of Hermès shoes and jewellery, conclude the lipsticks and make them intriguing objects of desire. A palette that is vibrant, yet harmonic combines the neon radiance of orange, bright green, and red with the more subtle shades of an azure sky, a mirror of water, and a passing mist. The bright bands seem to be reflected in the softer colors, bringing the sense of rediscovered joy and playfulness to an elevated level. The sensory experience is advanced with a signature scent by Christine Nagel, director of creation and olfactory heritage at Hermès, who created a blend of arnica, sandalwood, and candied angelica.
Fashion
In the Mood for Prada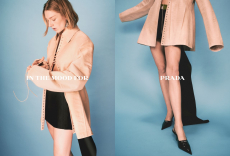 The Prada womenswear SS22 campaign is an exploration of desire and sensuality. It showcases the SS22 collection and explores the relationship between a woman and her clothing. Reflecting the feeling of Prada, the creation by Miuccia Prada and Raf Simons merges reality and fantasy through its storytelling. The cast is led by the actor Hunter Schafer and includes models Selena Forrest, Julia Nobis and Lina Zhang, who are captured in the acts of dressing and undressing. Striking details express a sense of closeness and intimacy, which undeniably draw the viewer in. Photographer David Sims creates an authentic, intriguing moment through his photographs which showcase the innate personal relationship people have to their garments – the women's relationship to Prada wear. The imagery captures and celebrates everyday gestures and the multiply moods of life. A vivid embodiment of the SS22 collection emerges as the campaign evolves through a series of videos and photographic contributions devised by a series of emerging image-makers, each invited on set to interpret the collection, the campaign, and the mood of Prada.
Fashion
Pooch Knuckles
 Moose Knuckles introduces its latest collection for pets - Pooch Knuckles. The mini-me style jackets for dogs launched in December 2021during the holiday season. The collection features two dog-wear styles inspired by Moose Knuckles' iconic Stirling Parka. Pooch Knuckles' functionality is designed to help pet owners to dress their dogs for outdoor activities in the cold winter months. Featuring an opening on the back for the leash, adjustable Velcro closures and J-seams with pockets for dog bags, the parka meets the needs of both the owner and the pet. The collection includes the Pooch Parka and Pooch Parka Gold Series coats, which showcase fur trim and Moose Knuckles' signature metal logo and studs and have a durable, water-resistant and windproof exterior. Available in three size options the Pooch Knuckles pieces are available for four-legged friends of various body shapes and heights. Offering the same high-quality weather-proof combination of style and materiality, Moose Knuckles translates its core design ideals into the world of dog wear. The collection is available at Mooseknucklescanada.com, as well as Moose Knuckles stores in SoHo (New York), Boston, London and Montreal.
Travel
The Incantation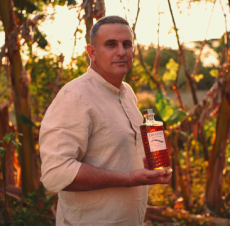 The vision of lush green landscapes, vintage American cars and cheerful people with good spirits, immediately resonates with the image of Cuba. César Martí, Maestro Ronero at Eminente, is an embodiment of the country's values, its culture and history. Cuban energy and culture are ubiquitous in Martí's world. Each one of his projects is unique but they all carry the same recognizable signature – a feeling of the joyous and welcoming Cuban atmosphere. Besides preserving the national identity of rum, César Martí's passion lies in renewing the complexity of the spiritous beverage that is deeply-rooted in the cultural heritage of Cuba. Surrounded by sugar cane fields and influenced by his grandfather, who worked his whole life in the sugar cane industry, his upbringing already predicted his passion for aromas. He fell in love with the art of rum-making resulting in him becoming the youngest Maestro Ronero in the history of Cuba. César Martí can be uncompromisingly identified with a unique talent for masterfully managing to enhance the historical taste of ancient Cuban rum with modern techniques of mixing the complex aguardientes, often referred to as the "soul of Cuba". His experience and passion made him an expert in creating the latest extraordinary version of rum, called Eminente. In his conversation with ZOO, César Martí talks about his life's passion, Eminente, and how he wants to revive the image of Cuba beyond its borders.

Jesse Rintoul: Claiming to capture the best of all Cuban regions is a bold statement. Would the other nine Maestros Roneros agree with this or claim their own rums to be superior? Have you received any praise from your competitors at home?
César Martí: When I designed Eminente, I was inspired by the Cuban aguardientes of the late 19th century and took the specific cities that distinguish Cuban rum today in the different regions of the island, Occidental, Central and Oriental as a reference, combining these three styles in a style of its own. Central style conceives a different, intense, complex and full-bodied product with very specific characteristics, exhibiting in its two products a level of complexity and depth, superior for its type and showing in turn the delicacy and aesthetics of the traditional light rum. We, the Cuban rum masters, defend the Cuban rum culture above all else throughout the length and breadth of the island, of which Eminente is a faithful representative. Every design made by any Maestro seeks to satisfy the demands of a market and we all recognize the quality that distinguishes them for the purpose for which they are created. I have received many compliments from the rest of the Cuban rum masters, who recognize that Eminente is a faithful representative of our Cuban rum culture.

JR: The excellence related to being a Maestro Ronero is largely built on experiences and tradition. How did you experience the path to becoming a Maestro Ronero?
CM: Because of my background of chemist studies, my approach to rum is different. I categorize the liquid like an oenologist. And thanks to having grown up in a family that worked with sugar cane, I know the journey from the soil to the bottle like the back of my hand. Simultaneously, I have always liked the idea of being inspired by the Cuban rums of the 19th century, recreating their characteristics by using the modern yet modest methods of our distillery. My path to becoming a Maestro Ronero was different, because both my family background as well as my academics are critical components of my journey.

JR: Made with 70% aged aguardientes, which is the highest amount in all of the Cuban rums, even when the Cuban regulations only require 20%. What made you decide to put so much emphasis on the aguardientes?
CM: With Eminente Reserva 7 years old, new standards are set by being made with 70% of different types of aged aguardientes. With this design I wanted to bring a renewed complexity to Cuban rum, combining the art of natural ageing, the selection of barrels for ageing at each stage and finally, the exquisite selection and multiple blends of aged aguardientes that form part of the final recipe.

Read the full interview in the current ZOO December Issue 73!

www.eminente.com
Fashion
Valentine's Charm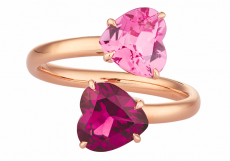 The high jeweler A.E. Koechert has been founded in 1814 by Emmanuel Pioté and Jacob Heinrich Köchert. Ever since then, the family-owned business has been creating unique jewelry creations in their Viennese parent location – at times for the Austrian emperor himself. Nowadays, the jeweler pursues to treat all his clients as if they were emperors themselves – bringing the felicity of considerate gifts to the customer. Taking the literal translation of the notion "joaillier" into account, which means "the bringer of joy", A.E. Koechert wholeheartedly stands for creating joy with their designs. Creativity and individuality are an inherent part of their visual language, emphasizing the unconventional, the personal, the valuable and not least the eccentric. Thinking ahead, the jewelers of A.E. Koechert have created a line dedicated to Valentine's Day – composed of three rings, a necklace and a pair of earrings, the collection exudes a playful charm, toying with the shape of hearts, different tones of pink and the incomparable glistening of gemstones. Made from white gold and with a prominent ruby heart and an infinity-style adornment of diamonds, one of the rings caters to the customer who seeks symbolisms, whereas the other two rings, crafted from gold and with a design that features two opposite facing hearts, offers a more subtle approach to Valentine's Day's semiotic interpretations. The necklace and the earrings show a complex style, in which fluid and solid parts of a diamond-studded gold chain intertwine, drawing attention to the circular-shaped rose-colored opals, bright pink rhodolite and vibrant pink sapphires it carries. 

www.koechert.com
Fashion
Giuseppe Zanotti's Cobra Sneaker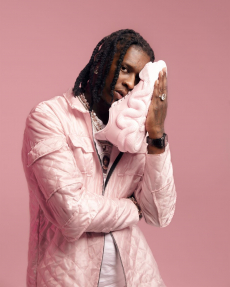 During the Milan Fashion Week in September, Giuseppe Zanotti has revealed a new sneaker model – the COBRA. Now, after making its debut on the runway, the sneaker is being launched on a global retail level. Inspired by the snake symbol, which has been featured in Giuseppe Zanotti clothing collections before, the sneaker channels allegories of power and transformation. The body of the low-top sneaker appears to be writhed by a snake, twining in serpentines around the sole and the corpus of the shoe, its head stealthily sitting atop the toe cap. The same pattern – in a 2D version – finds itself on the rubber sole of the sneaker. The sculpted and delicately scaled head is enhanced by a set of crystal eyes, bestowing the COBRA with luxurious grandeur. Giuseppe Zanotti launched four tone-on-tone iterations of the COBRA sneaker, including black and white, as well as pink and red. Presented in a campaign with Atlanta-based rapper Young Thug, the launch of the sneaker nods to the hip-hop scene, placing Giuseppe Zanotti in the epicenter of streetwear culture. Captured by photographer Cam Kirk, the campaign reflects the expressive dynamic and the transformative powers behind hype movements. "Young Thug defies classifications and stereotypes," says Giuseppe Zanotti, "he has always embraced the eccentric, the unapologetic – not only with his music but also with his fashions. He perfectly encapsulates the spirit of the COBRAS." Reciprocating the appreciation for one another, Young Thug stated: "For me, Giuseppe is like a chameleon. He's got the Italian style thing down but knows how to change it up and layer in the unexpected, the street. It's fire."

The COBRA sneaker will be available from December 17th 2021 onwards, in US Giuseppe Zanotti boutiques, selected luxury retailers, as well as on giuseppezanotti.com.

www.guiseppezanotti.com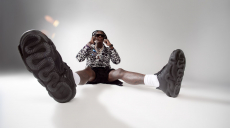 Fashion
Strength through Unity: Dior Fall 2022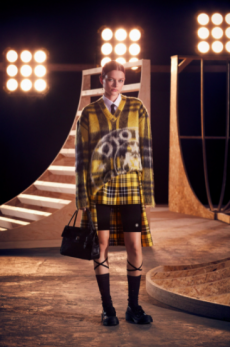 Maria Grazia Churri has revealed the looks of the Dior Fall 2022 collection in which she drew inspiration from the women of the Dior Maison, calling to life a collection that tributes empowerment. Overall, the collection expressed the idea of strength through unity, set into the context of fashion by a collection that appears as highly individual interpretations of the same uniform. Many of the looks featured layering, creating depth and personal style. Dungaree dresses layered over white shirts, black ties combined with quilted, fringed ponchos, and tulle skirts balanced with heavy boots reoccurred throughout the collection, making for an aesthetic that merged school attires with mature elements. The color palette exhibited black and white looks, complemented with dark neutral colors as well as recurring shades of yellow. Maria Grazia Churri experimented with pattern mixing, in particular with different kinds of plaids and diamond checks. Knee-length skirts and mid-length sleeves introduced new shapes into the current silhouettes. On a more feminine side, the looks were subtly enhanced with see-through blouses and lingerie tops, featuring sheer materials as a contrast to the strong lines and sharp tailoring. With great attention to detail, the looks show unexpected elements such as open hemlines and asymmetries. Accessory-wise, the collection showed leather woven belts, at times connected to the black ties, creating a harness-like shape, as well as black socks complementing the sturdy boots, given a twist with lacing detail at the top.

www.dior.com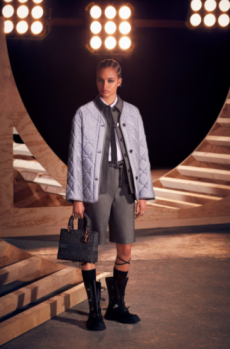 Fashion
Heatwave Incoming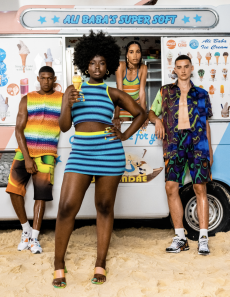 Appearing like a kaleidoscope of form and color, the AGR SS22 collection brings the post-lockdown spirit to life, giving it a vibrant look. The typical technicolor offering of the brand is a response to the collective yearning for freedom, adventure, and pure enjoyment. "London on heat" is how AGR founder Alicia Robinson describes the narrative of this season, which is an assemblage of different sources of inspiration. Drawing on British photographer Martin Parr's hyper-saturated images of everyday life, the collection channels the spirit and style of the 90s rave culture, showcasing knitwear in imaginative forms and tailor-made psychedelic pieces. Further exploring the realm of bright pop color, the season's intensive color palette takes inspiration from abstract painter Mark Rothko's seminal color field paintings. AGR's signature lime green is accompanied by neons, which are juxtaposed with natural, neutral tones and the use of space-dyed yarns. For textile and form, AGR created new jacquards in collaboration with the Netherlands-based knitwear manufacturer Knitwear Lab, which emulates the appearance of American spray-gun painter Roy Colmer's spray- and stripe-work. Lastly, referencing Parr's photography the AGR look book of the season portrays a summery scene, telling a tale of positivity, enthusiasm, and a taste for a bustling future.

www.agrknit.co.u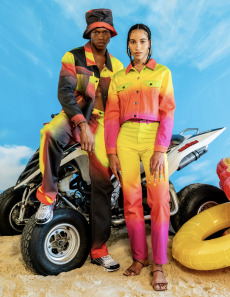 Fashion
Louis Vuitton Ventures Out Into the Alps
For the first time in its longstanding legacy, Louis Vuitton launches a capsule collection devoted to winter sports. The resulting collection features a complete wardrobe, that leaves no dressing desires unattended – from the slopes to the chalet, from the crisp mornings to the chilly evenings, offering apparel, accessories and shoes. The collection introduces a new LV emblem, namely a snowflake-shaped Flacon logo, that has been exclusively created for the occasion. Alpine landscapes are not only the backdrop where the collection is put to practice but serve as recurring motifs on the textiles themselves. Puffer jackets with feather linings come with matching leggings and pullovers, bringing a poetical, yet futuristic touch to the mountains with metallic finishes and sunset imagery. Sleeveless vests in puffer and fur versions ensure additional layers, whereas a selection of sweaters, shirts and dresses offers garments for the après-ski events. The looks are replenished by a variety of shoes – among the styles are rubber boots in different heights, as well as leather ankle boots for more sophisticated occasions. For the luxury-oriented winter athlete, Louis Vuitton further unveils a limited edition pair of skis, with an aluminium-covered wooden core, bringing the iconic LV monogram to the slopes. To ensure a head-to-toe look, the skis come with a pair of high-tech boots, developed in collaboration with Tecnica. High-performance results are stipulated with Louis Vuitton's touch of decadency in this debut ski capsule.

The capsule collection is available as of right now in Louis Vuitton stores.

www.louisvuitton.com
Fashion
2022 -The Year Of the Tiger at Piaget
It has been ten years since Piaget launched their first wristwatch dedicated to Chinese traditions. Ever since then, the French horology brand unveils each new anew a watch that pays tribute to the animal of the according year of the Chinese calendar. Beginning in February 2022, the tiger becomes the signum of the Chinese zodiac. Imprinted onto the dial of an Altiplano timepiece, the Tiger edition is limited to 38 pieces, which are meticulously handcrafted by master-enameller Anita Porchet. The tiger finds itself on, a mother-of-pearl colored enamel background that enhances the subtle details and colors of the tiger itself. Using a technique known as cloisonné, that is over 4000 years old, Porchet turned towards the craft of decorative art. The design is carefully transferred onto the surface of the dial, with golden ribbons that create the silhouette of the tiger. The resulting shapes – also called cloisons in French – are then enhanced with enamel pigments that breathe life and depth into the 2d design. The delicacy and strong colors express the majesty and agility of this extraordinary animal. The watchcase is crafted from 18 karat white-gold, set with 78 brilliant cut diamonds and is powered by an ultra-thin, manual-winding clockwork. The dial is complemented by minimalist horology details and reduced to the necessary – two pointers indicating the time – as to leave the limelight to the tiger. The Piaget logo appears to the right, aligned with the adjusting wheel.

www.piaget.com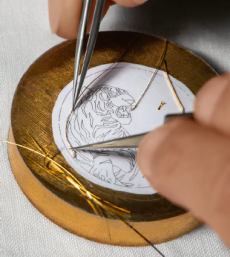 Fashion
Gucci x The North Face: Opening a Second Chapter of Fashion History
Following the first collaboration in 2021, Gucci teams up once again with The North Face for a ready-to-wear collection. The North Face was founded in 1966 as an answer to the strong demand for proper outdoor clothes for athletes to defy any weather conditions. Today, The North Face belongs to one of the leading outerwear brands with a strong emphasis on function and minimalist key styles. The collaborative collection features variations on insulated bomber jackets and vests, complemented with multi-pocketed backpacks or baseball and bucket hats and worn with hiking boots. In addition to that, The North Face dived into its archives to revive some of the brand's most iconic 90s designs, including the Nuptse Jacket. The selection takes up signature elements of Gucci, such as the GG monogram with a beige and green base and the colorful 70s inspired Gucci patterns while celebrating the spirit of experimentations through new shapes and pieces influenced by The North Face. As a leading mantra, Gucci and the North face decided on self-discovery and self-expression as the vision of the collection. This mantra resurfaces with various essentials, significantly reminiscent of hiking clothing, equipping the wearer with the perfect attire to set off for a trip to the deep ends of the soul.

www.gucci.com
Fashion
Louis Vuitton Spell on You: The Quintessence of Affection
Louis Vuitton presents its new women's fragrance Spell on You in a sensual campaign film, starring brand ambassador Lea Seydoux. Louis Vuitton revolutionized the art of traveling in 1854 with his innovative luggage designs, equally elegant and practical. Ever since the luxury Maison continues to embrace its heritage with a strong commitment to high craftsmanship while constantly developing and expanding Louis Vuitton's assortment and influence. The campaign film puts brand ambassador Lea Seydoux into the limelight and is directed by Jean-Baptiste Mondino. The French fashion photographer and video director enjoys a distinctive recognition value through his revolutionary photographs and videos that transformed the rock, pop, and fashion industry. The short film showcases an amorous interaction between two people, perfectly portraying the intensity of affection and the sensual play with attraction through different camera angles, set in a romantic garden in soft broad daylight, which emphasizes the built-up impression of a dream. Mondino captures the feeling of an imaginary voyage and escape from reality, which reflects on the history of Louis Vuitton. The sensual and sophisticated feeling created through Lea Seydoux and Mondino perfectly embodies the spirit of Maison's new fragrance. Louis Vuitton sought out a strong note of honeyed notes from the acacia flower, jasmine sambac, white musk, and peach and is rounded with enduring hints of rose, which profoundly enhances the hypnotic allure surrounding the fragrance.

www.louisvuitton.com
Fashion
Prada's SS22 Show Exhibits Subtle Seduction
Simultaneously presented at the Fondazione Prada in Milan, as well as the Shanghai Bund One Art Museum, Miuccia Prada and Raf Simons have unveiled the first runway creation of their partnership with the SS22 collection. The looks featured Prada's signature sharp lines and defined shapes, amplified by cutouts and tailored detailing. Despite the classical shapes, the collection presented itself with a wink, centering around the idea of "Seduction, Stripped Down", as the collection has been named by Miuccia Prada and Raf Simons. The center pieces of the SS22 collection are 60's Mini skirts alluding to the 2000s low waist cuts and provokingly short hemlines. Complemented with visible biker shorts underneath, the skirts illustrated the idea of showing body parts that are usually concealed. The 39 looks – which solely consisted of skirts and dresses – were defined by this meaning-laden piece of clothing that marked the turn of the Women's rights movement in the second half of the 20th century, as it served as a symbol for women of taking power over the own body. The prominent focus on oversized tops of the last seasons expressed itself in the form of generously cut blazers, nodding to the power-dressing fashions of the 80's – another crucial point in time of emancipation. Pointed shoes reinforced the confident spirit of the collection, appearing in flat as well as heeled versions. The color palette featured strong and bold shades, including electric purple and bright red, next to seductive black and was accentuated with vibrant green, orange and yellow shades. The luxurious shimmer of Satin weaves appeared throughout the entire collection and delivered an intriguing mix of materials in combination with roughened leather and smooth canvas bindings.

www.prada.com
Fashion
Hublot: Big Bang Unico Arturo Fuente Ceramic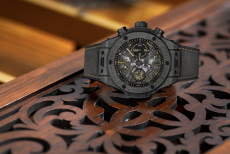 Hublot and the cigar brand Arturo Fuente y Compania, both household names of rich tradition, fuse their exceptional DNA to pay homage to one of the greatest pioneers of the cigar industry— Carlos A. Fuente. Cigars determined Fuente's life from a very early stage, making 50 cigars before homework as part of the household duties at the Casa Fuente and later on continuing to help his father with his small cigar business. In the late 50s, Carlos A. Fuente took over his family's legacy, following numerous fires in his factories and misfortunes yet Fuente held tight to his beliefs, which eventually led to one of the most sought-after cigar brands. The Fuente family's designer Manny Iriarte joined the Hublot team to help create and infuse the unique Big Bang timepiece with the core values of the Dominican cigar company. The timepiece is characterized by Hublot's strong technical qualities, such as the 72hour batteries, its highly crafted 44mm diameter case, made out of black engraved ceramic, and adorned with a pattern visually reminiscent of a tobacco leaf. The Big Bang timepiece is finished with engraved writing on the back that reads: "Our Father, Our Friend, Our Hero" and sets a prime example for Hublot's and Fuente's strive to continuously reinvent the limits of perfection.

www.hublot.com
Fashion
Piaget: Celebrating the Bond of Love
The luxury jeweler Piaget is a master in creating diamond-shaped visual symbols of love and is now releasing a series of new engagement rings to celebrate the epitome of love—the particular bond every relationship is aiming for, namely marriage. Georges Edouard Piaget founded the luxury manufacturer in 1874 and ever since the jeweler is synonymous with precision and sophistication, fusing the art of fine jewelry making with its profound watchmaking skills. In the late 50s, Piaget released its ultra-thin Altiplano collection that would later become one of the most distinctive recognition features of the luxury manufacturer. For this special collection, Piaget joined forces with creators, gemmologists, gem setters, and jewelers to combine their strengths and the savoir-faire of 150 years of crafting experience to create an exceptional range of engagement rings. Each ring of the collection is set with diamonds meeting the highest standards of fine jewelry in the world in terms of color, clarity, cut, and carats. As such, the Piaget Possession platinum ring is a playful answer to the traditional engagement ring. Circles set with small diamonds are placed around a big brilliant-cut diamond in the middle. The spinning elements of the ring are meant to be visually reminiscent of ''how love makes your head spin,'' as is stated by Piaget.

www.piaget.com
Fashion
BALR. X ISHU: Every Story has Two Sides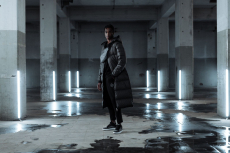 BALR.'s joined forces with London-based fashion start-up ISHU to create a collaboration under the theme "Every Story has Two Sides.'' The Amsterdam-based brand BALR. was founded in 2013 by professional football players with a focus on high-end lifestyle products and fashion. "We all have dreams of becoming a great and successful person. Greatness is not something that happens as a result of a careful selection process. It happens by taking action!'' is their leading mantra. Demy de Zeeuw, Juul Manders, and Ralph de Geus, the founders of BALR. aim to inspire the youth to pursue their dreams and work tirelessly to turn them into reality. The latest collection is the brand's answer to the downside of being a well-known public figure and constantly being observed and analyzed. The clothes are equipped with the ability to block out unwanted flashes of paparazzi cameras. The collection ranges from hoodies, capes, and down jackets with an emphasis on versatility and functionality, and worn with sneakers and complemented with differently shaped bags. BALR. used an innovative sunlight technology to distract and distort, and almost every item is imprinted with an eye-catching geometric print in black and white, which is a signature symbol of the fashion start-up ISHU.

www.balr.com
Fashion
AGL Virna Red Pump: Finding Power in Cohesion
AGL was founded by Piero Giusti in 1958. Now, three generations later, the Italian brand is still a family-run company, owned by the sisters Sara, Vera, and Marianna Giusti. Ever since taking over the brand, the trio works closely together on every project and are known for their artistic sensitivity and sophisticated designs "from women for women". Their latest shoe creation, the VIRNA pump, conveys an important message, as it supports the international day for the Elimination of Violence against Women and spreads. AGL introduces the VIRNA as a pump in a bright red color with a thin elegant heel, made for fierce and confident women. Every shoe visually embodies the brand's deeply anchored identity, the sister's emphasis on craftsmanship, high-quality materials, and exceptional designs. Only this time, the shoe serves a greater purpose than ususal. The proceeds from the purchases of the pump will be donated to CISDA, the international committee in support of Afghan women. The Italian association CISDA was founded on the principles of sharing human values of each person, regardless of their religion, origin, culture, or nationality, and has been promoting solidary initiatives for Afghan women since 1999. The Giusti sisters aim to empower women and advocate for the importance of supporting each other and showing solidarity amongst women, which is visually translated through their collections and in particular the new VIRNA.

www.agl.com
Fashion
Dior Heralds Christmas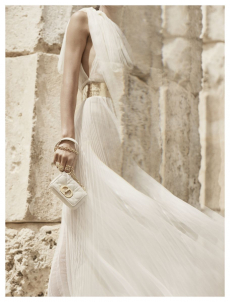 Slowly but surely the Christmas season is unfolding in Paris' shopwindows. As such, Dior has revealed their annual window decorations – this year, the prestigious vitrines of the Avenue Montaigne flagship store are brought to life with scenes of Greek mythology. Paying ode to the eternal beauty of Greece, Dior's windows recall the bright, flowing and crisp draperies that determined the ambiance of the Dior Cruise Show 2022, which was held at the heart of the Panathenaic Stadium in Athens. The white and ecru theme of the collections was highlighted with glistening golden accentuations – an iconic code of the French Maison. In front of the celestial backdrop of the window, a selection of Dior items is exhibited, providing the passerbys with gift inspirations for their loved ones. Herein, Dior's most iconic bags make an appearance in the windows and according campaign, including the Book Tote, the Caro and the Vibe, in sparkling and festive shades. The star symbol, a recurring talisman in Dior's designs, enhances many of the items and heralds the approach of the Christmas season. With jewelry being an indispensable item under the tree each year, Dior incorporated a selection of poetical pieces. Scarves adorned with Pietro Ruffo's sketches, such as the Tarot Arcana and the infamous Around the World motif replenish the selection further. The vitrine and its selection represent a contemporary odyssey that cherishes the pastimes of Dior while making the viewer dream of the celebratory month of December.

www.dior.com
Fashion
Unwrapping the Holiday Season with BOSS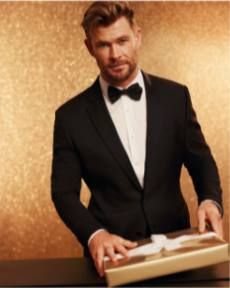 BOSS introduces a new festive campaign together with Chris Hemsworth. Under the name "Unwrapping the Holiday Season", the campaign celebrates the joy of giving and the special moments inherited by the act of sharing gifts. The campaign shows the American actor unwrapping, unboxing and untying various presents – small ones, big ones, classics as well as unexpected ones. BOSS has translated the suspension and joy of opening presents into their Holiday collection, which looks sport logo-embossed, ribbon-like details. All-over logo patterns and sporty trims feature across many of the items, which are presented in sleek black and festive gold color palettes. The collection ranges from perfectly cut tuxedo and sequin dresses to tracksuits and sweaters, providing a broad variety of items and styles, suitable for the formal as well as the relaxed days of the Holiday season. The collection is further complemented with footwear and fragrances, as well as bodywear and accessories, such as bags and backpacks. The capsule invites the BOSS advocates to experience the Holiday collection through the virtue of giving and sharing joy.

www.boss.com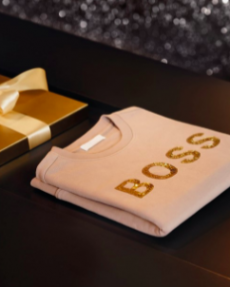 Fashion
Bulgari x Save The Children
Save the Children is the biggest independent children's rights organization in the world. It has been established in 1919, with the mission to foster safe environments for children to grow up – in manifold ways. Ten years ago, Bulgari has joined a partnership with the changemaker, and ever since dedicates a collection to their good cause. The Save the Children jewelry collection consists of four pieces, two necklaces, one bracelet as well as a ring. Each of the pieces features the Save the Children signature logo with a black Onyx Stone and a red ruby detail that imitates the logo of Save the Children. The proceeds of the collection are primarily used to create quality educational opportunities for children in need, as well as youth empowerment, emergency responses and poverty prevention – so far, the collection has raised more than $100mio. On the occasion of World Children's Day on November 20th, Bulgari has launched the campaign #MyWishForYou, which puts its support of Save the Children into the limelight. The campaign, which is presented as a communication initiative is published over Bulgari's digital and social media channels, serving as a call to action to raise awareness with the namesake hashtag #MyWishForYou. At the center of the digital wave-making is a video that virtually connects children from all over the globe through universal wishes that diverse individuals and Bulgari brand ambassadors have proclaimed for them. Love, hope, support, education, adventure, experiences, strength and ambition are only a few of the wishes to name. With this campaign, Bulgari makes an example of how to combine a legacy as rich as theirs with good deeds and charitable undertakings.

www.bulgari.com
Art
Fondazione Prada, Venice: "Aura I Sul Toccare Le Cose"
"Aura I Sul Toccare Le Cose" which translates into "Aura I On Touching Things" is the title of Virgilio Sieni's choreographic project, conceived for Fondazione Prada and realized with Fondazione Archivio Luigi. Located in a former gin distillery dating from 1910 on the southern edge of Milan, the Fondazione Prada was founded to teach and educate about culture through exhibitions, film initiatives, and contemporary philosophy conferences. The "Aura I Sul Toccare Le Cose" project consists of eight choreographic performances, filled with the repetition of gestures, inspired by objects or works of art and executed by professional as well as non-professional dancers. Sieni transformed 13 objects of affection into new and different ways of touching. The performances visually describe the encounter and development of the relationship between cities, places, or villages as well as body and art, all united by the idea of raising awareness on care, observation, and connection. The experience is intensified by the accompanying music composed by Luigi Nono and Claudio Monteverdi. Sieni's intention behind the project was to establish a visible dialogue about the manipulative power of sensual and seductive body expressions and gestures. Fondazione Prada acknowledges the undeniable importance of culture and successfully manages to expand knowledge and enrich the process of learning.

www.fondazioneprada.com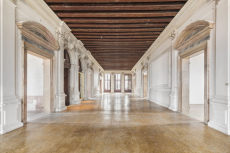 Fashion
Molteni&C: Amabilia: Experiencing Milan
"Those who love and know how to appreciate overall beauty leave these dwellings with nostalgia and a desire to come back. Beauty is not absolute unless it creates an emotion," is how Chiara Mordante, owner of the Palazzo Caminati, refers to the lifestyle project Amabilia, a one-of-a-kind stay experience in the heart of Milan. Molteni&C is an internationally acknowledged furnishing company, which is defined by a unique history, their collaborations with important designers, and the continuous emendation in technology and quality. Four suites have been created and equipped with a luxurious yet comfortable atmosphere for the Amabilia project and are named Montenapoleone, Triennale, Scala, and Aperitivo. Through the project, Molteni&C pays tribute and esteems fashion, design, culture, and the Milanese style. The furniture compositions are an embodiment of Milan, reflecting the traditional elegance of the city harmonizing with charming comfort. The suites give space for the iconic Molteni&C furniture collections, such as the D.153.1 and D.151.4 armchairs, designed by Gio Ponti, and small tables Panna Cotta by Ron Gilad as well as interior design concepts of one of the most important names in Italian design— Federico Peri. The luxurious suites are located on the last floor of the Palazzo Caminati, a magnifying building of the 19th century in the city's heart. The contemporary lifestyle project Amabilia is a love letter to the capital of Lombardy— Milan, equated with sophisticated elegance and Italian craftsmanship excellence.

www.moltenigroup.com
Fashion
ETRO & Harris: Redefining Luxury Fashion
For the FW21 collection, classical ETRO and Harris Reed decided to join forces to create a unique capsule collection of genderless blouses. Designer Harris Reed is known for opening conversation about the power of clothes with his thought-provoking gender-fluid designs. The young designer places an emphasis on sustainability, using deadstock fabrics to reimagine the traditional blouse. ETRO perfectly matches the core identity of Harris Reed, offering a great selection of archival fabrics The capsule collection revolves around the theme of giving archival fabrics a second life. Reed designs his signature blouses, with a voluminous shape, long ties, a bow on the front and in the back, and small details on the sleeves with a Rockstar feel to them. The colorful fabrics used are imprinted with a paisley or floral print. The art of upcycling breaks down the established structures of the luxury industry and ensures a more thoughtful and less harmful way of producing clothes for our planet. Harris Reed and ETRO masterfully manage to fuse their brand DNA, complementing and supplementing each other, resulting in unique creations with a sustainable heart.

www.etro.com
Fashion
AGL SS22: Adele and Camille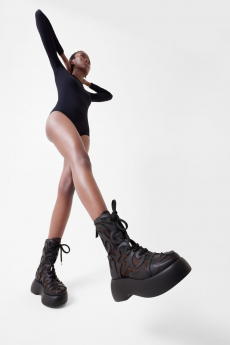 Made by women for women – this is the leitmotif that inspires the three AGL sisters who are currently writing the design history of the Italian shoe brand. Together, the trio generates each season afresh collections with unmatched quality and unique styles. In their creative process, each of the women has a specific role, bringing to the table their individual point of view which propel the legacy of AGL. AGL's collections present a golden thread of femineity and sophistication, incorporating the attributes of grace, strength and contemporality into their creations. The SS22 collection exhibits a joyous and outspoken spirit, with the recurring element of platform soles and chunky heels. The two centerpieces of the collections are two pairs of boots, named Adele and Camille, which have been inspired by the notion of a rose thorn. The designs of the Adele and Camille toy with a see-through effect by using a combination of mesh material and smooth leather. Mixing materials is one of the sisters' favorites games and results in unusual and unique creations. Always relying on elegance and high-quality materials, bring timeless refinement to even gritty models like the Adele biker boot and the Camille cuissard sandal. Borrowing from the allegory of the rose thorn, the two styles express the opposing ideas of feminine and masculine and delicacy and strengths. The balance evoked by the interplay of delicate mesh and sturdy leather embodies the fascination with contrasts the AGL sisters stipulate in their designs.

www.agl.com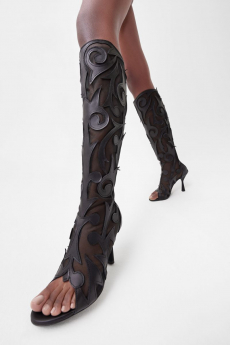 Fashion
O'Neill: With Technical Innovation Against the Cold
Perfectly in time for the seasonal change into cold weather, O'Neill releases a collection of technically innovated winter jackets. O'Neill's brand logo symbolizes a breaking wave, which represents the origins of the brand in Californian surf wear. The brand was founded in 1952 by Jack O'Neill with the invention of the first wet suit. Ever since, the brand is deemed a pioneer, producing the world's most high-tech and functional wetsuits up to date. O'Neill continues to push technical boundaries in sportswear with its expanded assortment of winter garments, that aim at minimizing the impact on the planet and improving hyper-functionality. O'Neill's latest collection features the LM Supersuit Jacket, which embraces the brand's heritage. The jacket is inspired by the original wetsuit made by Jack O'Neill, refined with a unique function to control the level of air-fill for insulation. Furthermore, the XTRM Mountain Jacket that unites a multitude of unique functions, such as water repellence, detachable snow gaiter, ergonomic paneling system, and recycled REPREVE insulation is introduced in the collection. With the innovative FW 2021 collection of jackets, O'Neill masterfully manages to fuse their heritage with new technical improvements, which allows the wearer to face outdoor environment outbreaks better and longer.

www.oneill.com
Fashion
Zenith: DEFY Extreme Desert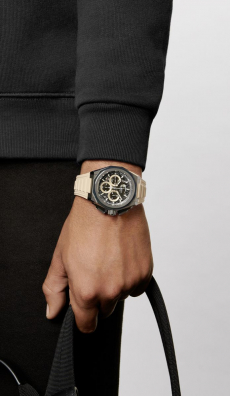 Inspired by the raw and wild beauty of the desert, the Swiss luxury watchmaker launches a special edition of its most triumphant design to date- the DEFY Extreme. For the special project, Zenith and acclaimed nature photographer Kourosh Keynejad join forces to create the release of the unique watch. Accompanying the release of the reimagined DEFY Extreme, the photographer showcases previously unpublished work inspired by the exceptional watch. Keyenjad is best known and admired for his breath-taking pictures, photographed during his travels across the globe and various extreme destinations. The original watch is a unification of precision and high-quality materials. The series of DEFY Extreme models, which are derived from the initial design are all inspired by extreme environments. The DEFY Extreme Desert marks one of the milestones of the DEFY series, as it is the debut watch of the variant models. The luxury brand picks up the theme of the desert in the protection components of the watch crafted from a blue-grey opaque macrocrystalline quartz gemstone, called the falcon's eye. The falcon lives in the desert and embodies determination and endurance, perfectly matching the luxury watchmaker's core identity. The main construct of the watch is complemented by a range of different watch straps, such as a sandy beige rubber strap and a titanium bracelet that can be changed easily. Zenith lives up to its high reputation of well-thought-out and excellent designs, resulting in a wearable piece of art.

www.zenith.com
Fashion
Gem Z: The Farthest from Earth We've Ever Been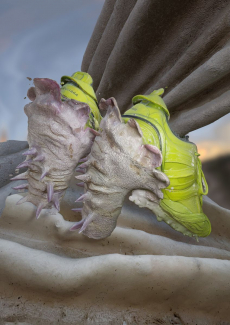 What would an extraterrestrial species think about planet earth and its human population? Together with different innovative artists, Gem Z opens up a theoretical dialogue between humankind and the unknown in space in their current exhibition, called The farthest from earth we've ever been. Gem Z is a talent development program, founded by Current Obsession, a magazine and platform to encourage relationships between young artists and support them in terms of creativity and business development. The exhibition is inspired by the two spacecrafts that were sent into space in 1977, each with a copy of the Golden Record on board. The exhibition is inspired by the two spacecrafts, containing a copy of the Golden Record and sent into space in 1977. The Golden Record, an audio-visual disc carried various images and sounds of Earth, such as samples of human speech, musical tracks, and illustrations of the DNA structure. The specific samples were selected to portray the diversity of life and culture on earth. Four decades later the team around Gem Z has tried to develop an imaginery answer to the Golden Record in an installation, fusing design, digital art, and adornment. The mixed-media exhibition is an interesting portrayal of an imagined alien treasure trove crashing on earth and answering to our human kind.

www.current-obsession.com

The exhibition is presented at Het Nieuwe Instituut, Rotterdam, from October 30th until November 30th 2021.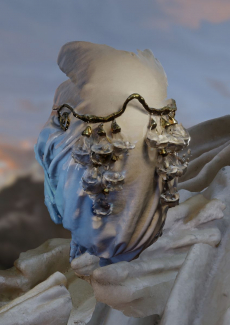 Fashion
Saint Laurent Rive Droite Halloween Special: A Playful Homage to the Spooky Season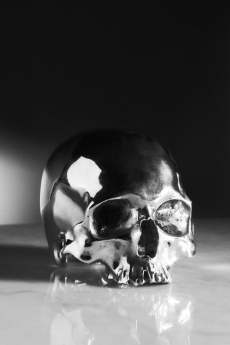 To celebrate the world's spookiest season, Anthony Vaccarello, the visionary creative director of Saint Laurent, decided to create a special Halloween capsule, available at the infamous Rive Droite retail location. The exceptional boutique Rive Droite is a nod to Rive Gauche, which opened in 1966 as the first ready-to-wear store in a Couturier's own name. Saint Laurent Rive Droite distinguishes itself from other retail stores, not only because of its remarkable history but the airy interior, defined by the opposites of concrete and glass as well as black and white marble, creating a more accessible and eclectic atmosphere. Vacarello continues to live up to the reputation of the boutique, designing festive jewelry pieces with a playful and youthful approach to the dark side, the hallmark of Halloween. The special collection includes bracelets and necklaces, inspired by the shapes of skulls and crossbones as well as decorative figurines, created in collaboration with the toy company Nanoblock. To round the spooky Halloween experience, a spider projection in 3D by German artist Friedrich Van Schoor will be displayed in the Rive Droite boutique in Paris, as well as in the store in Los Angeles.

www.saintlaurent.com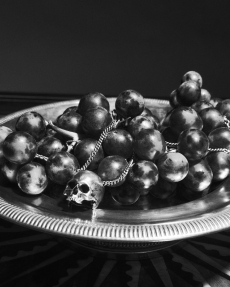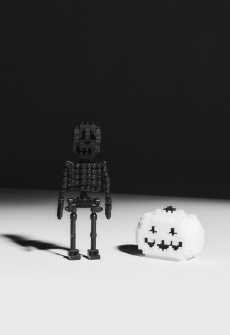 Fashion
Tommy x Timberland: Fusing Their Exceptional DNA
For a long time, the pieces of Tommy Hilfiger, a pioneer of the classic American collegiate style, have been combined with innovative outdoor specialist Timberland. Now the two brands finally decided to launch their first collaboration, which opens up a creative dialogue. The special collaboration embraces their heritage, drawing parallels between the two major brands in their distinctive role in forming the Zeitgeist of the 90s and discusses the future by fusing their individual brand DNA. Perfectly in time for the upcoming cold season, the collection showcases an original range of winter essentials from apparel, footwear to accessories, such as unisex sporty college jackets, detachable workwear-inspired trousers, and a reimagined version of the iconic Timberland construction boot. The color palette ranges from Hilfiger´s signature bright red and navy blue as well as Timberland´s earthy nuances. The clothes are adorned with a fused logo of the signature Tommy Hilfiger white and red flag as well as the unmistakable Timberland tree. The collection embodies the perfect dialogue between two industry staples, resulting in an exceptional range of deeply anchored Hilfiger classics, induced with a workwear twist by Timberland.

www.tommyhilfiger.com
Fashion
Heron Preston for Calvin Klein: Heron Preston´s Twist on Calvin Kleines Classics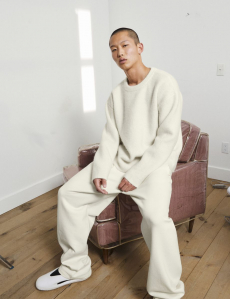 Following a debut collaboration with Heron Preston as a creative consultant, Calvin Klein continues their work with the streetwear pioneer for a follow-up collection. The name of Heron Preston is immediately associated with a clever fusion between fashion and function. The designer has already collaborated with legends such as Kanye West or Virgil Abloh and has become a youth culture icon. The collaboration includes Calvin Klein´s signature pieces, such as long-sleeved crop tops, leggings, and bralettes, which gained a distinctive recognition value for the brand with the captivating and hypersexual Ad campaigns, featuring famous personalities like Kate Moss or Mark Wahlberg in the 90s and revolutionized men's as well as women's underwear. Preston brings an over-elaborate simplicity and his signature orange detailing into the collection, enriching Calvin Klein's timeless classics with a modern twist. The collaboration provides the perfect essentials for the upcoming cold season. As such, the collection includes cozy crewneck sweaters, puffer jackets as well as a few denim pieces. Most notable about the range of clothes are the exquisite and innovative materials used by Preston, such as organic cotton, recycled polyester, and nylon as well as a waffle thermal fabric. The collection perfectly emphasizes the ability of Calvin Klein´s timeless designs to adapt to cultural changes and new forms of expression, resulting in an exceptional range of purposeful pieces induced with a modern twist by Heron Preston.

www.calvinklein.com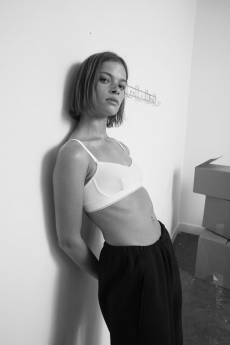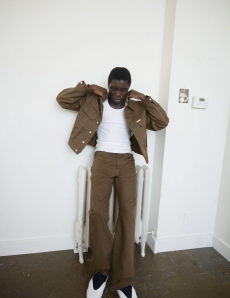 Fashion
Audemars Piguet's Royal Oak Automatic: Diamonds in Soft Tones
Audemars Piguet's legendary 15452 series has been extended with a white and a rose gold version, both coming along with a captivating interplay of diamonds and colored gemstones. The latest versions of the Royal Oak Automatic, with a diameter of 37mm, come with a subtle satin-finished calfskin strap that completes the watch's elegant and original aesthetic. The guilloché dial comes in a soft beige and neutral gray. Each bezel is adorned with no less than 40 brilliant-cut stones which have been carefully selected by Audemars Piguet's specialist to ensure a smooth and harmonious gradation. The stones exhibit exclusive luxury – individually cut and polished to achieve Audemars Piguet's quality standard of the clearest and sharpest angles, the stones have been set on the bezel by hand. Perfectly aligned, they reflect the light that shines on them, creating visual effects that range from flirtatious red and orange hues for the rose gold version and mellow rose tones for the white gold one. The white and rose gold versions are both crafted from 18karat gold and showcase an impressive amount of 124 diamonds in total, covering the watchcase entirely. The dials exhibit a Grande Tapisserie pattern, which resembles the surface of a checkerboard with a subtle three-dimensional effect, reinforcing the glistening effect of the bedazzled watchcases. The watch hands and numbers on the dial are kept in clear lines and minimalistic design. With its discrete yet playful colors and sparkling stones, the new Royal Oak Automatic exudes femineity and gracefulness with a charming touch.

www.audemarspiguet.com
Fashion
Dior: An Homage to Alber Elbaz
"I like dresses for the night. I like the after-party more than the party. I like the mystery. I like the dream, like fantasy dresses. I think, also, that you make women dream." That was exactly what Alber Elbaz did. The exceptional designer translated dreams into reality. Elbaz's clothes will always be a living embodiment and a carrier of the message, to feel good and beautiful about ourselves. As a highlight of this year's fashion month, the tribute show to honor Alber Elbaz was staged with an exceptional range of designers contributing, from Demna Gvasalia to Maria Grazia Chiuri. The show celebrates Elbaz's unparalleled sense of innovation and design. The creative director of Dior, Maria Grazia Chiuri presented an exclusively made, hand-embroidered evening gown, which references the deeply anchored vocabulary of the impressive designer. The dress was hand-painted with colorful and intriguing motifs, resembling the ones Elbaz was so known for. Throughout his career, Elbaz was appointed creative director of many great fashion houses such as Rive Gauche at Yves Saint Laurent and he was also in charge of the revival as well as the modernization of Lanvin. For the tribute show, people from all over the world came together to celebrate love, beauty, and hope, as Alber Elbaz would have wanted since, to quote the designer himself, "The nature of fashion is family".

www.dior.com
Fashion
Dunhill Rethinks Longevity with the Compendium Parka
In time for the colder season, Dunhill is replenishing its outerwear assortment with the Compendium Parka. The concept around the new parka revolves around timeless design that endures several seasons. The Compendium Parka is inspired by a men's compact found in the Dunhill's archives – consisting of utilitarian tools such as a cigarette case, a pocket knife, a lighter and a watch. Drawing inspiration from the multifunctional, timeless spirit this compact exuded, Dunhill centered the Compendium Parka around the notions of versatility and adaptability, which is why the parkas can be worn adjusted to the wearer's desire. The overcoat can be detached to transform the parka into a jacket, and the lining can be worn together with the parka or on its own. The compromise between the four components offers maximum comfort for the wearer no matter the season's conditions and is made from fine material supposed to last a lifetime, including eco-conscious, regenerated nylon and a shearling-polyester base. With the creation of the Compendium Parka, Dunhill strives to actively contribute to longevity instead of disposability. Making use of luxurious, yet durable materials, Dunhill unites utility, function and elegance and embodies these notions in one, everlasting, yet constantly changing item.

www.dunhill.com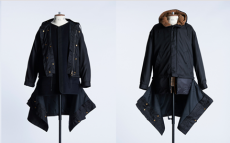 Fashion
A Story of Success: Louis Vuitton's Essentials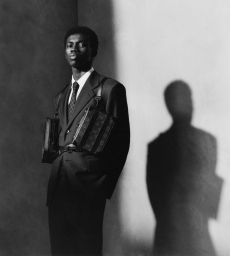 Elegant leather goods are deeply anchored in the success vocabulary of the traditional fashion house. Since the invention of the Trunk 1854, Louis Vuitton and his successors have been reinventing the Trunks constantly. From a medical kit for Damien Hirst, a helpful essential for Ernest Hemingway to Virgil Abloh's Mini Soft Trunk with a modern twist and - the trunk is a shapeshifter adaptable to any desired purpose. For the FW21 collection, the French brand re-interprets their everlasting Christopher and Soft Trunk designs. Louis Vuitton first unveiled the Christopher in the FW 2004 collection as a backpack and ever since revived it season for season in a wide range of different versions, always drawing inspiration from the iconic original. This season, the leather goods are available in in the recognizable Monogram pattern Taurillon Gommato and the chess pattern Damier, in black or white with shoulder straps and large opening to ensure easy access to the inside. The reinvented FW21 versions of the bags are centred around the acknowledgement of the need for a bag to serve a multiplicity of uses, for casual or formal occasions. The Christopher and the Soft Trunk are symbols of the traditional French Maison and carry an unmistakable recognition value. No matter which updated version of the trunk or backpack you prefer, it elevates every look and makes it unique as well as prepared for every possible change of plans and venues.

www.louisvuitton.com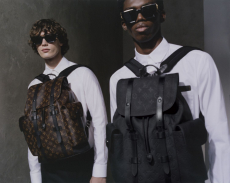 Fashion
Watches and Wonders: A Look Behind the Scenes of Horology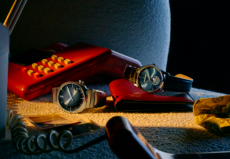 Watches and Wonders, a collaboration between Mr Porter and Net-A-Porter celebrates the intersection between luxury watches, style and fashion. Launched in spring 2020, the digital platform represents a one-of-a-kind character: tailored directly towards industry instead of retail, the web destination has become a dynamic hub for leading retailers, journalists and VIP guests. With their new Watches and Wonders campaign, the two renowned online retail spaces Net-A-Porter and their men's fashion counterpart Mr Porter, once again pay a special tribute to fine watchmaking. Globally orientated and coming along with a series of physical events and its own digital platform, the campaign is a hallmark of showcasing the art behind fine watchmaking, offering professional insiders as well as the public eye a glimpse behind the scenes. Currently, the platform features insight on the Salon 2022, which unites more than 40 horology houses in an extensive exhibition in Geneva. As one of the first digital destinations to provide unparalleled access to the newest novelties and iconic pieces of the watch industry, the new campaign showcases no less than 30 timepieces, including the top-tier watchmaking names Cartier, Hermès, H.Mose & Cie, IWC Schaffhausen as well as Piaget. Watches and Wonders fosters inspiration, education and marvels at the countless wonders behind the craft of horology.

www.watchesandwonders.com
Fashion
Dior SS22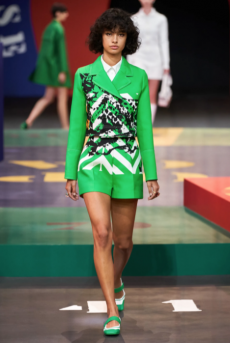 "I have always thought that it's pointless for artists to speak about their own work. It's the artwork itself that must speak to people. Certainly, it's the work that has spoken indeed. (…) It was a natural talent of mine, but it all remained primarily in the background. I always say I have painted a great deal, I exhibited very little and sold nothing [Laugh]" Anna Paparatti is of the most iconic and vivid figures of the 60s in Rome. She was at the centre of that atmosphere of freedom against any preconceived codes and dogmas surrounding the art world, using the theme of "game" and playfulness beyond reality, where art becomes life and vice versa. Conceived through her "absurdist" spirit reflecting the philosophy of her work, Paparatti designed the show space starting from bits of her paintings. here as a gigantic Game of Goose, models move at beat of Italian band "il Quadro di Troisi" live performance. On January 27th, 1961, L'Aurore wrote about Marc Bohan's tenure as Creative Director of the House and his Slim Look: "It completely changes fashion, just as the New Look did in 1947." Maria Grazia Chiuri pays homage to the visionary spirit of Marc Bohan's Slim Look collection and the richness of the 1960s. The silhouettes reveal cuts and graphic effects with color blocking, evoking the painting by Paparatti. The materials and various motifs recall the legendary Roman nightclub, the Piper Club, a unique place for expression at the crossroads of art and design. Sequins, vivid prints, transparencies: Maria Grazia Chiuri dives into women's freedom once again, and into what means to be a woman today, where several facets of personal expression comes together through the intrinsic desire to be real.

www.dior.com
Fashion
Marni SS22: Connected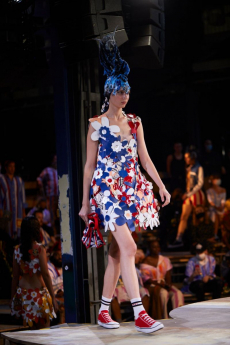 For the Marni SS22 collection, it was Francesco Risso's mission to show us this season that we are all one team, sometimes disconnected but always reconnecting. To pursue this idea of connection, he invited all of the guests who were going to attend the fashion show for a personal fitting. The event fostered a collective trying on, asking for advice and selecting a look to wear to the show. Resulting from this collective fitting, the spectators blended in perfectly with the performers on the runway. The collection features sliced-up asymmetrical dresses in black and blue, oversized sweaters, bandeau tops and bell bottom trousers. Especially noticeable are the stripes, vertical, horizontal or diagonal, stretching over almost every garment and the flower applications, Daisies to be exact, cut out and reassembled into skirts, oversized tops and cotton, flowing pyjama sets made from crisp cotton. During the show a performer appeared on stage reading a poem, called ´´Wear we are´´ touching upon whether covered in layers of fabric or revealed in short skirts, each individual is ready to connect. Risso has once again shown in his own visionary way how fashion serves as a means of expression and communication.

www.marni.com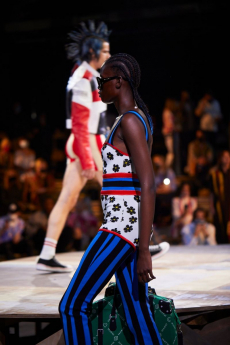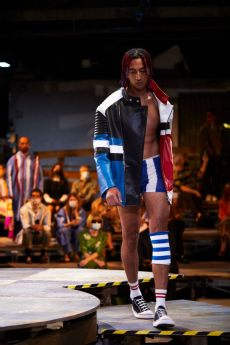 Fashion
ENG Concept Store: #StopAsianHate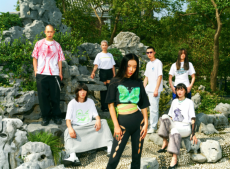 Being one of the leading fashion retailers with a customer group of Gen-Z luxury consumers, the Shanghai concept store ENG bridges the gap between retail and entertainment. Through an experience-driven, highly conceptual shopping experience, the famous store attracts the fashion-forward crowd of the metropole. For their latest project, the label has made it their aim to raise awareness about the increase of hate crimes against Asians. Showing severe percentages already before the pandemics, hate crimes against Asians have almost doubled. The project is tailored towards the global #StopAsianHate campaign and came to life with international and Chinese brands creating t-shirts, whose full retail proceeds are donated to the Stop East and South-East Asian Hate Campaign. The campaign's mission is to condemn hate by creating lasting social change, whereas the fund is used to support organizations uplifting and empowering Asian communities. ENG's campaign is brought to the public eye with an extensive campaign, including a multitude of praised fashion industry personas, such as Leslie Zhang, one of China's most prolific fashion photographers and several others, who all gave their passion, experience and time freely in order to support this urgent cause. The campaign is replenished by a trilogy of podcasts with Susie Lau and Asian creatives, in which matters of prejudice and bias are reflected upon. In particular, the episodes touch upon the barriers in the Western educational system, that young Asian creatives are confronted with.

The designed t-shirts as well as the podcast are accessible online at ENG. Donations for the GoFundMe campaign can be made through the link below.

www.engconcept.com
www.gofundme.com/f/support-esea-community
Fashion
MCM: Urban Luxury Commute
MCM's current collaboration with Urwahn elevates ordinary city commutes to a luxurious cruise. Taking inspiration from the metropolitan dynamic of Munich in the 1970s, the two brands have created an E-bike that unites their expertise and design language in a future-oriented way. "We wanted to develop a collaboration that celebrates the essence of moving from the past into the future. URWAHN is a thoroughly German company known for its high-quality engineering, making it the perfect partner with which to celebrate our 45th anniversary," is how Dirk Schönberger, chief creative officer, describes MCM's initial vision behind the collaboration. Whereas this collaboration marked a step into unknown waters for MCM, the outcome sets a high for successfully combining urban mobility with a luxurious lifestyle. A 3D-printed frame, entirely coated in copper and adorned with the iconic Visetos Monogram - that is unmistakably associated with MCM - exudes an opulent aesthetic. Logo-embossed brass framings and reflective MCM emblems plastered over the rims make for an impressive, lasting brand impression. The E-bikes are hand-built in the German town Magdeburg at one of Urwahn's factories and are the result of detail-oriented design and professional execution. The attention to detail goes beyond the bike itself. MCM also took the riders' needs into consideration and conceived a special-edition Urban Bottle with 24Bottles. Only available with the MCM x URWAHN E-Bike, this lightweight water bottle sports the brand's iconic logo and color and with its glamorous Chrome Finish reflecting the light, it isn't just a great alternative to plastic bottles, but also adds a gorgeous touch.

From September 22nd onwards, 10 of the bikes will be presented in selected MCM stores worldwide.
The e-bike, limited to 40 pieces, will be available online from October 1st.

www.mcmworldwide.com
www.urwahnbikes.com
www.24bottles.com
Fashion
Jil Sander SS22: New Awakenings
"Far from perfect, we can always look forward, with as little filter as possible. We are plural, nocturnal, and luminous; feminine, masculine, vulnerable and strong; and we shouldn't take ourselves too seriously. We are in motion." This is the mantra from which Lucie and Luke Meier derived their creativity for the SS22 collection for Jil Sander. In the spirit of new awakenings, the collection invites to reopen one's eyes to oneself and one's surroundings. The collection's looks excel at balancing sensitivity with power and are a paragon for looks that look strong yet feel light. The prominent silhouette of the SS22 collection is wide and flowy, yet structured; achieved by tailored garments made from delicate fabric. Oversized blazers are combined with clean palazzo trousers, voluminous straight-cut coats layered over slit skirts and long figure-flattering dresses balanced with loose overshirts. Designed with fabric combinations such as cotton, chenille, shimmery silks and matte wool, the looks offer an intriguing mix of material while remaining neutral and wearable through their muted color palette of discrete cream shades, classic earth tones, and pastels such as pale peach, light green and sky blue. The subtle color accentuations lend a soft-spoken touch to the rectilinear, sharp lines of the looks, expressing how subtlety and authority co-exist in Jil Sander's designs.

www.jilsander.com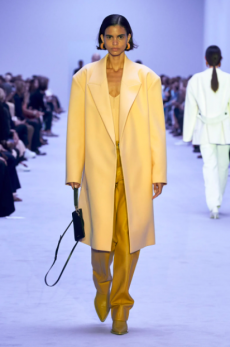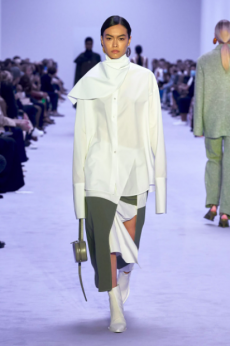 Fashion
Doucal FW21/22: Urban Outdoors
With the recent eruption of outdoor interests, the world of womenswear has been opened to new spheres. With true Italian craftsmanship, Doucal has taken inspiration from this development, presenting their FW21/22 collection with ghillie lacing, fine textiles and material inserts on functional footwear shapes. Timeless styles and considerate details are prompts that attract the educated, selective customer of these days. Doucal translates these variables into their design, in particular with three of their shoe models. For the FW collection, Doucal has put a spin on their classic Chelsea boot from the previous collection by focusing on an aerodynamic shape, giving the well-established boot a more athletic touch. Shiny leather combined with a rubber sole creates a trans-seasonal mood that delivers durability. Similarly, the loafers of the Italian brand combine tradition with comfort through a rubber sole. Doucal's sneaker models have been elevated with fabric elements, such as wool and feature neutral color blocking that makes them suitable for city looks. Additionally, the collection premieres an ankle boot with a flared heel that picks up the material mix of the collection. The men's collection ventures out into a more athletic approach; presenting ultra-light soles, technical details and rubberized inserts. Previous models, such as the Kobe and Andrew, are reborn with new color palettes, nylon waterproof patches and wax treatments while offering a range from walking shoes, boots to monk shoes and loafers.

www.doucal.com
Art
ULAY Foundation Project Space: The Metamorphosis of the Body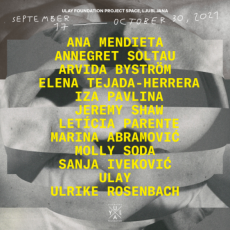 The Ulay Foundation has opened its doors to a new exhibition launched under the name Body Ecstatic Body Eclectic Body Eccentric. The exhibition investigates the notion of the body through a variety of media such as moving images, photography as well as performance. The exhibitions features artistic positions concerning the body from the 1970s to recent days, which makes for an intriguing insight into the influence of the digital and post-digital realms that have shaped our perception of bodies immensely. Touching upon current topics with political value, Body Ecstatic Body Eclectic Body Eccentric thematizes traditional conceptions of gender and sexuality, self-presentation and the female narrative of the fight for social justice. In this sense, the exhibition proposes insight into what the body desires these days, how they metamorphose and adapt to societal pressure and consequently how the body can break free from the limitations that are postmarked upon them by certain standards. Particularly focusing on the woman's body in these scenarios and considering the recent developments of the pandemic too, the exhibition unveils how economic, political and reproductive rights are under attack worldwide.

Body Ecstatic Body Eclectic Body Eccentric, curated by Hana Ostan Ozbolt, is on show at the ULAY Foundation Project Space in Ljubljana until October 29th 2021.

www.ulayfoundation.org
Fashion
Tommy Hilfiger FW 21 Pass the Mic
Voices speak volumes and every voice has the power to affect and change the world. It is this positive affirmation that laid the ground stones of Tommy Hilfiger's current FW 21 campaign called Pass the Mic. The campaign features international voices of the entertainment industry from the United States, Korea and Nigeria. Together with these ambassadors, Tommy Hilfiger aims to create a global interface of discussion, where consumers can express their visions and inspirations to create change. Yara Shahidi, Anthony Ramos, Jack Harlow, Wizkid, Kim Soo-Hyun and DJ Cassidy call their followers to action in five portrait videos, revolving around their personal mantras. Empowering phrases such as "I am the I in light. I am the reason the future is so bright", "How many tried? And you still rise." and "Pass the mic and share your light. Every person, every voice can change the world. So what do you have to say?" invoke the audience to engage and answer to the campaign videos on social media. This call to action accompanies the FW 21 collection, which propels Tommy Hilfiger's mission towards diversity and sustainability. Collecting answers to questions on what inspires one to make a difference, what would one say if the world was listening and what drives one towards the future, the Pass the Mic aims to give the audience a platform where engaging conversation erupts.

www.tommyhilfiger.com
Art
Gallery Weekend *Discoveries: K60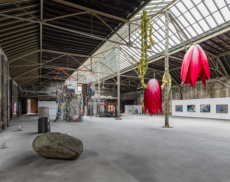 In line with the Gallery Weekend *Discoveries purpose to represent a platform for upcoming artists, the event aims to foster connections between the participating galleries, curators and subsequently artists as well. This year, the second edition of the K60 exhibition brings together eight Berlin galleries – Alexander Ievy, ChertLüdde, HUA International Klemm's, KOW, Kraua-Tuskany Zeidler, Plan B and PSM. The eight galleries present a plethora of artworks from various artists, including conventional mediums like sculptures and paintings, as well as more contemporary takes on art through videos, installations and photography. The exhibition stretches over two floors in the industrial setting of the Wilhelm Hallen, whose architectural characteristics make for an excellent exhibition space. The artworks are placed alongside the raw concrete walls, hung from the iron frameworks of the high ceilings and integrated into the pillars and braces of the former iron foundry. The vast space allows the individual art works to unfold on their own, honoring the research and creativity of each individual, while contributing to a unique undertaking that emphasizes the art scene as an entity and delivers a diverse and manifold art experience to the audience. The joined exhibition and the vast location invite to articulate a dialogue, not only between the artworks themselves but also between the visitors – highlighting the common threads that link the artworks and their audience together.

The K60 exhibition is open to public at Wilhelm Hallen, Berlin, until September 18th 2021. 

www.gallery-weekend-berlin.de
Fashion
Montblanc UltraBlack: Style Meets Statement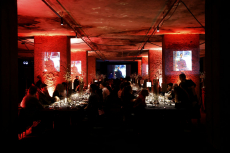 It is the first time that Montblanc is launching a collection that extends across all the house's selections, from pens and notebooks to watches and bags. As one can already conclude from the name, Montblanc UltraBlack, the collection is an ode to the ultimate colour. The colour black is not only the favourite of many designers, but it is also one of the only colours to never go out of style. All the pieces offered as part of this special collection are defined by their simplicity and the timeless elegance of their design, a perfect match for the subtle yet powerful nature of the colour black. To celebrate this special launch, the luxury Maison invited special guests and friends of the brand, amongst whom actor Kingsley Ben-Adir and DJ Peggy Gou, to the Feuerle Collection in Berlin. The minimalist gallery, located in an imposing concrete structure, opened its doors exclusively for the special mise-en-scene of the new collection. The VIP guests were first welcomed by Montblanc's CEO Nicolas Baretzki, followed by a formal dinner during which they were able to enjoy a performance of Alessandro Ristori and the Portofinos. Expertly crafted and consciously curated, the UltraBlack collection fits the daily needs and mentality of all those, who are dedicated to setting an example that we all have our own individual paths to success.

The Montblanc UltraBlack collection will be available in the Montblanc boutiques as well as online from September 2021 onwards.

www.montblanc.com
Art
Gallery Weekend *Discoveries in Berlin
Extending the annual event of Berlin Gallery Weekend, the melting pot capital is hosting a special offshoot of the art event that focuses in particular on up and coming talents of the art scene. For three days, the city turns into a hub of artistry, showcasing the work of young creatives in all their manifoldness. Named Gallery Weekend *Discoveries the event invites to explore the plethora of artworks, ranging from paintings to sculptures, to installations. The exhibitions feature a variety of topics revolving around current matters, personal views and the latest developments. Prior to the opening for the public four authors have visited the sites and derived and put to paper four tours that provide support for visitors who do not know their way around Berlin. The tours are divided into Berlin's districts, from Mitte & Wedding, Kreuzberg, Charlottenburg to Schöneberg. The routes are accessible in written form on the Berlin Gallery Weekend website, where visitors can get a first glimpse on what awaits them during their time without giving away the details that can be discovered on the tours. Besides the individual and duo exhibitions, the Gallery Weekend *Discoveries have curated the group exhibition K60 with a combination of eight renowned galleries set up in the industrial location of the Wilhelm-Hallen.

The Gallery Weekend *Discoveries are open to public from September 16th to September 18th 2021.

www.galleryweekendberlin.de
Art
Audemars Piguet Contemporary: Aleksandra Domanovic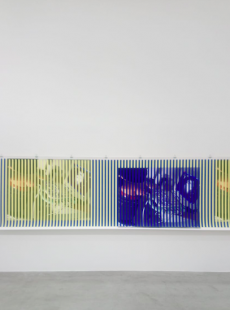 Following collaborations with Cao Fei and Ryoji Ikeda, Audemars Piguet Contemporary has brought to life a collaboration with Aleksandra Domanovic. The Berlin-based artist translates the history and latest innovation of technology into her ambiguous body of work while incorporating social and political commentary stemming from her upbringing in Yugoslavia. Re-evaluating and unravelling the role of women in science and specifically in technology, she touches upon current questions and shifts of society and the influence of technological advancement at large. The core of her work revolves around a unique understanding of the ever-present digitization happening in current times. Precisely this thematization of current and future-oriented matters is what Denis Pernet, Art Curator of Audemars Piguet Contemporary, mentions as their motivation to work with Aleksandra: "We are delighted to support her in the development of this new body of work that will contribute to the wider contemporary art discourse and raise questions about our future." Aleksandra's new body of work Becoming Another (2021) is a site-specific installation presented at the former print house of Der Tagesspiegel in Berlin. The installation exhausts the impressive dimensions of the site, portraying the tension between sight and perception through the intertwining of dynamic LED fan displays and the visuals they project onto the corporeal space.

Aleksandra Domanovic's Becoming Another (2021) commissioned by Audemars Piguet Contemporary, will be presented during the Gallery Weekend *Discoveries in Berlin at the former print house of Der Tagesspiegel at Potsdamer Straße and will be on display for the public from September 17th 2021 until October 10th 2021.

www.audemarspiguet.com/com/en/about/ audemars-piguet-contemporary.html
www.gallery-weekend-berlin.de
Art
Brussels Gallery Weekend: You Left Me My Lips, and They Shape Words, Even in Silence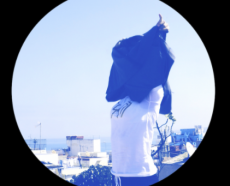 How can one make visible what lies in the interstices of the dominant language? Brussel-based artist Hamza Halloubi cherishes the concept of silent discourse in his exhibition You left me my lips and they shape words, even in silence. This body of work showcases a trio of videos touching upon identities and stories of the Maghreb region. Halloubi, who himself was born in Morocco, hereby utilizes the Western gaze, portraying the protagonists and sceneries in a raw and authentic manner. The vivid camera work is a reference to the phenomenon of looking and being looked at in public spaces, whereas the absence of sound and dialogue amplifies the discourse that silence may create. The three videos adopt different interpretations of the power dynamics between the West and the Middle East. Writing Back, one of the videos on show introduces a Moroccan woman through the distorted, exotified lens that the Western world postmarks upon her. The video addresses shadow and silence as a deflection mechanism of the Orientalist gaze. Halloubi incorporates the element of cultural loss and the relation between meaning and origin in Messing Encounters, in which he establishes a wordless dialogue between an African immigrant and a Congolese statue expatriated to a Western museum. Lastly, Begaiements toys with the parallels of creative investment and revolt against oppression by intercutting images of Jason Pollock's paintings and the Arab spring. The videography is presented alongside abstract paintings that feature writings and video stills.

You left me my lips, and they shape words, even in silence is exhibited at Argos, Brussels, from October 9th - December 12th 2021.

www.argosarts.org
www.hamzahalloubi.com
Art
Brusssels Gallery Weekend: Metamorphosis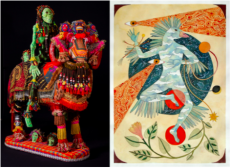 The duo exhibition Metamorphosis features sculptures of Benoît Huot and works on paper of Indian artist Rithika Merchant. The core of the show builds upon myth and magic in the animal kingdom. Animism, the belief that innumerable spiritual beings interfere with human affairs, plays a role in both of their works. While Huot expresses a darker side of this phenomenon with bedazzled animal heads and torsos, Merchant creates a light-hearted, enchanted version of mysticism in her drawings. Huot's sculptures resemble bewitched creatures that remind of baroque trophies or voodoo dolls. To achieve this mysterious impression, the French artist adorns stuffed animals and furniture with textiles, gemstones, mirrors and embroidery. The association with voodoo dolls is not far and is further reinforced by the saturated color choices – flaming red, vivid orange as well as pulsing green and black reoccur on the animal corpora. In contrast to the bewitched attributes of Huot's sculptures, Merchant's drawings revolve around the serenity of nature. Organic shapes and earthy colors compliment the magical stories. With her work, merchant explores how myths, and legends shape cultures and religions. With watercolor and cut paperwork as her main medium, she leads the attention away from the drawings themselves and sends the observer off into a world determined by individual symbolism. Influenced by botanical prints and folk art from the 17th century, Merchant aims to convey the cultural legacy of storytelling and create a body of work that visually connects the observer to their collective pasts.

Metamorphosis is exhibited at Galerie DYS, Brussels from September 9th - October 10th 2021.

www.galeriedys.com
www.benoithuot.fr
www.rithikamerchant.com
Art
Brussels Gallery Weekend: Post-Truth and Meditative Textures
Nino Mier Gallery is making its debut at the Brussel Gallery Weekend with the LA-based artist Dashiell Manley. Manley's works are characterized by a unique sculpting technique that creates a textured surface in which oil paint fans out in shell-like patterns, distantly reminding of psychedelic visions. The alternating surface of his paintings and the use of vibrant color palettes lend his works an unexpectedly soothing, harmonious character. The creation of these meditative works stems from the personal development of the artist. Prior to finding emotionality and tranquility in his works, Manley was known for the subtle language of satire. In his early years, he converted political print media, such as newspaper front pages or cartoons into abstract, distorted versions on canvas. Depicting the news as a blurry mess conveyed the decay of media outlets in times of careless and unquestioned news consumption. Commenting on the role of the media in a post-truth era through his art, were the leading steps of artistic transition for Manley. After the process of visualizing post-truth matters, in which emotion and personal beliefs rule over reliable sources and facts, Manley sought for an equilibrium that would combat the frustration and critique he had visualized for years. Hence, as an artistic reprieve, the artist switched to a more meditative practise, ruled by open gestures and movements. Despite the complete reversal of the motivation behind Manley's pieces, they show a distinct visual language making use of pastel colors and large-scale patterns.

Dashiell Manley's art is exhibited at Nino Mier Gallery, Brussels, from September 9th - October 9th 2021.

www.miergallery.com
Fashion
Swarovski Wonderlab Collection II
A world where magic and science meet, a world full of wonder – from muses of the Bohemian movement to design aesthetics taken from the Swarovski's Austrian heritage, the second collection of Wonderlab enrichens the timeline of the jewelry brand by a modern twist. Each crystal item of the collection represents a microcosm of an individual world in which the magic of Swarovski jewelry unfolds in manifold ways. The collection exhibits an interplay of colors, textures and cuts that symbolize self-expression in all its various ways – classic, punk, sweet, striking and every nuance in between. Aligned with this expressive nature, the collection is launched with a campaign that represents the opposite of archetypes in all their authenticity. The Wonderlab Collection II cherishes the success of the preceding Collection I; paying tribute to the families of the original collection with evolved takes such as unisex approaches, new forms and colors. Besides, the Wonderlab Collection II presents a quartet of new design families: Abunda embodies technical marvel, exploring architectural elements, focusing on the prowess of craftsmanship. Dextera exemplifies geometric embellishment, parading crystals precisely composed around metal frames that radiate a "mathemagical" fusion. Imber replenishes the Wonderlab themes by a softly sensory experience, with crystals that create a cascading illusion, inspired by the classic Swarovski chains. Lastly, Stella features dark and dreamy star-shaped pieces that play with proportion and lets starlets and stargazers dream of alternate realms.

The Wonderlab Collection II is available from September 7th in-stores as well as online.

www.swarovski.com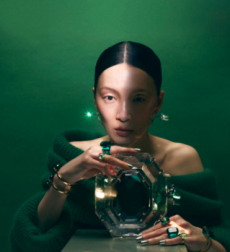 Fashion
Galop d'Hermès: Equestrian Anecdotes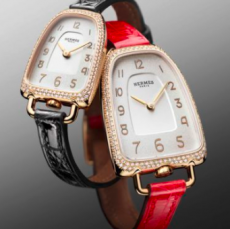 The Galop d'Hermès watch, created in 2019, exemplifies a thoughtful creative process. The watch revisits the Maison's equestrian codes with its watchcases that is inspired by the shape of stirrups. The Galop d'Hermès was born from the detailed observation of Californian designer Ini Archibong, who immersed himself into the archives of Hermès creations. Bridoons, stirrups, bridles, harnesses - with his streamlined and balanced style, Archibong merges avant-garde interpretations of these design anecdotes with the beknown functional simplicity of Hermès objects. Now, Hermès relaunches the classic piece in a smaller format. Closely linked to the House's watchmaking repertoire, the Galop d'Hermès is a piece that combines the practicality of a watch with the delicacy of jewelry. The new "Petits Modèles" are available in rose gold, plain steel and in a steel bedazzled with no less than 134 diamonds. The case's soft angles close around a wide-open dial, punctuated by Arabic numerals of different sizes. Enlarged on the lower part of the display, they convey movement and a shift in perspective. The progressive typography, finely highlighted in anthracite, stands out against a sandblasted background, while the hands hover over a smooth opalescent surface. A final nod to the world of horses, the number 8 forms an inverted stirrup. A calfskin or alligator strap, made in the Hermès Horloger workshops, extends the aerodynamic and futuristic lines of this creation.

www.hermès.com
Fashion
Hublot x Big Bang DJ Snake
DJ Snake's career is of dazzling and multifaceted character. With over a billion streams on Spotify and numerous awards including Billboard and MTV ones, the French musician is a kind of its own. Celebrated by fans for his creations since 2013 with hits like "Lean on" with Major Lazer and "Let me love you" with Justin Bieber, DJ Snake is a factor to be reckoned with when it comes to electronic music all over the globe. Since 2018, the DJ is an ambassador for the Swiss horology pioneer Hublot. For their latest project, the DJ's creative design ideas and Hublot's technical know-how have joined forces. Resulting from the collaboration, the Big Band DJ Sake has been created, a watch that boldly expresses the musician's character while demonstrating how traditional craftsmanship can be turned into modern, avant-garde and outspoken watch-making. The DJ sums up the thought process behind the design: " To be able to wear – and also offer my fans – a watch which reflects my personality is something that has been very important to me since the start of my partnership with Hublot. I am delighted to have been able to combine my inspiration with the expertise of the fantastic watchmakers and technicians at this Swiss brand." The Big Bang DJ Snake watch features an iridescent shine emerging from countless light hues of electric blue and pulsing purple colors. Made possible by a special manufacturing process, the color accents change depending on light and angles. A distinctive detail of the Big Bang DJ Snake is the prominent notches on the side of the watchcase. Limited to 100 pieces, this special creation comes with a color coordinated as well as a black strap that offers an individual choice to its wearer.

www.hublot.com
www.djsnake.com
Fashion
Zegna FW21 Collection #WHATMAKESAMAN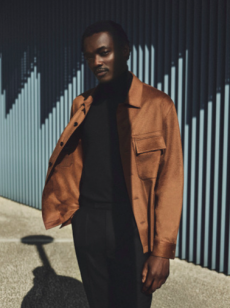 In the recent years, the conventional term of masculinity has undergone a transformation. Masculinity slowly but surely breaks free from its iron cast. At Zegna, the notion of masculinity, and the derived question of what it means to be a man is at the heart of the design process. For the FW21 collection, Artistic Director Alessandro Sartori retailors the modern man: "The way that modern men dress, their needs and habits have been changing considerably over the past year. Customers are looking for a different style as they turn to more fluid silhouettes and multifunctional yet comfortable outfits. This is the perfect time to rethink what is possible, to reconsider what really matters and to rebalance style while we are called to answer to changing times. A new aesthetic is needed: fluid, ageless, adaptable, where comfort matches perfectly with style." Thus, the collection presents The New Jacket, an alternative version to Zegna's iconic overshirt, which can be worn as a blazer or a jacket – indoors, outdoors, casual and formal all in one. The #WHATMAKESAMAN campaign features diverse modern voices, including two models, a dancer, a fashion buyer and a photographer. Although all individual and in their own way, they collectively stand for the reconsideration of the limits of modern masculinity and the reaffirmation of values instead of internalised dogmas.

www.zegna.com
Fashion
Guess F21: Originals and Kit Program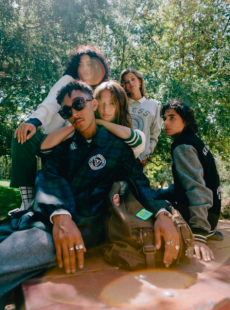 Just in time with the beginning of a new academic year, GUESS launches their F21 collection. The collection entails an Originals capsule and an Originals Kit Program. For the Originals capsule, GUESS took inspiration from the back-to-school season and created looks taking cues from classic campus attire. Authentic vintage pieces from the 90's have been developed into revamped pieces featuring athletic silhouettes like cardigans, varsity jackets and jerseys. The campus sports elements are enhanced by classic collegiate graphics, such as regimental stripes, plaids and chenille/ varsity patches. The capsule parades modern prep vibes that take the wearer back to the 90s school spirits. The Originals Kit Program focuses on seasonal color ways, presenting refreshing takes on every-day pieces. As such, the program introduces light twill and woven pants and denim pieces next to chambray shirts and pocket tees. The women's collection presents ribbed tanks, bodysuits and biker shorts, referring back to the athletic appearance of the Originals capsule.

The GUESS Originals capsule and the GUESS Originals Kit Program is available from now on in selected GUESS retail stores, as well as online.

www.guess.com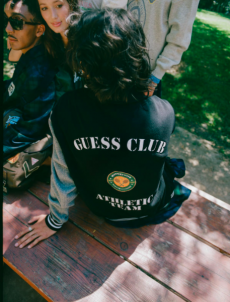 Fashion
Moose Knuckles: Pre-Fall 2021
Celebrated luxury outerwear brand based out of Montreal, Moose Knuckles, has unleashed an expansion of its SS21 collection; with a focus on mobility, the "all-weather" Pre-Fall collection is versatile and made from technical fabrics to withstand even the harshest conditions. The coalescence of form and function are evidenced in the Active Flex line, with premium down fill and stretchy shell fabrics which accumulate and retain heat. The Softshell line in the Moose Knuckles Pre-Fall collection is made from a recycled, lightweight, high density nylon shell and fill which includes the Sheep Creek Vest, Outbank Jacket and the Kleskun Jacket.
The women's rainwear is engineered for fashion and utilitarian purposes; the West River Parka and Toney Jacket feature heat sealed seams for a cozy and continuously dry fit. In addition to rainwear and the softshell line, the Moose Knuckles Pre-Fall collection also features sportswear. The sportswear line offers up a colorful and varied assortment which includes the Stereogram Zip-Up, Baril Lake Pants, Alice Creek Hoodie; and a whole range of men's and women's tracksuits, hoodies and tees. Whatever your plans are, Moose Knuckles ushers in this collection as a reassurance that the weather will never impede or impose on those plans.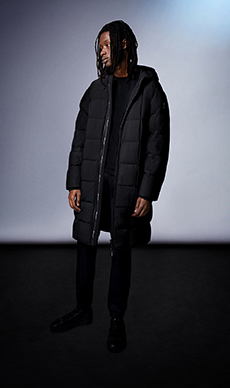 Fashion
Saint Laurent Rive Droite: Salt and Sun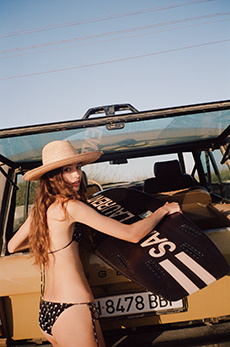 Saint Laurent Rive Droite, the creative retail concept and cultural destination of curated specialty items from Anthony Vaccarello, embraces the spirit of the summer with its 'Salt and Sun' collection of beach-ready apparel and accessories.
Rive Droite 'Salt and Sun' features a special collaboration with K-Way, founded in Paris in 1965 and the maker of superior waterproof jackets, to produce a limited edition jacket embellished with a mystic all-over sunset print. Leopard Fatboy pillows, Saint Laurent surfboards and extra lifestyle items in the collection will be added to the boutique stores in Paris and Los Angeles. Rive Droite continues to expand on the core DNA of Saint Laurent with amusing and chic items; its exclusive assortment of limited editions, vintage items, music, photography and art are now joined by the 'Salt and Sun' collection.
Salt and Sun items will be available exclusively in-store at Saint Laurent Rive Droite 213, rue saint Honoré 75001, Paris, and 469 Rodeo Drive, Los Angeles.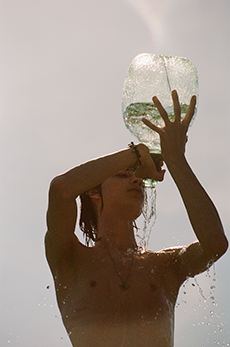 Fashion
Rotate SS22 x Marsèll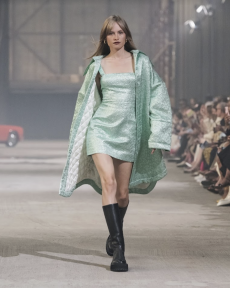 The pandemic, which has held a grip over this world for over a year and a half, is not yet over, but there is light at the end of the tunnel. We have largely worked from home, going to bars, restaurants and clubs was impossible and our wardrobes started to reflect this as we gladly exchanged jeans for sweatpants. Now that the world might be reopening, it is time to bring the focus back on statement dresses, to revive the everyday glamour. For this reason, ROTATE's Creative Directors Thora Valdimarsdottir and Jeanette Madsen drew inspiration from the 90s sitcom style icon Frane Fine for SS22, a collection that makes us fall in love with the glam of the 90s, infused with a touch of 70s disco. The collection was presented during Copenhagen Fashion Week in a fast-paced show during which the models emerged from vintage sports cars parked on the runway. The delicately feminine garments were contrasted with the raw masculine energy of the cars, an embodiment of the brand's signature high-octane cool. Short hemlines and sequins fused with masculine elements such as denim and sharp tailoring defined the collection with the looks being finished with Marsèll's most iconic footwear creations. Whether it was the Micarro ankle boots the Carretta beatles or the Zuccone, the styles selected embodied the essence of the Italian footwear brands with their gender-neutral aesthetic, utilitarian edge and their penchant for oversized soles.

www.rotate.com
www.marsell.it
Fashion
Longchamp launches The Pliage Green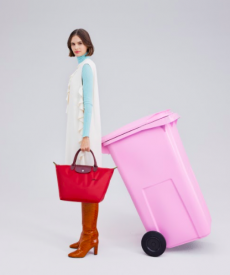 Longchamp introduces a recycled version of The Pliage and exemplifies the French brand's commitment to sustainability. The iconic bag appeals to the loyalty of wearers with its longevity and sturdiness, which is why Longchamp pursued durability and quality as fundamental considerations in the development process of The Pliage Green. Offering the characteristics of the bag – waterproof, washable, foldable – and an almost identical look and feel has been the pivot point of the endeavor to go green. The signature nylon body remains as a fabric choice, with the distinctive difference that The Pliage Green's material is made from recycled nylon gathered from various sources including fishing nets, nylon stockings and offcuts from the textile production process. The canvas woven from these materials meets the Global Recycled Standard certification. A PVC coating supports the canvas from the inside, to provide maximum duration. The leather detailing is made from by-product leather to ensure a minimal environmental impact. The Pliage Green is distinguishable from the classic version by subtle details, such as color-coordinated leather closures and green-tinted leather ears on the side of the zipper. The signature emblem of the house, a racehorse, is embroidered on the front of The Pliage Green. The eco-version of Longchamp's most iconic bag is manufactured in four colors inspired by nature and available in an array of silhouettes.

www.longchamp.com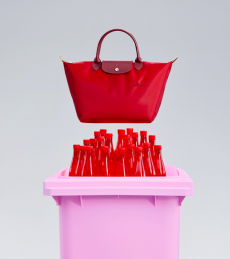 Fashion
Net-A-Porter expands Net Sustain Platform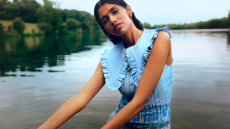 Net Sustain, the British online shop's segment focused on consciously crafted fashion, presents itself with an updated user experience. In the wake of the expansion, a series of new fashion brands have been adopted. With the values of consciousness and circularity in mind, the labels were carefully chosen by taking into account human, animal and environmental welfare within the label's production and distribution chains. Each label has to excel in at least one of nine product attributes, namely considered materials, ingredients and overall process, waste reduction, local production craftsmanship and community, animal welfare, vegan and design for circularity. The latter is a newly added category that aims to actively contribute to a shift in throwaway culture and waste caused by textile disposal. Next to the increased number of labels, Net Sustain newest edit features an enhanced customer journey. This journey comes to terms in a dynamic shopping experience that offers post-purchase solutions. A personalized digital ID enables customers to track the life cycle of selected garments. Transparency is a key element of turning over the relation between fashion, industry, retail and customer experience which is why Net Sustain's digital ID provides information on Care & Repair partners, promoting longevity and appreciation for purchased garments.

www.net-a-porter.com


Art
Louis Vuitton Travel Book Series: An Extraterrestrial Journey to Mars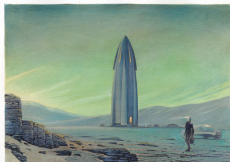 Illustrated by François Schuiten and written by Sylvain Tesson, the latest volume of Louis Vuitton's travel book series presents itself in a true Sci-Fi manner. Two protagonists, referred to as contemporary versions of Adam and Eve, embark on a journey to Mars to fathom the red planet's suitability for the preservation of the human species. The panoramic format of the book enables the observer to experience a 180°-imagination of what life on Mars looks like. To grasp an accurate idea of the landscapes, Schuiten meticulously studied satellite imagery and photos taken by spaces probes. In his endeavor to accurately bring the structures and surfaces onto paper, he focused on geographical and geological nuances of canyons, mineral spikes, ice clouds and eddies of dust. To emphasize how settling on other planets lies in a not so distant future, Schuiten focused on making the illustrations as real as possible. Sfumato, a way of layering oil paint that creates blurry, soft lines is one of the techniques he relied on to create a serene yet eerie feel. During the process, Schuiten kept asking himself how the pristineness of Mars could be preserved "when the colonization of Mars had become the challenge of the century for space explorers". Tesson, who transformed the illustrations into a readable story, captured this balancing act between utopia and dystopia that Schuiten had visualized in his drawings.

www.louisvuitton.com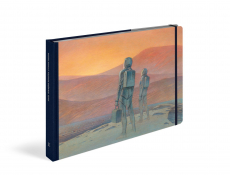 Fashion
24Bottles x DIOR
One of the biggest causes of global pollution is the amount of single-use plastics we use daily. Especially plastic packaging, like plastic bottles, contributes hugely to the massive plastic pollution of our oceans. For this reason, Giovanni Randazzo and Matteo Melotti came up with the concept behind 24bottles. The concept behind the brand is to offer a functional, convenient and elegant way to cover one of humanity's fundamental needs, hydration. As they describe it themselves, "We think that good aesthetics can be a lever to convince people adopting healthy behaviors and lifestyles." This summer, the Italian brand partners up with the DIOR to create a special design of their Clima Bottle for the Dior Beachwear Capsule collection. The functional and reusable bottle is made from stainless steel and insulated its content for 12-24 hours. Its functional nature is paired with Dior's designs resulting in a bottle that is created by laser-engraving the French Maison's monogrammed patterns. For the extra touch, this special edition bottle features a sleek, high-gloss, palladium-like mirror finish and comes with a matching Dior bottle holder. This allows the user to wear it crossbody just as easily as in a bag, making it a timeless and useful accessory for both men and women.

www.24bottles.com
www.dior.com
Fashion
TommyXIndya
Over the last years, it has become clear that our world finds itself once again at an important crossroads. On the one hand, the messages of tolerance and equality, as well as the support for minority groups, have seemingly never resonated with more people, but at the same time, we are facing a wave of right-wing populism and racism sweeping the globe. Tommy Hilfiger takes a conscious stance in support of equal representation through its People's Place Program. It is a three-pillared platform with the mission of advancing representation and furthering inclusivity in all areas of fashion and beyond. As Tommy Hilfiger has put it himself, "Great style knows no boundaries, and this has always driven my dream to create fashion for all." For this reason, the brand has partnered up with actor and activist Indya Moore with the resulting capsule collection TommyXIndya being a celebration of the beauty and diversity of the global community. It features a range of size-inclusive and non-gendered pieces, which seek to empower those who want to express themselves without any limitations. Every piece is a re-interpretation of a classic Tommy Hilfiger staple, adapted to fit and respect multiple gender expressions. The pieces are adaptable, aiming to fit everybody whilst encouraging continuous self-expression, fluidity and exploration. As Indya Morre has put it herself, " It breaks a cycle and sets a new standard across the industry. Too many people are made to feel that something is wrong with them just for being themselves. It means everything to me to know that with our capsule, no one is made to feel wrong or different or broken. Everyone works perfectly for this collection, no matter who they are." Tommy's commitment to the cause goes beyond the collection itself but also seeks to promote creative talent from underrepresented BIPOC communities in front and behind the cameras. Myles Loftin lensed the campaign in Moore's hometown and beside themselves, it features four groundbreaking activists, who all have stood up for LGBTQIA+ rights as well as equal representation for people of color.

The TommyXIndya capsule collection will be available online and in select Tommy Hilfiger retail locations across Europe, North America and Mexico from July 20th, 2021.

www.tommy.com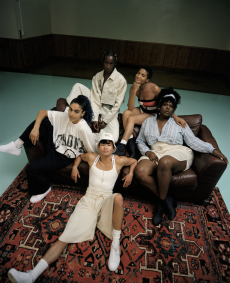 Fashion
The Heart of Fendi Revitalised anew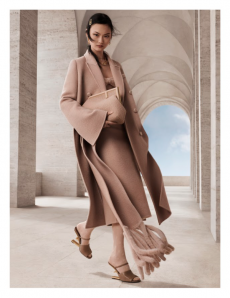 It was announced in September 2020, that designer Kim Jones would be joining Fendi. The British designer would be in charge of the Roman house's couture and womenswear lines and therefore complete Fendi's trifecta of Artistic Directors next to Silvia Venturini Fendi, who is responsible for accessories and menswear and Delfina Delettrez Fendi overseeing the jewelry. His debut collection was then unveiled to the world in February 2021. The starting point as expressed by Jones himself was to create "clothes that women want to buy" and he sees this as the key aspect of his work. With his collection, Jones delved deep into some of the stories most meaningful to the Roman house, paying homage to the many people who have previously shaped it, while at the same time starting the process of leaving his own mark on the narrative. It's the historic and extraordinary Italian elegance from a fresh and new perspective. It's the turning of a page at Fendi, the emergence of a new visual language, which looks toward the future without forgetting about its deeply rooted traditions. It's the heart of Fendi revitalised anew. The campaign for the collection was photographed by Craig McDean against the backdrop of Fendi's historic headquarter, the Palazzo della Civilita Italiana, and it visually mirrors the merging of classicism and modernity of the clothing conceived through Jones' new vision.

www.fendi.com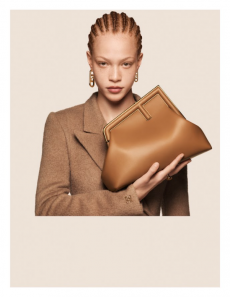 Fashion
Les Extraits
Louis Vuitton's newest Les Extraits Collections is the coming together of two geniuses in their respective fields, Maître Parfumeur Jacques Cavallier Belletrud and architect Frank Gehry. It is the first time that Gehry conceived a perfume bottle. His design is defined by the harmony between line and curve, the tension that gives form to beauty. Each flacon comes topped with a 3-D, sculptural work in silver, which is reminiscent of the wind moving and swirling through silver fabric. The fragrances themselves, entitled Dancing Blossom, Cosmic Cloud, Rhapsody, Symphony and Stellar Times, reflect the spirit of travel that Louis Vuitton has celebrated since its foundation. Through this collection we are taken further, to new horizons, a garden of waves, a golden temple floating beyond time enveloped in a halo of olfactory sensations. The five compositions center on materiality and the perpetual metamorphosis of nature. These scents are liberated, embracing the breath of life by being condensed into an Extrait, allowing them to blossom freely, without any constraint. As Cavallier Belletrud puts it himself, "I wanted to venture where no one goes anymore. To reinvent the notion of an Extrait in a contemporary way. To bring in light, expand matter, and lighten things up. I wanted to deconstruct the very architecture of perfume. That's how Les Extraits Collection was born: five perfumes with no top, heart or base notes, in order to reveal the quintessence of each olfactory family."

www.louisvuitton.com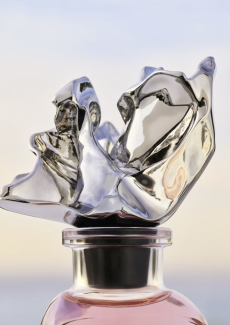 Fashion
Dior Haute Couture FW2021/22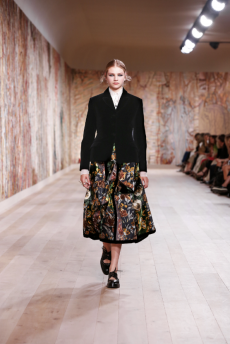 The world is re-awakening from a 16-month slumber. After months of ever-changing rules and regulations, the world finally seems to be reopening and for the first time in three seasons ,people were allowed to see the Dior Haute Couture collection in person. People stand at the heart of haute couture, not solely the people who came to be astonished by the garments, but all the skilled craftsmen and seamstresses, the whole unseen chain of people without whom the practice of haute couture could not exist. In this collection, Maria Grazia Chiuri focuses of daywear, top-to-toe silhouettes of grey tweeds, camel cashmere recalling long nature walks, which we have all become so familiar within the last year and a half, but the real meaning is woven into the garments themselves. Chiuri celebrates hand-loomed tweeds, the stitch-work carried out by embroiderers and silk manufacturers. Everybody is interconnected and Chiuri sees it as part of her responsibility to weave together the threats of social responsibility and to support all the hard-hit manufacturers and craftsmen who have become indispensable for haute couture. The collection's backdrop was French artist Éva Jospin's impressive Chambre de Soie, a continuous conceptual landscape mural, with every one of the minute stitches made by the Indian embroidery school that Chiuri encouraged Dior to support over the last few years. It is the responsibility of every single one of us to reveal what one does not see; especially now in a world that, re-emerging from a forced stop, will find itself undergoing profound change.

www.dior.com
Fashion
Hermès Mens SS22
The Hermès Men's SS22 collection is about a sense of lightness, relaxation and freedom. It is a response to our need for wider perspectives, for the great outdoors. It is an invention and reinvention of a wardrobe in which different fabrics are interwoven, and where technical innovation finds inspiration in craftwork legacy. Depth and fantasy: a duality of spirit shaking up appearances. Paper becomes fabric, Toilbright and a cotton cover fuse together, leather is enlivened with bursts of colour and stitching graphics. Forms in trompe-l'œil: overshirts, double jacket-cardigans, coats and parkas in two materials.This hybrid approach ushers in a renewed elegance synonymous with energized and flexible shapes: the seemingly casual style belies a structured sophistication to the night as it fades in from the day. Innovation and precision, a dialogue with legacy patterns devoured, blurred, perforated and otherwise transformed by modern techniques.A harmonious play on contrasts accentuate the colours. Celadon-green, algae, chocolate, and carbon hues blend with the softness of faded rose, stone-grey and raw-silk. A bright, soft sweater, a daisy pattern and large Bermuda shorts embody this liberated relaxation.Suffused with optimism and energy, this creative collection is bursting with the vitality of a world reclaimed.

www.hermes.com
Fashion
Rick Owens SS22
The Rick Owens show SS22 will be the fourth and last to happen at Venezia's Lido Beach, where Owens himself lives half the year and where his team could join me from our factory a short drive away. He describes these live shows in front of the beach as a "retreat, not a defeat" as an intimate alternative to the usual shows. This year's collection embraces hedonism in a soft, grateful way - reflecting this new period of contradictively trying to mix glam with responsibility and thoughtfulness. The shapes and fabrics he calls "white-magic-houses-of-the-holy-stairway-to-heaven" worn by hippies wear baggy, dragging flares over platforms, with eco-cotton disco bodysuit, under transparent shirts, or transparently tailored monster-shouldered blazers and coats. This time around, Owens aimed to expose the clothing technology and his pieces' interior processes and structures since he is so comfortable with his expertise in tailoring crew. Therefore, he sliced into the coats and jackets, ripping off sleeves, deepening armholes, cutting away fronts and backs, and rendering everything in undyed cotton organdies and undyed silk chiffons that expose the complexity of the structural interlinings beneath. The brutalist chokers combined with the extravagant looks are from an ongoing jewelry collection produced by Goossens, the Maison that once created jewelry for Coco Chanel, Cristobal Balenciaga, and Madame Grès in the 50s. The original Rick Owens feel and look takes on a lighter shade for the summer collection.

www.rickowens.com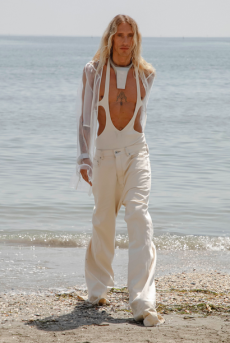 Fashion
Yohji Yamamoto Mens SS22
This season Yohji Yamamoto presents his SS22 collection in collaboration with Japanese photographer TAKAY, who poetically shows models, a documentary of Yohji's vision. The 18 minutes video is a journey of 28 looks accompanied by Yohji's voice and songs. The SS22 collection follows Yohji Yamamoto's DNA by using deconstructed and oversized shapes, very light fabrics as linen, silk, and light cotton. Included in the collection are revisited trench coats, which suggest light and airy clothes, easy to wear for warm summer. He also looked back into his archives of the SS86 collection to create black and beige hybrid looks. Heavy sneakers, flower prints, and eye drawings are embellishing the collection. Through his collection Yohji Yamamoto wants to represent all human beings, mixing all social categories. The final costume silhouettes, printed with real newspapers from the latest months, are a testimony of the current world. Yohji Yamamoto'sYamamoto's collection is an expression of his feelings and anger in a poetic way and shares his vision of people in the streets. It's a statement about today's world.

www.yohjiyamamoto.co.jp
Fashion
DIESEL SS22
Creative Director Glenn Martens presents DIESEL's SS22 collection, and the season marks a milestone for the company: Martens' first collection for the brand. The SS22 collection was presented as a short film. The short film is a collaboration with artist and director Frank Lebon, with a soundtrack by British musician Leon Vynehall and takes a close look at four areas of DIESEL's evolving brave new world, seen through the creative prism of Glenn Martens. We follow the protagonist through a familiar yet slightly offbeat environment. It starts in the living room at a party. Confused and dazed, she wants to leave the room and walks toward the elevator, where the DIESEL heritage and Martens' aesthetic are tailor-made. The short trip ends in a strange room, bathed in deep red light. Martens made sure to reinterpret the brand's history on blazers, shirts, and jeans: Laser prints depict layers of fabric and seams as a trompe l'oeil effect. Throughout the story, Martens' focal points - denim, womenswear, menswear, and experimentalism - are showcased. Together they result in something new: electrifying, extraordinary, and individual. The Martens concept is a contemporary interpretation of DIESEL's bold and ironic perspective. Defining themes include a cross-gender approach, a heritage component, and the newly introduced DIESEL LIBRARY.

www.diesel.com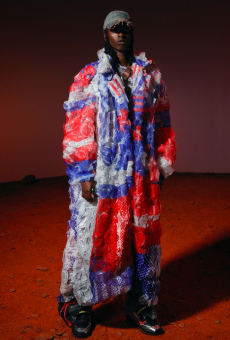 Fashion
FENDI Mens SS22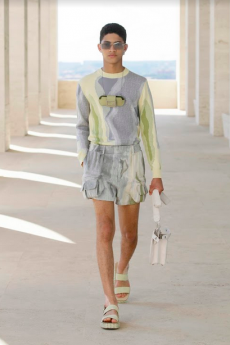 Ponderings on "watching the world from above" have inspired the FENDI Men's SS22 collection, which forms a rich interplay of lightness and ease with a sharp focus on the future of luxury. A soft yet juxtaposed palette echoes spring flora and the transient skies of lemon and lime, ice blue, lavender, pistachio, and peony against mineral shades of travertine, chalk, graphite, and slate. The show was held in a location vital to FENDI's history, inside the Palazzo della Civiltà Italiana, at the FENDI headquarters. The view illuminates a 360° vista towards the seven hills of Rome, the Apennine mountains, and glimpses of the Mediterranean Sea. Taken from the FENDI archives, an illustrated map of Rome becomes FENDI Land, a cartographic drawing of the city where the Palazzo Fendi springs up at its center, and the Tiber river flows through a labyrinth of buildings and streets adorned here and there with freehand FF logos. Distortion of scale plays a significant role in the collection, creating new tailoring volumes in the form of a summer suit, which is cropped at the torso, split with nylon organza, and peak lapel linen blazers are fitted with pen pockets and earpods compartments. The accessory collections additionally embody a playful escape from reality by reinterpreting everyday objects with high-end craftsmanship. From swimming goggles and caps in collaboration with ARENA, ping-pong racket bags to the Baguette bag, shrunk as a jewelry pouch on a fine waist chain, this collection sets a new precedent for the future luxury. An electronic composition by Alessandro Cortini accompanies the show.

www.fendi.com
Fashion
Dior Cruise 22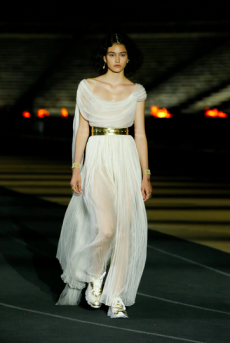 A series of photographs of one of Monsieur Dior's haute couture lines, taken near the iconic Parthenon in 1951, inspired Maria Grazia Chiuri to create the Dior Cruise 2022 collection. The show, set in the Stadium Panathinaiko in Athens, also drew inspiration from Giorgio De Chirico, a pioneer of surrealism who drew on poignant memories of Greece to paint magical places suspended in the silent contrast of light and shadow.  The looks, clearly reminiscent of marble and ancient statues, the tunic plays a central role in the collection. Combing ethereal looks with comfortable footwear such as sneakers or plateau boots, Chiuri seems to have reinvented the antique with the modern. The designer also paid homage to Marlene Dietrich's white suit and Björk's iconic swan dress. Ongoing travel difficulties meant that her show was primarily attended by local press and clients - treated to a heavenly performance by the Greek-American singer Ioanna Gika.

www.dior.com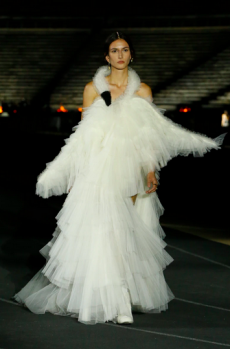 Fashion
"NOT IN PARIS" LONGCHAMP x HIGHSNOBIETY
Digital media and cultural platform Highsnobiety is collaborating with Longchamp for the third edition of their "Not In Paris" exhibition series, coinciding with Paris Men's Fashion Week. Highsnobiety first unveiled "Not In Paris" in June 2020 with the aim of distilling the experience of Fashion Week into a multimedia hub of online content showcasing art, fashion, music and design, and making it accessible to a culturally curious global community. The Longchamp-Highsnobiety collaboration features the iconic Le Pliage® travel bag in 100% recycled polyester canvas, which is principally made from recovered plastic bottles. "Paris" is emblazoned with a sublimation printing process in green college-style lettering on the white canvas, with "Not In" embroidered in black italic script on it. A fluorescent green zip pull and black Russian leather on the flap, handles and shoulder strap complete the exclusive design. The "Not In Paris" exhibition and collaborative products – exclusively available at Highsnobiety Shop - launch on 16 June 2021 on www.highsnobiety.com. For the first time, "Not In Paris" will also actually be present in the French capital via a pop-up souvenir shop at 198 rue de Rivoli, adjacent to the Louvre and Tuileries gardens. Open to the public from 19 to 26 June, it will present the full array of collaborative products along with a special programme of events. www.longchamp.com www.highsnobiety.com
Fashion
Marsèll x Suicoke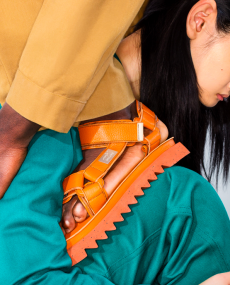 The Japanese cult brand Suicoke and Marsèll, the distinctive Italian brand specialising in the production of handmade leather accessories, have collaborated for the first time; releasing a a limited collection of 1,000 pieces that will be available from the 15th of June. The model will be genderless and it will be available in five different colourways. Founded in 2006, Suicoke had incongruous beginnings, producing small accessories and hand-painted Russian dolls prior to their transition into footwear. Marsèll was founded in 2001 as the expression of a new craft culture. Shoes are the focus of a line of research devoted to pushing the boundaries of tradition, within the counterculture deconstruction movement. Now the first Suicoke Made in Italy created by Marsèll rose to the challenge of developing its own version of the iconic sandal by Japanese brand Suicoke. The idea behind the project was to create a shoe that reflects the fusion between Japanese culture and Italian craftsmanship. The key concepts underpinning the creative process are respect, reuse, transform and enhance. The result is an entirely leather sandal mounted onto a serrated rubber sole with a square toe. The sole is made from recycled material. Marsèll and Suicoke are united in their drive to create everyday footwear for creative environments, with a focus on the style that has redefined the boundaries of the contemporary aesthetic statement in the last decade.


www.suicoke.com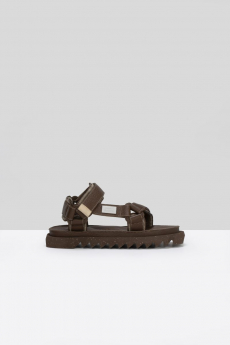 Fashion
Dior Vespa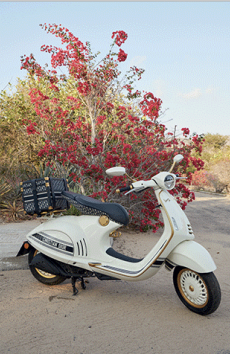 the Vespa 946 Christian Dior, an ode to freedom and elegance, is presented in images captured by Pamela Hanson in Mexico City. This new model, redesigned by Maria Grazia Chiuri, is distinguished by its steel monocoque architecture and subtle, graphic lines that pay homage to the heritage of both Houses. In the spirit of escape, this series is an invitation to dreams and savor the dolce vita. As an ultimate getaway new experience, a new lens available on Snapchat, Facebook and Instagram offer an opportunity to discover this exclusive scooter in three dimensions or to virtually try on the Dior Oblique-embellished helmet.

www.dior.com
Fashion
Cartier Women's Initiative 2021: 8 laureates
For its 2021 edition, the Cartier Women's Initiative program aims to explore how to create and sustain the ripple effect ignited by these women changemakers, thus paving the way for a better world for future generations. The names of the eight laureates of the Cartier Women's Initiative were announced during a digital ceremony, which concluded three days of virtual gathering. Hosted by Cyrille Vigneron, Cartier President and CEO, the virtual gathering brought together a diverse group of global thinkers and doers ranging from prominent leaders such as entrepreneur and author Jacqueline Novogratz, award-winning journalist, author, and founder of Shriver Media and The Women's Alzheimer's Movement Maria Shriver or scholar Nassim Nicholas Talebto friends of Cartier such as actor, producer and change agent Yara Shahidi, to collectively discuss the challenges of our time and to shine a light on the opportunities they provide to foster anti fragility, build new alliances and uplift women impact entrepreneurs. The winners of the 2021 edition all share an unwavering commitment to generating positive change in the world by answering to the United Nations Sustainable Development Goals of promoting good health & well-being, reducing inequalities and encouraging climate actions as well as responsible consumption and production.

www.cartier.com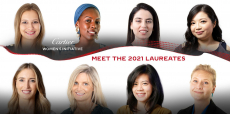 Fashion
RETRO ARTSY by Westwing Collection
Westwing's latest collection, 'Retro Artsy by Westwing Collection' is made up of in-house designed collection pieces combined with timeless design and retro vibes. Cozy flair from the 1960s meets simple, elegant shapes."With our Retro Artsy collection, we want to create a home where you can easily relax and feel happy. Retro-inspired elements go hand in hand with simple abstract patterns and colorful objects to set highlights. There is a calm atmosphere - Modern art, splashes of color and a mix of materials bring joy to everyday life. " so Ale Tobler, creative director of the Westwing Collection. The collection is characterized by expressive pieces of furniture and artistically designed decorative accessories. Soft color schemes of cream-colored and natural stone gray in a mixture of terracotta tones and black meet different material optics such as trendy travertine and dark wood.

www.westwingnow.de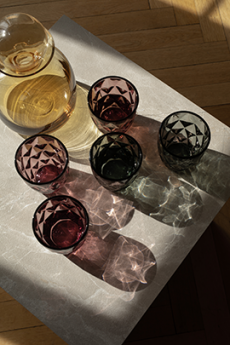 Fashion
Shared Passion - Dockers New Brand Ambassadors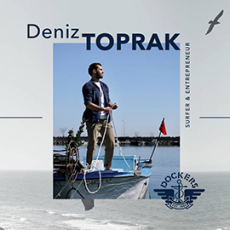 Since its foundation, one of Docker's fundamental pillars was sustainability. A part of its DNA, which has certainly played a role in its California Cool image. Within this strategy, there is a special importance put on the subject of water. The garment industry especially has been heavily criticized for countless production processes which not only exhaust massive amounts of water, but also contribute to the industry being one of the most polluting industries worldwide. At Dockers, they have reduced their water consumption for dyeing and production processes by 73% on their whole range. Additionally, since 2020, they partnered up with surfer and activist Jon Rose in order to help fight the global water crisis. The first brand ambassador, Dockers is now proud to present four new faces, ambassadors who share this environmental engagement, the passion and lifestyle. The first is Kepa Acero, a Basque surfer and world traveller, who is dedicated to exploring the oceans and looking for ways to protect the environment and the local communities which are so dependent on it. Together with Dockers, they have started #DockersW4W, a social media challenge through which the brand has pledged to donate water filters to provide access to clean water to communities all over the planet. The second new ambassador to join the Dockers family is Deniz Roprak, a surfer and entrepreneur. In 2018, he started Mellow Sri Lanka, an environmentally-friendly co-living, which has the goal to make people aware about the resources we receive from nature and the importance of protecting it in order to enjoy all its many gifts. Joan Duru is the third new ambassador. Having started surfing at the age of 7 and now considered one of the greatest surfers of his generation, he has seen with his own eyes in many places all over the world, how the pollution is damaging our oceans and the absolute need for action right now. Last but not least to join the Dockers family is Maud Le Car. Born on Saint Martin, she has always been in close proximity to the sea. In order to protect the oceans, she has founded Save La Mermaid, an organisation with the goal of finding viable alternatives to plastic, whilst organizing clean-ups and educating the public on the issue of plastic pollution in order to continue to be able to enjoy the beauty of the oceans.

www.dockers.com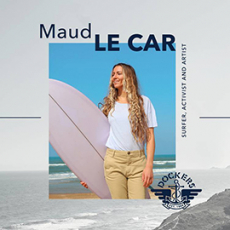 Fashion
CHANEL in Saint Tropez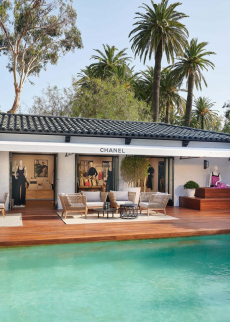 CHANEL is back at its seasonal boutique in Saint-Tropez in time for the summer. In the heart of the village, La Mistralée, has been given a new décor inspired by the House and the latest collections designed by Virginie Viard. All the elegance of a private property in the South of France is displayed from the hallway through to the veranda, from the salons out to the garden via the pool house. In each room of the boutique, reorganised to resemble a villa, the beige and white terrazzo floor is enhanced by a black marble frieze. The white walls are decorated with frames. Console tables and a bookcase furnish the hallway and present the sunglasses, as well as a selection of perfumes and beauty products. Clients will discover other silhouettes from the collection out in the veranda. In the middle of the space, a "bag bar" presents the season's newest creations, while showcases display a range of CHANEL Jewelry with the COCO CRUSH collection, and watch designs including the J12, BOY·FRIEND, CODE COCO and PREMIÈRE. The outside of the boutique offers an invitation to relax in the sun on loungers and armchairs by the swimming pool or on the terrace by the pool house. In a graphic décor, the latter will be home to the shoes of the season and the CHANEL COCO BEACH 2021 collection, a Ready-to-Wear line dedicated to the beach that focuses this year on floral motifs intertwined with camellias and the double C.

www.chanel.com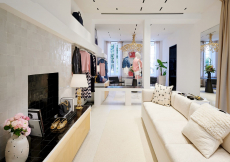 Fashion
Louis Vuitton Eyewear Campaign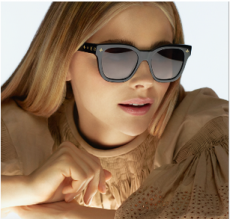 Louis Vuitton invited three international, independent, and contemporary talents to portray its new sunglasses collection and embody the many facets of the woman. Belgian-Congolese singer-songwriter Lous & the Yakuza wears both a square design with precise, strong angles, as well as a more classic offering, American actor Chloë Grace Moretz embraces a timeless chic model, while South Korean singer-songwriter Somi sports couture sunglasses with their finely crafted jewellery-style temples. Bright days are ahead with the new sunglasses collection from Louis Vuitton, blending design and savoir-faire, innovation and tradition. Boasting exceptional quality and contemporary lines to accent any look, the collection adorns any face, setting it off to perfection.

www.louisvuitton.com
Fashion
CHANEL Eyewear FW21
The CHANEL Fall 2021 Eyewear collection tells three stories that combine modernity and refinement, technicality and savoir-faire, casual elegance and a couture spirit. For this new collection, CHANEL presents three minimalist pairs of sunglasses with a masculine/feminine spirit: a cat eye, an aviator and a round frame in gold, silver, ruthenium or matt black metal. The purity of these designs is enhanced by metal inserts integrated into the glass, emphasising the curve of the cat eye and aviator frames and drawing two double Cs on the round design. A technical innovation, imperceptible to the touch, which subtly enhances the brown, light grey and anthracite tinted lenses. Introduced with the Spring-Summer 2021 collection, CHANEL continues its sequin theme this fall on three sunglasses and two opticals. A very feminine, large hexagonal frame in black or tortoiseshell acetate with a double C is embellished with micro-sequins. This sophisticated, textured material, shimmering or matt depending on the version, is also used on the top and the temples of sunglasses with a round or an oversized square frame, both in metal. The sparkle of the sequins reflects in the grey, green, brown or amber lenses. Two optical designs complete this line. In harmony with the colours of the frames, micro-sequins adorn the temples of a hexagonal shape in gold, matt black or ruthenium metal, and a graphic square in black, grey tortoiseshell or brown acetate. Certain versions of these opticals come with UV and blue light blocking lenses. The CHANEL Fall 2021 Eyewear collection will be available in boutiques from June 2021.

www.chanel.com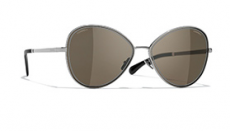 Fashion
Sensory Manipulation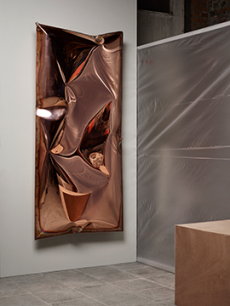 Ben Storms is a Belgian designer and craftsman whose work challenges sensory manipulation in terms of materials. By using state-of-the-art techniques, he transforms his sculptures into captivating shapes that defy the viewers' expectations. His talent comprises working with many different elements as he is equally a stonemason, sculptor, and woodworker. His practice connects traditional techniques with high-tech processes to create unique pieces of furniture with a sculptural character, noting that, "In my practice as a designer, I push materials to their boundaries, often questioning common notions. Does marble always have to look heavy? Can steel look soft? By creating shapes that verge on the impossible, I confuse the viewers, make them lose their balance briefly, and stimulate them to look at familiar materials with a fresh eye." The result is pieces like the Ex Hale, a marble table that mimics the shape of a monumental cushion. Its counterpart, In Hale is an enormous coffee table consisting of a massive marble piece that floats on a metal cushion. The artist developed the idea for the table while looking at a piece of marble that was considered leftover. By inflating sheet metal, he creates a three-dimensional cushion for the precious marble, which feels like it defies gravity. The marble used for his designs is carefully selected in quarries all over Europe. The marble is mainly left alone to show its natural beauty, only polished in certain places but overall left rough and unpolished on the lower side of the piece. The In Hale Wallpiece, two metal sheets, blown up in a cushion shape and scanned in 3D, after which a CNC machine mills the same form from a block of marble, demonstrates the multilateral talent of Storms. Through his vision, hard becomes soft, and sturdy becomes delicate.

www.benstorms.be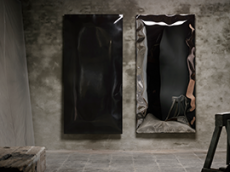 Fashion
Where the Water Flows
The latest Jil Sander SS21 campaign is an expression of pure haze. The idea of flowing, natural water is almost tangible in its visuals. It gives every image a sense of endless place and a dreamy dimension. Set in Biarritz, France on the Atlantic coast by the ocean and in the ocean, the SS21 collection is presented in a natural, comfortable and calm atmosphere. The tactile lighting aesthetically blurs the imagery and merges the bodies, the water and the background. The imagery provides a contrast to dense city life and leaves the viewer appreciating the vastness and emptiness of the landscape captured from dawn to sunset. The photographs were taken by Tim Elkaïm, in aw of days and nights spent ruminating and relaxing by the sea. The JIL SANDER SS21 collection including swimsuits, a windbreaker, shorts, hoodies, knitwear and blankets is artfully accentuated by the storytelling of the campaign. A pure illustration of ease. Jil Sander+ seasonally adds to the world of Jil Sander a series of garments made for life in nature, for both men and women; often unisex. The Jil Sander creative direction duo Lucie and Luke Meier skillfully blends the sense of comfort and design of their Jil Sander with honest, authentic items.

www.jilsander.com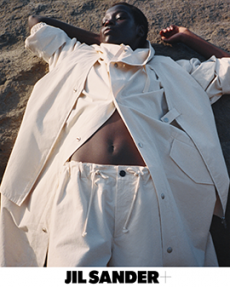 Fashion
Levis x MIU MIU
Miu Miu is continuing it's "Upcycled by Miu Miu" project with a collaboration with Levi's. Using vintage iconic 501 trousers/short and trucker jacket, Miu Miu is going to exclusively customize 1000 pieces for a worldwide distribution, by adding special embroideries and patches. Putting an iconic twist on the classic jeans brand's identity, Miu Miu creates a new visual language while adding their part to a sustainable future.

www.levis.com
www.miumiu.com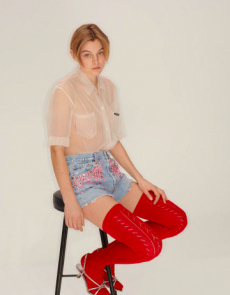 Fashion
Art-à-Porter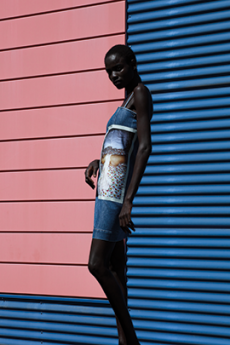 The Denim Culture capsule collection by Sportmax is a project entirely dedicated to jeanswear. The unique project is based on cooperation with various artists from the worlds of music, fashion and, art. In its fifth edition, Denim Culture by Sportmax reiterates its collaborative nature by working with the renowned Italian photographer Franco Fontana. The virtuous photographer transforms eight of his most impactful works into wearable photographs for the Denim Culture project. The images were reproduced and printed onto various denim garments and a series of t-shirts, creating the experience of observing a piece of art expertly positioned on clothing. The wearer thus has the pleasure of not only wearing this work of art but also becoming a living and moving canvas of art-à-porter, in the true spirit of Fontana, who said: "Creativity does not illustrate, it actually interprets life." The SS21 Sportmax lineup was inspired by Fontana's creative outlook and includes oversized, voluminous trousers, figure-embracing dresses, as well as tops and bustiers with necklines that enhance the simplicity of nude skin. Fontana's images animate the collection, in an all-over print that adorns various Sportmax pieces. Shirts are also fashioned in a similar way roomy proportions and collars, decorated photographic prints. The color palette merges light blue tones and makes reference to the hues of Fontana's signature works - famous for their swathes of red, sage, emerald green, turquoise and, yellow.

www.sportmax.com
Fashion
Limited Edition
Iris von Arnim presents the RE EDITION collection, made exclusively from waste fabrics and yarns. During the production process of the RE EDITION collection, the brand makes sure no thread is thrown away, with all leftovers being kept and recycled in order to ensure no new waste is created. Sustainability is at the very core of the 40-year-old company's values and has been integrated thoroughly, with guaranteed fair production and short transport routes. Since 2019, the entire company has been actively practicing CO2-neutrality. RE EDITION is the logical continuation of the sustainable practice and marks the brand's most environmentally friendly line to date. Iris van Armin's bestsellers have been reissued with RE EDITION, made from leftover yarn in limited quantities and colors. The name RE EDITION is derived from the main elements of this line "Reuse, Reduce and Recycle," and thus reflects the environmentally friendly production cycle. A limited number of pieces are available in every color, and style combination. The first launch consists of six models "Re-Nicolas," "Re-Cayo," "Re-Gemma," "Re-Sara," "Re-Sardinia," and "Re-Surani," which are available in neutral and timeless colors such as black, mud, pearl, and flannel, and bright colors such as pink, nile, and amber.

www.irisvonarnim.com
Fashion
Versace Greca Sneaker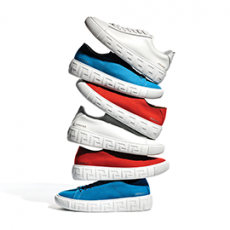 Versace launches the Greca Sneaker for their SS21 Collection. The new signature item is inspired by the iconic and geometric Greca pattern and comes in a high top and low top version. The silhouette is clean and classic yet elevated by the outer sole, which features a continuous debossed Greca detail while having a hidden Medusa feature and tonal logo. High-top styles feature an appliquéd Medusa badge at the ankle, while the low tops version has a small logo accent at the heel counter and tongue. The upper is made from smooth leather or canvas and features color ranges from classic black and white to vibrant blue, red, purple, and pink. Versace's iconic Barocco print is also an option. Seasonal styles include the sea-themed 'Trésor de la Mer' print and a Versace.com exclusive style in a colorful Medusa Amplified pattern.

www.versace.com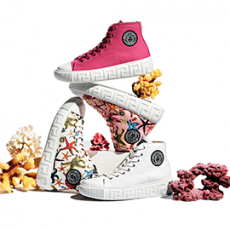 Fashion
Gallery Weekend Berlin: Dries van Noten at Andreas Murkudis
"A PERFECT MOMENT, Captured" is the name of the collaboration of Andreas Murkudis and Dries Van Noten for Berlin Gallery Weekend 2021. This collaboration comprises a photographic installation using the full height of the store's 10-meter-high windows and a specially dedicated temporary space within the store that houses Dries Van Noten's designs. The photographic installation faces out onto the courtyard, just off Potsdamer Strasse, to engage with visitors who may not enter the shop due to the current covid restrictions. ANDREAS MURKUDIS is pleased to invite you to experience the Dries Van Noten collection for Spring/ Summer 2021 at our ephemeral Store 81. An exceptional installation was created as a framework to portray all of the layers the collection holds this season. The 10-meter-high windows of the store's old printing hall display large-scale photographs by Viviane Sassen for Dries Van Noten. These images capture garments of the collection shot within projections of the visionary films of New Zealand artist Len Lye – a pioneer who played an important role in harnessing motion in art. Filmed in the 1920s to 1940s, with colour painted and motives scratched onto the celluloid, the films were precursors of the psychedelia that would follow only forty years later. Motifs from his work are carried through to the prints for the designer's SS21 collections for women and men. A temporary interior exhibition area is dedicated to the collaboration and provides an extraordinary aesthetic framework of assembled and layered images and fabrics. BOCCI, a bouquet of light created to react to and reflect the colors and reflections of this space, unfolds to mark the room.

www.gallery-weekend-berlin.de
Fashion
24 Bottles
The sustainable design brand born in 2013, the leading Italian brand of the fashion hydration industry, 24Bottles shares its Mother's Day Gift Guide to help people thanking their with a stylish option while being respectful to our Mother Earth. 24Bottles can be personalized – from color to pattern and can be even engraved to help create a unique Mother's day gift that values sustainability. The 24Bottles are special for its original shape, quality and design as well as function. 24Bottles are designed with functionality in mind; the bottles are insulated, extra lightweight and some models can hold even coffee and tea. It was born from the search for the most comfortable and functional solution to satisfy the need to hydrate in a healthy, elegant and ecological way. Choosing 24Bottles means taking care of yourself, your well-being and that of the planet. The company is B Corp® certified and has also embarked on an ambitious program to achieve Carbon Neutrality. The aim is to completely offset its carbon footprint by supporting international reforestation projects,rural communities and green projects.

www.24bottles.com
Art
Gallery Weekend Berlin
Every year during springtime, around 50 galleries open their exhibitions by young and established artists and welcome numerous visitors from all over the world to Berlin. Gallery Weekend Berlin was founded in 2005 as a private initiative by Berlin galleries and soon became one of the highlights of the international art calendar. The weekend celebrates galleries and artists within this unique format providing high-caliber exhibitions and an unparalleled experience of Berlin. Gallery Weekend Live Tours guide you via Zoom through all participating galleries on May 1 and 2. Pre-registration is not required. The live Tours will be held mainly in German. Additionally, the participating galleries of Gallery Weekend will open their exhibitions next week on May 1st and 2nd. Currently, in-person gallery visits are possible via appointment booking and with a same-day Corona test. Visitors are required to wear a FFP2 mask when visiting the galleries. You can take advantage of our digital offerings. Films of all exhibitions will be viewable on Instagram from 1 May.

Opening Hours Gallery Weekend 2021
Saturday, 1 May | 12 noon – 7 pm
Sunday, 2 May | 12 noon – 7 pm

www.gallery-weekend-berlin.de
Fashion
Cartier Women's Initiative 2021
Cartier announces the 24 fellows for the 2021 edition of the Cartier Women's Initiative. With the announcement of the 2021 Cartier Women's Initiative fellows, Cartier is reaffirming its commitments to women impact entrepreneurs leveraging business as a force for good. Starting in 2006, the Cartier Women's Initiative has supported endless women to reach their full potential by highlighting their achievements and providing them with financial, human, and social capital to support and grow their businesses. Since 06, the campaign has helped over 260 female entrepreneurs from 59 countries and has awarded over 4 million US dollars to support their businesses. This year, to further increase its impact and relevance, the program has launched the Science & Technology Pioneer Award. In addition to the seven existing Regional Awards, three more women impact entrepreneurs at the forefront of scientific and technological innovation will be recognized. Open to women entrepreneurs from any country and sector; this award will highlight disruptive solutions built around unique, protected, or hard-to-reproduce technological or scientific advances. Twenty-four fellows are selected amongst 876 applicants hailing from 142 countries. For the first time, the Cartier Women's Initiative has recognized women impact entrepreneurs from Mali, Iraq, and Myanmar. These fellows represent the top 3 businesses for each of the 7 Regional Awards and for the Science & Technology Pioneer Award. In these unprecedented times, Cartier considers it its duty to protect its teams, partners, and program participants; this is why the eight laureates will be announced on May 26th, 2021, during a virtual ceremony, which will close a digital awards week on the theme of the Ripple Effect.


www.cartier.com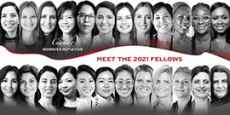 Fashion
Kaldewei receives iF Design Award 2021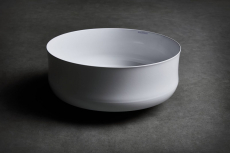 The MING washbasin bowl made of Kaldewei steel-emaille material impresses with its slender silhouette and a flawlessly glazed surface. Kaldewei has now been awarded the prestigious iF Design Award 2021 for the MING basin's trend-setting and high-quality design. The premium manufacturer was able to convince the jury of the design award with a distinctive product profile, which uniquely combines tradition and modernity with absolute material quality. Kaldewei's exquisite MING bowl captivates with elegant lines, extensive depth and a delicate rim. Its traditional contours are inspired by Chinese Ming vases and made of steel-emaille. This material is hundred percent recyclable and therefore particularly sustainable. Whether for a classically simple bathroom or experimental locations, the elegance of MING with its convex curved silhouette leaves room for visions that turn any space into a sensual retreat. Displaying an easy-to-clean finish, the Kaldewei Perl effect, is standard on all MING bowls.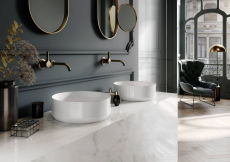 Fashion
RIMOWA x Masumi Ishiuda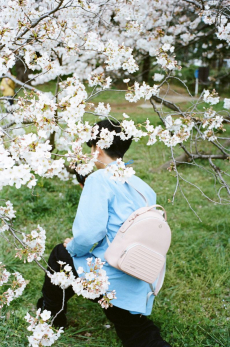 On the occasion of the cherry blossom season, RIMOWA publishes wonderful mood images by photographer Masumi Ishiuda. The used RIMOWA products, the Personal Poly, the Hybrid Cabin or the small backpack visually fit with the colors of the spring season. RIMOWA is a global leader in premium luggage. Since 1898, it has placed quality and innovation at its core to create functional tools for a lifetime of movement. In 1937, RIMOWA introduced aviation-inspired aluminium into the manufacture of its suitcases, an idea that revolutionised the industry and resulted in their iconic grooved aluminium design. In 2000, it pioneered again with the debut of the world's first polycarbonate suitcase. In 2017, RIMOWA joined LVMH; three years later, it launched Never Still, a collection of bags for daily use that heralded its evolution into a cult mobility brand. Designed and engineered in Germany, RIMOWA combines a legacy of craftsmanship with the rigours of modern technology.

www.rimowa.com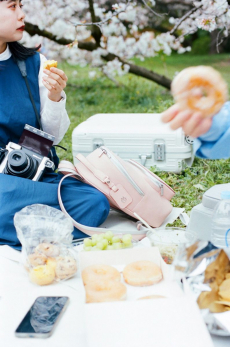 Fashion
Rosa rosae rosae
by Manuela Martorelli
"There is an analogy of material between powder and silk. They offer the same delicacy, the same softness, the same radiance. This inspiration is further reflected on the surface of the powder, which is textured like the fine rib of silk twill." Jérôme Touron, Creative Director of Hermès Beauty describes the intrinsic analogies between silk and the new addition to the Maison's Beauty collection: a compact powder blush composed of key scent created by Hermès nose Christine Nagel in the same vein as Rouge Hermès that reveals notes of arnica and sandalwood and subtle hints of green tea. Rose Hermès Silky Blush unfolds in a swathe of light. From dawn dew chromatic hues to tones of warm sand: pink zephyr, a pink halo, the rose of freshly heart warmed cheeks, so candid and oh so French. Its velvety texture and formula with vitamin E providing antioxidant properties, and combining a perfect finish with buildable coverage, from the most natural to the most sophisticated. A beauty ritual, enhanced by the exceptional case designed by Pierre Hardy, Creative Director of Hermès shoes and jewelry: a disc of white and gold light in satin-finish perm brass, marked with the concave ex-libris created by Émile Hermès in 1923. Following Rouge Hermès, it's a sustainable object, refilled by simply removing and replacing the powder pan in one gesture. "Design is where necessity meets fantasy. Objects must come to life through a creative approach that pushes them further, transcending their utility", Pierre Hardy, explains how the very essence of Hermès, the air that it breathes, the Maison's lifeblood is naturally embodied by Hermès Beauty, with a simple gesture, never loud but nevertheless full of personality.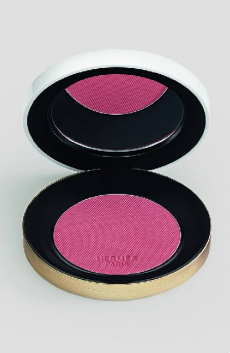 Fashion
GLENN MARTENS DEBUT AT MILAN FASHION WEEK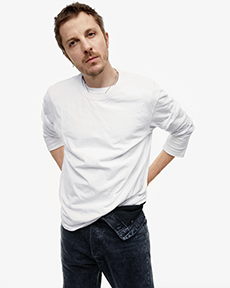 Since his appointment as Creative Director for Paris-based label Y/Project, Glenn Martens' creations have been a constant at Paris Fashion Week. This year, the Belgian Designer embarks on yet another creative journey, premiering his debut for DIESEL during Milan's menswear programming. Coincidentally, this will also mark DIESEL's debut on the Milan Fashion Week calendar. After having created a denim collection with the brand in 2018, we will now get a first look on how Martens has incorporated his vision across the brand's entire range of product categories. The show is a major step of Martens' role in overseeing the brand's creative identity, design and communications.

www.diesel.com
Fashion
Giuseppe Zanotti AMIRA
Giuseppe Zanotti, an Italian luxury footwear and fashion designer known for his sculptural, jeweled heels and fashion forward sneakers, presents AMIRA, a reinterpretation of the first iconic version first presented in 2005. The striking metallic sandal features an array of intricate chains composed of ornamental jewels, crystals and beadwork. Every tiny ornament of the Amira is applied by hand, rendering each pair one-of-a-kind. Amira once again proves that iconic style transcends time and place. To celebrate the launch of the Amira, the fashion House is collaborating with activist Laetitia Ky, who is known for her intricate hair sculptures. The artist will create a new piece around the jeweled sandal. The AMIRA sandals will be available beginning March 30 in Giuseppe Zanotti boutiques, on giuseppezanotti.com and in select luxury stores globally. A third Icons drop is slated for June 2021.

www.giuseppezanotti.com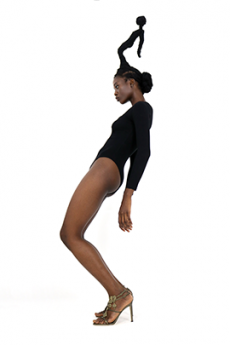 Fashion
TOMMY x PATTA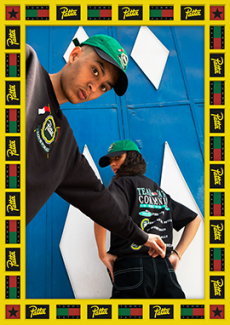 Tommy Hilfiger comes together with Amsterdam-based streetwear brand Patta to release a PATTAxTOMMY capsule collection that captures the strength and influence of the African diaspora movement with the message "unity is strength, division is weakness." The two brands share the value of openness and their commitment to fostering inclusivity, collaboration, and community. Collaborating for the first time, Patta and Tommy Hilfiger centered the PATTAxTOMMY capsule around the Pan-African Flag, Black unity, and community, channeling a sense of interconnected histories, present times, and the future that lies ahead. To celebrate this, the iconic white, red and blue TOMMY colors have been replaced by the traditional Pan-African colors of deep red, black, green, and yellow, putting African culture and community self-actualization front and center in this capsule. The video campaign was captured in Lagos, Nigeria, by Nigerian filmmaker Dafe Oboro through his short film, "Two Become One," with campaign photography by Moroccan visual artist Hassan Hajjaj. To further underline the collection's message, Patta has produced "Katibo Yeye," a documentary directed by award-winning Dutch film director Frank Zichem.

The film follows Clarence Breeveld, a Suriname-born man living in the Netherlands, as he attempts to trace the shipping route from Ghana to Suriname traveled by his enslaved ancestors, visiting locations where slave trading took place. As part of this partnership, Tommy Hilfiger and Patta will donate to The Black Archives from Amsterdam, Sistah Space from London, and The Good Neighborhood Collective from Milan –each chosen for their dedication to celebrating Afro-descendants and uplifting their voices.

The PATTAxTOMMY range will be available via the Patta retail network globally beginning Friday, April 9, 2021, at 1 PM CEST, and via selected wholesale partners starting April 16, 2021.

www.pattaxtommy.com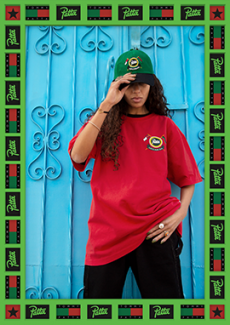 Fashion
BOSS x Russel Athletics
BOSS teams up with Russel Athletic to create a new capsule collection, uniting expert tailoring with the American icon's sportswear know-how. The new collaboration presents bold, off-court classics that combine relaxed fits, sporty details, and a retro-inspired colour palette for the next generation of men and women. To encapture the meeting place of two legendary sportswear and tailoring brands, the new campaign was filmed by renowned photographer Joshua Kissi and created in partnership with agency and publisher Highsnobiety. The campaign, which was digitally launched on all social media channels of BOSS celebrates team spirit, individual talent, and the power in lifting each other up. Part of the campaign is an all-star cast including Bella Hadid, Ashley Graham, Keith Powers, Lucky B Smith, and Taylor Hill bringing their winning energy to the bold, new capsule collection. Capturing this meeting place of sportswear and tailoring, the new campaign was lensed by renowned photographer Joshua Kissi and created in partnership with agency and publisher Highsnobiety. Russell Athletic is a legedary sportswear brand, its invention of the sweatshirt being a breakthrough moment for them all the way back in 1926. Fast forward to today, and this collaboration reimagines the American icon's styles through the ages, with a BOSS lens. Think new elevated materials, inventive mixes of athletic wear and tailoring, or the BOSS suit, taken in a sportier direction than ever before.

www.boss.com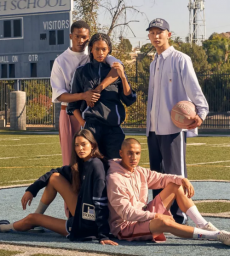 Fashion
On The Beach - Louis Vuitton
Maison Louis Vuitton continues its emotional journey with the launch of the latest Cologne - a special symbiosis of the lightness of citrus notes and the magical richness of flowers. The new perfume On The Beach by Louis Vuitton interprets the infamous journey along the US West Coast in a summery scent dedicated to the warm and sunny season. It tells the story of the freshness and ease of the coast and the desire for freedom. On The Beach - the latest creation by Jacques Cavallier Belletrud, Maître Parfumeur of Louis Vuitton - is an olfactory surprise consisting of emotions reminiscent of a day at the beach. It evokes memories of the warming rays of the sun, the sound of breaking waves and the feeling of sand on the skin. The elaborate composition is a mix of fresh lemon from Japan, orange blossom filled with sun, thyme, rosemary and pink pepper. The lively scent brings the ambience of the West Coast – a territory that is passionate and wildly creative – to life, while combining the spontaneity of the colognes with the sophistication of perfumes.
Fashion
Ninamounah FW21 – Seduce Me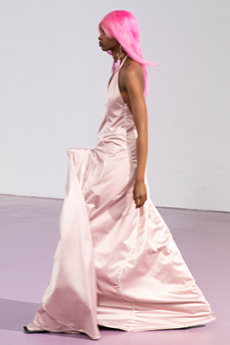 Ninamounah presents her first Paris Fashion Week participation, an audiovisual piece in runway show format called "Seduce Me." The Amsterdam-based brand - named after its Creative Director Ninamounah Langstraat – received the inspiration for the show from the natural world, taking biology as the starting point for the conception of the ideas that help shape the pieces in the collection. "Seduce Me" explores hypnotizing mating rituals, stimulating the viewers' animalistic side and translating the aesthetics of these complex animal behaviors into garments with a various and rich range of silhouettes, textures, and movements. Even the models move slightly feral as they were filmed walking backward and reversing the content, leaving the viewer hypnotized and at unease at first sight. The collection feature exaggerated cuts and oversized tailoring, which takes inspiration from the sexual mimicry of the animal kingdom.

Contrasting the suppleness of velvet and the discomfort of vinyl tells the story of seduction: both romantic and aggressive. The velvety antlers of male deers are the perfect paradigm seen in nature. The deception of sensuality and violence in nature, as seen in snake trails (a sign of either mating or conflict), translates into the hypnotic, undulating seams in the recurring garments. The urgency of red punctuates the neutral palette as a semiotic conversation between the aggressiveness and seduction it represents in both nature and the human-made world. The neutral palette is a reflection of the unarmed state and the innocence of living beings before they are ruthlessly hunted down. For the collection, Ninamounah collaborates with artist Stef Van Looveren, with whom the brand has developed a revisited line of accessories starring their already signature bags depicting human male and female gonads in a wide range of colors, from bubblegum pink to metallic gold.

www.ninamounah.com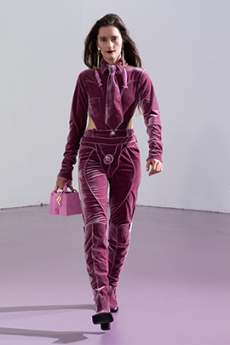 Fashion
Thom Browne FW21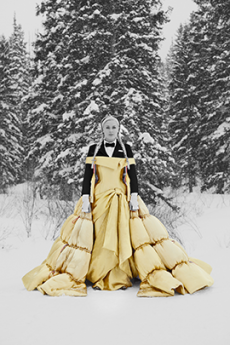 For the FW 21 collection, Thom Browne continues his collaboration with director Carissa Gallo. In the short film, Lindsey Vonn - an American former World Cup alpine ski racer on the US Ski Team- introduces Thom Browne's collection by walking through a snowy wonderland filled with an audience of animated stick figures watching her pass by - in the only colorful piece of the collection, a button back off-shoulder lapel dress with an oversized drape in gold lame over an oversized tailcoat gown with drawstrings and backpack straps in gold lame. The visual story unveils as Lindsey Vonn sees the stick figures off and boards a helicopter. From there, she skis along the models wearing the intricate design pieces, wearing lace-covered fencing masks. For FW 21, Thom Browne is crossing boundaries, creating menswear for women and womenswear for men. The silhouette is a juxtaposed mix between formal and sportswear. He continued to challenge and modernize today's connotation of the suit.

www.thombrowne.com
Fashion
Isabel Marant FW21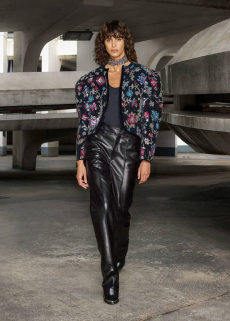 The Isabel Marant FW21 collection is inspired by visions of the past, as well as projections into the future and translates this liminality into the silhouettes, colors and prints of the designs. The folk and libertarian spirit of the 60s, as expressed by Jimmy Hendrix or Janis Joplin, clashes with the techno impulse of the Gabber scene, a subculture that was arised in the 90s. Psychedelic multicolor floral patterns are combined with an electric blue iridescent vinyl fabric, while Texan boots are worn with oversized sportswear-inspired pieces. The collection tells the story of a journey across genres and eras that evokes memories and nostalgia through pieces like guipure tops and dresses, shearling boleros and embellished belts. The contrasting effect of the raw materials and precious details give the designs a versatile character - from day to night, masculine and feminine together at the same time. In the context of Paris Fashion week, a video shot in the outskirts of Paris along the bold volutes of an open-air building serves as an introduction to the Isabel Marant FW21 collection. The chosen soundtrack by Gabber Eleganza is an exploratory fusion of folk tones and techno rhythms, which sets the vibrant dynamic for the video. In symbiosis with the impressive concrete walls of the setting, the music is an ode to long-lost parties.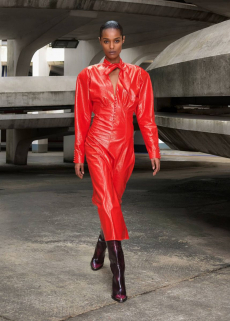 Fashion
Longchamp FW21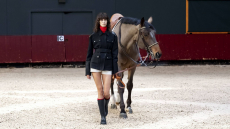 Longchamp creative director Sophie Delafontaine's main inspiration for the Longchamp FW21 fashion show during Paris Fashion Week was the iconic Longchamp racehorse logo and the work of the French 20th-century interior designer Pierre Paulin. The designer is known to have revolutionized Parisian apartments at the time with his creative outlook. The galloping Longchamp racehorse was drawn by Turenne Chevallereau and is the emblematic expression of the label's dynamism and art de vivre. This equestrian reference served as the basis for the choice of location for the show: Paris' renowned Battesti riding hall, known for its imposing glass and iron roof, that was engineered by Gustave Eiffel. The Pierre Paulin influence becomes visible in the collection's silhouettes, citing his innovative approach to line, function, color and material in combination with the creative spirit of Longchamp. Thus, many of the looks follow a sensual, enveloping form language, drawing on the curvaceous design of a Paulin sofa. Quilting and layering are prominent themes in the collection that features a variety of sleeveless, padded gilets in soft lambskin, cashmere crop tops layered with denim shirts, as well as 70s-style wool ribbed turtleneck sweaters worn underneath shirts, suits and dresses. Opened by Mica Arganaraz in a black safari jacket belted over a red skinny-rib sweater and short white shorts, the reoccurring themes for the collection became visible. Both the color palette and the proportions are at once equestrian and quintessentially Parisian. The warm feel of the collection extends to this season's bags: The iconic Le Pilage bag is reinterpreted in padded, quilted lambskin, both in its classic shape and as a huggable drawstring backpack.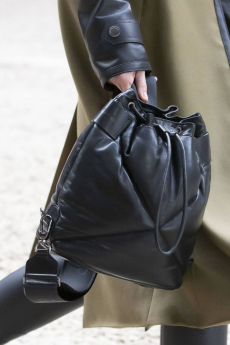 Fashion
Valentino FW21 - ACT
For Valentino's most recent collection, FW21 ready-to-wear, Pierpaolo Piccioli worked with the topic of punk in a more muted color palette of black and white with pops of gold. Having historically shown on the Paris show, Valentino presented their first co-ed FW21 collection at Milan Fashion Week. One year after the lockdown swept Italy, shuttering performing arts spaces and much of the cultural life in their wake, Pierpaolo Piccioli reopened Milan's Piccolo Teatro for one night only to stage a 66-look-show by the name Valentino ACT. "The fact that we decided to have it reopened, albeit just temporarily, it was a sort of a punk act," he said at a press conference held in the darkness of the auditorium.

"What we missed in the pandemic was above all the sense of sharing and of communality that culture gives us—not so much pasta and pizza." A spotlight illuminated the models in the otherwise dark theater as Cosima sang live accompanied by a string quartet. Pleated A-line mini skirts, pointed collar white shirts, turtlenecks, and swingy cape coats, paired with sturdy boots covered in rubber petals and macro studs to bring the 60s back to life in modern times. A daywear assortment of beautifully cut short wool capes was the collection's pivot, worn with bare legs and elegant stilettos "for sensuality," as Piccioli underlined. "It's the radical act of having the strength to be who you are; that's what I mean by romanticism today. It's a subjective, almost anarchic gesture, assertive of one's own identity—exactly like punk.", he concludes.

www.valentino.com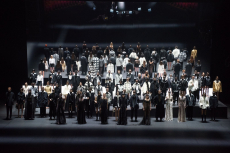 Fashion
Giorgio Armani FW21
Giorgio Armani's FW21 collection portrays an analysis of the psychology of dressing. It displays and explores the natural nuances and passages of dress in an organic and simple, yet complex way. Engaging with the idea of complexity in simplicity, Armani presents a structured wardrobe, that simultaneously evokes images of leger everyday wear and glamorous evening wear, bounded together by an overall sophisticated form language. The collection is an assembly of clothing that can be individually combined and mixed and matched. It is made to inspire the wearer and augment uninhibited self-expression. A hint of eclecticism is conveyed through new volumes and applications: Jackets are soft and flowing like shirts, coats are versatile and enveloping, sweaters adhere to the body and are accentuated by geometric patterns. Deep blues and blacks and natural hues alongside flashes of leather, brightened by velvet make up the key colors of the garments. The geometric patchworks of velvet and wool enmeshed on the designs alternate with brightly colored floral patterns and make each piece unique. Armani once again expresses the aesthetic ease the house's designs are known for, in a nonchalant, nocturnal and precise manner, drawing on a sense of linearity and focusing on enhancing the wearer's personality.

www.giorgioarmani.com
Fashion
Missoni FW21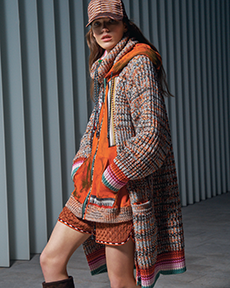 Missoni's FW21 collection is Angela Missoni's ode to today's women, dynamic and with effortless attitude, bringing a breath of freshness into the Missoni world. The more relaxed attitude to dressing that has become so much more important over the last year is blended with sport accents creating a collection that leaves its wearer total freedom to express themselves. A versatile collection allowing the wearer to mix and match according to the different needs of the modern, urban lifestyle. Despite the more relaxed nature, the collection strikes the perfect balance between elegance, sophisticated style without any constrictions. Knitted coats and trenches embellished with jewel-like resin embellishments reveal the silhouettes, sweatshirts and ponchos juxtaposed with culottes or slightly flared pants. The versatility of the collection is also epitomized in the choice of materials with wool or cashmere caftans combining languid elegance and practicality. The color palette of the collection is dedicated to solid tones, enriched with textures and details. It ranges from soft tones of warm shades of terracotta, cognac and beige to cold hues of gray and teal juxtaposed with bright pops of pink, yellow, orange and turquoise, as well as elegant black and white combinations.

www.missoni.com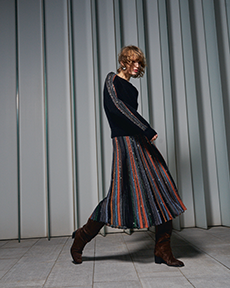 Fashion
Salvatore Ferragamo F-Heel
The story of the F-shape heel is a very personal one for Salvatore Ferragamo. The idea for this counter-intuitive design stems from observing the curved stern of the ocean liner on which the founder steamed home to Italy from his days as shoemaker to Hollywood's greatest stars in the US. The F-heel defies the eye's perception of gravity, which leaves the foot seemingly suspended in space. Its uniqueness makes it one of Salvatore Ferragamo's greatest inventions.

The 2021 F-heel is the modern sequel to Ferragamo's timeless classic that adds new layers of sustainability and technical innovation to his original. The 2021 F-heel shoe shares the original's curved heel shape that ingeniously appears to leave the wearer's foot walking on air. It is crafted from leather, which takes its name after its origin, Napa California, in three vibrant colorways: Hedren green, Technicolor yellow, and black ornated with iridescent beads. Named after the classic 'F' in Ferragamo's cursive signature, this 2021 update is also keeping up with Salvatore's commitment to innovation. Each fabrication is entirely monotone, which is a first for the model; the upper, lining, and sole edge and the sole and rubber heel lift are presented in seamless nappa Technicolor hues or black.

www.ferragamo.com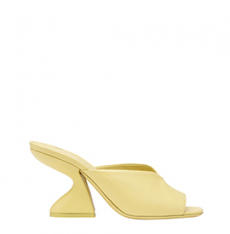 Fashion
COLMAR A.G.E. x MORTEZA VASEGHI
Colmar's innovation-focused label A.G.E. (Advanced Garment Exploration) was initiated by the Italian outerwear brand three years ago with the experimental goal to collaborate with international artists and designers. A.G.E. stands for modern, contemporary design and reinvention of Colmar's designs, which are historically rooted in ski-wear. For the third collection of A.G.E., which is an essential part of the FW21/22 collection, Colmar works with the internationally renowned designer Morteza Vaseghi. Mostly known as the co-founder of the magazines Recens Paper and Wallet along with Elis Olsen, Vaseghi transfers his fascination for printed pages in magazines to the design of clothing for the human body. As the Creative Director for Colmar's newest A.G.E. collection Vaseghi introduces organic, futuristic forms that express his progressive ideas of unifying human beings with nature, reconnecting the idea of modernity with the natural environment in the context of fashion.
Fashion
Ferragamo reinvents the Gancini-monogram
Salvatore Ferragamo presents Gancini Iconic, the newest version of its characteristic Ferragamo Gancini-monogram. The pattern is featured in the design of shoes, bags, leather goods, silk and ready-made clothing of Ferragamo's pre-spring 2021 season as a continuation of the legacy of the signature monogram. Salvatore Ferragamo was first inspired by the gancini, which resembles hooks used on doors, walls or equestrian saddles, back in the 70s, discovering them on the ironwork of gates of his headquarter at the Palazzo Spini Feroni in Florence. Since then, the brand's Creative Direction has made efforts to constantly reinvent and reemphasize the house monogram. Ferragamo reinterprets its classic brand identity with the introduction of the Gancini Iconic, highlighting the brand's core values: quality, heritage, strength and togetherness.
Fashion
VERSACE x La Medusa Bag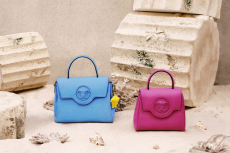 VERSACE introduces its latest accessoire line in the name of the brand's ultimate muse: Medusa. The ancient Greek icon of beauty and desire as a historic example of unapologetic attitude and fearless self-belief continues to enduringly guide the spirit of VERSACE's designs. Embracing this, each La Medusa handbag is adorned with the classic Medusa-head plaque, a replica of the plaque that was discovered on the doors of VERSACE's first headquarters in Milan. These VERSACE trademarks are combined with a bold, bright color scheme exuding positivity and lightness with an emphasis on the shade DV Blue. Donatella Versace worked to create the perfect shade of blue, inspired by nature and designed to bring happiness to the wearer. 'Blue is my favorite color because for me it represents freedom', the Chief Creative Officer says and expresses through the new Medusa bag in DV Blue. Moreover, all handbags of the collection are made in Italy from premium leather, which is selected to create a slouchy and unstructured finish. The texture-color combination gives the Medusa Bag a modern and youthful feel, which makes an ideal accesoire for the contemporary woman.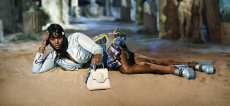 Fashion
Dior Spring SS21 Campaign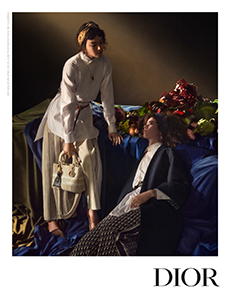 Dior presents its Spring-Summer 2021 read-to-wear looks by Maria Grazia Chiuri, which are revealed in a series of striking photographs. The campaign celebrates creation in all its forms, from Virginia Woolf's feminist essays to militant collages by Lucia Marcucci that enhanced the show's staging. The collection is captured in a campaign reflecting the unique power of a painting. The photo series highlights silhouettes with an almost sacred aura of mystery as if they were subjects of paintings punctuated with shimmering shades of blue, red, and gold.

Eline Kechicheva captured the series, and the images reinvent the Dior visual language by combining precious embroideries with paisley motifs and floral designs that blossom on dresses and trousers, as well as the essential Dior BookTote. Light, fluid pieces take on the deep blue of denim. Simultaneously, the revisited men's shirt is combined with the Dior Palto jacket, freeing movement with grace and elegance alongside the irresistible Dior Caro bag. The campaign reveals virtuoso compositions, an homage to the savior-faire of couture.

www.dior.com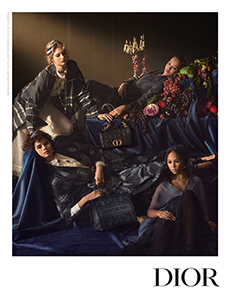 Art
Beuys Bleibt / Beuys - A Close Up
Joseph Beuys (1921–1986), widely regarded as one of the most influential artists of the second half of the 20th century, would have celebrated his 100th birthday on May 12th, 2021. In honor of his centenary German photographer Michael Ruetz has published the book "Beuys bleibt / Beuys – A Close Up" in January of 2021, which sheds new light on the many myths surrounding the late artist. Michale Ruetz started photographing Beuys in the late 70s after getting to know him through mutual friends.

Not initially intended for publication, the photographer's detailed observation is more intimate and spontaneous. His goal was to "explore the actual person behind the all too familiar figure of Beuys." Since Beuys has been photographed extensively in his time, the spontaneity of Ruetz has is a more detailed photographic tribute than ever existed before. Most prevalent in this tribute is the insight behind the artist's professional façade and exploration of the fascinating inner life of Joseph Beuys.

"In Dialogue with Joseph Beuys" is on show at Galerie van der Grinten, Cologne, from January 23rd - March 23rd, 2021. "Beuys bleibt / Beuys – A Close Up" is out now and will be presented at Akademie der Künste, Berlin, on May 12th 2021.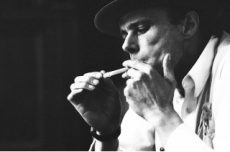 Michael Ruetz Joseph Beuys Düsseldorf, Frühjahr 1971 © Michael Ruetz courtesy Michael Ruetz / Akademie der Künste, Berlin / Agentur FOCUS
Fashion
Michel Kors: The Eye Has to Travel SS21 Campaign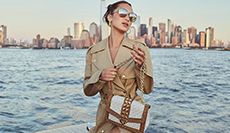 Michael Kors announces its latest campaign, "The Eye Has To Travel," starring Bella Hadid, Mayowa Nicholas, Heejung Parkand and Salomon Diazin; a short film by famed music video director Matty Peacock. The stills were shot by New York photographer Jason Kim. Borrowing the words from the legendary Diana Vreeland, the video-based campaign for MICHAEL Michael Kors and Michael Kors Mens focuses on the aspects experienced usually through travel like adventure, exploration, and perspective. During the campaign, the viewer rediscovers New Yorks's most well-known sights through the daydreams of jet setter Bella Hadid. The campaign aims to discover how we can experience travel perks without the travel aspect and imagine new possibilities to decompress. The eye has to travel means redirecting the perspective one has on their home base and find new inspiration in the known. The MICHAEL Michael Kors Spring 2021 looks are a blend of on-the-go cool with city polish. The Signature MK logo is featured, as well as fresh colorways of the iconic SOHO chain bag. The Michael Kors Men's collection offers the city-sleek polish look with sporty separates, striped Signature logo accessories, and luxe sunglasses.

www.michaelkors.com
Fashion
Prada Symbol Pop-Ups for SS21
Prada presents Prada Symbols, a series of pop up stores dedicated to the women's Spring/Summer 2021 collection. The pop-up concept entails glass structures decorated with the iconic Prada triangle logo and adorned with white and gold checkered flooring. Transparent displays and mannequins are in line with the collection's overall look, which also heavily featured the super-sized Prada Symbol triangle. This collection marks the first time Miuccia Prada and Raf Simons working together, which the industry welcomed with delight. It includes the Prada Cleo bag and prints by artist Peter De Potter. The new Prada collection entails long, narrow '90s trousers styled tone in tone with long sleeveless shorts that feature the fashion houses' iconic symbol, kitten heels in vibrant colors, and long skirts.
The Prada Symbol pop up stores are located at Macau Four Season, from January 22nd – March 31st Paris Galeries Lafayette, from January 26th – February 23rd Hong Kong IFC, from January 28th – March 14th Busan Shinsegae Centum, from January 29th – February 21st Beijing SKP, from February 3rd - February 23rd Tokyo Isetan Woman, from February 10th – February 23rd Tokyo Isetan Man, from February 17th – March 2nd

www.prada.com
Fashion
Roger Dubois x Pirelli: Excalibur Iconic Collection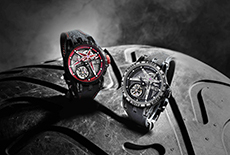 Excess and extravagance are what Roger Dubois embodies. The luxurious watchmaker brand has collaborated with Pirelli, the expert on tires for the daring Excalibur Iconic collection, a limited-edition collection of just 88 watches each for the black or white Excalibur Spider models; and 28 for the Excalibur Spider Pirelli. Engineers and watchmakers of the highest expertise have collaborated to create unique timepieces featuring rubber inlays from certified Pirelli winning tires.

Manufactured in the heart of Geneva, the new collection fuses traditional watchmaking with state-of-the-art-technology. Color schemes range from rose gold with white accents to titanium total black to sporty red and black. All watches can be worn with interchangeable straps of either winning motorsport tire rubber or calf leather. The straps all entail the profile of a Pirelli Cinturato intermediate tire on the inside. Roger Dubois promises adrenaline and thrill by reinventing the Hyper Horology game to the exclusive tribe who look for off-the-radar experiences with the Excalibur Iconic collection. The exclusivity of the collection will allow only a lucky few to come in contact with the collaboration of a lifetime.

www.rogerdubuis.com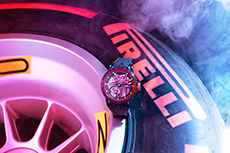 Fashion
MIU MIU - MIND MAPPING
Starring Allison Katz, Caren Jepkemei, Chloé, Emma Corrin, Kelsey Lu and Topsy the short film MIND MAPPING directed by Ben Northover brings the MIU MIU SS21 campaign to life. The film between documentary and fiction celebrates nonconformist and idiosyncratic female individuality through its cast and artistic language. Northover envisions the protagonists as 'windows into the worlds of the multitude of MIU MIU women – maps of their minds.' The extraordinary women, placed within an ordinary domestic setting embody eccentric characters confronting each other in a loose interpretation of the Game of Contraries, voicing trains of thought representative of their innate individuality. Spontaneous, intriguing word associations in combination with enigmatic styling and visual effects leave the viewer in humble engagement. MIU MIU's new campaign creates a set of sequences simultaneously mirroring diversity and unity, literally mapping the protagonist's thoughts through verbal and visual storytelling.

www.miumiu.com
Art
Jonathan Meese x TVLG_Chamber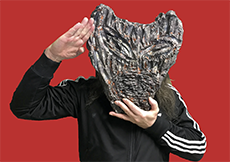 Tim Van Laere Gallery inaugurates an additional exhibition space featuring a series of ceramic masks by Jonathan Meese. The artist combines elements of painting and sculpture, in line with the creative, grotesque expressiveness he is known for, in his new exhibition. The dynamic, performative aesthetics of the ceramic and bronze masks illustrate the antagonistic relationship between good and evil, inspired by ancient times, history, and contemporary popular culture in form and color. Meese's artistic language represents the experimental outlook of the new TVLG_Chamber that is set to co-exist with the main exhibition area of the renowned Antwerp gallery. The exhibition, titled ERZCERAMICS DE LARGE (ABER BITTE MIT SAHNE), will be displayed from February 4th to March 6th, 2021 at Tim Van Laere Gallery, Antwerp.

www.timvanlaeregallery.com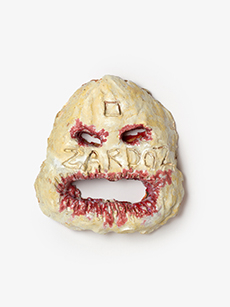 JONATHAN MEESE, ZARDOZ SCHREIT DICH!, 2020. Ceramic, 32,5 x 31 x 7 cm. Courtesy Tim Van Laere Gallery, Antwerp
Fashion
GmbH Men's Fall 21: 'Welt am Draht'
In the precarious reality of the modern age that many people find themselves in, the idea of all life as a simulation is an all too appropriate analogy for the Fall 21 collection by GmbH. The film, directed by Matt Lambert alongside director of photography Chris Aoun, with the Creative Directors Benjamin A. Huseby and Serhat Isik, displays a wide range of shapes and silhouettes for contemporary menswear.
As part of Reference Festival, Berlin Fashion Week and Paris Fashion Week, German brand GmbH has premiered its film for its Fall 21 collection on each respective online platform simultaneously. The collection's name is owed to the Rainer Werner Fassbinder sci-fi epic, 'Welt am Draht' or 'World on a Wire' created originally as a German television series in 1973.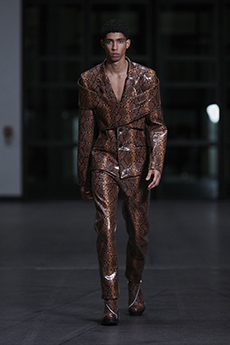 Of the collection, Benjamin A. Huseby remarks "we started by building a men's collection with silhouettes and techniques that refer to mid-century couture. We wanted to create clothes of dreams, rather than the mundane pragmatism of our everyday lives. An escape from the banality of our realities."
Supported by Reference Festival, Senate Berlin, Paris Fashion Week and recent GmbH collaborator, ASICS, the brand is informed by prophetic moments in history that boldly gazed into the future as its present-day looking glass for the GmbH Fall 21 collection.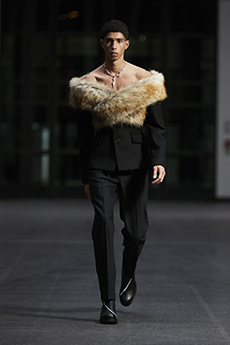 Fashion
CHANEL Haute Couture SS21
Photographed by Dutch photographer and filmmaker, Anton Corbijn, at the Salons at 31 Rue Cambon in Paris, CHANEL debuted its Haute Couture SS21 collection. The covid-safe event closed to the public, hosted by Creative Director, Virginie Viard, the collection was wedding-themed with an abundance of white petals and flowers, fairy lights and a bride atop a white horse.
The collection is reminiscent of a wedding one might see in a small town where people remain close and dress with a more relaxed and personable sensibility. With silver embroidery and lace details, ivory satin along with a big veil. The Grand Palais was dressed with rustic arches adorned with flowers, to take the form of a modest chapel setting created by renowned decorator Jacques Grange.
Sincere and fond memories of the late Karl Lagerfeld were shared by ambassadors, models and celebrity guests including Penélope Cruz, Marion Cotillard, Lily-Rose Depp with her mother, Vanessa Paradis, Joana Preiss, Izia Higelin and Alma Jodorowsky. All guests were seated at a safe distance as well as being tested for the virus prior to entering. Documented by a drone and varied camera set-ups, Corbijn also put together a lovingly made photo-book as a keepsake.
During a time when an embrace or a gathering is a contentious and divisive issue, the SS21 Haute Couture theme echoed the better nature in mankind which many hope to return to. Gathering to celebrate that which is just and caring and good, like the union of two souls. A love that is felt deeply expressed through fashion, an alignment with CHANEL at its core with nods to Karl Lagerfeld, distinctive and life-affirming in Virginie Viard's joyful creations.
Fashion
LOEWE Men's FW21/22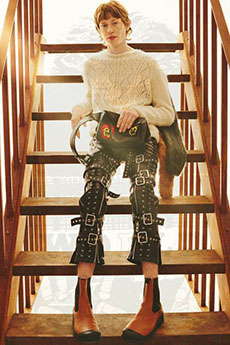 With his FW21 Menswear collection, LOEWE's Creative Director Jonathan Anderson pays homage to artist Joe Brainard. As Anderson explains himself, 'I have been drawn to Joe Brainard's body of work, especially his collages and his ability to create from everyday things. As an artist, writer, illustrator and poet, he developed his ideas and actions outside of convention and category. His work possesses a lightness and immediacy that I find very much in keeping with the present, and indeed with any moment.' The collection which he delivers is characterized by its light spirit, realised through clean silhouettes and precise cuts. Some of Brainard's works are revived as prints, but most notably, Anderson makes use of one the artist's favourite methods of working, collage. With his approach, Anderson revived iconic subcultures in an eclectic assemblage of iconic elements and tropes borrowed from subcultures ranging from mods to grunge. Artworks are printed bluntly onto the front and lapels of blazers. Leather bandage trousers, cardigans with culottes, extra baggy trousers, just to name a few, make each look a thoughtful and masterfully executed collage.

www.loewe.com
Fashion
Isabel Marant Men's FW21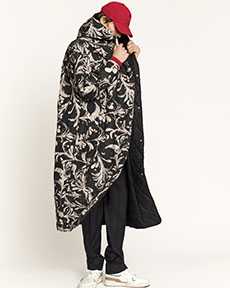 In the cloakroom of Isabel Marant, a rebellious and dynamic mob of larrikins debut vintage sportswear inspired pieces from the beloved French designer's FW21 collection. With a video directed by Laure Atanasyan presents a mix of formal staples reinterpreted to prioritize comfort and ease of wear as an adaptation to the zeitgeist.
With a range of fabrics and technique, the striped knitted polo shirts, the polar fleece hoodie and a technical windbreaker jacket are examples of classic fall winter clothing. To further bridge the divide between inside and out, a wool suit jacket worn with sweatpants, conveying a message of comfort as its own form of luxury.
The colors, almost grunge in appearance, are made soft on the eye with the use of neutral fabrics. Shearling takes the form of a teddy with an initial lettering and a hooded jacket. The Isabel Marant Men's FW21collection is an idea for the modern man; dynamic, comfortable and essential wardrobe items paired for today's world, sporty and formal in appearance.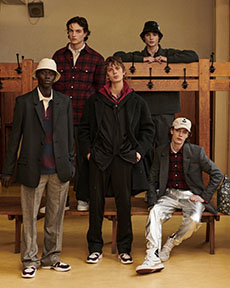 Fashion
Dries Van Noten Men's FW21/22
To make new what is old and cherished, time-honored and treasured elements of the Dries Van Noten wardrobe are reinterpreted for Paris Fashion Week. Clothing designed to evoke purpose in the wearer, while also revealing a tenderness or emotional depth. In a blend of sportswear and formalwear, Belgian tailor, Dries Van Noten, after opening a new store in Los Angeles last year, debuts a new take on modern menswear for its FW21/22 Men's collection.
An abstract purity about the line and shape of each garment rings true to Dries Van Noten's brand DNA, finding joy in the unassuming by way of soft and sharp contrasts. Cropped and elongated elements, trousers ranging from drainpipe skinny to relaxed and loose-fitting, along with pleated high waist trousers paired with oversized car coats display a dedication to versatility and expression in modern menswear.
Colors from petrol to lemon display the spectrum of earthy and warm colors such as alkaline, dusty pink, coffee, ochre, anthracite and cement. Along with traditional tie motifs, zodiac signs and classic shirt stripes, the collection is filled with skilful embroidery, patterns and prints. The collection also features a range of accessories which include a monogrammed metal ring, leather pouches, bucket hats in padded nylon as well as high-tech moccasins and knit legwarmers.
The garments are designed with both formal and casual settings in mind, the blurring of the two in recent times and 'dressing for our days' is noted as a muse for Dries Van Noten Men's FW21/22 collection.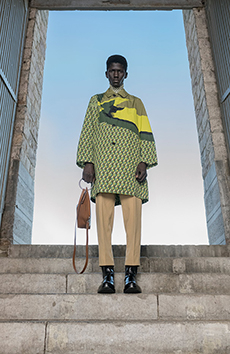 Fashion
HOMME PLISSÉ ISSEY MIYAKE FW21
HOMME PLISSÉ ISSEY MIYAKE premiered its FW21 collection titled 'Never Change, Ever Change'. A title which captures the essence of the collection perfectly. This collection embodies the brand's intent to evolve, to capture the spirit of our times and to respond to our ever-changing lifestyles through design. At the same time, HOMME PLISSÉ ISSEY MIYAKE stays true to its roots, from design language to production. Classic and conventional pieces are re-interpreted through a modern perspective and infused with original ideas and technology, building a selection of new basics of the brand. The collection itself was an interesting mixture of the classics pleats and subtle novelties, which sometimes remained hidden from the viewer's eyes. It was the first collection, which featured a series produced 100% from recycled polyester fabric or a new fabric woven from yarn-dyed polyester threads, resulting in a materials that is warm like wool, but at the same time much lighter in weight and wrinkle-resistant. In their video presentation, the process of pleating the garments were central, offering an insight into the processes needed to create the very unique signature garments from HOMME PLISSÉ ISSEY MIYAKE.

www.isseymiyake.com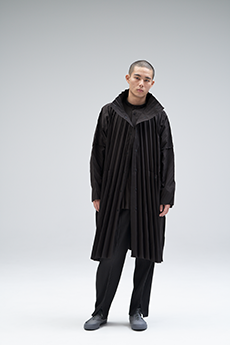 Fashion
Iceberg FW21/22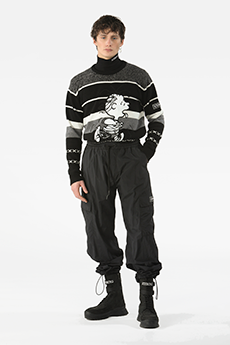 With his new FW21/22 collection for Iceberg, Creative Director James Long channels a carefree eccentricity reminiscent of 90s Brit Pop, underground rap and acid rock scenes to create a new identity for both men and women alike. The collection re-interprets luxury sportswear and elevates it through details such as 3D quilting and jacquard as well as ironically placed zips. The more sporty aesthetic pays homage to the 90s raver silhouettes. Traditional codes of the ever-evolving athletic leisure wear is not rejected, but enhanced through more soft and feminine touches and the introduction of luxury knit. This is also reflected in the color palette of the collection. For the women's collection, muted tones of primrose, egg-shell and grey are juxtaposed with acid pink, energizing the selection, whereas the men's collection is amped up through utilitarian details and the contrast between tech and knit textures. In typical fashion, Iceberg once more showcases its affinity for incorporating pop icons, with Peanut cartoon characters Snoopy and Woodstock portrayed on some of the sweaters. The FW21/22 collection is the coming together of luxury sportswear and the innovative Italian knitwear, which Iceberg is so famous and celebrated for.

www.iceberg.com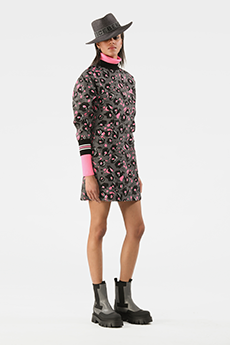 Fashion
Church's Men's FW21
'The Auction', a short film that conveys the elegance and style of the new Church's Men's FW21 collection. The luxury English footwear company sets its new film in a British auction house decorated with antiques and fine art. Colors of rich mahogany and the craftsmanship commonly found in objet d'art that find their way to auction is mirrored by the level of care and quality that goes into the new FW21 collection from Church's. The new 'Gillingham' shoe takes note of a growing trend of square toes while shoes like the iconic 'Chelsea' boot and the 'Amberly' shoe feature a rounder toe.
The British fondness for fine brushed leather and reliable, quality materials resonates with this collection. Church's is famous for its British heritage, the same heritage present in the new military-inspired 'Gray' boot and the brand's acclaimed 'Ryder' desert boot, which arrives this season in a polished binder leather. Classic styles are complimented with new sneakers, a more casual fit in lace-up and high-top shapes which feature chunky rubber soles and the Church's logo screen-printed onto the counter of the sneaker.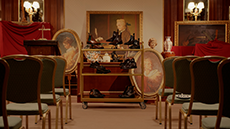 The Church's FW21 Men's collection will be available in stores and online from July 2021.
Fashion
Ermenegildo Zegna XXX FW21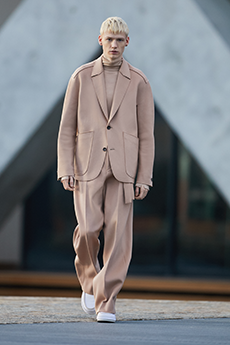 As expressed by Zegna's Creative Director Alessandro Sartori himself, 'We are all experiencing a new reality concerned with new needs, which lead us to previously unseen lifestyles and attitudes.' Our world is constantly evolving and has changed even more drastically throughout the last year. Since taking the reigns at the Italian house, Sartori's has moved Zegna away from the utter formality, redefining the style. For this season, Zegna has decided to (Re)set, to (Re)interpret their roots and to (Re)tailor the modern man. Its fluid shapes and the comfortable and adaptable nature of the garments define the collection. Comfort and formality, indoors and outdoors are blended; archetypal items get new functions in a switch of forms, weights and materials. The idea of formality is injected with notions of coziness and comfort, whether it be the easy of track pants or of the robe de chambre. Most notably we see the classic suit reimagined, not as a uniform, but as a garment that allows its wearer to be himself.

www.zegna.com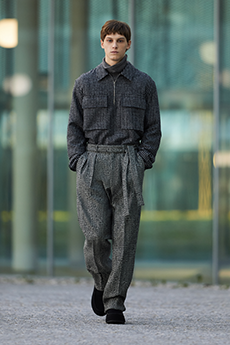 Fashion
Brunello Cucinelli: FW21/22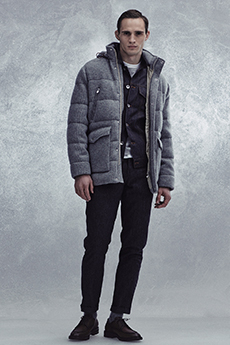 After years of research and development, Brunello Cucinelli has launched a collection of menswear for Fall Winter 21/22. The collection is the synthesis of yesterday and tomorrow. Finding a balance between the past and a prominent vision of tomorrow's look, the collection keeps ideals of moderation and simplicity with neutral colors making the foundation on which to build. Mid and dark colors are diffused in the knitwear hydrangea violets, bonfire reds, bordeaux, blueberry and variants of green like sage and mint. Aside from classic coats, this FW21/22 by Brunello Cucinelli is made up of down jackets and outerwear in different lengths and weights to remain true to modern menswear in the colder months.
Knitwear rests at the forefront of comfort, items of reassuring clothing we all reach for in winter's cold embrace; knitwear features prominently in this collection adding something unexpected and special to down jackets. Time honored textures of stockinette stitch and English rib are enriched by chiné and vanisé techniques, a proud pairing of workmanship and nuance.

Supple leathers and shearling complimented by discrete patterns displayed on the men's outwear provide something beyond reproach during the rainy seasons. In addition to lightweight, handcrafted leather accessories, formal footwear displays the attention to detail and dedication to craftsmanship at Brunello Cucinelli. This same craftsmanship is applied to a range of sneakers made from lightweight and natural materials that add versatility to each look.
Somewhere between the sartorial approach and taking cues from new stimuli of modern fabrics elegance is given a presence in the everyday. Brunello Cucinelli designs for the present moment, newer than yesterday, classic enough for every tomorrow.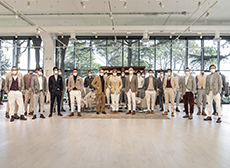 Marcel Dzama: 'The Moon is Following Me'
Tim Van Laere Gallery, Antwerp, will host Canadian born and New York-based artist Marcel Dzama's first solo show; a celebration of the post-Trump era. Expressive and bursting with color, the show is titled 'The Moon is Following Me' drawing from folk-tales, art-history and displays contemporary flourishes. Dzama's artworks honor childhood fantasies and the strength and resolve of the imagination.

With ballet costumes by Francis Picabia or Oskar Schlemmer to invite viewers into this dream-like world as well as more direct nods to the work of Francisco Goya, Joseph Beuys and Marcel Duchamp. Of his art, Dzama says "I usually either do political drawing or I go for this kind of vacation feeling. Almost idyllic. A lot of them are based on photographs taken of my son and wife on vacation."
The artist is known for responding to current events through his art. Dzama has painted the late United States Supreme Court Justice, Ruth Bader Ginsberg, over a watercolor impression of Donald Trump swinging a golf club. The canvas used for this work was simply a front page of the New York Times, in keeping with the contemporary and newsworthy nature of his subjects. In addition to this Marcel Dzama's drawing of a tiny owl found inside the Rockefeller Centre Christmas Tree will be included in his solo exhibition at Tim Van Laere Gallery.
Stating that "because the Trump years were so traumatizing" that the series of artworks had to have more hopeful themes, in an effort to rekindle a collective sense of whimsy.

'The Moon is Following Me' will run from January 21st to March 6th at Tim Van Laere Gallery, Antwerp.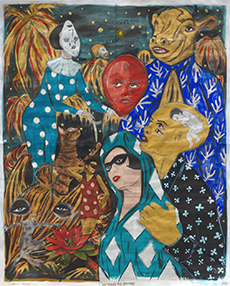 Quotes taken from an interview with Marcel Dzama by Manuela Martorelli, published in ZOO Magazine Issue #69.

www.timvanlaeregallery.com
DIOR: The Caro Bag
As part of its Cruise 2021 collection, DIOR will release a newly designed bag.The Caro bag takes its name after Christian Dior's remarkable younger sister, Catherine Dior, who was fondly referred to by family and those that knew her well as 'Caro'.
Passion, grace and unyielding courage in the face of atrocities, violence and cruelty; Catherine Dior lived a life of great service to France. As a highly decorated member of the French Resistance during World War II, Catherine endured a great deal of pain in her lifetime; she was made a political prisoner of war, she was deported, she was tortured for information that she never relinquished, surviving the Nazi gulag and the most horrific of circumstances.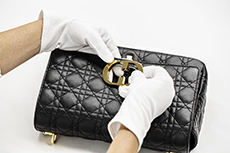 Designed by Maria Grazia Chiuri, the Dior Caro bag is available in sky blue, black, mint green and blue as well as smaller versions in raw denim, Tie & Dior and shearling. The bag is made with a precious chain that brandishes links detailed with the "CD" signature to echo the clasp. In addition to its chain, the precious soft leather bag proudly displays the house's emblematic cannage motif.
The Caro bag is not simply an accessory to the Cruise 2021 collection, it is an example of the luxury French maison honoring its family heritage, a reminder to hold fast to your courage, hold fast to the belief of what is good in others, a reminder that against a tide of hate; love will overcome.

The Caro bag, a heartfelt expression of heritage Dior style, is now available online and in stores.

Fashion
CDG3 x Better Gift Shop
In the third edition of the collaborative partnership between CDG3 and Better Gift Shop, Amanda Mescudi and Taj Williams roam the dusk-lit streets of Los Angeles with a lackadaisical and adventurous aura about them. The Gregory Shimanda collaboration features an exclusive hoodie and T-shirt, relaxed and youthful style with distinctive qualities of both Comme Des Garçon and Toronto-based retailer, Better Gift Shop. In previous years visual artist Gregory Shimanda has had joint exhibitions in Albuquerque, New Mexico, Oakland California and has been a rising creative of the San Francisco Bay Area. The collection, styled by Monica Rojas, features the artist Panda Sex and is photographed by Chandler Kennedy.

www.cdgcdgcdg.com
www.bettergiftshop.com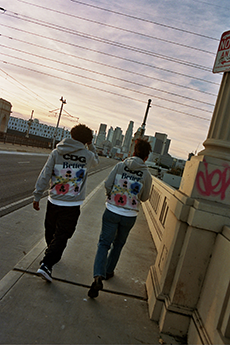 Fashion
Upcycled MiuMiu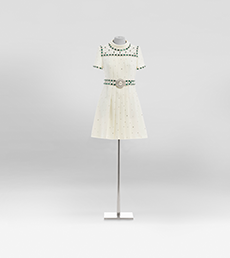 Nearly thirty years and many great strides in fashion since Miu Miu was founded by Miuccia Prada, the iconic brand is debuting its 'Upcycled by Miu Miu' collection. A special collection of vintage dresses has been given new life, once loved and soon to be loved again as Miu Miu garments. Each piece is unique and entirely one-of-one, adorned with signature Miu Miu embroideries and embellishments. The limited run of 80 upcycled dresses will be available in nine cities at Miu Miu boutiques worldwide. These cities that the 'Upcycled by Miu Miu' line can be found in are Milan, Paris, London, Tokyo, Moscow, Hong Kong, Shanghai and St. Moritz. Each item has been carefully reworked and renewed by the designers at Miu Miu, a dress from the 'Upcycled by Miu Miu' collection that is found in one city will never be found in another city. For example, item 26/80 is a 1970s silver and gold knitted cocktail dress customised with all-over diamanté embellishment, a crystal neckline and rose peach silk gazar bow detail; available at Miu Miu Paris, while item 14/80 is a 1960s short belted dress in white silk crepe with one-sided pleats on the front, customised with white and emerald green crystal embroidery and all-over diamanté embellishment; available only at Miu Miu Tokyo. Each dress is lovingly restored by hand and re-imagined through the Miu Miu lens to ensure they are loved once more and maintain continuity with the brand's oeuvre.

www.miumiu.com
Art
Thonet Barstool Collection
Thonet has built its name to be synonymous with a longstanding history of designing furniture that displays one foot in tradition and another striding boldly into the future; a design journey that was conceived at the hands of master carpenter, Michael Thonet, out of a small workshop in Boppard on the River Rhine in 1819; with Chair No. 14 or, as we know it today, the Vienna coffee house chair. The furniture maker continues its legacy with two new iterations of the barstool; the S 32 VH Barstool and the S 32 VHT low barstool. The S 32 tubular-steel cantilever chair made by Marcel Breuer in the '20s during the Bauhaus era offers an insight into the design cues for these comfortable and  new barstools. The distinctive Viennese canework and Thonet bentwood elements exist in stylistic contrast to the sleek tubular steel lines and lightweight nature of the furniture. The furnishings are visually very reduced and made to be subtle so as to suit a broader range of environments from reception areas to kitchen breakfast bars in the home or trendy metropolitain bars and restaurants. Easily adjustable and transported, the S 32 VH Barstool is designed in response to the growing trend of standing tables and counters both in workplaces and the home. The new barstools versatility and timeless style follows on from Thonet's earlier adaptation of Marcel Breuer's S 64 tubular steel cantilever chair, in which Thonet designed a height-adjustable swivel chair set on a pedestal base and castors that they dubbed the S 64 VDR swivel chair.
www.thonet.com
Fashion
DIOR Men Fall 2021
"I never considered myself a graffiti artist, although I do use spray paint and spray all over New York City. I grew up here in Southern California. When I moved to New York I learned about all the street culture. That to me was what was exciting. I understood the language, I understood the visuals of the airbrush. I wanted to be apart of it. I am always interpreting the world around me, be it the nature, be it the news. Whatever it is I'm taking it in and I am using that in my process". American artist Kenny Scharf creates cartoon-inspired images, stories, works nodding to a near future, taken from any experience, from real world news to historical facts, to moments of dream, where clashing colors - blue, yellow, purple, transform opposites and tension into a captivating universe. Dior Homme's Creative Director Kim Jones engaged Scharf's oeuvre through Dior's history, fusing tradition and digital innovation. Tailoring underscore a heightened mood of dressing up where the "tailleur oblique", tailored coats and slender single-breasted jackets are eased around the body, relaxed, and belted at the waist in homage to the iconic bar jacket. Mirroring the evolution of a couture house, Dior's ateliers translated Kenny Scharf's works into prints and embroideries, with archival pieces appearing alongside a series of new commissions created specifically for Fall 2021: drawings recalling the Chinese Zodiac's animal character. China, one of Monsieur Dior main inspirations over the years, merges into the collection through traditional Chinese techniques and materials translated into the idiom of a French couture house where Yoon Ahn's modern jewelry adorns looks with jade and lapis, and the Maison Lemarié reinvents chrysanthemum blooms as boutonnieres. A dreamlike set recalling the luminous stellar explosion of a supernova - the transient event during the last stages of a massive star triggered by a nuclear fusion - where a crab nebula, hundreds of light-years in diameter, shows its full beauty.

www.dior.com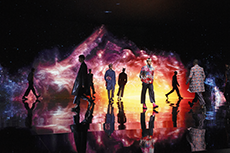 Fashion
Optical Precision. German Engineering.
Both Leica and Mykita belong to a group of industry leaders in their respective fields dedicated to the holding up of the high standards associates with the label 'Made in Germany'. For this collaboration, both houses bring together their areas of expertise, pairing Mykita's innovative product engineering with Leica's unique design language and expertize in lenses and optics. The results of this partnership are a range of glasses, defined by their reduced and functional design and precision engineering. The debut collection of sunglasses features two design series, the first being a concept of stainless steel whereas the second combines the steel with MYLON, a material innovation made using 3D printing technology. Apart from the design, the lens technology is another standout of this partnership, having been manufactured using all of Leica's expertize in this field and undergoing the rigorous quality control that all Leica optics are subjected to. The Leica optical collection features clean and timeless design, mirroring the established shapes of the sunglass line. The purposeful sleek design gives the glasses a timeless flair recalling the iconic design of the Leica cameras.

www.mykita.com
www.leica.com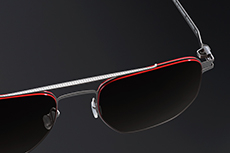 Fashion
Stone Island Miami
Stone Island certainly one of these brands, which have become deeply interwoven with European cultural history, whether it be Milanese paninari, British football fan or anything in-between. A household name in Europe, the house has recently found increasing success in the United States, partially due to celebrities such as Drake of Travis Scott being seen in Stone Island. To expand its presence in North America, Stone Island is opening its fourth store in Miami after New York, Los Angeles and Toronto. Situated in Miami's Design District, the store covers an area of over 3000 squared feet on two levels, hosting the Stone Island and Shadow Project collections. In typical fashion, the interior design follows the concept created by Marc Buhre, a German industrial designer and founder of the Zeichenweg TM architectural firm. Following the recent opening in Beijing and now Miami, Stone Island now counts 28 flagship stores worldwide exporting the brand's philosophy of experimentation and innovative design into the world.

The Stone Island Miami Store is located at 123 NE 41st Street, #107/207, Miami Design District, 33137 Miami.

www.stoneisland.com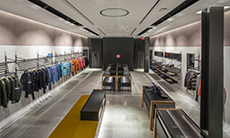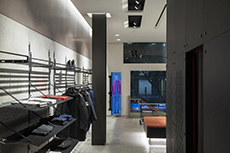 Fashion
Freedom of Travel meets Craftsmanship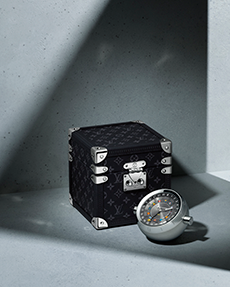 The freedom of travel meets the craftsmanship of watchmaking in Louis Vuitton's new Trunk Table Clock. Elevating the classic accessory to a monumental timepiece, the Maison reproduces the Tambour Moon Dual Time concave dial in a new fresh design and concept. It also features a double time-zone, suited to the urban globetrotter and a vibrant dial of multicolored flags. The 80mm diameter hemispheric steel case suspended in its trunk is a wonderful historic reference to 18th century navy chronometers, these devices were used for long-distance navigators for them to calculate longitude. The trunk is an iconic aspect of Louis Vuitton, in bringing this element into the watch design, the brand cleverly interweaves its own heritage and identity into its new timepiece. With this in mind, Louis Vuitton pays homage to the extraordinary pioneers of early travel, conceptualizing it in a contemporary design that is distinctly connected to the Maison.

www.louisvuitton.com
Fashion
Hublot 40 Years
Hublot and its CEO Ricardo Guadalupe invite friends and ambassadors of the brand to take part in the digital celebration of the Swiss watch manufacturer's 40th anniversary. In a 30-minute presentation, Guadalupe presented all the milestones that have shaped Hublot into what it is today. Despite its relatively short history, there surely is no shortage of memorable moments to look back on, from the diverse novelties and innovations to the groundbreaking partnerships with Fifa and Ferrari. And how would you retell Hublot's history without mentioning two key figures, the company's founder Carlo Crocco and Jean-Claude Biver, who emphasized the art of fusion between tradition and future. Throughout the presentation some of Hublot's most well-know brand ambassadors were connected live. They were truly representative of the wide-ranging and diverse Hublot family, from footballers Kylian Mbappé and Ada Hegerberg, Olympic sprinter Usain Bolt, three-star chef Andreas Caminada to world-renowned pianist Lang Lang. To mark the occasion, Hublot has also introduced its 'Classic Original 1980' a watch which has been reinterpreted to reflect the Hublot of today and as put by Guadalupe himself presents 'a brand-new contemporary version that celebrates Hublot's innovative approach of the last 40 years.'

www.hublot.com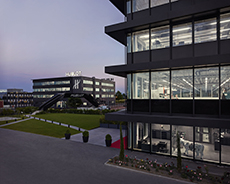 Travel
Into the Woods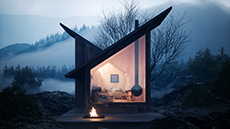 Founded by Italian architects Massimo Gnocchi and Paolo Danesi, The Mountain Refuge was set up to realise the equilibrium of sustainability and design, to find a way of living in harmony with the world around us. Encouraging this greater understanding and appreciation of the outdoors a floor to ceiling glazed window allows for a true and uninterrupted view of nature. With their goal to deliver shelter and sanctuary globally, Gnocchi and Danesi conceptualized their own minimalist cabin, versatile and low maintenance, their design does not require foundations but can be adapted for locations that do with the use of a thin slab of concrete. Returning to the primal connection we as humans have with nature, the cabins recall the traditional mountain shelters of the Alps, wooden and cosy, but the Italian team have transformed these typically dark interiors through large windows. This prefabricated micro home, with its angled roofs is more than a design spectacle, but an alternative way of life, one which many are avidly seeking as the clamour of everyday life grows too much.

www.themountainrefuge.com
Fashion
Take-out Gala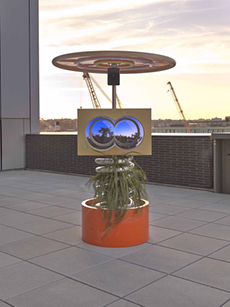 Museum Dhondt-Dhaenens is set to organize an extravagant take-out gala in collaboration with internationally regarded artist Rikrit Tiravanija. The Belgian modern art museum has gotten creative in the absence of its annual garden party, designing a free group exhibition, selling a range of different art works, now through the expo site as a result of new measures. In light of these restrictions, the museum is organizing an exclusive take-put gala to gather funds for the museum's upcoming year. Tiravanija and acclaimed chef Antto Melasniemi have created 3 original dim sum to be presented in a reusable take out box, designed especially with a monogram by the artist. With only 500 of these boxes available, each order grants access to an online gala, an ingenious idea that spotlights the thriving creativity at a time of such stasis and devastation.

www.museumdd.be
Fashion
Home Time
Latvian designer, Santa Kupca, presents her 3 part graduation project, the perfect antidote to the pandemic's omnipresent sense of loneliness and isolation. Entitled "Hesistant to RSVP", "Dolce far niente" and "Public Library", the graduate of the Design Academy Eidenhoven, references beautifully these current anxieties through a conscious set of garments. Graduating from the Identity department, Kupca responds to the entrapment of the home and the pressure of online communication, with garments that comfort and swaddle, replicating the feeling of a tender embrace. Each of the three pieces engages with certain aspects of the home, curating a quiet sense of intimacy, made irresistible by their duvet-like quality. To be worn over underwear or simply nothing at all, Kupca caters to the human form at a time where connection and intimacy are under strict regulation and monitoring.

www.santakupca.com
Fashion
Surreal Times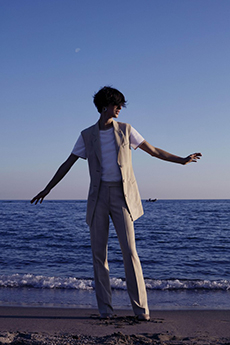 Salvatore Ferragamo responds to this surreal time in their Pre-Spring 2021 collection, a tangible sense of pride and consciousness shaping each look down to every meticulous detail. Featuring upcycled leathers, cashmere, recycled nylons and organic cottons, the brand deftly navigates luxury design with ethical and sustainable choices, creating a collection that is both mindful and stylish in its embrace of a positive momentum in the fashion industry. Mens wear and womens wear both display an exciting sense of flux, moving between clean minimal lines and soft tailoring to wild animated animal prints. The hybrid of giraffe and leopard print takes center stage in the collection, inspired by their Creative Director, Paul Andrew's extensive interrogation of the archive, dating back to the 1970s. Other innovative highlights include in a new almond-toed driving shoe, fitted with a never before seen double Gancini hardware. Reflecting on the collection Andrew commented "this collection was made in exceptional times, under exceptional conditions, through which we were all obliged to adapt and innovate… The result is a collection of which we are proud. We worked to turn the limitations of the period into positives by considering what is most essential".

www.ferragamo.com
Fashion
Creating an Icon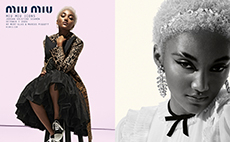 For Miu Miu's Icons Holiday 2020 Advertising Campaign, the brand examines what it means to be an icon. Mapping the transition from icons dictated by religious representations into a secular age, Miu Miu goes on a hunt to demystify and encapsulate the aura of a contemporary icon in their new campaign. Selecting their own cast of women, the luxury brand curates their own community of multifaceted icons, drawing from the realms of cinema, fashion and music. Recognizable in the campaign are the likes of Kim Basinger, Chloë Sevigny, Du Juan and Raffey Cassidy amongst newcomers: actress Emma Corrin, the musician and actor Jordan Kristine Seamón and Storm Reid, an actor who also opened the Fall/Winter 2020 Miu Miu show. In showcasing this intergenerational talent Miu Miu is expansive in their definition of an icon, an empowering expression of modern femininity.

www.miumiu.com
Fashion
Game Up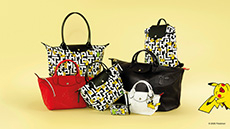 Pikachu animates Longchamp's iconic Le Pliage® for their new collection Longchamp x Pokémon. The adored Japanese character features across a range of bags as well as a scarf, inspiring a rare blend of French classicism and Japanese kawaii. The collection will be made available from October 13, 2020 in stores and online, but will be released exclusively in Japan from October 9, 2020 - paying homage to Pokémon's roots. For Kenji Okubo, President of The Pokémon Company, the collaboration "upholds Longchamp's tradition for quality and luxury but adds a fun and playful twist". Pikachu appears in two exciting designs, the first evocative of a retro video game, his familiar yellow figure prominent against a bold black and white print which spells out Long champ in a distinctly maze-like design, the second more subtly showcasing his silhouette embossed onto red, cream and black bags. Longchamp shows the potential of collaboration in this collection, producing new and unexpected possibilities, Pokémon bringing a vibrant and iconic motif to the House's colorful and diverse oeuvre.

www.longchamp.com
Fashion
"Claudia Andujar, The Yanonami Struggle"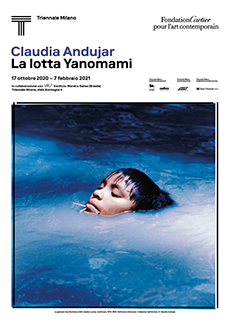 Over the next eight years, Triennale Milano and Fondation Cartier pour l'art contemporain will join forces to create a cultural partnership unprecedented in Europe. They share a common vision of what contemporary artistic creation should be, dedicated to contribute to the development of a truly multidisciplinary and international program which creates bridges between all different facets of creativity, whether it be art, architecture, design, fashion, cinema, science or philosophy. Cultural exchange between the many European institutions to provide artists the necessary stage and support system in order to bring their meaningful perspectives of the modern world to life. The partnership will be inaugurated with the exhibition "Claudia Andujar, The Yanomami Struggle" followed by "Les Citoyens, Guillermo Kuitca" the coming year. Claudia Andujar's exhibition offers an insight into the struggle for recognition of the Yanomami, the largest isolated tribe in the Amazon forest. Curated by Thyago Nogueira, the exhibition showcases over three hundred photographs of the Yanonami, an in-depth photographic essay on their daily lives, which Andujar has been working on since the 70s. It showcases all of her prowess as a photographer and activist, whilst showcasing the Yanomami as complex and rich culture with its own intricate myths and rituals.

"Claudia Andujar, The Yanomami Struggle" will be open to the public from October 17 to February 7, 2021 at Triennale Milano.

www.fondationcartier.com
www.triennale.org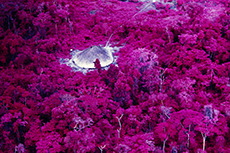 Fashion
Blue planet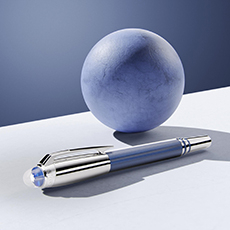 Montblanc delves into the deep blue, telling the story of our blue planet in its new collection of pens, Montblanc Star Walker. Echoing NASA's motto "follow the water", this collection revolves around the marine hues of the ocean, paying homage to the huge expanse of seas and oceans that connect our planet. The pen itself is composed of blue precious resin, a wonderful ode to water, and this connection to our Earth is enhanced further by the transparent dome at the top of the pen. The spherical dome represents the rising Earth above the lunar horizon, as viewed from space, the platinum-plated cap a nod to NASA once again, in its abstraction of an astronaut and the angled clip, a shooting rocket. Montblanc delivers a captivating tale for this collection, channelling our focus to the water that makes up over 80% of the world's oceans, not all of which have been mapped and explored. In wetting our appetite with a sense of purpose and adventure, we are compelled to write, bringing our own sense of discovery to the written page.

www.montblanc.com
Music
The Monster Inside
An Interview with Woodkid
by Lauren Gee

We spoke to Woodkid ahead of his album release S16. Speaking openly on the nuances and challenges that come with contemporary masculinity, vulnerability collides with cinematic brilliance in an album that is a bold announcement of Woodkid's multiple creative talents. Conjuring up the sublime through his strong and unwavering voice, S16 is an insomniac tale of distress and redemption, the tangible catharsis of this body of work, undeniably magnetic.

Lauren Gee: What was the inspiration behind this album?

Woodkid: First of all I wanted to make an album that was somehow industrial, I'm not really sure what that meant at the time but I knew that it was triggering some visual and sonic ideas for me, and at the same time I needed to make an album that was a reflection of my mood at the time. That was centred around the idea of deconstruction, learning new things and doubt. Something that is a thread throughout the entire record, is this idea of doubting and asking for help at the same time. It is an album that talks a lot about the beauty that there is in resilience and in the act of asking for help. I actually started the record right after the Paris attacks in 2015. So very early 2016 I started working on the record and wrote the first songs.

LG:There is something very cinematic about this album, each song feels very climatic and emotional, I can imagine it as a soundtrack to a very intense film, is this a reference you were aware of?

WK: First of all I worked with an orchestra, I think it definitely gives no matter what you do a cinematic quality. And it's also in my DNA, it's my job, I am a film director, I always have images in my head and I want music to serve these images somehow. So I think it is out of my control really, whatever I do I get moved by music that triggers images.

LG: You have such a strong connection with the moving image through the visuals you create, what role does cinema and the moving image have in the music you create?

WK: Alot! I always have big images in my head from the films I love, I always have feelings, textures and emotional textures from films in the back of my head. Actually I have more film references than I do music references, for example Jonathan Blazer, Akira Kurosawa, there's always some images that are just floating around, even some 2001 A Space Odyssey and Close Encounters of The Third Kind somewhere. There are always these big visions of other cinematographers in my head.

LG: This album for me really conjures up a sense of the sublime, the scale of the world against the individual human, how did you manage to construct this sense of vastness in your music? 

WK: I think by temporal contrast, which means the construction of moments of silence and massiveness, progression and breaks and always trying to write things as a very deconstructed and fragmented piece, which I think is very evocative of the collisions and the fragmentations of the world and the pressure of these massive forces that are around us. I think also singing love songs, because they are very intimate love songs, but always adding a layer visually but also sonically, almost like the world and the force of the world speak to the individual trajectories of humans. There is always a thread and a connection between the very intimate and the massive, that there is probably connections between doubt and fear of the future, and the blues of the world that we all have inside. There's also probably a connection between the environmental challenge and the massive crisis that we are facing, because I think there is a fractal resonance between us and the world and I think that's what I have really tried to do, you will see it in the next video too: I always talk about the intimate but put a narrative layer of infinity on top of it. 

LG: Your voice really feels like its guiding the listener in this album, were you conscious of taking on this role when you began writing 

WK: I definitely think I find more legitimacy in my voice being a leader vocally in my songs. With time I found more colors too and my palette has been widened since I toured and practiced more. Now I feel I have more tools to really tell a story, to use the right colors in my voice at the right time and try to be less systematic in the way I think. That allowed me to shut down the orchestra sometimes and turn the music down and just have the piano and vocals where my voice takes the lead and I just tell the story. 

Fashion
Stone Island: Storia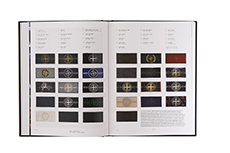 Since its foundation in 1982, Stone Island has unquestionably left its mark on the fashion landscape. From Milanese paninari to British football diehards, Stone Island resonates with a diverse audience. It is its distinct mix of elements of fashion, luxury and streetwear, which has kept the Italian house relevant throughout its almost 40-year existence. Not just relevant, but a veritable cultural cornerstone, a status enhanced by its celebrity following, but primarily thanks to its ardent fans all across the world. Central to the brand is its relentless pursuit of excellence, may it be in the design language or in their continuous efforts to bring innovation to the world of fabric treatment and dyeing. Stone Island: Storia captures the house's illustrious story and ethos. Previously unseen images are combined with three major texts by Eugene Rabkin, Paul Gorman and Jian Deleon offering seasoned and new fans alike new insights into the world of Stone Island. A special edition with slipcase and a poster depicting the history of the house's iconic branded badges has been produced exclusively. These special editions will be available exclusively in Stone Island stores and online starting from October 6, 2020.

www.stoneisland.com
Fashion
Louis Vuitton Spring Summer 2021
"Take over, Drive, Kick, Climb, Swap, Switch, Relay, Dream, Doubt, Splash, Reach, Stand, Sky Dive, Extend, Vote…" Words as mottos, slogans for actions, emblazoned on t-shirts and dresses and heard intone across the soundtrack for the show. Nicolas Ghesquière's new Womenswear collections for Louis Vuitton explored the meaning of gender fluidity in fashion and it's correlation to our time. "Vote", "Dream", "Kick". These are words that call for a strong stand against inequality, against boundaries "Stepping into a territory that is still stylistically vague. A sensitive zone that erases gender and promises exponential creative possibilities. What does an in-between garment look like? What kind of cut can dissolve masculine and feminine? What wardrobe might s/he look good in?" This is Nicolas Ghesquière's wish to begin an open reflection on a theme as crucial as sensitive. The in-between, the ground where shapes and silhouettes meet without constraints. Relaxed masculine classic trousers paired with t-shirts, at times worn as dresses under overcoats, sequins mixed with classic tailoring. There was a subtle reference to Ghesquière's signature 80s reference through the bold lettering on prints. The French designer has always been fascinated by the 80s, its idiosyncrasies, and cultural experimentations. One of the most iconic artwork of that decade was actively present at the show live stream: 1987 Wim Wenders' Wings of Desire. His angels, their "voyeurism", with the late Bruno Ganz looking at the world from above, looking at the people's pain, the desire, the struggle. Through the green screen technique, the digital guests were able to see the movie fragments overlaid on floors and walls of the magnificent Art Deco architecture and Art Nouveau frescoes of the Samaritaine. Under the glass of La Rotonde, on the top floor of this historical monument - whose renovation has been 15 years in the making and is set to open in 2021 - the runway was intersected with large swaths of color green serving as chroma key. That same green used on accessories throughout the entire collection. The building situated just across Ghesquière's office seemed the perfect choice when the increasing risk of the pandemic in France required a careful evaluation towards efficiency and sustainability: the crew was able to just walk to the location and the clothes didn't have to be shipped. The great size of this empty building also gave Ghesquière the space to bring a step further the virtual experience of the show: all the guests affected by travel restrictions were given a personal link to a virtual seat: dozen of personal webcams were situated along the runway, with the possibility to be manipulated in 360 degrees. It translated to a never-seen-before experience, comforting all the guests who could not attend in person. It give a sense of reassurance and great consideration. One more reference to Ghesquière's journey set to abolishing boundaries.

www.louisvuitton.com
Fashion
Issey Miyake Spring Summer 2021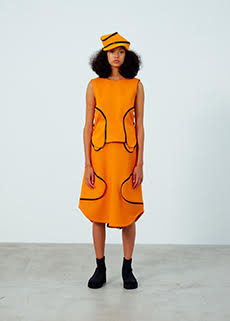 "When things are rolled up neatly / when things are stacked on top of each other / Or when things in pieces are put together / It is a simple moment like this that we find pleasing / When things transform, our perspective changes too. / And with this change we feel the beginning of something new". Satoshi Kondo – who debuted as Issey Miyake's new Head designer last year after working for the brand for more than a decade – delivered a collection exploring creative and integrative ways to make garments extremely compact: tying, rolling, folding, stacking, and layering. In preparation for Fall Winter 2020 Kondo looked at the number of boxes ready to be shipped to Paris, and realized the sheer volume of clothes being transported. What if the clothes were instead easily foldable? What if the next collection would be as compact as possible? Beautiful complex garments, so compact that the entire collection could fit into just one box. Issey Miyake Spring Summer 2021 answered these questions inspired by the idea of delivering garments in compact forms to people all around the world Form Body, Out A Piece, To Go, Spongy, Temporary Room, five main themes, five different researches on textiles, materials, shapes, constructions: a new take on the relationship between body and clothing; garment that can be zipped together into a three-dimensional silhouette; the idea of integrating clothing and a bag where the wearer goes through the cycle of wearing, folding, and carrying away the garment; knitwear as stretchable as a sponge; the idea of wearing a artwork integrated into clothing as a whole. The digital presentation UNPACK THE COMPACT, filmed inside a warehouse in Paris, featured animated garments on display that moved and breathed. Upon entering the space, the models walked through this exhibition overlapping the runway show with the stop motion animation revealing the ingenious construction of each garment.

www.isseymiyake.com
Fashion
Marine Serre Spring Summer 2021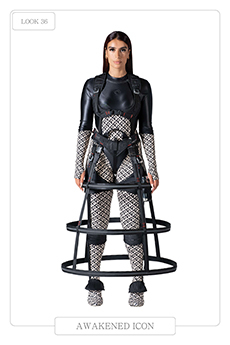 Set in a dystopian future, in the aftermath of the disaster we all have brought upon our fragile Earth, long enough humans have evolved into new species striving for survival. Here this new humanity, now gender fluid, lives between new dynamics and emotions. Marine Serre Spring Summer 2021 collection presented through the format of a short film is a poignant visual landscape evoking the current heath and environmental emergency, and calling to actively embrace life's pleasures and adversities. Marine Serre has always given a revolutionary take to our post-apocalyptic future rather than despair. Realized in collaboration with directors duo Sacha Barbin and Ryan Doubiago, with music by composer Pierre Rousseau, Amor Fati is a window to our desires, to our fears, our not-so-far fate, when humanity will live on am extremely warm Planet, partly submerged. and where the last living scientists will resort to new preservative measures. Marine Serre is a visionary. During the pandemic outbreak in March we all dreamed to own the protective anti-pollution masks created by Marine in collaboration with French specialized brand R-Pur in February 2019. Once again Marine Serre created new additions to the series of futuristic pieces: shield visors, and the survival harness crinoline consciously delimiting the body space. The collection dives further into the urgent need for change embracing the challenge where clothes are an armoire but also a personal narrative. Serre's signature sharp tailoring and research on fabrics are the file rouge through the entire collection: recycled moiré, regenerated carpets in terracotta hues, Serre's classic regenerated denim updated with a laser engraving of the 'moonfish skin' pattern, biodegradable nylon. But also knitwear in kaleidoscopic sapphire and cobalt hues, and footwear designed in collaboration with Jimmy Choo. Sensual and intricate. Serre never ceases to create a powerful universe.

www.marineserre.com
Fashion
Born of A dream: A Man of the Future
Since the success of IWC's "Born of a Dream: A Boy from San Mateo", a short film starring the brand's ambassador Tom Brady, the Swiss luxury manufacturer has embarked on yet another cinematic adventure. With its first film recounting Brady's journey to becoming a champion quarterback, ICW embraces a story far closer to home, the story of its founder, Florentine Ariosto Jones. Born in Boston, Jones' dream was to apply America's advanced industrial technology to the established Swiss tradition of craftsmanship in the emblematic form of a pocket watch. American entrepreneurship meets Swiss heritage, a fusion that to this day sets ICW apart from its competitors. Titled "Born of a Dream: A Man of the Future'', the film sees actor James Marsden establish his pioneering watch company in Switzerland in 1868. Speaking on his role in the film Marsden stated, "I am thrilled to be part of this project and be up on the screen with Tom to recount how he – and F.A. Jones – achieved what they did. It's about setting your goals high, overcoming adversity and the importance of determination and hard work. Even though their stories take place over a century apart, it's a timeless journey". IWC's affinity with cinema and storytelling is a core essence of a brand with a strong and affirming heritage and history. This personal installment of its "Born of a Dream" promises to be its most exciting yet.

www.iwc.com
Fashion
MM6 Spring Summer 2021
For MM6 the Spring Summer 2021 collection is all about perspective. In a new reality in which we communicate mainly over the screen, the MM6 design team reinterprets the notion 'business on top, party on the bottom' with subversive ensembles optimized for the new 9-5. The collection is mix and match up and down, showing menswear with lingerie following the motto opposites attract. MM6 archetypes receive surprising twists through scale, surface and silhouette, chopped garments and contemporary formality. As we all, the MM6 design team focuses on the domestic, the familiar, we all had time to reacquaint ourselves with over the last months.The collective behind the collection revisits some of the house's founder Martin Margiela's best work while infusing it with the energy and feminine touch of current creative director John Galliano. The short film offered insights into the process of image creation with studio perspectives. We are able to observe staff and models closely interact with the garments in a smart, engaging, wry and super on-brand mise-en-scene.

www.maisonmargiela.com
Fashion
Versace Spring Summer 2021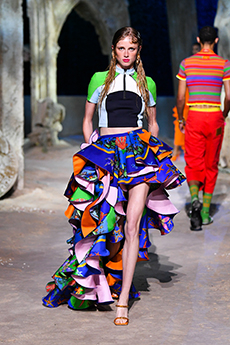 The mise-en-scene of Versace's SS21 runway, is taken from the depths of the sea. Depicting the sunken ruins of a baroque city, Corinthian pillars jut out of the floor, Versace's iconic motif presented as a head stone, amidst broken statues of Greek gods and goddesses. Illuminated by theatrical lighting and beneath these watery reflections, models appear, transforming the sea floor into a unique runway. Glittery starfish appear as brooches on garments, a nod to the marine scenery, a fun and vibrant detail from a house renowned for its use of color and sparkle. Crop tops on men and women as well as bralets, appear in neoprene a further consolidation of this underwater dwelling, allowing the theme to run cohesively through the collection in their investment in materials. Colors appear bold and kitsch, garish patterns, also featuring the motif of the starfish, are paired with blacks and navy. A carnivalesque spirit grips the show as greens, orange, pinks, reds and blues build up a real sense of celebration to the background of fast paced techno. Versace curates a party underwater, skirts and dresses featuring exquisitely dramatic ruffles, adding a sense of autonomy and motion to each of the looks. After strutting down the runway, models join the statues in the background, consecrating each look in the graveyard of classical Greek ruins. Color and sparkle joins the shadows once more for an ending of a show that captivated and enthralled, presenting an alternative vision to a summer that has been undeniably dampened by the current crisis.

www.versace.com
Fashion
Sportsmax Spring Summer 2021
Sportmax's offering for Milan Fashion Week is a masterclass in simplicity done well. Sumptuous maxi dresses in beige and black grace the runway, contrasting brilliantly against oversized blazers that are as much outwear as dresses themselves. Whilst some silhouettes hug the body, others form pleats and ruffles, adding accent and intrigue to flowing garments. To the background of a soothing strings ensemble, pops of vibrant orange bounce off more neutral creams, a rendering of spring summer which is as refined as it is quietly joyous. Boisterous boots are paired with dresses in a defiant gesture that resists traditional expectations of a summer shoe. Heels also surprise, the soles of the shoes exaggerated, adding a statement to sleek and sophisticated dresses. The music seems to gather in intensity, trance-like, as more voluminous silhouettes are added, lime greens and vibrant blues amidst more serious shades of grey. In dipping in and out of a neutral palette Sportmax creates a dynamic show, which feels meticulously balanced, an ode to a summer which has been anything but predictable.


www.sportmax.com
Fashion
FENDIFRENSIA PINK: The Sound of Fragrance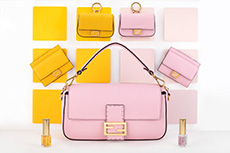 It is now almost a year since the Roman house Fendi and Maison Francis Kurkdjian have launched the FENDIFRENSIA Yellow Scented Baguette line. This project, which was born out of an artistic conversation between Silvia Venturini Fendi, Creative Director of Fendi, and Francis Kurkdjian, composer and co-founder of the eponymous perfume house. Natural materials, most noteworthy the Selleria Cuoio Romano leather, represent the tangible intersection of the world of perfumery and accessories. At this year's Milan Fashion Week, Fendi presents the second edition of this ongoing collaboration with Maison Francis Kurkdjian. After the initial yellow, FENDIFRENSIA returns in pink, with the bags in rose hues being mirrored by the matching floral scent. Fendi classics, such as the Baguette bag or the Nano Baguette shine in the pink, whilst this special occasion also marks the launch of five Yellow Men's Regular Baguette bags, with each bag coming with a 5ml bottle of the respective fragrance.

FENDIFRENSIA Yellow and Pink Scented Collection will be available online as well as in FENDI boutiques worldwide starting from September 25th.

www.fendi.com
Fashion
Big Bang Camo Yohji Yamamoto
The timeless essence of Yohji Yamamoto has been captured boldly in Hublot's new watch, Big Bang Camo Yohji Yamamoto. For 50 years the Japanese fashion designer has offered transcendent design and creative ingenuity, Hublot's response is a tribute to the designer and a strong extension of their own connoisseurship. Responding to Yamamoto's iconic use of textiles, the Big Bang Camo Yohji Yamamoto comes in camouflage, a seminal pattern, fitting of Hublot's new limited edition. Releasing 200 pieces, each watch is imbued with irresistible exclusivity adding to the aura surrounding the watches. The watches' 45 mm case is cut from matte black ceramic, indicative of true sophistication and elegance A Sapphire dial features add exquisite detail to the watch, biomorphic patches a nod to Yamamoto's camouflage motif, his signature also subtly featuring at 6 o'clock. Hublot once again proves itself as a pioneering force in its industry, using brand new technology to create its new watch. Its constituent shapes fused together using the vulcanisation process, its straps exhibiting beautifully the beauty of this newly discovered process. Hublot's Big Bang Camo Yohji Yamamoto is a powerful ode to its namesake, an object of creative defiance.

www.hublot.com
Fashion
Brunello Cucinelli Spring Summer 2021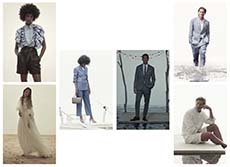 Brunello Cucinelli seeks inspiration from the humble pleasures of life for their SS21 Men's collection. The simple unadulterated joys of our day to day, the renewed sense of happiness that comes with the most delicate of moments is captured deftly by the brand. With this in mind, unique and distinctive elements construct the new collection, minimalism allowing for thoughtful reflections on casual elegance. This sense of effortlessness translates to the lightness of the fabrics too, where fine blends of natural fibers find new ways to articulate and shape shirts, t-shirts, polos and trousers. Beiges, greys and blues present a muted summer palette warm in its attention to summer hues, this sentiment translates across to the women's collection. Here sage and moss greens denote a calming serenity against tones of pink, light blue and sun bleached limes tones, monochrome looks also feature blacks and charcoals. Similar to the sense of return felt in the men's collection, the womenswear collection returns to nature and wellbeing. Calm, gracefulness and flow run through the looks, creating a fluid path that looks beyond the presentation to the world at large inspiring a welcomed sense of peace.

www.brunellocucinelli.com




Fashion
Three Stripes
Sportswear meets luxury-wear as Prada and adidas Originals come together to produce their second drop of the Prada Superstar. The iconic Superstar which has been heralded as a timeless classic, since its creation in 1969, is reimagined with the utmost respect in this collaboration. Prada retains a sense of true classicism, offering 3 minimalist color ways: monochrome black, white with black and chrome silver with white. This collaboration not only recognizes Prada's affinity with sports but also its admiration of heritage, a key aspect of its own brand. The unisex design is translated into full-grain leather, a perfect blending of luxury high quality with sporting excellence. Paying homage to its origins, "Made in Italy" is heat stamped into the trainer's side, accompanying the dual logos of Prada and Adidas Originals; all three markers of high quality design and craftsmanship. The fundamental character of the Superstar is kept intact, Prada's influence bringing a new twist on the loved classic. The campaign is an ode to the craftsmanship that went into creating the trainer, reimagining the factory line through a distorted scale to create a futuristic and illusory aesthetic.

www,prada.com
www.adidas.com

Fashion
Coach: We Are family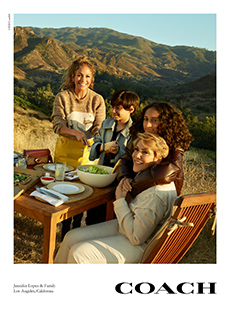 Coach launches its global advertising campaign, "Coach Family", for the House's Fall 2020 collection. Strengthened by stories of community, bonds of togetherness and enduring love in the face of adversity, Coach seeks its inspiration from our turbulent present and its test of the most important relationships we have in our life. The campaign features ambassadors of the brand Kiko Mizhura and Jeremy Lin alongside longstanding Coach face Jennifer Lopez and other individuals regarded as the House's extended family. Channelling the wholesome essence of family life, the campaign recalls home videos in its aesthetic of archive footage interspersed with unfiltered stills, optimism and inclusivity resonating throughout. New portraits will be released over the course of the season, creating a campaign that feels spontaneous in its reveal of new and established Coach faces. Creative director Stuart Vevers uses our current time to "re-examine our values" forming a campaign around the heart of the family.

www.coach.com
Art
The Tigress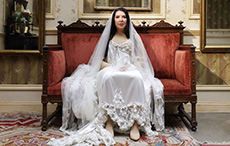 Marina Abramovic realizes her lifelong study of Maria Callas, as a profound and stimulating world premiere, together with influential composer Marko Nikodijevic. Maria Callas also known as "The Tigress" was an American soprano of Greek heritage, born in the '20s in Manhattan. The singer captivated Abramovic's imagination, inspiring her to create an opera project with Callas at its centre. 7 Deaths of Maria Callas, references some of Callas' most famous scenes, Carmen, Tosca, Otello, Lucia di Lammermoor, Norma, Madame Butterfly and La traviata, reimagined with striking intensity by Abramovic. The tragic fates of Callas in the aforementioned performances are integrated fascinatingly with the singer's real life character, moments from her personal life and also from her space in the limelight. Abramovic's role is all encompassing, directing, stage designer and also appearing on stage in the second part of the evening's performance, showcasing the multifaceted talent of an artist who is perhaps one of the most influential creatives of her time. The opera scenes are sung by a range of singers, namely Selene Zanetti, Adela Zaharia and Hera Hyesang Park, revitalized by Marko Nikodijevi?'s compositions. Abramovic's obsession with the singer is longstanding, "for twenty five years, I have wanted to make a work dedicated to the life and art of Maria Callas". Abramovic delivers a visual spectacle on stage, her passion for the life and career of Callas at its epicentre.

www.staatsoper.de
Fashion
Gold for the Win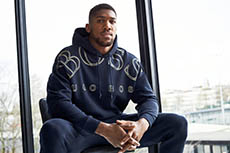 As part of the FW20 collection, BOSS unveils an exclusive capsule collection in partnership with British heavyweight boxer Anthony Joshua. Presenting 10 easy-wear pieces, t-shirts, sweatshirts, jersey pants, knits and a hooded jacket, BOSS develops a sleek capsule in midnight navy with highlights of gold. The bold BOSS logo is captured in gold in each garment, a nod to the pedigree of Anthony Joshua and his winning mentality. Known for his motivational words and mottos, each piece includes quotes from the boxer: "Never let success get to your head, or failure to your heart". These quotes also feature in the campaign film, where Joshuah is filmed uttering these sentences in a London location earlier this year. Sports royalty and fashion lux unite for this very special and personal collaboration, where strength and courage translate boldly to an easy wear collection.

www.hugoboss.com
Fashion
Let's Dance
Let's Dance "THE FENDI POWER" campaign is enlivened by the unadulterated freedom of self-expression, featuring model Alton Mason and his iconic Peekaboo bag. An alternative to past FENDI rooftop performances, the film is shot on the Museum Garage's rooftop in Miami, the unbounded energy of Mason converting the space into a stage. Alton's passion for dance produces a dynamic and energetic display which complements that of Chinese creative talent, Mia Kong also featured. The FENDI Pre-fall 2020 collection is an effortless blend between formalwear and laidback leisurewear, extending FENDI'S rich Italian heritage out to the world, embracing everything from graffiti to music in its high energy campaign.

www.fendi.com
Fashion
No Place Like Home
Lois journeys home in its new retail concept CASA LOIS, a true embodiment of the tranquility of rural Spain. Started in Valencia, Lois' dream of going international was realized when it established itself in Amsterdam. However despite this duality becoming a critical part of a contemporary Lois, its Spanish roots and Mediterranean aesthetic still remain formative to the brand's identity. At a time where the home has never been more important or gratefully acknowledged, Lois channels domestic comfort in its new approach to the retail experience. Customers are redefined as guests and Lois becomes host of its idyllic Finca, a traditional Spanish house in the countryside. Natural materials, organic shapes and earthy tones curate a charmingly authentic setting, treating retail as an immersive and cultural experience. Lois Galería boasts a wonderful interior, entirely custom-made, where built in seats and a strong sense of Spanish heritage transports their customer into sunny Spain. Lois Galería is at Gerard Doustraat 74, Amsterdam.

www.loisjeanstore.com

Fashion
Inspiring Italy
Staying true to its founder's vision of "giving back", Zegna now more than ever understands the importance of its scholarship program. In a world that has been blighted by economic uncertainty Zegna provides a beacon of light. For the 7th edition of Ermenegildo Zegna Founder's scholarship program, 42 students from 15 Italian universities will be awarded scholarships, supporting emergent talent to engage in education and experience that will help enrich Italy's future. Committing to €25 million over 25 years, this donation aims to provide financial support to Italian students and researchers looking to learn and seek connections abroad. In keeping with past years, this year's awardees have selected leading academic institutions across Europe and North America, including Oxford, Cambridge, University College London, Columbia, Harvard and NYU. The Digital Get-Together format used to bring awardees together this year speaks to the resilience of a community able to overcome anything.

www.zegna.com

Fashion
FENDI Fall Winter 2020-2021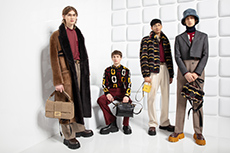 Silvia Venturini Fendi produces a surprising and inventive collection for Fall Winter 2020-2021, deceptive in its one of a kind FENDI craftsmanship. Concealed pockets and reversible outerwear curate a wardrobe that is both intriguing and mystifying in its disruption of traditional garment wear. Retro-futurist undertones navigate a sea of melton wool, heavy twill, flannel, flocked denim and corduroy suede. Illusion underlines this collection, the application of trompe l'oeil fabrics and extraordinary proportions bringing a new perspective to a familiar take on utility wear. This collection unabashedly celebrates the House, with FENDI Roma taped seams, the FF logo as a chain link animalia pattern and of course the iconic Fendi yellow which runs so defiantly through the entire collection.
Also situated within the collection is the collaboration between Silvia Venturini Fendi with Japanese designer Anrealage. Birthing a selection of photochromic outerwear and accessories, four FENDI Men's silhouettes represent the first photochromic Menswear on a European runway and include four light-sensitive transformations across sports-inspired outerwear, mittens, inside-out tailoring, bags and accessories. When exposed to UV sunlight a white tiger quilting shines a FENDI yellow and a white diamond quilting reveals a new FENDI Code in black. Fendi creates a Men's collection that is pioneering, in its embrace of the future as well as the past.

www.fendi.com
Fashion
Prada Timecapsule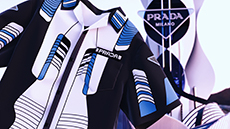 Prada's initiative, Timecapsule, is an exclusive drop where 50 items are released on the first Thursday of each month. As part of this bold launching strategy, Prada is proud to announce an exciting new drop on August 6 at 3pm CET for 24 hours only. Presenting a new unisex cotton popeline shirt, whose print's motif includes a specific limited edition number 1/50, 2/50… Prada serves us retro sporting vibes in an eye catching graphic print of black, light blue and white. Biking culture, tour de france and '60s bowling culture collide, invigorating this new drop with a sense of sporting pride. Mother of pearl buttons grace this boxy silhouette with a succinctly Prada elegance, revealing a touch of luxury amongst its sporting aesthetic. Enabled by the new Prada e-commerce platform, this new section is now available solely in Europe, reaching other markets over the course of 2020 following the new prada.com layout-relaunching calendar. The Prada Timecapsule drop will be available on August 6th at 3pm CET.

www.prada.com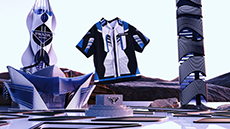 Fashion
Louis Vuitton Fall Winter 2020
There's a fluidity and harmony to the Autumn-Winter 2020 campaign, demonstrative of one man's vision from conception to finish. A freedom and honesty guide Nicholas Ghesquière, Artistic Director of Women's Collections, achieving a distinctive sense of individuality which reminds us of the sheer joy in getting dressed up and expressing oneself through fashion.
We feel as though we too have been invited along to Ghesquière's photography studio on the Quai Voltaire, alongside his host of impressive friends and kindred spirits, composed of models, artists and athletes alike.
There is an intimacy to the shoot that heightens our familiarity and adoration of Louis Vuitton's iconic pieces, the Capucines, the Twist, the Pont 9 and the Dauphine all appearing as old friends next to a hoard of celebrities, who in their current successes we feel just as, if not more connected to.
Ghesquière himself notes his desire to "follow through to the end of the creative process and give the collection its final punctuation" and it is this personal flair that is so tangible in the collection, giving it a contemporary freshness that feels such an intrinsic part of the director and photographer's vocabulary. Incorporated into the campaign is the new line, SINCE 1854, another opportunity to marvel at the talent possessed by Ghesquière, who was also the mastermind behind the new jacquard celebrating the house's establishment in 1854.

The campaign will be unveiled in September 2020 publications worldwide.

www.louisvuitton.com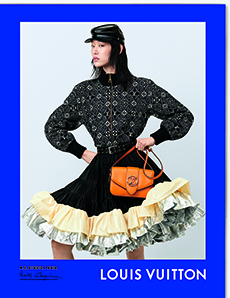 Fashion
The Future is Female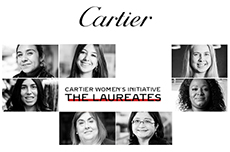 Established in 2006, Cartier's Women's Initiative was set up. Its mission, 'Driving change by empowering women impact entrepreneurs'. Acknowledging the repercussions of systemic gender inequality, Cartier has used its influence and platform to produce an annual international entrepreneurship programme, targeted specifically at women-run businesses.

Open to international applicants working across any sector, Cartier is dedicated in its commitment to sustainability, only accepting submissions that promise a strong and sustainable social or environmental impact.

With its deadline set for the 31st July, the initiative has launched a new award to sit alongside its longstanding seven regional awards. The exciting new launch of the Science & Technology Pioneer Award for its 2021 edition, is yet another step for the initiative, branching out into new terrain and providing more talent with the support and industry intel to bring their businesses to the next level.

Pictured below two of the seven 2020 laureates, Adriana luna (Mexico)and Anna-Sophie Hartvigsen (Denmark) 

www.cartierwomensinitiative.com



Fashion
Ermenegildo Zegna Summer 2021
2020 marks the 110th anniversary for Italian house Ermenegildo Zegna. Having started as a textile mill, the brand later encompassed clothing manufacturing laying the groundwork for the modern house we know and cherish today. On a big anniversary like Ermenegildo Zegna's, it is not uncommon to look back, to reassess and to refocus on the core values. For Zegna, this means its connection since its foundation with nature, not just as source of raw materials, but as diverse and precious commodity overflowing with inspiration. The sense of fluidity paired with an immense precision that pervades the collection hints at the underlying inspiration: nature, the immense precision of modern machinery and what links both of them, humans. Throughout the collection, Alessandro Sartori continues his investigation into new sartorial hybrids, which define his vision for the Italian house. Pieces, like outerwear are produced in unusual fabrics, freeing the wearer and the pieces themselves from old conventions. With a sense of ease and nonchalant, this collection allows an unprecedented freedom of combination and interpretation alike. As the Artistic Director puts it himself, 'Without man, everything would be soulless. This project reflects this union of sensibilities, which is also a balance of past and future, of inside and outside, in a cohesive yet multifaceted opus.'

www.zegna.com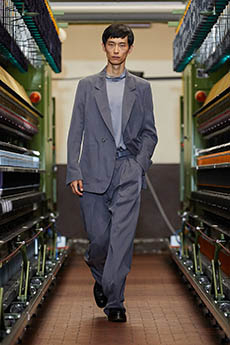 Fashion
Moose Knuckles Gives a F*ck One of a Kind Jackets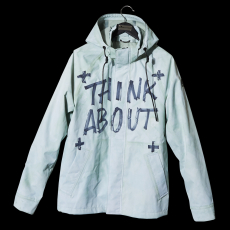 Moose Knuckles has emerged as a humanitarian power house during the current pandemic. From donating online profits to producing PPE for hospital staff, they have been a shining example of what social responsibility looks like for an international fashion brand.

As part of this effort Moose Knuckles has come up with a new fundraising initiative, "Moose Knuckles Gives a F*ck One of a Kind Jackets", to generate profits for a selection of international hospitals. Renowned for its high quality outerwear, fittingly, the brand has centred its new project around its Lead Rider jacket. Treating its seasonally designed raincoat as a blank canvas, Moose Knuckles is collaborating with creatives across the world, granting each artist full creative reign to customise the piece of clothing as they see fit. Their only guideline, to inspire "positivity in the face of the pandemic."

Beginning with NYC, Moose Knuckles have sold out of their first collection of one-of-a-kind pieces and are now endeavouring to do the same with a carefully selected group of artists from Paris and Milan. Using The YARD Agency for their Paris outreach and Acapulco for Milan, they have sourced the best local talent and will be replicating this process in California and Canada imminently.

"Knuckles is a family, a community, a tribe" and never has their motto been more visible than in their recent drive to help support the global community that has elevated them to the internationally respected brand they are today.

www.mooseknucklescanada.com
Fashion
Louis Vuitton Men's Spring Summer 2021
Louis Vuitton Men's Creative director Virgil Abloh dove into boyhood since his very first collection, while exploring the Maison's signature theme: travel. For Men's Spring Summer 2021 Abloh created a short film with the use of animation, to serve as the first chapter of a story unfolding in the following months to gradually unveil the collection. Starting from Vuitton ancestral home in Asnières, it follow the adventures of a group of friends – going by the name of "Zoooom with friends" – hiding in Vuitton's shipping containers, traveling along the river Seine. As they cross Paris leaving for Shanghai, they resurface to enjoy the city of lights one last time, playing music and dancing. On 6 August 2020, after crossing the oceans, the shipment will arrive in Shanghai and the runway show will fully unfold. No longer animated, 'Zoooom with friends' will come to life. Throughout its voyage the collection will transform in an evolving exchange across cultures and nations, unveiling its up-cycling nature: new looks made from recycled material, looks repeated from the Fall-Winter 2020 collection, looks freely created by the studio during the lockdown using recycled material, and new looks created from existing ideas. Transcending the traditional rules of fashion and seasonality.


Fashion
Furla Metropolis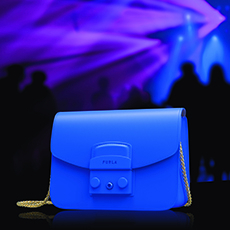 In keeping with their distinct Italian heritage, Furla proves itself to be a brand that while staying true to its essence, still knows how to redefine and build on a classic. The label's iconic Metropolis bag is back in a new guise yet still manages to respect and pay homage to its heritage style that has always been its greatest attribute. This renewed and updated line welcomes new volumes, re-designed silhouettes all available in a selection of bright colors like electric blue, energetic ruby or vibrant orange.
The designs are also available in more understated, neutral tones of black and white to match any ensemble. This cross-body bag is now reimagined as a new cute phonecase or small, rounded clutch handbag is now on its way to becoming the emblem of the iconic brand, founded over 90 years ago in Bologna.
Standing for quality, colorful creativity, joyfulness and of course a contemporary Italian lifestyle, Furla continues honoring its own righteous code of conduct in the world of fashion and accessories.

www.furla.com
Fashion
Wander and Dream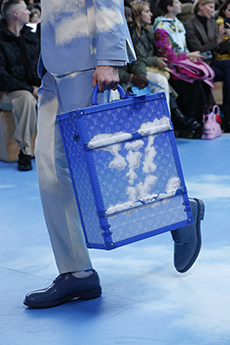 When Virgil Abloh presented his FW20 menswear collection back in January, guests were surprised first by the heavenly, cloud-covered decor and theme, and second by the designer's drastic shift from streetwear to a more classical and refined aesthetic. The latent star of the show for many were the dreamy accessories, a prime favorite being the Backpack Trunk, an ideal addition to the celestial aesthetic. Available in Monogram cloud or mirror, the trunk is the latest addition to Louis Vuitton's travel collection. Wooden slats adorn the trunks' lids, while original leather trimmings in blue or white calfskin enclose the exteriors. The interior of the trunk reveals discrete compartments and iconic cotton straps complete with an "LV" cloud for the Monogram Mirror variation. Combining innovation and tradition, these luggage containers are crafted in Asnières, Louis Vuitton's first workshop in France. In homage to the maison's passion for travel, the monogram mirror backpack trunk includes a complimentary two-person tent in the iconic monogram print. Pushing the boundary of a travel trunk's utility and portability, Virgil Abloh presents a refined yet modern take on men's accessories.

www.louisvuitton.com
Fashion
Woolly eyes
It is no surprise to us that Chanel's Fall eyewear collection is inspired by the brand's emblematic fabric — tweed. Now reinterpreted as a metallic weave or engraved on titanium, the collection is signed with the tweed motif displaying a play between feminine and masculine lines, between strength and fragility. For the iconic fabric to be so well translated onto eyewear is a mystery, but no surprise for the iconic maison. Just as it works for a Chanel suit, tweed also works just as well in accessories, working for every innovation. For the first time the metal structure that holds each temple melts into a weave of metallic threads, positioned between two acetate plaques, breathing a spirit of sophistication into the design. Tweed metal inserts highlight the angles of the cat eye styles in black, brown, green or tortoiseshell acetate. To round off the collection, a design inspired by the Fall-Winter 2020/21 Ready-to-Wear runway show shows volumes exaggerated in relief, with a lightweight nylon frame, these butterfly glasses adopt a sporty chic allure ideal for any season.

www.chanel.com
Fashion
Intimate Ornaments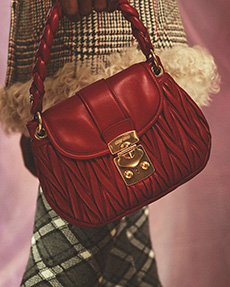 Each luxury brand has a trademark bag synonymous with the label itself, Louis Vuitton, Fendi and Hermes are all easily identified by their most popular bags that set them apart from the rest. When dealing with accessories in the luxury price range, it transcends beyond simple accessorizing and becomes something as covetable as a sculpture or painting, it becomes living art. Miu Miu's iconic coffer bag first arrived on shelves nearly fifteen years ago and was regarded as one of the maison's most iconic handbags. The original design hit all the right notes: a braided top handle, a matelassé leather body, two snap button pockets finished with precise hardware detailing. Released with the pre-fall collection, a new, long-awaited version with some modern variations. From the flash of the 00's to the more understated style of the 20's, the new form is refined, sculpted yet equally iconic. Combining sophisticated craftsmanship with innovation to create the highly distinctive leather that represents the marriage of form and function, personality and practicality. The unique artisanal finish of the Matelassé leather is rivalled only by the malleability of the skin that stretches. Nestling close to the body, the plump surface is as comfortable as it is aesthetically pleasing.

www.miumiu.com
Fashion
Berluti Buggy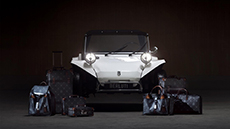 In an elegant and fun filled tribute to the beachy culture of 1960's California, Berluti has launched a brand new design object for this summer, the Buggy. Inspired by the recent Globe-Trotter luggage collaboration and the brand's signature printed canvas designed by Kris Van Assche, Berluti's new beach buggy reflects many of the brand's signature design elements including the leather interior alongside the emblematic Berluti logo, a canvas top in signature print and the B logo on the bonnet. The original Buggy was developed by Bruce F. Meyers in Newport Beach in 1964 for the purpose of roaming the dune landscape in search of a perfect surf spot. A rollover protection structure doubles as a surfboard stand, making it ideal for those looking to take it off-road in search of the best waves. Just like back then, today's buggy is based on a VW Beetle frame and engine and is available by special order. The stately body does not distract from the clear homage to the laid-back lifestyle of 1960's California.

www.berluti.com
Fashion
Celebrating Power
A woman who has leaped far further than ever expected, Rihanna started the 2000s as a fledgling popstar, and now walks into the new decade as a highly successful creative entrepreneur, having integrated inclusion and freedom into the world of luxury fashion. The lady herself has become more than just a brand, but a persona – an ethos. To some, Rihanna is a complete belief system – a way of life – and that way of life is Fenty. The brand's first Ready-to-Wear release of the decade, 2-20, is all about bringing opulence and attitude to the everyday. Rihanna has become a symbol for diversity, with her countless renegade interactions with the media, preaching body positivity, and a general devil-may-care attitude. The new line is pleasing to the eye, and will indeed appeal to the masses. But as with everything the artist does, it is also rich with emblems of empowerment, managing to represent far more than good looks. Fenty's trench-inspired parka plays on symbols of power, appealing to aspects of utility to put a fresh spin on a vintage design. The collection exudes femininity, freedom, and sexuality, each element playfully balanced and contrasted.
The utilitarian corset dress brings a new meaning to female power by blending the notorious shapewear garment with the desires of the modern woman: sensuality collides with comfort and elegance. The fusion of these aspects with function, together with the flavor of streetwear, plays out through a palette of lemon yellow and burnt paprika hues. The mix of materials and styles pencils an effortless image, commensurate with the complexities of being a woman. Every aspect of the brand celebrates the female spirit and its negotiation of contradictions, from the structure of silhouette itself to the representation of models, casting with an authentic appreciation of inclusion. With Fenty, we find freedom through comfort and utility – this latest drop a deeper dive into what it means to be a woman today: rich with self-awareness, dimensional and knowing.

www.fenty.com
Fashion
From Milan with Love
The new FW20 collection of the independent Milan-based design concept Jing Yu proposes new silhouettes with a contemporary classicism. Redefining traditional clothing as current and refreshing creations, Jing Yu's latest collection is influenced by the photography of British surrealist painter Paul Nash's Informal Beauty. Nash's quiet intensity prospered an experimental vision that translates to Jing Yu's contemporary interpretation. Clean-cut with attention to detail and made from the finest materials, Jing Yu plays with formality, deconstructs it, and steers it into a new direction. Wawa, Co-Founder of Jing Yu, explains the vision: "Our original idea [was] to explore our understanding of life in a new form and perspective with dialectic analysis to the philosophical eclecticism in [the] design and art field. In a way, it is more like an art project rather than a fashion label, and a dialogue and philosophical discussion between us and audience."

www.jingyu.eu
Fashion
Monochrome Royalty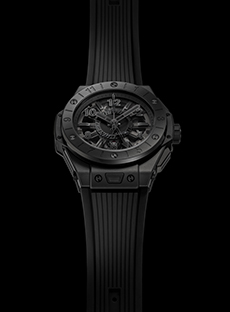 Japanese designer Yohji Yamamoto is renowned worldwide for his dark, punk and japanese inspired clothing that has been victorious in the fashion world since his 1981 debut at Paris Fashion Week. The general vibe of Yamamoto's work is one of deconstruction, whether in form or in idea, his clothing presents an antithesis of traditional Western dressmaking using harsh and impactful silhouettes with a monochromatic color scheme.
This crowned king of moncohrome represents his design values across any medium, and it seems only logical that his design for swiss watch brand Hublot is entitled 'Big Bang GMT All Black Yohji Yamamoto', made to celebrate the grand opening of its new flagship Boutique on Chuo-dori Street in Ginza, Tokyo. When Hublot launched a pioneering concept: "Invisible visibility", in 2006, the all-black design of this new limited edition expressed a philosophy symbolising the very essence of the brand which now seems to compliment Yohji Yamamoto's own design character. The timepiece displays two different time zones, local time is read easily via the conventional main hand while the time at home is indicated using a second arrow-shaped hour hand. True to the All Black concept, tone on tone, the signature of Yohji Yamamoto can be discovered at six o'clock.
"This watch can easily display the time zones of the two cities where I'm based, Tokyo and Paris. Moreover, the hours are invisible. As a person who isn't always forthcoming, I find that highly amusing." reflects Yohji Yamamoto.  

www.hublot.com
Fashion
Comfortable Classics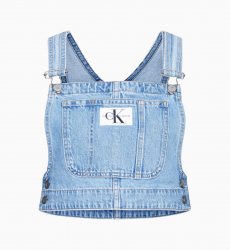 Known for its classic and reliable products, Calvin Klein Jeans almost always hits the mark when it comes to giving the customers what they want. After months of isolation and quarantine, people, as is to be expected, are soothing their invisible wounds with a nice salve of retail therapy. As we prepare for a summer like no other, we are rethinking our habits and adjusting ourselves accordingly. The current situation has, if anything, given us a new lease of life, and a refreshed outlook on our impact on the collective world. Now it seems that sustainability and minimalism are again on-trend and Calvin Klein Jeans reflects that with a new collection of basic summer-wear with innovations on denim and sustainable style. Hoping to leave a message of positivity, the aspiration of this selection is to inspire positive change. Known for their unique details, design and material innovation, excellent fit and function this range of comfortable clothing ticks all the boxes. Vintage washes and cropped denim are reminiscent of 90s style, reminding us of a simpler time. Seasonal prints and minimal accessories further the ranges spirit of youth and style.

www.calvinkleinjeans.com
Fashion
Nine Colors, Nine Eyes and Nine Hearts
In these times of uncertainty, isolation and worry we search for something to take our mind from the harsh realities and transport us to another place, even if only for a moment. Is it not the job of the artist to bring our attention to something else, to make us think in a new way? Louis Vuitton commissioned artist LuckyLeftHand to decorate the façade of its Paris headquarters during the current lockdown. The fresco covers 280m2 and is made up of 14 colourful, sleek and playful paintings in the artist's minimalist, condensed style. Taking inspiration from 1960s and 70s aesthetics the artist aims to transport passerby-ers to the landscapes of Hossegor. "I wanted to create this wall painting to offer Parisians a colourful stroll past the 14 windows, evoking a summer holiday while still representing the temporary period we are going through. The hands placed a metre and a half apart is a nod to what we're currently experiencing. I hope this wall painting's bright, saturated colours and rainbows made of big, curved lines will bring the positive energy we all need right now," said the artist in a statement.

www.louisvuitton.com
Fashion
#MiuMe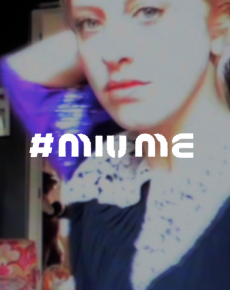 Among the many social media campaigns that have been announced in recent weeks is Miu Miu's #MiuMe campaign. The initiative invites a diverse cross-section of people from around the world to use their mobile phones to film themselves going through their wardrobes, wearing pieces by Miu Miu. Notable figures from the realms of sport, art, dance and fashion, as well as Miu Miu fans are free to present themselves in any manner, elevating the selfie to a statement about identity. From the participants' homes around the world, these FaceTime moving-image self portraits will be collated and curated for the first stage of the brand's ongoing project that stands to produce bundles of noteworthy content.

www.miumiu.com
Fashion
Bottega Veneta: Charitable Aspects
Since the spread of COVID-19, there has been a deluge of donations being piped into health services and scientific research as people bound together in an effort to ease the ongoing pandemic. Among those is Italian brand Bottega Venta, who have announced their support for scientific research in Italy following the spread of Coronavirus. Funding for two-year scholarships across Veneto, Lazio and Campania they will contribute to research and the support of Italian medical staff, from the current pandemic and beyond. "We recognise that supporting the medical professionals who are saving the lives of others must be our priority during this time, which includes those working tirelessly to tackle the devastating impact of Covid-19 and its enduring effects, through scientific research." Daniel Lee, Bottega Veneta.

www.bottegaveneta.com
Fashion
Gute Luft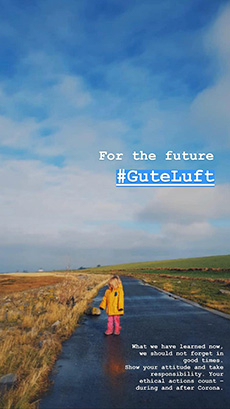 Through this collective experience, we have come to a point that has caused us to stop, and reevaluate our lives and the way we live them. The lack of unnecessary movement and human activity has resulted in lowering of emissions and even some signs of nature 'healing' itself. In the wake of this, people are reexamining their values and rethinking our consumerist nature and asking what the future will be like post-pandemic?

'Gute Luft' is a campaign to playfully draw attention to these thoughts and raise awareness for how negligent society has treated nature, resources, animals and people. Through this, THINK INC. hopes to steer people towards a new, more ethical future. It encourages people to share their Gute Luft moment along with the text, 'What we have learned now, we should not forget in good times. Show your attitude and take responsibility. Your ethical actions count - during and after corona', in a hope to spread a hopeful message.
Fashion
Bottega Veneta Pre-Fall 2020
The Pouch bag, iconically associated with Bottega Veneta, is a perfect example of Italian craftsmanship and excellently formulated leather. For Pre Fall 2020 the recognized clutch is further evolved and presented alongside a slew of bold accessories. Elevated with a flat square silhouette and cascading leather fringe, the handbag can be folded over itself or worn over the shoulder with an adjustable strap. With Nappa being a major player in the new pre-fall selection, the Italian label presents the BV bold shoe, the Chain Cassette and the Chain Tote to match all in soft, full grain leather. "Straight-forward. Bold and confident. Subtlety elevated. Pre Fall 2020 celebrates Bottega's heritage made relevant for today", Daniel Lee.

www.bottegaveneta.com
Fashion
Brands Giving Back: Prada
On top of donating funds and manufacturing masks and hospital gowns, Prada has announced its support for a new research project, Proteggimi. Financially supporting research with San Raffaele Hospital in Milan, the project will seek to explain the disparity in the impact of COVID-19 on men and women and to assemble data, broken down by sex.

Prof. Salonia, director of the San Raffaele Urological Research Institute and a lecturer at Vita-Salute San Raffaele University, explained, "if we are to understand whether testosterone levels are linked to the severity of the illness, and to assess any long-term impacts on the overall health of men who have recovered from the virus. We hope this research will produce its first results in the next few weeks."

www.pradagroup.com
Fashion
Woolrich Summer Jackets
As the weather starts to improve and our spirits along with it, we start to dream of places to go and people to see and above all, we dream of the outfits we will wear on such occasions. Although the weather is as unpredictable as, say, life itself, Woolrich's SS20 collection boasts a colorful selection of durable garments ideal for mixing, matching and layering suitable for a range of climates. The sophisticated Peony Coat in Extra Light Ripstop is not only water repellent but also wind resistant – perfect for a casual commute. The use of micro and macro checks add an element of playfulness and much-needed variety to the collection. While the clever use of color-blocking boasts a vibrant personality and feminine touch. Summer models are available in many color variations such as red, green or the iconic pink check pattern, all perfectly suited for those long evening-stretches. The combination of playful color, durability and functional design employs the outerwear brands mantra: Woolrich Keeps you Warm, Dry and Protected.

www.woolrich.com
Fashion
Dior's Delectable Books
Originally we looked to literature for faith or education but today we look to books for all kinds of reasons. In these extra long days spent in our homes we find ourselves on the hunt for some sort of escape to ease our anxieties and allow us even for a moment to forget about all that is going on in the world outside. Whether it's to escape, to dream or to better ourselves books are a wonderful medium that allows the realms of art, imagination and reality to collide. So, it makes perfect sense for Dior to bring us a selection of ten books to take you on a timeless journey celebrating the magic of couture.

Featuring a selection of ten luxurious livres the books showcase the maison's history and explores the spellbinding secrets of the iconic brand. Escape to 20th century Paris with the personal story of Monsieur Dior by delving into Dior by Dior or discover the vibrant, captivating work of Peter Lindbergh in Dior Images. Let yourself be carried away by the magic of the Maison's heritage, brought into focus by the greatest fashion photographers thanks to a wealth of reading material to inspire and lead you behind the scenes to a world of elegance and beauty, in the comfort of your home.

www.dior.com
Fashion
The passing of Leïla Menchari
We were devastated to hear of the passing of Leïla Menchari, longtime Hermes window-dresser, christened 'The Queen of Enchantment' by Michel Tournier. Born in 1927, Menchari was the first woman admitted to the Beaux arts school of fine arts in Tunisia, where she grew up. After studying at the Beaux-Arts school in Paris, she began her career in Hermès in 1961 as part of Anne Beaumel's decoration team. Soon promoted to director of window displays Leïla also designed gloves, bags and clothing. An outstanding dreamer and storyteller, Menchari is well regarded for her work transforming the windows of the Hermès store to become glimpses into another, more luxurious and wonderful world. Passers-by would be gifted with a peek into a scene that even in a moment would always arouse curiosity, surprise and amazement. Her windows became so well-known that in 2017 they held an exhibition devoted to Menchari's work in the Grand Palais in Paris, "Hermès Takes Flight: The Worlds of Leïla Menchari."

We remember her as being the person who took window dressing and turned it into an art form, collaborating with artists and creating an always imaginative concept whilst bringing her own personal touch to everything she did. "Thanks to Leïla, exoticism found a home, happily and permanently, in Rue du Faubourg Saint-Honoré" says Axel Dumas, chief executive officer of Hermès.

www.hermes.com
Fashion
Dior Maison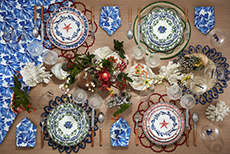 In 1947, Christian Dior opened a boutique called "Colifichets", at the same time as his better-known couture house at 30 Avenue Montaigne. A quick success, the boutique expanded soon presenting an array of home accessories. Consistently developing alongside fashion and beauty creations, the boutique collaborated with the likes of Maria Pergay and Gabriella Crespi to create original pieces. Revisiting the plant-filled atmosphere of the SS20 ready-to-wear show from Maria Grazia Chiuri, the Dior Gardens line, designed by Cordelia de Castellane, features new pieces that elevate table settings. The delicate motifs that adorn the different looks unfold with grace and refinement across earthenware plates. A highlight of Dior Maison's is the Copacabana collection. Seaweed motifs adorn plates while vases and decorative glass balls transform into precious aquariums populated with fish and coral. In these extended hours spent at home, Dior invites you to bring a touch of magic into your home and add a little extra comfort to the simple pleasures of everyday life. As Christian Dior himself wrote, "Living in a house which doesn't reflect who you are is a bit like wearing someone else's clothes."

www.dior.com
Fashion
Hermès 'C'est la fête'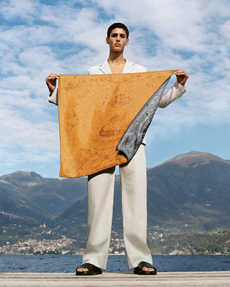 Founded in 1837, Hermès began as a bridle and harness company before making the switch to luxury handbags, a decision which led the company to become one of the most successful and iconic brands in the world. Apart from the Birkin bag, Hermès silk scarves have become the most coveted item in the maison's repertoire, having been quickly adopted by the likes of Grace Kelly and Audrey Hepburn. Now, the famed accessory takes off on a new adventure, that of double-sided printing. Designed by the illustrator Daisuke Nomura, the scarf features two versions of the same design, one on each side. Titled 'C'est la fête', the scarf offers two finishes, one classic and the other in outline. Soft and supple, the carré has been specially developed for contemporary menswear. Ideal for the contemporary man, 'C'est la fête features a two-in-one design to match alternate moods and styles. One of the most meticulously-crafted accessories in the world, the double-sided carré denotes classical influences and modern techniques.

www.hermes.com
Fashion
H for Herno
Despite fashion being one of the most competitive and fast-moving industries in the world where trends come and go in the blink of an eye, monograms always seem to withstand the test of time. One thinks of Louis Vuitton, Guess or Burberry and their iconic lettering that have transcended time to become symbols of fashion excellence. Now, as the 'F' for Fendi or the 'G' for Guess, Herno has 'H', tagging onto the never-ending trend with their S/S20 collection. Inspired by the fashion and styling of the 1950's, Herno brings the monogram to the here and now with a modern twist. Classic and oversize trenches, raincoats, bombers and parkas are either entirely monogrammed or feature simple details placed on discrete areas. A stylish note that aims to lead a narrative that tells a story of Italian know-how and excellence. Monogrammed areas include the back of the collar, on the belt, on tabs or on the inner thermo tapings. Rooted firmly in the past, Herno believes that a brand's success is kept by remembering their origins yet one must always search for new reimaginings and repurposings in spite of the future.

www.herno.it
Fashion
Acqua di Parma Home Collection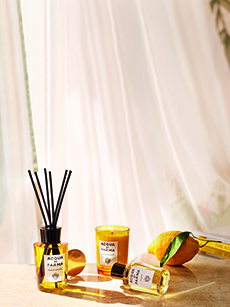 Through our senses we can be transported through time and space to a moment of the past. A pleasant memory or a moment of happiness brought to the fore with the taste, touch or smell of something reminiscent. There are certain sensations so powerful that for a moment, we can feel as though we are somewhere else. Indeed staying home is the best thing for us right now, but transporting oneself does not have to be physical. Acqua di Parma's new home collection is designed for life's every moment, to allow you to create the ideal space from the comfort of your own home. A collection of candles and diffusers full of stimulating compositions based on typical moments of Italian living. With Spring finally stepping in, transport yourself with the fine fragrances of the Italian brands candles and diffusers. Luce di Colonia, Buongiorno, La Casa sul Lago, Caffè in Piazza, Oh, L'amore, and now two new Acqua di Parma creations: Aperitivo in Terrazza and Profumi dell'Orto. Create a sensuous ambiance as refined aromas such as tomato leaves, verbena and a lively spicy scent of pepper spread through your home.

www.acquadiparma.com
Fashion
Service à Café en Marbre
Our morning routine becomes leaps and bounds more luxurious when we use a vessel that not only enhances the aesthetic but is forged by a brand name that by its very essence screams opulence. Back in October 2019, YSL's Anthony Vaccarello launched his reimagined retail concept, the new Saint Laurent Rive Droite. A creative space with a selection of highly curated objects. Now with products available online, the creative retail space is designed with a youthful and revolutionary vision synonymous with the French Maison since the original Saint Laurent Rive Gauche boutique, opened in 1966. Featuring an abundance of items from sportsgear to decorative homewares to aesthetically pleasing paper-clips the store has grown to be a collection of stylish gadgets that appeal to all ages. Hand-cut from fine marble, this decorative coffee service consists of two saucers and two cups with an elegant, heart-shape that exudes a luxurious sensibility. Available in black and white the marble coffee service acts both as a decorative piece to be seen and not touched or it could become our new, albeit decadent morning ritual.

www.ysl.com


Fashion
Paris Fashion Week Women's - Recap
CHANEL

Karl Lagerfeld and Anna Piaggi met in 1974. For a decade Karl Lagerfeld constantly drew her for years to record her aesthetic, her ability to mix vintage, costume, daily finds. Karl described her as "a great performer", but also as " the writer of the play". There are many photographs, mostly in black and white, portraying the power duo. One in particular caught the eye of Virginie Viard: in the old photo Piaggi is wearing a skirt suit, the skirt at floor length paired with a jacket with pronounced shoulders and cinched waist. Lagerfeld's instead sported a striped jacket and matching gilet together with jodhpurs pants and riding boots with contrasting flaps. Lagerfeld loved the reinterpretations of classic codes of costume history: the military uniform, the riding clothing vocabulary, with humor and a witty attitude. Virginie Viard celebrated this image in her latest collection for Chanel, one year after the passing away of her mentor. The reinterpretation of jodhpurs pants, with open sides at its bottom through a series of CC press-stud buttons. At times the split would be along the whole leg, transforming it into a flared trouser with jackets of Edwardian allure. There were variation to the theme: long tweed coat paired with bustiers and shorts, skirts with a deep split, cropped lace tops, dresses with balloon sleeves and jackets with ruffled collars reminiscent of the prevalent trend of Romanticism from the 1820s through the mid-1840s Viard is trying to achieve her own vision on womanhood, on what means today power dressing, with simple elements and great courage to bring in Chanel her very own point of view. "One is happy as a result of one's own efforts once one knows the necessary ingredients of happiness: simple tastes, a certain degree of courage, self denial to a point, love of work, and above all, a clear conscience." (George Sand, Letter to Charles Poney, 1866)

www.chanel.com
MIU MIU

Miuccia Prada knows how to nod at the 40s (one of her favorite decade) and create a collection modern, playful and jovial true to the spirit of the house. Miu Miu is the fun and experimental side of Prada Group. It tells a story of a woman far from traditional aesthetic values, subversive, emancipated and a true feminist. Rebellious and seductive. Set at Palais d'Iena designed by legendary architect Auguste Perret breaking the rules of the space and setting a new aesthetic, AMO, the counterpart of the iconic architectural office OMA directed by Rem Koolhaas and long time collaborator of Mrs. Prada, worked in antithesis to the nature of the building: metallic structures with LED lights around each concrete column, a velvet element at the base, cinema chairs together with wooden ones. Irreverent and playful, juxtaposed to the solemnity of the modernist Palais d'Iena are the set where Miuccia Prada created her Miu Miu Fall Winter 2020. Long crushed silk satin dresses in vibrant colors, yellow, blue, pink, paired with wool coats. Transparencies, paired with big furs, cinched at the waist creating a wasp like silhouette and beaded hairpieces. It's the contradiction of that special decade, the wartime, the glamorous Hollywood - Joan Crawford to Bette Davis, Ava Gardner to Rita Hayworth - but also Italian Neorealism - Sofia Loren, Anna Magnani, Ingrid Bergman for Roberto Rossellini's Stromboli - stars of the time, despite the imposing hardships post WWII. There is a certain austerity but also liberation, and positivity. Resonating today's current dramatic world climate. There is no much difference between the fear of a war and the fear of an strong enemy without face. Miuccia Prada has always been a visionary in this sense: her wish for hope, for joy, fierce in these obscure times.

www.miumiu.com
HERMÉS

"She walk through a forest of vertical bars/ and she dashes / she needs to jump to move forward/ moving forward to play" The show notes welcoming us at our arrival at la Garde Républicaine, a museum dedicated to the traditions of the Garde Républicaine, the ceremonial unit of the French National Gendarmerie located in the 4th arrondissement created to presents its traditions from 1802 to the present day, including its infantry, cavalry, and military bands. What better venue for Hermès to breath its equestrian inspiration? A myriad of bars recalling jumping obstacles in equestrian competitions with their primary colored stripes and placed vertically to form a forest. Walking through to loose yourself. Yellow, red, green, blue, brilliant tones Nadège Vanhee-Cybulski brought to the classic palette of Hermès. Inspired by Jean-Charles de Castelbajac, one of her modernist heroes, present at the show, Vanhee-Cybulski designed a collection of warm elegant timeless staple true to her signature for the Maison. With exquisite craftsmanship and a peculiar attention to details: the silk carrè and Kelly buckles placed at the neck line of pulls-bodes, horse-blanket coat with leather pockets, pleated skirts knitted and doubled with silk, leather pinafores with quilting. Nadège Vanhee-Cybulski 's vision, distant from seasonal trends, also introduced a strong feminine silhouette reminiscent of equestrian riding jackets. A "manifest of purity," as she called it, with a strong graphic allure and minimal white cotton paired with boots and derbies. "What is useful must me beautiful/ A style is created to changes us/small gestures don't exist/ At the end of this research/there will be equilibrium".

www.hermes.com
Fashion
Paris Fashion Week Women's - Recap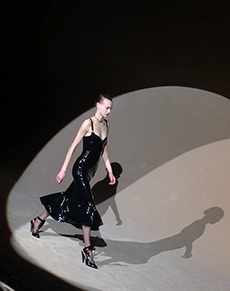 SAINT LAURENT

Cy Twombly, one of the most relevant contemporary artists of our time, who created mostly large-scale paintings with aggressively big gestures and his signature scrawling scribbles, he was anguished by the flood of people and his only desire was to paint. Yves Saint Laurent was not far from that. He repeatedly admitted additionally his benign shy. Nevertheless his work, like Twombly's broke the rules of what was considered the norm. He developed a multitude of highly original approaches, including changing the way modern women dress, putting them into pants with his 1966 Le Smoking" collection, or into safari jackets. Both famously worn by Betty Catroux, his close friend, muse and almost "his double" for her uncanny resemblance as mentioned in one of the video accompanying the ongoing exhibition " Betty Catroux, Yves Saint Laurent: Feminine Singular", at Musée Yves Saint Laurent Paris. Curated by Anthony Vaccarello it celebrates the the pair's lifelong friendship and the donation of 180 items of clothing from Catroux to the foundation. "I am just giving back what was given to me" Catroux remembers in the conversation with Vaccarello recorded for the exhibition. Her icy and androgynous look was perfect for Monsieur Saint Laurent's creations and loved to gift her couture looks and often unproduced prototypes. He loved to see her wearing his clothes. But Yves Saint Laurent was ahead of time. His animalier prints collection in 1982, or constant inspiration from art: Picasso, Matisse, Mondrian. He often declared how he abhorred bourgeoisie, and its pedantic colorless lifestyle. He was a master of the unconventional and contradictions. He matched sheer dresses (a scandal at the time) with exquisite embroideries, or the bon-ton silk bow shirt with pants. Since his very beginning at the maison, Anthony Vaccarello expressed a strong respect for the legendary designer. His first collection was a strong homage to his work but also an interpretation through his own eyes. Now at his 4th year as Creative Director of Saint Laurent , Vaccarello embodies the desire of strong powerful sensuality for women. For Fall Winter 2020 Vaccarello revisits Monsieur Yves apparent strident contrasts. Everything is a matter of tension between discipline and pleasure. "I wanted to find the balance between control and abandonment, the tension between discipline and pleasure that defines the modernity of Saint Laurent". For Fall Winter 2020 Vaccarello explored latex declined in pants, dresses, skirts. Combined with wool blazers – mostly in Monsieur Saint Laurent's signature vibrant colors emerald, purple, blue - and bow shirts between nocturnal life and well-mannered girls. "For Saint Laurent, elegance is mandatory but it also goes with perversity; one without the other would only be plain bourgeoisie or vulgarity […] I was really stimulated by that tension this season, it made me want to break the codes that are too conventional. Saint Laurent is about danger".

www.ysl.com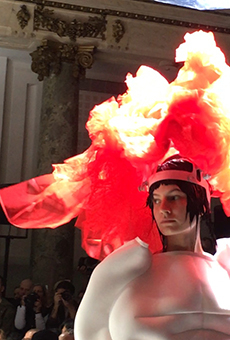 COMME DES GARÇONS

20 different looks. 20 different soundtracks: each created out of vinyls mixed live by sound artist Calx Vive. Calx Vive's first collaboration with Rei Kawakubo dates back to 2014 when he was asked to create a sound installation for the freshly opened Dover Street Market retail space in New York featuring all CDG lines and the brands under its umbrella like Junya Watanabe , but also brands like Rick Owens, Saint Laurent, Thom Browne, among the rest, who have created site-specific work for the store. In 2014 Kawakubo declared how she lost interest in creating what looked like real clothes. When 2017 the Japanese designer was asked by the Met to be the protagonist of a new exhibition, Kawakubo designed it closely with curator Andrew Bolton, to mirror her poetic to the core. Divided into distinctly Comme themes rather than chronologically: Absence/Presence, High/Low, Fashion/Antifashion and Object/Subject. Comme des Garçons Fall Winter 2020 is non other than a beautiful vocabulary of Kawakubo own obsession to these themes. Her own dictionary rendered into 20 looks, revisiting her most iconic collections: 1997's 'Body Meets Dress-Dress Meets Body', 2005's 'Broken Bride' , 2012's "White Drama", 2015's "Blood & Roses", 2017's "The Future of Silhouette," and more. The bride veil suspended by a transparent structure , the lumps and bumps (the nickname of her 1997 collection), voluminous gown that combined clouds of foam with restrictive protuberances, and geodesic-like structures. On the show notes she questioned: "Is it not impossible to make something completely and utterly new, since we are all living in this world? " She described her work as "a perpetual futurist", working from "within the Comme des Garçons world.". Visceral, and unforgiving.

www.comme-des-garcons.com
DIOR

Every Italian guest present at Maria Grazia Chiuri's Fall Winter 2020 RTW show for Dior undoubtedly felt that nostalgia, that languid feeling when listening to Roisin Murphy's cover of legendary Lucio Battisti's "Ancora tu" written in 1976. The show continues the ode to feminism and to women's world with a collection inspired by the seventies, when Maria Grazia Chiuri was a child blossoming into a teenager. These crucial coming of age years are the starting point of the collection: her mother's haute couture atelier, the rebelling women in Italy using fashion, literature, science to assert themselves. Crucial figures like Carla Lonzi and her book "Autoritratto" published in 1969, a collection of conversation with relevant figures of the art world of the time in Rome. On the 23 of March a relevant retrospective celebrating Italian women artists and based on Lonzi's manifesto and vision - will be held at Rome's National Gallery of Modern and Contemporary Art supported by Dior. Lonzi's work as feminist but also as art critic first serves as inspiration to the manifesto –like sentences build in the set design of Maria Grazia Chiuri show in the form of illuminated sign suspended from the ceiling. In collaboration with Claire Fontaine collective the setting highlights crucial moment of women's emancipation but also underscore the contradictions in our society. Claire Fontaine collective uses the language and slogans of non-reformist feminism : "I say I", Women raise the Upraising", Women are the Moon that Moves the Tides". While on the floor models walk on a new version of Fontaine's work "Le Monde Pixèlisè" where pages of Le Monde are all glued together. Inspired by a photo portraying Henri Matisse By Robert Capa taken in 1949 is again a source of dialogue, of necessity to shed light on to questioning our world. It's a succession of the frees spirit of women against their unrecognized role in the 70s: the small bandana on the head, the handcrafted silk fringes, long pliseé dresses and skirts paired with chuncky checked wool jacket , mantels, but also Chiuri's signature sheer long dresses worn with flat combat boots, mary-janes and slippers. In the collection Chiuri pays homage to Monsieur Dior's love for check but also to Marc Bohan who was at the helm of the maison in the 70s.

www.dior.com
YOHJI YAMAMOTO

The soundtrack played and sung by Yohji Yamamoto haunted us all. Its beautiful melancholy, gentleness, heartrending notes. Yohji-san has been reflecting on the passing of time, on the meaning of life itself for quite a while. The passing away of legends Azzedine Alaïa, Karl Lagerfeld – who both deeply respected Yamamoto - and the recent decision of Jean Paul Gautier to stop designing, had a huge impact on him. Losing his antagonists, his rivals, like he phrased. For Yohji Yamamoto history has always been an interesting point of investigation, a common ground with Alaïa. The two also shared a great friendship for decades. In 2005 an exhibition, "Juste des Vetements" – and what a better title as Yamamoto has been describing himself as "just a dressmaker" - at the Musée Des Arts Décoratifs celebrated hiss inspiration and respect towards the iconic French Couturiers: Cristobal Balenciaga, Christian Dior, Mademoiselle Coco Chanel, just to mention few. Rigorously innate to Yohji-san, that spirit of research and rebellion to the fashion establishment, to the homogenisation of the industry, has been constantly present in his work. Journalists have tried to phrase the delicacy, strength and purity of his deconstructed poetry where imperfection, laceration, distortion have always been a source of beauty rather than glamour. In Yamamoto's eyes fashion shows resemble Noh, the Japanese musical theatre performed since the 14th century (and the oldest form of theatre in the world) where the actors walk to the centre of the stage slowly, without talking, and almost without acting. Since years now Yamamoto shows have been characterized by slow peace walking models. They wear each outfit solemnly and you cannot but feel the layers of work and emotions through each garment. In the latest show the Japanese designer experimented a complex succession of deconstructed garments with a look at the 19th century including the late 19th century riding-dress-inspired ensembles with their military simplicity. The declinations of references are immense as well as the new vocabulary created by Yamamoto for the collection: strings recalling the figure-framing style of severe corsetry, the crinoline here knitted or pleated, the low waistlines, woven sculptural dresses revealing graciously the skin and merging with a jacket, veiled overskirts, hand painted brush strokes on long coat created with a manipulation of fabric and drapery. The poignant feeling inside any Yohji Yamamoto's show defies definition. The legendary designer, almost at his 50th anniversary in the industry, never ceases to evoke deep emotions through his work. The invite anticipated all: a soft wool fabric sample. To accomplish understanding you must feel.

www.yohjiyamamoto.co.jp


Fashion
Milan Fashion Week Women's - Recap
PRADA

Raised up and voyeuristic yet strangely detached we viewed Prada's Fall/Winter womenswear collection that portrayed a surreal sense of glamour. The selection of pieces compared ideas of femininity against stereotypically masculine components. A boxy belted jacket is paired with a fringed skirt that seems to exude a sense of confidence, a sporty aesthetic is enriched with elongated basketball jerseys and sneaker-boot hybrids. The extreme colors, utility accessories and lingerie components further the collections nod to Miuccia Prada's world where fashion equates power.

www.prada.com
MISSONI

Any designer worth their salt carefully conceptualises a collection and even better if they can back it up with some literature or text. The 1886 novella Flatland - A Romance of dimensions was the inspiration behind Missoni's Fall collection '20 that was a visual love poem to geometry. A story of feminine strength, empowerment and self awareness presented beautifully with horizontal, diagonal and vertical stripes littering the runway with earthy burnt tones brightened by dashes of red and turquoise. Each aspect from colors to patterns to silhouettes shape the collection in the freewheeling Missoni spirit.

www.missoni.com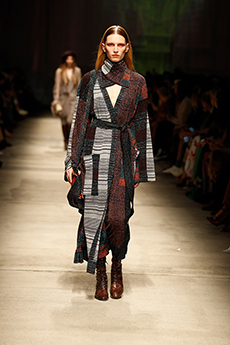 FENDI

The current approach in fashion seems to be attempts of redefining and challenging gender norms employing new meanings onto femininity and masculinity. Yet Fendi's Fall collection seemed to embrace the double standards that accompany the male gaze whilst simultaneously exuding a sense of self gratification - dressing for oneself rather than for the world. A balanced selection of structure, softness, rigor and sensuality is reflected with accentuated waists, strict silhouettes and expansive shapes with corset detailing. The offbeat contrasts end elegant monochrome furthered the sense of soft power that embodies the whole collection.

www.fendi.com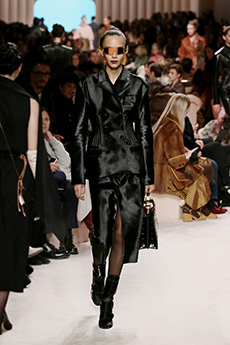 BALLY

Exploring nature and realising our impact as humans seems to be a pertinent thought across designs for the coming seasons. Swedish luxury brand Bally presented their AW20 collection through a sensory art installation that showcased their understated ready-to-wear garments using subtle choreography, film and sound. Guests traversed the runway as a crowd moved in the opposite direction with models clad in earthy tones and luxurious layering. Titled 'Purity of form' the collection encompassed organic materials, soft shapes and sculpted silhouettes reflecting the brands passion for design innovation.

www.bally.eu
Fashion
Paris Fashion Week 2020 - Berluti Men's Fall/Winter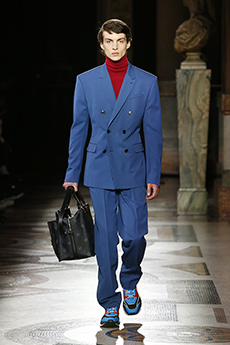 Arriving at the majestic location of Opera Garnier we were welcomed by magnificent flowers, adorning the staircase, the rich, inebriating perfume merged the atmosphere into a symphony of colors true to Kris Van Assche's Berluti. Blue, crimson red, purple, fuchsia, but also Prince of Wales checks rendered in green or yellow. Tailored silhouettes together with relaxed suits paired with sneakers. Kris Van Assche's Berluti plays between past and future, classic and modern. An extreme savoir-faire especially shown in the full patina leather suits becoming the iconic element of the maison. Recent Berluti's beautiful collaboration with Parisian based art gallery Laffanour, resulting in 17 vintage chair designed by Pierre Jeanneret - the legendary cousin of star architect Le Corbusier - added with the Berluti patina in jewel-tones, echoed in some of the looks for Fall/Winter 2020/21. Van Assche ability to plays with classic codes through a rebel soul.

www.berluti.com
Fashion
Spirit of Departure
With the current state of affairs, one might get a bleak idea of the new decade ahead. Not for notorious Canadian outerwear brand Moose Knuckles. Borrowing from science and science-fiction, he translates his personal and optimistic vision of the future. Classic staples collide with futuristic influences resulting in new yet familiar silhouettes reflecting the past as well as the future.This nod to the future can not only be found on the surface, but is literally ingrained in the collection's fabric. Cloud is a groundbreaking innovation reducing the overall weight of the Core parkas. This novelty material gets its chance to shine in one of the collection's newest additions, the Cloud Trinity jacket, a ultra-lightweight parka, delivering intense warmth in a weightless package. As part part of the FW20 collection, the Canadian brand also unveils its Eco Soft-Shell Collection, an eco-conscious line fabricated from recycled and reused materials, showcasing Moose Knuckles continuous efforts to combat fashion's adverse effects of over-consumption and pollution. 
Fashion
Paris Fashion Week 2020 - Dior Homme Fall/Winter
When approaching the white humongous squared temporary structure built on Place de la Concorde for Dior Homme latest show we felt a sense of thrilling vibe. Inside the space high up to the ceiling transparent boxes occupied almost fully the catwalk where smoke arranged in different colors, from orange to blue, floated intermittently at the rhythm of music as the show started. Kim Jones's new collection for Dior is all this: the explosion of his favorite silhouettes, of his love for British culture, the ability to dive into archives of a French Maison like Dior, while paying homage to his dear friend, the late Judy Blame, the brilliant stylist and designer, punk icon in the 80s, who passed away just 2 years ago. Blame's love for gloves, for paisley prints, for jewelry - designed as always by uber-talent Yoon Ahn for Dior Homme - and reminiscent of Blame's DIY punk signature aesthetic with metal chains adorned with charm-like crystals, roses, tags. But also the British tailored savoir faire of layering blazers and overcoats. An exquisite long silk shirt at knees length with paisley print worn under a blazer and the closing look – a coat embroidered with sequins into a feather motif inspired by a couture dress by Marc Bohan from 1969 - were undoubtedly breathtaking. The latter requiring 1000 hours of work left speechless at closer look during the re-see. Kim Jones found his dimension at Dior and we are thrilled to see what's next.

www.dior.com


Fashion
Sportmax Book Launch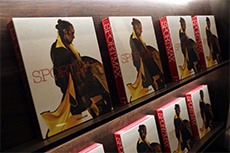 The unwavering energy of SPORTMAX celebrated in a eponymous volume marking its 50 years anniversary and Italian savoir faire. Born from Achille Maramotti's intuition in 1969 fascinated by the fresh dynamism found in the new age investing Europe at the end of the Sixties, and particularly in London with its youth-driven cultural revolution. Published by Assouline as part of its Legends collection and edited by historian and curator Olivier Saillard, the volume documents the history of the Italian brand from the Seventies till today with dedicated chapters for each decade. Peter Lindbergh, Sarah Moon, Albert Watson, David Sims to name a few of the many iconic international photographers who have interpreted SPORTMAX's style. The book also includes previously unpublished material including backstage photos, drawings and a series of images lensed by Grègoire Alexandre. Capturing the brand's DNA, from its iconic knitwear to the total look graphic colors, two SPORTMAX very own themes since its origin till today. And the uncompromising continuous research on excellence.

www.assouline.com
Fashion
Milan Fashion Week 2020 - Fendi Men's Fall/Winter
With her new FW 2020 Menswear collection, Silvia Venturini Fendi lays out her personal vision of the modern man. Inspired by the classic notion of the gentleman, Fendi presents a collection that features classic men's garments enhanced with modern twists, proving that even tradition is not always what it appears to be at first sight. To achieve this, FENDI teams up with Japanese designer ANREALAGE, combining Italian craftsmanship with the famed futuristic spirit of Japan's fashion scene. The collection itself combines the retro with the futuristic resulting in an exciting wardrobe for the modern gentleman. Blazer as well as coats are turned inside out with visible contours of lining and inside pockets, which themselves were adapted to the modern times, with the cigar pocket being replaced by a compartment for credit cards or AirPods. Another highlight of the collection was the utilitarian nature of several of the garments. Through strategically placed zippers, the garments receive a shape-shifting ability, allowing the wearer to adapt the garments to his needs, whether as overcoat, jacket or bolero. The collection was rounded out with accessories in the typical FENDI yellow, with the oversized shopper reminiscent of the FENDI packaging being the stand-out piece amongst various new takes on the classics.

www.fendi.com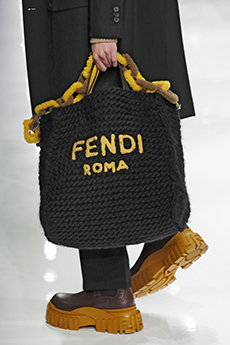 Fashion
Revealing the Hidden
 Due to the quick progression of technology, there is a tangible disconnect between ourselves the items that surround us on a daily basis. Despite everybody being able to use the newest technology in our daily lives, only a very few actually grasp how they work. This creates a certain lack of trust, a feeling of discomfort. At the Swiss manufacturer, they are driven by their belief that people are once again longing for the time when they could understand how things work and they decided to look deeper into the essence of this idea. Their mechanical watches radiate a sense of honesty, which we can relate with in the most natural sense, as we can create a tangible connection to their inner workings. Inspired by the natural sincerity of the Waldenburg Valley, which has surrounded the village of Holstein, where Ortis has been bases since its foundation in 1904, the traditional Swiss house introduces the Big Crown ProPilot X Calibre 115. Without unnecessary decoration, no superfluous complication or flashy colors, this masterpiece is laying bare its inner workings. Nothing remains hidden, visually reconnecting the wearer to the aesthetic inner worlds otherwise hidden behind the dial. The watch itself follows a modern approach to luxury, no longer showy or indulgent, the focus is simply on the appreciation for excellent craftsmanship and quality. The Oris Big Crown ProPilot X Calibre 115 is presented to the public on November 18th at the Oris Watch Night hosted by the Swiss manufacturer in Munich.

www.oris.ch
Fashion
Woolrich x Aimé Leon Dore
Two brands born and made in America, one with a rich history rising to the challenge of dressing the U.S. naval officers in hardy garments, and the other serving a young and modern public. Aimé Leon Dore, founded just a handful of years ago, has had very fruitful collaborations in the past, they are gifted at seeking out contemporary classics and putting their own twist on them. Woolrich, a very well trusted brand in weather-proof materials, strong heritage and consistently proving it has a grasp on street-casual style. Far from the realm of novelty accessories or couture fashion, both brands have an overriding respect for creating timeless articles of clothing.
Their FW19 campaign takes place in a cozy New York diner, two friends munching away at their breakfast; neither of them willing to remove their coats and flannels. There is an element of comfort that people can sense, the sort of wear that never gets old each time you put it on. Woolrich has opened its archive for Aimé Leon Dore and reaped the rewards of a fresh perspective; the same vestige of quality down puffers and coats are resurrected for the street. Whether by fate or by entering one another's periphery until they became impossible to ignore, the teachers have learned from disciples of a new generation and given city dwellers a collection too comfortable and unabashedly urban to be denied.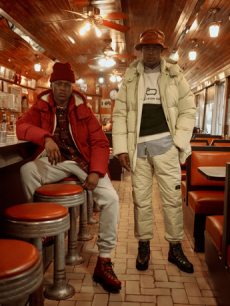 www.woolrich.com
www.aimeleondore.com
Art
Cartier: Crystallization of Time
Stare long enough at any rock, gemstone or mineral and you will see the beauty in natural formations once hidden beneath the Earth's 4.6 billion year old crust. Since 1989 Cartier has held no less than thirty four exhibitions in world-renowned art museums but only now will they host an exhibition focused on contemporary pieces spanning from the 1970's onwards. The purpose of the exhibition is to explore the perennial beauty of Cartier creations, a classic beauty retained and untarnished by the ravages of time. Aptly titled, 'Crystallization of Time' the legendary Jeweller will hold the exhibition at The National Art Center of Tokyo to explore the relationship between their creations over time. Up to 300 works, including contributions from private collections, act as mirrors that offer an astute insight into the eras and evolutions of Cartier. Beyond this exhibition of their past 'Crystallization of Time' will foreshadow Cartier's vision for the future. The exhibition will be presented in three unique perspectives including, 'Material Transformation and Colors', 'Forms and Designs' and 'Universal Curiosity' along the axis of time. 'Forms and Designs' will explore the micro-architectural nature of their design ethos as well as their use of essential lines and spheres to create unique and iconic jewellery.
In large part refusing to conform or settle is what adds to their timeless qualities, the essence that there is nothing quite like Cartier on the market. As the second act on their timeline, 'Forms and Designs' will feature 'Harmony of Chaos: Accident of Design / Accident of Nature' which seeks to explore how life's happenstance adds to our understanding of beauty. In 1967, when Cartier London released the Crash watch, they implored this design quality, the end product being a watch whose case had the appearance of being run over by a car. As gemstones are naturally formed there is an element of random natural occurrence that takes place as the rocks form, from this Cartier explored how to capture the unpredictable while still producing a fashionable product. The exhibition will also play host to a number of rare pieces from private collections, some pieces dating back as far as 1907. The scope of this exhibition can not be understated, from Nils Herrman's Cartier collection Egyptian motifs resurface; a greater dialogue with our past is opened up through timeless designs, a Scarab brooch brandishing rubies, emeralds, platinum and antique blue faience alongside a Scarab necklace in yellow gold date back to 1925.
Cartier's 'Crystallization of Time' is exactly what it claims to be, reinforced and hardened into something beyond reproach; displaying the opulence and dedication to lasting quality that Cartier is unabashedly known for. The exhibition will run from October 2nd – December 16 at The National Art Center, Tokyo.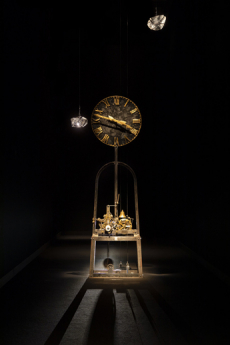 Fashion
Louis Vuitton SS20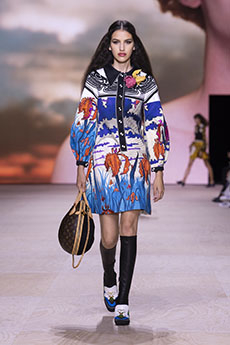 A VHS tape re-imagined as bag. The name of iconic movies morphed with a witty style placed on totes. Nicolas Ghesquière's time machine brought us at the very origins of Louis Vuitton. La Belle Èpoque, or the golden age in France after the end of the Franco-Prussian war in 1871 till the Great War. A period of stability and optimism.

Leather and silk skirts reminiscent of the end of 19th century silhouettes with bell shapes flared smoothly over the hips from a small waist and gradually widened at the hemline. It is a time when the Victorian era crinoline disappeared and corsets were worn only in the evening and formal occasion. The change of dressing codes reflecting the woman emancipation at the time is a strong inspiration for Ghesquière.

We also saw beautiful painted motifs looking at Art Nouveau and using Marcel Proust beloved cattleya orchid – which metaphorically symbolized the sensual and erotic desire in "Swann's Way" - pinned on lapels. The symbol of a new era, of a new spirit, of blossoming. The vibrant colours – blue, red, orange, yellow, to mention few – composed like fragments of bucolic Art Nouveau illustrations on several look.

Nicolas Ghesquière tribute to that fervid time in Europe is reflected in the atmosphere created by singer Sophie's otherworldly performance in an extended version of "It's Okay to Cry, specially made for Louis Vuitton and screened on a humongous backdrop at Cour Carrée inside the Louvre.

When exiting this magic show venue the light of Pei's pyramid casted an enchanting atmosphere. Briefly after it started pouring rain just like the final moments of Sophie's video performance.A moment of energy, beauty and the multitude of facets of Nicolas Ghesquière's genius.

www.louisvuitton.com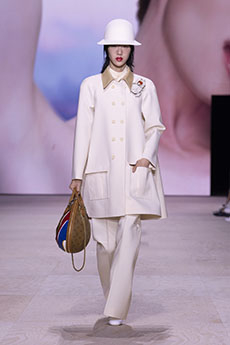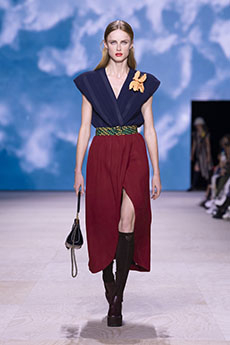 Fashion
Valentino SS20
Crisp white cotton declined in evening gowns, shirt dress to be worn with shorts and lace bomber jackets. Pierpaolo Piccioli worked on the beauty of this color, undisputed symbol of Summer and that light hearted elegance the maison Valentino has been representing since the last years.
Piccioli knows how to conquer the crowd with his romanticism in a strong modern key: a tulle purple majestic gown, a sequined one, so light at touch you could hardly believe it is sequins, and the acid green, permeating the entire collection and bringing that fun and joy we have been savouring season after season at this iconic Italian maison. At a closer look , during our re-see; we saw all that Valentino atelier savoir faire in terms of craftsmanship.
Pierpaolo Piccioli has been working always on the evolution of the gown, on its lightness, on the absence of body constrictions. He has been always putting women at the centre: the women who wear his creations, the seamstress, the women who have been part of the Valentino family for so long. And the models who walk the show: Adut, Awuol, Tiziana, Tomiwa, Evie, Mathilde, all eighty carefully mentioned one by one.
As we enjoy looking at the details of each look at Valentino's headquarters in Paris, Piccioli appears in front of us on his way to the office. We could not but warmly congratulate him in person. Grazie Pierpaolo for delivering once again a beautiful vision on womanhood.

www.valentino.com
Fashion
Hermès SS20
We have been struck by the delicacy Nadège Vanhee-Cybulski infuses every season in her vision for Hermès. For Spring Summer 2020 she talks about powerful femininity ready for our times. For Nadège Vanhee-Cybulski a woman need to walk, move freely and go to work, without renouncing to beauty. But what is beauty? It was questioned in the show notes. Nadège Vanhee-Cybulski answers with a clear vision: beauty is not equal to perfection, but to the multitudes of all beauties out there.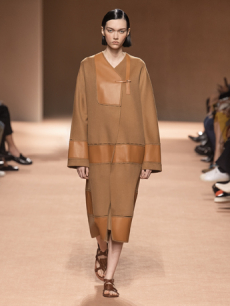 A fresh minimalism is declined with several inspirations. One above all the apron - worn at the Hermès leather workshop in Pantin - here deconstructed and revisited on tops and jumpers creating sculptural elements and open back.
The safari atmosphere is visible in multiple pockets jackets - the classic saharienne - in Heritage calfskin, a cargo playsuit in washed cotton gabardine and cargo trousers. Vanhee-Cybulski's and Hermès continuous research on leather is seen on buttersoft leather dresses together with patchwork details rendered in lambskin doubled with silk organza. A research found in the beautiful equestrian inspired looks like the harness-inspired trench coat in fine stripe cotton or the equestrian-inspired openwork coat, in double-face cashmere jacquard adorned with chestnut patches.
Hermès Spring Summer 2020 is a whispered elegance, delicate and nonchalant.

www.hermès.com
Fashion
BOSS SS20: 'BOSS Individuals'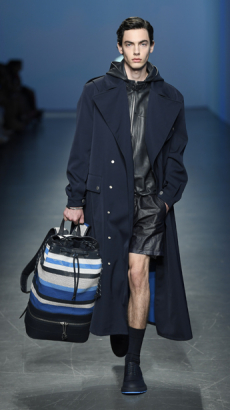 Presenting their men's and women's collections for SS20, BOSS has held individualism in high regard. The sophistication and sleek presentation so synonymous with BOSS is renewed for the arriving decade. Dressing is an intensely personal ritual and relies heavily on the individual traits of the wearer. Realizing this, they travelled from their atelier in New York to the restless fashion mecca of Milan, where it held a runway show for its highly personable collection. Guests in attendance included G-Eazy, Chloe Bennet and Jason Lewis. The focus was on accented style and understated comforts, this collection remains true to the essential nature of BOSS while evoking an openness to Spring frivolities and calm Summer nights.
'BOSS Individual' suits are tailored into more relaxed shapes while their sportswear is precisely tailored and dressed up. The women's SS20 line is filled with jackets nipped at the waist and wide-leg pants prioritizing comfort without sacrificing the signature BOSS styling. With fluid silk wrap skirts or maxi dresses there is a living sense of freedom as this collection breezes down the runway. With a flash-flood of seasonal colors interplayed with detailed craftsmanship and neatly tailored suits formal wear is elevated for the next decade and beyond. Whether it is the lightweight technical cloth on pants made for sport or the silk and cotton yarn open-knit sweaters, the SS20 collection delivers enough variety to truly encourage individualism on even the hottest days of Summer.
Fashion
Saint Laurent SS20
A sudden storm moving forcefully, all of us under the glass roof over the seating, the light projected forming a sea of beams that played together with the Tour Ei¬¬ffel light spectacle. Saint Laurent always reserves a set design worth the rain and cold of an outdoor late summer show in Paris. As the model stormed in we saw the natural confidence of Vaccarello. Vertiginous shorts worn with blazers, at times declined in velvet or in black sequins rigorously matched with high knees boots or strappy sandals.
The looks converged increasingly towards an evening atmosphere - Vaccarelllo's signature - in all its alluring connotations: second skin trousers paired with off-the-shoulder tops, long dresses lusciously embroidered, gold lamè, black, green or burgundy chiffon with gold motifs. Additionally the show displayed sharp tailoring, or as Anthony Vaccarello likes to call it "couture tailoring", as he skilfully showed us season after season. The last suit, in black sequins, was worn graciously and fiercely by Naomi. Which icon could better embody this atmosphere? Thank you Anthony for always being true to your vision.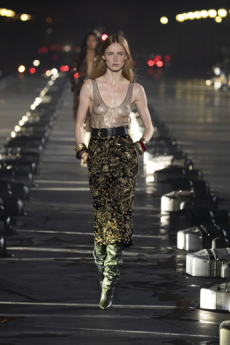 Fashion
NYFW: Sies Marjan Spring 2020
At the Hall of Records in Lower Manhattan during New York Fashion Week, Sies Marjan unveiled their Women's collection for Spring 2020. They took their time and basked in their designs, the underlying theme of their show? A refined appreciation for taking one's time in the knowledge that comfort and an excess of time are the only true luxuries. The collection's color palette is inspired by nail polish and make-up, two applications that require patience and careful consideration. Creative Director of Sies Marjan, Sander Lak spoke on his collection, saying "it celebrates the beauty of having the time and freedom to create and consider your choices."
Materials like untreated denim are tailored as if it were wool into the shape of fine suits whereas the dresses boast sophisticated fabrics. Double duchess satin, reptile-embossed silk and lacquered crocodile-embossed leathers evoke power and aesthetic prowess. Visually the dresses for Sies Marjan's Spring '20 collection are as effortlessly regal as they are tailored with precision. Vibrant colors won over the onlooking crowd, rich emeralds and devilishly alluring reds remind the eye of shimmering lip gloss. Walking the line between conservative and contemporary Lak's vision for Spring 2020 is a vivid and amorous display of craftsmanship for those that take their time in life. Although it might seem pared down at times, this is a cornerstone of the collection. To surprise without outdoing oneself is not an easy task, Lak stated that he has "a desire for the beauty of wealth and time, but never in excess."
Fashion
NYFW: COACH SS20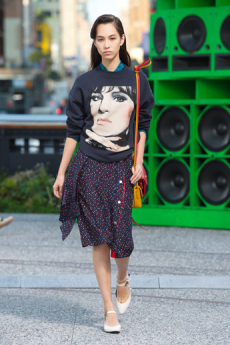 Creative director of Coach, Stuart Ververs, presented his Spring 2020 men's and women's collections on the Spur and Coach Passage, the newest additions to New York's High Line. A bright range of garments embellished with the pop art illustrations of Richard Bernstein brought to life notions of joy against all odds. A star studded audience including Kyrie Irving, Marina Testino, Miles Heizer, Megan Thee Stallion and Princess Nokia gazed at the joyful Spring 2020 collection.
Sandals and flats walked the runway in a laid back style rarely seen during such a high-class event. Multidisciplinary talent and the current face of Coach, Michael B. Jordan made a gesture to the next generation. He brought with him interns of his own initiative, 'the Outlier Society Fellowship' in order to reassert the boundless possibilities that young people from all walks of life can harness through Coach's 'Dream It Real' initiative. Along with the eager young interns, Jordan also invited the fashion club from his hometown school in Jersey, Essex County Newark Tech High school.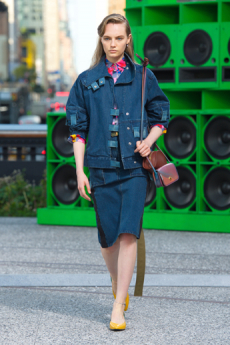 Robert Hammond, co-founder of 'Friends of the High Line' as well as High Line's inaugural artist, Simone Leigh came to see a myriad of colorful leathers, knits, flowing coats and dresses. Leigh received the first commission for High Line, she named it 'Brick House' and dedicated it to strong black female figureheads and indeed black beauty everywhere. Prominent models walking for Coach included brand ambassador, Kiko Mizuhara as well as Kaja Gerber, Julia Nobis, Adut Akech and Abby Champion. Coach's Spring 2020 line embodies new beginnings, free spirited models walked the The High Line to evoke a raw authentic energy and the infinite possibilities ushered in by a new decade.
Fashion
Louis Vuitton: The Art of Travel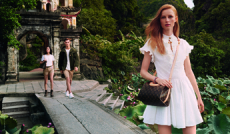 One of the foundational aspects of the house of Louis Vuitton, to travel freely and frequently where your heart truly takes you. It is this empassioned spirit that propels their latest collection, 'The Art of Travel'. To dream is to escape the seemingly closed window that is reality, to escape is to truly live. Dreams and travel are intrinsically linked, as if there is more life to be lived in another place, in another way. There is no greater key to freedom than an immediate departure, gripping the present moment and doing away with instinctual hesitation.


Kit Butler, Rianne Van Rompaey and Fei Fei Sun are depicted in the farthest reaches of Vietnam's moss green plains. Under the artistic direction of David James, photographer Angelo Pennetta captures the inimitable art of travel and the savy of those that flirt with the notion of where they feel most alive. The Petite Malle, the On The Go shopper as well as a large Steamer bag, of the finest materials display how distinctive yet subtle Louis Vuitton's iconic motif really is. To never appear out of place is a valuable thing. Some prefer to move in a way that screams when most others whisper, this collection ebbs and flows as jauntily as the traveller. The gut feeling when a plane lifts off the runway and into clear skies, after this nothing but the destination matters. Well, that and your luggage of course.

www.louisvuitton.com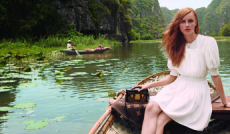 Travel
ALTES HAFENAMT: Hotel 25Hours
In contrast to the modern appearance of the surrounding Hafencity stands the Hotel 25Hours Altes Hafenamt, located in the oldest surviving building of the area. Inspired by the cozy style of a captain's home, the hotel has a much more rustic and old-fashion flair. The Augsburg design team DREIMETA is responsible for the its new appearance, creating a harmonizing interplay of the old with the new. Historical details of the original building and nostalgic collectors pieces are used alongside new objects and exciting materials, allowing the building's rich tradition to shine through in the most subtle manner.

The hotel Altes Hafenamt stands out amongst its hyper-modern surroundings. As the oldest and only remaining original building, it is a historical witness proudly showing its historic brick facade in dramatic contrast and exciting interplay of dimensions to the modern architecture of the 57-meter-high Cinnamon Tower, designed by Bolles & Willson.

The hotel's offerings are completes with its restaurant NENI and the Boilerman Bar. Run by Haya Molcho, NENI is defined by its cosmopolitan soul food, drawing on the culinary traditions of the Arab world and Europe. NENI brings together tradition and the unexpected, marrying notions of heimant and wanderlust in a culinary experience, perfectly representative of Hamburg's seafaring tradition and meeting point of different cultures. The Boilerman Bar is an unusual place with a defined casual character. Mainly focussing on rum, traditionally perceived as a typical seafarers' drink, they offer fuss-free drinks of the highest quality, with Highballs being the house's signature.

The 25Hours Hotel Altes Hafenamt offers an authentic and nostalgic experience of Hamburg, combining the contemporary needs of the urban nomad with a traditionally rustic character.

www.25hours-hotel.com
Art
Miron Zownir: 'City Landscapes'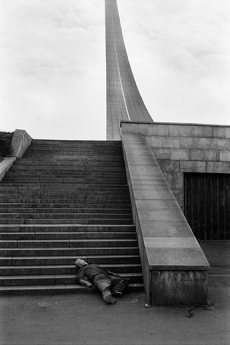 In his upcoming solo exhibition 'City landscapes' Miron Zwonir, celebrated international documentary photographer, will put his usual focus into the background. Social outcasts, by choice or through disadvantage, are now only incidental subjects in the frying pan of a harsh metropolis bursting at the seams. The dark prince of noir photography will bring a cross section of over forty years of photography to Galerie Bene Taschen. The German-Ukrainian photographer lives in a world of contrast where repression and destruction guide the eye in a re-education of cities as a background for all change that people encounter within themselves. The strange creatures and tall shadows cast by streetlamps are products of their city, but ultimately never defined by them. Resilient and fervid throughout Zownir's body of work are the fringe cultures set adrift in maddening urbanity.

Cities like Los Angeles, New York, Berlin or ones in Eastern Europe all beg similar questions. How does one exist in any of these environments and retain a strong sense of self? Zownir's metropolises are on a merry-go-round of destruction, creation and somewhere in the chaos, transformation. Miron Zownir has been displayed in group and solo exhibitions at Bene Taschen before but never as cohesively as this. The gallery will display his most impactful photography including excerpts from his book 'RIP NYC' and scenes from his series 'Berlin Noir'. The very definition of normality and what it means to be you will be in question, leaving visitors with contrasting feelings on society at large as they depart. You can see more of this radical international photographer's work in Cologne from September 7th until October 12th at Galerie Bene Taschen with an early reception on the 6th.

www.benetaschen.com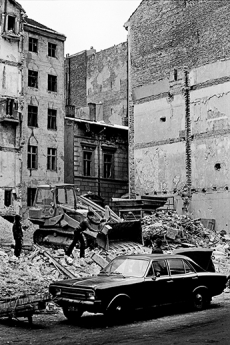 Art
Duran Lantink: 'Old Stock'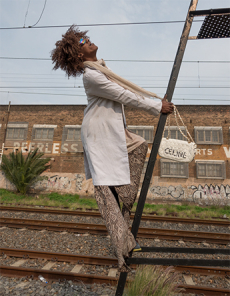 The top floors of Utrecht's Centraal Museum are taken over by Dutch fashion designer Duran Lantink, to recycle, repurpose and reimagine discarded designer fabrics. The 31-year-old designer, named after the Panamanian boxer Roberto Durán, calls his exhibition 'Old Stock'. The solo exhibition follows Duran Lantink's aesthetic journey along a path he paved for himself between fashion and art. Where does this path lead? It leads toward a world that wastes nothing and celebrates everything.

Praised as being one of fashion's best up and coming talents at this year's London Fashion Week, Lantink a variety of garments, all of which have his vigorous craftsmanship about them. The Centraal Museum is making sure Lantink has all the room to breathe he needs, allowing him to take over the top floors to better display his versatility and imagination.

'Old Stock' is divided into thirds, photography, an installation called 'Straight From the Sales Bin' and lastly 'Dismantled'. "Sistaaz of the Castle", the photo series, was started by Lantink three years ago with Jan Hoek and a transsexual workers organization known as 'Sistaazhood'. They shadowed transsexual sex workers as they flaunted proudly around Cape Town. 'Straight From the Sales Bin' is Lantink's way of distancing himself from the chain of destruction that sees unsold clothes burned, discarded or shredded.

As for 'Dismantled', Duran Lantink's freedom of expression is a beacon to designers and artists the world over. Centraal Museum has horded designer clothing, dresses they chose not to display, that served no real purpose other than gathering dust until Lantink intervened, these stagnant garments are now reanimated and born again for the world to see. Regardless of the whether you perceive Duran as the Freddy Krueger of fashion or the edgy prodigal son that Dutch fashion sorely needed, one thing remains certain, this never resting creative mind has nowhere to go but up.

www.centraalmuseum.nl

Art
William Blake Reborn in New Tate Britain Exhibition
The largest exhibition of the artist William Blake, known foremost for his writing and then for his prophetic, dazzling and even terrifying works of art that were sorely overlooked during his lifetime, will now consume Tate Britain. The life of William Blake is one of fraught political angst, he offered the antithesis to the harsh rule of the church of England, paving a way forward for philosophers, artists, anyone that sought to explain in their own terms what it meant to be alive outside of religious definition. His vision was larger than his time allowed. 

This artist, poet and author, will claim his day in the sun in a manner never before seen in Great Britain. Some of his best-known paintings including 'Newton' (1795 - c. 1805) and 'The Ancient of Days' (1827) which later became a frontispiece for an edition of 'Europe: A Prophecy", the artists final painting. The quaint domestic room above his family's hosiery shop, in which his art saw its only real exhibition in the year 1809, will be reconstructed in great detail to offer guests an authentic sense of how his art was displayed in his time. The exhibition hopes to provide a biographical framework with which to better understand Blake, even highlighting the vital influence of his wife Catherine, who offered practical assistance and even coloration for his illuminated books.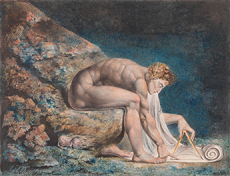 With over 300 original works including prints, watercolours and paintings, this is the largest showing of Blake's work in the last two decades. Two of his works 'The Spiritual Form of Nelson Guiding Leviathan' (c. 1805-9) and 'The Spiritual Form of Pitt Guiding Behemoth c. 1805) will be projected onto an enormous wall in the grand sense that Blake had imagined. Tate intends to reintroduce Blake to the public using modern techniques. From the 11th of September until February next year this wide range of the artist's work will live at Tate Britain.

Tate.org.uk
Fashion
Bang & Olufsen x Saint Laurent
Where design meets functionality, Bang & Olufsen have never lacked or compromised. The audio giant, holding their design instincts close to their chest has landed a dream collaborator in Saint Laurent. The all black collection has subtle, luxurious twists that serve to remind Bang & Olufsen's customers that they have sought out and found the most optimal quality.

The 3rd generation Beoplay A9 home speaker has room-filling sound and was originally designed to compliment tidy furnishings and simplistic décor. Without rocking the boat, Saint Laurent respects the under stated nature of the A9 home speaker while reminding the customer that they have invested in the very best. The legs that the larger home speaker, A9, stands on are transformed from wooden to aluminium with a finish in gold or in jet black anodized mirror.

Bang & Olufsen's A1 Bluetooth speaker was designed to project sound on all sides for upmost ambiance. 360 degrees of sound emanate from its aluminium grill, the high gloss Saint Laurent logo printed in black. The A1 model says two things about the wearer; they have respect for timeless design and they have a love for music that demands the best sound quality wherever they go.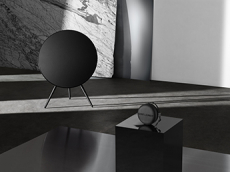 The only downside is how limited supplies are. The collection is only available at two physical locations. The speakers have been entrusted to Saint Laurent's Paris store at Rive Droite and in Los Angeles, California at their Rodeo Drive store. This is an overdue example of Bang & Olufsen knowing and owning their true value with respect to both design and quality. While stocks last these rare speakers can also be ordered online.

www.ysl.com
Fashion
Prada Play Matchmaker
Whether you fell in love with Prada's banana bowling shirt or their action packed short sleeve button up's make your head one thing remains true, we will be seeing a lot more Prada pairings. Their 'Double Match' personalization service opens in Germany next month offering customers the freedom to mix and match a variety of iconic Prada prints.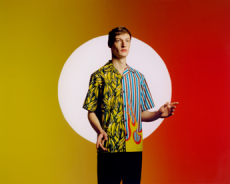 Playful and Prada is by no means synonymous, however, when you button up a shirt that has two very different styles on either side and it's Prada, it is a completely undeniable statement of fun and fashion. Worn well by Jeff Goldblum and Pusha T, Prada asks their customers, what is life without a heavy splash of color? Is the sky not blue? Is the grass not green? For those among us who stick to wearing black, Prada encourages even more personality and customization. Don't just buy off the rack, mix and match your Prada.

The Double Match personalization service will be available soon in select German stores.

www.prada.com
Fashion
To See The World Anew
From the early 80's right up to the present day, Cartier has reaffirmed its place in the world of eyewear time and time again. This began with the breakout success of Lunettes CARTIER in 1983, one of fashion's "must have's" of the day, it symbolised the first true pair of luxury sunglasses. By 1989 they were producing bespoke reading glasses, a new version of Lunettes CARTIER for women, as well as a supplementary release of Lunettes Panthère to add to their highly popular range of Panthère products. The Lunettes lenses, awash with pale blue tints had an elegance rarely seen before in the larger world of eyewear.

Now, in their latest collection, Cartier approaches familiar motifs with new flare and a variety of Fall colors. Panthère de Cartier, a symbol of the fearless, elegant and everlasting returns with vigour to join the House's Fall/Winter eyewear collection. The panther head is front-facing and embedded into the corner of each lens, it will simply not go unnoticed. Panthère's masculine counterpart, Santos de Cartier has a purposeful and renewed look. Thick, dark shades screwed into a strong titanium frame, every bit as uncompromising and assertive as Santos de Cartier is known for being.

www.cartier.com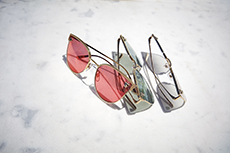 Fashion
Doodling FENDI ROMA
The city has become a canvas with every wall offering a world of possibilities to leave a lasting mark. The times that art was meant for the canvas are long over and due to famous artists like Banksy, people start to recognize that street art is not to be dismissed.
F is for FENDI, but in this case, as Mr. Doodle says, F is for Fun. The 25-year old artist from London teams up with the luxury Italian house for 'Doodling FENDI ROMA', to inject the remarkable FENDI DNA with his iconic street art in a flawless act of creativity. With his signature doodles, his unique style of drawing, Sam Cox aka Mr. Doodle does not only cover the FENDI rooftop as initially planned, but the whole Palazzo Della Civilità Italiana. This collaboration reaffirms the Italian house's bond to contemporary culture and graffiti art, as the Englishman is the fourth artist or collective to team up with FENDI.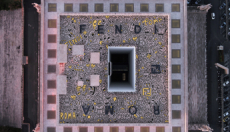 Nonetheless, Mr. Doodle is the first artist to have the opportunity to take his pen to FENDI's Peekaboo bag. Acting as his white canvas, the bag is covered in his signature doodles to create a fresh new look for a legendary bag.

www.fendi.com
Art
Mike Meiré: North-West
Mike Meiré found the inspiration for his newest solo exhibition NORTH-WEST in today's North America. Always perceived as a place of freedom and endless opportunity, the continent today has become a place of contradictions caught between reality and idealism, departure and exclusion, progress and fatality. With his work, the German artist, designer and art director addresses the romanticised ideas surrounding the American Dream whilst at the same time confirming their very failure, making NORTH-WEST a metaphorical search for updated notions of freedom and identity.

Alongside ceramics, the show will present paintings from Meiré's ongoing series CAR TIRE PAINTINGS. Central to this series is its performative component, the tyre hoovers over the canvas before it is slammed down by the artist and the few seconds between control and loss of control which define the unique outcome of each work. The conscious choice of the standardized tyre signals towards the achievements of modern life and the purposeful and functional design of the globalised consumer world.

NORTH-WEST will be open to the public by appointment only from July 28, 2019 until September 6, 2019 at Von Bartha in S-chanf.

www.vonbartha.com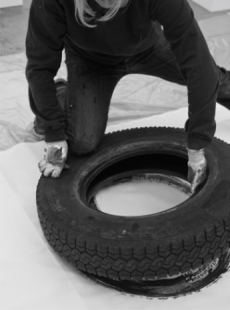 Fashion
Stone Island x Nike Golf
Professional sports have become much more than the mere pursuit of athletic excellence. Athletic competitions have become grand spectacles, with the athletes being celebrated like celebrities by millions of people all over the globe. Constantly in the public eye, it is no longer just about winning, but winning in style with an increasing number of athletes, like Serena Williams and LeBron James, being equipped in personalized special collaborations or even bespoke athletic attire.

Italian brand Stone Island makes its first steps into the realm of athletic wear and teams up with Nike Golf. With the Nike x Stone Island golf collaboration, both brands combine Nike's fundamental expertise in understanding the golfers' needs and Stone Island's expertise in fabric innovation to unveil true technical and performing pieces, able withstand even the most difficult weather conditions on the course. Adaptive fibres increase the garments' breathability to maintain the athlete's optimal temperature throughout play, whereas the water-resistant membrane provides adequate protection from the rain.

The two garments, a jacket and a crewneck available in multiple colorways, will debut during golf's fourth and final major at Royal Portrush.

The Nike x Stone Island Golf collection will become available on July 25th.

www.nike.com
www.stoneisland.com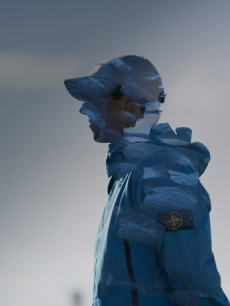 Fashion
Dior Haute Couture Fall/Winter 2019
Black is a complex color that resonates with us. Even Christian Dior once wrote, 'I could write a book about black'. For the Haute Couture Fall/Winter 2019-2020, Maria Grazia Chiuri presents a collection exclusively in black, only rarely punctured by color. Black demands perfection and it is this conscious choice that lets her true inspiration shine through. By erasing the color as a consideration, construction and silhouette, texture and detail come into focus. The monochrome color palette reveals the garments' bone structure that holds them together and defines them.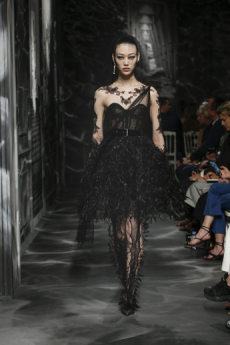 Inspired by writer Bernard Rudolfksy, Maria Grazia Chirui engages in deep thoughts about the nature of clothes. She raised questions about the relation of modernity and sartorial customs, modernizing old techniques and outdated conventions, without losing Dior's beautiful essence established by Christian Dior. Chiuri breaks with the belief that comfort always has to come at the expense of beauty and allure and adapts the essence of couture for a modern lifestyle.

The designer made her most daring statement by presenting her version of a Dior staple, the ball gown. The breathtaking garments, in all their grandeur and opulence, were defined by their lightness and a flair of modern ease, achieved through the use of lavish yet delicate materials. The lacquered organza, dégradé gauze jacquard and lace were adorned, here, with velvet scrolls, there, with thistles and wildflowers.
This collection was Maria Grazia Chirui's most confident and exquisite couture collection. To answer the question raised at the start: 'Are clothes modern?' Yes, if beauty is considered modern, then so are these garments.

www.dior.com
Fashion
Valentino Haute Couture Fall/Winter 2019
Pierpaolo Piccioli's presentation of the Valentino Couture collection was undoubtedly one of the highlights of Paris Couture Week. A fact confirmed by the power trio of Gwyneth Paltrow, Naomi Campbell and Celine Dion takes place front row.
Piccioli recognized, that even in couture, the seduction through an abundance of elegance and craftsmanship is no longer sufficient. Instead, modern women are looking for a deeper message and buy into brands whose position is in line with their personal beliefs. In a period of increasing political isolationism, Piccioli sends out a message of individuality and inclusivity. It is only by embracing different women's identities and cultures that couture can stay alive and well. A message reinforced by the diverse cast of models presenting his creations of irresistible beauty on the runway. To bring this idea into full expressiveness, Lauren Hutton, Cecilia Chancellor, Georgina Grenville and Hannelore Knuts, ranging in age between the early-40s and mid-70s, joined the lineup.

The collection was defined by its exceptionally buoyant colors, often in surprising combinations. But the dazzling display of colors is hardly the only characteristic that makes the collection stand out. The beautifully constructed dresses, adorned with elaborate embroidery and ornamentation, bear witness to the totality of expertise found inside Valentino. Painstakingly rendered by hand, the long dress with floral appliqués or the sleeveless gown made of rose squares attached one-by-one required hundreds of hours to be completed.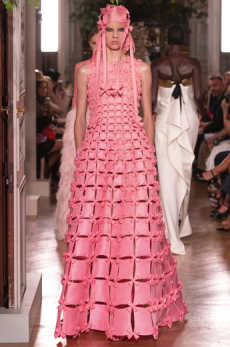 Pierpaolo rounded off his looks with a series of highly-elaborate ornamental heads and komondor wool fringes and set an example of a collection with a conscience.

www.valentino.com
Fashion
Dunhill Spring Summer 2020
Mark Weston has been bringing fresh air in Dunhill's heritage by maintaining the roots of this historical luxury English tailoring maison. This season saw a fluid sensuality barging in.

Together with the evolution and subversion in Dunhill's tailoring Mark Weston continued his references to Japan, in particularly Japanese design from the 80s. Relaxed, wrapped tailoring with split helms reminiscent of Kimono-like cuts.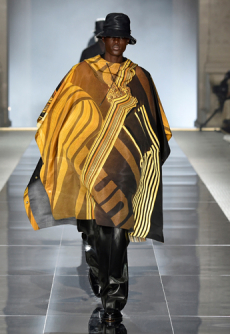 "I wanted elegance and austerity disrupted by sensuality and provocation, with a feeling of fluidity and ease running through it all. At the same time, rigour is all important; in tailoring particularly, nothing should just be for the sake of it.". Mark Weston explained how Japanese elements were already crossing boundaries with Casual clothing culture in '80s Britain and how this collection is am ode to British tailoring on a broad sense.

Silky fluid pants with cropped jackets in dark blue, beautiful oversized ponchos in khaki, butter-soft leather tailored jackets, shiny silk acetate parkas, overwhelmingly beautiful and luscious white wool-silk fluid suit worn with flat leather hotel slippers. Weston built a collection between utility and elegance, rigour and distortion.

For Spring Summer 2020 Weston collaborated with Tokyo-based digital artist Kenta Cobayashi: "I had really been taken by Kenta's work a couple of years ago and I was just waiting for the right time to ask him to work with me. In a sense, the whole digital field has become much more appealing – I love the idea of digital crafting."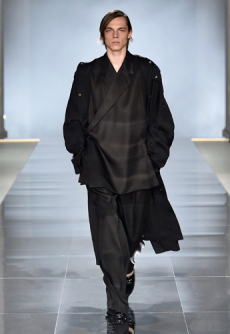 Weston handpicked four archive images of Cobayashi's "Smudge" series – where he experiment with graphic distortion – to be reworked with Dunhill logo. Weston explained how the collaboration channelled classic campaign imagery from the '60s and '70s.

Applied on outwear, bags and tailored pieces, Cobayashi's glitched graphics channel the playful and sensual spirit for the new Dunhill.

www.dunhill.com
Art
John M Armleder CA.CA.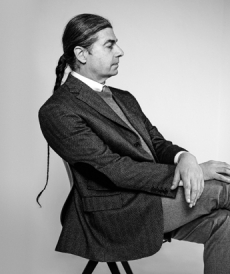 John M Armleder has never accepted the traditional boundaries of the different artistic disciplines. Regarded as one of the most influential concept, performance and object artists of the modern era, Armleder's playful approach to artistic expression draws inspiration from a wide variety of sources, influential art movements, such as Modernism, Constructivism and Op-Art, as well as design, painting and pop culture.

Time after time, Armleder combines familiar tropes from art history with modern day items, commenting on our reality and the state of art itself. This juxtaposition of opposites runs like a red thread throughout his work, planning is faced by coincidence, profundity is shown alongside frivolity, exploring what art could and should be in an ever-changing cultural setting.

Both inside and outside the Schirn Kunsthalle, Armleder shows a number of specially created installations alongside some of his previous works. The freely accessible Rotunda is transformed into a life-sized installation by mounting twenty disco balls in different heights, capturing their reflections in the windows covered in mirror film.

John Armleder presents his seductive approach to Conceptual Art and stimulates the critical mind as well as the senses.

The exhibition will be open to the public until September 1st at the Schirn Kunsthalle in Frankfurt.

www.schirn.de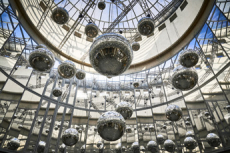 Fashion
Louis Vuitton Men's Spring Summer 2020
Imagine a mild summer day in Paris, walking on one of its characteristic little streets populated with cafés terraces, street musicians playing a classical piece, patrons sipping a glass of wine at the shadows of big parasols and the urban greenery that adorns most of the French capital's urban spaces. Just across the street you can find benches where to read a book or enjoy the soft breeze, a mobile creperie vendor, maybe an artist painting your portrait.
Virgil Abloh's third collection for Louis Vuitton channelled all the artistic influences of the American designer: a playful ode to boyhood, to the notion of free-minded spirit, crossing over gender boundaries.

Since the very first looks big flowers adorned the bodies and accessories together with straw hats reminiscent of a Provencal atmosphere. In the seasonal Virgil's "Dictionary" – a collection of key words updated each time – you will see several new entries addressing this feelings: "flower", "kite", "lightness", among the others, where the concept of flower is removed from the status "often relegated to the trivial or mundane" becoming instead a "naturally occurring metaphor for diversity, as beautiful on a micro level as they are on a macro level, a living creature that blooms from a simple seed, crosses borders". 

The collection had a multidimensional and hybridised connotation: strings holding together the garment's singular elements with a peek-a-boo effect, cut outs to create different volumes, but also caging, wrapping, gridding or netting, disrupting the conventional architecture of clothes.

Floating ponchos and raincoats in technical nylon taffeta, asymmetrical pleated skirts over wide-leg trousers, the last few looks presented sculptured attached on the shoulders and at time in forma of a kite.
Liliac, mauve, faded blue, sage, mist green, yellow, concrete grey, peony pink, fuchsia, neon orange, and the super white, or better called "blanc des blancs", together with beautiful flower scarf patchwork. The colour palette enhanced this splendid Virgil Abloh's ode to Nature and the ephemeral we all dreamed of.

www.louisvuitton.com
Art
Il Sarcofago di Spitzmaus e altri Tesori
Museums are places of knowledge. Each piece on display has been meticulously studied and analyzed before experts categorized it according to the right origins and time period. Just as the academic research on different civilizations is largely separated, each time period belongs to a separate collection within a museum.
With 'Il Sarcofago di Spitzmaus e altri Tesori', translating into 'Spitzmaus Mummy in a Coffin and Other Treasures', the Fondazione Prada, in collaboration with the Kunsthistorisches Museum in Vienna, takes a less academic approach to the museum and its traditional methods of display. The task of curation is realized by film director Wes Anderson and illustrator, designer and writer Juman Malouf. Unconcerned with time periods and chronological accuracy, the two artists have access to 23 different collections belonging to two different museums, the Kunsthistorisches Museum and the Naturhistorisches Museum in Vienna. Together, both artists selected 537 artworks and artefacts from over 5000 years of human history and showcase them alongside one another. Their interdisciplinary approach at times reveals unexpected parallels and resonances between the works and directly challenges traditional museum canons. The exhibition is titled after Coffin of a Spitzmaus, an Egyptian wooden box containing a mummified shrew from the 4th century BC.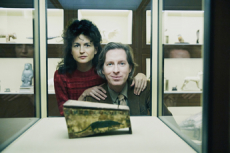 After the display in Vienna, the exhibition moves to exhibition space of the Fondazione Prada in Milan. The Milan display is a second version with a larger display area and a greater number of exhibits. Alongside the exhibition, the Fondazione Prada publishes an artist's book, which inspired by Duchamp's Boîte-en-valise, elaborates the idea of the portable museum.

The exhibition 'Il Sarcofago di Spitzmaus e altri Tesori' is open to the public from the 20th of September 2019 until the 13th of January 2020 at the Fondazione Prada in Milan.

www.fondazioneprada.org
Art
In Conversation with... David LaChapelle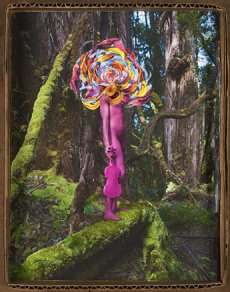 Reflex Gallery in Amsterdam created the series In Conversation With… in order to offer the showcased artists' another platform to share their personal vision and background information on their work. In the fourth installment, the focus is on photographer David LaChapelle, who is currently exhibiting Act Of Nature at the gallery.

David LaChapelle rose to fame due to his unique vision and distinct aesthetic. Especially thanks to his celebrity portraits, David LaChapelle is considered one of the most important photographers of the century. His third exhibition at Reflex includes highlights from the past ten years alongside a selection of previously unseen work, on show for the first time in Amsterdam.

Throughout the interview, David LaChapelle offers an insight into his approach to photography and discusses how the challenges of a natural setting have influenced his way of working. In his work, LaChapelle tries to capture and share his imagination of paradise and the deep connection between humans and nature that sparked this idea. Alongside the exhibition, a publication of Act of Nature, containing an essay by author and art writer Katya Tylevich, will be available in Reflex Amsterdam.

Act of Nature is on view at Reflex Amsterdam until August 31st.

www.reflexamsterdam.com
Fashion
#UseTheExisting: Ermenegildo Zegna Spring/Summer 2020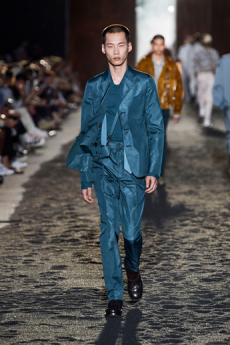 Creative Director Alessandro Sartori realizes that his profession is not all about making beautiful garments. Yes, it is still a crucial part, but what is the price to pay? Fashion has found itself among the top three polluting industries in the world, trying to satisfy the insatiable desire for consumption without considering the environmental impact.

Sustainability is at the center of the Ermenegildo Zegna SS20 collection. With the project #UseTheExisting, Sartori proves that environmental protection and high fashion can go hand-in-hand. The incorporation of upcycled wools and technical fabrics form the house's own textile division showcases that an alternative and sustainable way to produce refined materials out of discarded ones is indeed possible.
In his collection, Alessandro Sartori takes a new approach to tailoring, using traditional techniques in a new concept, such as the leather jacket that becomes a short-sleeved shirt. Overall the collection features wider silhouettes, making the fit just as pleasant as the good feeling one gets when putting on this sustainable and ecological garment.

www.zegna.com
Fashion
Brunello Cucinelli Spring/Summer 2020
With the Spring/Summer 2020 collection, Brunello Cucinelli sets a modern standard for dressing well. With the increased pace of modern life, style and comfort have to be perfectly balanced, posing a challenge to the often stiff formality of tailoring.
Brunello Cucinelli makes a conscious effort to move away from this stiffness, proving that dressing comfortably does not always equal dressing down. With softer fits, Cucinelli achieves a sophisticated yet casual feel, combining good taste with the sensation of comfort. The unstructured garments are defined by a refined contemporary zeitgeist, making them versatile companions for any occasion. The essence of the collection remains in tailoring, which alongside the knitwear in bright and fresh summer hues combines to the perfect look to face summer.
Regardless of the renewed aesthetic, Brunello Cucinelli keeps up the tradition of using the finest materials and excellent craftsmanship. As the overall trend is shifting towards casual dress and leisure, one can only consider Cucinelli's creations fit for ennobled leisure.

www.brunellocucinelli.com
Fashion
Achilles Ion Gabriel joins CamperLab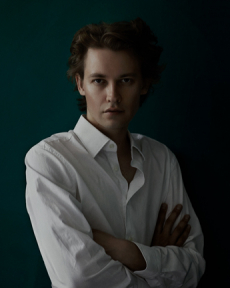 From June 18th onwards, Achilles Ion Gabriel will become the new creative mind behind CamperLab. The Finnish designer will be in charge of the design team and define the brand's creative strategy. By appointing the promising footwear designer, Camper hopes to implement his unique vision in a new era of further growth and development.

Before joining Camper, Achilles Ion Gabriel, currently based in Paris, was able to gather valuable experience industry with the likes of Marni and Courrèges, but also with his own brand ION.

Both designer and brand have found their ideal counterpart. Whereas Camper has expressed admiration for his previous work and will most definitetly benefit from the Finns' talent, the designer gains insides of Camper's unrivalled shoemaking heritage and an unparalleled opportunity for creative freedom and realization.

Achilles Ion Gabriel's first collection at Camper will be presented in January as part of the Fall/Winter 2020 collection.

www.camper.com
Fashion
Cartier Magnitude
Not many brands have become as synonymous with elegance and luxury as Cartier. With its new high jewelry collection, the French manufacturer does not only celebrate its long tradition of excellent craftsmanship but also showcases a boldness for a new stylistic adventure and novelty in its designs.
Magnitude is an unexpected and bold encounter of materials that were never meant to meet. Side-by-side precious stones confront ornamental hard stones, complementing and highlighting each other in a display between opacity and transparency and pure colors and shimmering nuances.

To celebrate Magnitude, Cartier held an exclusive event in London. The iconic London building, 180 The Strand, was chosen to present the Maison's newest collection, followed by an evening gala dinner hosted by Cyrille Vigneron, CEO & president of Cartier International. Alongside a performance by Beth Ditto, among the selected guests were notable friends of the house, as Claire Foy, Lily Collins, Bianco Brandolini as well as Ella Balinska, Iris Law and Diana Silvers.

The collection will be on show to the public at 180 The Strand London between June 27th and June 30th.

www.cartier.com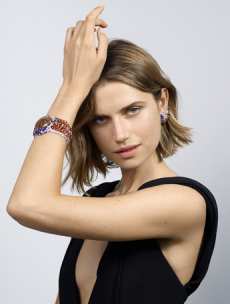 Fashion
Gem Dior
Since its creation twenty years ago, Victoire de Castellane has continuously been the creative spirit behind Dior Joallerie. The new Dior High Jewellery Collection is therefore not only a celebration of the department's anniversary but also of de Castellane's successful tenure at its helm.

The collection "Gem Dior", a play on words between gem in English and j'aime meaning 'I love…' in French, is a declaration of love to stones and their infinite variety in hues and colors. These precious colored stones have long nourished de Castellane's imagination and have been central to Dior's poetic jewelry-making and whimsical story-telling.

The collection is a celebration of the gemstone as well as the exceptional know-how of its stone-cutters and polishers. Her compositions, harmonic in its color combinations and rhythmic in its shapes and mountings, express Victoire de Castellane's entire narrative universe, with the realization that in the end what's left is material and color.

www.dior.com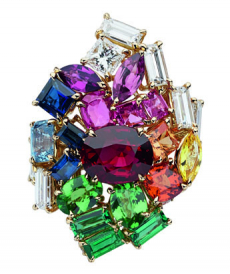 Fashion
Givenchy Pre-Spring 2020
With her Spring 2020 Pre-Collection, Givenchy's Artistic Director Clare Waight Keller explores the notions of moving through the urban environment and today's on-the-go, city-hopping lifestyle. Just like herself, constantly on the move between Paris, London and other various destinations, the modern person is always moving forward, whether along routes they have traveled countless times or across borders and time zones.

With the urban-chic collection, Clare Waight Keller takes couture to the streets, drawing inspiration from Paris and her own spring couture collection and London's increasingly flamboyant and colorful streetwear scene. She merges traditional and technical, reviving classic pieces in saturated color and modern materials in order to achieve the practicality, formality and glamour she desires. The result is hybrid pieces that, according to the wearer's needs, are easily dressed up or down.

In addition to this, Givenchy introduces its new line of women's leather accessories. The four newly unveiled bags are intended to cover every facet of life for the modern woman on the go.

The Givenchy Spring 2020 Pre-Collection will arrive in store in July.

www.givenchy.com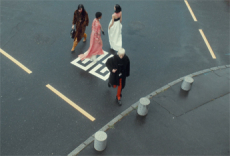 Fashion
F IS FOR..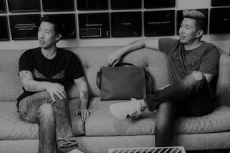 With a faster-changing pace of the industry, certain brands have encountered issues relating to the new, digitally-active customer base. With the emergence of the internet and social media, the traditional brand-to-customer dynamic has drastically changed, leaving some alienated from this new generation of customers.

Rome-based brand FENDI has long recognized these concerns and proactively counteracted. F IS FOR is a campaign with youth culture at its core, aiming to translate the FENDI DNA for a younger customer. Similarly, FENDI also makes use of the online vernacular in form of the hashtag for its #MeandMyPeekaboo campaign.
For the first time, exclusively unveiled at ZOO Magazine, both campaigns merge to create the first-ever special #MeandMyPeekaboo episode featuring the Lin family. In familiar fashion, FENDI puts family intimacy at the center of the video, showcasing authentic interactions between identical twins John and James with their twins Elise and Pierre, older son Jude and Julia Lin. In and around their home in Miami, the iconic FENDI logo is ever present, with the Peekaboo Fit for Men and the Peekaboo XS never leaving their side.

F is for family, the FENDI family as well as John Lin's own.

www.fendi.com
Fashion
LOEWE & the Elephants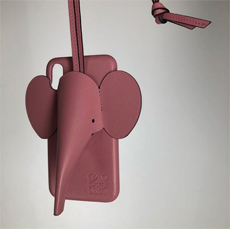 LOEWE cares for natural preservation and the well-being of endangered species. Creative director Jonathan Anderson expressed his compassion by partnering with Knot On My Planet last year to support the Elephant Crisis Fund. The resulting elephant-shaped bag aimed to raise awareness and to set a clear sign condemning the demand and trafficking of ivory.

The elephant motif has remained with the house ever since, as just this year, Iconic Disney character Dumbo the Elephant gave inspiration for a limited edition capsule collection. The elephant-motif will now available hand-size in form of a phone case, as a continuation of the expertly crafted line of elephant-shaped bags. This case, adorned with an elephant's head, is just the latest embodiment of LOEWE's campaign fuelled by its love for elephants.

www.loewe.com
Fashion
Cartier Santos-Dumont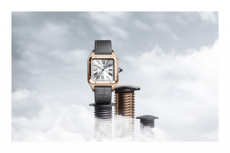 French manufacurer Cartier pays homage to the rich history of its iconic Santos-Dumont model. First created in 1904, Louis Cartier designed a modern wristwatch, exclusively suited to the needs of Brazilian aviation pioneer Alberto Santos-Dumont.

Ever since being unveiled to the public, the design, exuding simplicity, innovation and elegance, has always remained true to the original. The square-shape, reminiscent of the geometry popular in Paris at the time, is paired with an unadorned alligator leather strap. Practicality remains central to this classic. To achieve this, Cartier enchanced its performance with a high-efficiency quartz movement featuring an autonimity twice as long as traditional movements. The Santos-Dumont model is available in two different sizes and three shades in hues of rose gold and steel.

www.cartier.com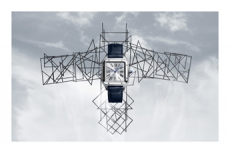 Art
Sumo and the three boys from Pasadena
The Helmut Newton Foundation unveils its new exhibition, combining the photographic work ''SUMO'' of Helmut Newton, his private collection, developed with his wife June Newtown and Three Boys From Pasadena by his three apprentices Mark Arbeit, George Holz and Just Loomis.

Newton's masterpiece SUMO was created 20 years ago and first exhibited a decade later. Consisting of 400 iconic images, from the genres fashion, portraiture and nudes in black and white and colour, they include, to only mention a few, his famous portraits of artists like Salvadór Dalí and Andy Warhol as well as his work for various magazines, like Vogue or Vanity Fair.

His three apprentices augment their Three Boys From Pasadena, created ten years ago, with new works. The additions are a combination of life-sized photograms of models by Mark Areit, Hollywood portraits of legends by George Holz and intimate 'Backstage' works, showcasing the hidden, less glamorous facets of fashion, by Just Loomis.

Furthermore, we are offered an insight into the couple's exquisite photo collection, featuring 50 valuable vintage prints in original frame of the 20th century's most influential and important photographers.

The exhibition opens on the 6th of June at the Helmut Newton Foundation in Berlin.
Art
Anthropometry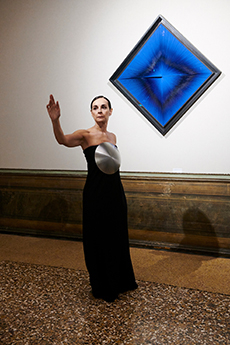 One year after his passing, multifaceted artist Getulio Alviani, pioneer in the movement of kinetic art and Op-Art, was celebrated in the framework of the 58th International Art Exhibition of the Venice Biennale. In the spirit of Alviani's vision, the Palazzo Barbaro on the Grand Canal is transformed into an interdisciplinary exhibition Anthropometry combining art, fashion, jewelry music and theatrical performance, perfectly staged during the opening vernissage featuring live performances of Brazilian actress Lìgia Cortez and famous eclectic virtuoso Olen Cesari.

The dress "Cerchio + Quadrato" worn during Cortez's performance shows that Alviani's collaborations in the field of fashion, springing from the research of avant-garde materials and technologies, with designer Germana Marucelli are one of the focal points. By applying his visual experimentations with light and optical illusions to sartorial endeavours, designer Marucelli constructs wearable pieces of art, transforming and evolving with movement and in relation to the body that wears them.

The exhibition is open to the public until the 30th of May in the Palazzo Barbaro in Venice.
Fashion
Everything is going to restart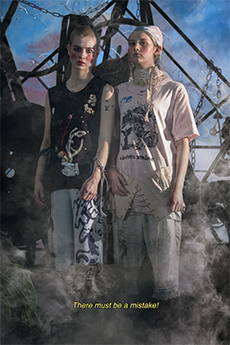 When did we enter this state of war with each other? The feeling of defeat used to be rare, a symptom of testing the limits. Now, it feels more like the kind of dull ache you'd develop if you lived in a house with leaky pipes; a vague, tolerable heaviness that doesn't go away. British designer Claire Barrow offers some hope that the end is in sight. The third installment of her Xtreme Sports mini-collections, Les Sports Extréme, pours thought on the theme of battles – both political and personal, socially and for the sake of the self. Her multidisciplinary entry point to art has fostered an illustrative capsule clothing line and short film, created by regular collaborator Daniel Swan, soundtracked by a self-authored song that jars lines from Les Misérables and new phrases that feel urgent to our time, fractured with the ad-libs and manic laughing of a characterful cast.

"You sometimes forget that the battle is still ongoing," says Barrow, "things just seem hard now. There's still hope, but I can't help feel defeated by some of the evils. I wanted to embrace that despair in the collection a little." The chaos that comes with losing control translates to the casual silhouettes of T-shirts, hoodies, silk wide-legs and scarves. Barrow breaks a dominant night blue base with innocent licks of baby pink, blue and yellow – sweet tones marred by distressing, patched with crying baby faces. Fantastical and historical figures form the intricate illustrations: dreamlike drawings of knights and teddy bears, pigeons and mermaids, clinging tightly to one another, hands held to harness the strength of a circle, while the rising figure of Lady Liberty, as immortalized by Eugène Delacroix, waves a flag into the new dawn. With their graffiti signatures, rips and ragged stitching, the Trash Barricade tees speak of resistance and division, imploring all around to declare their loyalties with the question, "What side are you on?" stamped at the back of the body.

"I was interested in how things are still left open, even after conflict," Barrow says, "nothing is ever really resolved. Like the French Revolution: the people won, but we are still entrenched in the same discussion as we were then." For once, someone is wrestling with the grey area, rather than falling by the fault lines of the black and white; with that, Barrow serves the solution of solidarity alongside the still-raw wounds of rivalry, hopefully a sign that peacetime will soon come.

www.clairebarrow.com
Art
Aneta Bartos: Family Portrait 2014-2018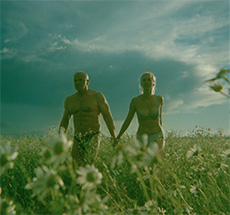 With her first solo exhibition Family Portrait 2014-2018 at Tommy Simoens Gallery in Antwerpen, Polish-born photographer Aneta Bartos offered a first cohesive overview of her ongoing project, which has been four years in the making.

Daughter of a lifelong bodybuilder, the photographer offers an insight into her psyche formed by an unusually liberal upbringing, surrounded by nudeness in an otherwise stern Catholic environment. Each photograph features her own ageing father, caught in his obsession with the perfect physique, as well as herself, the daughter, now as a grown woman intensely aware of her own sexuality.
The exhibition highlights the complex dynamics of this very personal relationship, displaying a fa-ther and a daughter sometimes close, but also so far apart that they are seemingly invisible to each other.

The personal feel is not limited to the photographic work but is supported by the installation itself, which features bodybuilding equipment transported from the father's gym in Poland.

The exhibition is extended until 18th of May at Tommy Simoens Gallery in Antwerpen.

www.tommysimoens.com
Art
Autonomous Intimacy
Every house is unique and has therefore its very own autonomous intimacy. It has an atmosphere that emerges out of a few characteristic factors; the place where it is situated, the people who live in that house, and their specific interests are aspects that create a certain interior. Rugstar decided to delve deeper into these autonomous spheres to find out more about the underlying influences of houses and how Rugstar's carpets became part of their very own intimate interior.
Starting in Berlin, one of the most eccentric cities of Europe with a very autonomous identity.18 interiors styled by Rugstar were shot by Local photographer Michael Tewes. Each picture tells the home its intimate individual story. The setting appeals to your imagination about the people, their relationship and their lives that largely take place here. Berlin is a very open-minded city and also the people who live here have largely incorporated this thought into their personal environments. Styles are provocatively combined with each other and produce fascinating compositions that create a layered and profound story about what is going on inside these walls. Rugstar's beautiful rugs are off course leading and add an individual element to each interior with themes like Adam & Eve, The Garden of Eden, and many more.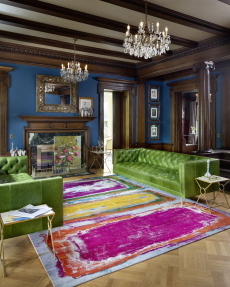 The second city is Portland, one of the most environmentally friendly cities in the world with a very urban lifestyle. Photographer Laurie Black based in Portland took Rugstar to all the different kinds of homes in this very green metropolitan. Classic, authentic interiors are embellished with carpets containing graphic natural animal and plant prints executed in soft colors. These prints embody the Portland lifestyle wherein nature is fully coalesced with the urban city life. The inhabitants here have found a way to create an intimate urban design place that honors nature to the fullest.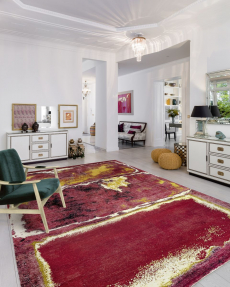 The intimacy project is an expression of love for personal stories and through which inspirations they came about. In exchange for these, the Rugstar team will cook and share their vision about styling, designing and craftsmanship. Next stop: Beijing! Are you ready to share your autonomous story?

www.rugstar.com
Fashion
What Was I?
By Goshka Macuga and Fondazione Prada
Who am I, who do I want to become? Questions that we ask ourselves all the time. We always want to go forward and therefore we hardly ask ourselves whom we were. Through the years, our society changed by shifting into a fully technological civilization.

Polish installation artist Goshka Macuga created in collaboration with Fondazione Prada an intriguing exhibition that will be presented in the Prada Rong Zhai residence (1918) in Shanghai from 23 March to 2 June 2019.

Macuga created an imagination of a post-Anthropocene epoch that gives a sense of the world after the collapse of humankind due to the affects of technological overdevelopment. An android designed by Macuga and produced in Japan by A Lab (presented already in 2016 by Fondazione Prada in Milan) is taking you on an unexpected journey. The android proclaims in its repeating monologue that he is the depot of all human knowledge. This futuristic imaginative scenario no longer has a human perspective and reflects therefore on the dramatic question: "What was I?" The voice of this creature is the one of Frankenstein the protagonist from the gothic novel "Frankenstein" written by Mary Shelley in 1818, to add an extra post-apocalyptic sphere.

In this story, the Android occupies all the rooms of the Rong Zhai residence wherein he is revealing his very own art collection: 26 pieces from the Prada Collection including several Italian art masterpieces, from 1958 to 1993, as well as 3 recent paper collages by the artist, part of the series 'Discrete Model.'

Many influences pass by; a selection of artists from the German Zero-group and the Italian and French Programmed and Kinetic Art movement with names as Jan Schoonhoven, Luis Tomasello, Grazia Varisco, and Nanda Vigo who all explore the complexity of computer-animated, geometric shapes that have their own autonomous alphabet of forms. The Android is enclosed by a constellation of artworks produced by Italian artists, Enrico Castellani and Piero Manzoni who composed a language without images. Lastly we see Alberto Burri, Lucio Fontana, Francesco Lo Savio, Salvatore Scarpitta, Turi Simeti and Giuseppe Uncini, presenting new experiments in order to overcome physical and symbolic boundaries in an unconventional way by integrating art more deeply into reality.

The artists and their work each contribute in their own way to a new sense of human consciousness about an intimate habitat that may start its own existence at any moment.

www.fondazioneprada.org
Fashion
Seriously Studious
In Paris this week, as a celebration of the tailored sensibilities in menswear, Thom Browne presents its studious, sturdy looks catered for women. Serious, scholarly looking models appear bespectacled, donning attire displaying rigorous couture craftsmanship.
A decade since Manhattan based Thom Browne first launched his vision in Europe, the seed of an idea that has ignited an ever-evolving and expanding brand, is resown and replicated for this Fall / Winter collection. Full wardrobes are strictly tailored, aptly reinvented for a modern climate where women adopt the roles traditionally dominated by men; socks, briefcases and brogues. Here the fashion follows, yet retains a strictness and playfulness full of charisma and character.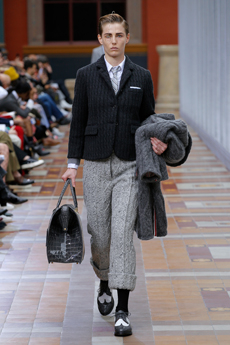 The clear base of the looks leaves ample room for experimental invention and creation and it is here that Thom Browne's brand signature is full realised and used as a canvas for playful exploration with plenty of embellishments, grosgrain tape and duck motifs. All the outfits, from chesterfield coats and checked tweeds and wools, create a trompe l'oeil effect showing off details born from a real technical prowess.

www.thombrowne.com
Fashion
Restrained Classicism
In Paris this week, Hermes proves time again that conservative fashion rules this season, presenting garments that are subtly constructed to last for generations. Proving less is more, the collection is classically chic and brimming with Parisian style, restrained yet by no means dull. Classicism here is interpreted rather as a modern way of viewing life, resisting wastefulness, rejecting whims and crafting garments with longevity.
Bourgeois looks are stapled with simplicity and this is key to the entire collection. Leather skirts are textured, nipping in long sleeved printed silks at the waistline. Leather is utilised to the absolute maximum; a textile in its own singular right.
Outerwear is of course taken account for, calfskin dressings exhibit meticulous seamings that contour the silhouette in a breathtaking and striking manner. Camel-hair cocoon coats are adorned with polyhedron shaped buttons, this and exterior leathers concealing soft goose feather interiors that offer style and utility. Layers play an important role, contributing a sense of comfort and effortless attitude spearheaded by the wearer. Hermes at their best  champion well-made pieces and unyieldingly showcase their timeless values.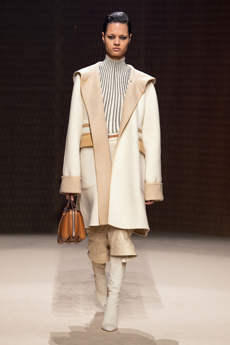 Fashion
A Retrospective of Icons
KENZO La Collection Memento N ° 4 presents a selection from it's stunning emblematic archive by putting the most creative printed prints on the map again. Both the fun and whimsical side of Kenzo Takada is clearly presented. His striking attitude towards fashion, his partiality for food and above all entertainment form a broad palette of inspiration.

Historical icons such as the tiger (coming from the men's collection spring-summer 1991), appears this season again in new expressions and embellishments. The tiger is KENZO's eternal dedication, a symbol of strength, something that must always be there to move on. Photorealistic airbrush tigers are made in two colors on T-shirts, sweaters or shirts of cotton poplin. The "running tiger motif" and the "spring tiger" (from the women's autumn-winter collection 1983) are extravagantly released in gold, burgundy and leopard prints, depicted on the "Jungle" bomber jackets, dresses and knitted tops and skirts.

Secondly, do you remember besides the tiger, the other iconic symbol? It is the hyper real painted tomato in either red or yellow. The tomatoes became big in KENZO's Spring Summer men's collection in 1992. The tomatoes are pictured on comfy cotton pieces, short sleeve archival smock dresses and mesh shirts.

Lastly this new edition of prints also introduces great line of bags – bumbags, backpacks, totes and the reversible "Knot" bag – also printed on caps and slip on trainers.

This innovative and exciting collection embodies KENZO's valuable design heritage, which can continuously adapt to the latest trends.

www.kenzo.com
Fashion
Apocalyptic fantasy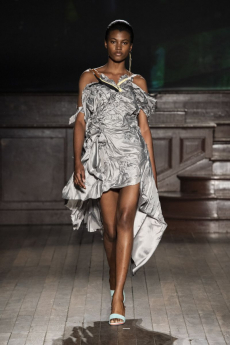 "When control is released, chaos is created that will lead to innovation and a new imaginative realism."

With this thought, Christa Bösch and Cosima Gadient designed the new futuristic collection for Ottolinger. The old wooden theater of the Lycee Jacques Decour turned into a perception-disturbing environment, where lights flashed and overwhelming metallic sounds filled the room. Chaos was clearly the key to a new sort of innovation in this collection.

The aesthetic codes are emphatically based on the unusual; for example psychedelic check knits are incorporated in denim and sportswear. Asymetric tops and trousers are executed in torn fabrics, body-outfits made of flannel. The creative duo focused on completely technical textile looks. Ski outfits shaped as spatial uniforms enhanced the female silhouette. They are tailor-made copies, easy to carry, creative but very elegant.

Ottolinger tells the story of a civilization that is led by unpredictable movements - another planetary system. The elaboration is based on speculative dreams that leave much to the imagination.

www.ottolinger.com
Fashion
It's All About Glamour
MaxMara makes crystal clear in their Fall / Winter line that women need not suppress their glamorous side in order to be taken seriously. The old age debate has been settled. Not only does glamour empower women but it is all about the clothes and how they make you feel that allows you to shine and ultimately triumph.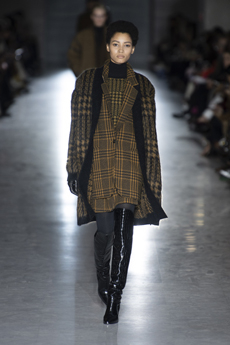 Defying all conventions of dress, the collection exhibits strong silhouettes at the shoulder that expand wider, boxier and leggier down the form. Artfully bound in leather, plush alpaca, camel and cashmere, all the fabrics sink into one another and are fabulously topped off with statement thigh high boots.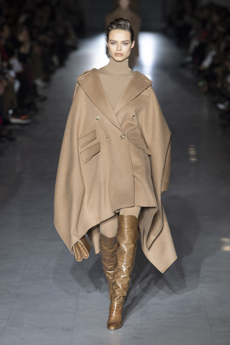 Skirts appear cut from men's pants, hanging softly both above the knee and grazing the ankles and svelte polo sweaters put the power in power dressing.
For the working women, beautifully tailored utility vests, jackets and cargo shorts are adorned with multiple zips and pockets. Technicolour total looks bring a refreshing lightness and positivity to the line. MaxMara at their very best, designing and making clothes that put you in the mood to take on the workplace, the party, the world, even when you do not at first in the right state to do so. The collection presents the best and boldest of women's ability and potential in universally flattering tones and movable, soft fabrics.

www.maxmarafashiongroup.com
Fashion
Zegna Brings Italy To Manhattan
Down Manhattan's 4 West 57th Street in the historic Crown Building, Zegna launches their three-story high global store. A world leader in luxury menswear, Zegna have enlisted renowned architect Peter Marino for this bold chapter in Zegna's history.

Within this expansive retail space of 600 square maters, customers can begin their virtual journey through the Zegna world, following the ever-changing ephemeral installation all year round. Façade metallic strings overlay two stories of glass, illuminated by LED lights when the sun goes down. The effect is an emotional fil rouge shadowing the visitor right from the external window display to the very heart of the store.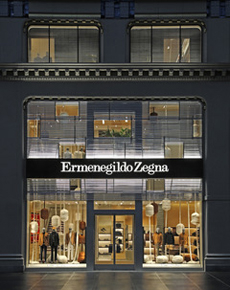 The ground floor presents leather goods and shoes, all uplifted by neutral tones of cerused ashwood, mahogany and vals stone. An unusual wooden box structure envelops the entire space, creating an aesthetic thread that runs seamlessly between the three levels.

The third floor showcases Sartoria, Luxury Leisurewear, Couture and a specially designed personalised room: the open space hosted by a master tailor to assist meet all needs. A glance around reveals a fusion of modernist and vintage elements with matte teak and laquered wood. Extra details include a welcoming Italian bar, a Gardella lounge chair on a geometric patterned carpet and historical photos that surround the space.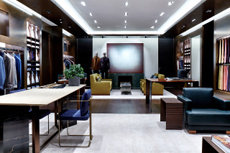 An intimate environment showcasing bespoke clothing speaks right to the brand's heritage; the very notebook Ermenegildo Zegna carried on his founding trip to NY in 1938 inspiring the collection. Now, a new generation of American men can uncover modern luxury rooted in quintessential Italian style.


www.zegna.us
Fashion
A Transatlantic Aura
Longchamp, NY Fashion week Fall/Winter 2019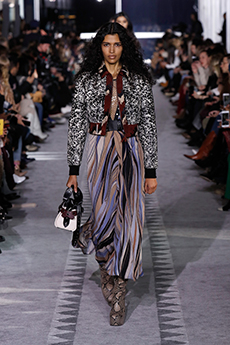 Creative director Sophie Delafontaine led us through a beautiful independent journey of self-discovery that embodied the free-spirited aura of traveling women. Longchamp its Fall / Winter collection is characterized by an intrinsic rock 'n' roll attitude with influences derived from places located between Paris and New York. In order to emphasize the spirit of travel, the models parade across a carpet that is inspired by a traditional landing strip designed by Andrée Putman.

The 70-year-old Longchamp brand founded by Jean Cassegrain and still owned by the Cassegrain family, is the ultimate symbol of effortless Parisian femininity. Over the years, the brand continuously translated this characteristic into a contemporary version. The nomadic character is realized in silk dresses and pleated skirts made out of embroidered tulle or delicate woolen mesh. This dreamy bohemian look is interspersed with fresh, cool contrasting pieces that consist of black leather tops and architectural coats with graphic or Apaloosa prints that indirectly represent New York as vibrant, world metropolitan city. Details like grosgrian ribbons and hard silver studs give the elegance a sturdy rock edge. Delafontaine lets contrasts blend together by mixing textures, silhouettes and patterns and matching them with dynamic extremes. Several Bauhaus artists whom are central worldwide this season indirectly inspire this approach.

The sense of division and coolness is a prevailing feeling today in metropolitans. This feeling is clearly present, especially in Longchamp's new handbag collection, La Voyageuse. A vivid compact silhouette executed in many colors and fabrics available in two sizes for both travelling short and long distances and is therefore a preferred travel companion.

This collection represents the idea of ultimate wanderlust and freedom. The attitude is owned by strong, independent women who effortlessly combine style and influences without any fear.

www.longchamp.com
Fashion
An Intriguing Her-interpretation
Prada unveils its 2019 Spring/Summer collection in a very special manner; the campaigns give the impression of scenes coming from early film posters. The collection will be presented into two films conducted by directors Willy Vanderperre and Benoît Debie.

The settings are classical, re-contextualized, enigmatic film scenes, which have been an endless source of inspiration and fascination for these collections. Each short film is an attractive puzzle piece, part of a larger whole that refers to the classic Hollywood genre. The unique sound pieces arranged by composer Frédéric Sanchez emphasize deeply this esoteric atmosphere even more.

The film-inspired stills do not show what you would expect; these do not conform to what already exists. The films are little portraits each containing an intriguing underlying message. A duality between what is already there and what reality could have been. Every protagonist including Daan Duez, Freja Beha Erichsen and Liu Wen discovers their different personal characters through the versatile facets of this Spring/Summer collection. The short films are an artistic stylized biographical documentary in which the viewer is exposed to the many possibilities that our reality may contain.

These short films will be revealed gradually on Prada's social media channels.

www.prada.com
Fashion
Tambour Horizon
Louis Vuitton introduces the Tambour Horizon watch; this fully connected piece embodies the spirit of travel and authentic craftsmanship. In contrast to the previous designs, this model allows you to personalise the dial with your own chosen watch face. Very extraordinary is the watch face; the design aesthetic refers to a classical Louis Vuitton runway show.

Louis Vuitton as a brand has symbolized "the art of traveling" for a very long time already. This watch is subversive, since it is able to synchronize all your travel information together in one place together with your agenda. Because the world has become increasingly polluted, Louis Vuitton has integrated a "Pollution" function that continuously displays the current air quality index on the dial.

The Tambour Horizon has a unisex case with a unique shape and is available in polished white ceramics, polished steel, matte black and brown Pvd and white with gem-set horns. The Tambour Horizon is the ultimate combination of smart and refined craftsmanship and technical excellence. The brown Pvd is especially symbolic; this color has been an integral part of Louis Vuitton's aesthetic since 1854, used most prominently in the emblematic Monogram design.

www.louisvuitton.com
Cinema
Soggettiva 4 - Expressway Milano
Fondazione Prada's Cinema presents the fourth chapter of the series "Soggettiva" with the title Expressway Milano made by Danish director Nicolas Winding. This chapter is a "cinematic journey into the rare and unknown" screening 13 forgotten American 1960's/1970's films from the online archive by Nicolas Winding Refn.

The oeuvre contains several genres from drive-in movies to lost avant-garde cinema, horror and gothic fantasy films to musicals, "nudie cutie" movies to religious and propaganda cinema. All are divided into 4 volumes: Volume 1 "Regional Renegades" constitutes: The Nest of The Cuckoo Birds (1965) by Bert Williams, Hot Thrills and Warm Chills (1967) by Dale Berry and Shanty Tramp (1967) by Joseph P. Mawra.

Volume 2 "Missing Links" covers: Night Tide (1961) by Curtis Harrington, If Footmen Tire You, What Will Horses Do? (1972) by Ron Ormond, The Burning Hell (1974) by Ron Ormond and Spring Night, Summer Night (1967) by Joseph L. Anderson.

Volume 3 called "Hillbillies, Hustlers, and Fallen Idols" composes: Cottonpickin' Chickenpickers (1967) by Larry E. Jackson, Wild Guitar (1962) by Ray Dennis Steckler and House on Bare Mountain (1962) by Lee Frost.

And lastly Volume 4 "Smell of Female" span Chained Girls (1965) by Joseph P. Mawra, Satan in High Heels (1962) by Jerald Intrator and Maidens of Fetish Street (1966) by Saul Resnick.

On Friday 22 February 2019 the Fondazione Prada's Cinema stages "Soggetiva Nicolas Winding Refn" and holds a special conversation between Nicolas Winding, Jimmy McDonough (Managing editor), David Frost (director of BUREAU) and film critic Manlio Gomarasca about Nicolas Winding Refn's new adventure known as 'NWR'. This revolutionary online archive in form of a platform was presented in 2018 and developed in collaboration with London-based agency BUREAU.

"What we've created is not a film, TV, fashion, photography, lifestyle or political site. It's an installation, an online museum inclusive of everything. There's a movie presented each month, but that film is merely the jumping off point. It's the seed to inspire creativity, provoke a state of mind. The result isn't easy to explain in a soundbite, you have to experience it. byNWR comes with a mystery attached".

All the public screenings of "Soggettiva Nicolas Winding Refn," are taking place at Fondazione Prada's Cinema on Fridays from 1 March to 24 May 2019, and will be free, but are only accessible on reservation.

www.fondazioneprada.org
Fashion
Alyx Fall 2019 Mens / Pre-fall 2019 Womens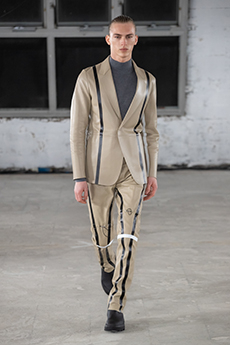 Since the very beginning Matthew Willams's Alyx stood for experimenting new silhouettes and technologies, developing new processes and building a new aesthetic made of small details into a whole.

For his second show during Paris Fashion Week official schedule Williams created a collection with all the elements that have been the brand's signature ever since: the asymmetric cut, the coulisse used in dresses and pants to create new volumes and of course the very well known buckle (that was also designed for Kim Jones's Dior Homme). This season renewed in a new moulded nylon version, with high density but lightweight, expanding applications and functional variations: around the neck as jewel and almost everywhere else in the collection.

The collection also featured a beautiful camouflage print tie-dyed on the roll and with sponges, as well polar fleece bonded with a 3-layer taped Japanese mesh produced in collaboration with the Italian manufacturer specialist Majocchi.

Matthew Willams refined his vision into the future with sustainability in mind: fabric welding using high-frequency molecular friction allowing low energy consumption and no solvents.

www.alyxstudio.com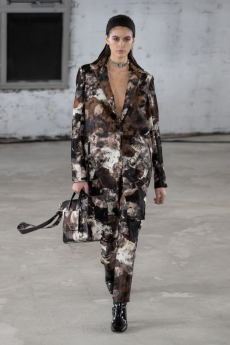 Fashion
Thom Browne Fall 2019 Mens
Thom Browne is a master in staging a theatrical spectacle with several acts and characters playing. Last Womenswear show was a tale of sea creatures. For Fall 2019 Menswear it is the Bubble Wrap Odyssey.

With a set composed by 36 bubble wrap stands along the runway the first 8 looks were completely composed by bubble wrap gloves and dresses. Thom Browne' playful overture anticipated the main acts: a Menswear collection designed by researching the essence od Womenswear codes: corsets, jackets draped and juxtaposed to create trompe l'oeil dresses. Looks were declined in two perfectly identical version, pant and skirt matching different tartan coats, all wearing Mary Jane.

It was a beautiful show imbued with Thom Browne's signature poetic and definitely a collection we would love to own, regardless of gender.

www.thombrowne.com
Fashion
Berluti Fall 2019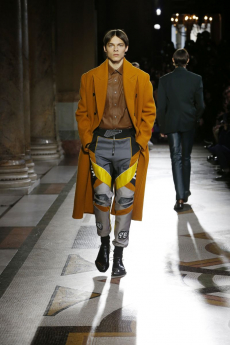 When Kris Van Assche was appointed new creative director at Berluti, the legendary Italian brand famous for its custom made shoes, there was a lot of excitement and anticipation for the new breeze this visionary designer would be able to bring.

We have been all following him in the developing of his codes along the years: the fascination to the New Wave music, the nod to a new modern tailoring with that sharp body-conscious blazer ushed further for the last collections at Dior Homme inspired by the Bar Suit.

Kris Van Assche knows how to take the elements of a brand's heritage and bring them into his own aesthetic. For his Berluti first show he worked on emotional elements dear to the brand: the white marble table used by Berluti's artisans since 1895 to polish the renowned shoes, photographed and used as print for shirt, coats, sweaters. You can see every mark left by the coloured shoe polish in the years, the craft, the spirit of the time.

The appeal of manipulated leather was used since the fist look: a brown leather suit with a patina finish (a technique known for the famous shoes of the Maison), a beautiful grey double breasted overcoat matched with a relaxed pinstripe suit marbled shirt + tie combo, smart bags.

The vibrancy of the colours found on the iconic Ferrara headquarters' marble table were back in the suits and coats: ruby, brilliant green, blue, ochre, also carefully declined on few female models. The majestic show location of Garnier Opera resulted the perfect set for Van Assche's new modernity, where backstage all his old and new supporters warmly welcomed this new course.

www.berluti.com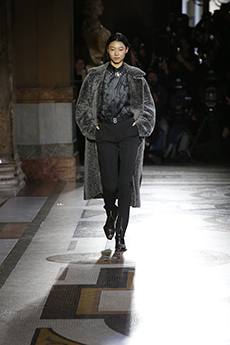 Art
New Flagship store Molteni&C | Dada in London
This month the Molteni group opened its third global brand showcase in contemporary number one design city; London. This high-end artistic design venue is applicably situated against the famous V&A design museum in the heart of Chelsea. Creative director Vincent Van Duysen has succeeded in creating a unique quiet moment in such a vibrant city. This new store represents a romantic life full of Italian flair, propagated in an "ordinary" looking house with two levels divided into many different zones.

To start with an impressive entrance, built on an inner door opens onto two floor-to-ceiling glass. Then you arrive at an iconic spiral staircase made out of walnut wooden and marble steps. Van Duysen made some sensational stylistic choices like the winter gardens brimming with all sorts of luxurious plants. This place is characterized by the theme of alternating perceptions that emerge in the surprising color and texture palette travertine marble and Korean walnut executed in various shades of gold and warm and bone greys.

This space is gracious, welcoming, dimensional and fluid thanks to the innovative distinctive details that will display the collections of designers such as Vincent van Duysen, Rodolfo Dordoni, Ron Gilad, Foster + Partners, Jean Nouvel and Patricia Urquiola and many others each in their own unique way.

To celebrate the opening, the new London Flagship Store will display a series of works by contemporary artists that develop The Collector's House project, a concept presented at the 2018 Salone del Mobile and, subsequently, in the New York Flagship inaugurated last May. The Collector's House, curated by art curator Caroline Corbetta, is an ideal collection that contributes to creating an ecosystem in which design and art enhance each other. Some designers that contribute are: Giuseppe Buzzotta (1983); Alessandro Dandini de Sylva (1981), Cleo Fariselli (1982), Emiliano Maggi (1977) Matteo Nasini (1976) and Vincenzo Schillaci (1984) are the six young Italian artists, represented by Rome's Galleria Operativa.

www.molteni.it

Fashion
Paris meets Munich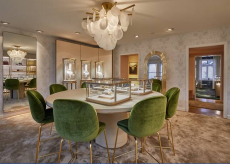 Parisian Cartier opens a new pop-up Boutique in Münich this week. A traditional Cartier store divided into three different themes, all characterized by classical Parisian charm and designed by famous Parisian interior architect Laura Gonzalez.

First you enter the bar, which gives you the feeling of stepping into a typical bistro in Marais. The luxury velvet, marble and oak details underline the elegant and chic French aesthetics and give you the feeling that you never want to leave.

The second entry is into the salon; an area that breathes the so-called savoir-vivre feeling. The mirror wall in combination with an extraordinary monumental chandelier and dining table are the perfect combination between a typical French romantic Burgundian lifestyle and the Parisian metropolitan spirit. Artistic atmospheres and individual design furniture give this boutique an innovative touch and translate the classical French/Parisian concepts into a new experience.

Lastly you arrive at the boudoir in which two large chaise longues and dark green color scents immediately attract attention. Iconic Cartier images through time adorn the walls in a playful way and take you through the empire of Cartier as a jewellery maison.

The Paris apartment is located on the fourth floor of the current boutique's house at the Maximilianstrasse and will remain open until Fall 2019.

www.cartier.com
Fashion
Playful Drama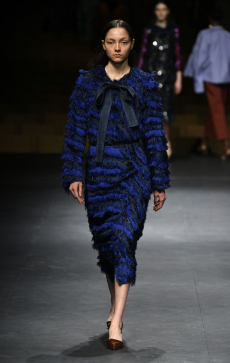 Odeeh's Jörg Ehrlich and Otto Drögsler want to create some drama for FW19. They conceptualized strong, individual pieces that can stand on their own. Many of the pieces play with opposites and challenge our understanding of a classic. Instead Ehrlich and Drögsler play on emotions with playful silhouettes. We see a dress with a pleated skirt and denim contrasts, a voluminous pink dress with fringe that teeters like feathers. What could have been all over the place comes together quite nicely with a limited color palette and standalone prints which find just the right balance.

The starting point for this collection was a 1920s workwear shirt found on one of their vintage tours in London. Both immediately translated that into a shirt in a fairly similar cut, but made from gray cashmere with an added pink fake fur collar. Low-slung waists too reference the 20s and show off Odeeh's nonchalant approach to the gender binary.

www.odeeh.com


Fashion
"To The Moon"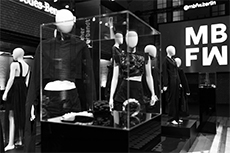 Keeping with this theme, interdisciplinary fashion icon Esther Perbandt presented an installation of her new collection "To The Moon" during Berlin Fashion Week and introduced her limited partnership with Feminista - the first political perfume. The showcase also serves as a celebration of Perbandt's 15 years in the industry. With "To The Moon", a tale as old as time re-imagined anew, she complements the almost stern and deconstructed collection with beautiful organic, harmonious shapes, made from manipulated and molded leather. Futuristic technology, such as 3D printing and CNC milling, meets traditional leather craft processes, resulting in shapes that are inspired by the feeling that one could indeed fly to the moon.

www.estherperbandt.com
Fashion
Walks of Life by Ermenegildo Zegna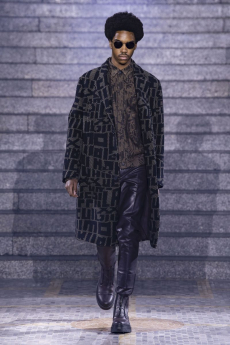 For the Fall/Winter 2019 show of Milan fashion week, the hall of Milano Central turned into a metropolitan catwalk for Ermenegildo Zegna. The brand wanted to make a statement to the many borders throughout the world that are still narrowed. This metropolitan orientated collection expresses the awareness of the pursuit for an open and multicultural world.

Sections are mixed and hybridized: like shirts and jackets merged into functional one-pieces. The silhouette is central, personal, and must be easily wearable but formal. Outerwear is voluminous and expressive, while coats are longer and look more slender and geometric shaped. An interesting mix of patterns and fabrics portray the coalescence with weaves of cashmere, paper, and leather lead to interesting bold visual abstractions. The chosen color palette is characterized by white, Felt, Commissar and Warsaw grays, Beluga black, Notte blue, khaki, Syberian green, lit up by touches of Absinthe and Citrine quartz and amalgamated. These are all made out of exclusive modular solutions with the use of fusion and manipulation. More information can be found under the slogan #UseTheExisting.

All the looks can be completely customized and personalized all over the world with the iconic My Cesare.

www.zegna.us
Fashion
BREAKING: PRADA TEST SUBJECTS ESCAPE
Seven subjects have escaped Prada's imaginary futuristic laboratory. An innocent journey of discovery has morphed into a riotous episode of harmless magic. Disco, Socks, Fiddle, Otto, Toto, Scuba, and Spot came into being as a team of researchers set out to study the extraordinary DNA of Italian fashion brand, PRADA. Their research became fantastical and a series of experiments involving the heart of Prada produced astonishing results.

Our seven protagonists (raised in solitary confinement) have mechanical triangular Prada hearts and checkerboard pattern brains. Born from the heart of the label each character exhibits central Prada themes: metal studs, polished wood, iconic prints, voluptuous lips, and classic Saffiano leather.

Having escaped Prada's, top secret, non-existent test facility, New York design studio 2x4 (serial Prada collaborators) provided the innocent creations with refuge. 2x4 studied the creatures and designed each member of the family their own color-coded pouch, case and character booklet complete with personal biography and insight into their unique abilities, anatomy, and behavior.

With the fugitives contained, Disco, Socks, Fiddle, Otto, Toto, Scuba, and Spot can be found in Prada stores and online at Pradamalia.com in the form of keychain tricks, earring sets, and necklace charms.

www.prada.com
Fashion
Parisian Femininity
Femininity defies definition, every woman has her own femininity, and it comes from the charisma she exudes. In years past, lingerie was simply the ladies undergarment. Now it means far more – lingerie has become the language for women to appropriate their own femininity through shape and form.

Parisian Lingerie experts Aubade helped to free the women form allowing ladies to celebrate their independence. With this freedom lingerie's requirements began to evolve. Physical support no longer dictated - glamour, sensuality, and seduction took the helm.

To honor sixty years of vigorous devotion Aubade has dedicated the year 2018 to love and creativity. Their autumn-winter collection encapsulates the range of emotions that flutter through the soul as romance ensues, from the frivolity of flirtation to the seduction, sensuality, and passion that follows.

Over the past sixty years, the Parisian brand tirelessly drew inspiration from the ladies of the day interpreting their desires in the world of emotion. Aubade champions the craft refining their skills throughout their evolution, now, luxurious embroidery, refined silks, and decadent lace epitomize the collection.

Autumn-Winter is a delightful collection for those who wear it and those who are lucky enough to see.

www.aubade.fr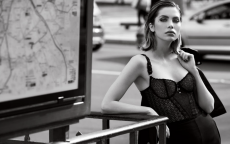 Fashion
Saint Laurent Spring 2019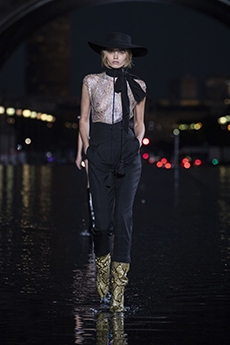 Fluorescent-like huge palm threes designed by artist Vincent Lamouroux looking at a glittering Tour Eiffel at dawn, where a stunning pink red light pervaded the whole Trocadero. And models walking on water. Anthony Vaccarello's postcard from Saint Laurent Spring Summer 2019 never felt so charming. It evoked our desire of Summer, of far-away places like Yves beloved Morocco.

Vaccarello showed a collection true to his aesthetic, shorts in all declinations, mini dresses and several version of tailored tuxedo ensembles. But also Western America style looks and a series of sheer fluid dresses. The hats, the bow shirts, the knee boots: the 60s, the 70s and the 80s where all part of Vaccarello reference palette, inspired by Monsieur Yves' archive, delivering a collection where the feeling of the "night" was a big protagonist.

As the last looks glided on the water with long fluid animal print chiffon dresses the reference built up strong. We felt the references to the iconic 1971 couture Spring Summer collection inspired by Yves' longtime friend Paloma Picasso but also the overall references to Saint Laurent woman. Running late to her own wedding in a black fitted leather jacket and incorrigibly spraying her favourite fragrance in front of an astonished marriage officiant interrupted as he reads the vows, the 80s Rive Gauche perfume advertising could not be more on point: pas pour le femmes effacées. Definitely not for the modest woman.

www.ysl.com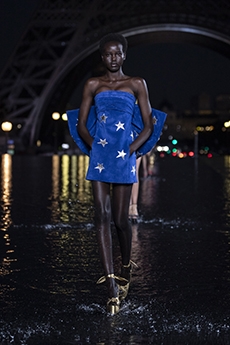 Fashion
Highlights from Milan Fashion Week
Prada Spring 2019
Defiant as ever  —  for Spring 2019 —  Prada continued the battle against tradition. An aura of a 60's girls swept the Prada Fondazione space in Milan, an ode to the daywear of that time and captured the aggression of the era with a typical Prada ease.

At first glance, te collection seems otherworldly, almost alien. Soon after, the oxymoron reveals itself. Spring 2019 is a collection of conservatism, personality, and sheer beauty. The result is a highly wearable collection of plunging bodysuits with straps below the breasts, very typical Prada A-line silhouettes in the shape of coats, jackets, and dresses along with juxtaposing experimental tie-dye skirts and dress that are equally mesmerizing.

This was a very out-spoken Prada collection. During Prada's pre-show press conference she mused about the fact that —  "Fashion shouldn't follow excessive simplification, because the more you simplify, the more slogan you use, the less content there is".

www.prada.com
Sportmax Spring 2019
The Sportmax runway approach is uniquely, unique. This is an essential collection, a sporty parade that has been revved to the max.

Surf references were rife throughout the Spring 2019 collection. Men's tailoring may have accented the start of the show, but what was to follow was utter femininity. Bikini tops were casually paired with multifaceted jackets that boasted layers of intricacy. Barefoot outfits demonstrated the ease of the brand while dresses stole the show with their splendour; each garment took the show to a new level evolving the concept radically one step at a time. The sheer range of Sportmax's Spring 2019 collection is quite astounding.

www.sportmax.com
Roberto Cavalli Spring 2019
Notorious for his exploits in the men's business Paul Surridge demonstrated his precision tailoring for Roberto Cavalli's Spring 2019 collection. Here, Surridge demonstrated the flexibility of the bike short, while showing off its sex appeal. Taking many forms the traditional formal wear paired with; plain blazers, printed blazers, loose shirts, blouses and dresses. Spring 2019 exhibited an authentic abundance, particularly in the choice of prints. This abundance carried through to the unique variety of dresses. Intentional or not, Surridge has inched the gap between male and female fashion even closer.

www.robertocavalli.com
Fashion
Sonos and Faberyayo partner up to celebrate Fall as the Comfy season
Is he serious? Is he joking? Is he highlighting faults in society or is he laughing for the fun of laughing? Pizza love songs, puppet shows and short novels about dwarfs, Dutch Rapper Faberyayo's aesthetic is one of neon-normality. Faberyayo has carved a lane through the centre of Dutch hip-hop with his pioneering work ethic and an innate sense of originality. This Fall 'Yayo has reinvented himself again as his own barmy galaxy collides with the luminous effervescent planet of Abel.

This weekend Faberyayo and Abel take over the Sonos Home in Amsterdam to celebrate the release of their album. The duo has fused their unique minds to produce a brainchild like no other, Comfy. Now that the light is faded, summer has decided it is time for fall, the leaves begin to glide to the ground, this is the season for Comfy.

''Comfy Season means the summer is finally over and everyone gets back inside. It's the season of dressing in Comfy style, the season of takeaway latte macchiato's, the season of online shopping and enjoying a bit of romance at home. Fall is more than a season, it's a vibe! Dear Fans and Fanettes, come and get Comfy with me, it's the season!'' — Faberyayo.

Sonos transformed their Amsterdam home completely to shoot the music video of the first track of the album called "Online Shoppen". The result is everything you might expect when you let Faberyayo and Abel take over your home. An exciting experience bringing the world of Faberyayo and Abel to life visually and sonically. Fans will be the first to step in the world that's called Comfy season and enjoy the experience and get an exclusive screening of the video in Sonos Home Amsterdam before it goes live.

Join ZOO at the Sonos Home Amsterdam on the 22nd and 23rd of September. Visit the experience in the Sonos Home Amsterdam and be the first to see and listen to the new music video, book a free time slot, receive your personal invite, bring a friend and immerse yourself in the world of Comfy Season. You can register here.
Fashion
Highlights from New York Fashion Week
CALVIN KLEIN 205W39NYC Spring 2019
Creative Director RAF Simons' cinematic eye has transformed the landscape for Calvin Klein 205W39NYC since his arrival. On this occasion the often-polarizing original Hollywood blockbuster Jaws and the eerie yet sublime Dustin Hoffman classic The Graduate set the tone. Jaws Merch-tee's will undoubtedly sweep the upper echelons of fashion while Mortarboards felt more necessary as mood setting props. Rubber Scuba gear that paid homage to both cinematic triumphs will be the talk of the town for months to come.

www.calvinklein.com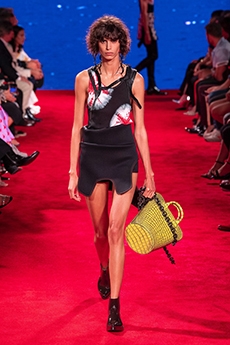 BOSS Spring 2019
Few expected a fine-knit dress and nylon trench to open Boss' Spring 2019 at New York fashion week. Ingo Wilts delivered a light collection combining the men and women's effort with relative ease. Perhaps Hugo Boss are better without their bread and butter.

www.hugoboss.com
Longchamp Spring 2019
To celebrate their 70th anniversary Longchamp continued their soiree into the world of ready-to-wear. Fall 2018 piled heavy emphasis on outerwear with seductive layering, delicate fringes and fabulous braids all set to inspire the spirit of playfulness often associated with the French leather brand.

www.longchamp.com
Proenza Schouler Spring 2019
Denim. Proenza Shouler pair Lazro Hernandez and Jack McCollough rejuvenated the eternally loved work wear textile in an attempt to reinstate reality. We want the clothes to be fashion, but also to be more real," Hernandez said. "That's what feels right in the world today. It's kind of a cliché, but it's gotta be real."

www.proenzaschouler.com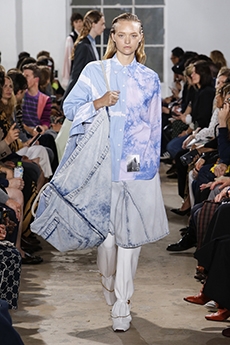 Camper FW18 Campaign
Spanish footwear brand Camper has released its Fall/Winter 2018 collection with a new campaign. This time, creative director Romain Kremer stretches the imagination and blurs the line between the abstract and the absolute. Photographed by Daniel Sannwald, the brand demonstrates a real-life take on the virtual experience and questions the future of digital interaction — inviting spectators alongside otherworldly avatars raining from fantastical to post-apocalyptic.

Debuting with this collection, the popular footwear company presents nine new styles of advanced unisex shoes including newcomers Rolling and Pix, Helix and Brutus and chunky-heeled Thelma for woman.

www.camper.com
Fashion
Jessica and Krystal Jung celebrate anniversary of iconic Fendi Peekaboo Bag
Jessica Jung — an American singer, songwriter, actress, model, fashion designer, and businesswoman who was born and raised in California with Korean roots together with her little sister Krystal. In 2007 Jung debuted as a member of the South Korean girl group Girls' Generation.

Her sister Krystal Jung is a singer and actress in South Korea. In 2002, Krystal began appearing in television commercials. In 2017, she starred in the comedy drama "Wise Prison Life" and received good reviews for her performance. She was also named 'Woman of the Year' by GQ Korea in the same year. Jessica and Krystal are the most popular sisters in Korea. Together they're staring in the new Fendi Peekaboo Bag campaign celebrating the 10th anniversary.

www.fendi.com
Fashion
Roberto Cavalli opens first German store
Located in Berlin's elegant shopping heart Charlottenburg, Roberto Cavalli is opening its first German store, welcoming customers to shop the brand's modern and dynamic collection covered by their authentic Italian experience.

Balancing between space, sofas, gold lamps and armchairs the store represents a wide collection for men and women, offering ready-to-wear clothing, shoes, bags, watches, jewellery, eyewear, fragrances, home accessories and tableware.

The store embodies Roberto Cavalli's international and cosmopolitan spirit inspired by Tuscany's sophisticated color combinations. Precious marble floors and elegant vaulted ceilings mixed with freestanding furniture pieces and brushed brass tracks define the new direction and straightforward vision of the luxury brand.

www.robertocavalli.com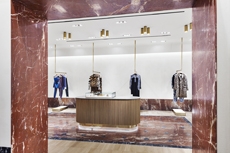 Fashion
It is so good to be bad
Sensuality and femininity strongly force together with hopeless romance and fearless independence for the new fragrance GOOD GIRL by Caroline Herrera.

The mid-night blue stiletto bottle with golden heel epitomises New York's style, defining elegance and sophistication, reflecting the Herrera women who are confident and powerful by nature.

To capture the perfect scent for the sophisticated and complex woman of today, Caroline turned to a true master when it comes to perfumery: Louise Turner, creating The House's new fragrance that captures and celebrates Caroline's high-spirited duality.

www.carolinaherrera.com

Fashion
Giorgio Armani Spring/Summer 2019
Free and mindful, loose and genteel. Giorgio Armani proposals for Summer 2019 effectively have the power of sewing a traditional, masculine elegance with a contemporary sense of ease.

Soft figures in light shades of chalk white, hemp grey and delicate flashes of blue and turquoise celebrate the spontaneous classicism of formal yet sporty jackets and blousons.

The double-breasted jacket confirms this idea playing with different fabrics and patterns, while the modern waistcoat enhances a fresh feel of versatility.

As well, a sandy filter underlines the naturalness of the collection that introduces refined variations on the definition of what Giorgio Armani means for a very sophisticated style.

www.giorgioarmani.com
Fashion
Here and Now – Roberto Cavalli SS19
Immediacy is the leading mood presented by Paul Surridge for Roberto Cavalli Spring Summer 2019 Menswear collection.

The astute combination of athletic tailoring and clean proportions determines the contemporary spirit of the outerwear, knitwear chinos, slouchy bermudas and shorts proposals.

Stretching from pure white to decisive black, the range explores the full chromatic scale and especially focuses on hybridized animal motifs, which enhance the sensation of a concrete jungle.

Functional rather than decorative, the artisanal feel is still evident, sophisticatedly recalled through precious intarsia and Macrame details on the knitwear.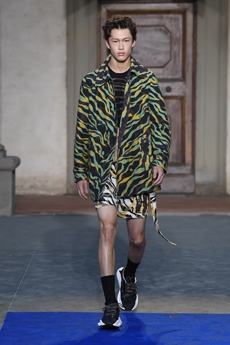 On the occasion of Roberto Cavalli Menswear Show at the Pitti Immagine Uomo, the brand launches also the men's eyewear collection developed with Marcolin.

As well, all the accessories accentuate a juvenile, swagger attitude. Materials play a key role in the determination of this new urban vocabulary.

Eye-shelding visors and and polymath running shoes define the outlines of the ultimate luxury, which follows the speed of the concrete landscape, here and now.
Fashion
An eclectic journey
FENDI is always looking for exciting initiatives to present their Eyewear collection. This time the brand collaborated with model, actor and bandleader of Counterfeit, Jamie Campbell Bower, showing the in-depth voyage of his soul-searching journey, embodying the FENDI Man values.

Off-duty dressing rooms and phone calls while chilling out were captured by a privet camera as well as his creative on-stage rock performance, remaining true to his inner child, hidden behind FENDI's SS18 sunglasses.

Watch the full series of videos on our social platforms.

www.facebook.com/zoomagazine
www.instagram.com/zoomagazine
www.fendi.com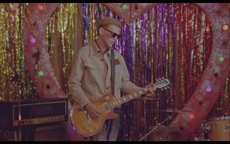 Fashion
No matters where: Woolrich SS18 Footwear Collection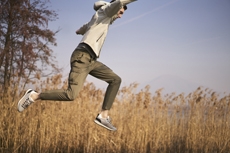 Calibrating the balance between urban outlines and high-performance features, the Spring 2018 footwear collection by Woolrich keeps strengthening the statement of contemporary functionality.

The shoes' construction presents a solid sole made by Vibram, suitable for both journeys outdoor and urban walks thanks to a contemporary design.

Part of the menswear collection, the Trail Boot is available in high and low top versions, featuring minimalist outlines in contrast with fluorescent details. With a focus on confortability, the Air Mash model is characterised by a lined sole, while the overall collection of light snearkers, sleepers and slip-ons are enriched with colorful bands to best embrace the bright spirit of summer.

For the women, mountain boots with performance laces, trainers in nubuck and slip-ons unveiling a suede trim explore the coasts of the New World, balancing their technical structure with the use of natural materials.

Available in Woolrich flagship stores and distributed to the best multibrand stores in Europe, USA and Asia, the footwear collection can be purchased also trough their website.

 www.woolrich.eu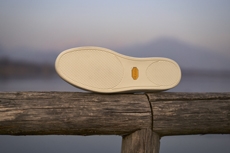 Fashion
Berluti new store opening in Munich
The immediate sensation is that of a quiet intimacy, as if one could slighlty hear the clock tickings spread over a place that has always been there.

The new Berluti flagship store in Munich is the second one to be opened in Germany, yet it is the first in Europe to launch a totally new concept for the interiors.

Located on prestigious Maximilianstrasse and in a Neo-Renaissance building, the design highlights the brand's luxury heritage, yet respecting the typical Munich architecture.
On the one hand, the preference for a square, clean design suggests Berluti affinity with sobriety and composure, which is in turn calibrated with the presence of delicate textures that characterise the stone finished beige walls.

As well, the hand-polished bronze shelves and frames, the marble tables, the polished wood cabinet and the herringbone pattern over the matte wooden floor seem to complete each other.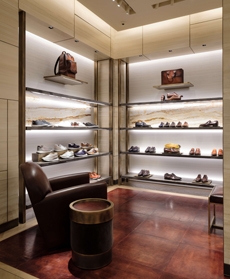 More elements, such as a dramatic wall lined with symbolic tincture bottles, a wooden display cabinet and classic club armchair intensify the relaxed atmosphere, gently illuminated by pale lightings that unveil the precious details of Berluti collections.

The new Berluti boutique is the perfect place where contemporary gentlemen can talk about elegance in detail.
Fashion
Peuterey Icon
With two new proposals Peuterey continues working on their innovative Icon Project, which this season introduces two pieces for the outerwear. Bail for men and Corduroy for women are down jackets made of cotton poplin, featuring a water repellent surface and thermo-taped internal seams. A detachable hood with drawstring, wind protection and reflective details underline the urban design and feel for technology. On the other way around, Carve and Shaka are regular fitting parkas introducing a bond technology that allows for a reduced thickness. Light and versatile, Peuterey products are future-oriented, yet perfectly communicating that balance between contemporary style and the highest functionality.
Fashion
Highlights from Paris Fashion Week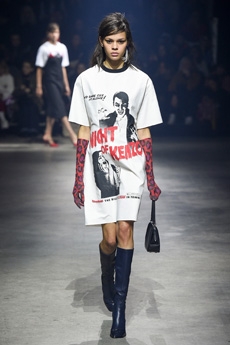 When French painter Henri Rousseau realised renowned artwork "The Dream", he recreated a jungle scenario only observing tropical plants and flowers at Paris Museum of Natural History. For Fall 2018, designers Carol Lim and Humberto Leon bring the surreal painting into a dreamlike collection, melting the brand language with inspirational references taken from the past. Therefore, soft knit sweaters, parkas and skirts function as a canvas and accurately reproduce lotus flowers, jungle animals and natural landscape. By contrast, bright colors over striped knitwear pieces recall Kenzo graphic identity, remarking brand prowess in combining art and contemporary fashion.
Atavistic yet extraordinarily conceptual, Rick Owens is a master in transcending fashion discussion to the highest level. Hence, ancient myth of Sisyphus is reinterpreted with approach recalling the radical language of Arte Povera. Femininity turns abstracts and is deconstructed and layered trough a brown color palette unveiling pilled fabrics and padded swaddling. Mythology is recalled by bulky and extravagant panniers, yet balanced by a sporty feel that runs over the entire collection.
Oversized coats and over-the-knee cowboy boots introduces us to Isabel Marant's imagery, which this time takes inspiration from old American westerns. Paisley motifs, fringed decorations, lace details over delicate blouses and a warm color palette alternate with pieces that recall 80s glamorous femininity trough ruffled mini-dresses and wide shoulders. For both men and women, the collection evokes a strong sense of sophisticated comfort, assuring a distinctive take on this modern reinterpretation of America.
Set in the Unesco building, Loewe show under creative director Jonathan Anderson unveils an intriguing collection, which seems to support the need for a comfortable wear. Although, the relaxed outlines face with a more contemporary approach to fashion aesthetics, as well as they reveal a strong focus on classic tailoring and enhancement of volumes. Flowing dresses and shirts are adorned with ruffled sleeves, leather collars external pockets and eventually silk bra attached in the front, offering women a very variegated range.
With his collection, Haider Ackermann deliberately points out the fragility of our times. Models are perceptibly androgynous, yet their silhouettes remark the presence of a sober, linear elegance. The bitter shines trough the color palette, including light olive green, pink, caramel and sky blue tones emphasizes the richness of fabrics, which in turn reveal interesting embroideries and ruffles over suits in jacquard and velvet dresses.
At Hermes Vanhee-Cybulski presents a women collection that is nothing but an attentive work on details and hourglass silhouettes. This is a collection that cover up the body to let the clothes speak for a classic elegance. The abundance of dark leather (alongside different proposals in light olive green, red and caramel) that would be conventionally associated with a subversive seductiveness, here is sophisticatedly transformed in a sober yet luxurious take on classic pencil midi-skirts and jackets in what seems to recall the compelling fascination of noir movies.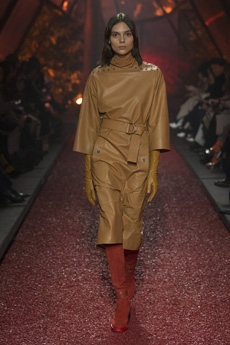 Fashion
Highlights from Milan Fashion Week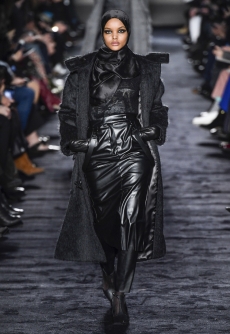 On the wave of intelligent feminism, Max Mara centres on how modern women perceive their freedom. If in the 80s structural elements from the male wardrobe would have symbolised the status of achieved empowerment, nowadays the feeling is different. Collaborating with French artist François Berthoud for sweaters and T-shirts, the range includes skinny pants and pencil skirts, while for the outerwear a teddy bear coat featuring a Western Fringe, leopard printed coats and the iconic camel coat featuring a classic cut that design the outlines of a spontaneous, comfortable self-expression.
On the other way around, Sportmax is a layered conjunction of technical materials and urban outlines, determined by bright colored puffers and and down vests. The skirts are embellished with zippers, while the dresses' flowing shapes enhance the sporty feel the athletic silhouettes.
Inspired by the intriguing Sharon Stone in Basic Instinct (1992), for Paul Surridge fashion is a matter of sensuality. Without abandoning Roberto Cavalli historical trademarks, the collection combines together womenswear and menswear, highlighting opulent looks featuring multicolor animalier prints, leather shirts, aviator jackets, flowing maxi dresses best enhanced by ochre, turquoise and amethyst colors.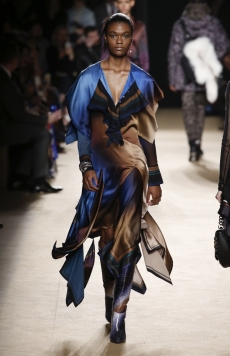 Strong, loud, confident. The charming women of Versace bring back all the energetic enthusiasm of glamorous eighties. With a powerful visual impact and honouring the brand tradition as well as the mixing of different cultures and subcultures, the proposals feature total looks and bold logos, which are in turn underlined by architectural shoulders, multi-layered kilts in contrasting full yellow and blue, corsets and mini-skirts.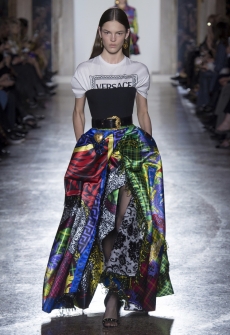 With Paul Andrew taking the reins of the women's brand, Ferragamo presents nothing but a very a sophisticated collection focusing on classicism. Symmetrical cuts are in total harmony with fluid fabrics in monochromatic hues that softly intensify the feel of a sober elegance over foulard and long dresses. Moreover, suede trenches come in full green or red hues highlights the brand's leather heritage in balance with the immediateness of contemporary fashion.
Working on the coexistence of different cultures, Giorgio Armani proposals are quite a number. Total looks in black velvet take central stages, mostly embellished with crystals, watercolor florals that do not compromise the brand's smooth elegance, yet transform the precious fabrics in garments wearable any time of the day.
With a similar approach, Emporio Armani creates a strong alliance between the richness of their bright fabrics and the urban and sporty language of the label. Hereafter, everything seems a contemporarily wise update, which focuses on forms and proportions. Several shades of green and watery colors set the mood of the collection, revealing long dark coats, fur and structured tailored jackets.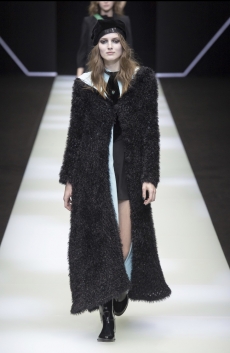 Fashion
Inner Landscape by Prada Journal
In cooperation with Italian leading publishig house Giangiacomo Feltrinelli Editore and Eyewear brand Luxottica, Prada Journal unveils the winners name for the a competition which has seen 5 tesimonials, 75 contributors and 267 selected Prada Journalists sharing their own Inner Landscape.

The projects explores the theme of relationship between the personal sphere and the outside world, asking the participants to use texts and images (photographs, video or illustrations) to best suit the creation of a compelling digital content that translates what can be a personal perspective into a collective, sharable overview. The three winners Giorgia Ascolani (video), Isabella Giambitto (image) and Nadya Zakharova (gallery) have been selected by Davide Monteleone, Mimi Xu and Margaret Zhang, testimonials of the project.

In addition to the context, Prada Journal in collaboration with Luxottica have realised an elegant yet essential Eyewear collection, featuring metal frames, double bridges and acetate inserts, which enhance both brands affinity with high craftmanship and offer an exclusive tool with which observing the inner world and the outside reality.

www.prada.com/pradajournal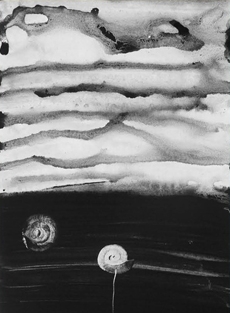 Fashion
Weather beating – The Pacific Jacket by Woolrich
For Woolrich, Spring 2018 is a full immersion in versatility.

The Pacific Jacket has been specifically studied to be the ideal high-perfomancewear for outdoor activities.

Made of breathable and water repellent technical fabrics, the jacket features an adjustable hood, waterproof zippers closing the pockets and ribbed cuffs over long sleeves that exhibit a printed logo on the arm.

Light and protective, this jacket has been conceived thinking of the diverse weather conditions as well as keeping strong the link between function and contemporary design.

www.woolrich.eu
Fashion
Highlights from NYCFW
A look back at the structured shapes of the eighties enhanced by black leather head-band accessories, Tom Ford delivered a roaring, eccentric spirit that highlights shimmering animalier prints over constructed suits and tight mini-dresses, reinforcing the idea of eccentric glamour.
With his extreme love for excess, Philipp Plein presented a space-odyssey runway, catapulting us in an ultra-artificial world dominated by robots, fake snow and floating spaceships. Skin-tight catsuits, sported by Irina Shayk, and bodysuits in latex or adorned with crystals strongly underlining the silhouettes, while logo straps appear on oversized puffers. The collection features metallic crop tops and plastic coats true to Plein's subversive spirit.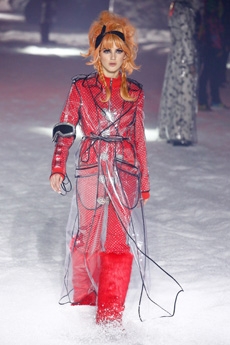 Victoria Beckham's work has always been an aesthetic devoted to femininity. For ten years now, the vision is still the same, adding a modernist, utilitarian feel to the collection presented last Sunday at James Burden Maison in Manhattan. Dresses in felted wool with sculptural silhouettes feature full-length back zips. The collection includes also khaki trousers and structured coats that add a touch of rigorous military mood. By contrast, long skirts in earthy tones are enriched with silk pleats paired with oversized bags enhancing the feel of a relaxed high-end allure.
Inspired by Berlin's beats of Barghain and fascinated by the cult book-turned-movie Christiane F. – Wir Kinder vom Banhof Zoo, Raf Simons unveils a youthful and underground collection. With graphic prints on T-shirts featuring actors Thomas Haustein and Natja Brunkhorst (main characters of the movie), sleeveless hoodies controversially embellished with "DRUGS" caption (which actually refer to Cookie Mueller and Glenn O'Brian) and eventually latex gloves, Simons cleverly portrays the club scene, offering an exclusive high-end rave-wear.
Italian house Bottega Veneta unveils their opulent collection by German designer Tomas Maier, with a tender homage to New York City. Silk pyjamas, multi-chromatic dresses and geometric design tell us something about the architectural landscape of the City and its multicultural, immersive aesthetics.
Fashion
New Dior Boutique Opening in Berlin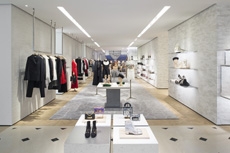 Last 27th January, Dior has inaugurated a new boutique located in Kurfürstendamm 56, one of the most well known avenues in Berlin.

The store, which hosts both menswear and womenswear collections, jewelry and perfumes, has been decorated by designer Stefan Leo with furniture in recycled-metal that create a tromp-l'oeil effect. The LB bubble artwork by abstract artist Jan Kalab adds a contemporary tone to the gentle atmosphere, softly in balance with the Versailles Parquet floor, that instead recalls Christian Dior passion for 18th century aesthetics.

www.dior.com
Fashion
Dries van Noten Menswear Fall/Winter 2018
A warehouse in raw concrete, with all its stripped down connotations, once the distribution centre of the French Post. Like last's season venue - the former Liberation offices - it gave a feeling of nostalgia, and a sense of austerity.

As the model walked in the space above the audience pit, on the notes of Underground's Born Slippy in a 2008 remix by Get Well Soon, we felt that play between contrast Dries Van Noten has often chosen in his poetic.
The collection is as complex and intricate in mixing different styles and influences as it could be the individual course of a lifetime, with different patterns, mood swings, travels and ages.

There is an incredibly appealing modern take on tartans and Prince of Wales plaid with the warm tones of traditional suiting.

But also slightly oversized silhouettes next to slim and elongated ones; fringed embellishments reminiscent of a Western age; half kilts styled on top of matching pants; white cotton trousers with broderie anglaise; jackets hand embroidered next to boxy sporty trench coats; pongee silk for the most alluring pyjamas.

The show note mentions "the tension and spark of the habitually incongruent".

Dries Van Noten has created a collection beautifully balanced with all the elements that have been classics staples in his oeuvre – modern English tailoring, sporty, lush prints, florals, dark colours next to a vibrant palette – while delivering a show that didn't fail to deeply touch us in a crescendo peaked in the finale lineup: over 40 billowy raincoats declined in a rainbow of variations featuring hand painted marbling technique used traditionally on paper.

There was a sense of joy, of youthful atmosphere, of life.

www.driesvannoten.com
Fashion
Peuterey x Vespa @KaDeWe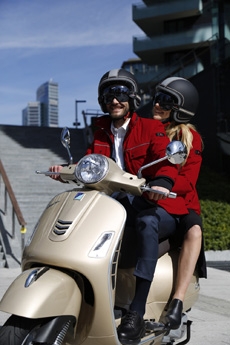 In January 2018, Italian brands Peuterey and Vespa will partner with KaDeWe to present a new, innovative capsule collection. Playing with two different styles, the proposals for the outerwear, a windbreaker and a field jacket, come with goggles and a helmet. The jackets are made in lightweight and waterproof fabrics and released in diverse colours, smartly combining dynamic functionality with contemporary elegance.

Following the mood of a trans-seasonal adaptability, the pieces focus on versatile characteristics, such as the foldable hood and a detachable lining.

By contrast, both the helmet and the goggles feature a linear and clean design presenting beige stripes details over black tones and definitely point out the two iconic brands' aesthetics.

From January 29th until the 18th of February, the collection will be exhibited on a special display. Two pop-up stores on the first and second floor will simultaneously showcase the men and women's collection.

With Yvan Rovic taking over Peuterey's and KaDeWe's official Instagram accounts, customers will also have the opportunity to follow the trend-spotter in the discovery of Berlin as well as find out interesting details about the collaboration.

Last but not least, KaDeWe will invite two famous celebrities, whose names are still kept secret, and ask them to experience the collection. This interactive event will take place during a cocktail party inside the store and invites customers to engage with the duo adding a unique contribution to the project.

www.peuterey.com/bs/peuterey-vespa
Fashion
Marni Market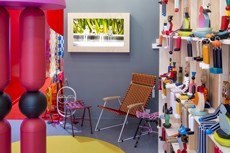 For five months, at 231 Rue Saint Honore, Marni Market settles in Paris. The firm's playful universe is revealed through an exhibition where visitors can explore and interact within Marni's colorful world and purchase special items during three different periods.

In January 2018, Marni Visitor Market keeps the traditional Christmas charitable donation —addressing the profits to Piccolo Principe Association for helping children in difficulty within the province of Milan — with the sale of funny marionettes, half toy and half sculpture, made of painted wood and resin.

From the 1st of February until the 12th of April, Marni Playful Market will turn in an interactive space, where visitors can play freely within the elements showcased in the area.

The last period, from the 13th of April until the 18th of May, Marni House Market will be dedicated the exposition of Colombia hand-made items, celebrating creativity and workmanship.

www.marni.com
Fashion
Lana Mueller Launches Fall/Winter 2018-19 Collection
On the exclusive 1st floor of Restaurant Borchart, Lana Mueller unveils the traits of her woman: extremely feminine and pleasantly delicate.

A sober elegance is suggested by the color palette, which prefers pale blue, full green or light sorbet shades and even more highlighted by sophisticated fabrics, such as a classy lace combined with hand-painted velvet and light chiffon that celebrate the beauty of organic forms.

www.lanamueller.com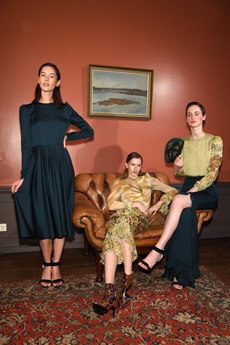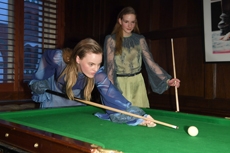 Fashion
Fendi Spring/Summer 2018 Menswear Collection
This is an incredible era of change. The extraordinary enhancements that tecnology is introducing in the job industry are simplifying the way we approach daily chanllenges and creating new exciting opportunities for a new generation of creative minds.

Being aware of this overwhelming revolution, Fendi Men's SS18 ad campaign establishes the features of the businessmen of today, who are costantly floating between high professionalism and flawless humour.

Shot in Rome's brand headquarter and on the beach of Gaeta, a treasure of Lazio Region, the campaign stars a young Dylan Fender wearing a neutral palette made of casual yet classic outfits. The collection introduces us to the new vocabulary of menswear and combines refined tailoring with sportswear and streetwear.

The vibe of creative freshness and entrepeuneurial spirit is perfectly commmunicated by the new Mini Peekaboo Fit briefcase, vivaciously erniched by illustrations by guest artist Sue Tilley. "Be open minded and use creativity". In Silvia Venturini Fendi's statement lies the whole essence of the collection, and we ebrace her captivating enthusiasm towards 2018.

www.fendi.com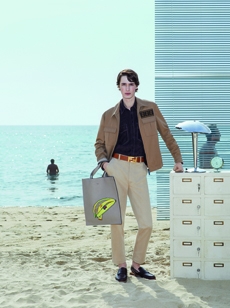 Fashion
Karl Lagerfeld Jewelry Spring/Summer 2018 Collection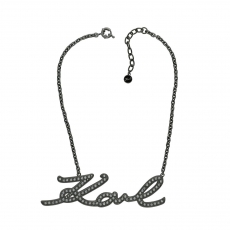 The icon Karl Lagerfeld is widely known for his cutting-edge approach to fashion. The KARL LAGERFELD fashion house, which is creative directed by the designer himself, has its roots in a DNA that stands for accessible luxury and coolness. For the SS18 jewelry collection, the brand combines elegant elements with a rock-chic style and playful embellishments. A palette of multi-colored pastel Swarovski crystals gives the pieces a timeless feel.

Divided into three groups, the collection covers every kind of style. Klassik Karl is inspired by the personality of Karl Lagerfeld himself. His world famous cat Choupette and his handwritten signature appear in pavé Swarovski crystal finishes. A collection of necklaces, bracelets and earrings is featuring the letter "K" as a pendant, embellished with Lagerfeld's silhouette.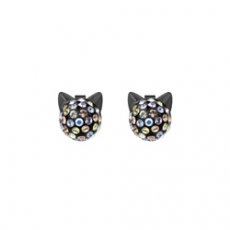 The Ikonik-part of the collection is rooted in the brand's cool creative aesthetic and characterized by celestial stars and hearts paired with sketchbooks and safety pins. The pieces are made out of rhodium, gunmetal, gold and rose gold plating with Swarovski crystals. Further, the range offers an interchangeable charm program allowing the wearer a customized look.

Exuding an elegant and sophisticated aesthetic, the third part of the jewelry collection, called Essentials, makes the day-to-night look an effortless transition. Centered around faceted pyramids and Swarovski crystals, these pieces provide dramatic looks that are modern, rocky and cool at the same time.

The necklaces, pendants, ear jackets, hoop earrings, bracelets and rings all come in a mix of geometric pyramid shapes. The KARL LAGERFELD Spring/Summer 2018 jewelry collection will be available from the end of January in stores and online.

www.karl.com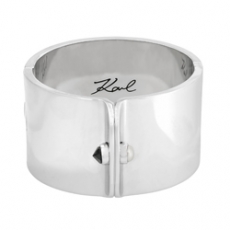 Fashion
G-Star RAW Research III BY Aitor Throup
In the G-Star RAW innovation lab, which is led by the British designer, artist and creative director Aitor Throup, denim is being deconstructed to its purest form. The third collection of the RAW Research for men and very first for women, presents new denim constructions, silhouettes and shapes.

The collection features ten pieces in undyed and unwashed calico denim and challenges the conventional perception of the popular fabric. The same collection goes through a process of hand dyeing, where the indigo is added to the raw garments, resulting in an organically irregular visual effect. The G-Star innovation lab separates, analyzes and utilizes the core elements of denim in experimental ways.
RAW Research is known for launching a new 3D denim construction each season. This time, it is the Spiraq jean. Crafted from a single piece of denim, that is wrapped around the leg, the model is carefully molded to provide the perfect fit.

The third RAW Research collection also represents Throup's first ever work of womenswear. Reflecting the overall design pilosophy of RAW Research III, the pieces are blending minimalism and functionality without compromising femininity. For both the men's and women's collection the in-house laboratory of G-Star follows the same untreated approach, while pushing the boundaries of product design through an explorative process.

The G-Star RAW Research III collection wil be available in selected concept stores from the 15th of December.

www.g-star.com
Fashion
Moncler Collaborates With Lifestyle Brand Kith and Asics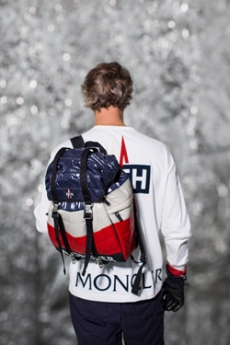 It seems like the luxury outerwear brand Moncler can't stop to make common cause with other great brands. After a collaboration with Junya watanabe, Balenciaga, Katrantzou, Sacai, Ami, Virgil Abloh and Craig Green, the brand now presents two more. For FW17/18 the brand has collaborated with New York-based lifestyle brand Kith.

The main collection includes a range of T-shirts, sweatshirts, graphic outerwear made from iconic lacquered nylon, trousers with thick-weave biker padding jackets and waistcoats of clean geometric lines. This is topped by accessories like gloves, backpacks and balaclavas, and, not to be missed when collaborating with Kith, footwear. The footwear comes in a variety of boots made of nubuk or calf leather with shearling lining.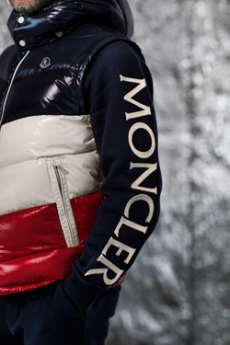 The color palette represents the colors of the French flag, deployed in linear and geometric form for maximum style and renewed appeal. The collection is a match of names and symbols of both Moncler and Kith.

The second drop of the collection is the collaboration with Asics featuring exclusive sheepskin-lined suede trainers, named KITH x MONCLER x ASICS, blends different manufacturing techniques in unique pieces. Ranging in calf and suede leather, the shoes are available in navy red and off-white colors.

The launch of the main collection will take place on December the 2nd in Moncler and Kith stores as well as online. From December the 8th the second part of the collaboration with Asics will be available.

www.moncler.com
Fashion
Kenzo: To Keep And To Hold
Kenzo Takada's impact on the fashion landscape is one that can still be felt far and wide. The designer's ground-breaking success paved the way for many other foreign designers to venture towards the French capital, often times with nothing more than dreams in their suitcases and insatiable ambition fuelling their drive. Current creative directors Carol Lim and Humberto Leon have always strived to keep that feeling of openness alive since joining the brand in 2011.

By honing in on the boundless energy and creativity that characterised the maison's founding father, the pair's creations honour the house's legacy, including its original spirit and visual language. La Collection Memento No 1 – rooted in pieces that were created during Takada's journey – is a new series that echoes the now-established brand's history, celebrating its rich archives with pieces that are Kenzo through and through. What's more, this isn't a one-off – it is merely the first chapter of a story that is bound to keep us coming back for more. It was Takada's collaboration with image maker Hans Feurer on a ground-breaking advertising campaign that inspired the first instalment of this retrospective. Shot in Lanzarote and featuring modelling icons Sayoko and Iman, the campaign challenged the boundaries of fashion advertising and artistic imagery, ushering in a fresh take for Kenzo's collections.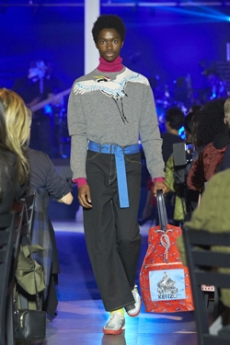 The floral prints of that very collection serve as the foundation for Lim and Leon's modern interpretation, spurring them on to delve even deeper into the archives – a veritable treasure trove of references for any self-respecting fashion enthusiast. Knitwear and dresses from Fall 1981, and a wool beret from ten years before, inspired the tailoring evident in the women's collection. High collars on ruffled smock dresses and floral prints are combined with iconic Kenzo detailing, like lion, elephant and wild animal prints paired with platform sandals and socks. For menswear, warm winter down coats are shown alongside cotton poplin printed pyjamas. Reversible coach jackets with eagle jacquard and varsity jackets walk alongside each other, and denim backpacks from the darkest corners of the archives are transformed with the addition of Kenzo's floral prints from Fall 1983. In advance of the in-store arrival of La Collection Memento No.1, the American duo also announced the launch of their new unisex sneaker, the Kenzo Move. With the versatility of sneakers for everyday life, including their ability to stand their ground for all occasions, the Kenzo Move follows the same trajectory as the collection itself. An archival tiger motif adorns the sneakers whose simple, clean lines are the perfect pairing for the accompanying bright colourways. Bright red and flashy pink, cool mint, blue and black – these will be pounding pavement near you before you know it!

www.kenzo.com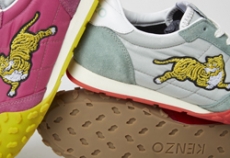 Art
Fondazione Prada Presents "Slight Agitation 3/4: Gelitin"
"Slight Agitation" is a four part-project of newly commisioned, site-specific works hosted within the Cisterna of the Milan venue of Fondazione Prada. The third chapter of this exhibition project is an instalment by the Austrian collective Gelitin and called "Slight Agitation 3/4: Gelitin". The project, titled POKALYPSEA-APOKALYPSE-OKALYPSEAP, features three large sculptures, which explicitly address classical architectural archetypes: the triumphal arch, the obelisk and the amphitheater. These rhetoric and monumental components are symbols as much as structures conceived for everyday inhabitation. The sculptures draw an arc from the insular and individual to the open-ended and collective, from the overtly erotic to the sublimated joy of togetherness. The central space of the Cisterna is occupied by Arc de Triomphe (2003/2017), which is a reproduction of an elephant-high male figure, bending over backwards, made of plasticine. 
The presence of a fully functioning water fountain transforms the exhibition space into a collective one, manifesting Gelitin's liberating artistic approach. In the left side of the space, another gigantic sculpture, made up of polystyrene blocks, resembles a typical Inuit construction or a cigarette on top of a big table. The third sculpture, a wooden upward spiral, is reminiscent of an antique amphitheater. Visitors can enter the sculpture and are even invited to smoke a cigarette in the center of the installation. This banal act makes them instant protagonists of a short, ephemeral act that positions itself, according to Gelitin, somewhere between Samuel Beckett's Theater of the Absurd and a karaoke performance. The exhibition will be open until the 26th of February 2018.

www.fondazioneprada.org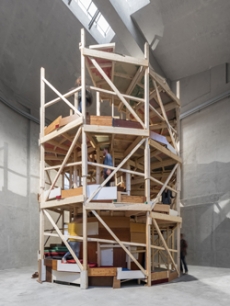 Fashion
The Piazza by Bottega Veneta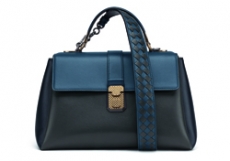 The ideal bag is often described as versatile, elegant and convertible. The newest bag Bottega Veneta created for their Cruise 2018 collection is combining all these attributes. It is a fresh take on the classical top-handle style. With The Piazza the Italian fashion house has transformed the traditional silhouette for today. Sleek, timeless lines and graceful design make the bag, crafted out of calf skin, an epitome of modern elegance. A soft construction, an internal compartment and a cross-body-strap, for some styles with an intruiging intrecciato detail, combine design and function successfully. A wide color palette of neutral tones as well as reds, greens and blues makes sure there is a The Piazza for every taste.

www.bottegaveneta.com
Fashion
The Plunge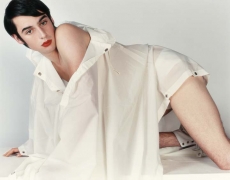 At the poolside on a summer's day, Bono and Jack Nicholson are having a casual conversation. Captured in black and white, it's a spontaneous snap of a private moment, caught on camera by Jean Pigozzi. He brought them together at the villa, which was built for his father in Cap d'Antibes in 1953. There is a saying: Great minds think alike. Apparently, they also vacation alike. Pigozzi's small format exhibition Pool Party brings genius musicians such as Mick Jagger and iconic models like Naomi Campbell together in portraiture, enjoying sunny days at his private pool parties in the south of France in the early 90s. It is currently being shown at the Museum of Photography and Helmut Newton Foundation in Berlin, in June's room. Helmut and June Newton frequented his summer parties as well – a secret getaway. While Pigozzi's images let the viewer take a plunge into a summery setting to explore the life of the rich and the famous, this is only one aspect of the tripartite mix of exhibitions. Another friend and colleague of Newton shares the space, in the form of Mario Testino's site-specific installation called Undressed.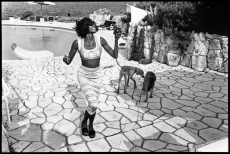 It's a combination of a number of previously unpublished fashion and nude portraits, which analyses the physical notion of undressing. It blurs the boundaries between fashion and eroticism, between anatomy and art. The presentation of the images is especially a sight to behold. 50 larger-than-life images are affixed to the walls of three exhibition halls, reaching into the corners of the room and touching the ceiling, thereby creating a landscape of human bodies. Nudity becomes nature. Unseen rounds off the complementary selection of exhibitions with original prints of Newton's own images, mainly focusing on photographs combining nudity and fashion in a subtle way. There are many never-before-seen images from the archives mixed with famous portraits of Jeremy Irons at the Ritz Hotel in London, or Michael Gross at a swimming pool in Dortmund, reuniting the returning themes of all exhibitions. The arrangement of images goes full circle. The exhibitions "Mario Testino. Undressed / Helmut Newton. Unseen / Jean Pigozzi. Pool Party" are on display until November 19, 2017. The Museum of Photography / Helmut Newton Foundation is located at Jebensstraße 2, 10623 Berlin, Germany.

www.smb.museum
Fashion
Hermès Women's Ready to Wear Spring/Summer 2018: A Playful Colour Story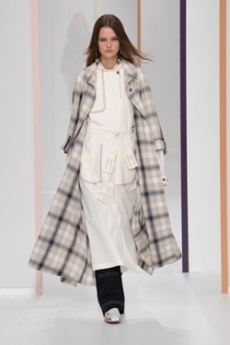 For the Hermès Women's Ready to Wear Collection SS18 Nadège Vanhee-Cybulski was inspired by the classic bourgeoisie codes of the French maison and the 1990s. Playful deconstruction and reconstruction were the leading motives for the designs. Well-known Hermès silk-prints reappear on blouses, pants and coats shaped into feminine and modern silhouettes. An equestrian touch is added by a saddle blanket, reinvented as a cape, and colourful tartan prints. Neutrals and earth tones add a modern feel to the collection. Elegant dresses are wrapped around the models in a special way and indicate femininity. The modern and artful pieces are honoring the savoir-faire of Hermès and the cheerful colours make us wait for the warmer season with anticipation.

www.hermes.com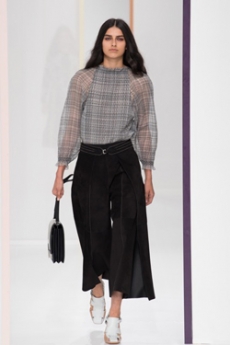 Fashion
Chanel Spring/Summer 2018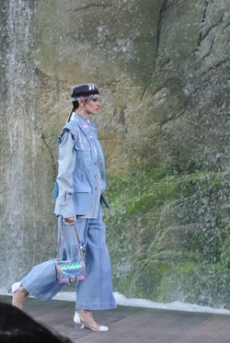 This season we all encountered a surprise upon our arrival at the Grand Palais: an humongous waterfall along a three story high rock wall, with tropical plants and a wooden bridge that appeared to be taken out of a 90s adventure blockbuster movie.

This time, Karl Lagerfeld decided not to disclose the theme in the invitation card, adding to the build and usual anticipation that we all feel each season.

Water gently falling from the rocks of Etienne Russo's Villa Eugenie, built in the last two weeks, welcomed the guests entering the venue. The models stormed in the water dramatically increasing its course, stridently taking over the scene.
Drops of water dancing in the space played with the shining textures and transparencies of this season's offering. The collection was particularly fresh and fluid with PVC raincoats, hats, capes, and boots intrinsically matched and layered over fringed tweed often embellished with lurex threads.
Karl Lagerfeld delivered an extraordinarily varied collection where cropped tops, oversized jackets, miniskirts, over-the-knees boots and half gloves created a vortex of colours and textures. There were long floating dresses in printed chiffon in several shades of blue mimicking the water's fluid course, striped denim skirts with PVC fringed underskirts, culottes pants made of patent leather shorts elongated in tweed. Just like in every Chanel show, the atmosphere was mesmerizing but this season the sun shining inside the Grand Palais over the water felt like a fairytale, one to be remembered.

www.chanel.com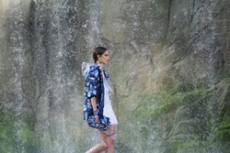 Fashion
Claudia Schiffer presenting book and new products in Paris
Claudia Schiffer has become a modern icon and her face is one of the most photographed of our times. On September 28th she arrived in Paris and headed straight to the exclusive signing of her book at the legendary boutique Colette, wearing Balmain Resort 2018. At the event she also unveiled her new limited edition make-up collection with ARTDECO. "Throughout my career, make-up has played a starring role," Claudia Schiffer tells. The collection features the products she considers essential: starting with a natural mascara-only look, right through to a glamorous red carpet style. The collection was introduced together with a new invention: The Beauty Bot. The mechanical creation - inspired and co-created by Claudia - plays a robotic beautician in the movie "Kingsman: The Golden Circle". Two beauty products, the Poppy Land red lipstick and the Kingsman red nail polish, are even inspired by the movie's villain Poppy, acted by Julianne Moore. "Every woman needs a bold red lipstick and a glossy red nail polish in her make-up bag - and what could be sexier than one inspired by the Kingsman's vibrant villain played by Julianne Moore?" said Schiffer. Following the launch at Colette, Claudia was sitting front-row at the Balmain SS18 show before hosting a cocktail party celebrating the launch of the Claudia Schiffer x Aquazzura collection at Hotel D'Evreux.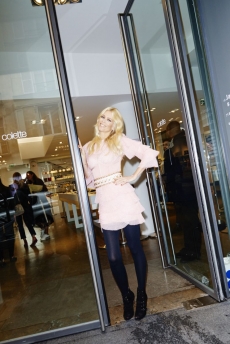 Fashion
Dior Spring/Summer 2018
"The question: Why have there been no great women artists? – is simply the top tenth o fan iceberg of misinterpretation and misconception: beneath lies a vast and its situational concomitants, about the nature of human abilities in general and of human excellence in particular, and the role that the social order plays in all of this".

Linda Nochlin's essay in 1971 is such a contemporary discourse now more than ever.

Maria Grazia Chiuri, at the reign of Dior for already one year takes the words of Nochlin as a source of inspiration continuing her feminism reference since the start. We found Nochlin's essay in form of a small booklet on every seat at the show almost as a urge to reflect in such a fragile political moment. As we entered the spectacular venue of Musee Rodin, a humongous facade in shape of a milestone welcomed us.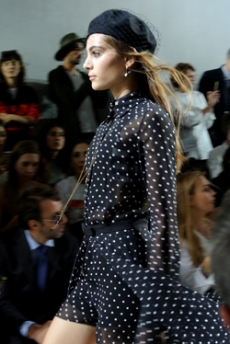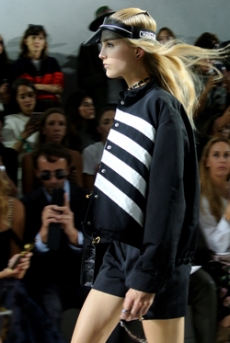 Engraved with the enchanting words of Niki de Saint Phalle: "If life is a game of cards. We are born without knowing the rules. Yet we must play our hand, throughout the ages people have liked playing tarot cards. Poets, philosophers, alchemists, artists, have devoted themselves to discovering their meaning".

The female artist Niki de Saint Phalle - at the time friend of Marc Bohan – is one of Chiuri's muse for the Spring Summer collection. Her androgynous style, but also her work with the colourful sculptures – the "Nanas".

Chiuri dives into her world and into Dior's archive, celebrating the work of Bohan with his mini dresses, the polka dots, the slim look and the pants, a wink to the first Dior Homme line created by Bohan himself in 1970.

The collection is an ode to the 70s but also the 60s with that irreverent sexiness emblematic of the changing of time. Short little dresses, worn with high laced boots. But also a series of soft bustier dresses - quickly become the signature of Chiuri's at Dior - this season adorned with sequins in electric colours, reminiscent of the disco subculture of these years.

www.dior.com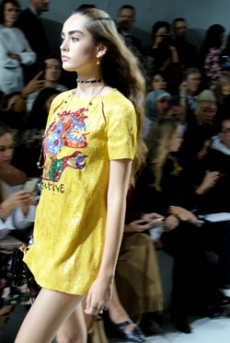 Fashion
Amsterdam is Everywhere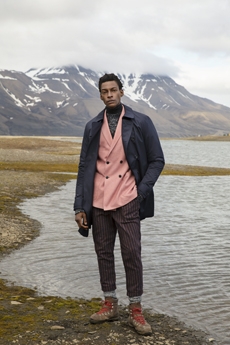 Scotch & Soda take a trip to the world's remotest Amsterdams for its latest campaign, paying tribute to its stubbornly curious spirit. The Dutch fashion brand journeyed by air, rail and sea to get to an Amsterdam untouched by Google Street View, the one in the Arctic, that is.
Amsterdam Island, located in the northwestern corner of Norway's Svalbard archipelago, is just one of twelve other places across the globe that share their name with the brand's home city. And if you're left wondering why the brand opted for the remotest Amsterdam there is, the answer is simple: that's exactly what Amsterdam is really about; resisting simplicity and discarding practicality if it means realizing a seemingly impossible dream.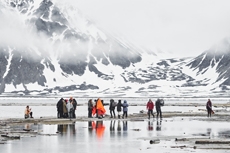 With frozen fjords and monochrome peaks as its backdrop, the explorer-themed short film and its enchanting voiceover speaks to the mind and soul of Amsterdammers the world over. Highlighting the city's free-thinking spirit and its inclusivity, the film celebrates the Dutch capital's allure, because Amsterdam is wherever you want it to be.

www.scotchandsoda.com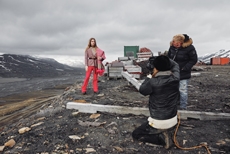 Fashion
Philipp Plein Spring/Summer 2018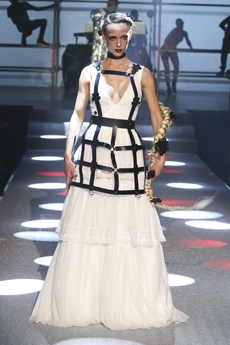 The Philipp Plein show, held at the Hammerstein Ballroom, was one of the hottest tickets of New York Fashion Week. Crowds lined up around the corner on 34th street hoping for a spot to witness the VMAs-worthy spectacle.

The tone of the show was Alice in Wonderland goes BDSM goes streetwear - coincidentally, a mix of most of the trends we've seen in recent years. The over-sexualized collection, complete with leather garters, dark lipstick, whip-like hair, and forgotten pants, caters perfectly to millennial listeners of Fifth Harmony and present-day MTV: truly an Instagram-worthy show.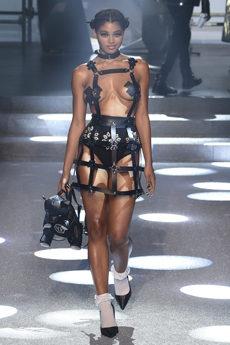 Despite lacking in the subtlety department, the show didn't disappoint on an entertainment level. Most likely costing in the seven figures, Philipp Plein brought dazzling star power: Nicki Minaj sat front row, Future provided the raw soundtrack, Teyana Taylor's swagger lit up the runway... Anywhere else, this would have felt dramatically out of place. But in New York, where one can see a Yeezy show before rushing off to Carolina Herrera, perhaps anything goes.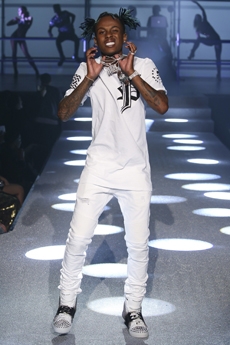 Fashion
Go With the Flaw!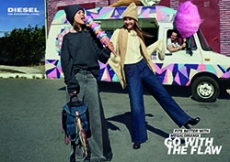 Always eager to challenge conformity and outdated notions of flawlessness exacerbated by social media and endless filtering as a means to perfection, Diesel strikes again with a new campaign bursting at the seams with positivity.

It's time to Go With the Flaw! You got that right, forget the flow, embrace the flaws and find the bravery to wear them with pride as an intrinsic part of your true self.
The campaign is focused around a film by François Rousselet, the French director behind collaborations with the likes of Snoop Dogg, Madonna and The Rolling Stones while print and billboard imagery was shot by photographer Tom Sloan.

Edith Piaf provocative and unapologetic 'Je ne regrette rien' provides the perfect soundtrack as the cast embrace the uncomfortable imperfections of everyday life and rise above it with smiles on their faces.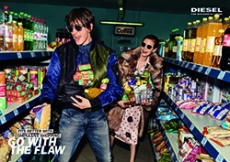 A carefully curated cast of people with interesting features front the brand's latest campaign. Each and every one of them selected by Diesel's Artistic Director Nicola Formichetti for one simple reason: "Being unique is much more beautiful than being perfect".

The official launch of the 2017 Fall Winter campaign will take place in Beijing on Wednesday, September 6th and will be accompanied by a limited edition capsule collection with Chinese music idol, Chris Lee, that advocates a candid approach towards one's ego and celebrating imperfection.

www.diesel.com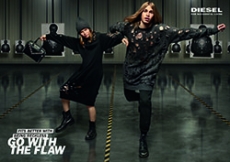 Fashion
SKEPTA x NIKE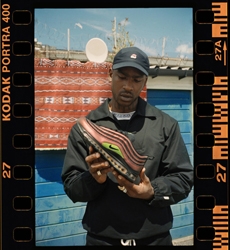 Skepta's collaboration with Nike is launching on September 2nd. The British grime artist worked with the sportswear giant on a fresh look for their classic Air Max 97 model, sourcing inspiration from his London council estate upbringing, his Nigerian heritage and from a recent trip to Marrakesh.

Talking about the Moroccan city, Skepta gushed over its pastel colors, geometric architecture, lively taxis, and the magical worlds hidden deep in the souqs. Local street style merged with traditional clothing was a huge influence in his design decisions as well: "The style reminded me of Nigeria — the way people wear such casual and practical clothing," he said. "I wanted to introduce embroidery to the streets, a place where people don't feel entitled to certain things; I wanted to make us feel good, really." He is referring to the braided embroidery detail on the tongue and on the back that, along with the playful print on the insole, harken back to these North African roots.
The dark burgundy and olive shiny finish is a throwback to another '90s Nike classic – the Air Tuned Max – which Skepta owned as a child. He recalls: "That was the first shoe I ever saved up money to buy, so I wanted to bring its magic to the 97 – the magic that made me first love Air Max when I saw it as a child." A deeply personal and culturally rich project, Skepta's Nike Air Max 97's are likely to go down as one of the brand's most successful collaborations.

www.nike.com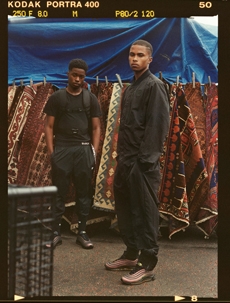 Fashion
Loewe Spring/Summer 2018 Menswear
A sea of Mimosa flowers. This tiny yellow common Mediterranean flower welcomed us in the HQ of Loewe in Paris.

Stripes – multicoloured or bitonal – fresh cotton, canvas with the signature's leather details. Loewe Menswear Spring Summer 2018 it has all that summery allure of Spanish Riviera.
Sometimes you would see "Loewe Beach Club" or "Summer Love Loewe" on tees, maxi totes with nautical references in cord or raffia.

Jonathan Anderson choose Salvador Dalì's hose in Catalonia as place for the seasonal lookbook shooting, the surrealist and playful atmosphere.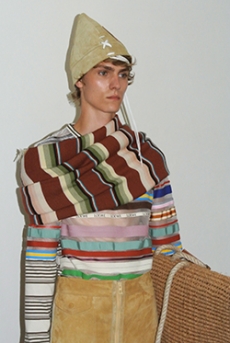 It's a fresh and youthful collection with a relaxed feeling compared to the previous season but keeping Anderson's signature: the little objets trouvé as key chain and charms, tapestry details, the anchor motif and spectacular details.

As Loewe Menswear collection is evolving season after season finding its audience, its market and vision, we keep seeing that exquisite naiveté and a nostalgic sense of memoire retrieving that Anderson has been working on for a while now.

www.loewe.com
Fashion
Junya Watanabe Spring/Summer 2018 Menswear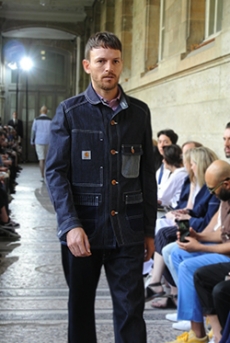 Junya Watanabe's aesthetic has always been played around the notion of classic menswear.

With his specific model casting and strong vision., also this season the Japanese designer collaborated with Carhartt, Levi's, Karrimor and The North Face delivering garments played around the notion of heavy-duty clothing.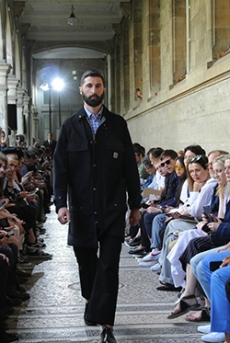 The jackets featuring the latter's backpack embedded at the back and cut-up all over with The North Face elements confirmed the subtle genius of this legendary designer.

There were beautiful oversized denim, Jackets that pointed at authenticity rather than a fashion exercise.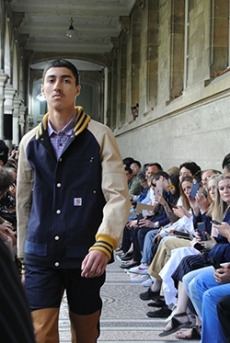 Junya Watanabe created a youthful collection but shown once again with grownup next-door-guy and often bearded models, outside of the usual male casting. His "legit way to wear workwear" as the show note mentioned.

Or we could say, his poetic ode to the "real" and to the "ordinary" versus this over-constructed fashion system

It's a vision Junya Watanabe has been building since a while now and the beautiful collection displayed pieces that will easily find their way to the wardrobe of many

www.junwatanabe.jp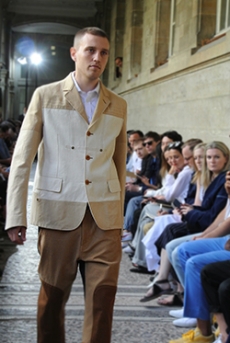 Fashion
Sacai Spring/Summer Menswear & Women's Pre-Spring 2018
Chitose Abe's new collection for Sacai is a tribute to the duality of genders, the investigation in terms of Men/Women clothing. This season the show was featuring men's Spring Summer together with Pre-Spring Womenswear.

As the models walked in squads, there was a strong sense of group, of subtle genderless interpretations.
Like the beautiful Menswear checked looks entering the spectacular venue of Cité de la Musique together with their female counterparts. Oversized sporty for him, layered - at a time short - dress for her.
Abe's playing with different elements between the formal and the sporty, the sculptural and the sleek almost in an ode to freedom at its core.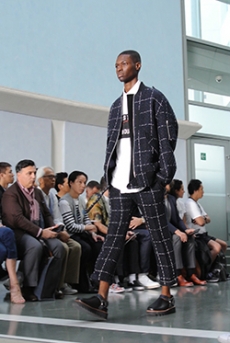 There was a lot of that deconstructed and cut-ups from Abe's DNA. But also a new streetwear simplicity declined for both sexes. Oversized, sculptural jackets with fringes hinting to Western Americana with sculptural bell sleeves for her or a sporty silhouette for him. The beautiful declinations of checked looks, a signature pattern for Sacai's vision, were the most outstanding in terms of layering and transparencies play. The collaboration with pioneer conceptual artist Lawrence Weiner and his typographic artwork was another take in terms of that freedom of expression Chitose Abe reaffirmed looks after look.

"STATIS AS ON VECTOR ALL IN DUE COURSE", featured almost as graphical pattern on full looks in black over white and vice versa felt minimal but once again provocative.

www.sacai.jp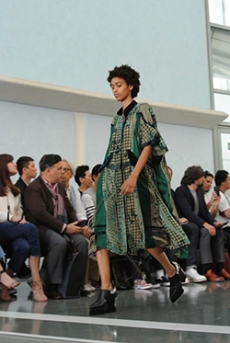 Fashion
Louis Vuitton Spring/Summer 2018 Menswear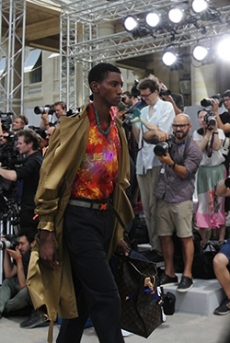 A nomadic traveller. A wanderlust of island-hopping. Scuba zips, Aloha shirts in contrast with relaxed tailoring and fluid outwear as the modern trekking expert would oblige.

Kim Jones delivers a fresh and relaxed collection where sportswear and suiting play a dual identity game in an archipelago of declinations.
Fabrics as lightweight as modern. A paper-thin lambskin leather bonded with neoprene scuba parka floating in the heat-wave of the Palais Royal's Jardin on the notes of the exclusive soundtrack composed by Drake for the collection.

As the new colours of the signature Monogram are introduced in the shade of blue: Pacific, a cobalt shade of blue, and Reflect, with its reflective finish is naturally recalling high-impact sport.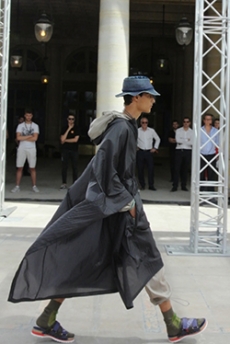 The sportswear theme is crucial in Louis Vuitton Spring Summer 2018. Kim Jones plays with these elements in terms of colours, texture, and shapes. It is a playful and relaxed spirit pervading the entire collection – the Hawaii inspired floral patterns on silk organza for a short sleeved shirt layered on top of a tee with a matching print, intarsia knits of exotic foliage. The island as inspiration but also as state of mind.
The island as inspiration but also as state of mind.

Earth colours contrasting neon shades, the discovering of nature and the adventure of pushing the limits. The clogs sandals mixed with hiking boots bring a further staple items in Louis Vuitton fresh and sophisticated collection

www.louisvuitton.com
Fashion
Wood Wood Spring/Summer 2018
Wood Wood takes a trip to the Italian province of Campania for its Spring Summer 2018 collection. The Italian coastlines have provided many a designer with tons of inspiration in the past and continue to do so regularly: steep mountains rise from the Tyrrhenian Sea and rugged sceneries intermingle with country landscapes giving birth to this season's colour palette.

While journeying through the picturesque island of Capri the designers were greeted by the incomparable carefree and comfortable way of local life. It wasn't long before they were infatuated; could it have been the food, the wine or the late night dinners? It could have well been all of the above, elements that compose that general feeling of Mondanità that we so lack nowadays.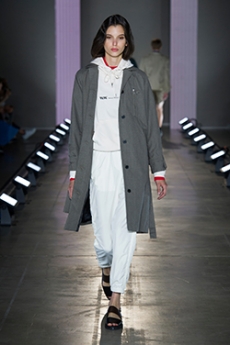 Vintage signs and powerful quotes from noted Italians such as Federico Fellini and Ettore Sottsass, manifest themselves in the print stories and graphics of the Spring Sumer 2018 collection that harken back to Anthony Minghella's "The Talented Mr. Ripley".

For Wood Wood's Mondano collection, Italian stlye and bright colours intermingle, creating a fresh and optimistic offering that stays loyal to the brand's attitude. Streetwear is mixed with contemporary detailing and performance styling. Formal suiting is blended with contemporary sports and streetwear codes in a bright and optimistic colour palette dominated by bright reds, yellos, deep green, orange and grounded by the addition of beige and brown.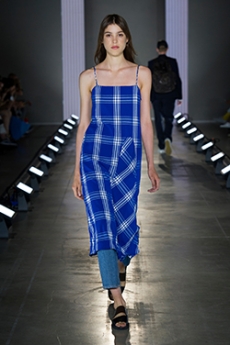 Fashion
Prada Spring/Summer 2018 Menswear
Remaining faithful to her eclectic style that has the ability to transform everything, from the most mundane to the most regal, into high fashion, Miuccia Prada turned her gaze to comic books for her Spring/Summer 2018 Menswear collection. You may be thinking of oversized capes a la Superman billowing in the wind but there was none of that!
"On one side there's virtual reality and on the other the reality of the human part" said Miuccia Prada backstage justifying this season's inspirations and how these shaped the sporty and streamlined collection presented in a space lined with oversize comic book graphics complete with a light beam-shooting Prada spaceship and speedy steam trains.

Even though comic books may deal at times with the realm of the fantastical, the sci-fi and the bizarre, for Miuccia Prada, it was a different quality they possess that propelled her to utilise them as the central theme of both her collection and runway décor. "They are hand-drawn, human, simple and real", she said. Need we say more? Shirts with ample shoulders in red or black nylon and sleeves rolled up high, fanny packs and popped collars once reserved to the frat-boy look get the Prada seal of approval this season. Silhouettes were super cinched-in at the waist, a pattern visible throughout many ensembles.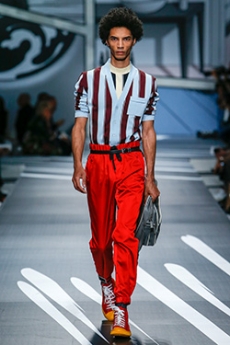 Elsewhere, high technical knit socks were paired with short shorts in bright red or cool, steely grey as if harking back to something that wouldn't have looked out of place on a 1970s baseball court. Steering away from such a literal interpretation, however, Prada paired the micro shorts with pointed oxfords – there was no Chuck Taylor All Star in sight. For those less keen on showing off their pins, enter the jumpsuit proposed by the iconic fashion house in navy or black, a clear continuation of the utilitarian dressing trend.

www.prada.com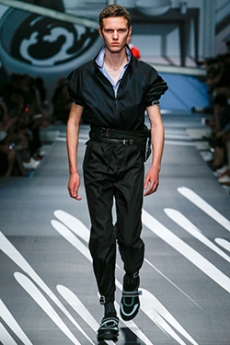 Fashion
Palm Angels Spring/Summer 2018
The starting point for any creation, whether this refers to fashion, art or any other medium of expression, is a clear and defined point of view. The rest will inevitably follow suit. Palm Angels' artistic director Francesco Ragazzi brought that to the table in abundance for the brand's Spring/Summer 2018 collection.

LA's skater culture is reinterpreted through Ragazzi's Italian frame of mind, highlighting its laissez faire attitude and the idea of a life lived according to ones individual rulebook. Palm Angels stems from that same appreciation for American cultures and subcultures as it merges an appreciation for sartorial codes and a penchant for clothes being utilised as identity tropes and zeitgeist signifiers.

The Spring/Summer 2018 collection is entitled Black Sun and it pays homage to yet another enduring American subculture: surfing. Bold silhouettes and pragmatic forms are visible in the offering of parkas, duster coats, field jackets and boxy shirts that walked the runway in Milan Fashion Week. Boarding shorts, miniskirts and scuba suits were not neglected either.

Presented with the addition of functional details such as drawstrings and dangling straps, the collection also featured hints of formality in the shape of a tailored blazer that veered off the beaten path to the office and ended up beachside.

In a palette of red, black, orange, sand and grey with sun-faded effects that afford it a disobedient tone, Palm Angels' sporty physicality acts as the link between the men's and women's collection.

www.store.palmangels.com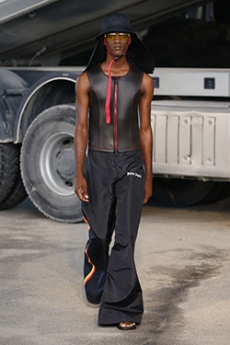 Fashion
Versace Spring/Sumer 2018 Menswear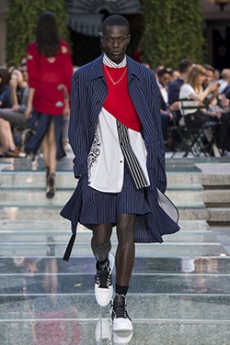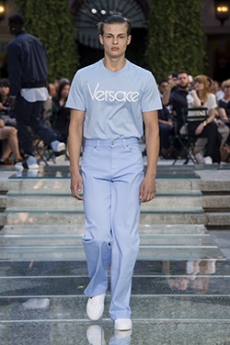 Passion for the craft of fashion is something that runs deeps at Versace. Hate it or love it, it's a fact that the roots of the Maison's values run deep and are intrinsically connected to family. As this year marks the 20th anniversary of Gianni Versace's tragic death, it may come as no surprise that this collection was partly a homage to Gianni himself, a fresher take on the codes that cemented him as a household name in fashion.

Pinstripes are refreshed and remixed with stong-shouldered tailoring or shirts where pinstripes are made to contrast and clash with one another. Powerful prints were added to the mix this season: the utility of a tech blouson is contrasted with the romantic "Balletto" print while the "Angelo" print that appears on a sharp quilted bomber. Elsewhere, a classic Versace logo looks totally new, embroidered in white stitches on a baby blue or pale pink T-shirt, worn with matching straight leg jeans.

The menswear offering was accompanied by a special womenswear capsule collection designed and presented entirely to complement the men's. Chock-full of pinstripes, cut-and-clashed prints and rich embroideries the models strutted down the catwalk with black headbands reminiscent of Gianni's last couture show.

"This collection is like a homecoming. It's about the passions that define Versace, the complexity of men, the energy of today," said Donatella Versace.

www.versace.com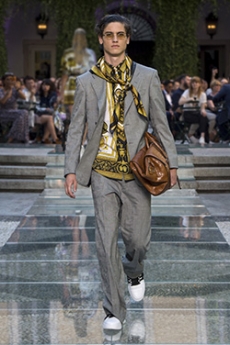 Art
Fendi pays homage to Rome with Giuseppe Penone's Foglie di Pietra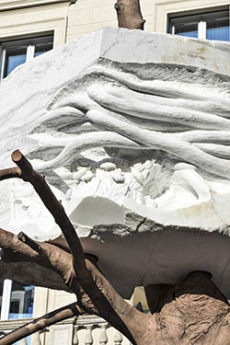 Following Giuseppe Penone's Matrice exhibition hosted at Fendi's headquarters in Rome's Palazzo della Civiltà Italiana, Fendi installs a new site specific artwork by the artist entitled Foglie di Pietra in Largo Goldoni. Thus, FENDI renews and highlights its undying bond with Rome by gifting the city and its people important artwork from one of the most celebrated contemporary sculptors.

Foglie di Petra (Leaves of Stone, 2016) is one of Penone's most complex artworks: two tall bronze trees standing at 18 and 9 metres respectively, interlace their branches five metres above an 11-tonne sculpted marble rock. Archaeology and ruins, history and biology are intertwined with one another bringing attention to the permanent bond between nature and culture. A celebration of a deep synthesis between the flowing of natural and human time through a longing and romantic nostalgia for lost civilisations.

Through virtuous use of precious materials such as bronze and marble, Penone's Foglie di Petra recalls the illusionism and marvel of Roman Baroque, while the fragments and the ruins inserted in the sculpture's branches harken back to the Classic and Medieval era. What's more, the artwork is the first oeuvre of a contemporary artist to be permanently installed in Rome's public spaces and is bound to become a symbol of the identity of an ever-changing city that remains steadfastly linked to its historical roots.

www.fendi.com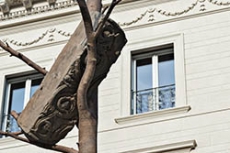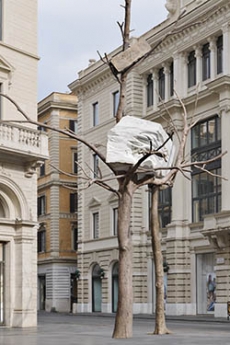 Fashion
Ermenegildo Zegna launches Bespoke Atelier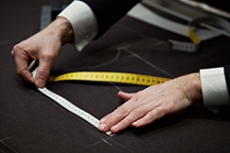 March 15th 2017, marks a pivotal stage for Ermenegildo Zegna, as it announces the opening of the first Bespoke Atelier. The space is dedicated to the label's bespoke service and is locate at the top floor of the Zegna building in Milan's renowned via Montenapoleone.

The stand-alone project revolves around the idea of intimate elegance with a distinctly Milanese feel and treats its bespoke services with a precise ritual. The experience begins right at the entrance where clients are welcomed by a valet and ushered in the Atelier which is conceived to comply with aesthetics and functionality of traditional tailoring ateliers: an apartment cum workshop with the public and working areas connected yet separable.

The large space is furnished with both vintage and new pieces as well as pieces that hark back to Zegna's very own history. Warmth and charm intermingle with a domestic feel making this a truly unique tailoring experience that strengthens the dialogue between the Milanese brand and its customer base of men of discerning taste who aim to have their wardrobe made according tot heir own desires, demands and lifestyles.

www.zegna.com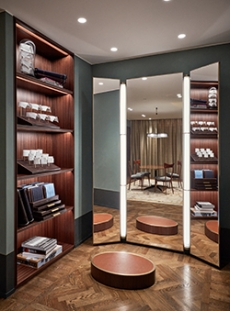 Fashion
Alexander McQueen Fall/Winter 2017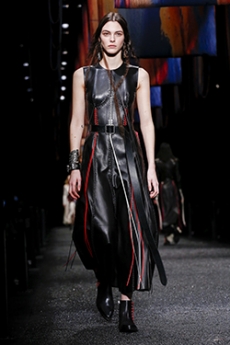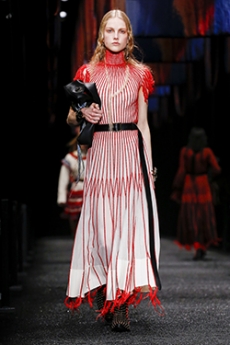 Describing Alexander McQueen Fall Winter 2017 as romantic and ethereal would certainly be an understatement.

Inspired by the fascinating tales of Celtic traditions like the Cloutie wells and the medieval tales of King Arthur, the collection recalls the beauty of the shores in Cornwall, its magic ancient rituals and enchanting stories.

Knit and washed leather dresses are pierced with trailing of coloured lacing in silk, resembling the tradition of fastening a strip of cloth on a tree as votive offering, the wishing tree.

This long and feminine silhouettes underlining the female body recall the English mediaeval soft dressing as found in 16th and 17th century art depicting the beautiful tragic stories of Lady of Shallot and Queen Guinevere.

Sarah Burton gives us a full vocabulary of spectacular fabrics, embroideries, finishes, enabling us to dream about the rich landscape of myths and cultures of Cornwall. It's as we could see the wind blowing on its coast, the ribbons and the hypnotic vision of million of threads floating in name of life.

A tweed interlaced with bright coloured twisted yarns and chiffon stripes of fuchsia, crimson and green. The medieval-inspired needlework cross-stitching embroidered on the fluent dresses and finished with silk trailing threads, floating around as the body moves: wildlife, witches rituals, letters, and even the date of birth of Lee McQueen.

It is a touching collection, youthful and powerful. The last sequence of evening dresses in silk tulles with an overwhelming embroidery work, glass beads, stones, fringes, loose thread and the house favourite feathers, give the final emotional blow for this magic collection

www.alexandermcqueen.com
Fashion
Mugler Fall/Winter 2017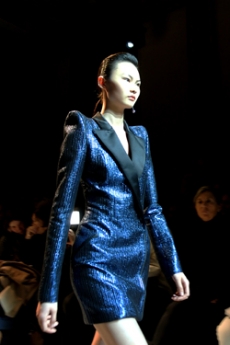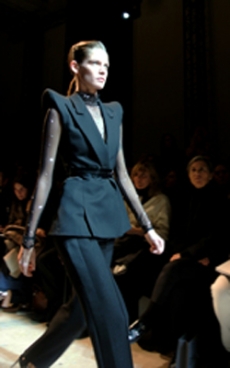 Natasha Poli storming the catwalk in a blue patent leather blazer with arched shoulders and slim pantsuit. The atmosphere was fierce and as the models powerfully marched in one after the other, the message that creative director David Koma surely had in mind was clear: effortless and daring, Mugler's woman will not be unnoticed.

Don't be mistaken: this is a powerful and confident woman who will embrace her body, in all the declinations, with no fear.

David Koma created a collection constellated mainly with evening looks. Vertiginous minidresses with cut-out star details at the bottom hemline or embroidered on the bodice, hourglass silhouettes with pleated lamé in acid green and electric blue, a long white gown with pleated contrast silver lamé. But also power suits with sharp sculptural shoulders in contrasting colours, pants-blazer combo in white, silver, black.

The last look, a dress deconstructing the idea of a smoking suit into an evening gown, said it all: Koma is in search of reinventing the house codes, keeping the identity of this iconic brand strong.

www.mugler.com 
Fashion
UNDERCOVER Fall/Winter 2017
The Faun, the nomads, the young rebels. But also the aristocracy and new gracious creatures. Jun Takahashi's imaginary world for Undercover Fall Winter 2017 had the feeling of a long distant fairy tale fostering castles and princesses with gargantuan costumes and an ethereal atmosphere.

Like voices from afar, whispering a secret message, the sound of wind chimes as hung to push the spirits away, turning at the very end in a mesmerizing voice, singing on an incredible piano melody. Radiohead Thom Yorke's fantasy, created ad oc for the show, was the perfect stage for Takahashi's Utopia.

It was not just a spectacle. It was a beautiful collection where the clothes stood strong, masterly styled, layered and carefully balanced. Knitwear in long dresses, tunics and sculptural coats as out from Coppola's brash "Marie Antoinette". Fur trimmed puffa jackets and long velvet skirts. Sweatshirts with metal studs, embroidered with unicorns and insects. A beautiful crimson red, moss green, shades of cerulean blue and a bold yellow, painted this beautiful story. A story of humanity itself. The platform shoes and boots, reminiscent of the faun's goat legs pushed this narrative image even further, in an enchanting atmosphere.

The Undercover show was a breeze of fresh air during a fashion week heavily politicised.

www.undercoverism.com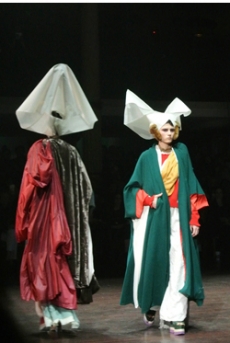 Fashion
Louis Vuitton Fall/Winter 2017: Forging Frontiers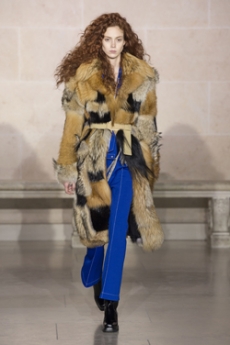 Nicolas Ghesquière had one goal in mind for his Fall/Winter 2017 collection as head of Louis Vuitton – pushing boundaries like the legendary French fashion house has been doing since its 1854 beginnings. Frontiers are meant to be broken down and Louis Vuitton has been at the forefront of innovation, know-how, design and travel, all elements that set it apart from its counterparts are continue to characterise its offerings every season.

Ghesquière wanted to re-create that very sense of boundarylessness that doubled as more of a directional seasonal messages rather that an array of options for city living. This was an evocation of the nomadic, where the city blends with distant landscapes, the masculine blurs with the feminine and Louis Vuitton heritage meets a thirst for the future. A new play of stylistic lines emerges: great American sportswear classics and Slavic accents, inspirations from fashions of the past translated into the world of today, urban classics fused with the magnetic pull of folklore.

This may come as no surprise but beautifully-treated leather was central to this collection: super polished or crackled giving the impression of age and wear. What was perhaps more noteworthy is the attention that designer paid to fur this season. Short-sleeved, patch-worked jackets were paired with relaxed, cropped flares but could up the ante when thrown over an evening dress.

Ghesquière's evening wear offering moved away from last season's dramatic naked dresses. He opted instead for knee-length slip dresses with elaborate pleats, lace insets, sheer details and fabrics with clashing prints in an attempt to infuse the collection with an easy-going, laid-back attitude.

www.louisvuitton.com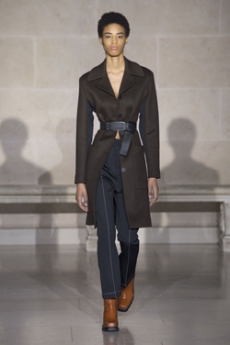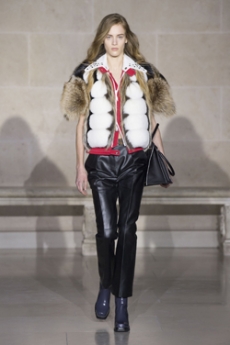 Fashion
UGG is REAL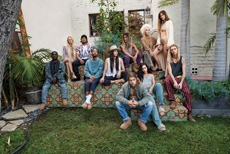 A new global marketing Spring/Summer 2017 campaign has been launched by UGG to break down stereotypes.

Aptly titled "REAL" and bearer of a strong message, the campaign features a collective of authentic Californian artists, musicians, surfers, creatives and eccentrics that in their provocative, progressive and free spirited attitudes mirror the core values of the Californian fashion apparel.

Inspired by the beaches, mountains and iconic architecture of California, the stories of Tasya, the songs of Warm Brew, the trips of Colleen and many others will mix together to give birth to a whole contemporary romance where diversity is the main splendid character.

www.ugg.com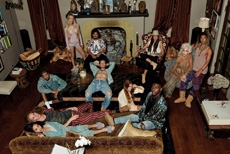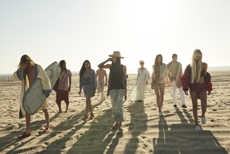 Fashion
Philipp Plein Autumn/Winter 2017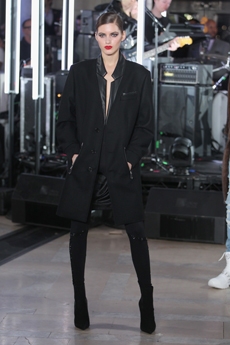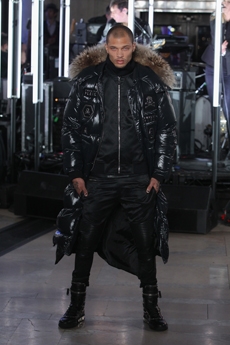 Brooklyn-born rap and hip hop artist Nas, opened Phillip Plein's Autumn/Winter 2017 fashion show in the iconic New York Public Library. The show was a personal love letter to the city's neighbourhoods and the diversity that characterises them, highlighting their ability to shape and define an identity. From the Bronx and Chelsea to Queens and the Upper East side, every area has something to offer.

"Neighbourhood Kings" was emblazoned across the collections' garments – it does not matter where you come from, for Philipp Plein, you are the king of your own hood. A diverse cast of personalities and models – including rappers Desiigner and Fetty Wap - strutted down the runway as The Kills performed an electrifying live set.

Music, style, gender and race all had their say in this collection that did not distinguish between men's and womenswear: the girls wear boy's T-shirts and oversized hoodies while the boy's were styles in women's jackets and dresses. Streetwear and couture are also fused together: an embroidered evening dress was paired with a bomber jacket, there was an intarsia mink coat worn with a hoodie and thigh-high sneakers marched alongside heeled boots. Catering to self-expression and their own personal sense of style, the collection's strength lies in its bid to highlight individuality.

But Plein's ode to the Big Apple did end there: the prints also tell a tale of New York. Symbols from dollar pill comprise the print of a hooded fur coat, the Statue of Liberty and FBI ("Fashion Beyond Imagination" patches decorate sweaters and bombers. Floor-length puffer coats and snakeskin jackets are transformed into urban armour thanks to metallic details and the addition of studs.

www.philipp-plein.com
Fashion
Woolrich Re-imagines Men's Outerwear
Woolrich continues its long-standing tradition in conceiving and manufacturing technical outerwear of exceptional quality, a tradition born in the late 70s that has continued to be well-received by avid mountaineers.

The brand is relaunching its Mountain Jacket, one of the first examples of technical outerwear that ushered in the expansion of men's outdoor clothing in order to cater to the requirements of outdoor activities such as backpacking, camping and cycling. Designed with functional elements that suit the requirements of such activities, Woolrich's latest edition of the Mountain Jacket strikes the perfect balance between style and function thus also catering to the more aesthetically driven consumer.

A more contemporary style is brought to the fore ensuring maximum freedom of movement, comfort and warmth with its form-fitting cut, adjustable cuffs and ergonomic style. Gore-tex®'s lightest fabric, the Paclite, guarantees the best performance. Despite the air of innovation that characterises the latest jackets, the brand loyally adheres to the design elements of the late 70s that proved so successful in the past.

With a perfectly breathable waterproof Gore-tex® layer beneath the traditional durable and water repellent outer layer, the Mountain Jacket has proved itself to be a perfect companion for adventures in nature.

www.woolrich.eu
Fashion
JUUN.J Fall/Winter 2017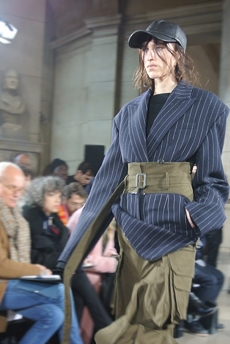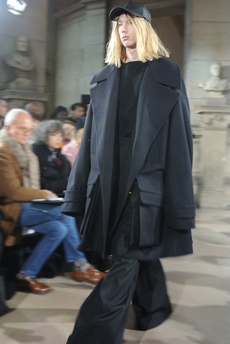 As the models stormed inside Universite Rene Decartes's suggestive neoclassic space, and the fluid body of Juun J's work floated around, we caught the power of history. The history of this brand evolved within the last ten years into an acclaimed fashion forward entity. for this celebratory collection Juun J - in name of a decade spent imagining the future of his eponymous label - choose the emblematic subtitle: "Archive".

Oversized long sweaters, heavy, massive, almost suffocating in all their fierce presence. The architectural outwear, the brand's signature trench coat and the MA1 bomber jacket. All the iconic pieces of Juun J's past collections, in a splendid parade, as an ode to this Korean designer who has influenced the wardrobe of boys and girls in recent years. The girl who has been wearing Juun J forever and who got a special place in the future course: the new Juun J will have from now on feature a Womenswear collection.

And so the oversized cargo pants transformed into high waist long skirts with maxi pockets on the hips and slits on both sides which will be a hot piece for next season. Khaki, military green, black, white and pin-striped blue: the palette focused on the brand's favoured colours. The large parachute hooded outwear with a myriad of swinging straps were certainly the protagonists, underlined in the closing act when all the possible declinations marched in, as if to suggest the impetuous movement and space of Juun J in the upcoming decade.

www.juunj.com
Fashion
Paul Smith Menswear Fall/Winter 2017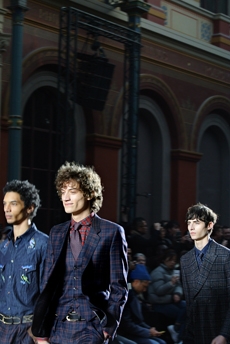 Paul Smith is one of the few brands that gives you the feeling of security, of home and the certainty of effortless style.

With its timeless tailoring, the classic yet fun twistS in textiles and cuts, for his Fall/Winter 2017 Sir Paul Smith presented Menswear and Womenswear together. It was a storm of several declinations of what it could be Paul Smith now, and how any person, especially young, could sport it. Lush checked classic English fabrics, for men and women, silk dresses both in solid colours and printed with hundreds of feathers as taken from a XIX century treatise on naturalia.

Paul Smith with his masterly style showed us how we can wear a shearling short jacket over a suit. Or how a woman can sport a deep blue velvet suit and look so sexy. Coral, blue, green, khaki, grey: a colourful palette true to the brand's signature identity. We particularly loved the relaxed blazer suits – womens' were long, below the hips - and the coats over them, for him and her, a full dive into that Smith heritage of effortless elegance.

www.paulsmith.co.uk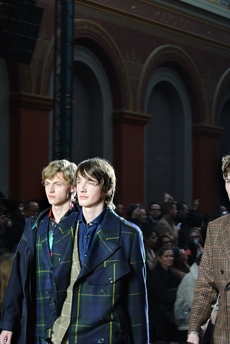 Fashion
Esther Perbandt's androgynous Fall/Winter 2017 collection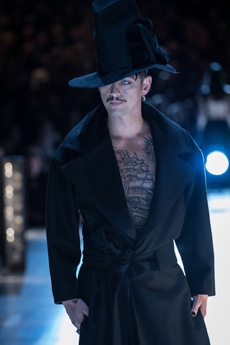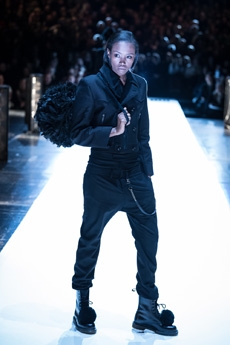 Perbandt's anti-cyclical collection for the colder seasons featured visionary garments that play with the slightest of contrast between black and white and gender. The designer is famous for touching upon human limitations delicately, forgetting about diversity and giving birth to a brand that strikes the perfect balance between androgyny and independence.

Esther Perbandt has been internationally recognised for her trademark stage productions. The Fall/Winter 2017 show only reinforced her status with a veritably unconventional yet sophisticated event that attracted celebrities from around the globe as well as personalities from the world of design, art and fashion; collectively they paid homage to a powerful production.

www.estherperbandt.com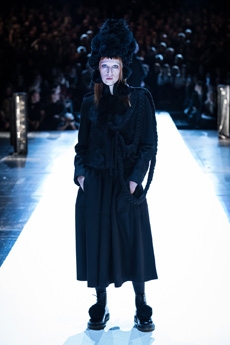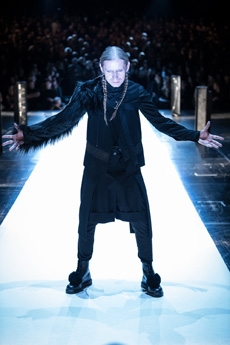 Fashion
GmbH Fall/Winter 2017: When a thought becomes you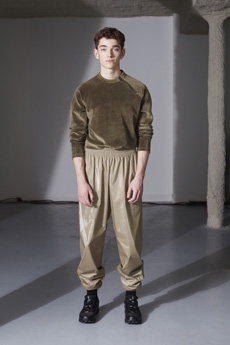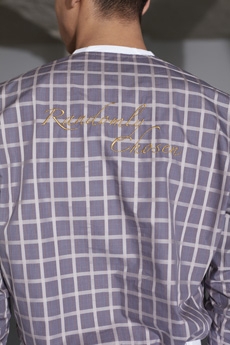 In a Society of Limitations where people are together yet alone, GmbH addresses the situation with an inclusive Fall/Winter 2017 collection dedicated to different shapes, gestures and manners.

The collection paired fashion with sustainability featuring bi-colour cropped GmbH biker jackets reworked from recycled, reversible Helly Hansen puffer coats, cropped jersey hoodies and fine knit athletic bodies of partially recycled fibres. A shot of glamour is given by tight lycra and velvet long-sleeved jumpers in a color palette inspired by artist Alexandra Bircken. Moreover traditional carpenter's guild trousers and gold embroideries enrich the outfits for an even more personal touch.

As GmbH declared: "These are directives for care and wear, eine wahre Geschichte, eine Warengeschichte, a true story a history of wares."

www.gmbhofficial.com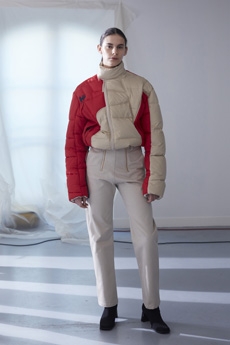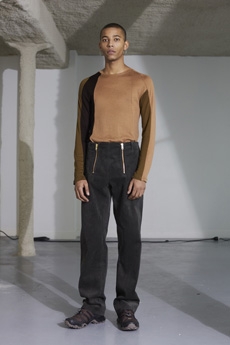 Fashion
Dior Homme Fall/Winter 2017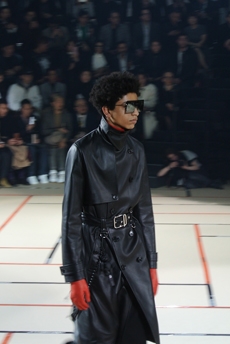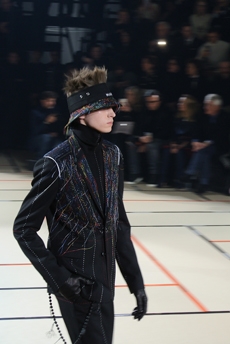 Thousands of little flags suspended from the Grand Palais ceiling, as one of those summer festivals when the night breeze brush them gently. The coloured lights illuminating the room mimicking the stage reflectors of any hard rock concert we have attended in our teens.

When the Depeche Mode lyrics started to play and the lights went up revealing the cardboard boxes and "HARDIOR" packing tape paving the regal space, it all came together.

Kris Van Assche channelled his childhood memories in 90s Antwerp clubs, the music, the parties, creating an electrifying collection that explored not only the new course of Dior Homme after 10 years at its reigns but also the possible declination of modern tailoring.

Van Assche designed the suit for the young man, a dialogue between the cool boy party animal and formal clothing. Close fit blazer revealing baste stitching matched with relaxed loose high waist trousers worn with trainers and white socks. Winking to street-wear.

A sweater with the clustered image of monsieur Christian Dior himself - whose birthday was surprisingly the day of the show - and the sentence written right below "They should just let us rave" turned quickly the attention to a more rebellious side of Van Assche: the gothic sweeping floor length capes and teddy bear chain trousers, the hand painted short fur bomber jackets, the aquamarine jumpers and the orange pony double breasted trench coat.

The Belgian designer picked the candy boys, the gabba, the new wave and the mosch pits at raves as his references. The latter, illustrated by the hand of American artist Dan Witz and printed in few closing looks - like the intricate reverse sequins suit - gave a poignant accent to the whole collection.

Dior Homme is beautifully evolving into a strong luxury fashion brand and as the light goes down we can't help but be excited, like the post feeling of any great concert.

www.dior.com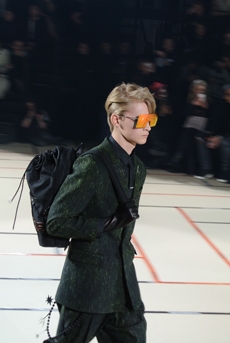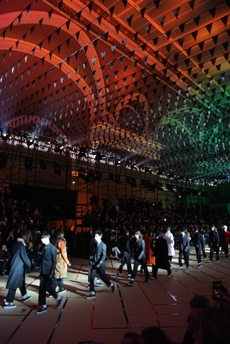 Fashion
PORTS 1961 LOVERS ARMY
PORTS 1961 Fall/Winter 2017 collection is all about love and its universal meaning. A collection that is minimalist and gives off a younger appeal than past seasons, will definitely warm your wardrobe and your heart.

The Ports 1961 man is ready to face whatever the day has in store. From protective sports clothing inspired by urban workwear to construction suits. Materials are primarily sober, solid and thick, giving a touch of virility to a pretty chic sportswear collection. In the contrasting palette of black, grey, red and orange, reversible bombers, slit sleeves' coats, studded blousons and piped trousers are just a bite of this collection that sees heart and love all over it.

Details are what bring this collection its tempo – camouflage prints adored by Milan Vukmirovic are reworked and the quintessential white shirt is embellished with a blood red embroidered heart.

www.ports1961.com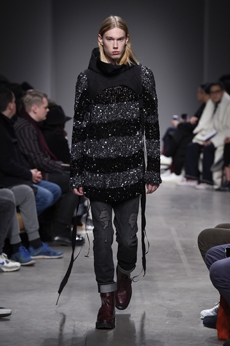 Fashion
FENDI Spring/Summer 2017: it it girls in a pink pink world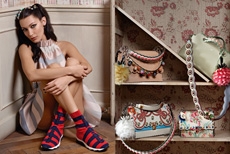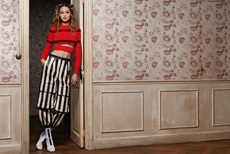 Sisters Bella and Gigi Hadid are undoubtedly a winning model duo in this day and age. For Fendi's Spring/Summer 2017 campaign the Hadid siblings join forces with Italian model Vittoria Ceretti to bring the brand's latest collection to life.

Set in a Parisian apartment, Karl Lagerfeld created a pastel-coloured world with floral wallpapers, infusing a fresh, young campaign with a delicate touch. Bella, Gigi and Vittoria reflect the brand's proposed shabby chic aesthetic while paying homage to Fendi's DNA in an ultra feminine way.

Fendi's Peeakaboo, Dotcom and Strap You bags are given candy-coloured makeovers, further enhancing their status as must-have accessories for the summer season. Fun fur details transform these into the perfect companions for these contemporary Marie Antoinettes.

The intimate, romantic and magical atmosphere created is made current with the addition of an edgy, sporty twist. Classic, yet current and so very Fendi.

www.fendi.com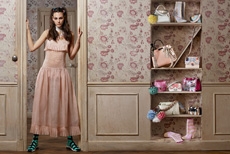 Fashion
Invictus and Olympéa Intense: Paco Rabanne's divine fragrances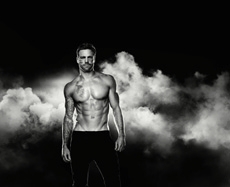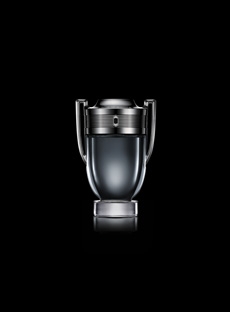 Radical, free, avant-garde. These codes are at the core of Paco Rabanne both in fashion and scents. Invictus and Olympéa Intense are the ultimate unconventional and open to fantasy scents representing two exceptional figures that together create an explosive encounter.

Invictus is man in all his force, robustly pure and athletic. It plays on the shock between blazing amber woods and a marine "salty skin" accord, in a woody-fresh wake. Green-aromatic laurel leaf and orange blossom electrified by notes of black pepper are added to give an intensified, sensual effect. The bottle, dark and sculptural, represents what the Invictus man is all about: an infallible hero who never gives in, a God on earth.

Olympéa empowers women by taking sensuality up a notch. Salty vanilla wrapped up in cashmere wood is at the base of the scent enriched by a duel in which opposites attract. On one side a floral pulse given by white pepper, orange flower and grapefruit blossom. On the other, the warmth of white amber and cedar wood. A glass circular bottle in metal colors represents the perfect construction between geometrical strength and curves, embodying the sacred female of Olympéa, the divine queen.

www.pacorabanne.com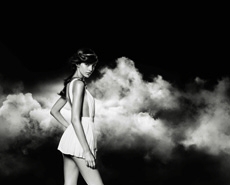 Fashion
Nike Air Max 97: the Silver side of Italians
As the homeland of prêt-à-porter, Italy has always introduced new ways of fashion appreciation that we've all emulated at some point or another. Nike's 'La Silver' sneaker has been, and remains to this day, a strong example of this very concept.

When this sneaker made its first appearance in the fashion market in 1997, it failed to capture the hearts of fashion-forward Italians. It was snubbed, regarded as ugly, weird, otherworldly even. For others, those were La Silver's winning characteristics, making this model the star of 20th century footwear trends in Italy.

For a decade, its ostentatious shine and sleek lines made it a staple in many young Italians' Christmas wish lists. As a symbol of Italian gabber dancing culture and futurism, this sneaker was offered in colour variations that never went unnoticed. It wasn't long before La Silver had snuck its way into the hearts and wardrobes of both fashion addicts and proponents of a more 'chav chic' aesthetic.

Straight out of its homeland, "La Silver" by Nike is back on the market after 20 years. This makes us wonder: is this a new icon for this generation or a mere throwback for those who were there from the start?

www.nike.com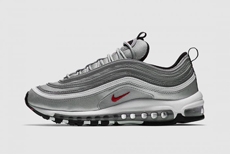 Fashion
DIESEL creates ALRITE: the timeless watch that takes art to the street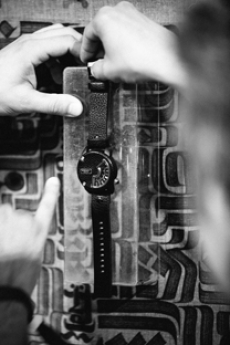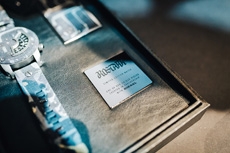 To do good and in an innovative way has always been considered one of Diesel's mottos. This winter and in collaboration with Fossil, the Italian brand has undoubtedly hit its target with its latest project: the Diesel ALRITE timepieces.

Cut out from 150 square meters of original artwork by Rostarr, who collaborated in the design of this accessory, ALRITE is literally a work of art that endures the passage of time while paying homage to both art and Diesel's DNA.

The 555 pieces that make up this Limited edition collection are completely unique and each different from one another, making for one-of-a-kind watches. This feeling of exclusivity is exactly what this hand-wrapped genuine leathers watch brings to the wearer by intertwining the aspects of time and timelessness.

Moreover Diesel ALRITE teams up with Sotheby's to reinforce the message of not only bringing art back, but also doing so for a good cause. Three pieces from this unique collection will be auctioned via e-bay for charity. Funds will be donated to the Only The Brave Foundation that has been working with Diesel for many years to fight against social inequality and working on sustainable development across the world.

"Create products that draw the line between pragmatic and fashion forward" this mission has been definitely brought to life.

www.diesel.com
Fashion
KENZO X EASTPAK…and CHARITY
Once again the iconic Padded Pak'r® backpack by Eastpak will serve as the "carte blanche" given to a selection of the world's most influential designers to create a unique work of art.

When it comes to creativity and eccentricity, Kenzo, one of the brands participating in Eastpak's Artist Studio competition along with Giambattista Valli and Vêtements, never disappoints giving birth to a "never-seen-before" piece. Humberto Leon and Carol Lim's prints trimmed with a tiger claw key holder and a graphic Kenzo towel and hat, were assembled in a collage that not only twins Eastpak and Kenzo, but fashion and charity too.

The collection, comprised of one-off creations from each designer will drop on the 1st of December, World AIDS day. And for a good cause too: all proceeds go to the Designers Against AIDS organization to raise awareness, even among fashion victims, for HIV/AIDS.

www.kenzo.com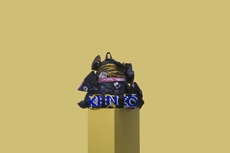 Fashion
The DiorAlps Capsule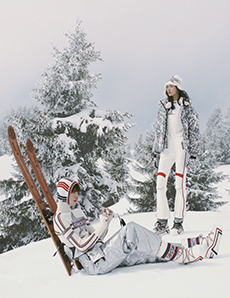 As winter approaches, Dior unveils a breathtaking capsule to the enchanting allure of the mountains with its latest DiorAlps line, curated by the visionary Maria Grazia Chiuri. This exceptional collection, inspired by the House's recent shows, seamlessly marries couture-style creations with high technicity, presenting a unique fusion of fashion and function for the snowy slopes. The DiorAlps line features an array of winter essentials, from puffers and jackets to après-ski boots and the iconic Dior Book Tote, all adorned with the mesmerizing Plan de Paris print. Crafted by the Creative Director herself, this print intricately maps the City of Light, creating a hypnotic interplay of shadows and perspectives. Ski goggles with a bold "Christian Dior" strap and the iconic Dior Oblique further elevate the collection's aesthetic appeal. The pants, available in creamy neutrals or classic black, include knee reinforcements for optimal comfort in all circumstances. The Diorunion capsule's signature coat of arms is embellished with the powerful motto "L'union fait la force." This capsule promises a winter wardrobe that transcends traditional boundaries, offering a daring yet refined look for those who seek style, excellence, and innovation in every winter adventure.
www.dior.com 
Travel
Taiko Cuisine 9th Anniversary
Taiko Cuisine, the culinary gem nestled within the Amsterdam Conservatorium Hotel and crowned 'Best Asian Restaurant 2023' by Gault&Millau, is ringing in its ninth anniversary with an ode to the kitchen's heartbeat: RICE, RICE, RICE. Chef Schilo van Coevorden, known for his masterful fusion of East and West, unveiled the chosen ingredient on October 30, ushering in a year-long celebration of this culinary staple. Taiko Cuisine annually hosts a grand 'Taiko New Year' celebration, inviting guests on a gastronomic adventure. This year, the spotlight is on rice, a grain deeply rooted in East Asian culture and now a global culinary sensation. Chef Schilo's inventive menu for the upcoming year will feature rice in all its glory, following the footsteps of previously celebrated ingredients like Red King Crab, Hida Wagyu beef, and Wasabi. The rice-infused journey promises explosive flavours and a unique dining experience for every guest. Not stopping at the plate, Taiko Bar, an offspring of the kitchen's flirtation with the bar, has evolved into a nightlife phenomenon. Offering unbeatable bites, a curated drink menu reminiscent of Roppongi's speakeasies, and the expertise of Amsterdam's finest bartenders, Taiko Bar transports the high-end nightlife of Asian metropolises to the cosy corners of an Amsterdam pub. In celebrating nine years of culinary excellence, Taiko Cuisine invites you to savour the essence of rice and embark on a journey that transcends cultural boundaries, promising an unforgettable dining experience.
www.conservatoriumhotel.com
Fashion
Diesel Opens in Antwerp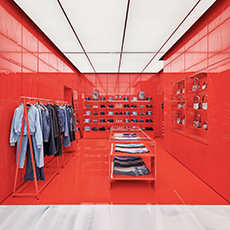 In a move that exemplifies its commitment to pushing boundaries, Diesel has announced the grand opening of a stunning new store in Antwerp, Belgium. Situated on the historic street, Schuttershofstratt 5, is this latest addition to Diesel's global retail portfolio as a testament to the brand's relentless pursuit of bold identity, individualism, freedom, and irreverence. Under the visionary Creative Direction of Glenn Martens, a Belgian native and graduate of Antwerp's Royal Academy of Fine Arts, Diesel's Antwerp store is more than just a fashion destination—it's a visual feast. The store's design concept, recently launched across Europe, features iconic Diesel red accents and industrial metal billboards. A standout piece is the distressed freestanding billboard, reminiscent of the ones lining the legendary Route 66. The interior is an artistic blend of industrial edge and refined craftsmanship. Walls and floors adorned with artisanal, handmade resin posters provide a unique backdrop to Diesel's collections. The Red Room, a monochromatic chamber dedicated to the denim collection, pays homage to the brand's roots while incorporating modern design elements. Notably, the store introduces an exclusive capsule collection crafted in distressed denim with a silver foil coating. From denim jackets and jeans to long-sleeve T-shirts and metallic denim cuissard boots, Diesel's Antwerp store offers a head-to-toe denim experience. Diesel, founded by Renzo Rosso in 1978, continues to evolve beyond denim mastery, positioning itself as a leader in premium fashion. The Antwerp store marks another milestone in Diesel's journey.
www.diesel.com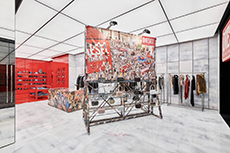 Fashion
ZEGNA X Real Madrid
In a seamless fusion of Italian Luxury and sports spirit, ZEGNA, the eminent menswear house with a heritage dating back to 1910, proudly continues its exclusive partnership with Real Madrid, the iconic football club that has been dominating the pitch since 1902. With the motto "Every king needs a tailor," the collaboration between these two reinforced their shared values and commitment to surpassing limits. As the Official Luxury Travelwear Wear Partner for the 2023-2024 season, ZEGNA will dress both the football and basketball first team of Real Madrid in exclusive outfits tailored to perfection. The first Champions League Trip of the Season unveils their new wardrobe, showcasing ZEGNA's ALBA Overshirt, GHIACCIO Blouson in Oasi Cashmere, jogger bottoms, crewneck, and the latest version of the Triple StitchTM shoes. The made-to-measure collection, goes beyond fashion, extending into a commitment to excellence, hard work, societal responsibility, and a continuous pursuit of new frontiers, blending the heritage of both brands. It is now available in selected ZEGNA boutiques globally. ZEGNA and Real Madrid, with their respective championships in luxury menswear and on the football pitch, epitomize the idea that success is not just about the destination but also the journey.
www.zegna.com
Art
Kaldewei X Bethan Laura Wood
Kaldewei unveils the captivating "Avocado Dreams" collection by renowned British designer Bethan Laura Wood, in a bold fusion of design and functionality. Transforming four iconic pieces from Kaldewei's repertoire, Wood infuses her distinctive style into the Meisterstück Oyo Duo bathtub, Meisterstück Centro Duo Oval freestanding bathtub, Superplan Zero floor-level shower surface, and Miena washbasin bowl. Wood draws inspiration from the organic contours of the Meisterstück Oyo Duo, creating three mesmerising patterns and colour variations: "Avocado Swirl" in green tones, "Avocado Sea" in blue/purple tones, and the expressive "Avocado Disco." Each piece retains the characteristic lines of Kaldewei's bathroom objects while taking on a psychedelic and dramatic metamorphosis. The Oyo Duo bathtub, with its double-walled construction inspired by Japanese porcelain, stands as a sustainable masterpiece in the collection. The Meisterstück Centro Duo Oval, born from Kaldewei's collaboration with Ettore Sottsass, receives a fresh burst of "Avocado Swirl," adding another layer of artistic depth. Wood's creative touch extends to the Miena washbasin bowls, where purist design meets a filigree touch, adorned with the extraordinary patterns of "Avocado Dreams." The Superplan Zero floor-level shower surface, characterised by elegant lines, takes on the lively "Avocado Sea" interpretation, promising an exhilarating shower experience. Beyond their artistic allure, these Kaldewei products share a commitment to sustainability—they are plastic-free and made of 100 percent recyclable steel enamel, fitting seamlessly into Kaldewei's Lustainability® world. The "Avocado Dreams" collection is a testament to the marriage of art, luxury, and environmental consciousness in the realm of bathroom design.
www.kaldewei.com
Fashion
Hublot's New Classic Fusion High Jewellery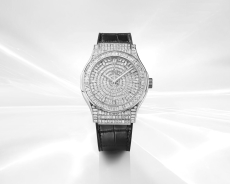 Hublot's iconic design and highest-quality craftsmanship combine in the Classic Fusion High Jewellery, a unique stunning piece. The Swiss manufacturer is proud to launch its latest creation, embezzled with diamonds on its case, bezel, dial and clasp. The dazzling watch, made of 431 baguette-cut diamonds, is the latest attrition to Hublot's High Jewellery collection of watches. The watch features a 42mm dial in white gold, and offers a power reserve of more than 50 hours. This new addition to the Hublot family, effortlessly joins all the other watches of the High Jewellery collection, and takes its own place alongside other precious models such as the Big Bang, the Spirit of Big Bang and the Square Bang Unico. What distinguishes and renders unique the Classic Fusion High Jewellery are its embellishments: sleek lines og white gold that make this new piece a true Hublot icon. The Classic Fusion High Jewellry stands as proof that sophistication lies in simplicity, in the high quality of the craftsmanship, and in the refined details that highlight the beauty of this watch, which is created taking as inspiration the original 1980s shape. The final result represents the highest expression of fine jewelry, and accentuates the elegant, timeless purity of the classic Hublot Fusion model.
www.hublot.com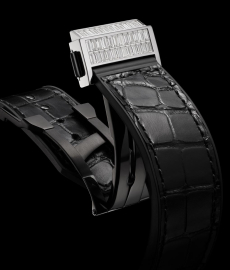 Fashion
H&M x Rabanne Collaboration
On October 2nd, H&M and Rabanne celebrated their upcoming collaboration with a prominent guest list at the legendary Parisian nightclub Silencio. For nearly a decade as Creative Director, Julien Dossena effortlessly channels the brand's iconic spirit always paying his respects to Paco Rabanne's legacy. The event served as a sneak peek into the Rabanne H&M collection, spanning Womenswear, Menswear, Accessories, and Home Accessories. Set to hit selected stores and HM e-commerce on November 9, 2023, the collection promises a fusion of Rabanne's timeless allure and H&M's accessible style. The evening kicked off with an intimate performance by Swedish pop sensation Robyn, setting the stage for a night of extravagance. Renowned South Korean DJ and producer Peggy Gou kept the energy alive, while the glamorous presence of American singer and actress Cher added star power to the celebration. The ongoing start guest list, including Elle Fanning, Irina Shayk, Ashley Graham, and Jared Leto, showcased the Rabanne H&M collection in all its glory. Julien Dossena's goal is to make people feel liberated in their clothing and as Ann-Sofie Johansson (Head of Design Womenswear and Creative Advisor at H&M) stated "Where better … than in an iconic nightclub?" The Rabanne H&M collaboration promises to bring the hedonistic spirit of the brands, ensuring unforgettable moments and a liberated sense of style.
www.hm.com
Fashion
Paris Fashion Week - Louis Vuitton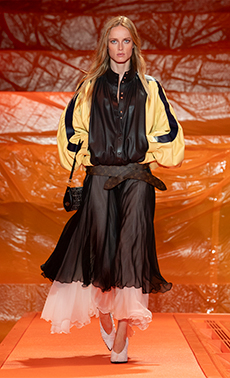 The Louis Vuitton Women's SS24 show, which was being teased on Instagram through voice notes from house ambassadors like Sophie Turner and Jaden Smith, was finally unveiled on Monday, October 2nd. The show took place in the ethereal ambience of 103 Avenue Des Champs-Élysées, Paris, a setting that seamlessly blended nostalgia with contemporary daring. Nicolas Ghesquière, the creative force behind Louis Vuitton for over a decade, orchestrated a vibrant journey through time and style in the venue draped in vibrant orange plastic, which transported guests into a reimagined hot air balloon basking in the warm summer light. The Creative Director skillfully merged familiar silhouettes with modern details, evoking the Maison's spirit of voyage. Travel-ready bags with references to Rubik's cubes and digital cameras paired effortlessly with versatile sunglasses embodying the collection's thematic essence. The designer expressed his clean-cut visual language, playing with layered volumes, ethereal movements, and mismatched graphics, paying homage to French elegance by fusing classic Parisian fashion with vintage codes. Leather bomber jackets found unexpected companionship with ruffled skirts, Y2K-inspired chunky belts, and monogrammed leather. Linear patterns wove through the collection on layered bottoms and buttonless shirts while textured corsets and volumed tops found equilibrium with solid tones. The collection transitioned into double-breasted outerwear in diverse glossy textiles and ended in a reworked houndstooth with layered bedazzled necklaces. The pointy-toe shoe dominated, alongside a daring open-toe style, exposing only the thumb. This season was a fresh journey through retro flair, fluid silhouettes, and oversized proportions with structured accessories, adding a striking dimension and marking a significant chapter in the Maison's legacy.
www.louisvuitton.com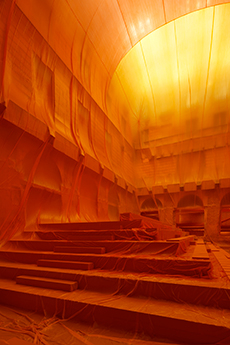 Fashion
Paris Fashion Week - Saint Laurent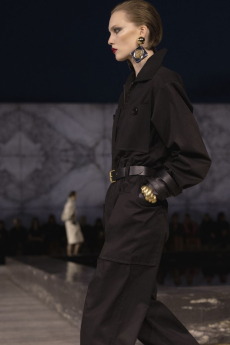 Saint Laurent presented its SS24 collection at Paris Fashion Week on September 26th, 2023. The collection, designed under the creative direction of Anthony Vaccarello, was showcased in a gigantic architectural construct built for the occasion, with a magnificent view of the Eiffel Tower. For this season, the unexpected move of Vaccarello was to strip everything back. He declared that his goal was to bring everything back to its simplistic form, without overcomplicated pieces or exaggerated silhouettes. Indeed, this clean canvas marks a new chapter in the history of Saint Laurent. Cotton as a material dominated the Maison's runway in every way possible, from shirts to evening dresses. The main inspiration behind the collection is the "Saharien" jacket, a concept that Yves Saint Laurent brought back from his North African upbringing and with which he revolutionized Parisian fashion in 1967. Despite its simplicity, the collection is definitely not humble: every piece radiates the fierce, put-together Parisian glamour which in the years has come to represent the brand. Every outfit was completed by 80s-inspired maquillage, voluminous hair, and gold jewelry. The whole collection brings back the idea of a simple, stripped-back elegance that exalts the wearer and captivates.
www.ysl.com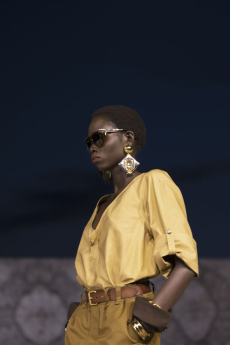 Fashion
Hermès Reopens its Vienna Store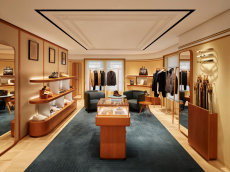 On September 22nd, 2023, Hermès announced the reopening of its newly expanded Vienna store, where the House's sixteen métiers are represented by historical elements of the city subtly blended with modernity. The store, located at 22 Graben, is the symbol of the brand's commitment to the Austrian capital, contributing to the country's dynamism. It has been renovated by Parisian architects RDAI, and it has been expanded in depth and with the inclusion of one additional floor, thus doubling its original surface. The Hermès experience now extends over three floors, dedicated to accessories, beauty, women and menswear, and jewelry. On the last floor, a VIP area has been built to offer an exclusive shopping experience. Each space affirms its own identity, all the while remaining faithful to the brand's elegant aesthetics. The space features a sculptural staircase in natural oak which seamlessly unites the three floors. The architecture of the building is inspired by the Vienna Secession art movement, featuring a subtle combination of colors, materials, and patterns. The store's lighting emphasizes the precious mosaic floor, which also displays the House's ex-libris. This store marks the beginning of a new chapter for Hermès in Vienna. It perfectly showcases the brand's history and commitment to innovation through a beautiful display of architectural and decorative elements.
www.hermes.com
Fashion
Milan Fashion Week - Loro Piana
For its SS24 collection, Loro Piana celebrates its affinity with Japan with a clothing line that profoundly reflects the brand's founding values. The affinity with Japanese culture is celebrated as a powerful force in its richness of high-quality craftsmanship and closeness to Loro Piana's values. The collection reflects a balance with nature and an idea of harmony with the world we inhabit. The non-ostentatious and powerful humbleness that distinguish the brand become the main forces driving this season's collection. The vibrant simplicity and flowing harmony of Japanese clothing pervade the collection, and it is evident in the cashmere or silk coats with petite stand-up collars, in the kimono-style jackets, and in the rounded pants. The tailoring is elongated, reflecting the slender lines and simple garments typical of Japanese traditional clothing. The knitwear defines the silhouette, while delicate shirts privilege the use of light and airy materials. The collection's journey moves from the muted hues of bamboo to the beauty of handwork and the new texture of outerwear reinterpreted in shades of earthy tones. The colors move along with the textures, in this collection that is an ode to delicacy and elegance, and yet manages to be striking in its simp