Fashion
A quiet retreat
December, 2022. FENDI unveils its new store in Düsseldorf, located in the Königsallee. The two-storey boutique stretches out over 460 square meters, creating a spacious and airy interior feeling. Wide windows, marble floors, and FENDI's characteristic arched LED lights tie in to this feeling of space and quiet comfort, with plush seating and lush plants forming elegant centerpieces to the rooms. The store is imbued throughout with a soft color palette and smooth materials – ivories and pinks, champagne metal shelves and silky green backdrops – that adds to the serenity of the space. FENDI handbags, clothes, and shoes line the smooth metal shelves.

The entire upstairs area is dedicated to FENDI's ready-to-wear collections, and is a visual continuation of the airy elegance of the ground floor, using alternating elements of Arabescato Vagli marble and gold to complete the picture. The highlight of the store design resides on the first floor – a floating mirrored glass walkway that connects the glass elevator with the rest of the first floor. The intimate VIP area is a quiet retreat: with azul metal walls, a light blue marble floor and ivory velvet curtains, it brings the customer into an even deeper state of peace and meditativeness.

www.fendi.com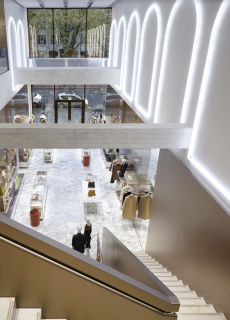 Fashion
FENDI for the Home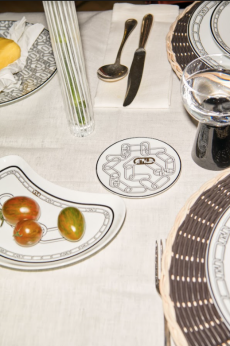 Luxury houses like FENDI don't solely make clothes for their customers, they provide them with a complete vision, a specific lifestyle that extends beyond the confines of their body into other facets of their lives. Especially FENDI has always shown great awareness for this, having been the first luxury house to launch a home collection. In this spirit, FENDI is delighted to announce that its FENDI casa world, through which the Roman house has been bringing the unique FENDI vision into our homes, is now expanded with the first Home Décor & Lifestyle Accessories Collection. Created under the creative direction of Silvia Venturini Fendi, this new collection picks up on the FENDI codes, mirroring the house's aesthetics not only in terms of color, as for examples the iconic FENDI yellow, or in terms of logos such as the O'Lock, FENDI Roma and Pequin, but also in terms of the Maison's known commitment to excellence and the highest craftsmanship. The O'Lock and the FENDI Roma act as fil rouge throughout the collection having been reshaped into decorative patterns that adorn porcelain sets, boxes, trays, candle holders in a graphic reinterpretation of the Maison's DNA. As to be expected, each piece is crafted only from the finest materials and with an incredible attention to detail, with each piece honoring the Maison and its codes.

The FENDI Home Décor & Lifestyle Accessories Collection will be available in FENDI and in FENDI Casa Boutiques worldwide, as well as online, starting from December 2022.

www.fendi.com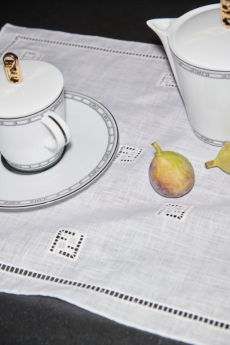 Fashion
Dior's Winter Wonderland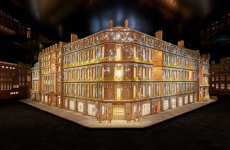 Enter into a dream at the Dior Exhibition at Harrods this winter. A display of childlike wonder awaits visitors. The miniature dollhouses are not only tiny reproductions of iconic Dior sites, such as via 30 Montaigne or the Château de La Colle Noire, but are also made entirely from gingerbread and biscuit. An incredible eye for detail accompanies the entire exhibition, with golden lights and arabesques carved into the surface of the confectionery walls, adding to the fairytale scenography.

Walking through the exhibition takes you on a dreamlike sequence through the history of Dior. Tiny silhouettes of iconic Dior designs peek out within and alongside gingerbread replicas of Dior's most loved houses, and gingerbread men feature as tiny employees hard at work in the Dior ateliers. White lights made to look like falling snowflakes dance on the surface of the little houses. A gingerbread Christian Dior sits at his desk smiling over his designs. Faces on flowers, as if in a scene from the Nutcracker, skate around in the gardens of La Colle Noire.

The Fabulous World of Dior is a fairytale escapade from beginning to end that calls out to the inner child, whilst taking one on a journey through the heritage and inspirations of the House of Dior. HZ

www.thefabulousworldofdior.com
Fashion
Goodbyes at Gucci
Alessandro Michele is bidding "Arrivederci" to the House of Gucci. In announcing Michele's departure, François-Henri Pinault, Chairman and CEO of Kering, stated, "I am grateful to Alessandro for bringing so much of himself in this adventure. His passion, his imagination, his ingenuity and his culture put Gucci center stage, where its place is." Alessandro Michele has certainly left his mark on the House during his tenure. Gucci's vast successes in recent years have often been attributed to Michele's visionary character, whose fresh and unorthodox ideas breathed new life into the company. His experimentation with such things as gender-fluid styles, digital exploration, and environmental conservation brought Gucci back into the focus of younger audiences. Creative collaborations with the likes of Harry Styles, Måneskin, and Jared Leto furthered this cause. His inauguration as Creative Director back in 2015 followed on from predecessor Frida Giannini's reign, one which painted a rather rigid image of Gucci: exclusive, sophisticated, jet-setter lifestyle – a few words often used in association with Giannini's Gucci. Michele's Gucci, by contrast, favored a looser, romantic, more contemporary approach. His inventiveness spelled reinvention for the House. Gucci has yet to announce the new creative lead, as it bids goodbye to the era of Michele. HZ

www.kering.com
Fashion
Prada's Crypto Christmas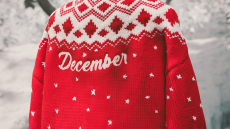 Prada's newest announcement of its seventh Timecapsule Collection drop marks the latest development in the House's digital saga. The Timecapsule collection is a futuristic take from an over 100-year-old business. The House of Prada, along with some of its other peers in the industry, has taken a bold step toward expanding its area of function and creative presence into Web3. The Timecampsule NFT collection embodies this progression into the digital realm, as each new monthly drop is linked to both a gender-neutral physical product as well as a gifted NFT. The drop takes place in the form of an online event: on the first Thursday of every month, a limited quantity of the Timecapsule Collection products are made available for 24 hours. Limited-edition Timecapsule items are linked to a unique serial number, and buyers are granted Prada NFTs in the second stage. NFT owners are also offered exclusive benefits and experiences, including invitations to Prada Extends or Prada Mode. The latest installment celebrates the festive season with the revisit to a familiar favorite – the holiday sweater. Made of Merino wool and using a special Norwegian jacquard knitting technique, the sweater forms one half of the Prada package, weaving in knitted traditional festive glory with Aura blockchain technology. HZ

www.prada.com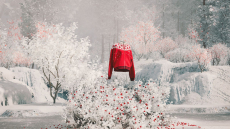 Fashion
The sun, the moon and the stars of Berlin
The Italian jewelry maker DoDo recently presented its new Moon & Sun Collection at its grand opening in Berlin. The new collection revolves especially around the use of semi-precious stones like smoky quartz and moonstone. Inspired in large part by the sun and the moon, the new collection weaves in these fundamental elements conceptually and physically throughout the collection. The sun, representing warmth, light, vitality, and passion, is symbolically packaged into jewelry pieces through the use of brown diamond pavé on burnished gold, creating a rose gold background. The moon, representing sensuality, mystery and cyclicality, also takes center stage in the jewelry line. The collection mimics the moon's waning phase on the rose gold background, as a pavé of white diamonds on rhodium-plated gold. The sun and moon motifs are elegantly embodied in the rings of rose gold. The bracelets bring together moonstone or smoky quartz beads between small tubular sections of rose gold. Moon pendants of white diamond and sun pendants made up of brown diamonds bring the cosmic motif to the foreground again.

An impressive roster of guests filled the halls of the brand's new boutique at 32 Rosenthaler Strasse at Hackescher Markt, the famous square in the middle of the illustrious Mitte district in Berlin, to celebrate the launching of the new collection. The festivities at the boutique were followed by an afterparty at the Weekend Club Berlin. "A sky over Berlin studded with gems and diamonds" served to complete the image, reflecting back the light from the beautiful jewelry on display below. HZ

www.dodo.it
Fashion
THE POWER A SMILE HOLDS
For over 50 years, the SmileyWorld brand has been gatekeeper to the iconic smiley – a simple yellow circle holding no more than two dots for the eyes and an arc for the mouth, which has nonetheless become a symbol of positivity and light to generations since. What began as a venture to bring light to daily news by highlighting positive news bits with a smiling face, has since become a thriving business model. Having the foresight to license the trademark, the father of the smiley, French journalist Franklin Loufrani, has created something of a smiley empire. As a symbol of the free love/counterculture movement in France in the early 70s, and later on a ubiquitous staple with the rise of the internet, the smiling yellow face has stood the test of time. In its FW22/23 collection, A|X Armani Exchange is now breathing fresh life into the long journey of the famous smile, to celebrate the 50th anniversary of the SmileyWorld brand. Two new designs are at the forefront of the collection, giving a new face to the familiar logo – the first replacing SmileyWorld's eyes with the A|X logo, the other paying homage to founder Giorgio Armani by distinguishing it with his recognizable glasses and smile. These are applied across the collection; on bombers, t-shirts, backpacks, and more. True to form, the famous smiley radiates positivity, and reflects its characteristic rebelliousness across the entire collection. HZ

www.armani.com
Fashion
Tommy Jeans x Martine Rose
Tommy Hilfiger is teaming up with British designer Martine Rose to launch the gender-inclusive capsule collection "Tommy Jeans x Martine Rose". Fusing the DNA of brands, the 35-piece collection takes archival icons from Tommy Hilfiger and reinterprets them through Martine Rose's unique lens, highlighting the British designer's trademark out-of-the-box and experimental approach. The collection itself is defined by an elevated streetwear aesthetic with ironic touches expressed through powerful play of color and graphics which can be seen on garments characterized by exaggerated proportions in a typical Martine Rose style. A fan of the brand herself, Rose comments that, "Tommy Hilfiger has always been a brand that I've drawn inspiration from, so this partnership was such a natural and organic marriage." The collection's imagery was shot in Miami by renowned photographer Buck Ellison attempting to redefine traditional Americana by showing a diverse couple in a classic setting. Martine Rose's aesthetic is mirrored in the campaign's imagery which brings the spirit of Americana into the 21st century, highlighting the beautifully diverse spirit of modern America.

The collection will be available on November 7th, 2022 at select Tommy Jeans stores and online.

www.tommy.com
Art
TC Stool by Kokke House: Revamping a Classic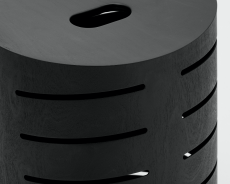 Ruud-Jan Kokke is a Dutch designer working in line with the tradition of Gerrit Rietveld, who rose to fame in the mid-80s due to his inventive objects and furniture pieces. He might be best known for his TC Stool, which was awarded several prizes and has also been included in the permanent collections of the Stedelijk Museum in Amsterdam, as well as the MoMa in New York. The story behind this iconic piece is simple. Gallery Owner and museum guide Trees Coenders approached Kokke in 1989 with a request to create a chair that was suitable for museum tours. Up until then, they had used folding chairs, which were not only relatively heavy but which also proved to be quite impractical due to their angular shape. The new chair needed to be light, practical and easily movable during the museum tours. Kokke immediately caught on to the question and began the work which led to one of his most famous creations the TC Stool. The design is simple and pure yet well-thought-out, a defining characteristic of Kokke's work. He is not distracted by fuss but aims to create a balance of form and use, drawing upon his extensive knowledge of materials and techniques. The chosen material for the TC Stool was aircraft plywood which is very strong, yet flexible. Kokke, a pioneer working with this material, bent the material into a cone shape and milled a handle into the seat. But this first prototype was initially rejected, as according to the client it looked too massive. To give it a light appearance, he added horizontal slots in the hull, resulting in the playful and light-footed design we came to know today. The TC Stool became an immediate success. 32 years later, the TC Stool is now making its return onto the market. Kokke House, an initiative by Romy Kokke and her husband Daniel Beasley, is now bringing back the iconic design of Ruud-Jan Kokke. Starting with the TC Stool, they will also bring back other designs in limited editions collaborating with artists such as Klaas Gubbels and Petra Hartman. With Kokke House being a family business, it will now bring back the spotlight to this highly acclaimed piece of Dutch design history.

www.kokkehouse.com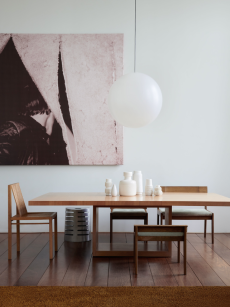 Fashion
ARTYCAPUCINES CHAPTER 4
It has long been established that fashion and the fine arts are intrinsically linked and connected. Fine arts are not only an inexhaustible source of inspiration for the various luxury houses' designers, but through collaboration, fashion's creations can also become a blank canvas for artists to bring their visions to life within a three-dimensional object. In this spirit, the French Maison Louis Vuitton has started Artycapucines, bringing together the stunning creativity of chosen artists with the unparalleled savoir-faire of its masterful artisans. The starting point is Louis Vuitton's timeless and feminine classic, the Capucines bag, named after the Rue Neuves-des-Capucines, where the Maison's founder Louis Vuitton opened his first store in 1854. For the fourth chapter of this special collaboration, Louis Vuitton partnered up with six global artists, Daniel Buren, Kennedy Yanko, Park Seo-Bo, Amélie Bertrand, Peter Marino and Ugo Rondinone, who have all brought their unique visions to the bag. Daniel Buren's Capucines features a trompe-l'oeil design with his trademark stripes in white and black; Kennedy Yanko's interpretation of the bag is constructed of 3D-printed leather defined by its hand-applied metallic patina and Park Seo-Bo recreates one of his signature Écritures paintings on the textured and embellished calfskin. Amélie Bertrand in turn hand-sprayed her vision resulting in a bag in shifting colors and phosphorescence, whereas Peter Marino's variation is a powerful all-black and studded creation featuring an exclusive clasp. The last of the six artists, Udo Rondinone created a harlequin-style bag, delightfully playful and colorful due to its over 14,000 hand-stitched beads. The resulting bags are creating veritable contemporary artworks, as diverse as the artists themselves. Highly limited to 200 per artist, the bags will be presented in their own specially designed gift boxes. Artycapucines bears witness to Louis Vuitton's desire to put its innovative spirit and artisanal expertise to the service of artists and their creativity.

www.louisvuitton.com
Fashion
Fendi releases Peekaboo Capsule Collection
Reimagining the legendary leather accessory, FENDI is releasing the new Autumn/Winter 2022 Peekaboo Capsule collection.
The Peekaboo is one of FENDI's timeless icons which now comes out in a reinterpreted version underlining its innovative and sophisticated character. It first started as an essential bag for women but was soon able to convince men as well, thanks to practical macro sizes and briefcase-like shapes.
The capsule also points out FENDI's excellent leather craftsmanship by incorporating the Selleria macro stitches, which create a contrasting effect on the black, white and mint green leather. Exotic and ornamental handles round off the design. Another version is fabricated in full suede and stands out due to its elegant camel color. A matching Micro Peekaboo as well as python small leather goods offer exciting touches.
The Men's version come in asphalt and camel colored Cuoio Romano leather with adjustable shoulder straps. Honoring the model in various sizes, the capsule features FENDI Peekaboo ISeeU Medium, Small and Mini.
Additionally, FENDI also releases a selection of knitted cashmere accessories in pastel tones of gray, mint green and beige. Included are hats, scarves and earmuffs, defined by an all-over FF logo. Cashmere maxi shopper, pouches as well as plaids and pillows add the finishing touches. JW
www.fendi.com
Fashion
Alexander McQueen presents SS23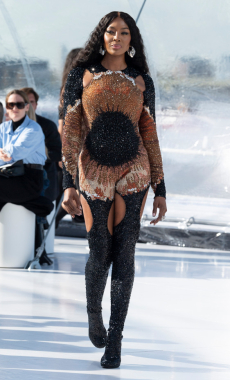 During an exceptional fashion show amid the Old Royal Naval College in Greenwich, Alexander McQueen introduced its Spring Summer collection 2023. Within the collection, Alexander McQueen's creative director Sarah Burton explored the search for humanity as well as human connection. "The eye is a symbol of that humanity, a register of emotion, an expression of uniqueness.", she says. The clothing items in the collection are designated to have an empowering effect on their wearers, which is why the designs focus on cut, drape, and bold silhouettes. In order to create the magnificent pieces, Sarah Burton gathered inspiration from the Dutch Painter Hieronymus Bosch, whose works are attached to the late Gothic as well as the Renaissance. The creative director was deeply fascinated by the dark yet beautiful paintings, from which she took on some elements for the collection.
High-profile models such as Naomi Campbell walked the circular runway, presenting black leather pieces, white mesh bodysuits, trenchcoats, cropped tailored jackets, and many more extraordinary garments in a rich color palette. In front of internationally renowned celebrities, including Janet Jackson, Sheila Atim, and Christopher Kane, they put together a magical show, perfectly staging the elegant clothing items. JW

www.alexandermcqueen.com
Fashion
HUGO launches NFT collection
HUGO is taking a big step toward the future by launching its first-ever NFT collection in collaboration with the renowned Web 3.0 company, Imaginary Ones. The exclusive collection consists of 1001 3D animations, entitled Embrace Your Emotions (EYE). In this respect, the collection revolves around emotional freedom as it encourages everyone to stand by their feelings in order to take care of one's mental health. Six characters of the 1001 NFTs will stand out by containing special attributes. Five of them represent one of our everyday emotions, including joy, sadness, fear, anger, and love, which are all brought together in the sixth character. This special character will be auctioned and the proceeds will be fully donated to the evidence-based mental health program Youth Aware of Mental Health. Thus, it continues to educate young people on mental health and invites them to explore this brought and complex topic. An allowlist of 1000 spots will provide access to the collection, and enable purchase to those who purchase the exclusive phygital T-shirt, who hold the Imaginary Ones' genesis NFT collection, or who take part in its social media activities. The holders of the NFTs will then receive a 10% discount in the HUGO online store and access to Imaginary Ones' staking ecosystem. The collection "(...) enables us not only to further explore this virtual world, but also to share a message of self-acceptance and being true to yourself (...)" affirms Miah Sullivan, Senior Vice President of Global Marketing & Brand Communications at HUGO BOSS. JW

www.hugo.com
Fashion
My INNER HEALTH Club launches revolutionary streaming service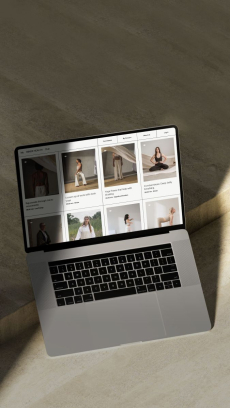 As humankind becomes more and more health aware while at the same time everyday life becomes more hectic and fast these days, engaging with comprehensive and profound information surrounding the broad topic of mental and physical well-being is more significant than ever. With the aim of reviving and introducing traditional knowledge into daily life, the Berlin-based startup My INNER HEALTH Club was founded.
The young company launched as Europe's first streaming service in the health sector and offers new original content every week revolving around the diverse and broad aspects of health. The personalized information gathered from world-leading experts can be accessed based on monthly or yearly subscriptions, depicting a revolutionary step in shaping our relationship with health. On the platform, customers can visit multimedia online classes which provide holistic solutions to issues of our modern life, including among other things stress, digestive disorders, or low energy. Taking into consideration that information about health can be abstract and inaccessible, My INNER HEALTH Club unravels complex issues and presents simple and individual approaches to preserving health. Beyond that, the startup introduced the My INNER HEALTH Club Traditional Health Practice Report 2022 in Western Europe as part of the launch. JW

www.myinnerhealthclub.com
Fashion
Gucci presents Valigeria imagery with Ryan Gosling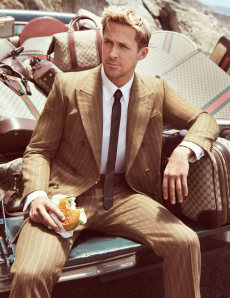 For the Gucci Savoy collection, creative director Alessandro Michele and photographer Glen Luchford created an imagery which takes us into a reality-adjacent dream of a present built on the possibilities of the imagination and of an encounter. Featuring actor, screenwriter, director and musician Ryan Gosling, the collection's images and video follow him and the exceptional Gucci suitcases on a journey to surprising places and fantastical worlds, which are first and foremost mental places, as Michele explains.
The narrative depicted is not unfamiliar to the maison's history: At the beginning of the 20th century Gucci's founder Guccio Gucci left Italy when he was seventeen years old and started working at The Savoy hotel in London. Getting a taste of the magical world of travel, which back then was synonymous with discovery, discussion and cultural exchange, the young Florentine transferred this experience of the unexpected into his work, that is his first suitcases. Honoring this first part of Gucci's rich history, the trolleys, hard and soft suitcases, duffle bags, trunks, hat boxes and beauty cases of the Savoy collection get to tell the a story of possibilities in the Gucci Valigeria imagery, as they are more than containers, but repositories of dreams. JW

www.gucci.com
Fashion
Dries Van Noten SS23 goes from Darkness into light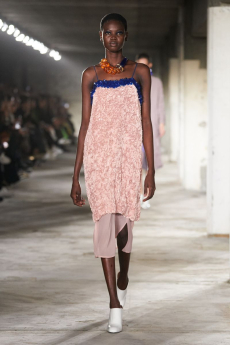 During Paris Fashion Week Dries Van Noten showed the women's spring/summer 23 collection, which revolved around the theme of Darkness into light. Thus the collection was divided into three parts: the purity of black, the suggestion of color faded pastels, and novel flower prints. Investigating the contrast between these elements, the development from dark shades to cheerful patterns celebrates and embraces optimism.
The first part of the collection, distinguished by its black color, is inspired by the radicality of Kazimir Malevich's Black Square. As it consists of structured pieces, this part includes jackets with oversized shoulders and dresses with sculptural waists. Continuing with the pastels, which can be found on crushed pleats, the fringing of cargo pants, and a layered dress, the soft shades embody the lingering memory of color. For the flower prints, significant to Dries Van Noten, earlier designs got revamped. Varying between oversized and micro-prints, the patterns and textures collide in powerful silhouettes. As the collection plays with the contrast between transparency, lightness, and precision, masculine jackets are combined with mousseline skirts.
The accessories, including glass jewelry and heeled shoes, are fragile and robust at the same time, paying homage to intimate moments within the whole collection. JW

www.driesvannoten.com
Fashion
Seeing double at the Gucci SS23 fashion show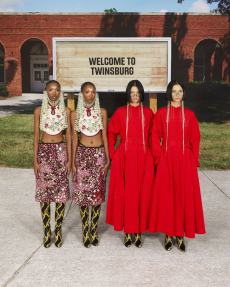 During Milan Fashion Week Gucci presented the new Spring/ Summer collection 2023, designed by the Maison's creative director Alessandro Michele. Titled Twinsburg, this collection pays homage to two extraordinary women of the creative director's life, his mother and her twin sister. Having experienced their deep connection, secret intimacy, and ancestral alliance while growing up, Michele developed a fascination for the double. He explains: "Every single time I catch an aura of beauty in such specular multiplication. It's so familiar, so powerful."
For this reason, 68 pairs of identical twins walked the Gucci runway to present the garments of the new Spring/ Summer collection, yet portraying the impossibility of the perfectly identical. From this, the designer derives the tension of the relationship between original and copy, which determines the collection. It shows how the same garments create different effects on seemingly identical bodies and how fashion after all reinforces the act of individualization. That is, the collection describes twinship as a relationship between identity and otherness. Though sharing a confusable appearance, twins are not limited in their being. Nevertheless, they portray the sense of co-belonging and sisterhood, which is an indispensable part of our every life. JW

www.gucci.com
Fashion
Prada's SS23 shifts between realities
Miuccia Prada and Raf Simons showcased a sequence of realities for the Prada Spring/Summer 2023 womenswear collection, titled Touch Of Crude, and presented during Milan Fashion Week. The collection investigates the contrast between delicacy and roughness, shifting between different visions and alternate realities. Some of the garments mirror the show space, a black panopticon, as they are made of a paper-based fabric, torn against the body. Intentional rifts, twists, creases, and folds define and shape many of the collection's pieces as they depict traces of human life and memories of beauty. It is this rawness that evokes fragility, reflecting humanity as reality.
Day and evening clothes alternate and blur the lines between distinct realities, fusing opera coats with leather jackets and intimate loungewear with outwear. Continuing with accessories, Prada presents reinterpretations of classic Prada handbag silhouettes in an antique nappa and with patinated, pressed, and wrinkled surfaces.
For the fashion show Film director, Nicolas Winding Refn presented fragments of his short films through raw apertures punched through the décor, giving the audience the opportunity to look into a different reality, remaining in the context of the Touch of Crude collection. JW

www.prada.com
Fashion
Bulgari presents the SS23 Leather Goods & Accessories collection at MFW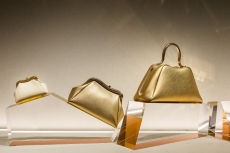 Bulgari presented its new Spring Summer 2023 Leather Goods & Accessories collection during Milan Fashion Week. In its Milanese home, the enchanting Bulgari Hotel the renowned jeweler set up a showroom and furthermore hosted an evening event there. Under the title "Shades of Wonder", Bulgari showcased a world of vibrant nuances, testifying to the brand's captivating creativity and unrivaled mastery. More than 400 members of the international press joined the showroom to explore the new Spring Summer 2023 collection which is defined by intense colors inspired by the most precious gems.
These colors and gems were mirrored by the garden of the Bulgari Hotel at sunset, which lit up thanks to the light installation "PRECIOUS SHADES" by Studio Mandalaki. The special optical bodies of the Halo Edition lights appeared just like the rare stones incorporated in Bulgari's fine jewelry, creating a unique and magical atmosphere in the midst of the buzzing city of Milan. It thus evoked a both visual and sensory experience which is liked to the concepts of the new collection. JW

www.bulgari.com
Fashion
Diesel SS 23 showcases democratic fashion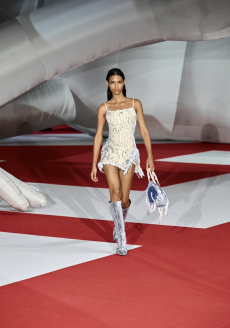 For its fashion show during Milan Fashion Week Diesel broke a world record. In front of 5000 spectators, the Italian brand presented the world's largest ever inflatable sculpture, creating a unique and energetic atmosphere for the runway. Glenn Martens, creative director of Diesel explains: "I wanted to open Diesel up to the public, for people who may never have been to a fashion show before. They deserve a spectacle so we've broken the record (...)." For this reason, the new collection revolves around democratic fashion as it is titled the Diesel Democracy, characterized by denim, utility, pop, and play.
In the spirit of the brand, Martens experimented a lot with denim. To create denim devoré he weaved denim onto a transparent base, which then was fabricated into the devoré corset. Some of the denim incorporated into the garments has been bonded with a layer of cotton and then acid washed, revealing the denim once more. The collection also includes bonded leather jackets that are cut with raw edges. Alongside many other designs, Diesel also presents a new Eyewear collection in collaboration with Essilor Luxottica. Defined by color edging and metallic temples finishing on a perfect D, the styles complete the collection with a special accent. JW

www.diesel.com
Fashion
Eastpak x Denham
In an astonishing collaboration, Eastpak and Denham revamp Eastpak's most iconic silhouettes, releasing them in contemporary denim style. The Amsterdam brand links its unique take on jeans with the function-first approach of the bag manufacturer, thus combining the pioneering spirits of both brands. A two-part collection emerged, stylish and intelligent, adapting to the wearer's needs.
The first model is titled Padded Denham and depicts Denham's version of the classic Eastpak Padded Pak'r backpack. It is distinguished by a modern patchwork of contrasting denim fabrics, adorned with traditional Sashiko embroidery, Japanese knotted zipper pullers, and other signature design elements. While the design undergoes an enhancement, the functionality remains as the backpack is equipped with multiple accessory pockets, a number of detachable pouches, and a detachable bottle holder. The Padded Kerr is based on the shape of the iconic Eastpak shopper and resembles the model mentioned above in its multifunctional aesthetic and Eastern-inspired design, implemented in the same denim patchwork. Both of these pieces, the Padded Denham and the Padded Kerr, are characterized by Denham's unique style, reinforcing the functionality significant to Eastpak. JW

www.eastpak.com
www.denham.com
Fashion
The new JEANY icon bag by LIEBESKIND BERLIN
Continuing the exclusive "THE EDIT" collection, LIEBESKIND BERLIN introduces its new "JEANY" icon bag. Manufactured in a Tuscan factory and made of the finest Italian leather, the bag stands for high quality and craftsmanship. As the limited edition comes out twice a year, the brand decided to reinterpret one of its classics, which echoes the progression of the brand over the last 19 years, as Gina Condé, Creative Director of LIEBESKIND BERLIN explains.
The bag is available in two sizes, ranging from small to large, which come in different leathers. They are either fabricated in fine nubuck, modern crinkled patent leather, or natural Nappa leather. With great attention to detail, special touches have been added to the handmade bag, including the bonded leather lining in contrasting colors inside the bags, alternating between classic and bold colors. Furthermore, the different versions of the JEANY are embellished with a hand-turned leather handle and brass accessories, which define the overall look of the leather goods as it gives them a modern note. Combining Italian artisanry and the Berlin atmosphere in the brand's spirit, the bag is a unique piece, distinguished by its luxurious and timeless design. JW

www.liebeskind-berlin.com
Fashion
Louis Vuitton opens Men's pop-up in Amsterdam de Bijenkorf
For the first time, the French Maison Louis Vuitton welcomes customers to a unique pop-up in Amsterdam, dedicated to the new Fall in Love collection. Located in the center of de Bijenkorf's ground floor, it can not be missed thanks to its impressive architectural structure in an eye-catching orange. The open space is decorated with modular furniture and has patterned walls in Damier, a signature motif of Louis Vuitton. In combination with the displayed musical instruments and the Louis Vuitton on Air neon lights, the pop-up resembles a recording studio. The construction follows the New York and '70s vibe of the clothing of the Maison's collection, which is distinguished by its special color palette and graphic designs. Since the garments are casual and sophisticated at the same time, they reflect the style of a modern man. Enhancing classic pieces by adding a modern twist is the basic concept of the clothing line. As the collection is composed of ready-to-wear and leather goods pieces, it combines Louis Vuitton's savoir-faire with exciting contrasts. Highlights are the Taurillon Denim and the Record Monogram leather goods line, as they reinforce the retro touch of Fall in Love. JW

www.louisvuitton.com
Fashion
Miu Miu presents a short-film by Carla Simón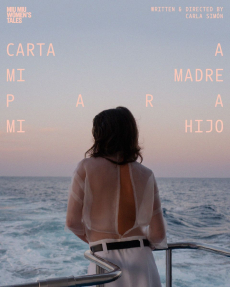 Carta A Mi Madre Para Mi Hijo (Letter To My Mother For My Son) is a short film directed by Spanish film director Carla Simón. As the 24th commission to Miu Miu's acclaimed short-film series, Women's Tales, it premiered at the Venice Film Festival's Giornate degli Autori 2022. Women's Tales features films by female directors, in which they explore vanity and femininity in today's world.
At the beginning of her short film, Carla is shown pregnant and naked, reflecting photos of her mother when she was pregnant with Carla herself. After this sequence, a family of grandparents, uncles, aunts, fathers, and great-grandparents is depicted in a series of Super 8 shots. The film then proceeds to follow the journey of a young woman, growing from the 60s to the present day, who in the end meets the pregnant Carla in the idyllic atmosphere of the Catalan coast.
In this work, which the Spanish Director dedicates to her son, Carla Simón wants to create a family history, as it is something that she never had. When she was only six years old, Carla lost both her parents to AIDS. She explains that "Cinema has the power to repair what is missing", leading her to make this short film composed of real and fictional memories, echoing the lifelong process of understanding who we really are. JW

www.miumiu.com
Fashion
Neo.Fashion. promotes young designers at Berlin Fashion Week
Neo.Fashion. returned to Berlin Fashion Week this season for its 6th edition, promoting aspiring talents and fashion designers. As a hybrid event, Neo. Fashion. presented shows as well as a showroom at Reinbeckhallen in Berlin. In the course of the event, graduate shows took place, in which ten universities presented designs of their most promising students. In this context, over 80 graduates got the chance to show their garments to a larger audience. This also included the digital Graduate Show, which introduced 12 graduates of the National University of Technology and Design Kiev, showing ongoing support for Ukrainian fashion designers while the country remains at war with Russia. Once again the Neo.Fashion. Awards have been given to the best German fashion design graduates as part of the Best Graduates Show. One of the lucky winners is Nanyi Li, who won in the category Best Sustainability Concept. For this edition, Neo. Fashion. is also launching its new format, titled Aspiring Designers to further support young creatives. The new format includes collective fashion shows, panel talks, and workshops, helping aspiring talents to find an entry into the industry. Stephan Schwarz, Senator of Economic Affairs, Energy and Operation says: "I am very pleased that Neo. Fashion. focuses on young fashion designers and promotes them sustainably. Neo.Fashion. has become an important format at Berlin Fashion Week. We want to use it to support the international visibility of graduates and up-an-coming designers and also underline how important the development of the creative scene in Berlin is to us." JW

www.neofashion.de
Fashion
Audemars Piguet's Royal Oak turns 50
To celebrate the 50th birthday of Audemars Piguet's Royal Oak, the Swiss Haute-Horlogerie manufacturer launches a special book in collaboration with the luxury publishing house Assouline. Written by award-winning cultural journalist Bill Prince, the book tells the story of the iconic watch model from a culturally relevant point of view. It includes exclusive information found in Audemars Piguet's archives and frames the text with pictures and annotations of longstanding friends of the watchmaker.
When the Royal Oak was first released in 1972, it caused a great sensation due to its ultra-flat automatic movement, which has never been seen before. In the following years of cultural and industrial change, the watch not only kept up with time but was even ahead of it. Marking a new era of Haute Horlogerie distinguished by sportiness and finesse, it embodied an active yet serene lifestyle. Combining technological innovation and high-quality craftsmanship the Royal Oak is not just a watch but a cultural asset that goes beyond the momentariness of our being. The "Generation Royal Oak", including celebrities such as Kevin Hart, Mark Ronson, and Serena Williams, are featured in the book as they talk about their inspirations rooted in the cultural movement since the Royal Oak was first released. JW

www.audemarspiguet.com
Fashion
LML Studio presents Sensible Ensemble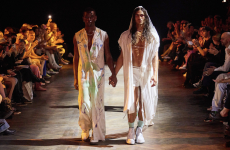 Known for his hand-painted and re-tailored garments, fashion designer and founder of LML Studio Lucas Meyer-Leclèrc showed his latest collection, titled Sensible Ensemble, during Mercedes-Benz Fashion Week Berlin in the old Telegraphenamt. The new collection revolved around the theme "remake, reuse, reassemble". Thus, Lucas Meyer-Leclèrc incorporated many reworked and repurposed vintage pieces into the collection, some of which derived from the 1930s. A significant part of Sensible Ensemble was composed of hand-knitted, crocheted, painted and embroidered pants and shorts as well as coats, tops and accessories. The designs and the fashion show, which was divided into three parts, were inspired by the beautiful feeling of togetherness as well as diversity and the freedom of love and life. A highlight of the runway show was the Berlin Ensemble, who performed an a cappella version of German icon Marlene Dietrich's and Peter Seegers' song "Tell me where the flowers are." Musician PZUDEMO also performed during the show and sang his song GRIND. He was dressed in retailored cotton gabardine trousers, a leather vest and a jacket, which was composed of several evening suits from the 1930s, both hand-painted. A hand crocheted tie completed the look. JW

www.MBFW.berlin
Fashion
Kilian Kerner and LIEBESKIND BERLIN collaborate for Berlin Fashion Week
For the first time, German bag brand LIEBESKIND BERLIN joins forces with the Berlin fashion designer Kilian Kerner for his show at Berlin Fashion Week. In the course of Mercedes Benz Fashion Week Berlin, Kerner presented his new collection which carries the name IKONEN, German for icons. The title references the inspiration which defined the designs as Kilian Kerner was heavily influenced by his own personal icons of various fields. In the building of the old Berlin telegraph office, which spreads a unique atmosphere, the event welcomed high-profile guests, like actress Jella Haase, Model Franziska Knuppe and influencer Klaudia Giez.
Kilian Kerner's garments were perfectly complemented by the clean yet idiosyncratic design of the high quality bags of LIEBESKIND BERLIN, such as the Paper Bag or the Chelsea. The collection of clothing is as well defined by clean cuts and striking designs. Furthermore the two labels are interconnected as they both are soaked with the extraordinary spirit of Berlin and draw huge inspiration from the German capital. Having similar perceptions of charm and creativity, both brands create timeless and remarkable pieces, which they combined at Berlin Fashion Week. JW

www.liebeskind-berlin.com
www.kilian-kerner.de
Art
Brussels Gallery Weekend - Bernadette Chéné at Galerie La Forest Divonne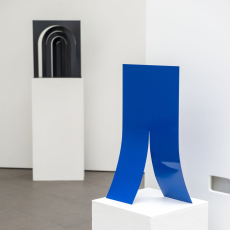 Starting on Brussels Gallery Weekend, the Galerie La Forest Divonne presents the exhibition L'Un et l'autre by French artist Bernadette Chéné.
The core of this exhibition are sculptures made out of raw and strong materials such as cut metal plates and erected trunks. The creations radiate a timeless beauty as they are displayed under the glass roof, significant to the architecture of the gallery. The sculptures reveal Bernadette Chéné's abilities as a transmitter of emotion and as a visionary. For her artworks she takes familiar and simple materials, which at first glance do not seem special at all. However, she manages to detect what is extraordinary and beautiful about the material and makes it visible to the visitors. Hence, she evokes a surprising and unexpected effect. Nonetheless, the sculptures seem subtle and discreet. The exhibition L'un et l'autre by Bernadette Chéné will be open to the public from September 8th to October 29th, 2022 at Galerie La Forest Divonne in Brussels. JW

BERNADETTE CHÉNÉ
L'Un et l'autre, exhibition views in Galerie La Forest Divonne
©ECrooÿ
Courtesy of the artist and Galerie La Forest Divonne, Brussels 

www.galerielaforestdivonne.com
Art
Brussels Gallery Weekend - Xavier Mary at Baronian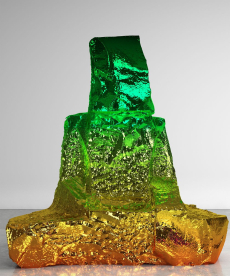 As one of the longstanding participants of the Brussels Gallery Weekend, Baronian once again opens an exhibition of contemporary art in the course of the event. This year the gallery shows the works of Belgian artist Xavier Mary (1982). In his solo show Black Hole Sun, the artist investigates the discrepancy between spiritual dimensions and modern society in a conceptual and poetic manner.
His works combine mythological and technological elements, making them seem to be located in the past, the present, and the future at the same time. Reflecting on modern civilization, humankind, and consumer culture, the artist takes a critical stance toward our industrialized world. The inspiration for his exhibits originated from his travels through Southeast Asia, where he experienced both spirituality and highly innovative technology. The ancient architecture and mechanics of the sculptors, as well as the contrast between the vibrant cities and the untouched nature of the jungles, fascinated him deeply. Xavier Mary combined these impressions in his post-industrial sculpture and post-apocalyptic, mythical realism, creating art of absurd cleverness and technological motorized skills.
The exhibition Black Hole Sun by Xavier Mary will be open to the public from September 8th to October 8th, 2022 at Baronian in Brussels. JW

XAVIER MARY
3x Bouddha
Courtesy of the artist and Baronian Brussels

www.baronian.eu
Art
Brussels Gallery Weekend - Seulgi Lee at Mendes Wood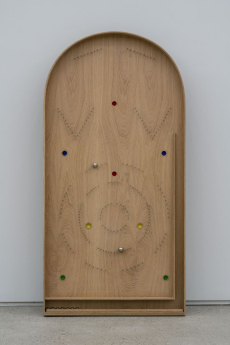 In the event of the Brussels Gallery Weekend, Mendes Wood is presenting the first solo exhibition of Korean-born artist Seulgi Lee, called Slow Water. The works displayed by the gallery were made especially for this occasion.
The sculptures and installations of Seulgi Lee are characterized by bright and cheerful colors as well as simple but elegant forms. Exploring ordinary objects, everyday language, and natural forms, her works follow a formal aesthetic. The creation of her art is based on a utilitarian approach, linked to the nature of the body, presenting her work as usable and handy tools. Furthermore, Lee appreciates and draws her inspiration from folk crafts. For this reason, she has already collaborated with Korean quilters from Tongyeong and traditional basket makers from Mexico. In the creation process, the artist does not decide between a formal, polished sculptural practice and a more popular aesthetic but combines them both in her artworks. Thus, her art bears a unique signature, which is expressed in form, color, and gesture.
The exhibition Slow Water by Seulgi Lee will be open to the public from September 8th to October 8th, 2022 at the gallery Mendes Wood in Brussels. JW

SEULGI LEE
BAGATELLE, 2022
Wood, metal balls
Courtesy of the artist, Jousse Entreprise and MENDES WOOD DM, Sao Paulo, Brussels
New York

www.mendeswooddm.com
Music
CRO introduces his new Album "11:11"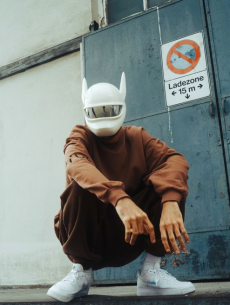 For more than a decade, CRO has enthused and inspired his fans with his permanent energy and artistic attitude, which has not faded over the years but has grown even bigger. Permanently evolving himself and his music, CRO keeps creating songs that speak to a range of emotions, always uplifting and enthralling.
His latest album "11:11" is all about love. Not only does Cro rap about what love can do to one in his texts, but transports the feeling in the sound of each song: how it makes you forget everything, and how you stagger and dance because of it. One of the songs on the album is called "FACETIME LUV", a smooth slow jam that talks about trying to create closeness through a phone screen despite being separated by thousands of kilometers. Nonetheless, social media and its possibilites to connect seem to be an illusion, resulting in doubting and questioning the feeling. Another one is "FREIHEIT" which asks about what it truly means to be free. "I've heard there's an infinite number of paths you can take, but I'm only taking mine," sings CRO, torn between big, wild dreams and the desire for love and closeness, the ultimate theme of "11:11". JW

www.cromusik.de
Art
The 15th edition of Brussels Gallery Weekend
The annual Brussels Gallery Weekend is returning at the beginning of September, thus presenting the 15th edition of the festival. In the course of the event, 47 art galleries will open their doors to professionals and other art lovers from all around the world, presenting contemporary art in the heart of Europe's capital. In no previous year have so many galleries participated, showing impressive exhibitions, performances, and installations around the city. For the 15th edition, Brussels Gallery Weekend has chosen to have a main venue as a focal point, which will be located in the former printing plant of the National Bank of Belgium. The unique building will host, amongst other events, the "Sculpture Factory" exhibition and the "Generation Brussels" exhibition, introducing emerging artists from Brussels. Alongside the festival, the traditional "off" programme will be held as well as different talks and other surprises.
"Thanks to its central location and the vitality of the local scene, Brussels plays a prominent role in the contemporary art world, and we seek to further the city's influence with a spirit of sharing," explains Sybille du Roy de Blicquy, director of the Brussels Gallery Weekend.

Brussels Gallery Weekend will take place on the weekend of September 8th to September 11th, 2022 in Brussels. JW

image credits: StockkStudio, David Baatzsch

www.brusselsgalleryweekend.com
Fashion
Loro Piana presents Denim Cashmere
In its Fall-Winter collection 2022/ 23, the Italian brand Loro Piana presents its new and innovative fabric Denim Cashmere. Distinguished by its unique feel, the fabric was created in collaboration between the crafts team of Loro Piana and Japanese denim experts of the Bingo region. The manufacturers from Bingo are outstanding in their experience and therefore enjoy great popularity around the world. United in their perfectionist approach to creating high-quality garments, the two crafted a mixed material of 60% denim and 40% cashmere, defined by its warm and comfortable wearing sensation. The production requires ancient and rare weaving looms, which can only be used by a few experienced professionals. During a slow process, the two yarns, the indigo denim, and the natural cashmere fiber are woven together. Thus, within one day 50 meters of the precious fabric are produced. In the end, the material was incorporated into one look of this season's collection, including pants and a jacket. The simple yet elegant garments are the result of a unique collaboration, which combines the know-how of the Japanese denim experts with the Italian spirit of Loro Piana. They symbolize the merging of two cultures, topped off with a luxurious touch, significant to the Italian brand. JW

www.loropiana.com
Fashion
The Power For The People by Steve Davies
After spending his whole life in London, Steve Davies decided to found his own brand "The Power For The People" in 2020, which is heavily inspired by his journey, which led him through London's neighborhoods Shoreditch, Soho, and Savile Row. For this reason, he also attaches great importance to closely working together with British fabric mills and manufacturers for the production of his collections, ensuring high quality for his clothing. Furthermore, the designs of the handmade garments refer to the British capital in their street energy, as the city surprises the founder and creative director of the brand again and again, despite having lived there for so long. For Autumn/ Winter 2022, only the second season for "The Power For The People", the label of Steve Davies reflects his first season in tailored and military styles. The collection is crafted in traditional British manufacturing techniques and references the 80s and 90s London club scene with bondage pants, mixed with classic men's tailoring fabrics.
Based on Davies' passion and love for the city of London, an all-inclusive structured line of garments emerges, defined by its unconventional style and dedication to its fine production. JW

www.thepowerforthepeople.com
Fashion
The Dior Jardin Capsule Collection for Men
Recently Dior launched its new Dior Jardin Capsule Collection for Men. In remembrances of the Maison's founder Christian Dior, the designs of Kim Jones allude to the Monsieur's love of nature, by incorporating a studded rose, the "Queen of Flowers", in various pieces. Throughout the collection, it can be found in each of the Dior emblems, which it artfully entwines.
The magnificent blooming single rose is emblazoned especially large on the back of the polo shirts and hoodies, striking in its pink color on white cotton piqué or in green shades on black fabric. In another variation, which adorns among others an overshirt and slim-fit jeans, it is shown in an all-over tonal jacquard pattern, that highlights the individual rose petals and places them together in a dense structure. In an ensemble, including comfortable fitted Bermuda shorts and a short-sleeved shirt, made of silk twill, the rose represents itself in a pattern of multiple single roses. These models are also available in the two color combinations of white-pink and black-green. Furthermore, the collection features a variety of accessories, such as a tie, socks, bandanas, a backpack, and bags as well as sneakers and derby shoes.
Honoring Christian Dior, British fashion designer Kim Jones created a collection that radiates joie de vivre. The motif of the rose adds a touch of romance and a refreshing splash of color to the elegant everyday wear. JW

www.dior.com
Fashion
The Tommy Factory
For its Fall 2022 imagery, Tommy Hilfiger introduces the "Tommy Factory", a creative space inspired by Andy Warhol's celebrated New York Studio. Portraying an epicenter of self-expression and artistic freedom, it deeply fascinated fashion Designer Tommy Hilfiger. As did the Pop-Art artist himself, whose approach and nose for relevant topics led Hilfiger to the concept of his own creative playground, though it is not a physical place but a "state of mind".
Linking the classic and the new, the experimental factory unites a diverse cast of cross-generational Future makers, including mother-daughter duo Kate and Lila Moss, drummer Travis Barker, actor Anthony Ramos, musician Jon Batiste, street pop artist Mr. Brainwash, drag queen Lady Bunny and last but not least tattoo artist Steve Wiebe. Shot by Craig McDean in the Bronx and styled by Katie Grand, the images convey the spirit of the city and its cutting-edge communities. At Hilfiger's fashion show in September during New York Fashion Week, the "Tommy Factory" will continue to unfold in a unique experience. To highlight and reinforce the power of the individual, the show will be accompanied by installations, again inspired by Warhol and his "15 minutes of fame spirit". Reimagining and evoking the famed Factory by Andy Warhol, Tommy Hilfiger presents its fashion, honoring the iconic artist. JW

www.tommy.com
Fashion
Jewelry by Louis Vuitton - Empreinte Collection
The 2004 Empreinte collection shines in new splendor as Francesca Amfitheatrof, Artistic Director of Jewelry and Watches for Louis Vuitton, presents its unmistakable designs in a refreshing and bold way.

The collection includes 18-karat yellow, white and pink gold pieces adorned by the distinctive LV initials and Monogram Flowers. The Monogram flower appears in particular on a medallion which resembles a modern talisman as well as on the cords of bracelets. While Empreinte portrays strength and adventure, the interlaced bracelets give a warm feeling by symbolizing loving relationships. They also refer to an iconic piece of the company's history as they are inspired by the leather strap that fastens the Louis Vuitton luggage. A long necklace that can be worn stacked or as a bracelet gives the collection an individual touch. Hoop earrings and diamond-studded ear cuffs complete the clear and contemporary ensemble.
With Empreinte Louis Vuitton and Francesca Amfitheatrof represent the "Art of Travel" in the tradition of the company. While remaining true to Louis Vuitton's values, history, and quality standards the designer did not miss to meet modern requirements concerning the design and also the production of the collection. The company attaches great value to producing its goods in an ethical way and is therefore certified by the Responsible Jewelry Council since 2012. JW

www.louisvuitton.com
Fashion
Comme des Garçons x Air Max Sunder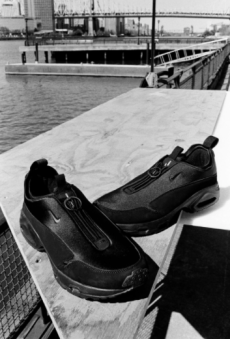 Comme des Garçons has undoubtedly become a household name within the luxury fashion industry. The Japanese brand, under the creative lead of Rei Kawakubo, has continuously evolved, establishing a visual identity which is unrecognizably Comme des Garçons. Throughout the year, the Japanese brand has also worked together with Nike to create a series of collaborative sneakers. Now, they are pleased to announce the newest collaboration, the Comme des Garçons x Air Max Sunder, which first debuted in Tokyo during the Comme des Garçons Homme Plus SS22 show. The original model was first introduced in the late 90s and has remained unchanged ever since. Comme des Garçons is the first to update the design since its inception. The exterior shroud is customized by featuring premium neoprene and nubuck. Available in three colourways, the new and modern redesign is simplified, yet maintains the original fit of the sneaker with its unique combination of zipper and lace-up.

The Comme des Garçons x Air Max Sunder will be available at all the CDG and Dover Street Market stores globally, as well as the DSM E-Shops.

www.comme-des-garcons.com
www.nike.com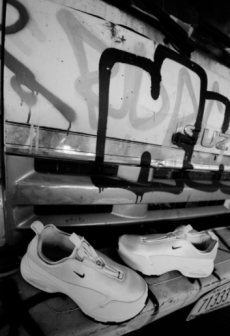 Fashion
DIESEL opens new Stores at two Prestigious Locations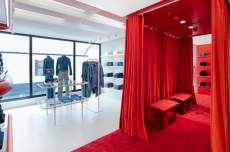 When Glenn Martens was announced as the new Diesel Creative Director, it was clear that a lot of new and exciting things were to follow. With his first collections, the young Belgian designer has already started to leave his mark on the innovative Italian lifestyle brand and will continue to do so in the years to come. His influence is by no means just limited to the garments, but he has also designed the brand's new retail concept. Now, Diesel opens new stores in Forte dei Marmi, Italy, and Puerto Baùs, Spain, two prime holiday destinations in Europe. They mark the start of a new chapter under the creative lead of Glenn Martens, whose new retail concepts are defined by both curated shopping elements and experiential immersions. Throughout the store, one can see functional and innovative design details which exhibit the concept's key characteristics of renewal, disruption and transformation. The interior of the store is additionally also reflecting the Diesel DNA, for example through the bone-white and signature red walls, recalling the iconic Diesel logo. Additionally, sculptural elements are interspersed throughout the space, providing a certain depth, textures and timeless appeal to the space. These two will not be the only new stores opening under this new retail concept. Other 2022 rollouts will include new flagship stores in Tokyo Ginza, Shanghai Grand Gateway and Paris Saint Honoré.

www.diesel.com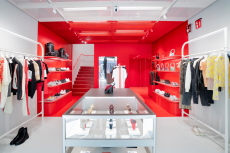 Fashion
CD Diamond Glasses
Sunglasses are not only for the sunny seasons. They have become an intricate part of most people's wardrobes and an absolute essential that one should always have on hand. Like many other luxury houses, DIOR has long recognized the appeal and popularity of sunglasses, but now the French Maison takes this a step further by applying their exquisite savoir-faire. The CD DiamondGlasses are a combination of advanced technology and highly refined DIOR craftsmanship and ultimate expertise. Assembled by hand, these virtuoso creations exalt the house's fundamentals. This special accessory is defined by the infinite precision and attention to detail throughout every stage of the production. This is instantly recognizable in the lenses which have the Christian Dior Signature laser engraved or the diamond motif and iconic CD Diamond Logo applied with the most meticulous care. This Diamond pattern was first unveiled in 1974 and this original emblem and hypnotic design are now celebrated by Kim Jones.

www.dior.com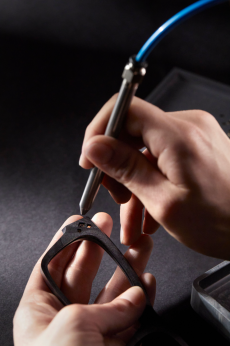 Fashion
LOIS Jeans SS23: Porto di Como
In the context of its 60th Anniversary, Spanish jeans brand Lois Jeans unveiled its new SS23 collection 'Porto di Como' with its first-ever fashion show in Italy. Taking place at the historical location of Acqua di Bianchi in the picturesque village of Taceno, close to Lago di Como, the collection and show were a homage to Italy, its music and its heritage. The unexpected scenery is a direct reference to the inspiration behind the 16th collection, the enchanting ambience of the natural oasis captured through the striking designs and exceptional elegance of the collection. The natural surroundings of Lago di Como expressed through a harmonious color scheme of clean whites, deep blues, soft yellow tones adorned with orange details, floral artworks and elegant shapes is contrasted with Lois Jeans' iconic characteristics which have catapulted the brand to global prominence. Iconic jeans sets, elevated 60s styles and low-waisted 90s fits are reinvented as visual highlights throughout the collection and bear witness to the essence of the brand's heritage. Naturally, ABBA, who Lois is known for sponsoring shortly before their Eurovision Song Contest success in 1974, was present through their iconic song 'Take A Chance on Me', which was the musical backdrop of the show's finale. Among the models of the shows were the Lois muses of the past years, such as Dutch icons Rianne ten Haken and Ton Heukels, as well as Lois campaign stars Nour Lwasi, Jena Goldsack and Robin Hölzken. The incredible evening was finished off by an authentic Italian dinner in the serene setting natural setting of Taceno, a perfect setting to celebrate the 60th Anniversary and the 16th Lois collection.

www.loisjeanstore.com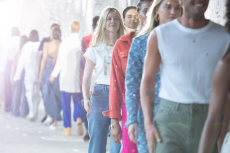 Art
Wir Überleben das Licht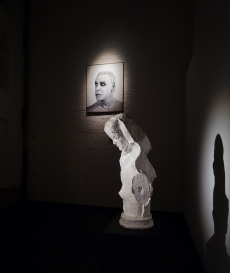 Johan Tahon was captured by sculpture at the early age of 15 and this fascination has not stopped since. Since his beginnings and most importantly independently from all various trends and streams which at one point dominated the art world, Johan Tahon has continued to uphold craftsmanship, personal expression and spirituality as guiding principles in his works. In 1996, Jan Hoet discovered the Belgian artist and started to promote Tahon's monumental sculptures. Under his sponsorship, Johan Tahon developed into an artist of international stature, heralded as a part of a group of artists who heralded the comeback of figuration and craft in the arts. Tahon's deeply rooted topics of human psychology and spirituality also caught the attention of writers, most notably Till Lindemann, frontman of the German band Rammstein, who collaborated, under the initiative of ZOO Magazine, with the Belgian artist by writing a number of poems inspired by his sculptures. The resulting exhibition, Wir Überleben das Licht, conceived in collaboration with ZOO Magazine is now on display at the Cultuurcentrum de Steiger in Menen, Tahon's hometown of which he is also an honorary citizen. The display encompasses the sculptures of Johan Tahon, the poetry of Till Lindemann and the photography of Sandor Lubbe. Aside from Wir Überleben das Licht, the Cultuurcentrum also opened up the DEPOT TAHON, a permanent display of countless sculptures by Johan Tahon, allowing visitors to dive deep into Tahon's artistic world.

The exhibition Wir Überleben das Licht will be on display at the Cultuurcentrum de Steiger Menen until August 31st.

www.johantahon.com
www.ccdesteiger.be
Fashion
Christian Louboutin Men SS23 in collaboration with Highsnobiety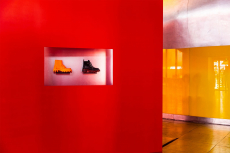 Within the Parisian cultural hub for contemporary art, the iconic Le Centre Georges Pompidou, Christian Louboutin, and Highsnobiety will host a presentation at Georges. At the top of the building, the two brands will celebrate the launch of the Men's SS23 collection, previewing the newest line titled "Dune". Highlighting the creative universes, the runway featured a futuristic outdoor corridor compromised of red plinths in different heights inspired by the graphic red and black notches soles of the Dune line. Here, a selection of dazzling evening shoes, new styles from the inclusive capsule Our Angels, and leather goods from Techno CL perforated leather pattern are displayed. Inside the space is a central scenography made of four aluminum panels arranged in a circular shape to form a futuristic cocoon that showcases the new hero shoe: the Dune lug sole. With inspiration taken from the Maison's signature niche displays, the Christian Louboutin and Highsnobiety design panels serve to highlight eight variations of the newest addition to the collection. Once it becomes dark, that afterparty took place with an array of musical performances.

www.christianlouboutin.com
www.highsnobiety.com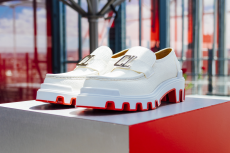 Fashion
DIOR Men Summer 23
Kim Jones created a gardener's dream in Dior men's SS23 show. The pieces pay tribute to Christian Dior's passion for nature by reimagining the designer's childhood home in Granville, Normandy. Placed in front of a bright blue backdrop with grass-like features, the models wear pieces dominated by pastel colors that seamlessly blend into their natural surroundings. There is a clear nod towards practicality, with an array of outdoor clothing such as reflective gilets and practical backpacks. Also featured are gardener's hats designed by Stephen Jones Millinery, some of which are made using a 3D printer. Some elements of Bloomsbury set painter, Duncan Grant's work was placed on fleece sweaters and embroidered on sheer tops for playful effects. The post-impressionist vibrant colors stood out well against the vivid backdrop. In a practical yet rebellious tone, the pieces evoke an effortless contemporary existence. Reclaimed cashmere, double-breasted tailored coats were teamed with tailored shorts in thirties fabrications. Semi-transparent silk organza revealed the strict, traditional masculine construction of the garments underneath.

www.dior.com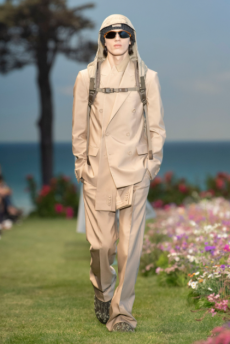 Fashion
Gianni Versace at the Groninger Museum
Gianni Versace is one of the most influential designers of the 20th century, with his prominence very much being carried on through today. Versace brought together classical and pop art imagery and found inspiration in figures from ancient Greece as well as subjects like bondage and SM. The designer worked with artists like Andy Warhol, Jim Dine, and Julian Schnabel, raising the profile of the marriage between the old and new like never before. As a pioneer in the fashion world, Versace regularly challenged traditional images of masculinity and femininity, designing clothing for both sexes and referencing sexuality and power in his collections. The colorful, daring, and emotional Gianni Versace Retrospective exhibition will take visitors through the journey inside the eccentric fashion designer's world of extravagant clothing and lavish catwalk shows in which clothing, pop music, and design come spectacularly together. The exhibition displays men's and women's clothing, accessories, fabrics, drawings, interior designs, and footage of legendary shows derived from the Italian designer's glory days between 1989 and 1997. Gianni Versace brought the arts together like no one ever before, leading the way in the transformation of fashion shows and advertising campaigns into works of art. Each item presented is an original piece, all of which are sourced from international private collections. GH

The Gianni Versace Retrospective will take place at the Groninger Museum from December 2 2022 to May 7 2023

www.groningermuseum.nl
www.versace.com
Fashion
La Martina SS23 Collection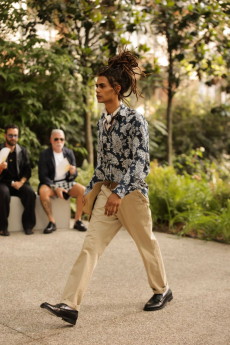 Held at Garden Senato, a classy, unconventional, and unique location, the La Martina SS23 show stands for creativity, multiculturalism, and integration. The brand has unveiled a new collection inspired by a journey that follows the polo players from Argentina to London to attend tournaments and social events. But like everyone, also La Martina's polo players deserve a holiday. The SS23 Collection is structured around 4 four macro themes: Argentina, England, Holiday, and Essential. From sporty to casual, from streetwear to a more elegant cut, the new garments are made for any adventure, especially during summer vacations. Then, as a fil rouge to connect the many looks are, as always, colors and materials such as nylon, linen, and jersey. La Martina fashion show was presented during the Milan Fashion Week in the shape of a big live event followed by an exclusive party with a DJ set by Graziano della Nebbia, a well-known name on the Milanese music scene. To attend the event were prominent personalities such as Italian and international journalists, K.O.L., VIPs, ambassadors, and friends of the brand. VB

www.lamartina.com
Fashion
Born in Oasi Zegna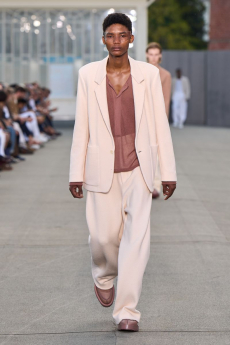 Innovation is paramount for Zegna and starts from the Oasi. Created by Ermenegildo Zegna, Oasi Zegna is an ecosystem born long before this word was even known. It is not only a unique model of societal and environmental consciousness but also a set of principles that foster consistency and promote harmony. From here starts the journey made by Artistic Director Alessandro Sartori while designing the SS23 Menswear Collection. Going back to the roots and keeping in mind two of Zegna's hallmarks - craftsmanship and tailoring - the brand has presented a new series of garments that feature new shapes and textures, giving life to a new language. The idea was to keep the finesse, the attention to detail, and the respect for materials while experimenting with lighter silhouettes and fabrics, as well as finishes with different technicalities, to create a new style for men. The result is a collection that brings the lightness and the freedom of the Oasi Zegna as an environment into the city: kimono-cut jackets, impalpable coats, shirts, and tops, are characterized by loose and unstructured shapes, Bermuda shorts further free movement, while tailored blazers are freed from the necessity of having a collar. Also, materials and colors evoke this feeling of extreme lightness. Throughout the collection, engineered knitwear, technical silk, meshes, rubberized nylons, wools, terry, rubberized leather, and lacquered nappa were combined with a color palette that ranges from earthy tones, powder white, and dusty rose to charcoal, sulfur, and black. VB

www.zegna.com
Fashion
Prada Choices
Fashion can be defined as a manner, a way of dressing, or a method of presenting oneself. Based on this reflection, Miuccia Prada and Raf Simons have created a new collection titled "Prada Choices," an invitation to rethink what style is. The Prada SS23 Menswear Collection plays on the juxtaposition of many elements. Garments are here combined in an unusual way generating a different impact and identity according to the dialogue of each piece with the others. The designers have combined the brand's sophisticated aesthetic with Raf Simons' youthful aura. Suits, overcoats, sweaters, shirts, denim, and leather are among Prada classics. Despite their simplicity, the silhouettes of these pieces have been reinterpreted through context. Leather shorts are coupled with patterned cotton shirts, and knee-length four-button coats come in leather, gingham, and off-white. Simplicity is the reading key but what makes this collection iconic is the mix of rawness and sophistication, classicism and spontaneity. It is the choice of pairing colors, fabrics, patterns, and shapes to elevate the whole show. VB

www.prada.com
Fashion
Karl Lagerfeld x Alled-Martinez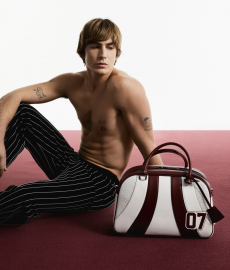 "This collection is a tribute to Karl Lagerfeld himself, to fashion, and to iconic fashion moments from the early '00s that left a mark on me while growing up", says Archie M. Alled-Martinez when discussing the Karl Lagerfeld x Alled-Martinez capsule collection. The genderless styles reinterpret Karl Lagerfeld's vision through a queer lens, with details that celebrate fearlessness and self-expression. The capsule features ready-to-wear and accessories that embrace Karl Lagerfeld's original vision of effortless sophistication combined with Alled-Martinez's signature aesthetic of being playful, camp-chic, and unapologetic. The ready-to-wear essentials include tailored knitted suits, a lurex-jersey suit with a unique finish that resembles denim, and sparkling sequin pieces. Key accessories range from statement rings to bowling bags, tote bags, and driving gloves that evoke Karl Lagerfeld's own iconic look. When describing the merging of the two brand's identities, Archie M. Alled-Martinez said "I brought some daringness to Karl's rigor and style. At its core is the belief that fashion needs to be real. There's no right or wrong – it's about knowing and celebrating who you are". The collection is available globally from June 16th 2022. GH

www.karl.com
Fashion
Herno Resort FW22/23 Collection
Precious details and soft, warm fabrics are the key features that give life to Herno Resort Collection. Thought for leisure time, the collection is designed for the wearer, who can enjoy the refinement of materials, the fluidity of the shapes, and relaxing colors in a perfect Herno style. Knitwear and outerwear are merged thanks to the recent creation of an in-house department in the headquarters on Lake Maggiore, offering a wide range of garments divided into two categories. Travel & Leisure features casual wear dedicated to all travelers who need clothes ready to go. Wool sweaters with zipping, hood, or round necks and sweatshirts are e embellished with sophisticated decorations and pastel colors. Jackets in unlined boiled wool, with knitted cuffs and adjustable drawstrings, give a romantic touch with their hues that range from lilac and teal to blue and butter. It is the perfect starter pack for every adventurer. Luxury Dream, instead, represents the destination of this journey. It is a mix of elegance and luxury. Herno women's collection includes a cape in pure soft wool, a sweatshirt made of 3 materials - cotton for the body, nylon for the hood, knit for the sleeves and edges - and an over sweater and cardigan that combine nylon and knit. For men, the great protagonist of the new collection is the iconic bomber jacket, translated into a college-style model. VB

www.herno.com
Fashion
The Power of Love: Pomellato Speaks up for Pride Month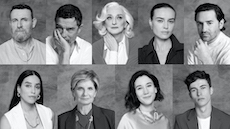 Pomellato has extended its support to the LGBTQIA+ community, with the inspiring "I Am Here" video. The black and white video features key celebrity members of the community and allies talking to the camera as they explore profound questions surrounding the nature of love, freedom, tolerance, the meaning of pride, and the need for change. In 2017, the Italian jeweler launched the Pomellato for Women program, advocating for gender equality, diversity, and inclusivity. Now extending its support to the wider community, Pomellato once again recognizes the importance of leveraging its visibility to bring meaningful conversations to the table. The lineup of individuals showing their support includes Italian actor Alessandro Gassmann, activists Lea T and Sibel K, and Kasia Smutniak, alongside many more members and allies. Pomellato's CEO Sabina Belli and Creative Director Vincenzo Castaldo also appear on camera, adding their voices to this message joined by celebrities and activists that have opened their hearts. GH

www.pomellato.com
Fashion
Louis Vuitton releases Pégase in collaboration with Marc Newson
Louis Vuitton the Rolling Series is a collection made up of elevated statements through designs that are built to last. Recently, Pégase has been introduced as an advancement to the series, newly reimagined by Marc Newson. This is Newson's third collaboration with the brand, having previously released Horizon followed by the Horizon Soft duffle in 2016. The objective for all three of these collections was to "have a consistent vocabulary between them and to share the same innovations", according to the designer. For Pégase, Newson applied his expertise in materials and engineering to produce an unparalleled slimness to the luggage. Topped with an ergonomic handle, this trolley system excels in strength and maneuverability. True to the visual language of the house, the Pégase is offered in timeless Monogram, Monogram Eclipse, Damier Graphite, and Taiga Leather. Underneath, the shell ensures that Pégase is lightweight and ultra-resistant. In this way, travelers will appreciate that Newson has given equal consideration to the exterior and interior of the piece. Pégase is truly the ideal addition to the Rolling Luggage series, combining emblematic Louis Vuitton features with super functionality. GH

www.louisvuitton.com
Fashion
Paul Smith x Mini – Recharged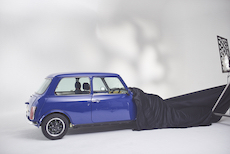 Paul Smith and Mini have once again joined forces to convert a classic Mini from the 1998 MINI Paul Smith Edition and install an electric engine in a project that marries heritage and tradition with innovation and modernity. The vibrant blue body was first exhibited at Salone Del Mobile, Milan's premier design festival, the blue reflects a swatch taken from one of Paul's favorite shirts. The lime green accents and battery box reflect the 1990s color sensibilities. The car has been restored and redesigned, branded as MINI RECHARGED, and engineered by a specialist team at "Recharge Heritage Limited", who are responsible for implementing the MINI RECHARGED project. When discussing the recharge, Paul Smith has said: "Three things describe this car perfectly: quality, sustainability, and functionality […] we have made a 1990s car totally relevant for today". The project follows the success of last year's MINI STRIP, a radically reduced sustainable concept car that "stripped away" extraneous design details and pushed the limits of automotive design. Both models will be exhibited at Paul Smith's showroom, which has been redesigned to mirror the aesthetic of MINI RECHARGED as part of Salone Del Mobile. GH

www.paulsmith.com
www.mini.com
Fashion
Christian Louboutin Introduces GREEKABA, A Modern-Day Odyssey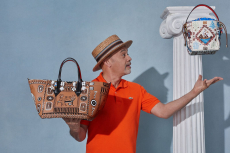 Christian Louboutin takes us on another adventure around the world. This year's destination is the Mediterranean, in particular Greece, a land that boasts ancient history, myths, and legends. The new GREEKABA capsule collection, presented by the French Maison, represents this journey from Athens to the Cyclades, a modern-day Odyssey inspired by the countryside and the sea. Made in collaboration with multimedia artist Konstantin Kakanias, the pieces feature his illustrated alter ego, the stylish Miss Tependris, in the role of Christian Louboutin's personal tour guide of the Greek islands. The new collaboration between the two combines their mutual love of travel with the rich cultural heritage and craftsmanship of Kakanias' native Greece, along with the duo's playful sense of humor, which the artist regards as an important means of expression. Each item is unique, depicting different scenes that tell a story: Christian offering his host, Miss Tependris pair of custom Christian Louboutin shoes, or they raising their glasses to toast Christian's arrival. The sketches are designed on a smooth leather base with motifs that evoke the friezes of Antiquity in warm earthy tones. The GREEKABA bags, inspired by the land, are finished to the finest detail, from the lining inside the bag crafted with a new and vivid LOUBIEYE print which reimagines the traditional "blue eye," to the handles made of satin and metal pearls that bring a sophisticated touch. Then, Maison's signature Caraspikes in a matte white makeover, recalling the columns of Ancient Greek temples, embellish the final look. To complete the land theme, are the cabas also available in a smaller bucket style, a CARASKY version, and a new LOUBIPHORE silhouette. At this point, leaving the mainland towards the islands, the sea becomes the new protagonist. The color palette assumes blue and white tones typical of Greece, while the detailed embroideries on each panel take their inspiration from traditional Greek folk art. The sea GREEKABA bags also feature the one-of-a-kind LOUBI ODISSEY print, which depicts our two heroes, Christian and his friend Miss Tependris sailing through the Mediterranean Sea to discover its wonders. In addition, Christian Louboutin launched a capsule collection of men's and women's shoes and accessories to match the GREEKABA offer. As with all the previous cabas percentage of the proceeds will be donated. This year's contribution will go to Together For Children, a Greek non-profit providing help and support to children and young adults with disabilities and their families in need. VB

www.christianlouboutin.com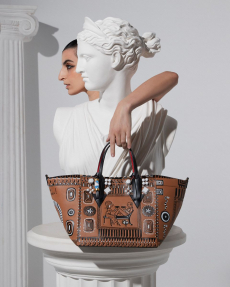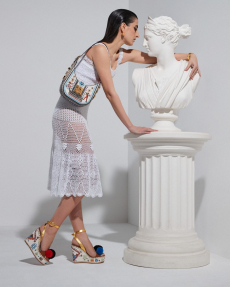 Art
Loro Piana Interiors Presents New Furniture by Raphael Navot
A new installation by Loro Piana Interiors can be discovered at Cortile della Seta, in Via della Moscova 33. During Milan Design Week, the Italian brand has unveiled exclusive furniture designed by Raphael Navot in the name of craftsmanship, softness, intimacy, and togetherness. The non-industrial designer, who had already worked in partnership with Loro Piana, has set up an exhibition where the objects are hidden and revealed simultaneously through a landscape of soft, undulating dunes. In 2021, Raphael Navot launched The Palm Duet Chaise Longue in Cashfur fabric by Loro Piana Interiors. It was an ode to intimacy and pleasure. Today, distinctive elements of The Palm Duet recur in the new objects characterized by the same soft lines and contemporary aesthetic. A sofa, méridienne, armchair, stools, a side, a coffee table, and an ottoman have been created with a futuristic approach, but without indulging in the cold hyper-technological vision of the future. The new furniture, made of the noblest fibers, can be either used alone, with their elegant personality or grouped in joyful interactions dedicated to conviviality; thus the name "Palm" as in the palm of a hand with fingers slightly closed to welcome, protect, repair. It is all a game of interactions. The Loro Piana Interiors installation will be open to visitors from June 9th, 2022. VB

www.loropiana.com
Art
STONE ISLAND PROTOTYPE RESEARCH_SERIES 06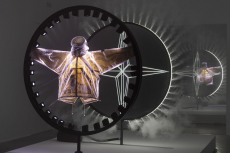 Since 2016, Stone Island has created limited editions of garments that, given their complexity of experimentation, are not yet industrializable. The project is called the "Prototype Series," which focuses on the research of innovative technologies, new fabrics, and treatments. This year for the Milan Design Week, the brand presented the PROTOTYPE RESEARCH_SERIES 06 in collaboration with the Kevlar® consumer brand R&D team. Kevlar® is a synthetic fiber with exceptional strength, hardness, and thermal stability that, when combined with "stretch broken" technology, produces an incredibly fine yarn that can be covered with cotton. For this project, the cotton yarn has been disintegrated using the dévoré printing technique, obtaining an all-over pattern that reveals the characteristically yellow color of the original fiber. The unveiled yarns create a sort of light technical lace. The outcome is innovative, water-repellent items. The installation created by Stone Island features four concentric circles that originate a tunnel that leads the gaze from the macro to the micro, in a distorting lens that allows visitors to discover the hidden of the prototypes. The exhibition will be on view until June 12th, 2022, at Stone Island's showroom in Milan. VB

www.stoneisland.com
Art
The Miss Dior Chair by Philippe Starck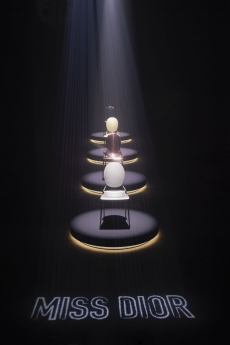 The Medaillon chair, an object so dear to Christian Dior and an inexhaustible source of inspiration for the Maison, makes its comeback thanks to the French industrial architect Philippe Starck during the Salone del Mobile 2022. The one between the designer and Dior Maison is an unprecedented collaboration that reinterprets an iconic piece of furniture, a quintessential symbol of French Art de Vivre and Louis XVI style. Philippe Starck has created timelessly elegant pieces with clean lines and marked by modernity exalted by the lightness of aluminum. Named "Miss Dior," the new chairs are true works of art that can be discovered at Palazzo Citterio, a sumptuous 18th-century building located in the heart of Milan. The installation is a one-of-a-kind experience. The design items are presented in a monochrome decor of a deep, matte black that gives the exhibit a theatrical allure and highlights the materials used to make the chairs. In addition, an interplay of light, punctuated by a musical composition created for Dior by Soundwalk Collective, originates a scenographic choreography. The Miss Dior Chair imagined by Philippe Starck will be on view from June 7 to 12, 2022. VB

www.dior.com
Fashion
LOEWE Presents WEAVE, RESTORE, RENEW At Salone del Mobile In Milan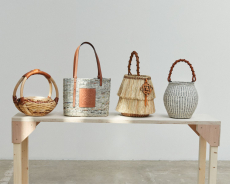 LOEWE has finally announced a new unique project made for this year's edition of Salone del Mobile in Milan. After two years of full stop, the Spanish brand makes its comeback at the annual furniture fair, celebrating the regenerative power of handwork and collaborating with artisans of unique flair, inventiveness, and technical ability. Titled "WEAVE, RESTORE, RENEW," the installation aims to give new life to things that could be forgotten or discarded and turn them into exclusive pieces by repairing and reviving them through artisanal interventions. The project shows LOEWE's commitment to the environment and crafts. Turning ages-old techniques into something unexpected, LOEWE WEAVE, RESTORE, RENEW explores leather weaving, the Galician straw-weaving tradition known as Coroza, and the Korean paper weaving technique known as Jiseung. Different artisans such as Idoia Cuesta, Belén Martìnez, Santiago Basteiro, and Juan Manuel Marcilla worked on the restoration of 240 existing baskets using leather strings to create a new playful, and surprising version of those. Then, LOEWE designed sculptural bags and basket bags by using the ancient technique of the Coroza. In addition, together with Young Soon Lee, the brand created a series of jars made out of paper, as well as sturdy totes. VB

www.loewe.com
Fashion
Audemars Piguet x Carolina Bucci: A Subtle And Unexpected Aesthetic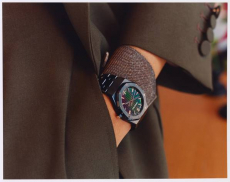 Audemars Piguet in collaboration with Carolina Bucci has presented a new limited edition 34 mm Royal Oak Selfwinding in black ceramic. To mark the Royal Oak's fiftieth anniversary, the Italian jewelry designer decided to team up with the Swiss Haute Horlogerie Manufacturer to create a new timepiece that features a unique dial endowed with a multi-colored mirror effect, a tribute to the iconic Tapisserie design. Their partnership started in 2016 for the 40th anniversary of the women's Royal Oak. In 2018, Carolina Bucci signed a limited edition of 300 pieces for Audemars Piguet, entirely crafted in frosted yellow gold with an exclusive dial. Then, two years later, she realized the iconic K.I.S.S. collection of gold bracelets linking the Haute Joaillerie with the Haute Horlogerie. Today, the designer worked on a limited edition of watches with singular characteristics. The new 34 mm Royal Oak in all-black ceramic, in fact, reveals a surprising dial whose color changes according to the light. To reach this result, Carolina Bucci used a sapphire plate adorned with little squares, subsequently placed on top of the brass dial plate to create a rich rainbow-colored effect. Each design is even more unique thanks to the variation of the iridescent color pattern. The limited-edition comes in a presentation box also designed by Carolina Bucci and is available exclusively in Audemars Piguet boutiques and AP Houses. VB

www.audemarspiguet.com
Fashion
Tommy Hilfiger x NBA: The Essence of Basketball
Tommy Hilfiger, one of the world's most recognized premium lifestyle brands, has unveiled a new project in collaboration with the NBA. Symbol of the American style, since the 1990s, Tommy Hilfiger has been associated with basketball and street culture, capturing the attention of A-list celebrities and influencers, many of whom had ties to the NBA and sports community. Since then, the sport has always remained a key component of Hilfiger's brand vision. Today, to celebrate its roots and streetwear fashion, the American brand has launched the new TOMMY JEANS capsule collection by partnering with the National Basketball Association. Inspired by the energy at the heart of basketball, a sport that helped to shape local street culture and diverse communities, the new collection features hoodies, sweatpants, t-shirts, denim pants, and shorts combined with NBA team logos. These garments represent streetwear fashion at its finest. The TOMMY JEANS and NBA capsule collection is available on Tommy Hilfiger's website and at TOMMY JEANS stores across Europe, North America, Latin America, and select stores in Asia. VB

www.tommyhilfiger.com
Fashion
"Victory travels in Louis Vuitton"
For the second time, the unprecedented Trophy Travel Case for the Formula 1 Grand Prix de Monaco is being presented by Louis Vuitton and the Automobile Club de Monaco. The bespoke case in the colors of the Principality is a celebration of both exceptional French savoir-faire and passion for a legendary sporting event. The Trophy Travel Case epitomizes the Maison's and Automobile Club's shared values of tradition, transmission, and excellence. Hand-crafted in Louis Vuitton's historic Asnières workshop, the trunk showcases the brand's savoir-faire with its one-of-a-kind red Monogram pattern on a tarmac-black background, drawing inspiration from the heritage of the Formula 1 Grand Prix de Monaco. The Monogram canvas is adorned with the red shade of the Monaco flag, while the red lines, tracing "V" for "Victory", are rimmed with a white strip, reminiscent of the unique urban route of the track, and the colors of the Monaco flag. Inside its Louis Vuitton case, the trophy is the perfect replica of the 3,337 km circuit with its famous 19 bends, where overtaking is close to impossible. GH

www.louisvuitton.com
www.acm.mc
Christian Louboutin presents L'Exhibition Chapter II
Christian Louboutin, L'Exhibition[niste] is returning in a new form this summer and will be presented by the Grimaldi Forum Monaco from July 9th to August 28th 2022. Chapter II will be devoted to the work and imagination of Christian Louboutin, the shoe designer and key figure in the world of fashion who has drawn much inspiration from the Principality. Redesigned by Oliver Gabet, and showcased across a spectacular 2000 square meter set, the exhibition will unveil previously unsees pieces related to the designer's Monegasque inspirations, as well as new collaborations. The "Musée Imaginaire" will be in a 300 square meter room, where objects from Christian Louboutin's personal collection will be displayed in conjunction with heritage and artistic works from public and private collections of Monaco's museums. It will explore themes in the designer's work such as his love of dance and the legacy of the Ballets Russes, his passion for African art and Asia, the pop influence of Warhol, and his fascination with oceanography. Far from a traditional retrospective, the exhibition has been designed as a joyful odyssey across three decades of overflowing creativity. Indeed, it is imbued with a curiosity for all arts and cultures. GH

www.christianlouboutin.com
www.grimaldiforum.com
Fashion
Frédéric Malle: "Vetiver Extraordinaire"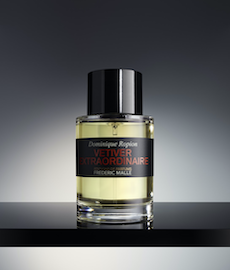 Creative freedom has consistently been an integral factor in Frédéric Malle's products, with "Vetiver Extraordinaire" being no exception. The brand has regularly collaborated with admirable artists and some of the greatest perfumers in the world. The scent of Vetiver Extraordinaire began in the mid-1980s, with its woody base originally intended for women's perfume. Frédéric would wear and road test its base layer; a bouquet of cedar, sandalwood, and a synthetic molecule called cashmeran, all woods and no top notes. 15 years later, Dominique Ropion was sent a vial of a molecular distillation of Haitian vetiver, and the pair found themselves returning to the unforgettable formula. This new vetiver was the perfect missing element to the enigmatic woody base. As the very first men's perfume to be published by Editions de Parfums Frédéric Malle, Vetiver Extraordinaire is born from the desire to create the ultimate perfume for a man. The fragrance line is complemented by an ideal skincare ritual: Body Wash, Shaving Cream, and After Shave Balm. This grooming base is the perfect combination of the two worlds of an exceptional base composed in a Swiss laboratory, scented with the iconic and universal Vetiver Extraordinaire perfume. GH

www.fredericmalle.com
Fashion
Etro Announces Marco De Vincenzo As New Creative Director
Etro, the Italian luxury fashion house founded by Gerolamo Etro, has appointed Marco De Vincenzo as the new Creative Director of the women's, men's, and home collections. Starting June 1st, he will take the lead of the brand, debuting with his first collection next September during Milan Fashion Week. Graduated from the European Institute of Design in Rome, he started his career in 2000, carrying on a long collaboration with Fendi before launching his eponymous brand, thanks to which he won the first prize in the new talents competition "Who is on Next?." Marco de Vincenzo is considered one of the most innovative designers of the new generation. Also, Fabrizio Cardinali, Etro's Chief Executive Officer, expressed his enthusiasm about the new entry into the Etro family - "As part of the brand's new course, we welcome with enthusiasm the arrival of Marco De Vincenzo. Through his sensitivity for colors, prints, and fabrics, we are sure that Marco will be able to translate at best Etro's extraordinary heritage into new interpretations for the different brand's collections and also giving a new drive to the world of accessories". VB

www.etro.com
Fashion
Dior Maison Presents The Aquarius Collection
Approaching the summer season, Dior Maison has unveiled a new tableware collection dedicated to the fascinating underwater world. Sea creatures of all colors and shapes are hand-embroidered on white linen napkins and painted as frescos on ceramic plates. A golden fish, made of glass, seems to float inside a carafe, while a bigger specimen in luminous shades of blue and green serves as a centerpiece. The Aquarius Collection, as the previous one realized by Pierre Yovanovitch and inspired by places dear to Christian Dior in the south of France, celebrates a special site loved by him. Designed by Art Director Cordelia de Castellane, the new pieces are a poetic reference to the river that flows past the mill at Monsieur Dior's country home in Milly-la-Forêt. A haven of peace where Christian Dior found refuge, far from the hustle and bustle of Paris. VB

www.dior.com
Art
Art Rotterdam 2022: Artist From All Over The World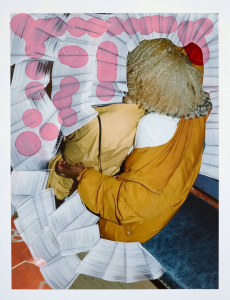 During Art Rotterdam, people will have the possibility to dive into the creations of hundreds of artists from all over the world. From France, UN-SPACED Gallery presents the new work of Lilah Fowler on show in the New Art Section. The British-Japanese artist is famous for her complex and layered installations that represent the geopolitical layers of our globalized virtual and analog landscapes, as well as how these parallel worlds occasionally overlap. Her woven works, photography, sculpture, and video art explore the effects and consequences of technology on contemporary society. The Belgian booth curated by Galerie Felix Frachon, instead, showcases the art pieces by Brazilian artist Mano Penalva. His works are based on everyday objects collected during his many trips to major world cities, especially at popular street markets. These items are, for him, examples of material culture and globalization. What fascinates him is the new, poetic values that these objects gain once they are taken out from their original context. Then, representing the Netherland, one of the galleries that take part at the fair is STEVENSON, presenting the new masterpiece by Viviane Sassen. Her creations are characterized by sculptural representations of bodies, often surreal and anonymous. VB

www.artrotterdam.com
Fashion
New Hermès window display on PC Hooftstraat
The summer window display at the Hermès store on PC Hooftstraat in Amsterdam has been designed by Dutch studio WM. Unveiled on May 17th, the installation named "Vivid Shadows" by Wendy Legro and Maarten Collignon celebrates Hermès' 2022 theme of "Lighthearted" and takes us deeper into the world of the brand, one in which shadows play with light. Their concept uses projection to showcase two different scarves through a beam in a deep indigo blue, like a blueprint. In Minuit au Faubourg by Dimitri Rybaltchenko, a masked horse wearing a cape flies out of the print alongside a man swinging on a Hermès Twilly from an apartment window as he tries to grab a pot of gold. On the floor above, a Hermès bracelet overlooks a sleeping city. Here, a horse leaps forward, radiating the spirit of the theme with bright and vivid colors. Whirling around this figure is a belt, a bag, and a pair of leather sandals. Created exclusively from layers of paper, the installation is hand-painted and carefully carved to build volume and perspective, showcasing the fragile yet enchanting nature of paper. This window display overall creates a strong connection between the urban landscape and interior space. GH

www.hermes.com
Art
Art Rotterdam 2022: Outdoor Artworks
From 19-22 May, Art Rotterdam comes back to Van Nelle Fabriek, the building icon of 20th-century industrial architecture and a Unesco World Heritage Site. This fair is the ultimate opportunity to discover new galleries as well as new artists. As the most renowned contemporary art fair in the Netherlands, Art Rotterdam offers a unique perspective and a platform for the latest developments in the visual arts. The 23rd edition will display, through the 10,000m2 space, the creations of emerging and established artists, alongside a record number of seventeen large-scale installations in the outdoor area. Since spring has finally come in the Dutch city, the art fair has set a series of socially engaged outdoor presentations that refers to the world around us, addressing important issues such as climate, pandemics, and populism. The first artist to welcome the public is Onno Poiesz with his work "De blauwen," an allusion to the war and pandemic that dominated the beginning of 2022. Then, Tim Wes unveils his installation "Trauma Triggers Triumph" about the concept of the uomo universale. And in the end, among many other projects, stands that of Thierry Oussou. His "Equilibrium Wind" flag is a reference to the cotton plantations located in the district of Panouignan in Benin and the significant impact they have on the country's economic growth. Placed on top of Van Nelle Fabriek, this flag is a symbolic representation of all those people working in the shadows. The outdoor artworks at Art Rotterdam 2022 are ready to be discovered. VB

www.artrotterdam.com
Art
Art, inside and out, Rotterdam 2022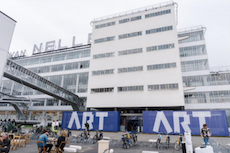 Rotterdam Art is the most renowned fair for contemporary art in the Netherlands. Each year, Art Rotterdam offers a stage for the latest developments in the visual arts. With a sharp focus on young talent, varying different topics, and the connection with the city of Rotterdam make Art Rotterdam a unique experience. This year, a special spring edition of Art Rotterdam will take place in Van Nelle Fabriek, which has been declared a UNESCO World Heritage Site. Here, there will be works and installations both outside and inside. Outside, there will be a record number of seventeen large-scale works and installations in the outdoor area, many of which are specifically designed for the occasion. Indoors, there is a floor area of 10,000 m2, where more than a hundred leading national and international galleries will show the work of upcoming and established talent. Two new valuable innovations will be introduced in this 23rd exhibition: firstly, the projections video section will be given a completely new format; also, a major expansion is being planned for Prospects, the Mondriaan Fund's exhibition. Each year Art Rotterdam becomes more of an attractive alternative for art lovers within the international field of fairs. The special spring edition will take place from May 19th-22nd 2022. GH

www.artrotterdam.com
Fashion
Louis Vuitton & Nike "Air Force 1" by Viril Abloh
Louis Vuitton is an iconic Maison, which looks back on immense heritage and history. Virgil Abloh was an iconic creative, who has shifted the fashion industry as a whole. The Nike "Air Force 1" is arguably one of the most iconic sneakers having been sold millions of times all across the world. This May, all three will come together, as Louis Vuitton is launching 9 editions of the iconic sneaker reimagined by Virgil Abloh. First presented to the world as part of the SS22 Men's collection, the new creations are set to launch with various cultural happenings surrounding it, such as the exhibition Louis Vuitton and Nike "Air Force 1" by Virgil Abloh, which will take place at the Greenpoint Terminal Warehouse in New York City. This special showing brings together all the 47 editions of the Air Force 1 which Virgil Abloh has created through his inimitable lens. Each is an embodiment of Abloh's deeper design philosophy aiming to erase the borders between "high and low", celebrating the historical influence of Black subcultures on mainstream fashion, a true expression of humanity and unity. The exhibition offers its guests the opportunity to immerse themselves into Abloh's mindset, perfectly captured by the intricate setup, with each piece bearing witness to Abloh's philosophy. Additionally, the exhibition will extend itself through the whole city of New York with five installations, graphic globe sculptures, being placed throughout the city. FM

www.louisvuitton.com
Fashion
Louis Vuitton Cruise 2023 Women's Fashion Show Collection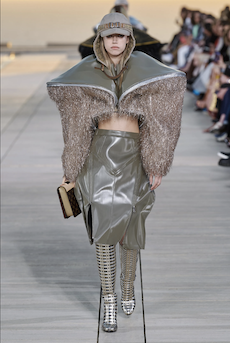 This season, Louis Vuitton is exploring the nomadic aesthetic in the Salk Institute for Biological Studies, by architect Louis Kahn in San Diego. This is a brutalist building from 1965 designed as a serene concrete monastery for enlightened souls. Here, during times when the sun is blazing, it is perfectly framed by the building within the precise axis of the central foundation. The combination of sun rays and shimmering water creates prisms across the silhouettes, while a myriad of natural materials gives the illusion of a metallic palette. This introduces the show's perfect guest of honor for the Cruise 2023 collection, the sun. This plays an active part in the evolution of this wardrobe where temperature changes set a stylistic tempo. The collection consists of linen, jacquard, silk, leather, and tweed, with metallic embellishments that reflected the setting sun. Other pieces lifted design details from water sports; the airbrushed colors of half tops and boxy short skirts that came from jet skis. Designed by Nicolas Ghesquière, the show encapsulated superheroine goddesses, with the opening dresses cut from robust jacquards, which were inspired by molten lava. A trio of jackets with enormous, sculpted collars as shiny as armor perched above tinsel sleeves finished off the show, the perfect ending to capture the otherworldly imagination of Ghesquière. GH

www.louisvuitton.com
Fashion
Zoë Kravitz partners with OMEGA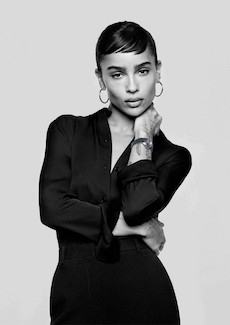 Actress, director, and model Zoë Kravitz is the latest to have joined OMEGA's impressive line-up of women proud to wear the Swiss brand. A standout performer in the world of entertainment, Zoë Kravitz captivates audiences in a diverse group of acclaimed major motion picture films and notable independent releases. Her individualistic youthful, confident style is the perfect fit for Omega's willingness to take risks with its designs. Kravitz has consistently stood out in blockbuster big-screen franchises, with roles in The Batman, Mad Max, and Fantastic Beasts, and later this year will make her directorial debut in the original motion picture film, Pussy Island. Omega President and CEO Raynald Aeschlimann has expressed the brand's excitement about making Kravitz the latest member of the Omega family, describing her as "an extremely talented young woman with an admirable drive and determination to succeed on her own terms" and the new partnership as "the next exciting move in our commitment to reach an emerging generation who are reinventing the idea of luxury". GH

www.omegawatches.com
Fashion
Château Ducru-Beaucaillou by Maison Sarah Lavoine
Interior Architecture Studio Maison Sarah Lavoine has unveiled a new project: the renovation of the prestigious Château Ducru-Beaucaillou, an estate located on the eponymous winery. A historic place that features tapestry and architectural details of the 18th century, with an area of 400m2 and 105 hectares of vineyards. Maison Sarah Lavoine, who since 2012 has offered an Art of Living, a lifestyle, which combines sophistication and a modern touch, has used its core values to face this challenge. The designer's idea was to take into account the history of the site, magnify it, and respect the wishes of the owner Bruno-Eugène Borie, a great art collector. She wanted to sublimate the classic soul of an exceptional estate. Therefore, the Architecture Studio, working on reviving the private areas and reception rooms, has opted for a mixture of periods and styles, combining classical details with contemporary lines. In the entrance, Laurel walls and Charcoal colored woodwork echo a pre-existing graphic marble floor, in the living room, the walls and ceilings are painted in a warm Midnight blue, a signature color of the Maison, and in the dining room, an old tapestry has been discovered, redesigned, and highlighted with a deep China Tea color. This hue also takes up residence in the kitchen, with brass grill panels, Bordeaux stone, and walnut. This harmonious quartet creates a cozy atmosphere. Lastly, the bedroom, painted in Sarah Blue, follows the principle of Feng Shui. VB

www.maisonsarahlavoine.com
Fashion
The Armani Group Opens The First A|X Armani Exchange Store in Berlin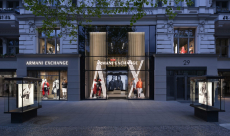 Following the openings in Milan and Amsterdam, and to strengthen its presence in Europe, A|X Armani Exchange lands in Berlin at Kurfürstendamm 29, one of the most visited streets in the German capital. The new store is set inside a historical building from the 19th century. Here, past and present are merged in a unique architecture characterized by a wide, double-height central window displaying the large, illuminated letters A and X, the brand trademark. Extending over two floors, the A|X Armani Exchange store has been built according to the already existing design of the stores opened in the other European cities. Customers can visit the men's clothing, accessories, eyewear, and watches area on the ground floor, while the women's collection is on the first floor. The interiors are developed by Giorgio Armani in collaboration with his team of architects, in the name of sustainability. The materials involved are removable, reusable, and recyclable, the lighting system uses the latest generation LED technology to minimize waste, and the walls are made in natural oak slats to provide support systems and a minimal style that contrasts with the original structure that has been preserved. In addition, the shopping experience is even more unique thanks to videowalls, Smart Checkout, and POS mobility for smoother payment. VB

www.armaniexchange.com
Fashion
Suicoke Launches The MOK Injection Sandal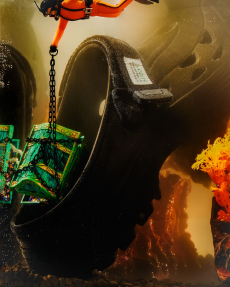 Suicoke has presented the new MOK injection sandal, the latest addition to its ever-growing injection sandal family. The MOK is a more versatile, lightweight, and eco-friendly model that pushes the brand's visual identity even further with its avant-garde design. Suicoke aims to craft a unique product that shows its attitude towards premium quality design. Light as air, comfortable like clouds, the sandal is produced using recycled waste materials. It is the result of a complex process of experimentation and trials with poor shape, inconsistency of colors, and even explosions. The MOK injection sandal, a new milestone in footwear production, is part of a long journey through creativity and innovative technology undertaken by the Japanese brand. Made in Italy and with a slip-on construction, as well as holes for breathability and a Suicoke-branded strap, the new item is available on the Suicoke website and in selected retailers worldwide. VB

www.suicoke.com
Fashion
Louis Vuitton SS22 Eyewear Campaign
Louis Vuitton has unveiled the SS22 Eyewear campaign featuring British 18-year-old, Emmy-nominated, SAG Award-winning actress and UNICEF Ambassador, Millie Bobby Brown. The new house ambassador is portrayed wearing Louis Vuitton sunglasses in a series of images shot by the photographer Steven Meisel in her first-ever campaign for luxury fashion accessories. "I met Nicolas Ghesquière 6 years ago and have been a fan of his work with Louis Vuitton ever since. Today, I am proud and honored to be joining the Louis Vuitton family. Truly a pinch me, full-circle moment!" says Millie Bobby Brown. Together with her, model and entrepreneur Karlie Kloss and the Congolese-Belgian singer and model Lous and the Yakuza appear in the photos, with styling by Joe McKenna, hair by Jimmy Paul, and makeup by Pat McGrath. They are framed against gradient backgrounds of blue, dusty rose, and terracotta that suggest the enthralling way the sunlight changes from dawn to nightfall. VB

www.louisvuitton.com
Fashion
C.P. Company SS22 Mille Jacket
For the SS22 Collection, C.P. Company has reimagined one of its iconic designs: the Mille Jacket. A true challenge for the brand that has chosen to make the new product out of the KAN-D, a C.P. Company proprietary technology fabric similar to the original cellophane candy wrappers. It is an extreme, transparent material that requires meticulous construction and sewing techniques since every seam is visible. Also, the KAN-D, which stands for "Klear Achronic Nylon Dyed," can only be utilized in the imbalance shrinkage dyeing process and garment dying form. In addition, C.P Company has also presented a contemporary version of the Cinquecento Jacket, a timeless outerwear piece designed by Alessandro Pungetti in the early 2000s and inspired by the Mille Jacket. This season's edition features the same pockets' structure as the original look but designed with a regular fit, and made in LCM and Gore-Tex Infinium, two waterproof and breathable textiles. VB

www.cpcompany.com
Fashion
Audemars Piguet Celebrates the Royal Oak's 50th Anniversary
To celebrate the Royal Oak's 50th anniversary, Audemars Piguet will host a series of events in key cities around the world. From Dubai to Shanghai, passing through Zurich and New York, the Swiss Haute Horlogerie manufacturer will offer immersive sensory experiences with the setup of in-situ installations and edutainment platforms that will guide people into the Royal Oak's multifaceted world. The Royal Oak, designed by Gérald Genta for Audemars Piguet, was officially launched on April 15, 1972, at the Basel Fair. This timepiece combines sportiness with ancestral craftsmanship and technological advances, setting new standards for watchmaking. Since then, over 500 Royal Oak models have been created, featuring different sizes, materials, styles, and movements. Today, the brand has decided to pay homage to this iconic watch and its 5-decade history, creating surprising and immersive edutainment content that will dive deep into the Royal Oak's cultural universe. Starting in Dubai, from 15 – 24 April 2022, these installations will lead visitors on a journey to discover the multiple characteristics of this remarkable timepiece. In addition, visitors will be able to test their knowledge of the Royal Oak and the brand as a whole through a digital challenge. The public will be able to join in these immersive experiences in Zurich from May 6 to 12, New York City from May 19 to 25, and Shanghai in July. VB

www.audemarspiguet.com
Art
Louis Vuitton: "Coming of Age"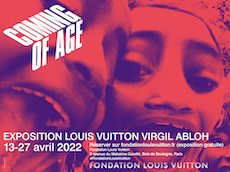 In loving memory and honor of Virgil Abloh, "Coming of Age" was unveiled at the Foundation Louis Vuitton in Paris, France, on April 8th. This is an extension of the group exhibition curated by Virgil Abloh in 2019 in Los Angeles, titled "Coming of Age". Traveling to Paris, Beijing, Milan, New York, Munich, Tokyo, and Seoul, the exhibition centered around the concept, diversities, and complexities of male youth and boyhood. Central themes in this are traversing class, race, social economics, subcultures, isolation, and camaraderie. As a physical embodiment and homage to Virgil Abloh's world, "Coming of Age" in Paris regroups, reimagines, and expands this original exhibition and its narrative story. It encourages activities and transforms visitors into participants, alongside artists, photographers, musicians, directors, and animators. This serves as an illustration of Virgil Abloh's mission and achievement to democratize the dream, rendering it a domain open to the aspirations of all ages, genders, and races, from all walks of life. The extension of the global exhibition will play out over two weeks from April 13th, at the Frank Gehry-designed space. GH

www.foundationlouisvuitton.fr
Fashion
Bottega Veneta & NTS announce Bottega Radio
Global music platform and radio station NTS has joined forces with Bottega Veneta for a new cultural partnership and monthly radio series, celebrating the craft behind music by collaborating with emerging and established musicians. The radio will be ongoing throughout this year, opening new conversations between NTS residents and guest stars through a series of collaboratively produced musical soundscapes, airing under the new title of Bottega Radio. For an insight into what is to come, the first episode features autotune enthusiast Tim Zha, otherwise known as Organ Tapes, working together with L.A's Jazmin, an expert in Latin music and resident host for NTS show Como La Flor. Launched on April 7th the series took off with a party at Stone Nest in London's West End, featuring DJ sets and live performances from PLZ Make It Ruins boss and Frank Ocean collaborator Vegyn, experimental hip-hop auteur Slauson Malone, producer-rapper John Glacier, collaborative duo Sky and Mika Oki and the ever-elusive Dean Blunt. The first episode of Bottega Radio aired on NTS 2 at 09:00 am on April 8th and can be listened back via the Bottega Veneta App. GH

www.bottegaveneta.com
Fashion
The Game of Opposites: Ferragamo Cage Bag SS22
Colorful and versatile is what characterizes the unique expression of Ferragamo savoir-faire, producing the newest icon set to steal the limelight for SS22, the Ferragamo Cage Bag. The house is no stranger to innovation, and this piece is no exception. By merging the forces of a sleek woven leather bucket bag structure with an interchangeable pouch, a special two bags in one is created. The inside drawstring bag can be taken right out and, interchangeable, it comes in leather, in the same or a contrasting variety of color choices, in natural fabric, or silk with a scarf print from the archives, reworked for the summer season. Crafted to be lightweight with a convenient crossbody style option, the bag emphasizes the brand's exceptional leatherwork, while evolving for today's less-is-more philosophy. A digital campaign for the bag has been created with the game of opposites in mind, determining the very essence of contemporary luxury. Mariacarla Boscono's explosive personality is the muse that embodies the contemporary vision of the House through its Cage Bag. The film has a theatrical deal to it that keeps the focus firmly on the product and the double soul of the bag, becoming a physical extension of the woman carrying it. The Ferragamo Cage Bag campaign is an intimate portrait of the ability to embrace multiple souls in one. GH

www.ferragamo.com
Fashion
Calvin Klein x Palace: Anything But Ordinary
Calvin Klein teamed with Palace to celebrate individuality and inclusion from New York and London to the world. The new collection CK1 PALACE unites Calvin Klein's iconic minimalism with Palace's irreverent and modern style, presenting signature garments of the American brand layered with a playful, graphic aesthetic by Palace. Underwear, shirts, and hoodies in classic colors like black, grey, white, and wheat feature custom logos that combine Palace's signature Tri-Ferg with Calvin Klein's regular trademark. Basketball jerseys and baggy shorts push the boundaries of conventional sportswear, and the denim collection presents loose-fitting shorts and full-length pants in a faded wash to give a modern twist to the looks. In addition, since the heritage of both Palace and Calvin has roots in skate culture, the brand addressed Vans to create a limited run of "Calvans." Dropping via a star-studded campaign, directed by long-time Palace photographer Alasdair McLellan and styled by Max Pearmain, the two brands have gone all out, even remixing the classic CK One fragrance into a unisex, playful scent. CK1 PALACE will be available on April 8th at Palace stores in London, New York, Los Angeles, and Tokyo, as well as on the website of both brands. VB

www.calvinklein.com
www.palaceskateboards.com
Fashion
Audemars Piguet Unveils The New Royal OAK RD#3
To pay a fine tribute to the Royal Oak's 50th anniversary, Swiss Haute Horlogerie manufacturer Audemars Piguet has unveiled the new Royal Oak Selfwinding Flying Tourbillon Extra-Thin. This unique timepiece remains true to the aesthetic codes of the iconic "Jumbo" models but features the Manufacture's new self-winding ultra-thin flying tourbillon movement, Calibre 296. It is a mechanism that was developed over five years by Audemars Piguet's engineers and watchmakers to accommodate the extra-thin nature of the OAK RD#3. With a diameter of 39mm and a thickness of 8.1 mm, the watch reveals a new movement architecture that, for the first time, combines the tourbillon cage in titanium with a peripheral drive, making the distribution of energy to the tourbillon more fluid while lightening the regulating organ. A huge accomplishment that needed to be recognized and, most all, displayed. Audemars Piguet, in fact, redesigned the model's geometry by placing the flying tourbillon at the dial level for a greater visual experience, making the watch's beating heart even more perceptible. In addition, the sapphire case-back reveals the hand decoration of the movement components that merge the dynamism and classicism of V-angles with the modernity of traits tirés. The new OAK RD#3, crafted in stainless steel and graced with a Bleu Nuit, Nuage 50 Petite Tapisserie dial, which pays tribute to the original model, continues to evolve, showcasing Audemars Piguet's expertise and techniques. VB

www.audemarspiguet.com
Fashion
Out of Time Watches & Wonders Cartier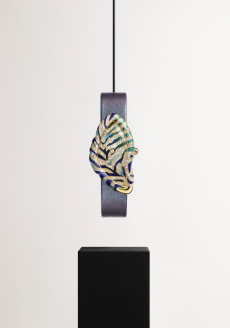 Cartier reinvents Maison's stylistic codes, launching new iconic watches during the Watches & Wonders tradeshow. Thanks to the extraordinary expertise of Cartier's watchmakers, the Cartier watches are precious objects that constantly renew and explore our way of understanding time and how to make the most of it! Each singular creation establishes its own identity while maintaining its link with Cartier heritage. These horological creations are evolving and establish themselves across different periods, perpetually relevant due to is purity of design and outstanding craftsmanship. This year the brand has presented different models that combine extravagant style and illusory shapes with more classic designs. The famous Louis Cartier watch reveals a playful aesthetic combining monochrome colors such as red, the Maison's signature shade, and anthracite gray. The Pasha de Cartier watch, overlaid with a geometric grille, displays a vibrant elegance, while the Crash Metiers d'Art revolutionizes the aesthetic codes of watchmaking with its asymmetrical dial. Following the same playful style, the Masse Mystérieuse turns out to be a spectacular watch, an innovative movement, created by the Fine Watchmaking Manufacture. Looking back on over a century of heritage, the Cartier pieces are made to delight through a freedom of possibility, of taste of identity. VB

www.cartier.com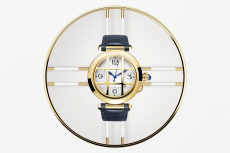 Fashion
Armani Hotels and DGDA Announce Plans for New Armani Hotel in Diriyah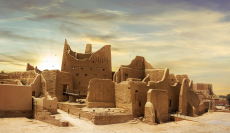 Armani Hotels & Resorts has announced the realization of a new signature hotel in the city of Diriyah, Kingdom of Saudi Arabia. This plan is made in collaboration with Diriyah Gate Development Authority, a program that aims to preserve Diriyah's history, celebrate its community, and develop the historic UNESCO site. This 300-year-old city, located just 15 minutes from Riyadh, and the capital of the First Saudi State, is part of a pedestrian-centric project designed to preserve the rich history and culture of Saudi Arabia. Diriyah will soon become an extraordinary international cultural and lifestyle destination, and the Armani Hotel will be one of the new hotel units in the city. That is the third Armani property globally and represents a new interpretation of Armani hospitality and lifestyle. The hotel, realized by Mr. Giorgio Armani and his in-house interior design team and architects, embraces Saudi Arabia's culture and heritage. The structure, including 70 luxuriously designed rooms, two restaurants, and a high-end spa, is characterized by essential lines that enhance the precious materials utilized. Here, volumes, light, and shadow are blended with the unique architecture and landscape of the site, giving life to a building that fits organically into the rich urban and cultural fabric of Saudi Arabia. VB

www.armani.com
Fashion
Acqua di Parma Presents COLLAB - The Colonia Laboratory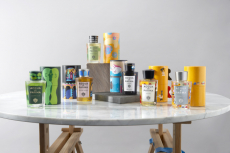 In collaboration with IED - Instituto Europeo di Design, one of Italy's most significant fashion, design, and communication schools, Acqua di Parma has launched a new initiative. COLLAB is an open laboratory that connects customers and emerging artists through art and scent in an interactive co-creation process. The Italian brand collaborated with six emerging Italian talents that have translated their creative vision in a collection of 300 unique 180ml pieces from the Colonia Collection. Departing from their personal style, each artist developed a design inspired by the Italian culture, from the horoscope tradition and card games to the reinterpretation of the gladiator imagery from ancient Rome. Different techniques, visions, and colors blended in dynamic visual communication. In addition, since the COLLAB project is a co-creation laboratory, the clients can customize their very own personal fragrance bottle based on what the artists have previously crafted. A Roman number or a horoscope symbol, among other themes, can be added to the final product giving life to a true collector's item. To take part in this experience, people can book their one-on-one appointment on the Acqua di Parma website to meet the artists at the Maison's Boutique in Milan, starting their creative path together. Then, to offer the same service to those clients across Italy and Europe, the brand provides online appointments through a customized platform. COLLAB reflects Acqua di Parma values in preserving culture, art, and design while supporting future generations. VB

www.acquadiparma.com
Art
Tim Van Laere Gallery Presents Self Portraits and Nudes (Gesamtkunstwerk) by Jonathan Meese
Tim Van Laere Gallery presents SELF PORTRAITS AND NUDES (GESAMTKUNSTWERK), the fifth solo exhibition by Jonathan Meese at the gallery. Known for his multifaceted work, which includes paintings, installations, performances, and a body of sculpture in numerous mediums, Jonathan Meese is a German artist that plays with a sense of humor, a combination of both the grotesque and a powerful, original creative will. His paintings allow us to enter an alternative universe. Especially in this exhibition, Meese showcases a new series of works that captures the interplay of inner and outer worlds, merging imagination and reality. "SELF PORTRAITS AND NUDES," as the title predicts, deals with self-portraits and nudes. According to the artist, all self-portraits are nude, and all nudes are self-portraits. In addition, the art pieces want to celebrate the birth of the Gesamtkunstwerk, paying homage to evolution, nature, love, power, collage, abstraction, animalism, and art itself. SELF PORTRAITS AND NUDES (GESAMTKUNSTWERK) by Jonathan Meese will be on display at Tim Van Laere Gallery from April 7th to May 14th, 2022. VB

www.timvanlaeregallery.com
Fashion
Summer Feeling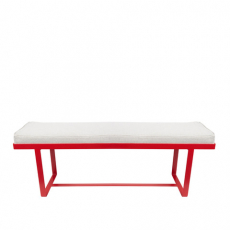 Summer is around the corner, bringing with it the anticipation of sunbathing and lunching on the patio. To celebrate this season, Maison Sarah Lavoine has crafted a selection of outdoor and tableware pieces in cheerful colors. Since 2012, Maison Sarah Lavoine has always conveyed its values and bold design through its architectural projects and creations. Its furniture, decoration, and ready-to-wear collections are elegant and relaxed: timeless but original, simple but with constant attention to detail, always colorful, and with a resolutely ethical manufacturing process. This season the Maison has presented a collection with Saffron and Pistachio shades that perfectly match with the geometric design of the new Soleil plates. The linen and cotton napkins are embroidered with a shell motif for a summer twist, while the Slave, Diane, and Castiglione candleholders make the good times last longer. The Esquisse collection is an invitation to color and sunshine, enjoying a picnic at the beach or on the grass happily seated down on the bright loungers and stools. VB

www.maisonsarahlavoine.com
Fashion
BYBORRE explores the power of simplicity for the introduction of its 10th Edition
Edition10 by textile design company BYBORRE showcases its advanced knitted textiles and garments in collaboration with the illustrations of Dutch icon Dick Bruna, best known for creating Miffy. By taking Bruna's simplistic yet iconic designs, the textiles play around with the scale of the artwork and apply a limited palette of colors, giving their spin on the illustrator's classic line work. The range of textiles celebrates Bruna's recognizable line work while highlighting how BYBORRE's techniques enable the power of artwork to be transformed into a textile. Staying true to Bruna's signature illustrations, there was a strong focus on precision and simplicity in the process of designing and developing the featured garments. Featured in the imagery are key pieces from previous Editions such as the Open Back Vest, Layer Shirt, and A-Type Jacket. There is a continuation to the evolution of staples such as the Suit Jacket, Pants, and Button Tee. These features are all executed in the latest iterations of BYBORRE Textiles. Additional focus has been put into the development of accessories, resulting in the introduction of a versatile everyday bag. The collection truly captivates the simplicity of Bruna's while going perfectly in hand with BYBORRE'S signature knitted textiles. GH

www.byborre.com
Fashion
Hogan Enters The Metaverse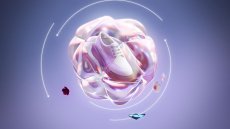 Hogan has teamed up with Exclusible and Boson Protocol for the first Metaverse Fashion Week in Decentraland. Exclusible, the fast-growing marketplace for luxury NFTs and Italian luxury House Hogan will debut the brand's first NFT drop at a special "Hogan-X" afterparty on March 26th. The event will present the first-ever dance competition in the virtual world, with prizes consisting of POAPs, pre-sale NFT spots, and exclusive NFTs, and will be hosted by acclaimed Dj superstar Bob Sinclair. The "Hogan Untraditional NFT Collection" lets Hogan takes a stand from traditional to untraditional, from Web 2.0 to Web 3.0. It is an edgy and immersive collection that celebrates the re-edition of the brand's first-ever sneaker. This item, conceived as a white canvas, is reinterpreted, without any creative limitations, by several artists such as Silvio Rondelli, Yoann De Geetere, Linear, Vincent Ghiotti, and Finn Berenbroek. It is an innovative approach that sets the standard in how the ethos of the Web 3.0 community should be celebrated, cherished, and communicated. After the "Hogan-X" afterparty premiere, the NFTs artists series will be available for sale to the public on April 3rd, 2022, on Exclusible's website. In addition, a virtual pop-up store in partnership with Boson Protocol, a metaverse marketplace for buying luxury and exclusive physical products as NFTs, will be located in Decentraland. VB

www.hogan.com
Fashion
Moose Knuckles SS22 Campaign: Summer Solstice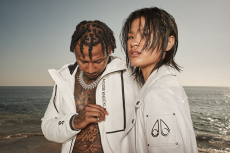 Spring is a time of transition when the sun seems to stand still in the sky, and in the natural and beautiful scenic state of this season, Moose Knuckles Canada revealed the SS22 Campaign. Moose Knuckles has always crafted resilient garments for the most unforgiving conditions, from the tundra to the city. The brand has become globally known for its relentless commitment to product design and technical expertise alongside its irreverent spirit and energy. This season the Canadian brand has transported the SS22 Collection to the beach. Shot by renowned risktaker Kenneth Cappello, the images portray Moneybagg Yo and Justine Mae Biticon in a picturesque Malibu shoreside sunset, capturing the feeling of mellow tones of a summer solstice through their warm and undeniable chemistry. These photos highlight Moose Knuckles' SS22 Collection which, with a reinvention of classic styles, offers a range of premium sportswear and outerwear crafted with water and wind repellent nylon, and windproof tech fabrications, to be suitable to face the unpredictable transitional Spring season. The collection is available in Moose Knuckles stores, luxury outer and sportswear retailers worldwide, as well as on the brand's website. VB

www.mooseknucklescanada.com
Fashion
Icons Unite: Mercedes-Benz x AWGE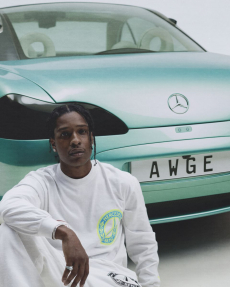 Mercedes-Benz has launched a collaboration with multi-hyphenated artist A$AP Rocky. The well-known luxury car company has presented an exclusive capsule collection including a range of fashion and lifestyle merchandise characterized by iconic trademarks of Mercedes-Benz AG. Mercedes-Benz x AWGE is not the first creative partnership made by the two, but it follows the 2017 "Glow-Up" campaign fronted by the American rapper highlighting the Mercedes-Benz compact-car family focussing on people caught between the coolness of adolescence and the squareness of adulthood. This year the brand and AWGE tight up to realize a line of clothes spanning from t-shirts, pullovers, hoodies, and jackets, to trousers, baseball caps, and bags. Inspired by the 90s pop culture, "Icons Unite" is the new co-operation that sits at the intersection of cars, music, and streetwear, bringing together A$AP Rocky's distinctive aesthetic and Mercedes-Benz iconic design in a unique offering of merchandise. Mercedes-Benz x AWGE capsule collection is available for purchase via select third-party channels, including the online shop of A$AP Rocky's agency AWGE and PacSun's website. VB

www.mercedes-benz.com
Fashion
A Souvenir Snow Globe
In a not-so-distant future, what was once considered ubiquitous is now rarefied, often only experienceable via simulation. In line with this concept, Balenciaga presented its FW22 Collection on an infinite white field, encapsulated with a protective glass screen. The weather became digitally rendered and the term "winter" took on a new meaning. The show was a real-life 3-D live stream with a 360° view showing the idea of a season as we once knew it. Just as a souvenir snow globe. The collection, surrounded by this atmosphere, featured classic looks pared down and redrawn, letting bold silhouettes stand out. Hybrid stretch dresses and bodysuits fitted and fell in new ways by combining gloves, shoes, pants, trains, or leggings. Staples, such as turtlenecks, pants, and jersey hoodies, were partially destroyed or oversized. Then, through graphic prints, Balenciaga introduced XXXL fits or messages like "Be Different," while logos were blocked out with black tape. The accessories were exaggerated, emphasizing reuse and alternative materials like the Trash Pouch, inspired by a garbage bag, and purses made from pairs of Cagole or Rodeo boots. For Creative Director Demna Gvasalia, research and innovation are key during the predictably unpredictable time ahead. In addition, following recent events in Ukraine, Demna Gvasalia decided to dedicate the Balenciaga fashion show to fearlessness, resistance, and the victory of love and peace. VB

www.balenciaga.com
Fashion
VEJA X MARNI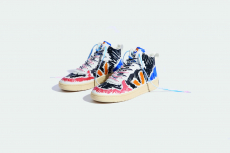 VEJA and MARNI have introduced a new collaboration that offers an original interpretation to contemporary footwear, revisiting a slightly nostalgic design with a colorful, DIY-inspired look. Marni, the luxury brand recognized for its unorthodox take on fashion, has joined VEJA to launch a new pair of shoes that combine its playful approach with VEJA's environmental and social commitment. VEJA is a footwear brand that creates long-lasting sneakers focusing on design and social responsibility, for them, sneakers are, for them, a symbol of our generation and era, but also a product that crystallizes the issue of globalization. VEJA's V-10 and the newly introduced high-top V-15 welcome MARNI's free-spirited aesthetic expressed through a colorful scribbled motif covering the upper shoe. Each pair has been assembled by hand, with the right foot different from the left to underline the originality and creative vein of the Italian brand. While, in line with VEJA's philosophy, all the materials involved in the production are sustainable. The shoes' laces are made of 100% recycled polyester, the leather is sourced in Uruguayan farms and tanned in Brazil, at a Gold-certified tannery by the Leather Working Group, and the soles are composed of 31% Amazonian rubber, 22% rice waste, and 12% recycled rubber. Made in Brazil, the first release presents two colorways: the V-15 in Black and the V-10 in Marsala. VEJA X MARNI collaboration is already available in selected retailers worldwide, as well as in VEJA and Marni flagship stores. VB

www.marni.com
www.veja.com
Fashion
Bas Koster at De Grote Kunstshow
Artist and Fashion designer Bas Kosters' work will be displayed in The Great Show from March 11th until May 1st, 2022. The show will be presented by Lucas De Man presents the special show with light, music, monologues, interviews, and lots of fashion. De Man will involve the audience in the show and stimulate them with his unexpected thoughts. Embedded in the show are Koster's fascinations with gender identity, ideals of beauty, overconsumption, vulnerability, and eroticism will be ideal ingredients for an exciting Great Art Show next spring, in which his multidisciplinary work will come to life theatrically. After the presentation by Lucas De Man, the public will have the opportunity to take a closer look at the presented fashion and art objects on stage. Kosters considers fashion to be one of his 'languages', alongside illustrations, paintings, dolls, wall hangings, and other graphic work. De Grote Kunstshow has been displaying visual art and design in the spotlight in a theatrical way since 2013. Initially intended as a one-off event, it grew into a popular and successful format. Koster is The Netherland's most outspoken fashion designer, therefore deserving of his own edition in the show. GH

www.kunstshow.nl
www.baskosters.com
Fashion
Hermès FW22
"It's really about how do you translate classicism and sophistication and chic into the idea of a woman really assuming her femininity? The fact that sex is ok-it's not something to be ashamed of", said Hermes Creative Director Nadège Vanhee-Cybulski when describing the message behind the brand's FW22 ready-to-wear collection. Showcased during Paris Fashion week, the imagery presents us with the female-gaze point of view on the subject of skin exposure that is emerging from a rising generation of female designers across the United States, Europe, and China. An example of the presentation is body-mapped shorts, in abbreviated, engineered shapes of knitted onesies and form-hugging leather. Another is the manipulation of opaque-sheer techniques in narrow stripe formation, this shadow-play geometry is seen on sweaters and flared skirts with its vertical stripes of leather interlinked with semitransparent lacy panels. Despite exploring the body-con trend and other features of modernity in a wonderful way, the collection sticks to the brand's well-known features that maintain the label's attraction. This attraction is in its signature coats, whether they be formal, country, or to be worn in the city. The minimal, easy-to-style coats in a variety of black, white, and brown shades maintain the signature of Hermès outerwear being built to carry on its super-luxe heritage. GH

www.hermes.com
Fashion
Saint Laurent Women's Winter '22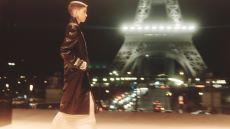 Saint Laurent's FW22 womenswear show paid tribute to the art deco style that was deeply appreciated by Yves Saint Laurent himself. Possibly the most memorable show of Anthony Vaccarello's career, it was presented under the Eiffel Tower at Paris fashion week. Writer and political activist Nancy Cunard served as a template for the collection, with designs showcased across models from different age groups. Known for her wild elegance, Cunard dressed audaciously ahead of her time, wearing African bangles during a period that would deem it barbaric. Multiple looks such as minimalist gowns worn with heavy bangles, evoke her bold attitude. The looks take us back to the '90s, with long, narrow, and languid silhouettes with covered arms and subtle use of color, but the range does not stop there. Also featured are fake fur coats and bombers; overcoats with big shoulders; narrow leather coats; elegantly nonchalant cocoon-back profiles. The flute-like dresses brought the perfect balance of masculine and feminine energy. Looks throughout were embellished with chunky accessories, contributing to the essence of the brand. The show made the audience feel like times are truly changing within fashion, all in the right direction. GH

www.ysl.com
Fashion
Trussardi FW22: A New Narrative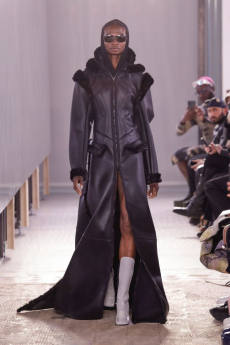 Trussardi, one of the oldest fashion houses to show during Milan Fashion Week, presented its FW22 Collection designed by Creative Directors Benjamin A. Huseby and Serhat Isik. Held at the ground floor of Palazzo Trussardi, the setting reflected the idea of excavation of the house and a return to origins. Benjamin A. Huseby and Serhat Isik wanted to give life to a new Trussardi narrative using their methodology of uncovering the layers to get to the foundation. They looked at the past to reshape the present and think about the future. From a sleeping beauty, Trussardi is awakened, showing a collection that combined fantasy and reality, the historical and the present. It is a mixture of fantastical fairy tales and the genuine codes of how people dress on the streets of Milan. The two Creative Directors studied the Milanese and noticed how almost everyone was wearing 100-gram Piumino jackets, the typical and essential lightweight down jacket, and created a more beautiful and improved version of the item. Benjamin A. Huseby and Serhat Isik's idea of fashion lies in the magic of clothes that gives visibility to who is wearing them, like a magic cloak. For the FW22 show, they aimed to give this power to everyone, inviting people back into the building because the Trussardi spirit has always been to look at fashion democratically. In addition, they redesigned the house motif, an ouroboros depicting the iconic Italian greyhound eating its tail. For Benjamin A. Huseby and Serhat Isik, time is not linear but a loop, and there is no hierarchy in dressing for a world that exists as much in the past as it does in the present. VB

www.trussardi.com
Fashion
Ferrari FW22: The Beauty of Speed
"We affirm that the world's magnificence has been enriched by a new beauty: the beauty of speed." - Manifesto of Futurism. Ferrari, the luxury automotive company, presented its FW22 Collection with a co-ed Women and Men runway as part of the Milan Fashion Week calendar. As well as Futurism exalted the dynamism and speed of the modern world, the Italian brand launched a collection inspired by these elements, enhancing the brand codes of innovation and speed. In a fast-evolving society, Creative Director Rocco Iannone crafted a range of garments and accessories that turned the personalities and passions of leading women and men in today's changing aesthetics and culture into everyday attitudes of daywear and evening wear. Ferrari presented slim yet not minimal silhouettes, tailored and natural materials made with the latest technology, and designs that transcend the boundaries of masculine and feminine. Coats and jackets had contoured shoulders defined by stitching and flat-felled seams, skirts had pencil shapes, often with adjustable metal-zippered slits, and the little black dress came in new materials, such as leather treated with finishes that affect shapes and some volumes that increase towards the hem. Also, new graphics have been added to the Ferrari archive: a camo print obtained by breaking down the silhouette of the Prancing Horse, an abstract motif produced from a hologram of the logo with an enlarged photo of technical filaments, and other patterns derived from thermal scanner grids. In addition, a color palette of blacks, yellow, red, shades of green, and hints of beige and grey combined with sustainable materials such as organic cotton, GRS-certified recycled nylon, as well as Eco down padding completed the Ferrari FW22 Collection. VB

www.ferrari.com
Art
ZONA MACO 18th Edition
To celebrate its 18th edition, ZONA MACO featured, in a singular event, international exhibitors from more than 25 countries bringing together its four fairs simultaneously. Held at Centro Citibanamex in Mexico City, ZONA MACO MÉXICO ARTE CONTEMPORÁNEO, which combines leading and emerging national and international art galleries in four specialized sections, presented the most representative contemporary artists in the global scene. ZONA MACO DISEÑO, curated by Cecilia León de la Barra, promoted furniture, jewelry, textiles, and decorative objects, as well as limited editions and historical pieces. ZONA MACO SALÓN showcases exclusive antiques welcomed for this special occasion, the new curator Alfonso Miranda. As well as Sara Hermann, who curated ZONA MACO FOTO: a fair focused on galleries and artists working in the photographic and video fields. ZONA MACO, as every year, also announced its Conversations Program, which featured national and international guests to discuss current issues affecting the art world, and the extensive Parallel Activities Program. In addition, ZONA MACO Libros presented publishing projects specialized in art and photography. The 2022 edition has been a unique event that marks the return of the art fair platform to its traditional format, adding to an already tested formula something new and revolutionary. VB

www.zsonamaco.com
Art
Saint Laurent Rive Droite, Robert Mapplethorpe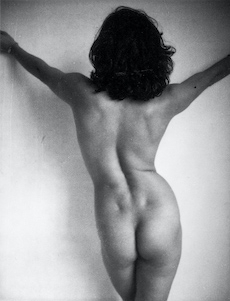 Creative Director of Saint Laurent, Anthony Vaccarello has paid tribute to the works of Robert Mapplethorpe through an exhibition of original works displayed in the Rive Droite stores in Paris and Los Angeles. This is in collaboration with the Robert Mapplethorpe Foundation, whose goal is to continue the artist's legacy of promoting photography as an art form and supporting HIV/AIDS medical research. Mapplethorpe mastered the light, shadows, and shapes through compositions of still lifes, both male and female nudes and portraits. These were to challenge the standards of classical aesthetics. His widely known work contributed to a new perception of photographic art, and at the same time elevated fine art photography to the level of respect and attention given to sculpture and painting. His vast, provocative, and powerful works have established him as one of the most influential artists of the twentieth century. Saint Laurent Rive Droite Paris and Los Angeles will host an exclusive selection of original artwork by Robert Mapplethorpe. The exhibitions will include silver gelatine photographs and Polaroids of still lifes, portraits, and nudes, courtesy of Thaddaeus Ropac Gallery in Paris and Morán Morán Gallery in Los Angeles. In connection with this, Vaccarello has designed a unique lifestyle collection in collaboration with the Robert Mapplethorpe Foundation. This limited edition includes bags, leather goods, clothing, porcelain, and pillows available to purchase in both stores. GH

www.ysl.com
www.mapplethorpe.org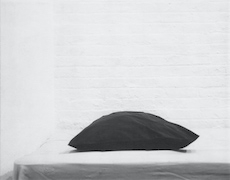 Fashion
Prada Mode, Los Angeles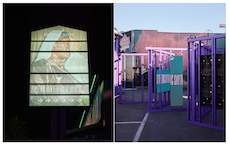 From February 16th-18th, Prada presented the seventh iteration of Prada Mode at Genghis Cohen, featuring an immersive installation by L.A based artist Martine Syms, coinciding with Frieze Los Angeles. Prada Mode is a traveling social club that focuses on contemporary culture, featuring fashion, art, music, conversation, and food, offering its guests a unique experience across diverse locations worldwide. Prada Mode in Los Angeles took place in the iconic restaurant and music venue Genghis Cohen, located on the historic Fairfax Avenue. Martine Syms' interactive installation title "HelLA World", transformed the location into one of her signature works that feature a perfect mix of conceptual grit, humor, and social commentary. The work shown was a text and video installation, equal parts live performance, narrative exposition, and casual conversation with a stranger. The installation consisted of monitors that make exchanges contributed by the guests public, revealing the possibility of the collective unconscious writ large. With the possibility of being scripted or spontaneous, the backdrop of texts suggested the banality and frisson of texting with a stranger. Members could join the experience at any time over the course of the two-day event to view the site-specific installation, attend talks, performances, and culinary revelations. GH

www.pradagroup.com
Fashion
The Savoir-Faire of the Dior Tribales Earrings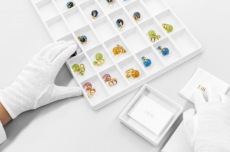 The Dior Tribales are a timeless design that is modern yet iconic. The style is composed of two asymmetrical resin pearls that are emblematic of the line. The small resin pearl sits on the front while the larger resin pearl appears at the back of the lobe. This season, Dior has reinvented the pieces in see-through shades of blue, orange, yellow, or pink. These are the perfect additions to already available models in fun matte colors, set stones, and pearlized finishes. The fruit of unique craftsmanship, these creations are fashioned from a transparent resin made in Florence, Italy. The bold yet elegant accessories are punctuated with the initials "CD", in the form of a delicate extruded signature, or as a precious pendant. The pieces can be mixed and matched, worn alone, or in pairs, adding the perfect elevation to any look while creating whole new customizable combinations. GH

www.dior.com
Fashion
Dior SS22
Maison Dior have launched their SS22 campaign, inspired by the colorful questioning of the role of play in our lives, it is the perfect shift towards spring that we need. The technicolor versatility within the collection is an ode to the work of Anna Paparatti, designed by the house's creative director Maria Grazia Chiuri. Set against a monochromatic zebra crossing-esque background, playfully infiltrated with bursts of color, the campaign's color-block aesthetic is able to capture the eye with ease. Photographer Brigitte Niedermair brings the campaign to life in the same hyperkinetic chromatic spirit. In the collection, models are draped in cubic silhouettes and 3D embroidered cuts similar to the ready-to-wear collection shown in Paris in 2021. The campaign also revisits some of the brand's celebrated accessories, including the miniature Lady Dior Bag and the classic MissDior sunglasses that complete these magnetic silhouettes with their 50s allure. The energising campaign video is illuminated by a flash of lazers in the same block color palette of the garments. The joyous undertones of the campaign makes Dior stand out yet again, continue to revolutionize the women's fashion industry. GH

www.dior.com
Fashion
Gentle Monster x Coperni "5G" Collection
Gentle Monster and Coperni are two modern brands with an innovative and digital DNA. They used these similarities to create a range of sunglasses named "5G", with the promise of taking us on a futuristic voyage. Inspired by the connection and speed produced by 5G, the sunglasses display five pure and radical lines on the temple that reflect a similar movement. The collaboration consists of six different version of two models: the "5G BOLD" and the "5G". Echoed by their names, the "5G BOLD" is inspired by the 90s aesthetics of "RoboCop" or "Back to the Future", whereas the "5G" model displays a more minimal variation of this. The campaign for the collection is shot in an urban, avant-garde landscape by Parisian film director Alexandre Silberstein. The campaign is inspired by the infamous movie "The Matrix". Transporting us into the two brands technological universes, the campaign features a newly inspired trinity composed of singer Le Diouck, and models Louise Roberts and Jeanne Zheng. The collaboration collection was launched on February 11th, but has already been seen during Paris Fashion Week last September, and worn by celebrities like Zendaya. GH

www.gentlemonster.com
www.coperniparis.com
Fashion
Paul Smith + PORTER Released a Bold New Bag Collection
For the SS22 season, the British company Paul Smith has teamed up with top Japanese luggage brand PORTER to offer a new line of bags and accessories. The main qualities of both brands are highlighted in this collaboration, which combines Porter's iconic shapes with Paul Smith's signature code of color and stripe. The collection includes traditional Porter pieces like the helmet bag, duffel shoulder bag, and wallets, all of which are made of the brand distinctive nylon twill, a lightweight and durable fabric. These items are then reimagined via Paul Smith's unique perspective. The designer incorporated his graphic stripe montage, which combines a variety of lines of different sizes and hues in an eye-catching style. In addition, the collection celebrates the great outdoors and a return to nature thanks to a color palette with organic tones blended with white and red that recall hues seen in the sky at sunrise. The Paul Smith + PORTER collection will be on sale online and in selected Paul Smith and Porter's shops from February 16th.

www.paulsmith.com
Art
Rinus Van de Velde: Inner Travel
BOZAR will exhibit the start of the second part of the "Europalia Trains & Tracks festival" with the flagship exhibition, Rinus Van de Velde: Inner Travels. The exhibition entails a diverse media ranging from drawings to sculptures, installations, and films, Van de Vedle creates a mirror universe where elements from reality and imagination coalesce into a unique kind of visual storytelling. Europalia trains and tracks celebrates the forms of travel that are depicted by the train as an everyday journey of the commuter to mythical and imaginary journeys. The work presented is born out of the inner journeys that the artist undertakes each day, that take place in the strict privacy of his studio. During these journeys. Van de Velde meets multiple other artists through which trigger episodes of his fictional autobiography, forming a common running thread through his work. The exhibition is further enriched by a series of talks and performance programme in which Dolares and Charlotte Bouckaert, Monster Chetwynd, Rita Hoofwijk, Gaëtan Rusquet and Damien Petitot being a wider outlook to the theme of travel and encounters. The exhibition is being shown at BOZAR from February 18th until the May 15th 2022.

www.europalia.eu
Fashion
Versace Men's 2.0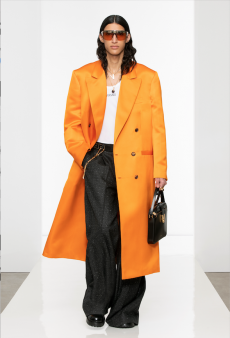 On the second day of the second month in 2022, Versace presented the FW22 Collection, introducing Versace Men's 2.0. The collection, which does not focus on the singular but on multiplicity, progression, and diversity looks at the Versace Man, showing garments designed to proudly reach out to a diverse range of men in celebration of who they are. Clean forms, fluid lines, and adaptable designs define a contemporary approach that shows a refreshed masculinity inspired by the new generation. In this collection, Versace synthetized its brand codes presenting unstructured finishes which allow freedom of movement and create a smooth silhouette. While, the brand's heritage ornate prints are polished, portrayed as stenciled bicolors like the new Barocco Silhouette, and bright, optimistic hues like cerise, pink, and orange are worn as solid blocks of color. La Greca motif remains as the brand monogram, interplayed through cable knit sweaters and vivid lurex cardigans. In addition, Versace crafted new accessories and shoe designs like wide totes and belt bags in soft-grained leather and the Odissea sneaker that acts as a confident exclamation point at the foot of an outfit.

www.versace.com
Fashion
Giuseppe Zanotti's Sustainable Make-Over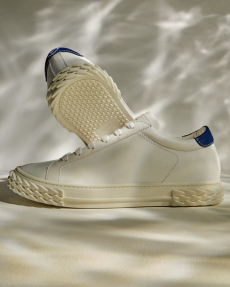 For the SS22 season, Italian luxury footwear brand Giuseppe Zanotti launched a new eco-friendly version of its signature Blabber sneaker. Taking a step towards sustainability, the designer presented the Ecoblabber, which realized with eco-conscious materials, keeps the iconic design untouched and clearly alludes to its inspiration, the first original skater styles. This particular pair of sneakers are crafted with a polyurethane and polyester blend obtained from recycled plastic bottles, utilizing a production process that reduces CO2 emissions. Each of them is then assembled with water-based glues to avoid any component that might be dangerous to the environment, and refined with bio-based soles and organic cotton laces. The Ecolabber, realized in a restrained color palette of black and white, with gold and silver nuances, turns out to be a truly green product certified by leading company CIMAC, the Italian top partner of those footwear firms seeking to achieve the highest levels of sustainability.

www.giuseppezanotti.com
Fashion
The Eternity of Rome, the Spirituality of Rome, the Celestial Rome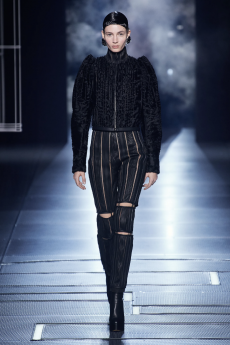 The Fendi Haute Couture collection was an ode to the brand's home, the city of Rome, its past, present, and imagined future. Conceived by Kim Jones, the collection is an embodiment of the eternal city, to put it in his own words, "When you walk down the street in Rome, you are constantly moving back and forth in time. Where we work feels very modern, but you pass monuments on the way there. There's a total timelessness to the city: a historic vein which runs through it, but also a movement that is projecting forwards." This harmony between past and present, the historic codes of the city explored through a celestial lens, set the tone for the whole collection. The pieces themselves draw upon time-honoured techniques alongside modern craftsmanship, which is also reflected in the interplay of materials. The lavish embroidery and craftsmanship are paired with sci-fi silhouettes, making the model appear like an army of empresses descending from the heavens. Fluid pieces are draped atop shimmering bodies, beading is illuminated and hand-embroidered tights act as a second skin. It's a celebration of the celestial Rome, its past being referenced throughout, but more importantly, it's the essence of Jones' vision for the Roman House, celebrating the power of women.

www.fendi.com
Fashion
Stray Rats & Carhartt WIP SS22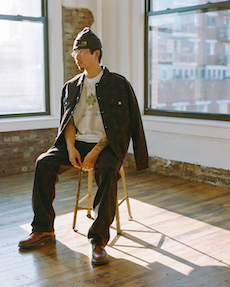 Carhartt WIP has partnered with Stray Rats for their SS22 collection. Stray Rats is a brand that spans from punk and hardcore nostalgia to strands of underground American counterculture, which paired with Carhartt's authentic adaptations of American workwear has instigated a strong collaboration. The collaboration features nine products, including reworked iterations of the original Active Jacket, Western Jacket, and Smith Pant. The items are all in either canvas or denim, and have an "aged" effect while also bearing a hand-drawn allover print. Each of these garments is accented with classic brass detailing and trims and is in either duck blue or tobacco brown. As a staple to the Stray Rats collection, there are also some cotton jersey items, including a sweatshirt and sweatpants with graphic prints similar to the hand-drawn prints on the canvas and denim items.

www.carhartt-wip.com
www.strayrats.com
Fashion
Dunhill FW22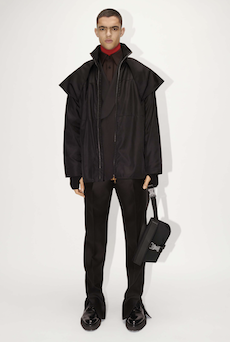 When discussing his FW22 collection, creative director of Dunhill, Mark Weston describes the exploration and focus on "tailoring, sophistication and rigour". The roots of British tailoring traditions are reflected on the strict format paired with a gentle subversion of stereotypes that is displayed across 31 looks that convey the power of finely tailored menswear. Weston depicts the collection as an adaptation of the "conventional uniform that makes it so unconventional". The collection aims to show how rebellious it can appear for younger men to embrace the power of the strict suit, shirt and tie. The meanings and silhouettes behind these signature styles transform stereotypes and specificities of masculine dressing through a new kind of conservatism. Amongst the styles are the classic wrapped jacket and split hem trousers that are pressed with military precision, embracing a more rigorous tone with high breaks and strong shoulders. A less conventional version of the traditional camel overcoat is shown in wool-cashmere that is bonded with neoprene. An oversized raincoat made with coated paper cotton is created to be layered over a leather suit jacket. The depicted undertones of the transformation "from city boy to soldier" is established through different codes intertwining the trends, such as lively buttons and regimental ties, and dark, neutral tones. Each garment expresses the tradition of draping and yet coddling the frame. The collection is an embodiment of Dunhill's signature way that pulls us in two directions, of fixed tradition merged with superbly modern looks.

www.dunhill.com
Fashion
DIOR Haute Couture SS22
Ateliers are a space of experimentation, where magical creations come to life, constantly renewing the incredible and scientific language that is haute couture. The Dior SS22 Haute Couture Collection revolves around this concept: the atelier as a synonym of excellence, and embroidery as sophisticated and skillful procedure. Maria Grazia Chiuri, the Creative Director of the Maison, decided to honor and utilize the skill of craftsmen and artisans all throughout the collection, not just as a decorative detail but to give structure to the garments. The result is an elegant and refined collection with simple lines but adorned with jewels, stones, and embellishment. These embroidered patterns are applied all over a variety of garments, from ecru skirts to sheer silk organza shirts and thighs that become a signature piece of the collection. Presented surrounded by unique artworks made by Indian artists Madhvi and Manu Parekh in collaboration with the Chanakya Atelier and the Chanakya School of Craft, the decor exalts virtuoso skills and a stylistic exercise, showcasing the language of embroidery being expressed through the hands of skilled artisans. The Dior SS22 Haute Couture Collection is an inspiring creative dialogue between the French Atelier and different artists, with embroidery being transformed into a collaborative mode of expression, at the crossroads of art and craft.

www.dior.com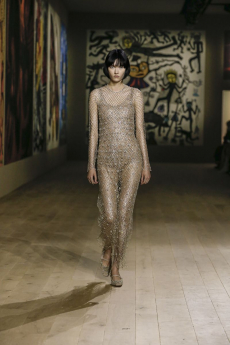 Fashion
AMI FW22: The Essence of Paris
AMI is back in the spotlight presenting the FW22 Collection at Palais Brongniart. It is a collection that embodies the quintessential essence of the Parisian style. Paris is, once again, a steady source of inspiration for Alexandre Mattiussi, founder and Creative Director of the Maison. For this collection, his focus shifted from the streets to metro stations, a public space where everyone comes together, mixes and blends, without any discrimination. Influenced by the people who inhabit those places, he decided to reflect this reality on the catwalk by recreating metro tunnels in a mythical monument. The FW22 has been a statement collection that celebrates AMI's DNA, presenting a free-spirited color palette, prints and motifs next to rich textures and eccentric fabrics. In addition, the collection encompasses a variety of silhouettes, strong unisex pieces, alongside tailored masculine shapes and more delicate feminine forms. These garments are then combined with unique accessories created in collaboration with jeweler Alan Crocetti and with a new it-bag named "Le Voulez-Vous". In terms of his casting for the show, Alexandre Mattiussi has gone beyond the common standards presenting one of the most inclusive casts ever. On the runway, iconic models such as Mariacarla Boscono, Kirsten Owen and Paloma Elsesser walked, side by side, with street-casted models and new faces. A true representation of the French capital, Ami's collection embodies the city's chic flair, fun and diversity.

www.amiparis.com
Fashion
Yohji Yamamoto FW22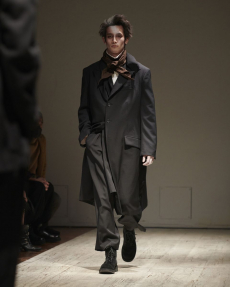 Going back to the roots, Yohji Yamamoto's FW22 fashion show took place in his Aoyoma flagship store in Tokyo rather than Paris due to COVID. Five well-known Japanese actors were included in the cast, which emphasized the local character of the show. The collection draws inspiration from Japanese calligraphy and artworks of the Polish painter Zdzislaw Beksinski, known for his distinct version of dystopian surrealism. Much of the collection was inspired by 19th-century menswear. Exposed seams with hanging threads meet tied ascots and waistcoats, resembling the work clothing of a chimney sweep. Yamamoto's continued fascination for the cult of punk becomes visible in patches of leopards prints on black suits and coats. Romanticizing the image of Edward Scissorhands, the model's powdered hair signified both ashes and age. Yamamoto's FW22 collection brings innovation and consistency together. Setting an example of strength and integrity he provides a body of work that draws on wisdom, creativity and rebellion.

www.yohjiyamamoto.co.jp
Fashion
Maluma is the New Face of Versace SS22 Men's Campaign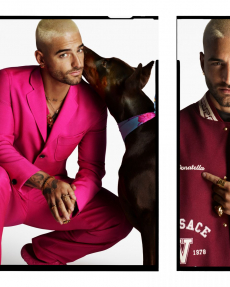 Versace has announced the new face of the SS22 Men's collection, the global superstar Maluma. Already part of the Versace Family, having previously created memorable moments such as Maluma wearing custom-made garments for his performances and red carpet looks, the Colombian singer has now been appointed by Donatella Versace herself as the new icon of the latest collection. The long-lasting relationship between the two has been love at first sight. Maluma has always been a fashion enthusiast and in the brand, he found the right features for an exceptional collaboration. Donatella Versace herself has always been intrigued by Maluma's energy and engaging personality; to put it in her own words "He's the kind of man that makes a difference and makes the world a better place". The images, released globally on January 19th and shot by photographic duo Mert Alas and Marcus Piggott, portray the singer wearing a varsity jacket finished with a range of brand motif patches and "Donatella" embroidered across the heart. In addition, for the first time, Maluma is not pictured alone but with his dog Buda. With these enticing images, the Italian fashion house and the Colombian megastar are creating new memories together as a fashion family.

www.versace.com
Fashion
Rick Owens FW22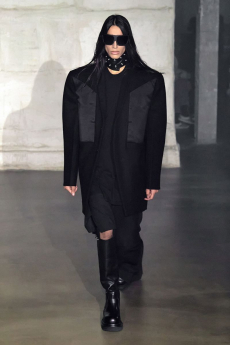 Rick Owens presents a glamourous extravaganza for FW22. Drella coats can be belted around the hips or, with the unbuttoning of a back slit, overthrown as a poncho or cape. A versatility that continues with this season's parkas featuring goat hair trim in various colors. Coats and jackets continue Rick Owens signature exaggerated shoulder, which he started incorporating as a parody of masculinity, but ended up becoming a design classic. With the environment, traceability and social responsibility in mind, the patchworked shearlings come from a family-owned, second-generation tannery in Tuscany. Inspired by Egyptian temples and tombs, artisanal craftsmanship and his own archives, Rick Owens joins the conversation the fashion world is having about responsibility. Believing in creative expression as the rawest and sincere state, Rick Owens cherished the power of fashion this season.

ww.rickowens.eu
Fashion
Miu Miu Tigers T-shirt Collection
In honor of the Year of the Tiger in the Chinese zodiac, Miu Miu launches an exclusive collection of t-shirts featuring the tiger motif from different animation productions. Ranging from playful to heroic and majestic, the spirit of the collection is ubiquitous and unexpected. Tiger Mask originally appeared in a manga comic book written by Ikki Kajiwara and illustrated by Naoki Tsuji, later adapted into an animation series by Toei Animatio. The character is a powerful wrestler and loyal companion to orphans, whose true identity always remains obscured. Created by Tiger Key, the Tiger Girl character featured in the t-shirt collection is a crime-fighting tiger battling evil. The last iconic animated tiger figures are Disney's Tillie Tiger - dating back to 1936 when she first appeared on screen – and the anthropomorphic Tigger from the tales of Winnie the Pooh. The Miu Miu's Tigers t-shirt collection evokes nostalgic images of iconic stories of animation history, in celebration of Chinese zodiac tradition. The Tigers collection of t-shirts is available starting from mid January 2022 at selected Miu Miu stores and online.
Fashion
New Bally Creative Director Rhuigi Villaseñor
Swiss luxury brand Bally, owned by JAB Holding Company, appoints Rhuigi Villaseñor as its new Creative Director. In this position, Villaseñor will be responsible for the artistic direction across the brand. His first collection debut for Bally will launch for SS23. The Manila-born allrounder is Founder, CEO, and Creative Director of the brand Rhude since 2015. As his mother was a tailor and his father an architect, Villaseñor grew up with a passion for design and an understanding of garment construction. As a Filipino and American national, raised in several continents before emigrating to the U.S., he started his career in Los Angeles. His work takes inspiration from American iconography with nostalgic reflections recalling his childhood observations of U.S. culture through a foreign lens. In his form language, the visionary designer combines luxury techniques with streetwear elements, offering a new narrative of the modern wardrobe. Nicolas Girotto, CEO of Bally, said: "Having acutely followed Rhuigi's ascent I am excited by how his natural creativity and energetic spirit have made him one of the industry's greatest idea generators and community builders. Rhuigi's deep understanding of Bally's history coupled with a distinct appreciation of the Swiss lifestyle will be instrumental in ushering the brand into the future."

www.bally.eu
Fashion
Prada FW22: Body of Work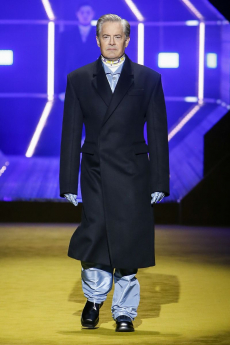 The Prada FW22 Menswear Show at Milan Fashion Week examined the concept of work as a state of reality and an essential component of life in the twenty-first century. Reality disrupts the idyllic fantasy of the aesthetic of the show by utilizing theater and cinema as mirrors of truth. For this season's breathtaking show by Miuccia Prada and Raf Simons, the Deposito of the Fondazione Prada is reimagined by AMO as a stage for action, a representation of a heightened actuality. The cast of actors includes ten renowned actors: Thomas Brodie-Sangster, Asa Butterfield, Jeff Goldblum, Damson Idris, Kyle MacLachlan, Tom Mercier, Jaden Michael, Louis Partridge, Ashton Sanders, and Filippo Scotti. Recognized personas, which add a sense of reality. The show is an artistic attempt to valorize daily life by weaving elegance and sophistication into its patterns. An interplay that gives the uniform – conventionally associated with work-life – a new meaning, emphasizing the societal value and multi-faceted nature of work. Pragmatic clothing receives a reinvented dignity, creating uniforms of reality, rematerialized in precious leather and silk tech as a mark of respect and value. Pragmatism and elegance collide in the language of sartorial tailoring, a formality that conveys importance.

www.prada.com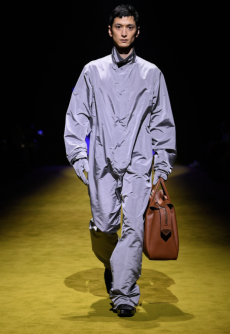 Fashion
1017 ALYX 9SM FW22
Models walking fiercely to a slow, powerful rhythm by F1lthy, who created a sound based on images of a majestic church venue on the edge of Milan named Saint Victor and the Forty Martyrs – forces collided at the Alyx FW22 show at Milan Fashion Week. The decadently adorned building served as a vast, yet astonishingly intimate space for the first show by Matthew William's brand 1017 Alyx 9SM in Italy. The appearance at Milan Fashion Week was like a homecoming for the label founded in 2015 by Williams in Ferrara with a design studio located in Milan. The collection intrigues by showcasing contrasts between masculine and feminine shapes. The menswear looks are characterized by heavy multi-layered and voluminous silhouettes, while the womenswear counterpart features hip-skimming, full-length and fitted looks. Expressing his passion and sense for garments Williams describes his approach to creation: "So maybe it sounds selfish or narcissistic, but I'm just making things that I like, and hopefully other people will like them too. That's just how I move."

www.alyxstudio.com
Fashion
Canali FW22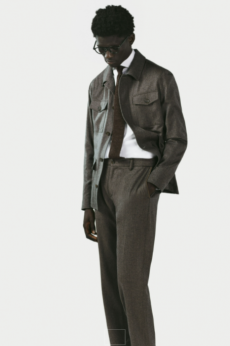 Looking back at the art déco style of the 1930's – the precursor of a new era of growth and recovery - the Canali FW22 collection strives for a tasteful, elegant and refined look. The collection reimagines what it meant to be a gentlemen in pursuit of discovering the self and the world during the historic era. Style was an essential element to express attitudes and standing and became visible through the sober and exclusive lines of the period - adapting military-inspired silhouettes and colors to a new, elegant context, and celebrating it with its trademark sartorial expertise, care and focus on detail. The Canali FW22 collection both honors and reinvents this image by presenting a look to adorn the modern gentleman. A man prepared at any moment of the day with a versatile look with various shirts and tie options. Elegant pin-stripe, typical of the 1930s, is the signature pattern of the collection, embodying the timelessness of its inspiration. More contemporary styles blend in where sleeves are finished off with rubber press-stud buttons, and trousers are designed in a more athletic look. The Canali FW22 menswear collection is a perfect match of lines and impressively unifies old-era elegance with contemporary design, resulting in an expression of the dynamic of the life of a modern man.

www.canali.com
Fashion
C.P. Company CINQUANTA
C.P. Company CINQUANTA For Milan Fashion Week, C.P. Company presents a throwback on 50 years of sportswear design with "CINQUANTA: A retrospective on 50 years of sportswear innovation by C.P. Company". At the end of their anniversary celebrations, which lasted all throughout the past year, an exhibition, freely accessible to the public, is open from January 15th to January 17th, 2022 in Milan. Created in collaboration with Random Studio, a creative agency from Amsterdam, "CINQUANTA" is a series dedicated to five decades of Italian sports and casual wear. It includes more than 70 pieces from the C.P. Company archives, alongside original sketches and special projects that have marked and shaped the brand legacy. The retrospective also includes a special area dedicated to the 50th anniversary presenting the collaborations next to various objects and memorabilia. As Lorenzo Osti, President of C.P. Company put it himself, "This exhibition is designed to facilitate the understanding of the essence of the brand through its most iconic items: the ability of C.P. Company to model and create objects that resonate with contemporary society. This way, through our garments, you will find the evocations of cities, landscapes and adventures that have most involved and fascinated us in the last 50 years."

www.cpcompany.com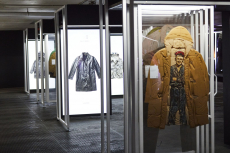 Fashion
Fashion
Heart to Heart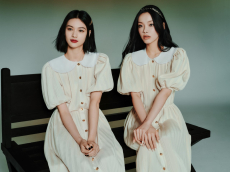 Miu Miu reveals its latest campaign in honor of the Lunar New Year starring ambassadors Lexie Liu and Qiu Tian in an edit of contemporary classics. The campaign cinematically tells a story of two minds colliding. Two personalities with different life paths meet on the eve of a new year. Conveying a sense of déjà vu and familiarity. They stop to wonder, each delving into their memories before separating again. The two protagonists form a connection through sound and space by reciting their lines and humming tunes. Miu Miu colors illuminate the scene: the pastel pop of Miu Wander bag, the retro tone of a varsity cardigan, gold hair clips that oscillate with light. The short clip is a celebration of the joy of unplanned interpersonal connection. Miu Miu salutes the intangible nature of the order of things.
Art
The Genius Immersive Experience
The Genius Immersive Experience guides the visitor through a creative, multi-sensory journey. The show presents an interactive experience through the eyes of Leonardo Da Vinci and pushes the boundaries of visual storytelling. Its multi-media concept brings the exhibition and show to an astonishing new level. Just as the Italian painter, craftsman, sculptor, architect, and engineer was ahead of his time in creating works, which embody true Renaissance humanist ideals, the show innovatively merges past, present and future. What's it like inside one of the brightest minds that ever existed? How can you touch, play, hear and live iconic works of art? The Genius Immersive Experience provides a space to not only receive but experience the answers to these questions and more. Science, art and intuition were at the core of Da Vinci's approach to creation and exploration of the world. The master himself famously said: "All our knowledge has its origins in our perceptions". Perceptions that are brought to life by The Genius Immersive Experience creators through revisiting Leonardo's inventions and ideas within a modern framework using cutting-edge audiovisual technology. Almost 80 million real pixels, 50km of cabling and more than 350,000 projected lumens come together to create a sensory explosion. In the revision of Leonardo's work, the Genius Immersive Experience explores what his vision might have been making use of the resources that are available in the realm of art today. Providing a new lens on ecology, nature, science, space exploration and modern art the show investigates the present through the past, exemplifying methods and possibilities of the future.
Fashion
Radical Urbanism: "The Power For The People x"
 "The Power For The People x" founded by Steve Davies of Steve Davies Studios London presents its new collection. Davies has been working closely for many years with acclaimed Fashion Photographer and ZOO contributor Roger Rich. The pair have collaborated together for the latest venture "The Power For The People x": a collection based on love for concrete and fashion. Driven by the Davies's strong connection to London with a passion for city living, modernism, brutalism, style in art and architecture, the coming SS22 season embodies the urban human experience. The line is created in London and inspired by its development throughout the decades featuring Savile Row mixed with a nod to early Punk from the late 80s early 90s London club scene at the WAG and the MUD club. Working very closely with friends and family Davies produced the finest quality of handmade garments using traditional skills and techniques in an unconventional manner. Tailored trousers meet military jackets and pants worn casually with brand logo shirts and sweats. The collection's reference to Punk becomes visible through bondage pants combined with artist smocks paired with hats and reversible bags made from military ripstop fabrics in black, navy and olive. The garments are an expression of powerful idealisms to explore the emphasis on materials, textures and shapes in buildings and clothing fabrication creating a dialogue between infrastructure and the voice of society and culture.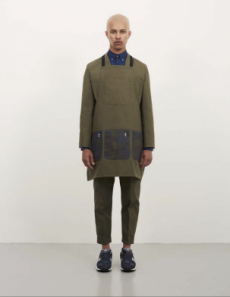 Fashion
Brunello Cucinelli Menswear SS23
For the men's SS23 collection, Brunello Cucinelli finds the perfect refined yet relaxed balance between sophistication and verve. Feeding on the knowledge of tradition, this skillful nonchalance offers a new interpretation of style: fresh, innovative, and capable of conveying harmony and versatility for any occasion. The prestige behind the origins of the brand is transferred to a more relaxed, effortless style. The modern suit is a feature of the collection, which can be used for daily, leisure, and summer dressing alongside business elegance. A blazer and trousers can be worn separately to adapt to the evolving needs throughout the day. Also included are an array of knitwear, t-shirts, and shirts that boost the sense of ease and comfort of contemporary suits and casual styles alike. The colors highlight the essence of summer in a rich variety of tones. Patterns are captivated by the variety of textures, where structures and color-enriching effects confer three-dimensionally and unique characteristics to elements across the collection. A generous collection of accessories has been made as the perfect embellishments to the looks. A variety of footwear has also been designed to fit styles of any occasion, varying from formal to more lightweight designs. These are characterized by the utmost attention to lightness, comfort, and flexibility. GH

www.bruellocucinelli.com
Fashion
Versace Pre-Fall 22: Reimagining History
The Italian luxury house Versace unveils its Pre-Fall 2022 collection, which encapsulates the quintessence of creativity. Versace was established by Gianni Versace in 1978 in Milan, emerged into a leading international fashion house during the 80s, and is now creatively led by his sister Donatella Versace. One of the most distinctive recognition features of the luxury fashion brand is the Baroque print. Donatella Versace states the leading mantra of the Pre-Fall 22 collection as "[…] I see creativity as an opportunity and a way of looking at things you have known all of your life in a different way, from another perspective and transform them into something new that, like a scent reminds you of emotions past, but are now connected to something completely rooted in the present moment." For the Pre-Fall 22 collection, the infamous Baroque print is reimagined in a black and white version on garments, ranging from fitted suits to loose silhouettes. The collection features dresses, sensually hugging the silhouette of the models and silk wide-leg pajama pants with matching shirts as well as bold colored and heavily printed garments, deeply anchored in the Versace vocabulary. The Pre-Fall 22 collection embraces the so-called Versace woman, a strong independent woman who is confident in continuously reinventing herself through clothes.

www.versace.com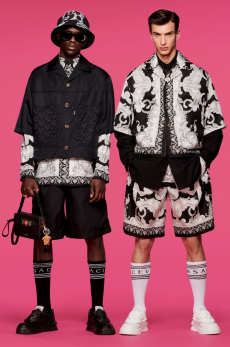 Fashion
Dior Welcomes Kylian Mbappé
Dior has announced Kylian Mbappé as an official ambassador of the French Maison the soccer prodigy will prospectively lend his image to the design creations of Kim Jones, Artistic Director for Dior's men's collections, as well as the iconic Sauvage perfume. The globally recognized soccer player is part of the Parisian Saint-Germain club and further one of the major players of the French National Football team with whom he won the world championship in 2018. In the same year, Kylian Mbappé was awarded the title of the Best Young Player by FIFA in the same year as well as the Kopa trophy celebrating the best player aged under 21. Propelling his professional career with a steady advancement, he has also been the player to break the record of scoring a quartet of goals, which had last been achieved in 1958, during a match that qualified the French National Team for the 2022 Worldcup. Kylian Mbappé makes a point in supporting charities, in particular the Premiers de Cordée association, which organizes sports initiatives for hospitalized children. Through this collaboration, the young soccer star aims to be an active part in using athletic aspirations to create purpose and perspectives. Pushing his charitable endeavors further, Kylian Mbappé has launched his own association, named Inspired by KM. With the mutual values of generosity and breaking standards, Dior and Kylian Mbappé are a match that promises exciting collaborations.

www.dior.com
Fashion
Giorgio Armani's New Beginnings at Königsallee
After a thorough renovation, the Giorgio Armani boutique on the Düsseldorfer Königsallee has reopened its doors to its customers just in time before Christmas. Located in the prominent luxury shopping district of the city, the Giorgio Armani store exhibits Italian tailoring on three sizeable floors. The façade of the building already prepares the customer for the ambiance inside – with green granite surfaces and platinum-colored finishing, the impressive windows allow a glance into the luxurious retail space. Going with the times, the retail experience has been enhanced by an interactive digital wall on the ground floor, showcasing the women's accessories collections and Armani beauty. The first floor is reserved for women's evening wear and the Giorgio Armani fine jewelry collection, whereas the second floor presents the men's collections and Made to Measure services. Just as the sartorial lines, the space consists of substantial, sophisticated elements: satin-finish furniture with metal detailing, silken wall panels that reflect the marble effect of the floors and armchairs from the current Armani Casa collections. Special dedication has been devoted to the lighting arrangement, making the most of the natural light that pours into the space through the windows, softened and re-directed by delicate gold-mesh metal screens. The Giorgio Armani boutique appears refined and fluid, exuding elegance and warmth in a classical Armani manner.

www.giorgioarmani.com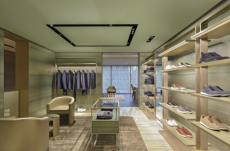 Fashion
Louis Vuitton Pre-Fall 2022
To Virgil Abloh, pre-collections had a special element to them. As passionate as he was about the sensation of the regular runway shows, he found contentment in immersing himself into the as he defined "normalcy" of the pre-collections that celebrates the idea of commercialism behind fashion, rather than looking upon it. Catering to the terms "trendless" and "lifewear", his pre-collection frequently delivered looks that stood for contemporality while remaining timeless. His first pre-collection introduced the now widely recognized idea of 'boyhood ideology', a perspective with which Virgil Abloh nodded to the influence of upbringing, education and evolvement in the early years of life. The pre-fall 2022 collection seized on this initiation, effortlessly fusing the ideas of formalwear, workwear and streetwear into one fluid wardrobe devoid of conventional dress codes. The collection touches upon the traditional idea of suiting yet adjusts the classical three-piece with a wrap skirt replacing the waistcoat. The seriousness of tapered trousers is replaced with flares and blazers traded for utility jackets. A small selection of looks focuses on elevating sportswear elements with tracksuits appearing in tailoring fabrics. Bringing graphics into formal dressing, the designer played with the Louis Vuitton Damier pattern, reintroducing grid patterns with embroidery work and incorporating landscape motifs into denim pieces. The show exemplified Virgil's persuasion of questioning definitions and labels, taking visual elements out of context and reviving them by exploring opposites. The shows indicate, in an all-encompassing way, how Virgil Abloh's designs have shaped the idea of modern menswear and how he continued to pursue the unusual and unexpected while keeping wearability and commerciality in mind.

www.louisvuitton.com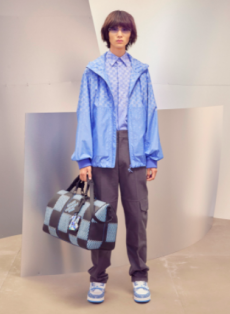 Fashion
Dior Men SS22: Paying Homage to Those Who Shaped Our World
For the SS22 Menswear collection, Dior pays homage to one of the most revolutionary writers of the last century—Jack Kerouac. Christian Dior reimagined the pre-war silhouettes with a refreshing approach, influenced by his journeys, where the couturier acquired knowledge and new sources of inspiration in numerous countries and cultures. The influence and importance of author and poet Jack Kerouac are synonymous with Dior. Kerouac shaped his generation with an avant-garde approach to literature art and gained worldwide recognition with his novel On the Road, published in 1957. Kerouac is considered to be part of the Beat generation, which was a rebellious literary movement, emerged out of the desire to break down the established structures and traditional writing conventions in the 60s. Also known as the Beat poets, they influenced culture and politics with their celebration of experimentation and spontaneous creativity. The SS22 collection celebrates the power of imagination and fuses Dior's heritage, characterized by intricate embroideries or the soft pastel color palette with futuristic technological qualities in materials, such as technical silks and recycled nylon. Fair Isle knits embroidered with sequins are worn with bias-cut soft collegiate jackets and complemented with an original silk Foulard from the 60s. Dior perpetuated Kerouac's legacy by hand-painting and printing extracts of his novel onto leather and silk. "But you can go on thinking and imagining forever further and stop at no decisions to pick up a bag for the thinkings. Turn your thinking into your work, your thoughts into a book, in sieges,'' as perfectly encapsulated by Jack Keruoac himself, Dior aims to encourage confidence in imagination with its SS22 Menswear collection.

www.dior.com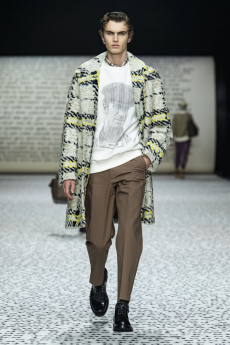 Fashion
New Chapters at Premiata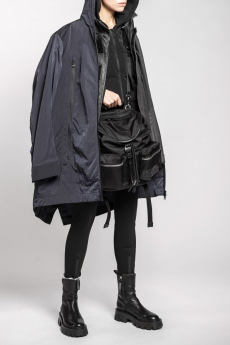 Originally known for their expertise in shoe-making, the Italian label Premiata is now introducing their first apparel line with a FW22 Menswear collection. Induced by the fifth generation of the family-led business, the siblings Vincenzo and Carlotta, the line presents itself with a genderless soul and the typical 'made in Italy' that is the essence of Premiata. Vincenzo summarizes the key points of the collection as follow: "I thought about the wardrobe of a person who I would call a metropolitan warrior, who needs multifunctional, structured and versatile garments, for an all-day-long use. All the outerwear, from the jacket to the parka, are garments conceived in a genderless key." The FW22 collection persuades with a combination of technical approaches, such as water repellent materials and finishes, while considering the factor of comfort with soft-touch fabrics and the use of elastics. Timeless, athletic puffer jackets with an urban style, stonewashed parkas and lightweight rain overcoats deliver a selection of outerwear. In addition, the apparel is complemented by accessories such as bags and backpacks, which further reinforce the idea of metropolitan practicality paired with Italian design vocabulary. The entire collection is designed and produced in Italy, in partnership with the renowned manufacturer La Rocca, who is widely recognized in the premium and luxury textile segment. The collection is to be presented with a pop-up during the upcoming Pitti Filati in February.

www.premiata.it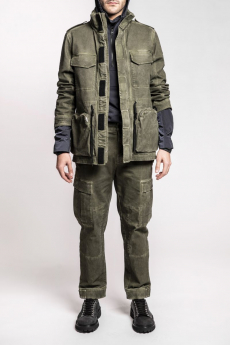 Fashion
Kaldewei's Classic Duo Oval at the Villa della Quercia
With its sustainable products made of recyclable steel enamel, Kaldewei has been setting high standards concerning materiality and design – not least in the hotellerie business. The latest project of Milan-based design and architecture specialists Reveria Studio has made use of the one-of-a-kind characteristics of Kaldewei's design, as they chose the German pioneer's bathtubs to be the center pieces of the bathrooms of the Villa della Quercia, one of the luxurious buildings of Mandarin Oriental hotel, located directly at Lake Como. Opting for a free-standing bathtub from the Meisterstück Classic Duo Oval series, Reveria Studio has accredited the bathtub with the features needed for combining aesthetic design with practicality and longevity. With the selection, the architectural firm aimed to transfer the magic of nature of the scenic Lake Como into the interior of the hotel, combining a refined Italian style with the purity of clean shapes. The classic design of the Meisterstück Classic Duo Oval and the freestanding corpus fuse timeless elegance with contemporary design. Further, the steel enamel of Kaldewei is extremely suitable for the hotel industry, as the astonishing material is not only pleasant to the eyes and to touch but just as well durable and easy to maintain clean and hygienic. Kaldewei's designs offer the possibility of a special easy-care surface coating that meets the demands of hotel standards.

www.kaldewei.com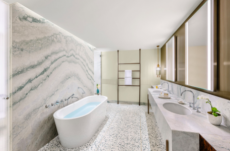 Fashion
Emporio Armani x C.P. Company: A Celebration
Emporio Armani and C.P. Company fuse their exceptional brand DNA to celebrate their 40th and 50th anniversary respectively. C.P. Company was founded by Massimo Osti in 1971 and today his son Lorenzo Osti continues to embrace the principles the brand was founded on, the experimental approach, practical design, and innovation in terms of materials and dyes. Both brands are synonymous with innovation and a unique instinct for the complex needs of customers in contemporary society. The collaborative anniversary collection transports the common vision of innovation and fuses the distinctive elements of the brands, such as C.P. Company's iconic goggle parkas, blousons, and anoraks, often inspired by military shapes and Emporio Armani's signature bomber, raincoat, and stand-up collar jacket in a straight-lined, simple aesthetic. The color palette ranges from deep blues to a pale white, and the garments are made out of WOOL GUM waterproof wool, A.A.C. laser-cut microfiber, and DYSHELL bi-elastic nylon knit, which alludes to both brands' strive for innovative materials. The clothes presented by Emporio Armani and C.P. Company are visual embodiments of both brands' DNA and in combination offer a new vision for the future of fashion. The collection will be available from Saturday, 4th of December at the C.P. Company and Armani stores in Milan and from the 10th of December as well online.

www.armani.com
Fashion
Made To Order, Created to Last
Carnations London – which recently celebrated its first birthday after being founded in 2021 – has made it its mission to produce beautiful and cheerful designs with high quality. Determined to disrupt the shortcomings of the fashion industry, Carnations London has committed to the made-to-order business model – one of the most promising solutions for grappling with wasteful overproduction and a powerful tool to counteract the mindless consumption propelled by fast fashion and throw-away cultures. Each item is made by hand in a small studio – a direct reflection of founder Sarah Bartlett's vision, in which fashion revolves not only around aesthetics but more so about social responsibility. As such, Carnation London's design exude the brand values with their visual language: tie-dye patterns in pastel colors and embroidered scribbles make for a charming character, that reminds the wearer to return to the simple and joy sparking items that are uncomplicated and comfortable to wear. Combining the creative forces of various artists is an endeavor the British label pursues with great integrity - after collaborating with artist Joy Yamusangie, who created a lively illustration for a bucket hat, Carnations has partnered up with Stockholm-based print designer KJP, resulting in multifunctional checker-board bandanna and shirt in a vibrant blue color – which has yet to be revealed to Carnation's followers. Now, during the festive month of December, Carnations returns to the item that marked their debut over a year ago: the classic cotton T-Shirt. With its muted sunset colors, melting together in the iconic tie-dye design (needless to say, achieved with non-toxic dyestuff), the shirt ensures to lift the spirits – and evokes the satisfying conscience of a responsibly sourced product. Besides the B-Day t-shirt, Carnations has included a selection of their best-selling items into the temporary "Festive Shop" collection, offering gift ideas with reasonable origins that make valuable stocking fillers. 

www.carnationslondon.com
Fashion
Mara Hoffmann in the Midst of New York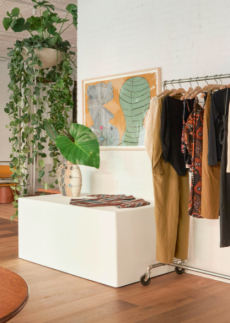 Just towards the end of the year of 2022, Mara Hoffmann has opened the very first eponymous store in Soho, New York City. Mara Hoffmann herself, who founded her namesake label in 2000 after graduating from Parsons School of Design, has made a conscious decision in 2015 to incorporate more sustainable and responsible practices into their creations and their production. Known for her colorful collection that is inspired by the celebration of womanhood. Mara Hoffmann makes a point in fostering mindful consumption and constantly reevaluates the relationship society has with fashion. As such, the space in Soho represents much more than a point of sale. Translating the brands' practices and serving as a platform for creatives and makers. This vision has already been put to practice during the design of the store itself – in collaboration with Kari Elwell of Mingo, landscape designer at Mingo design, the store has been built around the notions of plants and natural textures. With ceramics, woods, leather and woven carpets, the store exudes a warm and inviting ambiance, in which Mara Hoffmann's collection seamlessly fit in. Further, in collaboration with Studio Archive Project, the space exhibits rotating art of numerous forms – beginning with New York-based sculptor Elisa Soliven. In the future, the space aims to be lend to not only the works of artists but the artists themselves, propelling social gatherings where social matters are discussed.

www.marahoffmann.com
Fashion
Piaget: Celebrating the Bond of Love
The luxury jeweler Piaget is a master in creating diamond-shaped visual symbols of love and is now releasing a series of new engagement rings to celebrate the epitome of love—the particular bond every relationship is aiming for, namely marriage. Georges Edouard Piaget founded the luxury manufacturer in 1874 and ever since the jeweler is synonymous with precision and sophistication, fusing the art of fine jewelry making with its profound watchmaking skills. In the late 50s, Piaget released its ultra-thin Altiplano collection that would later become one of the most distinctive recognition features of the luxury manufacturer. For this special collection, Piaget joined forces with creators, gemmologists, gem setters, and jewelers to combine their strengths and the savoir-faire of 150 years of crafting experience to create an exceptional range of engagement rings. Each ring of the collection is set with diamonds meeting the highest standards of fine jewelry in the world in terms of color, clarity, cut, and carats. As such, the Piaget Possession platinum ring is a playful answer to the traditional engagement ring. Circles set with small diamonds are placed around a big brilliant-cut diamond in the middle. The spinning elements of the ring are meant to be visually reminiscent of ''how love makes your head spin,'' as is stated by Piaget.

www.piaget.com
Fashion
DIOR: Elegant & Icy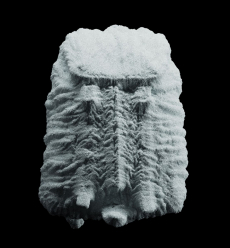 DIOR creates a unique interpretation of the Christmas holidays in its own words, defined by an enormous amount of style and elegance. The French luxury house is known for its elegant couture garments and, in particular, for its founder Christian Dior, who introduced new shapes and silhouettes into the fashion industry. In 2018, designer Kim Jones took over the creative direction of the men's collections and refreshed the image of the house with a sportif, contemporary and youthful approach to the clothes and accessories. For the Christmas collection, Jones thoroughly selected a range of different leather goods, shoes, and jewelry to be parts of it, such as the iconic SADDLE bag alongside its backpack version and the Dior LINGOT line of bags. The B23 and B27 sneakers of the selection have become a signature feature of the men's collections and reflect Kim Jones' design vocabulary and influence on the house. Each item bears a sign of distinctive recognition value for Dior, either in form of the Dior oblique motif or the CD initials. The official launch of the pieces is staged by an equally compelling video as the items themselves are, and acknowledges the beautiful and magical aspect of the cold and festive season. The short video sequence showcases a playful transformation of the snow-covered, icy pieces, revealing the actual selection in full splendor as the video moves on.

www.dior.com
Fashion
MB&F x BVLGARI: Reading the Future
Initially showing mutual admiration and professional respect from afar, BVLGARI and MB&F decided to join forces to create FLYING T ALLEGRA, an exceptional timepiece that fuses both luxury brands' signature skills. Maximilian Büsser founded MB&F in 2005 in Geneva, Switzerland on the concept of revolutionizing the conceptual norm within the world of luxury watches with an unconventional creative approach. For the special collaboration, BVLGARI combines its exquisite feminine graphic aesthetic with the Swiss luxury watchmaker's complex mechanical know-how, resulting in a series of wearable pieces of art. The timepieces are characterized through their three-dimensional vertical architecture and luxurious case, ranging between white and rose gold and adorned with a high domed sapphire crystal on top. The heart of the watch is the diamond-set flying tourbillon— a technical organ that goes beyond the borders of a traditional dial-plate, anchored only at its base, and set in a 50-degree angle, precisely aligned towards the wearer of the timepiece. BVLGARI replenishes MB&F´s cold and massive construction by a softly sensory experience, with perfectly cut and colored gems. With the FLYING T ALLEGRA series, BVLGARI and MB&F have created historic timepieces with complex micromechanical construction and induced with a futuristic and feminine twist.

www.bulgari.com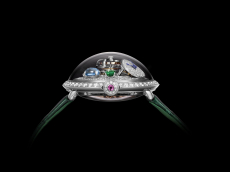 Fashion
AGL Virna Red Pump: Finding Power in Cohesion
AGL was founded by Piero Giusti in 1958. Now, three generations later, the Italian brand is still a family-run company, owned by the sisters Sara, Vera, and Marianna Giusti. Ever since taking over the brand, the trio works closely together on every project and are known for their artistic sensitivity and sophisticated designs "from women for women". Their latest shoe creation, the VIRNA pump, conveys an important message, as it supports the international day for the Elimination of Violence against Women and spreads. AGL introduces the VIRNA as a pump in a bright red color with a thin elegant heel, made for fierce and confident women. Every shoe visually embodies the brand's deeply anchored identity, the sister's emphasis on craftsmanship, high-quality materials, and exceptional designs. Only this time, the shoe serves a greater purpose than ususal. The proceeds from the purchases of the pump will be donated to CISDA, the international committee in support of Afghan women. The Italian association CISDA was founded on the principles of sharing human values of each person, regardless of their religion, origin, culture, or nationality, and has been promoting solidary initiatives for Afghan women since 1999. The Giusti sisters aim to empower women and advocate for the importance of supporting each other and showing solidarity amongst women, which is visually translated through their collections and in particular the new VIRNA.

www.agl.com
Fashion
Unwrapping the Holiday Season with BOSS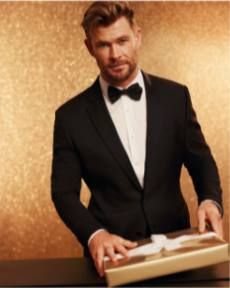 BOSS introduces a new festive campaign together with Chris Hemsworth. Under the name "Unwrapping the Holiday Season", the campaign celebrates the joy of giving and the special moments inherited by the act of sharing gifts. The campaign shows the American actor unwrapping, unboxing and untying various presents – small ones, big ones, classics as well as unexpected ones. BOSS has translated the suspension and joy of opening presents into their Holiday collection, which looks sport logo-embossed, ribbon-like details. All-over logo patterns and sporty trims feature across many of the items, which are presented in sleek black and festive gold color palettes. The collection ranges from perfectly cut tuxedo and sequin dresses to tracksuits and sweaters, providing a broad variety of items and styles, suitable for the formal as well as the relaxed days of the Holiday season. The collection is further complemented with footwear and fragrances, as well as bodywear and accessories, such as bags and backpacks. The capsule invites the BOSS advocates to experience the Holiday collection through the virtue of giving and sharing joy.

www.boss.com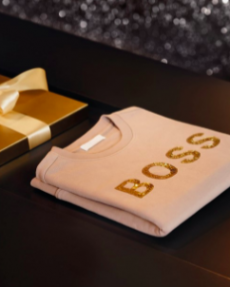 Fashion
Sabotaging Conventions of Jewelry Design
Free from confines; tethered to self. Unbound. Unchained. This is how the newly launched jewelry label Saboteur defines the essence of its brand identity. Founded by Thomas Sabo, Saboteur relies on the 35 years of design experience of the jewelry titan, while catering for a new generation of customers who seek unconventionality and individuality. Santiago Sabo, son of Thomas Sabo, herein represents the young generations to whom cultural inclusion, open-mindedness and unapologetic expression of the self are values reflected in their consumption choices. Saboteur is designed to break through the sophisticated worlds of jewelry by making use of mystical and metaphorical elements – portraying a spiritual cosmos while being balanced through geometry. The first two collections, called Elemental and Sacral, exhibited under the mantra "Unchain My World", show elements of industrial engineering that create charms representing solar systems and mysterious relics of extraterrestrial realms. Skulls and hieroglyphic symbols recur on the rings, bracelets, necklaces and watches of the Elemental collection, while the Sacral pieces present visual anecdotes to the North Star, compass silhouettes and studded spikes. Many of the pieces feature an interplay of axles, turning the charms into tiny wondrous objects that can be turned and tilted to the liking of its wearer. Combing the signature 925 Sterling silver of Sabo's design vocabulary with 18k golden elements, the jewelry line exhausts the possibilities of mixed metals, creating an allegory to their conventionality-defying vision.

www.saboteurworld.com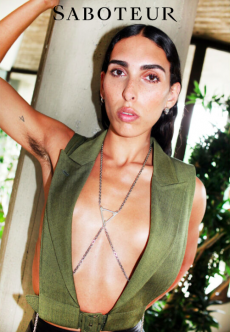 Fashion
Missoni x Supreme: A Gathering of Innovators
For the Fall21 collection, Missoni, a house rich in tradition, united its strengths with streetwear company Supreme. The history of Missoni begins as the founders, Ottavio Missoni and Rosita Jelmini meet. Ottavio Missoni gained his first experience in design by creating athletes' tracksuits for the 1948 Olympics in London, and Jelmini specialized in shawls and embroidery. Combining their prior garment experience and knowledge with the proficiency of knitwear construction and machinery of Rosita Jelmini's family, the couple founded a small knitwear studio in the north of Milan and started producing innovative lightweight knits that would become an unmistakable recognition value for Missoni. The jackets and sweaters of the collaboration are imprinted with an undoubtedly Missoni-esque-inspired pattern. Ottavio Missoni drew inspiration mainly from Guatemalan, Aztec and Incan textiles and was especially known and admired for his bold approach to color, creating a chromatic harmony by adding a third color to two clashing ones. The Missoni patterns are elevated in this collection, developed by implementing them on a new range of clothes. Supreme supplements the strong Missoni identity with its signature casual and sporty streetwear shapes and designs for the garments, such as hooded sweatshirts, crusher, and polo shirts, perfectly in tune with our zeitgeist.

www.missoni.com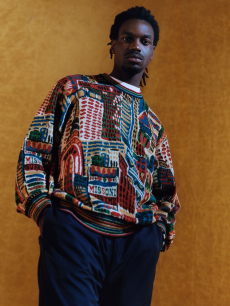 Fashion
Cartier: Love is All: About Compassion and Love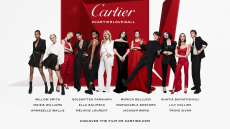 To celebrate and honor the feeling that unites humanity the most, the haute jewelry Maison Cartier decided to capture the spirit of love in a two-minute-long campaign video. The luxury conglomerate is known and admired for its highly crafted and thoughtfully designed jewelry pieces that are meant to elevate the individuality of the wearer rather than forcing an identity on them. The campaign is directed by British photographer Charlotte Wales, known for her light-hearted and thorough approach to filmmaking and therefore is the perfect choice to translate Cartier's core values into a film. The extraordinary campaign film puts unique and world-renowned personalities, such as Monica Belluci, Lilly Collins, Willow Smith, or Troye Sivan into the limelight. The artists, each masters of their own creative profession are visual carriers of the message that cultural and artistic diversity is essential for personal development. The storyline is accompanied by the particular pop song "Love is All", composed in the 70s by Roger Glover and Ronnie James Dio, which emphasizes the film as an ode to love. Cartier's Love is All is a perfectly and sensually composed love letter to compassion, coming together with family, friends, and loved ones which is the most important message behind the upcoming joyful holiday season.

www.cartier.com
Art
Cartier Fondation pour l'art contemporain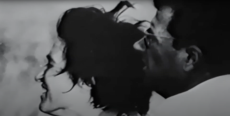 The Fondation Cartier unveils a particular film by Artavazd Pelechian at the 34th international documentary festival in Amsterdam. The foundation was established in 1984 by the luxury jewelry conglomerate on the concept of supporting artists and artistic creation through temporary exhibitions, live performances, and lectures. For the festival, Cartier decided to showcase the film Nature by Armenian film director Artavazd Pelechian. Nature marks a milestone for the director—it is Pelechian´s first published film after 30 years. The 64-minute film offers an exceptional cinematic experience, displaying found footage of natural disasters and Pelechian´s signature theme— humanity's relationship with nature. The director also created a new and sensual visual language through slowing, reframing, and inverting the archive footage used in the film. "I am convinced that cinema can convey certain things that no language in the world can translate. For me, it goes back to the Tower of Babel, to before the division into different languages," The exceptional film is the result of 15 years of hard work, thorough editing and relentless pursuit for perfection. The French luxury Maison proves once again its unparalleled intuition for unique potential, not only in jewelry designs but just as well in artistic productions.

www.fondationcartier.com
Fashion
Furla Cruise collection SS22: Sharing Joy in Italian
For the cruise collection SS22, the Italian leather goods company Furla celebrates its roots and embraces the cheerful spirit associated with Italy. Aldo Furlanetto founded the unique brand in 1927 while traveling across Europe as a trader in accessories and spreading the spirit. Henceforth, Furla reinterprets the Italian spirit with its leather goods, shoes, and accessories in a contemporary context of fashion. The use of high-quality materials and eclectic elegance are deeply-anchored in the success vocabulary of Furla. The cruise collection SS22 has a distinctive theme: "Joy is a group effort, Fun is for everyone, Sharing is everything" and a clear intention of sharing the uplifting atmosphere with the public. Furla presents the iconic Hobo bag, rounded with its gold monogram, padded handbags in silver, shiny nuances, made out of Nappa leather, and bright, neon-colored crossbody bags that guarantee to turn heads. The selection also showcases a range of small accessories, such as keyrings and card cases which upon closer inspection reveal themselves as depictions of bears and hedgehogs. The cruise collection SS22 is accompanied by the release of a campaign video that captures and diffuses the cheerful and careless spirit of the clothes. The recordings showcase a group of cheerful women dancing in broad daylight, surrounded by beautiful Italian scenery, which perfectly displays the core values Furla has been founded on.

www.furla.com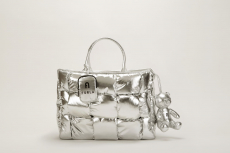 Fashion
MCM Cubic: Reinterpreting History
Monogram— the artistically interwoven initials have been adorning garments for decades now and have become a distinctive and firmly established part of pop culture. Many high-end brands, among them MCM understand the crucial role eye-catching logos play in times where consumers are continuously confronted with pictures and impressions, not least due to the void of accessible information online. MCM— which stands for Modern Creation Munich is best known and admired for its luxury luggage and finding enthusiasts in world stars like Diana Ross or underground artists such as Peggy Gou, ever since being founded in 1976. The 45th anniversary of the iconic brand prompted MCM to revive and reimagine its most prominent recognition value— the monogram. For the first time in the history of MCM, the brand presents three exclusive interpretations of the unique Visetos monogram. Previously this year, the Vintage Jacquard monogram was released. Through a highly-specialized weaving technique inspired by methods used in the world-renowned textile school of Bauhaus, the original logo receives a refreshing new design. The second interpretation is called CUBRIC monogram and stands apart from previous logos with a clean, straight-line pattern. The minimalistic approach resonates with the Bauhaus spirit, which is an integral part of German modernism. The compelling reinterpretations are incorporated in a range of signature styles, such as a casual tracksuit and complemented with a bucket hat.

www.mcmworldwide.com
Fashion
Saucony Highlights Fall/Winter 2021: Reimagines the Shadow 6000
This year marks a milestone for Saucony- the 30th anniversary of the iconic Shadow 6000. To celebrate the duration of the sneaker, Saucony decided to reimagine the shoe with five different themes- Destination, Food Fight, Pearl, Shadow 6000 OG, Sweet Street. Saucony was founded near a river in Pennsylvania in 1898. The brand name refers back to the city name "Saucon", which is the native inhabitant's meaning for fast-flowing river. The name of Saucony immediately resonates with a commitment to design and innovation. The Shadow 6000 was developed in 1991 with a new innovative sole, which achieves the perfect balance between heel steadiness, flexibility, and forefoot cushioning and results in the perfect essential for every professional runner. On the occasion of the anniversary re-interpretations, each limited edition of the Saucony classic takes the wearer on a different journey, through a land of sweets with delicious colorways or inspired by the act of marriage implemented in an elegant white design. The Shadow 6000 OG is a historic and significant version since it equals the original design from 1991 with blue, grey, and navy blue accents. Saucony's anniversary collection perfectly highlights the timelessness of the company's designs and passion for creative innovation.

www.saucony.com
Fashion
Bulgari Celebrated B.Zero1 Rock Chain in Berlin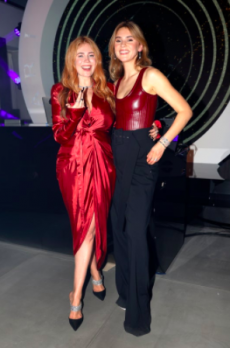 On the occasion of the new B.Zero1 Rock Chain collection, Bulgari celebrated its iconic jewelry line with an extraordinary cocktail party in Berlin. In addition to the two brand ambassadors Princess Lilly zu Sayn Wittgenstein-Berleburg and Stephan Luca, VIP guests such as Palina Rojinski, Viktoria von Faber-Castell, Veronika Heilbrunner, Gizem Emre, Sonja Gerhardt, Stephanie Giesinger and Langston Uibel celebrated the launch of the fierce collection. Inspired by the rigorous architecture of Rome's iconic Colosseum, the collection presents itself with an unconventional approach to jewelry design that celebrated the inspiring power of Bulgari's bold visions. B.zero1 Rock Chain stands for the uncompromising breaking of rules, a liberating expression of independence and strength, and a pioneering spirit - all of which are closely linked to the DNA of the Roman jewelry house. Thus, the new collection makes all lovers of exceptional jewelry pieces that underline their personality shine. In the spirit of the new collection, the Alhambra location on Kurfürstendamm was bathed in a sea of lights of white, yellow and rose gold, perfectly reflecting the Bulgari brand through a combination of precious materials and timeless design elements. The rapper UFO361 performed an extravagant live show under an oversized Bulgari B.Zero1 ring. The exuberant mood was reinforced by DJ Alexander "Ali" Schwarzer from Tiefschwarz, whose music set the tone for the unforgettable evening that celebrated the sparkling confidence of the B.Zero1 Rock Chain collection.

www.bulgari.com
Fashion
Valentino: A Tribute to Creativity
The Maison Valentino releases a sequel of the extraordinary first art book VLogo, curated by Pierpaolo Piccioli. For the second edition of the artbook, the creative director draws inspiration from 1968's spirit, a time defined by the desire for radical individualism and liberation from traditional values. Piccioli picks up the theme by visualizing the bold statement of this generation-"Power to the imagination." Paying tribute to unlimited creativity, Piccioli called upon the industry's most important players, such as 032c, AnOther Magazine, or Nylon China, just as well as the Valentino style offices to contribute to the project. The edition is filled with unique and different interpretations of the renowned Valentino Logo, created by various independent international publications. Furthermore, the book includes extraordinary images, texts as well as photographs, and drawings of specific moments in the recent past. The contributors reimagined the aesthetic core identity of the Maison, resulting in a broad, interesting spectrum of VLogo interpretations. The intention was to create this book as a canvas of possibilities rather than just a precious coffee table book. Piccioli's work perfectly visualizes and embraces the idea of creative freedom and contributes to a more diverse world.

www.valentino.com
Fashion
Dries Van Noten SS22: A Firework For The Senses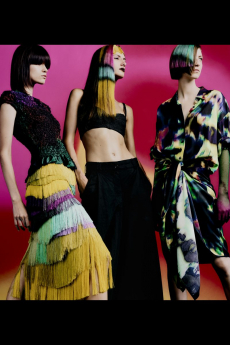 For the SS22 collection, the design team around Dries Van Noten draws inspiration from the Holi festival in India, renowned for its visible celebration of love and colors through colored powder clouds. The clothes embody the explosion of bold colors and euphoric emotions. Dries Van Noten is one of the most successful members of the Antwerp Six and is best known and admired for his creative integrity for his design process as well as the extraordinary aesthetic of his clothes. The collection showcases sculptural silhouettes, that perfectly mimic the festival explosions with heavily draped amounts of fabric on blouses as well as dresses. The garments also include shapes, that emphasize the body, such as caftans, matching suits, and jackets, cinched in the waist and finished with a flounce. Van Noten is picking up the theme of the Holi festival with the print and embellishments on his clothes. Replicate stains on garments give the impression of being doused with pigment and blurred photo prints of flowers and explosive fireworks on silk resemble a festival experiment. The color palette ranges from strongly saturated shades, such as orange, green, and pink as well as soft blues, purple, and mint to stripes in black. The special collection has been launched with a campaign video, directed by Albert Moya. The director perfectly captures the quintessence of Dries Van Noten´s latest collection- a celebration of love and joy, communicated through beautifully constructed clothes.

www.driesvannoten.com
Fashion
Salvatore Ferragamo: Joyous Anticipation of the Holiday Season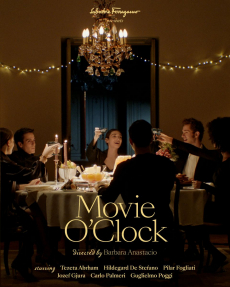 Salvatore Ferragamo´s festive holiday 2021 collection shows exquisite clothes that create a feeling of anticipation giving the viewer a glimpse of the upcoming days full of joy, nostalgia, and generosity. The collection consists of classical garments, effectuated with Ferragamo´s high aspirations of bespoke tailoring. A shiny black tux version, wool sweaters, and neatly cut skirts are accompanied and enriched by beautifully extravagant accessories. As such the collection include mules and boots, adorned with the letter F for Ferragamo and covered in glitter, a revived and extended version of the Viva Bow bag through new shapes as well as a soft penny loafer with a new Gancini detail. The special collections been launched with a campaign video, coming along as a short-film like story, putting the new house ambassadors Jelly Lin and SEULGI into the limelight as protagonists of a real-life Christmas carol. The storyline shows the two actors embracing the Christmas spirit, letting the festive ambiance into their hearts and leaving the daily life behind in a very literal way. The scenes accompany their shift from work attire into their festive outfits. The holiday 2021 campaign perfectly captures the brand´s deepest values and translates them into a joyous and cozy portrayal of Christmas, a holiday that celebrates friendship, family, and kindness- values that coincide with Salvatore Ferragamo´s vision.

www.salvatoreferragamo.com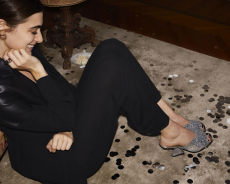 Fashion
Louis Vuitton Ski Mask: Innovation Meets Style
Right on time for the ski season-opening, Louis Vuitton launches a new Ski mask, that fusions fashion and function once again. Ever since its founding, the brand which has been initially known for its high quality and exquisite luggage pieces, expanded their assortment steadily, incorporating ready-to-wear, fragrances and an elaborate range of accessories- among others face and ski masks. This year, the winter vacation essential comes along with additional functions and aesthetic details, ensuring a golden mean between performance and style. The mask has a UV coating to protect the eye from harmful ultraviolet radiation and had to undergo a special post-production treatment, which results in an anti-fog effect as well as scratch resistance. The lenses are adorned with the famous LV monogram and available in exquisite colors such as black, blue, and orange. Louis Vuitton´s products are innovative and perfectly tailored to the needs of a customer, who plans on traveling into the mountains to ski. To ensure maximum visibility, the ski mask with darker lenses included a lighter version as well, meant to be worn on days when visibility is poor. The orange, pink and blue tinted lenses enable to notices and condition changes on the slopes in time.

www.louisvuitton.com
Fashion
Adidas x C.P. Company: Cinquanta
Functionality and intense fabric research, as well as innovation, are deeply anchored in the success vocabulary of the Italian sportswear brand. This year marks a milestone for C.P. Company, the 50th anniversary in business. For a long time, football and fashion lovers combined pieces of the iconic Italian brand with their German equivalent Adidas. In honor to celebrate C.P. Company's anniversary, the two pioneers finally decided to officially fuse their DNA in an exceptional range of garments. Chester Perry, later renamed as C.P.Company, was founded in 1971 by Massimo Osti, a man who would later go down in history as the "godfather of urban sportswear". Sports played a significant role in the implementation of C.P. Company´s experimental streetwear pieces into the mainstream. Both brands are closely connected to football. The limited collection, launched under the name Cinquanta, features signature styles and pieces of Adidas such as the Haslingden jacket, infused with C.P. Company's core identity. The Adidas icon is revived in a 1970s Italian camouflage print and made out of C.P. Company's signature fabric 50 Fili. Aside from that, a special team was assigned to the task of revisiting the archives of both brands, resulting in the Adidas Italia SPZL, a white full-grain leather sneaker, adorned with green and red details. Another noteworthy aspect is that the collaborative sneaker comes with an additional pair of outsoles, to provide an extended lifetime of the Adidas Italia SPZL. C.P Company and Adidas are a striking example of a successful collaboration between pioneers, blending their strong identities harmoniously together.

www.cpcompany.com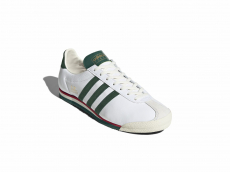 Fashion
PB 0110: Versatile Favorites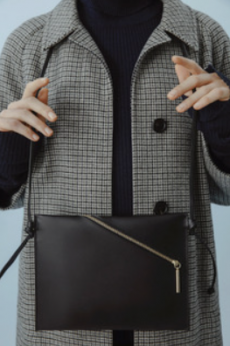 PB 0110's signature styles are the protagonists of the FW21 collection this year. The brand revived and reinterpreted their exceptional range of unique and elegant signature bags for this season. PB 0110 was founded by Philipp Bree with an emphasis on high craftsmanship, devoting enough time for the production of unique bags and accessories in a few selected reputable European manufacturers. He is an advocate of cherishing the longevity of an accessory. With his designs, he aims to nurture the idea of an essential accessory becoming a crucial companion, instead of a replaceable item. The designer initiated a collaboration with the designer and artist Ayzit Bostan, to pursue the idea of a revived version of the traditional Japanese "Sacoche'' bag. The so called AB112 is only 145 gr light, made out of a vegetable-tanned leather and accentuated with a silver zipper. In addition the shoulder strap can be adjusted individually by a knot on each side of the bag. The production factory is a Belgian tannery that first opened its doors 170 years ago and has been awarded with the Bronze Standard Certification - a factory that coincides with PB0110's high quality standards. The revived Sacoche bag is an elegant solution to the complexity of daily life - subtle enough to remain discrete, yet sturdy and sizable enough to fit the essentials.

www.pb0110.com
Fashion
Matthew Williams x Ewan Macfarlane: Sculptural Poetry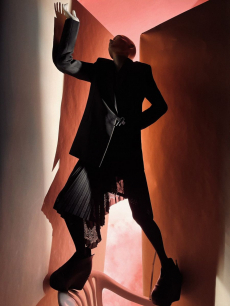 Collaborations have not only proven to be the best way for a brand to connect with a new audience but just as well to develop the brand´s DNA. Accompanying the arrival of Givenchy´s FW21 collection in a few selected stores, Matthew Williams initiated a ravishing collaboration with multimedia artist Ewan Macfarlane. The artist is best known for his impressive and poetic work dedicated to self-discovery. For a few selected retail stores, Macfarlane created captivating human-like sculptures, which are crouching, climbing, reaching or leaning or include disassociated limbs, all dressed in Givenchy. ´´What someone wears should always portray who they are inside. I feel like the beauty of Ewan´s work helps me convey that in a powerful& poetic way´´ explains Williams. The creative director is renowned and admired for perfectly combining the contrast of utility and luxury in his creations for Givenchy. By displaying these impressive mannequins, Macfarlane and Williams open a conversation on self-expression, meaning and evolution as well as craft, opulence and celebrating life. Refreshingly grotesque yet sculptural poetry. Macfarlane´s work perfectly emphasizes Williams quintessence thought for Givenchy, which is to take a look beneath the beautiful and luxurious clothes because, searching for the insides that really count.

www.givenchy.com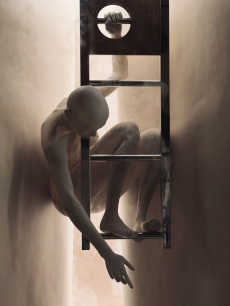 Fashion
A Story of Success: Louis Vuitton's Essentials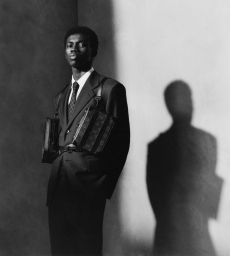 Elegant leather goods are deeply anchored in the success vocabulary of the traditional fashion house. Since the invention of the Trunk 1854, Louis Vuitton and his successors have been reinventing the Trunks constantly. From a medical kit for Damien Hirst, a helpful essential for Ernest Hemingway to Virgil Abloh's Mini Soft Trunk with a modern twist and - the trunk is a shapeshifter adaptable to any desired purpose. For the FW21 collection, the French brand re-interprets their everlasting Christopher and Soft Trunk designs. Louis Vuitton first unveiled the Christopher in the FW 2004 collection as a backpack and ever since revived it season for season in a wide range of different versions, always drawing inspiration from the iconic original. This season, the leather goods are available in in the recognizable Monogram pattern Taurillon Gommato and the chess pattern Damier, in black or white with shoulder straps and large opening to ensure easy access to the inside. The reinvented FW21 versions of the bags are centred around the acknowledgement of the need for a bag to serve a multiplicity of uses, for casual or formal occasions. The Christopher and the Soft Trunk are symbols of the traditional French Maison and carry an unmistakable recognition value. No matter which updated version of the trunk or backpack you prefer, it elevates every look and makes it unique as well as prepared for every possible change of plans and venues.

www.louisvuitton.com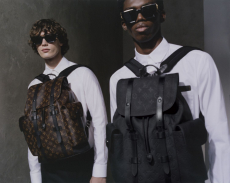 Fashion
Saint Laurent SS22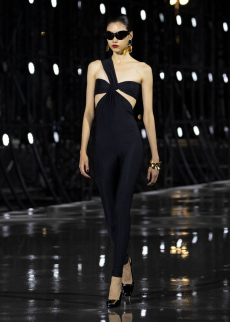 Here we are, ascending the white stairs at Place Varsovie, surrounded by the atmosphere of the French capital striving for normality. Here, at this specific place, stands tall one of its iconic symbols, the Tour Eiffel, shining enchantingly with its usual timed light show. As we arrive at the designated seating we see what at first glance looked like a mirrored floor only later to be discovered as the effect of water on the pavement. Little we knew what was going to unfold before us minutes later. As the sun starts to go slowly down the first look make its appearance. It's a long, sharp yet fluid dress with oversized shoulders, and bold jewels. Austere, yet revealing. Suits transform in overalls, and accessories transform into statement elements. It's the statement of a woman beyond genres and norms. The woman Yves Saint Laurent found as one of his dearest muses, the charismatic Paloma Picasso, whom the couturier met in the 60s and became a great inspiration for the so-called "collection scandale" presented in January 1971 "For a long time, I wanted to transpose this meeting between Paloma Picasso and Yves Saint Laurent, whose importance few realize in the designer's creative journey. It is a moment to which I am sensitive as a designer because for me it is the defining moment when Saint Laurent's fashion creativity became a style." Anthony Vaccarello speaks about the crucial moment when the couturier Yves met the socialite Paloma. Not many have been aware of its intrinsic importance. A moment that opened up free new artistic paths for Yves Saint Laurent, abolishing the solemn borders of haute couture and preconceived codes. Anthony Vaccarello likes to call it the "couture jacket". The superbly constructed tailored jacket, declined through radical cuts, dissolving genres and the definition itself of sensuality. As the last looks walk, a cascade of water starts to pour down the catwalk, the models, we the guests. We feel like baptized. Reborn, after these tragic times that took away many who will be always remembered. As will this fantastic show.

www.ysl.com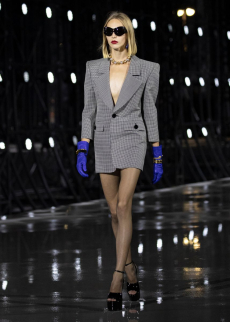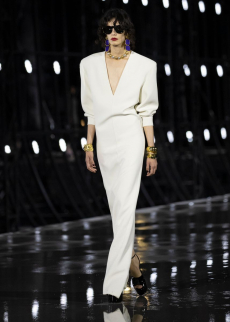 Fashion
Sportmax SS22 Shows How Harmonic Contrasts Can Be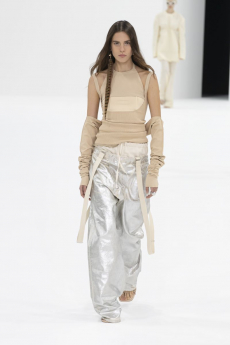 "Every something is an echo of nothing."
For this season's show the artist John Cage serves as main source of inspiration for the brand. The avant-garde composer is known best for his unorthodox ideas and especially the song 4'33'', presented in a complete absence of any sound and which profoundly changed the perception of music.The contrast between noise and silence, John Cage became famous for, is being transformed by the brand in a fashion context. Light backgrounds stand in contrast to dark as well as vibrant colors used in Sportmax' creations. The models wearing intricately, heavily draped amounts of fabric appear out of nowhere between clean walls that can not be distinguished from the white floor on the runway, like an echo caused by the reflection of a sound coming out of nothing. Sportmax' SS22 looks include jumpsuits with big, puff details on the sleeves as well as boxy cut blazers and second skin bodysuits, in a color palette covering natural shades in contrast with bold colors like lilac and fuchsia. The brand also presented charming contrasts between corsetry details and long flowing dresses in soft earthy tones. The journey through the different kind of contrasts inside and outside of the clothing, Sportmax invites us to this season is a perfect addition to Cages silent music studies.

www.sportmax.com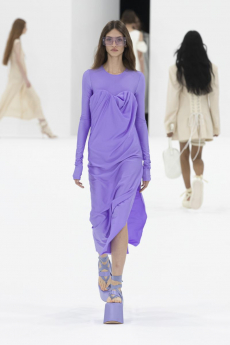 Fashion
Prada SS22: Seduction Explained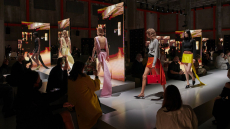 The duality of the Prada SS22 show, staged simultaneously in Milan and Shanghai-connected via live stream, is a perfect portrayal of the two featured influences, the unconventional beauty chic founder Miuccia Prada and elegant streetwear representative Raf Simons working together. Creating the clothes for the SS22 collection, Prada and Simons have reached the bare structural essentials of the clothing, the ultimate climax of a path of seduction, like the curves of a brassiere, framework of a corset or opened buttons at the back of an elegant silk dress. It featured also draped nude dresses, resembling a bone like structure and silk mini skirts in combination with slightly used-looking leather jackets in different silhouettes, a formal and casual blend, a sophisticated contrast which also mimics Prada and Simons´ partnership. The process of stripping down aims for much more than showing of skin- instead the clothes emphasize the sensual game between bare skin and the soft layers of fabric. Prada and Simons created a new form of sensual sexuality, a more hidden one, giving our mind enough space to create own fantasies.

www.prada.com
Fashion
Salvatore Ferragamo SS22: An Hommage
Real, authentic Italian craftsmanship is Salvatore Ferragamo's core identity and the reason for an unmistakable brand identity. For this season's show the Ferragamo team decided to honour the brands founder, by drawing inspiration from the depths of the Ferragamo Archives. For this season's prints, the brand dug out Julien Colombier's floral foulard motif from the 70s, that was embroidered, utilizing an ancient Italian needlework tradition. The looks include 60s flared, wide as well as body hugging silhouettes inspired from Luis Buñuel's 1977 movie "That Obscure Object of Desire''. The brand even takes the signature tiger print and recontextualizes it on a range of different garments. Always following the motto "sensually soignée literation'' the fabrics are made out of cotton, wool, silk, linen as well as hemp and reflect a soft and casual coziness. The iconic accessories such as the "Vara'' and the "Varina'' are brought back to life in new colors and materials. Especially noticeable and matching the 70s inspiration is the red thread that runs through all the looks: a black silk scarf worn in different combinations, as a headband or lightly curved around the shoulder. The show is a perfect reimagined and revived portrayal of Salvatore Ferragamo's core identity.

www.ferragamo.com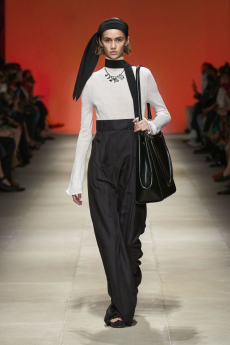 Fashion
MCM: Urban Luxury Commute
MCM's current collaboration with Urwahn elevates ordinary city commutes to a luxurious cruise. Taking inspiration from the metropolitan dynamic of Munich in the 1970s, the two brands have created an E-bike that unites their expertise and design language in a future-oriented way. "We wanted to develop a collaboration that celebrates the essence of moving from the past into the future. URWAHN is a thoroughly German company known for its high-quality engineering, making it the perfect partner with which to celebrate our 45th anniversary," is how Dirk Schönberger, chief creative officer, describes MCM's initial vision behind the collaboration. Whereas this collaboration marked a step into unknown waters for MCM, the outcome sets a high for successfully combining urban mobility with a luxurious lifestyle. A 3D-printed frame, entirely coated in copper and adorned with the iconic Visetos Monogram - that is unmistakably associated with MCM - exudes an opulent aesthetic. Logo-embossed brass framings and reflective MCM emblems plastered over the rims make for an impressive, lasting brand impression. The E-bikes are hand-built in the German town Magdeburg at one of Urwahn's factories and are the result of detail-oriented design and professional execution. The attention to detail goes beyond the bike itself. MCM also took the riders' needs into consideration and conceived a special-edition Urban Bottle with 24Bottles. Only available with the MCM x URWAHN E-Bike, this lightweight water bottle sports the brand's iconic logo and color and with its glamorous Chrome Finish reflecting the light, it isn't just a great alternative to plastic bottles, but also adds a gorgeous touch.

From September 22nd onwards, 10 of the bikes will be presented in selected MCM stores worldwide.
The e-bike, limited to 40 pieces, will be available online from October 1st.

www.mcmworldwide.com
www.urwahnbikes.com
www.24bottles.com
Fashion
Doucal FW21/22: Urban Outdoors
With the recent eruption of outdoor interests, the world of womenswear has been opened to new spheres. With true Italian craftsmanship, Doucal has taken inspiration from this development, presenting their FW21/22 collection with ghillie lacing, fine textiles and material inserts on functional footwear shapes. Timeless styles and considerate details are prompts that attract the educated, selective customer of these days. Doucal translates these variables into their design, in particular with three of their shoe models. For the FW collection, Doucal has put a spin on their classic Chelsea boot from the previous collection by focusing on an aerodynamic shape, giving the well-established boot a more athletic touch. Shiny leather combined with a rubber sole creates a trans-seasonal mood that delivers durability. Similarly, the loafers of the Italian brand combine tradition with comfort through a rubber sole. Doucal's sneaker models have been elevated with fabric elements, such as wool and feature neutral color blocking that makes them suitable for city looks. Additionally, the collection premieres an ankle boot with a flared heel that picks up the material mix of the collection. The men's collection ventures out into a more athletic approach; presenting ultra-light soles, technical details and rubberized inserts. Previous models, such as the Kobe and Andrew, are reborn with new color palettes, nylon waterproof patches and wax treatments while offering a range from walking shoes, boots to monk shoes and loafers.

www.doucal.com
Fashion
BOSS x Russell Athletic Pre-Spring 22: Game Day Energy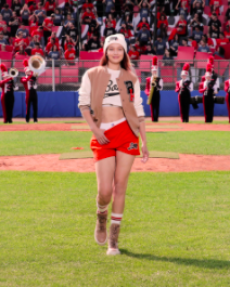 BOSS x Russell Athletic Pre-Spring 22: Game Day Energy On the occasion of their second collaboration, Boss and Russell Athletics presented their looks in a classic American manner on the lively baseball field of the Kennedy Sports Center in Milan. The show was opened by Gigi Hadid, sporting an emblematic blouson jacket, uniting the tailoring experience from BOSS with the casual designs of Russell Athletic. Gigi's opening set the bar for a plethora of celebrities featured in the show, such as Irina Shayk and Joan Smalls, who presented the 60 looks of the collection. In an encompassing way, the show reproduced compelling game-day energy with a marching band, cheerleading teams and a jubilant crowd, including personalities like Chiara Ferragni and Tik-Tok star Younes Zarou. The SS22 collection champions team spirit and companionship with matching looks, featuring classical sportswear elements such as varsity jackets, crewnecks, hoodies and jerseys. Tapping into the design potential of team merchandise elements with pithy logos and slogans, dynamic stripes and oversized silhouettes, the collaboration extrudes the legacy of casual streetwear. The neutral color palette ranging from camel, black, white and navy as the basis of the collection delivered the perfect playground for color coding with orange, red and teal accentuations, resulting in visual unity yet immediate affiliation to imaginary sports teams - creating a replica of the fashion seen in stadium stands.

www.boss.com
www.russellatheletic.com
Fashion
Editions de Parfums Frédéric Malle: Synthetic Jungle
Anne Flipo, who has been appointed as "Master of Parfum" by the IFF New York in 2019, has created an opulent and unique fragrance for Editions de Parfums Frédéric Malle. Her olfactory style is defined as modern, precise and powerful and is perfectly represented in her recent creation Synthetic Jungle for Frédéric Malle. The resulting fragrance is a tribute to its very own name – richly evocative, green, vegetal and flowery. The perfume is an olfactory embodiment of a jungle, relocating the wearer into the setting of abundant greenery, exotic plants and floral freshness. Since the millennial turn, Editions de Parfums Frédéric Malle has given master perfumers from all over the world complete freedom, guiding them to the pinnacle of theirs art and providing them with exceptional material. Without time, budget or marketing constraints, Frédéric Malle champions the artistry behind the world of perfumes. Anne Flipo herself describes the development of Synthetic Jungle as "the joy of composing with no time constraints" and as a creative outlet "where everything is possible." The approach cultivates an eclectic range of perfumes representing the unique diverse personalities and art of their creators. As such, synthetic jungle is an ode to Anne Flipo's preference for floral and green palettes.

www.fredericmalle.com
Art
Gallery Weekend *Discoveries: Offset
Coinciding with the Gallery Weekend *Discoveries, LA-based artist Kate Mosher Hall is showcasing her first solo exhibition at Tanya Leighton. Kate Mosher's artworks are individuated by her unique style. The painting displayed in Offset revolve around a play of black, white and grey-scale; capturing walls, facades, windows and doors hid beneath shadows, partially illuminated by faint light beams. By depicting close up details of larger imaginary architecture and blurring the surroundings into silhouettes and hushed projections, Kate Mosher Hall draws in the attention towards a specific segment. The paintings exude simmering darkness, letting the mind of the observer pause with an uncertain premonition, following the pathway of the light beams. The imagery carries a melancholic heaviness, enforced by the low-resolution style of painting. The grainy overlay amplifies a feeling of secrecy and indeterminacy. While looking at the surfaces the pictures seem to question realities, portraying an intimate yet secluded emotion that trailblazes a feeling of foreshadowings. The mind begins to wander, curious to see through the glass of the windows, through the blinds and curtains, through the keyholes of a door – only to reveal nothing but what the observer's inner eye fathoms to imagine. The light beams search with a faint luminosity, seemingly escaping the two dimensions of the paintings, just a moment in time away from unveiling what lies behind the blurred surfaces.

Offset by Kate Mosher Hall is exhibited at Tanya Leighton, Berlin, from September 17th to October 23rd 2021.

www.tanyaleighton.com
www.gallery-weekend-berlin.de
Art
Gallery Weekend *Discoveries: Senorita Latifa Sharifah
Sculptural collages made from peculiar objects are the centerpieces of Jasmin Werner's first solo exhibition at Guido W. Baudach Gallery. The exhibition consists of two of Jasmin Werner's latest series, Wholly Family and Schloss der Republik Burj Khalifa OFW. The common ground of the two series that together make the exhibition Senorita Latifa Sharifah is the display of peculiar and arbitrary objects, puzzled together into assemblage-like sculptures which exude cryptical and allusive allegories. As such, the exhibition features sculptures in which combine construction mesh prints with light installations. Many of the assemblages feature quirky objects such as children toys like chopping cart that are turned into extension cords that power the light work or miniature ladders, inducing a change of perspective and size distortions. The Cologne-based German-Filipino artists used mostly recycled materials from former works at Städtische Galerie Bärenzwinger in Berlin. Through the new interpretation, in which she dissects the former scaffolding sculptures and images of buildings, she connects the locations of the Palast der Republik, the Berlin Stadtschloss and the skyscraper Burj Khalifa in Dubai.

Senorita Latifa Sharifah by Jasmin Werner is exhibited at Guido W. Baudach Gallery, Berlin, from September 11th to October 16th 2021.

www.guidowbaudach.com
www.jasmin-werner.de
www.gallery-weekend-berlin.de
Art
Gallery Weekend *Discoveries in Berlin
Extending the annual event of Berlin Gallery Weekend, the melting pot capital is hosting a special offshoot of the art event that focuses in particular on up and coming talents of the art scene. For three days, the city turns into a hub of artistry, showcasing the work of young creatives in all their manifoldness. Named Gallery Weekend *Discoveries the event invites to explore the plethora of artworks, ranging from paintings to sculptures, to installations. The exhibitions feature a variety of topics revolving around current matters, personal views and the latest developments. Prior to the opening for the public four authors have visited the sites and derived and put to paper four tours that provide support for visitors who do not know their way around Berlin. The tours are divided into Berlin's districts, from Mitte & Wedding, Kreuzberg, Charlottenburg to Schöneberg. The routes are accessible in written form on the Berlin Gallery Weekend website, where visitors can get a first glimpse on what awaits them during their time without giving away the details that can be discovered on the tours. Besides the individual and duo exhibitions, the Gallery Weekend *Discoveries have curated the group exhibition K60 with a combination of eight renowned galleries set up in the industrial location of the Wilhelm-Hallen.

The Gallery Weekend *Discoveries are open to public from September 16th to September 18th 2021.

www.galleryweekendberlin.de
Fashion
Longchamp FW21: Seasonal Reinterpretations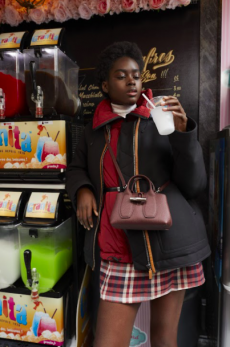 For the FW 21 collection, Longchamp explored a seasonal reinterpretation of two of their star pieces – the Brioche bag, named after the delectable French pastry and the Roseau bag with its signature bamboo toggle. Inspired by the evergreen charm of the Parisienne, the French Maison revisited the two iconic bags with the suave wink French women are known for, expressed in the campaigns through a humorous take on ordinary situations of daily life. The Brioche is presented in a sleek, compact design with a versatile metal chain and it's signature neat flap that allows for a surprisingly spacious interior. A leather-covered, metal-rimmed clasp nods to the leather expertise Longchamp is known for. This season, the Brioche's color palette is replenished with a pastel powder pink and a neutral dove grey. To counteract the soft nuances, a shiny snakeskin-effect leather version as well as indigo denim style one cater for a more outspoken look. Another new version of the Brioche features a sporty 60s vibe with graphic stripe elements. Lastly, the reinterpretation spawned an ivory-colored Brioche with a shearling-effect canvas and a natural calfskin clasp. The Roseau bag has been revisited with a smooth leather body in natural ecru and red color, accessorized with a chunky toggle and chain giving a vintage look, as well as more contrasting material choices such as crocodile-print leather and velvety suedes.

www.longchamp.com
Art
Brussels Gallery Weekend: Four Months, Four Million Light Years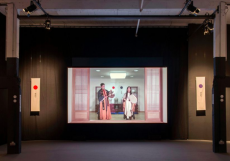 On February 8th, 2021 the Dutch government has officially put an end to transnational adoptions, hoping to prevent the systematic trafficking and fraud that these processes often inherit. Korean/ Dutch artist Sara Sejin Chang set herself to raise awareness of these past malpractices by dedicating an exhibition to the matter. With Four months, four million light years she captures the colonial past of interracial adoptions. Named after a decree of the Korean government, which stipulated four months as the minimum time frame for children to stay in one orphanage before adoption, the exhibition calls out the transnational and transracial adoption industry. The adoption industry leaves a trail of individual fates confronted with deracination and an ever-lasting question of cultural belonging. The artifacts and anecdotes displayed are an homage to these persons who have been separated from their families, ancestors and inevitably cultural heritage. A composition of textiles, paper text banners and drawings accompany a video projection of a colonial print that marks the entry point of the exhibition. The print serves as a memorial for the beginning of a long history of racialized and infantilizing descriptions of Asian cultures and the violent eradiation of shamanistic cultures by Western missionaries. Drawing from her own experience and those of other adoptees, Sara travels through time in her works, from early colonial descriptions to contemporary adoption society. Sara honors the healing power of the shamanic figures and ancient traditions throughout the exhibition, emphasizing how a reconnection to cultural roots and spirituality is a sacrosanct pillar for adopted persons.

Four months, four million light years is exhibited at Argos, Brussels, from October 9th - December 12th 2021.

www.argosarts.org
www.sarasejinchang.com
Art
Brussels Gallery Weekend: Soap Opera
For the third time, Takahiro Kudo exhibits his most recent works at the Archiraar gallery. Kudo's creativity often revolves around the idea of restriction, he defines the physical presence of humans as a state of being trapped. Since the body is the vessel for human's mental activity, Kudo pursues the idea that restriction itself is the matrix of human purpose. Given the development of the past month and the succession of a global pandemic, Kudo investigated the term of restriction in a new light. In times where turning inwards, metaphorically and literally, was not a choice but a given, the notion of restriction has changed. Various practices and concepts of social life have been put on hold. Resulting from the forced collective social sabbatical, society has newly defined what it means to be connected or secluded. In his most recent works, Kudo channeled his own development during social distancing in recent times. Reflecting on his personal experiences with separation and connection, he discovered a new meaning of the term that applies to the fluctuating intimacies of private lives. Aligned with the close to real-life concept of his work, Kudo experimented with soap and acrylic glass, both materials that symbolize self-care and separation. By depicting private yet common narratives, the exhibition of Kudo's work illustrates the dynamics behind distancing oneself in social engagement, the commodification of happiness and its consumption.

Soap Opera is exhibited at Archiraar Gallery, Brussels, from September 9th - November 6th 2021.

www.archiraar.com
www.takahirokudo.com
Art
Brussels Gallery Weekend: Around the Figure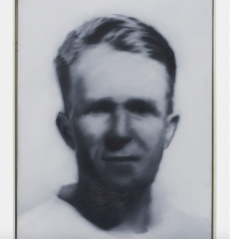 The exhibition Around the Figure touches upon the reconfiguration of the human body since the post-war years. After a time of austerity, the following years marked a liberating shift concerning the vision of the body. This shift in perception brought along artistic practices which explore the transformative states of human physicality. The exhibition addresses the question of whether the corporeal body truly belongs to the human. A compound of sculptures, photography and paintings from various artist shine a light on bodily perception in abstract and figurative ways. The works center around the predicament between the human desire to reveal the true self and the impulse to remain inscrutable to the outside world. This constant dynamic between exposing and concealing, propelled by second-wave feminism and the sexual liberation movement, exemplifies how the body is harnessed and liberated simultaneously. Control versus powerlessness plays a significant role in many of the exhibited artworks. As such, Cindy Sherman's self-portraits delineate the male gaze on the female body, proving how the self-control over the own body is limited. Gerhard Richter challenges the mind's eye in a portrait that depicts the temporary, unreliable character of distant memories, indicating how they are replenished by vague remembrances. Blurring the lines between the individual artists' visions, the exhibition opens a discourse on the individual and inevitably societal perception of the human figure, painting a holistic notion of the mutability of the body of the past seventy years.

Around the Figure is exhibited at Vedovi Gallery, Brussels, from September 10th - November 13th 2021.

www.vedovigallery.com
Fashion
Swarovski Wonderlab Collection II
A world where magic and science meet, a world full of wonder – from muses of the Bohemian movement to design aesthetics taken from the Swarovski's Austrian heritage, the second collection of Wonderlab enrichens the timeline of the jewelry brand by a modern twist. Each crystal item of the collection represents a microcosm of an individual world in which the magic of Swarovski jewelry unfolds in manifold ways. The collection exhibits an interplay of colors, textures and cuts that symbolize self-expression in all its various ways – classic, punk, sweet, striking and every nuance in between. Aligned with this expressive nature, the collection is launched with a campaign that represents the opposite of archetypes in all their authenticity. The Wonderlab Collection II cherishes the success of the preceding Collection I; paying tribute to the families of the original collection with evolved takes such as unisex approaches, new forms and colors. Besides, the Wonderlab Collection II presents a quartet of new design families: Abunda embodies technical marvel, exploring architectural elements, focusing on the prowess of craftsmanship. Dextera exemplifies geometric embellishment, parading crystals precisely composed around metal frames that radiate a "mathemagical" fusion. Imber replenishes the Wonderlab themes by a softly sensory experience, with crystals that create a cascading illusion, inspired by the classic Swarovski chains. Lastly, Stella features dark and dreamy star-shaped pieces that play with proportion and lets starlets and stargazers dream of alternate realms.

The Wonderlab Collection II is available from September 7th in-stores as well as online.

www.swarovski.com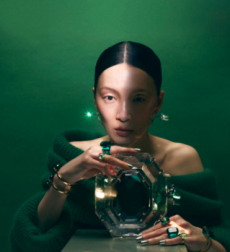 Fashion
Galop d'Hermès: Equestrian Anecdotes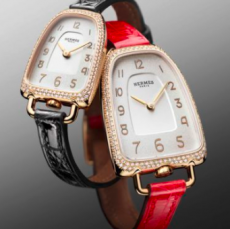 The Galop d'Hermès watch, created in 2019, exemplifies a thoughtful creative process. The watch revisits the Maison's equestrian codes with its watchcases that is inspired by the shape of stirrups. The Galop d'Hermès was born from the detailed observation of Californian designer Ini Archibong, who immersed himself into the archives of Hermès creations. Bridoons, stirrups, bridles, harnesses - with his streamlined and balanced style, Archibong merges avant-garde interpretations of these design anecdotes with the beknown functional simplicity of Hermès objects. Now, Hermès relaunches the classic piece in a smaller format. Closely linked to the House's watchmaking repertoire, the Galop d'Hermès is a piece that combines the practicality of a watch with the delicacy of jewelry. The new "Petits Modèles" are available in rose gold, plain steel and in a steel bedazzled with no less than 134 diamonds. The case's soft angles close around a wide-open dial, punctuated by Arabic numerals of different sizes. Enlarged on the lower part of the display, they convey movement and a shift in perspective. The progressive typography, finely highlighted in anthracite, stands out against a sandblasted background, while the hands hover over a smooth opalescent surface. A final nod to the world of horses, the number 8 forms an inverted stirrup. A calfskin or alligator strap, made in the Hermès Horloger workshops, extends the aerodynamic and futuristic lines of this creation.

www.hermès.com
Fashion
Amsterdam Fashion Week: Wandler FW21
Without light, there is no color. With this mantra in mind, the FW21 collection of the Amsterdam-based accessories label presents itself in a bright, apple green color palette. Being the vanguard of the Amsterdam Fashion Week 21, Wandler orchestrated an art show that put the collection's items in the limelight– in a literal way, creating a homage to colorful expression and celebrating the significant role of colors in Wandler's creativity and collections. Introduced by a light installation and narrated prose that touches upon the empowerment of color, Wandler showcased the collection at an abandoned gas station in Amsterdam Noord. The graphic elements of the light installation represented the striking shapes and unexpected nature that Wandler's designs are known for. Following the installation, the items were presented in a lab-like manner, drenched in green neon lights, radiating a sophisticated and confident atmosphere. The choice of apple green reflects on past times and simultaneously embodies hope, growth, joy and happiness, pointing towards a bright future – in general, as well as for the Amsterdam label itself. The collection features the classic Wandler pieces such as the Rosa boots and loafers, as well as the Penelope and Louis bags. For the FW21 collection, the brand's most iconic piece, the Hortensia bag, parades its rounded, trapeze shape in the fresh emerald color, too.

www.wandler.com
Fashion
Cartier The Clash [Un]Limited with Lily Collins
Free-spirited, energetic and authentic are the attributes that make for Lily Collin's alluring charm. With a unique and committed attitude, Lily belongs to the generation of artists who embrace and celebrate their different sides, the classic and the elegant, the creative and the extravagant ones. She embodies a woman, who does not limit nor label herself. Lily has been a muse and friend of Cartier for a long time, her individualist and multifaceted nature makes her the perfect fit for Cartier's The Clash [Un]Limited jewelry collection and the Double C Cartier Bag. "For me, being part of the Cartier family means joining a community of unique nonconformists who show great strength of character. Cartier is Paris, it's this certain idea of elegance and French refinement, which the Clash [Un]limited jewelry and the Double C bag embody with classic extravagance," is how Lily describes her campaign collaboration with the renowned French Maison. Lily is internationally known for her diverse range of acting, including movies like OKJA, The Last Tycoon and more recently, the immensely popular Emily in Paris series, for which Lily was nominated for a second Golden Globe. Aside from an astonishing career sparked with one-of-a-kind movies, the actress shows commitment to charitable projects, being involved with several nonprofit organizations, collecting funds for vulnerable, deprived children.

www.cartier.com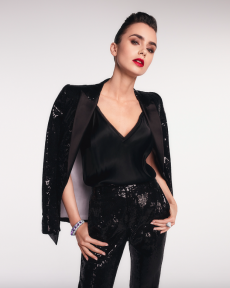 Fashion
HUBLOT x NOVAK DJOKOVIC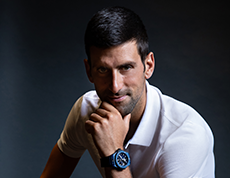 Joining the ranks of top-tier athletes like Pelé, Usain Bolt, Dustin Johnson and Kylian Mbappé; Hublot has selected their latest ambassador, Serbian tennis superstar Novak Djokovic. In anticipation of the US Open, the world's number one tennis player has aligned his pursuit of greatness with luxury watch-maker Hublot, in becoming an ambassador and part of the Hublot family.
Djokovic's mastery of the sport is evidenced in his life's work, having 85 singles titles on the ATP circuit, 20 Grand Slams, 5 Masters games and 36 Masters 1000 games and an Olympic medal. In addition to his many accolades Djokovic is the only player in the Open era to have won at least two Grand Slam tournaments. Ricardo Guadalupe, Founder of Hublot, the opulent Swiss Watch company which created the Big Bang in 2005, spoke fondly of the star tennis player, saying "we are particularly honored to have the great Novak Djokovic join our beautiful Hublot family. He is a player who makes tennis history by being unique, first and different, which is exactly our motto. It's a great day for Hublot!"
To excel beyond that which is widely seen as expected or attainable, to reach further than your imagination can comprehend; to truly be the best at your craft is a conquest that is shared by Hublot and Novak Djokovic.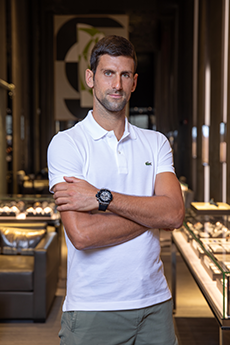 Fashion
Remastered Archives at C.P Company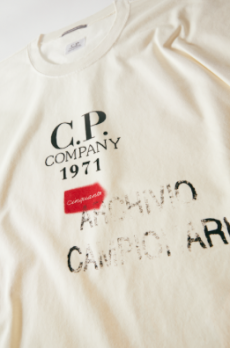 In 1971 C.P Company, then still called Chester Perry, was called to live by Massimo Osti. Osti, who had a background in graphic design, was soon earned the reputation of a "godfather of urban sportswear". Ever since, C.P. Company has been known for its hybrid style that combines elements of vintage military and sportswear. For their 50th anniversary, the revolutionary streetwear brand has launched a series of celebratory chapters, of which the latest, chapter six, is the collection Remastered Archives. With Remastered Archives, the Italian brand cherishes the past of its legacy by reinterpreting pivotal designs of their creative history. The most emblematic item of the brand, the classical t-shirt, has been used as a canvas to portray the retakes on these nostalgic designs. The design of the shirts relies on the graphic design roots of the brand, featuring a variety of type fonts that bestow a bold yet simple message. Iconic moments of the brand, such as the British Sailor motif, the Flatiron Building – which represents the site of the very first C.P Company store –, the Rainforest Foundation moment and the original MilleMiglia race mark celebrate the half-century anniversary with all its landmarks. The appearance and feel of the t-shirts are also a nod to both historical designs and current aesthetics, using heavyweight cotton, a relaxed fit, and a higher neckline.

The Remastered Archive collection is available at all C.P Company flagship stores in Milan, Amsterdam London and Riccione, as well as online.

www.cpcompany.com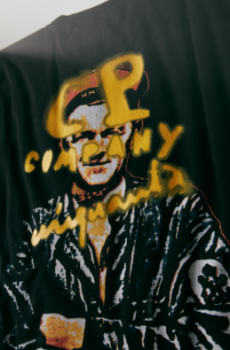 Fashion
Responsible Living: DIESEL Library
The next chapter in eco-friendly denim production from high quality denim brand, Diesel. 'Diesel Library', which will be presented for the brand's Spring / Summer 2022 collection, incorporates a genderless design aesthetic and extends the brand's commitment to innovation and production technologies that consistently make durable and desirable denim garments. The removal of the 5-pocket demarcation between women and men offers a new perspective on the most democratic material, denim, and to usher in a new era of essential pieces at Diesel.
All fabrics consist of resource-saving materials, including B. organic and recycled fibers The techniques implemented in making the Diesel Library significantly reduce the use of water and chemicals. 50% of the Diesel Library will be "made-to-stay," meaning that they will have a permanent home on the shelves in the future of the brand. Leather patches are tanned free of chrome, the metal buttons found in the Diesel Library are treated without zinc, even the labels found on each piece are made from recycled materials. Tags and patches are also made from FSC certified materials. This reinforces the brand's dedication to sustainability, a "total look" will anchor the wide range of eco-friendly garments in the evergreens collection; intended to outlast trends and withstand the test of time.
A first look of the Diesel Library collection premiered at a show hosted by Creative Director, Glenn Martens in June of this year. The garments will be available from November 2021 online and in select Diesel stores globally.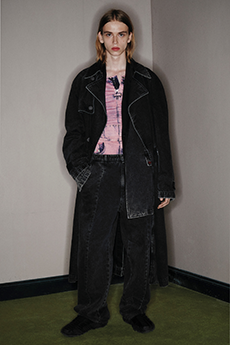 Fashion
FW 21 Suicoke x Daniel Arsham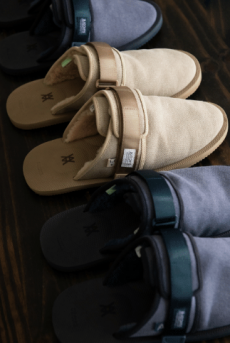 For their FW 21 collection, Japanese label Suicoke collaborated with Daniel Arsham. The New York based artist contributed to Suicoke with a textile design applied to one of their most iconic shoe styles, the Zavo. Inviting comfort and items that create a certain atmosphere are central attributes that determine the design process of Suicoke. The Zavo style embodies these characteristics with a a closed toe cap and a flat sole with a raised foot bed – resembling a pantofle. Arsham overhauled a Porsche 911 from 1986 in late 2020. For the shoe collaboration, he lent the canvas design of this automotive work to Suicoke. Thus, the FW 21 Zavo version features a sturdy, heavyweight stonewash textile material. The cap is finished of with a horizontal strap showcasing the Arsham Studio logo, along with a branding emblem on the inside sole. Fur ultimate comfort, the Zavo variant is lined with mouton fur, which increases heat retention and premium comfort and is available in navy and beige.

The Suicoke x Daniel Arsham collaboration footwear will be available online and at selected global retailers from August 20th 2021.

www.suicoke.com
Fashion
CHANEL Watchmaking: Monsieur. Superleggera Edition
"With its powerful engine, dream coachwork and unique finishing, the Monsieur. Superleggera Edition watch opens new roads that lie ahead" is how CHANEL presents the launch of a unique watch that compromises the most distinctive elements of two renowned chronograph lines – the Superleggera and the Monsieur. Resulting from this rendez-vous, a unique blend of high-tech and elegance emerges. The Superleggera line, consisting of unisex chronographs that appeal to both women and men, features an athletic, masculine look manufactured from high-tech aluminum. The J12 Superleggera proclaims a passion for performance and a love of sports. On the contrary, the Monsieur, characterized by old-school classic elements, is a timeless, scaled-back watch that charms with elegance and grace. With its understated leather bracelet and detail-oriented clock face, the Monsieur watches do justice to their name. The Monsieur. Superleggera Edition stands for a contemporary interpretation of fine watchmaking for men at CHANEL. The new interpretation is inspired by racecar speedometers and has been designed to stand out from the crowd. With a matte black ceramic 42mm-diameter case and a matte black dial with a small detail of red calfskin the Monsieur. Superleggera Edition persuades with a discrete force.

www.chanel.com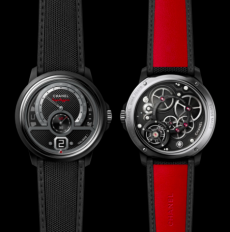 Fashion
Karl Lagerfeld x Aubade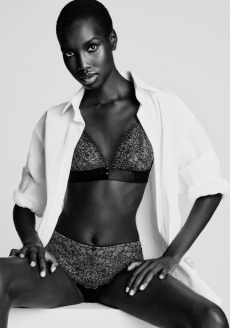 Aubade Paris has been manufacturing premium lingerie for over 60 years. Over the decades, the French brand has acquired incomparable expertise in corsetry that delivers the perfect fit and cut to their loyal customers. Bringing confidence through empowerment to women is the philosophy behind Aubade. Relying on experience and craftsmanship, Aubade modifies its undergarment collections to current trends and styles. The quality values and aspiration to go with the Zeitgeist show in their latest collaboration for an F/W 2021 capsule with Karl Lagerfeld. The collection consists of four underwear sets, available in an elegant black version and as well a bolder variant of bright red. Karl Lagerfeld's signature rock-chic design and tuxedo inspirations shine through in selected details and are completed by a clip-on collar and waist corset. From simple to daring, the capsule offers a range of styles that celebrates the body in true classical French fashion. The pieces are crafted from premium quality fabrics and haberdashery, including satin-covered buttons, guipure embroidery and mesh embellishments. The development of the collection centered around the mutual Parisian heritage of the two brands, merging together Karl Lagerfeld's design creativity and Aubade's proficiency in manufacturing.

www.karl.com
www.aubade.eu
Fashion
Alpine Capsule: Skiing with Dior
As an ode to the Alps' winter wonderlands, Maria Grazia Chiuri designed a capsule collection that fusions Dior's elegance with sporty skiing attires. Concentrating on looks that combine style and high-tech functionality, the designs are not only suited for going down the slopes but for après ski occasions as well. The capsules' color palette consists mostly of white and black alpine looks accentuated with red and navy details. Voluminous puffers, trousers and the classic book tote are available in leopard print for an extra dash of glamour that creates an unusual contrast to the snowy landscapes of the mountains. Knitted sweaters with patterns that distantly remind of traditional alpine garbs complement the aim of the collection to meet athletic as well as leisure purposes. The brand's signature logo pattern - the Dior Oblique, as well as the infamous camouflage and the Dior lucky star motive, are featured throughout the designs as well. For the maximum coordinated look, accessories like an ultra-matte ski mask and logo-emblazoned sunglasses are part of the Dior Alps collection too.

The Dior Alps capsule collection will be available in-store starting mid-September. 

www.dior.com
Fashion
Freedom Now x Versace Jeans Couture
Freedom is a volatile notion, it takes on different forms for each individual identity and is both universal and personal at the same time. In a quest to find an answer to the contemporary meaning of freedom, Versace Jeans Couture has brought the collaboration Freedom Now to being. This series of content is curated by three artists: Savana Ogburn, Vincent Catel and Naguel Rivero. Resulting from their individual artistic interpretation of freedom, three unique concepts arose. "Freedom means being able to inhabit a variety of selves throughout our lives" is the idea behind Ogburn's concept that touches upon the versatile facets of femineity. With a campy, colorful and textural lens, Ogburn opted for a series of kitsch and pop collages portraying the model as a spirited garden gnome, a pastel alien and a vampiress. Catel chose the medium of videography to capture a story of freedom. In Catel's short film, two motorcyclists fall in love while exploring a dream-like landscape. Cliché imagery orchestrates a shy playfulness with a touch of irony that sets the archetypal characters free. Rivero focused on freedom in a post-pandemic world by taking portraits of determined young people who resonate with tolerance, empathy and acceptance.

www.versace.com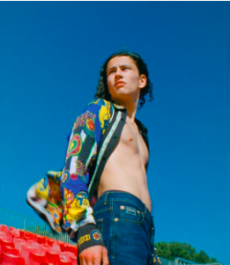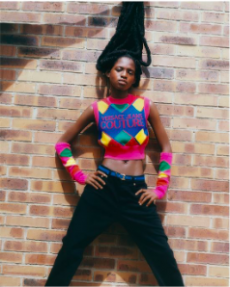 Fashion
aeyde Pre-Fall 21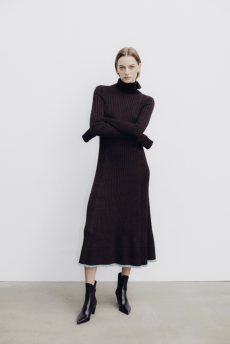 The pace of our everyday lives is becoming faster and faster. News and images circle the globe almost instantly and we are at all times connected to almost everything that is happening in the world, bombarded with a constant flux of outside stimulus. Then, Covid-19 happened and the world for once stood completely still. People were confined to their homes, events were cancelled, streets were empty, and suddenly we found ourselves alone with our thoughts almost without any distractions. This wasn't just the case for individuals. Also, companies suddenly found themselves in a period of intense introspection, as the minds behind aeyde put it, during which the immensity within was allowed to swell to the surface. All the changes and challenges of the past five years were finally able to sink, sparking the creation of a renewed inner space to contemplate the journey which has brought aeyde to where the brand is now. This is also reflected in the new Pre-Fall collection, which was launched this July. The ongoing reflection is presented throughout the styles, old as well as new, revealing the brand's past, its identity, but also what's to come. In line with its typical signature aesthetic, the two highlights of the collection are the new razor-sharp pointy-toe shoes in monochrome and the sleek square-toe styles in classic colors and luxe snake prints.

The aeyde Pre-Fall collection is available in select stores and online now.

www.aeyde.com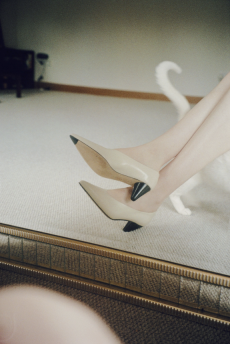 Fashion
Valentino Des Ateliers
Valentino's Creative Director Pierpaolo Piccioli makes it clear that fashion is not art. Art has no purpose outside itself, art for art, whereas fashion due to its very nature features functionality, a practical scope directly linked to our body. Nevertheless, these two creative differences aren't opposed. On the contrary, when taking the time to learn about these differences they offer a great source of inspiration and opportunity to broaden our horizons. All that's required is to be curious and to take the time to listen. This is the foundation for the Valentino Des Atelier project, meaningful dialogue between the disciplines. Driven by the urge to build a community of makers around Maison Valentino, convinced that painting is to contemporary art what Haute Couture is to fashion, Piccioli brings together a group of painters of different ages, backgrounds and aesthetic inclinations, translating the two-dimensionality of their works into three-dimensional garments, a truly metamorphic process that transforms the paintings which are contemplated as something still into an animated and draped garments moving with the body. Color layering, signs, backgrounds, the full and empty portions are translated by Piccioli into lines, cuts, compositional gestures, involving each artist in a conversation on the dress itself. Each dress is the result of the confrontation of two creatives, the coming together of two distinct languages into a single dress. Valentino Des Ateliers is not just about creating a dialogue, but about listening to each other before pronouncing yourself.

www.valentino.com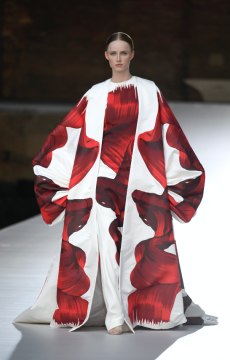 Fashion
Montblanc: The Pink Dial Project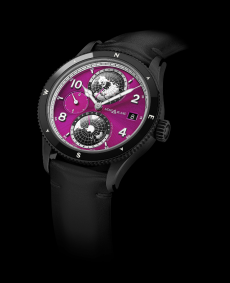 The world of luxury watches indeed operates on its own terms. It's a very unique industry, which different to other luxury sectors, such as luxury fashion, has upheld its time-honored traditions and modus operandi and moves comparatively at a much slower pace. But when the world is changing, the watch sector will follow. Across all different market segments, customers and their mindsets have changed and the luxury watch clientele is by no means different. The notion of luxury is changing, it isn't merely about showcasing wealth, but it now includes a new awareness regarding ethics, sustainability and humanitarianism. Luxury watch manufacturers have recognized their corporate responsibility and have incorporated this into who they are. For this reason, Wei Koh, founder of the Rake Magazine, has initiated the Pink Dial Project. The color pink might already indicate to most what this project is about. It's a charity project supporting the fight against breast cancer. Montblanc is proud to partake in this initiative by donating the 1858 Geosphere Pink Dial Unique Piece, an addition to Montblanc's eponymous key line. The watches' stunning fuchsia pink dial is contrasted with a deep black titanium case. The dial is lacquered with a sunray finish making the timepiece stand out even more. It is powered by the renowned Manufacture Worldtime complication and movement which features two turning domed hemisphere globes that make a full rotation in 24 hours. They are surrounded by a scale with 24 time zones, along with a day/night indication for both the Northern and Southern hemispheres. To give it the necessary female touch, it is noteworthy that Montblanc's female watchmakers have assembled this unique piece. This very special watch will be up for auction in October 2021, the worldwide Break Cancer Awareness Month, with all the proceeds going to selected breast cancer charities all across the world. To put it in Wei Koh's words, "Together we can rock 2021 from a horological but also ethical perspective."

www.montblanc.com
Fashion
CHANEL Haute Couture FW2021/22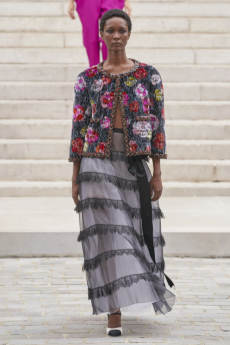 "There are dresses embroidered with water lilies, a jacket in a black tweed crafted from feathers with red and pink flowers. I was also thinking about English gardens. I like to mix a touch of England with a very French style. It's like blending the masculine and the feminine, which is what I've done with this collection too. That twist is very much part of who I am." This was what Chanel's Creative Director Virginie Viard had to say about her latest Haute Couture FW2021/22 collection. The natural inspiration is reflected throughout the collection with is countless colorful hues, radiating a warmth perfect to brighten up the cold and grey winter days. Nevertheless, the collection reflects the house's roots, more precisely its larger than life founder Gabrielle Chanel, which Viard had seen in old photographs dressed in throwback 19th century bustles and crinolines for some society balls in the 1930s. But the collections doesn't just pick up on the natural and on Chanel herself, most prominently, the collection merges the worlds of fashion and art, acclaimed Impressionist Berthe Morisot and Cubist Marie Laurencin, whose influences can be felt throughout the collection. They are reflected in the lightness of touch and the masterful work of the great embroidery houses of Paris, the likes of Lesage, Cécile Henri, Atelier Emmanuelle Vernoux and Lemaire. The results are nothing short of magnificent, yet weightless, a dream made from embroidered tulle and chiffon. To bring it full circle, the show's location the Palais Galliera fashion museum is currently hosting a remarkable exhibition Gabrielle Chanel: Fashion Manifesto, creating a direct dialogue between Chanel's originals and Viard's new reinterpretations of the house's codes.

www.chanel.com
Fashion
Dunhill SS22
'Identities', the new Dunhill SS22 collection for Paris Fashion Week is s collision of style and identity, utility and extravagance feature throughout. Archetypal characters and clothing, cross-fertilised and collaged, show a sense of ease with elegant imperfection, all realised in precious-made-practical fabrics."In this collection i wanted to look at certain identities. These are clothing archetypes, but also identities of britishness, of masculinity, of uniforms, as well as those of dunhill past and the new era archetypes that we have sought to establish here. It's really about how character and clothing work together; the idiosyncratic combinations of personal style and identity in britain and dunhill, as well as a redefinition of them for the house.", so Mark Weston, Creative Director of the house. From deco dandies to hi-vis handy men, encompassing traditional male archetypes in conventional uniforms to the purposely provocative effeminacy of '80s casuals along the way, British masculine identities are playfully reworked, as are elements of dunhill history, past and present. The abstract work of photographic artist Ellen Carey features as a print collaboration this season. Most frequently appearing on double bonded duchesse satin, this most haute couture of fabrics takes the place of a technical shell in canoe tops, jackets and hats. Carey's prints also feature on leather goods, such as the new era Lock bag in a variety of forms this season.

www.dunhill.com
Fashion
Jil Sander SS22
For Jil Sander's SS22 collection the attitude is freedom, the keywords autonomy, lightness and clarity. This is a sharp urban collection about the right, and duty, to individuality and imagination. About multicultural cities that lead us to appreciate and absorb diversity; to combine different things, different facets of ourselves, in ways that are unprecedented and effortless at the same time. We turn labor into play, blend day and night - and the other way around; we wear suits for leisure and utility garments to shine. Lucie and Luke Meier always find new forms to balance opposites. The relationships between materials, colours, shapes and volumes are flawless. Lines, movement, and touch are equalized. Every look is unique. Japanese wool jackets, shirt-jackets and coats are straight and voluminous. Overdyed cotton and linen flight suits, with removable sleeves, and comfortable utility trousers are worn under one-and-a-half breasted tailored overcoats.Strong colours, large pockets, contrasting copper zippers, a cheetah print on a brushed wool pullover, scarves in fleecy pure silk, and jewels - silver necklaces, brooches, ear cuffs, and earrings - give all looks - and us - extra personality and an edge.

www.jilsander.com
Fashion
Louis Vuitton Mens SS22
The Louis Vuitton SS22 Men's Collection by Virgil Abloh, filmed by Amen Break, features GZA, Goldie, and Saul Williams alongside a wide cast of talent. Directed by Mahfuz Sultan, the film explores ideas of transmission: the act of passing something from one person to another, activating waves of change across generations, and impacting the lives of others. The story told in the show is an abstract interpretation of Lupe Fiasco, the American fine artist and rapper who grew up on the Southside of Chicago amid the gang turbulence of the 1970s and '80s. The story is about a father and son united by an unnamed loss, crossing a dream world to deliver a message to the other side. Along the way, adversaries conspire against the child, heroes emerge to guide him, and great sacrifices are made to get him across the divide. The collection introduces new headwear, the modern version of cylinder hats rounding off most of the looks. Accessories also take the forefront in the collection: bags, earmuffs, and gloves prepare the viewer for the cold season. The color range includes monochrome green and navy blue to black looks and color gradients from neon yellow to navy blue.

www.louisvuitton.com
Fashion
Jean Paul Gaultier Instagram
The official JPG Instagram account name has changed from jpgaultierofficial to jeanpaulgaultier.

www.instagram.com/jeanpaulgaultier/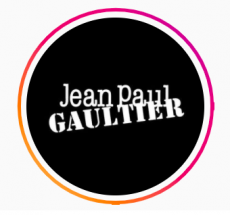 Fashion
Fashion
FENDI Mens SS22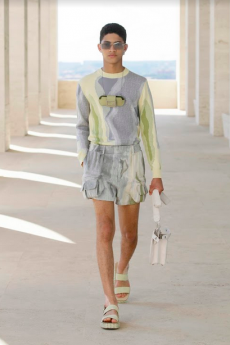 Ponderings on "watching the world from above" have inspired the FENDI Men's SS22 collection, which forms a rich interplay of lightness and ease with a sharp focus on the future of luxury. A soft yet juxtaposed palette echoes spring flora and the transient skies of lemon and lime, ice blue, lavender, pistachio, and peony against mineral shades of travertine, chalk, graphite, and slate. The show was held in a location vital to FENDI's history, inside the Palazzo della Civiltà Italiana, at the FENDI headquarters. The view illuminates a 360° vista towards the seven hills of Rome, the Apennine mountains, and glimpses of the Mediterranean Sea. Taken from the FENDI archives, an illustrated map of Rome becomes FENDI Land, a cartographic drawing of the city where the Palazzo Fendi springs up at its center, and the Tiber river flows through a labyrinth of buildings and streets adorned here and there with freehand FF logos. Distortion of scale plays a significant role in the collection, creating new tailoring volumes in the form of a summer suit, which is cropped at the torso, split with nylon organza, and peak lapel linen blazers are fitted with pen pockets and earpods compartments. The accessory collections additionally embody a playful escape from reality by reinterpreting everyday objects with high-end craftsmanship. From swimming goggles and caps in collaboration with ARENA, ping-pong racket bags to the Baguette bag, shrunk as a jewelry pouch on a fine waist chain, this collection sets a new precedent for the future luxury. An electronic composition by Alessandro Cortini accompanies the show.

www.fendi.com
Fashion
"NOT IN PARIS" LONGCHAMP x HIGHSNOBIETY
Digital media and cultural platform Highsnobiety is collaborating with Longchamp for the third edition of their "Not In Paris" exhibition series, coinciding with Paris Men's Fashion Week. Highsnobiety first unveiled "Not In Paris" in June 2020 with the aim of distilling the experience of Fashion Week into a multimedia hub of online content showcasing art, fashion, music and design, and making it accessible to a culturally curious global community. The Longchamp-Highsnobiety collaboration features the iconic Le Pliage® travel bag in 100% recycled polyester canvas, which is principally made from recovered plastic bottles. "Paris" is emblazoned with a sublimation printing process in green college-style lettering on the white canvas, with "Not In" embroidered in black italic script on it. A fluorescent green zip pull and black Russian leather on the flap, handles and shoulder strap complete the exclusive design. The "Not In Paris" exhibition and collaborative products – exclusively available at Highsnobiety Shop - launch on 16 June 2021 on www.highsnobiety.com. For the first time, "Not In Paris" will also actually be present in the French capital via a pop-up souvenir shop at 198 rue de Rivoli, adjacent to the Louvre and Tuileries gardens. Open to the public from 19 to 26 June, it will present the full array of collaborative products along with a special programme of events. www.longchamp.com www.highsnobiety.com
Fashion
Marsèll x Suicoke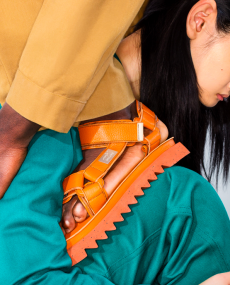 The Japanese cult brand Suicoke and Marsèll, the distinctive Italian brand specialising in the production of handmade leather accessories, have collaborated for the first time; releasing a a limited collection of 1,000 pieces that will be available from the 15th of June. The model will be genderless and it will be available in five different colourways. Founded in 2006, Suicoke had incongruous beginnings, producing small accessories and hand-painted Russian dolls prior to their transition into footwear. Marsèll was founded in 2001 as the expression of a new craft culture. Shoes are the focus of a line of research devoted to pushing the boundaries of tradition, within the counterculture deconstruction movement. Now the first Suicoke Made in Italy created by Marsèll rose to the challenge of developing its own version of the iconic sandal by Japanese brand Suicoke. The idea behind the project was to create a shoe that reflects the fusion between Japanese culture and Italian craftsmanship. The key concepts underpinning the creative process are respect, reuse, transform and enhance. The result is an entirely leather sandal mounted onto a serrated rubber sole with a square toe. The sole is made from recycled material. Marsèll and Suicoke are united in their drive to create everyday footwear for creative environments, with a focus on the style that has redefined the boundaries of the contemporary aesthetic statement in the last decade.


www.suicoke.com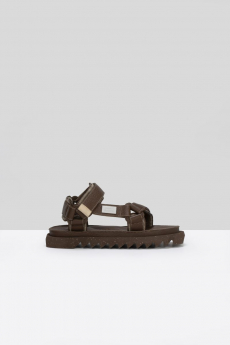 Fashion
Louis Vuitton: Capucines bag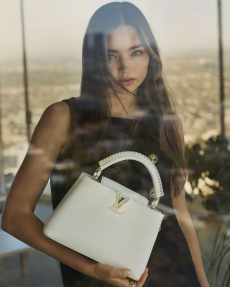 As a timeless feminine icon, the Capucines symbolises the quintessence of Louis Vuitton, its quest for excellence, creativity and craftsmanship. Named after Louis Vuitton's very first store, which opened in 1854 on rue Neuve-des-Capucines in Paris, the Capucines has established itself as one of the Maison's most iconic models. The Capucines is both versatile and an everyday companion. This summer, it will be available in three sizes, Mini, BB and MM, embracing the various styles, desires and moments of the day.The black and arizona Capucines with its textile strap featuring embroidered Monogram flowers is a casual chic bag, perfect for every day. It portrays an authentic allure in natural raffia and caramel calf leather, or a more mysterious character in playing with textures featuring intertwined embroidery and silkscreen-printed patterns that echo the 1854 Jacquard canvas.

www.louisvuitton.com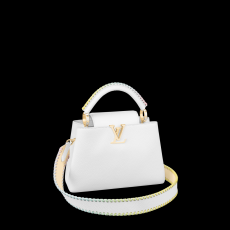 Fashion
"ISSUE 02": BOTTEGA VENETA'S QUARTERLY DIGITAL JOURNAL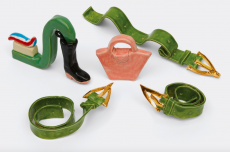 Bottega Veneta swapped social media for a quarterly digital journal called Issue, of which it just released its Issue 002. The reveal of their journal explains why the Italian brand mysteriously vanished from all social platforms earlier this year. While other brands were launching Clubhouse accounts and joining platforms as TikTok, Bottega Veneta, one of the most popular labels of 2020, was making itself impossible to find. Daniel Lee, Bottega Veneta's Creative Director, chose to get off the platform because it oversimplifies the creative process and believes it's a homogenization of culture. The content that lives on the digital journal is a mixture of creative campaigns and features people like Travis Scott and Naomi Cambell. Content like that is supposed to make the audience sit with it as you would watch a movie. The mix of serious and playful content proves that Bottega Veneta is the perfect mixture of sophisticated and whimsical.

www.issuedbybottega.com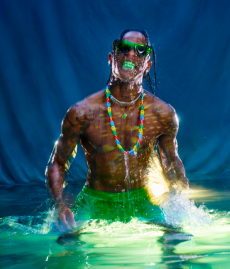 Fashion
Sergei Polunin in Depeche Mode's "In Your Room" music video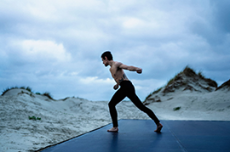 Sergei Polunin in exclusive music video performance to Depeche Mode's 'In Your Room', directed by Anton Corbijn In a new music video released today directed by Anton Corbijn, renowned ballet dancer Sergei Polunin performs a stunning contemporary dance to Depeche Mode's 1993 hit song In Your Room directed by Anton Corbijn The powerful performance, choreographed by ROSS FREDDIE RAY, is filmed on vast, windswept sand dunes in TERSCHELLING, HOLLAND and evokes Polunin's well-documented struggles within the confines of the ballet world and in his personal life, following his infamous rejection of the ballet establishment while at the height of his powers. It is a striking vision of a tempestuous figure who has so frequently courted controversy exorcising his demons alone against a harsh and unforgiving backdrop, providing the viewer an intimate glimpse inside this mercurial talent's conflicted world. This video performance, produced by award-winning production company Merman, is an exclusive extract from the forthcoming feature documentary DANCER II, the recently announced sequel to the critically-acclaimed 2016 film Dancer, which charts Polunin's meteoric rise to become the Royal Ballet's youngest-ever principal dancer, and his self-inflicted fall from grace. DANCER II, directed by Corbijn and produced by Gabrielle Tana, will pick up from where Dancer left off, exploring Polunin's return to ballet.

https://www.youtube.com/watch?v=zrMwdQesnn4
Fashion
Tommy Hilfiger: Moving Forward Together
Tommy Hilfiger certainly belongs to one of those brands whose influence spans across the whole globe, with its countless stores and retail venues. In the German capital, along one of the city's most famous and prestigious shopping avenues, Tommy Hilfiger now reopens a new and improved flagship store and a cafe called Tommy's coffee. For this special occasion, the brand created the local "Moving Forward Together" campaign, especially created for Germany, featuring local Berlin talents from the world of film and music. The campaign was captured by photographer Alex de Brabant and videographer Viktor Sloth. In two iconic cultural Berlin locations, the Kino International and Columbia Halle, they capture the likeness of actor Kida Khodr Ramadan and Berlin-based DJ duo Lucia Luciano and Gizem Adiyaman, all three of them being deeply interconnected with the local communities and perfect embodiments of the campaign's overarching message of inclusivity and togetherness. Luciano and Adiyaman are behind the community space Hoe_mies centred around women, non-binary and trans people. From May to June, Tommy Hilfiger offers its Club members the possibility to enter a raffle in order to win whether a movie night hosted by Ramadan or a private workshop around music production with Hoe_mies. Both events will be hosted once COVID-19 regulations permit. The new flagship store is set to open its doors to the public on July 1, 2021.

#MovingForwardTogether

www.tommy.com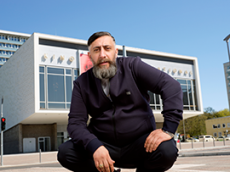 Fashion
Giorgio Armani returning to live shows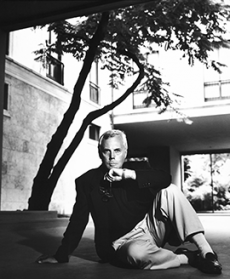 The Giorgio Armani SS22 Men's Collection and the Giorgio Armani Privé Haute Couture shows will again be presented in front of a live audience, respectively on Monday 21 June and Tuesday 6 July.The Giorgio Armani fashion show will take place inthe courtyard of Via Borgonuovo 21, the venue that historically hosted the brand's fashion shows. The Giorgio Armani Privé fashion show will be held in Paris during the Haute Couture fashion week, at the headquarters of the Italian Embassy, a symbolic location that brings Italy to the fore in the capital of Haute Couture.The return to live attendance has been decided following the current general improvement in public health with relation to the pandemic. The organisation of the shows will comply with the distance and safety rules required by law and the actual holding of the events, in any case, will be conditional to the evolution of the pandemic.

www.giorgioarmani.com
Fashion
Longchamp Eyewear: Plant based Resin Capsule Collection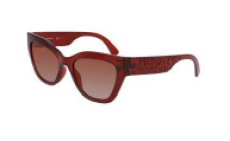 Plant-Based Resin is made from castor bean oil, a cleaner alternative to standard petroleum-based plastics; now used in the Longchamp capsule collection, featuring two sunglasses and two optical styles made from 40% Plant-Based Resin. With this collection, Longchamp eyewear draws inspiration from the brand's iconic Voyageuse handbag, bringing a trendy and sophisticated interpretation of the brand's signature pattern to the eyewear offering. All four styles are designed using Plant-Based Resin without sacrificing the quality and premium feel the brand is known for. The four styles feature vintage-inspired frame-fronts designed in modern and contemporary shapes, while the new LGP temple design has a tone-on-tone effect to the iconic monogram of the brand. All styles are offered in Black, Brown, Blue and Wine.

www.longchamp.com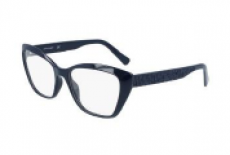 Fashion
Acqua di Parma: Per papà
For Father's Day Acqua di Parma has prepared the most beautiful surprise for gift artfully designed for a special. This sophisticated toiletry bag created by the Maison for Father's Day stands out for its essential design, the sunny tones of Parma yellow and the hand-embroidered Acqua di Parma logo. Made with a practical and durable Italian fabric produced by recycling plastic, it is perfect for a sustainability-conscious man. This functional and refined accessory contains the ideal set for any trip, with products in travelling formats: Cologne in the 100ml Art Deco bottle and the Cologne Shower Gel in the 75ml tube. The final touch is the outer box, decorated with a refined striped pattern, sober and masculine. This is a gift designed for a father and characterised by Acqua di Parma's trademark attention to details. A true art that becomes an exciting ritual, to be experienced in all the Maison's Boutiques and in the most exclusive stores. Along with the toiletry bag, you can also choose your father's favourite Eau de Cologne in a very special package, the one that best reflects his personality and his natural elegance: Colonia, Colonia Futura, Colonia Pura, Colonia Essenza, Colonia Intensa and Colonia Club in the 100 or 180ml formats.

www.acquadiparma.com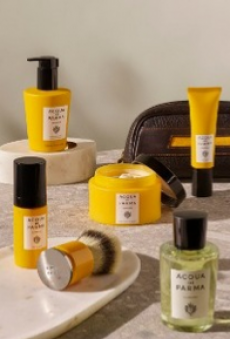 Fashion
FENDI SS21 Capsule collection & FF Vertigo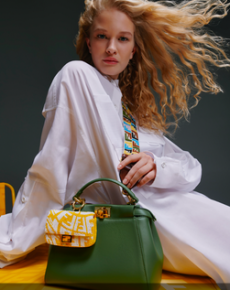 Dominated by yellow and light blue tones, the Summer 2021 capsule, spans from sophisticated and eye-catching bags and accessories to compelling ready-to-wear for women, men and children. Seventies' references and Nineties' vibes fuse in a charming line-up, where FENDI's outstanding craftsmanship and innovative, forward-thinking approach shine bright. As part of its Summer 2021 capsule, after the official launch at Design Miami, FENDI reiterates its collaboration with New York-based visual artist Sarah Coleman, known for her disruptive manipulation of designers' materials that she employees to rethink and repurpose everyday objects with an ironic filter. Within the colorful and irresistible Summer 2021 Capsule Collection featuring '70s references and '90s vibes, FENDI presents a special collaboration with the iconic Polaroid brand, inventor of the first instant camera designed to capture community and individuality. Born from the idea to personalize the classic Vintage Polaroid OneStep Close-Up 600 camera with the FENDI DNA, this Polaroid camera combines the design of this renowned instant camera from the '90s with the multicolour FF Vertigo. The FF Vertigo motif—a new magnetic motif offering a twisted, turned version of the classic FF logo—and FF Fisheye motif—where the signature FF logo appears wavy and fluid, as it is seen through a fish-eye lens—are the results of the new collaboration between FENDI and the New York based artist Sarah Coleman who is known for her disruptive manipulation of designer's materials that she employs to rethink and repurpose everyday objects with an ironic filter. FENDI collaborated with her in the Design Miami/ 2020 edition where she was commissioned to reinterpret the Miami Design District FENDI Boutique and create a series of one-of-a-kind design pieces. The FENDI and Vintage Polaroid OneStep Close-Up 600 instant camera will be available in FENDI Boutiques worldwide starting May 2021.

www.fendi.com
Fashion
Where the Water Flows
The latest Jil Sander SS21 campaign is an expression of pure haze. The idea of flowing, natural water is almost tangible in its visuals. It gives every image a sense of endless place and a dreamy dimension. Set in Biarritz, France on the Atlantic coast by the ocean and in the ocean, the SS21 collection is presented in a natural, comfortable and calm atmosphere. The tactile lighting aesthetically blurs the imagery and merges the bodies, the water and the background. The imagery provides a contrast to dense city life and leaves the viewer appreciating the vastness and emptiness of the landscape captured from dawn to sunset. The photographs were taken by Tim Elkaïm, in aw of days and nights spent ruminating and relaxing by the sea. The JIL SANDER SS21 collection including swimsuits, a windbreaker, shorts, hoodies, knitwear and blankets is artfully accentuated by the storytelling of the campaign. A pure illustration of ease. Jil Sander+ seasonally adds to the world of Jil Sander a series of garments made for life in nature, for both men and women; often unisex. The Jil Sander creative direction duo Lucie and Luke Meier skillfully blends the sense of comfort and design of their Jil Sander with honest, authentic items.

www.jilsander.com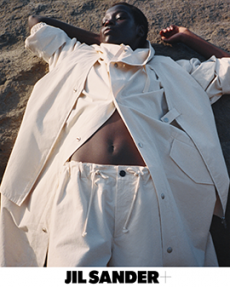 Fashion
RIMOWA x Chaos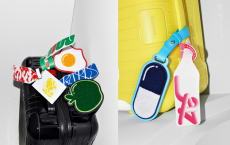 RIMOWA announces its debut collaboration with Chaos, the London based brand renowned for its coveted accessories - two brands for which both individualization and personalization play a big role. United by their common appreciation for luxurious design and innovative solutions, RIMOWA and Chaos have partnered on a limited-edition line of suitcases and tavel accessories. The special design, the striking color scheme, the colorful stickers, as well as the characteristic embroidered tags in three new shapes give the suitcases an instant recognition value. It's impossible to miss these suitcases when you're traveling with them. RIMOWA x CHAOS approach was to design products with excellent function and style, full of energy and high aspirations to improve daily life.

www.rimowa.com
Fashion
Alice Anderson at König Galerie
Alice Anderson - SPIRITUAL MACHINES SERIES, TOTEM 12
Alice Anderson at König Galerie Anglo-French artist Alice Anderson is to showcase her work "Hyperlinks – a solo exhibition – at KÖNIG GALERIE. Her works include sculptures, paintings and drawings generated through dance-performances, each with ritual at their essence. For this exhibition, Alice Anderson presents performative works created through repetitive gestures, some coupled with rapid breathing (the technique of hyperventilation), which gives her access to a state of modified consciousness. This pairing puts forward the body as a vehicle of humanity within the contemporary world propelling towards a technological-wholeness; and the ancestral culture of the Kogi people from Sierra Nevada in Colombia, who exist in cosmic harmony with their environment. Kogi concepts, rituals and ecologi-cal combats have framed Alice Anderson's reflections upon this change in civilization. The challenge is not to decry these complex technologies but to continue to question the relation-ships between humans, the environment and the machine. One of my answers 'goes' through spirituality that expresses another definition of things and redefines a certain balance of what escapes us. In this sense, my performed rituals take on all their importance because they are a physical re-appropriation of what has been dematerialized" says Anderson.

www.koeniggalerie.com
ALICE ANDERSON - Random Chromatics Pixels N.64, 2021
Fashion
Summer Ease
For Furla's SS21 collection following the motto #FUNFURLA, the brand celebrates optimism and lightness of spirit. Furla enhances its distinctly Italian DNA and communicates a cheerful lifestyle message. The campaign comprises images and a film, which represent a new chapter in terms of creativity and lust for life. The aesthetic of the collection channels this spirit, featuring loose and airy fits in a broad range of colors that embody the vibrancy of the season. Set against a dreamy, Mediterranean backdrop, the open sky and sparkling sea become #FUNFURLA's setting. The visuals are an interplay of shadows and silhouettes, which is displayed mainly from the back and through body language of the models displaying the clothing. The soft color scheme of the clothing, shown in the photos with chromatic monochrome effects, further enhances the feeling of carefreeness. The joyous atmosphere of spring and summer, as well as Furla's core values of heritage and beautiful Italian craftsmanship are conveyed through every image. The Furla SS21 collection invites the wearer to enter a summer daydream.

www.furla.com
Fashion
Abstract Femininity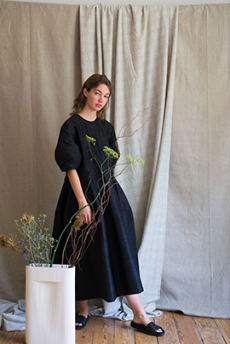 After taking a maternity leave of absence, LARA KRUDE is back with her Spring Summer 2021 collection. The "Designer of Tomorrow" Award-winning designer worked closely with Stella McCartney for several years before launching her eponymous Slow Fashion Brand in 2017. Her latest collection is based on bold silhouettes and traditional craftsmanship while leaving space for the body and the natural fabrics. Androgynous silhouettes, natural colors, such as forest green and navy blue, combined with plaid and striped patterns reinvent the distinct LARA KRUDE look for the warm season. All of Krude's collections are produced exclusively in Germany and Poland by small family-run manufacturers to guarantee the highest quality and protect the environment. LARA KRUDE stands for effortless elegance and abstract femininity, with the timeless pieces empowering women to feel their utmost best; strong, independent, and always curious.

www.larakrude.com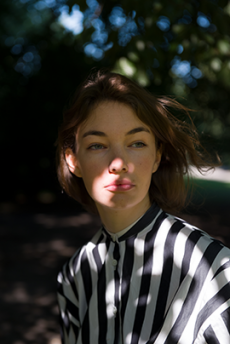 Fashion
Cartier: Tank Cintrée's 100th birthday
The iconic Tank Cintrée watch turns 100 – to celebrate this Cartier will present a new limited edition model limited to 150 numbered pieces. Every single one of them has already been sold before the official launch. This creation exemplifies the successful reissues of legendary Cartier watch designs. The new Tank Cintrée draws heavily from the original model, venturing into the 21st century. Its sleek curved design, vertically oriented case, and the elegance of its "eggshell" dial make it perfect for lovers of stylish aesthetics. The watch gives the original Tank a more elongated shape and a curved case. The watch owes its name to the curvaceous shape for comfortable wearing. Thus, the watch gently nestles around the wrist. Even though the case height now measures 6.40 mm, it has lost none of its unmistakable features: rail decor, Roman numerals, apple-shaped hands, pearlized winding crown with sapphire cabochon and bracelet with pin buckle. This is the aesthetic signature of a great classic in the art of watchmaking, which has not changed since its introduction in 1921 and is now equipped with a manufacture hand-wound movement, caliber 9780 MC.

www.cartier.com
Fashion
CHANEL Cruise Collection 21/22
It was under the sign of Jean Cocteau that Creative Director Virginie Viard began to imagine the look of the CHANEL Cruise 2021/22 collection, she explains "Because Gabrielle Chanel was close to Cocteau, and I love the film Testament of Orpheus. In particular this magnificent scene: a man with a black horse's head descends into the Carrières de Lumières, his silhouette cut out against the very white walls". Destination: the Carrières de Lumières, in Les Baux-de-Provence, for a highly graphic show, "because the simplicity, the precision and the poetry of Cocteau's film made me want to create a very clean collection, with a very distinct two-tone, made up of bright white and deep black". Both influences for this show, Cocteau and Chanel, are embodies in the cruise collection by the strong yet faded contrast from radiant white and deep black. The combination of those colors manifest in pieces such as long white shirt-dresses, black macramé capes, and a white tweed jacket embroidered with lucky charms to a black dress in velvet and leather. "Echoing the extreme modernity of Cocteau's film, I wanted something quite rock. Lots of fringes, in leather, beads and sequins, t-shirts bearing the face of the model Lola Nicon like a rock star, worn with tweed suits trimmed with wide braids, and pointed silver Mary-Janes. A look that recalls as much the modernity of the sixties as that of punk...". so Virginie Viard.

www.chanel.com
Art
Gallery Weekend Berlin: Rebecca Horn at Thomas Schulte Galerie
Rebecca Horn presents the first solo exhibition at the Thomas Schulte Galerie since its inauguration in 1991. Horn and the gallery have collaborated many times during the past 30 years. Thomas Schulte Galerie featured the artist in the opening exhibition. On the 30th anniversary, Thomas Schulte Galerie is celebrating with a collection of one of Germany's most important living female artists. Alongside Horn's recent works, the gallery will be showing two of the artist's seminal kinetic installations from the 1990s: Bee's Planetary Map (1998) and Der Turm der Namenlosen (1994). The piece Bee's Planetary Map (1998) captures the transformative power of bees: converting and repurposing natural materials to construct their habitats. Conceived in 1997, even before the flows of forcibly displaced millions from the Balkans, Bee's Planetary Map captures themes of dislocation, uprootedness, and fractured movement. Empty beehives fill the space with the haunting buzz of a wandering swarm of bees. Honey-yellow light streams from the suspended baskets, reflecting circular rotating mirrors and projected across walls and ceilings. At regular intervals of two and a half minutes, a stone attached to a mechanical hoist falls from the ceiling and shatters one of the mirrors. Spinning splinters of mirror chase panicked scraps of light across the room. Struggling towards the center, searching for protection and security, fearing for freedom and belonging – these are the central human themes in Rebecca Horn's work. Themes of flight and (up)rootedness are further visible in Der Turm der Namenlosen (1994). Rebecca Horn dedicated this piece to the thousands of Bosnian refugees who arrived in Vienna in the early-to-mid 1990s. Most arrived without passports and knowledge of the dominant language. Many would use the musical instruments they brought with them to express and perform their trauma.

Rebecca Horn's work is exhibited at Thomas Schulte Galerie, Berlin, from 28 April - 26 June 2021.

www.gallery-weekend-berlin.de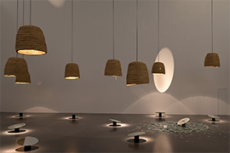 Rebecca Horn, Bees Planetary Map, 1998. Installation view, Centre Pompidou-Metz, 2019, Photo: Jacqueline Trichard. © Rebecca Horn, VG Bildkunst, Bonn, 2021 Courtesy die Künstlerin und Galerie Thomas Schulte
Rebecca Horn, Die Neuerscheinung, 2019. Courtesy the artist and the gallery.
Fashion
Cartier Women's Initiative 2021
Cartier announces the 24 fellows for the 2021 edition of the Cartier Women's Initiative. With the announcement of the 2021 Cartier Women's Initiative fellows, Cartier is reaffirming its commitments to women impact entrepreneurs leveraging business as a force for good. Starting in 2006, the Cartier Women's Initiative has supported endless women to reach their full potential by highlighting their achievements and providing them with financial, human, and social capital to support and grow their businesses. Since 06, the campaign has helped over 260 female entrepreneurs from 59 countries and has awarded over 4 million US dollars to support their businesses. This year, to further increase its impact and relevance, the program has launched the Science & Technology Pioneer Award. In addition to the seven existing Regional Awards, three more women impact entrepreneurs at the forefront of scientific and technological innovation will be recognized. Open to women entrepreneurs from any country and sector; this award will highlight disruptive solutions built around unique, protected, or hard-to-reproduce technological or scientific advances. Twenty-four fellows are selected amongst 876 applicants hailing from 142 countries. For the first time, the Cartier Women's Initiative has recognized women impact entrepreneurs from Mali, Iraq, and Myanmar. These fellows represent the top 3 businesses for each of the 7 Regional Awards and for the Science & Technology Pioneer Award. In these unprecedented times, Cartier considers it its duty to protect its teams, partners, and program participants; this is why the eight laureates will be announced on May 26th, 2021, during a virtual ceremony, which will close a digital awards week on the theme of the Ripple Effect.


www.cartier.com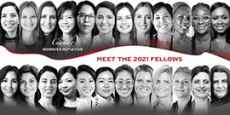 Fashion
Tommy Hilfiger - One Planet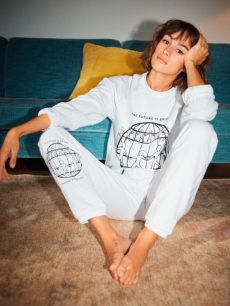 The Tommy Hilfiger One Planet capsule collection was created in honor of and to celebrate Earth Day. It is an embodiment of Tommy Hilfiger's sustainability objectives, featuring a range of relaxed and effortless pieces made of organic and recycled materials. The planet-positive message of the capsule is emphasized with the goal to inspire more sustainable decision making on this Earth Day and beyond. The range of soft everyday loungewear embraces laidback comfort and displays three unique Earth Day graphics. The recycled-material sweatsuits showcase the planet surrounded by a united community and the message, 'The Future is Bright, Together We Succeed'. For the One Planet capsule collections, Hilfiger reimagines its red, white and blue 'Spreading Love' logo in pastel colorways, creating a harmonious visual impression.
Fashion
DIOR FW 21
For Maria Grazia Chiuri, the presentation of the FW21 collection at the Long Museum West Bund in Shanghai represented an extraordinary opportunity to infuse her creations with the visual power of movement and a new energy to celebrate the house's creativity and world cultures.Bright hues play with transparency and shiny looks celebrate the pop aesthetic. Embroideries are embellished with oversized sequins reminiscent of disco balls. The leopard print that graces the runway combines esprit and elegance, appearing on a range of creations and accessories, including the iconic bar jacket. A series of five others exclusive models, each in a different neon hue – as well as red, "the color of life" as Monsieur Dior noted – with tributes to the House's archives also enriching the collection. Presented to the rhythm of a musical composition by Giorgio Moroder – punctuated by the voice of Maripol – these creations are designed for facing the current context with the high energy, hyper-sophistication, and profound lightness of the Pop spirit.As a final surprise, singer Joey Yung – wearing a dress specially conceived by Maria Grazia Chiuri – and the Chinese rock band Black Panther give an exceptional live performance.

www.dior.com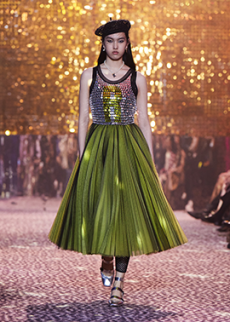 Fashion
Canada Goose x Angel Chen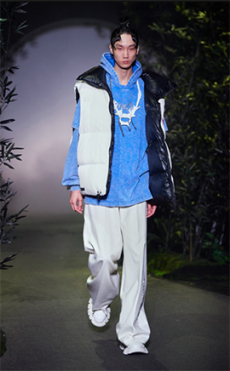 Following their highly acclaimed collaboration for SS21, Canada Goose unveils its second collection with guest designer Angel Chen during Shanghai Fashion Week FW21. Angel Chen is widely known for participating in Netflix's "Next In Fashion" design competition show. She is also a Woolmark prize finalist and the first-ever Chinese designer to collaborate with H&M. For FW21; she was inspired by the traditional Snow Mantra Parka, combining her unique aesthetic with Canada Goose's functional know-how. This season comes to life with new silhouettes and feminine details like peplums and belts. New bold colors and remarkable Chinese hand embroidery create a diverse visual effect. Angel Chen's experimental approach to design and color, coupled with a fusion of Eastern and Western aesthetics, has enticed the brand to work with her as their very first guest designer. The designer used Canada Goose's heritage pieces to co-create a capsule collection based on an innovative design direction. Her experimental approach to color and proportion has not only made her a designer to watch, but a coveted person to collaborate with also. With a vision as unique as the clothes she conceives, she doesn't just push a proverbial envelope open; she lights the whole thing on fire.

www.canadagoose.com
Fashion
GLENN MARTENS DEBUT AT MILAN FASHION WEEK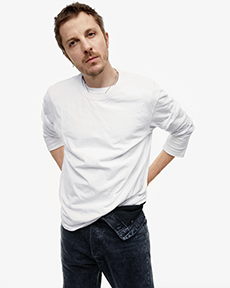 Since his appointment as Creative Director for Paris-based label Y/Project, Glenn Martens' creations have been a constant at Paris Fashion Week. This year, the Belgian Designer embarks on yet another creative journey, premiering his debut for DIESEL during Milan's menswear programming. Coincidentally, this will also mark DIESEL's debut on the Milan Fashion Week calendar. After having created a denim collection with the brand in 2018, we will now get a first look on how Martens has incorporated his vision across the brand's entire range of product categories. The show is a major step of Martens' role in overseeing the brand's creative identity, design and communications.

www.diesel.com
Fashion
Acqua di Parma presents Colonia Futura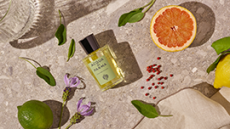 Acqua di Parma's universe welcomes Colonia Futura, the newest addition to the colonie family and a genuine emblem of the historical Italian brand's sustainability manifesto. For the brand, sustainability means preserving traditions, respecting and renewing them in a dynamic and vibrant transition between past, present, and future, protecting and sharing authentic Italian style, alive and intact, to future generations. For over a century, Acqua di Parma's values have been lying in the necessity to safeguard and pass on the Art of Italian Living, aware of the importance of protecting Italy's cultural, artistic, and natural heritage. The newest product of the brand embodies this commitment. The fragrance is rooted in the Maison's heart to its original universe - the planet of the colonie.

Colonia Futura follows the tradition of Colonia, an iconic fragrance of the Maison, in the olfactory signature and the quality of its Frutti d'Oro, but projects it into the future, in the knowledge that sustainability is the necessary condition for evolution. The new Eau de Cologne composition contains 99% natural origin ingredients in line with the ISO16128 standard. The bright, sparkling tones of P.D.O. (Protected Designation of Origin) Bergamot from Calabria, the roundness of Clary Sage, and the freshness of Lavender are the key essences of Colonia Futura. These olfactory notes are skillfully blended and dosed in a composition highlighting the bright richness of Italian sun-filled landscapes, trademark for Colonia.

www.acquadiparma.com
Fashion
FENDI presents "Wild Untamed Naomi"
FENDI releases the #FendiPeekaboo video starring Noami Watts, the award winning actress presented in celebration of the opening of the new FENDI Queen's Club flagship boutique in Sydney. The video is called 'Wild Untamed Naomi' and presents a private moment in Naomi Watt's day within her apartment in New York, documenting her hidden and surprising side, accompanied by the FENDI Peekaboo ISeeU bag. What starts as an average and restless day slowly unveils Naomi's untamed side as she escapes into her own world and discovers the joy of releasing stress and anxiety through a cathartic release of movement. Using the FENDI Peekaboo ISeeU bags, Naomi chanells the extraordinary in the ordinary. The video is a journey to self-love that plays with the FENDI values of creativity, craftsmanship and playful spirit, whilst celebrating the eternal narrative of the FENDI Peekaboo bag – the hidden beauty within. The iconic bags feature an accordion-frame shape, to open in a deep 'smile' featuring inside pockets which can be interchangeable in smooth leather or precious skins and personalised with one's initials.

www.fendi.com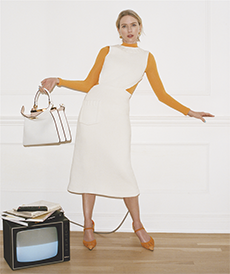 Fashion
BOSS x Russel Athletics
BOSS teams up with Russel Athletic to create a new capsule collection, uniting expert tailoring with the American icon's sportswear know-how. The new collaboration presents bold, off-court classics that combine relaxed fits, sporty details, and a retro-inspired colour palette for the next generation of men and women. To encapture the meeting place of two legendary sportswear and tailoring brands, the new campaign was filmed by renowned photographer Joshua Kissi and created in partnership with agency and publisher Highsnobiety. The campaign, which was digitally launched on all social media channels of BOSS celebrates team spirit, individual talent, and the power in lifting each other up. Part of the campaign is an all-star cast including Bella Hadid, Ashley Graham, Keith Powers, Lucky B Smith, and Taylor Hill bringing their winning energy to the bold, new capsule collection. Capturing this meeting place of sportswear and tailoring, the new campaign was lensed by renowned photographer Joshua Kissi and created in partnership with agency and publisher Highsnobiety. Russell Athletic is a legedary sportswear brand, its invention of the sweatshirt being a breakthrough moment for them all the way back in 1926. Fast forward to today, and this collaboration reimagines the American icon's styles through the ages, with a BOSS lens. Think new elevated materials, inventive mixes of athletic wear and tailoring, or the BOSS suit, taken in a sportier direction than ever before.

www.boss.com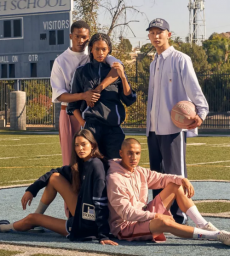 Fashion
COLMAR A.G.E. X Morteza Vaseghi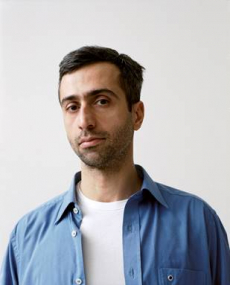 Colmar's innovation-focused label A.G.E. (Advanced Garment Exploration) was initiated by the Italian outerwear brand three years ago with the experimental goal to collaborate with international artists and designers. A.G.E. stands for modern, contemporary design and reinvention of Colmar's designs, which are historically rooted in ski-wear. For the third collection of A.G.E., which is an essential part of the FW21/22 collection, Colmar works with the internationally renowned designer Morteza Vaseghi. Mostly known as the co-founder of the magazines Recens Paper and Wallet along with Elis Olsen, Vaseghi transfers his fascination for printed pages in magazines to the design of clothing for the human body. As the Creative Director for Colmar's newest A.G.E. collection Vaseghi introduces organic, futuristic forms that express his progressive ideas of unifying human beings with nature, reconnecting the idea of modernity with the natural environment in the context of fashion.
Fashion
Miu Miu FW 21: Brave Hearts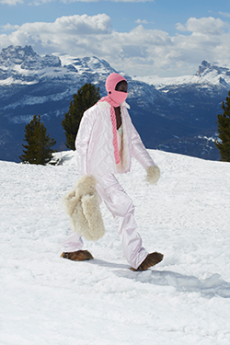 Miuccia Prada draws together a diverse group of women for the Miu Miu FW21 fashion show. The result is a voyage through the mountains - a fashion show in the snow. For the show, models explore the landscape of Cortina d'Ampezzo as part of the 'Miu Miu Mountain Club' in the heart of Dolomites Alps-, captured on film in a brave and challenging undertaking. The concept is all about dreaming of escape and making this fantasy a reality. In the video, the Miu Miu women explore the landscape dressed for extreme weather conditions. Outfits combine different intentions, different dreams, and realities to create different characters. Inside and outside, protective and seductive, just like women, the outfits contain multitudes.

Forming a collective experience on the mountainside, the models form a graspable alliance as they walk together. Sportswear and fashion fuse within the collection using the vernacular of mountaineering clothing. Miu Miu uses teddy bear faux fur, padded layers, and knitted ski helmets, and ski masks to keep warm and safe while upgrading the necessary means of protection for the mountainside. Silk satin dresses and lace stand convey delicacy and intimacy. Outerwear, inner lives. The juxtaposition speaks volumes and creates a dreamlike state of romanticized practicality through exaggeration - when the fragile can be reinvented to become brave. The utilitarian can become beautiful and pleasurable; the decorative can suddenly have a reason, a new purpose. Padded sportswear borrows its satin and pastel colors from lingerie fantasies; slip dresses are executed in heavy wools, studded with metal-like imaginary armor - warrior lingerie: strength and fragility, courage and aggression.

www.miumiu.com
Fashion
Versace SS21 Campaign: Summer Daze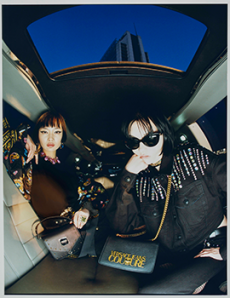 For its SS21 campaign, Versace Jeans Couture embraces the memories of a simple outing with a group of friends on a fun summer night for a collection that celebrates escapism and fantasy and is directly inspired by the irreverent style and attitude of the 18th century French Court. The collection's theatrical and exuberant designs are displayed in a contemporary take on French aristocracy in the form of street edge and youthful style. The fantasy mood is set with a pastel palette, Rococo-infused prints, and tongue-in-cheek graphics that add a pop of color to the dull everyday. For the Women's collection, the brand has taken inspiration from its iconic archive and youth subcultures - skirts with sumptuous, voluminous silhouettes are paired with jean shirts and jackets - and channels romanticism. The Men's collection, on the other hand, declassifies a sober military aesthetic by pairing classic camo patterns with bold and colorful logo accents. Tailoring winks to streetwear are found in cropped trousers or loose shorts worn with boxy, structured blazers. The campaign's concept is based on a group of young friends who searches for thrills during a night out in an empty city during a hot summer night. Due to travel restrictions, they can view their city Milan in a new light by exploring secret gems such as the famous Villa Necchi, the Teatro Manzoni, to the Piscina Cozzi. With a touch of voyeurism, the stills were shot through a fisheye lens in a highly stylized way.

www.versace.com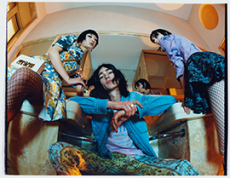 Fashion
Maserati honors Maria Teresa de Filippis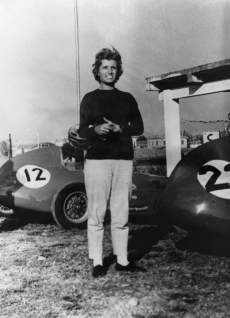 In honor of International Women's Day, Maserati celebrates Maria Teresa de Filippis, the first woman to qualify for a Formula 1 Grand Prix – driving a Maserati 250F. Five years after de Filippis death, Maserati releases a special video on the automobile brand's social media that is dedicated to her groundbreaking career, driven by passion and courage. The female race driver managed to assert herself in an environment that had previously been exclusively male. She earned the respect and esteem of her rivals and brought values to the race-track that still guide Maserati today: Excellence, elegance and power. She won the ten-kilometer road race from Salerno to Cava de' Tirreni, which ignited her dedication to motorsport and led to several victorious competitions in the years following. The key year of her career was 1958: Maria Teresa de Filippis made her debut at the wheel of a Maserati 250F at the Syracuse Grand Prix and then took part in her first Formula 1 World Championship race in Belgium. Maserati and Maria Teresa de Filippis became a winning combination, driven by perseverance and audacity. The story embodies the desire and determination to face technical, physical and personal challenges and turn them into opportunities.
Fashion
VERSACE FW21
'Models are like actors, they bring the designs to life, just like when a performer portrays a character. During the filming of this show I saw how important it is to give the models time to "feel" the clothes they wear on the runway'. This quote by Donatella Versace expresses her inspiration for the Versace FW21 collection. She envisions deceleration for the fashion industry, in pursuit of true connection with the designs and the people in this fast pace era. Creatively, the collection features a reinvention of the iconic Greca motif in the form of a dynamic and immersive 3D maze, that feels like you can step into it. The new Versace La Greca code illustrates the Greek Key along with the Versace logo in various sizes and color combinations. Power and self-confidence are entrenched in the geometric pattern with sharp angles and clean lines. The womenswear line comprises shapes reduced in volume with rounded shoulders, cinched waists and A-line skirts. The trousers are cropped simply cut, foregrounding the upgraded La Greca print. The new pattern decorates modern daywear, signature metal mesh dresses, sensual eveningwear, bold sheepskin outerwear and is embroidered on denim. Harnesses that cross the chest like armor and add sharp detail through embellishment and contrasting shades accentuate the fierceness of the collection. Menswear cuts are slim and refined with a twist. The tailoring emphasizes the body with sensual intimacy. La Greca reoccurs in different ways from all-over jacquard-suits, to small rubber patches on the chest like soccer badges. The finishes include shiny vinyl, as well as matte wool. The FW21 collection also introduces a graffiti Medusa smiley that plays with the brand's sense of humor and rebellious, subversive tendencies. Considered a symbol of celebration, freedom and dancefloor communities, it is framed by La Greca patterned border and appears on foulards, men's outerwear and women's shirts.
Fashion
Emporio Armani FW21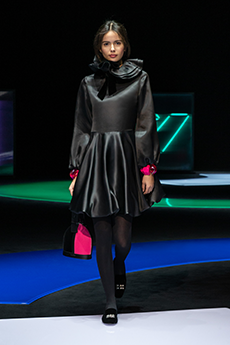 In the mood for pop – Emporio Armani's eclectic outlook is vividly expressed in the visuals shown in the online presentation and looks of the FW21/22 fashion show. The collection makes reference to Armani's vocabulary of the 80s, while subtly updating the aesthetics of the iconic decade. Harmonic shapes and relaxed elegance are interpreted in a snappy, metropolitan way and highlighted with bright, vibrant colors. Armani invites to step into Armani/Teatro to watch the Emporio Armani FW21/22 men's and women's fashion show, that immerses the viewer in a mystical, energetic light show.
The collection creates a mirroring dialogue between male and female silhouettes. The feminine designs exhibit elongated, slender shapes with a high waist. Embedded in the Athletic-wear attitude are touches of graphic prints and surface embroiders, that lead to a military-like pragmatism in a glamorous light. Unexpected patchwork prints on velvet materials, alternating with knit wear provide movement and sophistication to the color palette in which bright notes of purple and pink stand out against a black base. For men, the interpretation of softness is translated into new shapes and functions. Following a flowing, deconstructed silhouette, the jackets are wide with drop shoulders and accentuated with hairy linings, in order to replace coats. The coats themselves are crafted from knitted or woven fabrics, adding stable, heavy pieces to the collection. The men's counterpart of the collection also draws on athletic styles and military looks, making the mens and womenswear a harmonic whole.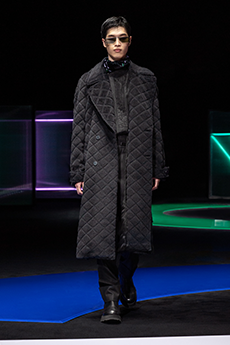 Fashion
SPORTMAX FW21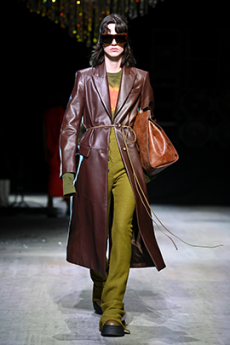 The SPORTMAX FW21 collection and digital Milan Fashion Week runway show embody a retro-futuristic ode to fierce womanhood in anticipation of 'All Tomorrow's Parties'. Driven by interpretations of Greek mythology and female imaginaries across historical epochs, the collection frames an artistic play on time and space. Narratives invigorating female figures such as a Greek or a Botticellian, Renaissance goddess, a femme fatale from the 1940s, a 1960s psychedelic spiritualist, an activist of the 1970s or a 90s techno lover emerge and intertwine on the SPORTMAX runway.

The collection is an ode to unapologetic womanhood and female emancipation, fiercely brought forward by females that embraced the unconventional and transcended norms and stereotypes throughout history. Moreover, the designs make reference to the uncertain, yet hopeful atmosphere that defined the era of the 1920s, seeing part of it reflected in today's Zeitgeist of stagnation and collective yearning for the future – awaiting the parties of tomorrow. The aesthetic form language of the SPORTMAX FW 21 collection juxtaposes maximalism and minimalism, femininity and masculinity and past and future. Inspired by Claude Cahun, the 20th century writer, performer and artist who trailblazed the gender-fluid and non-binary values that still endure today, the collection is characterized by a touch of androgyny clashing with glamour and austerity, as well as modesty and sensuality. Cahun's spirit endures in the flowing contours of the Roaring Twenties played out in silhouettes that transform the body into a human art form. Dominant shoulder shapes and slimming drapery that accentuate the bust meet skirts and trousers with extended hems and unexpected parachute shapes. Materials borrowed form the masculine world, such as leather, flannel and pinstripe wool collide with raw textures and edges, amped up by fringe and studied tie die techniques that express innovative, bold femininity. Transparent interpretations of knitwear achieved through soft mohair threads reoccur throughout the collection, suggesting an intriguing contrast of lightness. The largely monochrome color palette is electrified by vibrant shades of yellow, reds, fuchsia and blues. Sac-shapes bags, boots with biker detailing, statement jewelry, sleek gloves and contoured eyewear inject the collection with a sense of bravado.

www.sportmax.com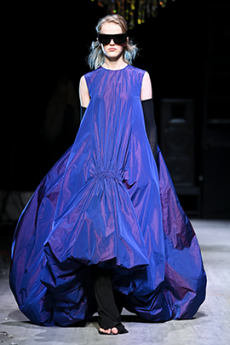 Fashion
Aesop x RÆBURN
Aesop and RÆBURN, the pioneer of responsible fashion, have collaborated and developed a sustainable bag for hand care on the go. Whether commuting, traveling, or simply on the go, the Adventurer Roll Up bag makes it easy to carry everything you need. As part of this partnership aimed to be sustainable by using recycled materials, both brands committed to the ethos of the RÆMADEInitiative, which is leading the way in recycling waste materials into responsible designs. The Adventurer Roll Up bag is a 300 piece limited edition item made from 1960s aeronautical navigation charts.

These silk pieces were selected for their motifs, each of which depicts a part of the world that has been particularly damaged by environmental degradation, such as Borneo or the Aral Sea. The manufacturing avoids material waste by making four bags from one card. Each of these Roll Ups also comes with its own serial number and a certificate. To mark the product launch, Aesop has partnered with Hypebeast, the leading online destination for fashion and streetwear, for the sale of 300 limited edition RÆMADE Adventurer Roll Ups. The bags will be available on selected online stores from March 1st, 2021.

www.aesop.com
Fashion
FENDI FW21-22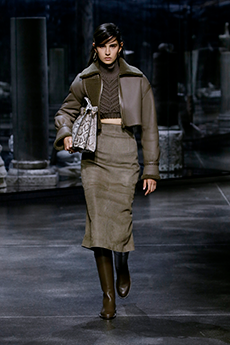 With the FW21 collection, Kim Jones ushers in a new chapter at FENDI, presented through a homage to the key codes and women who have shaped the house into what it is today. The collection is a celebration of the extraordinary Italian elegance, which has long associated with the house. Nobody embodies the spirit of the house more than the five Fendi sisters, whose wardrobes become the underlying inspiration for the collection. As put so fittingly by Kim Jones himself, 'The Fendi family are women of intellect who work hard – and that's what I wanted to celebrate, a powerful dynasty. I'm taking the amazing, strong women who I both know and work with, and listening to their needs. There's a usefulness to the collection, explored in a chic, timeless way.' No piece of the collection represents this more than a utilitarian shirt jacket which is directly inspired by Silvia Venturini Fendi's own uniform, reinterpreted and elevated luxuriously as shearling iteration with a boned mink interior. Another legacy which cannot be ignored when looking at the Roman house Fendi is Karl Lagerfeld. His legacy is omnipresent, whether it be the Karligraphy monogram or the FENDI First shoe's architectural heel, but updated for a new era.

www.fendi.com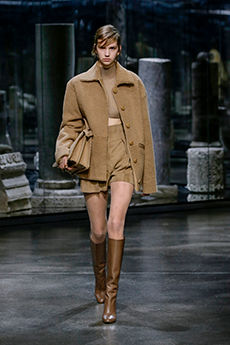 Fashion
GANNI x Levi's
In collaboration with the Danish sustainable brand GANNI Levi's presents a collection of Jeans, jackets, dresses and tops made of robust hemp-based cotton. Following their first conjoined upcycling collection in 2020, the two brands new line of clothing further elaborates their objective to bring innovatively designed sustainable and conscious fashion onto the market. Cottonized hemp as a substitute for conventional cotton avoids pesticides and fundamentally reduces water use in the production of the pieces. The hemp stems from rainfed agriculture and the fibers are then softened using an innovative biotechnical method that transforms the plant-based material into cotton-like fabric. Levi's Chief Product Offices Karyn Hillmann expresses her enthusiasm for the collection and work with GANNI saying: 'We are big fans of GANNI. In our collaboration, we combine the casual femininity of their designs with Levi's iconic denim looks and new sustainable materials like cottonized hemp'.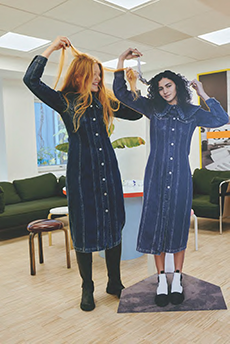 Fashion
COLMAR A.G.E. x MORTEZA VASEGHI
Colmar's innovation-focused label A.G.E. (Advanced Garment Exploration) was initiated by the Italian outerwear brand three years ago with the experimental goal to collaborate with international artists and designers. A.G.E. stands for modern, contemporary design and reinvention of Colmar's designs, which are historically rooted in ski-wear. For the third collection of A.G.E., which is an essential part of the FW21/22 collection, Colmar works with the internationally renowned designer Morteza Vaseghi. Mostly known as the co-founder of the magazines Recens Paper and Wallet along with Elis Olsen, Vaseghi transfers his fascination for printed pages in magazines to the design of clothing for the human body. As the Creative Director for Colmar's newest A.G.E. collection Vaseghi introduces organic, futuristic forms that express his progressive ideas of unifying human beings with nature, reconnecting the idea of modernity with the natural environment in the context of fashion.
Fashion
VERSACE x La Medusa Bag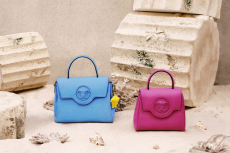 VERSACE introduces its latest accessoire line in the name of the brand's ultimate muse: Medusa. The ancient Greek icon of beauty and desire as a historic example of unapologetic attitude and fearless self-belief continues to enduringly guide the spirit of VERSACE's designs. Embracing this, each La Medusa handbag is adorned with the classic Medusa-head plaque, a replica of the plaque that was discovered on the doors of VERSACE's first headquarters in Milan. These VERSACE trademarks are combined with a bold, bright color scheme exuding positivity and lightness with an emphasis on the shade DV Blue. Donatella Versace worked to create the perfect shade of blue, inspired by nature and designed to bring happiness to the wearer. 'Blue is my favorite color because for me it represents freedom', the Chief Creative Officer says and expresses through the new Medusa bag in DV Blue. Moreover, all handbags of the collection are made in Italy from premium leather, which is selected to create a slouchy and unstructured finish. The texture-color combination gives the Medusa Bag a modern and youthful feel, which makes an ideal accesoire for the contemporary woman.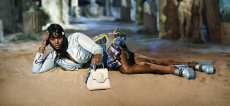 Fashion
Jimmy Choo x Marine Serre SS21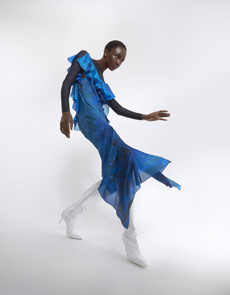 Jimmy Choo and Marine Serre have collaborated to create a capsule collection fusing their values of comfort and iconic designs. The capsule collection helps delineate the narrative of Marine Serre's Spring Summer 2021 collection and accompanying film, created in collaboration with directors Sacha Barbin and Ryan Doubiago. The six key styles of the collection each allude to a different character- a distinct identity, a new facet of a wearer, underscoring each total look they are designed to be an integral part. Inspired by the pivotal moment in 2019 when Jimmy Choo's Creative Director Sandra Cho first met Marine Serre and the latter was wearing vintage Jimmy Choo's, the designers searched deep in Jimmy Choo's archives from Autumn/Winter 2000.

The ease of sportswear was also a significant influence on the collection. Marine Serre reinvented the traditional Kung- Fu shoe into the MOON BOXING KATO SNEAKER. Functionality meets vintage in the capsule collection, which is most clearly visible in the reinterpretation of the classic Mary Jane shoe into the SWIRL RUBBER MOON KITTEN HEEL PUMP. The collection combines the iconic prints of Marine Serre, as well as the contour cut of Jimmy Choo. All styles feature Marine Serre's leitmotif crescent logo on recycled jersey. Inherently feminine, the styles are also dynamic, designed to be practical for today's fast paced modern life.

www.jimmychoo.com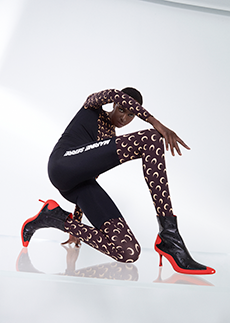 Images Courtesy of Jimmy Choo shot by Quentin Jones
Fashion
Louis Vuitton SS21 Campaign
Louis Vuitton presents its Spring Summer 2021 campaign creatively directed and shot by Nicolas Ghesquière. Ghesquièr, the House's Artistic Director, embraces his role as a photographer once again to showcase the latest Louis Vuitton collection on the brands' ambassadors and friends. For this endeavor, the Artistic Director handpicked athletes, models, actors, and musicians for their personality and uniqueness to represent the new generation of Louis Vuitton. The talent includes Grammy Award-nominated singing duo Halle and Chloé Bailey, Oscar-winning actresses Jennifer Connelly and Emma Stone, tennis champion Naomi Osaka, and Sophie Turner, Cody Fern, Laura Harrier, Carolyn Murphy, and Jaden Smith, to name a few. Stars of the campaign are leather bags "the Coussin" and "the Rendez-vous", to which the idols pay tribute. Both bags can be worn in various ways and challenge both the bounds of style and gender. Icons of the Louis Vuitton's leather world, the Capucines, and the Twist are also featured by actress Liu Yifei and the model Carolyn Murphy.

www.louisvuitton.com
Fashion
The new Breitling Chronomat for Women
Inspired by female confidence, determination and style the new Breitling Chronomat 36 und 32 series for women embodies versatility and attractiveness. The effortless, modern watch has a retro-touch, making reference to the rich Breitling design tradition and signature models. High quality manufacturing and functionality meets everyday casualness and luxurious elegance in the creation of the new Chronomat models for women. The watch is available in different sizes and materials, from cool stainless steel and double-toned all-rounders to luxurious 18-carat red gold. Breitling underlines the collections dedication to confident, ambitious females in the #SQUADONAMISSION campaign, featuring dance Misty Copeland, actresses Charlize Theron and TV actress Yao Chen. As the CEO of Breitling, Georges Kern, describes the women: 'Three trend-setting stars who are known for their passion and who are setting new standards.'

The images showcasing the new Breitling Chronomat Collection were taken in corporation with the German model, actress and socialite Cleo zu Oettingen-Spielberg in Oettingen Castle, her home located in the Munich region.

www.breitling.com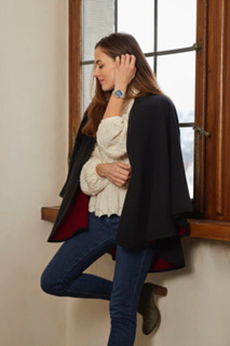 Fashion
TAG Heuer x Porsche: Carrera Chronograph Collection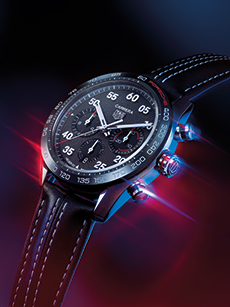 TAG Heuer joined forces with Porsche to set a new standard of brand collaboration. The Swiss luxury watchmaker and the German sportscar manufacturer have created the TAG Heuer Carrera Porsche Chronograph watch collection, a love child of the two companies' rich and successful history in the racing sport. The name Carerra came as a natural choice for its first innovative product collaboration since it has been associated with TAG Heuer and Porsche for generations. In 1963, Edouard Heuer's great-grandson Jack had created the first Heuer Carrera chronograph, designed to let race track drivers tell the time at a glance in the heat of action. Porsche's history with the name comes from a class win in the Carrera Panamericana race of 1954, in honor of which Porsche started calling its most powerful engine 'Carrera'. The TAG Heuer Carrera Porsche Chronograph collection unites the brands in the spirit of the 'Carrera' (or 'race'), which embodies ambition, speed, and technical excellence. The collection's watches either come on a soft strap in calf leather with stitching that echoes the Porsche interior or on an interlocking bracelet. They feature the iconic Porsche logo and come in bespoke packaging, padded with the red Porsche interior lining.

www.tagheuer.com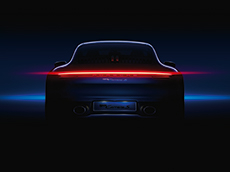 Fashion
AGL:SOIREE Couture Sandal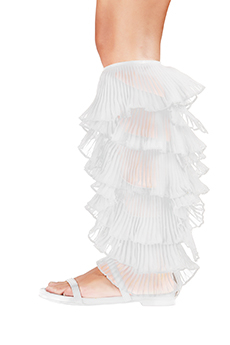 AGL's latest Spring Summer '21 collection features 26 unique designs of plateau sandals, heels, flats, open-toed summer shoes, and leather bags. From summer sandals to cocktail heels to festival boots, this collection offers everything for what the summer of 2021 allows.

The Giusti Sisters, owners, and the brand's managers always create their collections together: Sara and Vera through research and conceptual ideas, Marianna through her drawings and technical knowledge. Together they represent the third generation after Piero Giusti, who founded AGL in 1958, to lead the family business from Marche in Italy, the shoemaking capital. Steeped in the 60 yearlong expertise of shoe craftsmanship, tradition, and creativity, the sisters' newest collection promises to deliver trendy summer shoes of the highest quality.

The SOIREE sandal represents the sartorial crown jewel of the collection. Its invisible leather structures and volumes of pleated tulle play with the viewer's visual lightness while optimizing the wearing experience. The couture sandal is available in both black and white. White is contextually used to represent purity. The black version represents feminine sensuality because of the tulle's "now-you-see-it-now-you-don't" effect. The SOIREE is truly an emblem of the artisanal savoir-faire of the sister trio.

www.agl.com
Fashion
MIU MIU - MIND MAPPING
Starring Allison Katz, Caren Jepkemei, Chloé, Emma Corrin, Kelsey Lu and Topsy the short film MIND MAPPING directed by Ben Northover brings the MIU MIU SS21 campaign to life. The film between documentary and fiction celebrates nonconformist and idiosyncratic female individuality through its cast and artistic language. Northover envisions the protagonists as 'windows into the worlds of the multitude of MIU MIU women – maps of their minds.' The extraordinary women, placed within an ordinary domestic setting embody eccentric characters confronting each other in a loose interpretation of the Game of Contraries, voicing trains of thought representative of their innate individuality. Spontaneous, intriguing word associations in combination with enigmatic styling and visual effects leave the viewer in humble engagement. MIU MIU's new campaign creates a set of sequences simultaneously mirroring diversity and unity, literally mapping the protagonist's thoughts through verbal and visual storytelling.

www.miumiu.com
Fashion
Saucony Originals: Happy Birthday, Jazz!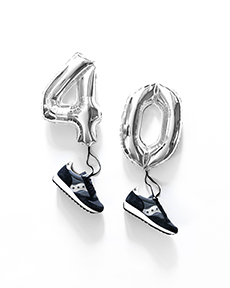 In celebration of the 40th anniversary of the Saucony Originals collection's most iconic shoes, the Jazz O' trainers, the brand launches two new models – Jazz 81 and Jazz Court - in tribute to its origins. Released in 1981, the historic Jazz O' model embodied the brand's ambition to create a unique, technologically advanced running shoe focused on aerodynamic profile, lightweight materials and ergonomic fit for ultimate athletic comfort.

The Jazz O' trainer has become the best-selling Saucony shoe of all time and until today continues to be the cornerstone of the collection and a staple in the world of running, having been awarded five stars by Runner's World, a bible for runners all around the globe. The anniversary releases represent a faithful reinterpretation of the original model, while enhancing comfort and fit by choosing premium materials and other special details. The keywords "see, touch, feel" express the innovative upgrades in design, material and fit.

www.saucony.com
Fashion
Furla SS21
In the spirit of joy and optimism, Furla is welcoming all to enjoy the moment with its SS21 collection. Diving deeper into its roots as an Italian family-owned brand, the core DNA is expressed in the film by Lorenzo Gironi with the Creative Direction of Macsiotti. The motto of freedom, a joy in elegance and close friendships fuels this collection. A dreamy Mediterranean meeting of sky and sea reflects the simple pleasures evident in nature, simple pleasures people can share, evoke the core values of Furla for its SS21 collection. With a soundtrack by Cyril Giroux, photos by Dario Catellani and styling by Vittoria Cerciello, the seasons of joy conjure up feelings of long Summer days that in turn become warm, carefree and unforgettable Summer nights.
Italy's coastline was the chosen setting, a panoramic and incredibly beautiful way of telling the next chapter of the Furla brand story. A soft palette of products, shown with chromatic ton-sur-ton effects contrasts against one another, carefree, wild. A balancing of volumes both in color and in shape are tailored with signature Furla details, an institutional manifesto of sorts, marking a new chapter.
#FUNFURLA
Fashion
Marcell von Berlin SS21
Marcell von Berlin, the brand by Designer Marcell Pustul, with flagship stores in both Los Angeles and Berlin, has released its SS21 collection. The collection is built on the idea of celebrating the cosmopolitan woman who is filled with a yearning and desire to follow her inner path through life with sensuality, joy and fulfilment.
This same feeling is expressed with extravagant prints, flame printed sweatshirts, minimalistic denim jumpsuits, clean lines and noteworthy inspiration from the 70s. In this SS21 collection a range of new handbags are premiered. Made with impeccable craftsmanship, the 'BERLIN' bag are made from imitation crocodile leather, the 'M-R1' bag and the 'MM Cargo' are also versatile accompaniments to each daring and colorful look in this new collection. A hand-painted abstract flame design was scanned and then printed onto the fabrics of this collection, prints that speak to the core DNA of the brand.
The 70s play a pivotal role in the Marcell von Berlin SS21 collection due to that particular decade's history of women's empowerment and liberation movements. "While working on this collection I was constantly visualizing women that inspire me," says Pustul, "women that have that fire and inner drive inside, women who are brave enough to not hide their emotions and live their lives to the fullest. These women are passionate, independent and play by their own rules, therefore the flame seemed like the best representation for them", declares Pustul.
As Marcell Pustul puts it "times are changing; therefore, the brand needs to evolve and adjust to the new climate in the fashion industry."
The collection will be available at the flagship stores in Berlin and Los Angeles as well as wholesale partners across Europe and the US from January 2021 onwards.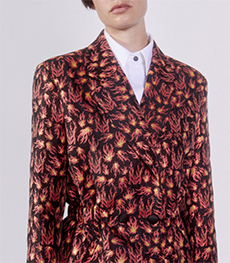 Fashion
VETEMENTS FW21/22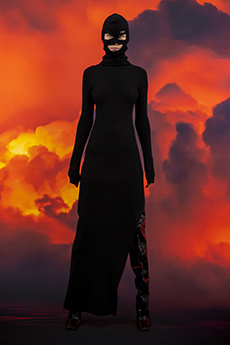 VETEMENTS, French design collective, has premiered its FW21/22 Men's and Women's collection in a runway that combines both during Paris Fashion Week. An anti-conformism collection that hits many contemporary talking points with sophistication and its signature tongue-in-cheek sense of humour. A trench-coat brandishes bold labels like 'Race: Human'. 'Birthplace: Earth', 'Politics: Freedom' and 'Religion: Love'. The collection, both Men's and Women's, ignites a thought-provoking dialogue on authoritarianism, power and how much freedom and control people have in the 21st century.
The campaign shot by Gio Staiano displays the wide range of elegant dresses in dark colors, the focussed tailoring evidenced in the Men's collection of the VETEMENTS FW21/22. In addition to Men's and Women's clothing there are unisex T-shirts with graphic slogans printed on them, including quips such as "I love long walks and sex before marriage." There is also an over-the-knee boot decorated with flags from many nations across the world, possibly a comment on the intersection of globalization, fashion and consumerism.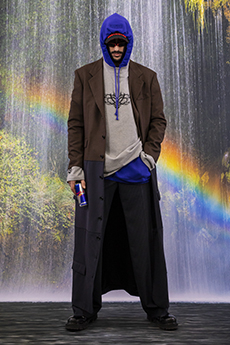 While the pentagram and more gothic visuals combine with the humorous wordplay to pair a nihilistic worldview, complete with balaclavas in lieu of pandemic-style face masks, the imaginative shapes and forms which are tailored into both Men's and Women's FW21/22 collections shine through.
While the pentagram and more gothic visuals combine with the humorous wordplay to pair a nihilistic worldview, complete with balaclavas in lieu of pandemic-style face masks, the imaginative shapes and forms which are tailored into both Men's and Women's FW21/22 collections shine through.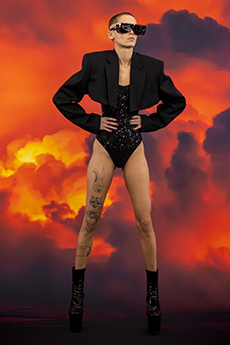 Fashion
Hermès Men's FW21
Since the outbreak of Covid-19, the physical fashion show has disappeared. Due to ongoing restrictions and social distancing measures, fashion houses have been forced to switch to the digital realm. For this Hermès menswear show, Veronique Nichanian in collaboration with Cyril Teste decided to re-create the closest possible thing to a real physical show. The viewers were able to follow the show through a seven-section split screen format, recreating the eye's freedom to roam during a real show, revealing different details and angles. For the FW21 collection, Hermès beautifully blends casual and elegant. The world is changing and this is reflected in our clothing. Véronique Nichanian, in charge of the menswear collection since 1988, recognised this, 'Our approach to clothing is currently undergoing a transformation, and my job is to come up with propositions.' The collection brings together luxury, ease and excellent craftsmanship, bringing together the natural, baby lambskin, with the engineered technical canvas. The divisions between work and home were softened through the loose-panted suiting complementing elevated workwear-inspired pieces. Zesty colored sneakers were a great visual juxtaposition to the muted and earthy color palette of lambskin of pants and cardigans.

www.hermes.com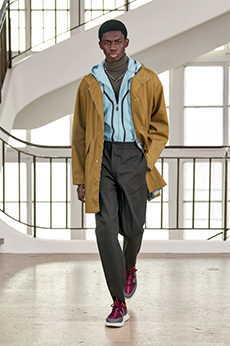 Fashion
Dries Van Noten Men's FW21/22
To make new what is old and cherished, time-honored and treasured elements of the Dries Van Noten wardrobe are reinterpreted for Paris Fashion Week. Clothing designed to evoke purpose in the wearer, while also revealing a tenderness or emotional depth. In a blend of sportswear and formalwear, Belgian tailor, Dries Van Noten, after opening a new store in Los Angeles last year, debuts a new take on modern menswear for its FW21/22 Men's collection.
An abstract purity about the line and shape of each garment rings true to Dries Van Noten's brand DNA, finding joy in the unassuming by way of soft and sharp contrasts. Cropped and elongated elements, trousers ranging from drainpipe skinny to relaxed and loose-fitting, along with pleated high waist trousers paired with oversized car coats display a dedication to versatility and expression in modern menswear.
Colors from petrol to lemon display the spectrum of earthy and warm colors such as alkaline, dusty pink, coffee, ochre, anthracite and cement. Along with traditional tie motifs, zodiac signs and classic shirt stripes, the collection is filled with skilful embroidery, patterns and prints. The collection also features a range of accessories which include a monogrammed metal ring, leather pouches, bucket hats in padded nylon as well as high-tech moccasins and knit legwarmers.
The garments are designed with both formal and casual settings in mind, the blurring of the two in recent times and 'dressing for our days' is noted as a muse for Dries Van Noten Men's FW21/22 collection.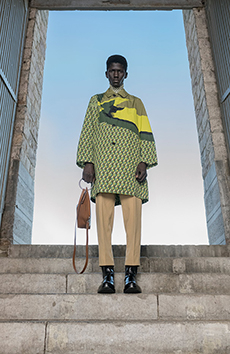 Fashion
HOMME PLISSÉ ISSEY MIYAKE FW21
HOMME PLISSÉ ISSEY MIYAKE premiered its FW21 collection titled 'Never Change, Ever Change'. A title which captures the essence of the collection perfectly. This collection embodies the brand's intent to evolve, to capture the spirit of our times and to respond to our ever-changing lifestyles through design. At the same time, HOMME PLISSÉ ISSEY MIYAKE stays true to its roots, from design language to production. Classic and conventional pieces are re-interpreted through a modern perspective and infused with original ideas and technology, building a selection of new basics of the brand. The collection itself was an interesting mixture of the classics pleats and subtle novelties, which sometimes remained hidden from the viewer's eyes. It was the first collection, which featured a series produced 100% from recycled polyester fabric or a new fabric woven from yarn-dyed polyester threads, resulting in a materials that is warm like wool, but at the same time much lighter in weight and wrinkle-resistant. In their video presentation, the process of pleating the garments were central, offering an insight into the processes needed to create the very unique signature garments from HOMME PLISSÉ ISSEY MIYAKE.

www.isseymiyake.com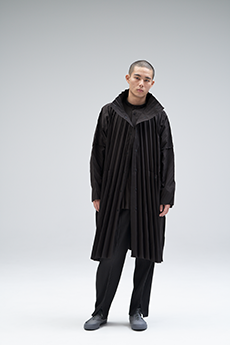 Fashion
Etro Men's FW21/22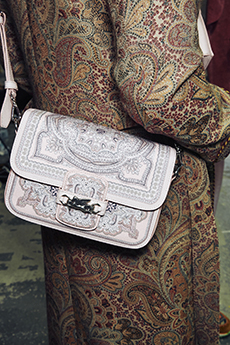 Etro has released their FW21 collection, an unconventional and personable message of hope and faith for a life-affirming collection of Menswear. The Creative Director behind the collection, Kean Etro, embraces an upbeat mood for his FW21/22 collection, marking the beginning of a new chapter at the family-managed Italian fashion house. Juxtaposing casual and elegant, the playful and ironic, blazers with cadet details and robe coats rich in fabrication are layers on color-blocked anoraks decorated with paisley patterns. In a time when a sense of freedom is so coveted, Etro is blurring boundaries and breaking established rules to bring joy into otherwise ordinary materials. Denim utility pants splashed with cashmere motifs are balanced out by sartorial elements, the sophistication of camel coats and double-breasted suits which feature deconstructed fluid silhouettes.
A sense of street-savvy interplays with pyjama inspired piping which details the shirts. Quilted jackets made from vintage upholstery textiles. The Pegaso logo appears enlarged on bomber jackets and oversized hoodies, to layer with maxi sweaters made from recycled wool and shirt collars made from an archival silk lining. Contrasts define the selection of footwear in this FW2122 collection, patchwork sneakers with neon laces, paisley and mandala patterns display a knowledge of classic and contemporary on a range of highly functional backpacks, pouches and cross-body bags. The collection also features special genderless vests made from a blend of wool and mohair, see now-buy now capsule collection putting the beauty of the androgynous in full focus.
Fashion
Iceberg FW21/22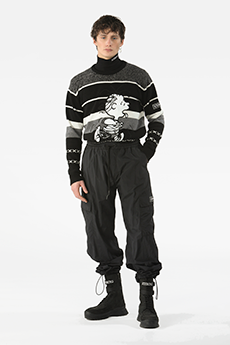 With his new FW21/22 collection for Iceberg, Creative Director James Long channels a carefree eccentricity reminiscent of 90s Brit Pop, underground rap and acid rock scenes to create a new identity for both men and women alike. The collection re-interprets luxury sportswear and elevates it through details such as 3D quilting and jacquard as well as ironically placed zips. The more sporty aesthetic pays homage to the 90s raver silhouettes. Traditional codes of the ever-evolving athletic leisure wear is not rejected, but enhanced through more soft and feminine touches and the introduction of luxury knit. This is also reflected in the color palette of the collection. For the women's collection, muted tones of primrose, egg-shell and grey are juxtaposed with acid pink, energizing the selection, whereas the men's collection is amped up through utilitarian details and the contrast between tech and knit textures. In typical fashion, Iceberg once more showcases its affinity for incorporating pop icons, with Peanut cartoon characters Snoopy and Woodstock portrayed on some of the sweaters. The FW21/22 collection is the coming together of luxury sportswear and the innovative Italian knitwear, which Iceberg is so famous and celebrated for.

www.iceberg.com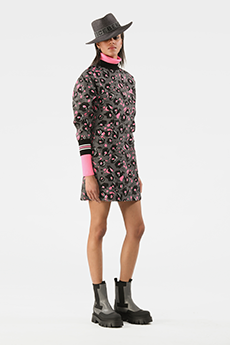 Fashion
FENDI Men's FW21
During the ongoing pandemic, society has shifted, most notably in the way we dress. Having been confined to our homes, we seek comfort in the clothes we wear, blurring the boundaries between inside and outside clothing. With the latest FENDI Men's collection, Silvia Venturini Fendi takes us on an optimistic and comfortable adventure in a world full of illusions, a glimpse of how comfort is done at FENDI. A maze of neon doorways was suspended in a mirrored tunnel, infinitely multiplying the models whilst in reality entirely alone. Throughout the collection, we experienced the menswear classics in a new light having been injected with the FENDI playfulness. This did not just express itself through the bright colors, emerald, vermillion, orange and fuchsia just to name a few but also through contrasting textures and materials. Outerwear was defined by more relaxed silhouettes and reversible work wear inspired pieces unite multi-functionality and form. Another visual highlight of the show was the collaboration with British artist and performer Noel Fielding, another addition to Fendi's playful selection of artistic collaborators. His signature style, multicolored, stream-of-consciousness scribble art, fits right in with the show's backdrop and underlines once more Fendi's optimistic and less formal view of the new reality.

www.fendi.com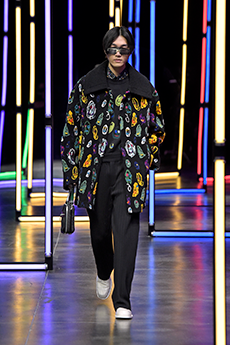 Fashion
Acqua di Parma: Barbiere
Embracing every morning, the routine and the time that we take in the early hours of each day is important. Keeping the skin hydrated and healthy all year round is something that many men struggle with, Acqua di Parma has released two new formulas specially for men's skin. A delicate sensory texture and vivacious fragrance of Colonia establish the character of these new products in the Barbiere universe. For shaving, after-shave, beard trimming, hair care, styling and facial care, the multi-action face cream hydrates and smooths; replenishing the skin and protecting against harmful blue light which can age the skin prematurely.
Strange and harsh weather conditions coupled with pollution and toxicities in the air demand the implementation of the new Acqua di Parma Revitalizing Face Cream. When met with water the face cream transforms into a foam and continues to cleanse and remove toxins from the pores of skin without drying it out. Tailored to a modern man's needs, a luxurious Italian-style ritual that Acqua di Parma is so known for presents a morning of pleasantries and a level of care that gives the skin a renewed buoyancy against the elements.
In alignment with Acqua di Parma Futura, the company's sustainability manifesto, all packaging is environmentally friendly.
The Multi-Action Face Cream and Revitalizing Face Cream will be available from February 15.
Burro Studio x Moose Knuckles Gives a Fu*k
Moose Knuckles, the international luxury outwear brand founded in Canada by Noah Stern in 2009, has released a capsule collection with Milan-based Burro Studio. Known for innovative practices in Graphic Design, Burro Studio has also developed a reputation for being a champion of inclusion and diversity to foster ideals of community with their designs for some time now. Having worked with Miu Miu, Nike and Leica, Burro Studio has a contemporary vision and streetwear sensibility.
'Burro Studio x Moose Knuckles Gives a Fu*k' intends to reach and care for at-risk communities. For every item sold Moose Knuckles will donate one jacket to charity organization Diakonie Hamburg, supporting its local community. The capsule collection features a range of unisex hoodies, long sleeves and T-shirts each made from high-grade organic and ethically sourced cotton produced with as little impact to the environment as possible. Burro Studio have laced each garment with graphics executed using screen printing and CAD-CUT ® Premium Plus heat transfer for a lightweight feel, the look taking cues from graffiti culture.
The capsule collection, 'Burro Studio x Moose Knuckles Gives a Fu*k', is the next stage in an ongoing charity effort from Moose Knuckles which began in May of last year. To offer vulnerable people access to quality clothing. The capsule's appearance takes cues from cities all across the European continent, including Amsterdam, Stockholm, London, Dusseldorf and Hamburg. This appreciation for global cities continues Moose Knuckles' 'Milano Addosso' capsule, which was dedicated to the city of Milan, inspired by the architectural sophistication of Barona, Paolo Sarpo, Porta Venezia and Soupra districts.
The capsule collection is currently available exclusively at braun-hamburg.com and at a Moose Knuckles Pop-up store in Hamburg arriving in the city this month.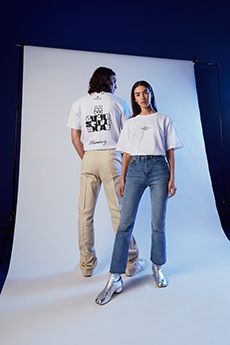 FENDI: Women's and Men's SS21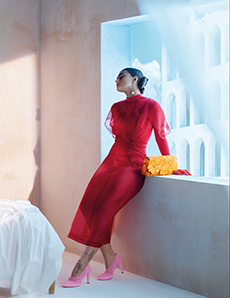 Perceiving the world outside from the indoors, the world outside calls back with an unmistakable Italian charm and cadence; Rome, the home of Fendi. In the new Women's and Men's SS21 campaign a digital window is projected onto the wall, through the window is a view of the globally renowned maison's headquarters in Rome; Palazzo della Civiltà Italiana.
The campaign is shot by acclaimed British photographer, Nick Knight, in his London studio. The set is dressed with curtains that fill with a Summer's breeze and float as if there is a hidden mysticism in the air. Modelling the Women's SS21 collection Mariacarla Boscono, Estelle Chen and Jill Kortleve are styled by Chaos Fashion, while Chun Soot and Henry Kitcher are styled for the Men's collection by Julian Ganio.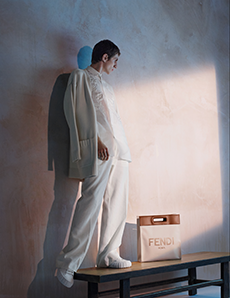 Designed by Silvia Fenturini Fendi, the Women's and Men's SS21 collection are color coordinated with the sparsely furnished set to reflect the different tones and shades of both collections. A palette of naturally occurring colors including honey, milk and wheat are accentuated by carefully placed notes of cardinal red and sky blue to complete the overall look. To complement the looks, iconic Fendi bags PeekabooISeeU augmented by the modern Fendi x Chaos tech accessories. Featured alongside the iconic Baguette bag for women and the Peekaboo Essential for men, new shapes and designs such as the Moonlight satchel bag and a new Fendi Eyewear collection are introduced.
Shadows visually stretch across the room to signify the ease and relaxation of Summer peaking its rosey fingers through the curtains. Familiar domestic touches like a bed or a wooden chair give the impression that the relationship between indoors and outdoors is at its most casual, seamless and enjoyable in Summer.
Étoile Filante by Louis Vuitton
Étoile Filante by Louis Vuitton Inspired by the striking imagery and boundless inspiration caused by a shooting star of comet glimpsed in the night sky, Maître Parfumeur Louis Vuitton Jacques Cavaller Belletrud, created the new fragrance 'Étoile Filante' or 'Shooting Star'.

In his father's laboratory in Grasse, an eleven year old Jacques discovered osmanthus absolute. "It immediately fascinated me", he recalled, years later on the master perfumer's journey through China he would happen upon a combination of exquisite magnolia and osmanthus dancing on the cool night air at the flower market, swooning him into a heady dream. Adding a touch of Jasmine from Grasse obtained using CO2 extraction, a technique exclusive to Louis Vuitton, the floral harmonies of the scent combined with light notes of sun-ripened strawberry are amplified.

On the olfactory composition of Étoile Filante, Belletrud calls it "A perfect illustration of floral freshness that is vibrant and rich in contrast, with marvellous tenacity", speaking openly about jasmine's effect on the fragrance, he says simply "it's an ingredient that makes you smile" says Belletrud. Stars dancing in the sky, racing unthinkably fast to wherever their journey takes them, if only to remind us there is an energetic and restless light out there in the dark.

This latest fragrance from Parfums Louis Vuitton, is an ode to the pure and simple joys that remind us our natural world and place in the cosmos can still reignite an undeniable sense of wonder and hope to pierce through the fog of uncertainty and doubt.

As of January 28, 2021, Étoile Filante will be available at select Louis Vuitton stores and online.
Art
Foscarini Sun-Light of Love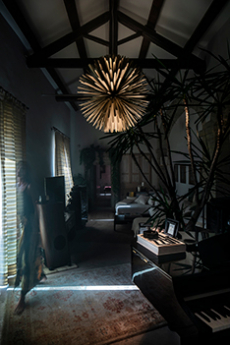 No identifiable beginning or end, an ever changing shape refusing to be defined by the human eye; the sun is a muse for Foscarini in their new Sun-Light of Love spherical lamp. Made up of 390 metal rays that have been grafted to the central body, the lamp is suspended in midair much like the sun is suspended in space, as opposed to a more conventional lamp being fixed into a wall or bound to a supporting beam. The Sun-Light of Love directs its light softly diffused upward as well as a stronger and more direct beam of light downward in order to create ambiance for a table setting as well as more focussed lighting for reading or inspecting objects.


Foscarini has made the lamp available in two finishes, one in gold which brings its proud and regal star-light quality to the room and another finish in white for more minimalist settings that require statement pieces that also play to a room with innate subtlety. Its charm and vivacious personality are well purposed to neutral spaces that otherwise lack an edge; reception areas, hotel entrances or retail facilities. Dutch designer, Tord Boontje, showcased in MoMA, New York, is renowned for implementing a sense of romanticism and whimsy in his work. Sun-Light of Love is his first design for Foscarini. This highly decorative, impactful sphere of hundreds and hundreds of metal spokes conjures to mind that which is felt more than defined. Like the welcome heat and bright light of our Earth's sun is felt, while staring directly into the sun will only add to its enigma.  

Fashion
Fendi 'The Baguette Dance'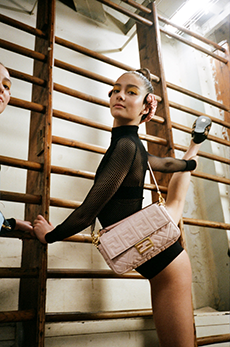 Iconic Roman fashion house, Fendi, continues their 'Baguette Friends Forever' series with a stirring emotional performance by a troupe of five skilled gymnasts from The Paris Centre. The Fendi Baguette is invigorated for The Baguette Dance, wearing the renowned FF logo embossed in a hypersoft leather that appears in five colors including black, pink, bright blue, yellow and red. The dancers grace a ballet ballroom with poise, vigour and an unparalleled energy spurred on by an uptempo synth pop beat. The Baguette changes hands between each dancer in tandem with the flow of their highly coordinated routine. The same playful spirit of 'Baguette Friends Forever' is enhanced and the first time the Baguette finds its soul and denotes friendship that is youthful and exists outside of the limitations of time in this quintet of 'FFriends!' from Fendi. 

Dedicated to the joy that dancers evoke and the same feeling that strong friendships create; the fearlessness and energy of dancers deeply in their element follow a similar path to the curves, edges and accents essential to the DNA of the Fendi Baguette. The Baguette Dance not only pays homage to the overall beauty of the bag's design but it presents the world in which this bag was created; one of unrelenting joy and comradery. The exceptional dancers at The Paris Centre translate in movement a feeling which cannot be expressed in words.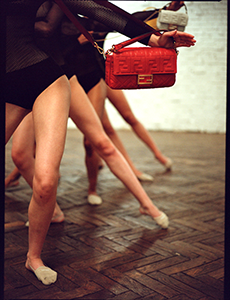 Conceptualized by the minds at Fendi, the Baguette Dance is not simply an homage to the Baguette design, it represents the Baguette in its purest form. 

www.fendi.com 
Fashion
Prada honoured with Creativity Fashion Awards 2020
Prada is the new recipient of the 2020 Fashion Awards, presented by the esteemed British Fashion Council under the creativity category of this annual event. The Creativity category was set up to provide recognition to individuals and brands that have realized global impact through creativity in design, campaigns and collaborations, in addition to the massive task of shaping global fashion through innovation. Prada has and continues to fuse creativity and social responsibility making the house a worthy winner of such a monumental award. With the Prada Linea Rossa FW20 campaign, their substantial support of Italy in the Covid crisis, the Tools of Memory campaign in partnership with Sotheby's that donated its proceeds to Unesco, educational projects just to name a few, Prada has done a huge amount of good in such a bleak and uncertain time. Co-Creative Directors Miuccia Prada and Raf Simons were selected for the positive change they made this year within the fashion industry, a testament to the power of creativity.

www.prada.com
Fashion
Support Our Future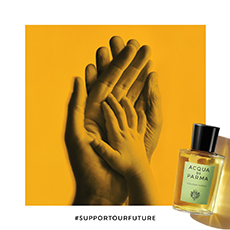 With the bold hashtag "Support Our Future", Aqua di Parma proudly presents their new charity campaign. From December all UK profits from their Colonia Futura will be donated to The Prince's Trust, to help support young people, who are facing an increasingly bleak and unpredictable future. In keeping with it #StayAtHome solidarity campaign in reaction to the Covid crisis in Italy earlier this year, Acqua di Parma continues in its global support of those in need. The Prince's Trust remains the Uk's leasing youth charity, first set up by the Prince of Wales in 1976. With this stoic history behind it the charity continues to make huge strides to bring positive change to many young people's lives. Acqua di Parma's new campaign is a strong reflection of a brand dedicated to using their influence and platform for good.

www.acquadiparma.com

Fashion
Zegna X Leica
The indomitable pairing of fashion and photography are realized brilliantly in an exciting new collaboration between Zegna and Leica Camera. Both legends in their own field, it feels a long awaited union, the iconic German camera manufacturer moving into the world of fashion with a distinctive collection of high-end camera accessories. First seen in the January on the runway, the modern photographer is gifted with an array of accessories all made extra special by their handmade craftsmanship. Consisting of PELLETESSUTATM camera holsters for Leica Q2 and Leica M cameras; PELLETESSUTATM protectors for Leica Q2 and Leica M cameras; functional crossbody bags called Insta-Pack and the Leica CL with the 18mm 'pancake' Leica lens; carrying and wrist straps; Leica keyrings and round wallets (both for coins or the Leica Q2 lens cap) this collaboration caters to every photographer's need. Zegna's Artistic Director, Alessandro Sartori is himself a photography enthusiast not to mention a Leica lover, and this unrivalled passion is clear in the collaboration that is a celebration of both photography and fashion alike.

www.zegna.com
Fashion
Star Service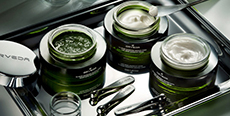 Orveda announces Orveda concierge, an amazing new service, allowing clients to get tailor-made advice for their skin. Investing in the right skin care requires both industry knowledge as well as an acute understanding of one's own personal makeup. This 5 day a week, 5 star concierge amalgamates the two, providing a bespoke "Chat with our Healer" live service. With a detailed plan of the right products and Orveda regimen for your skin, customers are treated to a truly personal service that centers the client and equips them with the knowledge they need to make their skin the very best. At a time when self care has never been more important, Orveda delivers, entrusting their clients in the hands of their team of expert advisors, ready to tackle the ominous landscape of skincare.

www.orveda.com
Fashion
Night Mode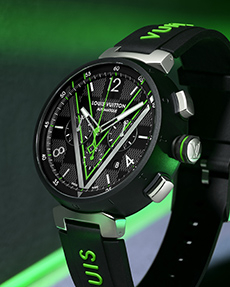 Louis Vuitton presents perhaps its most daring watch to date, the new Tambour Damier Graphite Race, fusing energy and creativity together in an exciting bold design. This time piece combines sporty-chic with a sleek sophisticated aesthetic, creating a wearable and versatile accessory. The accents of fluorescent green against the dark gray of the graphite PVD coated steel case exudes a real sense of daring and adventure whilst also fitting into an urban aesthetic. Subtly incorporates the V for Vuitton into the design, the Maison erects an architectural dial in the shape of this significant letter, a truly patriotic detail. Despite its modern feel, age old craftsmanship forms the very essence of the Tambour Damier Graphite Race, its smoked-grey sapphire glass caseback cleverly revealing a traditional mechanism. Available in two versions, customers can choose from the 41.5mm diameter automatic model and the extreme 46 mm diameter chronograph. Both designs have the capacity to have an interchangeable strap, black or fluorescent green depending on the wearer's mood, outfit or preference. Louis Vuitton crafts utter magic with this watch, a striking graphic design that makes a statement.

www.louisvuitton.com
Art
Architects of Air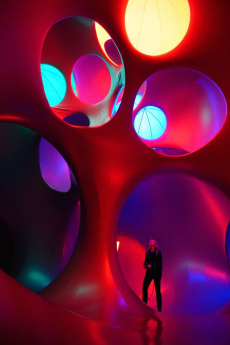 Designed by Alan Parkinson, the luminarium changes the way we interact with light and space, curating a sense of the sublime through an immersive experience. Influenced by the awe inspiring structures created in the Islamic and Gothic architectural tradition, Parkinson engages a contemporary aesthetic, creating for his audiences a unique and spectacular interplay of light and space. Light in fact, is simply a product of the daylight which seeps through the luminarium's fabric, employing a wonderful symbiosis with the natural world and connecting each experience to a specific locational context. Shown in a diverse range of contexts, from corporate events to festivals, the luminaria are accessible in their instinctive appeal and versatility. Since there creation more than 3 million people in over 40 countries have been able to experience their transformative and arresting effects. On arrival visitors are asked to take off their shoes before passing through an airlock. Inside visitors are given a map to freely explore the installation comprising multi-colored pods, labyrinth tunnels and domes, as such each experience is defined by the audience who are as much a part of the luminarium as the structure itself.

www.architects-of-air.com
Travel
Parkhotel de Wiemsel
The Kunstgalerie Parkhotel de Wiemsel is simply every art lover's dream, offering its guests a diverse collection of art, all within the realms of a delightful residence. Deceiving in its historic facade, the quaint country house is home to an extraordinary array of contemporary pieces, covering paintings, graphics and sculpture. Stemming from its owner Henning J. Classen's 40 years of experience collecting art, which includes the Galerie im Alten Kaufhaus which he founded in his home town Lüneburg 10 years ago, Classen now opens up his collection, inviting his hotel guests to share in his enjoyment over his most treasured pieces in the uniquely private atmosphere of the hotel. A wonderful mix of emerging and established artists, the collection is home to works by the likes of internationally acclaimed artists, such as Ackermann, Christo Giacometti and even Warhol. The gallery holds exclusive hours and on entrance, welcomes the hotel guests with a glass of champagne and other tantalizing nibbles. The luxury does not end here, as the hotel also boasts a decadent spa and heated pools (both inside and out), perfect for a relaxing retreat. Great food and wine are the finishing touches to a truly perfect experience, treating its customers to a truly well-rounded stay. Close to the German Dutch border, food lovers, art connoisseurs and those in need of utter peace and harmony can come together in a hotel that caters to the very best life has to offer.

www.parkhotel-dewiemsel.com
Fashion
The Joys of Gifting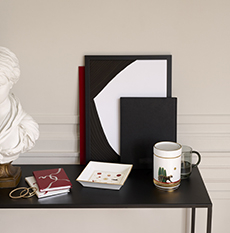 Gifting is imbued with real love and consideration in Cartier's new collection of objects, that bring moments of joy to everyday life. With everything from music boxes to writing papers, Cartier continues its long established tradition of adding sparkle and intrigue to the most mundane aspects of day to day life. Since 1880 the Maison has been invested in small objects, such as powder compacts, inkwells and other quaint pieces of stationery, and this long fascination is injected with real contemporary flair. Curating 4 collections of objects, all connected to one another by their emblematic codes: the panther, Double C and the menagerie, Cartier show the small unsuspecting power of gifting. From stationery to small silver cups, each object is a show of affection and thought, Cartier preparing for a holiday season like no other.

www.cartier.com
Fashion
10SOUL
The Seoul Design Foundation set up the 10Soul Project in order to champion Korean design on an international platform. Selecting these designers at Seoul Fashion week, 10 emerging talents were chosen to take part in a pop-up installation at Berlin's iconic Voo Store. Amongst this creative group was Yoon Seok-Woon with his brand SEOKWOONYOON. Seok-Woon takes many of his references from modern art, and is particularly drawn to Trompe l'oeil, creating sculptural illusory elements on his garments. Moving from ready-to-wear to more conceptual looks, Seok-Woon is definitely one to watch. Another 2 members of the Soul project, Lee Moo-Yeol and Kim Min-Hee with their brand YOUSER, have since had their looks shown at Milan's 2020 runway. Clever sartorial design meets sports luxe, meets uniform in YOUSER, where unique layering gives way to exciting and surprising garments and looks. Voo store proudly showcases these designs amongst many others in an installation that fuses art and fashion.

www.vooberlin.com
Fashion
Story Time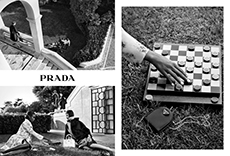 Rooting their Holiday 2020 campaign in the literary imagination of best-selling author Candice Carty-Williams, Prada's accessories, jewelry and leather goods tell a mysterious and captivating tale. With Steven Meisel as photographer, Williams' story is given visceral depth, the aesthetic of a film noir providing a cinematic edge to the author's words. Multiple perspectives, angles and cuts revolve around 5 characters, familiar faces in the Prada's universe - Freja Beha Maty Fall, Mai Xiaoxing, Rudolfs Valbergs and Merlijne Schorren. Situated in the Villa Gnutti, an isolated residence in rural Italy well known through its association to Helmut Newton's 1981 shoot, Meisel's black and white photography recalls vintage cinema, the idyllic mediterranean backdrop creating a beautiful mise en scene. The photograph stills taken from the campaign act as portals into a glamorous world, framing with acute attention the new Prada Cleo Handbag, which debuted in the Multiple Views spring summer 2021 show. The Cleo is a wonderful hybrid, a synthesis of Prada's archives with futuristic ambition. Alongside the Cleo, the Prada triangle is reinterpreted, the iconic emblem appearing as an array of necklaces, lariats and chandelier earrings. Luxury and decadence run throughout the holiday 2020 campaign, where emotion, intrigue and desire run rife.

www.prada.com
Fashion
Vessels of Light
Aesop channels other worldly wonderment, in its new set of Aromatique Candles created with seasoned collaborator, Barnabé Fillion. Each of the three candles in the collection are named after an ancient astronomer: Aganice, Callippus and Ptolemy, referencing the early pioneers of discovery. The night sky framed as an infinite source of inspiration. Detailing the concept behind the collection, Dr Kate Forbes, Aesop's Director of Innovation simply put the new collection as "candles as stars", a warming indictment of the brand's notion of vision. With exquisitely subtle, nuanced scents, the candles are a welcomed addition to any cosy interior setting, designed to ease the stresses of everyday life through calming fragrances. The Aganise Aromatique Candle is rich with Cardamom, Clove, Mimosa and slight notes of Tobacco, the Callippus Aromatique Candle offers Frankincense, Guaiacwood and shiso and the Ptolemy Aromatique Candle is light with a smokiness of cedar, Cypress and notes of Vetiver. Fillion delights in this collaboration, where candles centre the home as a place of serenity and sanctuary, basking its inhabitants in the soft glow of a beautifully scented candle.

www.aesop.com
Fashion
Adrian Ghenie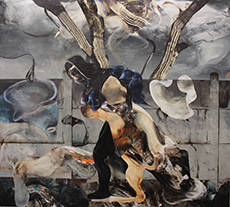 Presenting the fifth solo exhibition of Adrian Ghenie, the Tim Van Laere Gallery are proud to present nine new paintings and three new charcoal drawings by the Romanian born artist. Born in 1977 in the city of Baia Mare, Ghenie graduated from the Art and Design University of Cluj-Napoca and now works between Berlin and Cluj. Engaging with a unique and illusionistic spatial arrangement, Ghenie's work is characterized by distinct pictorial motifs that are at once hedonistic and radical. Transposing his extensive knowledge of history on to his eclectic and diverse subjects, Nazi Germany and Greek Mythology appear in narrative form in many of his works. Referencing the genre of history painting, classic techniques such ad chiaroscuro, reveal a real and genuine connection with traditional practices. Known for his emotional investment in his practice, feelings of vulnerability and frustration come to the surface, challenging the viewer's own collective memory through the stories he presents. Adrian Ghenie will be exhibiting at the Tim Van Laere Gallery from 15 October until 28 November 2020.

www.timvanlaeregallery.com
Fashion
Echoes of The Unseen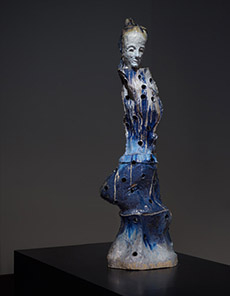 Gerhard Hofland announces its international group exhibition, "Echoes of the Unseen". Moving beyond the realms of tangible and visual experience, through a narrative of figurative and abstracted forms, artists: Johan Tahon (Belgium, 1965), Janine Van Oene (The Netherlands, 1998), Damien Cadio (France, 1975) and Robert Seidel (Germany 1983) come together to showcase meaningful reflections on these uncharted spaces. Gestures and marks are enlivened by the discovery of a space neglected by the subconscious, landscapes shaped by subjective others. With a distinctly haunting offering, Johan Tahon curates an emotional display, his timeless works guided by a quiet wisdom. Rooted in the artworks of ancient mythology, Tahon's works are composed of a series of thoughtful and meticulous interventions, all alluding to a higher truth. In Janine Van Oene's presentation, she challenges the very possibilities of abstraction, her vocabulary spirited by an affinity with color-mixing and and calligraphic strokes, Motionless forms are given a new lease of life, channeling the nostalgic paradox of plastic flowers and vernacular curtain patterns. Damien Cadio, re-articulates the canvas in his contribution, gathering exciting momentum from the parameters of his pieces. In curating disorienting encounters with his subjects, Cadio produces works that toes the line between the physical and historical, a tension, unnerving in its capacity to affect the viewer. With this state of flux in Mind, German artist Robert Seidel is an artist whose practice is underpinned by the notion of perpetual reconstruction. Magnetized by the present, the past is a skin that is continually shed, the infinite role of transformation, tantalizing in the constant promise of unpredictable change. Immersing us in this cycle, Seidel's thorough interrogation of architecture and scenery, uses observation as a means to engage the viewer in their own locality, their own sense of being.

image credits:Johan Tahon, Glacier Monk, 2019, 185 x 38 x 65 cm, Stoneware

www.gerhardhofland.com

Fashion
LOEWE Spring Summer 2021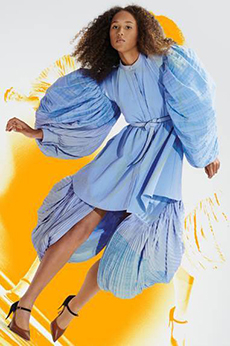 Loewe Spring Summer 2021 "Show-on-the-Wall derived from this idea that this entire collection was done remotely. I was looking back I think like a lot of people were doing in this moment of kind of rethinking of models of fashion and how we approach things". For Loewe Spring Summer 2021 Jonathan Anderson created Show-on -the-Wall exploring the possibilities of a paper show at a 1:1 scale, fully embracing the idea of actively involving the viewer in an experience that is radically different from the traditional fashion show. Coming in the form of an oversized artist's portfolio, it holds sixteen bus-stand size folded posters, each one depicting a different character wearing a look from the collection, and one poster featuring a still life arrangement of accessories silkscreen printed with fluorescent, phosphorescent and metallic inks. The portfolio is accompanied by a number of tools including a roll of wallpaper borders depicting all the looks from the collection, wallpaper glue, a brush, scissors, a ceramic disc infused with Beetroot scent and a catalogue raisonné, and a unique roll of wallpaper designed by Anthea Hamilton, "When we worked with the artist Anthea Hmilton for the Duveens at the Tate Britain, for me it was a very seminal work. Just before the Summer I was thinking how we can contextualize fashion in this moment and I thought it was nice to work with her again on the wallpaper" . Jonathan Anderson speaks about the wish to create a place where the viewers are put into the position they are forced to be creative, to interact. The images feature a vast cross section of ages, gender and body types: Adam Bainbridge, Alice, , Elise, Hilary Lloyd, Holly, Jadé Fadojutimi, Jewel, Kristina de Coninck, Laurence Kleinknecht, Louis, Mona, Rinke, Rosie, Sunny Suits, Vittoria and the artist Anthea Hamilton herself, "When we were working on how we were going to put this collection together I liked this idea that we would really delve into exploring the art of fashion. This collection glorifies the hand embroidered, hand woven, hand made". Spiraling flaps. Balloon sleeves, balloon skirts. Crinolines. Neckerchief hems. Hoops. Tulle as an encasing outer layer. Giant knots made of sequins on knitted fabrics catching and releasing the movement. Curves, folds, flaps. Ballerina hints. Festoons. Jonathan Anderson embraces escapism in his own way, using historical research as an experimental tool: how boning can be taken out of context and can be used to create an unexpected structured fluidity. The collection plays between fantasy and reality, taking the wearer to another place, to a different dimension, where to escape in these difficult times.

www.loewe.com
Fashion
Stone Island: Storia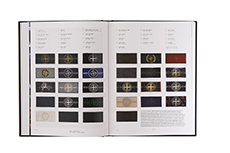 Since its foundation in 1982, Stone Island has unquestionably left its mark on the fashion landscape. From Milanese paninari to British football diehards, Stone Island resonates with a diverse audience. It is its distinct mix of elements of fashion, luxury and streetwear, which has kept the Italian house relevant throughout its almost 40-year existence. Not just relevant, but a veritable cultural cornerstone, a status enhanced by its celebrity following, but primarily thanks to its ardent fans all across the world. Central to the brand is its relentless pursuit of excellence, may it be in the design language or in their continuous efforts to bring innovation to the world of fabric treatment and dyeing. Stone Island: Storia captures the house's illustrious story and ethos. Previously unseen images are combined with three major texts by Eugene Rabkin, Paul Gorman and Jian Deleon offering seasoned and new fans alike new insights into the world of Stone Island. A special edition with slipcase and a poster depicting the history of the house's iconic branded badges has been produced exclusively. These special editions will be available exclusively in Stone Island stores and online starting from October 6, 2020.

www.stoneisland.com
Fashion
Balenciaga Spring Summer 2021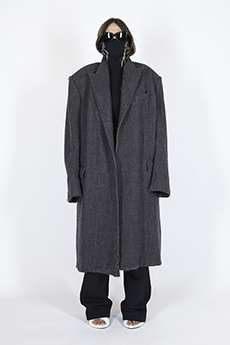 The pandemic has given each of us a chance to reflect, and clearly something has happened to Demna Gvasalia. After his apocalyptic show last season and in face of a slightly different dystopia at the moment, Gvasalia returns with an almost optimistic attitude. With the ongoing pandemic, Gvasalia abandons the classic runway show, as many others have done, and reimagines the collection presentation as a music video. The models are strutting in a purposeful step through an abandoned Paris at night to the 80s track Sunglasses At Night, because, to put it in Gvalsalia's words, "Is there anything more absurdly fashion than that?" His tribe of night time people embodies a sense of modern glamour, representing the type of people who turn heads after dark. In his typical fashion, Gvasalia continues to fuse couture with comfort, applying the Balenciaga DNA to everyday pieces. The standout of the collection was not a single piece, rather the story behind. 93.5% of the plain materials used are either certified sustainable or upcycled. Conscious about the environmental impact that the industry has, Gvasalia show commitment to change, "It became very obvious to try to do garments that are unisex, uni-size, uni-everything—or whatever we want to call it. It drastically reduced the number of cuts and fits we had to make. Also, I like the fact that according to who wears it, the silhouette changes, but whoever wears it, it looks good."

www.balenciaga.com
Fashion
"Spend More Time With The Great Outdoors"
RSF has released an original buffalo check overshirt in an exclusive purple colorway, the brand's signature color as part of a second collaboration with Woolrich. Building upon an initial summer drop, where Woolrich and RSF released a collection of sunglasses, the two brands have teamed up once again, this time using the vast beauty of the outdoors as their inspiration. Creating a mini documentary, Milan-based creative Massimilliano Bomba, has created a pure set of visuals, inviting the viewer to venture out of the home and connect with the natural world. The mission statement "Spend More Time With The Great Outdoors" is boldly presented in yellow across the back of the shirt, a graphic and striking addition to the purple and black buffalo check pattern. The Buffalo Overshirt is now available through both Retrosuperfurture and Woolrich channels and at selected retailers worldwide. 

www.retrosuperfuture.com
www.woolrich.com



Fashion
Chloé Spring Summer 2021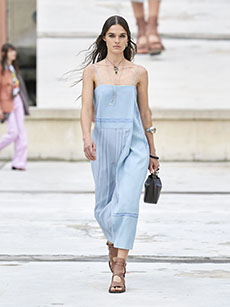 A soft wind brushing between the hair. Taking pictures of the Seine. Strolling on a quiet day in the city, then stopping for a moment to contemplate the serenity of everydaylife, of a simple gesture, of a day like any other. Chloé Spring Summer 2021 collection was presented through a set of cameras following models, merged together, overlapping. Natacha Ramsay-Levi has built her Chloé by exploring the female gaze, its strength, its fragility, and that unconventional emotional and intimate gesture. Over the years Ramsay-Levi has reached out to great female artists and activists, bringing their work into Chloé, creating a debate over these exceptional visionaries. This season the collection feature a selection of print created by American artist Corita Kent also known as Sister Mary Corita. Born in 1918 at the age of 18 years old she became a sister under the Immaculate Heart order in Los Angeles known for being very progressive and nurturing artistic sensibility. She developed a great interest in art and after obtaining her master degree in Art History at University of Southern California, Corita became the head of the art department at Immaculate Heart College in 1964. Her teaching method was so revolutionary that great artists like Charles and Ray Eames, Alfred Hitchcock, Buckminster Fuller were invited as guest speakers. Corita often mentioned how Charles Eames played an important role in her artistic vision. A self–taught serigrapher, she became interested in the potentials of the medium creating several hundreds different works, that over the years became increasingly political. When in 1968 she was accused of blasphemy for her continuous activism against war and female discrimination, Corita returned to secular life and became a prolific artist and openly civil rights activist, until her death in 1986. For Chloé Spring Summer 2021 collection, Natacha Ramsay-Levi featured several of Corita's artworks: 'hope' (1965), 'give the gang our best' (1966), 'i can handle it' (1966), 'for emergency use soft shoulder' (1966), and 'viva' (1967). It's interesting how the apparent delicacy of text and words related to Christian fait actually disclose the incredible strength of the artist's activism. Celebrating Corita's work, the house of Chloé, will also donate part of proceeds from the Spring Summer 2021 collaboration to the Corita Art Center, a non-profit organization dedicated to preserving her legacy.

www.chloe.com
Fashion
Kenzo Spring Summer 2021
"How can one draw conclusions from a situation that is far from ending and in which the consequences are impossible to grasp? The world is ill, the world is bleeding, but it is still alive. And, as long as there is life there is hope.[…] Going p laces… a mirage of dreams, hope, excitement and discovery. We will not give that up. Clothes that transform themselves to adapt to all situations. The fully covered and protected becomes fragile and naked, daring danger and rules". Felipe Oliveira Baptista's words speaks about his reflection and reaction to today's challenge. Baptista's first collection for the iconic brand was shown just few days before the World declared state of emergency. The Portuguese designer has always experimented around the idea of versatility, a youthful and contemporary silhouettes around what he often called 'post-sportswear' Last year in a press release marking Baptista's appointment, Kenzo's CEO, Sylvie Colin, said: "His innovative and modern creative vision and well-rounded artistic approach will enable Kenzo to reach its full potential while respecting its unique heritage." For Spring Summer 2021 Baptista created a raw youthful and daring sensibility. Clothes for nomads, to explore and create a new world, were contrasting elements recall the dichotomies of our current life, the paradox of our times. Flowers, bees, nature. Archival Kenzo poppies and hortensias were given a digital crying effect. From flowers the primal feeling of protection and cocooning came an ode to the bees, one of the most important insect for the survival of human species. Recently populations of bumblebees have steeply declined in many places, largely because of insecticide and global warming. Some species are now even listed as endangered species. If all of the world's bees died, there would be a major rippling effect throughout the ecosystem, and although it would not likely lead to famine, it would dramatically alter human food systems. But for Baptista bees and the beekeepers with their mesmerizing clothing and hats also strongly echo "the fragility and distance imposed and needed today". The collection features a series of sheer beekeepers hats a ttimes elongated along the body and worn over. Deconstructed, draped, twisted, cut out garments: floating and grounded, transparent and solid, romantic and utilitarian. Felipe Oliveira Baptista's vision for Kenzo is whispered through his small handwritten note printed inside the pamphlet that served as invitation to the show, and voicing this celebration of life: "There are no norms. All people are exceptions to a rule that doesn't exist."

www.kenzo.com
Fashion
Stone Island x Persol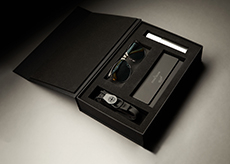 Both Persol as well as Stone Island are two brands looking back on a rich heritage having contributed to the rich Italian design language as well as continuing to do so with their devotion to craftsmanship and the new technologies. For the first time, both companies now come together to combine their visions in a new pair of sunglasses. The inspiration for the Pilot Frame comes out of Persol's archive, more precisely the 1970s, evoking the exclusive style so connected with the brand. Produced with the same machines as back in the days, the new frame has been made with special attention to details, showcasing the full technical and stylistic capabilities of both brands. The classic shape of the classes is accentuated with technical details, visible screws, hand brushed metal providing a matt finish which constitute the visual counterpart of the shiny glasses. With a commitment to innovation and unafraid to engage in experimentation, without losing that distinct elegance, Stone Island and Persol show us what 'Made in Italy' can and should be in the 21st century.

www.stoneisland.com
www.persol.com
Fashion
Marni Spring Summer 2021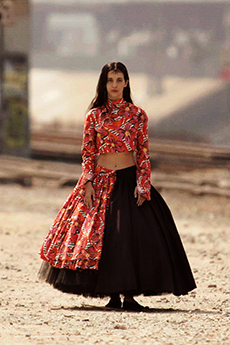 In keeping with this surreal time, Marni's SS21 collection rejects the runway entirely, its collection of models formed by everyday city dwellers inhabiting day to day life. In a climate where normality has slipped between our fingers, Marni embraces the vernacular habits and intricacies of our lives, the trip to the shops, the comings and goings of traffic, playing with pets and other mundane yet entirely profound highlights, anchoring its collection in the remnants of familiar life. Marni creates a video archive, documenting beautifully the simple pleasures of life that for many were inaccessible for the last few months, chronicling the clothes and their wearers as they move through the city, the home, singing, dancing, cycling. In the spontaneity that animates each shot, the clothes are brought to life by each person, seamlessly fitting into specific contexts, matching and playing off the personalities of its eclectic subjects. Togetherness is depicted conversely through isolated lenses, a true and honest depiction of a time, where the screen has been perhaps one of our only opportunities for human connection. Cropped coats, graphic stripes and tank top hybrids, make a nod to Basquiat in their eccentric urban character. Cotton, leather, gauze and flowers add wonderful textures and layers to the looks, reflective of the bricolage that is city life. Marni defies all expectations with this offering, showing incredible versatility in the face of such a spectacular unknown.

www.marni.com
Fashion
ETRO Spring Summer 2021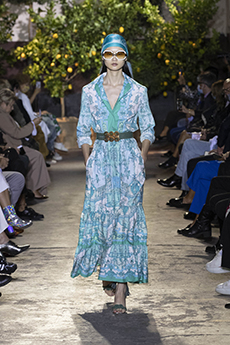 Over the last months we have rediscovered the joy that simple gestures, like traveling, reuniting with your loved ones. For many, the places that were once familiar became distant, inaccessible. We became overwhelmed with longing for our native territories, like Ulysses for his Ithaca. For Spring Summer 2021 Veronica Etro, creative director of ETRO Womenswear, explored the enchanting Italian summer landscape, the flora and motives found in Italian Riviera: marine chains, anchors, seashells, nautical rope, summer stripes, sailboats, green foliage, together with the brand's signature Paisley now proposed in monochrome color ways. The collection also presented archival foulard prints - Bandiere da Parata (1992), Albero delle Meraviglie (1993), Trionfi e Soffitti (1994) and Palais Jamais (1995), reminiscent of sumptuous frescos of Italian palazzos. Playful and uncomplicated with shirt knotted at the waist, knotted scarf's worn under blazers as tops, denim and micro shorts paired with fluid tunics, bustier long dresses worn with rope lace-up flat sandals. Straw basket bags, chokers in gold rope, high-heeled sandals with silk ties wrapping around the ankles. It's a collection celebrating the outstanding beauty of Italian life and ETRO's roots. With its rich prints and summer color palette in Sicilian lemon yellow, lavender, mint, orange, turquoise, and lavish silk, floating as the models walked to the beat of 90s music hits.

www.etro.com


Fashion
Re-writing the Space
Putting on an optimistic front, Furla commits itself to enhancing its retail experience, announcing significant investment into this area of the brand. Targeting its key stores worldwide, the Italian accessories brand has united with renowned firm David Chipperfield Architects Milan, to introduce a new concept to its most popular locations, transforming their customers' experience in the process. Making its debut in Milan's flagship store, located on Piazza Duomo, this revamp will be fittingly taking place during Milan Fashion Week, the two storey space enlivened through fluid and artistic design. A sculptural staircase will now connect the two floors, a new adjacent space added to accommodate special events and pop-up displays. Classic arched doorways frame the space sumptuously, always bringing the focus back to the core elements of the space, the accessories. A natural palette and tactile textures also guide the customer's gaze back to the products, a subtle and effective backdrop to Furla's iconic accessories. Speaking about the collaboration David Chipperfield reflects fondly and proudly, "together we have sought to interpret its heritage while developing a story around the core product – the bag –within a new built space."

www.furla.com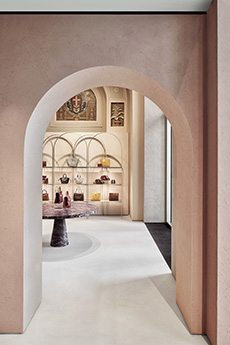 Fashion
Prada Spring Summer 2021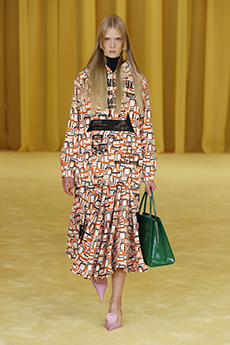 The most awaited fashion moment just took place: Miuccia Prada and Raf Simons first collection as Prada's co-creative directors. Presented through a digital event followed by a conversation where the two venerated designers answered questions submitted by Prada-devotees. What is the meaning of "New", of "Prada-ness", of "Uniform"? A dialogue, emblematic of the modus operandi of two of the most intelligent fashion designers. "I have been always interested in the metaphor of "uniform". The show was very much about that. Muccia's uniforms, how Miuccia dresses, her own uniforms were an instant and important inspiration for the collection", Raf Simons spoke about his take on uniforms and how it radically inspired the show "It is interesting if you know you can find clothing that you feel good in, and you know you can express what you want to express through them, without being too much about a very specific fashion item. A uniform needs to express something timeless rather than a specific seasonal piece. It's almost a base". Prada Spring Summer 2021 touches on a multitude of interpretations around this notion of uniform, - a visual representation of identity, of shared and embraced values, a way of thinking. Garments are pared-back, refined, focused: shell tops, straight pants, overcoats in industrial re-nylon, constructed using couture techniques, suits executed in fleece. "New is the nightmare of every single designer. But I think that "New" for the sake of the "new" probably it is not relevant anymore - Miuccia Prada has always stressed how in her vision fashion is a deep understanding of reality, of people's lives at an exact historical moment. "For us is very important reacting to reality, to what is happening now. I always thought that fashion is part of creating people 's change, it is part of what is happening in the world. A fashion designer is not an abstract job. The people with my clothes need to feel better, clothes need help define your personality, they are an instrument for people's life" The collection is both reflection of and reaction to our current time, where the mediation between technology and humanity has become vital and the inevitable restrictions we are all facing. Miuccia Prada's very own longstanding research on the question of technology, and its now indispensable presence in our daily life has led to a fundamental examination in the collection. Artworks created by Raf Simons' long-term collaborator and friend Peter de Potter, are used to interrupt and disrupt the surfaces - as graphic tools of contrast, sometimes laid over archival Prada print, emblematic of worlds and aesthetic discourses coming together, exploring ideas of thoughts, processes, dialogues, exchanging ideas. Different fabrications are presented throughout the entire collection: t-shirt jersey, fleece, re-nylon, embroidered duchesse satin, taffeta, connected to simple gestures - garments are drawn around the body and held steadily by the hand - quintessential of both designers' signature, a shared language. Miuccia Prada has always worked with the juxtapositions of historical references, of elements, approaches, at times in apparent dichotomy, but paradoxically harmonious. Lastly what is the essence of Prada, the Prada-ness? In Raf Simons words: "For many years I have always seen it as a community that has a very specific attitude and aesthetic. You cannot really define it but it clearly IS. For me this is very important. And that "-ness " is exactly what a brand needs to have for me to love it".

www.prada.com
Fashion
Herno Spring Summer 2021: Fifties Fun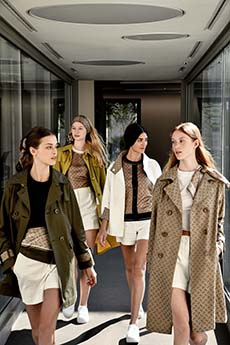 Herno dives into its archives for its Milan Fashion Week 2020 Presentation, bringing the carefree spirit of the '50s strikingly into the contemporary moment. Returning to its roots, stock footage is spliced with visuals of their SS21 collection, showing the brand's integrity and history to be an essential part of their creative DNA. Beginning with the Iconic Herno Monogram collection, the wonderfully recognizable canvas with the emblematic H pattern, is reworked as an essential accessory. To be worn in the hair, tied as a top and cynching in the waist of their cotton raincoats. The laughter, fun and freedom of a girls trip is recreated, as they drive down italian vistas, culminating in a trip to the factory, where we are reminded once more of Herno's prestigious craftsmanship. In this italian extravaganza, silk scarves blow in the breeze, inducing each outfit with a joyous sense of drama and excitement. The H pattern adorns the timeless outerwear, cotton raincoats and down jackets made of ultralight nylon. In taking a trip down memory lane, Herno remembers its history with pride, its SS21 collection made even more special, elevated by this charming sentiment of nostalgia.

www.herno.com
Fashion
Musc Ravageur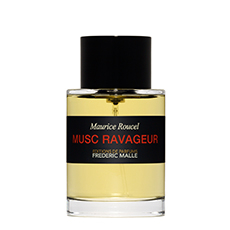 Maurice Roucel's perfume Musc Ravageur has attracted global acclaim, after receiving the prestigious Fragrance of the Year Hall of Fame Award. Released in 2000, Musc Ravageur sent waves through the perfumer industry celebrated as a pinnacle of the Amber Oriental tradition. Heralded as an unapologetically sensuous perfume, the scent enhances natural musk, with amber, vanilla, patchouli and sandalwood. Reflecting on the award, Frédéric Malle "could not have dreamed of anything better to celebrate the 20th anniversary of Editions de Parfums". Roucel, who started his career as a chemist in 1973 then transitioned into becoming a self-taught perfumer, characterized most commonly by his creation of opulent and distinctly sexy scents. Musc Ravageur's wide reaching appeal shows Roucel to have monopoly over the perfume industry in his ability to curate timeless scents that transcend trends.

www.fredericmalle.com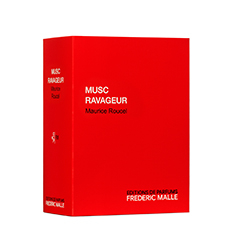 Fashion
Coach: We Are family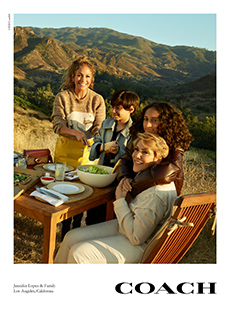 Coach launches its global advertising campaign, "Coach Family", for the House's Fall 2020 collection. Strengthened by stories of community, bonds of togetherness and enduring love in the face of adversity, Coach seeks its inspiration from our turbulent present and its test of the most important relationships we have in our life. The campaign features ambassadors of the brand Kiko Mizhura and Jeremy Lin alongside longstanding Coach face Jennifer Lopez and other individuals regarded as the House's extended family. Channelling the wholesome essence of family life, the campaign recalls home videos in its aesthetic of archive footage interspersed with unfiltered stills, optimism and inclusivity resonating throughout. New portraits will be released over the course of the season, creating a campaign that feels spontaneous in its reveal of new and established Coach faces. Creative director Stuart Vevers uses our current time to "re-examine our values" forming a campaign around the heart of the family.

www.coach.com
Fashion
Roll the Dice
20 years since its launch the J12 returns as the J12 Paradoxe, uniting its previous black and white models in a sleek and bold design. Originally heralded as the first watch icon of the 21st century, CHANEL sustains its prominence, creating a completely new and fresh aesthetic. Appealing to both day and night, the J12 Paradoxe feels one of CHANEL's most versatile watches to date. Crafted from scratch-resistant ceramic and manufactured in Switzerland, the watch is a masterclass in elegance and detail, fusing the two colours together to showcase creative and rebellious spirit. Two-tone elements also detail the dial and the bezel, ensuring this opposition created by the combination of black and white runs cohesively throughout the watch creating unrivalled harmony. J12 Paradoxe is a dynamic accessory, building upon the success of both the black and white J12s that came before it. www.chanel.com
Berlin Brilliance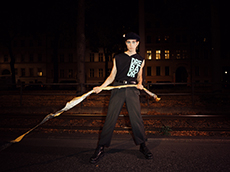 Bartending is rendered as an art form by 7585 in their new capsule collection launch 'Dream Baby Dream'. Fittingly taking place at their favorite Berlin bar, the bar top is turned into an avant garde impromptu runway as models strut brazenly to the sound of booming techno. Made intimate by the space's capacity, the launch is also an homage to the unity of Berlin creatives who have come together at such a critical time. The collection which has been designed and produced locally is also modelled by unique Berlin artist personalities, designs which were made in collaboration with the aforementioned "Dream Baby Dream" bar. This collection is a celebration of ethical fashion, craftsmanship and honest materials. Embracing the forward thinking essence of Berlin, all garments are unisex, seasonles spieces designed to be timeless statements of creative integrity. 7585 X DBD is all about locality, the organic cotton coming from a local supplier and the high wash resistant flex print folia from a local manufacturer. The collection is made up of wearable pieces all in black, except for one white piece with a black star/sun, an ode to the Berlin techno music scene.

www.7585berlin.com
Fashion
The Golden Age
L'età dell'oro translated as "The Golden Age", is the title of Fabrizio Plessi's new exhibition sponsored by the House of Dior. A pioneering name in Video art, the Italian artist has reached global acclaim, exhibiting internationally across the world's most prestigious museums and galleries. Scheduled to open just before the Venice Film Festival, whose date has now moved due to current circumstances, his exhibition will continue. The exhibition will be held on the façade of the Correr Museum, a historic site in the city's iconic Piazza San Marco. Plessi's exhibition defiantly intersects nature and artifice, the traditional and futuristic and primitive and technological, making him somewhat of an alchemist in his melding together of unexpected and contradictory elements. Golden sculptures also pay tribute to Serenissima, a beloved city of the artist. In its support of the exhibition, Dior continues its commitment to culture, supporting iconic talent such as the likes of Plessi and his new and exciting exhibition.

www.dior.com
Fashion
Peekaboo I See You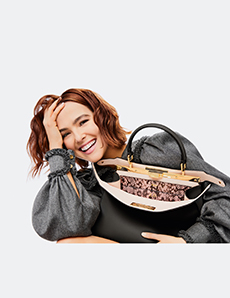 Fendi honors its iconic bag, the Peekaboo, in its first ever global video and image campaign. Starring Zoey Deutch, the actress and producer is shot embracing her Peekaboo in an intimate gesture communicative of the beloved status of the bag, as well as granting us a rare insight into the celebrity's authentic innerself. Deutch's personality is revealed, as she struts confidently across a street, performs in front of paparazzi and twirls around uninhibited in her own dreamscape to the soundtrack I See You by The Horrors. As seen in February in the FENDI Fall Winter 2020-21 Collection, the new Peekaboo has an accordion-frame shape, featuring inside pockets which can be made out of smooth leather or precious skins and even personalized with the wearer's initials. The Peekaboo is a constantly evolving motif of the Maison, subjected to limitless change through the House's creative depth and flair.

www.fendi.com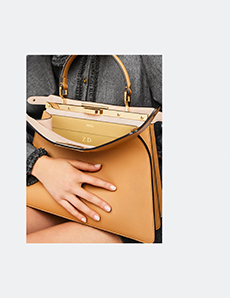 Fashion
Inspiring Italy
Staying true to its founder's vision of "giving back", Zegna now more than ever understands the importance of its scholarship program. In a world that has been blighted by economic uncertainty Zegna provides a beacon of light. For the 7th edition of Ermenegildo Zegna Founder's scholarship program, 42 students from 15 Italian universities will be awarded scholarships, supporting emergent talent to engage in education and experience that will help enrich Italy's future. Committing to €25 million over 25 years, this donation aims to provide financial support to Italian students and researchers looking to learn and seek connections abroad. In keeping with past years, this year's awardees have selected leading academic institutions across Europe and North America, including Oxford, Cambridge, University College London, Columbia, Harvard and NYU. The Digital Get-Together format used to bring awardees together this year speaks to the resilience of a community able to overcome anything.

www.zegna.com

Fashion
FENDI Fall Winter 2020-2021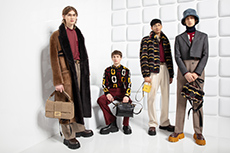 Silvia Venturini Fendi produces a surprising and inventive collection for Fall Winter 2020-2021, deceptive in its one of a kind FENDI craftsmanship. Concealed pockets and reversible outerwear curate a wardrobe that is both intriguing and mystifying in its disruption of traditional garment wear. Retro-futurist undertones navigate a sea of melton wool, heavy twill, flannel, flocked denim and corduroy suede. Illusion underlines this collection, the application of trompe l'oeil fabrics and extraordinary proportions bringing a new perspective to a familiar take on utility wear. This collection unabashedly celebrates the House, with FENDI Roma taped seams, the FF logo as a chain link animalia pattern and of course the iconic Fendi yellow which runs so defiantly through the entire collection.
Also situated within the collection is the collaboration between Silvia Venturini Fendi with Japanese designer Anrealage. Birthing a selection of photochromic outerwear and accessories, four FENDI Men's silhouettes represent the first photochromic Menswear on a European runway and include four light-sensitive transformations across sports-inspired outerwear, mittens, inside-out tailoring, bags and accessories. When exposed to UV sunlight a white tiger quilting shines a FENDI yellow and a white diamond quilting reveals a new FENDI Code in black. Fendi creates a Men's collection that is pioneering, in its embrace of the future as well as the past.

www.fendi.com
Fashion
Prada Timecapsule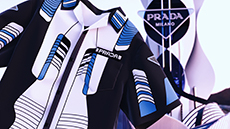 Prada's initiative, Timecapsule, is an exclusive drop where 50 items are released on the first Thursday of each month. As part of this bold launching strategy, Prada is proud to announce an exciting new drop on August 6 at 3pm CET for 24 hours only. Presenting a new unisex cotton popeline shirt, whose print's motif includes a specific limited edition number 1/50, 2/50… Prada serves us retro sporting vibes in an eye catching graphic print of black, light blue and white. Biking culture, tour de france and '60s bowling culture collide, invigorating this new drop with a sense of sporting pride. Mother of pearl buttons grace this boxy silhouette with a succinctly Prada elegance, revealing a touch of luxury amongst its sporting aesthetic. Enabled by the new Prada e-commerce platform, this new section is now available solely in Europe, reaching other markets over the course of 2020 following the new prada.com layout-relaunching calendar. The Prada Timecapsule drop will be available on August 6th at 3pm CET.

www.prada.com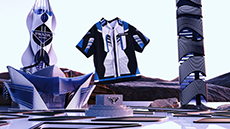 Fashion
Miu Miu Wonder Woman 2020
Miu Miu serves us retro empowerment in its new capsule celebrating the legendary superhero, Wonder Woman. Said to have been crafted in clay by her mother Queen Hippolyta and endowed with magical powers by the Greek gods, Wonder woman, known to loyal fans as Princess Diana of Themyscira, is a pioneering figure of female strength and adversity.
Her timeless appeal animates three t-shirts for the collection, each treated with a vintage effect, giving the designs an irresistible sentiment of nostalgia. Illustrated in classic athletic poses, Wonder Woman assumes an air of defiance whilst also referencing the much loved pin up girl. These t-shirts are the perfect throw on for a casual look, or can even be dressed up for an evening out.
The Miu Miu Wonder Woman t-shirts capsule is available now online and in stores.

www.miumiu.com


Fashion
Dior Cruise 2021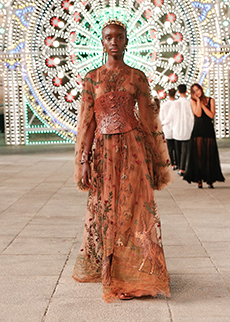 Set in Lecce, a city imbued with heritage and craftsmanship in the Puglia region, Dior Cruise 2021 collection highlights the excellence of these priceless skills, and many creative dialogues between the House of Dior and Lecce that began long before the health crisis and the confinement. Paying homage to Nature and the region's unique landscapes, as a land that has always been close to Maria Grazia Chiuri's heart. "During this period, I sought to give collective efforts a new dimension. Despite the disadvantages of distance, bringing a different perspective to our daily lives has given us strength and imagination", Maria Grazia Chiuri supports and showcases the virtuosity of these artisans and artists: from the architectures of the Luminarie, dazzling light structures that have been illuminating local streets and palaces for the feast of the patron saints, to the essential role of dance performed by the dancers of Notte Della Taranta Foundation, a foundation promoting local culture, and reinventing traditional Italian music and dance. For Dior Cruise 2021 show in Lecce, choreographer Sharon Eyal created a timeless choreographic performance that re-engages anew with the profound meaning and symbols of these powerful Puglian rituals around the Pizzica, the iconic folkloristic dance from the region. The dancers performed on the music created and directed by Paolo Buonvino. Buonvino: an exclusive composition especially for this show, a captivating reinterpretation of traditional Puglian melodies. The beauty of the gestures, emotion and poetry of the performance resonate in the exquisite craftsmanship celebrated in the collection: delicate weaves of Le Constantine Foundation displayed on various pieces, with the atelier's motto «Amando e Cantando» embroidered on a series of skirts; the Tombolo, an extremely delicate style of lace, born in Italy in the 15th century and spread throughout Europe during the 16th century, is created for the collection in collaboration with Marilena Sparasci, one of the last remaining embroiderers to practice and teach this technique; the waving of Tessitura Calabrese, a family business located in the heart of Italy's Puglia region, perpetuating traditional weaving techniques of fine threads intertwining craftsmanship and technology. "We rise by lifting others"; "On peut souvent créer des révolutions sans les avoir cherchées"; "La differenza per le donne sono millenni di assenza dalla storia"; "A wish is revolutionary because it seeks what cannot be seen". Phrases chosen by the artist and activist Marinella Senatore, interwoven with her scenography of Luminarie for the show, are an ode to women's empowerment and to local communities, reaffirming Maria Grazia Chuiri's ongoing celebration of women and the role of heritage.

www.dior.com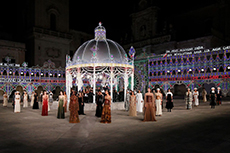 Fashion
Salvatore Ferragamo Pre-Spring 2021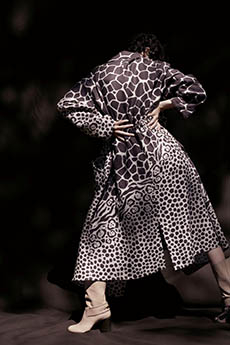 Certain events undoubtedly leave a mark for the better or for the worse. The current global pandemic is certainly one of them as it brings with it a set of challenges for each individual and every business. The fashion industry is by no means an exception, neither is the Italian house of Salvatore Ferragamo. As the house's Creative Director has put it himself, 'This collection was made in exceptional times, under exceptional conditions, through which we were all obliged to adapt and innovate.' Despite all the challenges, Ferragamo's Pre-Spring 2021 collection can be presented with pride. A distillation of necessity and passionate craftsmanship, the garments combine natural shapes with design structure. The clean and minimal lines and softly tailored silhouettes are contrasted with the print of the season, a hybrid of giraffe and leopard patterns. The print itself derives from Andrew's deep dive into the archives, more precisely a scarf first seen in 1970. In continuation of the house's ongoing initiative to increase environmental mindfulness, materials and fabrics are largely sourced responsibly. Various fabrics, cashmere and leather were upcycled, nylons were recycled and the cottons were produced organically. Inspired by functionalism and nature, the collection features minimal construction and only very few ornaments, representing Andrew and Ferragamo's successful attempt to turn the limitations of the period into positives by focusing on what is most essential.

www.ferragamo.com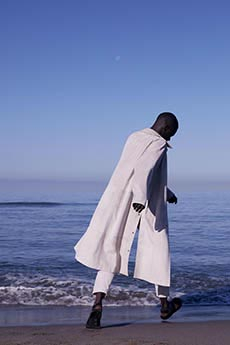 Fashion
Prada Men's and Women's Spring Summer 2021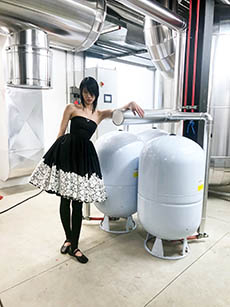 The show that never happened. With her signature witty approach, Miuccia Prada orchestrated a series of multiple views on Prada Spring Summer 2021 collection for both Men and Women. Terence Nance, Joanna Piotrowska, Martine Syms, Juergen Teller and Willy Vanderperre, Five different artists, five different takes on Miuccia Prada's vision through videos, a medium the Italian designer has explored and supported over the years. They tell the story of a house beyond the collection. These are stories within a story. Multiple facets of Prada's own curiosity. The collection dives back to the origins of the house in the 90s, when the minimal and innovative approach created the renowned Prada aesthetic, speaking a language that continuously evolved through the years, and became imbued of that idiosyncratic approach to fashion codes we have known Prada for. Both Men and Women for Spring Summer 2021 explore technologically innovative fabrications of Prada nylon and stretch materials juxtaposed with traditional suiting: if for Men silhouettes are sharp and fitted, for women they transform into couture volumes and treatments. Taffeta, cotton, nylon. Lingerie, sportswear, couture. Voicing fragility, gender fluidity, and nowness. History and futurism coexist in Prada's quintessential paradox

www.prada.com
Fashion
Hermès Men's Spring Summer 2021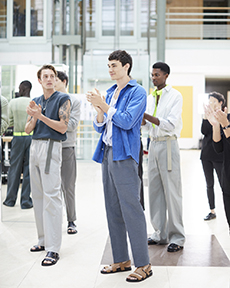 The house of Hermès, with its savoir-faire and distinctive history, has always explored boundaries beyond fashion, actively cultivating authenticity and diversity through Fondation d'entreprise Hermès. Paying particularly close attention to works on stage at the crossroads of performing and visual art, the New Settings program was created in 2011 and has supported since a great number of artists experimenting the boundaries of dance, performance, theatre. The Fondation's long-term commitment to artists supported through the years reflects Hermès's integrity. The singular work of director Cyril Teste has found voice at Fondation d'entreprise Hermès since the very beginning. Hermès' Menswear Creative director Véronique Nichanian' collaboration with Teste for the Spring Summer 2021 collection takes the shape of a live performance. A dialogue between moving bodies and the process of creation, where multiple character – film crew, stylist, assistants, models – and real-life motion explore the boundaries of perceptions. Off-camera becomes the center of attention, spontaneity and improvisation play with the definition of performing arts language. Far from a "making of". As Véronique Nichanian' pointed out: "I feel like the current situation is one from which we can all extract new wisdom, and a new momentum". The collection dives into form, material, and color in Nichanian's signature carefree expression and simplicity. Striped shirts gain linings, panels and double closure and transform into the lines of a blouson. Mediterranean blue, storm blue, almond green and fluorescent yellow are among the colors inhabiting the collection where leather – deerskin, metis goatskin and technical calfskin – reveal all their sensuality and timeless casualness.

www.hermes.com
Fashion
Celebrating Twenty Years of Editions de Parfums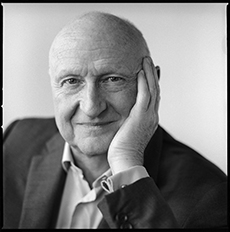 Frédéric Malle was always destined to enter the world of perfume, grandson to the renowned founder of Parfums Christian Dior, Malle's affinity and connoisseurship feels intuitive of a descendent to perfume royalty. Establishing Editions de Parfums in 2000, Malle was fuelled by a desire to transform the way perfume was seen. Malle gives his perfume intellectual status, tantamount to a classic novel or a vintage bottle of wine, all whilst paying homage to the essence of its craft: its creators, its ingredients and above all the creative process.

Using his platform as one of the greatest perfumers in the world, Malle has created something of an open brief, entrusting an unparalleled amount of freedom to his chosen perfumers. Bereft of any marketing brief, specified products and perhaps most remarkably time schedule, Malle is the epitome of blue sky thinking.

In an ode to the Parisian culture that has been so formative to Malle's identity as a perfumer, the finished perfumes will be encased in a neutral bottle, its packaging referencing the iconic book covers of the admired French publishing House, Gallimard. Each scent sold in his boutiques are 'published', emphasizing the quality and standard at which he works. Embellishing upon his literary semantics, each perfume will be accompanied by elaborate titles, continuing the theatre of Malle's unique creative process. 'Portrait of a Lady bath Foam', is one of Malle's newest examples of this theme. A luxuriously scented bath foam whose decadence is matched in name alone.

There is an intimacy to Malle's brand that feels counterintuitive to its position as a world renowned perfume house. Despite its loyal and vast customer base, personalization and authenticity still remain at the heart of the business, and are undoubtedly what has claimed its success over the last two decades. Each store places the customer at the centre of the experience, staffing each boutique with a team of Perfume Experts ready to perform Malle's personalized consultations committed to finding the perfect scent for each and every one of his customers. It is these encounters that birthed the hybrid concept behind each boutique, a seamless blend of laboratory and Parisian interior.

2020 is a prolific year for the house, marking twenty years of audacious and rule-breaking creativity. To mark this anniversary Malle will be embarking on a series of international events to commemorate and share his passion for perfumer worldwide.

www.fredericmalle.com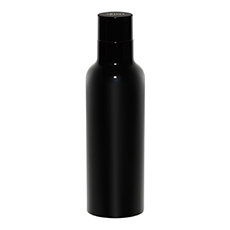 Fashion
LOEWE Munich Flagship
Under the guidance of Creative Director Jonathan Anderson, LOEWE has reinvented themselves as a house focused on craft and culture, shown clearly in their intellectual yet playful approach to fashion and lifestyle. Taking after Casa Loewe HQ in Madrid, the Spanish brand has just opened a new flagship store in Munich that harmonizes all aspects of the brand's repertoire.
Inside the two-storey standalone store on Munich's Maximilianstraße, Anderson has re-orientated the retail space into a dynamic space that showcases the highlight talents in art and design, core constituents of the maison's craft-centered identity. LOEWE products are interspersed with art and design objects curated by Anderson himself. Furthering their relationship with the arts, LOEWE features work from artists linked to the brand. This includes Japanese ceramist Takuro Kuwata whose work is shown alongside an impressive basket by Irish weaver Joe Hogan. The space is also inhabited by contemporary furniture including recliners by Gerrit Thomas Rietveld and a stone table by Axel Vervoordt. The classical interior is left intact, but elevated with quality materials such as Campaspero limestone and smooth concrete which can be seen on the walls, floors and structural furniture of the store.


www.loewe.com
Fashion
Boden FW20
Unlike many of their counterparts, British retailer Boden welcomes Fall with a refreshing collection that steps away from the typical muted, autumnal colors that have populated FW selections this year. Rather than neutral colors often associated with the season, Boden has issued a Fall collection that revels in bright contrasts, eccentric patterns and color blocking. The usual tan, walnut, or hickory coats and cardigans are all replaced with spirited fuschia trousers, coral pullovers and olympic blue trench coats. The preview features wildflower printed dresses and pumps, contrasted with the vibrant 60's inspired patterns that litter blouses and skirts. Although the collection isn't only pop-colors and quirky patterns, true to Boden's nature the brand supplies options for the everyday, including a wide range of neutrals, essential for any wardrobe. Making up for a Summer spent indoors, Boden's FW20 collection is optimistic for the upcoming season.

www.boden.eu
Fashion
An Extended Summer
As many countries are easing out of lockdown and restrictions seem to be relaxed with every day that passes, some of us may be finding it difficult to grapple with the realities of the new normal. The anxiety of re-joining society after a challenging few months can be hard to deal with, and many of us are already planning a much-needed vacation. The new Herno Resort collection for FW20 is designed with this sensibility in mind, an inter-season selection inspired by the dream of travel, designed for those with summer and leisure still fresh in their minds. The collection is dedicated to free time, proclaiming it as the true luxury left in this world. Both men and women are featured in the range, with core silhouettes of a man's wardrobe reinterpreted with a leisurely accent. Peacoats, blazers and duffels are matched with a selection of parkas, bombers and sweatshirt styles. While women's silhouettes are enveloping, intended for those not ready to leave the lightness of summer behind, yet the designs are still full of comfort and warmth. The collection is enhanced with a sense of lightness and is completed with Herno's usual attention to detail and high-quality materials. Wool highlights in the menswear includes a sophisticated herringbone pattern as well as the lingering cashmere, luxurious corded cotton velvet is edged in a bi-colour knit, whilst suede treated with water-resistant tools rounds off the selection of luxury styles. Fabrics in the womenswear suggest a sense of relaxed softness, seeing ultralight nylon with a silky effect matched with tone-on-tone velvet and combined with soft knitwear in a mix of wool, alpaca and viscose to further extend the soft and delicate sense of the diverse selection.

www.herno.it
Fashion
Intimate Ornaments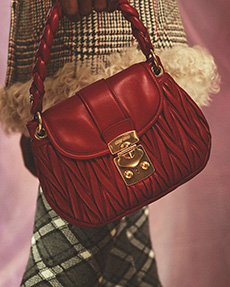 Each luxury brand has a trademark bag synonymous with the label itself, Louis Vuitton, Fendi and Hermes are all easily identified by their most popular bags that set them apart from the rest. When dealing with accessories in the luxury price range, it transcends beyond simple accessorizing and becomes something as covetable as a sculpture or painting, it becomes living art. Miu Miu's iconic coffer bag first arrived on shelves nearly fifteen years ago and was regarded as one of the maison's most iconic handbags. The original design hit all the right notes: a braided top handle, a matelassé leather body, two snap button pockets finished with precise hardware detailing. Released with the pre-fall collection, a new, long-awaited version with some modern variations. From the flash of the 00's to the more understated style of the 20's, the new form is refined, sculpted yet equally iconic. Combining sophisticated craftsmanship with innovation to create the highly distinctive leather that represents the marriage of form and function, personality and practicality. The unique artisanal finish of the Matelassé leather is rivalled only by the malleability of the skin that stretches. Nestling close to the body, the plump surface is as comfortable as it is aesthetically pleasing.

www.miumiu.com
Fashion
Chanel Cruise Collection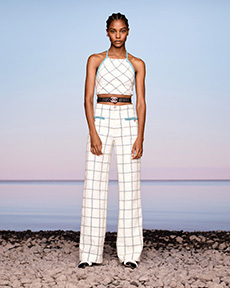 Take a trip around the Mediterranean with Chanel's latest collection. Refined simplicity and rich in fluidity, the collection was conceived for those who travel light. Consisting of several easy to wear, multipurpose items that work perfectly mixed and matched for an ideal and stress-free holiday wardrobe. "Initially I had Capri in mind, where the show was supposed to take place, but didn't happen in the end because of lockdown," says Virginie Viard, "So we had to adapt: not only did we decide to use fabrics that we already had, but the collection, more generally, evolved towards a trip around the Mediterranean… The islands, the scent of the eucalyptus, the pink shades of the bougainvillea." And a free, laid-back allure inspired by the legendary actresses of the 1960s when they would holiday on the Italian and the French Riviera. Discover the 'Balade en Méditerranée on chanel.com.

#CHANELCruise
www.chanel.com
Fashion
Acta Non Verba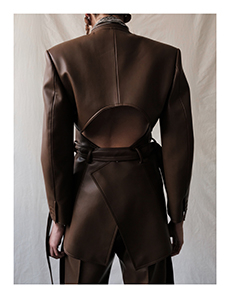 Peter Do launched his eponymous New York-based brand in 2018 to much acclaim. Since then, the designer has proved consistent yet surprising, making more than just a uniform for the modern woman. It all started with a flurry of sketches during his high school years in Philadelphia. These days, since he was granted the LVMH Graduate Award, Do has taken the temperature of women's desire and and locked it into each of his designs. After returning from Paris, where he studied under the expertise of Phoebe Philo at Celine, Do amassed relationships with nine stockists, designing out of his friend's apartment, where he showed his SS19 collection . Philo herself once said, "there is absolutely a gap in the market for 30-something women and, the more I look at it, the more I feel there needs to be a sense of ease and choice." Do clearly didn't take that lightly. With Do's SS20 collection, color trumps all. Textures with an enigmatic opacity do a lot to display the relationship between shape and tone, evoking the modern masters that made America their home: Mark Rothko, Clyfford Still and Ellsworth Kelly. It can be said that Rothko explored the spectrum of single shades like no other, and the designer deftly conjures this fascination for SS20. The restraint and care taken by Do in his latest collection builds on the wardrobe of a contemporary metropolis, while serving the sensitive demands of the modern woman from New York to the world over.

www.peterdo.net
Fashion
Selling Sunset
After spending months in isolation, for many of us lucky people, this time has been spent dreaming of where we would go once things got back to what we know as 'normal'. The desire to travel is embedded in many of us, and even more so in our instagram-saturated world that lets us peek into the furthest corners of the world from our own home. This glimpse of different places is enough to spark the drive to explore in the physical world. Louis Vuittons Jacques Cavallier Belletrud has embodied such desire and created a scent that captures a place, triggering memories or creating desire or even triggering an emotion to whomever has the pleasure of breathing it in. Part of an enchanting tryptic, California Dream portrays the enchantment of a sunset, a moment that prolongs the happiness of a summer's day. The new Cologne Perfume is light and citrusy, cloaking the skin with all the emotion of a beautiful sunset. "My starting point was to create warmth that envelops coolness," explains Jacques Cavallier Belletrud as he does so using notes of citrus, mandarin, musk and floral aspects the master perfumer creates a blend that embodies the warmth, earthy and fresh sense that comes with a sunset.

www.louisvuitton.com
Fashion
Savoir Faire
Meaning to possess the ability to act appropriately, to be able to adapt and knowing what to do in any situation, Savoir Faire is an appropriate phrase to use when referring to Fendi's iconic Peekaboo bag. The Italian house has just released a new video that exalts the adaptable nature of the bag, showing three different takes on the accessory. The male and female universes collide in this fendi-scape which presents the Peekaboo X-Lite for Men with laser-cut workmanship, the Peekaboo for men where Selleria stitching is combined with the intarsio fur and the Women's Peekaboo, in different sizes, with leather interlacing. The fil rouge of the video is the Roman maison's trademark yellow, while the Palazzo della Civiltà Italiana shows impressive architectural perspectives rounding together the video's purpose of highlighting the Italian houses creativity and unparalleled craft.

www.fendi.com
Fashion
Equine excellence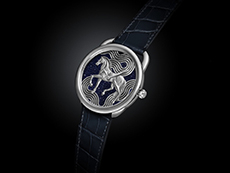 In a celebration of the classic Arceau watch designed by Henri d'Origny in 1978, Hermès presents a new expression of the French maisons' creativity and expertise. Imagined by artist Gianpaolo Pagni, the "Cheval Cosmique" composition combines graphic undulations with the silhouette of a horse from Émile Hermès' private collection. Produced in two limited series of 24 each, the watch is powered by a mechanical self-winding movement which, like the dial, case and bracelet, is developed in the Hermès Horloger workshops. Renowned for its unparalleled craftsmanship, Hermès dazzles on the dial of the Arceau Cheval Cosmique, adorned with a sculpted equine silhouette and waves in engraved gold, highlighted with a dash of black lacquer, set against an aventurine or mother-of pearl and enamel background beautifully paired with an abyss blue or Chantilly alligator strap.

www.hermes.com
Fashion
Big Bang One Click Marc Ferrero
The work of French artist Marc Ferrero has been a source of inspiration for many, being one of the most distinguished representatives of Storytelling Art. Swiss watch brand Hublot has once again been inspired by Ferrero's emblematic work, 'Lipstick' for their second collaboration that pays homage to 21st-century women. This time, the artist known for his typically colourful palette tells a story in black and white, in the form of two limited-edition numbered models in a run of 100 pieces. "I love the power of black and white. Shade and light. Yin and Yang. One is profound, unclassifiable, eternal. The other is subtle, ethereal, timeless. They symbolise antitheses and complementarity. Choosing black and white means getting straight to the point without an excess of tonalities. The black and white make 'Lipstick' even more graphic and its red lipstick—more magnetic" - Marc Ferrero

www.hublot.com
Fashion
Inside Chanel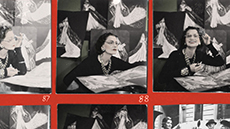 In light of the sudden surge in traffic amongst the online sphere, people are searching for new content to keep us entertained in this strange time. Chanel has launched its new series to remedy such want, Inside Chanel. The microsite aims to educate viewers about the maison's exciting history and heritage through a series of short film and media content. The latest chapter of the series delves into fashion and film, exploring the French designer's impact on screen, in a time when fashion and film were both finding their footing in the 20th century. As newcomers to the artistic sphere of the 20th century, the paths of cinema and Gabrielle Chanel's extraordinary career crossed in a continuous creative dialogue and is reflected in this condensed picture. The short films have so far reflected on the brand's history and its founder's legacy, with testimonies and quotes from icons such as the late Karl Lagerfeld.

www.chanel.com
Fashion
Formale Eccezionale
Even the most unfashionable of men, those without a conscious thought to their wardrobe, even these men understand the power of a good suit. Like most excellent fashion compositions, a well-made suit has the power to shift not only the world's view of a person but how they view themselves. Yet self-expression is a key player in putting one's best foot forward and expressing one's personality and individualism. Etro's capsule collection presents four suits, characterized by formal construction and enriched by unexpected interpretations, colored details and special prints of paisley or jacquard. Combining traditional elegance with eccentricity, the Italian brand stays true to the maison's identity as it puts forward a new apparent antithesis of the eclectic Etro male wardrobe. With four different designs in the capsule collection, Etro reinforces its attention to detail and dedication to fabric research and tailoring processes, since 1968. The formale eccezionale is launching in June 2020 both online and (hopefully) in-stores.

www.etro.com
Fashion
Brands Giving Back: Fendi
In support for their country and it's healthcare system, Italian maison Fendi has donated €250,000 to the organizations in the Regione Lombardia and donated masks to health professionals in Regione Toscana. The Carla Fendi Foundation, established in 2007 to aid the preservation of cultural heritage, also made a €100,000 donation to support the intensive care unit at the Presidio Sanitario Columbus in Rome. In a recent post on instagram Fendi expressed a message of positivity and hope, "Aware of the difficult moments that the world is going through, we are committed to designing the best way to start again, stronger than ever, supporting Fendi's production ecosystem and its values."

www.fendi.com
Fashion
Virtual Arts #Rijksmuseum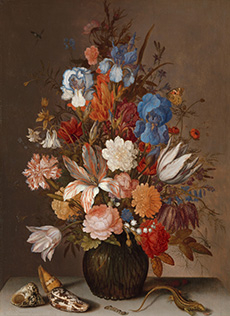 In light of museum closures, the national museum of the Netherlands has launched ten ways to experience the museum and its works from the comfort of your own home. Presenting online tours, educational videos and research information, the gallery successfully utilises the online sphere to educate its patrons in this time of crisis. Launched in 2012, the Rijksstudio has been a great resource since its inception, allowing users to create their own collection with over 700,000 high resolution artworks available. While the Gallery of Honor has reopened via an online platform, Rijksmuseum Masterpieces Up Close, showing an adjacent look at classics such as Vermeer's Milkmaid or Rembrandt's The Night Watch. On top of all this the Rijksmuseum hosts Rijkstube and Rijkscreative, as well as bundles of social media content for education and entertainment.

www.rijksmuseum.nl
Fashion
Rimowa #NewHorizons Project
These are exceptional times, the hustle and bustle of 21st-century life has been paused and for now we are grounded, waiting for the future to unfold before us. "Right now, as we stand in solidarity with everyone from the confines of our homes, we can't help but imagine all the places we've once explored and the new horizons we long to discover. With our movement so unnaturally restricted, many of us have entered a suspended state of longing, hoping, and dreaming." says Emilie de Vitis CMO Rimowa. For now, we're reflecting on where we've been, dreaming of where we'll someday go, and who we'll share it with when we get there. Rimowa's #NewHorizons series joins forces with talented photographers from across the globe, reflecting the destinations of past travels and those closer to home that have inspired and captured our imaginations. We dream of sunny holidays and live vicariously through Austin Leis dreamlike imagery in sun-drenched Spain whilst Marie Dehe takes us on a tour of southern England in her pastel- filled images. Each week Rimowa will unveil a selection of intimate travel diaries to remind us of the world beyond our everyday. Evocative and immersive, the visually rich series aims to transform our present moment in the way that exceptional art always has.

www.rimowa.com
Fashion
Dior's Delectable Books
Originally we looked to literature for faith or education but today we look to books for all kinds of reasons. In these extra long days spent in our homes we find ourselves on the hunt for some sort of escape to ease our anxieties and allow us even for a moment to forget about all that is going on in the world outside. Whether it's to escape, to dream or to better ourselves books are a wonderful medium that allows the realms of art, imagination and reality to collide. So, it makes perfect sense for Dior to bring us a selection of ten books to take you on a timeless journey celebrating the magic of couture.

Featuring a selection of ten luxurious livres the books showcase the maison's history and explores the spellbinding secrets of the iconic brand. Escape to 20th century Paris with the personal story of Monsieur Dior by delving into Dior by Dior or discover the vibrant, captivating work of Peter Lindbergh in Dior Images. Let yourself be carried away by the magic of the Maison's heritage, brought into focus by the greatest fashion photographers thanks to a wealth of reading material to inspire and lead you behind the scenes to a world of elegance and beauty, in the comfort of your home.

www.dior.com
Fashion
Les Parfums Louis Vuitton x Heures d'Absence
In 1927, at the height of the Roaring Twenties in all their creative effervescence, Louis Vuitton launched its first perfume, Heures d'Absence. Named after the country home the Vuitton family acquired in the Seine-et-Marne region in the 1920s, the perfumes recipe has been lost and no living person knows what the original perfume smelled like. However, we know that it was a perfume that reflected the time of its creation, celebrating the new modes of transport that were then emerging, a scent to inspire you to shake off the blues and seize the day.

Now, in an attempt to not recreate but reinterpret the classic perfume the maison creates a perfume with a profusion of fresh flowers, an ode to nature and allegorical figures of joy. "Everything is done in service of the flowers, there's no element to rein them in or disturb their message," the Master Perfumer explains. Warm vanilla notes of Peruvian balm amplify the sophistication of the fragrance while a floral apotheosis with a hint of Sri Lankan sandalwood gives a rich juxtaposition. These elements along with sambac jasmine and may rose compose a melody that feels never-ending.

www.louisvuitton.com
Fashion
Dior Maison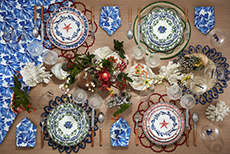 In 1947, Christian Dior opened a boutique called "Colifichets", at the same time as his better-known couture house at 30 Avenue Montaigne. A quick success, the boutique expanded soon presenting an array of home accessories. Consistently developing alongside fashion and beauty creations, the boutique collaborated with the likes of Maria Pergay and Gabriella Crespi to create original pieces. Revisiting the plant-filled atmosphere of the SS20 ready-to-wear show from Maria Grazia Chiuri, the Dior Gardens line, designed by Cordelia de Castellane, features new pieces that elevate table settings. The delicate motifs that adorn the different looks unfold with grace and refinement across earthenware plates. A highlight of Dior Maison's is the Copacabana collection. Seaweed motifs adorn plates while vases and decorative glass balls transform into precious aquariums populated with fish and coral. In these extended hours spent at home, Dior invites you to bring a touch of magic into your home and add a little extra comfort to the simple pleasures of everyday life. As Christian Dior himself wrote, "Living in a house which doesn't reflect who you are is a bit like wearing someone else's clothes."

www.dior.com
Fashion
Premiata SS20 Sizey Collection
With credit to the internet and to social media we are now living in the age of nostalgia. Looking back has always been part of fashion evolution, as new generations take snippets from the past and remake past-trends into modern fashion moments. From parent-style shoes to super-sporty high tops to soaring spice girl platforms, the 90s spawned a style evolution that only got bigger as the years went on. Now taking inspiration from 90s basketball sneakers, Italian footwear brand Premiata presents the Sizey collection, with international best selling sneakers Sharky and Drake. The styles are named after dragons and sharks, creatures that exist beyond the real or predate the world ultimately generating urban symbols of power. Constructed from fine Italian leathers and fabrics, Premiata shoes take sublimate features of the 90s basketball sneakers to devote a daring composition of the upper and a complex joints bottom on the mythical air system. Using sophisticated production techniques, premium fabrics, eclectic symbols and interesting color contrasts the styles take a trend and build on it to create something ultimately modern, contemporary and unique.

www.premiata.it
Fashion
Cartier Women's Initiative
Back in 2006 Cartier launched the Cartier Women's Initiative, an action that made a commitment to women in reaching their full potential. Open to women-run and women-owned businesses that aim to have a strong and sustainable social and environmental impact, the initiative has accompanied 240 promising female entrepreneurs from 56 different countries and has awarded over 3 million USD to support their businesses. Announcing the 21 finalists of the 2020 edition, we see for the first time ever countries such as Australia, Benin, Denmark, New Zealand and Sweden represented in the program. By providing them with the necessary financial, social and human capital support to grow their businesses and build their leadership skills Cartier shines a light on the achievements of these women. Cyrille Vigneron, President and CEO "At Cartier, we believe it is crucial to support young businesses and start-ups through to a more stable period. And this is what we intend to keep doing, fully aware that these women are making a concrete and durable impact, therefore paving the way for a better future."

www.cartier.com
www.cartierwomensinitiative.com
Fashion
Prada Linea Rossa SS20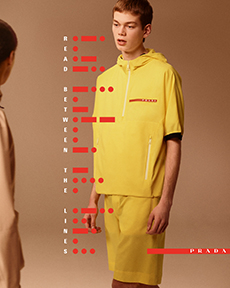 Back in 1997 Miuccia Prada struck gold in 1995 where, alongside Neil Barrett they debuted Prads's first menswear collection solidifying the minimalist yet high-tech aesthetic that became the backbone of Prada Linea Rossa when it launched two years later in 1997. The sports-infused aesthetic was so influential that it had become an emblem that diversified the image of the brand itself. After relaunching the familiar red rubber strip in 2018, Prada now presents a new digital campaign coinciding with the reintroduction of Linea Rossa. Taking inspiration from morse code, the Italian maison translates the hyper technical code into an entirely new alphabet for the everyday. The collection itself draws inspiration from uniforms, yet avoids uniformity and presents timeless designs that are genderless, created with innovative fabrics. The classic sahariana jacket is reimagined with new finishes and modern proportions The sporty line takes inspiration from sports such as skiing and dashes of urban streetwear as well as the abstract notion of exploration. Ingrained into the language of fashion, the word athleisure is long-favoured for its gender-neutral and easy-going approach to dressing which is becoming increasingly relevant in today's society.

www.prada.com
Fashion
Miu Miu SS20 Campaign 'Casa Corberó'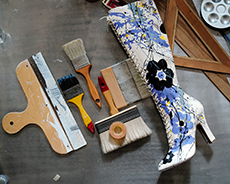 The late artist Xavier Corberó has been considered by many to be the most significant Catalan artist since Gaudí and is best known for his monumental public sculptures that can right now be seen in galleries all over the world. Back in 1967 Corberó acquired a plot of land on the outskirts of Barcelona where he began devoting his time into developing the estate until his death in 2017. The property now stands as a labyrinthine cabinet of curiosities concealed by a heavy medieval stone fence. The surrealist style of Corberó's friend, Salvador Dali is seen throughout the nine buildings largely devoted to hosting artists-in-residence and exhibition spaces that hold a number of Corbeó's own sculptures. Now, the estate takes a new identity as it becomes the scene of the Spring-Summer 2020 Miu Miu campaign as 'Casa Sublim' part stage set, part installation, part gallery, part home. The campaign envisions an all-female artist colony where creative freedom and expression – at times spattered and hand-painted, with mismatched buttons and 'collaged' ruffles is contrasted with the discipline of form, silhouette and utility found in workwear and uniform. Utilising multiple, contrasting viewpoints and styles, still and moving imagery, black and white and vivid colour the campaign ultimately contrasts female and male gazes as well as challenging notions of subject and object as well as the real and surreal.

www.miumiu.com
Fashion
The New Chanel 19 Handbag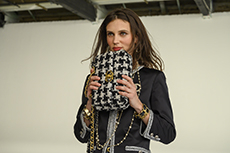 A new era for Chanel has begun and as strange and unfamiliar as it seems, the fashion house is finally finding its footing in the post-Lagerfeld era. In homage to the 2.55 bag designed by Coco Chanel herself in 1955, Chanel's Artistic Director Virginie Viard has brought us the 19 bag, a wonderful nod to the brand's memorable past. The campaign, imagined by Sofia Coppola in collaboration with Virginie Viard features a trio of muses with actors Margaret Qualley, Taylor Russel and Marine Vacth each as distinct as the last. The playful campaign leans on the women's individual personalities representing the diverse nature of the bag. "I wanted to show how Chanel is so classic it can work with many personalities, and is great to show on different women," says Coppola. Embodying the spirit of the brand the 19 bag is swathed in large diamond quilting and embellished with an oversized CC clasp. Available in a number of variations the accessory allows each individual to express themselves in their own way, with the Chanel mark exuding a sensual and timeless sense of beauty.

www.chanel.com
Aesop Sublime Replenishing Night Masque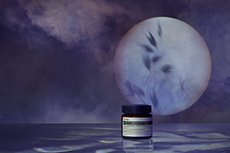 The beauty industry has been developing its craft for centuries even the egyptians used creams and cosmetics to improve and protect their skin from the elements. However it is only in recent years that such effective technology and research methods are being utilised. The science of skin is ever-evolving with new, exciting developments constantly coming to the fore. Not only is the research increasingly accurate but there but the average person is more aware of their individual skincare needs. Aesop boasts a fiercely independent approach to product research and development as well as tailoring products to the needs expressed by their pool of customers. The new Sublime Replenishing Night Masque is Aesop's first product developed explicitly for the night. Offering immediate and sustained hydration to balance skin and brighten its appearance. The light gel-cream has a warm, woody aroma that is rich in vitamins B,C,E and F. As we know, some of the best healing is done after dark. 'Night, When words fade and things come alive.' Antoine de Saint-Exupéry

www.aesop.com
Fashion
Milan Fashion Week Women's - Recap
MONCLER

Not one for staying in one lane Moncler presented its third edition of the spectacle that is Moncler Genius in Milan last week. Inside a warehouse it displayed 12 installations each with their own vision with the newest addition being JW Anderson who presented an "inflatable archive" of his signature looks reimagined in down material. Going even further past the boundaries of fashion the event also showcased two surprising new members of collective, luggage brand RIMOWA and electric vehicle brand MATE.BIKE furthermore pushing Moncler to new heights for creative innovation.

www.moncler.com
FURLA

Full of glamour, fantasy and palpable sense of excitement a night at the theatre is always one to remember. Furla launched their Fall/Winter 2020 it-bag with this theme in mind as they invited guests to Milan's Teatro Gerolamo where they were met with mirrors, neon lights, holograms and a kaleidoscope of colors. Guests strolled through the rooms discovering the rest of the color variations and materials for the bag. The psychedelic setup was in celebration of the Italian brands foundation and presented the Furla 1927.

www.furla.com
HERNO

Italy has been the epicentre of design excellence and manufacturing since the industrial revolution known for their unrivalled innovation and attention to detail. Today that innovative mindset is pushed further as sustainability becomes the main topic of conversation. Presented in Milan, Herno introduced their six projects for their AW 2020 'Green focus' collection under the name Herno Globe. From biodegradable bombers to recycled parkas, the ethical label has redefined functionality in clothing. Not only does it have to look good but it also must in a way do some good.

www.herno.it
Fashion
Together for Change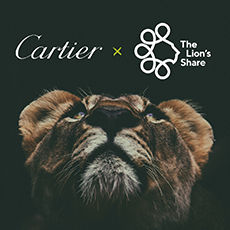 Cartier joins forces with The Lion's Share Fund, an award-winning initiative that tackles the climate crisis through a fresh new approach. Uniting brands, conservationists and consumers, The Lion's Fund cites change as a shared effort, breaking down the usual boundaries that exist between these three groups, in a plight to create shared and achievable goals. With the United Nations Development Programme (UNDP) and a coalition of Businesses and UN Partners as leaders, the fund has its sights set on $100 million per year within the next five years in oder to halt biodiversity loss and ensure habitats are protected. As part of this target brand are asked to contribute 0.5% of their media spend every time an animal is featured in their advertisements. Speaking on this important new move for Cartier, the luxury Maision's president and Chief Executive Officer Cyrille Vigneron said "The beauty of the natural world has always been a source of inspiration and creativity for Cartier's timeless pieces" in bringing about real and tangible change from this unique symbiosis, Cartier commits itself to a more positive and hopeful future.

www.cartier.com
www.thelionssharefund.com



Fashion
News from the Top
It was last spring that the Swiss house Bally set a clear sign to its continued commitment to environmental protection, more precisely the protection of the mountains, so intertwined with its Swiss origins and mountaineering heritage. After a more than successful first-ever Mount Everest cleaning expedition, Bally now proactively establishes long-term commitment, in the form of the Bally Peak Outlook Foundation, to the protection of these extreme environments, threatened by increasing numbers of tourists and the garbage they leave behind. With the help of the local communities, Bally's future efforts will by no means focus solely on Mount Everest. The Himalaya features a multitude of peaks towering far over 8000m, which all will become subjects of the Bally cleaning expeditions. Besides a second Mount Everest expedition this year, Bally has confirmed efforts on four further peaks in 2020 as well as more plans for the upcoming year 2021. As put by Nicolas Girotto, Bally CEO, 'This is a long-term mission and it is only the beginning.'

www.bally.com
Fashion
Paris Fashion Week 2020 - Yohji Yamamoto Men's Fall/Winter
 Yohji Yamamoto is a master of humor. "Naughty Yohji" "100 ways to forget Yohji" are all sentences marking the back of coats for his Fall Winter 2020/21, shown at the historical headquarters in rue Saint Martin few steps away from Centre Pompidou. A bitter-sweet humor. Yohji-san played with his usual high craftsmanship - at times whispered gestures that only a close look can return the appreciation they deserves – together with his irony towards the meaning of death, of disappearance and resistance. See the coats with multiple chains or the hand painted heavy knitted sweaters with a ripped, raw edge placed on top of coats. Like an armor ripped by a battle. It's an homage to the French resistance during World War II. To the women partisans who are often forgotten. We see the portrait of one of them in the show invite. She is a very young woman, standing proud with a basque and the typical armband partisans used to wear. She is the embodiment of hope and of unconditional strength against oppression. Yohji Yamamoto has been always working around the meaning of freedom with great coherence and poetry while delivering an exquisite men's collection true to his aesthetic.

www.yohjiyamamoto.co.jp
Fashion
Milan Fashion Week 2020 - Ermenegildo Zegna Men's Fall/Winter
Against the backdrop of shivering ribbons of fabrics, all sourced from the surplus of the 6 previous collections, Alessandro Sartori presents his newest collection at Ermenegildo Zegna. Conceived by American Ann Patterson, it visualizes the huge waste of materials at a house like Zegna and sets a signal of the house's pledge to improve the efficacy of their ways of production. Entitled 'Art for Earth', the intentions behind the collection become clear in an instant, reminding us that in Sartori's own word, 'art should always respect the earth. That's our mission, as humans and fashion-makers.' Once again, Sartori proves to be the ideal person to showcase all of Zegna's craftsmanship and mastery of tailoring. Breaking down boundaries, he takes Italian tradition into new hybrid directions in a constant morphing of evolving shapes, such as blazer-parka hybrids, voluminous coats with deep black pleats and shirts that double as short-sleeved blousons. In collaboration with German camera manufacturer Leica, the collection features a series of camera bags, straps and holders, as part of a broader dialogue between the two brands.

www.zegna.com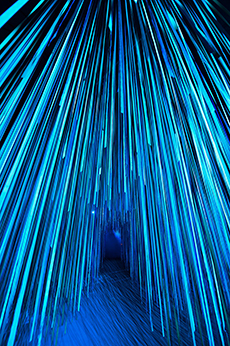 Fashion
Whitney
In 2015, the Whitney Museum of Modern Art found a new home in the futuristic Renzo Piano designed building in New York. For the special occasion of this reopening, Max Mara teamed up with the Renzo Piano Building Workshop to create the now iconic Whitney bag, with its design being inspired by the architecture of the new museum building itself. For the fifth anniversary of its original unveiling, Max Mara revives the bag in a special edition, dedicated to American painter Florine Stettheimer, whose avant-garde paintings represent a major part of the Whitney Museum's collection. Her acclaimed work 'Sun', dating back to 1931, becomes the main inspiration for the bag's five new colorways and the floral design of the inside lining. Indeed a anniversary issue, or better yet five, each variation of the Whitney bag is to be desired and collected like a piece art.

www.maxmara.com
Fashion
Art of Gardening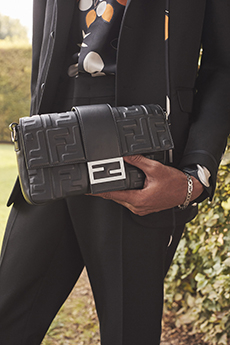 There are some months passing between a collection being first revealed on the catwalk and it actually becoming available in store. During this time, the world of fashion does not stop, but continues to move forward with new projects or capsule collections being presented one after another. For this reason, it becomes even more important to follow up the strong first impressions from the initial shows with advertising campaigns that revive the spirit of the collection. Shot en plein air in a natural and classic Italian scenery, the FENDI campaign reflects the gardening and bucolic aspects of the collection with the locations flawlessly merging with the earthy and muted color palette of beige, green and brown. The collection, from sartorial workwear pieces, including overalls, to shirts and suits, is completed with matching accessories in a further nod to the art of gardening, with the house's classic pieces appearing in new variations with carefully selected and combined materials. As with the collection, Silvia Venturini Fendi invited Italian movie director Luca Guadagnino to help her realize her vision of the relationship between man and nature. The resulting visuals will break in worldwide magazines in January 2020.

www.fendi.com
Fashion
SUICOKE: a unique approach to innovation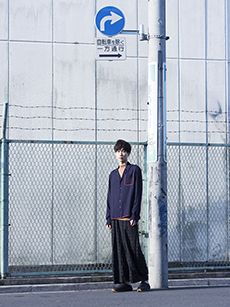 We have been looking at SUICOKE's bold creative approach for a while: challenging creative development and utilizing only the highest quality materials. Founded in 2006 Suicoke introduced its original Sandal equipped with SUICOKE ORIGINAL EVA Footbed in 2012, adding and unique comfort to footwear. These are shoes made for walking. In 2014 SUICOKE went a step further when they found great unification with the likeminded Vibram® - known for being the best sole producer in the world - working together a sandal equipped with an original Vibram® sole. The two brands went on to create one of the greatest products on the market – the Vibram® Morflex. An industry first, its function and high quality of design gained quickly global recognition. SUICOKE is continuously in motion developing footwear that showcases the brand's relevance within the fashion world.

www.suicoke.com
Art
Cartier: Crystallization of Time
Stare long enough at any rock, gemstone or mineral and you will see the beauty in natural formations once hidden beneath the Earth's 4.6 billion year old crust. Since 1989 Cartier has held no less than thirty four exhibitions in world-renowned art museums but only now will they host an exhibition focused on contemporary pieces spanning from the 1970's onwards. The purpose of the exhibition is to explore the perennial beauty of Cartier creations, a classic beauty retained and untarnished by the ravages of time. Aptly titled, 'Crystallization of Time' the legendary Jeweller will hold the exhibition at The National Art Center of Tokyo to explore the relationship between their creations over time. Up to 300 works, including contributions from private collections, act as mirrors that offer an astute insight into the eras and evolutions of Cartier. Beyond this exhibition of their past 'Crystallization of Time' will foreshadow Cartier's vision for the future. The exhibition will be presented in three unique perspectives including, 'Material Transformation and Colors', 'Forms and Designs' and 'Universal Curiosity' along the axis of time. 'Forms and Designs' will explore the micro-architectural nature of their design ethos as well as their use of essential lines and spheres to create unique and iconic jewellery.
In large part refusing to conform or settle is what adds to their timeless qualities, the essence that there is nothing quite like Cartier on the market. As the second act on their timeline, 'Forms and Designs' will feature 'Harmony of Chaos: Accident of Design / Accident of Nature' which seeks to explore how life's happenstance adds to our understanding of beauty. In 1967, when Cartier London released the Crash watch, they implored this design quality, the end product being a watch whose case had the appearance of being run over by a car. As gemstones are naturally formed there is an element of random natural occurrence that takes place as the rocks form, from this Cartier explored how to capture the unpredictable while still producing a fashionable product. The exhibition will also play host to a number of rare pieces from private collections, some pieces dating back as far as 1907. The scope of this exhibition can not be understated, from Nils Herrman's Cartier collection Egyptian motifs resurface; a greater dialogue with our past is opened up through timeless designs, a Scarab brooch brandishing rubies, emeralds, platinum and antique blue faience alongside a Scarab necklace in yellow gold date back to 1925.
Cartier's 'Crystallization of Time' is exactly what it claims to be, reinforced and hardened into something beyond reproach; displaying the opulence and dedication to lasting quality that Cartier is unabashedly known for. The exhibition will run from October 2nd – December 16 at The National Art Center, Tokyo.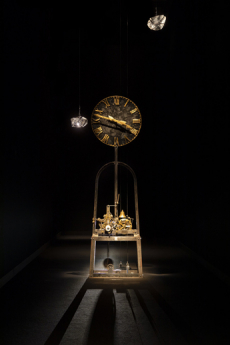 Fashion
CHANEL SS20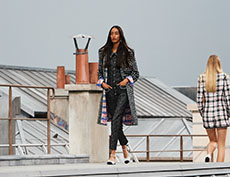 The breeze you feel on a Sunday morning drinking your coffee on your balcony looking at the Parisian roofs, the freedom you savour when breathing that crisp fresh air. Virginie Viard was inspired by the Nouvelle Vague's actors Gabrielle Chanel used to dress, like Jean Seberg, famous for her iconic performance in Jean-Luc Godard's Breathless.

Chanel Spring Summer 2020 delved in a youthful atmosphere, nonchalant, playing between schoolgirl innocence and powerful masculine dressing codes: straight-cut tweed jacket is revisited, transformed into playsuits, jumpsuits or a little dress with a flared skirt, balloon skirts paired with ruffled tops and pleated blouses with balloon sleeves adorned with raffia and organza petals. Long coats come in tweed or wool crêpe while a striped top and a carelessly knotted shirt again play with the dual accent of masculine/feminine. It is about a timeless balance resonated with a modern no-nonsense. The looks are rendered through a minimal styling where the most precious Chanel element is at the centre: the tweed. Vibrant hues are merging the collection in a energetic mood: red, orange, pink, conferring a luminosity in balance with the heritage black and white of the maison.

Several looks feature a graphic version of Chanel letters interlaced with Parisian facades in a chromatic palette where dark and light blue play with the most soft pink creating a geometric-like motion. Easy going and flat heeled. The Chanel girl gang knows how to balance simplicity and romanticism.

www.chanel.com
Fashion
Woolrich x N.Hoolywood
In collaboration with N.Hoolywood, Woolrich has allied with a contemporary counterpart. With salvaged vintage apparel being one of Obana's career staples, N.Hoolywood's creative director utilizes camouflage patterns to mix a sleek urbanity with Woolrich's tried and true materials. With Woolrich transitioning from the more traditional side of clothing to a more contemporary aesthetic it is safe to say this collaboration has been mutually beneficial. Both brands went into this project with the same intention, to create garments that retained their style and comfort over a substantial period of time.
Their collection comprizes of four unique styles that juxtapose Woolrich's signature check pattern with camouflage print, resulting in an all-over motif in shades of forrest green and steel grey. An oversized bomber jacket is a sure highlight from their fruitful collaboration, with deep pockets and neon mesh detail the look is as bold as its functionality. Classic Woolrich style is also readily apparent in a wool shirt reminiscent of their famous 'Chief Petty Officer' shirt worn by the US Navy, straying from conservatism for a new generation this iteration arrives in a multi-color palette. Complete with water-repellent down-vest, parka and nylon track pants; there is little left to be desired in weather-ready street-style.
Of the collection, released today, Obana was pleased with the outcome, saying "it was an experiment to see what happens if you combine the strength of weak points, the result was a beautiful pattern that I had never seen before."

www.woolrich.com
Fashion
Issey Miyake SS20
The 81 years old Issey Miyake has been always a researcher and pioneer in terms of technology and the construction of garments around the body. Many times during his long career he turned over the direction of his brand to his associate in order to dedicate himself fully to research.

Arriving at Centquatre - a cultural centre where dance, theatre, street art come together at the northeast edge of Paris in the 19th arrondissement – we a saw a place buzzing with excitement and creative spirit.
Satoshi Kondo, the newly appointed designer at Issey Miyake, already working for the brand for the last 13 years, delivered a spectacle we haven't seen at the brand since a while. Several "chapters" disclosed through a beautiful dance performance that injected in the audience what Kondo addressed as the main theme of the collection: joy.
The opening skin tones colored looks, the prints depicting two embracing figures in a Yves Klein blue, but also parachute-like fabric rendered in coat on models on skateboards running across the space. The performance arrived at his best when pleated dresses came down from above through wires directly on the models and disclosing the beautiful hand pleating in circular patterns bouncing at the dancers' moves.

www.isseymiyake.com
Fashion
10 Years of Kaviar Gauche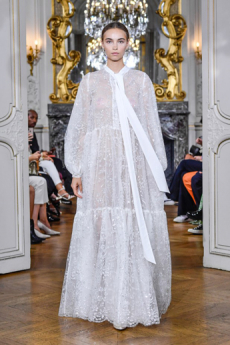 In celebration of ten years since launching their bridal line, and fifteen years in the industry, Kaviar Gauche proved beyond doubt that modern German glamour is alive and well. When Kaviar Gauche first stepped on the scene in 2004 they were hosting a guerrilla fashion show on the doorstep of high-end Parisian department store, Colette. In those days the German design duo were finishing up their studies at Esmond University for Art and Fashion in Berlin. Since then Alexandra Roehler and Johanna Kühl, have caused a stir and paved the way for dreamy bridal wear and graceful ready to wear dresses.
Since its inception Kaviar Gauche has designed with great care and attention to detail. Icon, Heidi Klum turned heads in Kaviar Gauche as she walked the isle of her own wedding earlier this year. Their Paris Fashion Week Runway '10 Years of Bridal Couture' displays their effervescent signature, a downplayed glamour with tasteful hints of German design intuition and couture influence. With 24 looks, the show was a spectacle of German design prowess keeping their affinity for fine materials with delicate and uplifting tailoring in full focus. With metallic floral embroidery, silk organza and crystal fabrics every look spoke to the Gauche history and foreshadowed a bright future.
Fashion
Dries Van Noten & Christian Lacroix: SS20 Women's
Dries Van Noten wanted clothes to excite, inspire joy, from this initial thought he says "I quickly realized that all roads seemed to lead to the work and world – of Mr. Christian Lacroix".
In conversation with Susannah Frankel, Dries Van Noten and Monsieur Christian Lacroix met on the Champs Elysées, a middle ground between Antwerp and Arles in Paris, the home of haute couture. It was here, in March, they discussed their work on a women's SS20 collection. Expression that dares, clothes that derive life and feeling are at the heart of Dries Van Noten's design ethic. Van Noten's counter-part is the French couturier, Christian Lacroix. It is only natural that they meet and discuss their joys and aspirations, their sensibilities and their voice in the world of fashion. In the collection, jeans with an appliquéd feather or feather print on one leg embody their shared passion for expressive fashion that is street-ready. The SS20 women's collection also features jacquards inspired by Kubrick's 1975 film 'Barry Lyndon'. The dreamy Lyon jacquards were woven on looms, true to the era in which 'Barry Lyndon' was set. Every detail has a story, every item in the collection is a shout and not a meek whisper, these two minds have brought their joy to the masses in a striking ready-to-wear women's collection for SS20.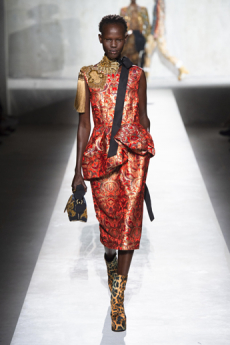 Dries speaks of Lacroix with excitement, noting how uninhibited their process was. "Knowing that Christian was there, the fact that we could have the help of Christian to make this collection was so inspiring for us, it gave us the creative freedom to think: okay let's have big shapes, let's have big colors, big prints, a little bigger, a little brighter? Why not? Why not?". Lacroix was feeling a little alien upon arrival at the Dries Van Noten studio. This feeling quickly dissolved as their working relationship blossomed, Lacroix spoke openly saying "I don't know Belgium very well but there is an elegance that is restrained but discreetly generous. He has that." Van Noten goes on to say, "The idea is to bring fun ideas, nothing too serious, things that I think perhaps we have lost a little in fashion. We have lost maybe the joy of dressing up, of playing with fashion, combining many different things."
Fashion
Olivier Theyskens Pop-Up in Verso Antwerp
Verso, a restored 16th century mansion in Antwerp is where Olivier Theyskens (CFDA 2016 winner, formerly designer at Rochas, Nina Ricci and Theory) has chosen to open a pop-up for his FW19 collection. A dark cloud filled with rolling thunder, a rogue that strays far from the conventional herd, Theyskens' women's collection is as decadent as it is bold. Haute Couture is plunged into a future full of cascading butterfly lace dresses and ice pink satin offset by gothic jewellery and moiré linen. Theyskens' own lambskin leather jackets and pleated trousers are soft to the touch yet visceral to the eye.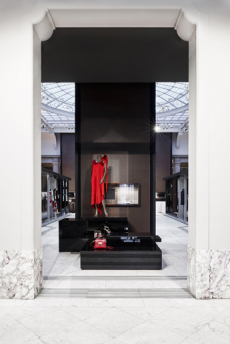 It comes as no surprise Theyskens has a fondness for Antwerp after the fashion museum, MoMu, unveiled a comprehensive retrospective of his career in 2017. Later, in early 2018 a monograph spanning Theyskens' 20 year career was penned by MoMu's head conservator Wim Mertens in collaboration with a range of experts including the New York Times' chief fashion critic, Vanessa Friedman and two curators from Antwerp's ModeMuseum. The book, published through Rizzoli was titled 'Olivier Theyskens: She Walks in Beauty'. There is a home for world-class style, and as the old adage goes, home is where the heart is. Theyskens' heart rests not in Paris, not in Milan but in the fashion mecca of Belgium, Verso.
The Pop Up embraces Antwerp just as it has embraced him, the FW19 release party will be held on Wednesday the 18th of September.

www.oliviertheyskens.com
Travel
BMW: 'Concept 4'
BMW, a household name in car manufacturing has brought us many thrills in the past. Now, long past the notion of reaching any discernible peak or glass ceiling, they intend to remind drivers to expect the unexpected. From the m3 to the m5 and their lustrous hybrid i8 model, BMW has displayed finesse in both environmentally conscious engineering and cars that can handle great speeds. The Concept 4 echoes the company's core DNA at every turn. It's safe to say their contributions to the automotive world are as fruitful as they are plentiful.
At their headquarters in Munich the tireless minds at BMW have introduced their concept for the future to its physical embodiment. The BMW Concept 4, a striking coupe in the same vein as the 328 or the 3.0CSi but with significantly more artful design sensibilities. Though this vehicle has all the design elements we've come to love from BMW, the look is exaggerated so as not to understate what is undeniably a great stride forward for the carmaker. Proportionally the bonnet it stretched and affixed with a reinterpreted vertical kidney grille reminiscent of the 328 Roadster 2.0 that facilitates advanced air intake. The car's tail end curves into its streamlined roof, its stance evoking an unyielding brawn.
The Concept 4 was shaped and moulded with great care to become the new face of the 4 series, rigorously enhanced. Millimetre precise contours add to a voluminous build, the Concept 4 is like a low riding muscle with a long wheelbase and a shapely sophistication that ensures it is not soon forgotten. First unveiled at Frankfurt's 68th IAA car show, BMW's Concept 4 is a blood oath with their customer, to excite and to never settle for the assumed standard. This model foreshadows what is in store for their 4 series range.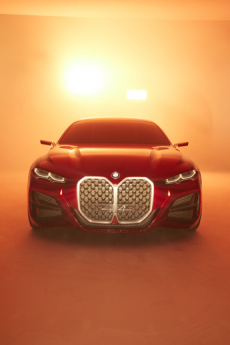 Art
Jorinde Voigt: 'Immersion'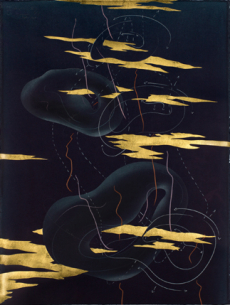 Open Studio Berlin, members from the publishing house, Hatje Cantz and dozens of art lovers will gather tonight at the König Gallery to celebrate the launch of Jorinde Voigt's new art book, 'Immersion'. The book is a study of how intuition provides the framework for immersion, her nuances of text in an image with so much complexity in shape guides the eye and results in a better understanding of the art itself. In her new cycle of works, Immersion, artist Jorinde Voigt invigorates her on-going study of perception. Lena Kiessler of Hatje Cantz will be moderating the book release to properly celebrate the start of the eighth Berlin Art Week.
The book launch will take place across a number of countries but it will be honored in its vitality by a select few fine art institutions. The launch of 'Immersion' spans from Berlin to Houston Texas, where another release party will occur at Menil Drawing Institute. After teaching the art of conceptual drawing at Munich's Academy of Fine Arts since 2014, Voigt felt it was only right that she pass on her refined understanding of shape and intuition. By Repeatedly feeling out her own thematic strengths, revisiting themes that reoccured in her art Voigt details and seemingly annotates her work for our benefit. When art captures our attention, holds our gaze, we often wonder what it was that really had that effect, with the launch of 'Immersion' this is exactly what Jorinde Voigt brings us closer to understanding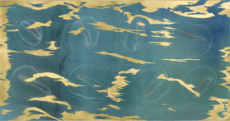 Art
Osservatorio Fondazione Prada: "Training Humans"
Fondazione Prada will host the first major photography exhibition dedicated to bettering our understanding of the images gathered and used to train A.I. technologies. Artificial Intelligence is talked about frequently and superstitions surrounding new tech are mounting. Two highly contemplative and knowledgeable scholars will host "Training Humans", held at Galleria Vittorio II in Milan. Kate Crawford, distinguished New York University professor and widely published A.I. researcher, along with artist, futurist, and researcher Trevor Paglen who has been exhibited from the Smithsonian to the Guggenheim. Their exhibition is an interrogation of the training practices used to categorically define the human race through the eyes of artificial intelligence.

When the CIA first conducted facial recognition experiments, in 1963, they compiled a total of 14,126 images with which to set a benchmark for machine learning. "Training Humans" explores two issues fundamental to humanity and its freedoms. The photography on display will expose to human eyes how humans are represented, interpreted and how technological systems harvest, label and use this material. The intention of "Training Humans" is not to imagine some not-too-distant dystopia; it is to specify to a concerned public exactly which images are chosen to teach A.I. Because of the Internet and the integration of social media into our every day the AI researchers moved from using government-owned collections, such as FBI mug shots of dead criminals, to sourcing photos from anywhere they chose to.

In our infinite complexities, authorities seem desperate to teach machines how to understand us in simple terms. The moral quandary of this is how far they will go to put humanity in a box, to remove the unpredictable, the wild, the life we share that machines cannot yet understand.

"Training Humans" is open to the public from September 12th to the 24th of February 2020

www.fondazioneprada.org
Fashion
MARNI FW19: 'Banana' Sneakers
In a nod to Warhol's pop art banana, Marni has crafted summer sneakers without complicating the design process, allowing playful and contemporary shape to guide them. Marni's Fall/Winter 2019 riffs on the chunky sole shoe, adding a lightweight upper in polyester making the fit less restrictive. The Italian brand founded in '94, showing no sign of slowing down, has opened up flagship stores this year in Tokyo and Munich to further align themselves with the styles of both cities.
Marni has contributed to emergent trends in a light-hearted way sure to catch passing eyes amid Fall/Winter festivities. The 'Banana' sneaker has plenty to like, putting a fresh twist on a familiar favourite with its thick rubber sole, pull-tab and minimalist features. Classic contrast and sparse amounts of color allow for this shoe to be worn with shorts, trousers, jeans or suit pants effortlessly. Marni continues its love affair with the world of the avant-garde while standing its ground in the realm of luxury.
The words quirky and elegant rarely find themselves next to one another, as odd as it sounds "quirky" and "elegant" fit the description of their 'Banana' shoe. Under the creative direction of Francesco Risso, Marni has not let its imagination outweigh its sensibilities. Their 'Banana' shoe makes for a valiant attempt to capture the essence of the unattainable, that which surprises at a glance time and time again. This shoe treads the line between standing out and fitting in to suit demand for smart-casual sneakers.

www.marni.com
Fashion
Moose Knuckles Canada FW19: 'Sacred Glacier'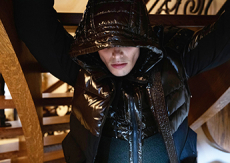 Since its inception ten years ago the brand, Moose Knuckles Canada, offshoot of Moose Knuckles, has become a top of the line, weather-ready force to be reckoned with. Made of fine tailored, ethically sourced materials, their FW19 collection ensures that first step you take into the cold winter's air will be one of confidence and excitement. Their new collection is accompanied by a clear message that life is not to be neglected and the time sensitive realities of our life-giving planet, not to be dismissed. They have also issued a vehement anti-fur statement explaining that they exclusively use faux fur.

With insulating fabrics and a growing legacy in outwear and exploratory gear, Moose Knuckles encourages wearers to throw themselves into life regardless of how great the challenge or how severe the weather. In a scenic and compelling video, made with Toronto's acclaimed production house 'Kid. Studio', Dennis Rodman plays an Inuit with mystical powers. In the short fashion film he calls upon the human embodiments of seven deadly sins to enter his small fishing hut atop a slowly moving iceberg known as 'the sacred glacier' in the Nanavut territory. It is here the mystic Inuit performs a ritual that cleanses them of sin and sanctifies in them the true meaning of human existence.

The FW19 collection is a vehicle for Moose Knuckles Canada to remind viewers of the natural beauty in Earth's eco-systems, and its vulnerability in today's world. As the Amazon burns and giant glaciers in the artic melt, cooling our oceans, changing our weather patterns and making weather events more extreme and unpredictable, Moose Knuckles Canada urges us to involve ourselves more deeply in a reality freed from the mirth of apathetic tendencies technology can trap us in.

www.mooseknucklescanada.com


Fashion
CELINE Haute Parfumerie
In 2004, Hedi Slimane helmed a trio of scents at Maison Dior, the first new fragrances launched by the Parisian Maison since 1947. Now at CELINE, as new Creative Director, Slimane continues his olfactory project with the launch of the first Haute Parfumerie collection, the house's first return to the world of scents since its 1964 Vent Fou for women.

The collection, comprised of 11 perfumes, draws upon the rich tradition of French perfumery reviving the tradition of the 'couturier parfumeur' at the French Maison. The newly created scents reflect the characteristics and stylistic codes, which have defined Slimane's career. Deliberately avoiding the labels of masculine or feminine, the compositions are a harmonic blend of traditionally masculine and feminine notes, challenging outdated notions of identity and masculinity.

Based on the Slimane's olfactory jounal, the collection has a very sentimental and emotional core with each perfume reminiscent of a distinct memory, emotion, place or encounter. The complex and sophisticated scents, harmonize natural and high-quality materials, capturing the Parisian Spirit and the elegance of its couture heritage.

The first nine perfumes from CELINE's first Haute Parfumerie collection will become availabe in the Fall 2019, with the remaining two fragrances being launched in 2020.

www.celine.com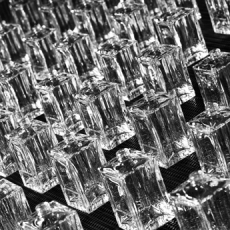 Fashion
Onitsuka Tiger x Christian Dada
Even after 70 years, Japanese brand Onitsuka Tiger has not lost a bit of appeal. Still a staple amongst streetwear enthusiasts and fashionistas alike, the iconic shoe combines the world of fashion and sports, its own heritage and innovation.

For the 70th anniversary, Onitsuka Tiger announced a series of special collaborations, with 7 distinct designers, one for every decade of its existence. For the third edition of this ongoing series, Christian Dada's Masanori Morikawa gets the opportunity to leave his personal mark at the legendary Japanese brand.

The resulting piece, in Christian Dada's signature color black, takes after Onitsuka Tiger's iconic running shoe 'Rebilac Runner'. In his signature fashion, Morikawa infuses his leather and mesh design with the references to Dadaism, such as the arrangement of the laces reminiscent of a crawling snake. Alongside the shoes, the collaboration also features a matching jacket and pants. In a culmination of functionality and design, Onitsuka Tiger's distinct sporty vibe meets Christian Dada's signature loose silhouette. In line with Dadaism, the jacket's breast pocket and inner back pockets of the pants are adorned with rubber patches, carrying a statement.

The Onitsuka Tiger x Christian Dada collaboration will be available from August 26th in select shops and online.

www.onitsukatiger.com
Fashion
BOSS x MEISSEN
With their joint capsule collection, two of Germany's most prestigious brands come together. HUGO BOSS is a global player in the luxury fashion scene, whereas MEISSEN has enjoyed a premier status amongst the world's porcelain manufacturers. Both houses have, since their foundations, unceasingly stood as embodiment of the German values of quality and innovative design and exported them all around the globe.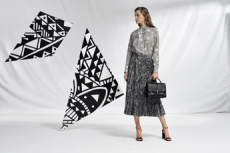 These shared core values have laid the foundation for the collaboration. The starting point for the unique capsule collection were MEISSEN's Big Five figurines. Inspired by the angular style of traditional wooden African sculptures, they depict the continent's rich wildlife in form of the lion, leopard, elephant, rhino and buffalo

These majestic creatures appear as motifs in embroidered, jacquard and printed form on BOSS' casual and formal pieces. The monochrome palette of black and white, heavily reminiscent of the porcelain aesthetic, is a direct visual reference to MEISSEN and its rich heritage, fused with HUGO BOSS' signature craftsmanship and experience in garment construction.
Alongside the garments, the collection features a series of five limited-edition porcelain mugs featuring the same aesthetic. In recognition of the underlying theme, HUGO BOSS pledges a donation to Elephants for Africa, a charity focussing on the conservation of the iconic species.

The capsule collection of BOSS Mens and Womenswear will be available in BOSS and MEISSEN stores around the globe.

www.boss.com
www.meissen.com
Fashion
CARRIE and IVA: Maison Héroïne for Work and Play
Since 2016 Maison Héroïne has created bags for all settings, bridging the gaps between work and play, fashion and function. Working with the finest Italian leathers the Milanese designer, Marta Vitali, has created the new norm for professional women the world over. Maison Héroïne has a polished simplicity and elegance about their design that can be viewed as a statement piece or a means of convenient organization poised for greatness in a workplace setting.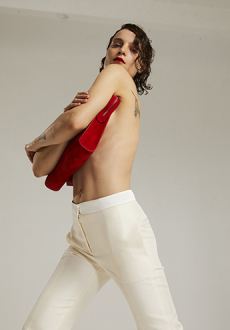 The forms and shapes of Maison Héroïne's designs keep tablets and notebooks in mind, the modern woman carries both and should not have to compromise her elegance for either. The sleek design and care that IVA encapsulates throws the focus back on the wearer, if less is more then IVA does the most, in Italian brick red suede or sleek black leather, even an expressive gold it does what other bags cannot and does it with spectacular ease. CARRIE, on the other hand is sure to be everywhere in offices from New York to Paris just in time for Summer. Worn as a cross-body, belt-bag or clutch, coloured in 'deep berry prugna' among others, CARRIE is at the cutting edge of women's workwear.

www.maisonheroine.com
Fashion
Panthère de Cartier
The days of the wristwatch as functional items are over. Wearing a watch is not about being able to tell the time, it is a statement, an essential part of your accessories, especially if it comes from the Parisian house Cartier.

The French house keeps redefining and reinventing its products, iconic models are instilled with new energy through creativity and innovative design in an ever-evolving stream of ideas. Ultra-feminine in spirit, the two new interpretations of the Panthère de Cartier celebrate the essence of Cartier, a daring and triumphant elegance.

Inspired by the original, both the styles are a play on proportion, combining signature features, such as the Roman numerals or the iconic soft square shape with a new and contemporary housing. The Manchette accentuates the flowing bracelet of the watch. The dial is set slightly off-centered in a bracelet-styled, open-worked chain to create a casual yet stylish piece. As the name suggests, the Mini Watch is kept very close to the original. Smaller in size, the watch keeps the original's elegant appearance, making it a well-suited pairing for several bracelets.

The new Panthère de Cartier models will be available from September.

www.cartier.com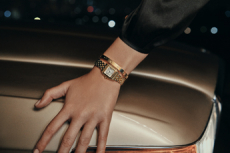 Travel
Mindspace's Office Revolution
With the progression of time, it is natural that certain things are bound to change. Letters, typewriters and CDs are just a few examples of objects that have all fallen victim to the changing times and the traditional office space might be the next on the list to disappear.
Flexibility is key in all the facets of today's work environment. Staff is moving around the office space freely changing between different teams and projects, freelancers and outside contributors come and go and different yet congenial businesses are working alongside each other to enhance each other's expertise and network. The traditional lease model for office space just does not seems to suitable to fit these new requirements.

Mindspace has become the leading 'office-as-service' provider in the world, with almost thirty locations in major global cities. They revolutionized the modern office, creating high-end, yet affordable and flexible shared workspaces, comfortable lounges and efficient conference rooms, enabling creative businesses to work alongside each other and thrive from within the same building. Mindspace's commitment to a new and vibrant workspace extends beyond the premises, offering its tenants a range of in house wellness-, lifestyle- and professional programs for an efficient yet pleasant work environment.
By opening more locations worldwide and with 8 different locations within the Netherlands, Mindspace continues to support businesses so they can continue to grow and thrive within their industries.

www.mindspace.me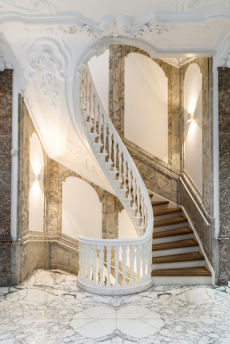 Fashion
New DIOR Boutique on the Champs-Elysées
For a brand of DIOR's magnitude, it is a question of prestige to have a presence in certain select locations worldwide. This becomes even more important if said location happens to be the birthplace of the house. With the majestic display of its new boutique on the world's most beautiful avenue, the Champs Elysées, the house of DIOR pays homage to the French capital and its special bond city.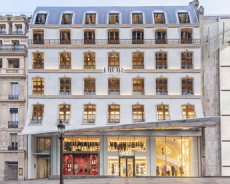 The three-story space is a reflection of core DIOR values, a testament to the house's savoir-faire and a journey to the heart of the House's modernity and heritage. In a tribute to the DIOR's iconic address, the façade of 30 Avenue Montaigne is reprised on an immense, entirely handmade drape at the heart of the Champs-Elysées.

Inside the store, a staircase unfurls like a ribbon in an ode to the curves so loved by its founder, whilst pristine white toiles usually locked away in the DIOR ateliers compose a poetic fresco.

The new boutique adorned with symbols of Christian Dior offers a timeless and contemporary atmosphere for its customers to discover the houses Men's and women's ready-to-wear and accessories, as well as jewelry and footwear, fragrances and Dior Maison designs. Additionally, the store features an in-store workshop offering a broad range of new personalization services, completed on the spot within an hour. Animated with new launches and pop-ups, DIOR presents an immersive and innovative concept of luxury.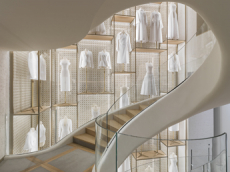 For the opening of its new boutique, DIOR presents an exclusive preview of the Check'N'Dior collection with two exclusive variations of the DiorCamp and a silk scarf in tropical toile de Jouy specially designed for the Paris address.

www.dior.com
Art
Implicit Tensions: Mapplethrope Now
Robert Mapplethrope counts amongst the most critically acclaimed artists of the late twentieth century. Most notably, Mapplethrope is known for his black-and-white portrait photography and his documentation of New York's S&M scene in the late 70s. His provocative images were never created with the purpose to shock, but out of a curiosity to explore and showcase the unknown. For the 30th anniversary of his passing, the Guggenheim Museum dedicates a yearlong, two-part exhibition to Mapplethorpe's groundbreaking work, which deliberately kept challenging the social norms of the time.

Whereas the first phase of Explicit Tensions showcased the Guggenheim's large collection of Mapplethrope's work, the second part is focussed on the artist's lasting legacy. In the ensuing decades, Mapplethorpe's treatment of under-represented communities and homoerotic desire have raised questions about the agency of the photographic subject and initiated complex conversations about the fine line separating representation and objectification.

To honor Mapplethorpe's critical contributions, the Guggenheim showcases the work of six artists, that engage various approaches of exploring identity through the medium of photography. The six chosen artists were Lyle Ashton Harris, Glenn Ligon, Zanele Muholi, Catherine Opie and Paul Mpagi Sepuya.

The second part of Implicit Tensions: Mapplethrope Now will be open to the public from July 24, 2019 until January 5, 2020.

www.guggenheim.org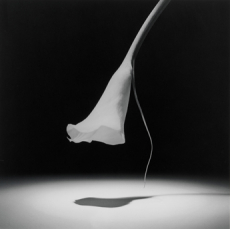 Fashion
Valentino Haute Couture Fall/Winter 2019
Pierpaolo Piccioli's presentation of the Valentino Couture collection was undoubtedly one of the highlights of Paris Couture Week. A fact confirmed by the power trio of Gwyneth Paltrow, Naomi Campbell and Celine Dion takes place front row.
Piccioli recognized, that even in couture, the seduction through an abundance of elegance and craftsmanship is no longer sufficient. Instead, modern women are looking for a deeper message and buy into brands whose position is in line with their personal beliefs. In a period of increasing political isolationism, Piccioli sends out a message of individuality and inclusivity. It is only by embracing different women's identities and cultures that couture can stay alive and well. A message reinforced by the diverse cast of models presenting his creations of irresistible beauty on the runway. To bring this idea into full expressiveness, Lauren Hutton, Cecilia Chancellor, Georgina Grenville and Hannelore Knuts, ranging in age between the early-40s and mid-70s, joined the lineup.

The collection was defined by its exceptionally buoyant colors, often in surprising combinations. But the dazzling display of colors is hardly the only characteristic that makes the collection stand out. The beautifully constructed dresses, adorned with elaborate embroidery and ornamentation, bear witness to the totality of expertise found inside Valentino. Painstakingly rendered by hand, the long dress with floral appliqués or the sleeveless gown made of rose squares attached one-by-one required hundreds of hours to be completed.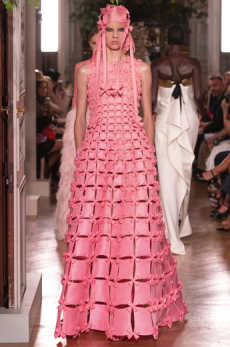 Pierpaolo rounded off his looks with a series of highly-elaborate ornamental heads and komondor wool fringes and set an example of a collection with a conscience.

www.valentino.com
Fashion
Paul Smith Spring/Summer 2020
Oversized suits in dusty colors from pink to sage. Beautiful double breasted elongated blazers worn just buttoned at the inner side, leaving the wide lapels on a fluid motion.

For his eponymous label's Spring/Summer 2020, Paul Smith revisited the '70s in New York with its artistic vibrancy and young art scene. Having experienced first hand during his travels at the time, Paul Smith channelled all of that eclectic atmosphere, imbued of unconstrained creativity.

Tailored leather jackets worn with drawstring tracksuit trousers in sage nylon, double breasted blazers at times cropped on the waste and worn with high rise fluid pants both for men and women. The color palette is also filled with hues reminiscent of Pop Art chromatic scale: yellow, fluorescent orange and cobalt blue.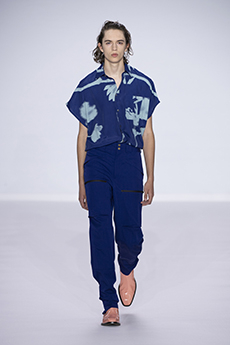 During his visit in the big apple, Paul Smith breathed the environment around iconic galleries, like Leo Castelli, definitely the most prominent art venue in the world during those years and one of the first in late 50s to showcase Pop Art when Jasper Johns joined the gallery.

The collection almost stripped of accessories presented few beautiful slouched big drawstring bag worn cross body over suits, both for men and women's. A relaxed mood so appealing and modern we have loved every bit.

www.paulsmith.com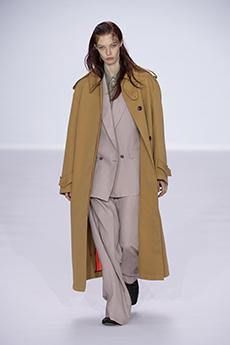 Fashion
Yohji Yamamoto Men's Spring Summer 2020
Yohji Yamamoto has the power to fill us all with emotions no matter what. The languid sound of voice and guitar accompanying the slow pace walk of the models. I actually dreamed of an even slower motion walk, just to capture better the passionate handwritten notes, verses, all over the collection. At times I could reach one - if lucky few - words. They felt like notes of protest, a reminder to take action. Visceral and poetic.
Sometimes I would spot ghostly figures by artist Suzume Uchida. With whom Yamamoto collaborated already for Men's Spring Summer 2018.

Powerful brush stokes by Yohji himself all over, hand painted faces at the back of coats and jackets. And images of what it looked like a sunset. Or was it a hellish landscape?

The artwork is by Yuuka Asakura who has collaborated with Yohji Yamamoto since 2016.

Don't ask Yohji the reason why he used these elements, he might answer: "just because". He doesn't like the overly explained commentaries of what he creates, the fashion journalism that is obsessed to ask "why" without feeling his clothes. He might let you believe it was just an aesthetic gesture on a whim.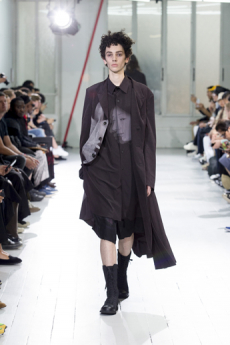 The truth is that Yohji Yamamoto has been reflecting on the meaning of our existence and on the future of our planet since a while. Breaking the boundaries of gender already since decades. He is one of the greatest poets of our time. Although he will tell you he is just a dressmaker.

www.yohjiyamamoto.co.jp
Fashion
Berluti Spring Summer 2020
The iconic Alessandro shoes have been a source of inspiration since the beginning for Kris Van Assche at Berluti. The headquarters marble table in Ferrara where the shoes receive the special patina, and its coloured stains were rendered on suits already for the Fall Winter 2019 debut collection at the house. For Berluti Spring Summer 2020 Kris Van Assche intensifies the same colour palette with more brilliant hues channelling the rebellious spirit we are acquainted with: intense violet, cobalt blue, fluo orange, yellow.

During last season's debut collection Van Assche talked about carefully finding the new codes for Berluti in beautiful excellent crafted clothes but with a new energy and seductive allure.

For Spring Summer 2020 Van Assche adds little by little new elements together with confirming what already proposed, building up a language made of details, where heritage meets modernity, also declined in Women's looks. Like the zip at the bottom of tailored pants to underline the presence of the shoes Alessandro in the version Diamond already available for Fall and the new design with a sneaker sole - Alessandro Edge. Or the house's legendary scritto motif – a 19th century old manuscript from Berluti's archive – printed on jacquard suits, shirts and leather pieces.
Kris Van Assche also expands Berluti silhouettes: suits jackets are often sleeveless or paired with bermuda. If we see motocross pants added to Berluti's vocabulary - further driving in the direction of Van Assche love for New Wave rock - the women's suits counterpart are declined with ostrich feathers, channelling a delicate femininity, a game of contrasts.

We applaud to the brave spirit of Van Assche and we are already looking forward to next season's new staples.

www.berluti.com
Fashion
Dior Homme Spring Summer 2020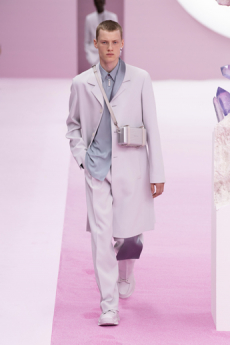 The notion of time, stretched and relative, where past and future are intertwined. It's the idea of imagining our present in thousand of years, "the past of the future".

Approaching the show venue of Dior Homme for Spring Summer 2020 we saw a clock eroded by time, almost crumbling as we speak, few steps further a desk, two chairs, some books as touched by decades, perhaps centuries. All in white, reminiscent of 1971 George Lucas' "THX1138": the same eerie white, looking at our far future where human might have almost completely disappeared.

For Dior Spring Summer 2020 Kim Jones worked together with artist Daniel Arsham to create the set and atmosphere surrounding the show. The American artist has been working around the concept of "fictional archaeology", taking iconic objects of Dior heritage, including objects from Monsieur Christian Dior's life as gallerist, his interest in art and his office being a central place, and imagining how they will be in 10000 years, replicating a geological transformation. Like the huge letters forming the word DIOR on the catwalk: they look like they are falling apart but if you look closer there are crystals growing in their fractures, perhaps leading to a new completion of the letters.

It's an interesting coincidence how exactly around this period of the year, precisely the 30th of June, almost 115 years ago, Albert Einstein formulated his special relativity theory, reshaping the concept of time.

Kim Jones has always been fascinated by the concept of time channelling his imagination of future, technology and of travel he has created a strong impact on his poetic.

For Dior Homme 2020 Kim Jones explored transparency, feather-like garments but also combined with sculptural elements where the leather pieces are cut and sliced like it would be if they were cut by a frieze machine. Starting by printing from the inner side of the garment and then constructing the whole piece with layering the singular elements on the outside. It is like a modern way of sculpting and almost like contemporary embroidery.

Another wonderful couture technique is the different panels hand pleated silk crepe put together and applied on jackets and tops. Hand tacked into the organza base, pinned together to create different directions of curved surfaces, almost like geomagnetic field. The plissé panels were dyed by hand and then each applied on the singular garment to control each the sense of movement, almost feeling like a liquid surface.

Beautiful shades of grey, bubblegum pink, royal blue, neon orange, white: the entire colour palette felt modern and alluring. Alluring as the first collaboration with Rimowa presenting a capsule collection, including a champagne case, a backpack, a clutch and a cabin suitcase.

Kim Jones also continued the idea of draped volant sashes in jackets from Fall Winter 2019, now declined in beautiful floor swiping length marking the pink sand floor of the set.

www.dior.com
Art
Cindy Sherman at the National Portrait Gallery
Without any doubt, Cindy Sherman is one of the most influential artists in contemporary art, with a career spanning from the mid-'70s to the present. In her photographs, she explores artistic manipulation of self-appearance and photography's complex relationship between façade and identity, which, in the world of social media, seems more relevant than ever.
In an eponymous exhibition, comprising around 180 of her images, the National Portrait Gallery presents a major retrospective on Cindy Sherman's career. Central to the exhibition is the critically acclaimed series, Untitled Film Stills, which is shown to the UK public for the first time. This series, realized between 1977 and 1980, is Cindy Sherman's first artistic work, commenced shortly after her move to New York. In 70 images, whose overall flair is heavily inspired by the staged aesthetic of '50s and '60s Hollywood, as well as film noir and European art-house film, Sherman captures fictional situation, inspired by the conventions of yesterday's cinema. Cindy Sherman truly was an image creator. She did not only assume the role as photographer, but also model, set designer and hair and makeup artist.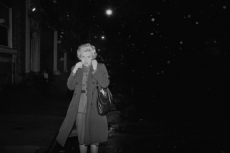 Through sharp observation, her work scrutinizes contemporary life and exposes it as a world of pure appearance, denouncing all its facades and deceptions.

The exhibition Cindy Sherman will be open to the public from 27 June to 15 September at the National Portrait Gallery in London.

www.npg.org.uk
Fashion
Karl For Ever
On June 20th, the houses of Chanel, Fendi and Karl Lagerfeld came together to pay homage to an extraordinary career and the man behind it. As much as Karl Lagerfeld lived in the moment and refused to look back into the past, nobody could possibly begrudge the industry for taking a moment to dwell on the lasting memory Lagerfeld left behind.

In the Grand Palais in Paris, over 2500 guests came together to witness a spectacle staged by Robert Carsen in Lagerfeld's honor. Countless celebrities from film, fashion and music alike took the time out of their busy schedules to take part in this event.
Through testimonials and compelling videos, shot throughout his life, and portraits, from some of the most famous photographers, we get a last impression of this multi-faceted man, who refused to be defined by anyone. Alongside performances by world-renowned Chinese pianist Lang Lang and American artist Pharrell Williams, the actresses and close personal friends Tilda Swinton, Fanny Ardant, Cara Delavingne and Helen Miren recited and read excerpts from his favorite authors, Virginia Woolf, Stéphane Mallarmé and Edith Sitwell.

In an exceptional moment, the industry says its last farewell to a man of incredible talent, who has undeniably left a lasting mark in an inherently fast-paced and ephemeral industry.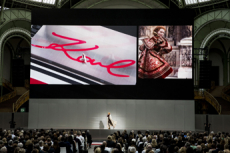 Fashion
Marcelo Burlon County of Milan Spring/Summer 2020
Italian fashion has a certain inherently elegant quality that has been established by its grand houses and their rich tradition. Marcelo Burlon does not fit this mold of Italian fashion. Traditional Italian elegance is replaced with a gritty urban aesthetic, closer to streetwear than couture. Marcelo Burlon takes a techno-approach for his new season, starting with his choice of materials. Modern fibers, such as iridescent coated nylon and paper-like resin tech cotton are crafted into garments suited for the hyper-accelerated needs of a contemporary lifestyle.
Throughout his collection, sometimes evoking references to '90s acid culture, Marcelo Burton continues to refuse the pre-set rules and lets extremes collide, showcasing them side-by-side. Technical cycling garments, do not just inject an element of body consciousness, but also infuse traditional tailoring techniques for an eclectic hyper-modern look. To underline his techno-approach, Edoardo Tresoldi build a modern and impressive wire mesh cathedral as a runway for the show.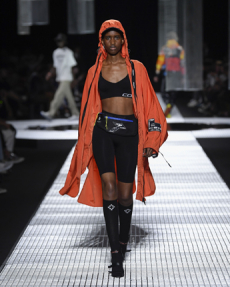 Additionally, Marcelo Burlon used his platform to denounce Italy's increasingly xenophobic political climate. In an effort to give back to the community and in support of tolerance, Marcelo Burlon sets a sign by casting a considerable number of first-generation Italians of African descent and inviting 300 local kids to the show.

www.marceloburlon.eu
Fashion
FENDI Spring/Summer Menswear 2020
The inspiration behind the FENDI Spring/Summer 2020 Menswear becomes apparent at first sight. The location itself, the handsome gardens of the Villa Reale, acted as a first hint, reinforced by the show's opening look, a workwear inspired overall rounded off with a clipping basket and gloves to achieve the desired gardening look.
Silvia Venturini Fendi is said to be a passionate gardener herself and she translates this passion as the starting point for her creative journey. Running through the collection like a red thread, the gardening references are not always as literal as in the opening look, but are instead infused with a certain lightness and the exquisite FENDI elegance. The natural materials, in a natural earthy color palette with soft greens, are combined with floral motifs to fit Silvia Venturini Fendi's nature-inspired vision.

Luca Guadagnino, a long term friend of the designer comes aboard as guest artist. His help was invaluable in the design process. Not only did he provide sketches - that later acted as inspiration for some of the prints and introduced elements of the almost formal Japanese workwear - but his input was also invaluable in terms of art direction, show location and the soundtrack, which was composed by Japanese Ryuichi Sakamoto.

www.fendi.com
Fashion
M1992 Spring/Summer 2020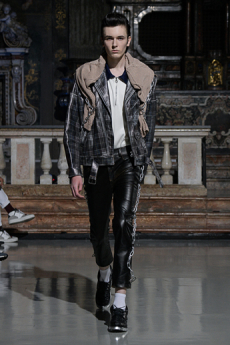 References to the world of celebrity cult and fame are found throughout Dorian Tarantini's newest collection for M1992. Keeping with the fame theme, paparazzi, limousines, private jets and holiday destinations become photo prints repeating themselves on shirts across the whole collection.

In his work, the designer deliberately adds a dose of tackiness, as the allover Swarovski glitz, challenging the slim boundary between glamour and tackiness, so closely related to the world of fame. Adding to the overall fame theme, Tarantini's work has a very apparent '50s and Sixties aesthetic. M1992 combines the sharp tailoring reminiscent of the '50s rebels with a '60s-inspired silhouette, to create neat garments and faultlessly tailored suits evoking a genuinely rebellious vibe. This quality is underlined by the use of buckles and chains to outline the sharp silhouettes.
The necktie acts as the starting point for the designer's creative journey. In collaboration with Neapolitan manufacturer Marinella, Tarantini presents his new take on the most corporate and conservative men's accessory, revealing a surprisingly progressive quality in it. The collaborative aspect does not only limit itself to the ties, but also includes an adjustable case for a tablet. In collaboration with HP, this multi-functional bag will be limited to only 80 pieces available through an online contest.

www.m1992.eu
Fashion
Anatomy of Romance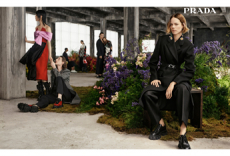 It is not unusual for a collection to take a year from being unveiled on the catwalk until being available to the customers in store. As the focus is already shifting towards next year's seasons, brands capture our attention by reviving and readapting the spectacle of their catwalk shows in elaborate advertising campaigns.

Italian brand Prada captures the spirit of the Fall/Winter 2019 men's and women's collections by exploring the ideas and ideals of romance as human emotion and an artistic movement. Photographed by Willy Vanderperre, the campaign's tender imagery, under the title Anatomy of Romance, evokes a romantic atmosphere through the surroundings and the figures within.

In a modern romantic metaphor, Prada investigates the complex co-existence of men and women as well as the wild natural and the urban industrial. The panoramas display different figures of the diverse and multifaceted cast, including new faces and established talents, in intriguing moments of intimacy, allowing endless interpretations of their entwined destinies. Anatomy of Romance is an extension of the designer's aesthetic vision, created for a modern romance, for modern romantics.

www.prada.com
Fashion
Berluti Shadow
Nowadays, everybody is wearing sneakers. Previously reserved for certain youth cultures and athletes, the sneaker has evolved into an absolute must-have item in every shoe closet. Following the likes of other global brands, Italian shoemaker Berluti presents its first ever sock sneaker, the Shadow.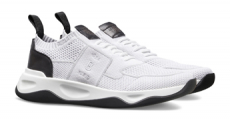 The brand's forward-thinking and innovative attitude takes shape in a sneaker, defined by its impeccable lightness and durability, deriving from the use of durable and light nylon knit. The Shadow collection is Berluti's latest undertaking to present a sophisticated alternative to formal footwear. They merge Berluti's outstanding know-how and craftsmanship with the contemporary athleisure aesthetic and a modern attitude.

Available in classic black, navy and minimalist white the sneaker suits a variety of tastes and urban styles, whilst guaranteeing core Berluti 'Made in Italy' values.

The shoes will be available in stores and online.

www.berluti.com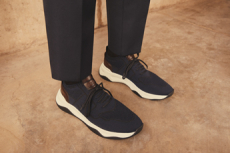 Fashion
Max Mara Resort 2020
Over the last thirty years, ever since the fall of the Berlin wall, the German capital has experienced a period of renaissance. Countless creatives and visionaries have left their mark upon the city to shape it as one of Europe's true hubs for art, architecture and design. All the recent contributions to contemporary culture revive the avant-garde spirit established a century ago by the radically modern Bauhaus movement. No other city seems more adequate to mark a new beginning.

His fascination with the German capital has influenced creative director Ian Griffiths' selection of Berlin as the Max Mara Resort 2020 destination. Both of his Berlin idols, Marlene Dietrich and David Bowie are everpresent throughout the show. They become eponymous with Max Mara's new brand spirit, defying imposed conventions, being classic not conservative. Max Mara presents itself edgy and refreshed by employing hand-made looking fabrics and using the idea of frayed selvages as fringes.

The Neue Museum Berlin, with its priceless artifacts, offered the perfect scenery for this tribute to Berlin, as it syncs with the collection's sandy and earthy color palette and gave inspiration for the first Max Mara jewelry collection designed by Reema Pachachi. Expertly crafted pieces, such as the pure white Berlin coat, a tribute to Meissen porcelain, were rounded out with a selection of sculpted bracelets, necklaces and earrings.

With the selection of this historical location and the Marlene Dietrich-inspired performance of German singer Ute Lemper, Max Mara pays homage to the past. The collection itself acts as a springboard into the future and modernity, redefining Max Mara's effortless chic for a new generation.

www.maxmara.com
Fashion
New Outdoor Label by Woolrich
The phenomenon of Ametora, meaning American tradition, first landed on Japan's shores as early as the 1980s with the arrival of the East Coast Ivy League style. At first, only referring to Ivy, this phenomenon swept over the Japanese islands time and time again, always bringing along another American style, from California surfer to hip-hop style.
Historic American brand Woolrich writes the next chapter in this Japanese-American exchange with the unveiling of its New Outdoor Label. In cooperation with renowned Japanese outdoor brand Goldwin, Woolrich redefines and replaces their iconic American outdoor line. Inspired by a new notion of balance between humanity and nature, the design team unveils a subtle 80's and 90's throwback sports concept, defined by functionality and minimalism, comprising a number reimagined staples, among others parkas, jackets and vests. The principally neutral color palette, at times adorned with hues of sunrise and sunset, as well as water and sky-blue, blends perfectly with a variety of backdrops, from the peaceful nature of forest to the busy city life.

The collection will be available in Woolrich stores and online.

www.woolrich.com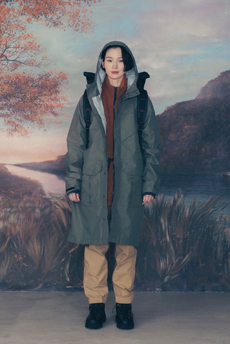 Fashion
LOEWE & the Elephants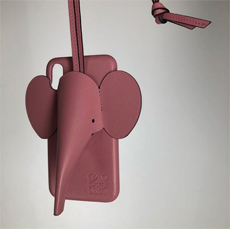 LOEWE cares for natural preservation and the well-being of endangered species. Creative director Jonathan Anderson expressed his compassion by partnering with Knot On My Planet last year to support the Elephant Crisis Fund. The resulting elephant-shaped bag aimed to raise awareness and to set a clear sign condemning the demand and trafficking of ivory.

The elephant motif has remained with the house ever since, as just this year, Iconic Disney character Dumbo the Elephant gave inspiration for a limited edition capsule collection. The elephant-motif will now available hand-size in form of a phone case, as a continuation of the expertly crafted line of elephant-shaped bags. This case, adorned with an elephant's head, is just the latest embodiment of LOEWE's campaign fuelled by its love for elephants.

www.loewe.com
Art
Exhibition Brigitte Waldach
German artist Brigitte Waldach has gained national and international reputation over the last few years due to her large format drawings and installations. She creates pieces that exceed the two-dimensional canvas, combining bands and strings, drawings, sounds and text into a multi-sensual experience. The installation EXISTENZ, making use of the interplay of bands and strings, creates an interconnection between her works and elevates them to a new dimension.

Famous for her work on existential and sociopolitical subjects, the dynamic tangle of strings represent the relations between time and space, life and death as well as individuality and collective. Having found inspiration in the thinking and work of Felix Nussbaum, his presence and words become ever-present, at times through personal words or letters or through reference to key moments in his life, so closely tied with fate of the German Jewish community in the 20th century.

The exhibition showcases the artist's combination of notions of the past and present with biographical components. The exhibition is open until the 10th of November in the Felix-Nussbaum-Haus in Osnarbrück.
Fashion
Dunhill Aquarium Limited Edition Capsule Collection
London-based house Dunhill looks back into its past and rediscovers a series of hand-painted illustrations first introduced with the Aquarium lighters in 1949. They received their name, due the material's optical reflection of the light, giving them the appearance of a large fish tank. These intricate nature-inspired motifs of fish and birds, were re-contexualised and reimagined as prints for a series of modern pieces, such as bombers, swim short or sneakers.

As expressed by Mark Weston, the whole collection expresses a certain tension in parts due to the old reinterpreted in new forms, the ageing motifs with a newfound relevance, so as the Art deco inspired motifs on hand-painted lighters become fabric prints for items such as belt bag.

Despite the new polished format of these prints, Dunhill keeps in touch with their origins. Aside the summery capsule collections of modern clothes, they also feature an exclusive revamp of the original lighter, using the same traditional methods and a exquisite palladium or gold plated finish. This very limited edition only consists of 15 lighters per colorway, each individually engraved and numbered.

www.dunhill.com
Art
Anthropometry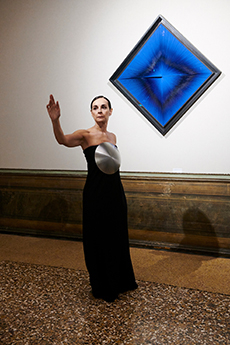 One year after his passing, multifaceted artist Getulio Alviani, pioneer in the movement of kinetic art and Op-Art, was celebrated in the framework of the 58th International Art Exhibition of the Venice Biennale. In the spirit of Alviani's vision, the Palazzo Barbaro on the Grand Canal is transformed into an interdisciplinary exhibition Anthropometry combining art, fashion, jewelry music and theatrical performance, perfectly staged during the opening vernissage featuring live performances of Brazilian actress Lìgia Cortez and famous eclectic virtuoso Olen Cesari.

The dress "Cerchio + Quadrato" worn during Cortez's performance shows that Alviani's collaborations in the field of fashion, springing from the research of avant-garde materials and technologies, with designer Germana Marucelli are one of the focal points. By applying his visual experimentations with light and optical illusions to sartorial endeavours, designer Marucelli constructs wearable pieces of art, transforming and evolving with movement and in relation to the body that wears them.

The exhibition is open to the public until the 30th of May in the Palazzo Barbaro in Venice.
Fashion
#MYCALVINS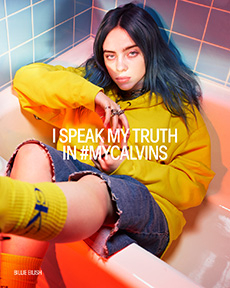 Calvin Klein launches their new #MYTRUTH campaign, creating an additional stage for some of the most influential voices to tell their story in their own words while inviting the world to do the same. A campaign that fits the brands' provoke history and celebrates freedom and self-expression. The campaign is a call to action to speak your mind, creating a movement with artists like A$AP Rocky, Bella Hadid, Billie Eilish, Kendell Jenner, Shawn Mendes, Troye Sivan and many others. The campaign will be released worldwide in installments beginning on May 9th #MYTRUTH #MYCALVINS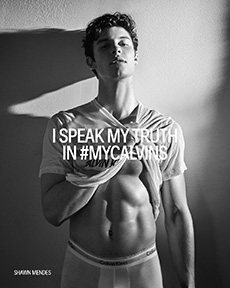 Art
ES Exhibition - JOHAN TAHON, TILL LINDEMANN, SANDOR LUBBE
'The collective unconscious consists of the sum of the instincts and their correlates, the archetypes. Just as everybody possesses instincts, so he also possesses a stock of archetypal images.'
- CARL GUSTAV JUNG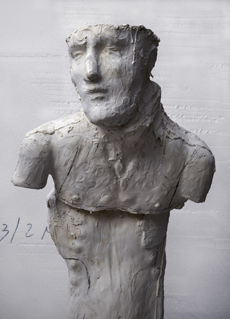 Following on from the mighty success of the 2018 retrospective exhibition at the Bonnefanten Museum in the Netherlands 'Wir uberleben das Licht', which documented Belgium visual artist Johan Tahon's career exploring the physical and the philosophical through the art form of sculpting, New York now hosts ES.
From 29th March through to the 18th May 2019, a unique opportunity to experience the work of Johan Tahon and his collaborations presents itself to the public. Sculpture, poetry and photography all coalesce to form an immersive, united exhibition.
Sharing the same sensibilities and sentiments as Johan Tahon, German frontman Till Lindermann of Rammstein has specifically written poems to accompany the exhibition. Our editor-in-chief Sandor Lubbe's photography also plays a part alongside Tahon's pieces, the culmination from which ES has developed.
Wednesday to Saturday 18:00-20:00 at 87 Rivington Street, New York, the exhibition at 'Empirical Nonsense' runs from 29th – 18th May 2019.
Music
NAO At Paradiso
The effect of NAO's sound, songwriting and stage presence can be firstly be described as physically impactful. Soul-splitting, heart-wrenching lyrics paired with a vocal ability on par with the R&B greats leave an unexpected bodily impression that hits you direct in the gut. Bold and boundless, NAO taps into all shades of the human experience in a honest, exposing way that escapes any risks of pretension or disingenuinity.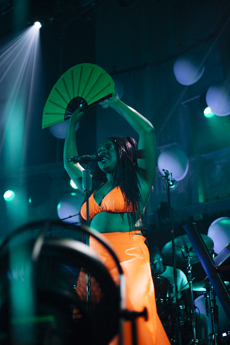 NAO very much takes the reigns of the show at Paradiso, Amsterdam, ensuring that the experience is truly a shared one, not merely a screen projected for the audience to neutrally detach from. Riffing with the crowd, she guides them through a full orbit of emotions, through every peak and trough, celebrating all the experiences symptomatic of the human condition. 'A Life Like This' and 'Another Lifetime' are particularly striking, stop you in your tracks and capture your heart.
This intensity would most certainly be too overwhelming if it were not for the dam-like burst of unrelenting joy in 'Get To Know Ya', 'If You Ever' and 'Inhale/Exhale' as NAO joyously bounces around the stage, actively engaging the audience to the point where you catch your unwitting grin begin to ache. 'Drive and Disconnect' is just effortlessly cool. This ability as a performer is only supported by an exemplary sense of musicality, phrasing and rhythm. Her vocal acrobatics are nothing short of impressive, particularly in the melismatic stretching from the piercingly high then dipping into a resounding, hearty register.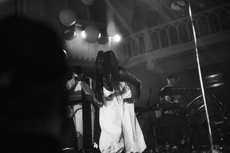 There is no sense of censorship or false cultivation. NAO genuinely feels like a passion artist, writing and singing for the sheer love of and need for it, relishing in the live experience and exhibiting a colorful, refreshing force of unshackled expression as she does so.
NAO is a English musician from East-London currently touring her second studio album around Europe, 'Saturn', the follow up to her debut 'For All We Know'. Her style is self-described as 'wonky funk' fusing the electronic with the soulful. Having performed with the likes of Bon Iver, Lauryn Hill and Nile Rodgers to date, she has very early on established herself as a promising musician to look out for.


www.thisnao.com
Fashion
Louis Vuitton Womenswear Fall 2019/2020
Not many knows that when in 1977 the iconic Centre Pompidou opened its doors the Parisians were so shocked that the museum had to arrange clowns and jugglers playing in front of its doors to loosen up the mood and invite more visitors in. The citizen didn't like the radical architecture designed by Renzo Piano and Richard Rogers – at the time partners – featuring a stile later defined "Bowellism", where the cable and pipe systems usually kept inside a building were infact exposed.

When entering the Louvre's Pyramid, slowly approaching Louis Vuitton's show venue Cour Carrée, we saw a humongous blue pipe running across the courtyard. Little we knew that inside the temporary structure built for the show we would find all the elements and colors of Centre Pompidou's façade, more pipes, hundreds of them, as set for the show. A Museum in the Museum.

Nicolas Ghesquiere mentioned the beauty of controversy as his inspiration, the need to address colliding elements and the famous Pompidou colors came back in the clothes: the yellow, blue, red, all together.

The collection had a strong 80s references, with its graphic ruffled shoulders and dresses, the ankles boots worn with tights, the silver and glitters, the high-waist carrot shaped trousers and frill skirts. The iconic damier motif was presented in skirts and leather caps.

A bit 80s disco, a bit punk, a bit 80s power feminism. Ghesquiere presented the modern thirst for diversity and an eclectic look far from a put-together one.

The accessories presented some interesting novelties hinting to architectural references and a classic attire: like the flat large bag appearing in look 9 in grey and declined in brown in look 16, apparently Ghesquiere's favourite bag of the season.

It was a daring collection and we are looking forward to see Louis Vuitton's client picking and mixing elements.

www.louisvuitton.com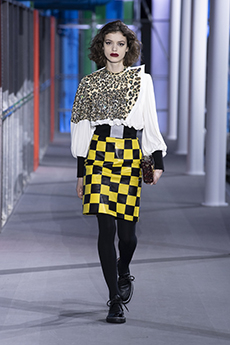 Fashion
CELINE Fall/Winter 2019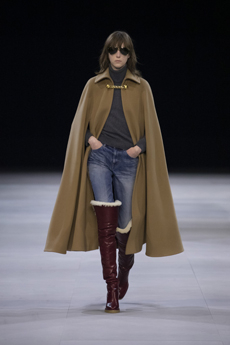 At the Winter 2019 show in Paris, Hedi Slimane premieres his winter collection for Celine. Whilst distancing himself from his predecessor, Slimane still manages to meet the brand's iconic style somewhere aptly in the middle. A solid and stable collection displays a wearable collection of blazers, jeans, sweaters and skirts with a consistent thread of colour and fabric throughout.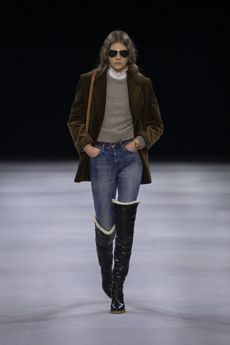 It would be hard to miss the references to the 70s. The palette is unmistakably so, camels outer-layers are naturally paired with browns. Creams and denims all tie together with thick knee-high boots. Scrunchy leather boots, wide lapel blazers and aviators play up to this feel also.
Although Slimane's typical staple is largely subverted by virtue of not having included his characteristic tight and short style, his touch is palpable and present. Leather jackets, the occasional dash of sequins and soft trimmings are identifiable and for a first collection, it is harmonious and marks a strong, clear foundation for evolution in the brand.
Fashion
A Retrospective of Icons
KENZO La Collection Memento N ° 4 presents a selection from it's stunning emblematic archive by putting the most creative printed prints on the map again. Both the fun and whimsical side of Kenzo Takada is clearly presented. His striking attitude towards fashion, his partiality for food and above all entertainment form a broad palette of inspiration.

Historical icons such as the tiger (coming from the men's collection spring-summer 1991), appears this season again in new expressions and embellishments. The tiger is KENZO's eternal dedication, a symbol of strength, something that must always be there to move on. Photorealistic airbrush tigers are made in two colors on T-shirts, sweaters or shirts of cotton poplin. The "running tiger motif" and the "spring tiger" (from the women's autumn-winter collection 1983) are extravagantly released in gold, burgundy and leopard prints, depicted on the "Jungle" bomber jackets, dresses and knitted tops and skirts.

Secondly, do you remember besides the tiger, the other iconic symbol? It is the hyper real painted tomato in either red or yellow. The tomatoes became big in KENZO's Spring Summer men's collection in 1992. The tomatoes are pictured on comfy cotton pieces, short sleeve archival smock dresses and mesh shirts.

Lastly this new edition of prints also introduces great line of bags – bumbags, backpacks, totes and the reversible "Knot" bag – also printed on caps and slip on trainers.

This innovative and exciting collection embodies KENZO's valuable design heritage, which can continuously adapt to the latest trends.

www.kenzo.com
Fashion
Re interpreting Dior's "New Look"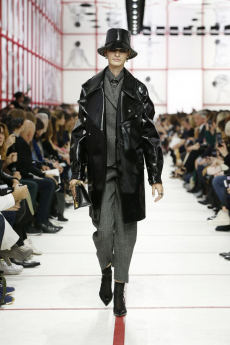 Each collection of Dior forms a new alchemy born of a confrontation between images, bodies, silhouettes and language. By reconnecting these elements over and over again, a new contemporary spirit emerges. It is a new gateway to reinventing the wealth and style codes that have made the Dior atelier so big.

Artistic director Maria Grazia Chiuri went back to the 1950s and used the pioneering "New Look" as a new research object in combination with an feminine counterpoint: the Teddy Girls.

The teddy girls were brutal characters originated from Edwardian times and were at odds with everything that was the norm. The women were rebellious; they wore leather men's coats, velvet scarves, and large skirts. This counter reaction created a new female fashion perspective. Princess Margaret was at this time the leading icon of the trend by being one of the first who worn creations from Dior's "New Look" line.

There is obviously a clear fascination with the mix of English classicism and subversion, elegance and rebellion that can also be seen in the exhibition Christian Dior: Designer of Dreams, now at the Victoria & Albert Museum in London. The concept of the "New Look" has now been applied to extremely elegant sportswear. The collection is a tribute to the heritage of Dior equipped in the codes of our time. The iconic silhouette of the Miss Dior dress has been re-released and radiates artistic strength and grace. Evening dresses are made out of bodysuits and skirts with embroidery and transparent sequins are decorated with flowers in relief.

The collection contains more odes and references, such as a pal tree print (Toile de Jouy) that refers to artist Mario Schifano. You also recognize the literary work of the American feminist poet Robin Morgan with elements from Sisterhood Is Forever (2003). The scenography of the show is based on ABCs representing a woman made by the Italian artist Tomaso Binga.

The collection transcends the idea of gender and promotes the reinterpretations around identity discovery; an idea that has been supported by Dior for a long time already.

www.dior.com
Fashion
Balmain opened at Rue Saint-Honoré, Paris
The Rue Saint-Honoré located in the first arrondissement of Paris, near the Jardin des Tuileries has a long history with many different names and associations.

The Saint-Honoré has undergone an incredible transformation in these last years; the authentic historic buildings have been beautifully renovated and are now inhabited by the most luxurious brands. Balmain is one of them. The Parisian brand Balmain headed by artistic director Olivier Rousteng in collaboration with the architects of Studio AMV created a true residence for the brand.

This classic historical building breathes Balmain's modern identity and will serve as a true style guide to the future residences with which the brand will eventually conquer the world. The 'house' of Balmain is a very idiosyncratic expression rooted within classical Parisian residential architecture. It contains ten specific living spaces; a garden, a living room, a boudoir etc. Each is decorated according to Balmain's classical signature style.

This boutique reflects the idea of 'classics, with a modern outlook.' Rousteng further elaborates on the Balmain heritage by translating it into defiant contemporary expressions. The designs are classic, elegant silhouettes derived from the most luxurious contemporary materials and prints: a signature originated in Paris. The boutique on Rue Saint-Honoré is a homecoming, says Rousteng, it is the perfect complement to Balmain's historic address: 44 François Premier, where founder Pierre Balmain first opened the Balmain atelier almost 75 years ago.

www.balmain.com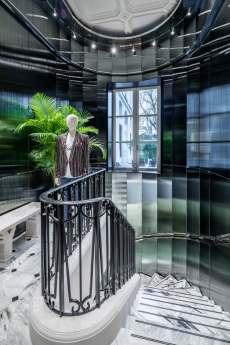 Fashion
Crystallized Flamboyance
The magical, pure rays of the Northern Lights are an intrinsic source of inspiration for Byblos's creative director Manuel Facchini. The pristine polar areas that have hardly been affected by humanity are an example of dedication to a more sustainable life. The colors that come together through the interaction of light, ice and temperature on the Aurora Borealis create a natural, flamboyant atmosphere.
Facchini's aim in this Fall Winter collection is a more sustainable luxury life; plastic recycled bottles are reused by being turned into magical eco-friendly pearls that pursue the same aesthetics of the durable ice crystals and mountain diamonds. By imitating luxurious flamboyance in recycled plastic, Facchini shows that this graceful lifestyle does not only have exist at the expense of our fragile living environment.
Byblos's signature is characterized by all sorts of sports. Elegance and sportiness come effortlessly together in ergonomic constructions from cozy buffers to tight streamlined dresses, all embellished with classic 3D sport protection. Structured silhouettes alternate origami-styled suits with molecular ice structures that seem to melt slowly. Coconbomber jackets, hoodies and crystallized parkas are lined with beautiful graphic and geometric motifs, all are inspired by our own natural, nothern atemporal cosmos. The forms of the prints in this collection are copied from the effects of the Aurora borealis; collisions between electrically charged particles produced by the sun that slowly penetrate the earth's atmosphere. Footwear is characterized by sturdy, cool "cocoon" sneakers, eco-furry booties and hockey-inspired over-the-knee boots.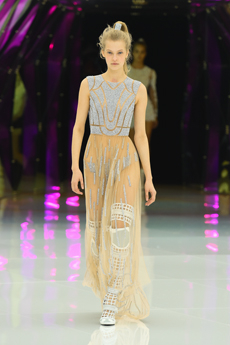 This new collection is a kaleidoscopic range of practical natural wonders with an inventive, sustainable, extravagant flair. By re-using materials and resemble terrestrial sources, a new challenge arises to save this planet and still live in luxury.
Fashion
Infinite Creativity
Hugo Boss, NY Fashion week Fall/Winter 2019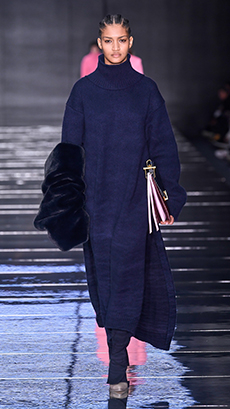 New York is the city where all sorts of cultural influences come together; art, design, architecture, and fashion. Disciplines fuse here faster than anywhere else. This visionary New York culture has been the starting point for Hugo Boss's new women and men's collection.

The collection was presented in the gallery district of Chelsea, the heart of the Manhattan art scene. Boss' decent and modest spirit aims to pursue formality, which has evolved in this collection into a more sporty identity that wants to stand out.

Long, custom made coats and voluptuous capes are made out of luxurious alpaca wool and double-faced cashmere. Edited patchworks are interspersed with graphic stripe constructions and sturdy quilts. Him and her are in contrast with the combination of extremely elegant flowing dresses and slouchy knitwear sweaters.

Traditional craftsmanship has been incorporated in this collection in high-end fabrics to refine the noble identity in a refined, creative way. The volumes of the designs have also been given unexpected proportions with raw-edge finishes and stitch details. Boss is nodding here to the great variety of architectural influences that New York richly possesses.

The basic colors have remained true to the roots. Subdued colors camel, mélange gray, biscuit and winter white are connected to extremes like cool yellow, bright blue and dark pink.

The diverse artistic references reflected in the details make the collection individual and quirky. The new designs from Boss invite you to watch twice - and then again; the unexpected is combined with the expected.

www.hugoboss.com
Fashion
Travel Essentials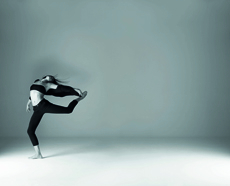 A front leader in efficient and ergonomic clothing design, Roberto Ricci Design have synthesised clean, essential cuts with unexpected nuances for their Spring / Summer 2019 collection. The outerwear emanates warm tones of yellow that transcend into almost neon flourescence along with intense oranges, optical whites and classic blue denims. Silver and gold metal fibres also make an appearance.

The garments are simply ideal for the traveller in virtue of being extremely light and foldable, able to be fitted into travel luggage and smaller cases. The urban section features lightweight lycras that are highly breathable and suited for warm Spring temperatures. Classicism also infiltrates the entire collection with simple cut shirts and trousers from sartorial models. Soft to the touch fleeces are enriched with Oxford fabrics.

Fuss and excess are deliberately stripped away in the search for pure essentiality and necessity in designs. Technical glamour blends with colours, shapes and fabrics in perfect Italian style.
Fashion
Tambour Horizon
Louis Vuitton introduces the Tambour Horizon watch; this fully connected piece embodies the spirit of travel and authentic craftsmanship. In contrast to the previous designs, this model allows you to personalise the dial with your own chosen watch face. Very extraordinary is the watch face; the design aesthetic refers to a classical Louis Vuitton runway show.

Louis Vuitton as a brand has symbolized "the art of traveling" for a very long time already. This watch is subversive, since it is able to synchronize all your travel information together in one place together with your agenda. Because the world has become increasingly polluted, Louis Vuitton has integrated a "Pollution" function that continuously displays the current air quality index on the dial.

The Tambour Horizon has a unisex case with a unique shape and is available in polished white ceramics, polished steel, matte black and brown Pvd and white with gem-set horns. The Tambour Horizon is the ultimate combination of smart and refined craftsmanship and technical excellence. The brown Pvd is especially symbolic; this color has been an integral part of Louis Vuitton's aesthetic since 1854, used most prominently in the emblematic Monogram design.

www.louisvuitton.com
Fashion
Anne Imhof's New Work Exhibited at The Tate Modern for Ten Days
Frankfurt-based dynamic choreographer and visual performance artist Anne Imhof is revered for her utilisation of hyper physicality and incorporation of sound into her performances, often using unsettling rhythmic repetitions and sinister choral chants pumping out over a bass of static dissonance. She is known for her works Faust, Angst and a fascinating piece exploring human nature and control through the joining together of music and boxing in the Frankfurt Red Light District.
Common features of her work juxtapose the use of technology with stripped back Kafkaesque animalistic physicality. The dramatic 2016 piece Angst consisted of a segement with a drone stalking possessed, lifeless looking subjects dressed in non-specific attire who appear almost under the spell of the drone, miming along to loud vocal sounds in a pagan-like manner. Her provocative pieces blur the line between the performance activating audiences and actual active participation initiated from the audience whereby the performers' traditional spatial limitations are violated and encroached upon. In the way that a painting is able to use perspective, Anne invites this component to her physical performance work, effectively weaving in various levels, angles and perspectives for the audience to observe the work from. Anne cites the abstractive stationary work of artists like Francis Bacon as central influences inspiring the subsequent physical development of her performance pieces. This was most utilised in Faust in Venice for which she was bestowed the prestigious Golden Lion award.
The direct impact of Anne's work on the perceiver inevitably lulls them into an intense, dreamlike space removed from familiar reality, forcing us outside of our comfort zones and thrusting us into an atmospheric trance-like state, both simultaneously unsettling and invigorating.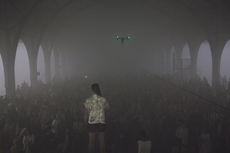 Anne Imhof will be occupying the full suites of The Tate Modern's Tanks with her single project combining music, paintings and sculptures over the course of ten days. This new piece will explore themes of technology, anxiety, proximity and identity and will take place in London from 22 March - 31 March 2019.

www.thetate.org.uk
Fashion
Alyx Fall 2019 Mens / Pre-fall 2019 Womens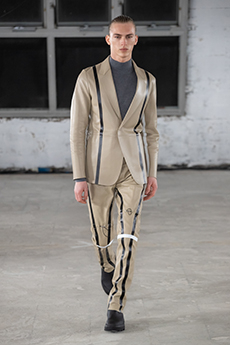 Since the very beginning Matthew Willams's Alyx stood for experimenting new silhouettes and technologies, developing new processes and building a new aesthetic made of small details into a whole.

For his second show during Paris Fashion Week official schedule Williams created a collection with all the elements that have been the brand's signature ever since: the asymmetric cut, the coulisse used in dresses and pants to create new volumes and of course the very well known buckle (that was also designed for Kim Jones's Dior Homme). This season renewed in a new moulded nylon version, with high density but lightweight, expanding applications and functional variations: around the neck as jewel and almost everywhere else in the collection.

The collection also featured a beautiful camouflage print tie-dyed on the roll and with sponges, as well polar fleece bonded with a 3-layer taped Japanese mesh produced in collaboration with the Italian manufacturer specialist Majocchi.

Matthew Willams refined his vision into the future with sustainability in mind: fabric welding using high-frequency molecular friction allowing low energy consumption and no solvents.

www.alyxstudio.com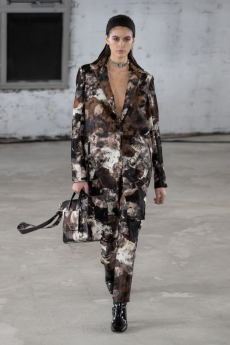 Fashion
Dunhill Fall 2019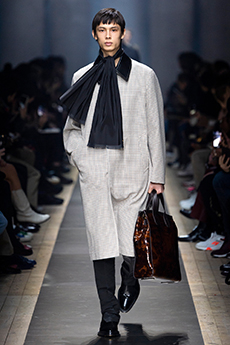 The British luxury brand Dunhill has become one of the best-known global luxury brands with a presence in all the world's greatest retail cities. 

Since 2017 with a renewed team where Andrew Maag and Mark Weston are respectively CEO and Creative Director both previously at Burberry, a new wave has been building up into the brand.

Dunhill started as a motoring accessories brand, and in the late '60s moved to the tobacco business, standing for a strong masculinity.

For Fall 2019 Weston continued working on those elements started already since his first season at Dunhill: leather, beautifully declined in the outwear. A brown marbled print was declined in shirt and bags creating a vibrant variation.

Pants were wide and fluid, slashing a relaxed and modern style with slits at their long swiping floor hems: it is a nice continuation from the previous Summer season providing a new code for the brand.
Dunhill for Fall 2019 was convincing and appealing. We are looking forward to seeing the growth of the brand's new course. 
www.dunhill.com
Fashion
Off-White Fall 2019 Mens / Pre-fall 2019 Womens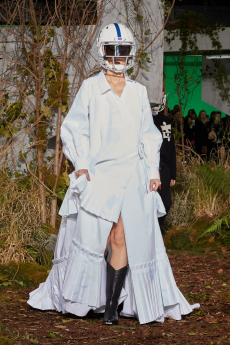 Spontaneous vegetation growing in hostile conditions, around abandoned industrial landscapes, resurfacing lacerated concrete, fading away from one place to blossom in another corner meters further. It's the interstitial landscape in Gilles Clément's "Manifeste du Tiers-Paysage" where plants serve as aid to observe the space with all its social, political, urban connotations.

Virgil Abloh's setting for Off White is imbued with this rich fragmentary landscape, suspended, in constant evolution and change. Like Abloh's creative ambition and know-how.

Moving into this residual landscape - constructed as a huge green-screen noddig to the 80's and 90s "Pubblic Television" - Off-White new collection for Fall 2019 stormed in , with all its codes where the formal clothing and the attention to tailoring surfaced amongst Off-White's repertoire confirmed Virgil Abloh's voice and personal baggage starting his adventure at Louis Vuitton.

www.off---white.com
Fashion
Berluti Fall 2019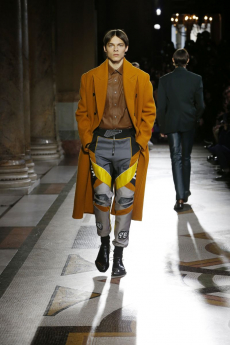 When Kris Van Assche was appointed new creative director at Berluti, the legendary Italian brand famous for its custom made shoes, there was a lot of excitement and anticipation for the new breeze this visionary designer would be able to bring.

We have been all following him in the developing of his codes along the years: the fascination to the New Wave music, the nod to a new modern tailoring with that sharp body-conscious blazer ushed further for the last collections at Dior Homme inspired by the Bar Suit.

Kris Van Assche knows how to take the elements of a brand's heritage and bring them into his own aesthetic. For his Berluti first show he worked on emotional elements dear to the brand: the white marble table used by Berluti's artisans since 1895 to polish the renowned shoes, photographed and used as print for shirt, coats, sweaters. You can see every mark left by the coloured shoe polish in the years, the craft, the spirit of the time.

The appeal of manipulated leather was used since the fist look: a brown leather suit with a patina finish (a technique known for the famous shoes of the Maison), a beautiful grey double breasted overcoat matched with a relaxed pinstripe suit marbled shirt + tie combo, smart bags.

The vibrancy of the colours found on the iconic Ferrara headquarters' marble table were back in the suits and coats: ruby, brilliant green, blue, ochre, also carefully declined on few female models. The majestic show location of Garnier Opera resulted the perfect set for Van Assche's new modernity, where backstage all his old and new supporters warmly welcomed this new course.

www.berluti.com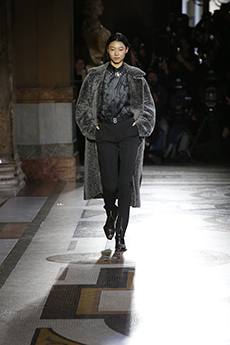 Fashion
Paris meets Munich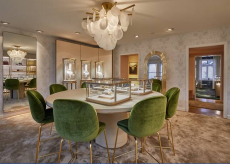 Parisian Cartier opens a new pop-up Boutique in Münich this week. A traditional Cartier store divided into three different themes, all characterized by classical Parisian charm and designed by famous Parisian interior architect Laura Gonzalez.

First you enter the bar, which gives you the feeling of stepping into a typical bistro in Marais. The luxury velvet, marble and oak details underline the elegant and chic French aesthetics and give you the feeling that you never want to leave.

The second entry is into the salon; an area that breathes the so-called savoir-vivre feeling. The mirror wall in combination with an extraordinary monumental chandelier and dining table are the perfect combination between a typical French romantic Burgundian lifestyle and the Parisian metropolitan spirit. Artistic atmospheres and individual design furniture give this boutique an innovative touch and translate the classical French/Parisian concepts into a new experience.

Lastly you arrive at the boudoir in which two large chaise longues and dark green color scents immediately attract attention. Iconic Cartier images through time adorn the walls in a playful way and take you through the empire of Cartier as a jewellery maison.

The Paris apartment is located on the fourth floor of the current boutique's house at the Maximilianstrasse and will remain open until Fall 2019.

www.cartier.com
Fashion
90's Maverick Individualism
The Parisian brand Givenchy chose this season to present a new vision characterized by contrasts and eclectic tones. This look finds its roots in 90's maverick; an attitude that is represented by personal color-blocked suits with special embellished pieces in embroidered leather.

Artistic director Clare Waight Keller introduced a new way of creating in this collection by playing with different volumes, and mixing lean lines with loose and oversized pieces. The mix of bright colors interspersed with formal shades gives a dynamic, surprising feeling to the classical Givenchy textures. Casual pieces have been given a luxurious couture finish with edgy materials such as pallets, down and móire, which will give the traditional Givenchy man a new spirit to his elegant appearance. Experimental forms such as three-headed monk shoes are alternated with mid-calf shoes. Also thick platform shoes from the Givenchy pre-fall collection, together with the higher biker boots, the talisman charms and the seal rings are still Givenchy's leading niche.

Style codes dualate on each other's borders but still express the elegant Parisian spirit. Givenchy chose to display the collection in the Palais Brongniart, The Paris Bourse Stock Market built on request by Napoleon. The allegorical statues and majestic peristyle give a playful edgy perspective against the maverick attitude of Givenchy's collection.

www.givenchy.com
Fashion
Imaginative, Quirky Couture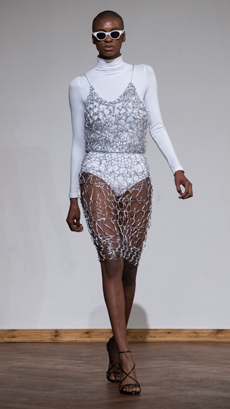 Odély Teboul has moved on from her days as part of the design duo Augustin Teboul. During the FW19 showcases at Berlin Fashion Week she presented the designs of her own label, Lou de Bètoly. Following stints at Vogue Salon this was her first major showcase on her own. The label had already gained traction this past year with pop star SZA or it-girl Delilah Belle Hamlin wearing Odély Teboul's designs last year. Each one of her designs is handmade using couture techniques and features strange details that con only be produced by wild imagination. In a city that never really conforms or grows up, these quirky looks work.

This ethno-dada draws from her childhood in the 90s and seems deliberately narrated from a child's point of view paired with a bit naïvety. And everything is blurred. We see a shirt with balloons and crocheted cords that could've been stolen from her father's closet. Or a denim jacket, which is covered all over with small hand puppets. And those alluring 1920s that Odeeh found inspiration in, also played into the Lou de Bètoly A/W 19-20 collection with the understanding of the "decadence and nonchalance" of the decade. One great example of this are the extra-long gloves made of neon hair ties.

www.loudebetoly.com

Fashion
Roman Nonchalance
Brioni showed in Milan its Fall/Winter 2019 collection presenting a masculine wardrobe repertoire with a tailoring formality. On the other hand they simultaneously exhibit a sense of informality making the collection one open to personal interpretation. Brioni's authentic tailoring and precision is shaped again in a niche way, in an item called the primo suit. This slim-fit silhouette expresses a confident and exceptional, social spirited character.

An identity that embodies the idea of Roman nonchalance; an attitude that is characterized by pieces that move smoothly and lightly over the body made out of precious, refined materials with interesting details. This philosophy is central due to the representation of a man who instinctively follows his whims. An elegant gent with a well considered wardrobe, which obeys a special repertoire of style codes.

The collection indicates a mix of traditional and trending items: From trench coats to blousons, from morning suits to tailored or military pants. The items are released in materials such as cashmere, camel, wool, silk, leather, crocodile leather, velvet and knits with a fused color palette of neutral tones, whites, greys with touches of light blue and accents of rusted notes.

www.brioni.com
Art
Ulay's Exhibition at Richard Saltoun, London
The very nature of Ulay's art inadvertently resists all attempts at classification and defies categorisation. A self-proclaimed anarchist, Ulay's work spans multiple platforms and offers a stark exploration of the dichotomy between the masculine and the feminine, exploring the fluidity of the self and the constant potential for transformation and experimentation with new identities. Ulay is one of our long-time favourite artists with whom we have previously had the incredible honour to work with on two separate projects.

From an early affection for the fleeting, transient and instantaneous process of the Polaroid to a traceable crossover in utilising the physical form through performance and body art, it is strikingly evident that the single common thread of Ulay's work is awareness — in the obvious performative, physical sense of course but also in his social commentary.

Ulay's unyielding lifetime commitment to dismantling and subverting the roots of complex themes of identity, particularly gender, by tackling the harmful human conflicts that arise from externally enforced notions of identity through his unprecedented format, are what have comfortably established his status as a true icon of polaroid photography and as the father of performance art.

From 11th January – 23 February 2019, the Richard Saltoun Gallery in London will host its first solo exhibition of Ulay's work dating back to the 1970s and progressing right through to new works exhibited in public for the first time.

www.richardsaltoun.com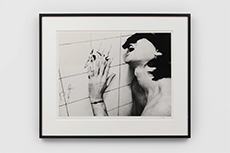 Fashion
FENDI: ART & CULTURE
"My work is dealing with volumes shaped by lights and shadows, highlighting the forms with light, creating visual relations between projection and the use of lights and stroboscopes. The light is something smooth, untouchable, soft".

Laslzo Bordos, the internationally renowned Hungarian artist, considered a pioneer of digital arts and architectural mapping, created "Lux Formae", a visual installation supported by FENDI and produced by Solid Light Festival within Videocittà series of Events in the city of Rome. Using Palazzo della Civiltà Italiana - home of the roman maison FENDI- as its canvas he created a spectacular 3d projection on the building triggering new perceptions and symbolism of this iconic Italian architecture: "The building is a massive, heavy construction. I would like to create the illusion of the lights "holding" the building, bringing a contradictory situation where the lights become solid and the concrete becomes a floating element, supported by lights"- Bordos explained.

Having its deep roots already in the work of legendary artists like Laszlo Moholy-Nagy or George Kepes, Light Art had incredibly developed in the last decades, taking shape into the new forms of Light Projection on building using 3D mapping, where the urban and architectural environment is completely reproduced virtually in 3D to create an extremely precise and three-dimensional installation. When the projection is performed in situ on the building, its visual power derails the viewers customary schemes of perception and observation, creating a new reality, where the boundary of what is real and what is seen become blurry.
With the support of Fendi and its cutting edge approach to art, the video mapping projection by Laslzo Bordos took shape and brought a new meaning to Palazzo della Civiltà Italiana, one of the most fascinating contemporary architectures in Roma.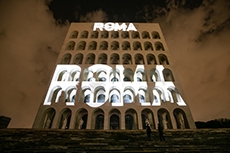 Fashion
Dries van Noten Spring Summer 2018
Dries Van Noten has been synonymous of effortless since the beginning, more than 25 years ago. We have tasted surely during his 100th show where pieces of all past collection where carefully selected and carefully re-arranged together. The Spring Summer 2019, the first Womenswear show after the news of the recent majority acquisition by Spanish conglomerate Puig, was set at Palais the Tokyo and its clean environment. Many saw it as a symbol of a new start, a new beginning.  

But the collection proved that Dries van Noten aesthetic is as strong as ever.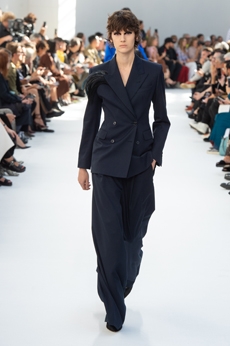 That relaxed attitude, that playful side to mix prints and certainly the ability to wear masculine oversized cotton suits in white or black with anything borrowed from eveningwear like sheer knits and maxi sequins in aqua green, yellow and Yves Klein's blue, one of Dries favorite references. The blue splashed a great part of the collection also adorning a couple of models' head in form of feathers swim caps.

As the collection developed into evening dresses we all felt the mastery of Dries' cut and ability to create couture-like dresses without feeling too Haute.

The workwear jumpsuit with the upper part pulled down at the waist and work as a decorative bow belt felt the quintessential Dries van Noten: infinitively savoir-faire.

www.driesvannoten.com
Fashion
Moose Knuckles AW18 Collection features a Horror movie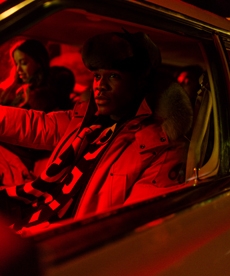 In slang, Moose Knuckles defines the splitting of one's bean bag as a result of pants that are hiked too high. In the realm of outerwear, Moose Knuckles sounds alarms as the benchmark of style for those who live in the cold.

To mark the release of their Fall Winter 2018 campaign, the moose tribe created a short, campy horror movie – Shady Maple Motel. Toronto's own four-time MTV video award nominee, Kid. Studio directed the short, taking inspiration from the hyper-real sexually charged photography of Steven Klein. With previous high-profile clients Big Sean and the Weekend to his name Kid, employed the cream of Toronto's crop for the stylish, sarcastic and gory short.
The leanest, toughest and most luxurious outerwear brand consciously pounds the path less travelled. Playing it safe has never been in Moose Knuckles DNA, and never will be. The contemporary Canadian counter-culture prefers to be known for its grit, dexterity and heritage. Creative Director Steph Hoff prides the brand on an instinctive, organic ethos.

'If I wasn't making a campy horror trailer with my friends for Moose Knuckles, I would probably be making campy horror movies with my friends for fun. Like everything we do at Moose Knuckles, it was completely natural to create a campaign around my lifelong love of cheesy drive-in movies, in my home town.'

Fall Winter 2018 includes an array of shearling jackets, transitional coats; combat pieces and over-the-top colorful fur-trimmed parkas, sweatshirts, oversized knits and draped football scarves. To really put the knife in, the collection increases the seminal core of Moose Knuckles with new Army Green, Redwood and Driftwood colorways. Canada to its core Moose Knuckles lives to innovate - to lead.

www.mooseknucklescanada.com
Fashion
Highlights from Milan Fashion Week
Jil Sander Spring 2019
Was the outside inside or inside outside? Who knows? What is for sure is that Lucie and Luke Meier made another lasting impression with the Spring 2019 collection for Jil Sander.

Enter centre stage: the former beloved Milanese Panettone factory. Traditional white tiles adorn the now forlorn walls; operational buttons and levers exist as relics of the past. This was a setting that conveyed function, sense and a certain pragmatism that epitomizes Jil Sander.

Chiseled, sharp, asymmetric two-pieces began the carousel. As time transpired the looks grew in their femininity - sharp minimalism developed an asymmetric funk before evolving angelically into loose, airy ensembles. Rich greens and deep milk chocolate brown rose to crisp innocent white and luxurious caramel tones.

A common trend for Spring 2019 will undoubtedly be the ever-trusty pocket, which infiltrated another runway here in Northern Milan.

www.jilsander.com
Byblos Spring 2019
The regeneration of Byblos is here. Manuel Facchini made a welcome return to the Fashion week circuit in Milan this week with an incredible collection that twisted space atmosphere into something sporty.

Self-expression community experiment Burning Man influenced the Byblos Spring 2019 collection - the annual gathering in north-west Nevada's, Black Rock Desert dedicates itself to anti-consumerism, communal effort, radical inclusion and leaving no trace.

These influences have birthed a special utilitarian collection that creates a sexy survival atmosphere by translating the colorful Nevada horizons into a playful and ironic space hippie typical of the desert melting pot.

Bonus points for the speculation of an active-wear collaboration.

www.byblos.it
Fashion
Breathing Change: Highlights from NYFW
The Row Spring 2019
Calm, free, fresh, angelic. The Row. In 2019 so much attention is fostered toward creating originality in fashion. So much so that this very idea often breeds stale, unoriginal, regenerated mush. Mary-Kate and Ashley Olsen are the antithesis of this very process. Allowing their serene collection to speak for itself as guests interact solely with their collection directly, quietly and intimately.

www.therow.com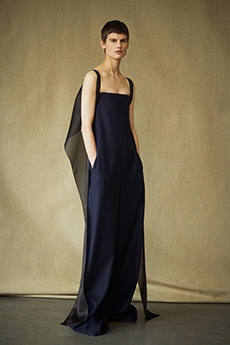 Eckhaus Latta Spring 2019
Eckhaus Latta push new limits. Together Mike and Zoe fuse cool with raw. Spring 2019 combines digital prints, fluttery plaid dresses with dip dyed and tie dyed pastels on gimmick free, real, authentic models that live the brand. Eckhaus Latta is growing up.

www.eckhauslatta.com
Sies Marjan Spring 2019
Sander Lak's sixth Sies Marjan collection is his most mature to date (at least according to his stepdad). Cargo elements and nautical stripes pay homage to memories of his father with a bold variety of textures that echo Sander's journeyman child hood. The intense emotional occasion reached a crescendo as Sanders' mother took to the runway with a smile.

www.siesmarjan.com
Coach 1941 Spring 2019
Leather goods may be Coach 1941's main bag but that hasn't stopped Stuart Vevers' from using spring 2019 to playfully modernize their practical approach. Iron Dinosaurs, gritty ground, and Disney motifs New York 2018 was not a typical Coach runway show.

www.coach.com
Fashion
Prada opens a new boutique at Via della Spiga, Milan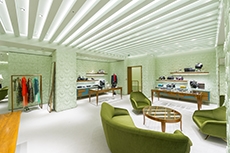 Italian fashion house Prada is pleased to announce its opening of the new clothing boutique at Via della Spiga in Milan. The new 400 sq m corner store, designed according to Prada's aesthetics, showcases a large, beautiful and fresh interior with large windows, inserted in the stone frame of the building. All display elements are made exclusively for Prada by Osvaldo Borsani and Giò Ponti.

While the first floor is dedicated to leather goods, accessories and footwear collections, the second floor will stock the clothing collections. To celebrate the opening of the Via della Spiga store, from the 10th of September on, the Italian fashion brand will offer the Prada Sidonie bag — from the Prada Resort 2019 collection — in two styles, made of city calf leather in a different range of colors.

www.prada.com
Fashion
Joey Fung and her mother Kam in new Fendi campaign
Joey Yung is one of the most popular singers and actressas in Asia at this moment. She became one of the most best selling Asian female singers of the 21st Century after she released her debut IEP in 1999. Joey Fung won numerous music awards and released almost 40 albums. In 2013 she proudly performed at the Royal Albert hall in London, becoming the first Chinese singer to perform on that stage. Joey Fung was ranked 63rd on the 2014 Forbes China Celebrity 100, making her the most influential Hong Kong-based female singer that year.

She participated in the Hong Kong Peekaboo Project and customized the Peekaboo, which pays homage to her mother Kam Fung. Kam Fung is not a public figure and did not appear on TV shows or TVC, but made an exception for this special Fendi project.

www.fendi.com
Fashion
Roberto Cavalli opens first German store
Located in Berlin's elegant shopping heart Charlottenburg, Roberto Cavalli is opening its first German store, welcoming customers to shop the brand's modern and dynamic collection covered by their authentic Italian experience.

Balancing between space, sofas, gold lamps and armchairs the store represents a wide collection for men and women, offering ready-to-wear clothing, shoes, bags, watches, jewellery, eyewear, fragrances, home accessories and tableware.

The store embodies Roberto Cavalli's international and cosmopolitan spirit inspired by Tuscany's sophisticated color combinations. Precious marble floors and elegant vaulted ceilings mixed with freestanding furniture pieces and brushed brass tracks define the new direction and straightforward vision of the luxury brand.

www.robertocavalli.com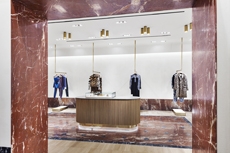 Fashion
Suitcase with the secret: Off-White&Rimowa Collaboration
The king of collaboration Virgil Abloh — founder of the Off-White brand and Creative Director of the men's line of French fashion house Louis Vuitton — continues his cooperation with German brand Rimowa.

After the Off-White fashion show for Men's Spring/Summer 2019 at Paris Fashion Week, the two companies officially launched their partnership. Virgil Abloh presented a new transparent case with a ribbed surface, calling it a new level of design. " It's like 3.0 of personalisation.

It's not just putting your initials on it but allowing another layer to come in play.'' — said Virgin. From July 2nd everyone has the opportunity to buy the limited-edition case online and at selected RIMOWA and OFF-WHITE stores in the US and Asia.

www.rimowa.com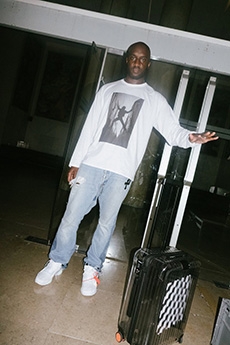 Fashion
Breathing Change: Highlights from PFW
Creativity, newness and powerful vibes of change. This is the fresh air anyone could breath if looking from the Tour Eiffel during the Paris Fashion Week, which has celebrated masculine elegance as well as the debut of several designers at the lead of iconic brands.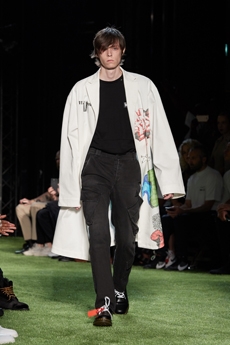 Maintaining a structured and industrial look that runs over wide denim trousers and T-shirts, Virgil Abloh's personal brand Off-White brings flashes of American pop and underground culture. Particularly, the use of graphics ornamentations pays homage to graffiti of iconic artist Dondi as well as The Simpsons prints underline the statement of a subversive yet relaxed contemporary appeal.
New Louis Vuitton's Creative Director makes a great debut, defining a precise and sophisticated new vocabulary for the brand. A bright (off-)white palette spreads into an extended prism of colours, prints and graphics.
From red poppy flowers taking over anoraks to the renovation of zoot-suit monochromatic looks, Virgil Abloh presents a collection that clearly speaks the language of Millennials, without compromising the distinctive notion of masculine elegance.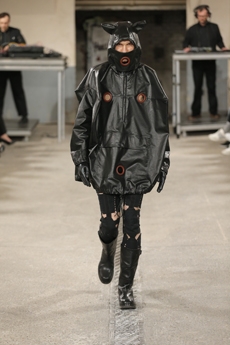 On the other way around, Belgian designer Walter van Beirendonck irradiating collection playfully works on structures and subversive imaginaries. On the one hand sparkling primary colours, graphics and patterns run over oversized sweaters and outerwear staples, underlining the label's eclectic identity. On the other hand, a fetish-like abundance of leather marks the rebellious outlines of blue electric jackets and black pants.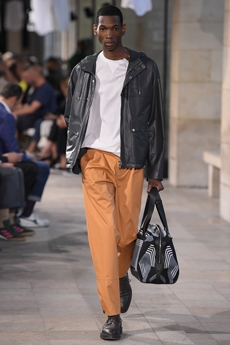 A free dialogue of lines, shapes and drawings introduces to the fluid collection presented by Hermes for Fall 2018. Working on textiles such as cotton poplin or technical calfskin and a colour palette that includes monochromatic staples in pop orange, english green and greyish tones, the proposals define a sober yet self confident masculinity.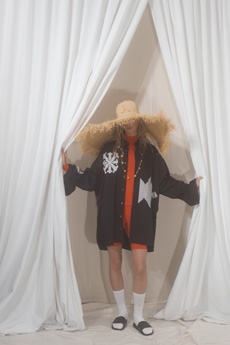 Inspired by Hawaii, travelling and island living, Yoon Ahn's label Ambush creates a collection focusing on natural materials, such as cotton, wool and linen. Moreover, the jewellery range unveils literal pearls of wisdom on earrings, bracelets and rings, keeping in mind the ebb and flow of waves that mirror the motions of life experience.
Another promising beginning has been signed by Dior's runway. With Kim Jones interpreting the codes of Monsieur Dior himself, the collection is a dual tribute to fantasy and Dior's creativity. Both urban and soft, finding a balance between floral motifs, embroideries, delicate colours and streetwear structures, Jones spaces between the House iconic past, Dior's personal life and celebrate the birth of a new out-look.
Fashion
Prada's Cartesian Space
A psychedelic, futuristic atmosphere unveils the unreal set that Prada has chosen for the Spring Summer 2019 Fashion Show.

The normally rough architecture of the venue in Via Fogazzaro in Milan, is transformed into a a grid, reinforcing the idea of a serial design. Numbers and symbols allude to geographic coordinates of remote locations.

Like in a cyber punk movie, cold lights projected on the inflatable stools by Verner Panton, produced by Verpan for Prada, intensify the surreal sense of lightness and transparency, questioning the recent practice that sees show sets as explanatory efforts to contextualize collections.

www.prada.com
Fashion
Automotive masterpieces with Idris Elba
This September, Grand Basel, the show for automotive masterpieces that presents vehicles in combination with art, design and architecture, is starting a global tour. Therefor, actor Idris Elba is looking for answers about what gives cars their soul in a new film he's starring in made for Grand Basel.

The new film features four of the event's exhibitions that reflect the past, present and future. Exceptional automobiles will be presented in extraordinary settings during the contemporary exhibition concept where sophisticated culture, aesthetics and technology engage with international audiences.

The Grand Basel show will be from 6 to 9 September 2018 in Basel, Switzerland. After that the show will be in Miami Beach from 22 to 24 February and Hong Kong 2019.

www.grandbasel.com
Fashion
Karl Lagerfeld first flagship store opening in New York City
Sited at 420 W. Broadway in New York in the heart of SoHo shopping district, KARL LAGERFELD celebrates the opening of their new flagship store, the first one in the United States.

The open feel of the boutique is best intensified by its 3230 square feet, where the overall interior design takes inspiration from Karl Lagerfeld's private home and studio. Marble finishes, velvet chairs and vintage mirrors create a unique atmosphere, while others elements, such as the red border around the carpet's edges, tell little stories about the wide imagery of the iconic designer.

The New York boutique will include KARL LAGERFELD and KARL LAGERFELD PARIS ready-to-wear collections for both men and women, as well as accessories and footwear.

In addition to that, Karl Ikonik, the playful collection featuring Karl Lagerfeld and Choupette graphics is also presented. Yet besides clothing, the boutique will also introduce a collection of cosmetics, realised in collaboration with Australian Beauty brand ModelCo.

Keeping the eye focused on future initiatives, the house will surprise customers with the launch of the special collection KARL LAGERFELD x Kaia, which will be available from September 2018.

As Paolo Righi, CEO of the brand, declared: "Opening the first KARL LAGERFELD store in the United States is an exciting milestone in our brand's continued growth. […] New York is an international fashion capital with a modern spirit and energy that make it ideal setting for our new flagship."

Innovative, timeless, contemporary. The World of Karl is an open invitation to observe how the future of high-end retail experience looks like.
Fashion
Berluti new store opening in Munich
The immediate sensation is that of a quiet intimacy, as if one could slighlty hear the clock tickings spread over a place that has always been there.

The new Berluti flagship store in Munich is the second one to be opened in Germany, yet it is the first in Europe to launch a totally new concept for the interiors.

Located on prestigious Maximilianstrasse and in a Neo-Renaissance building, the design highlights the brand's luxury heritage, yet respecting the typical Munich architecture.
On the one hand, the preference for a square, clean design suggests Berluti affinity with sobriety and composure, which is in turn calibrated with the presence of delicate textures that characterise the stone finished beige walls.

As well, the hand-polished bronze shelves and frames, the marble tables, the polished wood cabinet and the herringbone pattern over the matte wooden floor seem to complete each other.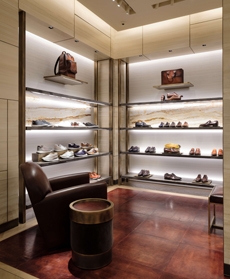 More elements, such as a dramatic wall lined with symbolic tincture bottles, a wooden display cabinet and classic club armchair intensify the relaxed atmosphere, gently illuminated by pale lightings that unveil the precious details of Berluti collections.

The new Berluti boutique is the perfect place where contemporary gentlemen can talk about elegance in detail.
Fashion
Cartier: The Exhibition
On the 30th March at National Gallery of Australia, Cranberra, historic jewelry brand Cartier will inhaugurate an exclusive exhibition, featuring more than 300 hundreds masterpieces samples from Cartier Collection, private owners and institutions.

Designed by renowned scenographer Nathalie Criniere, the exhibition has been co-curated by Margaret Young-Sanchez, Denver Art Museum and NGA and will dispaly a selection of Her Majesty Queen Elizabeth II's personal jewels, including the Queen's Halo tiara.

As well, several items belonged to European monarchs such as the 10.48-carat diamond engangement ring of Her Sirene Highness Princess Grace of Monaco will be showcased alongside famous clients' private belongings, including the Duchess of Windsor, Mexican film star Maria Felix and Elizabeth Taylor among many others. In addition to that, a variety of the brand's iconic watches will be showcased for the occasion.
As Gerard Vaughan, NGA Director stated: 'Jewels of spectacular calibre and size, amongst the most important in the world, magnificently set by Cartier's renowned craftsmen will be exhibited only in Canberra. It is a collection of immeasurable quality and value, the likes of which have never been seen in this country before, and may never be again. Years of research and gentle persuasion will deliver an unforgettable experience.'

Dedicating this project to Australian people and of course, Cartier lovers, the event that will last from the 30th March until the 22nd July 2018 represents a unique occasion to explore and be overwhelmed by the incredible production of an extraordinary company leading the way of diamonds design for over a century.
Fashion
Givenchy launches their new platform to main European markets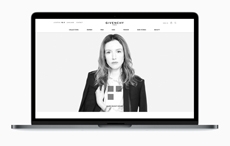 Now closer to their customers than ever before, on the 5th March 2018 historical Fashion House Givenchy has launched their new omni-channel platform to its five main European markets: the UK, Italy, Netherlands, Germany and Spain. The new platform, which has been designed in collaboration with the London-based agency R/GA and curated by artistic director Clare Waight Keller, is characterized by a very fluid layout and clean structure blending real-time access to fashion shows, in-depth features and a mix of news.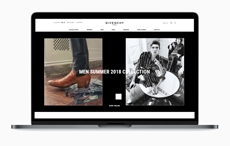 Coinciding with product availability in-store, the platform will satisfy consumers desire to purchase several pieces from the designer Spring Summer 2018 collection, including front-of line access to monthly-product drops and online-only capsule pieces. Presenting all products in high resolution, Givenchy's new strategy (covering also online media, e-mail and social media) celebrates a future-oriented approach to shopping and unique ability to combine very distinctivr web design aesthetics with the increasing improvement of user experiences.

www.givenchy.com
Fashion
Highlights from Milan Fashion Week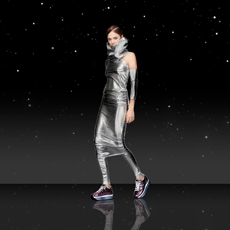 Hogan Galaxy is nothing but an open invitation to take an interstellar journey on another planet. Presented in an (almost) parallel universe, the new luxury sneakers in a iridescent material are characterized by the Maxiplatform H222 motif, while rainbow platforms sign the structure of glossy metallic leathers. In addition to the chunks in purple or green, the H340 and Interactive models are realised with an innovative dipping technique enhancing the psychedelic spirit of the collection.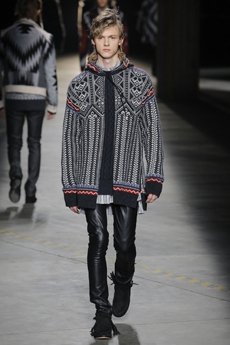 Travelling around the globe allows people to better incorporating a multicultural sense of community. Delving into Renzo Rosso personal archive, the youth memories and relics collected during his travels in the Eighties set the mood for both men and women collections of Diesel Black Gold. Tribal elements and embroideries recalling Mexican and Peruvian culture on sweaters and jackets accentuate a sense of adventure, although keeping minimal the overall aesthetics.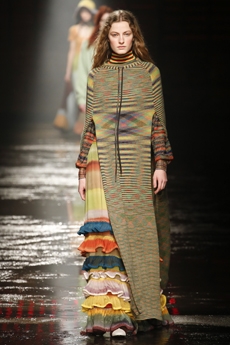 Angela Missoni loads the patterns of her collection with a nostalgic interpretation of the late Seventies. Trough multiple layers, strong color-contrasting patchworks and stripes, the range is is a rich, intense storytelling. From flowing coats, jackets and dresses narrate different cultures spacing between Italian, Jamaican and Scottish as well as they make reference to the historical brand archive to celebrate the 65th anniversary of the Fashion House.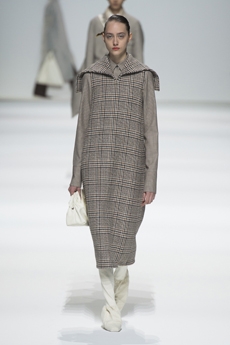 Jil Sander develop a collection that elaborates a human-oriented vision preferring simplicity to hyper technological communication. Authentically minimal, the proposals do not stiffen the body, instead they achieve a state of fluid elegance trough the delicateness of organza and wool that gently wrap the silhouette. White and more pleasantly white, the color palette includes also precious pieces in navy blue, soft grey and black. Some of the coats and skirts are enriched by floral motifs or softened by round curves, while ribbed knits highlight the dominant mood embracing beauty in the most genuine sense.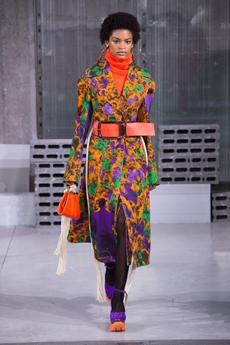 Dresses are tool that can change the body and the environment around us. Trough a thoughtful collection named Techno-Primitivism, Francesco Risso brings the individual and the collective to Marni's ethical considerations. Bright hues in blue and acid green take over belted coats, knitted tunics are presented with large trousers, dresses in a vintage 30's look and eventually a felted coat made of recycled materials highlight the contemporary need for utilitarian and sustainable aesthetics.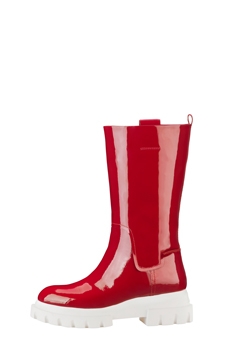 AGL is a brand about women. With a presentation held in via della Spiga, Milan the proposals for Shoewear presented by the three sisters are truly devoted to light. Stand out of the collection, the Daylight are classic lace-up, which are reinterpreted trough the language of the brand and achieve a contemporary look with the decisive use of white over the minimalist shape. Luxurious materials and several colors introduce the Warm Light rain boots, while the extravagant Full Light/No Light speckled over-the-knee stiletto boots with a soft bootleg are dedicated to women with a powerful identity.
Travel
Casacau: A Homelike Stay In the Eternal City of Rome
In a 17th century Roman residential building near the Fontana di Trevi, the six unique and luxurious apartments of Casacau have been integrated. Situated in the heart of the eternal city, the historical charm of the house intertwines perfectly with contemporary design. This getaway offers all comforts and services one might expect in the most exclusive hotels in Rome, but with the added touch of a home-like-feeling and more privacy. Each apartement has a different aesthetic atmosphere mixed with its own personality. Vintage-furnishings from the 50s, 60s and 70s blend in with modern comfort and convenience. Some of the rooms are equipped with a Turkish bathroom and one even offers a sauna for that added wellness value. All rooms come complete with a dining space and an open supplied kitchen. Two rooms also feature a balcony, with a view either on the street or the patio.

The hotel is part of the TakeMeRome project by Pino Cau, who has been working in hospitality for thirty years. Aiming to offer guests a carefree stay in Rome, TakeMeRome takes care of all details of their stay. Following this philosophy, Casacau offers its guests the possibility to order fresh groceries if they're feeling up to the task of cooking. If not, the restaurants Stazione di Posta and EIT can deliver to all rooms upon request. What's more, at Casacau, there will always be someone available to fullfil guests' special wishes. The philosphy behind Casacau is to provide a hideaway that makes it easy to discover Rome's hidden gems while making one feel like staying at a friend's place, because human relations are seen as the real luxury.

casacau.com
Fashion
Berlin goes Kiez
From the 15th of February to the 23rd on the occasion of the renowned Film Festival, Berlinale Goes Kiez is bringing the event to independent cinema's across the city.

With a selection of films and events, the programme is aimed to create a dialogue between the audience and the filmmakers, who will answer the public's questions immediately after the screenings and Anne Lakeberg, head of City Kino Wedding, will moderate the discussions on the behalf of Berlinale.

This initiative is also honouring the work of art-house theatres that kept cinema culture active and vital overtime as well as it is consolidating a charismatic engagement with the annual appointment.

www.berlinale.de
Fashion
Highlights from NYCFW
Playing with American culture and inspired by everyday heroes, Raf Simons for Calvin Klein presents a layered collection, sporting long skirts, overcoats, balaclavas, knits. From Sofia Coppola's 2017 The Beguiled to Nasa's aesthetics, Simons' references emboss a rich symbolism on Calvin Klein's minimalistic style, interlacing elements from workwear: cropped jackets, prairie dressed and looks reminiscent of an industrial milieu.
Mentioning baseball without including New York would be an oxymoron. With its 'Sports Tailoring', Hugo Boss celebrates the American's favourite sport and translates it to high tailoring. There is a focus on making extra sizes and volumes for cashmere coats, puffer jackets and raincoats. Baseball graphics along with Hugo Boss initials adorn shirts and jackets, while flashes of neon yellow are added to classic wool pieces in brown and grey, which elaborate a new imagery for American elegance.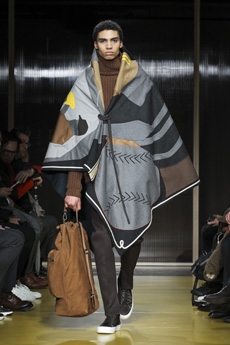 Aligning fashion with art and architecture is likely one of the diktats of Mary-Kate and Ashley Olsen, who presented their collection at their showroom in Manhattan's West Village. For the occasion, the studio has been transformed into an exhibition space where 13 sculptures from artist Isamu Noguchi were displayed to enhance The Row's vision. Monochromatic and earthy-toned, the collection unveiled relaxed knitwear dedicated to non-conformist women of the 20th century.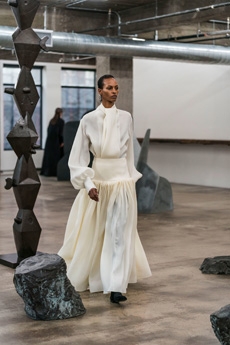 Bondage-style straps and neon orange iconic bob wigs. The reference to Luc Besson's cult movie The Fifth Element is immediate. Over 20 years since the release, Jeremy Scott pays homage to heroine Leelo (marvellous Milla Jovovic) delivering a bright collection with sharp lines saturated by kaleidoscopic prints and tight moon boots. Make-up by Kabuki and hair-styles by Eugene Souleiman was the perfect backdrop.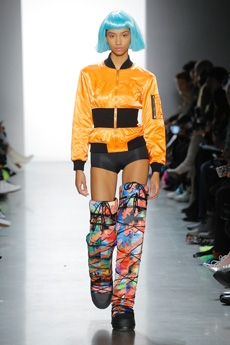 For Zadig & Voltaire, Art Director Cecilia Bonstrom focuses on sensual femininity, with white T-shirts and tight vinyls. The collection features both men and women's looks in oversized soft sweaters in red and creamy hues, as well as leather jackets interpreted in new different cuts. To complete the outfits, relaxed blousons are worn under sculptural trenches, while jackets add a touch of balanced androgyny to the full range.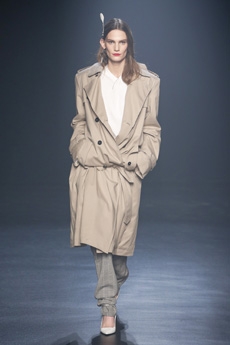 Fashion
New Dior Boutique Opening in Berlin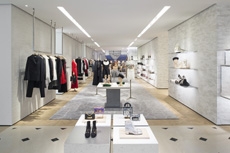 Last 27th January, Dior has inaugurated a new boutique located in Kurfürstendamm 56, one of the most well known avenues in Berlin.

The store, which hosts both menswear and womenswear collections, jewelry and perfumes, has been decorated by designer Stefan Leo with furniture in recycled-metal that create a tromp-l'oeil effect. The LB bubble artwork by abstract artist Jan Kalab adds a contemporary tone to the gentle atmosphere, softly in balance with the Versailles Parquet floor, that instead recalls Christian Dior passion for 18th century aesthetics.

www.dior.com
Fashion
Louis Vuitton Menswear Fall/Winter 2018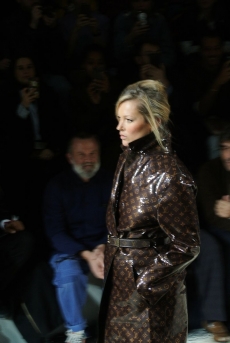 Just few days before the show it was announced that Kim Jones would present his last collection for Louis Vuitton Menswear.

For many reason it was certainly a surprise. Who more than Kim Jones delivered year after year beautiful collections true to one of the oldest French Maison's identity while bringing it to hype amongst the younger crowd? Last year's Louis Vuitton collaboration with Supreme is only one of the acts in this sense.

After 7 glorious years, first appointed as Menswear artistic director in 2011 by Marc Jacobs -at the time creative director of the brand - he developed a signature style with a travel allure, the latter being the main recurring elements in Louis Vuitton heritage.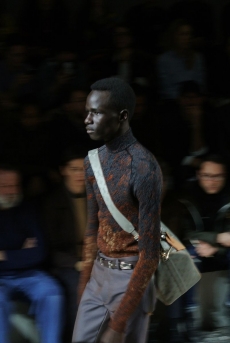 For his last collection at the brand Kim Jones used once again his travels, this time in Kenya, where areal photographs are directly featured on prints. Their colour palette with warm dry tones - recalling natural rocks, lavas, and infinite landscapes - running throughout the collection. It delivered a classic and elegant style while using sportswear elements like leggings worn underneath shorts and zipped blousons.

Gloss materials from fabrics to a spectacular python coat and pants (that on a closer look during a visit at the showroom resulted incredibly butter soft) together with organza overlay on coats and shirts – tracing a fil rouge with previous' season Hawaiian organza t-shirt – epitomise Louis Vuitton's delicate and refined definition of luxury .

Kim Jones picked from many themes: the American rodeo, the Siberian temperatures with an intarsia mink, a safari attire and the world of hiking and climbing with hints of neon yellow and orange.

The show arrived at its peak when iconic top models - and friends of Jones - Naomi and Kate joined the runway, dressed in glazed monogrammed raincoat.

A beautiful finale as ode to a new beginning.

www.louisvuitton.com
Fashion
Dior Homme Fall/Winter 2018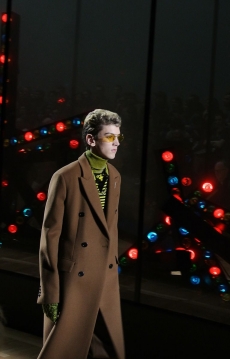 Kris Van Assche has been inspired by music since his young age channelling the New Wave and the 90s into Dior Homme's identity.

The set at the Grand Palais with 3 tall glass cases enclosing an installation of intermitting disco light and fog machines, set a rave mood on the sound of Alphaville's "Forever Young". But it's the first looks which disclosed a broader perspective on Van Assche's Fall Winter 2018 for Dior Homme: variations on suiting.

Sleek and extremely slim, with the blazers narrowing at the waist point.

It was an inspiration drawn from Monsieur Dior himself and his iconic Bar suit. With an horizontal seam on the wasp-waisted cut and the recurring stitched eyelet on blazers,

Van Assche delivered a beautiful perspective on suits with a distinctly modern elegance and cool emphasis.
A myriads of subtle but significant details constellate the several looks on the theme: crossed lapels with a buttoned edge, three-buttons or double breasted with diagonal overlapping conferring a geometrical shape, two buttons with the reinterpretation of tribal graphic images part of that 90s culture.

The collection featured also sporty and relaxed looks with puffer jackets, wool coats, high waist denim trousers, simple. The choice to leave all the shoe laces untied conferred a certain naïve feel, a youthful gesture, recalling the unconventional, the unplanned, the head in the air of a young self.

As ultimate gesture echoing the heritage of the house permeating equally the Mens department: enlarged label stitched on blazers' sleeves featuring "Christian Dior Atelier"

www.dior.com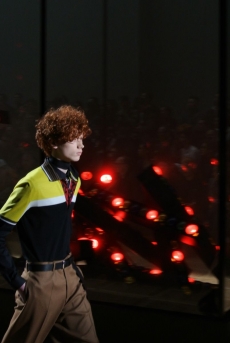 Fashion
Marni Market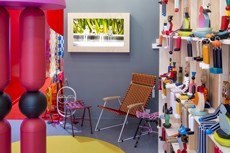 For five months, at 231 Rue Saint Honore, Marni Market settles in Paris. The firm's playful universe is revealed through an exhibition where visitors can explore and interact within Marni's colorful world and purchase special items during three different periods.

In January 2018, Marni Visitor Market keeps the traditional Christmas charitable donation —addressing the profits to Piccolo Principe Association for helping children in difficulty within the province of Milan — with the sale of funny marionettes, half toy and half sculpture, made of painted wood and resin.

From the 1st of February until the 12th of April, Marni Playful Market will turn in an interactive space, where visitors can play freely within the elements showcased in the area.

The last period, from the 13th of April until the 18th of May, Marni House Market will be dedicated the exposition of Colombia hand-made items, celebrating creativity and workmanship.

www.marni.com
Fashion
Gucci Garden
When past, present and future are linked together, their linearity is transmuted in a circular movement and the magic of eternal return begins.

A giant neon eye artwork illuminating the façade of Palazzo della Mercanzia last 9th of January has celebrated the opening of Gucci Garden, a great project designed by Creative Director Alessandro Michele and meant to completely regenerate the functions of the old archive.

Starting from the ground level two rooms, respectively Gucci Osteria and the Boutique, host a restaurant and the retail store.

The Osteria is the result of a creative collaboration with chef Massimo Bottura, who decided to propose a menu combining Italian cousine and the influences from his travels worldwide, as a reminder that "Florence has always been a centre of cultural exchange".

With its floor of hand painted wooden boards with purple ribbons and vines on a pale green base, the bazaar-like store recreates the atmosphere of vintage florentine shops resulting from the enormous work of restoration of old furnitures (tables, sideboards and cabinets) and precious decorations in a range of florentine shades. The boutique will sell Gucci Garden's exclusive products, including bags and shoes in special materials and the silk bomber jackets featuring the Gucci Garden gothic script.

With the help of Italian curator Maria Luisa Frisa and contribution of artists Jayde Fish, Trevor Andrew and Coco Capitan, the Gucci Museum has evolved from a more classic archive into a multifunctional space devoted to the creativity and celebration of art and fashion.
For this reason according to Frisa, in the gallery the displays follow purposefully no chronology. Rather, they create a fluid harmony suggested by items organised by themes and intensify the dialogue between old and contemporary pieces.

Gucci Garden Galleria's six rooms on the first and second floor (Guccification, Paraphernalia, Cosmorama, Cinema da Camera, De Rerum Natura and Ephemera) tells not only the brand's history, but also homages the splendour of florentine architecture as much as its craftsmanship traditions. Each of them explore several aspects concerning the gradual transformation of the brand overtime, with a focus on the double G or the brand's historical icons evolutions.

Other rooms instead dedicate space to diverse projects, such as the red velvet cinema auditorium with a selection of experimental movies or De Rerum Natura showcasing the narrative behind the iconography of animals and gardens. Once again, Alessandro Michele's astonishing project is the metaphorical (de)materialization of time and memory into an incredible structure, which definitely confirm the aesthetic and philosophic vision of the House.

www.gucci.com
Fashion
The Paris Polo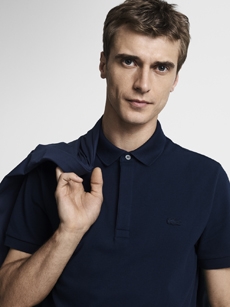 In line with its precise identity and redefining the modern codes of urban elegance, Lacoste launches their R-T-W brand new polo shirt.

Characterised by a slim concealed button placket and a collar band, the shirt is proposed with shorter length and a straight fit that highlight the silhouette. The use of light materials like the stretch cotton mini piqué allows a comfortable and practical wear, while a tone-on-tone embroidered logo remarks the clean essentiality of the label, aiming to create a timeless look easy to combine with different styles.

Available in 15 shades, the Paris Polo will be available online and in all Lacoste stores from February 2018.

wwww.lacoste.com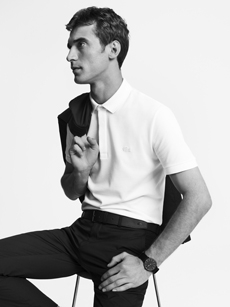 Fashion
Dior Lady Art Bag #2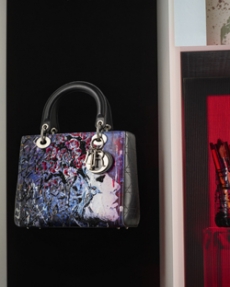 Last year Dior invited a handful of British and American artists to reimagine the classic Lady Dior Bag for a limited edition. As the project was a great success, it is back now, featuring another ten artists from all over the world of different ages and origins.

Giving "carte blanche" to the artists, they could freely transfer their creativity into Dior's leatherworking language. Everything, from the fabric, to the charms, size, color, jewelry, handles and stitching could be adjusted by them.

The artists Friedrich Kunath, Namsa Leuba, Spencer Sweeney and Lee Bul created the new versions of the Lady Dior Art Bag. On Dior's website, one can watch a series of videos highlighting their individual artistic identities and inspirations.

www.dior.com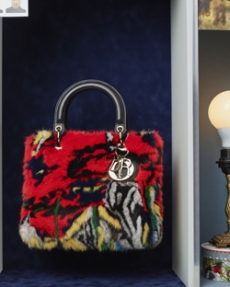 Fashion
G-Star RAW Research III BY Aitor Throup
In the G-Star RAW innovation lab, which is led by the British designer, artist and creative director Aitor Throup, denim is being deconstructed to its purest form. The third collection of the RAW Research for men and very first for women, presents new denim constructions, silhouettes and shapes.

The collection features ten pieces in undyed and unwashed calico denim and challenges the conventional perception of the popular fabric. The same collection goes through a process of hand dyeing, where the indigo is added to the raw garments, resulting in an organically irregular visual effect. The G-Star innovation lab separates, analyzes and utilizes the core elements of denim in experimental ways.
RAW Research is known for launching a new 3D denim construction each season. This time, it is the Spiraq jean. Crafted from a single piece of denim, that is wrapped around the leg, the model is carefully molded to provide the perfect fit.

The third RAW Research collection also represents Throup's first ever work of womenswear. Reflecting the overall design pilosophy of RAW Research III, the pieces are blending minimalism and functionality without compromising femininity. For both the men's and women's collection the in-house laboratory of G-Star follows the same untreated approach, while pushing the boundaries of product design through an explorative process.

The G-Star RAW Research III collection wil be available in selected concept stores from the 15th of December.

www.g-star.com
Travel
A Special Hideaway In the Historic Heart of Rome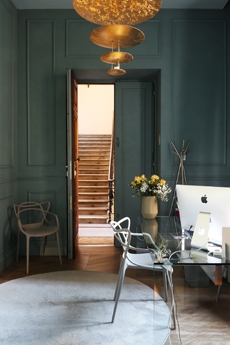 In the middle of baroque Roman buildings, emanating the extraordinary presence of history, the exquisite private residence and boutique hotel Le Quattro Dame is located in a traditional palazzo between Piazza Venezia and Largo di Torre Argentina. The name of the residence and its philosophical inspiration comes from the four famous profile paintings, Portrait of a Woman, by Florentine renaissance artist Piero del Pollaiuolo, displayed throughout a few of the rooms. Entering the builiding, one has the choice to either walk up an impressive marble staircase that leads to the second floor, or enter a nostalgic elevator that dates back to the beginning of the 20th century. Muted earthy tones at the reception area have a soothing effect on the visitor, and lounge sofas serving an inviting space to sit and unwind. A gallery of renaissance artworks by selected artists such as Bronzino, Raffaello and Lorenzo Lotto adorn the walls, instilling the space with an independent and authentic vibe. Classical features such as high ceilings, wooden floors and wide windows are fused with modern but timeless interior design.
Only minutes from the Pantheon, Le Quattro Dame houses six different styles of rooms: three deluxe rooms, two junior suites, and a more secluded apartment. All of them are eclectically furnished and decorated in a chic, sophisticated Italian style. From the Sand Suite's balcony, one can see the spot where Julius Caesar likely passed away. Viabuzzuno and Kartel lamps light up the rooms, Dedar and Sahco provide wooden flooring and curtains for a homey feel, while cosy Meridiani and Flou beds tempt you to lie in for longer. The bathrooms are furnished with glass doors, resin floors and steel accessories by Agape and Gessi. As Le Quattro Dame provides more of a self-contained apartment stay than a traditional hotel, all rooms are equipped with a kitchenette, Nespresso machine, kettle, minibar, glassware and Villeroy & Boch china.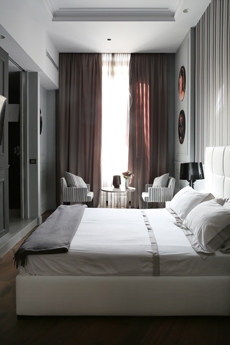 During the stay, the manager Dori is reachable by phone, and mulitilingual staff members are available daily from 8.30 am to 6.30pm for inquiries about sightseeing, museum visits, tansfers, car hires, table reservations and everything else. Walking in and out of this typical Italian residence, feeling as if it were your own home, makes one blend in with the locals immediately. Le Quattro Dame is the ideal choice when looking for a high quality luxury hideaway with a romantic and stylish twist in the centre of beautiful Rome.

www.lequattrodame.com
Fashion
Versace Reopens Boutique in Frankfurt
When entering the newly designed and reopened Versace boutique in Frankfurt, one is greeted by a blend of traditional Italian architectural values and the incomparable dynamism and energy of Versace. Fior di bosco marble, onyx and brass elements create an ambience with a contemporary twist and emphasise the mood of supreme luxury. The boutique is a meeting point between the past and the future. The store is a unique and exclusive area of 345 square meters, which is perfect to present the Versace prêt-à-porter collections and accessories for men and women. According to Donnatella Versace, the interior design pays tribute to Italy's cultural heritage and represents the spirit of the brand.

www.versace.com
Fashion
Paris By Night
With its new capsule collection, Highlight, the french brand Sandro presents an evening wardrobe with Parisian flair just in time for the party season. The 15 pieces are inspired by different decades of party wardrobe, offering the ideal outfit for each taste and occasion. Shades of black, silver and white, geometric shapes and volumes meet asymmetries. Pleats and frills bring twists to a feminine silhouette. The looks are formal but have the typical oh-so Parisian casual edge to them. The lustrous moiré of a draped bustier is combined with a full-circle skirt, silvery sequins can be found on a shawl-collar smoking jacket, worn over a short skirt in draped lurex and a white top with gigot sleeves contrasts with the deep black of a skirt enhanced with an asymmetric frill. Details of lace and brocade capture the final glow of Paris at dusk. The Sandro Highlight collection knows how to play with the dreams and desires of a starry night and channel chic femininity.

www.sandro-paris.com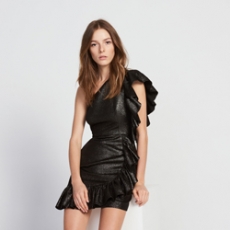 Fashion
Hogan Christmas Special Edition: Glam It Up!
To accompany the upcoming festive and joyous mood before and after Christmas with style and grace, Italian shoe brand Hogan releases a special collection. The 2017 Christmas Edition can't be beaten in glamour and festiveness. The brand's maxiplatform H222 signature sneakers have been revisited and are proposed in two bright versions. The first one is a black patent leather edition with allover golden motifs and a laminated sole and the second comes in black suede with silver decorations and a metallic platform. A bright-touch clutch bag completes the Hogan XMAS Capsule Collection making it a perfect match for the shoes. These pieces are a secure entry on this year's wish list!

www.hogan.com
Fashion
Camper x Eckhaus Latta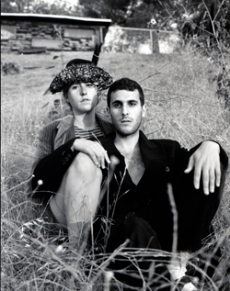 In the name of their Camper Together model, the shoe brand collaborates with leading international designers from the worlds of art, fashion and architecture. The aim is to create singular products and fuse their signature style with Camper's unique DNA. Now, Camper partners up with fashion label Eckhaus Latta for a third collaboration. The couple and design duo behind the American brand is known for its avant-garde aesthetic, which they combine succesfully with Camper's offbeat approach to footwear. Eckhaus Latta designed their own version of the Thelma model, which is a vintage-inspired heeled shoe, playing with flared volumes and refined heights. While the deconstructed design features uppers that combine rich leather with inverted jacquard fabric, the outside is inspired by the cloth upholstery typical of public transportation. All these attributes give the shoe an edgy tongue-in-cheek, anti-fashion vibe. The new Thelma will be available as both a slip-on moccasin and a zip ankle boot from the 31st October at CamperLab stores in New York, London and Paris, selected Camper stores and online.

www.camper.com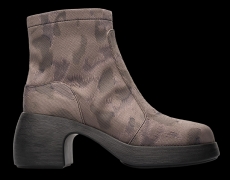 Fashion
The Handmade Derby by Sandro Homme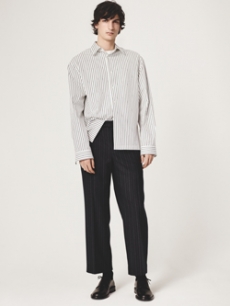 The french brand Sandro combines a focus on the future with the exploration of its past heritage. For the Sandro Homme shoes winter collection 2017, Ilan Cherite has revisited the iconic laced derby and added some character and class. These quirky shoes are a product of traditional savoir-faire, entirely hand made in England. To make it durable, they are constructed with Goodyear stitching. The first seam binds the upper, the inner sole and the welt. A second seam binds the welt to the outer sole, which makes it easily to replace. The inner sole out of natural cork fits to the shape of the foot and provides comfort like a tailor-made model. The timeless derby comes in box-calf black leather, which enhances the classic. This classy english shoe style is convincing with its versatility and can be worn with a city suit or less formal attire. In each pair Sandro expresses its aspirations and values, which are elegance, quality, discreet luxury and refinement. These high-end shoes are also intentionally affordable, which makes it easier to achieve that desireable dandy look.

www.sandro-paris.com
Fashion
Rick Owens Spring/Summer 2018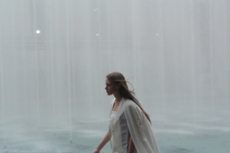 A laugh, a constant chuffed female loud laugh. It's Michele Lamy's voice in her latest album, accompanying Rick Owens Spring Summer 2018 show staged at the ornamental pond on Palais de Tokyo's esplanade.

Rick Owens' parade of draped, layered, adjunct looks felt - more than the recent Menswear Spring Summer'18 - like a continuation of the previous Womenswear Fall Winter '17, with its spectacular volumes and emblematic head pieces of what looked like a sacred procession. At the time Owens declared how it was a propitious gesture in name of humanity and a positive new beginning as opposite to his historical cult of darkness.

On the same wavelength, this Spring Summer '18 collection is a rejection of any dark climate our time is undoubtedly imbued with. The show started with off-white silhouettes carefully draped with oversized bags placed at the waste, to create volumes recalling wombs.
The collection was rich in variations: sequined looks with knitted threads over them in brown, grey, and black; embellishment details in forms of slim linear beads placed in the shape of striped architectural structures over tops and dresses, occasionally recalling a moebius form.

But it were the final looks that undoubtedly stole the scene. A series of cocoon-like forms made of carefully shaped transparent jersey revealing intricate origami forms beneath, covering models heads' and elongating them as to create a new being, a new existence. Rick Owens' ode to joy, light and what's still to come was staged in a water spectacle where beamers vertically sprayed water ten meters high. As the models walked in an impetuous fresh mist invaded the entire space. The PR's urging us to wear the plastic rain ponchos placed on every seat pre-show, finally made sense. With Rick Owens signature's logo written on its back we all looked as part of a congregation, reunited for some propitious ritual in the name or rebirth. A cleansing from this tired society.

www.rickowens.eu
Art
FENDI announces partnership with Galleria Borghese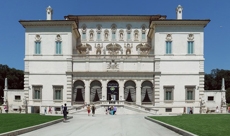 The Italian fashion house Fendi has always had a strong connection to Rome and the fine arts. It all started, amongst others, with the restauration of the Trevi Fountain in 2015, followed by the opening of the first floor of Palazzo della Civiltà Italiana to the public, where Fendi's headquarters are now. The brand recently announced a three-year-partnership with the prestigious Galleria Borghese in Rome, which is guarding the most relevant and best preserved paintings by Italian painter Caravaggio. Hence Fendi will be supporting the Caravaggio Research Institute, which sees the constitution at Galleria Borghese as a center of studies, diagnostics and artistic-historical research aiming to become a primary reference. To spread the word about the project, Fendi and the Galleria Borghese created an exhibition on the artist which will be taking place all over the world at the most high-end-venues. However, the first exhibiton that Fendi will be supporting is the "solo one", which is dedicated to Gian Lorenzo Bernini, the most representative artist of the Baroque period in Rome. The exhibition will be inaugurated on the 31st of October and will be open to the public from November 1st 2017 to February 4th 2018.

www.fendi.com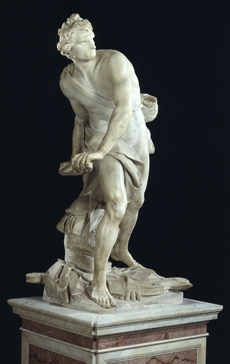 Fashion
Lacoste Spring/Summer 2018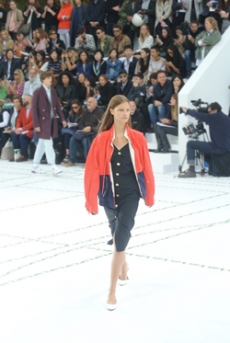 Lacoste celebrates its 85th anniversary with a collection full of humour and new declinations of their iconic polo shirt. Creative director Felipe Oliveira Baptista draws inspiration from classic French cinema from the mid 90s with two particular titles : the controversial Kassovits's "La Haine" and Eric Rohmer's "Conte d'été" exploring their portrayals of youth and the clashing realities between these two very different movies. 

Oliveira Baptista questions the themes of formal and informal, of classic and sportswear in a play between contradiction elements and codes. If for women the polo shirt becomes an off the shoulder mini dress that wraps around the body, for men it appears oversized worn over denim.
The 90s reappear in the windbreakers, pea jackets and tracksuits reminiscent of the youth of that time, now released in high-tech versions. This is a collection where the beauty is in the cuts and its new sensuality and where the sportswear pieces made from openwork mesh nylon create a new sensuality. A celebration of the heritage of the brand, the iconic colours red 240, navy 166, white 001 and green 132 reissued together with pastels of the 80s, with the crocodile logo inhabiting the buttons of a piped cardigan or "climbing" over the shoulders of a dress.

A playful approach full of Lacoste's history and its contemporary innovation.

www.lacoste.com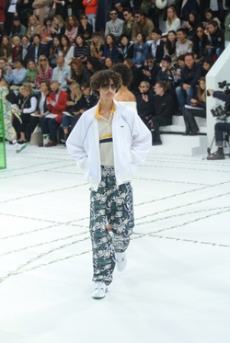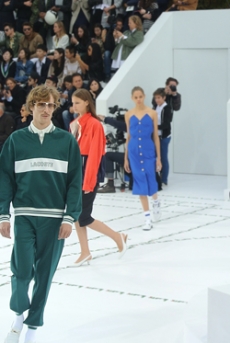 Art
Museo del Novecento and Fondazione Furla present Simone Forti: To Play the Flute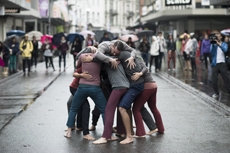 Museo del Novecento and Fondazione Furla present Simone Forti: To Play the Flute – a selection of performances by this Italian-born American artist, choreographer and dancer that will fill the Museo del Novecento's Sala Fontana with sound and movement for three days.

This marks the first event of the Furla Series #01 – Time after Time, Space after Space, a performance- centred program that will feature five events from five different artists with varying backgrounds, influences and approaches to this form of expression.
Simone Forti, has been a leading figure in postmodern dance for over fifty years and has helped shaped the landscape of contemporary dance with performances that range from minimalist movement to improvisations that also featured spoken word. To Play the Flute is a reenactment of four seminal performance moments in Forti's career that highlights her approach to the interplay of actions and objects, and they key role assigned to sound.

Forti's famous Dance Constructions – now part of New York's MoMa permanent collection – served as the foundation of her solid reputation in the 60's art world thanks to her innovative ways of experimenting with the language of movement. The performances rethink the relationship between body and object, movement and sculpture, rules and improvisation and are based on everyday movements or interactions with objects. Personal expression and improvisation always appear to be hampered by the effort required to carry out a given physical task or follow certain rules.
The first Time after Time, Space after Space event will take place on the 21st to the 23rd of September in the Sala Fontana of Milan's Novecento Museum. The program for Time after Time, Space after Space will include four more events featuring artists from around the world, at bimonthly intervals: Alexandra Bachzetsis (November 2017), Adelita Husni-Bey (January 2018), Paulina Olowska (March 2018) and Christian Marclay (April 2018)

www.museodelnovecento.org
www.fondazionefurla.org
Fashion
Philipp Plein Spring/Summer 2018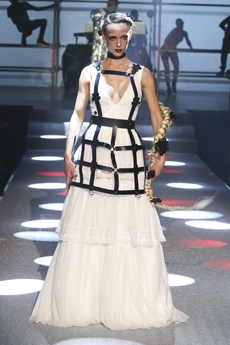 The Philipp Plein show, held at the Hammerstein Ballroom, was one of the hottest tickets of New York Fashion Week. Crowds lined up around the corner on 34th street hoping for a spot to witness the VMAs-worthy spectacle.

The tone of the show was Alice in Wonderland goes BDSM goes streetwear - coincidentally, a mix of most of the trends we've seen in recent years. The over-sexualized collection, complete with leather garters, dark lipstick, whip-like hair, and forgotten pants, caters perfectly to millennial listeners of Fifth Harmony and present-day MTV: truly an Instagram-worthy show.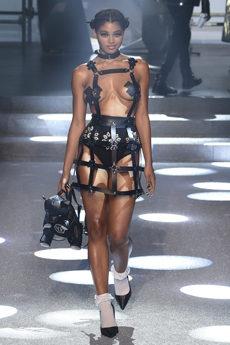 Despite lacking in the subtlety department, the show didn't disappoint on an entertainment level. Most likely costing in the seven figures, Philipp Plein brought dazzling star power: Nicki Minaj sat front row, Future provided the raw soundtrack, Teyana Taylor's swagger lit up the runway... Anywhere else, this would have felt dramatically out of place. But in New York, where one can see a Yeezy show before rushing off to Carolina Herrera, perhaps anything goes.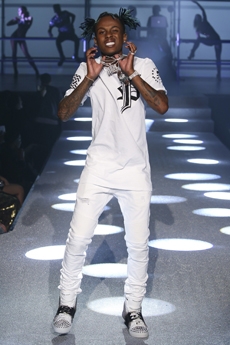 Fashion
Camper's Techno Odyssey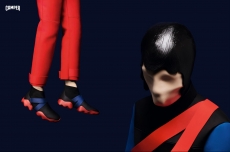 Camper's latest campaign is spearheaded by Romain Kremer, who has created a techno odyssey made up of surreal set pieces and vivid imagery. Six new alien-like personalities bring to life the A/W 2017 campaign, enlarging the Camper universe and telling a new part of its story: dreamlike characters are pictures with avant-garde designs, infused with the drama of over-saturated monochrome tones and colour-blocked, graphic shapes. Photographer Daniel Sannwald and makeup artist Isamaya Ffrench are the ones responsible for creating the high-impact, memorable images which were shot in London.


Avatars Thelma and Serena lead the march for women, Rex and Brutus for men, and unisex favourites Dub and Drift for the androgynous crowd. Viewers can step into Camper alluring new world on many different platforms, all around the globe: in-store, in print, on digital platforms, and their website.

www.camper.com

Art
POWERMASK: Walter van Beirendonk at the Wereldmuseum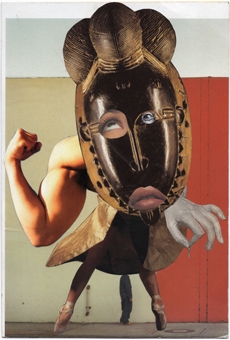 From the 1st of September 2017 until the 7th of January 2018, the ethnographic Wereldmuseum in Rotterdam will host POWERMASK, an exhibition curated by Antwerp fashion designer Walter van Beirendonck. The exhibition is a journey through the deeply symbolic, totemic and patrimonial world of masks, an often underrated accessory in contemporary fashion. Van Beirendonck has incorporated masks into his fashion collections since the 1990s, sourcing inspiration from André Breton, Pablo Picasso and Pieter Bruegel's caricatural portraits.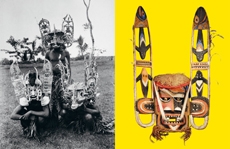 The exhibition will examine links between Western art and African masks, the supernatural rituals surrounding masks, masks in fashion, masks as fetishes, and numerous other aspects. Van Beirendonck has styled the 125 masks, unpacked from the Wereldmuseum's archive, with colorful costumes and fashion silhouettes. The backdrop of the exhibition is a delightful patchwork of wall installations by contemporary artists such as Brian Kenny, Coco Fronsac and Charles Fréger, macabre paintings of James Ensor, playful illustrations by Keith Haring, and designs by haute couture heavyweights Viktor & Rolf and Jean Paul Gaultier.

www.wereldmuseum.nl
Fashion
Kenzo Spring/Summer 2018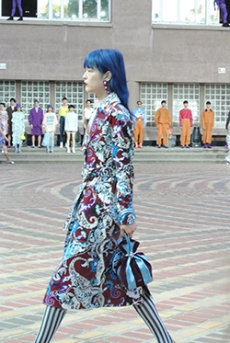 Asian models, only. Humberto Leon and Carol Lim celebrated two icons of Japan where Kenzo as brand finds its deep roots back to founder Kenzo Takada.

The collection explores the personalities of master musician Ryuichi Sakamoto and topmodel Sayoko Yamaguchi for Spring Summer 2018 menswear and Womenswear respectively. A beautiful look at their world, their time, their influences to Kenzo.
It's as we were allowed to jump back into the past where Ryuichi Sakamoto was playing with its pioneer electronic group "Yellow Magic Orchestra" in the late 70s, and during the solo years composing the spectacular soundtracks for Bernardo Bertolucci's "The Last Emperor" in the late 80s first and "The little Buddha" in the early 90s.

His individualism hinting to classic English tailoring mixed with Japanese 50s baseball culture is the main inspiration for Leon and Lim. It is a beautiful collection, eclectic in its preppy style and avant-garde attitude.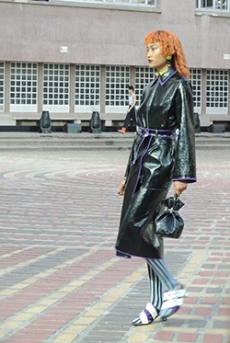 The extremely high-waisted trousers are matched with graphic tees printed with original images by Sakamoto himself. It's the late 70s, the 80s, but more than a specific decade it's the unique creative persona of Sakamoto.

For the Womenswear collection Leon and Lim channelled Sayoko Yamaguchi personality in the clashing of stripes, prints, coloured and bold sequined look: a love letter to the iconic top model and Kenzo Takada's muse. Frills, feminine pieces next to more graphic ones.
The accessories are a striking element. Reminiscent of traditional Japanese accessories, they are reworked with pop colour, neon materials or stripes. The bags recall the beautiful satin pouches carried by Japanese women dressed up in kimonos during summer festivals with all that vintage allure.

All framed in a spectacular live performance by singer Lafawndah and aerial dancers on the façade's courtyard of the show venue. An inspiring ending of this fashion week.

www.kenzo.com
Fashion
Junya Watanabe Spring/Summer 2018 Menswear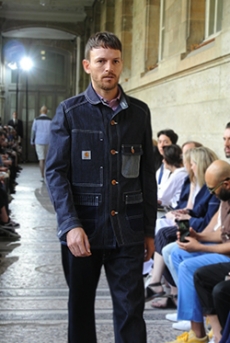 Junya Watanabe's aesthetic has always been played around the notion of classic menswear.

With his specific model casting and strong vision., also this season the Japanese designer collaborated with Carhartt, Levi's, Karrimor and The North Face delivering garments played around the notion of heavy-duty clothing.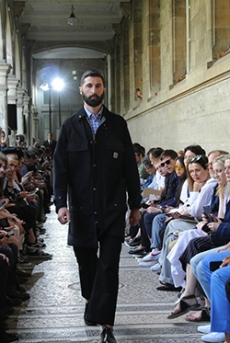 The jackets featuring the latter's backpack embedded at the back and cut-up all over with The North Face elements confirmed the subtle genius of this legendary designer.

There were beautiful oversized denim, Jackets that pointed at authenticity rather than a fashion exercise.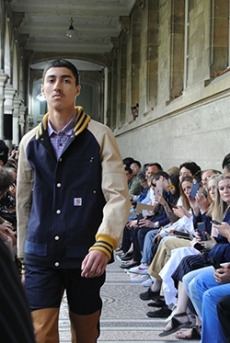 Junya Watanabe created a youthful collection but shown once again with grownup next-door-guy and often bearded models, outside of the usual male casting. His "legit way to wear workwear" as the show note mentioned.

Or we could say, his poetic ode to the "real" and to the "ordinary" versus this over-constructed fashion system

It's a vision Junya Watanabe has been building since a while now and the beautiful collection displayed pieces that will easily find their way to the wardrobe of many

www.junwatanabe.jp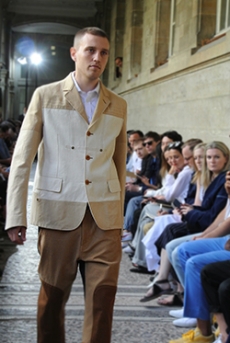 Fashion
Lanvin Spring/Summer 2018 Menswear
Workwear versus tailoring. Literally. Lucas Ossendrijver's virtuoso for Lanvin Men's Spring Summer 2018 exploded in a spectacular intricate composition where a dualism of silhouettes and materials merged as the model stormed in a situationist walk.

The factory worker jumpsuits, the tailored pants, the tech sporty anorak but in a checked classic English fabric, beautiful asymmetric knitwear and a strong vision that has graced Lanvin Menswear for more than 10 years.

The multitude of elements in this collection it's as overwhelming as carefully balanced.

Reworked coats graced with graphic motives or with contrasting neon lining sometimes made into a reversible look. Trousers constructed with double sides where checked classic fabric at the front is mixed with a tech sporty finish at his back beautifully seamed together with a visible stitch. The check again – as in last Fall Winter collection – is one of the protagonists.
It's a fascination for the classic menswear codes and its challenge to enrich it and enhance it with new elements and unexpected mix matching.

That play of the unexpected that Lucas Ossendrijver's delivers also in the accessory collection for Lanvin for Spring Summer 2018. A retro vintage camera leather pocket case, a massive squared bag as out of a messenger bike utility case with an engraved "L", a necklace made out of an hand-hammered sculpture in metal covered with leather representing an incredibly detailed hand almost as out of an anatomical specimen collection.

It is an incredible collection of several influences, ideas, many genres, whispering one message: be yourself no matter what.

www.lanvin.com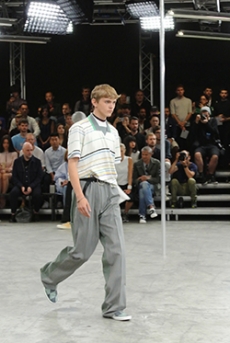 Art
Lunar Garden
"After spending many years traveling to Japan I became fascinated with the dry gardens in Kyoto, specifically the way in which the gardens are permanent yet completely ephemeral and remade every day," said Daniel Arsham, an american artist who studied at the Cooper Union in New York. His new solo exhibition is on view at Visionaire in New York until the 5th of November.


The work, titled "Lunar Garden," is a combination of architecture, sound, and an immersive environment that reinterprets the traditional Japanese rock garden: surreal and dreamlike, Arsham's oasis uses a vibrant pink color scheme, features a moon-like orb spanning 3 meters, and peculiar patterns in the sand that the artist freshly rakes every day. Traditional greenery, such as the bonsai, has been replaced by a petrified tree and a lantern. For Arsham, the use of color is a new experiment. Previously, he has relied on a palette of black, white and gray tones. The reason for this shift is that Arsham is colorblind, but has recently been able to see vibrant colors thanks to special glasses: the radical change is his sense of sight and perception of color has prompted an important new visual language for the artist which can be witnessed for the first time in "Lunar Garden."
Fashion
MSGM Spring/Summer 2018 Menswear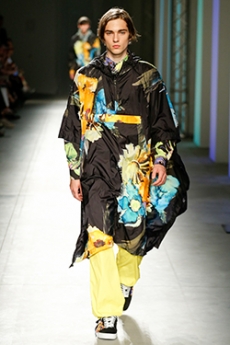 This season marks a new chapter for Massimo Giorgetti's MSGM after his departure from Emilio Pucci earlier this year. The move has been a catalyst for him to dedicate himself fully to his own brand MSGM, that's been making street wear waves for quite some times now and shows no sign of slowing down.

Giorgetti's MSGM Spring/summer 2018 Menswear collection was a well-travelled one. Drawing inspiration from modern street culture has been a constant for the designer who, this time, travelled to sunny California picking up on the inimitable vibes the west coast has to offer. From skaters and latter-day hippies to Burning Man festival-goers, Giorgetti's references are as current as they are multi-faceted.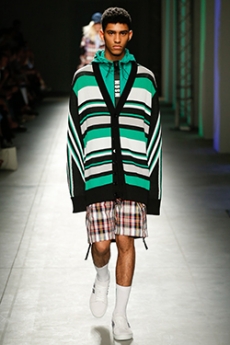 This season is all about workwear-inspired apparel in the form of madras parkas reworked into oversized volumes, paired with extra large backpacks. But colour is never far from the designer's mind who offered his sports-alluding shapes an extra pop by pairing army green with bubblegum pink or turquoise while elsewhere graffiti and watercolour flower motifs elevated nylon ponchos and a chino pantsuit. Thick, cosy knitwear pieces embroidered with boisterous lettering were paired with short shorts and blousons were seen layered over boxy t-shirts.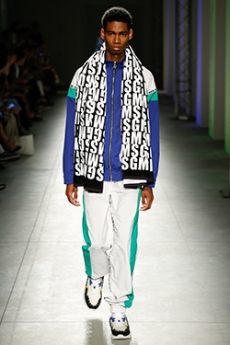 The MSGM man's sartorial identity may seem hard to pin down, but that's exactly where the beauty is: as he floats between identities, influences and moods he picks his battles of rebellion carefully while remaining in the now.

www.msgm.it
Fashion
Missoni Spring/Summer 2018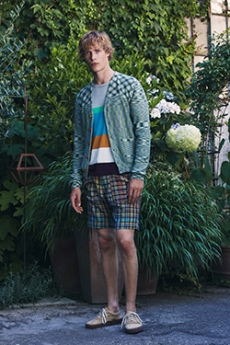 Even though it wasn't made explicitly clear, all elements point to a collection dedicated to an urban gardener, quite possibly Angela Missoni's father whom her mother fondly referred to as 'her gardener'. With a long-standing love for gardening that spans across generations of Missoni offsprings, this appears to be a well-founded claim.

Missoni's style has always been characterised by an ease and effortlessness that many brands have tried to emulate throughout the years. Tried being the operative word here as this is exactly the element that should be missing from such an equation.

Lavender, periwinkle, indigo, cherry, blossom, apricot, shadow blue, mint, bamboo and red birch fabrics were dyed, blended and then washed to achieve that faded, almost blurred effect that screams Missoni from miles away.

The silhouettes were relaxed in a way that oozes stylish comfort, accentuated by fabrics that enhance that same aesthetic: slouchy utility pants with a lived-in feel in linen, for example or lightweight wools and cotton crepes. Denim was also given its time to shine in Missoni's Spring/Summer 2018 Menswear collection – it was washed an appeared to have accompanied the man wearing it on many a relaxed adventures.

A bright and summery mood without trends or frills, bells or whistles, a calm joyfulness that exudes happiness much like a well-tended garden under the summer sun.

www.missoni.com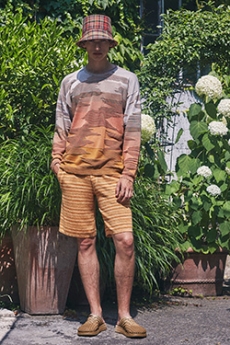 Fashion
Marni Spring/Summer 2018 Menswear
"Lost and Found" – the tile of Marni's Spring Summer 2018 collection that leaves so much to be imagined and so much more to be discovered. Convoluted as the meaning of that phrase may be, for Marni it acted as the catalyst for a collection that preaches the enjoyment of life through self-discovery.

In his second collection as creative director for Marni, Francesco Risso offered a collection of wearable clothes with a non-conformist touch. An air of randomness characterises the collection of roomy trousers and shirts that appear to have been de- and then re-constructed, sometimes held together with the fabric swatches for a DIY allure.

Sailboat prints and Hawaiian motifs make an appearance alongside garments of a more bookish, almost nerdy, nature that stay true to the brand's retro tones. As Risso himself put it, this season's pieces 'surf the typography of a city'. This is office wear on holiday, where a tie on the beach is just as relevant as sailboats on a suit and Jamaican accents paired with a dash of the 20s. Knits appear shrunken and unfinished with their misaligned stripes.

Rules appear to have been thrown out the window here as the Marni man dresses himself freely, as if he were a collector of moments who may intentionally leave items behind only to retrieve them later. Perhaps even finding himself along the way.

www.marni.com
Fashion
Moncler Gamme Bleu Spring/Summer 2018 Menswear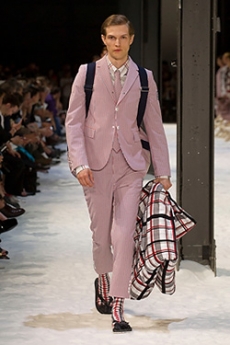 Thom Browne brought his signature hand-made tailoring sensibility to Moncler Gamme Bleu Spring Summer 2018 Menswear collection. Thus was born a perfect conflation between Browne's flair and the brand's expertise in active sportswear and outerwear for a collection that highlights an ease in seasonal transitions.

Down-filled looks made with over-sized plastic zippers and worn over identical looks without the down-filling epitomise the concept of smooth change. The collection was split into three colour-coded subcategories: grey and grey and white, red, white and blue and formal.

Trademark Thom Browne tailored pieces were present in traditional suit material iterations as well as more technical versions that incorporated highly functional fabrics such as technical wool and cashmere, nylon, ripstop, mesh and rainproof slicker.

www.moncler.com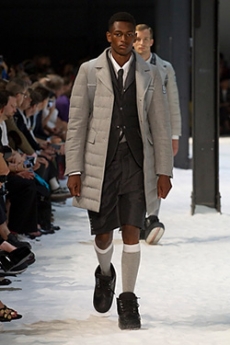 Fashion
HUGO Spring/Summer 2018 Fashion Show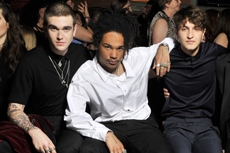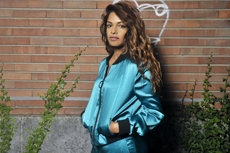 Presenting its mens- and womenswear Spring/Summer 2018 collection, HUGO transformed a factory in Florence into a candle-lit fashion show.

As a tribute to the spirit of the artist, the collection and the space itself illustrated all kinds of sketches and paint strokes that symbolises art and expression. An artist's unconventional perspective upon things, living according to his own rules with an sensitive yet careless attitude, just like the brand characteristics of HUGO, served as inspiration for the collection.

Many of the styles are in collaboration with the Designer Charles Jeffrey, with cut and shape inspired from the first HUGO collection from the year 1993, alongside completely redefined tailoring. The collection also presented oversize jackets and jumpsuits to create a unisex look with a color palette inspired from the artist's studio, reaching from neutral tones to shades of blue, yellow and of course the classic HUGO red.

For HUGO, this Spring/Summer collection is also all about the accessories. From oversized men's bags, sneakers with chunky soles, to long earrings or pearl chains, they all contributed to a playful look.

Amongst M.I.A, Anwar Hadid and many others, present at the show was also ZOO Magazine's current cover star, Gabriel-Kane Day-Lewis, all wearing head-to-toe HUGO.

hugoboss.com
Art
The Beats and The Vanities, Larry Fink Exhibition at Armani/SIlos
A collection of exquisite black and white photographs from Larry Fink's The Beats and The Vanities books will comprise the latest exhibition at Armani/Silos. The exhibition presents a unique opportunity for the legendary photographer's work and idiosyncratic vision to be experienced as one as they have never before been shown together before.

Giorgio Armani himself is a great fan of Larry Fink's work, finding his ability to capture form and line in such a fluid way something he can relate to as well as a designer. "Fink is a jazz fan, and you can almost view these images in terms of musical composition – people in flow, surprising us, possessing an unconscious sensuality", he adds.

Born in Brooklyn and raised in a progressive and politically active family, Fink cut his teeth as a photographer as part of the late beat generation, when he hooked up with a group of beats at the age of 17. Political activism, protests and marches formed the photographers worldview who documented the times through his medium-format camera.

His pictures serve as a time capsule and a candid look into his world, perfectly capturing the sense of romance and rebellion that characterised the underground jazz-fuelled youth movement of the time. A regular editorial contributor for prestigious titles such as The New Yorker and Vanity Fair, it was the latter that recognised his ability to bring them something different if let loose to create.

His visual record of the famous and their surrounding courtiers is not concerned with who's who – rather it focuses on what's happening. As Fink himself describes it, he tries to embrace the souls of all people, regardless of their conditions.

The Beats and The Vanities, Photographs by Larry Fink will be on show at the Armani/Silos until the end of July 2017.

www.armanisilos.com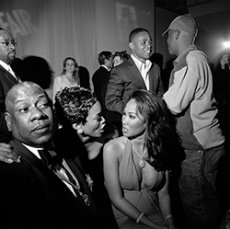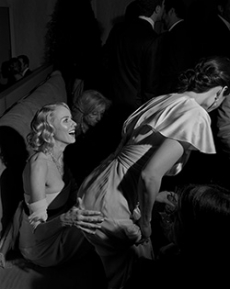 Fashion
Dior Fall/Winter 2017
Taking the reins of a legendary fashion house is always a challenge. Maria Grazia Chiuri is not new to the job. She, together with Pier Paolo Piccioli, took the helm of Valentino one year after Sir Garavani's retirement, keeping high the stakes of the house, bringing it back to international acclaim.

At her second collection for Dior, Chiuri's wish to bring a revolution and play with the house's codes is even more clear. She is a woman, and as every Italian woman, she is naturally engaged in elevating women's power and society's perception of the female stance. If you were expecting a Valentino's modus operandi you were mistaken.

Maria Grazia Chiuri is not easily affected by predictions. She has a vision and she is certainly not playing the safe card. Dior Fall Winter 2017 was entirely declined in shades of blue, a blue that Chiuri found in the archives of Dior – particularly on a taffeta silk dress designed in '54 - and quickly got fascinated by. It's the blue of uniforms, of elegant evening dresses and certainly of denim. It's a young contemporary collection. Chiuri wishes to picture the contemporary woman emerging the tense political climate of our time.

Last season's motto "We should be all feminists" left the place to a more consistent and strong statement where the clothes speak by themselves. The basques created by Stephen Jones give a further accent in this sense. It almost as we see a troupe of suffragettes, marching one after the other advocating women's freedom to dress however they find fit.

www.dior.com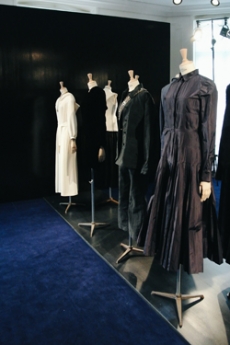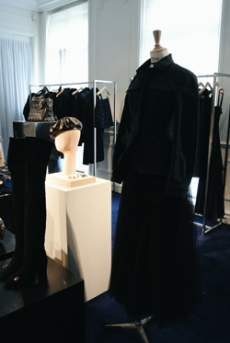 Fashion
Loewe Fall/Winter 2017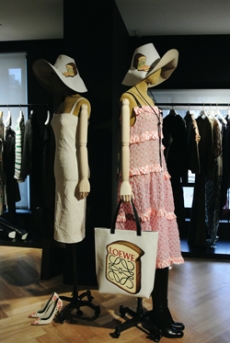 Loewe's creative director J.W. Anderson is transforming this luxury Spanish leather brand into an impressive fashion house where cultural references, design, architecture, and the beautiful leather craftsmanship coexist.

Like for his eponymous label, Anderson is able to create a dialogue between the arts, where fashion is at its centre, without any stretch. The romantic and enchanting feeling reminiscent of Gone with the Wind's Rossella O'Hara ball gowns together with a playful splash of Commedia Dell'Arte's Pierrot and Harlequin, where the polka dots and the western hat felt perfectly parts of the same image. But also the signature handkerchief hem dresses and a parade of countless accessories declined in new colours like the polka dot iconic puzzle bag.

As in every season we see experimentations with butter lamb leather in exceptional peplum waist-cinching tops, dresses, suits, outwear in a variety of colours: lipstick red, moss green, and the forever favourite almond and black. There are so many fascinations Anderson took into account for Loewe Fall Winter 2017 and it just feel fresh and captivating.

www.loewe.com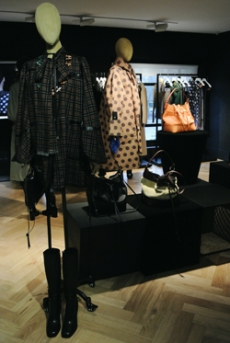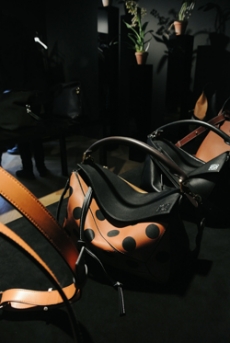 Fashion
Nicholas Kirkwood Fall/Winter 2017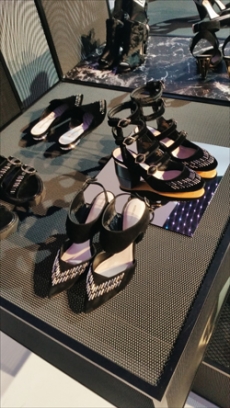 "The Dark Matters", for Fall/Winter 2017 Nicholas Kirkwood created a series of monochromatic shoes with a strong 80s aesthetic.

Geometric and graphic lines adorn the heels and boots for this strong and architectural collection. The English designer - inspired by artists like Daniel Buren - used a sculptural approach and the forever-favourite feminine/masculine dichotomy references.

The austerity of black in contrast with lurex and silver mirror smooth leather uppers, plexi-heels, pearls inlaid into a metal frame sole and luxurious black suede, adorn the collection in a play of contrasts. The name of the collection also refers to a new fabric created by Kirkwood: a black glittering stretchy textile used for a new sock-boot and a slip-on mule. It's a rich and sophisticated collection with new silhouettes and the omnipresent irreverent mood of Kirkwood's work

www.nicholaskirkwood.com
Fashion
Saint Laurent Fall/Winter 2017 Ready-to-Wear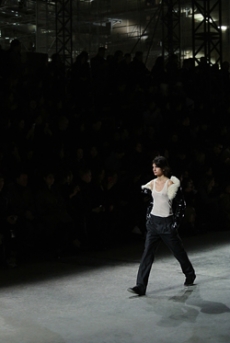 We have come to a point in fashion when history has been elevated without precedent. There is a lot of the 80s Monsieur Yves we know in the new Saint Laurent by Anthony Vaccarello. For Saint Laurent Fall Winter 2017 there is again a respectful reference to the history but also a lot of the Vaccarello DNA that we have seen in his eponymous label for many years.

That sexiness, that daring and fierce attitude the Italo-Belgian designer infused in his own shows season after season before becoming the new creative director of the historical Maison. And then there is the show vibe. Anthony Vaccarello presented his second collection for Saint Laurent in a surreal, and provoking atmosphere inside the under-construction site of the new brand's head quarters in rue Bellechasse at the Left Bank of the Seine. The rain pouring down, the scaffolding as backdrop, the loud pulsing music as in any squat party, was the perfect set as to declare a new beginning, the shaping of the new identity of Saint Laurent in fieri.

Bold short dresses in velvet, caramel and black leather matched with long up-to-the-neck gloves as to create a tromp l'oeil effect for maxi shoulders. Thigh-high boots in patent leather and rhinestones with ruches - sure to become the obsession of next season. But also strong day looks with an invasive sense of masculinity: denim with mohair sweaters, shearling jackets, or a simple tee. It's that subversive soul that Yves Saint Laurent himself was known for. It's that unexpected atmosphere that everyone is waiting with anticipation at this fashion house. As his predecessor, Vaccarello will make everyone want to wear his clothes. With no exceptions.

www.ysl.com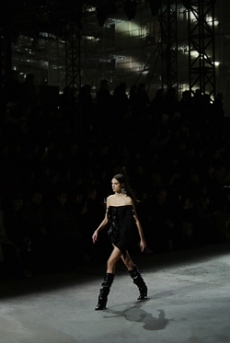 Travel
Burlesque for the Senses
Few cities come close to Berlin's notoriety — renowned for its progressive art scene and home to internationally-famed nightclubs, the city seems to constantly reel in artists, free thinkers and hipsters from all over the world, creating a buzzing, infectious atmosphere that gives way to a thriving art scene. But something unique and glamorous lies behind the doors of the Berlin Provocateur, the latest gem in hospitality that opened its doors to the public in March 2017.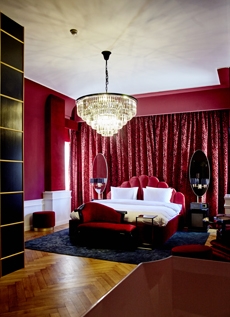 An other-timely experience that is patiently waiting to be discovered channels the exuberance of Parisian 1920s style, and places creativity and joie de vivre at the forefront. Think of enigmatic songstress édith Piaf and the dandy gentleman that was Oscar Wilde. Where would these legends choose to sojourn, relax and recline should they have been transported to modern day Berlin through some inexplicable twist of fate? With that very concept in mind, Micky Rosen and Alex Urseanu, the Frankfurt visionaries and hoteliers behind Gekko Group, brought to life an oh-so Parisian oasis in the heart of the German capital. Describing the immersive experience that greets guests upon arrival, but also permeates the Provocateur's modus operandi in its entirety, is no easy feat. Rarely are you able to truly feel transported to an iconic city, let alone a seminal era for the arts and culture.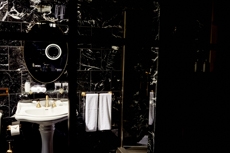 But the Provocateur and its fifty-eight stunning rooms, bar and restaurant beg to differ — and rightly so, as they give 'hospitality with a passion', Gekko Group's motto,an entirely new meaning. Amsterdam-based designer Saar Zafrir is the creative mastermind behind the hotel's modern burlesque character. Sensual yet intricate details coupled with warm colours and intriguing textures comprise a beautifully serene ambiance. The journey begins at the lobby, where an elevator from 1912 fulfils its prescribed function, while simultaneously acting as a portal to French je ne sais quoi. What's more, the guest rooms hold further surprises: at the simple push of a button, guests are given the opportunity to delve further into the reverie of the Parisian past, guided by music and images that are projected on the walls. Unapologetic in its Frenchness, yet somehow contemporary as ever, the Provocateur's interiors feature luxurious, plush furnishings in warm hues and details that accentuate its glamorous influences. Duc Ngo, one of the most influential figures on Berlin's flourishing restaurant scene, is responsible for the Golden Phoenix restaurant, where he brings to life his personal vision of fusion cuisine. At the Provocateur bar, arguably the establishment's beating heart, guests are invited to taste a menu that boasts several creations with clear Franco-Chinese influences and a tastefully provocative burlesque attitude. With its hotel, restaurant, bar and event room, the Provocateur offers all that matters for a stay in Berlin. No sense is left unsatisfied — and that is without even leaving the premises. A case of 'stay up all night and sleep all day'.

www.provocateur-hotel.com
Fashion
Make Love Not Walls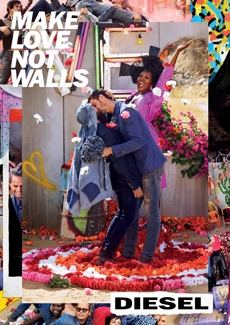 Through photographic material and a series of global actions, Diesels breaks down all barriers in communication with its #makelovenotwalls movement and tears down the mental and physical walls that separate us. In a time where hate, walls and fear seem to prevail, the brand urges us all to unite for the greater good.

"At Diesel we have a strong position against hate and more than ever we want the worlds to know that. Love and togetherness is crucial in creating a society we all want to live in, and the future we all deserve" explains Diesel Artistic Director Nicola Formichetti.

For this campaign, Formichetti collaborates with legendary artist and photographer David LaChapelle using the Wall as a symbol of separation and breaking it down to create strong stories through a simple yet powerful narrative: walls are built and the heart-shaped Diesel love tank tears them down. As a symbol of separation is reinterpreted into a symbol of unison and flowers fills the space, a celebration of freedom and love is born. Diesel is known for pushing the boundaries creatively.

From its 1995 LaChapelle campaign with two kissing sailors, to this year's anti-wall ads, it encourages us to let fear aside and focus on what brings us all together rather than what divides us. If You've got walls, Diesel's got wrecking balls!

www.diesel.com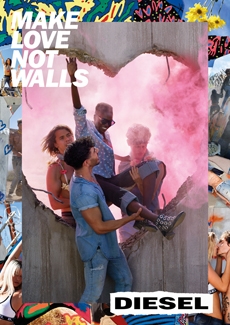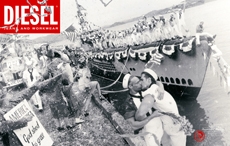 Fashion
Mode Suisse Edition 11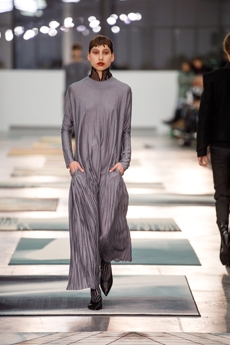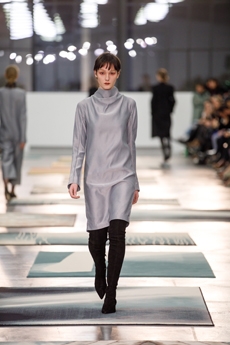 February 8th 2017 marked the showcase of Mode Suisse Edition 11 at the Migros Museum fur Gegenwartskunst in Zurich. Once again, a wealth of design talent was represented. Among them high-flying label Julia Seeman, Garnison's post-dandy menswear, LYN Lingerie's luxury handmande collection, Julian Zigerli's second appearance of womenswear and gender-fluid menswear that have made him a household name as well as Berlin-based experimentalist womenswear label studiowinkler. Additionally WUETHRICHFUERST made their much-anticipated debut.

The evening's highlights included the showcase of Masters' students Jeremy Gaillard, Flore Girard de Langlade and Vanessa Schindler, who is the winner of the Prix d'Excellene Hans Wildorf. Additonally Zurich favourites enSoie had the audience craving for its nonchalant style while Vivienne Rohner strutted the catwalk laid with previously unseen carpets by Schonstaub. Special guest designerDorothee Vogel's desirable duvet coats and floaty dresses ended the show.

Edition 12 of Mode Suisse will take place in Zurich in September 2017.

www.modesuisse.com
Fashion
OFF WHITE Fall/Winter 2017
"The show is real" Virgil Abloh told us backstage after the show. Real and now, much like the urge to touch the everyday life of many in various forms. For OFF-WHITE Menswear Fall/Winter 2017 collection Abloh stood up for a new chapter of the brand. Oversized outwear gives way to tailored silhouettes. The extreme youthful approach is now moving into a more grownup vision.

The spectacular set design featuring real fading leaves and shedding trees inside the harsh concrete brutalist UNESCO building, wraps the collection in a surreal atmosphere. As we walk inside the venue we feel overwhelmed by this recreated landscape. It almost urges you to just take a stroll and roll in what looks like a wintery park's forgotten route.

Checked coats with embroidered foliage, denim printed with flying doves and adorned with golden leaves by London based jeweller Duffy. Exquisite knitwear permeates the whole collection, both for men and women, featuring the brand's signature bar logo. In all its wearability Seeing Things – as named by Abloh - is a romantic and ambitious collection yet staying true to OFF-WHITE's identity rooted in the streets.

A new way of seeing, as resonating in the words of British writer John Berger's Ways of Seeing, was chosen as the opening narration for the show: "The images has come to you, you don't go to them. The days of pilgrimage are over. It is the image of the painting which travels now".

www.off---white.com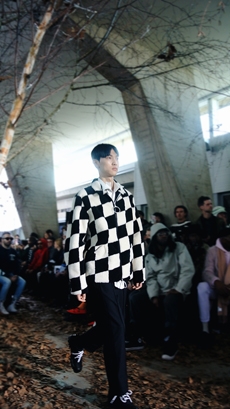 Fashion
Y/PROJECT Fall/Winter 2017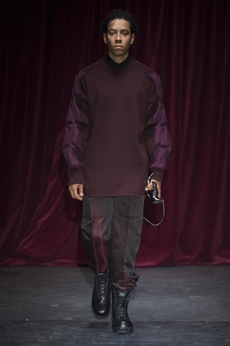 A mobius of forms, shaped in the seam lines, leading to dramatic volumes. Beautifully balanced but also true to his roots, Glenn Martens created a collection where Y/Project's identity is declined to a new sphere, all played through Martens' all-time favourite ironic approach to dualities.

The low and the high, the elites and the masses, deconstructed garments and slouchy fits. Between historical reinvention and street culture, Y/Project's Menswear collection for Fall/Winter 2017 continues to master that relaxed and youthful attitude that has characterized Martens' work from the start.

Doubled silk shirts, deconstructed faux fur, reinvented corduroy suits, slouchy oversized track suits straight from a rapper's videoclip, followed by the impressive sweatsuits with wired piping in a blobbing volume, reminiscent of that mantle draping we have seen on 1808 Jean-Auguste-Dominique Ingres's portrait of Napoleon.

As Napoleon and consort printed on scarves in football merch fashion - part of Martens' playful reference along with other royal couples such as Louis XVI and Marie Antoinette - steal the scene and we cannot choose. We can only root for this talented Belgian designer.

www.yproject.fr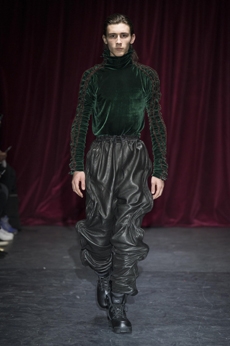 Fashion
NEW TENDENCY x Meiré und Meiré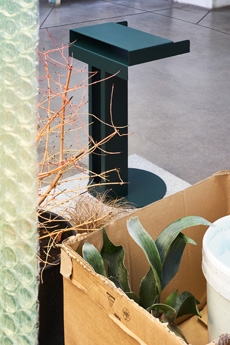 New Tendency showed its 2017 product innovations at the Meiré und Meiré Factory.

The Bauhaus tradition has influenced the development process of everyday contemporary objects for New Tendency. Their furnishings serve to compose an ideal setting for modern working environments. With the emergence of co-working spaces, New Tendency have picked up on the need of flexible and functional configurations and strive to inspire those who are surrounded by their creations in their daily lives and their professional environments.

Showcasing their work in one of the leading creative agencies in Germany was therefore a natural progression.

Among other objects, New Tendency presented its December Edition at the Meiré und Meiré factory, a line that was the result of a fruitful collaboration with the agency, furthering their devotion to creative partnerships. The Artist's Edition of the lamp served as the inspirational springboard for the creation of New Tendency's premium line, Black Label that will soon be expanded to include more exclusive pieces with clear geometrical components.

Raw structures, industrial materials and natural elements formed the perfect hybrid framework for New Tendency's minimalist yet progressive designs. The presentation at the Meiré und Meiré factory didn't treat New Tendency's furnishings as conventional exhibits; they were instead integrated in the agency's daily goings-on serving as both a working space and a meeting point.

For New Tendency's exhibition at the Meiré und Meiré Factory, Mike Meire grouped the December edition pieces with side tables from the META line to create an island in the middle of the space. The installation was staged on raw concrete and stone slabs between dry plants, paint buckets and cardboard boxes. Fluorescent lights floated above it, different colours and textures of plastic foil sheets hanging over the top. The industrial ensemble was characterised by deliberately rudimentary fragmented elements that served as a beautiful contrast to the high-end claim of the products on display.

In the age of digitalisation, where products are becoming increasingly perfect Mike Meiré  felt the need to infuse the products with textural and tactile elements proposing 'Brutalism x Redefining Nature' and paying tribute to Le Corbusier's New Brutalism.

www.newtendency.com
www.meireundmeire.com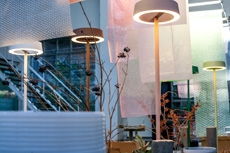 Fashion
Vivienne Westwood summer trip to the Mediterranean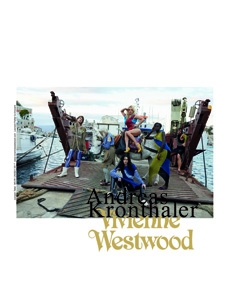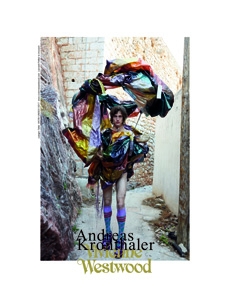 The Mediterranean has always served as a source of inspiration for poets and artists. A symbol of eternal beauty, of endless summers. A beauty that many have attempted to explain with words but that is better left to feelings and emotions.

Andreas Kronthaler's Spring/Summer 2017 'Europa' collection for Vivienne Westwood is a case in point. The collection is an ode to the Mediterranean's laid-back summer vibes and evokes images of sandy beaches, sunsets by the sea and days spent in nothing more than a bikini. But much like everything that bear's Vivienne Westwood's signature, there's a political statement to be read between the lines: 'Europa' is a continent in crisis, struggling to come to grips with the humanitarian crisis of mass migration, an issue that stains its reputation but somehow doesn't distract from its charm.

Legendary photographer Juergen Teller shot the campaign in Greece, with the picturesque white houses and blue waters serving as the perfect backdrop. Showcasing the garments as well as the scenery beautifully, Teller also managed to highlight the Mediterranean's grotesque facade with a mixture of sophistication and grunge very synonymous with the Vivienne Westwood brand.

Former sex-symbol Pamela Anderson features in the campaign providing a contrast that also links to the power of Mother Nature. The result is simple and delicious, just like a plate of spaghetti.

www.viviennewestwood.com
Fashion
BILLIONAIRE Fall/Winter 2017: Texas under spotlights
Once upon a time, soap opera characters served as primary sources of style inspiration and this season Billionnaire by Philipp Plein travelled back in time to pick up the trend. Remember Dallas?

Set in Texas, the show reached cult phenomenon status and was Philipp Plein's moodboard for Fall/Winter 2017. The Billionnaire man is a wealthy and stylish globetrotter: skiing in Aspen and gambling in Monte Carlo. The collection reflects the attitude of a character that isn't shy about showing off his personality.

Snakeskin jackets, chinchilla bombers and full-length overcoats feature alongside astrakhan and crocodile skins as the ultimate statements of elegance whether on the slopes or in the city. Trousers are high-waisted and denim takes centre stage in trousers and double-breasted jackets.

From knitwear to eveningwear the attention to detail is meticulous, fully conveying Plein's references: classic Texan hat included!

www.philipp-plein.com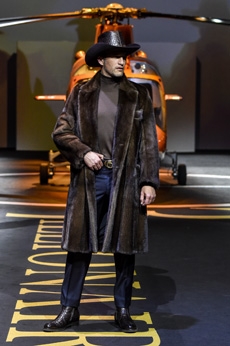 Fashion
A dandy poem by Alexander McQueen
A dandy spirit that explores the deepest sides of Oscar Wilde's soul during an esoteric trip that Germans call Wanderlust. A contemporary gentleman traveling from London's Tite Street to Paris Saint Germain seeking inspiration from the world that surrounds him.

Alexander McQueen documents this journey through his latest menswear collection, paying homage to the man who has become synonymous with the term 'esthete'. British tailoring plays a central role in a collection that encapsulates and celebrates the house's trademark codes. Precise and elongated cuts in suits with peaked shoulders and legged or flare trouser silhouettes – worn cropped above the ankle and sometimes with a satin or velvet band on the sides, offer their elegance to coats and jackets alongside jacquards with peacock feathers for the most daring dandies. The collection also explores and plays with proportions, combining classic and more of-the-moment oversized fits to give birth to a new hybrid of men's shirt-dresses. A worn-in feel is brought forward by mohair knits, frayed at the edges and laddered with holes. For the evening, Alexander McQueen's Fall/Winter 2017 features tuxedos, smoking jackets and robes with satin quilted reveres, embroidered velvet and jacquard to give an incredible taste of elegance to a collection that is worth of an old-fashioned gentleman.

McQueen's latest collection is a true ode to Oscar Wilde, done in incomparable style and honing in on elements that have granted the brand the status it holds today. No doubt it will be at the receiving end of countless praises this season.

www.alexandermcqueen.com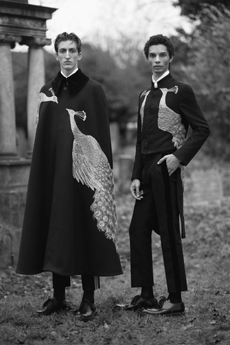 Fashion
Rocking it with Dior Homme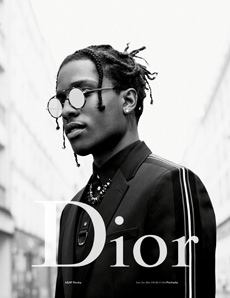 A utopian sense of refined grunge has always characterized Kris Van Assche's creative direction at Dior. For Dior Homme Summer 2017, Van Assche's dynamic energy is reflected through a new generation of four inspired characters: A$AP ROCKY, Boy George, Rami Malek and Ernst Klimko.

A 'do it Yourself' attitude runs through the brand's creative direction this season, a path that the four diverse Dior Homme personalities will follow, eventually converging to personify the house's vision of Homme. The campaign's four faces may embody different disciplines of modern art but through Van Assche's direction, they provide an all-encompassing, cohesive undertone for the French house's men's collection.

Interestingly, hip-hop is made elegant in this line giving birth to intriguing pieces such as the dark floral garments designed by Japanese artist Toru Kamei.

Shot through the streets of Paris and in studio by photographer Willy Vanderperre, the campaign pairs heritage and an innovative rock, raw-edge mood that will undoubtedly make it a key player in Dior's already impressive campaign portfolio.

www.dior.com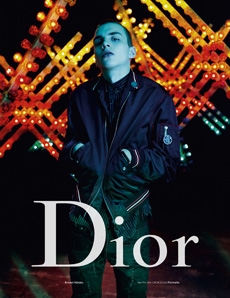 Fashion
Schiaparelli's Haute Couture moment has come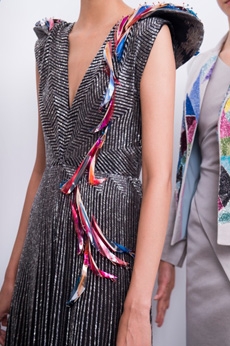 Schiaparelli Maison, Chanel's historical rival is definitely back on the scene after a long hiatus. This January marks a milestone for the celebrated maison as the French Chambre Syndicale de la Haute Couture decided to enlist Schiaparelli among the 15 fashion haute couture brands existing in the world.

Ravaged by the aftermath of the war, Elsa Schiaparelli closed her iconic Paris "Schiap Shop" in 1954, the very same year that saw the release of her autobiography "Shocking Life". It was only three years ago that Italian businessman Diego Della Valle decided to revive Schiaparelli, believing in the power of its indomitable style and unparalleled innovative techniques.

Alongside stores of long-established brands in the field such as Chanel, Givenchy and Dior to name a few, Elsa's shop in Paris' Place Vendome is opening its doors again to pick up where it left of, starting a new chapter in haute couture history.

www.schiaparelli.com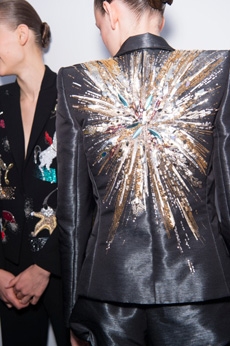 Fashion
LOUIS VUITTON CELEBRATES 30TH ANNIVERSARY IN BERLIN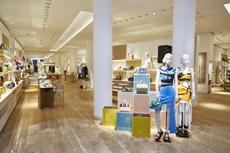 France and Germany join in for the celebration of 30 years of Louis Vuitton, the brand synonymous in everyone's mind and many hearts with élégance française.

Louis Vuitton celebrated its birthday with the opening of its latest concept store in Berlin's Kurfürstendamm. Celebrities and influencers from the world of fashion were present to mark the joyous occasion. A combination of craftsmanship, savoir-faire, continuous innovation and heritage - all keywords for the long established brand as well as the city that played host to its celebrations.

Berlin incomparably contemporary dynamism and Parisian haute couture give birth to 'amour toujours'.

www.louisvuitton.com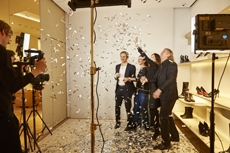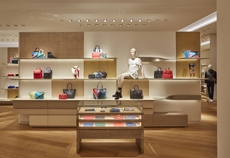 Art
The world through Henk Schiffmacher's "camereyes"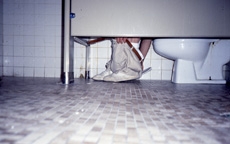 When Texas, Henk Schffmacher's daughter discovered her father's old 35mm negatives in a dusty drawer, she knew they had to be exposed for the world to see.

Dutch tattoo artist, Henk Schiffmacher has become known for his energetic and observational photographic work that is now being collected and exhibited for the first time ever. Highlighting the best and worst facets of modern society, this eclectic ensemble of pictures is a real representation of the world we live in through Schiffmacher's camera.

Taken between 1970 and 1985 these pictures give us a raw insight into the world of youths, bikers and tattoo fetishists from all around the globe – from Las Vegas, L.A., Amsterdam, and Tokyo to Mumbai, Manila, San Francisco and Kuala Lumpur.

This makes for an interesting juxtaposition: a wild mix of cultures, nationalities and excess against the backdrop of vintage cityscapes and timeless scenarios. Schiffmacher's photography offers a unique and brilliant view of the world as it was four decades ago.

Pure, direct and unprecedented just like photography should be.

www.schiffmachershoots.com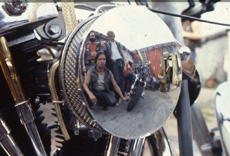 Fashion
PIRELLI CALENDAR 2017: An Unfiltered Emotion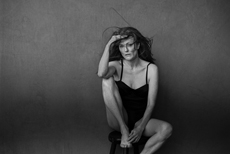 "In a time when women are represented in the media and everywhere else, as ambassadors of perfection and youth, I thought it was important to remind everyone that there is a different beauty"

'Emotional', the title chosen by Peter Lindbergh for the 2017 edition of the iconic Pirelli Calendar. No other word could strike such a chord in women's hearts that, nowadays, find themselves fighting against unrealistic beauty standards imposed by society. Fighting to fit in a world in which all things beauty are accompanied by a certain degree of fakery.

Pirelli Calendars have always been seen as conveyors of a specific message of perfection that could be hardly afforded by us, mere mortals. Following Annie Leibovitz's thread of last year, Lindbergh decided to let beloved actresses shine through their nakedness. Not a nakedness imposed by the lack of garments but by the absence of filters.

The choice of abstaining from Photoshop editing is indeed the leading theme of the 2017 Calendar, which includes actresses like Uma Thurman, Penelope Cruz, Nicole Kidman, Kate Winslet and Julianne Moore in all their natural feminine splendor. The beauty that speaks about the courage of being yourself in your own sensibility.

Lindbergh's message wants to reach all women who feel worthless, despicable, and inadequate in a way that only an artist of his caliber could achieve.

www.pirelli.com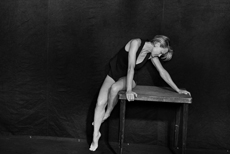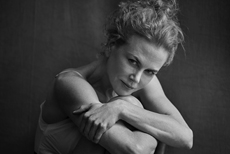 Fashion
Dior at KaDeWe
Situated in Berlin's famous Ku'Damm district, a historical center for shopping and indulgence, sits the Kaufhaus des Westens, or KaDeWe for short. The KaDeWe is more than just a momentous building that looks like it's been plucked from a Wes Anderson set, but by now also a historical heritage site. Erected in 1907 and witness to two World Wars, the KaDeWe became a symbol of West Germany's Wirtschaftswunder – the economic prosperity in the postwar era. Since then, it has retained its status as a symbol of glamor and affluence, on par with Galerie Lafayette in Paris or Harrod's in London.

For the 2023/4 winter season, the House of Dior is setting up shop in the KaDeWe and lending a peek at its intricate scenographies to the outside world through the window displays of the KaDeWe. Placing the Dior cruise 2023 collection at center stage in both the window displays and the Dior pop-up shop inside, the House invites the visitors of KaDeWe to ponder over Maria Grazia Chiuri's most recent designs and inspirations. Conceptualized as a "voyage of discovery, imagination and reflection, a combination of heritage and inventiveness," the Cruise collection drew inspiration heavily from Spanish and especially Andalusian influences, from the art of the flamenco dance to the equestrian traditions. The looks from the Dior Cruise Collection 2023 will be presented in KaDeWe windows until January 7th, 2023. The pop-up will remain until January 28th, 2023. HZ

www.dior.com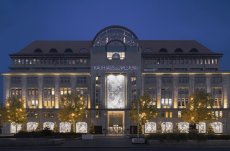 Art
At the Intersection of Champagne and Art
Ruinart's relationship with art is inscribed in its history. The historic link was forged in the late 19th century when the French Maison showed audacity and modernity with its first advertisement created by Czech artist Alphonse Mucha. Ever since then, Ruinart has maintained these close ties to the world of art and the artists, who have reinterpreted its universe time and time again. In line with this continued commitment to not only creating excellent champagne but also artistic expression, Ruinart has partnered up with German-Dutch artist BD Graft for PAN Amsterdam. For this collaboration, the artist created 20 limited edition magnums which were not only exhibited but also auctioned off with all the proceeds having gone to the World Wildlife Fund. As Ruinart stated, "Nature loss and climate change affect all life on earth. To stop this, we need more nature. WWF will use the proceeds to secure forests worldwide. This fits in perfectly with the sustainability objectives that Maison Ruinart has set itself." For each of the limited edition bottles, the 100% biodegradable "second skin" featured unique designs, numbering and a signature of this special artist. BD Graft has found success through his simple, yet recognizable visual language with nature and the human condition being central aspects of his work. Displayed at the Ruinart Lounge, in the middle of the art fair, each of the bottles was the embodiment of the iconic Maison, combining the art of champagne making with the artistic expression of a chosen artist.

www.ruinart.com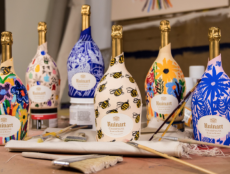 Fashion
Furla Cruise 2023 Collection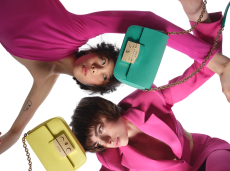 Founded in 1927 by Aldo Furlanetto in Bologna, the brand Furla has long been hailed as an industry leader in its craft. Drawing on its long-standing expertise, the Italian brand strives to create pieces made from a sense of beauty and quality, reaching at the same time for new heights in design innovation and creativity. With its atelier based in Tuscany, the brand stays true to its DNA of producing goods of traditional Italian craftsmanship. Furla stands for optimism, bringing a sense of colorful and cheerful creativity into each creation.

True to form, colors and youthful playfulness make up Furla's Cruise collection 2023. Furla paints the picture of a woman – "curious, enthusiastic, creative: a woman who is not afraid to experiment." Its newest collection of handbags is designed to equip this modern woman. Available in both bold and vibrant as well as neutral and classic colors, the Furla handbags are readily wearable for any occasion. Soft and geometric shapes can be found throughout, creating a visually versatile range of purses and bags.

www.furla.com
Art
The Swingin' Sixties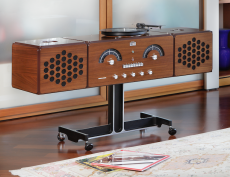 The Italian design brand Brionvega is announcing the release of PRIMO, a faithful reproduction of the original RR126 Radio, 55 years on from the release of the original model. The radio-phonograph was designed by brothers Pier Giacomo Castiglioni and Achille Castiglioni in 1964 and eventually became an iconic example of 1960s design movements – examples of it are today on exhibition at places like the MoMA in New York, the Victoria & Albert Museum in London and the Milan Triennale. Coveted by design and vintage lovers alike, the time-honored piece has come to represent a relic of the past, embodying a nostalgia for Italian industrial design and the age of the 1960s. The PRIMO radio-phonograph (product code rr-226 NOCE CANALETTO) brings this past treasure into the modern age. It stays true to its predecessor in many ways, from design and materials to production and manufacturing. Wooden panels sanded with sandpaper, the handcrafted frame made by sand casting, hand-painted frame holes, silk skin print – all elements that, then as now, reflect a high degree of mastery and craftsmanship. The rebirth of the cult object comes in only 100 pieces of the PRIMO radio-phonograph, available in-store in limited edition. HZ

www.brionvega.it
Fashion
A Lesson in Victory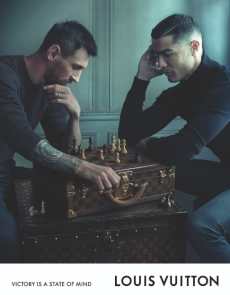 A single photograph, a chessboard, and the two reigning football champions of our generation. A photograph taken by legend Annie Leibovitz has rocked the world in the new Louis Vuitton brand campaign featuring none other than Cristiano Ronaldo and Lionel Messi. The campaign, entitled "Victory is a State of Mind" shows the two football legends consumed in a game of chess improvised out of and played on top of a Louis Vuitton Damier attaché case. It follows on from an earlier campaign, shot also by Annie Leibovitz for Louis Vuitton that similarly featured the football hall of fame greats Pele, Maradona and Zinedine Zidane, poring over a game of foosball in a dusty bar in Madrid, LV baggage sitting idly by in a corner or draped over a chair. "Three exceptional journeys. One historic game." – the name of the former campaign.

Louis Vuitton once again shows an exceptional feat of marketing, capturing the hearts and minds of football fans across the world with its image of these two icons enthralled in a game that is, like football, as old as time. The game in fact mimics an iconic match between Chess Grandmasters Magnus Charlsen and Hikaru Nakamura, played at Norway Chess in 2017. Ahead of the FIFA World Cup 2022, it is certain that the eyes of the world will be locked upon these two stars, as they enter into what it is to become both of their final World Cups. An historic moment for the world of sports and popular culture, for which Louis Vuitton has secured itself a place amongst these two victors. HZ

www.louisvuitton.com 
Fashion
Cool in the Cold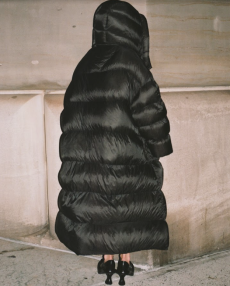 The FW collection 22/23 represents a second collaboration between Canadian luxury outwear brand Moose Knuckles and American fashion label ECKHAUS LATTA. The collection brings Moose Knuckles' specialization in innovating and engineering to create high-quality outerwear together with Eckhaus Latta's cutting-edge design. "Fearless yet functional fashion" is the purpose behind this collaboration, according to Moose Knuckles' Chief Marketing Officer Ayal Twik. As one of the world's leading producers of luxury outerwear, Moose Knuckles has garnered over 100 years of experience in the business of creating "resilient garments for the most unforgiving conditions". The brand specializes in product design and technical expertise, invoking special knowledge of fabrics and fashion engineering in order to produce the highest quality outerwear.

ECKHAUS LATTA is an American fashion label established in 2011; the brainchild of Mike Eckhaus and Zoe Latta, who met during their studies at the Rhode Island School of Design. At the time, the two founders were studying Sculpture and Textile Design respectively. This intersection between art, design, and fashion remains a core tenet of the brand even today, which regularly participates in art installations and exhibitions with projects, videos, and collections – exhibiting for example at the Whitney Museum of American Art in 2018. The designs, at times grunge and edgy, sometimes colorful, are unfailingly inventive. A partnership of "artistic and technical exploration" has resulted in a revisiting of some of Moose Knuckles' core styles, reinterpreted by ECKHAUS LATTA to offer a more contemporary look using oversized, exaggerated proportions. Moose Knuckles' technological mastery is most evident in the puffers – filled with RDS-certified down but designed in hyper-light form for better mobility. The accompanying campaign was shot by Mary Manning and styled by Matt Holmes, under the artistic direction of Eric Wrenn. HZ

www.mooseknucklescanada.com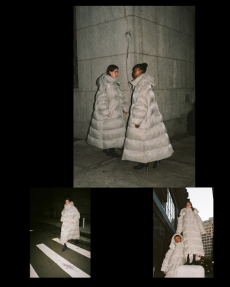 Fashion
Belvedere: New Global Campaign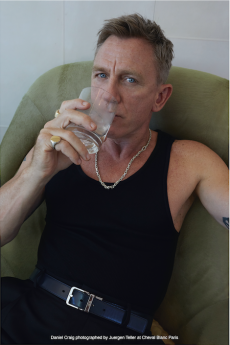 Belvedere, the world's first super premium vodka, is a Polish rye vodka, which receives its name from the Belweder, the Polish presidential palace in Warsaw. Representing 600 years of Polish vodka-making tradition, the production processes adhere to the traditional regulations, using only Polska rye, purified water, and a distillation process by fire, without any additional additives. For its newest campaign brings together a stellar community of creatives inspired by pure emotion captured by a moment of feeling gloriously free. In this spirit, Award-winning filmmaker Taika Waititi, photographer Juergen Teller and choreographer JaQuel Knight create exciting visuals, a perfect mise-en-scene for the campaign's face, Daniel Craig. Through Waititi's unique lens, we get to follow Daniel Craig in picturesque Paris, making his way through the luxurious Cheval Blanc Paris arriving at a spectacular suite, and dancing his way to the Belvedere bar, where he takes an ice-cold sip before we hear the director yelling cut and giving instructions to take it from the top. It's a unique take that brings together the choreographed mise-en-scene as well as snapshots of how life might look like when the cameras are not rolling. This coming together of an inventive and gifted group of provocateurs, each with a taste for the unconventional results in the captivating yet unique campaign, a nod to Belvedere's longstanding beliefs of self-expression, authenticity, and style.

www.belvederevodka.com
Travel
Abadia Retuerta Hotel: Experiences in a historic Setting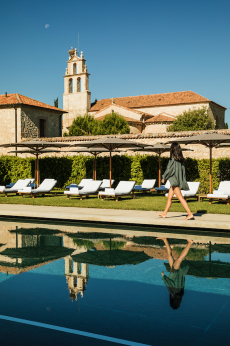 Excellent Wine, Spanish sun and Spa experiences in a historic setting Abadìa Retuerta welcomes its guest in a former monastery from the 12th century

In the heart of Spain, two hours north of Madrid, the lavender still smells in autumn, a hawk soars and the sun has enough warmth for you to enjoy the pool. Around Abadía Retuerta LeDomaine – a 5* hotel and winery – gentle hills rise with vines, olive trees and pines. The history of this special hotel is present everywhere, it makes you slow down, pause, relax: Located in a 12th century monastery the Santa María de Retuerta Abbey was founded by monks in 1146 and was later declared a Site of Cultural Interest by UNESCO in 1931. Much can be discovered in the old walls that protect you from the Spanish sun: an exclusive wine bar is hidden behind a door, and the oldest part of the property, the chapel, extends behind the cloister, where unique works of art find their ideal setting. Art – be it works from the Renaissance and Baroque – can be found throughout the luxury hotel, on the large historic walls of the corridors and restaurants as well as in the rooms and suites. And it is wondrous, the halls and gardens are so spacious that one feels like a single guest on the property, only at breakfast, dinner or at the fireplace in the evening other guests are suddenly around, enriching the pleasant atmosphere. Two Michelin stars have been awarded to the upscale gastronomy at the Refectorio restaurant under the direction of chef Marc Segarra, including a Green Star for the sustainable cuisine. In the impressive historic rooms, the former dining hall of the monks, local and seasonal products are served under the imposing vaulted ceiling alongside fresh vegetables from the restaurant's own organic garden. Visible from all windows in all directions is the essence that is the soul of Abadìa Retuerta: the more than 700 hectares of land where delicious grapes thrive and are treated by the Spanish sun. On the huge Abadía Retuerta LeDomaine vineyard, which extends in the valley of the Douro River, where the earth is particularly aromatic, various vines grow, awarded the "Winery for Climate Protection" seal. A guided tour of the wine cellar and the wine production facilities is recommended, and of course includes a tasting of the wonderful wines. Those who prefer spa and wellness will love the Abadìa Retuerta. Either enjoy the sun by the spacious outdoor pool or head to the underground spa, which is like an oasis of calm. A spa sommelier combines the healing properties of aromatherapy with wine and oils in the treatments. Whether in the spa, during dining, in the chapel or on a walk in the vineyards - the hotel is a place of deceleration, of retreat, of finding oneself. Just as the monks in the monastery celebrated already centuries ago. BK

www.abadia-retuerta.com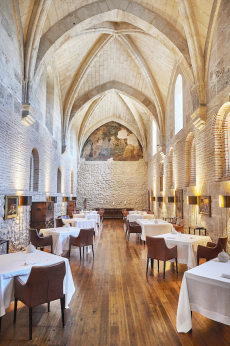 Art
Ninth Edition of the Max Mara Art Prize For Women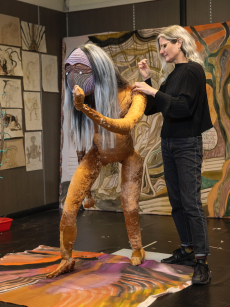 In 2005, Max Mara and Whitechapel Gallery brought the Max Mara Art Prize for Women into being. This biannual award, aiming to promote and support artists, identifying as women, hence enabling them to develop their potential with the gift of time and space, is the only one of its kind and awards its winner a six-month Italian residency tailored to fit the artist's needs to realize her winning proposal. During this residency, organized by Collezione Maramotti, the winning artist will have the opportunity to realize an ambitious new project which will then be presented in a major solo exhibition at the Whitechapel Gallery in London and at Collezione Maramotti in Reggio Emilia, which will then acquire it. As Bina von Stauffenberg, chair of the Max Mara Art Prize for Women jury, states, "It could not be more urgent or relevant to ensure that women artists are championed, and heard on the world stage. For more than a decade, this unique prize has successfully enabled women-identifying artists at different stages of their careers to develop their potential in extraordinary ways." In late October, the eighth edition's winner Emma Talbot's exhibition The Age/L'Età was presented in Reggio Emilia after having been revealed earlier this summer at Whitechapel Gallery in London. On this special occasion the five shortlisted finalists, Rebecca Bellantoni, Bhajan Hunjan, Onyeka Igwe, Zinzi Minott and Dominique White, for the ninth edition have also been announced. Rebecca Bellantoni is an artist who currently engages in research looking at the city and its multiple worlds in relation to the psyche, soul and body of the city dweller. She realizes this through her wide-ranging practice encompassing moving image, installation, performance, photography, textiles, printmaking, sculpture, sound-text and ceramics. Bhajan Hunjan is a trained painter and printmaker closely associated with the Black British Art Movement. Through her practice defined by a very individual visual language of free-floating lines, symbolic colors and shapes, repetition and script motifs, she is encouraging the viewers to reflect on social, spiritual and emotional environments. Onyeka Igwe is an artist and researcher who engages with the question "how do we live together?" in her practice. Particular interest is given to how spatial, sensorial and non-canonical ways of knowing can provide answers to these questions, resulting in "figure-of-eights" drawing upon archives, narration and text to expose a multiplicity of narratives. Zinzi Minott's practice is focused on the relationship between dance, bodies and politics and how dance can be perceived through the prisms of race, queer culture, gender and class. She is especially interested in the Black female body and Caribbean stories, such as the Atlantic Slave Trade and the migration of the Windrush Generation. Dominique White's practice is weaving together the theories of Black Subjectivity, Afro-pessimism and Hydrachy with the nautical myths of Black Diaspora into a term she defines as the Shipwreck(ed) in relation to "a Black future that hasn't yet happened but must."

www.maxmara.it
www.collezionemaramotti.org
www.whitechapelgallery.org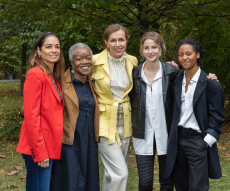 Art
Saint Laurent Rive Droite invites artist Elladj Lincy Deloumeaux
Marking Art Basel Paris +, the Saint Laurent Rive Droite stores in Paris and Los Angeles present a series of specially commissioned artworks created by the artist Elladj Lincy Deloumeaux. The Paris-based artist investigates the relationship between people and ideas, which he addresses in an open and vibrant way in his artworks. With a particular focus on Afro-Caribbean images, he emphasizes aspects of everyday life, mythologies, iconography, beliefs, and religious heritage. His art evokes a dual identity by incorporating found or familiar objects into still life and painting series.
The exhibition was organized in partnership with the Cécile Fakhoury gallery, which has been based in Abidjan since 2012 and in Dakar and Paris since 2018. In order to achieve the goal of promoting contemporary art across the African continent, Cécile Fakhoury is developing a perennial infrastructure thus creating and establishing awareness, creativity, and diversity. The gallery unites artists whose artworks use barrier-breaking language while rejecting geographic stigmatization.
The exhibition includes about thirty artworks, which will be displayed in Paris, and two large artworks in Los Angeles: Antan Lontan and Au bord du ruisseau. JW

www.cecilefakhoury.com
www.ysl.com
Fashion
The Palace Gucci Collection
Italian luxury and London streetwear melt together as Gucci's creative director Alessandro Michele invites Palace Skateboards to an astonishing collaboration. Although the two brands appear to be opposites at first glance, the Palace Gucci Collection discovers their common ground of approaches, obsessions, and meanings. The designs focus on modern street culture as they unite the creative universes of both Palace and Gucci, captured in surreal imagery accompanying the collection. The film by Max Siedentopf connects the two different realities, thus encouraging viewers to discover their own anomalous affinities.
The collection includes accessories and clothing for all genders, that is Palace presents for the first time women's ready-to-wear designs. Alongside Gucci icons, such as the Horsebit loafer, Palace's staples are represented as well, meaning soccer tees, denims, and tracksuits. Within the collection, Gucci's heritage gets revamped, as for instance, the legendary monogram canvas incorporates a Palace 'P' while duffles appear reshaped in a pyramidal form. The fusion of the diverse aesthetics culminates in the logo, which merges Gucci's double-G with Palace's Tri-Ferg.
The result is an inspiring collection of high-end streetwear, which bears the signature of two modern and acclaimed brands that have discovered new sides of themselves together. JW

www.gucci.com
www.palaceskateboards.com
Fashion
Dion Lee launches Dion Lee Code
Dion Lee introduces Dion Lee Code as it launches the Façade Digital NFT collection in collaboration with MA+CREATIVE. As the official launch into web 3, the collection is dropping today, including five digital garments and two full looks. The looks are distinguished by a semi-sheer lace as lace serves as a window into the character's identities. Beyond that, the first look consists of a silicone wave lace frock coat, contour corset, and, contour lace trousers, while the second look features a visceral lace hooded tank and blueprint denim.
The designs stem from Dion himself while the universal format in 3D files was created by the NFT artist Sam Walker. Entitled Façade, the collection investigates, how far we use constructed identities to build up a facade. The designer thus enters another dimension, where we can choose our characteristics, no matter the societal circumstances and external controls. Sevdaliza's track System was chosen to accompany the collection as it was inspired by Sevda's experience as a woman in the music industry who does not identify in any way with industry standards.
Dion Lee has announced, to donate part of the proceeds to the Women's Reproductive Rights Assistant Project, which offers comprehensive support for women to have a safe, legal abortion or emergency contraceptives. JW

www.dionlee.com
Fashion
Hublot and Shepard Fairey present a harmonious watch design
Cooperated for the first time in 2018, Hublot and Shepard Fairey now return with a fascinating collaboration, exclusively available in North America. As the internationally renowned street art artist aligns with Hublot's spirit of crossing boundaries and setting new limits, the collaboration came naturally to both of them. In various fields, the artistic all-round talent and founder of the fashion brand OBEY Clothing was able to achieve success. He gained particular notoriety for his poster Obama Hope from 2008 or the large-scale installation Earth Crisis from 2015, the first-ever installation to be seen on the Eiffeltower.
To follow up on the last collaboration between Shepard Fairey and the Swiss luxury watch brand from 2020, they choose again a model from the Classic Fusion-Collection. This time, Shepard embellishes it with a mandala, to which the watch's elements are attached. Distinguished by its all-black design, it consists of a chronograph movement, a ceramic case, and Hublot's classic black rubber strap as well as sapphire glass that covers the bottom of the case. The mandala, the core of the outstanding design and significant to Fairey's work, exudes harmony, as it connects the artistic skills of the two exceptional cooperation partners. JW

www.hublot.com
Fashion
Zegna officially partners up with Real Madrid
The Italian luxury brand Zegna and the famed football club Real Madrid have officially teamed up as Zegna becomes Real Madrid's Official Luxury Travelwear Partner. Together, they form a partnership of superlatives, built on shared values and shaped by a relentless desire to make a positive difference on Earth. First seen during the inaugural Champions League game of the 2022/2023 season, the items of the exclusive collaboration will increase in variation over the upcoming seasons. Its core consists of the signature overshirt, the chore jacket, and matching jogger bottoms or narrow trousers as well as crewneck underpinnings and signature triple stitch shoes. The jackets carry Zegna's new brand sign, amplified through Real Madrid around the world. Characterized by a double-stripe graphic, it honors the 232 Road that crosses through Oasi Zegna, which was created as a result of the founder's early commitment to sustainability.
"I am outstandingly thrilled about our newly announced partnership with the Real Madrid, one of the most recognizable brands in the world with a loyal and enthusiastic fanbase. The importance of values is what attracted Zegna and Real Madrid. We are both convinced that what is visible, either an item of clothing or winning a football match, only matters if there is an ethical stance behind it", affirms Gildo Zegna, Chairman and CEO of Ermenegildo Zegna Group. JW

www.zegna.com
www.realmadrid.com
Fashion
Stone Island launches exclusive pieces for its 40th anniversary
This year marks a special anniversary for the Italian fashion brand Stone Island. 40 years ago, the international and avant-gardistic label was founded, presenting streetwear, fashion, and luxury in a unique mix from the beginning. First worn and acclaimed by the Milanese paninari, a subculture of the 80s, Stone Island soon found its way to fashion lovers all around the world. To celebrate this significant anniversary, the brand launched a series of garments within the Autumn Winter 2022 2023 collection. For the core of this special collection, the brand chose to revamp the iconic 982 Tela Stella Cape. Distinguished by a new choice of fabric, it is composed of two materials. The outer one references a fabric from the Stone Island archives and is called MICROFELT WITH RIPSTOP COVER. Protecting the outside due to a translucent polyurethane cover with a ripstop motif, it consists of a very light non-woven fabric made out of compact nylon fibers, creating a paper-like effect. The fabric that lies underneath is crafted in woolen cloth. An additional anorak is fabricated in the same materials as it further incorporates the PrimaLoft Silver padding, which is an exclusive 100% recycled blend. The exceptional materials used for these garments mirror Stone Island's demand for itself to provide high-quality, which it consistently followed for the past 40 years. JW

www.stoneisland.com
Fashion
Moose Knuckles teams up with Post Malone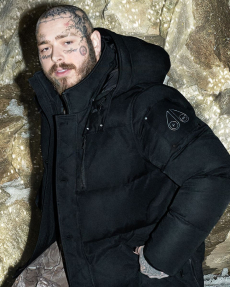 Over one year ago, Canadian luxury outerwear label Moose Knuckles and Global superstar Post Malone started working on an exciting collaboration behind closed curtains. Now, the 10-piece gender-neutral capsule collection is finally out. As someone experimental who expresses himself through his inventive style, Post Malone seems to fit perfectly with the rebellious spirit of Moose Knuckles. He explains: "This partnership with Moose Knuckles felt super organic from the beginning. The collection is about celebrating and doing things your own way based on your natural instincts." Composed of iconic Moose Knuckles silhouettes, the collection includes amongst others the 3Q jacket reworked in Realtree camouflage print in black and customized golden yellow. Furthermore, the collection is characterized by further customized design details such as all-black metal hardware, zippers, and a special edition logo on the above-mentioned 3Q jacket. Beyond that, the insulating "Bunny" hoodie in black sherpa, equipped with a detachable lamb shearling hood is featured in the collection alongside a matching sherpa jacket and jogger. In terms of accessories, the collaboration offers a sherpa baseball cap adorned with a new logo patch. For the first time in a collaboration, Moose Knuckles will also include the 3Q for children, providing the whole family with the eye-catching collection. JW

www.mooseknuckles.com
Fashion
ICEBERG presents its Fall Winter 22-23 collection Back in Black!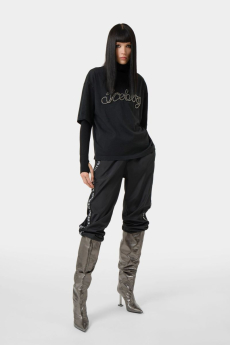 ICEBERG's new Fall Winter 2022-2023 collection for men and women welcomes the cold seasons of the year in its unprecedented black aesthetic. Designed by the brand's creative director James Long, the collection embodies his vision of "traveling without moving and being present and visible without being physically there". Portraying the Italian chill, a lot of the garments link traditional dress codes with outerwear thus making them more suitable for fall and winter.
The collection stands out with unique clothing items, such as heavy leather jackets and elegant jumpsuits, combining exciting cut variations in their catchy appearance. One of the highlights of the ICEBERG Fall Winter 2022-2023 collection is the eco-leather embellished jacket for women, which features a lurex entwined furry collar alongside crystals, rounded studs, and Iceberg logo engraved buttons. Exuding to the spirit of the brand, its name ICEBERG is spelt out on both sleeves with rounded gunmetal studs. Also in terms of accessories, James Long delights with his new creations. The Black Square Base Heeled Boots are particularly striking and essential to every woman's wardrobe. Defined by clean and elegant lines, these pointed-toe boots have an exceptional stiletto heel with a square base. JW

www.iceberg.com
Fashion
The Furla METROPOLIS REMIX dives into music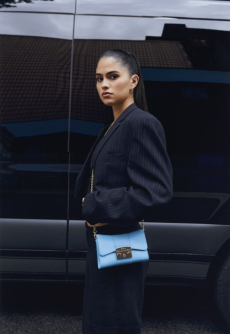 In the course of the Milan Fashion Week 2022, Furla launched the new METROPOLIS REMIX. This special bag is representing the newly established connection between the Italian brand and the world of music. It thereby also takes the position against the gender gap in music and fosters a more equitable opportunity for women in the music scene. To gain more attention for this current and relevant topic, Furla partnered up with She Is The Music, a non-profit organization founded by Alicia Keys in 2018, which pursues the goal to increase the number of women working in music, thus developing the next generation of women in music. For the organization to continue its educational programs, Furla has come up with a special donation campaign. During the Milan Fashion Week, customers directly supported She Is The Music by purchasing the METROPOLIS REMIX, as Furla has decided to donate the proceeds to the non-profit. Furthermore, the bag and the project was presented in a short fashion film, called Music of the Metropolis, featuring Kim Turnbull who talked about her career as a female DJ.
The design of the crossbody clutch made in Italy is defined by the soft calf leather and a bow shape, reminiscent of the Furla Metropolis. JW

www.furla.com
Fashion
Brunello Cucinelli SS 23 dresses the "female explorer"
With a special focus on high-quality and artisanal workmanship, Brunello Cucinelli created the new Spring Summer 2023 collection which revolves around the idea of a "female explorer". The collection stands for an elegant, luxurious, and discreet style, reinforced through the beige colors, significant to the brand. Earth tones and delicate pastel tones round off the palette and, in the context of the "explorer", portray impressions gathered on the journey. Centered on the idea of "fluid tailoring", the garments were crafted in a versatile and easy-going manner, balancing out the orderly elegance and masculine tailoring. As the core of the brand, knitwear becomes a feminine and contemporary element within the new collection. Textured embroidery and crochet stitches show once again the brand's high expertise in craftsmanship. A highlight of the collection is the new Twin Wear category which consists of matching sets as a feminine alternative to dresses, jumpsuits, and suits, allowing versatile combinations.
The accessories of the Spring Summer 2023 collection seem contemporary and timeless at the same time. Taking on the neutral colors of the garments, these accessories can be described as minimalistic and pure. Knitting techniques used for the clothes can also be seen on everyday accessories, whose material gets enhanced by special textures, such as nappa leathers with broderie anglaise-style embroidery. JW

www.brunellocucinelli.com
Fashion
Jimmy Choo extends its Varenne family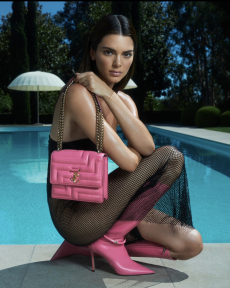 Jimmy Choo introduces the Varenne Avenue Collection for the coming season of Autumn 2022 as an extension of the beloved Varenne family. This new series of exceptional handbags exudes the spirit of the Jimmy Choo muse's glamorous world and of the cosmopolitan cities in which they live as it embodies a dynamic lifestyle. The design is distinguished by the new matelassé pattern and adorned with statement gold hardware as well as the iconic JC monogram. Modern yet timeless in its sensory feel, the collection stands out due to its playful colors of pink, gold, burgundy, and black. Each of the pieces of the Varenne family is made in Italy, ensuring high quality and dedication to craftsmanship, significant to Jimmy Choo.
The collection includes a square quad, shoulder, and clutch with gold and leather chain strap as well as the pouch clutch and small leather goods. Sandra Choi, creative director of Jimmy Choo concludes: "Our new Avenue quilting pattern lends a graphic depth and richness that animates our signature Varenne's personality. The linear pattern draws inspiration from our urban habitat, the avenues we navigate daily dreaming with every step of arriving somewhere full of wonder." JW

www.jimmychoo.com
Fashion
CHANEL introduces tweed for the eyes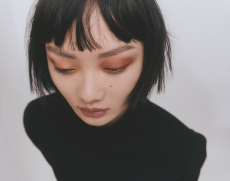 Since its founding, CHANEL has been known for using tweed. Now, the material so significant to the French Maison gets to be the main inspiration for their new four-color eyeshadow palettes. Not only is the surface of each shade embossed with a tweed pattern, but they also resemble the intertwined fibers as they can be beautifully blended, varying in their intensity. Both distinguished by an elegant effortlessness, the special eyeshadow collection pairs the compacts with tweed pouches. The latter are made by Maison Lesage, part of CHANEL's Métiers d'art since 2002.
Available in four different harmonies, the palettes stand out due to their versatility which can create simple as well as sophisticated looks. The first one is titled Tweed Fauve and includes radiant warm colors, ranging from an intense aubergine to an amber gold. Tweed Cuivré is distinguished by a gold shimmer, that evokes richness and brilliance in the precious metals dear to Coco Chanel. The third, Tweed Pourpre links softness with audacity as it combines pinks and mauves with a satin and iridescent finish. Natural brown and beige shades are finally offered in Tweed Brun et Rose.
To round off the collection, CHANEL also introduces two new shades of STYLO YEUX WATERPROOF, the illuminating Cuivre Doré and the intense Bois Noir. JW

www.chanel.com
Fashion
Stone Island presents Ghost Pieces for FW 22/23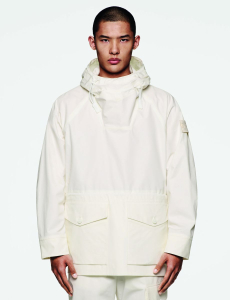 For the season of Fall/ Winter 2022/2023 Stone Island introduces monochromatic Ghost Pieces, based on the concept of camouflage. Even the Stone Island badge, significant to the Milan-based brand, was converted into a new monochromatic version to blend with the clothing items, embellishing the left sleeve. Field jackets, military smocks, overshirts, Bermuda shorts as well as trousers are fabricated in an organic and long-lasting cotton fabric, called O-VENTILE®. They are a great fit for every weather thanks to the special weaving of the fibers offering protection against wind and rain while remaining breathable. To further weatherproof the outwear pieces, thermo-taped seams are incorporated into the timeless designs. As it is a completely natural fabric developed in the U.K., it provides a comfortable feel as well as a high quality. Knits completing the collection are made of cashmere and adorned with military details while heavy cotton was used to create warm fleeces. The color palette of the collection ranges from black and dark gray to lighter gray and off-white, creating garments that are easy to combine, enhancing every outfit. JW

www.stoneisland.com
Art
Unseen celebrates its 10th edition
Celebrating its 10th anniversary, the international photography fair Unseen is returning to Amsterdam. For this special occasion, 70 galleries, 65 publishers, and 12 special projects gather on the Westergasterrein in the Dutch capital. Creating an epicenter of the international world of photography, the event is defined by its intimate atmosphere and its high quality. The group of participants is composed of long-standing Dutch galleries such as Galerie Ron Mandos which presents photographs of Erwin Olaf and newcomers like Bitforms Gallery which specializes in digital art. International contributions are also made by the Indian gallery Nature Morte and the Robert Morat Galerie from Berlin. This year, Unseen presents for the first time NFTs, as it explores the innovative offering of the digital art world. Investigating the boundaries of the photographic medium, the prestigious fair also shows works of various artists in the exhibition UNBOUND. The Book Market showcases photography and art books of independent and international publishers, featuring a new Book Award in collaboration with GOST Books. Director Roderick van der Lee explains: "This year we have worked closely with several galleries to present this 10th edition of Unseen, making another global reflection of the latest developments in art photography, which has worked out very well. With 70 galleries from 16 countries, including the US, Mexico, Morocco, India, Iran, and South Africa, this edition (presents) an inspiring picture of the direction in which the art form is moving."
The photography fair Unseen will take place from the 15th to the 18th of September, 2022 at Westergas in Amsterdam. JW

ERWIN OLAF
Kleines Requiem VI, 2022
Courtesy of the artist and Galerie Ron Mandos

www.unseenamsterdam.com
Cinema
Cartier returns as the official partner of the Venice Film Festival
For the second year in a row, the French Maison Cartier returned as the official partner for the 79th Venice Film Festival "Biennale Cinema 2022". This partnership, which started in the year 2021, manifests Cartier's deep passion for art, in particular film. As part of its initiative, Cartier presented the "Cartier Glory to the Filmmaker Award", which went to film director, writer, and producer Walter Hill. His new movie Dead For A Dollar, starring Christoph Waltz, Willem Dafoe, Rachel Brosnahan, and Benjamin Bratt premiered at the Venice Film Festival.
Furthermore, Cartier is hosting the "Cartier Art Dialogues", two master classes that highlight the interaction between film and music. Promoting art and culture is deeply rooted in the French Maison's history as Cartier pieces are featured in a variety of world-famous films and can be seen on red carpets around the world, worn by icons such as Grace Kelly and Josette Day. For this reason, Cartier decided to organize an exhibition, showcasing jewels from the Cartier Collection, during the Biennale. Beyond the borders of the Festival, Cartier also engages in other projects in Venice to not only preserve the cultural heritage of the glorious city but also to support the ongoing development of its cultural life. Senior Vice President and Chief Marketing Officer Arnaud Carrez explains: "Dialogues with the art world have always been a source of creative inspiration for the Maison. (...) Our collaboration with the Mostra is a new opportunity to bridge between all the artistic disciplines that are close to our hearts". JW

www.labiennale.org
www.cartier.com
Fashion
Louis Vuitton celebrates its watchmaking - anniversary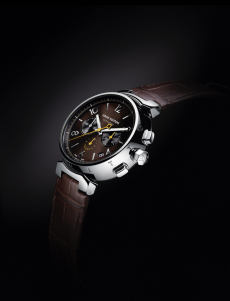 20 years ago, Louis Vuitton released its first-ever watch, the Tambour, which embodied the French Maison's new passion for watchmaking. Two decades have passed since then, during which the Tambour has become an integral part of the luxury brand's watch collection. While taking on different versions, it always remained in Louis Vuitton's spirit as it combines the Art of Travel with bold creativity in the fields of technology and craftsmanship. 2009 marked an innovative year in the Maison's history of watchmaking, as the then-launched Tambour Spin Time replaced clock hands and indexes with rotating cubes. This innovation was followed by the strong and masculine Tambour Evolution in 2014 and the sleek Tambour Slim in 2016. After the launch of further variations of the elegant watch model, the Tambour Carpe Diem was honored by receiving the Audacity Prize at the Grand Prix d'Horlogerie de Genève in 2021, while the Tambour Street won the Diver's Watch Prize. Now, in 2022, Louis Vuitton has revealed the third generation of its Tambour Horizon Light Up model, testifying to the Maison's dedication to technological innovation. The French Maison now celebrates its two decades of watchmaking with the Tambour Twenty, available in a limited edition of 200 pieces. Honoring the original Tambour, this model is defined by its deep, flared shape and a brown sun-brushed dial as well as the chronograph's long yellow hand glides. JW

www.louisvuitton.com
Fashion
MARTAN recycles Hotel textiles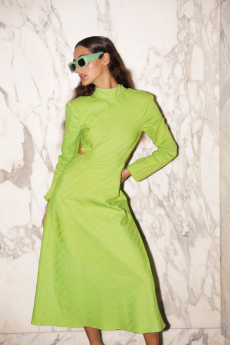 The sustainable brand MARTAN opened Amsterdam Fashion Week in the Grand Hotel Amrâth Amsterdam. The hotel not only served as a location for the event but also as a major inspiration and as the fabric supplier for the collection. MARTAN is known for using luxury hotel textiles, which it transforms into colorful garments.
Built 107 years ago and known as "Het Scheepvaarthuis", the hotel's architecture and history are referenced in the collection. For instance, the iconic railing of the hotel inspired a print and the tiling of the floor influenced the design of the earrings. Another pattern is distinguished by the motif of wavy lines which can also be found in the silhouettes of the clothing items, imitating the flow of the oceans. The trenchcoats are a highlight of the collection, defined by their shiny coating. Ranging from soft shades of pink, blue, and camel to bold colors of Green and Fuchsia, the color palette provides an exciting and refreshing contrast. It is almost impossible to tell that these garments are fabricated in old hotel linen. For Fashion Week director Char Li Chung created a story of people traveling to different destinations. Worn by models and actors such as Susan Visser and Joes Brauers, the collection and the fashion show represents the history of the Amrâth, the event's core. JW

www.martan-official.com
Art
Prada exhibits Who the Bær by Simon Fujiwara
First shown at Fondazione Prada's Milan venue in 2021, the Italian brand now presents the exhibition Who the Bær by Simon Fujiwara at the Prada Aoyama Tokyo. At the center of the exhibition is the cartoon bear Who, a completely undefined personality, who takes on the chaotic journey through a "Whoniverse" of images in order to find and shape their identity. Simon Fujiwara created this character as a mirror of our society, which is obsessed with finding one's true self. Thus, Fujiwara and Who explore a variety of current topics, ranging from climate change to plastic surgery.
Inspired by fantasy literature, the artist lets Who's story begin with the question "Who is Who?", depicted on a collage in the form of a book cover. He continues with a stop frame animation titled "Hello Who?" posing philosophical, authenticity questions to the cartoon bear. The exhibition also includes childlike drawings which show how Who is able to change his identity at any given moment, referring to today's logic of social media. In this manner, the bear continues his journey of self discovery.
The artwork reveals a paradox of our society as we strive for fantasy and authenticity all at the same time. Reflecting the real world by leading the audience through his fantastical and sometimes disturbing universe is significant to Fujiwara's body of work.
The exhibition Who The Bær by Simon Fujiwara will be open to the public from October 15th, 2022 to January 30th, 2023 at Prada Aoyama Tokyo. JW

www.fondazioneprada.org
Fashion
WILLIAM FAN launches SS 23 during Berlin Fashion Week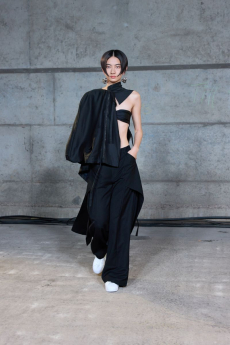 WILLIAM FAN launched its new collection ETERNITY, which the brand presented during Berlin Fashion Week. For the Spring/ Summer 2023 season, the fashion designer was inspired by the nightlife as it gives you the feeling of letting go together. It creates a moment of weightlessness, in which posed evening encounters become unfiltered. The clothing items of the collection are defined by sharp tailoring and astute patterns which are combined with fresh, asymmetrical silhouettes and experimental draping. The crafting of the garments reinforces the effect of their movement as a hand pleated fusion of skirt and trousers is reminiscent of a skirt slipping down the hip while dancing. For ETERNITY, the fashion designer revamped the "Wyona" jacket by embellishing it with a metallic zipper as an athletic element, which is characteristic to the collection. To further add a special touch to the clothing items, various pleats and open cut edges were incorporated. The color palette of the collection is defined by shades of black, gray and brown as well as hints of gold and silver, while shimmering sequins in green and blue accentuate coats. For the first time WILLIAM FAN included his chinese sign in some of the garments. Echoing the energy of going out, the styling of the collection re-explores the familiar, trying out new things. JW

www.williamfan.com
Art
Brussels Gallery Weekend - Sofia Pashaei at Ballon Rouge
On the occasion of Brussels Gallery Weekend Ballon Rouge is presenting Sofia Pashaei's first solo exhibition Meaning in the off hours.
The exhibition is showing paintings, which revolve around relationships individuals have with themselves and other people. An important component in the settings portrayed is time. It is depicted in the change of architecture and objects decorating the scene, creating a narrative which then again takes time to fully grasp. Seamlessly and smoothly, the Swedish artist paints interiors and pieces of furniture transitioning in one another, thus a couch can become a bathtub and so on. In these sceneries Pashaei refers to human identities, which can be similarly structured as many dissonant, but woven rooms. Hence, the architecture depicts splitted identities, common for families of immigrants. Nevertheless, a room or a house holds and reveals all parts of the identity of the person living there. In many cases the painter uses the same symbolism in her works, such as a toy-like bird silhouette which represents childhood. Another popular one is the lemon, referring to the saying "When life gives you lemons, make lemonade". Depicted in various ways, the meanings differ from one to the other, for example a halved lemon symbolizes a secret gladly revealed. Touching the heel of a foot or the mouth, the lemon shows the supporting yet inhibiting effect of the changing form of one's identity.
The exhibition Meaning in the off hours by Sofia Pashaei will be open to the public from September 8th to October 23rd, 2022 at Ballon Rouge in Brussels. JW

SOFIA PASHAEI
The Blue Room, 2022
Oil on linen, 80 x 60 cm
Photo credit: Seppe Lewaut
Courtesy of the artist and Ballon Rouge, Brussels

www.ballonrougecollective.com
Art
Brussels Gallery Weekend - Fabrice Monteiro at Didier Claes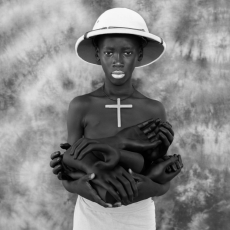 Didier Claes returns to Brussels Gallery Weekend this year with a solo exhibition, showing photographs of Belgian/Beninese artist Fabrice Monteiro. The 8 Mile Wall shows a series of portraits as the artist's favorite form of expression. His works deal with the stereotypes of black people that date back to the time of slavery and colonialism.
When Monteiro was still a child, he had a conversation with his father, which made him realize the subconscious effect of aesthetic details, such as clothing, on how we perceive each other. Many years later this conversation led him to create this series, trying to deconstruct this way of thinking. The title of the series, The 8 Mile Wall, refers to a wall of the same name in Detroit, which runs from 8 Mile Road to Pembroke Avenue for 0.8 kilometers. Built in 1941, the wall was supposed to separate black and white homeowners as black people were not welcome on the other side of it, epitomizing racial discrimination. As his photographs portray his complex heritage, they also illustrate the difficult and ambivalent relationship between Europe and Africa, one of curiosity and rejection. His works aim to break down the hurtful and widely used stereotypes by countering the clichés and presenting black people with dignity as a symbol of mental oppression.
The exhibition The 8 Mile Wall will be open to the public from September 8th to November 11th, 2022 at Didier Claes in Brussels. JW

FABRICE MONTEIRO
Pitit Noir, 2017
Digital art print, 120 x 120 cm
Courtesy of the artists and Didier Claes, Brussels

www.didierclaes.com
Art
Brussels Gallery Weekend - Andrea Büttner at Jan Mot
In the course of Brussels Gallery Weekend, Andrea Büttner is showing the second part of her exhibition Painted Ceiling and Floor at Jan Mot.
The German artist had previously shown the first part of this exhibition in an art gallery in London in the year of 2019. This time however, the artwork, a painted ceiling, rather resembles a painted grid. Büttner had already shown such a grid in another gallery the previous year. The artist's main focus is to show ceiling painting as the connecting element between architecture and painting. Furthermore, her works are reminiscent of Romanesque chapels, where the ceiling paintings have a special significance for the viewer's experience. Besides the ceiling, the floor of the gallery also becomes a work of art, as it is also painted by Büttner. In doing so the artist wants to entice a change of view from top to bottom since she is particularly interested in this kind of movement as a social and economic condition as well as one part of doing labor.
The exhibition Painted Ceiling and Floor by Andrea Büttner will be open to the public from September 8th to October 29th, 2022 at the gallery Jan Mot in Brussels. JW

ANDREA BÜTTNER
Painted Ceiling and Floor
Vue d'installation Jan Mot in Brussels (detail), 2022 
Photo credit: Philippe De Gobert
Courtesy of the artist and Jan Mot, Brussels

www.janmot.com
Fashion
Bottega Veneta shows craft in motion
Exchange and teamwork are at the core of the imagery for Bottega Veneta's Winter 22 collection. Gaining new perspectives on the brand and the collection from one another, creative director Matthieu Blazy brought together a cross-generational cast, composed of different fields, such as photography, cinematography, and modeling. In doing so, the creation of the imagery reflects the tradition and history of the luxury brand, as Blazy puts it himself: "Bottega Veneta was created by a collective of artisans. This is the history and this is how we approached (the project) (...), with many different ways of seeing." The series consists of 41 still and moving images mainly shot on film. Since the imagery was produced over several weeks, the participating talents were able to form deeper connections, leading to an exciting exchange which then again enriched the outcome of the project. Some of them have never worked in fashion before, others have a long history in it, hence the images link fresh and more experienced approaches to presenting the collection. Exploring the intimate, yet carefully constructed space between the creation and the capture of a moment, the images are distinguished by Blazy's notion of craft. They portray the true character of the brand, composed of movement and pragmatism as well as high quality and luxury. JW

www.bottegaveneta.com
Art
Johan Tahon exhibits sculptures from another dimension
During his upcoming exhibition RAY, the Belgian artist Johan Tahon offers new insights into his work, which he displays in the gallery Gerhard Hofland. To create his art, Tahon draws inspiration from his own life and environment as well as his subconsciousness. His sculptures seem like creatures from another, superordinate world who have been instructed to deliver messages and truths, while also posing fundamental questions to humanity. An ancient atmosphere builds up around them, making them seem intense and kinetic but also strange as if they do not belong here. Fragile and yet tremendous, the sculptures are defined by their uneven surface, covered in hand-mixed glazes of a glowing palette of blue, white, and silver. Tahon explores the boundaries between the subconscious, our empirical world, and the beyond, resulting in timeless artifacts, distinguished by their deep gravity and vigorous materiality. In his work, he moves closer and closer to a universal essence echoing the human urge to create a larger meaning. The artworks by Johan Tahon involve the audience in a special aura, inviting it to reflect, contemplate and understand or even discover one's own person.
The exhibition RAY will be open to the public from September 2nd to October 8th, 2022 at the gallery Gerhard Hofland in Amsterdam. JW

www.gerhardhofland.com
Fashion
Borbonese opens boutique in Porto Cervo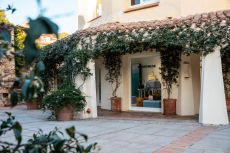 After having a pop-up tour in Germany, the Italian bag and accessory brand Borbonese now opens up a new boutique in Porto Cervo for the summer months. In the enchanting town of the Italian island of Sardinia, where the high society of Europe likes to enjoy its vacation, the brand unfolds a new concept, which will later be adopted for further openings. The concept consists of combining elements of a boutique with elements of an art gallery, thus creating a unique retail experience and content conveyor. For this matter, the brand has furnished the selling room with sustainable furniture, which can later be changed in position and composition to display the bags in different ways. As LED videos and neon elements round off the appearance of the store, a real and at the same time virtual experience emerges.
The boutique will present new models from the Fall Winter 2022 collection, including the Epoque and 011, as well as the Strapcycle line of last season, made of a special and completely recycled polyester canvas by using Italian techniques of fishing and weaving. Alessandro Pescara, CEO of Borbonese explains that the brand chose Porto Cervo as the location, as it represents the brand's most important values, "creativity, digital innovation, sustainability without neglecting the historical heritage of the brand." JW

www.borbonese.com
Fashion
UNDERCOVER meets Eastpak
For its latest collection, US bag brand Eastpak collaborated with Japanese designer and founder of UNDERCOVER Jun Takahashi. To capture the unique spirit, heritage, and outlook of both brands, the Tokyo-based designer created packs that combine military utility with urban subculture in three highly functional styles. Made from recycled materials in various, bold monochromes and emblazoned with the words "Chaos/ Balance", the collection gives a unique overall picture.
The UC Padded Doubl'r stands out not only for its striking colors but also due to its high functionality as it is equipped with a padded laptop sleeve, inner and outer zippered pockets, and other smart details. For this piece, Takahashi chose to also create a version in UC Black Denim that deviates from the usual monochromes, used for this collection. The UC Crossbody, which can also be worn around the waist, is characterized by its zippered main compartment, inside stash pocket, and detachable shoulder/ waist strap. Finally, the UC Stand+ makes a great travel companion. It is fabricated from recycled lining, binding, and webbing and comes with a padded laptop sleeve and removable shoulder strap, thus joining the whole collection in its functionality and cool effortlessness. JW

www.eastpak.com
www.undercoverism.com
Fashion
Iris van Herpen and Aubade create a botanical seduction
"Sensory Illusion" is the title of the collaboration between Parisian lingerie manufacturer Aubade and Dutch couturier Iris van Herpen. Inspired by nature, its fragility, and vibrant vitality, Iris van Herpen created undergarments with leaf embroidery and mystic ornaments, diving into a magical and botanical world. For the creation process of the pieces, the talented designer explored the archives of the French lingerie pioneer during which she came across Aubade's iconic and ethereal gradations. As a new interpretation, she constructed straight lines, contrasting with the organic, embroidered motives. A seductive see-through effect is created, which continues at the back of the bra in a refined embroidery. Available in the colors "Golden Leaves", a mix of bronze and black, and "Silk Rose", different shades of pink, the collection offers two different variants of sensuality.
The capsule includes ten pieces, three of which are different kinds of bras. Each of them has matching panties, which range from tanga to Italian slip to shorty made of Saint-Tropez-lace. A body, a nightgown, and a high-waist suspender belt complete "Sensory Illusion". Reminiscent of nature's diversity, a u-shaped, golden piece of jewelry distinguishes the triangle-bralette, the body, and the nightgown in between the cups. Bringing together two masters of their craft who value luxurious materials, the exclusive Capsule collection merges seduction and savoir-faire. The exceptional craftsmanship of Iris van Herpen and the decades of experience values of Aubade, result in an alluring and unique collection of high-quality lingerie. JW

www.aubade.com
www.irisvanherpen.com
Art
"Come Home Again" by Es Devlin highlights London's endangered wildlife
British artist Es Devlin has teamed up with Cartier and the London Wildlife Trust to present a large-scale public artwork in the Tate Modern Garden in central London. "Come home again" draws attention to the 243 most endangered species of London's Wildlife, including insects, birds, and plants. The illuminated sculpture depicts a sliced open-scale model of the dome of St. Paul's Cathedrale, swarmed with Devlin's pencil drawing of each of the living creatures. The visitors are invited to participate in the artwork, as QR-Codes within the choral tiers will guide them to more information about London's wildlife. Thus, the artist aims to motivate the visitors to further engage with the issue presented. Furthermore, London-based Choral groups will accompany the artwork each evening at sunset with an interpretation of Choral Evensong, a kind of sung evening prayer. Devlin combines the singing with the voices and sounds of the species, illustrating London as the interconnected web of species and cultures that it is. In doing so, Devlin wants to build a connection between London's residents and the non-human inhabitants of the British capital.
Cyrille Vigneron, CEO of Cartier, explains that "Art and creativity are important in order to talk about today's world in a human and touching way. Coming Home Again represents how we can be inspired by the beauty of the world wherever it may be".
The exhibition will be open to the public from the 16th to the 25th of September 2022. JW

www.wildlondon.org.uk
www.cartier.com
Fashion
The New Gucci Décor Collection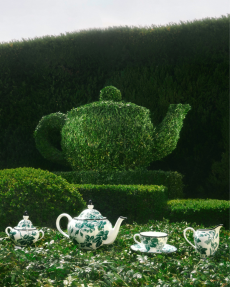 Over the past years, the world has become aware of the importance of the home, as a space of peace, which should radiate a sense of peace. Not just a place to rest, but a place of comfort in line with one's own taste. In this sense, the new Gucci Décor Collection is providing an eclectic selection of decorative homeware which will offer customers the opportunity to dress their living space with the compelling visual narrative of Gucci's contemporary romanticism. By introducing new forms of archival floral print and animal totems, this new collection brings the physical and spiritual beauty of nature to the home. Romantic and whimsical, each piece is a unique objet d'art perfect to accentuate one's living space according to one's individual taste, keeping in line with the House's spirit of self-expression. It is a surprising and joyous juxtaposition of hues, patterns and designs, which forge new connections between previous opposites. The campaign envisioned by Alessandro Michele and realized with photographer Max Siedentopf perfectly encapsulates the Gucci Décor items' natural iconography through a mise-en-scène in the pristine setting of a topiary garden. The lighthearted landscape with its lush greens provides the ideal poetic setting from which the natural curiosities seen throughout the collection can faithfully emerge.

The Gucci Décor Collection will be released gradually in select Gucci boutiques across the globe and online.

www.gucci.com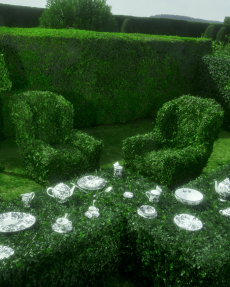 Art
"The Age / L'Età" by Emma Talbot, Winner of the 8th Edition of the Max Mara Art Prize for Women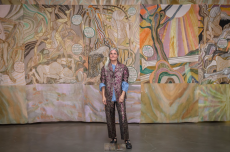 Since 2005, Max Mara and Whitechapel Gallery have partnered up to award the Max Mara Art Prize for Women. This is a biannual award supporting UK-based female artists who previously have not had a major solo exhibition, with the goal of promoting female artists and providing them with a platform. As part of the prize, each winning artist is awarded a six-month bespoke residency in Italy organized by Collezione Maramotti in order to create new works and evolve as an artist. Emma Talbot was the winner of the 8th edition of the Max Mara Art Prize for Women. Following her win, Talbot spent her six-month residency in Italy researching textile craftsmanship, permaculture, classical mythology and exploring the countless historic sites and institutions. The resulting body of works of this time is entitled "The Age / L'Età", which is now on display at the Whitechapel Gallery in London. This new body of work explores the topics of representation and ageing, power and governance, and attitudes towards nature. It is a mixture of different mediums and materials, combining animation, free-hanging painted silk panels, three-dimensional work and drawings. Talbot taught herself animation during the lockdown and the resulting 12-chapter animation is a central part of her exhibition. Inspired by the Twelve Labors of Hercules, her protagonist also has to overcome a series of trials. But different to Hercules, who employed methods of destruction, theft, deceit and murder to overcome his obstacles, her protagonist finds solutions inspired by the 12 principles of permaculture, a practice of living sustainably and ethically with the land.

The exhibition "The Age/L'Età" by Emma Talbot was curated by Laura Smith in collaboration with Wells Fray-Smith and Bina von Stauffenberg and is on display at the Whitechapel Gallery in London until September 4th, 2022. Afterwards, the exhibition will travel to Collezione Maramotti in Reggio Emilia from October 23rd 2022 until February 19th, 2023.

www.collezionemaramotti.org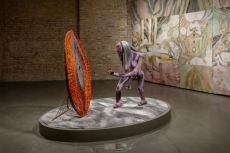 Fashion
HUBLOT LOVES SUMMER
The summer has finally started. With the rising temperatures, many of us are flocking to Europe's favourite beach resorts to spend a relaxed summer holiday or in search of new summer adventures. Either way, one should never come unprepared without the perfect accessory in the form of a timeless Hublot timepiece. Inspired by three legendary summer destinations, St. Tropez, Capri and Ibiza, to which Hublot also sails with its pop-up boutiques, the Swiss watchmaker now presents three limited editions, made from Hublot ceramic, the Classic Fusion Aerofusion Chronograph Ceramic Capri Boutique, the Classic Fusion Aerofusion Chronograph Ceramic Blue Ibiza Boutique and the Big Bang Unico St-Tropez Boutique. Each of these three editions dives into the blues, each shining in a distinct shade of this truly essential and endless versatile colour. Each of these distinct shades of blue reflects the destinations by which these limited edition timepieces were inspired. The Big Bang Unico St-Tropez Boutique, limited to 30 pieces, mirrors the turquoise blue seas and the sky of this seaside citadel echoing the colours of Tahiti and Pampelonne beach. The Classic Fusion Aerofusion Chronograph Ceramic Blue Ibiza Boutique, limited to 50 pieces, shines in colours that echo the island's white walls and the deep blue of the horizon from Cala Conta, the contrasting shades underneath the boats moored at Cala Saladeta and the seabed at Cala Xarraca. The last of the three, the Classic Fusion Aerofusion Chronograph Ceramic Capri Boutique, also limited to 50 pieces, reflect the magic of the turquoise waters of the Grotta Azzurra contrasted with the dark grey of the grotto. Each of these three timepieces evokes the essence of the places which have inspired them, and they represent Hublot's invitation to rest your feet on dry land, whilst fully admiring the sea.

www.hublot.com
Fashion
Cartier announced new Amsterdam Boutique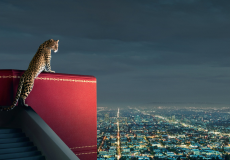 Cartier is synonymous with luxury with each of its pieces symbolizing the convergence between exceptional craftsmanship and timeless signature. Open-minded and ever curious, its creations reveal beauty wherever it may be found. This philosophy has been realized by the supreme craftsmen and artisans who translate each design into immaculate examples of jewelry, high jewelry or watchmaking. For 45 years, these resulting pieces have charmed residents and visitors of Amsterdam with its first boutique in the famous P.C. Hoofstraat opening in 1994. This winter, Cartier is opening its new boutique at P.C. Hoofstraat 129, an open window to a world of style and timeless design. The design of the boutique is not solely inspired by Cartier's heritage, but also by the unique atmosphere of the Dutch capital. About this special occasion, Valérie Ahner Boudier, Managing Director Cartier Benelux & Nordics, states, "When the iconic red box arrived in the Netherlands, it created a ripple effect between the people and the unique savoir-faire of the Maison that still echoes through the city today. Cartier's designs connect people in an unforgettable manner. The new boutique will be an open window to timeless design, celebrating creativity and craftsmanship. A perfect reflection of Cartier's distinctive blend of traditions and innovation."

The new Cartier boutique will open this winter at P.C. Hoofstraat 129 in Amsterdam. Until the opening of the new store, the current Cartier boutique will remain open.

www.cartier.com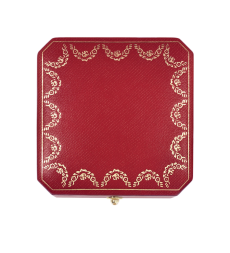 Fashion
Stone Island Prototype Research_Series 06_Dévoré with Kevlar Core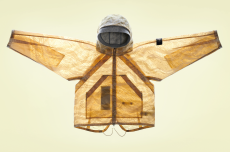 Stone Island has long been amongst the most innovative and forward-thinking brands when it comes to textile research. From its beginnings, the brand has positioned itself as a symbol of extreme research of fibres and textiles utilized in innovative designs, gaining a loyal following throughout the decades. With the Prototype Research Series, Stone Island now offers the opportunity to acquire pieces that feature fabrics or treatments born from research and experimentation processes that have not yet been industrialized. Only available in very limited numbers, this series represents and embodies the cutting-edge research for which Stone Island has gained prominence. For the sixth edition of the Prototype Research Series, the brand now offers its Short Fishtail Parka in Dévoré With Kevlar Core, a fabric resulting from the close collaboration between R&D and the Stone Island research and experimentation department. For this piece, a fine Kevlar yarn is covered in cotton, which is, in turn, disintegrated through the dévoré printing technique, revealing an all-over pattern in a Kevlar characteristic yellow color, resembling a technical lace. These are then treated with resin to add texture and strengthen the fibres.

The Series 06_Dévoré with Kevlar Core will be exclusively available on their website starting June 12th, 2022.

www.stoneisland.com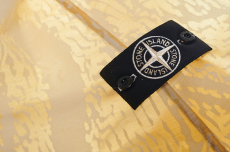 Fashion
CHANEL Haute Couture FW2022/23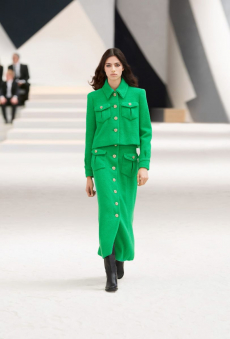 For Virginie Viard, the FW 2022/23 Haute Couture collection was a continuation of the previous show, a fact underlined by artist Xavier Veilhan returning to collaborate with the French Maison for the second time in a row. This time, he is also joined by Sébastien Tellier and Charlotte Casiraghi. Throughout the show, one could see the instantly recognizable and familiar CHANEL elements such as the tweed or the suiting, and one could feel the influence of her two predecessors. Yet, Viard achieved to make the collection her own, taking references and inspiration from the works of Mademoiselle Chanel and Karl Lagerfeld as a starting point to transform the pieces through her own vision. By working together closely with extraordinary makers and textile designers, this collection is defined by its interplay of textures, the masterful use of different materials and the gentle flow of perfect pleats which move just beautifully as they are elegant. Each piece bears witness and is an ode to the extraordinary savoir-faire of the CHANEL ateliers, the skilful hands of the craftspeople who mastered their craft, as well as the fournisseurs who supply the French Maison with the textiles, accessories and embellishments of unparalleled quality.

www.chanel.com
Fashion
Louis Vuitton announces newest House Ambassador: Cate Blanchett
Louis Vuitton already has an impressive roster of brand ambassadors from all over the world, covering all different fields, ranging from the worlds of sports to cinema and entertainment. Now, yet another big name is announced as the French Maison's newest house ambassador, iconic actress Cate Blanchette. For this reason, the Australian actress is captured by Sølve Sundsbø, featuring Louis Vuitton's latest High Jewellery collection, Spirit, in an expressive and enchanting series of portraits. Cate Blanchette, synonymous with elegance and charm, is not only a perfect match for Francesca Amfitheatrof's creations, as she is an effortless embodiment of the collection's themes of liberty, fantasy, grace, radiance and destiny, but she is also a personification of the timeless and modern Louis Vuitton woman. As Blanchett puts it herself, "I am extremely excited to have this opportunity to collaborate with Louis Vuitton - a truly iconic House with an enormous cultural reach. To wear the magnificent pieces created by Francesca Amfitheatrof is a bedazzling pleasure, and Nicolas Ghesquiere, as ever, amazes and inspires me."

www.louisvuitton.com
Fashion
Versace Resort 2023 Collection
Versace Resort 2023 Collection exudes fresh young energy. Designed to address the new generation, it combines a rebellious spirit with clubby acid florals. In a game of contrasts, hard and soft, masculine and feminine, formal and playful, the collection shows Versace's true essence. The Italian brand has presented a series of new outfits where clothes are paired in unusual ways. Floral chiffon dresses with 3D flower embroidery and jersey tops in Versace logo print are juxtaposed under biker-inspired dresses and jackets, as well as ultra-square shouldered tailoring is layered over sportswear pieces. Then, the collection continues featuring pinstripe cargo pants and studded washed-denim jeans in a wide-leg cut, evening dresses in nocturnal neon colors, and knitwear and leggings with cutaways in a diamond motif. For accessories, Versace introduced new sunglasses, pumps, sling-backs, and kitten heels studded in metal, together with La Medusa bags made punk in all-over tonal point finishes. Studs, metallic neon iteration with 3D floral embroidery, and pop colors embellished the whole Resort 2023 Collection. VB

www.versace.com
Fashion
Dries Van Noten SS23 Menswear Collection: Unusual Elegance.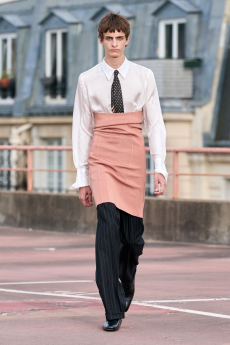 The Dries Van Noten SS23 Menswear Collection is a mix of contrasts. A sense of loucheness and sensuality is combined with the classic structure of sartorialism. Two worlds collide: on one side, refined, precious, and intimate aesthetic, while on the other, hard and robust outer layers act as armor. The collection is inspired by the Zazou subculture of Paris during WWII when the youth used to take refuge in the Pam Pam Cafe, dancing their troubles away to swing jazz. The garments presented during the Paris Fashion Week also referred to the Buffalo-style movement that mixed masculine and feminine elements with joyous revelry. On the runway, we can admire silk vests with spaghetti straps worn with pleated trousers, as well as silk smoking shirts paired with unstructured striped pajama pants, all garments that convey a new sense of intimacy emphasizing men's lingerie. To follow, sequined embroidery on cycling shorts shows a glorious preciousness alongside technicality, while Western-style shirting, boots, and shoes give masculine cowboy vibes. Lastly, couture expressions are balanced with suiting; the huge plume on a rolled shoulder, the dramatic shape on a parka, and flowing patchwork shirt capes. VB

www.driesvannoten.com
Fashion
Brioni SS23
The Brioni SS23 collection reflects the aura of the nonchalance of Rome, captured in uncontrived shapes, in the softness of tailoring that suggests a relaxed way with formality. The soft and light materials are perfect for summer, in painterly colors. With a suit, trench coat, small-collared blouson, and field jacket, each piece is sartorially made, with an effortless finish. Garments are made to fit an array of occasions, from spontaneous to leisure, always with an urban, dignified feel, embellished with round-toe loafers and leather sandals. A seersucker is worn with a matching shirt and no necktie. The materials consist of washed silk, seersucker, extremely light wools, and linen, light knit for the underpinnings, and textured knitwear meant as outerwear. The colors depict the image of Rome, with rich and muted tones, dense and bright, inspired by the city's artistic and natural heritage. There is an array of cognac brown, earth, yellow, blue, grey, black, and white along with accents of pink, orange, and baby blue in the suits defined throughout the collection. Eveningwear in the collection is inspired by the Brioni archives, with creativity expressed through couture fabrics and unexpected colors. Overall, each garment is made to accompany life, in the long run, seeking eternal beauty. GH

www.brioni.com
Fashion
Giorgio Armani Men's SS23 Fashion Show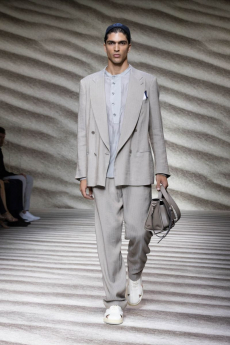 Lightweight fabrics, easy silhouettes, and a carefree mood define Armani SS23 Menswear Collection. An ode to summer timeless elegance. Held at the intimate Via Borgonuovo basement space under his HQ and alongside his own house, Giorgio Armani revealed a fashion show that brought us on a journey through the desert dunes. Images of sand ridged by the wind, projected on the background, have accompanied the models who walked down the runway in pajama-like suits and shirts with extra long tails. The pale colors, white, sand, and dabs of black, as well as subtle textures, were outstanding. Then, watery blues and navy followed in the collection, exalted in seersucker, linen, and washed and necktie silks. In the end, derby sandals with cut-out uppers, velcro-fastened espadrilles, and loafers completed the looks, replacing the classical sneakers with a renowned touch of lightness and boldness. VB

www.armani.com
Fashion
Polo Ralph Lauren Unveils New Uniforms for Wimbledon 2022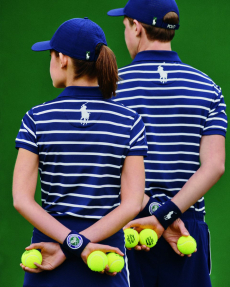 Polo Ralph Lauren has unveiled the new 2022 uniforms for all Wimbledon on-court officials, including chair umpires, line umpires, ball boys, and girls. Celebrating the 100th anniversary of Centre Court in its current location on Church Road, Wimbledon, the brand designed a collection that combines the heritage of Polo Ralph Lauren with modern fabrications and silhouettes, focusing on the use of more sustainable materials. Inspired by the elevated sense of style that spectators bring to The Championships, Polo Ralph Lauren designed a belted back sportscoat lined with a commemorative Ralph Lauren-designed signature Wimbledon print and paired with a wide Bengal stripe shirt, trouser, or white skirt with pearl button closure, specifically for umpires. Line umpire uniforms, instead, are refreshed with navy cardigans featuring a white and Wimbledon green striped cuff. Then, for ball boys and girls, the brand presented the iconic Ralph Lauren Polo Shirt reinterpreted in a navy blue and white wide stripe in recycled material. The result is exclusive garments that emphasize comfort, breathability, moisture management, and ever-present craftsmanship, alongside contributing to have to positive social and environmental impact. VB

www.ralphlauren.com
Fashion
CD 1947 Capsule Collection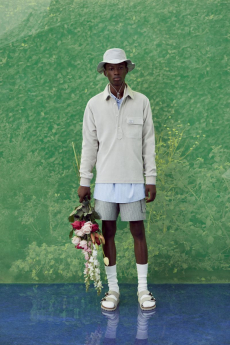 Dior has unveiled the CD 1947 Capsule Collection, a dialogue between Kim Jones and the legacy of Christian Dior. The line features a new "Christian Dior" signature connected with "1947," the year of the first Dior défilé. It presents some iconic classics of the Maison as the Dior Saddle Bag in typical Dior Grey grained leather, introducing, at the same time, a great novelty: an exclusive collaboration with Birkenstock. Dior's Creative Director has chosen to reinterpret two signature silhouettes of the German shoe manufacturer, the Tokio Mule and Milano Sandal, taking inspiration from Christian Dior's love of gardening. Celebrating this influence, the two silhouettes mix functionality, and elegance in tribute to the couturier. The mule and sandal also arrive in a variety of finishes, including black nubuck calfskin, grey felted wool, and, for the Tokio Mule, a "Greige" nubuck calfskin. The CD 1947 Capsule Collection is available on Dior's website. VB

www.dior.com
Fashion
adidas x Gucci Pop-Ups
Gucci has announced the arrival of a brand new series of Gucci Pop-Ups, with the initiative of connecting and engaging with clients across the world and their surrounding communities. The pop-ups will showcase a variety of products in an immersive, dedicated environment which reflects Gucci's unconventional approach to luxury fashion. Another exciting factor is the pop-up debuts in Alsterhaus in Hamburg. adidas x Gucci merges the emblems of each house to create iconic tailored streetwear creations. Expanding from the initial adidas x Gucci lookbook, the collection involves a spectrum of sport-inspired pieces, distinguished by the same retro aesthetics of the show. With the heritage of both brands encoded in a trio of lines, a fixation of stripes plays out across ready-to-wear and accessories including Gucci's own take on the famous adidas Gazelle sneaker. The kaleidoscope aesthetics of the collection are reflected in the creativity of the Pop-Ups dedicated to it. The space is defined by a perimeter of illuminated pointed arches complemented with vintage-inspired furniture. Elements featured are coated in the energetic retro print taken from the collection, combining the GG monogram with the sportswear brand Trefoil, amplifying the two legacies. GH

www.gucci.com
Fashion
LOEWE Celebrates The Paula's Ibiza Collection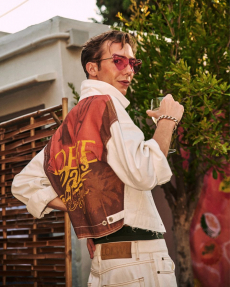 Last weekend, the Spanish brand LOEWE flew to Ibiza to host a special event to celebrate the launch of Paula's Ibiza collection. Born from the hedonistic vision of Creative Director Jonathan Anderson, the SS22 Collection features sequins, bright colors, and creative cutouts perfect for the thrilling nightlife of the Spanish island. Ibiza is a world-class party destination whose energy and vibrancy reflect LOEWE's ethos and spirit of freedom. There, the brand organized an exclusive weekend festival that started with a personalized Mercadillo and party at Las Dalias, followed by lunch at beachfront restaurant Cala Bonita the next day, and ended with an evening cocktail dinner at the newly opened Beach Caves at Six Senses. It was an ode to escapism. Among the guest who attended the event were: Stéphane Bak, Amina Muaddi, Jahleel Weaver, Jeanne Cadieu, Blanca Miró, and Ziwe. VB

www.loewe.com
Cinema
Fondazione Prada presents the Italian Premiere of "Small Axe"
From June 12th until June 26th, Fondazione Prada will premiere Steve McQueen's complete television series "Small Axe" to Italian audiences at its Cinema in Milan. This anthology series comprises five original films by McQueen. Set from the late '60s until the mid-'80s, each film tells a different story involving London's West Indian community, whose lives have been shaped by their force of will, despite rampant racism and discrimination. McQueen has described the anthology as "a love letter to Black resilience, triumph, hope, music, joy, and love as well as friendship and family". The Small Axe collection includes "Mangrove", "Lovers Rock", "Red, White, and Blue", "Alex Wheatle", and "Education". Each of these films has the potential to be a stand-alone piece, but also work seamlessly as a collective. Despite all being set between the late '60s and mid-'80s, the issues being addressed are just as prevalent today, working as a commentary on where we were, where we are, and where we want to go. GH

www.fondazioneprada.org
Fashion
Dior presents the CD Diamond Accessories
The CD Diamond is the epitome of modernity and a classic symbol of Dior spirit. Originally designed by Marc Bohan, the iconic motif has been seen across Dior designs since the Miss Dior ready-to-wear collection of 1974. Today, Kim Jones has reinterpreted the design that was originally featured on blouses, scarves, and skirts, as a canvas for his Dior SS22 men's collection. Revisited in the manner of a refined diamond, this new approach to the "CD", with its unique relief, enlivens the season's creations in Dior Gray, evoking the Granville sky as an ode to the founding couturier. The canvas is also featured in black, ono the B23 sneakers, for a casual and sportswear style. The design has also been extended to the Lingot line of bags, in a slim pouch, messenger, and briefcase version. These mesmerizing designs are the perfect continuation of the exemplary print that is maintaining its way of being an emblematic fundamental. GH

www.dior.com
Fashion
Cartier Introduces New Ambassadors
Cartier has unveiled the new ambassadors of the Maison: Paul Mescal, JISOO, and Austin Butler. First is BAFTA TV Award winner and Emmy nominated actor Paul Mescal, who made a red carpet debut at the 75th Annual Cannes Film Festival wearing the Pasha de Cartier Grille watch. Known for playing the lead role of Connell in the adaptation of the Sally Rooney novel "Normal People" directed by Lenny Abrahamson, the actor showed up at the Palais des Festivals et des Congrès with two upcoming films in competition, "God's Creatures" and "Aftersun." Then, the Korean artist and singer of the BLACKPINK JISOO is the newest member of the Panthère community. With her elegance and innate charm, she has been able to captivate an entire generation becoming the perfect embodiment of the magnetic aura of the panther. Last but not least, Austin Butler, the actor who played Elvis Presley in the much-anticipated Baz Luhrmann-directed movie, Elvis. Austin, recognizable for his chic and classic approach to fashion, also attended the Cannes Film Festival wearing Cartier creations. VB

www.cartier.com
Art
Versace Home Takes The Stage at Milan Design Week 2022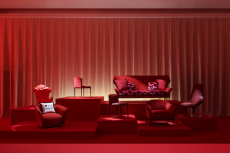 The opulence of the Versace world is embodied in a new installation held at Palazzo della Permanente during the Milan Design Week. For this occasion, Donatella Versace worked with architects and designers Roberto Palomba and Ludovica Serafini to give life to a dreamlike scenario where art and design merge together. In this space, Versace's comprehensive home collection and all-new outdoor line take center stage. Contemporary seduction is the key. The red color is spread all around: across fabrics, leathers, precious silks, jacquards, and throughout the display. The La Greca motif is extended into the interior decor with an almost architectural three-dimensionality. Then in terms of collections, Versace presented the La Medusa collection composed of a sofa, a Trono armchair, and an upholstered bed covered in an all-new vinyl material. These pieces mix a youthful design with beautifully detailed stitching. The Stiletto collection introduces new objects in white, beige, and brown, and the Stiletto Outdoor collection features a three-dimensional weave of fabric straps coordinated with large, cozy cushions. This line is exhibited in the Secret Garden of the palace. VB

www.versace.com
Art
Stella McCartney Launches The Second Installation of "Future of Fashion" at Salone del Mobile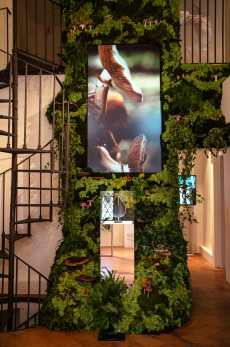 Stella McCartney has announced the second edition of the "Future of Fashion: An innovation conversation with Stella McCartney" exhibition launching during the 60th annual Salone del Mobile. The installation will display from 7 to 12 June at the historic Porta Nuova in Milan. Future of Fashion aims to invite the world to discover the limitless possibilities of material innovation for creating a more nature-positive market. This year, to keep inspiring people to undertake future actions, Stella McCartney has presented an exhibition that combines cutting-edge fashion and design in partnership with Bank of America, as well as first-ever interiors collaborations with B&B Italia and heritage British wallpaper house Cole & Son. With the Italian furniture maker, the British luxury fashion house reimagined the iconic Le Bambole armchair, an iconic piece originally designed by Mario Bellini in 1972 and now produced by B&B Italia using sustainable techniques and circular composition. Instead, Stella McCartney x Cole & Son Wallpaper presents a revival of the Summer 2022 hand-drawn Fungi Forest toile de Jouy print. The graphic has been reworked as burgundy and navy wallpapers by Cole & Son with renewable fibers and introducing a manufacturing process that uses 30% fewer greenhouse gases. All display materials will be recycled for future events to limit environmental effects. In addition, Future of Fashion will offer its guests the possibility to explore curated items by Stella McCartney as the Frayme Mylo bag, the first-ever luxury bag crafted from mycelium created in partnership with Bolt Threads. VB

www.stellamccartney.com
Art
Armani Casa 2022 Collection
In the brutalist spaces of Armani Silos, Giorgio Armani has set up a unique installation to present the new Armani Casa 2022 Collection. The Italian brand has designed furniture and accessories that combine design research, material richness, subtle multiculturalism, and a distinct sense of rarefaction for the Salone del Mobile 2022. The exhibition is structured into eight themes that correspond to eight different environments. Each piece is set in context with the inspiration from which it originated in a way that visitors can feel and imagine the creative journey that leads from the starting point to the finished piece of furniture. Starting with the water: this section is characterized by a calm and peaceful ambiance, with natural references and 1930s and 1940s elegance that give life to the MORFEO bed and other unique objects. The space devoted to China presents a powerful contrast between red, the color of joy and good fortune, and non-color. Here, the JYLIA chairs in lacquered wood create a symbolic four-lobed figure within an environment entirely clad in black. Then, a third room dedicated to nature, travel, and discovery, exhibits the painting of a tiger, the feline that dominates the current year in the Chinese zodiac. In this space, the RENOIR sofa covered in the SAO PAULO fabric is the main protagonist. In the end, there is the sailing ship ensemble, which includes the PASCAL armchair and the SPACE table, both inspired by early twentieth-century ocean liners. In addition, accessories such as a wool blanket with matching cushion, thermos flask, and croquet mallets, among many others, complete the proposal. VB

www.armani.com
Fashion
Louis Vuitton's FW22 Spin-Off Show in Bangkok
Louis Vuitton's FW22 Spin-Off Show has landed in Bangkok, Thailand, unveiling nine unseen looks from the original collection. In honor of Virgil Abloh's legacy, the decision to showcase the collection in a second location is based on Abloh's focus on circularity, a central theme in his practice, alongside other key topics such as the coming-of-age premise, the global perspective, and the cycle of creativity. Just like the first presentation in January, the Creative Director framed the show in childlike whimsy, a Louis Dreamhouse, displaying the wonder that exists within boyhood. Opening the show was a cinematic prelude by director Sivaroj Kongsakul portraying the Boyhood Ideology® key to the philosophy of Virgil Abloh. Based on the filmmaker's childhood memories, the story follows the early experience of an 11-year-old boy in rural Thailand, illustrating Abloh's belief in a global youth. "We might go to India or Kansas or Cuba, but wherever we go the focus is youth: the stage in your life before you've been taught or programmed to do, think, or wear certain things. And in that study, you realize that teenagers on opposite sides of the world are dealing with the same things. It reflects the fact that, fundamentally, we are all one." VB

www.louisvuitton.com
Fashion
La Vacanza 2022 Campaign
Summer means freedom, sea, sun, and vacations, exactly what Versace portrays in the new La Vacanza 2022 Campaign. Starring model and actress Iris Law, the images depict a group beach holiday with unapologetic flair and energetic fun in the Very Versace style. Barocco print bikinis, silk shirts, and swimming trunks, together with silk scarves tied around the La Medusa basket bag, are bold, seductive, and joyful items that will make your summer days exciting and vibrant. Wide canvas tote bags featuring the Versace logo and Medusa plaque are the perfect styles for the beach, as well as the new colorful sandals made both for men and women. In addition, new leather footwear with light rubber soles and golden Medusa Biggie medallion hardware, along with the innovative Medusa Dimension sliders crafted from molded super-lightweight rubber with swirling Baroque flourishes, are added to Versace's repertoire. Captured by photographer Camille Summers-Valli, the campaign results in a series of searingly bright and fiery images celebrating the most anticipated season of the year. VB

www.versace.com
Fashion
Pomellato: Nudo Solitaire
Since 2001, the Nudo ring has been a pioneer in the jewelry industry. This simple yet game-changing silhouette of the Nudo was Pomellatto's unique take on the omnipresent diamond engagement ring. Made to be stacked, women quickly fell in love with the Nudo, starting a twenty-year journey of continued success and a rainbow of color gemstone options. Now, twenty-one years on, the Nudo Solitaire has been born, unmistakably Nudo, but in a new sparkling white guise. This is Pomellato's singular vision of the diamond ring. This piece could be an unconventional engagement ring or could be fitting as a glamorous right-hand ring. The ring features a 0.5-carat central diamond, surrounded by more than 60 diamonds for a dazzling effect maintaining the iconic shape of the Nudo gemstone cut. Seamlessly giving way to a glittering pavé, the diamonds are perfectly set into a smooth halo around the central diamond. The opulence of this new Nudo design is further highlighted by the shank being set with a row of diamonds that taper down the side of the ring. The ring is made in Fairmined white gold, a certified source of gold direct from artisanal mines in South America, and the diamonds are sourced from certified suppliers. The Nudo Solitaire overall confirms the enduring success of the original concept that continues to be Pomellato's signature design. GH

www.pomellato.com
Fashion
Fendi announces the opening of its new Mykonos Boutique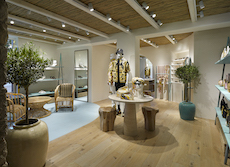 As the peak of summer is fast approaching, Fendi has announced its opening of a new boutique on the sunny Greek island of Mykonos. Located inside the Nammos Village, the unit is the brand's first store in Greece, making this upscale shopping destination the perfect location. Inspired by Mediterranean culture and local architecture, the 90 square meter store is installed in a two-level white building, with sunlight filtering inside through elongated windows. The boutique welcomes the entire FENDI universe, with all categories from the womenswear and menswear lines. The look and feel across the spaces are chic and elegant, combining natural elements such as oak wood flooring with light blue resin inserts. Raffia wallpaper and elements nodding to a marine theme define the fitting rooms, while the furniture includes bespoke pieces in travertine mixed with wood, rattan, and bamboo pieces. Two terraces are designed to give continuity to the indoor feel. A special rendition of the Fendi Peekaboo ISeeU medium bag will be offered as an exclusive for Europe in the Mykonos boutique. Available in white croco, with white leather lining featuring a shiny finishing together with a Pequin motif wooden handle and palladium accessories. GH

www.fendi.com
Fashion
Stone Island and C2C Festival Celebrate Indipendent Contemporary Music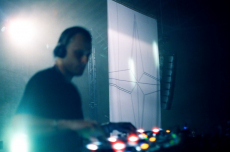 As part of Stone Island Sound, a curatorial project that supports independent artistic production, the Italian clothing brand partnered with the C2C Festival to celebrate contemporary music. The project aims to create a global sound map of avant-garde and new pop. This year, STONE ISLAND PRESENTS event took place in Berlin at Wilhelm Hallen, the former Winkelhof iron foundry, now transformed into a vast post-industrial space famous among the local creative community. On May 19th, 2022, a lineup of artists performed on the stage: Bill Kouligas, the founder and artistic director of PAN, Beatrice Dillon, who was declared "the most thrilling new voice in British electronic music" by The Guardian, and the Canadian group, Pelada. Then, the duo composed of Chris Vargas and Tobias Rochman made its appearance, followed by the unique performance by Warp Records Italian experimental musician and visual artist Lorenzo Senni. To close the event were Skee Mask AKA Bryan Müller and Kenyan artist KMRU. The result was multicolored chaos of genres to promote cultural independence and quality productions. VB

www.stoneisland.com
Fashion
The Navitimer Cosmonaute: The Original "First Wristwatch in Space"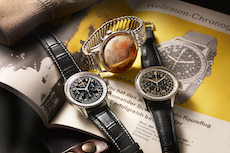 60 years after its journey to space, the mythic Navitimer Cosmonaute is once again set to lift off in a new release that pays tribute to the historic mission. Marking the occasion, Breitling is offering the first-ever public viewing of the original Cosmonaute, revealing the watch's incredible story. 362 pieces of the tribute piece are available, recognizing both the spacecraft's circumnavigations of the Earth, and the year the mission made history, marking a crucial step in crewed spaceflight. At first glance, the new Cosmonaute is very similar in appearance to the original, made timeless with an all-black dial and black alligator strap or seven-row stainless-steel bracelet. This time, the elegantly proportioned 41mm watch is packed with new features, including a platinum bezel that makes the edition even more of a collector's piece. Whilst honoring the aesthetics of the original Cosmonaute, subtle updates work almost imperceptibly to give it its modern retro appeal. As a final tribute, the case back is engraved with the date of Carpenter's mission, "ONE OF 362", and the phrase "First Swiss wristwatch in space". GH

www.breitling.com
Fashion
Balenciaga Spring 23 Fashion Show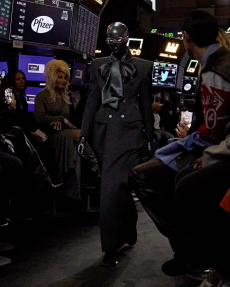 Taking place in New York, on the trading floor of the New York Stock Exchange, Balenciaga's Fashion Show unlocks a new chapter in the brand's history by presenting a collection that is a mix of ready-to-wear, eveningwear, and Balenciaga x adidas. The models walked down the runway covered in black fetish bodysuits as obscure identities. Over this latex layer, they wore Demna Gvasalia's creations which spanned from suiting, separates, and outerwear featuring bold silhouettes and precise tailoring with minimalist construction techniques. The collection also presented extra-formal clothing such as bodycon gowns, reconstructed tuxedos, floor-length silk trenches with trains, and the collaboration between Balenciaga and adidas. This line included a wide range of products from garments, shoes, and bags to jewelry and accessories embroidered with the adidas' trefoil motif and Balenciaga logo reinterpreting Balenciaga's creative language. In addition, the Spring 23 Collection includes the oversized, padded XL Pump, thick steroid boots, and the Stage Shoe featuring a heel-less sock pump on a flat platform connected only to its toe. VB

www.balenciaga.com
Fashion
G-Star RAW Calls Out To Wear Denim Longer
G-Star has worked rigorously to improve this past year, from social and environmental points of view to transparency and circularity innovations. The Dutch brand has launched a new global campaign to encourage consumers to invest in quality, as well as eight new responsible initiatives as part of their RAW Responsibility strategy. The "Wear your denim till the End" Campaign shows the beauty of the aging process in both people and denim. For G-Star, raw denim is the beating core of the company; jeans are meant to last a lifetime, and they believe denim gets more distinctive and unique at each stage of life. The film's message is simple: take care of your clothes so you may wear them longer. Simultaneously with the campaign, the brand has also launched a raw denim capsule collection with a warranty. Then, in addition to these new initiatives, G-Star has revealed an eight-point sustainable program. To begin with, they provide free repairs to extend the life of jeans, as well as a program that converts worn jeans into brand-new pairs of shorts and a recycling project called "Return Your Denim." Furthermore, G-Star launched a new art platform where international design talents are challenged to work with denim waste and deadstock. VB

www.g-star.com
Art
NN Art Award 2022 for Vytautas Kumža
On 18 May, the NN Art Award was presented for the sixth time at Art Rotterdam. As a supporter of talent and all art explorers, NN Group has always invested in culture, giving artists the opportunity and a platform to inspire others. This year, The four nominated artists were: Inez de Brauw (Brinkman & Bergsma), Vytautas Kumža (Galerie Martin van Zomeren), Thierry Ousso (Lumen Travo Galerie), and Jennifer Tee (Galerie Fons Welters). Their works are on display in the NN Art Award stand. But the prize has been assigned to the Lithuanian-born, Amsterdam-based visual artist Vytautas Kumža. Represented by gallery Martin van Zomeren, he is a contemporary art talent with an authentic visual language and innovative approach. In his works, Vytautas Kumža combines sculptural elements and presentation displays to create embodied experiences for the audience. Visual illusions, spatial constructs, inverted colors, and exaggerated scales are found in his practice. The NN Art Award aims to promote young talents but also to put the spotlight on the exceptional quality of art education in the Netherlands. Artists from all over the world know where to find the Dutch academies. VB

www.artrotterdam.com
Fashion
Dior Men Spring '23: "California Couture"
"California Couture" not only refers to Christian Dior's time spent on the West Coast, and the influence America had on the growth of his business but also to the region's rise in importance in today's fashion landscape. This resort collection was presented on an ocean-blue runway with two cresting waves for set pieces. Here, a merging of art and life took place, of art and fashion's role in the artistic direction of the not-so-everyday silhouettes emerge. Cleverly, the collection captured perfection and subversion, tempered with a sincere appreciation of everything. Guest designer Eli Russell Linnetz, described the collection as "a coming together of chaos and perfectionism", seen through the everyday sensibility that belies the precision of tailoring and mastery of fabric in the atelier. There is inside-out tailoring in Christian Dior's classic gray, which is also a nod to Kim Jones' first collection for the house. Kim Jones discussed that when designing this, "it was both familiar and revelatory; reaffirming why we both dreamed about working in fashion in the first place". The collection pays homage to both designer's biographies, as well as infusing the Maison's classic motifs writ larger than life. Repeated throughout is a quilting made from satin and leather on skate sneakers and the unraveling of crystal-encrusted trousers. The Dior Saddle bag is rendered in tinsel as well as molded gold metal with a skater-boy chain handle, and the sunglasses are named after Linnetz's dog Lucky. GH

www.dior.com
Art
The Mondriaan Fund Presents The Exhibition Prospects During Art Rotterdam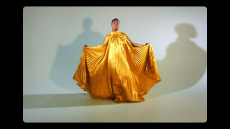 Lovers of contemporary art can once again discover the work of emerging and established artists at Art Rotterdam 2022. This year's exhibition features some unique novelties, from outdoor installations to new projections and the expansion of "Prospects," the Mondriaan Fund's exhibition. It is the 10th consecutive year that the public fund for visual art and cultural heritage in the Netherlands presents this kind of exhibition showing the work of 88 artists from 19 to 22 May 2022, helping them to kick start their careers thanks to a financial contribution. This time, the exhibition, curated by Johan Gustavsson in collaboration with junior curator Gabija Seiliute, is also on display in the Expedition Building, directly opposite the entrance to Art Rotterdam. Among the work of hundreds of artists from all over the world, the one who particularly stands out is Tarona with her artwork "Pivot." It is an 11 minutes video that takes a closer look at Black performances in white spaces. Conceived as a contemporary interpretation of the famous "Serpentine Dance" (1899) by the Lumière brothers, the artwork shows a Black performer who resists the expectations of a white audience while dancing expressively in a striking golden dress that almost becomes a character in its own right. The video was made in collaboration with Chanel Vyent, Qianwei Tong, Sam van Eenbergen, Ivan Hidayat, Imane Saksou, Gaea Studio, and de Makeover Factory en Captcha!. VB

www.artrotterdam.com
Fashion
Hublot Big Bang Tourbillon Samuel Ross
Creative Director Samuel Ross became an ambassador for Hublot in 2020, after being awarded the Hublot Design prize in 2019 with his REFORM sculpture. This was a creation of Ross' own fusion, by merging past and present, combining granite with steel in a production process that incorporated both handwork and state-of-the-art machining. This year, Hublot is incorporating Samuel Ross' unique graphic language into watchmaking. Here, Ross' signature color scheme and penchant for strict geometry and urban design combined with the innovation and precision that govern the work of both Ross and Hublot. The distinctive, stylized hexagon of the Big Bang case is reflected in the honeycomb titanium meshwork of the sapphire dial, case, case back, and bracelet. This robust and efficient shape, repeatable without gaps or overlaps, has become the standard for modern construction and design thanks to each element's seamless fit. Only 50 examples of this piece will be made – each a work of art that brings a new perspective and imagination to watchmaking. Celebrating this launch, Ross' signature colors will grace Hublot boutique on 5th Avenue in New York City. GH

www.hublot.com
Fashion
BE YOUR CHANGE
Brunello Cucinelli started the #BeYourChange project in order to use its voice to touch on important issues such as hope, courage and the future. By joining forces with various personalities, the house's message of trust and reflection for the new generations on how change always starts with people, is echoed. For the fifth series of the project, Brunello Cucinelli teams up with Ramla Ali, the first female boxer representing Somalia at the Tokyo Olympics. Her path to success was not predestined, on the contrary Ali had to overcome multiple obstacles, such as fleeing the ongoing civil conflict in her home country. In this edition, Ali talks about her personal story and how boxing has helped her to find a voice, to grow as a person and to stand up to prejudice, fear and insecurity. A successful athlete and activist, Ali now shares the empowering lessons she took from boxing with other women. In 2018, she founded the Ramla Ali Sisters Club, a weekly, free boxing session for women in London aiming to provide a safe space without discrimination. Through the #BeYourChange project, Ramla Ali uses her voice inviting everybody who wants to listen to pursue your dreams with courage. FM

www.brunellocucinelli.com
Fashion
Applications open for Cartier Women's Initiative 2023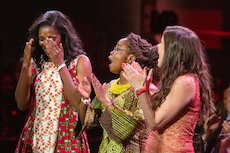 Cartier is once again seeking to drive change by empowering women impact entrepreneurs through its Women's Initiative program. This provides female changemakers with financial, social, and human capital support to grow their business and build their leadership skills. Launched in 2006, Cartier Women's Initiative has supported 262 female entrepreneurs to support their businesses that are all driven to solve the most pressing global challenges. Since its 15th anniversary on International Women's Day, the program has been looking for ways to extend opportunities to more entrepreneurs around the world and ensure the program evolves alongside new developments in its global ecosystem. Because of this, for its 2023 edition, the program is expanding with the creation of new Regional and Thematic Awards. The Regional Awards will be expanded to two new regional categories: Francophone Sub-Saharan Africa and Oceania. This is to increase the impact of the program and refine its support to different regions. Three fellows will be selected from each of the nine regions. In addition to the Science and Technology Pioneer award launched in 2021, a Diversity, Equity, and Inclusion Award will be created to encourage entrepreneurial solutions designed to close gaps in access, outcome, or opportunities that have been underrepresented or unserved. Based on being around inclusivity, this pilot award is open to all genders, three fellows will be selected for each of these two thematic awards. Impact entrepreneurs across the globe can apply from May 16th, 2022, until June 30th, 2022 for these awards. The top three applicants for each award will be announced in April 2023, and the awardees will be selected by the jury during the Cartier Women's Initiative awards ceremony in May 2023. The first-place awardee will take home $100,000 in grants, while the second and third places will respectfully receive $60,000 and $30,000. Finally, the 33 awardees will all benefit from tailored mentoring and coaching, media visibility, networking opportunities, and the in-person INSEAD Social Entrepreneurship Program and Executive Education program. GH

www.cartier.com
www.insead.edu
Fashion
La Grande Dame 2012 x Yayoi Kusama
Today, the destinies of Veuve Clicquot and Yayoi Kusama have converged in an unparalleled collaboration. The Champagne house based in Reims has unveiled the new La Grande Dame 2012 Edition, an artistically decorated magnum bottle supplemented by an exceptional object reminiscent of a flower created by the Japanese artist. Entitled "My Heart that Blooms in the Darkness of the Night," this unique and colorful work of art is a symbol of love and optimism. Yayoi Kusama is one of the most successful contemporary artists, becoming famous for her signature polka dots. A signature pattern that she reworked for this special occasion to symbolize the perlage of the champagne. This collaboration is not the first time they have met. It all started in 2006 when the artist created a portrait of Madame Clicquot covered in red polka dots for a charity auction in Tokyo. But this time, their partnership reaches a new sparkling, daring, and optimistic climax. L'Objet d'Art that wraps La Grande Dame 2012 Magnum, with happiness and vibrancy, celebrates the joie de vivre. In addition, Yayoi Kusama designed La Grande Dame 2012 Limited Edition (0.75l) which will be available from June. While the "My Heart that Blooms in the Darkness of the Night" artwork is available exclusively on request through Moët Hennessy Private Sales. VB

www.veuveclicquot.com
Fashion
So-Hee Han Joins OMEGA
So-Hee Han has joined the OMEGA universe of female talent, which already includes Cindy Crawford, Nicole Kidman, and Kaia Gerber, amongst many other celebrities. The South Korean actress, born in 1994, began her career as a supporting character in several TV series, "Money Flower" (2017) and "100 Days My Prince" (2018), to name a few. Then, she quickly took up leading roles in the JTBC series "The World of the Married" (2020), where she played a villainous yet charming character, and in the Netflix-produced feature "My Name" (2021). In the future, she will also appear in the drama "Gyeongseong Creature." Today, So-Hee Han, with her charisma and captivating presence, has become a member of OMEGA's ambassador family, stepping out in front of the camera wearing the most elegant watches. She is a rising star in the world of entertainment, and her talent and acting skills are inspiring, the reason why the Swiss watch manufacturer has chosen her to be the new face of the brand. So-Hee Han embodies many of the qualities and values that OMEGA stands for. VB

www.omega.com
Fashion
Bulgari And Save The Children Campaign: "My Wish For You"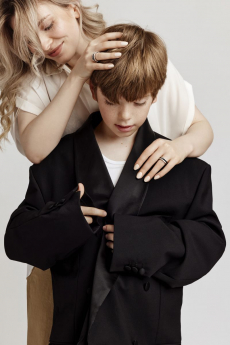 To celebrate Mother's Day, Bulgari has teamed up with Save The Children in a unique campaign titled "My wish for you." Their partnership started 13 years ago, and since the beginning, Bulgari has donated more than $100 million to the charity organization helping 2 million unprivileged children worldwide through four different areas of intervention: education, poverty alleviation, youth empowerment, and emergency response. This time, the fine jewelry brand, thanks to this new initiative, not only portrays Mother's Day in a beautiful way but also contributes to funding programs to support children in difficult humanitarian situations, giving Save The Children €75 for each piece they will sell. Bulgari wants to offer everyone a life full of love, where children feel supported in their own choices and decisions, where they can pursue their ambitions and achieve their goals. VB

www.bulgari.com
Fashion
Luxury Essential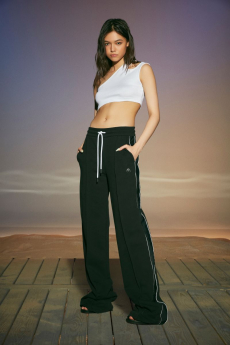 Moose Knuckles Canada has unveiled its new Luxury Essential styles from the SS22 Collection. The Canadian brand, known worldwide for crafting resilient garments for the most unforgiving conditions, from the tundra to the city, has designed new pieces exclusively for the summer season, addressing everyone's need to stay and look cool. The Luxury Essentials line presents familiar outerwear and sportswear morphed into more relaxed silhouettes to maximize airflow and minimize restriction to movements. In this way, Moose Knuckles offers a luxurious yet casual attire consisting of coordinated sets and matchable pieces made of french terry 360 sustainable cotton blend. For women, the brand created four different looks that include the Dunes Trucker Jacket, Bayside Hoodie, Malibu Pants, and Sonoma Shorts, while for men, it realized a range of products such as the Wabasso Pullover, Wabasso Jogger, Siesta Key Hoodie, Greyfield Pullover and many others, that express the same irreverent spirit and energy typical of the Canadian brand. VB

www.mooseknucklescanada.com
Fashion
Furla Futura: Love for Nature
With the intention of reinforcing its constant innovation, Furla has launched a new iconic bag shape that links the concepts of sustainability to art, launching with a creative yet experimental touch. The Furla Linea Futura features materials created through new eco-friendly processes, such as the upcycling of leftover leathers and the use of metal-free suede. The metal-free is a tanning process that does not resort to heavy metals, thus preventing the pollution of wastewaters. The Design of Furla Linea Futura is a futuristic interpretation of the shape of a bird's nest. This style is bold and eye-catching and can be worn crossbody in a way that blends against the body in perfect harmony. Two sizes are offered which are available in 11 bright shades like a rainbow, staying true to the brand's artistic DNA. What truly separates this bag from others is the focus on upcycling: precious recycled leathers are reworked with Global Recycled Standard certification and are reintroduced in this new, original form. GH

www.furla.com
Fashion
TAG Heuer F1 Edition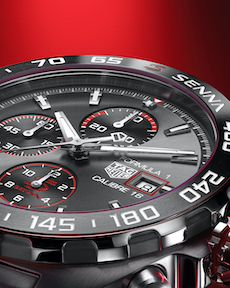 Tag Heuer has unleashed its newest timepiece inspired by the dominant style of race legend Ayrton Senna, an admired and adored legend for motor racing, as well as Formula 1 fans all over the world. The collaboration between TAG Heuer and Ayrton Senna has been ongoing since 1988, Senna was redefining the word "drive" by breaking many records. Continuing to pay tribute to the driver's legacy, TAG Heuer continues its quest to create the perfect Formula 1 watch, the one the legendary driver would have loved to wear on his wrist. The bold design and original red color nod to Ayrton's original watch. The TAG Heuer Senna Special Edition is a very elegant mix of red, anthracite, and black, in line with the design codes of the brand. SENNA's iconic S. The timepiece also features an ultra-resistant black ceramic bezel, with the number 400 engraved as a reference to the symbolic 400km/h that has never been reached in Formula 1. The famous S/EL bracelet is inspired by the first TAG Heuer chronograph watch worn by Ayrton Senna. Highly shock-resistant, it has a folding clasp with a driver extension to fit over the sleeve of a racing suit. The timepiece is equipped with the automatic Calibre 16, protected by a stainless-steel screw-down case back engraved with the Brazilian driver's iconic helmet on the back, alongside a special engraving of "SENNA SPECIAL EDITION". GH

www.tagheuer.com
Fashion
Saul Nash Wins International Woolmark Prize 2022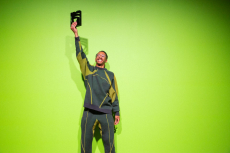 The expert jury of the International Woolmark Prize 2022, including Ben Gorham, Carine Roitfeld, Edward Enninful OBE, Ibrahim Kamara, Naomi Campbell, Pieter Mulier, and many others, has announced Saul Nash as the winner of this year's edition. MMUSOMAXWELL received the Karl Lagerfeld Award for Innovation. The 2022 event, in partnership with the Isamu Noguchi Foundation and Garden Museum, celebrated the art of play: the immersive final exhibition in London was inspired by Isamu Noguchi's sculptural playscapes, offering the possibility to physically and socially interact. The seven finalists, each of which presented a collection that explored textiles, design, and responsible business practices to drive change and innovation for a cleaner, brighter future, had the chance to showcase their creations surrounded by colorful and architectural displays. The winner, London-based designer Saul Nash, crafted a collection using deadstock, recycled membranes, and zero-waste technology to push the boundaries of sustainable design. The whole features a modern use of Merino wool, building a link between active solutions and more formal requirements. VB

www.woolmarkprize.com
Art
düsseldorf photo+ Biennale for Visual and Sonic Media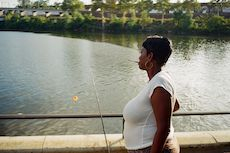 Over 50 exhibitions and events, participating institutions, galleries, and satellite venues of the Düsseldorf art scene will partake in the second exhibition of düsseldorf photo+ Biennale for Visual and Sonic Media. Taking place on May 13th, the exhibitions will shed light on current themes and challenges in the field of photography and time-based media. Within the exhibitions, not only are there works and installations by numerous national and international artists, but düsseldorf photo+ also invigorates the city's own established art and photography scene. The main exhibition titled "Think We Must", curated by Pola Sieverding and Asya Yaghumurian, forms the thematic focal point of the Biennale and will open on May 12th at the Akademie-Galerie. This group exhibition explores how thinking with photographic images can constitute and alter reality, history, and social discourse. Also featured, in the K21 Kunstsammlung Nordrhein-Westfalen, will be the exhibition titled "Shifting Dialogues. Photography from the Walther Collection" with images from Africa and the African diaspora. Angelo Novi will present the symbiotic relationship between film and photography, viewed alongside Astrid Busch at Rupert Pfab. An extensive supporting program consisting of panels, lectures, talks, and workshops and a twelve-part podcast series for its entire duration. The exhibitions will be available from May 13th-June 19th across selected Düsseldorf galleries, fringe spaces, museums, and foundations. GH

www.duesseldorfphotoplus.de
Fashion
Paul Smith and Ahluwalia unite for a capsule collection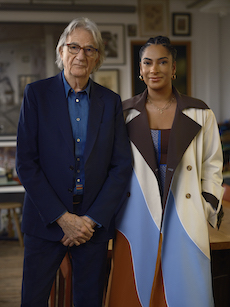 Supported by the Paul Smith Foundation, &PaulSmith has launched its inaugural collaboration and mentorship program, with an innovative capsule collection in partnership with the celebrated London-based menswear brand Ahluwalia, founded by Priya Ahluwalia. &PaulSmith tends to offer a fresh and authentic approach when creating partnerships to mentor and nurture the next generation of emerging and untapped talented designers. The 11-piece limited-edition Ahluwalia &PaulSmith collection is spurred by the designer's shared passion for creativity, innovation, and sustainability. Paul Smith has said that "While our styles may appear different at first glance, we're coming at it from the same place: a real conviction that clothes should be a source of joy". Distinctive codes and signatures from each designer are combined here, from Paul Smith's check fabrics and Ahluwalia's seaming and paneling techniques, creating a rich collage-like effect. Inspiration is drawn from a variety of instances, such as Priya's personal archive of photographs taken in Nigeria and India, and Paul's collection of cycling records. With the shared interest of sustainability in mind, the collection utilizes surplus Paul Smith fabrics found in the brand's archives, as well as sustainable alternatives where new cloths were developed. Premium fabrics and finishes elevate the traditionally relaxed silhouettes and a purposeful meshing together of graphic influences, merging branding from both houses to one incorporated logo dedicated to the project, This collection is available on both brands' websites, in selected Paul Smith shops, and exclusively at SSENSE. GH

paulsmith.com
ahluwalia.world
Fashion
LOUIS VUITTON for UNICEF: The New Silver Lockit Bracelets by Virgil Abloh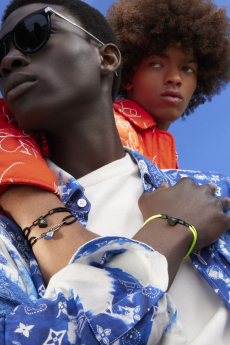 Louis Vuitton has launched a new collection of Silver Lockit bracelets designed by Virgil Abloh, carrying forward solid cooperation with UNICEF. This year the Creative Director of the French Maison, who passed away last November, created a collection including bracelets and pendants that recall his first Silver Lockit collaboration but with new colors and materials. The LOUIS VUITTON for UNICEF partnership started six years ago to help bring vulnerable children life-saving support in humanitarian situations, assisting the international organization in responding quickly to emergencies or disasters worldwide. Since 2016, to support this initiative, Louis Vuitton has annually presented new versions of the Silver Lockit bracelet to raise money to donate to UNICEF. Given the success of these sales, the brand let Virgil Abloh reinterpret these items with his stylistic signature bringing a breath of fresh air to the collection. The Men's Artistic Director added a bold chain linked to a thicker cord, a silver padlock, and a Louis Vuitton charm that in the current collection come in natural and black titanium and are combined with neon yellow, rainbow, or black cord bracelets. VB

www.louisvuitton.com
Fashion
Virgil Abloh and Mercedes-Maybach Create The Ultimate Legacy Car
Mercedes–Maybach and Virgil Abloh have presented the ultimate legacy car. The project MAYBACH, born from the creative cooperation between the luxury car manufacturer and the late polymath artist, architect, creative director, and fashion designer Virgil Abloh, has come to an end, unveiling its last chapter. The new vehicle, which was finalized before Abloh's untimely passing in November, represents the symbiosis between innovative design and ultimate craftsmanship, setting the new boundaries of luxury experiences. The Maybach by Virgil Abloh is a fully equipped Mercedes-Maybach S-Class S680, a one-of-a-kind model from exterior to interior, designed in collaboration with Mercedes-Benz Group AG Chief Design Officer Gorden Wagener. The vehicle exterior, presented in a two-tone color scheme developed for Project MAYBACH, features the upper half of the car lacquered in a glossy obsidian black and the lower section, side flanks, and custom forged rims painted in a sand hue. While not to be outdone, is the vehicle's interior crafted with an identical two-tone color scheme and a special Mercedes-Maybach and Virgil Abloh logo inscribed on the center console panel. In addition, the limited-edition S-Class features ultimate cutting-edge technologies such as a bespoke user interface. The result is a car that creates a truly exceptional customer experience, ensuring maximum comfort and safety. The launch of the limited-edition bespoke S-Class coincides with the release of a capsule collection designed by Virgil Abloh and in collaboration with Off-White, which includes sand-colored t-shirts, hoodies, baseball caps, and racing gloves refined with a black spray effect. VB

www.mercedes-benz.com
Art
MOLOCH: The New Solo Exhibition by Martin Eder
The artist organization Augsburg Die Ecke e.V. in collaboration with the Kunstsammlungen und Museen Augsburg present MOLOCH, a solo exhibition by Berlin-based artist Martin Eder. Held at H1 – Zentrum für Gegenwartskunst im Glaspalast Augsburg until June 12, 2022, the exhibition will display over 50 works, spanning over a decade of Eder's career. Since the beginning of his career, Martin Eder has always explored the illusory possibilities of painting and their meaning. His art does not want to answer questions but to provoke: the sentimental, the filthy, and the sublime are the core elements of his works that break the generally accepted notions of what fine art should be, undermining conventional hierarchies of images and subjects. Eder's oil paintings reveal surreal encounters, cute kittens, and cuddly puppies juxtaposed with candid nudes in a combination of beauty and ugliness. The artist explores the uncanny, all that is strange and mysterious in this world. The exhibition, made possible by the support of various German and European art collectors, is paired with the release of a catalog on May 21, 2022, and the presentation of three motifs selected by the artist and produced in a limited edition of 25 pieces. VB

www.martineder.com
www.kunstsammlungen-museen.augsburg.de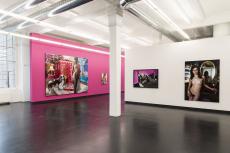 Fashion
Alanui x Suicoke SS22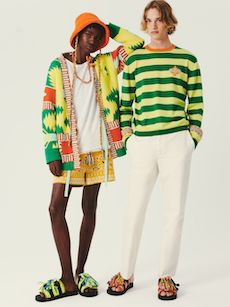 Tropical vibes through the vibrant colors of the Alanui island make us yearn for the summer season. This call has been answered, with the third chapter of the collaboration of Alanui with Japanese footwear brand Suicoke, an embodiment of what we need this season. The perfect blend of Alanui's signature bandana graphics with the unisex Suicoke Moto Fringed slippers presents us with cool and eye-catching styles, perfect for the sun. The footwear is characterized by the iconic bandana pattern and embellished with multicolor fringes that feature recycled plastic beads. These come in a wide range of exciting colors: ocean turquoise, bright orange, yellow lime, and military green, fitting to the theme. The newest addition to the collaboration is a brand new laced-up sandal. This is an Alanui twist to the Suicoke GUT Sandal, presented in black, military green, and sugar brown. Timeless and emblematic, the silhouette features a chunky rubber sole and tassels, embellished with multicolor recycled plastic beads, seashells, and the iconic Saint Cristopher medal. The collection is available now online at Alanui, right on time for the alluring summer. GH

www.alanui.it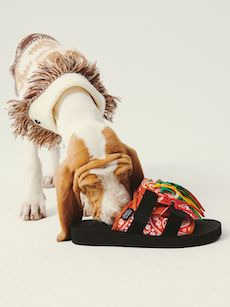 Fashion
Hublot: Art of Fusion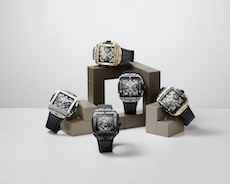 For the first time, Hublot is being represented at the Watches and Wonder fair in Geneva. Proudly presented, are the four novelties that underline the house's masterful "Art of Fusion":
The Hublot Big Bang Integral Ceramic is displayed in its integral element. Made integral by the monobloc architecture, with a bracelet integrated into the case, monomaterial made from ceramic, and four new monochrome colorways: blue indigo, sky blue, sand beige, and jungle green. Each model is available with a limited edition of 250 pieces. The piece is equipped with a slimmer design, new architecture, easier assembly, and enhanced legibility and functionality.
The Big Bang Tourbillon Automatic Purple Sapphire is a new frontier for the art of sapphire. This new, powerful, expressive, and precise shade of purple shows the subtle alchemy that has gone into extensive research and development. The complex design made from the disruptive sapphire material reaffirms the brand's Motto: to be first, unique, and different. What truly separates this watch from the rest is that when wearings its Tourbillon next to the skin, there is a sensation of a completely translucent case that reveals every detail.
Five years of collaboration between Hublot and Orlinski has led to now, where they have unveiled the missing link of the shared collection: a series of watches adorned with a new metallic bracelet using the facets of the French artist's famous sculptures. Suited to all wrists and all genders, four versions of the watch are cleverly made by fitting the Classic Fusion Orlinski Bracelet with a new integrated metallic bracelet. Like a jeweled piece of art, the architecture is beveled and faceted in titanium and composed of 83 parts.
Inspired by the brand's iconic Big Bang, Hublot is introducing its own interpretation of the square watch, new geometry for the watchmaker. This adds a new pillar, "The Shaped Collection" to sit alongside the Spirit of the Big Bang. Unlike other brands, Hublot has taken the approach of hiding non of its movement. The chronograph has a column wheel visible at 6 o'clock, while its bicompax display dispenses with a dial, to reveal its secret inner workings. A collector's edition of this model is also available in all black, limited to a minuscule 250 copies. This is a rare design for those who prefer to take the path less traveled. GH

www.hublot.com
Fashion
Gucci Osteria da Massimo Bottura Opens in Seoul
The contemporary Italian restaurant Gucci Osteria da Massimo Bottura has landed in Seoul. The third venue outside Italy, after Rodeo Drive in Beverly Hills, and Gucci Namiki in Ginza is located on the top floor of the Gucci Goak flagship store in the district of Itaewon and has already opened bookings on its website. Mixing creativity, elegance, playfulness, and sensuality with traditional Italian cuisine, Gucci Osteria Seoul offers a unique dining experience that incorporates the diversity and identity of its location. The menu, developed by internationally acclaimed chef Massimo Bottura, Karime Lopez, Davide Cardellini, and Seoul Executive Chef Hyungkyu Jun, is a fusion of Italian and Korean cultures, juxtaposing signature dishes such as Tortellini with Parmigiano Reggiano Cream with new seasonal Korean-inspired creations. The restaurant is ready to welcome its guests and serve lunch, dinner, and Italian aperitivo. The experience is made even more exclusive thanks to the interior design inspired by the original Florence outpost, with references to the Italian Renaissance and the eclectic mix of aesthetics embraced by Gucci. The Gucci Osteria Seoul da Massimo Bottura evokes the atmosphere of a winter garden with a color palette composed of vibrant greens spread from the bar patio doors to the velvet chairs. VB

www.gucciosteria.com
Art
TEFAF Maastricht 2022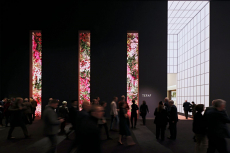 After two years of absence due to Covid-19, TEFAF The European Fine Art Foundation will return to Maastricht in June 2022, hosting the next installation of TEFAF Maastricht. Established in 1988, TEFAF Maastricht is known worldwide as the world's premier fair for fine art, antiques, and design. It exhibits modern and contemporary art, photography, jewelry, 20th-century design, and works on paper, along with the traditional categories of Old Master paintings and classical antiquities, covering over 7,000 years of art history. TEFAF Maastricht brings together 275 art dealers from more than 20 countries, checking the quality, authenticity, and condition of the works of art and following rigorous vetting standards to create an atmosphere in which exhibitors can sell and buyers can buy art pieces with confidence. This year TEFAF Maastricht will take place from 24th to 30th of June. Tickets will be available on the TEFAF website. VB

www.tefaf.com
Fashion
Dior Maison Presents The Midi Collection By Pierre Yovanovitch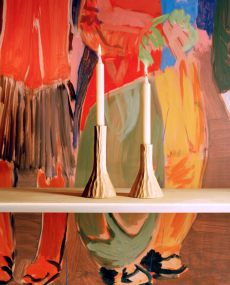 Dior Maison has presented the MIDI Collection designed by Paris-based interior architect Pierre Yovanovitch: a set of fifteen objects that evokes the meeting point of two stories rooted in the south of France. On the one hand, the story of the Château de la Colle Noire, a property that Christian Dior acquired in the 50s in the village of Montauroux, and on the other hand, the Château de Fabrègues. Like Christian Dior, who often stayed in the Callian plain, Pierre Yovanovitch is a child of the south, born in Nice and attached to its territory. A deep bond that the designer has shown through the collection. Named MIDI, a term for the south of France, the collection is "simple, solid and noble," in tune with the words of Christian Dior defining his residence at the Colle Noire. Pure and functional, MIDI highlights traditional woodwork techniques, assemblages of local and sustainable materials selected for their beauty and timelessness, and hand-blown glass. This project realized with Pierre Yovanovitch is part of a long tradition of collaborations between Dior Maison and the greatest names in contemporary design. VB

www.dior.com
Fashion
Emmanuel Gintzburger Is The New CEO of Versace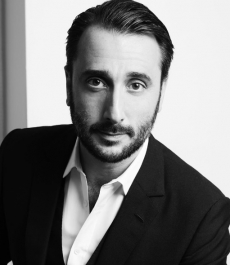 Capri Holdings Limited, the global fashion luxury group, has announced Emmanuel Gintzburger as the new Chief Executive Officer of Versace. Mr. Gintzburger joined Versace after six years spent as CEO of Alexander McQueen. Prior he was Worldwide Retail and Wholesale Director for Saint Laurent from 2011 to 2016, having joined the Parisian fashion house in 2009 as the Europe Retail Director. From 2007 to 2009, he served as International Retail Director at Lanvin, and before that, he held regional retail and marketing leadership roles at Sephora. Emmanuel Gintzburger also spent six years at Louis Vuitton in Hong Kong. Both John D. Idol, Chairman and Chief Executive Officer of Capri Holdings, and Donatella Versace were enthusiasts to welcome Emmanuel as the new CEO of the Italian brand. They agreed that Mr. Gintzburger, thanks to his background in luxury, is the perfect partner to take Versace to even greater heights. Emmanuel's leadership and vision will help the brand further accelerate its growth and strengthen its strategic initiatives. "I am thrilled to be joining Versace as Chief Executive Officer. I have long admired the unparalleled style and fearless narrative of the house. I look forward to having the opportunity to partner with Donatella and the talented Versace management team to accelerate growth and strengthen the position of Versace as a leading fashion luxury house." - Emmanuel Gintzburger. VB

www.versace.com
Fashion
It Is Electrifying
Maserati is the first Italian luxury automotive manufacturer to produce fully electric vehicles, announcing the launch of the Folgore model. Through the evolution of its designs, Maserati has always led the way in automotive fashion, with unique cars, elegant yet sporty, always with highly personal, distinctive lines. In 2021, the Italian brand experienced a robust year-on-year sales growth of 41%, with 24,269 vehicles sold to customers worldwide. So, strengthened by these outstanding results, Maserati has decided to introduce on the market a new all-electric, two-door sports car. The new GranTurismo is the first vehicle in Maserati's history to use 100% electric solutions combined with cutting-edge technology from Formula E, outstanding performance, comfort, and elegance. Manufactured at the Mirafiori production center, the car will launch in 2023. In addition, next year brand new SUV Grecale will also be available in an electric version, and by 2025, all Maserati models will be available in a fully electric version: the MC20 supercar, the new Quattroporte sports sedan, and the future Levante luxury SUV will complete the Maserati Folgore range. Maserati's plans are part of Stellantis' "Dare Forward 2030" strategy. The new Maserati models will be 100% designed, engineered, and produced in Italy, using electric powertrains to deliver innovation and high performance, typical of Maserati's DNA. VB

www.maserati.com
Fashion
Missoni's New Creative Direction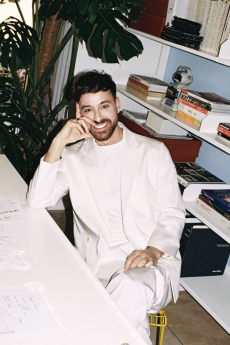 Missoni takes on a new creative direction. The Italian brand appointed Filippo Grazioli, a young designer with 18 years of solid experience in prestigious fashion companies, to head up the Men and Women's Collections. The new Creative Director has joined Missoni's team to improve the brand's image in the luxury market and further strengthen the modernization process already initiated. Filippo has immediately made public his excitement for the new position at Missoni, a brand that he considers to be a leader in the history of Italian style and design with its remarkable integrity over almost seven decades. He is ready to bring his vision but maintaining the joyfulness, freshness, sense of color and positivity that are the core qualities of Missoni. Filippo Grazioli took over his role from Alberto Caliri, a long-serving member of the company, right-hand man of Angela Missoni, and successful designer of the last two collections, that from now on will develop Missoni Home Collection and Missoni Sport. Alberto Caliri will have the possibility to continue to fully express his passion for architecture, art, and design, as well as having the opportunity to work closely with Rosita Missoni. Thanks to these two new appointments, the company aims to strengthen its foundations for the future, pursuing its goal to enhance the "total Living" concept of the brand. VB

www.missoni.com
Fashion
Salvatore Ferragamo appoints Maximillian Davis as Creative Director
Manchester-born Maximillian Davis has been appointed as Creative Director for Salvatore Ferragamo, effective from March 16th, 2022. Chief Executive Officer for the brand, Marco Gobbetti, has expressed his thrill with this change, proclaiming that "through his [Davis'] lens of contemporary sensibility, he will write a new, exciting chapter for this house built on a heritage of creativity, craftsmanship, sophistication, and outstanding human values". Maximillian Davis graduated from London College of Fashion, and founded his eponymous brand in 2020 at Fashion East with his first collection in SS21, immediately attracting international recognition. His Trinidadian-Jamaican origins are essential to his identity and a strong inspiration for his work. The designer's confidence, sharp elegance, innate sophistication, sense of color, and culturally hybrid point of view have been translated into garments seen on Rihanna, ASAP Rocky, and Dua Lipa. Davis has announced, "I am deeply honored to be joining Ferragamo and grateful for the opportunity to build on the rich and profound heritage of the house". GH

www.ferragamo.com
Fashion
The Next Era
The Dior FW22 Collection is suspended between present and future, beating to the rhythm of simultaneity and synchronicity, in tune with the times. Surrounded by a gallery of paintings created by Italian artist Mariella Bettineschi, the show has brought on stage Maria Grazia Chiuri's concept of (re)constructing a performative relationship between the body and the garment in a succession of operations associating forms, savoir-faire, materials, and futuristic technologies. Titled "The Next Era," this art installation is composed of large-scale portraits of women from the history of painting from the 16th to the 19th Century, that with their cut-up, stacked eyes question the judgment that has conditioned women past and present. Dior's Creative Director has presented a hybrid collection that opens up unsuspected creativity through the use of embroidery, which adorns technical knitwear, waterproof materials, nylon, and cashmere. In addition, Maria Grazia Chiuri revisited heritage to conceive the lines of tomorrow, reinterpreting the iconic Bar jacket. The original structure has turned into a system that manages the body humidity and warms it up using novel techniques created in the D-Air lab laboratories, while a bodysuit keeps the temperature constant. VB

www.dior.com
Fashion
Exclusives by G-Star RAW: Innovative designs meet elevated constructions
Exclusives by G-Star RAW encapsulates the limitless creativity of the brand. Inspired by the Dakar Rally, the designs are expressed without restraint whilst employing the G-Star DNA in its purest, most extrovert form. Rising Berlin-based talent, Langston Uibel is featured in the recent campaign shoot for the brand. Features within the garments mimic those of the hard-wearing "Enduro" equipment, developed solely for the demanding racing environment. Bold and complex, the garments each include surprising elements such as reversible features and unusual silhouettes, coinciding with an ease of wearability. The palette is inspired by desert tones, ready for the Spring season. Another inspiration from the collection is drawn from Japanese workwear, which originates from the Japanese military uniform. The design team experimented with denim-focused garments to create elevated and refined styles with a considered, conceptual twist. Aspects taken from these uncompromising and unique garments include a wider leg with an abruptly narrower fit at the calf. Superior construction techniques, premium fabrics, and hybrid design features aim to encapsulate the stories behind each piece in the collection. Each piece with slight inspiration from the G-star RAW archive, the collection consists of a high fashion trench coat, a 72H lifesuit, washed leather jacket, lifevest shirt, bomber jacket, and cropped jeans. The Exclusives by G-Star RAW became available in selected stores and online from February 17th, 2022. GH

www.g-star.com
Fashion
LOEWE x On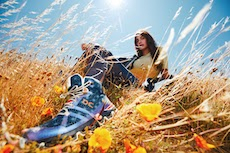 LOEWE has announced a collaboration with performance brand On with a limited-edition capsule collection of shoes and apparel designed for modern adventure. The designs reimagine long-established craft skills, combining a focus on sustainability with an emphasis on applying the handmade to technical pieces. In the collection are LOEWE editions of On's iconic Cloudventure and Cloudrock performance shoes for both men and women. This outdoor footwear is available in five colorways with six ready to wear pieces for women, and seven for men, each built with a unique blend of performance properties and key On features - weather adaptable Running Pants, a moisture-wicking Waterproof Anorak, temperature regulating Performance-T t-shirts, and a unisex customizable insulation three-layer Parka. Each of the ready-to-wear pieces is available in two colorways for each gender: an organic palette of khaki, blue, and orange that takes inspiration from nature, applied, applied in gradient effects that suggest prolonged exposure to the elements en plein air. Alongside the Japanese sashiko-inspired needlework print that resembles a starry night, these effects are the result of a meticulous technical process to craft the perfect color and pattern. The finishing process is carried out by hand, ensuring that the printed gradients match across all components of each item. Similarly, the marble effect soles are processed individually and manually, making each shoe unique. There is extensive use of recycled polyester for production to be responsible. The collection launched on March 9th online and in selected LOEWE stores on March 10th. GH

www.loewe.com
www.on-running.com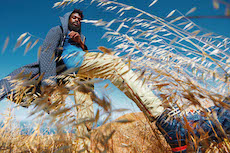 Fashion
Louis Vuitton Women's FW22
For FW22, Louis Vuitton wanted to recommence with the special moments in the formative years of one's life cycle that forge a character. The garments are linked to the timeframe of young adulthood. Channeling the sense of youthful experimentation he remembers, Ghesquière topped evening dresses with sporty rugby shirts or chunky sweaters wrapped around waists. This grouping in the show is to evoke how a teenage girl may co-opt her boyfriend's clothes. The imagery also plays with androgynous tailoring, often in oversized shapes. Pannier and bustle shapes were remixed in soft embroidered knit and tweed, making the looks more every day. The message behind the collection is around the freedom and romanticism around hope among youth. The collection displays the aura of having the world at your feet, embracing everything, and approaching taste as a personal construct. This is illustrated in the randomness of the mix and matching of garments, tailored to the individual who may wear them. GH

www.eu.louisvuitton.com
Fashion
032C WORKSHOP X SNIPES
SNIPES and 032c WORKSHOP just launched their exclusive capsule collection titled BREAKING BARRIERS. With it, both brands showcase their distinct take on streetwear, and influential creators and VIPs from the realms of fashion, street style, and arts flocked to 032c WORKSHOP's pop-up shop in Berlin for a sneak peek. TJ TurnUp, rappers Ufo361, and ASAP Nast, as well as celebrity stylist Bloody Osiris, were among the illustrious crowd. In 2016, 032c WORKSHOP started out as the merchandise extension of the eponymous Berlin-based magazine and has since gained a cult following in its own right, with drops generally being sold out in a heartbeat. And this unisex streetwear collection goes to show how perfectly their creative approach vibes with SNIPES. Having been started in 1998 in Germany, SNIPES has since evolved into a true household name in the realms of streetwear and sneakers having expanded widely into different European markets and the United States. Together, they have also added graffiti icon MODE2 to the roster, who contributed graphic elements to the designs. The result of the creative hive mind? An intersection of high fashion and authentic style influences directly from the streets. BREAKING BARRIERS features understated, contemporary streetwear essentials from accessories such as laces, socks, and bags to track pants, shirts, and jackets with impeccable details. The muted color palette of greys and black with some pops of bright green provides the perfect canvas for logo prints and MODE2's intricate artworks.

032c WORKSHOP x SNIPES limited BREAKING BARRIERS collection will drop on March 5, 2022, in 8 select SNIPES stores across Europe and online.

www.snipes.com
Fashion
Marni's Objects of Affection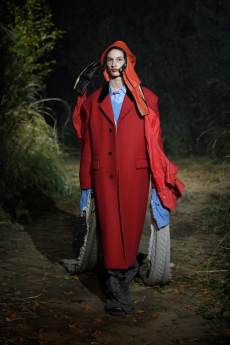 For the FW22 Season, Marni presented a collection about courage, time, and feelings condensed into objects of affection that are kept, cherished, and mended. These objects are like an identity card for the show protagonists: talismans to which their courage is attached. Marni, the Italian luxury fashion house with a history of humanist values combined with an experimental approach to materials and colors, is a state of mind, a playful spirit more than a brand. It is an expression of quirky elegance with an avant-garde attitude that holds a constant dialogue with the world of art. With the FW22 collection, Marni wanted to tell a story where objects were part of the plot. Objects inspired by tradition, mended objects, objects that seemed stolen from a museum, all jumbled together. While models shared the same wardrobe, each one of them was wearing clothes in their way and mixing them with their items of affection. They walked down the runway in big coats, shredded dresses and trousers, shrunken jackets, and outsized jumpers with sleeves dangling to the floor. To complete the collection, sartorial suits completely handmade by Attolini captured the emotion of tradition in the touch of the hand, defying mechanical reproduction. Old things become new, assembled with courage and affection. VB

www.marni.com
Fashion
Walk of Fame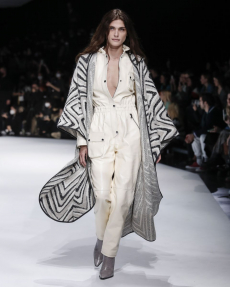 Missoni, the brand that stands for zigzags, presented its FW22 Collection during Milan Fashion Week: a unique show that portrayed an array of celebrities walking down the runway. Founded in 1953, the Italian brand is a synonym of impeccable knitwear, refined tones, and meticulous details that, for this season, are reinvented through clothes with imperfections and cuts, adding a patina of fondness as if telling a long story. The FW22