Fashion
NARS Cosmetics Holiday 2023 Collection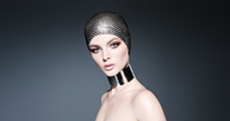 'Tis the season to dazzle, and what better way to make a statement than with the NARS Cosmetics limited edition Holiday 2023 Collection. This collection is a curated blend of bestsellers and rising stars, featuring exclusive, radiant sets. The 'Endless Nights Eyeshadow Palette' promises an unforgettable night with its nine highly pigmented, seductive eyeshadows. From shimmering neutrals to vibrant pinks and violets. Embrace the festive spirit with captivating colours like "Let Loose," a shimmering peach-champagne, and "Starlet," a glittering bronze gold. 'All That Glitters Light Reflecting™ Cheek Palette' is a limited-edition palette featuring six vibrant Light Reflecting™ blush shades, adorned with glitter for that extra touch of glamour. From the metallic cool pink of "Silver Screen" to the satin terracotta-red of "Sabrina," each shade is carefully curated to enhance your natural glow. In other news, NARS proudly marks the 10th anniversary of the essential Radiant Creamy Concealer, with a commitment to inclusivity, the Concealer boasts an extensive range of 30 shades, catering to all skin tones. What sets this concealer apart is its infusion of Multi-Active Botanical Blend Technology, tightening the skin, reducing redness, and fortifying the skin barrier. Its availability in a mini size makes it the perfect on-the-go companion. Discover the timeless Radiant Creamy Concealer and the Holiday 2023 Collection as a celebration of all things glitter, glamour, and boldness.
www.narscosmetics.com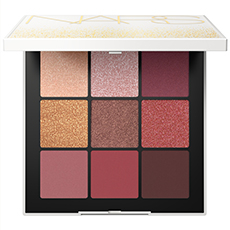 Fashion
Stüssy & Levi's Infused Capsule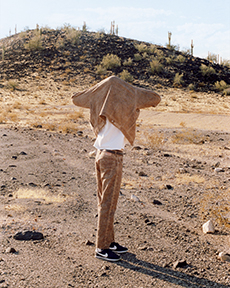 In a nostalgic nod to their Californian roots, Stüssy and Levi's have collaborated once again, blending Stüssy's distinctive design ethos with Levi's classic garments. The result? A captivating capsule collection featuring trucker jackets and jeans in three striking colourways: black, brown, and pink. Crafted from jacquard fabric and adorned with two-tone garment dyes, each piece exudes a one-of-a-kind charm, reminiscent of washed vintage aesthetics. The Stüssy & Levi's collection drops on Friday, November 10th available for purchase on both stores and websites. Levi's has been an emblem of timeless American style and continues to evolve with a relentless commitment to innovation. Stüssy, born from the Southern California surf scene in the late '80s, reshaped casual wear with a unique ideology. As Stüssy resonated with an international network of creatives—musicians, skaters, DJs, and artists—the brand's ethos spread globally. These brands merge seamlessly resulting in an innovative collection with trendy pieces.
www.levis.com 
Fashion
Gucci & Billie Eilish Collaboration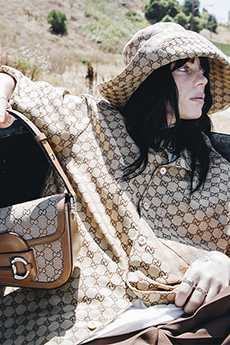 In a groundbreaking collaboration between fashion powerhouse Gucci and iconic singer Billie Eilish, the luxury brand unveils a revolutionary iteration of its heritage Horsebit 1955 bag. The bag, known for its timeless design, takes on a futuristic and asymmetrical aesthetic, representing a bold step towards ethical and sustainable fashion. The key innovation lies in the material—Demetra—an animal-free alternative that seamlessly blends quality, softness, and durability. This marks a significant shift in Gucci's traditional craftsmanship, showcasing the brand's commitment to a more ethical fashion future. Notably, the Horsebit 1955 in Demetra is the first Gucci bag ever to be crafted in this innovative material. Demetra is a result of two years of meticulous research and development by Gucci's technicians and artisans. Comprising 75% plant-derived raw materials, the material is a testament to Gucci's dedication to reducing its environmental impact. Produced in Italy since 2021 at a Gucci factory, Demetra aligns with the brand's ongoing efforts to create a sustainable and responsible supply chain. Billie Eilish, renowned for her bold advocacy and authentic voice, becomes the face of this collaboration. Set to her song "What Was I Made For?" the videos showcase the bag in various cinematic scenes, celebrating the harmonious blend of music, fashion, and ethical innovation. The Horsebit 1955 in Demetra is not just a bag; it's a symbol of a forward-looking approach to fashion that values ethics, creativity, and the planet.
www.gucci.com
Fashion
David Chipperfield Cave & Ten c FW23/24
Luxury outerwear brand Ten c goes on a quest to unearth the hidden gems of the Italian landscape, under the FGF Industry group, and presents its FW23/24 campaign against the stunning backdrop of Cava Arcari in Vicenza. This exceptional location, a masterpiece by the Pritzker Prize-winning architect David Chipperfield, mirrors the brand's dedication to discovering and showcasing the beauty that lies off the beaten path. The FW23/24 collection, inspired by the rich hues of semi-precious stones, seamlessly integrates with the enchanting surroundings of the Arcari Quarries. The architectural inspiration drawn from ancient Roman theatres brings forth three distinct colour tones—ivory representing Vicenza stone, military green mirroring moss and algae deposits, and black encapsulating the mysterious labyrinths within the quarries. Each colour tone unfolds a chromatic chapter in the campaign's short story, captured through striking shots and a mood video. The ethereal and contemplative ambience of the quarry mirrors the collection's essence, creating a harmonious interplay of light and shadow within the environment. Ten c's FW23/24 campaign is more than a showcase of luxurious outerwear; it is a testament to the brand's commitment to revealing the unseen and promoting the marriage of art and nature. With the promise of constant innovation in technologies and fabrics, Ten c continues to lead the way in creating contemporary and groundbreaking fashion.
www.tenc.com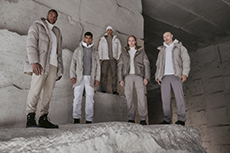 Fashion
Hublot's New Classic Fusion High Jewellery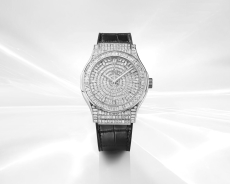 Hublot's iconic design and highest-quality craftsmanship combine in the Classic Fusion High Jewellery, a unique stunning piece. The Swiss manufacturer is proud to launch its latest creation, embezzled with diamonds on its case, bezel, dial and clasp. The dazzling watch, made of 431 baguette-cut diamonds, is the latest attrition to Hublot's High Jewellery collection of watches. The watch features a 42mm dial in white gold, and offers a power reserve of more than 50 hours. This new addition to the Hublot family, effortlessly joins all the other watches of the High Jewellery collection, and takes its own place alongside other precious models such as the Big Bang, the Spirit of Big Bang and the Square Bang Unico. What distinguishes and renders unique the Classic Fusion High Jewellery are its embellishments: sleek lines og white gold that make this new piece a true Hublot icon. The Classic Fusion High Jewellry stands as proof that sophistication lies in simplicity, in the high quality of the craftsmanship, and in the refined details that highlight the beauty of this watch, which is created taking as inspiration the original 1980s shape. The final result represents the highest expression of fine jewelry, and accentuates the elegant, timeless purity of the classic Hublot Fusion model.
www.hublot.com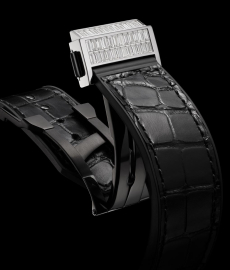 Fashion
Paul&Shark – A Father and Son Tale FW23
In a captivating blend of Italian elegance and familial warmth, Paul&Shark unveils its FW23 AD Campaign, "A Father and Son Tale," featuring the dynamic duo of actor Pierce Brosnan and his son, Paris. Set against the picturesque backdrop of the Tuscan hills and a charming village, this campaign is more than a showcase of high-end fashion; it's a celebration of the profound bond between father and son. The narrative unfolds in a series of moments—strolls through narrow streets, card games on a picnic blanket, and shared embraces—capturing the essence of genuine connection. Pierce Brosnan, the epitome of timeless style, was a natural choice for Paul&Shark. As a world-renowned actor and fashion icon, he effortlessly embodies the sophistication of the FW23 collection, featuring water-resistant cashmere outerwear, fine wool knitwear, and soft cotton shirts. The creative vision of Giampaolo Sgura and styling by Anna Dello Russo elevate this campaign to an artistic expression of familial ties. Paris Brosnan brings a casual, urban flair to the collection, with wide rib-knit oversized shirts and the iconic wool beanie hat seamlessly blending with his father's refined aesthetic. The duo effortlessly showcases the versatility of Paul&Shark's garments, emphasizing a style that transcends generations. Scheduled for a global release on September 12, 2023, this campaign marks a pivotal moment. It not only unveils the latest collection but also tells a story of style, connection, and the timeless elegance that Paul&Shark represents.
www.paulandshark.com
Fashion
Paris Fashion Week - Chanel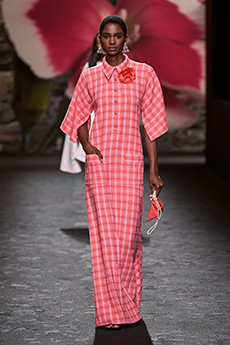 Villa Noailles unfolds as the enchanting muse behind Chanel's SS24 Ready-to-Wear collection. Bathed in the sun's glow near the French Sea, nestled in the hills of Hyères, this architectural gem designed by Robert Mallet-Stevens in 1923 exudes an art de vivre complete with terraced gardens, tiled floors, and serene structures. The essence of Villa Noailles' checkerboard hedges, sunken flower beds, vibrant colours, and geometric patterns gracefully interwine the collection, offering an idyllic sense of freedom. Inspired by the surroundings, these details elegantly make their mark in the clothing through checkerboard embroidery and coral pink and blue tones. Echoing the vibrancy of light and colour, the interplay of contrasting asymmetries, patchworks, and stripes injects a rhythmic energy into the collection, defining its unique concept of elegance and insouciance. Creative Director Virginie Viard paints a picture of an easy-living French vacation—a summer stroll through a Chanel wardrobe that seamlessly blends sophistication with informality, whose expression unfolds in multicoloured tweed dressing gowns, striped terrycloth jackets, neoprene suits, lace-adorned dresses, and trousers enriched with floral motifs. From the start, the collection exudes a relaxed look with loose-fitting co-ords, bathing suits paired with caped beach-blanket cover-ups, and an unexpected twist—flip flops. Layered accessories complement the looks, including sunglasses, strands of pearls worn as necklaces or belts, and gold chains. Balancing freedom and femininity with worldly sophistication, the collection presents a dynamic range of pieces showcasing prints and textures effortlessly mixed and matched. In a nod to the season's tendencies, small yet impactful sheer black elements feature long organza skirts and dresses, inviting endless layering. Chanel's SS24 collection is more than just garments; it is a sun-kissed journey through the gardens of freedom, where elegance meets insouciance in the freshest way possible.
www.chanel.com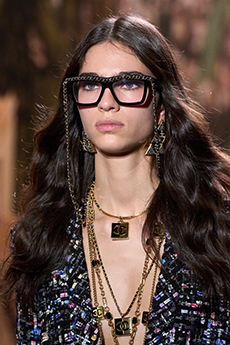 Fashion
Paris Fashion Week - Saint Laurent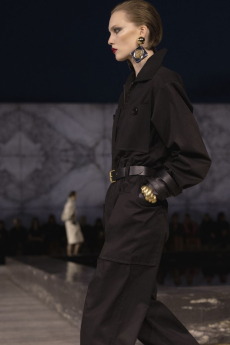 Saint Laurent presented its SS24 collection at Paris Fashion Week on September 26th, 2023. The collection, designed under the creative direction of Anthony Vaccarello, was showcased in a gigantic architectural construct built for the occasion, with a magnificent view of the Eiffel Tower. For this season, the unexpected move of Vaccarello was to strip everything back. He declared that his goal was to bring everything back to its simplistic form, without overcomplicated pieces or exaggerated silhouettes. Indeed, this clean canvas marks a new chapter in the history of Saint Laurent. Cotton as a material dominated the Maison's runway in every way possible, from shirts to evening dresses. The main inspiration behind the collection is the "Saharien" jacket, a concept that Yves Saint Laurent brought back from his North African upbringing and with which he revolutionized Parisian fashion in 1967. Despite its simplicity, the collection is definitely not humble: every piece radiates the fierce, put-together Parisian glamour which in the years has come to represent the brand. Every outfit was completed by 80s-inspired maquillage, voluminous hair, and gold jewelry. The whole collection brings back the idea of a simple, stripped-back elegance that exalts the wearer and captivates.
www.ysl.com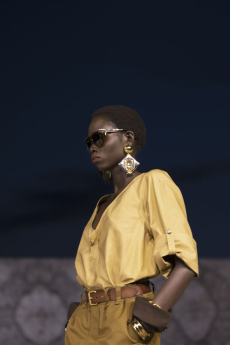 Fashion
Milan Fashion Week - Herno
With its SS24 collection, Herno suggests living the summer season moment by moment, savoring each one and effortlessly moving between the essential and the superfluous. The weight of every fabric is a reminder of the everchanging spirit of fashion, which, like the wind, flows and mutates. The Italian brand's 75-year-long history is honored in this collection, which is nonetheless enhanced by the current times, embracing new fashion trends while maintaining the elegant and classic style that distinguishes Herno. Outerwear keeps being the focus of the brand, along with skirts, pants, and dresses. The style of the garments is declined in feminine and contemporary silhouettes through fabrics that enhance sartorial cuts. The different nylons that make up the collection go from ultralight to super mat, while cotton is employed in its most classic version, dedicated to pieces meant for rainy weather as well as more "girlish" versions. The collection's most prestigious garments are made of linen, silk, wool, and double cashmere, exalting the high quality of Herno's craftsmanship. The protagonists of the color palette are pastel tones, such as yellow, light blue, and aquamarine, while neutral, feminine colors such as neutral hues remain staples in this refined, yet modern collection.
www.herno.com
Fashion
Gucci Inaugurates a New Boutique in Munich
Gucci expands its presence in Germany by inaugurating a new boutique in Munich's Maximilianstrasse 11-15. The space covers over 590 square meters and is built on two floors. The store carries a large selection of men's and women's ready-to-wear collections, including handbags, luggage, shoes, jewelry, beauty and watches. The facade of the store maintains its original heritage looks, while the interior of the store is kept simple and refined. The use of clean linens and a color palette that reflects both the iconic colors of the brand and fits in with the existing environment enhances a subtle charm. The wooden floors in antique oak feature decorative details with a motif that references details from Gucci collections, while the lighter wood boiserie inserts offer a delicate accent to the walls. The store is designed to make customers feel at home, framed with built-in displays reminiscent of a walk-in closet; velvet armchairs and sofas adorn the store, ensuring a comfortable customer experience. Newly designed racks enriched by classic designs accommodate diverse product categories, rendering the store conceptually unique and able to cater to the diverse needs of multiple customers. Overall, Gucci's new Munich boutique perfectly adapts to the surrounding city, while maintaining the brand's iconic style.
www.gucci.com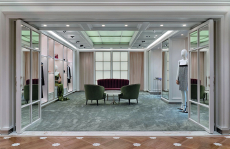 Fashion
SKIMS Launches at KaDeWe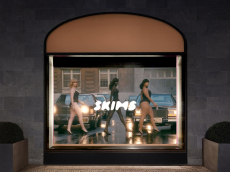 On September 18 2023 SKIMS announced its first ever multi-brand shopping experience at KaDeWe in Berlin. The partnership with the iconic luxury store is another stepping stone for the American brand, which is now expanding worldwide in international markets. The opening follows the SKIMS Swim pop-up experience at Selfridges in London in June and the openings of shop-in-shop at multi-brand retailers across the world. To celebrate the launch, KaDeWe unveils a SKIMS takeover on its iconic window front, featuring SKIMS' iconic logo and an artful campaign with models wearing the brand's famous shapewear. Throughout the opening weekend, SKIMS invites customers to a special shopping experience serving sweet treats. KaDeWe will host the SKIMS shopping experience on the third floor of the store, which will allow customers to pick among the brand's best-selling collections and products, such as the Seamless Sculpt line and the Soft Lounge Long Slip Dress. SKIMS fits perfectly in KaDeWe's multi-brand shopping experience, bringing the brand's conceptual design of retail spaces to life thanks to SKIMS signature shapewear wall, rounded edge surfaces, and custom fixtures, designed in partnership with Willo Perron, SKIMS long time collaborator. KaDeWe's fame for bringing artful, conceptual shopping experiences to its customers is once again confirmed by the SKIMS collaboration, which merges two brands whose visions and values are aligned.
www.skims.com
www.kadewe.com


Fashion
Ralph Lauren Spring 2024 Women Collection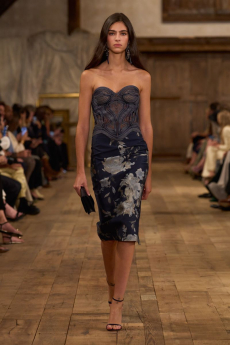 On September 8th, 2023, Ralph Lauren showcased its new Women's Collection in New York with an immersive fashion experience transporting guests to the core of the brand's values and personality. The event was a romantic and artistic celebration of Ralph Lauren's classic American style. The collection dresses a cool and sophisticated woman, giving her the freedom to craft her style. Faded denims and painterly florals contrast black and gold shapes, giving life to an eclectic mix of colors and patterns that is elegant and sophisticated. For the event, a utilitarian warehouse in the heart of New York's Brooklyn Navy Yard was transformed into a world of romance and rusticity with a modern feel. The location is an ode to artists' retreats, and it is a reminder of the Spring 2024 runway backdrop, with glimmering chandeliers, artfully draped canvases, and wood textures. The collection features a classic spring palette that is innovative in its mixtures of white and blue hues, eclectically combined with denims and embroidered patterns. The black and gold juxtaposition brings vibrancy to the pieces, emphasizing self-expression and originality. Ralph Lauren's Women Collection for Spring 2024 celebrates female self-expression, emphasizing the importance that personal style and individuality have for the modern woman.
www.ralphlauren.com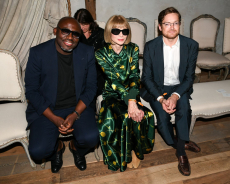 Fashion
Woolrich FW Campaign
Woolrich, the Original American Outdoor Brand is pleased to reveal the latest Fall/Winter 2023 advertising campaign featuring multiple young talents. The campaign, titled ORIGIN STORIES, embodies Woolrich's significant bond with American culture and honors the original stories. The campaign captured American Dreams experienced from different perspectives, viewed through the lens of the new Americana, while the stylish footage was artfully blended with Woolrich's iconic clothing, establishing itself as an essential part of the country's cultural heritage. In particular, the campaign pays tribute to two fundamental pillars of American culture—the timeless Game of Checkers and the iconic American Diner. Game of Checker has been at the center of American culture, fostering companionship and treasured experiences for people of all ages. On the other hand, American diners symbolize not only culinary landmarks but also a representation of genuine American culture. Hence, the American Diner resonated with the nostalgic charm reminiscent of classic train carriages, and diners that portray the real picture of American scenes, encapsulating Woolrich's enduring legacy of significance. Elsewhere, shot by Los Angeles-based director and photographer Hunter Lyon, their intimate perspective adeptly portrayed the brand's essence and history. Also, Stylist Julie Ragolia curated the looks and created mesmerizing visuals where stylish ensembles perfectly complement the brand's representation.
www.woolrich.com
Fashion
A Bag for Everyday: the Louis Vuitton GO-14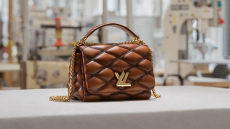 Since its launch in 2014, the Louis Vuitton GO-14 Bag has been an everyday staple in many women's wardrobe. Its shape, material, and simplicity make it versatile while at the same time keeping it a trendy accessory that can be brought effortlessly from day to night. The GO-14 is now being revamped and reimagined with new textures, materials, and shades. One of its latest editions is in brown malletage lambskin leather, featuring the quilted pattern distinctive of the brand's iconic trunks. The leather that makes up the bag is sustainably sourced and produced according to the highest environmental standards. The gleaming golden twist lock displays the Maison's logo, rendering this accessory a unique everyday staple for every woman's wardrobe. The versatile aspect of the GO-14 is accentuated by its top handle, which can be converted into a leather pad on the chain, allowing the bag to be carried comfortably across the body. The brown lambskin leather employs the same iconic material of the original GO-14 while giving the bag a classic and modern twist through the variety of brown shades and gold detailing. The inside of the bag comes with both a large pocket and a smaller patch pocket, allowing to take advantage of the bag's space. From day to night, the new look of Louis Vuitton's GO-14 bag makes it an essential accessory
www.louisvuitton.com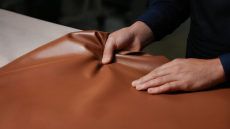 Fashion
The Future's not Ours - Jodee Knowles' Newest Exhibition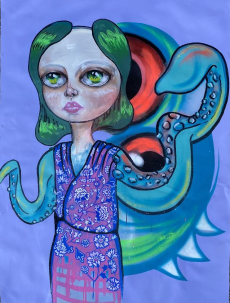 The internationally celebrated Australian artist from Perth is returning to her hometown with an exhibition titled The Future's not Ours, which marks the artist's first solo exhibition at Kamile Gallery. The showing features 15 pieces, each offering a different take on the human experience. The exhibition, true to the artist's signature thought-provoking style that focuses on the human condition and emotions, explores profound themes connected to spirituality, identity, and life experience. Societal norms and perceptions are continuously challenged throughout the works in the exhibition, which delve into the otherworldly realm. Through Knowles' unique perspective on deep societal topics, viewers are invited to question their perception of themselves and others in search of acceptance in the multidimensional reality brought to life by the artist's works. Our lifelong quest for identity in today's world is at the core of the artworks, explored through different dimensions that lead the viewer to contemplate their own life journey. One element brought up throughout the exhibition is the concept of masks, both visual and metaphorical, that we wear every day to appear in society. The Future's not Ours represents another achievement in Jodee Knowles' artistic and philosophical journey. Jodee's exhibition will be inaugurated at 6PM on August 25th at Kamile Gallery in Perth.
www.jodeeknowels.tumblr.com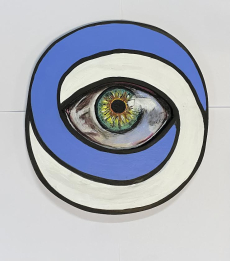 Fashion
City Rhythm: by-bar's FW23 Collection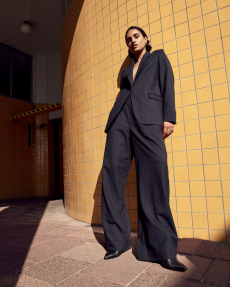 Remaining faithful to its mission to create clothing suitable for all seasons, by-bar, the Amsterdam-born, and based brand, has created a new stylish and versatile collection for FW23, titled City Rhythm. Drawing from its founder Barbara Brenninkmeijer's ideology that every person has a beautiful, unique soul and personality, by-bar's FW23 collection is inspired by how the city's rhythm changes every season and by how people adapt their lifestyle to it. The idea behind the collection is that our wardrobe and needs adapt to the season and that every mood and weather calls for easy, chic, and casual styles. By-bar's FW23 collection is all about vintage looks, featuring diverse patterns, wide-legged pants, and soft-knitted sweaters. Each piece is adorned with elegant and subtle accents, such as pearl buttons or puffed sleeves. The hues of the collection inspire comfort and warmth. The palette goes from rustic brown to pine forest, leaving at the same time space for some colorful accents such as poppy red and king blue. The materials are soft and perfect for layering, thus allowing for versatility in all weather and climates. Like all by-bar collections, City Rhythm also features high-quality, durable materials and handcrafted pieces in Italy, Portugal, and India.
www.by-bar.com
Fashion
Berlin Fashion Week - ODEEH
During Berlin Fashion Week, the duo designers Otto Drögsler and Jörg Ehrlich unveiled ODEEH SS24, titled 'The Next Chapter' exploring Surrealism and unique androgynous style for women. The designers played with elegantly soft layering with men's shirts and various bold tropical prints that reflect Surrealism and the DADA movement. Inspired by the silhouette of Hawaiian shirts, the men's shirt appears in a wide range of variations in color and patterns. The brand reinterprets that with exaggerated new proportions as well as offers unique insights into androgynous style, paired with calf-length sequin skirts and bold-colored midi dresses. The looks are mainly focusing on sophisticated, glamorous styling with the oversized silhouette while exuding femineity with an accented strap on the waist. Also, the unexpected fabric combinations create a polished, refined look throughout the collection such as running thread, fringe details, sequins, and mesh fabrics, adding fun and playful elements of styling to emphasize the joyful atmosphere. The collection begins with an array of all-white looks defined by clean and easy silhouettes. As it adds more vibrant and diverse colors, the color palette includes different shades of blue, sandy beiges, faded smoky pastels, and various tropical hues. Moreover, various colored prints add a touch of surrealism to the collection ranging from graphic smoky tapestry to blurred flower patterns to surreal, Dadaistic prints. In addition, raw and open cut, and precise shoulder paddings contrast the easiness and softness of the general look. 
www.odeeh.com
Fashion
Berlin Fashion Week – LITKOVSKA
LITKOVSKA, the Ukrainian label captured an avant-grade chic during Berlin Fashion Week. Titled On Air, the collection highlights its raw and touching form that defines contemporary silhouettes. Also, daring cutouts of the outfits create dynamic looks enhanced by neutral tones and distinctive color contrast. The designer focuses on volume and detail in the garments. The delicately layered and draped garments are both chic and modern, designed to be timeless pieces. Overall, the collection features effortless versatile pieces which can be everyday luxury wear such as oversized high-neck dresses, structured shirts, and trousers with draped details. Also, there are a series of gorgeous matching sets in various materials like denim two-pieces, oversized suits as well as sweatshirts, and matching pants. Its color palettes include ivory, pastel pink, and red, as well as brown, white, and black, setting an elegant tone for the overall look. Sophisticated prints appear on both the oversized dress and blouse in red, giving a contemporary contrast, while intricate striped patterns feature an array of pieces such as shirts, trousers, and blazers, which make the looks classy, chic, and flattering. In addition to the garments, the collection features unique accessories and jewelry in horse shape, reminding of shepherds of the Carpathian Mountains while nodding to Ukrainian tradition and history which crafts little horses out of cheese for children as a special gift as well as talisman. While symbolizing their community, craftsmanship, and protection through the collection, the brand intends to share such blessings with the audience, wearers, and the fashion industry.
www.litkovska.com
Fashion
"In Conversation with a Flower" - Prada's FW23 Campaign
The flower is the symbol at the center of Prada's FW23 men's and women's campaigns. Through the metaphor of the flower, symbolizing tenderness and affection, Prada explores timeless values such as humanity and emotions. Those human-sized flowers represent both everyday and extraordinary beauty, and they are vehicles through which the intangible is expressed. The size of the plants gives them the role of protagonists and active participants in the scenes. In the campaign, flowers interact with five global stars, among whom are Benedict Cumberbatch and Hunter Schafer. Those cinematic figures reflect Prada's relationship with the world of cinema as a way to express cultural ideals and evoke strong feelings. A dialogue composed of surreal conversations that are both literal and visual develops between the flowers and these figures. The imagery for the campaign was captured by Willy Vanderperre, who masterfully captured the intangible dialogue between the flowers and the characters in conversation with them. The campaign also features a short film, which sees the cast engage in actual conversation with the improbable character of flowers, which are, in this instance, almost anthropomorphized. The script of the short film is the work of Michael Cunningham, the Pulitzer Prize author who wrote The Hours (1998). The flowers represent a dichotomy in these paradoxical conversations, juxtaposing different aspects of their nature that is both strong and fragile, eternal and yet ephemeral. Prada uses flowers as a metaphor to represent and embody the human experience in these seemingly unreal images.
www.prada.com
Fashion
Aquatic Architecture and Bionic Innovations in Iris van Herpen's FW23/24 Collection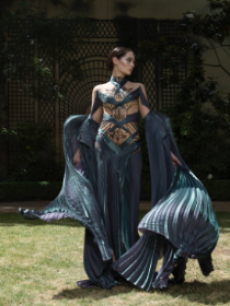 "ARCHITECTONICS," the new collection by Iris van Herpen presented on July 3rd at Paris Haute Couture, draws inspiration from futuristic architecture featuring floating elements and bionic designs. In the future portrayed through this collection, the land becomes one with water, creating an environment where humans harmoniously coexist with the ocean. Inspiring van Herpen in this collection is the aquatic urbanism movement, specifically the work of the French architect and oceanographer Jaques Rougerie and Bjarke Ingels' "Oceanix," a floating city currently being built in South Korea, which also has a strong focus on recycling and sustainability. The designer has successfully merged fashion and floating architecture through clothing created using high-tech techniques such as "Sensorama," which creates different layers. The harmonious silhouettes of the clothing are interspersed with geometric cutouts, which imbue the pieces with a sense of movement. The color palette contrasts whites and blacks with gold, silver, and metal detailing. The looks are finished with the "Bionic" boots, digitally designed and 3D-printed, once again highlighting the high-tech aspect of this collection. ARCHITECTONICS imagines humanity's next frontier, harmonizing waterborne urbanism and aquatic ecosystems. The collection raises awareness about growing environmental issues and draws attention to Oceanix, the world's first floating city.
www.irisvanherpen.com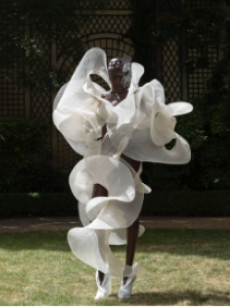 Fashion
Maserati's Short Film by Ferzan Ozpetek, "Companions on a Journey"
Maserati has just released the teaser for its short film directed by the famous movie director Ferzan Ozpetek. "Companions on a Journey" is a short feature that deals with the themes of family ties and passion for automobiles. The scene is set in the beautiful landscape of Italy, where three siblings set off on a journey across the country to reunite with their father, an acclaimed orchestra conductor. The narrative, recounting the emotional journey of the family, develops through the physical journey through Italy. The cars accompanying the family members on their journey are the MC20 Cielo, the Gran Turismo, and the SUV Grecale. Each car reflects the personality of a family member and guides them through their adventure. Ozpetek's movie celebrates the unique connection between the family's relatives through the elements that connect them: automobiles, art, and love for each other. Ultimately, the short motion picture captures the importance that the Maserati brand places on family ties, beauty, art, and travel. At the same time, "Companions on a Journey" celebrates Maserati's Italian heritage and the luxury and technology of their cars. The short movie will soon be released to the public.
www.maserati.com
Fashion
Paris Fashion Week – Hermès Men's SS24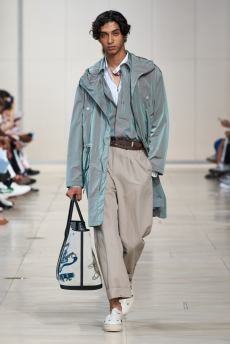 A serene, calm, soft, and joyful summer is probably what everyone is wishing for and exactly what the Hermès SS24 menswear collection embodies. Inspired by architectural elements, a summer paradise is constructed through clothing. Daylight becomes weightless and fresh garments, landscapes make up the color palette, and adventures become fabric and texture choices. Silhouettes are brought to life with the pieces we live through.

Shorts, jackets, and short trench coats allow bodily movement for a man's free-spirited lifestyle. Technical fabrics such as cashmere, silks, and cotton are found on tunics and beach blazers with parasol stripes. Rolled-up trousers, breezy knits, and suit jackets allow for a relaxed and breathable fit for the hottest of summer days. Desert hues, icy shades, sage greens, and steamy grays point to a mineral-inspired color palette: colors that reflect and react to one another, hinting at a certain playfulness with light and patterns. We find reversible leathers, layering possibilities, and contrast in fabrics. Accompanying the Hermès summer breeze looks are a variety of bags, such as the Cordage tote bag and the iconic Haut à courroies bag, and footwear, such as sole leather sandals in black, brown, and cream. Hermès conveys a certain quiet luxury feel with subtle and ready-to-wear aesthetics.

www.hermes.com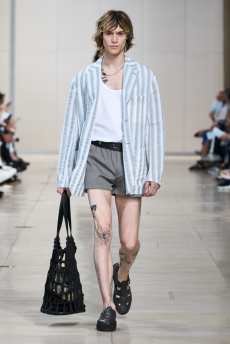 Fashion
CHANEL at the Biarritz International Film Festival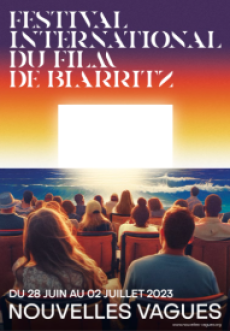 The House of CHANEL has strong ties with the city of Biarritz, to which it has even dedicated a fragrance. This year, the brand is supporting the first edition of the Biarritz International Film Festival, Nouvelles Vagues, by hosting a dinner at the Hôtel du Palais on the opening day of the festival. The festival will last five days, from the 28th of June to the 2nd of July. The leitmotiv of the festival is youth, to which the screenings, concerts, and exhibitions are dedicated. The films participating in the festival explore the place of young people in our society or recount stories of youth. Among the jury, composed of young multidisciplinary artists under 35 and film students, is actress and CHANEL ambassador Lyna Khoudri. The trophy of the festival also emphasizes the partnership with CHANEL. Students from the École Boulle designed it for the Paurier Desrues, the first House to join the Fashion Métiers d'Art in 1985. Established by CHANEL, the Fashion Métiers d'Art is a prominent organization that recognizes the skillful work of Maison's partner artisans. The festival will be an unprecedented cultural event, an occasion to bring together guests from a wide arrange of cinematic backgrounds in the beautiful backdrop of the city of Biarritz.
www.chanel.com
Fashion
New Jewelry by Louis Vuitton
Louis Vuitton presents its newest and most extensive high jewelry collection, Deep Time, which intends to celebrate our planet's natural features and the fragility of life. The Maison's classical jewelry themes and designs revolve around playing with the logo, and in this collection, this takes a step further. The timelessness of gemstones inspires the title and the feel of the collection, and each piece captures the interconnectedness between past and present. Deep Time has been designed by Francesca Amfitheatrof, Louis Vuitton's artistic director for Watches and Jewelry. The pieces are grouped into 16 themes spanning two acts: Geology and Life. In Geology, the jewelry captures our planet's evolution through Maison's signature style and logo, and the items aim to embody a natural feature through the evocative colors of the gemstones and the design of the piece. Geology features precious gemstones such as the Colombian emerald, which represents the Earth's formation. Life focuses on the life force driving creation. The jewelry belonging to this act captures the history of evolution, with themes ranging from Fossils to Flowers. The themes of Life all bring forward a juxtaposition of different textures, making each piece unique. Life's pieces are incredibly versatile and are meant to be worn in multiple ways; this aspect is at the core of Amfitheatrof's creative directory, which strives toward transformability.
www.louisvuitton.com
Fashion
Men's Milan Fashion Week - Giorgio Armani
The Giorgio Armani Men's SS24 leitmotif is found in threads, knots, and weaves that evoke the tranquil energy of summer. At the heart of the collection, there is a willingness to embrace lightweight fabrics and to replicate soft and elongated shapes. The elegance of the collection stems from the earthy, white, and blue tones, which, together with the lithe aspect of the fabrics, contribute to imbuing this collection with a sense of timeless charm.

The brand's focus for this season is on the fluidity of the items of clothing; the purpose of Giorgio Armani's SS24 menswear pieces is to capture the feeling and the energy of summer through geometric patterns reminding of the theme of the thread and shapes such as knots. The juxtaposition of earthy tones and blue hues also fits in with the breezy atmosphere of Giorgio Armani's SS24 summer clothing, which does not expose the body directly but aims to appear airy and fresh. Overall, through earthy colors and intertwining shapes, the collection interprets present men's fashion with a classic, elegant, and timeless taste.

www.armani.com
Fashion
Collaboration launch between Marsèll and Diomene by Damir Doma
The Italian brand Marsèll has footwear as the focal point in its pursuit of defying the boundaries of tradition while simultaneously using traditional high-quality Italian manufacturers for their production. Operating with a similar framework, the younger clothing brand by Damir Doma has as its core eliminating the superfluous, producing timeless pieces of clothing with their signature element of floral embroidery. This powerful detail works well in distinguishing the brand.

Through a deconstructive process, the item that emerges from this collaboration is a malleable piece in the hands of the user, which is placed at the heart of the creative process. By marrying Marsèll's focus on materials and innovative techniques and the simplicity of Diomene's clothing, the result is a timeless collection adaptable to human emotions, the element at the collection's core. Two of Marsèll's shoe models are coupled with Diomene's signature floral embroidery. The footwear resulting from this collaboration now accessorizes Damir Doma's third collection, once again reiterating the connection between Marséll's timeless footwear and Diomene's simple clothing items, putting the individual user's experience of the footwear and clothing at the heart of the experience.

www.marsell.com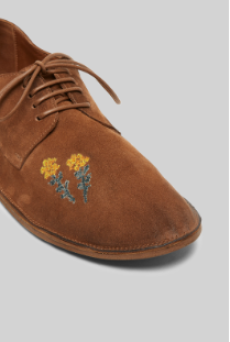 Fashion
Men's Milan Fashion Week – Gucci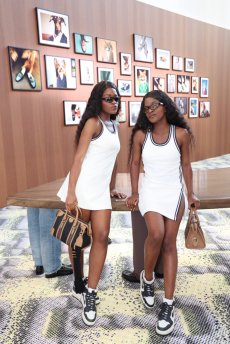 On the occasion of its SS24 men's collection during Milan Fashion Week, Gucci took the opportunity to celebrate 70 years of the iconic Gucci Horsebit loafer with a multi-faceted, expansive showcase at Spazio Maiocchi. First conceived by Aldo Gucci in 1953, the Horsebit – a miniature of the metal clamp of a horse's bridle – has become a signifier of the community embodied by Gucci. The casual but elegant Horsebit loafer came to signalize a transitional period on the way to a more liberal mentality toward conventional dress codes, as the loafer was adopted by a great variety of individuals over time.

Titled Gucci Horsebeat Society, the celebratory exhibition was shaped by Spazio Maiocchi's Creative Director and curator Alessio Ascari into a multi-disciplinary experience: enabling a full immersion into the iconography of the Horsebit Loafer through transformative reinterpretations that featured ten international artists, designers, and creatives. Inspired by the equestrian roots of the Horsebit, the Gucci Horsebeat Society re-imagines the tradition of the country club in a contemporary space fused with the spirit of artistic counterculture – a concept which materializes in a multi-dimensional 'house'.

www.gucci.com
Fashion
Gucci's Green Doors Reopen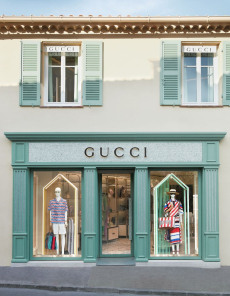 Gucci is reopening its newly renovated boutique in Saint-Tropez, between the port and the Place des Lices. The store is situated in a classic Saint-Tropez house at 72, rue François Sibilli characterized by green shutters that typify the surrounding landscape. Guests are invited to immerse themselves in a world that blends Gucci's spellbinding summer charm with the immaculate beauty of the French Rivera.

Through pastel hues, local materials, and classic design elements, the interiors of the boutique are perfectly complementary to the pristine beauty of the French Rivera. Liberty-style mosaics on the floors, natural oak on the walls with woven rattan finishes, and newly designed brass racks come together in harmony to immerse guests in a unique Gucci experience. In the private garden which crowns the boutique, guests can relax around a preserved well and enjoy the greenery, sunshine, and fresh air.

Within the space, which spans over 200 square meters over two floors, visitors can explore pieces for both men and women, from ready-to-wear, footwear, and accessories to the house's signature handbag lines and a selection of precious jewelry. The boutique additionally showcases the Gucci Valigera collection, designed for the dream holiday.

Gucci also imprints its unique aesthetic in collaboration with the renowned Loulou Ramatuelle Beach Club. After a captivating transformation, the beach club will host a temporary Gucci pop-up. An exclusive Saint-Tropez capsule collection will be available alongside the Summer Stories collection and a special selection of cocktails and menus by Giardino 25 from June 1st until the end of September.

www.gucci.com
Fashion
Smells of Well-ness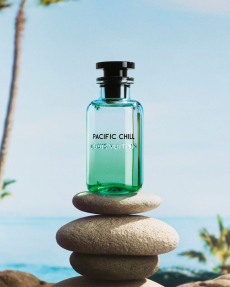 The dramatic landscape and extravagant beauty of America's Pacific Coast form the inspiration for the ethereal scents of Louis Vuitton's Cologne Perfumes. Master Perfumer Jacques Cavallier Belletrud has captured the magnetic energy of Los Angeles, creating an olfactory adventure within each bottle. Each member of the Cologne Perfume collection has a personal story about the light in the city, from the gentle glow of the dawn to the sparkles that light up the streets at dusk. The newest addition is "Pacific Chill," inspired by the detoxifying fresh breath of morning light on the skin.

California's cool and purifying vibe is not only attributed to the regenerative vigor of its ocean views and energizing force of its green rolling hills but also its renowned health and wellness culture. Pacific Chill was crafted in line with this sense of balance and well-being, an exhilarating scent that caresses the skin with an uplifting spirit. Belletrud drew further inspiration from characteristics and experiences unique to the LA lifestyle – beloved detox smoothies and energizing morning hikes before the heat settles. The scent palette opens with blackcurrant, held aloft with cedrat and lemon, amplified with coriander and ambrette seeds, basil, peppermint, and orange essence – an impeccable attention to detail. Iridescence is brought out of an essence extracted from carrot seeds with apricot, date, and fig. A hint of May Rose is the final seal offering a floral sweetness.

Los Angeles-based contemporary artist Alex Israel has collaborated with the Maison on their previous Cologne Perfumes and once again paints an exclusive image to accompany Louis Vuitton's latest scent upon a Fragrance Trunk and Travel Case.

www.louisvuitton.com
Fashion
One Stop Shop All Summer Season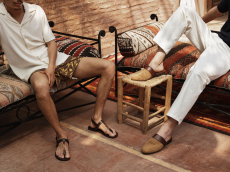 Mr. Porter, a destination for discovery for men around the world seeking inspiration for all styles, has an unparalleled product offering. Through a seamless online shopping experience and express worldwide shipping, Mr. Porter offers something for everyone: from the most sought-after menswear and lifestyle brands to exclusive capsule collections. Their latest campaign and their biggest to date, Summer Stories, is a celebration of the sun-kissed festivities from June to August. The standout collection features 125 brands and 49 exclusive ranges that embrace the warm weather for every occasion.

The campaign began on May 29th, with 5 multi-faceted chapters encompassing ready-to-wear, swimwear, shoes, accessories, luxury watches, jewelry, and lifestyle that will be unveiled throughout the next three months, solidifying Mr. Porter as a one-stop destination all season long. The capsule began with "For Sun, Sea And Sky," with the foundations of a vacation wardrobe and poolside essentials that promise unforgettable memories to come. "Al Fresco" will be released on June 19th, consisting of the unmatched Italian brands and craftsmanship that are loved worldwide. On July 10th, "Bohemian Spirit" will be released, a selection of designer and contemporary brands catered to the adventurous hearts and souls unleashed through warm-weather activities. With a focus on new watches and exclusive jewelry, the offerings of "At The Bazaar'' will gleam under the summer sun from July 24th. And last but not least, "Pacific Dream" will round off the season with laid-back ready-to-wear for long, lazy evenings after days full of adventure.

www.mrporter.com
Fashion
A Higher Standard of Luxury for Golf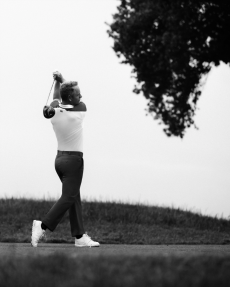 Loro Piana, the Maison known for its distinctive understated elegance and celebration of Italian excellence, has announced that they will once again collaborate with Team Europe for the Ryder Cup, Golf's greatest team contest. The greatest team contest in Golf will be held at the "Marco Simone Golf & Country Club" in Rome from September 25th to October 1st. Loro Piana will dress the athletes and their entourages for all the official events, inspiring players through the highest standard of clothing and the savoir-faire that has been the Maison's hallmark for six generations. Through meticulous design and craftsmanship, the garments will be functional and comfortable, without cutting short on style and elegance. Loro Piana used 3D technology to stimulate the clothing's reaction to the fine movements of golf, guaranteeing ease of movement for each and every swing. Six looks especially designed by the Maison will include a short-sleeved polo, a high-neck shirt with a zipper, a waterproof vest, and classic tailored trousers. The technical materials of each have been chosen for maximum softness and stretch, as well as for special features that enhance ergonomic performance to guarantee unparalleled wearability. In addition, a selection of the Team Europe uniforms, collectors' items, complete with the Team Europe and the players logos, will be available in the Maison's boutique in Rome exclusively during the competition for golf lovers to experience the wardrobe for themselves.

www.loropiana.com
Fashion
A Higher Standard of Luxury for Golf
Loro Piana, the Maison known for its distinctive understated elegance and celebration of Italian excellence, has announced that they will once again collaborate with Team Europe for the Ryder Cup, Golf's greatest team contest. The greatest team contest in Golf will be held at the "Marco Simone Golf & Country Club" in Rome from September 25th to October 1st.

Loro Piana will dress the athletes and their entourages for all the official events, inspiring players through the highest standard of clothing and the savoir-faire that has been the Maison's hallmark for six generations. Through meticulous design and craftsmanship, the garments will be functional and comfortable, without cutting short on style and elegance. Loro Piana used 3D technology to stimulate the clothing's reaction to the fine movements of golf, guaranteeing ease of movement for each and every swing.

Six looks especially designed by the Maison will include a short-sleeved polo, a high-neck shirt with a zipper, a waterproof vest, and classic tailored trousers. The technical materials of each have been chosen for maximum softness and stretch, as well as for special features that enhance ergonomic performance to guarantee unparalleled wearability. In addition, a selection of the Team Europe uniforms, collectors' items, complete with the Team Europe and the players logos, will be available in the Maison's boutique in Rome exclusively during the competition for golf lovers to experience the wardrobe for themselves.

www.loropiana.com
Fashion
Longchamp's Fantastical Cultivation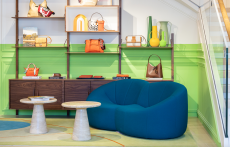 The legendary French leather goods brand, Longchamp, has reopened the doors of its Cologne boutique, Domkloster 2. Joining the rest of the brand's stores around Germany, the Cologne boutique highlights the genius of the RISE concept. The interior of the boutique is as meticulously thought out as everything else the brand creates. Every room spanning the two floors of the boutique is embellished uniquely to cultivate a special ambiance. As you step in, your eyes are immediately pulled toward the standing desk situated in the reception area – modeled after the authentic workshop table – and the most important pieces that are showcased on the bookshelf. The latest pieces are paired with their transcendent aesthetic companions such as books, pictures, and decorative items. Every detail is thought out and the entire layout is pulled smoothly by the aesthetic values of the house, present in every small corner of the boutique.

The reopening of this stylish and elegant boutique was celebrated on the 10th of May by customers and friends of the house. As the doors of the store opened to allow guests to experience the RISE concept in close proximity, the Parisian atmosphere transported the guests into the heart of Longchamp set in limbo between the present and the future. Good food and DJane were the puzzle pieces that perfected the night of celebration. The highlight of the evening was the raffle for a box-trot bag towards the end of the event.

www.longchamp.com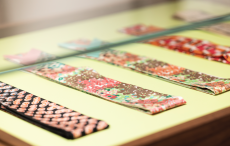 Fashion
Dior's First Boutique in Hamburg
In March 2023, Dior opened its first boutique in Hamburg. On April 27th, to celebrate the occasion, Dior organized an in-boutique cocktail, followed by an exclusive dinner at the premises of St. Maximilian Kolbe. Bathed in natural light thanks to large bay windows, the reinvented building where the boutique is housed offers a breathtaking view of the Bleichenfleet canal. Inside the building, the unique space – spread over nearly 500 square meters and divided over two floors – hosts the different universes of the Maison, from ready-to-wear to accessories.

Starting from the ground floor, we come across Victoire de Castellane's creations, as well as iconic women's shoes and bags, such as the Lady Dior, the new 30 Montaigne Avenue, and the Dior Book Tote, embroidered with Plan de Paris or Dior Petites Fleurs prints. Moving on to the second floor, Dior's SS23 ready-to-wear line by Maria Grazia Chiuri is enhanced by wood sculptor Etienne Moyat's artwork, whereas Kim Jones' wardrobe is staged in a refined atmosphere, adorned with an abstract painting by Scottish artist Peter Seal. Combining the purity of white and the naturalness of wood with elegant touches of beige and gold, the sophisticated setting features emblematic Dior fundamentals throughout the entire space, such as the Versailles parquet floor. To complete this eye-catching environment, designer furniture adds an ultra-contemporary touch, while the grand staircase is punctuated with white canvases from the haute couture ateliers, a poetic fresco inspired by 30 Montaigne. The boutique conveys Dior's savoir-faire, and its constantly renewed inventiveness.

www.dior.com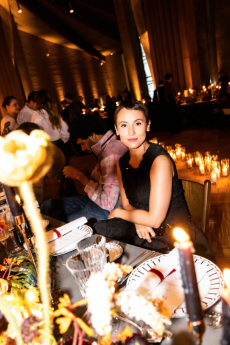 Fashion
C.P. Company SEED
Intense fabric research and innovation are not new to C.P. Company, which has pioneered garment dyeing techniques and the hybridization of functionality with connoisseur textile production. In SS23, the Italian brand takes this one step further with SEED, an ongoing program with a focus on reducing the environmental impact of garment making. A laboratory of trials focuses on how new clothes can be produced and designed with the goal of shortening the production chain, eliminating waste and circular manufacturing. The project's goals are embodied in its crossed man symbol, a reminder that progress can only be achieved through trial and error.

C.P. Company is proud to introduce the two SEED capsule collections, offering a selection of iconic designs such as the Eco-Chrome Goggle Jacket and the Tela Ortica Overshirt reimagined and crafted out of their latest experimentations.

SEED 1 explores the use of local natural fibers coming from plants that grow almost uncontrollably, making them a renewable and reliable resource. Nettle, hemp, and other ancient natural fibers are spun into yarn and woven into a strong and stiff fabric reminiscent of linen. The yarns blend smoothly with other fibers such as premium cotton, softening and increasing longevity as desired.

SEED 2 gives a new life to wasteful and polluting materials. In experimentation with Eco-Chrome, an improved version of the fabric that uses Econyl regenerated nylon, C.P. Company offers a capsule created by upcycling fishing nets and mixing recycled fleece with organic cotton.

www.cpcompany.com
Fashion
Summer Months with Moncler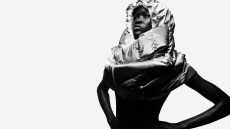 At the heart of Moncler is the dedication to sharing warmth through combined style and constant technological research. For the brand's SS23 collection, the brand's unique yet timeless DNA is effortlessly reimagined for warmer days. Their global summer campaign celebrates the brand's exceptional craftsmanship of year-round protection and performance.

Thierry Le Goués shot the latest campaign, taking an unexpected aesthetic direction that casts a refined yet dramatic statement true to the essence of the brand. His stylized shots feature the SS23 collection with stark angles in a mostly monochrome chiaroscuro. He captures the dynamic actuality of the summer, exemplifying Moncler's exceptional performance even in the unexpected twists of weather.

Not every summer is easy breezy, but Moncler's lightweight puffers and transitional layers are the antidote to even the most extreme demands of nature and city life alike. The designs offer a play between silken and matt textures, in jackets and tactile knitwear alongside warm-weather must-haves like swimwear and accessories. Offering an elegant solution for every day, the collection spans a selection of sleek black jackets as well as styles in brighter and lighter colors to welcome the sunnier days. Moncler's latest collection is available in select boutiques and on the brand's website.

www.moncler.com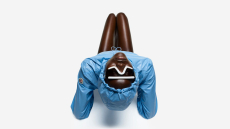 Fashion
Horizons Truly Never End with Louis Vuitton & Lionel Messi
As a football legend and recent world champion, it is rather inevitable that Lionel Messi is frequently on the move. Entirely fitting, then, is the fact that Messi stars in Louis Vuitton's new travel campaign, Horizons Never End. Captured by fashion photographer and filmmaker Glen Luchford while seated in an airport terminal with his legs stretched out on his Horizon rolling cabin bag or seated upon the iconic Louis Vuitton trunk amidst the planes of the airport apron, Messi appears ready to take on countless adventures with his Horizon luggage by his side.

With this Horizon luggage collection dreamed up by Marc Newson, the Maison remains devoted to its founder's art of travel, while also reshaping it with Newson's numerous contributions. Newson developed "the ultimate contemporary backpack" for his debut collaboration with the Maison, as well as designed and engineered many Louis Vuitton travel essentials. His new-iconic Horizon collection marked a true accomplishment for the Maison's luggage family in terms of design, durability and functionality when it was first launched in 2016. Packaging space, a crucial necessity for an itinerant, is optimized through a generous, flat-bottomed interior, whereas a highly maneuverable exterior trolley system with silent, miniature wheels grants 360° directionality. The Maison's trunkmaking legacy peeks through with the ultra-lightweight cases in molded mesh composite, covered in specially developed Monogram or Damier canvas and trimmed with natural cowhide.

Starting April 14th, 2023, the first chapter of the Horizon collection will debut internationally in print and on Louis Vuitton social channels.

www.louisvuitton.com
Fashion
Louis Vuitton Voyager Skeleton: A Journey Beyond Time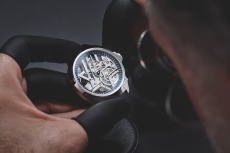 Described as a journey beyond time, the Louis Vuitton Voyager Skeleton is not simply a watch but a powerful storytelling tool. Encased in the watch is a tale about Louis Vuitton itself: a house with a profound commitment to craftsmanship, the finest quality, and a smooth mixture of style and innovation – all culminating in unique designs.

We begin by entering the miniature world of the mechanical watch movement. The self-winding mechanical skeleton manufacture movement is meant to showcase the watch's design and mechanics. Louis Vuitton moves away from mere functional mechanics and, instead, moves towards structural components that embody the house's essence by transforming stationary elements into engineered forms of dynamic beauty. The LV60 caliber, designed and developed by La Fabrique du Temps Louis Vuitton, is the horological equivalent of contemporary architecture. The caliber is equipped with a tungsten micro-rotor, positioned off-center to maximize visibility and decorated with a white gold rhodium plated plate. The barrel ratchet wheel has been open-worked to spell "Louis Vuitton". The watch's case, with satin-finished sides and a polished top, sapphire glass, is crafted from platinum, a rare, dense and valuable alloy. It is therefore most remarkable that the case's front combines sweeping curves and contrasting surface finishes, a challenge for those working with platinum. The watch also comes with two strap options, a navy blue, alligator leather strap or a taurillon leather strap. The Voyager Skeleton is available in an exclusive edition, limited to 150 pieces that carry on Louis Vuitton's technical expertise and attention to detail.

www.louisvuitton.com
Fashion
The Key to Our Hearts'
Archival designs and an homage to the aesthetic notion of the past have been a significant part of the fashion industry, pairing familiar change with the changing weather of the blossoming spring. The new Dior Key Bag only supports this observation more. Inspired by the Dior Archives, the Key Bag is snugly situated at the crossroads of timeless style and ultra-contemporary audacity imbued with a retro aura.

Small, elegant, and curvy, the artisanally crafted Key Bag, available in sizes small and medium, is dressed in either soft black or beige leather – allowing for a versatile use of the exceptional handbag. The Key Bag speaks to modern desire, luxurious, rich, and full– and its production, completely hand-sewn– enhances the subtle element of prestige closely related to the luxury bag. The refined finishes highlight the iconic Dior details so dear and close to the heart of the brand, including its key-shaped clasp, embellished with the "CD" signature in golden letters. Ultimately, through a combination of softer, natural lines and industrial elements, the Key Bag represents modern feminine desire. Independently a woman's own, bold, classic, elegant, and sexy, Dior's Key Bag showcases a reimagined narrative for the city woman. It is a reimagination lined by traditionally male tailoring and design styles but colored outside those lines by feminine desire and Dior's future-oriented gaze.

www.dior.com
Fashion
Plan C SS23: A New Italian Luxury Wardrobe
Plan C Creative Director Carolina Castiglioni, the daughter of Marni's founder Consuelo Castiglioni, brings in her passion for design and her own personal tastes for the Italian label's SS23 collection. Inspired by mid-century design's contrast of refined functionality and saturated color, Carolina's ready-to-wear-line offers the perfect balance between feminine and masculine elements, as well as fresh styles ideal for the start of the hotter seasons. Experimentation, combination and playfulness seem to be Plan C's vocabulary for this season as pieces intrigue us with striking colors, diverse materials such as organza and twill, and bold, abstract prints and patterns – all while staying true to the brand's indubitable quality. For a more feminine touch, midi skirts, a classic spring choice, and flowy long dresses come in a variety of different colors, prints and textures to keep every woman's wardrobe unpredictable. Unconventional pairings with a touch of sophisticated utility lie at the heart of Carolina's creative vision: sporty style details and subtle color blocking make up the perfect everyday bag, whereas inventive outerwear pieces such as parkas and trench coats are curiously paired with turtlenecks or a sequined pencil skirt. The classic loafer is reinvented in a contemporary form with a heavy-duty lugged sole and an unusual colorway. To transition from day to night with minimal effort, a sequin dress is layered over a crisp poplin shirt. Plan C crafts a new Italian luxury wardrobe, full of garments designed to become the uniforms of real, powerful and determined women.

www.plan-c.com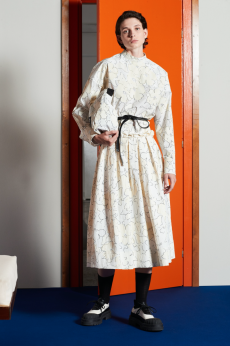 Fashion
W&W: An Immersion into Gucci's Universe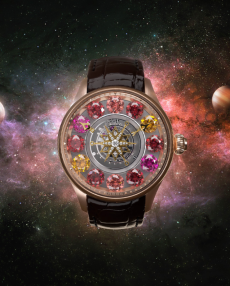 For its special event at Watches and Wonders 2023 in Geneva, Gucci presented its newest releases at the Gucci Greenhouse. The new innovative updates to core collections pay tribute to Gucci's iconic codes and High Watchmaking expertise as the house takes on a new endeavor: a dreamlike, horological spaceflight into the Gucci universe.

Four new designs enter the G-Timeless Planetarium collection. 12 Ethiopian opals, and a pastel melange of topaz, peridot, amethyst and Ethiopian opals embellish two new lunar themed creations. Another design, inspired by an otherworldly sunset, is characterized by contrasting reds, while the brightest addition is an all-around, star-themed creation. Additions to the G-Timeless Dancing Bees collection continue to celebrate the bee motif on another tourbillion. In honor of Mother Earth's singular beauty, two new designs feature exceptional stone dials: a turquoise dial resembles the oceans, and a vibrant pistachio green opal dial captures lush, verdant lands. Technological precision describes the new, made-to-order G-Timeless Moonlight creations, which uniquely incorporate a client's specific place, time and date of birth into the watch. Inspired by the forms of contemporary architecture, the Gucci 25H collection welcomes a wide array of new additions. Made for extreme comfort, the new Gucci 25H with the perpetual calendar complication comes in three models with gold and steel finishes, and is powered by the GG7S7.25.PC caliber. For a more sustainable approach, the Gucci Dive collection features bio-based materials and an automatic movement with 300m water resistance. The novelties showcase Gucci's exceptional heritage alongside its contemporary savoir-faire.

www.gucci.com
Fashion
Prada Frames: Materials in Flux
The Prada Frames symposium, presented by Prada, aims to spark reflection and innovation to define a new reality with an environmentally conscious approach. International scholars and professionals from a full disciplinary range are brought together to explore the complex interactions between design and the environment. Fusing a transdisciplinary approach with an ecological lens, Prada Frames explores how these dynamics can be improved to ensure a brighter future. The event is curated by Formafantasma, a research and design studio based in Milan and Rotterdam that investigates the ecological, historical, political, and social forces that shape the discipline of design with the goal to use design to initiate vital transformative interventions.

In 2023, the second edition of Prada Frames is held in Hong Kong and Milan, with the theme 'Materials in Flux'. Inspired by the work of British anthropologist Tim Ingold, one of the many contributors to the event, the concept is focused on how materials and matter are interconnected, with an endless life cycle.

In Hong Kong, the symposium began on March 21 and 22 at the M+, Asia's first global museum of contemporary visual culture, inaugurated by its architect Jacques Herzog.

On April 17, 18 and 19, during the Salone del Mobile, the symposium will continue to unfold in Milan's Teatro Filodrammatici, one of the oldest theaters in the city. The program includes sessions and talks titled 'Conceptualizing', 'Contextualizing', 'Designing' and 'Valuating', 'Governing' and 'Re-inhabiting', unpacking every step and process that makes up global waste infrastructures, and delving deep into the relationships between matter and ecosystems.

Admission to Prada Frames in Milan is free, but there is a limited availability. From April 6th it is possible to register for attendance on the Prada website.

www.prada.com
Fashion
W&W Vacheron Constantin: The Essence of Watchmaking
This year, the very essence of watchmaking art took precedence above all else in Vacheron Constantin's show at Watches & Wonders in Geneva. While in the past we saw "Classic with a Twist" and "The Anatomy of Beauty", this year's theme, embodying the spirit of the manufacturer, is Less'ential. The Maison took technical mastery and the originality of artistic crafts as its guiding principles for its new novelties, as well as its new booth architecture. The outcome? A perfect balance between shape and design; a new form of elegance and sophistication; timepieces where mechanical complexity and a meticulous attention to detail devote themselves to beauty. All the new designs symbolize Vacheron Constantin's artistic priority. The Overseas moon phase retrograde date, a sporty-elegant steel watch, combines the precision moon phase – an astronomical complication – with the retrograde display. Inspired by the 1950s designs, the Patrimony retrograde day-date watch's hour markers and hands follow the gentle curve of the dial. The Traditionnelle tourbillon retrograde date openface watch expresses an avant-garde aesthetic, where the opening onto the architecture of the 2162 R31 movement highlights the watch's mechanical power. Among the new releases we encounter new pieces for the Overseas collection. Yet, one of the most eye-catching designs is a one-of-a-kind double-sided watch in white gold: Les Cabinotiers Dual Moon Grand Complication, which captures 11 noble horological complications in one refined casing. Vacheron Constantin's new releases are a celebration of excellence, featuring mechanical perfection enhanced by the combination of creative inspiration and refined skills.

www.vacheron-constantin.com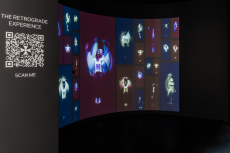 Fashion
W&W Cartier: Unlimited Time, Infinite Creativity
Cartier's unconventional chronoception: time is cyclical, rather than linear. Cartier's new watch collections, presented at Watches & Wonders 2023, continue to uphold the Maison's paradigmatic trademark: its engagement in an endless process of transformation and reinvention. This time, transformation materializes through the prism of creativity, as the watches – full of form and character – are revisited for the new collections.

This year, like every year, a new watch enters the Cartier Privé collection. The Tank Normale is revealed in honor of one of Cartier's most remarkable creations, the very first Tank watch created in 1917. The new Tank Américaine watch – with a finer, more acrobatic line and an adjustable strap – borrows its purity and curved case from the Tank Cintrée watch. The iconic Santos-Dumont watch is elevated to carry on the legacy of Cartier, maintaining the elegance of the original model while featuring a gold or steel case, visible screws, a beaded crown and blue cabochon. Following a pattern of continuity, a rather exceptional capacity to only resemble itself characterizes the new Baignoire watch. This version is not merely a watch but also a piece of jewelry. A feature also found in the Clash [Un]limited watch, whose geometry is constant and true to the Maison's style. Cartier's iconic panther magnetizes the company's latest jewelry watch. Equipped with an ingenious system and no visible hinges, the model perfectly hugs the wearer's wrist. Cartier's today looks to tomorrow: watches that make their mark in the present and in the perpetually evolving future.

www.cartier.com 
Fashion
Borbonese Studios Starring The SS23 Collection
Out of the darkness, the stillness, the American desert; a warm ebullient glow, and sharp dazzling vision. Dorian Tarantini and Matteo Mena take Borbonese to a new land, familiar yet pure fantasy. In the desert night, a distinctive vision of sharp glamor radiates and captivates. Borbonese Studios presents not only a seductive and rich SS23 collection but creates a captivating story with their latest campaign.

We watch the scene unfold from the director's chair, suedes in the dense colors of a Cadillac roll out and high-heeled wooden clogs set the rhythm. The collection is inherently responsible, with each piece made of archive materials. Suede and silk handkerchiefs and chokers are wrapped as accessories, protecting from the day's beating sun. The silhouette is vertical and voluptuous. Leather fringe and folds put on a sensuous show, a magnetizing dance. Archive silk with a spunky domino-print and dresses edged with crystals; archetypal garments like the blouson, the pleated skirt, shorts, and jeans, become sensual characters of their own.

Undeniably taking the lead is the cast of seductive and vivacious bags. The absolute protagonist is 110, with its rounded shape crafted from seasonal colors. A special version is presented, adorned with Swarovski crystals® in two variants: a 'crystal texture' like the glassy, crisp sparkle of sand, and a 'crystal transfer' with large stone embellishments. The hobo style of Domino, with brass dice on the knotted shoulder strap, brings soft volume and buoyant character. The short handle and rounded enveloping shell-like shape of Oyster makes it compact yet mighty. And Horseback's strong silhouette brings a rigorous structure.

www.borbonese.com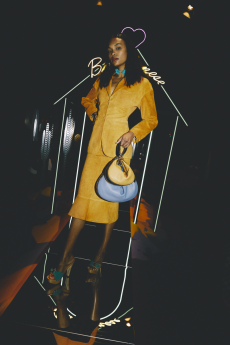 Fashion
Exclusive Chocolate Creations, Dior You Can't Wear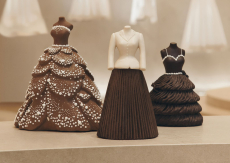 As Easter approaches, the House of Dior reveals a delectable approach to honoring their history and founder, Christian Dior. The art de vivre and gastronomy were cherished by Christian Dior, who was proud to describe himself as a "gourmand". The House cultivates and shares this passion, with a series of exclusive chocolate creations.

Delicate and delicious; they are works of art that can be held in your palm and melt in your mouth. The distinct and exquisite sculptural forms take the shape of three iconic Dior silhouettes. The sculptures are exceptional recreations of some of Dior's most emblematic creations. The magnificent petal skirt of the Junon dress, the swirling movement of the Tourbillon dress, and the timeless Bar jacket exemplify a convergence of mastered skill, from couture to the culinary arts. The chocolate dresses are presented at La Pâtisserie Dior, located at the 30 Montaigne boutique. The heart of Dior, 30 Montaigne and its neighboring buildings are a fully immersive world that take you back to the beginnings of the couture house.

The elegant experience of the chocolate dresses can be carried home in a poetic box, kept and savored for over a year. They can also be enjoyed on the spot at La Pâtisserie Dior as a truly unique and cherishable memory.

www.dior.com
Fashion
A Tease of H&M and Mugler's Capsule Collection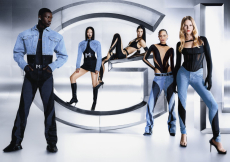 After a long wait and much anticipation, H&M has announced that its next capsule collection collaboration will be with none other than the House of Mugler.

Mugler has always pioneered as a breaker of fashion's rules. Since its founding by the late Manfred Thierry Mugler in 1973, their glamorous and daring designs have always centered around themes of body positivity, gender fluidity, transformation, and self-awareness. Casey Cadwallader and Ann-Sophie Johansson, the Creative Directors of Mugler and H&M respectively, design the next chapter in the House's story, welcoming a greater audience into the Mugler fantasy.

Cadwallader pays tribute to the history of the house, with bodysuits and finished denims that represent their most iconic pieces. Designs with broad shoulders and narrow waists are an ode to the natural curves and shapes of the body, as Mugler's silhouettes have always been. This ties in with his own contemporary pieces, such as his signature second skin and transparent catsuits. In addition, a special limited-edition range of recreations from Mugler's 80's and 90's archives awaits within the collection, allowing the global fanbase to own pieces of the brand's heritage.

Teasing the groundbreaking collection, H&M and Mugler have released a music video directed by Torso featuring a group of rising stars with their own rendition of Stardust's 1998 dance hit 'Music Sounds Better With You'. The full collection is yet to be revealed but be sure to save the date as it is bound to fly off the shelves. Menswear, womenswear, and accessories will be available in select stores and online from May 11, 2023.

www.hm.com
www.mugler.com
Fashion
A Reinterpretation of Dior's Iconic CD Diamond Pattern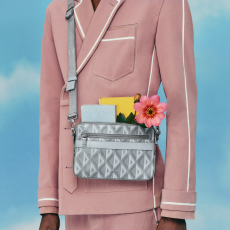 The archival Dior pattern – the CD Diamond toile – flourishes anew as it is reinterpreted for Dior's SS23 men's collection, dreamed up by Kim Jones in an attempt to pay tribute to the brand's heritage through innovation. Originally designed by Marc Bohan in 1974, the CD Diamond toile is an iconic signature of the house. The pattern is revisited as a diamond with pared-down lines. Like the outline of a clean-cut diamond, the CD initials compose a hypnotic motif – a mesmerizing design that honors the legacy of house Dior. Jones' selection of designs for the collection, adorned by the iconic pattern, combine the elegance of tailoring with the functionality of outdoor wear to make up bold silhouettes. The CD Diamond short-sleeved shirt, made from silk twill in a seductive shade of gray, is put on display with the matching CD Diamond Bermuda shorts. The emblematic Saddle Bag is deliberately paired with the Gardener's jacket, crafted in pink thick cotton canvas with a CD motif sleeve lining, to enhance the silhouette. Other accessories, such as the Dior Hit The Road mini bag, the B27 High-Top sneaker and the Safari bag with strap, are also embellished by the delicate graphics. The bold reinterpretation of the iconic pattern is not only an ode to the house's legacy and history but also a reframing process – striking a balance of heritage and innovation with a modern and adventurous approach.

www.dior.com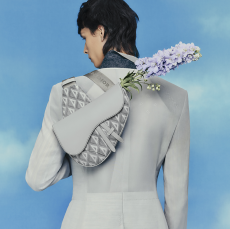 Fashion
Experiencing Louis Vuitton in Vienna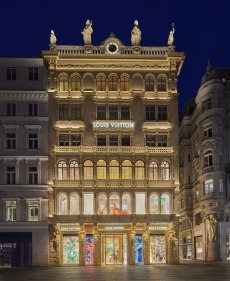 Louis Vuitton opened the doors to its latest store on Graben in Vienna on March 10th, 2023. The beautiful historic building, dated 1898-99, grants four floors in the heart of the city center. The latest realization of Peter Marino's design concept is among the largest in Europe.

Upon entry, one walks atop pale and marbled reddish stone distinctive to the Austro-Hungarian empire and the Vienna Secession respectively. An exceptional stone spiral staircase complements curving walls and open sightlines, allowing one to float through the fantastic world of Louis Vuitton. A statement wall contrasts this airy effect, with eight vibrant, graphic paintings by Austrian artist Erwin Wurm.

The displays of women's leather goods, watches and jewelry, perfume, and travel accessories are immediately enthralling on the ground floor, amidst one-of-a-kind modern furniture and striking artworks. The women's ready-to-wear, shoes, and high-end leather goods are housed in the warmth of the mezzanine, finished with classic parquet, textured walls, and accents of soft color. On the first floor, the White Box offers an exhibition space, an extension to private VIC salons overlooking Graben, and the exciting potential of future projects. The lower level is a man's world, complete with a barrel-vaulted ceiling, curving cabinetry and bold visuals.

Louis Vuitton's new location in Vienna transcends the definition of a store. From hand-painted trunks as if by the Austrian painters of the Vienna Secession themselves, to contemporary daybeds, modular sofas and whimsical light pieces, the space takes shape as a unique and inspiring experience.

www.louisvuitton.com
Fashion
Bulgari's Serpent Morphs through the Kaleidoscope of FW2023
Bulgari's FW23 Leather Goods and Accessories collection is an invitation into an entrancing world of color and light. Layers of richness and shining reflections are ready to be uncovered in KALEIDOSCOPIA. Iconic designs and exciting details epitomize the Maison's eclectic spirit and joyful creativity.

Adorned with the exalting force of Bulgari's vibrant gemstones, Serpenti is unleashed with three deliveries of Leather Goods. "Joyful Spring" comes in March of 2023, with the optimism and power of bright colors and new material treatments. The legendary icon features proudly in the new Serpenti Forever Bay and the 75th Anniversary edition of the Serpenti Forever Top Handle bag. A wider array of Bulgari's snake family is awakened in May 2023 with "Vibrant Summer". From the Serpentine Vertical Tote to the Serpentine Pouch and the Serpentine Forever East-West, shimmering silver reflects an illuminating modern gleam on the Roman Jeweler's DNA. Coiled Torchon and Patch Denim come into play, elevating causal textures to an effortless and joyful elegance. In August 2023, the second delivery will be available. "Eclectic Fall" unleashes the snake in ultraluxe Python and Karung Skins and a crystal cascade.

The "little jewels" of the collection are Bulgari's textiles, uniting gem-colors and a modern aesthetic to the integral themes of the Maison's philosophy. Bulgari's eclectic and future-oriented spirit is seen in the new styles of FW23 Eyewear. Details inspired by the aesthetic codes of jewelry bring a captivating and contemporary charm to the shapes of familiar and brand-new frames.

www.bulgari.com
Fashion
PFW - FW23 - Balenciaga's Return to the Runway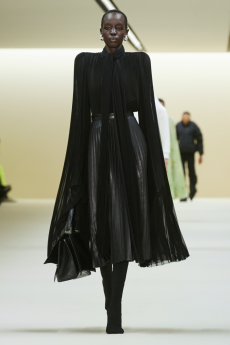 After its campaign controversies in 2022, Balenciaga has returned to the runway with its FW23 collection. Following the scandal, Balenciaga issued several official apologies and, soon after, the brand stated its plans to reinvent the house with an internal reform and a three-year partnership with the National Children's Alliance. For this collection, fashion as entertainment – Balenciaga's characteristic performative element – is left behind. Instead, Creative Director Demna stripped back to the fundamentals of design by mixing Cristóbal Balenciaga's legacy with his own. This time, tourists and show-goers rather than big-time celebrities attended the show, which took place in a whitewashed box room inside the Carrousel du Louvre – an underground shopping center in Paris. The oversized structured tailoring looks that opened the show convey Demna's intention to redirect focus to shapes, silhouettes and tailoring. The suits are crafted using reverse-tailored trousers, as well as other garments – coats and jackets – with pant-loops, pockets and inverted waists placed at the hems. Trousers are doubled to appear as if walking on four legs, creating fluid motion. Typical Balenciaga motifs are also present. Long floral archival dresses, bicker jackets, high-neck nightgowns embellished with crystal sequins, and alien sportswear paired with wide eye sunglasses walk down the runway. Garments and accessories no longer rely on the Balenciaga logo, rather, they showcase Demna's "ode to the artistic quality of creation". While many argue that the show was a step in the right direction, others are still uncertain about its success. So, the question remains: will Balenciaga be able to redeem itself?

www.balenciaga.com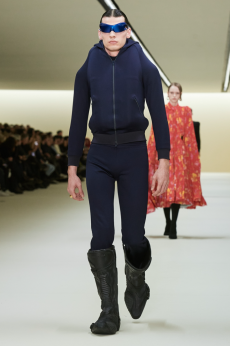 Fashion
Inspiring Future Generations of Women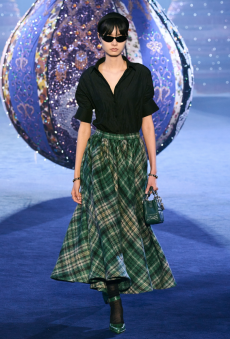 A reflexive perspective, an attention to history, a rebellious femininity and powerful icons – all this can be found in Maria Grazia Chiuri's reinterpretation of the 1950s for Dior's FW 23/24 ready-to-wear-line. This Creative Director treats each and every collection as a site of opportunity and further reflection – the meaning and possibilities of clothing, in its relationship to fashion and the body, are not assumed.

An intricate awareness of the brand's history and a homage to three extraordinary women directs the creation of deeply emotional pieces. The three icons in question – Catherine Dior, Edith Piaf and Juliette Gréco – contradicted the dominant mindset during the post-war. They shared an unconventional spirit to resist feminine stereotypes – a spirit that heavily influenced their choices and lifestyle. Following the path of these nonconforming figures, this Dior collection is the very signature of noncomplying femininity. Primary colors, such as ruby, emerald, topaz yellow and blue, are in the spotlight. Detailing the pieces is a touch of light introduced through embroidery. The floral motifs chosen by Monsieur Dior have been re-examined: an abstract effect is obtained as mottled fabric is interwoven with a metallic thread – the fabric seems to come to life, contours disappear. Delicately nuanced tartan fabrics set apart coats, jackets and straight skirts. Poplin also shimmers with metallic thread. This collection is not only an inspiration for future generations of women but also an embodiment of ways of being, living, and approaching this world. A symbol of change and growth. A combination of past, present and future.

www.dior.com 
Fashion
"Freedom, Pleasure, Experimentation, Play": Diesel FW23
The post-apocalyptic and sex-positive FW23 collection showcases the brand's core values moving forward. "Freedom, pleasure, experimentation, play", these four concepts imbue the collection with a youth-like acceptance and embrace of the erotic. The Italian fashion house successfully explores new creative territories whilst initiating valuable discourse, embellished with a preview of its forthcoming capsule collection with Durex, which drops in April 2023.

The importance of individual freedom and the value of safe sex is sewn into the commentary of the showcase as well as the garments such as jersey T-shirts featuring the Durex logo with the D of Diesel. "We have to remind everyone that safe sex is still important, we cannot forget," says Glenn Martens, the Creative Director of Diesel.

The models strut on the dynamic runway built around the grandiose sculpture of 200,000 Durex condom boxes completed with captivating electronic music with a pornographic audio break. Aside from the valuable social commentary, this collection once again highlights the brand's mastery over denim. The garments allude to the movement of the past, and future. Heavy distressing and intentional fragility can be seen on almost every garment - leather jackets made to look cracked, jeans that appear to be falling apart, and dresses and gowns only supported by metal detailing featuring the emblematic D logo. However, it's important to note that the fragility that lines the garments is expertly coupled with practical and utilitarian elements. This dichotomy between the use of materials does not diminish the urge to display the body. All garments possess a specific temporality - whether they conceal, display, or protect the body: the dynamic use of fabric and material saturates the collection with the feeling that the garments are meant to be taken off.

The Diesel FW23 collection commits to exploring a territory too often deemed taboo in high art and does it with intense artistry and creativity.

www.diesel.com
Fashion
A Journey of Colors and Textures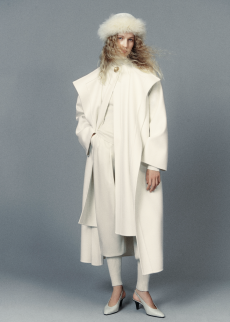 Seldom before have colors, textures and fibers transported us through time and space as with Loro Piana's FW23 collection. Clothes become allies in an extraordinary life, convenient for mentally active personalities with an appreciation for stylish playfulness.

We begin an imaginary journey in Peru, advancing towards New Zealand and Australia to arrive at our final destination, Mongolia – all homelands to the key fibers that lie at the heart of Loro Piana's expertise. Muted yet deep tones denote Peru, where linens are mixed with cashmere and CashDenim, and light dresses flow smoothly over the body. Natural tones and dimensional outwear in rich wools and leather indicate our arrival in New Zealand. A practical yet nonchalant attitude and oversized jerseys teamed up with tartans are found in Australia – in contrast to shearlings and chunky knits in natural fleece tones which mark the stark winter feel of the Mongolian steppe. The journey's characteristic spirits and moods are mirrored in the collection, guiding the flow of silhouettes and colors as fluid, feminine shapes mingle with sharp, masculine lines. We may transition from elegant to rugged, ultralight to cocooned, city to weekend. Horse-riding nods illustrate Loro Piana's artisanal mastery with superlative fibers, the new trousers' shape has a fuller volume that becomes dramatically narrow at the bottom. The soft and versatile Bale is offered in L and Micro size for different uses. This house of sensations cultivates experiences for all, empowering one to move with excellence and ease through a magnitude of landscapes.

www.loropiana.com 
Fashion
MFW - PRADA FW23 - The Beauty of the Forgotten Everyday
Debuting during Milan Fashion Week, Miuccia Prada and Raf Simons presented their ready-to-wear-line, Taking Care, for Prada's women's FW23 collection. This season, the Italian luxury house celebrates the ceaseless yet remarkable everyday life. The collection is a reflection on fashion's role within a broader cultural sense – an elicitation to rediscover and reconceptualize reality and the ideas of beauty within it. Considering the state of affairs over the past few years, including the devastating war in Ukraine and the coronavirus pandemic, the chosen theme points to the world's necessity for care and kindness. Individuals who exercise care on a daily basis are at the heart of the collection. Garments with representational power become symbols of that care: nurse-inspired uniforms honor the hard work and determination needed for healing practices. An emphasis on protection materializes on different levels. Skirts with down padding protect and keep the body warm, and leather is transformed into protective armor. An interplay between the ordinary and extraordinary showcases Prada's mastery to design pieces for any and every occasion. Wedding dresses, strong romantic symbols, become the new quotidian dress as they are taken apart into skirts and sweaters. The notion of transformation further expands into the space of the Deposito of the Fondazione Prada. The moving ceiling amplifies the room – as darkness gradually disappears, it unveils pillars decorated with aromatic flowers. It is rather exceptional how care is simultaneously the underlying ingredient of the pieces' composition as well as what they inspire to give rise to.

www.prada.com
Fashion
MFW - FENDI FW23 - A Timeless Wardrobe for a Contemporary Woman
Over the years, Tod's has established itself as an icon of Italian design. At its very core is the realization of a lifestyle – one that, according to the brand, merges "elegance, creativity and savoir-faire with supreme artisanal quality". A way of life that is once again put into the limelight in Tod's women's FW23 collection, designed by Creative Director Walter Chiapponi and presented at Pirelli HangarBicocca – home to a non-profit organization in Milan. The collection resonates with the demands of the modern-day woman. The central idea? A refined and contemporary elegance combined with a strong sense of identity. This winter wardrobe reveals classic and timeless pieces featuring clean lines and a monochromatic color palette – a combination of soft caramels, browns and creams with black and white pinstripes. Natural fabrics and precious leather add a dash of softness and sensuality. Knit dresses hug the body while polos star in countless looks. Masculine features transform into sophisticated femininity. A slight playfulness with proportions, and iconic details together with functional elements make up elegant silhouettes with a hint of practicality. Shoulders stick out while the waist is accentuated. Hourglass leather dresses walk down the runway, skirts come in all types of lengths and pockets become a refreshing feature. Not failing to carry on the Tod's legacy of traditional Italian craftsmanship are the collection's accessories. The iconic Di Bag can be taken apart while the T Case is soft to the touch. In Tod's world: functionality, structure, style and elegance are not mutually exclusive.

www.tods.com
Fashion
An Ode to Connectedness
On February 22nd of 2023, Tiffany & Co. hosted an exclusive dinner party in Berlin with the newly appointed ambassadors of the house, Ruby O. Fee and Matthias Schweighöfer, to celebrate the LOCK collection. Staying true to the brand's desire to prioritize diversity and inclusion as well as positively impact the communities with which it works, this unisex collection follows the motto: "No rules. All are welcome." The iconic jewelry pieces point to the power and importance of personal connections in our close environment, as they constitute who we are as individuals. LOCK resonates with Berlin, a diverse and busy city characterized by sharp contrasts, and a united metropolis where creativity and art flourish in ever new forms. Who better than one of Germany's power couples to represent this collection? The event transpired during the 73rd Berlin International Film Festival, where many friends of the house and beloved couple – including figures from the film, music and art industries – walked the carpet wearing Tiffany & Co.'s designs. Matthias combined a dark blue velvet suit with the Tiffany Lock Pendant in rose and white gold with diamonds and displayed various Tiffany Lock Bangle styles along with his girlfriend Ruby. The event commenced with an exclusive dinner at the iconic Schinkel Pavillon. Soon after, Anna Liset of Women of Style entertained the attendees – among which we find Yusra Mardini, Lea van Acken, Riccardo Simonetti and Jerry Hoffmann – with a DJ performance. Honoring the collection, the event embodied the celebration of friendship and of Tiffany's innovative designs.

www.tiffany.com
Fashion
NEW YORK - Michael Kors Collection FW23
Fashion has the ability to capture the current zeitgeist, maybe better than any other creative discipline. Despite being able to spark desires in the here and now, the fashion industry has never failed to pay homage to those who came before. And each decade has its own icons, whether it is certain places, ground-breaking designers, or tastemakers, whose impact still reverberates decades after. With the new FW23 collection presented in New York's Greenwich Village, Michael Kors celebrates these forever icons, whom he calls his influencers, who have left a lasting impression on his work, highlighting timeless glamor whilst at the same time paying homage to the rule-breaking spirit which has defined Greenwich Village for decades. To put it in Michael Kors' own words, "I was really thinking about the things that influenced me when I was coming of age in the 70s, the women who influenced me, the neighborhood that influenced me, and the combination of big city glamor and bohemia that I found in Greenwich Village at the time." Throughout the collection, we can see Kors play with proportions, interlacing sweeping coats and dramatic capes with leggy dresses, skirts and shorts whilst also using clever slashes and slits to frame the body. With this collection, Michael Kors plays to its own strengths with the designs, defined by clean lines, having a familiar feel whilst keeping us on edge with modernizations in terms of detailing and materials.

www.michaelkors.com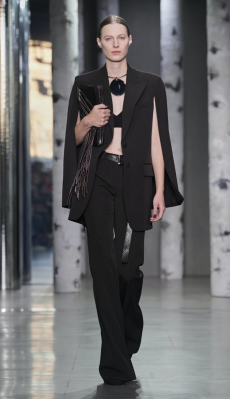 Fashion
A Dash of Parisian Nonchalance
Paris is one of fashion's epicentres with some of the most influential fashion houses in the world calling the French capital their home. And the city's residents themselves also have a reputation for being especially fashionable with the notion of Parisian Chic being world-renowned. But as the world is changing, our understanding of Parisian Chic does as well. Living up to this notion, Givenchy is presenting its newest bag, the Voyou. To put it in Givenchy Creative Director Matthew Williams' own words, "I wanted to revisit fashion archetypes with a kind of new language and playful attitude. With the Voyou, you know at a glance that it's Parisian, but it's at home wherever it goes, and it makes an everyday style statement that has true staying power." Named for the slang term that means "bad boy" in French, the Voyou is blending the language of a lady's handbag with an easy-going demeanour, resulting in this elegant, yet casual bag. Crafted in tumbled, subtly grained calfskin, the bag features zippered compartments for everyday essentials and luxurious turned edges fusing the Givenchy polish with the convenience and lightness of a hobo. Yet it receives a jewel-like allure through its distinctive hardware embellishments. Combined the visual features of the bag provide every look with a dash of Parisian nonchalance, by day or by night.

www.givenchy.com
Fashion
The Art of Genius
Every industry has its own calendar, its own rhythms which determine the course of the year. Fashion is by no means an exception and functions by its two-season model with luxury houses presenting their new collections twice a year. But more and more are moving away from this traditional modus operandi. In this spirit, Moncler launched Moncler Genius in 2018 as a continuous flow of newness. Another core principle behind Moncler Genius was the power of collaboration. Over the past five years, Moncler has relentlessly amplified the concept, engaging in collaboration with some of the world's greatest creative minds in the industry providing innovative ways of curating, communicating and sharing creativity with the world, tapping into the cultural zeitgeist and continuous evolution embedded in its DNA. This platform is now taking the next step forward, going beyond fashion and exploring the boundaries of creation at the intersections of art, design, entertainment, music, sport and culture. To introduce this year's roster of co-creators, Moncler presents The Art of Genius. This event, a live show on a grand scale, features some of the world's premier creators from various industries who present their creative visions bridging different formats and disciplines.

The Art of Genius will take place on February 20th and will allow visitors to immerse themselves in a world of creativity with all its beauty and emotional power.

www.moncler.com
Fashion
CHANEL's Circus
One watching the CHANEL SS23 Couture Show might be forgiven for thinking that they had accidentally stumbled upon a high-fashion live edition of The Greatest Showman. Striking a rather playful tone amid the oft more serious, thought-provoking shows that make up Paris Couture Fashion Week, CHANEL creative director Virginie Viard took things in a different direction. A set comprising a wooden menagerie of zoo animals formed the backdrop to the debut of Viard's latest work for the House, a parade of youthful and refreshing looks.

Like any good ringmaster, the models of CHANEL came out in top hats and bow ties (many of them, at least), as well as white leather gloves or white cross-laced boots bearing CHANEL's signature black-tip toes. The circus imagery did not just stop at sets and accessories, however, finding its way even into the dove-detail embroidery in the final look, or the tiny embossed animals down the front of the second look.

Much of the collection was classic CHANEL – think tweeds, day suits and coat dresses. Some silhouettes drew inspiration directly from the theme, such as the majorette-style miniskirts. Viard is a self–proclaimed 'modern wardrobe for real women' kind of designer, so despite creating a couture line with a circus-fantasy theme, Viard has succeeded in a line that is simultaneously original, yet also undeniably wearable. HZ

www.chanel.com
Fashion
Space for Art, Space for Fashion
Reductionism lies at the heart of the FW23 Men's Collection by LOEWE. The collection strips everything down to its core; embellishments, colors, even the models themselves, are stripped down to give central focus to the silhouette of the clothing.

Shape is everything in this collection. The way it is molded, blended, frozen, tailored. The way a line is drawn, the contours of the clothing. The expression brought about through precise geometry; the power held within the measuring tape of the tailor.

In the context of mass media, mass consumerism and gargantuan productions, one can often feel caught within a whirlwind of (over)stimulation. LOEWE's collection and show provide a quiet sanctuary in this storm (especially the storm that is Paris Fashion Week – a veritable monsoon of colossal productions and media campaigns), where one can stop and take a breath, and appreciate just what is really at the heart of all this madness… the clothes themselves. Fashion and art are given space and spotlight again.

This unostentatious, minimalist mentality is similarly reflected in the show space, a single white square-shaped room, with the showgoers watching from the perimeters. The only enhancement to the space, the giant original artworks by Julien Nguyen, depicting the House's model and muse Nikos in Nguyen's characteristically surrealist style. HZ

www.loewe.com
Fashion
Growing Up
The Louis Vuitton FW23 Men's 'Growing Up' collection and show tell (predictably) the story of growing up, from birth to childhood, through adolescence and into adulthood. The show was preceded by a short film, directed by the French filmmaker-sibling duo Michel and Olivier Gondry, documenting the rites of passage of a young boy's life. The set, a vivid and very literal interpretation of the subject, comprised a series of rooms through which the models passed, like a dream sequence. Familiar scenes of childhood and adolescence played out throughout the show, taking the viewer on an emotional journey through the earlier stages of life.

The collection is a tribute to the inner child, manifested in the vividness of colors, the at times fantastical designs and a boyish sense of defiance present throughout. The late Virgil Abloh, previous Creative Director of the House, often nurtured the idea of the inner child as a symbol of hope. Following in his footsteps, the Louis Vuitton Studio Prêt-à-Porter Homme introduce a collection that is invariably imaginative – a true testament to the child within. Messages of hope and confusion are splayed across the collection ("FANTASTIC IMAGINATION?..", "FANTASTIC FUTURE?...", "blurry vision of a bright future"), creating a sense of the emotional turmoil, uncertainty and relentless optimism of growing up. HZ

www.louisvuitton.com
Fashion
Missonism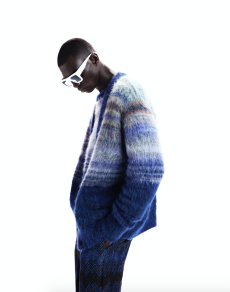 Missoni, the Italian family-owned fashion brand, boasts an over 60-year history of producing apparel that has become recognizable the world over. Known partly for its colorful zigzag patterns, partly for its cheeky sheer designs, and partly for a honed craftsmanship in high-quality knits, the brand grew from a small-town shop owned and run by the married couple, Ottavio and Rosita Missoni, to an international mega-brand.

Abiding by the qualities that propelled it to its world-famous status, the latest Missoni Men's FW23 collection is a true exercise in 'Missonism' (as the brand calls it), intersecting shapes, patterns, colors, and ease of wear. Above all, the collection seeks to be transversal: to be worn in multiple different contexts. This is epitomized in the cardigan – a staple in the Missoni catalog – universally wearable, a quality that extends over the entire collection, in the form of windbreakers, coats and shirt-jackets. Loose silhouettes, designed to free the body and the wearer, are emboldened in the classic Missoni manner – through colorful patterning and creative textures. Effortless, cool, fun, comfortable: this is Missoni in its truest form.

www.missoni.com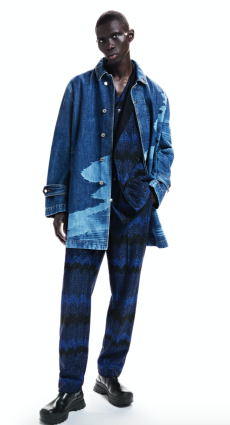 Fashion
ZEGNA'S OASI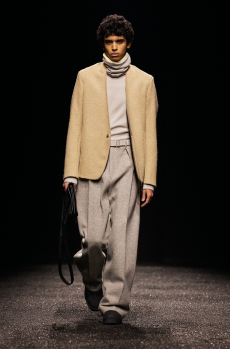 THE OASI OF CASHMERE, ZEGNA's new winter collection 2023, showcases a thorough dedication to the central fabric distinguishing this collection from those prior. "Matter matters" – a central tenet to the collection – encapsulates ZEGNA's belief that innovation in clothes making begins with fibers, and the treatment thereof throughout the design and production process. From the inception, to the weaving, to the handling, ZEGNA's sartorial codes of conduct show a great dedication to the art of textiles. Named partially after the Oasi Zegna, the historic home of the brand, the collection reflects the values that have accompanied its makers for many years. The Oasi Zegna is a nature park in the heart of the Piedmont region of Italy, which has garnered much praise for its part in preserving the nature of the area, and even won the prestigious Biodiversity Conservation Award at the Sustainable Fashion Awards 2022. The brand remains faithful to its sustainability principles, with the new Oasi Cashmere collection acting as a central component in ZEGNA's Road to Traceability, its commitment to certify all the fibers used as fully traceable by 2024. HZ

www.zegna.com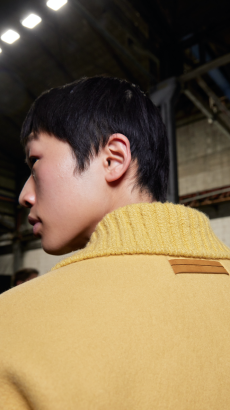 Fashion
BOSS x Perfect Moment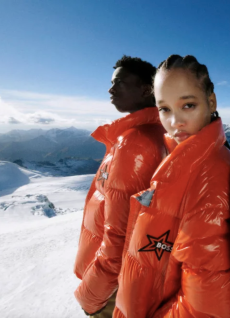 Hitting the slopes this year: BOSS' annual ski capsule collection, this time with a special treat – a collaboration with skiwear brand Perfect Moment – a collaboration sure to accompany many a perfect moment this winter. Designs inspired by a crossover of both brands' archives create a blend of respective expertises, with BOSS' casual athleisure aesthetic meeting Perfect Moment's technical knowledge of creating high-performing activewear. From the cable car to the flight downhill to the après-ski, the collection offers no shortage of gear for every occasion. Ski jackets, pants, overalls, knit and accessories comprise the line in a distinctive color palette of five colors: the black, white and camel associated with BOSS, the bright tomato red of Perfect Moment and a shade of white cream that perfectly matches the winter season. The partnership is also manifested in the combination of logos: BOSS' familiar B-monogram appears alongside Perfect Moment's northern star.

Jane Gottschalk, Creative Director at Perfect Moment explains the vision behind the line: "This collection is for "Moment Makers" - everyone who is looking for unique, authentic experiences on the slopes and in their lives and who wants to look good doing it."

The BOSS x Perfect Moment capsule collection will be available in select BOSS stores worldwide, on boss.com and on perfectmoment.com. HZ

www.boss.com
www.perfectmoment.com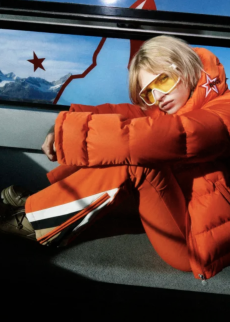 Fashion
Dior Men x ERL Spring 23
Dior's Spring 23 Men's Collection is unveiled just in time to ring in the new year. Designed by Creative Director Kim Jones and guest designer Eli Russell Linnetz (ERL), the collection celebrates freedom especially in its motifs of ocean waves. Between its birthplace in Paris and its newer home in Los Angeles, exchanges within the House have produced the reinvention of some of its classic symbols, such as a quilted version of the Cannage pattern.

The collection is submerged throughout in deep and vibrant hues, the campaign calling to life a monochromatic retro feeling. This is no accident, as the collection was designed with the theme of "California Couture" in mind, a pastiche of the golden era of L.A. and Venice Beach.

A Venice Beach native himself, Lennitz draws especially on feelings of nostalgia and American influences in his personal design style. Through his unique ability to balance staying true to the DNA of the House, whilst keeping it relevant through reinvention and collaborations, Kim Jones has similarly drawn respect and praise from across the industry. This collaboration between Jones and Linnetz represents just such a balancing act, a look back into the treasure trove of Dior's archives and a reimagining of signature house codes. Beyond high-fashion hoodies, the collection represents above all a free-spirited melding of the creative minds of Jones and ERL, each an artist and businessman in his own right. HZ

www.dior.com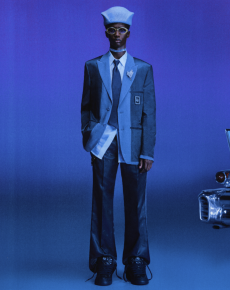 Fashion
Rudolph on the Rondelle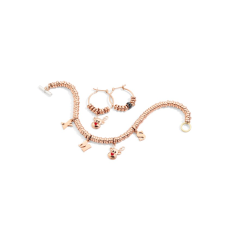 What is Christmas? To some, it's going home for the holidays, hugging family, meeting old school friends over a piping hot cup of mulled wine. To some, it's big sweaters, fuzzy socks, Christmas baking, snuggling up in front of a fire (if you're lucky enough to have one – the rest of us just pull up a convincing YouTube clip of a fire on the TV). Dinner parties, Christmas gifts lining the trees, arguing with relatives over the dinner table. To some, it's just another Christian holiday. For those who celebrate it however, Christmas is undeniably an exceptional time of year. To mark the occasion of Christmas, the jewelry brand Dodo announces a remake of its Rondelle bracelet, in a new version made up of 9 karat rose gold, which can be personalized with the edition of an adorable Rudolph pendant, or individual letter pendants that together matter-of-factly spell out 'XMAS'. It's a chance to prolong the special occasion, to treasure the homely and cheerful memories of Christmas time.

www.dodo.it
Fashion
Andiamo, Bottega Veneta!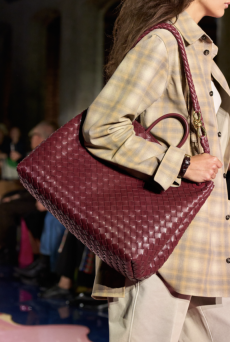 "Andiamo!" The cry is familiar to anyone that has spent a bit of time in Bella Italia. "Let's go!" "Come on!" An appeal, a cheer, a mobilization, the four-syllable word is wrought with energy; less spoken than it is sung, like all Italian.

Born in 1966 in Vicenza, Italy, to parents Michele Taddei and Renzo Zengiaro, the brand Bottega Veneta has since its inception retained a sharp focus on artisanal design and craftsmanship, focusing on the production of beautiful high-quality leather goods. 2001 marked a turn in the tide following a more unsuccessful chapter in the company's history, with the acquisition by the Gucci Group and the crowning of new Creative Director Tomas Maier. Maier codified the essence of the brand as we know it today: refined and elegant, discreet yet recognizable. For Maier, a German Creative Director in a deeply Italian fashion house, sophisticated designs trumped the trends that were taking other major labels by storm in those days.  

Since the beginning, Bottega Veneta has abided by a 'non-branded philosophy', refusing to take part in the logo craze that swept over the fashion industry in the 1990s and 2000s. Rather, the company focuses on artful design and leather craftsmanship, such as the brand's famed "Intrecciato weave". Today, Creative Director Matthieu Blazy has been commended for his ability to respect and evolve the codes of the house with a focus on strong tailoring and bold accessories.

The Andiamo Bag, designed by Matthieu Blazy for the Bottega Veneta Summer 23 Collection, is a strong example of the brand's DNA. Wearable by all genders, the bag comes in three sizes and several colors and features the classic Intrecciato design, and an intricate golden knot detail on the woven straps. HZ

www.bottegaveneta.com
Fashion
Introducing Gianfranco D'Attis, Prada's new CEO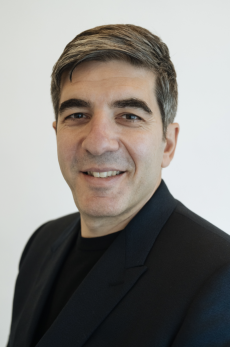 Prada. The name rings with familiarity, a giant and icon in the world of fashion. Since 1913, when Mario Prada opened the first Prada leather goods shop in Milan, Italy, and becoming the Official Supplier of the Italian Royal House in 1919, Prada has been a symbol of sophistication and luxury. Miuccia Prada, heir apparent and creative designer, represents the third generation of the Prada family business. Along with her husband, Patrizio Bertelli, Miuccia has been at the head of the business since the mid-1970s.

Effective January 2nd, 2023, the Prada brand welcomes a new CEO into its leadership team. Gianfranco D'Attis, who more recently held the role of president of Christian Dior Americas, has had ample experience in strategic development, the luxury sector and retail. The company is confident that "his proven experience in the luxury sector, with a specific focus on retail, will help Prada to increase its growth potential in all geographies." The role has, in fact, been especially created, as management for the Prada brand was latterly overseen by the president of the Prada Group, Miuccia Prada herself.

The announcement comes amid a restructuring of the top layer of the vast organization, as the Prada-Bertelli couple that has been at the helm of Prada for decades prepares its succession. As the Prada Group's main line of business, the new leader for the Prada brand represents a significant step forward in the long and illustrious history of the House. HZ

www.prada.com
Fashion
BOSS X KHABY
Khabane "Khaby" Lame, aged 22, has done the unthinkable: in an era where near-everything revolves around social media, and all social media tries to be Tiktok, Lame has conquered the behemoth. The clips that created his enormous fame (with over a proud 150 million followers on Tiktok) were refreshingly simple, a sarcastic answer to overly complicated DIY-hack videos that dominate certain corners of the platform. His worldwide appeal lies, ironically, in his silence. Relying on facial expressions, body language and pure comedic timing, he is able to resonate with audiences across the world using the one universal language in everybody's arsenal.

As the by now most-followed person on Tiktok, Khaby has certainly received his fair share of attention, both from everyday people and brands. The new BOSS x Khaby collection is dedicated to his worldwide community of fans, a limited edition time-capsule infused with Khaby's own personal brand of fun and playfulness. BOSS' signature B-monogram pattern in black is placed, alongside the collection's logo of Khaby's likeness, against a colorful ombre background for this new collection, appearing on a versatile range of pieces including a tracksuit, hoodie, belt bag, and phone case. The new BOSS of Tiktok thus lends his inimitable wit and personality to the BOSS brand. HZ

www.hugoboss.com
Fashion
LOEWE opens in Amsterdam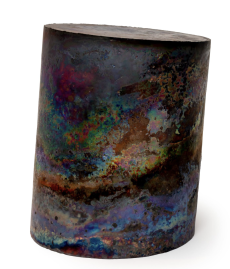 The brand LOEWE has found new ground in the Dutch capital. With a new location on the picturesque P.C. Hooftstraat, a shopping district that runs up to the city's cultural center, Museumsplein ("Museum Square") and is home to a vast number of high-end retailers. "Artisanal detailing with modern flourish" is the overarching concept of the new flagship's interior design – featuring vibrant colors and patterns, maple wood shelves and glazed ceramics.

The new store's modest and carefully selected art collection reveals the brand LOEWE's commitment to art and craftsmanship. It features works such as American sculptor Ron Nagle's unmistakeable ceramics and design classics like Jos Devriendt's "Night & Day 383" lamp. The store also includes one unmissable piece: Tomonari Hashimoto's "Untitled" (2021), a piece from a series of sculpted works of clay that are repeatedly fired and carbonized to bring out an incredible outer layer of metal oxides, that create the look of a unique rainbow of metal oxides. The piece's display in the store also comes following Hashimoto being distinguished as a LOEWE Craft Prize finalist in 2019.

The store is an anthology of visual expression, featuring not only sculptures but painted works as well, both contemporary and earlier. The walls are adorned with Cian-Yu Bai's "Spring with an Angel" (2022) painting, as well as a still life by 17th-century painter Jan van Kessel. Artisanal furniture pieces such as by Gerrit Rietveld and George Nakashima carry on this first-rate collection of pieces.

The Amsterdam store is open as of December, 2022, and is located at LOEWE P.C. Hooftstraat, Pieter Cornelisz Hooftstraat 97, 1071 BR Amsterdam. HZ

www.loewe.com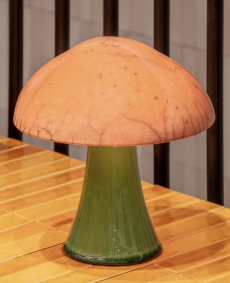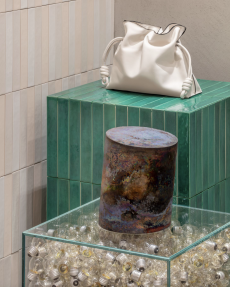 Fashion
A quiet retreat
December, 2022. FENDI unveils its new store in Düsseldorf, located in the Königsallee. The two-storey boutique stretches out over 460 square meters, creating a spacious and airy interior feeling. Wide windows, marble floors, and FENDI's characteristic arched LED lights tie in to this feeling of space and quiet comfort, with plush seating and lush plants forming elegant centerpieces to the rooms. The store is imbued throughout with a soft color palette and smooth materials – ivories and pinks, champagne metal shelves and silky green backdrops – that adds to the serenity of the space. FENDI handbags, clothes, and shoes line the smooth metal shelves.

The entire upstairs area is dedicated to FENDI's ready-to-wear collections, and is a visual continuation of the airy elegance of the ground floor, using alternating elements of Arabescato Vagli marble and gold to complete the picture. The highlight of the store design resides on the first floor – a floating mirrored glass walkway that connects the glass elevator with the rest of the first floor. The intimate VIP area is a quiet retreat: with azul metal walls, a light blue marble floor and ivory velvet curtains, it brings the customer into an even deeper state of peace and meditativeness.

www.fendi.com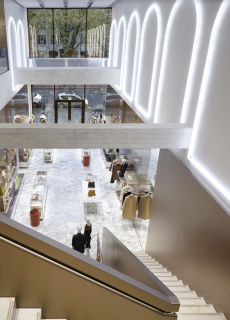 Fashion
FENDI for the Home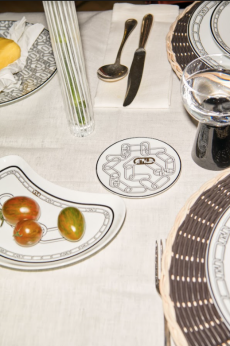 Luxury houses like FENDI don't solely make clothes for their customers, they provide them with a complete vision, a specific lifestyle that extends beyond the confines of their body into other facets of their lives. Especially FENDI has always shown great awareness for this, having been the first luxury house to launch a home collection. In this spirit, FENDI is delighted to announce that its FENDI casa world, through which the Roman house has been bringing the unique FENDI vision into our homes, is now expanded with the first Home Décor & Lifestyle Accessories Collection. Created under the creative direction of Silvia Venturini Fendi, this new collection picks up on the FENDI codes, mirroring the house's aesthetics not only in terms of color, as for examples the iconic FENDI yellow, or in terms of logos such as the O'Lock, FENDI Roma and Pequin, but also in terms of the Maison's known commitment to excellence and the highest craftsmanship. The O'Lock and the FENDI Roma act as fil rouge throughout the collection having been reshaped into decorative patterns that adorn porcelain sets, boxes, trays, candle holders in a graphic reinterpretation of the Maison's DNA. As to be expected, each piece is crafted only from the finest materials and with an incredible attention to detail, with each piece honoring the Maison and its codes.

The FENDI Home Décor & Lifestyle Accessories Collection will be available in FENDI and in FENDI Casa Boutiques worldwide, as well as online, starting from December 2022.

www.fendi.com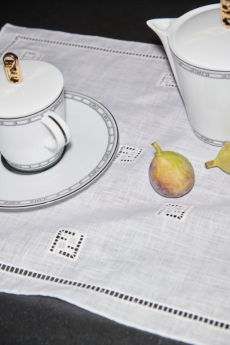 Fashion
RE-ESSENTIEL

The fashion industry was long known to be one of the most polluting industries in the world. But as the environmental challenges of our times have become more pressing and more visible than ever, the fashion industry itself also recognized the need for change, the need to change its own practices in order to reduce its environmental impact. One of the most impactful implementations has been the introduction of a more circular model in fashion which put a special focus on the longevity and life cycle of our wardrobes. In this spirit, Essentiel Antwerp is also reconsidering and rethinking the way its customers can shop through the introduction of a platform where everybody is able to buy and sell their pre-loved Essentiel Antwerp collectibles to fellow brand enthusiasts, hence extending their life cycles. As the first Belgian brand to introduce such an initiative as part of its permanent activities, it does not only showcase an awareness for the challenges of our times, it also underlines the quality of the products which were produced to last. The process is very easy and convenient, as the brand itself takes over the selling process. After selecting and sending in the items, users will receive a voucher valid in the brand's stores and online stores. Regarding the initiative, Inge Onsea, Co-founder and Creative Director of the brands, says, "I always find inspiration in vintage and thrifting and my closet is filled with pre-loved items. Our clothes are designed to last. I'm thrilled that Essentiel Antwerp pieces will have a chance to revive and that we're offering this service to our clients. It really makes designing twice as fun."

www.essentiel-antwerp.com
www.re-ssentiel.com
Fashion
LOUIS VUITTON WATCH PRIZE FOR INDEPENDENT CREATIVES

A watch is a moving construction, the coming together of a puzzle of hundreds of small parts to form a whole. The watchmaker is a true craftsman, a creative who dares to build and deconstruct this puzzle time and again paying utmost attention to every little detail. It is a time-honored craft, but as Jean Arnault, Director of Watches at Louis Vuitton, puts it, "watchmaking is not a dormant industry, it is not inaccessible. Young generations of watch enthusiasts are passionate and want to see new innovations on the market." For this reason, La Fabrique du Temps Louis Vuitton is pleased to announce the establishment of the Louis Vuitton Watch Prize for Independent Creatives, to be awarded on a biennial basis. This initiative is a celebration of the creative talent, savoir-faire and audacity of the independent watchmaking industry, supporting and recognizing the bold visions and independent thinking of all those who are challenging the present and defying the boundaries of time. Open to all, watchmakers, designers, entrepreneurs, recent graduates and creatives from all around the world can submit their projects from the beginning of 2023 through the end of 2023. The same year, a commission of international and independent experts will short-list 20 semi-finalists before narrowing it down further to five finalists based on the criteria of design, creativity, innovation, craftsmanship and technical complexity. Out of these five finalists, the emerging winner will receive a grant, as well as a one-year mentorship by La Fabrique du Temps Louis Vuitton tailored to the needs of their creative project. As part of this programme, the winner will be supported in multiple aspects, ranging from corporate legal aspects to communication and marketing.

www.louisvuittonwatchprize.com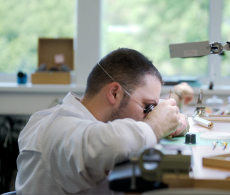 Fashion
The sun, the moon and the stars of Berlin
The Italian jewelry maker DoDo recently presented its new Moon & Sun Collection at its grand opening in Berlin. The new collection revolves especially around the use of semi-precious stones like smoky quartz and moonstone. Inspired in large part by the sun and the moon, the new collection weaves in these fundamental elements conceptually and physically throughout the collection. The sun, representing warmth, light, vitality, and passion, is symbolically packaged into jewelry pieces through the use of brown diamond pavé on burnished gold, creating a rose gold background. The moon, representing sensuality, mystery and cyclicality, also takes center stage in the jewelry line. The collection mimics the moon's waning phase on the rose gold background, as a pavé of white diamonds on rhodium-plated gold. The sun and moon motifs are elegantly embodied in the rings of rose gold. The bracelets bring together moonstone or smoky quartz beads between small tubular sections of rose gold. Moon pendants of white diamond and sun pendants made up of brown diamonds bring the cosmic motif to the foreground again.

An impressive roster of guests filled the halls of the brand's new boutique at 32 Rosenthaler Strasse at Hackescher Markt, the famous square in the middle of the illustrious Mitte district in Berlin, to celebrate the launching of the new collection. The festivities at the boutique were followed by an afterparty at the Weekend Club Berlin. "A sky over Berlin studded with gems and diamonds" served to complete the image, reflecting back the light from the beautiful jewelry on display below. HZ

www.dodo.it
Fashion
THE POWER A SMILE HOLDS
For over 50 years, the SmileyWorld brand has been gatekeeper to the iconic smiley – a simple yellow circle holding no more than two dots for the eyes and an arc for the mouth, which has nonetheless become a symbol of positivity and light to generations since. What began as a venture to bring light to daily news by highlighting positive news bits with a smiling face, has since become a thriving business model. Having the foresight to license the trademark, the father of the smiley, French journalist Franklin Loufrani, has created something of a smiley empire. As a symbol of the free love/counterculture movement in France in the early 70s, and later on a ubiquitous staple with the rise of the internet, the smiling yellow face has stood the test of time. In its FW22/23 collection, A|X Armani Exchange is now breathing fresh life into the long journey of the famous smile, to celebrate the 50th anniversary of the SmileyWorld brand. Two new designs are at the forefront of the collection, giving a new face to the familiar logo – the first replacing SmileyWorld's eyes with the A|X logo, the other paying homage to founder Giorgio Armani by distinguishing it with his recognizable glasses and smile. These are applied across the collection; on bombers, t-shirts, backpacks, and more. True to form, the famous smiley radiates positivity, and reflects its characteristic rebelliousness across the entire collection. HZ

www.armani.com
Fashion
Tommy Jeans x Martine Rose
Tommy Hilfiger is teaming up with British designer Martine Rose to launch the gender-inclusive capsule collection "Tommy Jeans x Martine Rose". Fusing the DNA of brands, the 35-piece collection takes archival icons from Tommy Hilfiger and reinterprets them through Martine Rose's unique lens, highlighting the British designer's trademark out-of-the-box and experimental approach. The collection itself is defined by an elevated streetwear aesthetic with ironic touches expressed through powerful play of color and graphics which can be seen on garments characterized by exaggerated proportions in a typical Martine Rose style. A fan of the brand herself, Rose comments that, "Tommy Hilfiger has always been a brand that I've drawn inspiration from, so this partnership was such a natural and organic marriage." The collection's imagery was shot in Miami by renowned photographer Buck Ellison attempting to redefine traditional Americana by showing a diverse couple in a classic setting. Martine Rose's aesthetic is mirrored in the campaign's imagery which brings the spirit of Americana into the 21st century, highlighting the beautifully diverse spirit of modern America.

The collection will be available on November 7th, 2022 at select Tommy Jeans stores and online.

www.tommy.com
Fashion
Rolex Boutique Berlin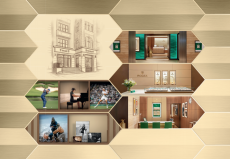 Berlin's Kurfürstendamm belongs to the country's most famous streets, and has become the German capital's premier address for luxury. After extensive renovations and remodeling, Swiss watch manufacturer Rolex and Wempe are re-opening their joint-boutique in the historic building situated at Kurfürstendamm 184. Having initially been opened as the first Rolex Boutique in Germany back in 2009, the boutique's new interior is an embodiment of the famed Rolex aesthetic and all the values of excellence, precision and love for detail for which they have become known over the years. Carefully selected colors and patterns radiate an ambience of comfort whilst providing an insight into the world of Rolex. The focal point of the new store are the impressive oval sales tables crafted in walnutwood with golden paneling, exclusively designed to showcase the Rolex selection in the store as well as an intimate VIP area and lounge. The partnership between Rolex and Wempe dates back as early as the 1950s, when the first Rolex watches were sold by Wempe in Germany and has continued throughout the decades. As Rémi Corpataux, Managing Director of Rolex Germany puts it, "We are happy to, in collaboration with our longstanding partner Jeweler Wempe, reopen our Berlin Boutique after extensive renovation and remodeling."

www.rolex.com
Fashion
Fendi releases Peekaboo Capsule Collection
Reimagining the legendary leather accessory, FENDI is releasing the new Autumn/Winter 2022 Peekaboo Capsule collection.
The Peekaboo is one of FENDI's timeless icons which now comes out in a reinterpreted version underlining its innovative and sophisticated character. It first started as an essential bag for women but was soon able to convince men as well, thanks to practical macro sizes and briefcase-like shapes.
The capsule also points out FENDI's excellent leather craftsmanship by incorporating the Selleria macro stitches, which create a contrasting effect on the black, white and mint green leather. Exotic and ornamental handles round off the design. Another version is fabricated in full suede and stands out due to its elegant camel color. A matching Micro Peekaboo as well as python small leather goods offer exciting touches.
The Men's version come in asphalt and camel colored Cuoio Romano leather with adjustable shoulder straps. Honoring the model in various sizes, the capsule features FENDI Peekaboo ISeeU Medium, Small and Mini.
Additionally, FENDI also releases a selection of knitted cashmere accessories in pastel tones of gray, mint green and beige. Included are hats, scarves and earmuffs, defined by an all-over FF logo. Cashmere maxi shopper, pouches as well as plaids and pillows add the finishing touches. JW
www.fendi.com
Fashion
Loro Piana participates in Les Journées Particulières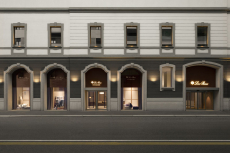 Just a couple of weeks after Milan Fashion Week, Loro Piana draws once again attention to the fashionable city as it will participate in the fifth edition of Les Journées Particulières. The event is an initiative of the LVMH Group, which thus offers a rare opportunity to look into the outstanding artisanal heritage that characterizes the LVMH Group design houses. First introduced in 2011, Les Journées Particulières provide a unique experience, giving visitors a better understanding of the brand's exceptional savoir-faire.
96 locations in 15 countries will be participating in the event this year, including museums, wineries, private residences, shops, and studios. Among them is also the Palazzo Cortile della Seta in Milan, where Loro Piana's new headquarters are located. It is hence one of 19 locations in Italy, which will be involved in Les Journées Particulières. Putting an installation in the shape of an hourglass on display, Loro Piana will give visitors an extraordinary and comprehensive insight into the brand's history. Photos, videos, archive documents as well as famous garments, exquisite fabrics, and fascinating source materials will take them on a unique journey behind the scenes of the LVMH Group and Loro Piana.
Les Journées Particulières will be open to the public from October 15th to 16th, 2022 at Palazzo Cortile della Seta. JW

www.lvmh.com
www.loropiana.com
Fashion
Hermès opens new flagship store in NYC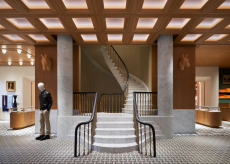 Parisian elegance meets New York dynamism at Hermès' new flagship store at 706 Madison Avenue on the Upper East Side. Testifying to the Maison's love for New York City, this new address exudes its lively and creative spirit. In order to provide a spaciously sized and unique store, the Parisian architecture agency RDAI connected three existing buildings, one former bank building adjacent to townhouses. The interior of the several distinctive salons that form the store is inspired by New York's Art Deco past, thus pure yet decidedly anti-minimal, linking angular geometry with curved manifestations. The now fully renovated premises stand out due to their carefully chosen materials and neutral color palette as some aspects, including a coffered ceiling, recall the history of the buildings. The highlight is an arresting stone staircase running all the way to the fourth floor, which is adorned with an astonishing artwork collection on its supporting wall.
On the floor ground, one can find fashion jewelry, the silk universe, perfume, and beauty as well as men's silk, leather goods, and equestrian collections. The second-floor houses the men's universe in a warm atmosphere which transitions into the comfortable aura of the women's universe on the third floor. A moment to rest is offered by the bars on the third and fourth floor, which also lead to the enticing roof garden, a rare treasure in New York.
Various iconic Hermès designs have been revamped for this special occasion, including the American Quilt, celebrating this exciting opening. JW

www.hermès.com
Fashion
Gucci presents Valigeria imagery with Ryan Gosling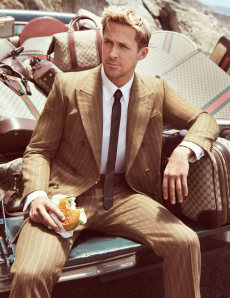 For the Gucci Savoy collection, creative director Alessandro Michele and photographer Glen Luchford created an imagery which takes us into a reality-adjacent dream of a present built on the possibilities of the imagination and of an encounter. Featuring actor, screenwriter, director and musician Ryan Gosling, the collection's images and video follow him and the exceptional Gucci suitcases on a journey to surprising places and fantastical worlds, which are first and foremost mental places, as Michele explains.
The narrative depicted is not unfamiliar to the maison's history: At the beginning of the 20th century Gucci's founder Guccio Gucci left Italy when he was seventeen years old and started working at The Savoy hotel in London. Getting a taste of the magical world of travel, which back then was synonymous with discovery, discussion and cultural exchange, the young Florentine transferred this experience of the unexpected into his work, that is his first suitcases. Honoring this first part of Gucci's rich history, the trolleys, hard and soft suitcases, duffle bags, trunks, hat boxes and beauty cases of the Savoy collection get to tell the a story of possibilities in the Gucci Valigeria imagery, as they are more than containers, but repositories of dreams. JW

www.gucci.com
Fashion
Moose Knuckles teams up with Post Malone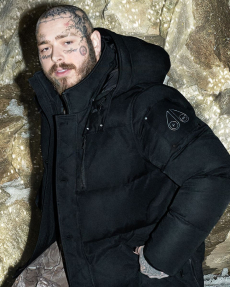 Over one year ago, Canadian luxury outerwear label Moose Knuckles and Global superstar Post Malone started working on an exciting collaboration behind closed curtains. Now, the 10-piece gender-neutral capsule collection is finally out. As someone experimental who expresses himself through his inventive style, Post Malone seems to fit perfectly with the rebellious spirit of Moose Knuckles. He explains: "This partnership with Moose Knuckles felt super organic from the beginning. The collection is about celebrating and doing things your own way based on your natural instincts." Composed of iconic Moose Knuckles silhouettes, the collection includes amongst others the 3Q jacket reworked in Realtree camouflage print in black and customized golden yellow. Furthermore, the collection is characterized by further customized design details such as all-black metal hardware, zippers, and a special edition logo on the above-mentioned 3Q jacket. Beyond that, the insulating "Bunny" hoodie in black sherpa, equipped with a detachable lamb shearling hood is featured in the collection alongside a matching sherpa jacket and jogger. In terms of accessories, the collaboration offers a sherpa baseball cap adorned with a new logo patch. For the first time in a collaboration, Moose Knuckles will also include the 3Q for children, providing the whole family with the eye-catching collection. JW

www.mooseknuckles.com
Fashion
Zinédine Zidane is the new face of Montblanc
Montblanc announced Zinédine Zidane as the new Mark Maker as well as the new face of the Montblanc Legend perfume, starting September 2022. As a world-renowned soccer player and coach Zidane has always done what appealed to him, thus being consonant with Monblanc's philosophy of What Moves You Makes You. With the national team, the French player won the European championship and the World Cup. Beyond that, he also celebrated great successes with the clubs Juventus Turin and Real Madrid, not to mention his success as a coach.
He explains how he himself identifies with the brand and its values: "Montblanc is a house of culture and quality that emphasizes the importance of sharing ideas and thoughts through writing. A belief I share as someone who inherited the values and culture of my father and family, which I also try to pass on. Personally, I write in my notebook every day... I don't just hand out autographs!" Making Zidane the face of Montblanc Legend is the brand's way to honor his achievements as a footballer and coach which rightfully earned him the title of legend. With his strong passion, his exceptional skills, and his strong determination he reflects the mindset of those who strive to write their personal legend by their own effort. JW

www.montblanc.com
Fashion
Sportmax shows SS23 at Milan Fashion Week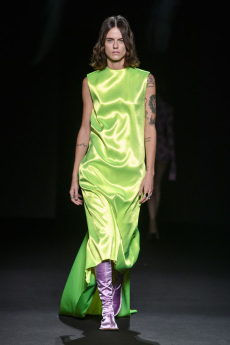 Sportmax presented its new Spring/ Summer 2023 collection at Milan Fashion Week. The collection is based on the relationship between speech sounds and visual shapes and objects. As the human brain attaches shapes to abstract meanings, such as "bouba" and "kiki", the title of the collection, Sportmax addresses the duality of elements in its own experiment. That is, the brand created a collage of elements, which discover their own balance while removing themselves from any logic. Hence, the collection celebrates dualisms and brazen creativity, disrupting social norms.
With a playful approach, Sportmax constructed a collection around minimal but contrasting looks and hypnotic, luminescent patterns. Techno-couture skirts matched with ultra-cropped tops. Streetwear gets linked to evening wear in a vivid palette of acid tones, pastels, deep colors, and black and white. Not only combine the garments different aesthetics but also different time eras. For instance, A-lines and large flare silhouettes of the 1950s are seen next to futuristic space age styles of the 60s and counterculture looks of the 90s. Regarding the accessories, Sportmax designed pneumatic bags as well as exceptional footwear such as second-skin boots. JW

www.sportmax.com
Fashion
Brunello Cucinelli SS 23 dresses the "female explorer"
With a special focus on high-quality and artisanal workmanship, Brunello Cucinelli created the new Spring Summer 2023 collection which revolves around the idea of a "female explorer". The collection stands for an elegant, luxurious, and discreet style, reinforced through the beige colors, significant to the brand. Earth tones and delicate pastel tones round off the palette and, in the context of the "explorer", portray impressions gathered on the journey. Centered on the idea of "fluid tailoring", the garments were crafted in a versatile and easy-going manner, balancing out the orderly elegance and masculine tailoring. As the core of the brand, knitwear becomes a feminine and contemporary element within the new collection. Textured embroidery and crochet stitches show once again the brand's high expertise in craftsmanship. A highlight of the collection is the new Twin Wear category which consists of matching sets as a feminine alternative to dresses, jumpsuits, and suits, allowing versatile combinations.
The accessories of the Spring Summer 2023 collection seem contemporary and timeless at the same time. Taking on the neutral colors of the garments, these accessories can be described as minimalistic and pure. Knitting techniques used for the clothes can also be seen on everyday accessories, whose material gets enhanced by special textures, such as nappa leathers with broderie anglaise-style embroidery. JW

www.brunellocucinelli.com
Fashion
FENDI SS 23 goes back to the 2000's
For Fendi's Spring/ Summer 2023 collection, presented during Milan Fashion Week, Kim Jones dived into the brand's prestigious history. That is, he freshly approached previous collections and gathered inspiration from Karl Lagerfeld's work for Fendi. He explains: "It's about continuity. I am interested in looking at things that Karl has done, and seeing, how we can develop them - both visually and technically." In the course of this, the designer reimagined a floral print of the Fendi archives as well as a logo from the year 2000.
The garments are reminiscent of the time around the turn of the millennium as they link minimalist ease with pop-infused eclecticism. Both effortless and refined are the floating layers of technical organza as well as the nylon jersey adorned with lacquered embroidery. While the collection is kept in neutral tones, Jones added bold pops of colors in vibrant pink, blue and green. Furthermore, the fabrics which include cashmere, fur, and leather appear lighter than ever before, layered with technical fabrics. In terms of accessories, Fendi presents a Peekaboo in a revamped variation. Sliced in half, revealing the mechanisms of the bag, it becomes the key accessory of the new season. JW

www.fendi.com
Fashion
Stone Island presents the Shadow Project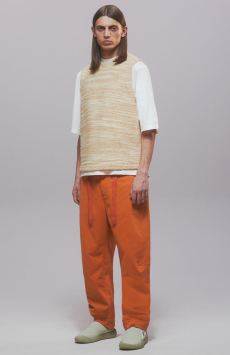 For the cold seasons of the year, Stone Island presents the Shadow Project Fall Winter '022 '023. Adapting to the needs of winter, the collection focuses its features on a more functional aspect. As the designs are divided into two chapters, the Shadow Project celebrates the traditional value of truthfulness. In this sense, the collection also testifies to the fact that Stone Island is eager to innovate and venture into unfamiliar territories while remaining truthful to the brand's core.
The garments are distinguished by their choice of material, which reflects the thought process and the honest idea behind the project. As Stone Island decided on seasonal fabrics, which can be described as rough, unpretentious, and industrial, it paid extra attention to the functionality, warmth, and comfort of the clothing items. The color palette is distinguished by neutral shades which emphasize the special feel of the materials. The two chapters mentioned above differentiate in their color spaces. Hence, chapter two presents clothing characterized by a spectrum of reds, from rustic orange to warm berry. All in all, this results in a coherent overall picture of appealing and high-quality pieces that fit perfectly into the upcoming season. JW

www.stoneisland.com
Fashion
MYKITA & Bernhard Willhelm
Since 2009, MYKITA and the Paris and LA-based fashion designer Bernhard Willhelm have collaborated, creating extraordinary shades in various colors and shapes. For his designs, Bernhard Willhelm draws massive inspiration from today's Pop culture, in which he also incorporates elements of sports and streetwear. Hence, his garments radiate a sense of irony and absurdity. Together with MYKITA, he shares a deep interest in innovation. The modern manufactory is always striving for innovation and new technologies as it combines them with precise and high-quality craftsmanship.
A highlight of the collaboration is DAISUKE. The lenses form a shield over the eyes and nose, which is defined by a mirrored effect. Beyond the extraordinary design, the shades are characterized by their high quality. DAISUKE is made out of the material Mylon and crafted according to a patented screwless joint concept. Handcrafted in Berlin, DAISUKE joins further models of the collection in being extremely lightweight, providing a comfortable wearing sensation. The shield that protects half the face, is a tinted polyamide sunscreen shield with 100% UV protection and anti-reflection coating on the reverse side. By combining the craftsmanship of MYKITA with the creativity of Bernhard Willhelm, united in their innovative approach, true statement pieces, and stylish shades emerge. JW

www.mykita.com
www.bernhard-willhelm.com
Fashion
Miu Miu presents a short-film by Carla Simón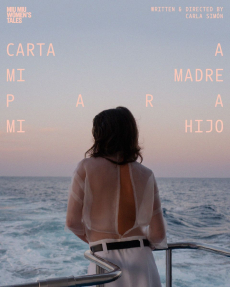 Carta A Mi Madre Para Mi Hijo (Letter To My Mother For My Son) is a short film directed by Spanish film director Carla Simón. As the 24th commission to Miu Miu's acclaimed short-film series, Women's Tales, it premiered at the Venice Film Festival's Giornate degli Autori 2022. Women's Tales features films by female directors, in which they explore vanity and femininity in today's world.
At the beginning of her short film, Carla is shown pregnant and naked, reflecting photos of her mother when she was pregnant with Carla herself. After this sequence, a family of grandparents, uncles, aunts, fathers, and great-grandparents is depicted in a series of Super 8 shots. The film then proceeds to follow the journey of a young woman, growing from the 60s to the present day, who in the end meets the pregnant Carla in the idyllic atmosphere of the Catalan coast.
In this work, which the Spanish Director dedicates to her son, Carla Simón wants to create a family history, as it is something that she never had. When she was only six years old, Carla lost both her parents to AIDS. She explains that "Cinema has the power to repair what is missing", leading her to make this short film composed of real and fictional memories, echoing the lifelong process of understanding who we really are. JW

www.miumiu.com
Fashion
Neo.Fashion. promotes young designers at Berlin Fashion Week
Neo.Fashion. returned to Berlin Fashion Week this season for its 6th edition, promoting aspiring talents and fashion designers. As a hybrid event, Neo. Fashion. presented shows as well as a showroom at Reinbeckhallen in Berlin. In the course of the event, graduate shows took place, in which ten universities presented designs of their most promising students. In this context, over 80 graduates got the chance to show their garments to a larger audience. This also included the digital Graduate Show, which introduced 12 graduates of the National University of Technology and Design Kiev, showing ongoing support for Ukrainian fashion designers while the country remains at war with Russia. Once again the Neo.Fashion. Awards have been given to the best German fashion design graduates as part of the Best Graduates Show. One of the lucky winners is Nanyi Li, who won in the category Best Sustainability Concept. For this edition, Neo. Fashion. is also launching its new format, titled Aspiring Designers to further support young creatives. The new format includes collective fashion shows, panel talks, and workshops, helping aspiring talents to find an entry into the industry. Stephan Schwarz, Senator of Economic Affairs, Energy and Operation says: "I am very pleased that Neo. Fashion. focuses on young fashion designers and promotes them sustainably. Neo.Fashion. has become an important format at Berlin Fashion Week. We want to use it to support the international visibility of graduates and up-an-coming designers and also underline how important the development of the creative scene in Berlin is to us." JW

www.neofashion.de
Fashion
Audemars Piguet's Royal Oak turns 50
To celebrate the 50th birthday of Audemars Piguet's Royal Oak, the Swiss Haute-Horlogerie manufacturer launches a special book in collaboration with the luxury publishing house Assouline. Written by award-winning cultural journalist Bill Prince, the book tells the story of the iconic watch model from a culturally relevant point of view. It includes exclusive information found in Audemars Piguet's archives and frames the text with pictures and annotations of longstanding friends of the watchmaker.
When the Royal Oak was first released in 1972, it caused a great sensation due to its ultra-flat automatic movement, which has never been seen before. In the following years of cultural and industrial change, the watch not only kept up with time but was even ahead of it. Marking a new era of Haute Horlogerie distinguished by sportiness and finesse, it embodied an active yet serene lifestyle. Combining technological innovation and high-quality craftsmanship the Royal Oak is not just a watch but a cultural asset that goes beyond the momentariness of our being. The "Generation Royal Oak", including celebrities such as Kevin Hart, Mark Ronson, and Serena Williams, are featured in the book as they talk about their inspirations rooted in the cultural movement since the Royal Oak was first released. JW

www.audemarspiguet.com
Fashion
DER BERLINER SALON presents 31 German fashion designers
On the fifth of September, during the course of Berlin Fashion Week, DER BERLINER SALON opened up to showcase the collections of 31 German designers, including amongst others Odeeh, Fassbender, Alexandra Biron of Curland, and Danny Reinke. Beyond that, the presentation platform also welcomed a special and international guest to the event, Ukrainian fashion designer Jean Gritsfeldt who showed various looks from his current collection. Known and famed for his ready-to-wear designs since 2012, Jean Gritsfield likes to experiment with patterns, fabrics, and textures, creating unexpected combinations in bizarre colors. This season, DER BERLINER SALON presented for the first time an Alumni Installation consisting of 24 designers and manufacturers who were featured in previous exhibitions of DER BERLINER SALON. The group exhibition, which is one of the most important presentations of German design in the fields of fashion, jewelry, and accessories, was curated by German fashion journalist Christiane Arp. Arp has been the editor-in-Chief of Vogue Germany for almost two decades before she left the renowned magazine in 2020. Together with the managing director of Nowadays Berlin, Marcus Kurz, she initiated DER BERLINER SALON in 2015, which is now an established and integral part of Berlin Fashion Week. JW

www.fashionweek.berlin
Fashion
SF1OG presents UNTITLED
During Berlin Fashion Week the young label SF1OG presented its latest collection called UNTITLED. In a world of increasing disconnection and artificial realities, fashion designer and founder Rosa M. Dahl wanted to create something that revolves around craftsmanship, referring to material, tools and method. The collection is based on a personal experience from Dahl's childhood, which inspired the way she approached the collection: When she was growing up, Rosa M. Dahl used to create sculptures together with her father in his studio. Made out of material remnants and found objects, these joint projects taught her the importance of craft, timeinvestement and concept. Within UNTITLED, materiality plays an important role, as it is the source of inspiration and attaches imperfect yet exciting notes to the designs. To complete the outfits presented, SF1OG partnered up with Converse and Sides Step. They supplied the Berlin-based label with various converse styles, such as the Chuck Taylor All Star Terrain.
The fashion show took place at the Feuerle Collection, which used to be a telecommunications bunker during the Second World War. Later it was renovated by British architect John Pawson. The space exhibits contemporary art pieces alongside ancient Asian works, creating a dialogue between different eras and cultures as well as a unique energy. The artworks presented blend in with the fashion collection's themes of material and contemporary witness. JW

www.sf1og.com
Fashion
Calvin Klein gathers a cast of culture shapers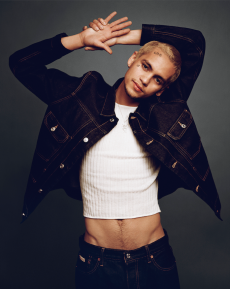 Presenting Calvin Klein's latest collection of everyday jeans and underwear, the brand launches imagery featuring an extraordinary cast of cross-generational culture shapers. The series of stills and videos was shot and directed by British photographer Alasdair McLellan, who staged the talents in a modern, minimal, and sensual setting. Thus, he remains in the brand's spirit as Calvin Klein is known for stripped-back images, letting the members of the cast speak for themselves. To showcase the elevated yet original essentials Calvin Klein brought together artists from various fields, including amongst others actor and director Chloë Sevigny, musician and actor Dominic Fike, and producer and actor Yahya Abdul-Mateen II.
The underwear and loungewear presented in the imagery are distinguished by the Embossed Icon, the signature logo of Calvin Klein in an embossed repeating design. Furthermore, the collection includes the Bonded Flex, a wire-free thus comfortable bra, offering support in a seamless knit. New shades, cuts, and silhouettes are available in new Modern Cotton and Modern Cotton Naturals. As Calvin Klein approached this collection environment-friendly, a lot of the above-mentioned garments were fabricated in recycled materials and sustainably-sourced fibers.
The jeans evoke a youthful feeling, reminiscent of the 90s, as they combine utility details and a dynamic texture in updated proportions, depicting the core of the American brand. JW

www.calvinklein.com
Fashion
Loro Piana presents Denim Cashmere
In its Fall-Winter collection 2022/ 23, the Italian brand Loro Piana presents its new and innovative fabric Denim Cashmere. Distinguished by its unique feel, the fabric was created in collaboration between the crafts team of Loro Piana and Japanese denim experts of the Bingo region. The manufacturers from Bingo are outstanding in their experience and therefore enjoy great popularity around the world. United in their perfectionist approach to creating high-quality garments, the two crafted a mixed material of 60% denim and 40% cashmere, defined by its warm and comfortable wearing sensation. The production requires ancient and rare weaving looms, which can only be used by a few experienced professionals. During a slow process, the two yarns, the indigo denim, and the natural cashmere fiber are woven together. Thus, within one day 50 meters of the precious fabric are produced. In the end, the material was incorporated into one look of this season's collection, including pants and a jacket. The simple yet elegant garments are the result of a unique collaboration, which combines the know-how of the Japanese denim experts with the Italian spirit of Loro Piana. They symbolize the merging of two cultures, topped off with a luxurious touch, significant to the Italian brand. JW

www.loropiana.com
Fashion
The Power For The People by Steve Davies
After spending his whole life in London, Steve Davies decided to found his own brand "The Power For The People" in 2020, which is heavily inspired by his journey, which led him through London's neighborhoods Shoreditch, Soho, and Savile Row. For this reason, he also attaches great importance to closely working together with British fabric mills and manufacturers for the production of his collections, ensuring high quality for his clothing. Furthermore, the designs of the handmade garments refer to the British capital in their street energy, as the city surprises the founder and creative director of the brand again and again, despite having lived there for so long. For Autumn/ Winter 2022, only the second season for "The Power For The People", the label of Steve Davies reflects his first season in tailored and military styles. The collection is crafted in traditional British manufacturing techniques and references the 80s and 90s London club scene with bondage pants, mixed with classic men's tailoring fabrics.
Based on Davies' passion and love for the city of London, an all-inclusive structured line of garments emerges, defined by its unconventional style and dedication to its fine production. JW

www.thepowerforthepeople.com
Fashion
MCM launches new Travia Bags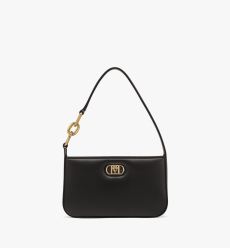 German luxury brand MCM just launched its new Travia Bag in different designs and colors. Made out of high-quality lamb leather, the bag meets the brand's high standards of craftsmanship and materiality. Its different models are suitable for everyday life, thus bringing timeless elegance into one's daily routine. Adorned by the brand's architecturally inspired logo, depicting the three capital letters MCM in 24 karat gold edged in a ring, the Travia Bag exudes true class.
The series shoulder bag takes the center stage of the launch, alongside its little sister, the Travia crossbody bag, which appears just as noble, whether with a gold chain or a leather strap. The latter version includes a little leather pouch in the same color as the bag. As a complementary accessory, it can carry Airpods or similar-sized valuable items. Furthermore, there are two sizes to choose from, ranging from mini to small.
Each design of the chic leather goods is available in bold pink, classic black, or neutral beige. While setting varying accents, the differently colored and shaped models are united in evoking "Old Hollywood Glam". Thus, the elegant designs have real potential to become true It-bags. JW

www.mcm.com
Fashion
#HUGOYourWay
In the brand's spirit of encouraging and empowering its audience, HUGO now consolidates this message in its digital-led Fall/ Winter 2022 imagery. For this matter, HUGO formed a trio of inspiring artists, including Korean American rapper Big Matthew and Guyanese American rapper SAINt JHN as well as the American model and singer Selah Marley. The two rappers have been named brand ambassadors for the previous season and return now, keeping up the energy from the branding refresh. Each one of the ambassadors set an example of doing one's own thing, staying true to one's self and thus, creating their own look.
In order to connect with youthful fans and to spread their message and values even further, HUGO expanded on Tiktok, posting videos made by some of the platform's most cherished and creative content creators. Always using the hashtag #HUGOYourWay, customers get to discover the world of HUGO on various social media apps. In its posts, HUGO is teasing its new collection for FW22, in which the brand focuses more on its denim products as well as the brand's colors of red, white, and black. A highlight of the collection is the introduction of the new HUGO monogram, which will be spread as an all-over graphic on various styles, such as sweatshirts and footwear. JW

www.hugoboss.com
Fashion
C.P. Company: The Brotherhood
The Chester Perry brand was founded in 1971 by a young graphic designer from Bologna. The brand quickly gained prominence for its screen-printed t-shirts. Later on, in 1978, its founder Massimo Osti, who would go on to be recognized as the "godfather for urban streetwear", then changed the company's name to C.P. Company. What followed was one of the most explosive and influential bursts of creativity in the history of sportswear. Throughout the years, C.P. Company developed into a global brand. As the brand always remained true to its original DNA, laid out by its founder, a lot of its early followers remained true to the brand throughout the ensuing decades. Today, C.P. Company is launching its loyalty program called "The Brotherhood", to reward the loyalty of its customers. The goal is to create and strengthen the trusting, quality relationship between the brand and its clients. In a digital experience, customers are able to earn points for every purchase and the brand, in turn, offers them a slew of rewards, and personalized offers including special discounts for birthdays, early access to special shopping events, free shipping on purchases and much more. With "The Brotherhood", C.P. Company adds a more personal dimension to the brand, whilst recognizing the need for personalization for the building of new and strengthening of already existing relationships.

www.cpcompany.com
Fashion
HUBLOT LOVES SUMMER
The summer has finally started. With the rising temperatures, many of us are flocking to Europe's favourite beach resorts to spend a relaxed summer holiday or in search of new summer adventures. Either way, one should never come unprepared without the perfect accessory in the form of a timeless Hublot timepiece. Inspired by three legendary summer destinations, St. Tropez, Capri and Ibiza, to which Hublot also sails with its pop-up boutiques, the Swiss watchmaker now presents three limited editions, made from Hublot ceramic, the Classic Fusion Aerofusion Chronograph Ceramic Capri Boutique, the Classic Fusion Aerofusion Chronograph Ceramic Blue Ibiza Boutique and the Big Bang Unico St-Tropez Boutique. Each of these three editions dives into the blues, each shining in a distinct shade of this truly essential and endless versatile colour. Each of these distinct shades of blue reflects the destinations by which these limited edition timepieces were inspired. The Big Bang Unico St-Tropez Boutique, limited to 30 pieces, mirrors the turquoise blue seas and the sky of this seaside citadel echoing the colours of Tahiti and Pampelonne beach. The Classic Fusion Aerofusion Chronograph Ceramic Blue Ibiza Boutique, limited to 50 pieces, shines in colours that echo the island's white walls and the deep blue of the horizon from Cala Conta, the contrasting shades underneath the boats moored at Cala Saladeta and the seabed at Cala Xarraca. The last of the three, the Classic Fusion Aerofusion Chronograph Ceramic Capri Boutique, also limited to 50 pieces, reflect the magic of the turquoise waters of the Grotta Azzurra contrasted with the dark grey of the grotto. Each of these three timepieces evokes the essence of the places which have inspired them, and they represent Hublot's invitation to rest your feet on dry land, whilst fully admiring the sea.

www.hublot.com
Fashion
CD Diamond Glasses
Sunglasses are not only for the sunny seasons. They have become an intricate part of most people's wardrobes and an absolute essential that one should always have on hand. Like many other luxury houses, DIOR has long recognized the appeal and popularity of sunglasses, but now the French Maison takes this a step further by applying their exquisite savoir-faire. The CD DiamondGlasses are a combination of advanced technology and highly refined DIOR craftsmanship and ultimate expertise. Assembled by hand, these virtuoso creations exalt the house's fundamentals. This special accessory is defined by the infinite precision and attention to detail throughout every stage of the production. This is instantly recognizable in the lenses which have the Christian Dior Signature laser engraved or the diamond motif and iconic CD Diamond Logo applied with the most meticulous care. This Diamond pattern was first unveiled in 1974 and this original emblem and hypnotic design are now celebrated by Kim Jones.

www.dior.com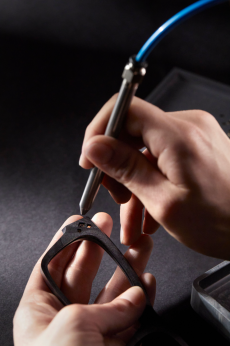 Fashion
LOIS Jeans SS23: Porto di Como
In the context of its 60th Anniversary, Spanish jeans brand Lois Jeans unveiled its new SS23 collection 'Porto di Como' with its first-ever fashion show in Italy. Taking place at the historical location of Acqua di Bianchi in the picturesque village of Taceno, close to Lago di Como, the collection and show were a homage to Italy, its music and its heritage. The unexpected scenery is a direct reference to the inspiration behind the 16th collection, the enchanting ambience of the natural oasis captured through the striking designs and exceptional elegance of the collection. The natural surroundings of Lago di Como expressed through a harmonious color scheme of clean whites, deep blues, soft yellow tones adorned with orange details, floral artworks and elegant shapes is contrasted with Lois Jeans' iconic characteristics which have catapulted the brand to global prominence. Iconic jeans sets, elevated 60s styles and low-waisted 90s fits are reinvented as visual highlights throughout the collection and bear witness to the essence of the brand's heritage. Naturally, ABBA, who Lois is known for sponsoring shortly before their Eurovision Song Contest success in 1974, was present through their iconic song 'Take A Chance on Me', which was the musical backdrop of the show's finale. Among the models of the shows were the Lois muses of the past years, such as Dutch icons Rianne ten Haken and Ton Heukels, as well as Lois campaign stars Nour Lwasi, Jena Goldsack and Robin Hölzken. The incredible evening was finished off by an authentic Italian dinner in the serene setting natural setting of Taceno, a perfect setting to celebrate the 60th Anniversary and the 16th Lois collection.

www.loisjeanstore.com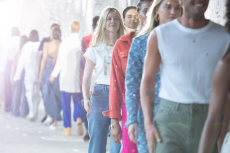 Fashion
CHANEL Haute Couture FW2022/23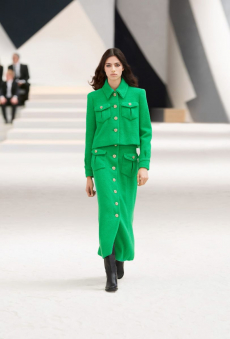 For Virginie Viard, the FW 2022/23 Haute Couture collection was a continuation of the previous show, a fact underlined by artist Xavier Veilhan returning to collaborate with the French Maison for the second time in a row. This time, he is also joined by Sébastien Tellier and Charlotte Casiraghi. Throughout the show, one could see the instantly recognizable and familiar CHANEL elements such as the tweed or the suiting, and one could feel the influence of her two predecessors. Yet, Viard achieved to make the collection her own, taking references and inspiration from the works of Mademoiselle Chanel and Karl Lagerfeld as a starting point to transform the pieces through her own vision. By working together closely with extraordinary makers and textile designers, this collection is defined by its interplay of textures, the masterful use of different materials and the gentle flow of perfect pleats which move just beautifully as they are elegant. Each piece bears witness and is an ode to the extraordinary savoir-faire of the CHANEL ateliers, the skilful hands of the craftspeople who mastered their craft, as well as the fournisseurs who supply the French Maison with the textiles, accessories and embellishments of unparalleled quality.

www.chanel.com
Fashion
Louis Vuitton announces newest House Ambassador: Cate Blanchett
Louis Vuitton already has an impressive roster of brand ambassadors from all over the world, covering all different fields, ranging from the worlds of sports to cinema and entertainment. Now, yet another big name is announced as the French Maison's newest house ambassador, iconic actress Cate Blanchette. For this reason, the Australian actress is captured by Sølve Sundsbø, featuring Louis Vuitton's latest High Jewellery collection, Spirit, in an expressive and enchanting series of portraits. Cate Blanchette, synonymous with elegance and charm, is not only a perfect match for Francesca Amfitheatrof's creations, as she is an effortless embodiment of the collection's themes of liberty, fantasy, grace, radiance and destiny, but she is also a personification of the timeless and modern Louis Vuitton woman. As Blanchett puts it herself, "I am extremely excited to have this opportunity to collaborate with Louis Vuitton - a truly iconic House with an enormous cultural reach. To wear the magnificent pieces created by Francesca Amfitheatrof is a bedazzling pleasure, and Nicolas Ghesquiere, as ever, amazes and inspires me."

www.louisvuitton.com
Fashion
Versace Resort 2023 Collection
Versace Resort 2023 Collection exudes fresh young energy. Designed to address the new generation, it combines a rebellious spirit with clubby acid florals. In a game of contrasts, hard and soft, masculine and feminine, formal and playful, the collection shows Versace's true essence. The Italian brand has presented a series of new outfits where clothes are paired in unusual ways. Floral chiffon dresses with 3D flower embroidery and jersey tops in Versace logo print are juxtaposed under biker-inspired dresses and jackets, as well as ultra-square shouldered tailoring is layered over sportswear pieces. Then, the collection continues featuring pinstripe cargo pants and studded washed-denim jeans in a wide-leg cut, evening dresses in nocturnal neon colors, and knitwear and leggings with cutaways in a diamond motif. For accessories, Versace introduced new sunglasses, pumps, sling-backs, and kitten heels studded in metal, together with La Medusa bags made punk in all-over tonal point finishes. Studs, metallic neon iteration with 3D floral embroidery, and pop colors embellished the whole Resort 2023 Collection. VB

www.versace.com
Fashion
Cartier: Beautés du Monde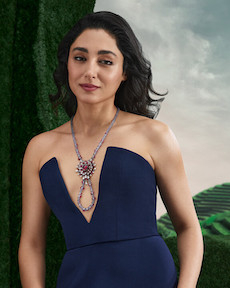 Celebrating Cartier's new High Jewelry collection Beautés du Monde, an exceptional reception took place in Madrid at the prestigious Palacio de Liria. Its added rich history and splendor make this the perfect location for the various interpretations of beauty created for the new collection. The unforgettable event was attended by many friends of the Maison. Following a visit to the property, the guests attended the Haute Couture show of the Maison Alvarno, created by the designers Arnaud Maillard and Alvaro Castejon. The Beautés du Monde collection captures the essence of an aquatic flower. Each piece is articulated to form a bright architecture like the back of a stained-glass window. The "Recif" necklace has a distinctive chromatic contrast, enhanced by a twisting movement given to emerald and coral beads. The "Water Aspis" depicts a hypnotic snake whose beauty and incredible flexibility have been enhanced through this new interpretation. Also featured, is the "Rituel", paying tribute to the beauty of embellishments, and more precisely to the traditions behind Mesoamerican jewelry. Overall, each piece contributes to a captivation of beauty through a spectrum of colors, shapes, and evocative materials, inspiring and transporting us into a new dimension. GH

www.cartier.com
Fashion
C.P. Company FW22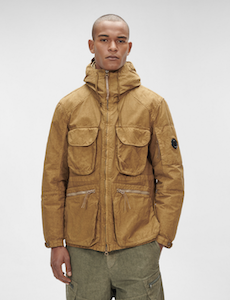 C.P Company's FW22 collection involves the profound exploration of its signature color card, refined through expert garment dyeing techniques across a hybridized range of materials. This approach, alongside the development of up to 12 subtly different tones per garment style and obsessive research into the details of even the simplest garments, consciously echoes the atmosphere of the brand's all-encompassing mid-'80s collections. Neutral fabrics are taking center stage, subject to various techniques of resistance during the dyeing process, enhancing the chromatic experience of the brand's already unique color card. Forms and functions of garments reference the brand's traditions, with icons of outdoor and military design history while at the same time integrating proprietary C.P Company pocket systems and details. The Metropolis Series allows for the technical characteristics of the performance fabrics employed to generate the garment system. Deep and natural fabrics and tones are aggressively contrasted and cut through with a careful selection of high-performance and technical synthetic fabrics, in particular Gore-Tex G-type. GH

www.cpcompany.com
Fashion
FENDI Men's SS23 Collection
The FENDI men's universe revolves around three key concepts: the balance of decoration, simplicity, and the freedom to play. The new Fendi SS23 Menswear Collection is proof of this. For this season, Silvia Venturini Fendi has built a collection that investigates the other side of normality, where the classic men's wardrobe becomes a source of inspiration to analyze, deconstruct, and elevate through novelty and craftsmanship. The garments have been designed for any holiday destination, near and far, revealing colors, patterns, and motifs that give life to bohemian wanderlust looks. The color palette includes hues that reflect the earth, sea and sky, from melon and indigo to ochre, putty, cornflower blue, and silver grey. The swirling weather patterns of planet Earth zoom in and out, while bucolic cowhide motifs appear as psychedelic FEND-ikat linen or blown out in tonal cotton knits. Then, the reality and fantasy of denim intertwine across the collection, alongside crisp poplin, technical cotton, and ripstop cut in boxy point-collar shirts, anorak, and raincoat shapes. The silhouettes are soft and light, characterized by side vents that liberate traditional suiting and shirt shapes to create flyaway volumes. Lastly, the accessories complete the défilé. Cowhide skate sneakers with terry lacing, lug-sole giant O'Lock buckle loafers, and fringed denim or suede moccasins are added to the shoe section, while the new FENDI Roma bucket bag and duffel styles in toile and leather are the latest addition to the iconic collection of Fendi handbags. VB

www.fendi.com
Fashion
Dior Cruise 2023 Show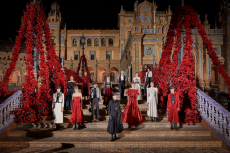 Another collection, another show, a new journey exploring different territories. For this season, Creative Director Maria Grazia Chiuri has chosen Seville: the Spanish city becomes the backdrop of the Dior Cruise 2023 défilé. Inspired by this magical place, the collection revolves around a true icon known as La Capitana, the name given to Carmen Amaya. She represents the essence of Flamenco. Carmen Amaya was an artist with singular and revolutionary movements, as well as the first dancer in her field to dress in men's clothing, combining power and fragility through her art. She was the pure expression of the soul of Spain and the embodiment of conscious and plural femininity. Then, the collection comes to life, combining many references that recall both the history of the French Maison and Andalusian traditions: from the SS 1956 haute couture, Bal à Séville dress designed by Christian Dior to looks that evoke the Duchess of Alba and colors such as red and black. The Dior collection is a melting pot of emotions and intentions, conveying an idea of fashion that is both of the everyday and the extraordinary. To complete the whole is the emblematic Manila shawl together with men's pinstripe suits, pants worn with suspenders, silk-lined waistcoats, trimmed boleros, and the Bar jacket reinvented in black velvet embroidered with various gold threads. VB

www.dior.com
Fashion
Missoni Women's Main Spring'23
Missoni's women's spring SS23 collection speaks to the masses, with a fluid range of garments that acknowledge age as only a mindset. The collection involves an essential and extensible system of garments such as cardigans, shirts, tops, pencil skirts, trousers, and slip dresses. The colors range on a vibrant light spectrum with yellow, magenta, and cyan tones, as well as the primary colors and their endless permutations. Graphic black and white additions are added to the pieces to bring further lightness and structure to them. The wardrobe is designed to be worn every day in an effortless yet elegant way. Prints include seductive monochromes, maximizing color in a single note on a range of textures. A variety of patterns are also included, the founding motifs of Missonism: fiammato, zig-zag, patchwork, and rachel are blown up, combined, and morphed. Applied crystals and shimmers create new dimensions of height, drawing patterns and refracting glimmer. The collection overall creates the perfect blend of timely and timeless pieces that speak to all. GH

www.missoni.com
Fashion
LOEWE Celebrates The Paula's Ibiza Collection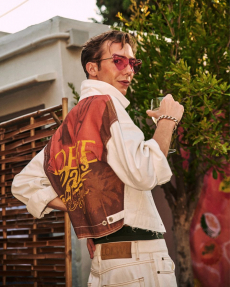 Last weekend, the Spanish brand LOEWE flew to Ibiza to host a special event to celebrate the launch of Paula's Ibiza collection. Born from the hedonistic vision of Creative Director Jonathan Anderson, the SS22 Collection features sequins, bright colors, and creative cutouts perfect for the thrilling nightlife of the Spanish island. Ibiza is a world-class party destination whose energy and vibrancy reflect LOEWE's ethos and spirit of freedom. There, the brand organized an exclusive weekend festival that started with a personalized Mercadillo and party at Las Dalias, followed by lunch at beachfront restaurant Cala Bonita the next day, and ended with an evening cocktail dinner at the newly opened Beach Caves at Six Senses. It was an ode to escapism. Among the guest who attended the event were: Stéphane Bak, Amina Muaddi, Jahleel Weaver, Jeanne Cadieu, Blanca Miró, and Ziwe. VB

www.loewe.com
Fashion
O'Neill and ØLÅF join forces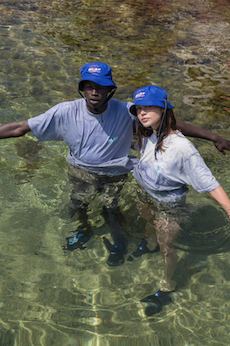 Community, culture, and innovation are all shared values of O'Neill and ØLÅF, drawing the perfect merging of the brands with new materials and silhouettes. This capsule collection's inspiration is derived from the surf culture and contemporary design, creating the ideal look for summer, with outspoken color palettes and aesthetic designs. The collection is equally inspired by the design language of ØLÅF and O'Neill's historical ability to manufacture clothing styles of cultural depth. As well as recycled fibers and organic cotton, the brands have integrated a heat-reactive technology on t-shirts and jackets. Using thermochromic pigments, those special pieces can change color when the body temperature of the wearer rises. The collection offers a wide range of apparel and accessories for men and women that are available online. GH

www.olafhussein.com
www.oneill.com
Fashion
Diesel FW22 Fashion Show Replica in Tokyo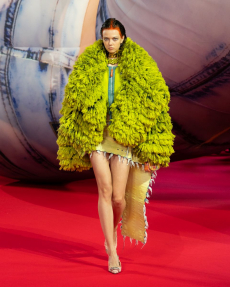 On June 9th, Diesel landed in Tokyo with a new fashion show. Held at the Tokyo Big Sight – International Exhibition Center, the event was a recreation of the FW22 show by Glenn Martens. The collection, composed of four chapters, Denim, Utility, Pop, and Artisanal, was a combination of workwear belts, the sexiness of hook-and-eye closures, the playfulness of trompe-l'oeil features, and the energy of asymmetries. To these pre-existing elements, six looks were added in a head-to-toe Diesel red color palette. The new pieces have been designed exclusively for the show replica to celebrate the strong connection between the brand and the Japanese market, as well as to enhance the label's DNA, reminding viewers that Diesel stands for sexiness, fluidity, and fun. The capsule will be available from mid-September on the brand's website, selected mono-brand stores in Japan, and retail partner SSENSE. In addition, to attend the show was Renzo Rosso, Founder of Diesel and President of OTB Group, together with local and international stars such as rapper AWICTH, dancer and actor Alan Shirahama, musicians from Korea GEMINI and Lee Hwi-Min, dancer ELLY from JSB3, and model AMIAYA. VB

www.diesel.com
Fashion
ROD by Diesel Living with Lodes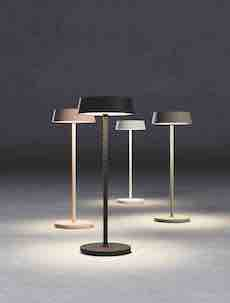 The Diesel Living with Lodes line has been extended to include ROD, a portable and rechargeable table lamp. In keeping with Diesel's industrial aesthetic, ROD's concept stems from the form of a construction rod, typically used to hold blocks of cement together. This slender stem connects two imaginary blocks of cement, rising from the base and supporting the shade, hosting the LED light source. The lamp is portable and rechargeable via a C-type-USB port, protected by a rubber cap, making ROD a perfect choice for use within hospitality venues as well as residential settings. The lamp has an eight-hour battery life at maximum power and up to 180 hours on minimum, making ROD functional and practical without compromising on aesthetic design. Versatile for a variety of settings, the table lamp is available in Moss Gray, Soft Pink, Ivory, and Dark Asphalt, making a suitable color for each mood. ROD is the newest addition alongside a wider range of Diesel with Lodes lighting products, allowing users to complete every part of their home. GH

www.lodes.com
www.diesel.com
Fashion
Prada Frames: A Symposium Curated by Formafantasma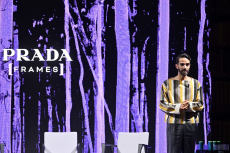 Prada Frames, a multidisciplinary symposium curated by Formafantasma, brings together scientists, architects, artists, and activists to delve into the complex relationship between the natural environment and design. In parallel to the Salone del Mobile in Milan, this initiative aims to educate and inform people about design's historical, political, and social implications in a collective reflection. The symposium's inaugural edition begins with a discussion of the forest ecology and the current logics that govern the wood sector, then moves on to the role of design and science as agents of change. Prada Frames will be held at the National Braidense Library in Milan from June 6th to 8th, and it will be divided into two sessions per day that include readings, debates, conversations, and video projections. To participate as guests are, among others, Amitav Ghosh, Eyal Weizman, Anna Tsing and the Feral Atlas, Paola Antonelli, Alice Rawsthorn, Paulo Tavares, Andrés Jaque, and Valerie Trouet. The event is free, and people can already register themself on Prada's website to attend the symposium. VB

www.prada.com
Fashion
Toogood x Carhartt WIP New Unisex Collection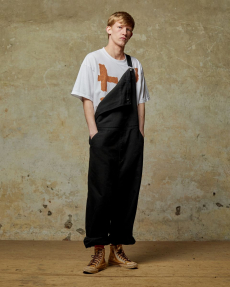 Carhartt WIP has unveiled a new unisex capsule collection that combines the brand's iconic styles and unique sculptural volumes realized by contemporary British brand Toogood. Sharing the same utilitarian aesthetic, the two brands teamed up to create a collection that merges elements from both brands' work. On the one hand, Carhartt WIP's construction skills, and on the other, Toogood's cutting-edge design and artistic freedom, giving life to accessible, durable, and exclusive products. Jackets, a shirt, a trouser, an overall, and a t-shirt, made in Carhartt WIP's trademark organic cotton Dearborn Canvas and the lighter Utah Canvas, are finished with co-branded labeling and buttons. The color palette ranges from white and black to Hamilton brown, emphasizing the sense of everyday uniform. In addition, to demonstrate the cutting intervention on Carhartt WIP's shapes, Toogood has made a series of one-off pieces, described as "hacks," and three giant sculptural puppets wearing oversized versions of the collaboration garments. The installation will be on display at Spazio Maiocchi in Milan from June 6th to June 12th, 2022, during Salone del Mobile. Instead, the collection will be available starting June 7th at Toogood and Carhartt WIP's websites, as well as at select Carhartt WIP stores. The new products will also be sold by select retailers worldwide, including Mr. Porter, Selfridges, and Dover Street Market London, Ginza, and Singapore. VB

www.carharttwip.com
www.toogood.com
Fashion
Audemars Piguet x Carolina Bucci: A Subtle And Unexpected Aesthetic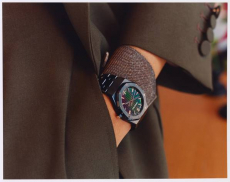 Audemars Piguet in collaboration with Carolina Bucci has presented a new limited edition 34 mm Royal Oak Selfwinding in black ceramic. To mark the Royal Oak's fiftieth anniversary, the Italian jewelry designer decided to team up with the Swiss Haute Horlogerie Manufacturer to create a new timepiece that features a unique dial endowed with a multi-colored mirror effect, a tribute to the iconic Tapisserie design. Their partnership started in 2016 for the 40th anniversary of the women's Royal Oak. In 2018, Carolina Bucci signed a limited edition of 300 pieces for Audemars Piguet, entirely crafted in frosted yellow gold with an exclusive dial. Then, two years later, she realized the iconic K.I.S.S. collection of gold bracelets linking the Haute Joaillerie with the Haute Horlogerie. Today, the designer worked on a limited edition of watches with singular characteristics. The new 34 mm Royal Oak in all-black ceramic, in fact, reveals a surprising dial whose color changes according to the light. To reach this result, Carolina Bucci used a sapphire plate adorned with little squares, subsequently placed on top of the brass dial plate to create a rich rainbow-colored effect. Each design is even more unique thanks to the variation of the iridescent color pattern. The limited-edition comes in a presentation box also designed by Carolina Bucci and is available exclusively in Audemars Piguet boutiques and AP Houses. VB

www.audemarspiguet.com
Fashion
Loro Piana Women's FW22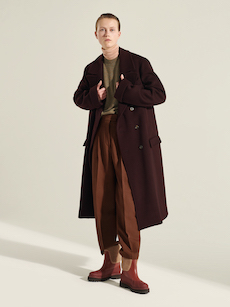 The Loro Piana women's collection for FW22/23 conveys a sense of journey, channeling a feminine character who explores the act of dressing as a way of being. Masculine and feminine silhouettes are consistently interplayed throughout, ranging from loose double-breasted suits, roomy coats, and cropped peacoats and shirts worn either with denim or flowing trousers. Also included are other asymmetric ribbed knit jumpers and skirts, satin tunics, and slip dresses cut on the bias. The dialogue of opposites continues in the face-off of utilitarian puffers, quilted jackets and denim shirt jackets worn with sturdy boots, and silk shirts with a pleated bib worn with matching trousers and velvet slippers. Pieces throughout are embellished with shoes and bags that are rendered in materials such as napped suede, calfskin, melton cashmere, and Cashfur. These all illustrate a clear display of Loro Piana's signature effortless look, involving all the senses in one single, natural flow. The color palette is neutral and warm, modulated in an interplay of soft and solid textures of cashmere. Spontaneous and elegant, a new exploration of possibilities within the Loro Piana code unfolds. GH

www.loropiana.com
Fashion
Maserati MC20 Cielo: So close to heaven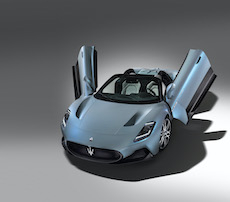 Maserati has opened new horizons to the all-new supercar, the MC20 Cielo. The spirit of the car has taken on a new form, inspired by the wind tunnel, where the clean lines open and become one with the clouds and stars, without sacrificing the performance concept of the coupe version. This offers a completely new driving experience thanks to its electrochromic roof. With the simple push of a button, the car transforms and opens its roof in just twelve seconds. Alternatively, with the ultra-modern Polymer Dispersed Liquid Crystal Technology (PDLC), one can enjoy the enveloping atmosphere of the interior by transforming the roof from opaque to clear. This holistic car has been released in the exclusive color Aquamarina, part of the Maserati Fuoriserie customization program. The driving experience is rounded off by the uncompromising performance of the Nettuno motor. The heart of the MC20 Cielo is the Maserati-patented V6 Biturbo engine with Formula 1 technology. Very similar to the MC20, the cars are twins with two different soles. The MC20 and MC20 Cielo are two models, both unique and yet united by the racing spirit, the audacity, and performance of real sports cars. GH

www.maserati.com
Fashion
Think Positive and Green: DoDo & Tenaka Together Again
DoDo and Tenaka are back together, launching a new collaboration to support environmental protection. This year, the iconic pendant and jewelry brand, which has always been active in projects to protect the planet, has joined forces with French social enterprise Tenaka to support the Coral Reef Restoration project in Tioman, Malaysia. Their partnership began in 2020 with the restoration of a thousand square meters of the world's most resilient and biodiverse coral reef, followed by a one-of-a-kind project to save a mangrove forest in the state of Sabah in 2021, to finally get to the current collaboration to expand Malaysia's coral reef with 300 new corals planted. For this project, DoDo realized a bracelet and necklace made of silver and recycled plastic inspired by the colors of the ocean to symbolize the new commitment. It is a call to all to respect and protect the sea. VB

www.dodo.com
Fashion
Palm Angels x Vilebrequin New Capsule Collection
Palm Angels, the brand founded by Art Director and Photographer Francesco Ragazzi, has announced the release of a new project in partnership with VILEBREQUIN. After the first collaboration launched in 2021, the new Palm Angels x Vilebrequin capsule collection represents the second drop of the coolest swimwear for Summer 2022. Both brands stand for durable tailoring and sartorial construction combined with a playful and joyful design. The new beachwear pieces, in line with their stylistic codes, introduce five new different prints: camouflage and animal prints, an art-deco inspired motif with the Palm Angels logo, a bold tropical sunset as viewed from a pristine Hawaiian coast, and, lastly, the classic teddy bear with ultra-trendy paisley motifs. The color palette ranges from bright yellows, blues, and classic black to perfectly embody the summer season. These clothes will be available starting May 31st on VILEBREQUIN and Palm Angels' websites and select stores. VB

www.palmangels.com
www.vilebrequin.com
Fashion
Dior: Archi Dior
Since 2014, Victoire de Castellane has paid tribute to Dior's origins through her Archi Dior collection. This year, the Archi Dior jewelry collection is enriched with eight new pieces, three of which are inspired by the famous Bar suit. First presented in 1947 in the very first collection by the House of Dior, with a pleated skirt cut from four meters of black wool and a natural shantung jacket with soft curves and a peplum emphasizing a wasp waist, the sculptural design became emblematic of the Dior look. Its new jewelry incarnation, Bar en corolle, features a white gold ruffle and diamond belt, appearing as a luminous bracelet and necklace. Completing this, are fan-shaped earrings, set with a pear-cut diamond that may also be worn as a simple stud. Also celebrated from 1947, is the short-sleeved Aladin dress, which was decorated with bows and caused a sensation. This is celebrated with the ultra-contemporary Diorama earring. Designed specifically for either the left or right ear, the jewel is placed high on the ear and allows a glittering ribbon to unfurl, illuminating the silhouette. This year, the line also gives rise to three new Archi Dior Milieu du siècle creations in the form of a necklace, bracelet, and pair of earrings. GH

www.dior.com
Fashion
New Hermès window display on PC Hooftstraat
The summer window display at the Hermès store on PC Hooftstraat in Amsterdam has been designed by Dutch studio WM. Unveiled on May 17th, the installation named "Vivid Shadows" by Wendy Legro and Maarten Collignon celebrates Hermès' 2022 theme of "Lighthearted" and takes us deeper into the world of the brand, one in which shadows play with light. Their concept uses projection to showcase two different scarves through a beam in a deep indigo blue, like a blueprint. In Minuit au Faubourg by Dimitri Rybaltchenko, a masked horse wearing a cape flies out of the print alongside a man swinging on a Hermès Twilly from an apartment window as he tries to grab a pot of gold. On the floor above, a Hermès bracelet overlooks a sleeping city. Here, a horse leaps forward, radiating the spirit of the theme with bright and vivid colors. Whirling around this figure is a belt, a bag, and a pair of leather sandals. Created exclusively from layers of paper, the installation is hand-painted and carefully carved to build volume and perspective, showcasing the fragile yet enchanting nature of paper. This window display overall creates a strong connection between the urban landscape and interior space. GH

www.hermes.com
Fashion
O'Neill SS22: "Liquid Backyards"
O'Neill has revolutionized and massively popularized the surfing sport since the early '50s. throughout the years, the brand has continuously produced the world's number one supply of wetsuits and swimwear. This season, O'Neill invites everyone to splash in style with a new wide range of off-shore-ready bikinis and shorts. Each piece is designed for a comfy ride and perfect fit for any occasion. Made for preparation in any situation, the brand introduces three kinds of swim shorts. One for swimming, one for boarding, and one hybrid short built for the parallel lives in and out of the water. O'Neill is all about stretching the boundaries of what innovative gear can do for the active outdoor. This is clearly shown throughout this collection. Not only are the pieces versatile for many occasions, but the brand also pays close attention to ensuring hyper functionality as well as a sustainable product design. All swimwear is made with at least 50% of all garments coming from recycled or upcycled sources. GH

www.oneill.com
Fashion
Debut of luxury label Maeden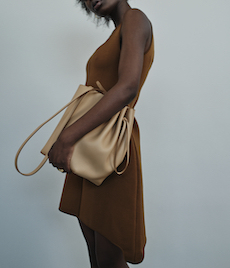 Luxury label Maeden has made its debut with the launching of a designer bag to be worn and enjoyed for generations to come. The brand has been launched as a homage to Dutch design, local craftsmanship, and true luxury at its essence. Founder and Creative Director Christian Heikoop launched the brand with the intention of fulfilling the potential of leather ateliers and tanneries in the Netherlands, pairing designers and craftsmanship. According to Heikoop, "by pairing the two you can reach true innovation by challenging and learning from one another". Whilst offering a solidly made, sustainable product that goes against fast fashion, the brand labels itself in between high street and traditional luxury, being more visible to those who position themselves between the two. With its first collection of bags emerging from experts in the fields of jewelry, fashion, product design, and textiles, the pieces offer a fresh and much welcomed take on shape, material, crafts, and innovation. Possibly looking simple at first glance, the bag designs are technically complex and incredibly detailed. Summarized in one word: pure, the pieces are therewith in line with Maeden's definition of genuine luxury. GH

www.maeden.nl
Fashion
Louis Vuitton Unveils The New Collaboration With Yayoi Kusama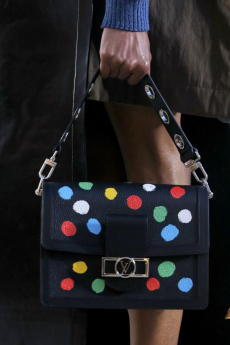 Since 1854, Louis Vuitton has nurtured strong ties with the art world, coming together with a series of artists, and rewriting the rules of creative collaborations between luxury brands and artists. Today, the French Maison presents chapter two of its partnership with Japanese artist Yayoi Kusama. In 2012, the two teamed up for the first time to create exhibitions, one-of-a-kind window installations, and a startlingly lifelike mannequin modeled by the artist. Yayoi Kusama, famous for combining different techniques in his artworks, from sculpture, painting, and installation, to filmmaking and photography, is considered a precursor to Pop and Minimal art, even if her diverse art practices resist any singular classification. She is a cutting-edge artist that takes inspiration from the hallucinations she has experienced since her childhood to express her inner self and investigate the mysteries of life. The new collaboration celebrates their long-lasting relationship, unveiling a handful of leather goods created by Nicolas Ghesquière for the Cruise 2023 fashion show and reinterpreted by Yayoi Kusama's obsessive dots. The new products will hit stores worldwide in January 2023. VB

www.louisvutton.com
Fashion
Zoë Kravitz partners with OMEGA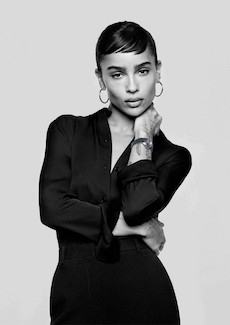 Actress, director, and model Zoë Kravitz is the latest to have joined OMEGA's impressive line-up of women proud to wear the Swiss brand. A standout performer in the world of entertainment, Zoë Kravitz captivates audiences in a diverse group of acclaimed major motion picture films and notable independent releases. Her individualistic youthful, confident style is the perfect fit for Omega's willingness to take risks with its designs. Kravitz has consistently stood out in blockbuster big-screen franchises, with roles in The Batman, Mad Max, and Fantastic Beasts, and later this year will make her directorial debut in the original motion picture film, Pussy Island. Omega President and CEO Raynald Aeschlimann has expressed the brand's excitement about making Kravitz the latest member of the Omega family, describing her as "an extremely talented young woman with an admirable drive and determination to succeed on her own terms" and the new partnership as "the next exciting move in our commitment to reach an emerging generation who are reinventing the idea of luxury". GH

www.omegawatches.com
Fashion
Stone Island x Supreme SS22
The seventh collaboration between Stone Island and Supreme is dropping on May 12th, with yet another expansive collection that focuses on both outerwear pieces and classic wardrobe staples. The exclusive pieces begin with water-resistant resin-coated nylon Reversible Faux Fur Parkas, as well as heat-sensitive pigment printed Reactive Ice Camo Ripstop Jacket. The Reversible Faux Fur Parka has one side that is made in Formula Steel, a nylon oxford with a PFC-free anti-drop treatment, and the other made of thick faux fur. The back of the faux fur side is woven in darker-color faux fur hair from a large Wind Rose motif. Many of the pieces were designed in a versatile way that is fitting to multiple weather conditions. For this collaboration, the two brands have gone above and beyond, creating everything from reversible faux fur coats with the Stone Island compass logo imprinted on the back, to hoodies and t-shirts with the Mona Lisa printed atop, tracksuits, and unique accessories. GH

www.stoneisland.com
www.supremenewyork.com
Fashion
The Armani Group Opens The First A|X Armani Exchange Store in Berlin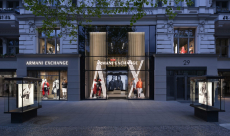 Following the openings in Milan and Amsterdam, and to strengthen its presence in Europe, A|X Armani Exchange lands in Berlin at Kurfürstendamm 29, one of the most visited streets in the German capital. The new store is set inside a historical building from the 19th century. Here, past and present are merged in a unique architecture characterized by a wide, double-height central window displaying the large, illuminated letters A and X, the brand trademark. Extending over two floors, the A|X Armani Exchange store has been built according to the already existing design of the stores opened in the other European cities. Customers can visit the men's clothing, accessories, eyewear, and watches area on the ground floor, while the women's collection is on the first floor. The interiors are developed by Giorgio Armani in collaboration with his team of architects, in the name of sustainability. The materials involved are removable, reusable, and recyclable, the lighting system uses the latest generation LED technology to minimize waste, and the walls are made in natural oak slats to provide support systems and a minimal style that contrasts with the original structure that has been preserved. In addition, the shopping experience is even more unique thanks to videowalls, Smart Checkout, and POS mobility for smoother payment. VB

www.armaniexchange.com
Fashion
Premiata Presents The Second Release of John Low Sneakers
Premiata has teamed up with Sciarada, a historical manufacturing company, to create a second release of the John Low model in the name of Circular economy. Sciarada, based in the largest leather-producing district of Tuscany, is specialized in suede production. For this collaboration, the tanning company has developed a new, extremely innovative material called Evolo. It is a type of suede produced respecting the environment, able to eliminate six out of sixteen passages compared to the standard production process. Evolo saves 66% of water and 36% of chemical products while lowering CO2 emissions by 50%. It is a one-of-a-kind eco-friendly material. Furthermore, Premiata realized the new shoes using the LIMONTA upper in regenerated nylon with ECONYL® yarn produced with pre-post-consumer waste and natural and recycled fabrics for the bottom part. The new shoes will be available in shades of white for women and classic colors such as grey, navy, powder blue, and pink for men. VB

www.premiata.com
Fashion
A Watch For Champions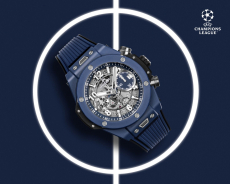 Hublot, in partnership with UEFA Champions League has created a new, exclusive edition of the Big Bang Unico: a watch made to capture the greatest soccer moments. The Swiss watchmaker started its collaboration with the world's greatest club competition on the occasion of the UEFA EURO in 2008, and since then, it has been part of unforgettable moments. In 2015, the brand was appointed as the official timekeeper and watch brand of the UEFA Champions League and Europa League, as well as the official supplier of referees' timepieces. Then, in 2018 Hublot became a partner of the UEFA Europa Conference League, and in 2019 joined the UEFA Women's Champions League. In football competitions, dynamism and time are key factors, and Hublot is the ideal partner for measuring time with extreme precision. This year, to celebrate seven years of collaboration, the Swiss brand has decided to present a new 100-piece limited edition Big Bang Unico made of glass-bead blasted ceramic, wrapped in the iconic UEFA Champions League blue. The new timepiece also features the Hublot Manufacture Unico 2 chronograph movement, a highly complicated, innovative movement that will measure the decisive moments on the pitch. VB

www.hublot.com
Fashion
Dior Fall 2022 in Seoul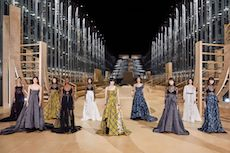 Dior and Ewha Womans University in Seoul have joined hands to celebrate youth, education, and hope. Here, the Maison presented its FW22 collection that represented visual poetry, a dialogue between the history of Dior and the ever-changing constellation that is the contemporary world. The transmission of savoir-faire, education, and sisterhood have always been fundamental values at the heart of Dior culture. Thus, these shared values with Ewha Womans University make it the perfect setting for launching the collection surrounding the symbol of a new sisterhood, with the motto L'union fait la force (strength through unity). To add more celebration in Korea, Dior will also be hosting a one-of-a-kind concept store in Seongsu-dong, a former industrial zone that is now one of the trendiest and most innovative neighborhoods in Seoul. Maria Grazia Chiuri became interested in school outfits and, above all, in the way students dust off, revamp, and update the tropes of these garments, personalizing with distinctive details, verging on punk overtones, before venturing through urban landscapes in search of spaces of freedom. The collection is composed of pleated skirts, black and white, kilts; jackets that borrow from men's wardrobe, rethinking the iconic Bar jacket; men's long coats and ultra-short skirts; biker shorts matched with white blouses and black ties. Elsewhere, 3D embroidery reveals itself through knitwear, while a fantastic, pixelated zodiac is rendered in the style of a video game. By continuing to uphold its social responsibilities, Dior is also offering a supportive and comprehensive CSR program at Ewha Womans University, providing students with a scholarship, a Women@Dior Internship Program, Retail Management Training Program, and masterclasses from the Maison's leaders, giving students a platform to express their personality and opinions openly and creatively. This reflects the show's presentation of looks that overall evoke the concepts of involvement, communication, and sharing. GH

www.dior.com
Fashion
Audemars Piguet Celebrates the Royal Oak's 50th Anniversary
To celebrate the Royal Oak's 50th anniversary, Audemars Piguet will host a series of events in key cities around the world. From Dubai to Shanghai, passing through Zurich and New York, the Swiss Haute Horlogerie manufacturer will offer immersive sensory experiences with the setup of in-situ installations and edutainment platforms that will guide people into the Royal Oak's multifaceted world. The Royal Oak, designed by Gérald Genta for Audemars Piguet, was officially launched on April 15, 1972, at the Basel Fair. This timepiece combines sportiness with ancestral craftsmanship and technological advances, setting new standards for watchmaking. Since then, over 500 Royal Oak models have been created, featuring different sizes, materials, styles, and movements. Today, the brand has decided to pay homage to this iconic watch and its 5-decade history, creating surprising and immersive edutainment content that will dive deep into the Royal Oak's cultural universe. Starting in Dubai, from 15 – 24 April 2022, these installations will lead visitors on a journey to discover the multiple characteristics of this remarkable timepiece. In addition, visitors will be able to test their knowledge of the Royal Oak and the brand as a whole through a digital challenge. The public will be able to join in these immersive experiences in Zurich from May 6 to 12, New York City from May 19 to 25, and Shanghai in July. VB

www.audemarspiguet.com
Fashion
Colmar SS22: New Optimistic World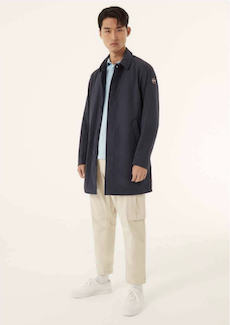 Lightness and freedom of movement characterize Colmar's SS22 collection, perfect for the changing of the season. Colmar is renowned for observing the present, looking to the future inspired by the surroundings: technology, art communication, style, material, and thoughts. Each innovative collection is divided into four themes according to fit and occasion, the first being fitting to spring. This makes everything perfectly adaptable to the user's own needs in everyday life. Being eco-friendly is a focus of the collection, representing a more conscious approach to the garments, as they are made from recyclable fabrics that always respect the environmental conditions. The second theme is biodegradable, each garment is made from biodegradable nylon fibers in collaboration with Amni Soul Eco. This allows for the garments to be degraded within five years, providing they are placed in the designated disposal areas. Thirdly, the collection presents a range of garments for spring's changeable weather. This includes woman's and men's jackets are made of a three-layer fabric, created by processing elastic stretch material and soft jersey. The fourth theme, daylight saving time, consists of light garments, colorful designs, graphics, and personalization for a stylish summer look. A special addition to the imagery named "Matchy Matchy" divides into two different designs, themed father and son. The first plays with reflective logotypes and rainbow effects, while the second represents the connection between Colmar, the mountain, and skiing. GH

www.colmar.com
Fashion
HOGAN: A Story to Tell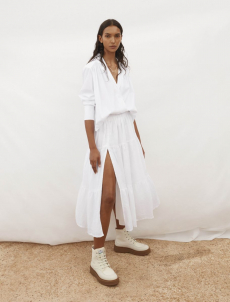 How do you define iconic, a true classic? In some cases it's possible that it is a story yet to unfold and to be told, which has begun but not quite ended. A narrative that creates a sense of anticipation in the way books, movies, or art pieces can. Drawing on this idea, Hogan has a long tradition of presenting its iconic shoe models as a medium for storytelling. Marking the beginning of its legacy in the late 80s, Hogan and sneakers have long been an inseparable dyad. In 1986, the label took its first steps toward a groundbreaking idea: the conceptualization of a luxury sneaker. The Hogan Traditional was the first, future- shifting luxury sneaker introduced by a lifestyle brand and now defines Hogan's signature style. Since then, it has remained a popular staple piece. At the time, sneakers were primarily considered as a part of sportswear. By introducing the sneaker in the luxury fashion context, Hogan redefined the boundaries of activewear and paved the way for luxury athleisure – casual, and comfortable yet chic clothing designed to be suitable for everyday wear. Disregarding every existing stereotype and reversing the cliche?, Hogan set new rules with the Hogan Traditional. With the launch of the iconic model, a new category in footwear was born. Now as then, Hogan encapsulates the pioneering idea of casual luxury that suits every possible occasion featuring contemporary and dynamic, yet laid-back and elegant lifestyle pieces. Taking inspiration from this tradition, Hogan is never losing sight of any opportunities to reinvent itself and paving its way forward into the future. Developing the vision of what is considered classic, ever perfecting the balance between tradition and modernity, Hogan's future lies in its established roots. 35 years after the introduction of its industry-changing Hogan Traditional, Hogan introduces a new classic to the market: a re-edition of the original model, with sustainability at its core. As part of the Hogan-3R project the new edition is a confluence of genderless, cutting-edge pieces inspired by the world of cricket. Subtle, yet unconventionally elegant, it is destined to become timelessly iconic. The three "R's" in the project title stand for the concepts Hogan applies to its sustainability philosophy: recycle, reuse and reduce. Other keywords like rethink, respect, or revolutionize can also be read into the idea. Hogan aims to centralize sensible use of available resources, reducing waste and bringing unique, valuable and durable pieces to life. The footwear is an expression of sober, yet unconventional elegance, an embodiment and expression of its sustainability commitments. The sneakers are manufactured from low environmental-impact materials, which becomes visible in the ultra- lightweight outer sole of the pieces. The 3D design of the sole is made of materials including leftover, unused industrial materials, which contributes to the label's waste-reduction and sustainability goals. The 3R edition also includes essential, yet multi-faceted pieces of clothing and accessories that draw inspiration from the dynamism and skylines of the world, the technologically innovative smart cities. Born out of a dedication to the environment and all beings inhabiting it, the project puts the earth at the center, as our home and host, highlighting its vulnerability and campaigning for its protection. Hogan-3R embodies the values that are at its core: from responsible innovation and conscious use of resources to waste reduction. As a label with Italian roots and a strong international outlook, Hogan is known to fuse tradition and design innovation with the finest quality materials, celebrating that "our future is a canvas we will paint together." Thinking forward and in awe of heritage, Hogan continues its story, referencing the past and narrating the future by encouraging the new generation to write a new chapter. A love story – a declaration of devotion for storytelling and nature through creation.

www.hogan.com
Fashion
X-Technology's New Management Team
X-Technology enters the future with new leadership. X-Technology Swiss research & development AG, based in Wollerau, has announced the set-up of a new management team, bringing on board a highly entrepreneurial, innovative, and strongly digitally-minded group of employees. For more than 20 years, this company has been the innovation leader in the sporting goods industry, becoming one of the leading suppliers of textile performance technologies thanks to its X-Bionic and X-Socks brands. In particular, X-Bionic received the Plus X Award, the world's largest innovation prize for technology, sports, and lifestyle, 13 times in a row as the most innovative brand of the year. X-Technology Swiss research & development AG has a long history of developing effective solutions to complex design problems, having submitted over 800 international patent applications and winning over 600 prizes and 1,200 medals at international competitions and the Olympics. Therefore, to further strengthen and expand the company's position in the market, X-Technology CEO Maximilian Lenk will take over the leadership to realign the sales organization and implement the digitization of the brand. VB

www.x-technology.com
Fashion
Prada Linea Rossa SS22
Prada sub-label Prada Linea Rossa fits right in wherever there's a sport, founded with the remit of exploring progressive styles, evolving materials, and moving to the future. For SS22, the brand is worn by models playing a futuristic form of table tennis, demonstrating the inherent versatility of Prada Linea Rossa's garments. Photographed by Johnny Dufort, the clothes are captured in fast-paced, dynamic, ceaseless action. The trim, lightweight SS22 garments allow for entirely unhindered mobility, enhancing the capabilities of the everyday seasonal uniform. The base layers are cut from a bio-ceramic polyester piquet that balances the body's internal temperature irrespective of the environment. Also introduced is new nylon woven from threads made of castor plant seeds. The result of this is simultaneously lightweight, wear-resistant, and antibacterial, requiring none of the care demanded of its organic peers. The iconic Prada America's Cup sneaker is exhibiting a relaunch with a new dimension offered: customization. Through this, the user can personalize their own taste to the styles, choosing from leather to laces, with a spread of colors and even the possibility of embossed initials. The collection truly embodies the brand's tendency of producing metropolitan clothing, engineered for tomorrow. GH

www.prada.com
Fashion
Out of Time Watches & Wonders Cartier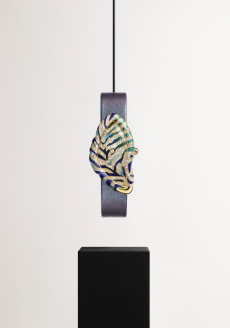 Cartier reinvents Maison's stylistic codes, launching new iconic watches during the Watches & Wonders tradeshow. Thanks to the extraordinary expertise of Cartier's watchmakers, the Cartier watches are precious objects that constantly renew and explore our way of understanding time and how to make the most of it! Each singular creation establishes its own identity while maintaining its link with Cartier heritage. These horological creations are evolving and establish themselves across different periods, perpetually relevant due to is purity of design and outstanding craftsmanship. This year the brand has presented different models that combine extravagant style and illusory shapes with more classic designs. The famous Louis Cartier watch reveals a playful aesthetic combining monochrome colors such as red, the Maison's signature shade, and anthracite gray. The Pasha de Cartier watch, overlaid with a geometric grille, displays a vibrant elegance, while the Crash Metiers d'Art revolutionizes the aesthetic codes of watchmaking with its asymmetrical dial. Following the same playful style, the Masse Mystérieuse turns out to be a spectacular watch, an innovative movement, created by the Fine Watchmaking Manufacture. Looking back on over a century of heritage, the Cartier pieces are made to delight through a freedom of possibility, of taste of identity. VB

www.cartier.com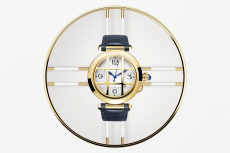 Fashion
The Novelties of the Watches Wonders 2022
Today, March 30th TAG Heuer is presenting five main novelties of the Watches & Wonders 2022:
First in the collection is the Aquaracer Professional 200 Solargraph, a timepiece made with exceptional quality and performance, bringing new meaning to "made for outdoors". This is particularly special for the brand, as it is the first timepiece that utilizes calibre TH50-00, produced by La Joux-Perret. Named Solagraph, due to the use of the sun as a limitless energy source. The movement needs only two minutes in full sunlight to keep the watch running for a whole day. Once Power Save mode is activated, the autonomy of the watch can be extended to 3.5 years, perfect for those who are on the go, and at one with nature. In addition to this, in the Aquaracer Professional 300 core collection is the Orange Diver, with a new vibrant look that is inspired by the orange diver reference 844. The vivid orange is used as a symbol of safety and security at sea, as well as speed, security, and records, the tone captivates the message behind the watch perfectly. Last in the Aquaracer capsule is the Professional 1000 Superdiver - the ultimate luxury diver watch. The new calibre used, TH30-00 is manufactured exclusively for TAG Heuer, beginning an important chapter for the history of the brand, predicting significant improvements in terms of reliability and durability. Made for the deep, the watch is extremely robust and sports a bold, but elegant, look and a thickness of just 15.75mm.
Never before has there been a partnership between a car manufacturer and a watchmaker. After a highly successful first year of collaboration, Porsche and TAG Heuer have returned with the new TAG Heuer Carrera x Porsche, a model with a strong sporty feel, proposed as a limited edition. The watch is enhanced by Porsche's aesthetic appeal, with a yellow color incorporated in various elements of the creation, inspired by Porsches racing yellow PANTONE, reserved by the manufacturer for the sportiest of vehicles.
Last but by no means least, the brand has relaunched one of the most awaited TAG Heuer watches, the Monaco Gulf with a newly refined version, including the in-house movement Heuer 02. The design continues to be based on the three iconic colors of Gulf, but with more contemporary combinations, making it all the more unique. On the back, is a personalized version of the oscillating mass and column wheel, with a special engraving colored to match the Gulf orange pantone. GH

www.tagheuer.com
Fashion
Louis Vuitton: Steel Escale Spin Time
A contemporary yet elegant design, Louis Vuitton has presented two new steel versions of the Escale Spin Time watch, a continuation of the exceptional meteorite dial highlighted with pink gold. Rather than the traditional central hand, the passing of time is depicted by twelve cubes around the rim of the dial revolving in place. Eleven of these cubes display iconic motifs inspired by the customization of Louis Vuitton trunks, while the twelfth stands out, displaying the time on a digital face. The brand's heritage as a trunk maker and packer is also shown in other details, such as the instantly recognizable case that reinterprets the horns, inspired by the metal reinforcements of the iconic luggage. The Escale Spin Time takes on a new identity in a 41mm diameter case. The model boasts an original mixed media design, as well as pairing the modernity of steel with the depth of black PVD. This unique, innovative concept is as playful as it is technical, with an exceptional mechanism driven by automatic movement: The LV 77 calibre. Available in two variations, Steel Escale features more discrete elements in grey hues or a Rainbow Escale that has more of a colorful treatment against a black, sun-brushed dial. Each of these models displays a unique expression, and both assert the Maison's unparalleled ability to blend creativity, heritage, and savoir-faire with a twist of modernity. GH

www.louisvuitton.com
Fashion
Colmar SS22: New Optimistic World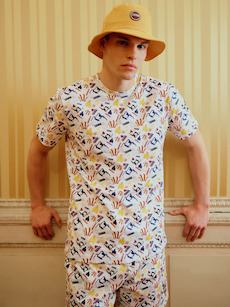 The Colmar SS22 contemporary designs radiate an energy of inspiration, emerging from technology, art, communication, style, materials, and thoughts. A wide variety of cuts were designed to adapt to the four themes that are in each collection, perfectly adapting to a person's individualistic needs in everyday life. The first theme is derived from welcoming spring, expressed by lightness and freedom, the pieces reinterpret well-known classics for better functionality. Within this theme is a versatile array of garments in both men's and women's collections. The men's collection includes a range of various types of jackets, suitable for the season and give a sporty look, three of these are water-repellent and made of polyester microfiber. Nine feminine garments are in the women's collection, ranging from pastel shades and bright colors to classic, neutral tones. These are embellished with accessories with a silver finish that makes the jacket more radiant. For the second season in a row, Colmar Originals is focusing the collection on environmental friendliness, using the mottos "Recycled" and "Biodegradable" making these the second theme. The brand has put great efforts into ensuring that the men's and womenswear are made of durable materials that are as eco-friendly as possible. The third theme of the campaign, mid-season, presents a range of garments for spring's interchangeable weather. Unlined jackets can be paired with sweatshirts, polo shirts, or t-shirts, while there are all jackets made of a three-layer fabric, which is created by processing elastic stretch material and soft jerseys. The fourth theme consists of light garments: colorful designs, graphics, and personalization for a stylish summer look. Available for men are a wide range of polyester-cotton sweatshirts, swim trunks, and more. For women, similar but more pastel feminine designs are available to be paired with palazzo trousers and shorts. An additional special campaign was introduced as part of this, the first themed father and son, while the second represents the mountains and skiing, a true connection to the brand. GH

www.colmar.it
Fashion
Dior Maison Presents The Midi Collection By Pierre Yovanovitch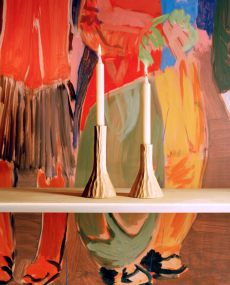 Dior Maison has presented the MIDI Collection designed by Paris-based interior architect Pierre Yovanovitch: a set of fifteen objects that evokes the meeting point of two stories rooted in the south of France. On the one hand, the story of the Château de la Colle Noire, a property that Christian Dior acquired in the 50s in the village of Montauroux, and on the other hand, the Château de Fabrègues. Like Christian Dior, who often stayed in the Callian plain, Pierre Yovanovitch is a child of the south, born in Nice and attached to its territory. A deep bond that the designer has shown through the collection. Named MIDI, a term for the south of France, the collection is "simple, solid and noble," in tune with the words of Christian Dior defining his residence at the Colle Noire. Pure and functional, MIDI highlights traditional woodwork techniques, assemblages of local and sustainable materials selected for their beauty and timelessness, and hand-blown glass. This project realized with Pierre Yovanovitch is part of a long tradition of collaborations between Dior Maison and the greatest names in contemporary design. VB

www.dior.com
Fashion
Emmanuel Gintzburger Is The New CEO of Versace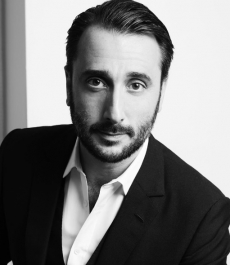 Capri Holdings Limited, the global fashion luxury group, has announced Emmanuel Gintzburger as the new Chief Executive Officer of Versace. Mr. Gintzburger joined Versace after six years spent as CEO of Alexander McQueen. Prior he was Worldwide Retail and Wholesale Director for Saint Laurent from 2011 to 2016, having joined the Parisian fashion house in 2009 as the Europe Retail Director. From 2007 to 2009, he served as International Retail Director at Lanvin, and before that, he held regional retail and marketing leadership roles at Sephora. Emmanuel Gintzburger also spent six years at Louis Vuitton in Hong Kong. Both John D. Idol, Chairman and Chief Executive Officer of Capri Holdings, and Donatella Versace were enthusiasts to welcome Emmanuel as the new CEO of the Italian brand. They agreed that Mr. Gintzburger, thanks to his background in luxury, is the perfect partner to take Versace to even greater heights. Emmanuel's leadership and vision will help the brand further accelerate its growth and strengthen its strategic initiatives. "I am thrilled to be joining Versace as Chief Executive Officer. I have long admired the unparalleled style and fearless narrative of the house. I look forward to having the opportunity to partner with Donatella and the talented Versace management team to accelerate growth and strengthen the position of Versace as a leading fashion luxury house." - Emmanuel Gintzburger. VB

www.versace.com
Fashion
Icons Unite: Mercedes-Benz x AWGE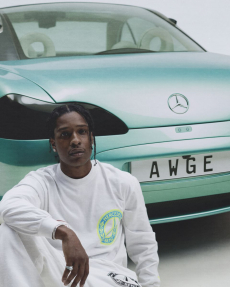 Mercedes-Benz has launched a collaboration with multi-hyphenated artist A$AP Rocky. The well-known luxury car company has presented an exclusive capsule collection including a range of fashion and lifestyle merchandise characterized by iconic trademarks of Mercedes-Benz AG. Mercedes-Benz x AWGE is not the first creative partnership made by the two, but it follows the 2017 "Glow-Up" campaign fronted by the American rapper highlighting the Mercedes-Benz compact-car family focussing on people caught between the coolness of adolescence and the squareness of adulthood. This year the brand and AWGE tight up to realize a line of clothes spanning from t-shirts, pullovers, hoodies, and jackets, to trousers, baseball caps, and bags. Inspired by the 90s pop culture, "Icons Unite" is the new co-operation that sits at the intersection of cars, music, and streetwear, bringing together A$AP Rocky's distinctive aesthetic and Mercedes-Benz iconic design in a unique offering of merchandise. Mercedes-Benz x AWGE capsule collection is available for purchase via select third-party channels, including the online shop of A$AP Rocky's agency AWGE and PacSun's website. VB

www.mercedes-benz.com
Fashion
Moose Knuckles SS22 Campaign: Summer Solstice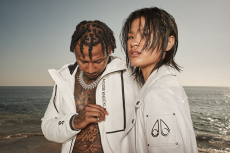 Spring is a time of transition when the sun seems to stand still in the sky, and in the natural and beautiful scenic state of this season, Moose Knuckles Canada revealed the SS22 Campaign. Moose Knuckles has always crafted resilient garments for the most unforgiving conditions, from the tundra to the city. The brand has become globally known for its relentless commitment to product design and technical expertise alongside its irreverent spirit and energy. This season the Canadian brand has transported the SS22 Collection to the beach. Shot by renowned risktaker Kenneth Cappello, the images portray Moneybagg Yo and Justine Mae Biticon in a picturesque Malibu shoreside sunset, capturing the feeling of mellow tones of a summer solstice through their warm and undeniable chemistry. These photos highlight Moose Knuckles' SS22 Collection which, with a reinvention of classic styles, offers a range of premium sportswear and outerwear crafted with water and wind repellent nylon, and windproof tech fabrications, to be suitable to face the unpredictable transitional Spring season. The collection is available in Moose Knuckles stores, luxury outer and sportswear retailers worldwide, as well as on the brand's website. VB

www.mooseknucklescanada.com
Fashion
VEJA X MARNI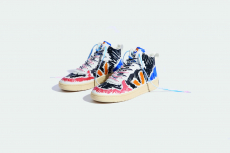 VEJA and MARNI have introduced a new collaboration that offers an original interpretation to contemporary footwear, revisiting a slightly nostalgic design with a colorful, DIY-inspired look. Marni, the luxury brand recognized for its unorthodox take on fashion, has joined VEJA to launch a new pair of shoes that combine its playful approach with VEJA's environmental and social commitment. VEJA is a footwear brand that creates long-lasting sneakers focusing on design and social responsibility, for them, sneakers are, for them, a symbol of our generation and era, but also a product that crystallizes the issue of globalization. VEJA's V-10 and the newly introduced high-top V-15 welcome MARNI's free-spirited aesthetic expressed through a colorful scribbled motif covering the upper shoe. Each pair has been assembled by hand, with the right foot different from the left to underline the originality and creative vein of the Italian brand. While, in line with VEJA's philosophy, all the materials involved in the production are sustainable. The shoes' laces are made of 100% recycled polyester, the leather is sourced in Uruguayan farms and tanned in Brazil, at a Gold-certified tannery by the Leather Working Group, and the soles are composed of 31% Amazonian rubber, 22% rice waste, and 12% recycled rubber. Made in Brazil, the first release presents two colorways: the V-15 in Black and the V-10 in Marsala. VEJA X MARNI collaboration is already available in selected retailers worldwide, as well as in VEJA and Marni flagship stores. VB

www.marni.com
www.veja.com
Fashion
Cartier x sacai for Fashion Week 2022/2023
 Trinity for Chitose Abe of sacai is first and foremost an encounter between the designer and founder of sacai, Chitose Abe, and the Maison's creative studios. Six modular reconstructions of the Trinity ring have been made to achieve a new balance. These completely reinvent the wearer's style without ever compromising on elegance. The collaboration consists of two rings, a bracelet, a choker, an earring, and a versatile piece that is both an earring and a ring. Truly present throughout this is the famous chromatic trilogy of white, yellow, and rose gold rings. However, the distortion of the rings changes in regards to their position on the skin and their function. The capsule was seen for the first time at the Hôtel de Ville in Paris during the sacai FW22/23 fashion show, inspired by Cartier red. This exclusive, limited-edition collection will be released initially in Japan in summer, then in Paris, London, New York, and Seoul in FW22. GH
Fashion
LOEWE x On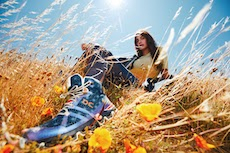 LOEWE has announced a collaboration with performance brand On with a limited-edition capsule collection of shoes and apparel designed for modern adventure. The designs reimagine long-established craft skills, combining a focus on sustainability with an emphasis on applying the handmade to technical pieces. In the collection are LOEWE editions of On's iconic Cloudventure and Cloudrock performance shoes for both men and women. This outdoor footwear is available in five colorways with six ready to wear pieces for women, and seven for men, each built with a unique blend of performance properties and key On features - weather adaptable Running Pants, a moisture-wicking Waterproof Anorak, temperature regulating Performance-T t-shirts, and a unisex customizable insulation three-layer Parka. Each of the ready-to-wear pieces is available in two colorways for each gender: an organic palette of khaki, blue, and orange that takes inspiration from nature, applied, applied in gradient effects that suggest prolonged exposure to the elements en plein air. Alongside the Japanese sashiko-inspired needlework print that resembles a starry night, these effects are the result of a meticulous technical process to craft the perfect color and pattern. The finishing process is carried out by hand, ensuring that the printed gradients match across all components of each item. Similarly, the marble effect soles are processed individually and manually, making each shoe unique. There is extensive use of recycled polyester for production to be responsible. The collection launched on March 9th online and in selected LOEWE stores on March 10th. GH

www.loewe.com
www.on-running.com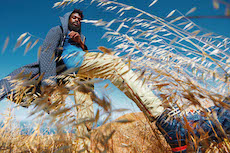 Fashion
Valentino Pink PP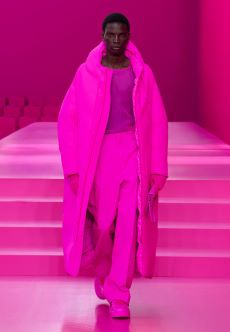 Creative Director for Valentino, Pierpaolo Piccioli has conceived the brand's new collection following the experimental urge of a radical gesture. The entire collection is based around a single hue of vibrant pink, this maximizes the expressive possibilities in what would originally seem like a lack of possibilities. The distinctive shade by Piccioli is being collaborated with Pantone Color Institute to create a unique identity that is individual and unrepeatable in itself. A variety of bodies, attitudes, and physicalities are enhanced by the monochromatic palette, bringing the vision to life. The accumulation of pink elements is produced with the aim of eliminating the visual shock to bring out the unique character of the individuals. The signs that shape the figures into a silhouette, the textures give the garments consistency, and the decorations are part of the construction. Large volumes are sculpted on the body by geometric tucks that highlight the gesture of tightening, sensual s-shaped lines, very short hemlines, and cinched waists. Also featured throughout, are bows, ruffles, petals, lace, and embroideries. The shoes throughout, stand on massive platforms in the same shade of pink. The pink-out is an experimental yet deeply human gesture that enhances individuality, capturing values and feelings. GH

www.valentino.com
Fashion
Louis Vuitton for UNICEF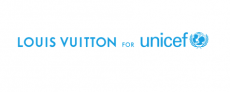 Aside from bringing unique designs to the world, Louis Vuitton has had a partnership with UNICEF since 2016 to help bring vulnerable children life-saving humanitarian support all over the world. This includes UNICEF's emergency programs, responding swiftly to catastrophes worldwide. In response to the tragic situation unfolding in Ukraine, existing funds within Louis Vuitton for UNICEF's partnership are being made available as quickly as possible, as well as an additional one million euros that will be donated immediately to UNICEF to help children and families touched by the conflict. This will contribute to providing children and families in Ukraine with humanitarian aid including access to clean water, healthcare and education supplies, child protection services and psychosocial care. In addition, Louis Vuitton invites you to support and donate to UNICEF through the link below. GH

https://help.unicef.org/ukraine-emergency/louis-vuitton
Fashion
The Kenny Bag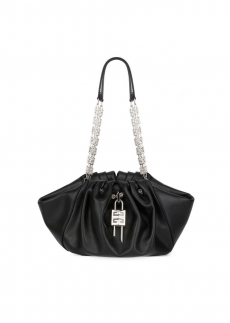 Givenchy has launched a new iconic bag that reflects the aesthetic of Matthew M. Williams. Known for his ability to transform a simple detail into an authentic object, the Creative Director designed a new accessory that takes the shape of a supple bourse-style handbag. Named Kenny, this unique item references the early 2000s evening bags but is anchored in the here and now thanks to Matthew M. Williams's vision and characteristic flair for hardware. Crafted in soft calf leather, the Kenny has a very intricate, rounded construction with distinctive hand-draped folds interspersed with G-Cube elements. Its graceful, feminine allure finds a masculine counterpoint in double G-Cube chain straps as well as Givenchy's now-iconic padlock. As an emblem of Paris and reference to the missing padlocks of the Pont des Arts, the Lover's Lock reflects commitment and emotion and is tied to bags like a clasp or a delicate ornament. Then, luxurious yet practical details include a shoulder piece in soft calf leather, a tonal lining, and a discrete yet secure magnetic closure that fastens with a crisp, satisfying clack. The Kenny bag is also realized in two different versions: in organza, as revealed on the Givenchy SS22 runway, and fully embroidered with mother-of-pearl, which appears in the current campaign. This new product is already available in selected Givenchy boutiques and online. VB

www.givenchy.com
Fashion
Walk of Fame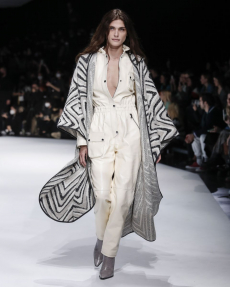 Missoni, the brand that stands for zigzags, presented its FW22 Collection during Milan Fashion Week: a unique show that portrayed an array of celebrities walking down the runway. Founded in 1953, the Italian brand is a synonym of impeccable knitwear, refined tones, and meticulous details that, for this season, are reinvented through clothes with imperfections and cuts, adding a patina of fondness as if telling a long story. The FW22 Collection pays homage to the inner strength that pushes someone out of their comfort zone. It features feminine and masculine shapes combined, while light, bright, opaque, soft, metallic, and shiny materials complete the whole. An unexpected lifestyle enters the wardrobe given by a unique mash-up. This new lifestyle is, then, interpreted by different women and bodies. Missoni wanted to represent a strong and sweet woman, assertive and private, alternating between melodic and rock in the rhythm of a heartbeat. Celebrities such as model and actress Elisa Sednaoui, wearing a zebra motif maxi cape and a cream utility leather jumpsuit, appeared on the catwalk. But also Italian actress Greta Ferro, with a black and white geometric pattern knit with ultra baggy alpaca work pants, American actress and producer Marsai Martin, and French surfer Victoria Vergara took part at the fashion show. Not to mention top model Eva Herzigova, who wore a multicolor skin-tight knitted dress with a metallic coating. In addition, leading names of the Italian and international scene appeared on Missoni's guest list. Mia Regan, Maria Sole Pollio, Veronica Yoko, and Lorenzo Viotti, among many others, attended the FW22 Show. VB

www.missoni.com
Fashion
Loro Piana Modern Icons: Seaside Walk and Summer Walk
For SS22, luxury Italian house Loro Piana has relaunched its iconic footwear in the modern evolution of classic espadrilles: Summer Walk and Seaside Walk. The shoes are designed for summers spent outdoors, sailing, at the seaside, or in town. They have a sporty, casual spirit while also excluding the natural sophistication that has always been synonymous with the brand. Summer Walk was inspired by the classic boat shoe, but over the years has become an emblem of a comfortable, dynamic, and versatile wardrobe. There is a space on the heel for engraving the wearer's name, a practice originated for sailing enthusiasts to recognize the pair. The shoe has technical elements exclusive to the brand for better stability and traction, such as hand-stitched seams with the waxed thread of shoemaking tradition, and Loro Piana's signature white sole. The Seaside Walk espadrille is perfect in its simplicity. Available in soft, lined suede or Wish® wool knit, it is made with superior materials, artisanal craftsmanship, and the innate class that makes the house so unique. Both the Summer Walk and Seaside Walk are available in an array of neutral and bright tones, perfect for the summer wardrobe. GH

www.loropiana.com
Fashion
Additional Assets for Fendi Women's Ready To Wear SS22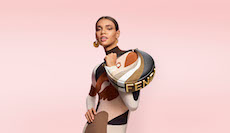 Kim Jones' first Fendi collection was a modern take on disco-age glamor and a spotlight on the diverse and powerful femininity that underscores the Fendi name. His source of inspiration were the hand-sketched drawings by visionary fashion illustrator Antonio Lopez. His forward-thinking and inclusive designs translate figurative drawings into intarsia leathers and silk shirting. Shapes and styles from Fendi pop up in the collection with new, fresh twists. The iconic Fendi bags were canvases for his work, reworking the classic neutral tones into a rainbow pattern. In terms of color, there is something suitable for everyone, ranging from white to black and everything in between. There are features of tailored suits and exaggerated lapels paired with wide-leg trousers, as well as brighter toned satin suits with fur coats and matching bra tops. Adapted from Lopez's illustrative motifs, lilies are transformed into enamel hair accessories; Plexiglass hoops offer an additional tropical touch. The iconic Fendi First heel is given a seventies spin with resin encrusting, shiny leathers, and daring stripes. Similarly, the Fendi First bag embodies a bold attitude, in shimmering leathers and saturated stripes. Jones describes the collection as "all we need right now", as now is the time to let loose. The collection introduces high-octane energy and a new dimension, into Kim Jones' continued celebration of female confidence. The versatility within the collection makes it suitable for anyone who wants to feel good about themselves. Reflecting the fun tonalities around the collection are some new and exclusive imagery, shot by Craig McDean. The images perfectly capture the striking garments in front of block-colored backdrops, embodying the versatility of the brand. GH

www.fendi.com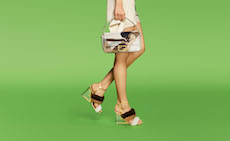 Fashion
Armani Exchange SS22 Collection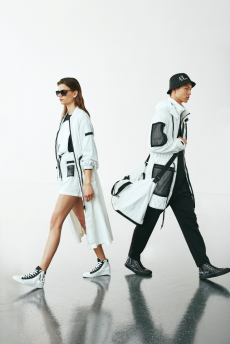 Armani Exchange has launched their SS22 collection entitled "Everything from A to X". Taking inspiration from a 1992 advertising campaign, the project redevelops and emphasizes the same idea through a sustainable lens. The collection is characterized by sustainable materials, as well as displaying versatility through making essential items easy to use, mix, and personalize. The concise selection of simplistic black and white pieces can be combined from head to toe for any occasion that might present itself in modern city life. Pieces in the collection include organic cotton T-shirts and sweatshirts, windbreakers, parkas, chinos, shorts and wool blazers as well as white box sneakers and a nylon backpack. This system of elements can be freely mixed and matched without the need to add anything else. The collection is upholding the brand's reputation of being accessible to most. The simplicity of the elements makes the items so authentic as anyone who wears them can mix and match freely, expressing their personality whilst also showcasing their individual taste. GH

www.armaniexchange.com
Fashion
Thom Browne Tartan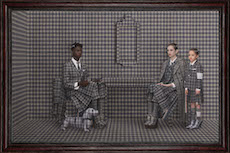 Thom Browne is globally recognized for challenging and modernizing today's uniform, his new portfolio of images does not disappoint. The signature tartan design displayed throughout the images has been an integral part of the brand's heritage since first appearing in his Fall 2006 menswear collection, also presented during New York Fashion Week. The grey and navy tartan designs present us with timeless pieces, indicating a traditional yet quirky take on American prep ideology. The images introduce tartan into the realm of childrenswear. Showcasing the complete family of tartan, the collection is seen inside an 18th century American-inspired "meet the family" style frame. The staple Thom Browne Tartan is listed on the Tartan Registry of Scotland, first produced by Lochcarron of Scotland, a tartan house dating back to the 1800s. Since then, the print has been reproduced in a variety of technical fabrics, always utilized to realize the brand's classic suits. Keeping the signature Mr. and Mrs. Thom and Hector styles in the custom grey and navy check reflects the brand's continuing interest in working with traditional fabrications to create new timeless silhouettes and collections. GH

www.thombrowne.com
Fashion
Etro launches "Love Hats" for Valentines Day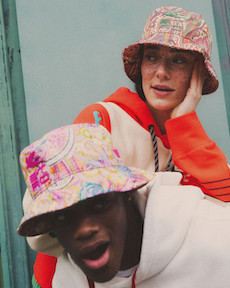 Expressing love through the joy of colors and positivity, Italian house Etro celebrate Valentine's Day with the new "Love Hats" capsule collection, featuring a selection of unisex bucket hats. The hats feature the brand's iconic paisley pattern in two different color schemes that both include the famous pegasus logo, creating a style statement to fall in love with. The hats are a true reflection of the brand's tendencies of transmitting features that display curiosity, art, innovation, and community. Etro has defined Italian style globally since 1968. The acclaimed paisley prints styling luxury clothing since 1981 has become the Milanese fashion house's signature design. Starring in a digital campaign shot in the streets of Paris, the hats are decorated with rubberised details and contrasting embroidered messages that speak of love, a perfect accessory for the holiday of love. The "Love Hats" are available from January 28th online and in Etro boutiques. GH

www.etro.com
Fashion
The Glamour of Pomellato Jewels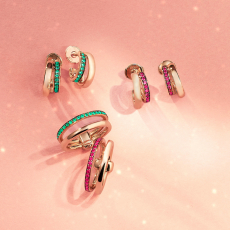 This year Pomellato becomes more glamourous than ever, adding new pieces to the NUDO and ICONICA collections. Synonymous with creativity and color, the Italian fine jewelry House is known for its eye-catching gems that, through innovative stone cutting and setting techniques, define the unmistakable and unique style of Pomellato. The ICONICA collection, with an unequivocally Milanese understated style, presents a new set of rings and earrings with a simple but meaningful design. Combined with bright sapphires, emeralds, rubies, and diamonds, the earrings have a double loop structure, while the rings feature two round gold spirals joined by a flat, transverse link that creates a greater whole. These shapes express the power of the union of two elements in a typical Pomellato approach. For the NUDO collection, Pomellato introduces NUDO RIVIÈRE: four flowings semi-flexible necklaces that combine the purity of the Nudo style with the sophistication of the Clessidra cut. In addition, double-row earrings and a NUDO pendant, both realized with white, blue topaz, and rose quartz, give a radiant elegance to the Pomellato line.

www.pomellato.com
Fashion
Loro Piana Baseball Cap: A Modern Icon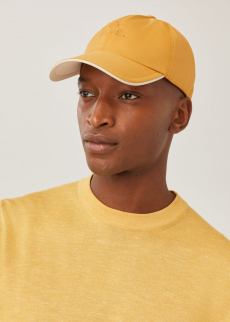 Loro Piana presented the baseball cap, an iconic item capable of connecting the most diverse people worldwide. The baseball cap is a sports accessory that was discovered by fashion in the 60s and has since become an essential piece that not only protects the head and eyes but also serves as a decorative eye-catcher. This item, which creates a sense of mystery by hiding and revealing the face at the same time, made its first appearance in Loro Piana collection in 2005, where it was worn, quite classically, in combination with the Horsey jacket. Today, instead, Loro Piana introduces a six-piece baseball cap with an innovative style able to transcend trends and generations. The new garment, made from Maison's fine and distinctive fabrics such as Microfiber Wind, Cashmere, Vicuña, and Velvet Cashmere, all treated with the Storm System® process, shows off the brand know-how without letting the item lose its aesthetic appeal. Refined then with a wool-cashmere flannel lining, and seamless front, the baseball cap is transformed into a sporty and contemporary accessory that should be part of any wardrobe.

www.loropiana.com
Fashion
Versace Men's 2.0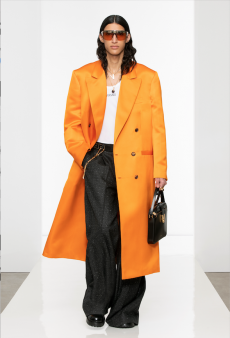 On the second day of the second month in 2022, Versace presented the FW22 Collection, introducing Versace Men's 2.0. The collection, which does not focus on the singular but on multiplicity, progression, and diversity looks at the Versace Man, showing garments designed to proudly reach out to a diverse range of men in celebration of who they are. Clean forms, fluid lines, and adaptable designs define a contemporary approach that shows a refreshed masculinity inspired by the new generation. In this collection, Versace synthetized its brand codes presenting unstructured finishes which allow freedom of movement and create a smooth silhouette. While, the brand's heritage ornate prints are polished, portrayed as stenciled bicolors like the new Barocco Silhouette, and bright, optimistic hues like cerise, pink, and orange are worn as solid blocks of color. La Greca motif remains as the brand monogram, interplayed through cable knit sweaters and vivid lurex cardigans. In addition, Versace crafted new accessories and shoe designs like wide totes and belt bags in soft-grained leather and the Odissea sneaker that acts as a confident exclamation point at the foot of an outfit.

www.versace.com
Fashion
Giuseppe Zanotti's Sustainable Make-Over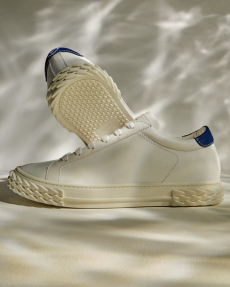 For the SS22 season, Italian luxury footwear brand Giuseppe Zanotti launched a new eco-friendly version of its signature Blabber sneaker. Taking a step towards sustainability, the designer presented the Ecoblabber, which realized with eco-conscious materials, keeps the iconic design untouched and clearly alludes to its inspiration, the first original skater styles. This particular pair of sneakers are crafted with a polyurethane and polyester blend obtained from recycled plastic bottles, utilizing a production process that reduces CO2 emissions. Each of them is then assembled with water-based glues to avoid any component that might be dangerous to the environment, and refined with bio-based soles and organic cotton laces. The Ecolabber, realized in a restrained color palette of black and white, with gold and silver nuances, turns out to be a truly green product certified by leading company CIMAC, the Italian top partner of those footwear firms seeking to achieve the highest levels of sustainability.

www.giuseppezanotti.com
Fashion
The Eternity of Rome, the Spirituality of Rome, the Celestial Rome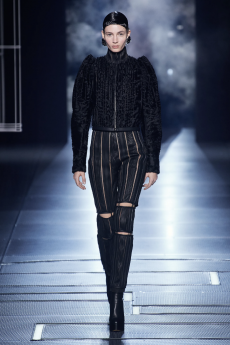 The Fendi Haute Couture collection was an ode to the brand's home, the city of Rome, its past, present, and imagined future. Conceived by Kim Jones, the collection is an embodiment of the eternal city, to put it in his own words, "When you walk down the street in Rome, you are constantly moving back and forth in time. Where we work feels very modern, but you pass monuments on the way there. There's a total timelessness to the city: a historic vein which runs through it, but also a movement that is projecting forwards." This harmony between past and present, the historic codes of the city explored through a celestial lens, set the tone for the whole collection. The pieces themselves draw upon time-honoured techniques alongside modern craftsmanship, which is also reflected in the interplay of materials. The lavish embroidery and craftsmanship are paired with sci-fi silhouettes, making the model appear like an army of empresses descending from the heavens. Fluid pieces are draped atop shimmering bodies, beading is illuminated and hand-embroidered tights act as a second skin. It's a celebration of the celestial Rome, its past being referenced throughout, but more importantly, it's the essence of Jones' vision for the Roman House, celebrating the power of women.

www.fendi.com
Fashion
Stray Rats & Carhartt WIP SS22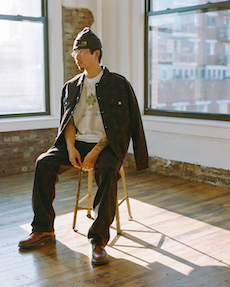 Carhartt WIP has partnered with Stray Rats for their SS22 collection. Stray Rats is a brand that spans from punk and hardcore nostalgia to strands of underground American counterculture, which paired with Carhartt's authentic adaptations of American workwear has instigated a strong collaboration. The collaboration features nine products, including reworked iterations of the original Active Jacket, Western Jacket, and Smith Pant. The items are all in either canvas or denim, and have an "aged" effect while also bearing a hand-drawn allover print. Each of these garments is accented with classic brass detailing and trims and is in either duck blue or tobacco brown. As a staple to the Stray Rats collection, there are also some cotton jersey items, including a sweatshirt and sweatpants with graphic prints similar to the hand-drawn prints on the canvas and denim items.

www.carhartt-wip.com
www.strayrats.com
Fashion
Jude Law and Raff Law Are The New Ambassadors of Brioni SS22 Campaign
Brioni, the Italian luxury menswear house, has announced Jude Law and Raff Law as new brand ambassadors, with the SS22 campaign marking their official debut. Jude Law is one of the most enigmatically compelling actors working today, having held roles in highly acclaimed movies and TV Series. One perfect example is "The Young Pope", thanks to which he also formed a special connection with the city of Rome where the brand is also based. He is an actor of unparalleled versatility, a great master of his art, and his son, following in his steps, is considered a rising talent in the same universe. Both have a strong personal style and natural complicity, to put it in the words of Raff Law, even though they have different tastes and perspectives, they share the same love for Brioni, its craftsmanship, and quality, both key features of the brand. The Laws naturally embody elegance and class, making them the perfect pairing to reflect Brioni's modern vision of menswear, in which distinctions of age are blurred by a shared passion for genuine craftmanship.

www.brioni.com
Fashion
CHANEL Haute Couture SS22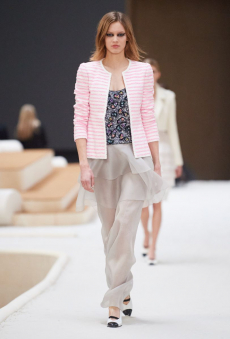 For the Chanel SS22 Haute Couture Show, Creative Director Virginie Viard has invited French contemporary artist Xavier Veilhan to realize the set design of the show. It is the first time that Chanel entrusted a contemporary artist to imagine the staging of the show. Part landscape, part garden, and part open theatre stage, the project combines key topics close to both parties: from the equestrian paths to the principle of lightness and constructivist motifs. The show was opened by Chanel Ambassador Charlotte Casiraghi on horseback, dressed in a black tweed jacket with jeweled buttons, setting the tone for a collection in between the realms of fantasy and reality. The Chanel SS22 Collection expresses an ethereal lightness made of bright and joyful silhouettes set in sharp contrast to the geometric decor. Ethereal dresses float as if suspended while embroidered patterns such as constructivist camellias in black, white, and coral beads pay homage to Gabrielle Chanel in a conversation that crosses time. In addition, Chanel also released a series of short films that feature two personalities close to the French House: musician Sébastien Tellier, who can be seen in one of the graphic compositions, and Charlotte Casiraghi.

www.chanel.com
Fashion
Hermès FW22
Hermès FW22 Collection exudes an air of optimism and lightness, focusing on the vitality of a world regained. A new form of elegance is presented, sophisticated and elaborate, a combination of different techniques and materials with dandyish flair. Chevron patterns, a golden-brown gloss, and a touch of velvet feature bright colors such as pop orange, lettuce green blended with earth tones, and darker hues. This formula gives the looks fluidity and restored energy, that spread within the walls of Réserve Perret of the Mobilier National. The location has been chosen by the Creative Director Véronique Nichanian and Director Cyril Teste, and has been injected with new life. The tapestries conserved in that space have been transformed and placed on moving screens where they rhythmically change as forward-moving models, becoming part of the landscape in which the collection's energy unfurls. The Hermès FW22 Collection merges with the decor and gives life to a lively fresco made of heritage but also avant-garde.

www.hermes.com
Fashion
Fashion
Maluma is the New Face of Versace SS22 Men's Campaign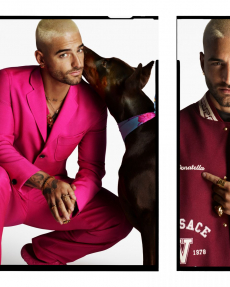 Versace has announced the new face of the SS22 Men's collection, the global superstar Maluma. Already part of the Versace Family, having previously created memorable moments such as Maluma wearing custom-made garments for his performances and red carpet looks, the Colombian singer has now been appointed by Donatella Versace herself as the new icon of the latest collection. The long-lasting relationship between the two has been love at first sight. Maluma has always been a fashion enthusiast and in the brand, he found the right features for an exceptional collaboration. Donatella Versace herself has always been intrigued by Maluma's energy and engaging personality; to put it in her own words "He's the kind of man that makes a difference and makes the world a better place". The images, released globally on January 19th and shot by photographic duo Mert Alas and Marcus Piggott, portray the singer wearing a varsity jacket finished with a range of brand motif patches and "Donatella" embroidered across the heart. In addition, for the first time, Maluma is not pictured alone but with his dog Buda. With these enticing images, the Italian fashion house and the Colombian megastar are creating new memories together as a fashion family.

www.versace.com
Fashion
Dior Men's FW22
Artistic Director Kim Jones says about the inspiration behind the Dior FW22 menswear collection: "I wanted to look at the archive, at the purity of the beginnings of the house, at its original impulse. We looked at the initial collections and focused on the architecture, taking these elements and transforming them almost instinctively in a masculine way for today, always keeping the joie de vivre at the heart of Christian Dior's clothing." Presented in Paris on the Pont Alexandre III, the silhouettes emerge in motion reflecting the colors of the sky and the passage of time during the show for Paris Fashion Week. The looks reflect the movement of time and the continuum of designers who unify the past, present, and future of the House's legacy. This season is an homage to heritage, a living history paving the way for the future. Fluctuating between masculinity and femininity, the garments blend gender-boundaries in a contemporary manner. During the show, the scent of lily of the valley fills the air, symbolically fusing nature and culture, a connection dear to Dior. For the 75th anniversary of the House, Kim Jones engages in the ultimate conversation and association with Christian Dior himself. Two men's paths collide, forming a new legacy for Dior.

www.dior.com
Fashion
Miu Miu Tigers T-shirt Collection
In honor of the Year of the Tiger in the Chinese zodiac, Miu Miu launches an exclusive collection of t-shirts featuring the tiger motif from different animation productions. Ranging from playful to heroic and majestic, the spirit of the collection is ubiquitous and unexpected. Tiger Mask originally appeared in a manga comic book written by Ikki Kajiwara and illustrated by Naoki Tsuji, later adapted into an animation series by Toei Animatio. The character is a powerful wrestler and loyal companion to orphans, whose true identity always remains obscured. Created by Tiger Key, the Tiger Girl character featured in the t-shirt collection is a crime-fighting tiger battling evil. The last iconic animated tiger figures are Disney's Tillie Tiger - dating back to 1936 when she first appeared on screen – and the anthropomorphic Tigger from the tales of Winnie the Pooh. The Miu Miu's Tigers t-shirt collection evokes nostalgic images of iconic stories of animation history, in celebration of Chinese zodiac tradition. The Tigers collection of t-shirts is available starting from mid January 2022 at selected Miu Miu stores and online.
Fashion
New Bally Creative Director Rhuigi Villaseñor
Swiss luxury brand Bally, owned by JAB Holding Company, appoints Rhuigi Villaseñor as its new Creative Director. In this position, Villaseñor will be responsible for the artistic direction across the brand. His first collection debut for Bally will launch for SS23. The Manila-born allrounder is Founder, CEO, and Creative Director of the brand Rhude since 2015. As his mother was a tailor and his father an architect, Villaseñor grew up with a passion for design and an understanding of garment construction. As a Filipino and American national, raised in several continents before emigrating to the U.S., he started his career in Los Angeles. His work takes inspiration from American iconography with nostalgic reflections recalling his childhood observations of U.S. culture through a foreign lens. In his form language, the visionary designer combines luxury techniques with streetwear elements, offering a new narrative of the modern wardrobe. Nicolas Girotto, CEO of Bally, said: "Having acutely followed Rhuigi's ascent I am excited by how his natural creativity and energetic spirit have made him one of the industry's greatest idea generators and community builders. Rhuigi's deep understanding of Bally's history coupled with a distinct appreciation of the Swiss lifestyle will be instrumental in ushering the brand into the future."

www.bally.eu
Fashion
Fendi FW22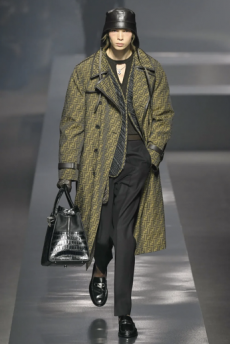 Milan, 15th January 2022 – Designed and directed by the Italian artist Nico Vascellari, the FENDI Men's FW22/23 runway show took place on a brushed steel elevated runway ramp in a mirrored FF configuration at the FENDI headquarter in Milan. An exclusive live soundtrack made by Alessandro Cortini became the captivating sound of this season's show. The Men's FW22/23 collection designed by Silvia Venturini Fendi emerges as a treasure of the future. Old-world elegance meets the New Roaring Twenties in the reimagined gentlemen's wardrobe, presenting a neo-dandy take on archetypal classics. Experimenting with the traditional FENDI figurative language, formality is disrupted by playful gestures that break boundaries. Shades of black and cream, burgundy, raspberry, mocha, taupe and white form a rich, understated palette and create a tonal variety that highlights the texture and bold graphic statements. Traditional fabrics and weaves like Vichy check tweeds and hound's tooth suiting, satin tuxedo trims, and striped silk jacquards are scaled up and down in dialogue with ribbed sleeves, cable knit ensembles, and the O'Lock chain motif as a new monogram. The strict lining embedded in FENDI tailoring is reinvented in a new softness by adding suiting, knitwear, and leather. As the ultimate expression of FENDI's Roman elegance, extravagant evening wear silhouettes celebrate the art in the act of dressing up.

www.fendi.com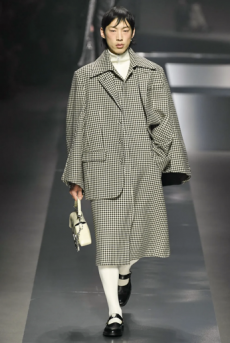 Fashion
1017 ALYX 9SM FW22
Models walking fiercely to a slow, powerful rhythm by F1lthy, who created a sound based on images of a majestic church venue on the edge of Milan named Saint Victor and the Forty Martyrs – forces collided at the Alyx FW22 show at Milan Fashion Week. The decadently adorned building served as a vast, yet astonishingly intimate space for the first show by Matthew William's brand 1017 Alyx 9SM in Italy. The appearance at Milan Fashion Week was like a homecoming for the label founded in 2015 by Williams in Ferrara with a design studio located in Milan. The collection intrigues by showcasing contrasts between masculine and feminine shapes. The menswear looks are characterized by heavy multi-layered and voluminous silhouettes, while the womenswear counterpart features hip-skimming, full-length and fitted looks. Expressing his passion and sense for garments Williams describes his approach to creation: "So maybe it sounds selfish or narcissistic, but I'm just making things that I like, and hopefully other people will like them too. That's just how I move."

www.alyxstudio.com
Fashion
Canali FW22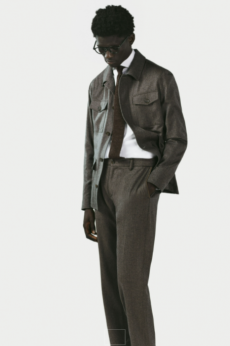 Looking back at the art déco style of the 1930's – the precursor of a new era of growth and recovery - the Canali FW22 collection strives for a tasteful, elegant and refined look. The collection reimagines what it meant to be a gentlemen in pursuit of discovering the self and the world during the historic era. Style was an essential element to express attitudes and standing and became visible through the sober and exclusive lines of the period - adapting military-inspired silhouettes and colors to a new, elegant context, and celebrating it with its trademark sartorial expertise, care and focus on detail. The Canali FW22 collection both honors and reinvents this image by presenting a look to adorn the modern gentleman. A man prepared at any moment of the day with a versatile look with various shirts and tie options. Elegant pin-stripe, typical of the 1930s, is the signature pattern of the collection, embodying the timelessness of its inspiration. More contemporary styles blend in where sleeves are finished off with rubber press-stud buttons, and trousers are designed in a more athletic look. The Canali FW22 menswear collection is a perfect match of lines and impressively unifies old-era elegance with contemporary design, resulting in an expression of the dynamic of the life of a modern man.

www.canali.com
Fashion
C.P. Company CINQUANTA
C.P. Company CINQUANTA For Milan Fashion Week, C.P. Company presents a throwback on 50 years of sportswear design with "CINQUANTA: A retrospective on 50 years of sportswear innovation by C.P. Company". At the end of their anniversary celebrations, which lasted all throughout the past year, an exhibition, freely accessible to the public, is open from January 15th to January 17th, 2022 in Milan. Created in collaboration with Random Studio, a creative agency from Amsterdam, "CINQUANTA" is a series dedicated to five decades of Italian sports and casual wear. It includes more than 70 pieces from the C.P. Company archives, alongside original sketches and special projects that have marked and shaped the brand legacy. The retrospective also includes a special area dedicated to the 50th anniversary presenting the collaborations next to various objects and memorabilia. As Lorenzo Osti, President of C.P. Company put it himself, "This exhibition is designed to facilitate the understanding of the essence of the brand through its most iconic items: the ability of C.P. Company to model and create objects that resonate with contemporary society. This way, through our garments, you will find the evocations of cities, landscapes and adventures that have most involved and fascinated us in the last 50 years."

www.cpcompany.com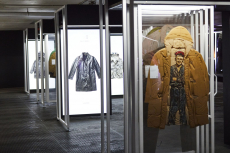 Fashion
Fashion
Heart to Heart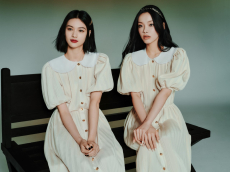 Miu Miu reveals its latest campaign in honor of the Lunar New Year starring ambassadors Lexie Liu and Qiu Tian in an edit of contemporary classics. The campaign cinematically tells a story of two minds colliding. Two personalities with different life paths meet on the eve of a new year. Conveying a sense of déjà vu and familiarity. They stop to wonder, each delving into their memories before separating again. The two protagonists form a connection through sound and space by reciting their lines and humming tunes. Miu Miu colors illuminate the scene: the pastel pop of Miu Wander bag, the retro tone of a varsity cardigan, gold hair clips that oscillate with light. The short clip is a celebration of the joy of unplanned interpersonal connection. Miu Miu salutes the intangible nature of the order of things.
Fashion
In the Mood for Prada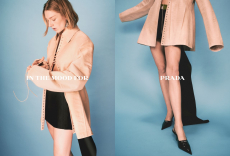 The Prada womenswear SS22 campaign is an exploration of desire and sensuality. It showcases the SS22 collection and explores the relationship between a woman and her clothing. Reflecting the feeling of Prada, the creation by Miuccia Prada and Raf Simons merges reality and fantasy through its storytelling. The cast is led by the actor Hunter Schafer and includes models Selena Forrest, Julia Nobis and Lina Zhang, who are captured in the acts of dressing and undressing. Striking details express a sense of closeness and intimacy, which undeniably draw the viewer in. Photographer David Sims creates an authentic, intriguing moment through his photographs which showcase the innate personal relationship people have to their garments – the women's relationship to Prada wear. The imagery captures and celebrates everyday gestures and the multiply moods of life. A vivid embodiment of the SS22 collection emerges as the campaign evolves through a series of videos and photographic contributions devised by a series of emerging image-makers, each invited on set to interpret the collection, the campaign, and the mood of Prada.
Fashion
Radical Urbanism: "The Power For The People x"
 "The Power For The People x" founded by Steve Davies of Steve Davies Studios London presents its new collection. Davies has been working closely for many years with acclaimed Fashion Photographer and ZOO contributor Roger Rich. The pair have collaborated together for the latest venture "The Power For The People x": a collection based on love for concrete and fashion. Driven by the Davies's strong connection to London with a passion for city living, modernism, brutalism, style in art and architecture, the coming SS22 season embodies the urban human experience. The line is created in London and inspired by its development throughout the decades featuring Savile Row mixed with a nod to early Punk from the late 80s early 90s London club scene at the WAG and the MUD club. Working very closely with friends and family Davies produced the finest quality of handmade garments using traditional skills and techniques in an unconventional manner. Tailored trousers meet military jackets and pants worn casually with brand logo shirts and sweats. The collection's reference to Punk becomes visible through bondage pants combined with artist smocks paired with hats and reversible bags made from military ripstop fabrics in black, navy and olive. The garments are an expression of powerful idealisms to explore the emphasis on materials, textures and shapes in buildings and clothing fabrication creating a dialogue between infrastructure and the voice of society and culture.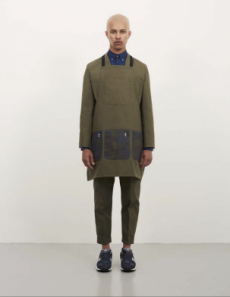 Fashion
Bottega Veneta: Bottega for Bottegas
Bottega Veneta unveils its newest project, an initiative to support and promote Italian creativity. The name Bottega Veneta translates into "Venetian Workshop" as the name indicates. Bottega Veneta was founded in 1966 by Michele Taddei and Renzo Zengiaro, who produced leather goods with a strong emphasis on precise craftsmanship. The pandemic has shattered artistic industries, forcing smaller brands, art collectives, and independent artists to deal with the threat of closure and insolvency. To counteract the repercussions of the pandemic, the luxury fashion house initiated a project that aims to help, support, and foster artisans in Italy. For the special initiative, Bottega offers Italian artisans advertising spaces, websites, newsletters, and store windows to provide a display space for the unique works of Italian artisans, which are as versatile as Bottega Veneta itself and ranging from mosaic artistry to distilleries of well-researched gin. Among the many impressive artisans is the Amatruda family, known for their passion for papermaking for almost 750 years now and which is certified by the Forest Stewardship Council, a non-profit organization, dedicated to encourage responsible management of the world's forests. The initiative supports and perpetuates the work and establishments of artists that represent Italian creativity and excellent craftsmanship, which coincide with the values Bottega Veneta was founded on.

www.bottegaveneta.com
Fashion
Giuseppe Zanotti's Cobra Sneaker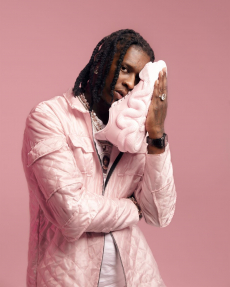 During the Milan Fashion Week in September, Giuseppe Zanotti has revealed a new sneaker model – the COBRA. Now, after making its debut on the runway, the sneaker is being launched on a global retail level. Inspired by the snake symbol, which has been featured in Giuseppe Zanotti clothing collections before, the sneaker channels allegories of power and transformation. The body of the low-top sneaker appears to be writhed by a snake, twining in serpentines around the sole and the corpus of the shoe, its head stealthily sitting atop the toe cap. The same pattern – in a 2D version – finds itself on the rubber sole of the sneaker. The sculpted and delicately scaled head is enhanced by a set of crystal eyes, bestowing the COBRA with luxurious grandeur. Giuseppe Zanotti launched four tone-on-tone iterations of the COBRA sneaker, including black and white, as well as pink and red. Presented in a campaign with Atlanta-based rapper Young Thug, the launch of the sneaker nods to the hip-hop scene, placing Giuseppe Zanotti in the epicenter of streetwear culture. Captured by photographer Cam Kirk, the campaign reflects the expressive dynamic and the transformative powers behind hype movements. "Young Thug defies classifications and stereotypes," says Giuseppe Zanotti, "he has always embraced the eccentric, the unapologetic – not only with his music but also with his fashions. He perfectly encapsulates the spirit of the COBRAS." Reciprocating the appreciation for one another, Young Thug stated: "For me, Giuseppe is like a chameleon. He's got the Italian style thing down but knows how to change it up and layer in the unexpected, the street. It's fire."

The COBRA sneaker will be available from December 17th 2021 onwards, in US Giuseppe Zanotti boutiques, selected luxury retailers, as well as on giuseppezanotti.com.

www.guiseppezanotti.com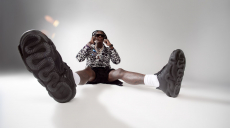 Fashion
Strength through Unity: Dior Fall 2022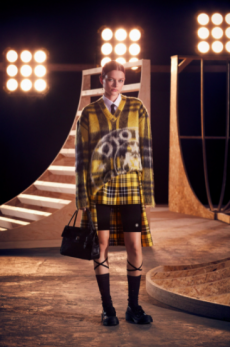 Maria Grazia Churri has revealed the looks of the Dior Fall 2022 collection in which she drew inspiration from the women of the Dior Maison, calling to life a collection that tributes empowerment. Overall, the collection expressed the idea of strength through unity, set into the context of fashion by a collection that appears as highly individual interpretations of the same uniform. Many of the looks featured layering, creating depth and personal style. Dungaree dresses layered over white shirts, black ties combined with quilted, fringed ponchos, and tulle skirts balanced with heavy boots reoccurred throughout the collection, making for an aesthetic that merged school attires with mature elements. The color palette exhibited black and white looks, complemented with dark neutral colors as well as recurring shades of yellow. Maria Grazia Churri experimented with pattern mixing, in particular with different kinds of plaids and diamond checks. Knee-length skirts and mid-length sleeves introduced new shapes into the current silhouettes. On a more feminine side, the looks were subtly enhanced with see-through blouses and lingerie tops, featuring sheer materials as a contrast to the strong lines and sharp tailoring. With great attention to detail, the looks show unexpected elements such as open hemlines and asymmetries. Accessory-wise, the collection showed leather woven belts, at times connected to the black ties, creating a harness-like shape, as well as black socks complementing the sturdy boots, given a twist with lacing detail at the top.

www.dior.com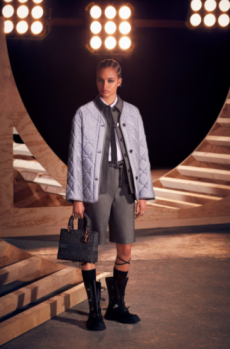 Fashion
Heatwave Incoming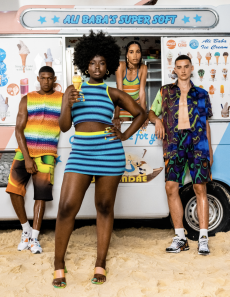 Appearing like a kaleidoscope of form and color, the AGR SS22 collection brings the post-lockdown spirit to life, giving it a vibrant look. The typical technicolor offering of the brand is a response to the collective yearning for freedom, adventure, and pure enjoyment. "London on heat" is how AGR founder Alicia Robinson describes the narrative of this season, which is an assemblage of different sources of inspiration. Drawing on British photographer Martin Parr's hyper-saturated images of everyday life, the collection channels the spirit and style of the 90s rave culture, showcasing knitwear in imaginative forms and tailor-made psychedelic pieces. Further exploring the realm of bright pop color, the season's intensive color palette takes inspiration from abstract painter Mark Rothko's seminal color field paintings. AGR's signature lime green is accompanied by neons, which are juxtaposed with natural, neutral tones and the use of space-dyed yarns. For textile and form, AGR created new jacquards in collaboration with the Netherlands-based knitwear manufacturer Knitwear Lab, which emulates the appearance of American spray-gun painter Roy Colmer's spray- and stripe-work. Lastly, referencing Parr's photography the AGR look book of the season portrays a summery scene, telling a tale of positivity, enthusiasm, and a taste for a bustling future.

www.agrknit.co.u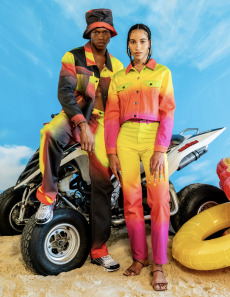 Fashion
Louis Vuitton Ventures Out Into the Alps
For the first time in its longstanding legacy, Louis Vuitton launches a capsule collection devoted to winter sports. The resulting collection features a complete wardrobe, that leaves no dressing desires unattended – from the slopes to the chalet, from the crisp mornings to the chilly evenings, offering apparel, accessories and shoes. The collection introduces a new LV emblem, namely a snowflake-shaped Flacon logo, that has been exclusively created for the occasion. Alpine landscapes are not only the backdrop where the collection is put to practice but serve as recurring motifs on the textiles themselves. Puffer jackets with feather linings come with matching leggings and pullovers, bringing a poetical, yet futuristic touch to the mountains with metallic finishes and sunset imagery. Sleeveless vests in puffer and fur versions ensure additional layers, whereas a selection of sweaters, shirts and dresses offers garments for the après-ski events. The looks are replenished by a variety of shoes – among the styles are rubber boots in different heights, as well as leather ankle boots for more sophisticated occasions. For the luxury-oriented winter athlete, Louis Vuitton further unveils a limited edition pair of skis, with an aluminium-covered wooden core, bringing the iconic LV monogram to the slopes. To ensure a head-to-toe look, the skis come with a pair of high-tech boots, developed in collaboration with Tecnica. High-performance results are stipulated with Louis Vuitton's touch of decadency in this debut ski capsule.

The capsule collection is available as of right now in Louis Vuitton stores.

www.louisvuitton.com
Fashion
Versace Jeans Couture's Journey Home
"Home is a state of mind. It's liberation, it's acceptance, it's freedom." With these words in mind, London-based director Sarah Jones has created the cinematic short film The Journey Home for Versace Jeans Couture. The film narrates the return of a young woman to her home after spending a night out. During her commute, she experiences a reflective conversation with a cab driver, which leads to an epiphany about her identity and her innermost feelings. Depicted in a dream-like, surreal sequence, the clip embodies Versace's values of youthfulness, nostalgia and unleashed emotion. The raw, documentary-style artistic direction with the surreal touch reflects the vulnerability and search of the young woman as she attempts to let go of personal and societal expectations to fully embrace herself. Sarah Jones perfectly captures the emptiness mixed with a sense of falling out of place that is attached to the search for identity. The plot takes the viewer on a journey of overcoming this void through a nightlife experience in a true Versace Jeans Couture manner. In a pensive and intense way, the protagonist of the stories reminisces upon her experiences and thoughts, as she lives through a night full of possibilities before eventually returning home. The eclectic colors and effects of the short film exemplify Versace's specialty of meeting an avant-gardist Zeitgeist while making use of rhetorical stylistic choices and hidden layers.

www.versace.com
Fashion
Louis Vuitton Spell on You: The Quintessence of Affection
Louis Vuitton presents its new women's fragrance Spell on You in a sensual campaign film, starring brand ambassador Lea Seydoux. Louis Vuitton revolutionized the art of traveling in 1854 with his innovative luggage designs, equally elegant and practical. Ever since the luxury Maison continues to embrace its heritage with a strong commitment to high craftsmanship while constantly developing and expanding Louis Vuitton's assortment and influence. The campaign film puts brand ambassador Lea Seydoux into the limelight and is directed by Jean-Baptiste Mondino. The French fashion photographer and video director enjoys a distinctive recognition value through his revolutionary photographs and videos that transformed the rock, pop, and fashion industry. The short film showcases an amorous interaction between two people, perfectly portraying the intensity of affection and the sensual play with attraction through different camera angles, set in a romantic garden in soft broad daylight, which emphasizes the built-up impression of a dream. Mondino captures the feeling of an imaginary voyage and escape from reality, which reflects on the history of Louis Vuitton. The sensual and sophisticated feeling created through Lea Seydoux and Mondino perfectly embodies the spirit of Maison's new fragrance. Louis Vuitton sought out a strong note of honeyed notes from the acacia flower, jasmine sambac, white musk, and peach and is rounded with enduring hints of rose, which profoundly enhances the hypnotic allure surrounding the fragrance.

www.louisvuitton.com
Fashion
Mara Hoffmann in the Midst of New York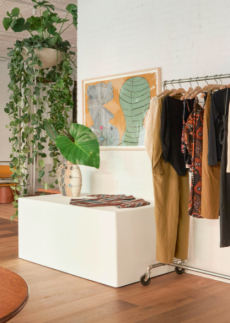 Just towards the end of the year of 2022, Mara Hoffmann has opened the very first eponymous store in Soho, New York City. Mara Hoffmann herself, who founded her namesake label in 2000 after graduating from Parsons School of Design, has made a conscious decision in 2015 to incorporate more sustainable and responsible practices into their creations and their production. Known for her colorful collection that is inspired by the celebration of womanhood. Mara Hoffmann makes a point in fostering mindful consumption and constantly reevaluates the relationship society has with fashion. As such, the space in Soho represents much more than a point of sale. Translating the brands' practices and serving as a platform for creatives and makers. This vision has already been put to practice during the design of the store itself – in collaboration with Kari Elwell of Mingo, landscape designer at Mingo design, the store has been built around the notions of plants and natural textures. With ceramics, woods, leather and woven carpets, the store exudes a warm and inviting ambiance, in which Mara Hoffmann's collection seamlessly fit in. Further, in collaboration with Studio Archive Project, the space exhibits rotating art of numerous forms – beginning with New York-based sculptor Elisa Soliven. In the future, the space aims to be lend to not only the works of artists but the artists themselves, propelling social gatherings where social matters are discussed.

www.marahoffmann.com
Fashion
Piaget: Celebrating the Bond of Love
The luxury jeweler Piaget is a master in creating diamond-shaped visual symbols of love and is now releasing a series of new engagement rings to celebrate the epitome of love—the particular bond every relationship is aiming for, namely marriage. Georges Edouard Piaget founded the luxury manufacturer in 1874 and ever since the jeweler is synonymous with precision and sophistication, fusing the art of fine jewelry making with its profound watchmaking skills. In the late 50s, Piaget released its ultra-thin Altiplano collection that would later become one of the most distinctive recognition features of the luxury manufacturer. For this special collection, Piaget joined forces with creators, gemmologists, gem setters, and jewelers to combine their strengths and the savoir-faire of 150 years of crafting experience to create an exceptional range of engagement rings. Each ring of the collection is set with diamonds meeting the highest standards of fine jewelry in the world in terms of color, clarity, cut, and carats. As such, the Piaget Possession platinum ring is a playful answer to the traditional engagement ring. Circles set with small diamonds are placed around a big brilliant-cut diamond in the middle. The spinning elements of the ring are meant to be visually reminiscent of ''how love makes your head spin,'' as is stated by Piaget.

www.piaget.com
Fashion
Audemars Piguet "Beyond the Limits"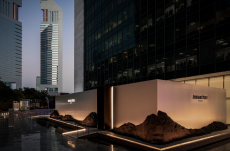 Once again, the Swiss luxury watch manufacturer Audemars Piguet takes its experience and knowledge in precision and innovation to action. This time, not to develop an exceptional watch but to curate an exhibition under the wings of the Dubai Watch Week, named "Beyond the Limits." The exhibition takes the visitor on a journey through the luxury watchmaker's tireless strive for innovation in terms of design and materials. It showcases the creative process of the Royal Oak Offshore watch, which was launched in 1993. The watch broke the conventional boundaries of horological aesthetics and went down in history as the predecessor of sizeable timepieces, inspired by different lifestyles and extreme sports. The exhibition gives a unique insight into the history and research process of Audemars Piguet, from its inspirations, drawn from air- and space travel and the automobile industry, material experiments with ceramics and gold to the turnaround of technological and horological improvements in the 80s, that led to one of the world's most historic watch, ergonomic and exceptional timepieces. The Royal Oak Offshore, presented in the exhibition, visually reflects the core principles of mastery, innovation, and independence Audemars Piguet was founded on.

www.audemarspiguet.com
Fashion
MCM Revived Classics
With a constant eye on innovation, MCM is reinterpreting one of the most prominent classics in the world of leather goods—the Tote bag. MCM—which stands for "Modern Creation Munich" was founded by Michael Cromer during the creative renaissance of Munich, as the name suggests, in 1975. The luxury leather goods company is best known for its leather bags and backpacks, designed with an emphasis on functional innovation and contemporary music, art, and travel. The most distinctive recognition features of the brand, which resurface on the reimagined Tote bag as well, are the caramel-brown color and the monogram bearing the initials of MCM. The Tote bag comes with an additional small pouch bag, and is defined by its versatility. It is large enough to fit in everyday essentials as well as optional extras, and through the detachable shoulder belt, the Tote can be transformed into a crossbody bag and therefore liberates the wearer to be able to move with free hands. The square-shaped bag is available in the signature caramel-brown and a fresh cognac white and is characterized by an elegant, clean and streamlined silhouette. Due to its versatility, the Tote bag is perfectly in tune with the complex needs of customers around the world.

www.mcmworldwide.com
Fashion
Breitling: Sky is The Limit
To honor and celebrate the history of aviation, in which Breitling was significantly involved as a pioneer for flight instruments, the horology pioneer released a new series of precise and handcrafted watches named Super AVI. The Swiss luxury watchmaker was founded in Grenchen, Switzerland in 1884 and designed the world's first high-end Swiss luxury watches and quickly became very popular amongst aviation pilots. Breitling equipped the British Royal Air Force during the Second World War with innovative precision cockpit clocks and Astronaut Scott Carpenter wore a Breitling Navitimer Timepiece during his orbital flight in 1962. In the 50s, the luxury watchmaker elevated and developed their flight instrument design into a smaller, wearable version, the Co-Pilot Ref. 765 AVI. Known for its emphasis on precision, reliability, and durability, the luxury watchmaker has become a pioneer and a trusted choice amongst pilots by equipping its watches with chronometer-certified movements. The Super Avi collection is inspired by the bespoke watch, Co-Pilot» Ref. 765 AVI and by four legendary air crafts, such as combat-, naval aircrafts, the so-called "Wooden Wonder", the fastest plane between 1940 and 1950 as well as the Curtiss P-40 Warhawk, a master of agility. The distinctive and robust aesthetic of the watches and the calfskin bracelet with decorative stitching are visually reminiscent of leather aviator gear of the cited era. With the Super AVI collection, Breitling embraces its rich heritage in aviation and visualizes it in form of a new, exceptional aesthetic and highly crafted clockwork.

www.breitling.com
Fashion
Max Mara 101801 Light: Sartorial Timelessness
For the SS22 Resort collection, Max Mara decided to dive deep into its archives and created a special garment based on the iconic 101801 coat, narrating a rich history that dates back to the early 80s. Max Mara is a visual archetype of the luxurious and sophisticated spirit of Italian fashion. Max Mara was brought to life by Achille Maramotti in 1951 and has continuously developed classical shapes and designs, reinventing them in a contemporary context context ever since. The emblematic 101801 coat has been revived, reimagined, and conformed to the fashions of every new decade for almost 40 years but is still defined and recognized by the same quality attributes. The coat is characterized by an oversized fit, soft deconstructed sleeves, a distinctive notched lapel, and a double-breasted closure. The successor of the coat, the 101801 Light is made out of a techno-luxe jersey and available in soft dreamy pastels, ranging from a fresh minty green over cotton candy blue to a warm lemon yellow. The 101801 Light is largely defined by its versatility. The coat is light enough for layering, while the material distinguishes itself through the ample protection that defies any weather condition.

www.maxmara.com
Fashion
Armani Exchange in the Heart of Cologne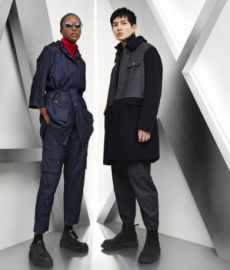 Armani Exchange, which has been launched in 1991, was initiated to address a younger audience. Rewriting urban codes for two decades, the offshoot of the Italian high-end brand is opening a new store in one of Germany's up-and-coming cities: Cologne. On November 25th, the doors of the new Armani Exchange store will open to the public – accompanied by an outdoor media campaign around the new store and the connecting streets. The new retail location, which counts 200 square meters of space, is a point of sale for the men's fashion and women's fashion collections, as well as for accessory lines. Combining urban elements with an industrial backdrop, the store impeccably represents the contemporary spirit of Armani Exchange. Concrete floors serve as a base for delicate and minimalist shelving, whereas lighting elements are used to highlight special attractions. On the occasion of the launch, the two sizeable front windows are decorated with neon light installations of the typical "A" and "X" letters of the brand, leaving a lasting impression on the numerous passerby's. Located at Cologne's well-visited Schildergasse, the store finds itself amid one of the most vivid pedestrian shopping promenades of the German town. The Schildergasse, which is the second oldest street of Cologne, is one of the most frequented shopping streets in Germany. With the opening of the Armani Exchange store, the saunterers are offered to explore the accessible, versatile clothing of Armani Exchange, which cater to a wide audience regardless of age, gender and background, all while replacing conventions with individual expression in true Armani signature style.

The new Armani Exchange store is located at the Schildergasse 72-76, Cologne, Germany from November 25th onwards.

www.armaniexchange.com
Fashion
Missoni x Supreme: A Gathering of Innovators
For the Fall21 collection, Missoni, a house rich in tradition, united its strengths with streetwear company Supreme. The history of Missoni begins as the founders, Ottavio Missoni and Rosita Jelmini meet. Ottavio Missoni gained his first experience in design by creating athletes' tracksuits for the 1948 Olympics in London, and Jelmini specialized in shawls and embroidery. Combining their prior garment experience and knowledge with the proficiency of knitwear construction and machinery of Rosita Jelmini's family, the couple founded a small knitwear studio in the north of Milan and started producing innovative lightweight knits that would become an unmistakable recognition value for Missoni. The jackets and sweaters of the collaboration are imprinted with an undoubtedly Missoni-esque-inspired pattern. Ottavio Missoni drew inspiration mainly from Guatemalan, Aztec and Incan textiles and was especially known and admired for his bold approach to color, creating a chromatic harmony by adding a third color to two clashing ones. The Missoni patterns are elevated in this collection, developed by implementing them on a new range of clothes. Supreme supplements the strong Missoni identity with its signature casual and sporty streetwear shapes and designs for the garments, such as hooded sweatshirts, crusher, and polo shirts, perfectly in tune with our zeitgeist.

www.missoni.com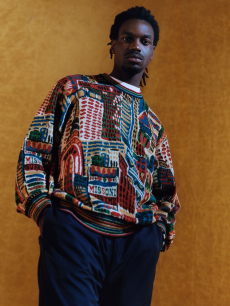 Fashion
YUSE Fall 2021: Re:Yuse: In Sync with Nature
The FW21 collection is a prime example of the refreshing, contemporary, and sustainable approach of the design of Korean brand YUSE. The brand was founded on the principles of finding a better solution for a successful interaction between human society and the environment. YUSE identifies itself with a new generation of fashion brands, defined by consciousness, intelligence and a focus on finding solutions. The brand puts an emphasis on sustainable and transparent production, which is indicated in the name of the latest collection—Re:Yuse, a pun alluding to the term "re-use". Finding inspiration and unorthodox materials in the exceptional sides of nature, the brand designed tube tops, imprinted with its signature nature-inspired pattern and made out of PET bottles. The pattern showcases a vision of the seaside, glimmers of natural light and mystic forests. YUSE's clothing production results in a transformation of former plastic waste that pollutes the Earth into extraordinary garments that can be worn with a clean conscience. The showcased dresses, blouses, and various knitwear pieces are created with an asymmetrical shape and are available in different earthy shades of brown as well as an azzurro blue and pomegranate red. YUSE's design approach creates no boundaries between minimalism and boldness but rather highlights the individuality of a person through clothing.

www.yuse-shop.com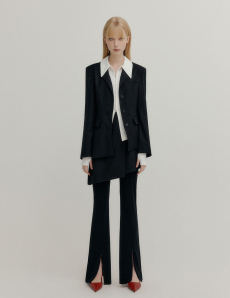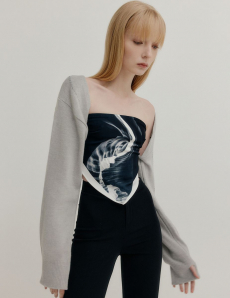 Fashion
MCM Cubic: Reinterpreting History
Monogram— the artistically interwoven initials have been adorning garments for decades now and have become a distinctive and firmly established part of pop culture. Many high-end brands, among them MCM understand the crucial role eye-catching logos play in times where consumers are continuously confronted with pictures and impressions, not least due to the void of accessible information online. MCM— which stands for Modern Creation Munich is best known and admired for its luxury luggage and finding enthusiasts in world stars like Diana Ross or underground artists such as Peggy Gou, ever since being founded in 1976. The 45th anniversary of the iconic brand prompted MCM to revive and reimagine its most prominent recognition value— the monogram. For the first time in the history of MCM, the brand presents three exclusive interpretations of the unique Visetos monogram. Previously this year, the Vintage Jacquard monogram was released. Through a highly-specialized weaving technique inspired by methods used in the world-renowned textile school of Bauhaus, the original logo receives a refreshing new design. The second interpretation is called CUBRIC monogram and stands apart from previous logos with a clean, straight-line pattern. The minimalistic approach resonates with the Bauhaus spirit, which is an integral part of German modernism. The compelling reinterpretations are incorporated in a range of signature styles, such as a casual tracksuit and complemented with a bucket hat.

www.mcmworldwide.com
Fashion
Furla Cruise collection SS22: Sharing Joy in Italian
For the cruise collection SS22, the Italian leather goods company Furla celebrates its roots and embraces the cheerful spirit associated with Italy. Aldo Furlanetto founded the unique brand in 1927 while traveling across Europe as a trader in accessories and spreading the spirit. Henceforth, Furla reinterprets the Italian spirit with its leather goods, shoes, and accessories in a contemporary context of fashion. The use of high-quality materials and eclectic elegance are deeply-anchored in the success vocabulary of Furla. The cruise collection SS22 has a distinctive theme: "Joy is a group effort, Fun is for everyone, Sharing is everything" and a clear intention of sharing the uplifting atmosphere with the public. Furla presents the iconic Hobo bag, rounded with its gold monogram, padded handbags in silver, shiny nuances, made out of Nappa leather, and bright, neon-colored crossbody bags that guarantee to turn heads. The selection also showcases a range of small accessories, such as keyrings and card cases which upon closer inspection reveal themselves as depictions of bears and hedgehogs. The cruise collection SS22 is accompanied by the release of a campaign video that captures and diffuses the cheerful and careless spirit of the clothes. The recordings showcase a group of cheerful women dancing in broad daylight, surrounded by beautiful Italian scenery, which perfectly displays the core values Furla has been founded on.

www.furla.com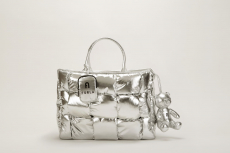 Fashion
Gucci Parade SS 2022: An Imaginative Escape
"People dress how they feel, not just for fashion but for representation of ego, and personality…it's about human beings," Alessandro Michele´s latest declaration of love applies to all the different glamorous sides of Hollywood. The creative director of the globally renowned and admired brand Gucci is known for translating his wishes, dreams, and beliefs into bold, magnifying clothes with a poetic approach. For the Gucci Love Parade show, Michele draws inspiration from iconic personalities and moments of Hollywood that have been an imaginary escape from the grey and dreary reality since his childhood. For the Love Parade collection, Alessandro Michele lives up to his reputation of being a provocateur, designing special jewelry pieces, which upon closer inspection reveal themselves as sex toys. Star-studded nightgowns finished with furry volant details are complemented with cowboy hats, resembling the confident and eccentric charisma of a Marilyn Monroe or Veronica Lake. Lingerie-inspired dresses and skirts matched with blouses are adorned with Michele´s captivating signature patterns and dipped in bold colors. A reimagined, glittery version of Tom Ford's legendary velvet suit is worn by unorthodox models, such as Macauley Culkin or Jared Leto. With the show, Alessandro Michele creates a wonderful world where neither the past nor future are of substance, only the power of imagination.

www.gucci.com
Fashion
Zenith: DEFY Extreme Desert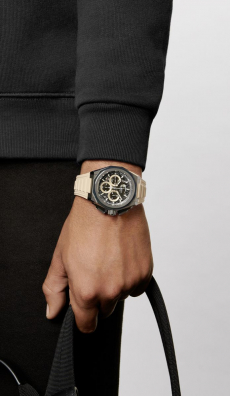 Inspired by the raw and wild beauty of the desert, the Swiss luxury watchmaker launches a special edition of its most triumphant design to date- the DEFY Extreme. For the special project, Zenith and acclaimed nature photographer Kourosh Keynejad join forces to create the release of the unique watch. Accompanying the release of the reimagined DEFY Extreme, the photographer showcases previously unpublished work inspired by the exceptional watch. Keyenjad is best known and admired for his breath-taking pictures, photographed during his travels across the globe and various extreme destinations. The original watch is a unification of precision and high-quality materials. The series of DEFY Extreme models, which are derived from the initial design are all inspired by extreme environments. The DEFY Extreme Desert marks one of the milestones of the DEFY series, as it is the debut watch of the variant models. The luxury brand picks up the theme of the desert in the protection components of the watch crafted from a blue-grey opaque macrocrystalline quartz gemstone, called the falcon's eye. The falcon lives in the desert and embodies determination and endurance, perfectly matching the luxury watchmaker's core identity. The main construct of the watch is complemented by a range of different watch straps, such as a sandy beige rubber strap and a titanium bracelet that can be changed easily. Zenith lives up to its high reputation of well-thought-out and excellent designs, resulting in a wearable piece of art.

www.zenith.com
Fashion
Gem Z: The Farthest from Earth We've Ever Been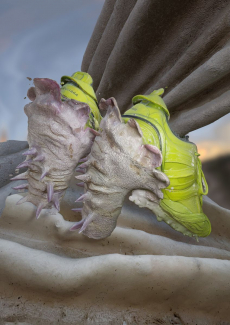 What would an extraterrestrial species think about planet earth and its human population? Together with different innovative artists, Gem Z opens up a theoretical dialogue between humankind and the unknown in space in their current exhibition, called The farthest from earth we've ever been. Gem Z is a talent development program, founded by Current Obsession, a magazine and platform to encourage relationships between young artists and support them in terms of creativity and business development. The exhibition is inspired by the two spacecrafts that were sent into space in 1977, each with a copy of the Golden Record on board. The exhibition is inspired by the two spacecrafts, containing a copy of the Golden Record and sent into space in 1977. The Golden Record, an audio-visual disc carried various images and sounds of Earth, such as samples of human speech, musical tracks, and illustrations of the DNA structure. The specific samples were selected to portray the diversity of life and culture on earth. Four decades later the team around Gem Z has tried to develop an imaginery answer to the Golden Record in an installation, fusing design, digital art, and adornment. The mixed-media exhibition is an interesting portrayal of an imagined alien treasure trove crashing on earth and answering to our human kind.

www.current-obsession.com

The exhibition is presented at Het Nieuwe Instituut, Rotterdam, from October 30th until November 30th 2021.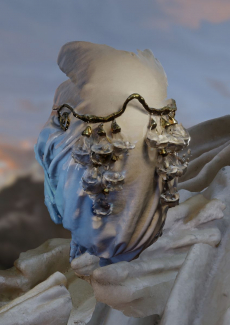 Fashion
Hand In Hand: Fendi's Ode to Artisans
Honoring the longstanding appreciation of artisan crafts at FENDI, the Italian brand has launched an exhibition that celebrated their Hand in Hand initiative. Called to life in 2020 and showcasing constant evolution since the project highlights the local craftsmanship behind the iconic Baguette bag. First designed in 1977, the bag has been reinterpreted in many shapes and sizes by FENDI creatives. The Hand in Hand initiative has invited a diverse group of ateliers and artisans to apply their local and familial craft heritage to the classic piece, turning the bag into an art object that exhibits the spirits of Italian craftsmanship at its finest. Hand in Hand established a strong network of human relationships, on personal and professional levels, and marks a crucial step in preserving and transmitting rare crafts, creativity in theoretical and practical for and – in particular – the savoir-faire of the local artisans. The opulent and diverse outcome of this encompassing project is now exhibited in Rome in a namesake exhibition that pays tribute to the interpretations of the Baguette bag. Ranging from extravagant and precious metals and stones to the intricacy of mosaic, the purity of cotton embroidery and the beauty of perfectly moulded leather, the exhibited Baguettes represent no less than 21 regions and their signature resources and artisan styles. In contrast to the hand-made, traditional making-off of the bags, the exhibition wows with a digital approach, that highlights the bags in a laboratory atmosphere, spotlighting the art pieces in LED lights. Next to the Baguettes themselves, the exhibition shines a light on the entire process behind the finished project – sketches, prob materials, techniques and tools support the visitor's journey through the ancestral art process.

Hand In Hand by Fendi is on show at the Palazzo de la Civiltà Italiana, Rome from October 30th to November 28th 2021.

www.fendi.com
Fashion
Tommy x Timberland: Fusing Their Exceptional DNA
For a long time, the pieces of Tommy Hilfiger, a pioneer of the classic American collegiate style, have been combined with innovative outdoor specialist Timberland. Now the two brands finally decided to launch their first collaboration, which opens up a creative dialogue. The special collaboration embraces their heritage, drawing parallels between the two major brands in their distinctive role in forming the Zeitgeist of the 90s and discusses the future by fusing their individual brand DNA. Perfectly in time for the upcoming cold season, the collection showcases an original range of winter essentials from apparel, footwear to accessories, such as unisex sporty college jackets, detachable workwear-inspired trousers, and a reimagined version of the iconic Timberland construction boot. The color palette ranges from Hilfiger´s signature bright red and navy blue as well as Timberland´s earthy nuances. The clothes are adorned with a fused logo of the signature Tommy Hilfiger white and red flag as well as the unmistakable Timberland tree. The collection embodies the perfect dialogue between two industry staples, resulting in an exceptional range of deeply anchored Hilfiger classics, induced with a workwear twist by Timberland.

www.tommyhilfiger.com
Fashion
Heron Preston for Calvin Klein: Heron Preston´s Twist on Calvin Kleines Classics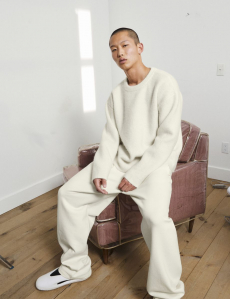 Following a debut collaboration with Heron Preston as a creative consultant, Calvin Klein continues their work with the streetwear pioneer for a follow-up collection. The name of Heron Preston is immediately associated with a clever fusion between fashion and function. The designer has already collaborated with legends such as Kanye West or Virgil Abloh and has become a youth culture icon. The collaboration includes Calvin Klein´s signature pieces, such as long-sleeved crop tops, leggings, and bralettes, which gained a distinctive recognition value for the brand with the captivating and hypersexual Ad campaigns, featuring famous personalities like Kate Moss or Mark Wahlberg in the 90s and revolutionized men's as well as women's underwear. Preston brings an over-elaborate simplicity and his signature orange detailing into the collection, enriching Calvin Klein's timeless classics with a modern twist. The collaboration provides the perfect essentials for the upcoming cold season. As such, the collection includes cozy crewneck sweaters, puffer jackets as well as a few denim pieces. Most notable about the range of clothes are the exquisite and innovative materials used by Preston, such as organic cotton, recycled polyester, and nylon as well as a waffle thermal fabric. The collection perfectly emphasizes the ability of Calvin Klein´s timeless designs to adapt to cultural changes and new forms of expression, resulting in an exceptional range of purposeful pieces induced with a modern twist by Heron Preston.

www.calvinklein.com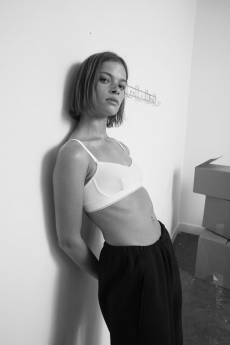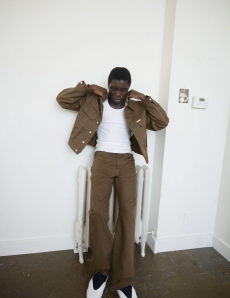 Fashion
Audemars Piguet's Royal Oak Automatic: Diamonds in Soft Tones
Audemars Piguet's legendary 15452 series has been extended with a white and a rose gold version, both coming along with a captivating interplay of diamonds and colored gemstones. The latest versions of the Royal Oak Automatic, with a diameter of 37mm, come with a subtle satin-finished calfskin strap that completes the watch's elegant and original aesthetic. The guilloché dial comes in a soft beige and neutral gray. Each bezel is adorned with no less than 40 brilliant-cut stones which have been carefully selected by Audemars Piguet's specialist to ensure a smooth and harmonious gradation. The stones exhibit exclusive luxury – individually cut and polished to achieve Audemars Piguet's quality standard of the clearest and sharpest angles, the stones have been set on the bezel by hand. Perfectly aligned, they reflect the light that shines on them, creating visual effects that range from flirtatious red and orange hues for the rose gold version and mellow rose tones for the white gold one. The white and rose gold versions are both crafted from 18karat gold and showcase an impressive amount of 124 diamonds in total, covering the watchcase entirely. The dials exhibit a Grande Tapisserie pattern, which resembles the surface of a checkerboard with a subtle three-dimensional effect, reinforcing the glistening effect of the bedazzled watchcases. The watch hands and numbers on the dial are kept in clear lines and minimalistic design. With its discrete yet playful colors and sparkling stones, the new Royal Oak Automatic exudes femineity and gracefulness with a charming touch.

www.audemarspiguet.com
Fashion
Dior: An Homage to Alber Elbaz
"I like dresses for the night. I like the after-party more than the party. I like the mystery. I like the dream, like fantasy dresses. I think, also, that you make women dream." That was exactly what Alber Elbaz did. The exceptional designer translated dreams into reality. Elbaz's clothes will always be a living embodiment and a carrier of the message, to feel good and beautiful about ourselves. As a highlight of this year's fashion month, the tribute show to honor Alber Elbaz was staged with an exceptional range of designers contributing, from Demna Gvasalia to Maria Grazia Chiuri. The show celebrates Elbaz's unparalleled sense of innovation and design. The creative director of Dior, Maria Grazia Chiuri presented an exclusively made, hand-embroidered evening gown, which references the deeply anchored vocabulary of the impressive designer. The dress was hand-painted with colorful and intriguing motifs, resembling the ones Elbaz was so known for. Throughout his career, Elbaz was appointed creative director of many great fashion houses such as Rive Gauche at Yves Saint Laurent and he was also in charge of the revival as well as the modernization of Lanvin. For the tribute show, people from all over the world came together to celebrate love, beauty, and hope, as Alber Elbaz would have wanted since, to quote the designer himself, "The nature of fashion is family".

www.dior.com
Fashion
PB 0110: Versatile Favorites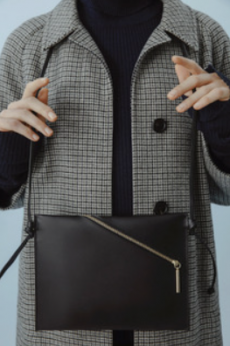 PB 0110's signature styles are the protagonists of the FW21 collection this year. The brand revived and reinterpreted their exceptional range of unique and elegant signature bags for this season. PB 0110 was founded by Philipp Bree with an emphasis on high craftsmanship, devoting enough time for the production of unique bags and accessories in a few selected reputable European manufacturers. He is an advocate of cherishing the longevity of an accessory. With his designs, he aims to nurture the idea of an essential accessory becoming a crucial companion, instead of a replaceable item. The designer initiated a collaboration with the designer and artist Ayzit Bostan, to pursue the idea of a revived version of the traditional Japanese "Sacoche'' bag. The so called AB112 is only 145 gr light, made out of a vegetable-tanned leather and accentuated with a silver zipper. In addition the shoulder strap can be adjusted individually by a knot on each side of the bag. The production factory is a Belgian tannery that first opened its doors 170 years ago and has been awarded with the Bronze Standard Certification - a factory that coincides with PB0110's high quality standards. The revived Sacoche bag is an elegant solution to the complexity of daily life - subtle enough to remain discrete, yet sturdy and sizable enough to fit the essentials.

www.pb0110.com
Fashion
Kaldewei's "Superplan Zero'' Shot by Bryan Adams
Kaldewei and Bryan Adams have collaborated to create a series of images for the brand´s latest product, fusing their values of aesthetic originality and detail-oriented perfection. Consciousness and high quality products are the core identity of the German-based company Kaldewei. The brand's "Superplan Zero'' is a shower surface, which resonates this. To pursue the idea of luxurious sustainability, Kaldewei's "Superplan Zero'' combines an impressive glass design developed by outstanding Berlin-based product designer Werner Aisslinger and 100% circularity achieved by using eco-friendly enamel steel. The versatile shower surface is available in a range of different colors and dimensions. The product campaign features six images of the famous choreographer Eric Gauthier as well as dancers Arielle Martin, Tatiana Martinez and Federico Spallitta and is photographed by Bryan Adams. The Canadian rock musician has long established himself as a brilliant photographer and has previously collaborated with Kaldewei for the Ming and Miena washbasin bowls. He perfectly captures the quintessence of "Superplan Zero'' by staging ballet dancers, who are renowned and admired for their effortless perfection. The dancer's defined legs are displayed in a highly aesthetic way in front of a devouring deep black background, while droplets of water create depth and dimension. Each picture alludes to the sensual side of a shower moment. Bryan Adams combines his creative and unique ideas with Kaldewei's design expertise, turning the exquisite shower surface into an even greater object of desire.

www.kaldewei.com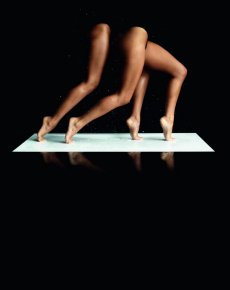 Fashion
Bottega Veneta's Issued 03: Boycotting Primitiveness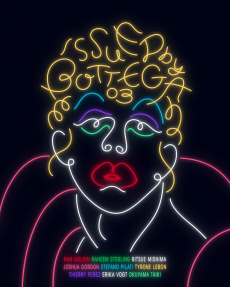 Issued 03 is the third edition of Bottega Veneta's groundbreaking digital zine. Issued 03 is presented as an audiovisual zine, intermixing and blurring lines between the mediums of fashion photography, animated video and music. With a neon color palette, flashing lights and distorted elements, the reader is being tested and tricked by the web interface which's trippy aesthetics imitate casino gaming machines, compelling semiotic elements and an overdose of flashing that keeps the observer's eye busy. In a way, the digital magazine challenges typical UX design, positioning itself far from the known algorithms, pushing the observer to explore and figure out the pages himself. In the past, Daniel Lee, creative director at Bottega Veneta, has uttered his despair about the omnipresent oversimplification propelled by social media. "Social media represents the homogenization of culture, everyone sees the same content," is what the 35-year old creative told The Guardian back in March on the occasion of zine's launch. After taking a hiatus from social media altogether at the beginning of the year, Bottega Veneta made waves in the fashion spheres when they published the first issue of their digital quarterly – relying on the almost 'old-school' medium of a web interface. By now, the Milanese brand has successfully launched the third issue, continuing to collaborate with numerous renowned avant-garde artists. For 03, top tier talents have been integrated into the making. To name a few, Joshua Gordon photographed portraits of young queer persons dressed in the latest Bottega Veneta season; composer Midori Takada was captured by Japanese photographer Takashi Homma; and artist Erika Vogt created sculptures parading Bottega Veneta footwear. With the digital zine, Lee has set the bar for a post-social media world, in which the observer is asked to engage with the materials instead of consuming pre-fabricated content.

www.issuedbybottegaveneta.com
www.bottegaveneta.com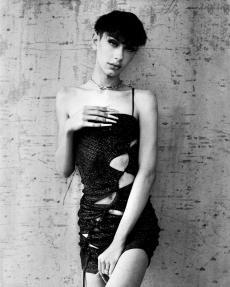 Fashion
Borbonese SS22: Urban Flanerie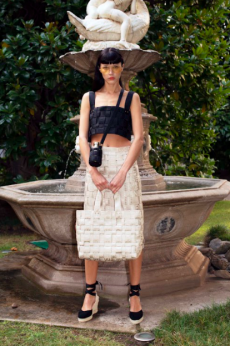 For the SS22 collection, Dorian Tarantin and Matteo Mena, art directors of Borbonese, aimed to create looks and items that reflect a multiplicity of uses, destinations and audiences. Herein, the collection is centred around acknowledging the pulsing complexity and fast lifestyles of today's world. The garments are not only tailored towards an aesthetic but also towards practicality. The presented looks, which were presented in plein air, reveal the light spirit, nodding towards the wardrobe aspirations of a metropolitan summer followed by a Mediterranean cruise. The most prominent element of the collection is a sturdy, pleated weave made from logo-embossed straps. Taken from the archive of Borbonese, the use of these straps celebrates the regenerative power of creativity and is applied onto trench coats, double-breasted blazers, long shirt dresses and capri pants. The weaved strap recurs throughout the various bag shape of the collection, from shoppers to more delicate, rounded shapes. Next to ready-to-wear pieces, the collection includes accessories that elevate urban flanerie, such as a metal bottle that comes with a pleated bag and a shoulder strap. The bottle has been created together with 24Bottles, a sustainable brand from Bologna entirely focused on stipulating functionality with design. The design path of Borbonese's SS22 considered women who evolve in their styles, adapting their choices to their personalities and surroundings.

www.borbonese.com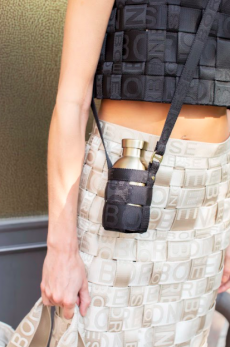 Fashion
Bally SS22: Easing into Life after the Pandemic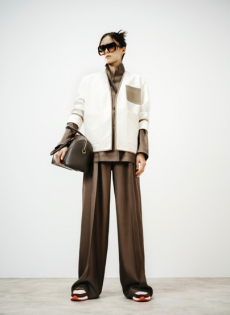 For the SS22 collection, Bally has embraced naturalness as a theme. While the looks are mainly focusing on casual comfort, each garment is elaborately processed. The signature pieces of this collection are focusing on traditional craftmanship, put into practice on intricately quilted coats with whipstitching and double-studded details. The layered garments range from large knits, red leather coats to very wide trousers. which are multifunctional, comfortable and practical as well as suitable for formal wear. The collection is a manual on how to dress while slowly getting back to work and normal everyday life. Therefore, the collection showcases a lot of garments, inspired from workwear such as utilitarian jackets and the ''outline runners'', a multifunctional, typical outdoor work shoe. The traditional leather artistry of the brands core identity becomes visible in a variety of different bags, from sizable, pleated ones to smaller cross body bags. For the men's collection the theme of naturalness is taken up by using deadstock fabrics, recycled cotton and plastic bottles. The brand is perfectly on tune with our Zeitgeist, proving that fashion can be sustainable, by finding new ways to dye garments, such as using botanical dyes extracted from wood. The Swedish tradtitional house is a prime example for excellent craftmanship and high quality production as well as final garments.

www.bally.com
Fashion
Salvatore Ferragamo SS22: An Hommage
Real, authentic Italian craftsmanship is Salvatore Ferragamo's core identity and the reason for an unmistakable brand identity. For this season's show the Ferragamo team decided to honour the brands founder, by drawing inspiration from the depths of the Ferragamo Archives. For this season's prints, the brand dug out Julien Colombier's floral foulard motif from the 70s, that was embroidered, utilizing an ancient Italian needlework tradition. The looks include 60s flared, wide as well as body hugging silhouettes inspired from Luis Buñuel's 1977 movie "That Obscure Object of Desire''. The brand even takes the signature tiger print and recontextualizes it on a range of different garments. Always following the motto "sensually soignée literation'' the fabrics are made out of cotton, wool, silk, linen as well as hemp and reflect a soft and casual coziness. The iconic accessories such as the "Vara'' and the "Varina'' are brought back to life in new colors and materials. Especially noticeable and matching the 70s inspiration is the red thread that runs through all the looks: a black silk scarf worn in different combinations, as a headband or lightly curved around the shoulder. The show is a perfect reimagined and revived portrayal of Salvatore Ferragamo's core identity.

www.ferragamo.com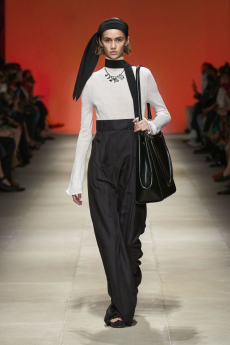 Fashion
Chapter 7: C.P. Company x Barbour
The celebrations around C.P. Company's 50th anniversary continue. For the seventh chapter, the Italian house partners up with the leading heritage and lifestyle brand Barbour. It's a seamless collaboration between two houses, especially since one of the inspirations for C.P. Company's iconic Mille jacket, more commonly known as the "Goggle jacket" was Barbour's 1960s Solway jacket. So it only seemed fitting that the collaboration features the coming together of the Mille with the Solway in two new innovative iterations, a combination of the best of both styles. Apart from the jackets, all featuring the C.P. Company signature militarian and utilitarian feel and the "Goggle hood", the collection also encompasses a black hoodie, with a print especially conceived by the Italian brand, as well as a selection of accessories such as sports and trapper hats, available in matching olive and charcoal hues. The connection between the two brands grows deeper than their focus on quality outerwear, especially since Paul Harvey, the C.P. Company designer originated from the north of England, "Working with Barbour was so simple and so, so special, both from a personal and a professional point of view. The pieces literally designed themselves, so close was the bond between early Italian Sportswear and what Barbour were doing at that time. I think both sides knew almost automatically what the pieces would look like and that original idea simply never changes. A symbiosis "perfetto". To celebrate the launch of the jacket, C.P. Company raffled off 24 exclusives jackets, with all the proceeds going to the World Land Trust. C.P. Company x Barbour is a very special collaboration and a must-have for all fashion aficionados.

www.cpcompany.com
www.barbour.com
Fashion
Fendi x Versace: Freedom, Fun and Virtuosity
Versace by Fendi and Fendi by Versace – this is how Donatella Versace and Kim Jones baptized the collections born from their creative dialogue and true friendship. The project celebrates the coming together of the two iconic Italian houses and in particular, Donatella and Kim Jones who stand for the houses as their designers. Celebrating Italian fashion and a rebellious disruption of what fashion is supposed to be, the "Fendace" brainchild expresses the interpretative visions of Donatella and Kim Jones of the opposite houses, loosened from the codes of their respective family houses. Opening the archive doors fully to each other, the two immersed themselves into the design legacy of the opponent – resulting in a unique hybrid design language composed of distinctive elements reinterpreted in an unapologetic way. Versace by Fendi channels a 90s theme, melting together the Fendi Monogram with the Versace Greek Key motif. Reversible garments achieved through the tailoring craftsmanship of Fendi, accredit the Versace look a second, hidden layer. Fendi by Versace introduces punk and rock details to Fendi's look, emphasizing the daring outlook of Versace by showering Fendi signs and symbols with crystals and branded safety pins. Through the means of respect and trust, Donatella's and Kim Jone's "Fendace" sets an example of sincerity instead of strategy in fashion.

www.fendi.com
www.versace.com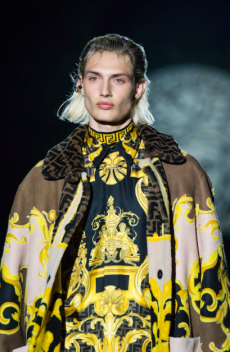 Fashion
BOSS x Russell Athletic Pre-Spring 22: Game Day Energy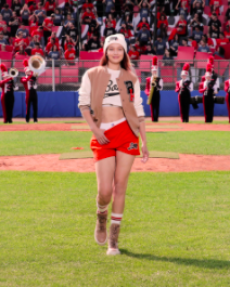 BOSS x Russell Athletic Pre-Spring 22: Game Day Energy On the occasion of their second collaboration, Boss and Russell Athletics presented their looks in a classic American manner on the lively baseball field of the Kennedy Sports Center in Milan. The show was opened by Gigi Hadid, sporting an emblematic blouson jacket, uniting the tailoring experience from BOSS with the casual designs of Russell Athletic. Gigi's opening set the bar for a plethora of celebrities featured in the show, such as Irina Shayk and Joan Smalls, who presented the 60 looks of the collection. In an encompassing way, the show reproduced compelling game-day energy with a marching band, cheerleading teams and a jubilant crowd, including personalities like Chiara Ferragni and Tik-Tok star Younes Zarou. The SS22 collection champions team spirit and companionship with matching looks, featuring classical sportswear elements such as varsity jackets, crewnecks, hoodies and jerseys. Tapping into the design potential of team merchandise elements with pithy logos and slogans, dynamic stripes and oversized silhouettes, the collaboration extrudes the legacy of casual streetwear. The neutral color palette ranging from camel, black, white and navy as the basis of the collection delivered the perfect playground for color coding with orange, red and teal accentuations, resulting in visual unity yet immediate affiliation to imaginary sports teams - creating a replica of the fashion seen in stadium stands.

www.boss.com
www.russellatheletic.com
Fashion
David LaChapelle for Moose Knuckles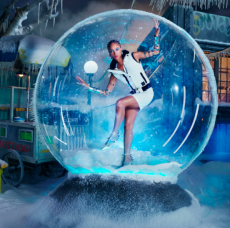 With the production of the latest Moose Knuckles FW21 campaign, David LaChapelle has once again captured a surreal and phantasmagoric setting bursting with vibrant colors. Utilizing his distinctive exaggerated and expressive photography DNA, LaChapelle enacted a winter wonderland of the unusual kind. The icy location conveys a bubbly kitsch with a subtle computer-generated imagery atmosphere in which the campaign faces Emily Ratajkowski, Pete Davidson and Adwoa Aboah seem like comic figures. Artificial ice waves in life-size, iced versions of motorcycles and other surreal gadgets juxtapose the extreme and abstract with the familiar. Directly depicted in the snowy landscape and put to practice in the action-loaden shots, the looks style by Kyle Luu exemplify what Moose Knuckle's expertise stands for: impeccable function with style. Focusing on puffer jackets and vests, Moose Knuckles FW21 collection offers bold color options such as lime colored check patterns and neon palettes. The development of the collection concentrated on minimizing weight and permeability, while increasing warmth, mobility and personality.

The FW21 collection from Moose Knuckles is available for purchase online as well as selected luxury retailers worldwide.

www.mooseknucklescanada.com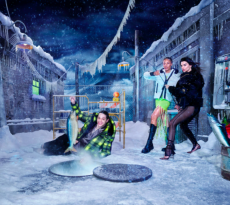 Fashion
Montblanc UltraBlack: Style Meets Statement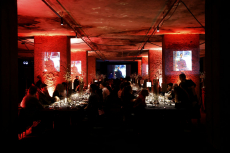 It is the first time that Montblanc is launching a collection that extends across all the house's selections, from pens and notebooks to watches and bags. As one can already conclude from the name, Montblanc UltraBlack, the collection is an ode to the ultimate colour. The colour black is not only the favourite of many designers, but it is also one of the only colours to never go out of style. All the pieces offered as part of this special collection are defined by their simplicity and the timeless elegance of their design, a perfect match for the subtle yet powerful nature of the colour black. To celebrate this special launch, the luxury Maison invited special guests and friends of the brand, amongst whom actor Kingsley Ben-Adir and DJ Peggy Gou, to the Feuerle Collection in Berlin. The minimalist gallery, located in an imposing concrete structure, opened its doors exclusively for the special mise-en-scene of the new collection. The VIP guests were first welcomed by Montblanc's CEO Nicolas Baretzki, followed by a formal dinner during which they were able to enjoy a performance of Alessandro Ristori and the Portofinos. Expertly crafted and consciously curated, the UltraBlack collection fits the daily needs and mentality of all those, who are dedicated to setting an example that we all have our own individual paths to success.

The Montblanc UltraBlack collection will be available in the Montblanc boutiques as well as online from September 2021 onwards.

www.montblanc.com
Fashion
DIESEL SS22 AVANT-PREMIERE
Last June, a new era started at Diesel, under the creative direction of Belgian designer Glenn Martens. He brings with him all the experimentalism, conceptualisation and high-concept approach, which we came to love at Y/Project, and applies it to the Diesel DNA, combining it with the brand's strengths, its indisputable protagonist denim. Designed for the SS22 season, the collection is now featured in an exclusive avant-premiere available in selected stores worldwide and on their website. This selection comprises six looks of the collection, representing all of the collection's pillars, whether it be the usage of novelty techniques such as laser printing, trompe l'oeil effects, artisanal crafts or various iconic styles from the archives which have been reinterpreted and revitalised. Standout pieces of this avant-premier are without a doubt the 5pockets denim pants with incorporated boots for women as well as the grey washed denim trench coat.

The Diesel SS22 avant-premiere will launch on September 15th in selected stores worldwide as well as in the Diesel online store.

www.diesel.com
Fashion
Hermès Hippomobile Tea Service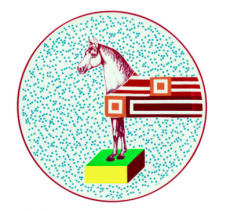 During the Milan Design Week, Hermès has presented their latest home collection creation Hippomobile– a joyful and playful tea service inspired by the iconic equestrian notes the French brand is known for. The tea service is composed of a teapot, various plates varying in size, several types of cups and saucers, a creamer, a sugar bowl, as well as a cake and a tart platter. The colorful designs of the items allow for mixing and combining on the whim - no matter the occasion, the porcelain adds a cheerful touch to breakfast, morning coffee, afternoon tea or any other time of the day that could use a touch of playfulness. Gianpaolo Pagni, the artist behind the distinctive designs, drew his inspiration from jockey silks. Pagni's inspiration unfolded in an unexpected way as he interpreted his vision with round, contrasting shapes taken from the cartoon world. "I envisioned a horse with an elongated back that could hold several riders. A kind of limousine horse", is how the Italian artist explains the idea behind the horse motif that stretches over the items and gives an illusion of the items belonging together while being interchangeable at the same time. The horses are covered in graphic friezes that abstractly remind of jockey outfits. Together with the vivid, almost 3D like backdrops painted onto the items, the design catches the eye of the observer and induces a geniality that lets imagination run free. For the graphic elements on the horses, Pagni crafted stamps that would imprint the motifs onto the porcelain – a technique that is known for creating a slight quiver in the pigment distribution and thus creates a unique look for each piece.

www.hermes.com
Fashion
Gina Stiebitz for DoDo Charming Jewelery
Gina Stiebitz, a German actress known for the internationally successful Netflix series Dark is the new face of DoDo's latest campaigns. The young actress has made a name for herself within the German film industry especially, with an expressive charm and memorable confidence. With the new campaigns, newly opened boutiques and new jewelry collections, DoDo pursues its values of sustainability and inclusiveness by spreading heartfelt messages of love, friendship and freedom through its famous charm items. The collaboration between Gina and the Italian jewelry brand is a match made in heaven – as for both the values of inclusivity, empathy, unity and empowerment are of indispensable significance in all of their undertakings. The young spirit of DoDo, which launched in 1994 aligns with Gina's age and together they aspire to convey the open-mindedness their generation is known for. In 2021, DoDo has planned and launched three collections – Bollicine, Stellina and Holiday – each of which features a campaign with Gina. Bollicine concentrates on versatility and daily wearability with a focus on layering, stacking and the currently on-trend mixing and matching of minimalistic pieces. Stellina presents itself in a true DoDo manner, in which star shapes shine away with precious gemstones and diamonds, making for a modern, evolved style for young women especially. Lastly, Holiday is a special collection for the festive season, presenting the iconic DoDo charms such as the heart, moon, clover and stars with a sparkly and celebratory twist.

www.dodo.it
Fashion
Amsterdam Fashion Week: Wandler FW21
Without light, there is no color. With this mantra in mind, the FW21 collection of the Amsterdam-based accessories label presents itself in a bright, apple green color palette. Being the vanguard of the Amsterdam Fashion Week 21, Wandler orchestrated an art show that put the collection's items in the limelight– in a literal way, creating a homage to colorful expression and celebrating the significant role of colors in Wandler's creativity and collections. Introduced by a light installation and narrated prose that touches upon the empowerment of color, Wandler showcased the collection at an abandoned gas station in Amsterdam Noord. The graphic elements of the light installation represented the striking shapes and unexpected nature that Wandler's designs are known for. Following the installation, the items were presented in a lab-like manner, drenched in green neon lights, radiating a sophisticated and confident atmosphere. The choice of apple green reflects on past times and simultaneously embodies hope, growth, joy and happiness, pointing towards a bright future – in general, as well as for the Amsterdam label itself. The collection features the classic Wandler pieces such as the Rosa boots and loafers, as well as the Penelope and Louis bags. For the FW21 collection, the brand's most iconic piece, the Hortensia bag, parades its rounded, trapeze shape in the fresh emerald color, too.

www.wandler.com
Fashion
Cartier The Clash [Un]Limited with Lily Collins
Free-spirited, energetic and authentic are the attributes that make for Lily Collin's alluring charm. With a unique and committed attitude, Lily belongs to the generation of artists who embrace and celebrate their different sides, the classic and the elegant, the creative and the extravagant ones. She embodies a woman, who does not limit nor label herself. Lily has been a muse and friend of Cartier for a long time, her individualist and multifaceted nature makes her the perfect fit for Cartier's The Clash [Un]Limited jewelry collection and the Double C Cartier Bag. "For me, being part of the Cartier family means joining a community of unique nonconformists who show great strength of character. Cartier is Paris, it's this certain idea of elegance and French refinement, which the Clash [Un]limited jewelry and the Double C bag embody with classic extravagance," is how Lily describes her campaign collaboration with the renowned French Maison. Lily is internationally known for her diverse range of acting, including movies like OKJA, The Last Tycoon and more recently, the immensely popular Emily in Paris series, for which Lily was nominated for a second Golden Globe. Aside from an astonishing career sparked with one-of-a-kind movies, the actress shows commitment to charitable projects, being involved with several nonprofit organizations, collecting funds for vulnerable, deprived children.

www.cartier.com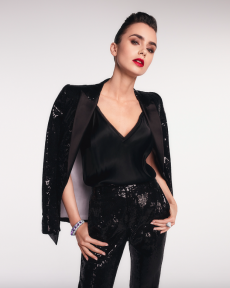 Fashion
HUBLOT x NOVAK DJOKOVIC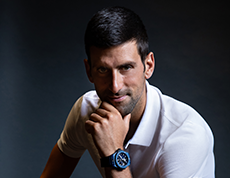 Joining the ranks of top-tier athletes like Pelé, Usain Bolt, Dustin Johnson and Kylian Mbappé; Hublot has selected their latest ambassador, Serbian tennis superstar Novak Djokovic. In anticipation of the US Open, the world's number one tennis player has aligned his pursuit of greatness with luxury watch-maker Hublot, in becoming an ambassador and part of the Hublot family.
Djokovic's mastery of the sport is evidenced in his life's work, having 85 singles titles on the ATP circuit, 20 Grand Slams, 5 Masters games and 36 Masters 1000 games and an Olympic medal. In addition to his many accolades Djokovic is the only player in the Open era to have won at least two Grand Slam tournaments. Ricardo Guadalupe, Founder of Hublot, the opulent Swiss Watch company which created the Big Bang in 2005, spoke fondly of the star tennis player, saying "we are particularly honored to have the great Novak Djokovic join our beautiful Hublot family. He is a player who makes tennis history by being unique, first and different, which is exactly our motto. It's a great day for Hublot!"
To excel beyond that which is widely seen as expected or attainable, to reach further than your imagination can comprehend; to truly be the best at your craft is a conquest that is shared by Hublot and Novak Djokovic.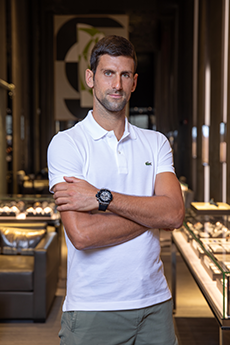 Fashion
Remastered Archives at C.P Company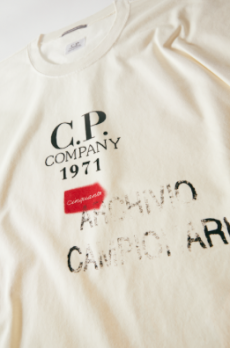 In 1971 C.P Company, then still called Chester Perry, was called to live by Massimo Osti. Osti, who had a background in graphic design, was soon earned the reputation of a "godfather of urban sportswear". Ever since, C.P. Company has been known for its hybrid style that combines elements of vintage military and sportswear. For their 50th anniversary, the revolutionary streetwear brand has launched a series of celebratory chapters, of which the latest, chapter six, is the collection Remastered Archives. With Remastered Archives, the Italian brand cherishes the past of its legacy by reinterpreting pivotal designs of their creative history. The most emblematic item of the brand, the classical t-shirt, has been used as a canvas to portray the retakes on these nostalgic designs. The design of the shirts relies on the graphic design roots of the brand, featuring a variety of type fonts that bestow a bold yet simple message. Iconic moments of the brand, such as the British Sailor motif, the Flatiron Building – which represents the site of the very first C.P Company store –, the Rainforest Foundation moment and the original MilleMiglia race mark celebrate the half-century anniversary with all its landmarks. The appearance and feel of the t-shirts are also a nod to both historical designs and current aesthetics, using heavyweight cotton, a relaxed fit, and a higher neckline.

The Remastered Archive collection is available at all C.P Company flagship stores in Milan, Amsterdam London and Riccione, as well as online.

www.cpcompany.com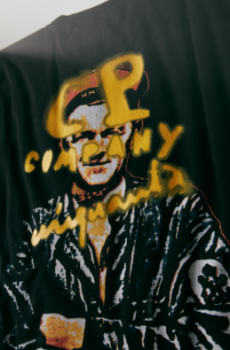 Fashion
Responsible Living: DIESEL Library
The next chapter in eco-friendly denim production from high quality denim brand, Diesel. 'Diesel Library', which will be presented for the brand's Spring / Summer 2022 collection, incorporates a genderless design aesthetic and extends the brand's commitment to innovation and production technologies that consistently make durable and desirable denim garments. The removal of the 5-pocket demarcation between women and men offers a new perspective on the most democratic material, denim, and to usher in a new era of essential pieces at Diesel.
All fabrics consist of resource-saving materials, including B. organic and recycled fibers The techniques implemented in making the Diesel Library significantly reduce the use of water and chemicals. 50% of the Diesel Library will be "made-to-stay," meaning that they will have a permanent home on the shelves in the future of the brand. Leather patches are tanned free of chrome, the metal buttons found in the Diesel Library are treated without zinc, even the labels found on each piece are made from recycled materials. Tags and patches are also made from FSC certified materials. This reinforces the brand's dedication to sustainability, a "total look" will anchor the wide range of eco-friendly garments in the evergreens collection; intended to outlast trends and withstand the test of time.
A first look of the Diesel Library collection premiered at a show hosted by Creative Director, Glenn Martens in June of this year. The garments will be available from November 2021 online and in select Diesel stores globally.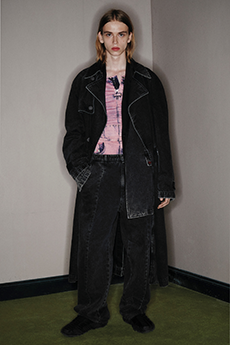 Fashion
FW 21 Suicoke x Daniel Arsham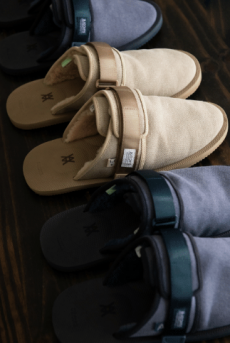 For their FW 21 collection, Japanese label Suicoke collaborated with Daniel Arsham. The New York based artist contributed to Suicoke with a textile design applied to one of their most iconic shoe styles, the Zavo. Inviting comfort and items that create a certain atmosphere are central attributes that determine the design process of Suicoke. The Zavo style embodies these characteristics with a a closed toe cap and a flat sole with a raised foot bed – resembling a pantofle. Arsham overhauled a Porsche 911 from 1986 in late 2020. For the shoe collaboration, he lent the canvas design of this automotive work to Suicoke. Thus, the FW 21 Zavo version features a sturdy, heavyweight stonewash textile material. The cap is finished of with a horizontal strap showcasing the Arsham Studio logo, along with a branding emblem on the inside sole. Fur ultimate comfort, the Zavo variant is lined with mouton fur, which increases heat retention and premium comfort and is available in navy and beige.

The Suicoke x Daniel Arsham collaboration footwear will be available online and at selected global retailers from August 20th 2021.

www.suicoke.com
Fashion
CHANEL Watchmaking: Monsieur. Superleggera Edition
"With its powerful engine, dream coachwork and unique finishing, the Monsieur. Superleggera Edition watch opens new roads that lie ahead" is how CHANEL presents the launch of a unique watch that compromises the most distinctive elements of two renowned chronograph lines – the Superleggera and the Monsieur. Resulting from this rendez-vous, a unique blend of high-tech and elegance emerges. The Superleggera line, consisting of unisex chronographs that appeal to both women and men, features an athletic, masculine look manufactured from high-tech aluminum. The J12 Superleggera proclaims a passion for performance and a love of sports. On the contrary, the Monsieur, characterized by old-school classic elements, is a timeless, scaled-back watch that charms with elegance and grace. With its understated leather bracelet and detail-oriented clock face, the Monsieur watches do justice to their name. The Monsieur. Superleggera Edition stands for a contemporary interpretation of fine watchmaking for men at CHANEL. The new interpretation is inspired by racecar speedometers and has been designed to stand out from the crowd. With a matte black ceramic 42mm-diameter case and a matte black dial with a small detail of red calfskin the Monsieur. Superleggera Edition persuades with a discrete force.

www.chanel.com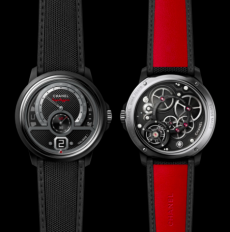 Fashion
Karl Lagerfeld x Aubade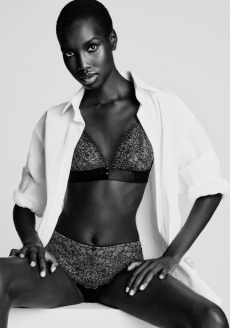 Aubade Paris has been manufacturing premium lingerie for over 60 years. Over the decades, the French brand has acquired incomparable expertise in corsetry that delivers the perfect fit and cut to their loyal customers. Bringing confidence through empowerment to women is the philosophy behind Aubade. Relying on experience and craftsmanship, Aubade modifies its undergarment collections to current trends and styles. The quality values and aspiration to go with the Zeitgeist show in their latest collaboration for an F/W 2021 capsule with Karl Lagerfeld. The collection consists of four underwear sets, available in an elegant black version and as well a bolder variant of bright red. Karl Lagerfeld's signature rock-chic design and tuxedo inspirations shine through in selected details and are completed by a clip-on collar and waist corset. From simple to daring, the capsule offers a range of styles that celebrates the body in true classical French fashion. The pieces are crafted from premium quality fabrics and haberdashery, including satin-covered buttons, guipure embroidery and mesh embellishments. The development of the collection centered around the mutual Parisian heritage of the two brands, merging together Karl Lagerfeld's design creativity and Aubade's proficiency in manufacturing.

www.karl.com
www.aubade.eu
Fashion
Hugo F/W 2021: Breaking the Box
"There is no right way to wear your clothes, only your way", is how Bart de Backer, Senior Head of Design at Hugo Menswear, phrased the framework of Hugo's F/W 2021 campaign, which is built on the concept of nonconformity. Since the act of eluding conventional creeds and practices is majorly motivated by very personal reasons, the campaign features close-up video portraits of four inspiring talents – painter Atusa Jafari, dancer Ahmad Kontar, model Christina Mamantzi and artist Patrick Mason. Going beyond the notion of style, each of the quartet gives insight into their motivations of going against the grain and how their unique stories have shaped them into the persons they are today. Voice overs in their native languages leading through different locations and situations, almost like vlogs, capture how their stories have one thing in common: finding their own individual ways in a society that relies on stereotypical dogmas and snap judgment. Topics like societal pressure, body image, inclusivity and acceptance weave like a red thread through the clips, eventually revealing how creativity and art serves as a pillar of strength and guidance. While the four campaign videos portray very individual journeys, they carry the same message across: to break the box is to be free.

The F/W 2021 collection is globally available from now on in Hugo stores and online. 

www.hugoboss.com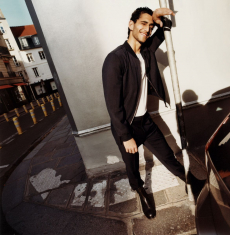 Fashion
24Bottles x DIOR
One of the biggest causes of global pollution is the amount of single-use plastics we use daily. Especially plastic packaging, like plastic bottles, contributes hugely to the massive plastic pollution of our oceans. For this reason, Giovanni Randazzo and Matteo Melotti came up with the concept behind 24bottles. The concept behind the brand is to offer a functional, convenient and elegant way to cover one of humanity's fundamental needs, hydration. As they describe it themselves, "We think that good aesthetics can be a lever to convince people adopting healthy behaviors and lifestyles." This summer, the Italian brand partners up with the DIOR to create a special design of their Clima Bottle for the Dior Beachwear Capsule collection. The functional and reusable bottle is made from stainless steel and insulated its content for 12-24 hours. Its functional nature is paired with Dior's designs resulting in a bottle that is created by laser-engraving the French Maison's monogrammed patterns. For the extra touch, this special edition bottle features a sleek, high-gloss, palladium-like mirror finish and comes with a matching Dior bottle holder. This allows the user to wear it crossbody just as easily as in a bag, making it a timeless and useful accessory for both men and women.

www.24bottles.com
www.dior.com
Fashion
New Fendi Store New York City
Even before Covid-19 hyper-accelerated the ongoing digitalization, the retail sector was already undergoing fundamental changes as more and more people opted to do their shopping online rather than visiting a physical store. In the luxury fashion segment, for houses like Fendi, boutiques or flagship stores were never just mere points of sale, they are a direct extension of the brand's vision. An environment that allows the visitors to truly immerse themselves in the Fendi universe. The new New York flagship store is located on the corner of 57th Street in Manhattan's Fuller Building. The space was transformed by a one-of-a-kind concept, which brings the luxurious Fendi touch to New York City. The interior reflects the Roman house's traditions and codes with references to its rich history being found all across the new interior as for example the images of its historic headquarters, the Palazzo della Civilità Italiana, spanning vertically over six see-through led curtains on three levels. The store itself represents the essence of Italian luxury and picks up on Fendi's codes and tradition of dualism, especially in the choice of materials. Industrial cement columns are juxtaposed with high-end materials such as marble, hues of gold and exquisite Italian designed pieces of furniture. The visual highlight of the store is undoubtedly the glass sphere suspended at the center of a double-height void emphasized with a modular ceiling combination of round lamps. It's a unique experience for the clients, accessible through a floating mirrored walkway on the store's second floor which displays a Fendi First bag sculpture made entirely in marble and uniquely signed by the two creative minds behind the brand, Silvia Venturini Fendi and Kim Jones.

The new Fendi flagship store is located on the corner of 57th Street in Manhattan's Fuller Building and is now open to the public.
In addition to this, the new interior can be experienced as a 360 virtual store on Fendi's website launching on July 21, 2021.

www.fendi.com
Fashion
The Heart of Fendi Revitalised anew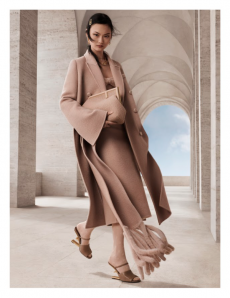 It was announced in September 2020, that designer Kim Jones would be joining Fendi. The British designer would be in charge of the Roman house's couture and womenswear lines and therefore complete Fendi's trifecta of Artistic Directors next to Silvia Venturini Fendi, who is responsible for accessories and menswear and Delfina Delettrez Fendi overseeing the jewelry. His debut collection was then unveiled to the world in February 2021. The starting point as expressed by Jones himself was to create "clothes that women want to buy" and he sees this as the key aspect of his work. With his collection, Jones delved deep into some of the stories most meaningful to the Roman house, paying homage to the many people who have previously shaped it, while at the same time starting the process of leaving his own mark on the narrative. It's the historic and extraordinary Italian elegance from a fresh and new perspective. It's the turning of a page at Fendi, the emergence of a new visual language, which looks toward the future without forgetting about its deeply rooted traditions. It's the heart of Fendi revitalised anew. The campaign for the collection was photographed by Craig McDean against the backdrop of Fendi's historic headquarter, the Palazzo della Civilita Italiana, and it visually mirrors the merging of classicism and modernity of the clothing conceived through Jones' new vision.

www.fendi.com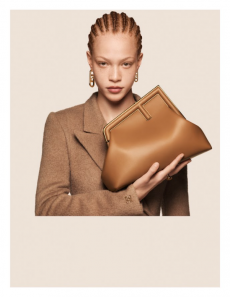 Fashion
Dior Haute Couture FW2021/22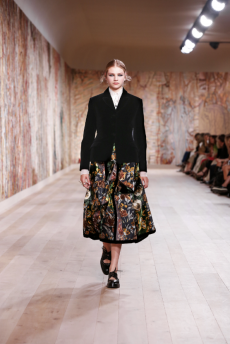 The world is re-awakening from a 16-month slumber. After months of ever-changing rules and regulations, the world finally seems to be reopening and for the first time in three seasons ,people were allowed to see the Dior Haute Couture collection in person. People stand at the heart of haute couture, not solely the people who came to be astonished by the garments, but all the skilled craftsmen and seamstresses, the whole unseen chain of people without whom the practice of haute couture could not exist. In this collection, Maria Grazia Chiuri focuses of daywear, top-to-toe silhouettes of grey tweeds, camel cashmere recalling long nature walks, which we have all become so familiar within the last year and a half, but the real meaning is woven into the garments themselves. Chiuri celebrates hand-loomed tweeds, the stitch-work carried out by embroiderers and silk manufacturers. Everybody is interconnected and Chiuri sees it as part of her responsibility to weave together the threats of social responsibility and to support all the hard-hit manufacturers and craftsmen who have become indispensable for haute couture. The collection's backdrop was French artist Éva Jospin's impressive Chambre de Soie, a continuous conceptual landscape mural, with every one of the minute stitches made by the Indian embroidery school that Chiuri encouraged Dior to support over the last few years. It is the responsibility of every single one of us to reveal what one does not see; especially now in a world that, re-emerging from a forced stop, will find itself undergoing profound change.

www.dior.com
Fashion
Y/PROJECT x FILA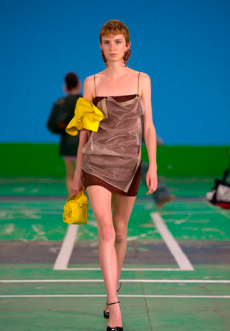 Following its footwear team-up with Melissa last season, Glenn Martens has returned with a fresh collaboration with FILA for Y/PROJECT SS22 menswear show. To celebrate the occasion of FILA's 110th anniversary, the innovative brand created an unexpected collaboration with Y/PROJECT. Since the appointment of Glenn Martens as Creative Director in 2013, the Paris based label Y/PROJECT has been carving a niche of its own, combining a conceptual drive with intricate constructions and inventive, playful detailing. Martens' silhouettes are as thought provoking as they are grounded in real life, with quite an emphasis on individuality and independence. Having won the renowned ANDAM Grand Prize twice in 2017 and 2020, Y/PROJECT keeps growing as one of the most original voices in contemporary fashion, focusing on an unmistakable identity in which unisex styles share space with the hyper masculine and the hyper feminine, and insouciant historical references. The collaboration with FILA is the marriage of two identities, resulting in a unique collection that fuses the design aesthetic of both brands. Glenn Martens gave a warped Y/PROJECT twist to FILA staples such as the t-shirt, the hoodie, the polo neck dress, and the windbreaker, as well as caps, sneakers, weekend, and tennis bags.

www.yproject.fr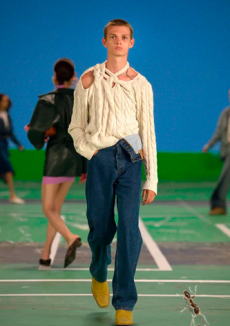 Fashion
Thom Browne SS22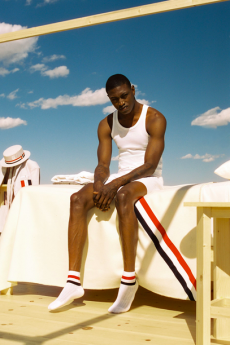 Premiering as part of Mens' SS22 Paris Fashion Week is the show by Thom Browne in the theme of "Looking Forward to Tomorrow". The film depicts the comfortable loneliness of a marathon runner intraining. His comfort in being alone is truly inspirational. Set in the expansive flatlands of northern New Mexico, the film follows our runner as he prepares to compete against the current world record-holder. He wakes at dawn and trains until dusk, day after day. As he trains on the open roads and rests each night in his open-frame house, the runner is alone but never lonely. When event day arrives, his world becomes a new adventure. He and his fellow competitors celebrate the event day and compete as animated versions of Thom Browne's drawings. In his signature colors, the runner moves through the city and finally into the stadium.

www.thombrowne.com
Fashion
Louis Vuitton Mens SS22
The Louis Vuitton SS22 Men's Collection by Virgil Abloh, filmed by Amen Break, features GZA, Goldie, and Saul Williams alongside a wide cast of talent. Directed by Mahfuz Sultan, the film explores ideas of transmission: the act of passing something from one person to another, activating waves of change across generations, and impacting the lives of others. The story told in the show is an abstract interpretation of Lupe Fiasco, the American fine artist and rapper who grew up on the Southside of Chicago amid the gang turbulence of the 1970s and '80s. The story is about a father and son united by an unnamed loss, crossing a dream world to deliver a message to the other side. Along the way, adversaries conspire against the child, heroes emerge to guide him, and great sacrifices are made to get him across the divide. The collection introduces new headwear, the modern version of cylinder hats rounding off most of the looks. Accessories also take the forefront in the collection: bags, earmuffs, and gloves prepare the viewer for the cold season. The color range includes monochrome green and navy blue to black looks and color gradients from neon yellow to navy blue.

www.louisvuitton.com
Fashion
Jean Paul Gaultier Instagram
The official JPG Instagram account name has changed from jpgaultierofficial to jeanpaulgaultier.

www.instagram.com/jeanpaulgaultier/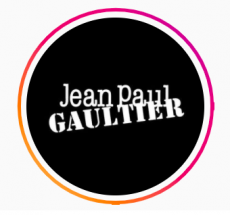 Fashion
DIESEL SS22
Creative Director Glenn Martens presents DIESEL's SS22 collection, and the season marks a milestone for the company: Martens' first collection for the brand. The SS22 collection was presented as a short film. The short film is a collaboration with artist and director Frank Lebon, with a soundtrack by British musician Leon Vynehall and takes a close look at four areas of DIESEL's evolving brave new world, seen through the creative prism of Glenn Martens. We follow the protagonist through a familiar yet slightly offbeat environment. It starts in the living room at a party. Confused and dazed, she wants to leave the room and walks toward the elevator, where the DIESEL heritage and Martens' aesthetic are tailor-made. The short trip ends in a strange room, bathed in deep red light. Martens made sure to reinterpret the brand's history on blazers, shirts, and jeans: Laser prints depict layers of fabric and seams as a trompe l'oeil effect. Throughout the story, Martens' focal points - denim, womenswear, menswear, and experimentalism - are showcased. Together they result in something new: electrifying, extraordinary, and individual. The Martens concept is a contemporary interpretation of DIESEL's bold and ironic perspective. Defining themes include a cross-gender approach, a heritage component, and the newly introduced DIESEL LIBRARY.

www.diesel.com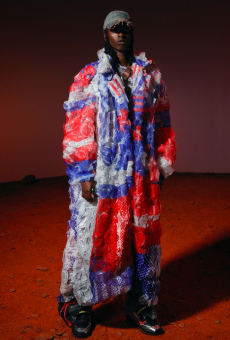 Fashion
Etro Mens SS22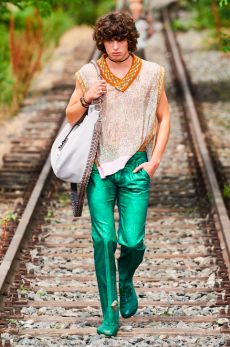 The ETRO Men's SS22 collection "Travelling in a Joyful State of Grace" wants to be a tribute to Franco Battiato, a man, a musician, an artist and a thinker that deeply influenced the vision and the life of Kean Etro. For SS22, ETRO mens creative director Kean Etro explores one of the most iconic signatures of the brand, its nomadic spirit. Travelling also becomes a state of the mind and of the heart. Meditation brings to unexplored territories. In a joyful state of grace. In the footsteps of Bruce Chatwin and of Dame Agatha Christie, ETRO's nomadic journey tinges with reminiscences of archeological explorations in sun-drenched lands, where reality and dream merge. To the tone of Franco Battiato's masterpiece 'L'Era del Cinghiale Bianco', ETRO's soul travelers take the catwalk, - set in the surreal, suspended atmosphere of the Scalo Farini area in Milan, where nature unexpectedly makes its way through the concrete, - wearing languid, slightly sensual styles, designed to feel good.

www.etro.com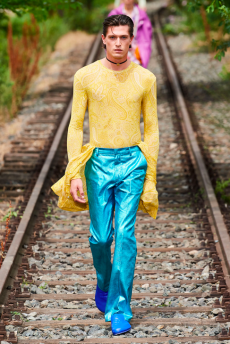 Fashion
ERMENEGILDO ZEGNA: ROME AND FORTE DEI MARMI STORES
Ermenegildo Zegna enhances its retail network in Italy with the opening of a new flagship store in Rome and a seasonal resort boutique in Forte dei Marmi. Zegna's evolution from Tailoring to Luxury Leisurewear represents a leap forward for the brand and a new era in store design, too. The new flagship store in Rome, relocated within the historical Palazzo Maruscelli Lepri, launches a new retail design course, to reflect the brand zeitgeist. The new design features a sophisticated atmosphere, customised around the classical architectural references of the venue, framed by natural woods and serpentine marble inserts: a bold check pattern running along the entire ground floor. The coffered ceiling of the Made to Measure room, on the first floor, maintains the original decoration to provide a unique atmosphere where customers can personalise their wardrobe entirely. A modern library in rose gold finishing and an iconic sofa complete the furniture setting to conveying a luxurious home feeling with a bar area to welcome visitors as well as two video screens to convey the brand seasonal highlights. Transformed into a luxury retail space that occupies over 250 square meters and two floors, the new flagship store naturally blends history with modernity.

www.zegna.com
Fashion
Dior x Sacai
Dior collaborates with Sacai on a men's capsule in which Kim Jones, Artistic Director of the house's men's lines, engages in a dialogue with Chitose Abe, founder of the Japanese label. The reinterpretation of the emblematic "Dior" signature embodies this creative exchange: the name Sacai figures within the 'i' in the Dior signature. The DNA of Sacai is hybrid: an idea that permeates a collection punctuated by a color palette primarily in black and white. Looks combine Dior tailoring and savoir-faire with the Japanese brand's sportswear style and technicality. Denim enhances pieces fusing workwear cuts with functional details, finished with a refined couture touch. Dior symbols, such as supple berets designed by Stephen Jones, are revisited while iconic bags from the saddle universe are reinvented in vibrant shades of olive and orange, echoing Sacai's essential bomber jacket. This capsule, called Dior and Sacai, illustrates a vision in motion, a captivating meeting of two artists. This new perspective on the two houses, framed by Dior heritage, may be discovered from November 2021.

www.sacai.jp www.doir.com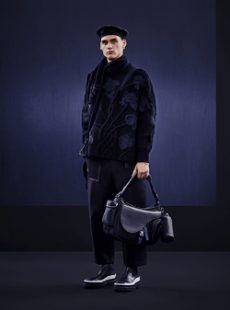 Fashion
Dior Vespa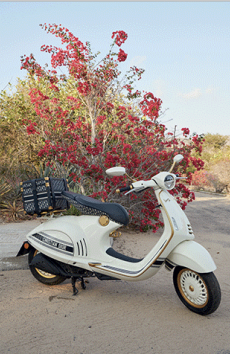 the Vespa 946 Christian Dior, an ode to freedom and elegance, is presented in images captured by Pamela Hanson in Mexico City. This new model, redesigned by Maria Grazia Chiuri, is distinguished by its steel monocoque architecture and subtle, graphic lines that pay homage to the heritage of both Houses. In the spirit of escape, this series is an invitation to dreams and savor the dolce vita. As an ultimate getaway new experience, a new lens available on Snapchat, Facebook and Instagram offer an opportunity to discover this exclusive scooter in three dimensions or to virtually try on the Dior Oblique-embellished helmet.

www.dior.com
Fashion
"ISSUE 02": BOTTEGA VENETA'S QUARTERLY DIGITAL JOURNAL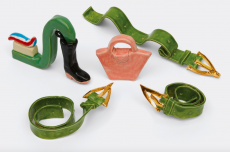 Bottega Veneta swapped social media for a quarterly digital journal called Issue, of which it just released its Issue 002. The reveal of their journal explains why the Italian brand mysteriously vanished from all social platforms earlier this year. While other brands were launching Clubhouse accounts and joining platforms as TikTok, Bottega Veneta, one of the most popular labels of 2020, was making itself impossible to find. Daniel Lee, Bottega Veneta's Creative Director, chose to get off the platform because it oversimplifies the creative process and believes it's a homogenization of culture. The content that lives on the digital journal is a mixture of creative campaigns and features people like Travis Scott and Naomi Cambell. Content like that is supposed to make the audience sit with it as you would watch a movie. The mix of serious and playful content proves that Bottega Veneta is the perfect mixture of sophisticated and whimsical.

www.issuedbybottega.com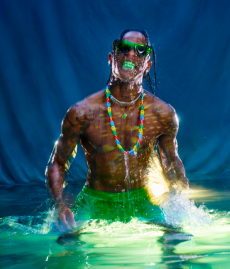 Fashion
SLIM D'HERMÈS - La Source de Pégase
A Pegasus with glowing wings emerges from the Slim d'Hermès watch, highlighted by the arts of miniature painting, straw marquetry and engraving. Created in 2015, the Slim d'Hermès watch is all about essentials: a simplicity mingling rigorous discipline with aesthetic balanced. The distinctive yet understated lines of its round case with angular lugs frame a transfigured dial. Graced with a combination of several miniature techniques, the Slim d'Hermès La Source de Pégase watch features a winged horse in brilliant colours, born of the virtuoso skills of the enamelling and engraving artists. This mythologically inspired symbol, reinterpreted through the use of artistic crafts, is drawn from the La Source de Pégase silk scarf designed by French artist Pierre Marie. The illustrator depicts the winged horse striking a rock with its hoof to create the Hippocrene spring on Mount Helicon. His narrative and decorative style composes a radiant Pegasus in a joyful fantasy universe. Transposed onto the slim dial of the Slim d'Hermès watch, the legendary creature expresses a new creative dimension.

www.hermes.com
Fashion
Shared Passion - Dockers New Brand Ambassadors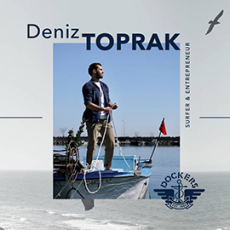 Since its foundation, one of Docker's fundamental pillars was sustainability. A part of its DNA, which has certainly played a role in its California Cool image. Within this strategy, there is a special importance put on the subject of water. The garment industry especially has been heavily criticized for countless production processes which not only exhaust massive amounts of water, but also contribute to the industry being one of the most polluting industries worldwide. At Dockers, they have reduced their water consumption for dyeing and production processes by 73% on their whole range. Additionally, since 2020, they partnered up with surfer and activist Jon Rose in order to help fight the global water crisis. The first brand ambassador, Dockers is now proud to present four new faces, ambassadors who share this environmental engagement, the passion and lifestyle. The first is Kepa Acero, a Basque surfer and world traveller, who is dedicated to exploring the oceans and looking for ways to protect the environment and the local communities which are so dependent on it. Together with Dockers, they have started #DockersW4W, a social media challenge through which the brand has pledged to donate water filters to provide access to clean water to communities all over the planet. The second new ambassador to join the Dockers family is Deniz Roprak, a surfer and entrepreneur. In 2018, he started Mellow Sri Lanka, an environmentally-friendly co-living, which has the goal to make people aware about the resources we receive from nature and the importance of protecting it in order to enjoy all its many gifts. Joan Duru is the third new ambassador. Having started surfing at the age of 7 and now considered one of the greatest surfers of his generation, he has seen with his own eyes in many places all over the world, how the pollution is damaging our oceans and the absolute need for action right now. Last but not least to join the Dockers family is Maud Le Car. Born on Saint Martin, she has always been in close proximity to the sea. In order to protect the oceans, she has founded Save La Mermaid, an organisation with the goal of finding viable alternatives to plastic, whilst organizing clean-ups and educating the public on the issue of plastic pollution in order to continue to be able to enjoy the beauty of the oceans.

www.dockers.com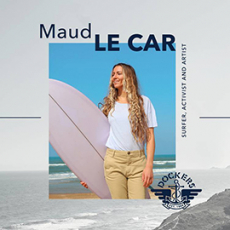 Fashion
Giorgio Armani returning to live shows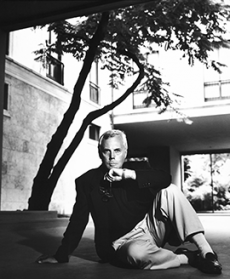 The Giorgio Armani SS22 Men's Collection and the Giorgio Armani Privé Haute Couture shows will again be presented in front of a live audience, respectively on Monday 21 June and Tuesday 6 July.The Giorgio Armani fashion show will take place inthe courtyard of Via Borgonuovo 21, the venue that historically hosted the brand's fashion shows. The Giorgio Armani Privé fashion show will be held in Paris during the Haute Couture fashion week, at the headquarters of the Italian Embassy, a symbolic location that brings Italy to the fore in the capital of Haute Couture.The return to live attendance has been decided following the current general improvement in public health with relation to the pandemic. The organisation of the shows will comply with the distance and safety rules required by law and the actual holding of the events, in any case, will be conditional to the evolution of the pandemic.

www.giorgioarmani.com
Fashion
Longchamp Eyewear: Plant based Resin Capsule Collection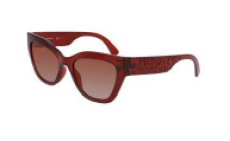 Plant-Based Resin is made from castor bean oil, a cleaner alternative to standard petroleum-based plastics; now used in the Longchamp capsule collection, featuring two sunglasses and two optical styles made from 40% Plant-Based Resin. With this collection, Longchamp eyewear draws inspiration from the brand's iconic Voyageuse handbag, bringing a trendy and sophisticated interpretation of the brand's signature pattern to the eyewear offering. All four styles are designed using Plant-Based Resin without sacrificing the quality and premium feel the brand is known for. The four styles feature vintage-inspired frame-fronts designed in modern and contemporary shapes, while the new LGP temple design has a tone-on-tone effect to the iconic monogram of the brand. All styles are offered in Black, Brown, Blue and Wine.

www.longchamp.com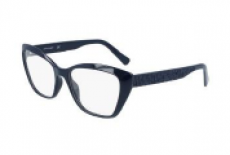 Fashion
CHANEL Eyewear FW21
The CHANEL Fall 2021 Eyewear collection tells three stories that combine modernity and refinement, technicality and savoir-faire, casual elegance and a couture spirit. For this new collection, CHANEL presents three minimalist pairs of sunglasses with a masculine/feminine spirit: a cat eye, an aviator and a round frame in gold, silver, ruthenium or matt black metal. The purity of these designs is enhanced by metal inserts integrated into the glass, emphasising the curve of the cat eye and aviator frames and drawing two double Cs on the round design. A technical innovation, imperceptible to the touch, which subtly enhances the brown, light grey and anthracite tinted lenses. Introduced with the Spring-Summer 2021 collection, CHANEL continues its sequin theme this fall on three sunglasses and two opticals. A very feminine, large hexagonal frame in black or tortoiseshell acetate with a double C is embellished with micro-sequins. This sophisticated, textured material, shimmering or matt depending on the version, is also used on the top and the temples of sunglasses with a round or an oversized square frame, both in metal. The sparkle of the sequins reflects in the grey, green, brown or amber lenses. Two optical designs complete this line. In harmony with the colours of the frames, micro-sequins adorn the temples of a hexagonal shape in gold, matt black or ruthenium metal, and a graphic square in black, grey tortoiseshell or brown acetate. Certain versions of these opticals come with UV and blue light blocking lenses. The CHANEL Fall 2021 Eyewear collection will be available in boutiques from June 2021.

www.chanel.com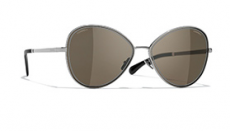 Fashion
FENDI SS21 Capsule collection & FF Vertigo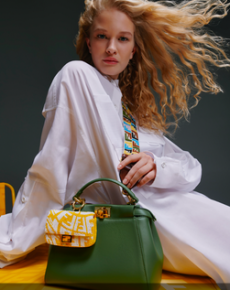 Dominated by yellow and light blue tones, the Summer 2021 capsule, spans from sophisticated and eye-catching bags and accessories to compelling ready-to-wear for women, men and children. Seventies' references and Nineties' vibes fuse in a charming line-up, where FENDI's outstanding craftsmanship and innovative, forward-thinking approach shine bright. As part of its Summer 2021 capsule, after the official launch at Design Miami, FENDI reiterates its collaboration with New York-based visual artist Sarah Coleman, known for her disruptive manipulation of designers' materials that she employees to rethink and repurpose everyday objects with an ironic filter. Within the colorful and irresistible Summer 2021 Capsule Collection featuring '70s references and '90s vibes, FENDI presents a special collaboration with the iconic Polaroid brand, inventor of the first instant camera designed to capture community and individuality. Born from the idea to personalize the classic Vintage Polaroid OneStep Close-Up 600 camera with the FENDI DNA, this Polaroid camera combines the design of this renowned instant camera from the '90s with the multicolour FF Vertigo. The FF Vertigo motif—a new magnetic motif offering a twisted, turned version of the classic FF logo—and FF Fisheye motif—where the signature FF logo appears wavy and fluid, as it is seen through a fish-eye lens—are the results of the new collaboration between FENDI and the New York based artist Sarah Coleman who is known for her disruptive manipulation of designer's materials that she employs to rethink and repurpose everyday objects with an ironic filter. FENDI collaborated with her in the Design Miami/ 2020 edition where she was commissioned to reinterpret the Miami Design District FENDI Boutique and create a series of one-of-a-kind design pieces. The FENDI and Vintage Polaroid OneStep Close-Up 600 instant camera will be available in FENDI Boutiques worldwide starting May 2021.

www.fendi.com
Fashion
All Things Loose
For the SS21 collection, Levi's® puts a spin on the brand's emblematic Levi's® Red classics from the 90s – the last great era of the loose fit. Following the motto of 'all things loose', the collection draws on the exaggerated fits, wide hems and drop shoulders of the Levi's® Red collections, first launched in the late 90s. The contemporary interpretation of the Levi's® Red collection re-imagines the denim pieces following a sustainable and innovative approach. Men's jeans include a looser fit version of the 502™ Taper, and a new 505™ Utility, both of which have irregular bartack stitching and a bigger and exaggerated double-stitch on the back pockets. For women, the Low Loose Workpant with a loose balloon leg and a super low rise is the centerpiece of the new collection. The loose silhouette-focus is re-emphasized in the line of denim jackets. Wide drop shoulder fits with mid-length hems and bold pocket and lining designs are their signature features. For fabrics, – in addition to the organic cotton in men's pants – cottonized hemp is frequently used in select styles of the Levi's® Red designs. The innovative fabric drives the brand's commitment to sustainability. It resembles cotton in look and feel, and is made with hemp which has been manufactured in a process, which requires less water and fewer chemicals than growing cotton does. The Levi's® Red collection therefore simultaneously embodies a daring outlook into the future, as well as a nostalgic throwback with a range of unique pieces based on sustainable fabrics, modern shapes and the retro, signature Levi's® style.

www.levis.com
Fashion
RIMOWA x Chaos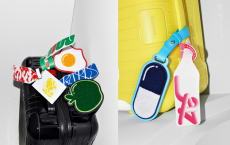 RIMOWA announces its debut collaboration with Chaos, the London based brand renowned for its coveted accessories - two brands for which both individualization and personalization play a big role. United by their common appreciation for luxurious design and innovative solutions, RIMOWA and Chaos have partnered on a limited-edition line of suitcases and tavel accessories. The special design, the striking color scheme, the colorful stickers, as well as the characteristic embroidered tags in three new shapes give the suitcases an instant recognition value. It's impossible to miss these suitcases when you're traveling with them. RIMOWA x CHAOS approach was to design products with excellent function and style, full of energy and high aspirations to improve daily life.

www.rimowa.com
Fashion
Alice Anderson at König Galerie
Alice Anderson - SPIRITUAL MACHINES SERIES, TOTEM 12
Alice Anderson at König Galerie Anglo-French artist Alice Anderson is to showcase her work "Hyperlinks – a solo exhibition – at KÖNIG GALERIE. Her works include sculptures, paintings and drawings generated through dance-performances, each with ritual at their essence. For this exhibition, Alice Anderson presents performative works created through repetitive gestures, some coupled with rapid breathing (the technique of hyperventilation), which gives her access to a state of modified consciousness. This pairing puts forward the body as a vehicle of humanity within the contemporary world propelling towards a technological-wholeness; and the ancestral culture of the Kogi people from Sierra Nevada in Colombia, who exist in cosmic harmony with their environment. Kogi concepts, rituals and ecologi-cal combats have framed Alice Anderson's reflections upon this change in civilization. The challenge is not to decry these complex technologies but to continue to question the relation-ships between humans, the environment and the machine. One of my answers 'goes' through spirituality that expresses another definition of things and redefines a certain balance of what escapes us. In this sense, my performed rituals take on all their importance because they are a physical re-appropriation of what has been dematerialized" says Anderson.

www.koeniggalerie.com
ALICE ANDERSON - Random Chromatics Pixels N.64, 2021
Fashion
Summer Ease
For Furla's SS21 collection following the motto #FUNFURLA, the brand celebrates optimism and lightness of spirit. Furla enhances its distinctly Italian DNA and communicates a cheerful lifestyle message. The campaign comprises images and a film, which represent a new chapter in terms of creativity and lust for life. The aesthetic of the collection channels this spirit, featuring loose and airy fits in a broad range of colors that embody the vibrancy of the season. Set against a dreamy, Mediterranean backdrop, the open sky and sparkling sea become #FUNFURLA's setting. The visuals are an interplay of shadows and silhouettes, which is displayed mainly from the back and through body language of the models displaying the clothing. The soft color scheme of the clothing, shown in the photos with chromatic monochrome effects, further enhances the feeling of carefreeness. The joyous atmosphere of spring and summer, as well as Furla's core values of heritage and beautiful Italian craftsmanship are conveyed through every image. The Furla SS21 collection invites the wearer to enter a summer daydream.

www.furla.com
Fashion
Abstract Femininity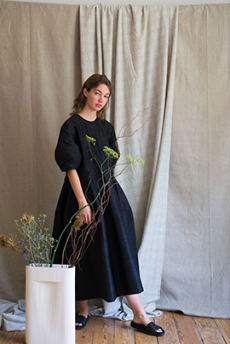 After taking a maternity leave of absence, LARA KRUDE is back with her Spring Summer 2021 collection. The "Designer of Tomorrow" Award-winning designer worked closely with Stella McCartney for several years before launching her eponymous Slow Fashion Brand in 2017. Her latest collection is based on bold silhouettes and traditional craftsmanship while leaving space for the body and the natural fabrics. Androgynous silhouettes, natural colors, such as forest green and navy blue, combined with plaid and striped patterns reinvent the distinct LARA KRUDE look for the warm season. All of Krude's collections are produced exclusively in Germany and Poland by small family-run manufacturers to guarantee the highest quality and protect the environment. LARA KRUDE stands for effortless elegance and abstract femininity, with the timeless pieces empowering women to feel their utmost best; strong, independent, and always curious.

www.larakrude.com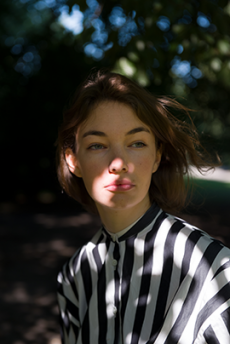 Fashion
Trash to Treasure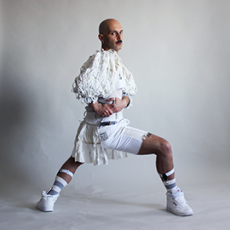 FADE OUT LABEL is a Berlin-based brand co-founded in 2015 by Andrea Bonfini, an Italian fashion designer together with his friend Nicola. The brand focuses on creating new from old by utilizing patchwork techniques to handcraft their pieces. FADE OUT collection's uniqueness stems from their oversized pieces, crafted from vintage denim. The label does not work with traditional seasons but rather designs garments adaptable to various occasions and different personalities. Additionally, it features permanent collections that change every so slightly each season. With sustainability in mind, each piece is upcycled, using denim bought at charity shops, deconstructed, washed, sanitized, ironed, and reassembled – making each piece unique. FADE OUT's latest project, White Trash, is a capsule collection inspired by Berlin – the faded graffiti on the remaining Berlin Wall and Berlin's famous clubbing scene paused at the moment by the pandemic. Each piece is unique and unisex, continuing with the brand's aesthetic and underlying philosophy: urban wear, upcycling, patchwork, and zero waste. The items are handmade in a Berlin atelier using waste materials such as vintage white jeans, silver deadstock fabrics, antique parachutes as well as used pharmaceutical vials and metal elements.

www.fadeoutlabel.com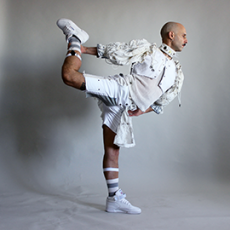 Fashion
Blurring Boundaries
The Korean artist and designer Lee Sanghyeok's creative vision is rooted in his interest in the manifestation of rational ideas of immateriality. His interior design projects reflect and analyze objects in space and open up a dialogue about the conventional meaning of material space through this re-contextualization approach. Harmonious, conventional forms are redefined and endowed with new meaning and room for interpretation. Lee emphasizes a new way of understanding the technology in production by making it part of the creative process and visual aesthetic. Most of the Berlin-based designer's pieces are inspired by architecture, built environment and urban space, which serve as reoccurring metaphors in his work. Creating a dynamic dialogue between objects and their environment, Lee artistically blurs the lines between the exterior and the interior space, between the public and the private sphere. The project titles Domestic Architecture brings this multifaceted approach to spatiality into practice. Including items that appear to be every day - like chairs mirrors, tables and shelves – a new interpretive layer is added to their conventionality. Lee Sanghyeok envisions his project Domestic Architecture as a reflection of the processes that constitute our living spaces. It focuses on and studies human behaviors and attitudes toward objects and creates an intriguing dialogue between intangible body and rational practice. Marble, as a fundamental substance in architecture, is the central material used, which expresses Lee's validation of workmanship, minimalist design and harmony between forms and function that comes to light in Domestic Architecture.

www.leesanghyeok.com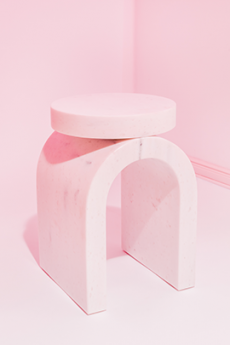 Fashion
Saint Laurent FW21 – Where the silver wind blows
Against the backdrop of hostile yet beautiful natural grounds, the FW21 collection by Anthony Vaccarello shakes up Saint Laurent's bourgeois codes. Walking on black cliffs, black beaches, and endless fields of green. The collection is demonstrated in an ethereal way, swaying between fantasy and reality. Colors clash against the black scene - unshapely metal bodies come together with sixties tweed suits and fur hems, claiming their effortless nature. Nineties cult-musician Peaches inspired the glitzy imperfections taken from her wardrobe – embodied by the blur between cheesy and luxurious. Sharp metallic jersey bodysuits echo the gleaming cascades of fantasy jewelry, disguised as precious. The unnecessary is a featured performer, becoming necessary to revive the past. As designer Antony Vaccarello puts it, "Serious matters push you to take other things less seriously; finding the balance while staying on edge is a sophisticated aptitude."

www.ysl.com
Fashion
DoDo x Tenaka
Environmental awareness is an important priority for the jewelry brand DoDo. With the Blue Forest campaign, DoDo is now becoming a part of another environmental project: Together with the non-profit organization Tenaka, DoDo is planting 3000 mangrove trees on two hectares of land on the coast of the Malaysian state of Sabah. With the support of twenty biologists and local organizers, residents and students of the region are also involved in the endeavor to raise awareness of the importance and preservation of this ecosystem. DoDo Blue Forest is a jewelry project with Tenaka, a social enterprise founded by Anne-Sophie Roux. DoDo and Tenaka are aware of the importance of renaturation measures, which aim to maintain the balance of nature through the reforestation and protection of mangrove forests, which are of fundamental importance to biodiversity. The symbol of the brand's environmental commitment is the Granelli bangle DoDo designed for Tenaka. It is made of plastic materials taken from the Mediterranean Sea by REVET, a company based in Pisa, Italy. The bracelet is transformed and dyed in shades of green to resemble the beauty of mangroves. The latest unique piece of jewelry is the emblem of DoDo's sustainability efforts and most recent Mangrove project.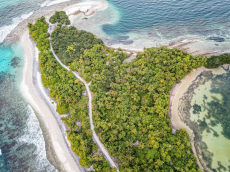 Fashion
DIOR FW 21
For Maria Grazia Chiuri, the presentation of the FW21 collection at the Long Museum West Bund in Shanghai represented an extraordinary opportunity to infuse her creations with the visual power of movement and a new energy to celebrate the house's creativity and world cultures.Bright hues play with transparency and shiny looks celebrate the pop aesthetic. Embroideries are embellished with oversized sequins reminiscent of disco balls. The leopard print that graces the runway combines esprit and elegance, appearing on a range of creations and accessories, including the iconic bar jacket. A series of five others exclusive models, each in a different neon hue – as well as red, "the color of life" as Monsieur Dior noted – with tributes to the House's archives also enriching the collection. Presented to the rhythm of a musical composition by Giorgio Moroder – punctuated by the voice of Maripol – these creations are designed for facing the current context with the high energy, hyper-sophistication, and profound lightness of the Pop spirit.As a final surprise, singer Joey Yung – wearing a dress specially conceived by Maria Grazia Chiuri – and the Chinese rock band Black Panther give an exceptional live performance.

www.dior.com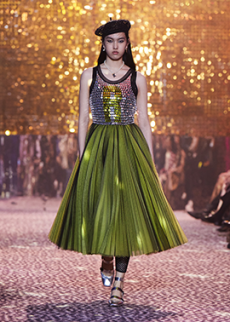 Fashion
C.P. Company Cinquenta - THE BRITISH SAILOR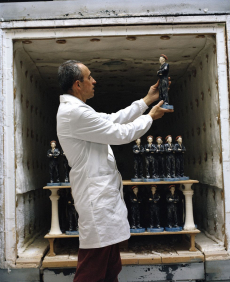 Massimo Osti founded the brand Chester Perry, which would later be renamed C.P. Company in 1971 in Bologna. Famous for its screen printed t-shirts and its sportswear, the brand has continued to pioneer a connoisseurial hybrid style that combines the functionality of vintage military, work, and sportswear with intense fabric research and innovation, heightened by using garment-dyeing ever since. Forging a new path for functional menswear meeting Italian fabric innovation is its origin and the base for everything it does today. From the very beginning, Massimo Osti's idea on the creation of a brand started with the desire to create a product with a strong identity, utterly different from anything else available on the market. Convinced of the strength of his idea, he even personally designed the logo, a lifebuoy. Later on, the logo shifted to a British sailor symbol with arms crossed - smiling, dependable, and informal. The inspiration came from one of the books about military uniforms, which Massimo Osti collected for his studio's library. Since 1975 this has been the primary brand logo, and it represents the link between tradition and innovation. On the occasion of the 50th Anniversary, or Cinquanta, C.P. Company has created an exclusive porcelain sailor statue handcrafted in Italy by Tuscan artisans. Only 150 pieces of this exclusive figurine are made -, the sailor represents its great story's memorabilia and pays homage to Italian artisanal tradition. The British Mariner will be available, from April 14th, on 50.cpcompany.com and in all C.P. Company flagship stores in Milan, Amsterdam, London, Seoul, and Tokyo.

50.cpcompany.com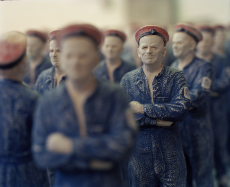 Fashion
GLENN MARTENS DEBUT AT MILAN FASHION WEEK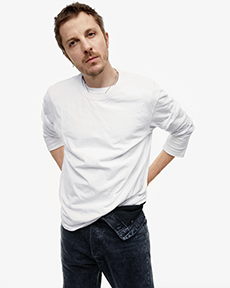 Since his appointment as Creative Director for Paris-based label Y/Project, Glenn Martens' creations have been a constant at Paris Fashion Week. This year, the Belgian Designer embarks on yet another creative journey, premiering his debut for DIESEL during Milan's menswear programming. Coincidentally, this will also mark DIESEL's debut on the Milan Fashion Week calendar. After having created a denim collection with the brand in 2018, we will now get a first look on how Martens has incorporated his vision across the brand's entire range of product categories. The show is a major step of Martens' role in overseeing the brand's creative identity, design and communications.

www.diesel.com
Fashion
FENDI presents "Wild Untamed Naomi"
FENDI releases the #FendiPeekaboo video starring Noami Watts, the award winning actress presented in celebration of the opening of the new FENDI Queen's Club flagship boutique in Sydney. The video is called 'Wild Untamed Naomi' and presents a private moment in Naomi Watt's day within her apartment in New York, documenting her hidden and surprising side, accompanied by the FENDI Peekaboo ISeeU bag. What starts as an average and restless day slowly unveils Naomi's untamed side as she escapes into her own world and discovers the joy of releasing stress and anxiety through a cathartic release of movement. Using the FENDI Peekaboo ISeeU bags, Naomi chanells the extraordinary in the ordinary. The video is a journey to self-love that plays with the FENDI values of creativity, craftsmanship and playful spirit, whilst celebrating the eternal narrative of the FENDI Peekaboo bag – the hidden beauty within. The iconic bags feature an accordion-frame shape, to open in a deep 'smile' featuring inside pockets which can be interchangeable in smooth leather or precious skins and personalised with one's initials.

www.fendi.com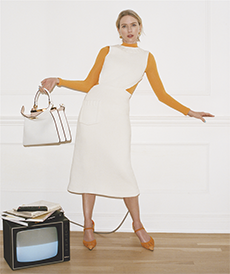 Fashion
Acqua di Parma presents Colonia Futura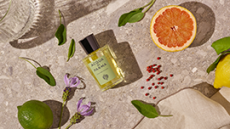 Acqua di Parma's universe welcomes Colonia Futura, the newest addition to the colonie family and a genuine emblem of the historical Italian brand's sustainability manifesto. For the brand, sustainability means preserving traditions, respecting and renewing them in a dynamic and vibrant transition between past, present, and future, protecting and sharing authentic Italian style, alive and intact, to future generations. For over a century, Acqua di Parma's values have been lying in the necessity to safeguard and pass on the Art of Italian Living, aware of the importance of protecting Italy's cultural, artistic, and natural heritage. The newest product of the brand embodies this commitment. The fragrance is rooted in the Maison's heart to its original universe - the planet of the colonie.

Colonia Futura follows the tradition of Colonia, an iconic fragrance of the Maison, in the olfactory signature and the quality of its Frutti d'Oro, but projects it into the future, in the knowledge that sustainability is the necessary condition for evolution. The new Eau de Cologne composition contains 99% natural origin ingredients in line with the ISO16128 standard. The bright, sparkling tones of P.D.O. (Protected Designation of Origin) Bergamot from Calabria, the roundness of Clary Sage, and the freshness of Lavender are the key essences of Colonia Futura. These olfactory notes are skillfully blended and dosed in a composition highlighting the bright richness of Italian sun-filled landscapes, trademark for Colonia.

www.acquadiparma.com
Fashion
Diesel x Diesel: FAKE SMILES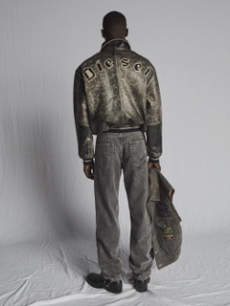 Diesel x Diesel is a concept created by the founder of the brand Renzo Rosso's desire to reintroduce Diesel's past icons in a modern context. The capsule collection has a distinctly North American aesthetic with a look back at old archives of the many trips Renzo and his multicultural design team did back in the late 80s. The collection is mainly inspired by college apparel, Route 66, and the essential Diesel identifier of workwear. This results in pieces such as varsity jackets that have been reimagined in extra-distressed leather with a new Diesel typeface in patches across the shoulder blades. Further in terms of outerwear, the collection also includes reimagination of a mixed-material coat of shearling, cotton, leather, and jacquard wool which was initially inspired by a late 1980's research trip to the South of the U.S. A treated leather vest from the tail end of the 1980s has patches that recall an American road trip. For each piece, the underlying idea is the bridging of separated entities, whether governmentally (land borders) or temporally (the then-and-now). With their slouchy shape and the oddness of the pseudo-trompe-l'oeil chaps, there's something casually appropriate about them for 2021. There are four other denim trousers models, each from the 1980s, on which contrasting waistbands have been added for differentiation. Rounding out Diesel x Diesel, there are reissued hoodies, mini-skirts, and shirts.

www.diesel.com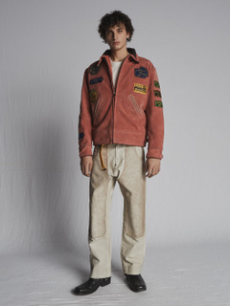 Fashion
Miu Miu FW 21: Brave Hearts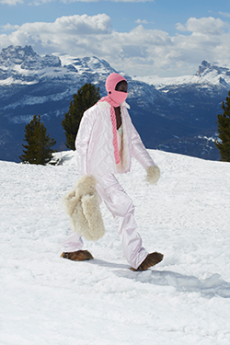 Miuccia Prada draws together a diverse group of women for the Miu Miu FW21 fashion show. The result is a voyage through the mountains - a fashion show in the snow. For the show, models explore the landscape of Cortina d'Ampezzo as part of the 'Miu Miu Mountain Club' in the heart of Dolomites Alps-, captured on film in a brave and challenging undertaking. The concept is all about dreaming of escape and making this fantasy a reality. In the video, the Miu Miu women explore the landscape dressed for extreme weather conditions. Outfits combine different intentions, different dreams, and realities to create different characters. Inside and outside, protective and seductive, just like women, the outfits contain multitudes.

Forming a collective experience on the mountainside, the models form a graspable alliance as they walk together. Sportswear and fashion fuse within the collection using the vernacular of mountaineering clothing. Miu Miu uses teddy bear faux fur, padded layers, and knitted ski helmets, and ski masks to keep warm and safe while upgrading the necessary means of protection for the mountainside. Silk satin dresses and lace stand convey delicacy and intimacy. Outerwear, inner lives. The juxtaposition speaks volumes and creates a dreamlike state of romanticized practicality through exaggeration - when the fragile can be reinvented to become brave. The utilitarian can become beautiful and pleasurable; the decorative can suddenly have a reason, a new purpose. Padded sportswear borrows its satin and pastel colors from lingerie fantasies; slip dresses are executed in heavy wools, studded with metal-like imaginary armor - warrior lingerie: strength and fragility, courage and aggression.

www.miumiu.com
Fashion
Thom Browne FW21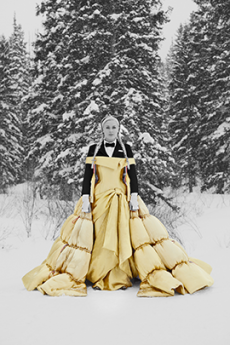 For the FW 21 collection, Thom Browne continues his collaboration with director Carissa Gallo. In the short film, Lindsey Vonn - an American former World Cup alpine ski racer on the US Ski Team- introduces Thom Browne's collection by walking through a snowy wonderland filled with an audience of animated stick figures watching her pass by - in the only colorful piece of the collection, a button back off-shoulder lapel dress with an oversized drape in gold lame over an oversized tailcoat gown with drawstrings and backpack straps in gold lame. The visual story unveils as Lindsey Vonn sees the stick figures off and boards a helicopter. From there, she skis along the models wearing the intricate design pieces, wearing lace-covered fencing masks. For FW 21, Thom Browne is crossing boundaries, creating menswear for women and womenswear for men. The silhouette is a juxtaposed mix between formal and sportswear. He continued to challenge and modernize today's connotation of the suit.

www.thombrowne.com
Fashion
Ninamounah FW21 – Seduce Me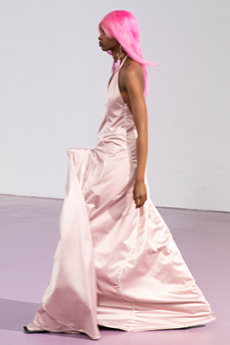 Ninamounah presents her first Paris Fashion Week participation, an audiovisual piece in runway show format called "Seduce Me." The Amsterdam-based brand - named after its Creative Director Ninamounah Langstraat – received the inspiration for the show from the natural world, taking biology as the starting point for the conception of the ideas that help shape the pieces in the collection. "Seduce Me" explores hypnotizing mating rituals, stimulating the viewers' animalistic side and translating the aesthetics of these complex animal behaviors into garments with a various and rich range of silhouettes, textures, and movements. Even the models move slightly feral as they were filmed walking backward and reversing the content, leaving the viewer hypnotized and at unease at first sight. The collection feature exaggerated cuts and oversized tailoring, which takes inspiration from the sexual mimicry of the animal kingdom.

Contrasting the suppleness of velvet and the discomfort of vinyl tells the story of seduction: both romantic and aggressive. The velvety antlers of male deers are the perfect paradigm seen in nature. The deception of sensuality and violence in nature, as seen in snake trails (a sign of either mating or conflict), translates into the hypnotic, undulating seams in the recurring garments. The urgency of red punctuates the neutral palette as a semiotic conversation between the aggressiveness and seduction it represents in both nature and the human-made world. The neutral palette is a reflection of the unarmed state and the innocence of living beings before they are ruthlessly hunted down. For the collection, Ninamounah collaborates with artist Stef Van Looveren, with whom the brand has developed a revisited line of accessories starring their already signature bags depicting human male and female gonads in a wide range of colors, from bubblegum pink to metallic gold.

www.ninamounah.com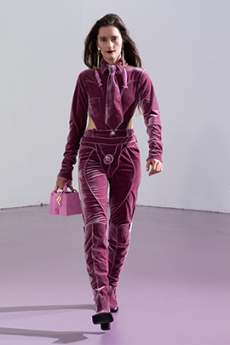 Fashion
VERSACE FW21
'Models are like actors, they bring the designs to life, just like when a performer portrays a character. During the filming of this show I saw how important it is to give the models time to "feel" the clothes they wear on the runway'. This quote by Donatella Versace expresses her inspiration for the Versace FW21 collection. She envisions deceleration for the fashion industry, in pursuit of true connection with the designs and the people in this fast pace era. Creatively, the collection features a reinvention of the iconic Greca motif in the form of a dynamic and immersive 3D maze, that feels like you can step into it. The new Versace La Greca code illustrates the Greek Key along with the Versace logo in various sizes and color combinations. Power and self-confidence are entrenched in the geometric pattern with sharp angles and clean lines. The womenswear line comprises shapes reduced in volume with rounded shoulders, cinched waists and A-line skirts. The trousers are cropped simply cut, foregrounding the upgraded La Greca print. The new pattern decorates modern daywear, signature metal mesh dresses, sensual eveningwear, bold sheepskin outerwear and is embroidered on denim. Harnesses that cross the chest like armor and add sharp detail through embellishment and contrasting shades accentuate the fierceness of the collection. Menswear cuts are slim and refined with a twist. The tailoring emphasizes the body with sensual intimacy. La Greca reoccurs in different ways from all-over jacquard-suits, to small rubber patches on the chest like soccer badges. The finishes include shiny vinyl, as well as matte wool. The FW21 collection also introduces a graffiti Medusa smiley that plays with the brand's sense of humor and rebellious, subversive tendencies. Considered a symbol of celebration, freedom and dancefloor communities, it is framed by La Greca patterned border and appears on foulards, men's outerwear and women's shirts.
Fashion
Longchamp FW21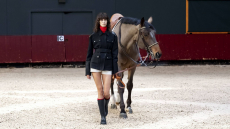 Longchamp creative director Sophie Delafontaine's main inspiration for the Longchamp FW21 fashion show during Paris Fashion Week was the iconic Longchamp racehorse logo and the work of the French 20th-century interior designer Pierre Paulin. The designer is known to have revolutionized Parisian apartments at the time with his creative outlook. The galloping Longchamp racehorse was drawn by Turenne Chevallereau and is the emblematic expression of the label's dynamism and art de vivre. This equestrian reference served as the basis for the choice of location for the show: Paris' renowned Battesti riding hall, known for its imposing glass and iron roof, that was engineered by Gustave Eiffel. The Pierre Paulin influence becomes visible in the collection's silhouettes, citing his innovative approach to line, function, color and material in combination with the creative spirit of Longchamp. Thus, many of the looks follow a sensual, enveloping form language, drawing on the curvaceous design of a Paulin sofa. Quilting and layering are prominent themes in the collection that features a variety of sleeveless, padded gilets in soft lambskin, cashmere crop tops layered with denim shirts, as well as 70s-style wool ribbed turtleneck sweaters worn underneath shirts, suits and dresses. Opened by Mica Arganaraz in a black safari jacket belted over a red skinny-rib sweater and short white shorts, the reoccurring themes for the collection became visible. Both the color palette and the proportions are at once equestrian and quintessentially Parisian. The warm feel of the collection extends to this season's bags: The iconic Le Pilage bag is reinterpreted in padded, quilted lambskin, both in its classic shape and as a huggable drawstring backpack.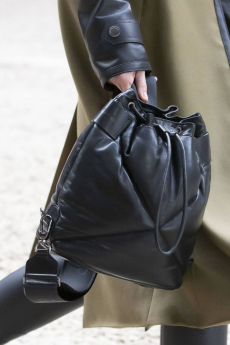 Fashion
Tod's FW21 – In a Moment
Tod's introduces their FW21 collection in a modernist space over marble floor inlays. The four women in the show represent four different characters, or perhaps different personalities of the same woman caught in a single moment. Gestures, movements, and colors tell the fluid story of the collection. Creative Director Walter Chiapponi offers other points of view on Tod's vocabulary. Through manual skills, excellent craftsmanship, and an endless quest for enhancement, he created a new repertoire of classic garments in which archetypes blend. For FW21, Tod's made a world where sportswear meets couture's voluptuous femininity without sacrificing function and utility.

The garments receive new volumes and surprising yet chic details for all functions and occasions by combining the two. The collection pieces consist of leather-trimmed trench coats, which have ruffles at the neck and create shoulder-like capes. Shirts with long pussy bows and quilted leather duvet jackets are combined with knee-length dresses and coats, which draw a sinuous silhouette. Out-of-scale hats complete the looks, reminding of a past era. The sunglasses are framed with leather; bags are exaggeratedly large with a raw cut profile. All bags, as well as the Oboe, are made of shiny sheepskin leather. Decorative flat chains are adorned on the Kate bag's flap and are also used to replace the shoulder straps. Chunky-heeled loafers with the iconic Tod's T mark are also heavily featured. The T mark is also on belts and bags. The FW21 collection combines modernity with Italian elegance ever so effortlessly.

www.tods.com
Fashion
Salvatore Ferragamo FW21 – Future Positive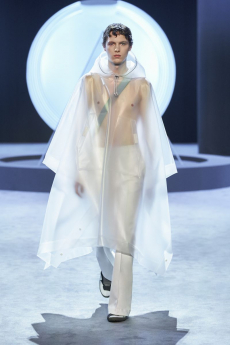 Salvatore Ferragamo's FW21 collection 'Future Positive' as seen online on Milan Fashion Week lives through its title. The show presenting the eccentric collection is inspired by futuristic, metropolitan imaginations of urban utopia, shaping a fearless outlook into what is to come. Creative director Paul Andrew projects the limitless conceptual freedom of science fiction and the house's heritage of technical innovation onto the future of craft, suggesting an alternative reality and visionary prospect. Driven by a strong 'the future is now' sentiment, the collection conveys youthful optimism, creative innovation and rising hope, disrupting and upgrading all that is uniform and old-fashioned. Taking up the pace of the advent of the future, Ferragamo's Ready-to-wear collection blends diverse ideas of militaria, moto, athletics, scuba and beyond. Shirting, mohair knits, footwear and accessories for men and women are complementary and connected, linked by monochrome shades that are contrasted by bursts of color. Seasonal advances include capes, coats and parkas in elaborate heat-processed leathers and wools, fine gauge technical knitwear, knit bodysuits and dresses patterned in an abstract futuristic take on camouflage. Fringed yarn adds surprising irregularity to the utility parkas and casual tailoring, dresses and outerwear.

Playing on the idea of sci-fi visual story-telling, a constellation of draped jersey dresses and statements in chainmail star and shine silver-line the lineup. The clothing is underlined by the key footwear being space-biker boots, scuba sock sneakers, clogs in rubberised nappa, and a sleek reinterpretation of Ferragamo's iconic F-heel adorned with rhinestones and a galvanised finish. The Salvatore Ferragamo FW21 collection brings to live the vision that creative director Paul Andrew himself summarizes as the following: '"In fashion, the past exerts a gravity - we are always drawn to it. For this season I wanted to invert that physics. The objective was to engineer a collection that sees the present through a prism of the future – unleashing a multitude of fresh perspectives.'

www.salvatoreferragamo.com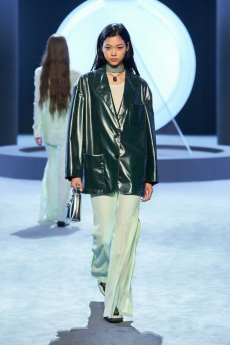 Fashion
Brunello Cucinelli Womenswear FW21

Brunello Cucinelli digitally presents his FW21 women's collection as part of Milan Fashion Week 2021. For his video contribution to this year's online event, the Italian designer chose a very personal location: a pavilion in a vast park in his hometown Solomeo in Umbria, where the fashion empire has its origins. Backed with elegant music he briefly presents the fashion, letting the visuals of the models displaying his clothing speak for themselves. The women dressed in his FW21 collection are positioned on the elevated garden pavilion, illuminated by the sun and blending in with the natural surrounding. Cucinelli then personally holds a speech explaining the shift in focus he has taken up in the face of the current reconceptualization of the daily rhythm of life and its effect on human needs, values and wellbeing. Furthermore, he pleads for the re-evaluation of the relationship between humans and nature. Cucinelli envisions the expansion of the concept of the social contract to all beings of the universe in pursuit of establishing a world in equilibrium and aims to contribute to it with his business approach and designs.
The FW21 women's collection reflects Cucinelli's vision of harmony, comprising informal and relaxed outerwear, knitwear, trousers, shirts and accessories. The designs blur the line between living in the public and the private sphere by unifying form language of timeless elegance and effortless comfort. Unique manufacturing processes, loose silhouettes and soft volumes, following a neutral, organic color scheme represent the cardinal elements of fluid and well-proportioned cozy wear.
Fashion
GANNI x Levi's
In collaboration with the Danish sustainable brand GANNI Levi's presents a collection of Jeans, jackets, dresses and tops made of robust hemp-based cotton. Following their first conjoined upcycling collection in 2020, the two brands new line of clothing further elaborates their objective to bring innovatively designed sustainable and conscious fashion onto the market. Cottonized hemp as a substitute for conventional cotton avoids pesticides and fundamentally reduces water use in the production of the pieces. The hemp stems from rainfed agriculture and the fibers are then softened using an innovative biotechnical method that transforms the plant-based material into cotton-like fabric. Levi's Chief Product Offices Karyn Hillmann expresses her enthusiasm for the collection and work with GANNI saying: 'We are big fans of GANNI. In our collaboration, we combine the casual femininity of their designs with Levi's iconic denim looks and new sustainable materials like cottonized hemp'.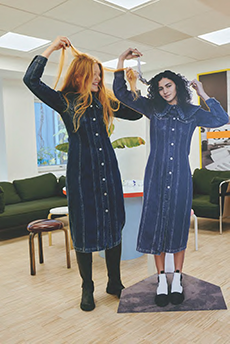 Fashion
RIMOWA SS21
RIMOWA releases its SS 21 eyewear collection. Following last year's launch of the brand's first-ever eyewear line, RIMOWA is excited to unveil a new collection of iconic sunglasses. The new collection updates classic shapes like the aviator, square, and pantos with traditional or colored reflective lenses.

The frame is inspired by early aviation and pilot essentials combined with the brand's own iconic aluminum grooves first inspired by aircraft fuselage. The eyewear collection is color-matched with selected RIMOWA luggage for a coordinated look. With this, the brand aims to enhance new ways to improve and cater to the wearer's travel experience. The latest eyewear collection, which is presented as unisex, will introduce three updated versions of the RIMOWA eyewear looks and four new designs. The pieces featured in the SS 21 collection pays homage to the brand's iconic aluminum luggage.

www.rimowa.com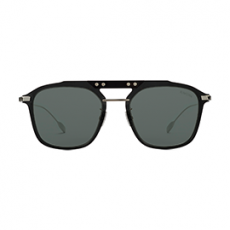 Fashion
Marcell von Berlin FW21/22 at NYFW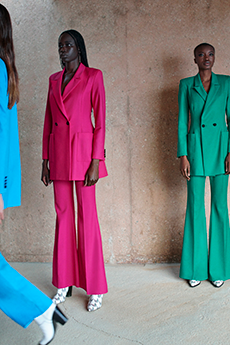 Marcell von Berlin's NYFW debut show presenting the FW21/22 collection aesthetically visualizes a play on the imagined liminal sphere between abstraction and reality, between the existing world and anticipated future. The German brand's designer Marcell Pustull collaborates with Celebrity Stylist and Creative Directive Director Nicola Formichetti for his new FW21/22 collection. The collection expresses optimism for the 'new normal', embracing the unforeseeable instability of the current times and bringing across the persisting value of fashion and design. Marcell Pustull's objective is to convey the message of hope and enthusiasm, while simultaneously expressing the current stagnating, insecure reality society is facing in the state of lockdown and recovery. This is also reflected in the different styles that meet in the collection: Rock and Roll Chic, Color Blocking and a touch of Disco. Power silhouettes in leather & denim, glamorous sequin and feather dresses and tailored suits in loud, bright colors, spell out the inner voice longing for change and euphoria for the new prevails. The choice of the Eric Lloyd Wright Residence in Malibu as the set-location for the NYFW show further embodies the symbolic value of the show, visualizing the Zeitgeist and message of Marcell von Berlin's FW21/22 collection. The ruined building on the rugged cliffs of Malibu evokes standstill, while also capturing the wide view over the local landscape, reiterating the metaphor of hope and freedom.
Fashion
North Sails for 36th America's Cup by Prada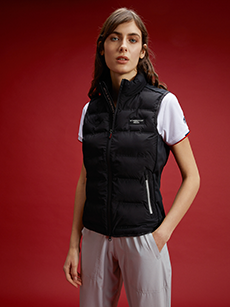 North Sails has been selected as the official clothing partner for the 36th Prada America's cup, the world's oldest sporting trophy with a history dating back 168 years. The regatta maintains its status as a sporting event par excellence, and North Sails is proud to once again confirm its presence at one of the major international sailing competitions. North Sails' has a rich history in the sailing sport and strives to "Go Beyond" with exploration and innovation as cornerstones of the brand. The brand is again partnering with this event and releasing an exclusive capsule collection centered around innovation and sustainability. Thus, the collection is made from recycled materials and designed for technical performance to the details.

All three styles of the capsule collection are crafted from recycled polyester with a water-repellent coating while features a stand collar printed on the inside with the America's Cup logo lettering. America's Cup heritage inspires the New York vest features a soft-shell back in recycled polyester, and high-performance Repreve padding obtained from recycled plastic bottles and is perfect for layering. The Hauraki half-zip jacket boasts a high-performance modular construction and a stand collar with a packable hood. The design features heat-taped seams for superior protection. The third piece is the Perth jacket, which is a reinterpretation of the iconic sailor jacket. The North Sails for the 36th America's Cup presented by Prada Capsule Collection is available at all North Sails mono-brand stores, the main chains in Europe, and the brand's online store.

www.northsails.com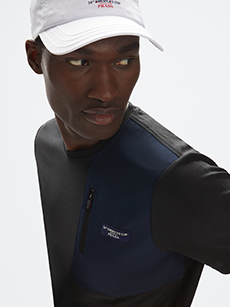 Fashion
Colmar SS21
For the Spring Summer 2021 collection, Colmar has used its most iconic pieces as a starting point for the new collection, which aligns perfectly with the typical Colmer DNA: technical, dynamic, functional, and summery. The designs are versatile and can be worn in different summer climates and on multiple occasions. The ambiguity of the collection aims to inspire the wearer to live their summer to the fullest. Clean and simple lines yet precise attention to detail is what makes the new collection stand out. At the core of the collection stand functionality and comfort. To create their multifunctional jackets, Colmar used recycled polyamide from industrial waste, which is regenerated and reprocessed. Double layered polyester is sewn with a membrane that supports a 5000 mm water column to make for the resistant material. Both the Women's and Men's collections feature from best-sellers like the 1246 Colmar, biker jackets, and field jackets to gilets. Iridescent graphics and blurred prints complete the summer mood of the Spring Summer 2021 collection.

www.colmar.com
Fashion
Salvatore Ferragamo: Chinese New Year & Valentine's Day
Salvatore Ferragamo has collaborated with five young international creatives to develop a series of special projects during 2021, the first two chapters of which are called "Chinese New Year" and "Valentine's Day." For the Chinese New Year (February 12th), Ferragamo has collaborated with London-based illustrator Charlotte Mei in a digital project that celebrates the year of the Ox (pronounced "Niu" in Chinese). The digital campaign is called "What makes you Niu" and consists of a series of photographic collages and illustrations. With celebratory aesthetics of the year of the Ox, the campaign conveys the NIU! message with a series of big-impact editorial images and artwork that highlights the exclusive selection of CNY products. For Valentine's Day (February 14th), Ferragamo has called on artists Davide Ronco, Charlotte Mei, Johanna Goodman, the Mert Keskin, and Ruth van Beek to create a series of multimedia artworks that will feature in the "Patchwork of Love" campaign. "The Patchwork of Love" campaign highlights itself with contrasting colors and the concept of creating a new whole from crashing elements. All collages, animation, illustrations, photos, videos, and sculptures are featuring Ferragamo elements such as the Gancini logo and articles from the Ferragamo selection for Valentine's Day.

www.ferragamo.com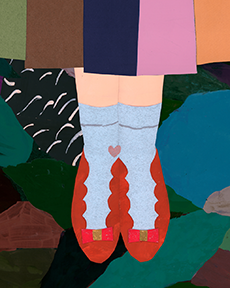 Fashion
TAG Heuer x Porsche: Carrera Chronograph Collection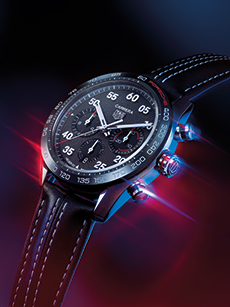 TAG Heuer joined forces with Porsche to set a new standard of brand collaboration. The Swiss luxury watchmaker and the German sportscar manufacturer have created the TAG Heuer Carrera Porsche Chronograph watch collection, a love child of the two companies' rich and successful history in the racing sport. The name Carerra came as a natural choice for its first innovative product collaboration since it has been associated with TAG Heuer and Porsche for generations. In 1963, Edouard Heuer's great-grandson Jack had created the first Heuer Carrera chronograph, designed to let race track drivers tell the time at a glance in the heat of action. Porsche's history with the name comes from a class win in the Carrera Panamericana race of 1954, in honor of which Porsche started calling its most powerful engine 'Carrera'. The TAG Heuer Carrera Porsche Chronograph collection unites the brands in the spirit of the 'Carrera' (or 'race'), which embodies ambition, speed, and technical excellence. The collection's watches either come on a soft strap in calf leather with stitching that echoes the Porsche interior or on an interlocking bracelet. They feature the iconic Porsche logo and come in bespoke packaging, padded with the red Porsche interior lining.

www.tagheuer.com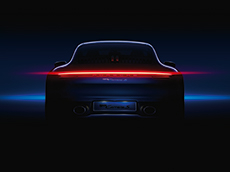 Fashion
Roger Dubois x Pirelli: Excalibur Iconic Collection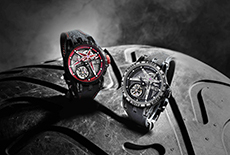 Excess and extravagance are what Roger Dubois embodies. The luxurious watchmaker brand has collaborated with Pirelli, the expert on tires for the daring Excalibur Iconic collection, a limited-edition collection of just 88 watches each for the black or white Excalibur Spider models; and 28 for the Excalibur Spider Pirelli. Engineers and watchmakers of the highest expertise have collaborated to create unique timepieces featuring rubber inlays from certified Pirelli winning tires.

Manufactured in the heart of Geneva, the new collection fuses traditional watchmaking with state-of-the-art-technology. Color schemes range from rose gold with white accents to titanium total black to sporty red and black. All watches can be worn with interchangeable straps of either winning motorsport tire rubber or calf leather. The straps all entail the profile of a Pirelli Cinturato intermediate tire on the inside. Roger Dubois promises adrenaline and thrill by reinventing the Hyper Horology game to the exclusive tribe who look for off-the-radar experiences with the Excalibur Iconic collection. The exclusivity of the collection will allow only a lucky few to come in contact with the collaboration of a lifetime.

www.rogerdubuis.com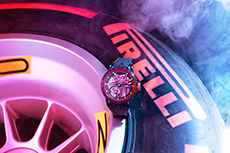 Fashion
MIU MIU - MIND MAPPING
Starring Allison Katz, Caren Jepkemei, Chloé, Emma Corrin, Kelsey Lu and Topsy the short film MIND MAPPING directed by Ben Northover brings the MIU MIU SS21 campaign to life. The film between documentary and fiction celebrates nonconformist and idiosyncratic female individuality through its cast and artistic language. Northover envisions the protagonists as 'windows into the worlds of the multitude of MIU MIU women – maps of their minds.' The extraordinary women, placed within an ordinary domestic setting embody eccentric characters confronting each other in a loose interpretation of the Game of Contraries, voicing trains of thought representative of their innate individuality. Spontaneous, intriguing word associations in combination with enigmatic styling and visual effects leave the viewer in humble engagement. MIU MIU's new campaign creates a set of sequences simultaneously mirroring diversity and unity, literally mapping the protagonist's thoughts through verbal and visual storytelling.

www.miumiu.com
Fashion
STONE ISLAND SS21
In pursuit of the expression of confidence, latitude and comfort the STONE ISLAND SS21 collection is driven by the interplay between sophistication and exploration, aesthetically combining elevated workwear and elements of 'off-duty' menswear. The creation of pieces that convey a state of mind of laid-back unconventionality is the central blueprint of the collection's philosophy. Its neo-luxury framework is conceptually reflected in the innovative tones, materials and finishes. The seasonal color palette creates a dialogue between desaturated subtle to vibrant tones and a variety of neo-pastels. Desaturation in color compliments the visual and material lightness of menswear pieces created through semi-transparency, reflective nylon elements playing on light and external and internal resin finishes. Shapes guided by the form and functionality of military silhouettes are explored in transitional garments, such as shoulder pieces and overshirts. The application and translation of military patterns into the 'perspective grid pattern' emphasizes the SS21 collection's contemporary, re-invented take on camouflage inspired design. It reoccurs throughout the collection and can also be found in accessories, footwear and graphic tees. Drawing on STONE ISLAND's knitwear legacy, the collection also includes several knit interpretations based on the seasonal orientation.

www.stoneisland.com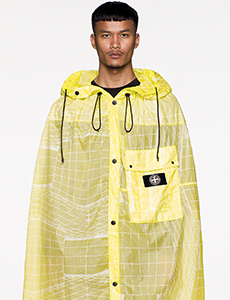 Fashion
COMME des GARCONS Parfums: 'Rouge'
The new fragrance from COMME des GARCONS Parfums, 'Rouge', expresses a disruptive and rapturous blend of olfactive ingredients associated with the color rouge. Crushed clusters of spicy sweet pink peppercorns countered with the intense aroma Indonesian ginger, a certain heat often visually represented by rouge. A sensual blend of aromatic cistus and the woody scent of sticky incense, Egyptian geranium and vegetal roots provide a foundation for the scent that is both transcendent and grounded.
Shot by talented photographer Jordan Hemingway, 'Rouge' is a portal into the surreal, an open window through which one can escape into the endless. With deliberate and particular overdoses, this orchestration of that which is Earthly and that which is other inspires an exhilarating and seductive perfume.
COMME des GARCON 'Rouge' is available as of October 2020
Fashion
Jil Sander Men's FW21/22
To integrate a softer approach to menswear with the desire for formality worn in both outdoor and indoor settings, German designer Jil Sander debuts its FW21 collection with an immersive and rhythmic video by Stephen Kidd. With bejewelled long-neck collared sweaters, a reminder to love oneself, no matter the shifting of circumstances, our lives, we are all worth celebrating. With Art Direction by Heiko Keinath, under the Creative Direction of Luce and Luke Meier, with music by Frédéric Sanchez, the film by Stephen Kidd shows an extraverted yet understated form of the modern man.
The look is intimate, layered, utilitarian and the spirit is for all men unafraid of being, expressing and showing a depth of emotion. Handmade and technical elements meet seamlessly with pristine suits of dry wool, with straight elongated jackets and cropped trousers to be worn with pullovers instead of shirts. Uniform-inspired trenches in Tuscan double-faced wool or in coated, waterproof cotton adds to a cohesive collection of rich knit structures and contrasting intarsia with cashmere and silver necklaces with the hand-written word 'Mother' to denote the importance of kinship and preserving close ties with that which should be held closest in uncertain times.
The FW21 collection by Jil Sander, presented at Saint-Martin-Du-Tertre, France, has a lot to offer. The individuality, the idea of a man built for solitude and trying to open up, the idea that treasure is worth looking for, a multitude of lightweight coats and trousers expresses what words could never. Gold on the neck, worn on a varied background of ash grey turtleneck sweaters and knits, black and white, with soft fabric in camel colors and pastel tones.
Fashion
Hermès Men's FW21
Since the outbreak of Covid-19, the physical fashion show has disappeared. Due to ongoing restrictions and social distancing measures, fashion houses have been forced to switch to the digital realm. For this Hermès menswear show, Veronique Nichanian in collaboration with Cyril Teste decided to re-create the closest possible thing to a real physical show. The viewers were able to follow the show through a seven-section split screen format, recreating the eye's freedom to roam during a real show, revealing different details and angles. For the FW21 collection, Hermès beautifully blends casual and elegant. The world is changing and this is reflected in our clothing. Véronique Nichanian, in charge of the menswear collection since 1988, recognised this, 'Our approach to clothing is currently undergoing a transformation, and my job is to come up with propositions.' The collection brings together luxury, ease and excellent craftsmanship, bringing together the natural, baby lambskin, with the engineered technical canvas. The divisions between work and home were softened through the loose-panted suiting complementing elevated workwear-inspired pieces. Zesty colored sneakers were a great visual juxtaposition to the muted and earthy color palette of lambskin of pants and cardigans.

www.hermes.com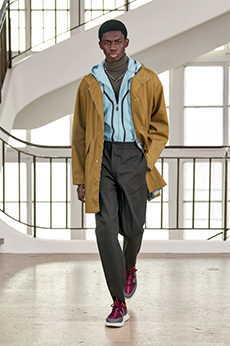 Fashion
DIOR MEN FW21/22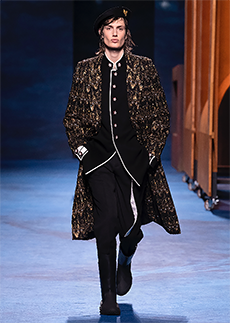 Christian Dior translated dreams into reality and today, Kim Jones, Dior Men's Artistic Director, does exactly the same. His collection for FW21 is a living embodiment of the worlds created by Scottish-born, Trinidad-based artist Peter Doig, reminding us also about fashion's incredible power to create dialogue with other creative disciplines. The garments themselves were heavily inspired by the extravagance of ceremonial attire, uniforms, creating a visual link to one sartorial tradition which is still dynamic and alive today. Throughout the collection we find hints to uniforms, such as collars, but never did the collection seem rigid or overly formal, as the uniforms were softened through embroidery and embellishment. In a masculine interpretation of couture, decorations and motifs from the Dior Archives were reinvented, most notably the gilded embroidery of Rosella, a haute couture evening gown from the 60s. For this collection, Kim Jones and Peter Doig worked together very closely. The artist was not only devising motifs, but was involved hands-on during the creation process of the collection, hand-painting designs on a selection of wool felt hats by Stephen Jones. Especially for this collection, Doig created two animalistic emblems, inspired by his own work as well as his knowledge and relation to the House of Dior. The first was a likeness of Dior's dog Bobby and the second a lion, referenced so often in his own works. The collection brings to live some of Doig's most iconic works, referenced through an exact color palette, soft muted blues, navy, dusky mauve and Dior grey alongside hues of yellow, blood-orange and green. The looks are then elevated even more through the jewellery and belts adorned with an especially created Lion sculpture by Doig.

www.dior.com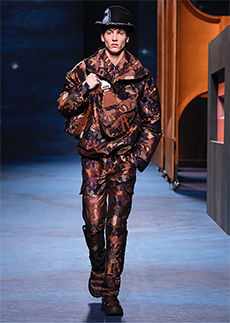 Fashion
Rick Owens Men's FW21
Suspended between the past and the future, rules are written and rewritten, we wait and watch for an ultimatum to make itself apparent. By the lone flame of a space-heater, models form a single file line at Rivera Santa Maria Elisabetta to debut the Rick Owens FW21 Collection during Paris Fashion Week. It is a disquiet, the muted rage inside man that exists within the Rick Owens FW21 collection. This season brings with it a palette of greys, browns, greens, blacks and whites arrive in different shapes and highly technical fabrics and a small assortment of accessories.
Heavy recycled cashmere sweaters contort around the body, whether peeled down to trail off the lower body or pulled up to double over itself for added warmth. Thigh high cowhide fur boots which feature a platform heel or a ballast sole are paired with tighty-whities with pentagram flys. These looks speak to the contradictions in the present day how this feeling can be expressed through contemporary menswear.
Dragging oversized jeans in 16oz warped black selvedge denim which has been custom woven specially for Rick Owens by Yamaashi Orimono on vintage sakamoto shuttle looms, adding to the ongoing DRKSHDW Capsule made in Japan. Diving deeper into the aesthetic of anger, the Paris Fashion Week show was soundtracked by an exclusive extended remix of 'Hellrap' by Ghostemane, which speaks to this suppressed male rage on every side of the moral divide.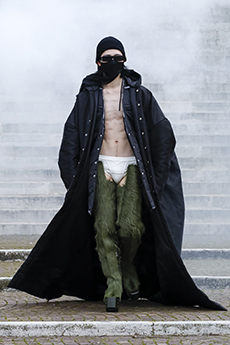 Marni SS21: Fussbett Sabots
For the women's and men's SS21 collection, Marni has reignited their Fussbett sandals, a unisex item that presents a versatile and bold slipper version of the original. The more practical and sophisticated elements of the Fussbett are elevated and enhanced, the new Marni 'Fussbett Sabots' offer comfort and decadence to wear while working from home. Maintaining the same approach in the street, the Fussbett Sabots announce themselves loudly with a contemporary and casual style that aligns with many outfits and Marni looks.
The new slipper sandal by the luxury Italian brand is made to be worn in any relaxed setting, arriving in two versions: an understated grainy calf leather in black and white tones and a version covered entirely in calf hair leather in black and fuchsia colors. The calfskin iteration brandishes the Marni logo discreetly on its side. Made to transition between indoor and outdoor, night and day, the Fussbett Sabots exude nonchalance with a hint of glamour that is never too much.
The unisex Marni Fussbett Sabots will be available for spring 2021 online and in Marni boutiques and select multi-brand stores worldwide.
Fashion
Eleventy Men's FW21/22
A self awareness, an alertness, the modern man who seeks his own style above all else. This is the driving force behind the new Menswear collection from Eleventy. Founder and creative director of the Milan-based fashion brand, Marco Baldassari, says of the FW21/22 collection "it is an elegance designed for oneself; it is a new way of thinking and being in the world that changes and renews itself." Jackets are layered with over-shirts as an alternative to formal jackets, professional yet downplayed and casual. Baldassari's concept of reflective elegance echoes throughout the collection.
Lightweight materials align with ideals of simplicity, relaxation and comfort that are so prized in today's world. To achieve this, Eleventy implemented "double" fabrics, extremely unlined fabrics that require no less than 14 hours of careful work of expert hand-craftswomen. A wool-cashmere blend has an unmistakable softness applied to braided sweaters and knitwear utilizing a "seamless" technique which conserves otherwise discarded yarn. The pleated pants feature denim that is made unassumingly soft. The ribbed zipper bomber jackets are also soft to the touch, gauzed and doubled internally with an incredibly fine knit to create more precious and treasured garments.
Attention to details to create thoughtful and fine clothing for the colder months, Eleventy walks the line between functional and casual. The 'Mountain Resort' Capsule boasts luxurious comfort that holds up against harsh winter conditions. Made from precious shearling, wool and cashmere sweaters, along with accompanying accessories, arrive in color iterations of saffron yellow, dusty geranium, cream, honey and ash grey.
The FW21/22 collection from Eleventy is filled with a variety of unexpected pleasures.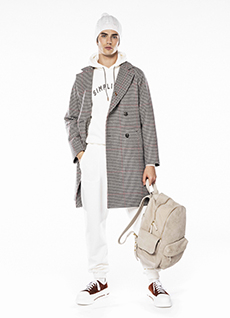 Fashion
Prada Men's FW21
With the first collection co-created by Miuccia Prada and Raf Simons focused in on the human body, its freedom and the increasing wish for contact, the need to feel. The collection was defined by its tactility, a veritable panoply of different surface textures and textiles. Jacquard knits and leather find themselves combined with re-nylon and wool suiting in both traditional and unanticipated colors. Apart from the rich colors and textures, the garments were defined by a reduced and minimalized structure. The collection was presented in a space created by Rem Koolhaas. The models navigated through the varying spaces of different interplaying materials and textures, mirroring the rich tactile nature of the collection itself, a space inviting and seductive, hard and soft, warm and cold, simultaneously both and neither. The garments were a feast for the senses. Color and patterns excite the eyes whereas the rich materials and surfaces entice touch. After the show, both Creative Directors answered questions from students from all around the world. This exchange once again highlight the though behind the collection, the human need to exchange and relate to others. During their exchanges, they shared how they work together, the importance and meaning of situational design, the challenges arising for fashion with the increasing digitalization and the importance of fashion and clothes as tools for self-expression.

www.prada.com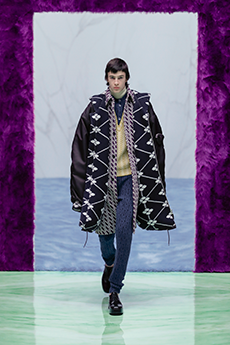 Fashion
Brunello Cucinelli: FW21/22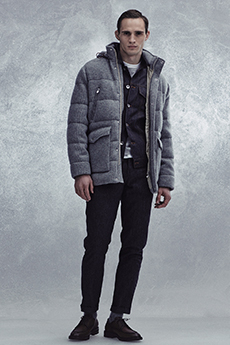 After years of research and development, Brunello Cucinelli has launched a collection of menswear for Fall Winter 21/22. The collection is the synthesis of yesterday and tomorrow. Finding a balance between the past and a prominent vision of tomorrow's look, the collection keeps ideals of moderation and simplicity with neutral colors making the foundation on which to build. Mid and dark colors are diffused in the knitwear hydrangea violets, bonfire reds, bordeaux, blueberry and variants of green like sage and mint. Aside from classic coats, this FW21/22 by Brunello Cucinelli is made up of down jackets and outerwear in different lengths and weights to remain true to modern menswear in the colder months.
Knitwear rests at the forefront of comfort, items of reassuring clothing we all reach for in winter's cold embrace; knitwear features prominently in this collection adding something unexpected and special to down jackets. Time honored textures of stockinette stitch and English rib are enriched by chiné and vanisé techniques, a proud pairing of workmanship and nuance.

Supple leathers and shearling complimented by discrete patterns displayed on the men's outwear provide something beyond reproach during the rainy seasons. In addition to lightweight, handcrafted leather accessories, formal footwear displays the attention to detail and dedication to craftsmanship at Brunello Cucinelli. This same craftsmanship is applied to a range of sneakers made from lightweight and natural materials that add versatility to each look.
Somewhere between the sartorial approach and taking cues from new stimuli of modern fabrics elegance is given a presence in the everyday. Brunello Cucinelli designs for the present moment, newer than yesterday, classic enough for every tomorrow.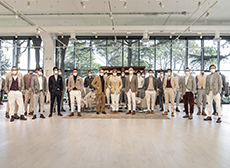 C.P. Company SS21: 'Natural Mutation'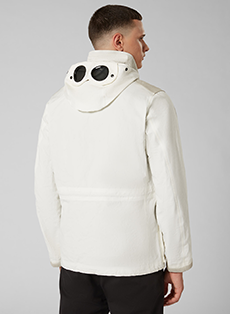 What is natural? What is unnatural? We all consider ourselves to be some kind of normal, the phenomenon of life as we know it is a helplessly natural occurrence. In that beauty we find one another in so many unique and intriguing ways, as the sirens wail in the distance we know that there are always stranger and more involved, complicated times ahead. For whatever mutation of what we consider normal, C.P. Company ushers in their SS21 collection; 'Natural Mutation'.

From the company founded in 1978 by a young Massimo Osti from Bologna, Italy, this SS21 collection reminds us we are all human no matter what we consider natural; we are all one and the same. Continuing the themes from January of 2020 with C.P. Company's large-scale presentation 'The Next Landscape', this year C.P. Company explores a mix of natural and synthetic fabrics to better understand its relation to natural and man-made environments in practice. The design team questioned whether synthetic fabric can assume the tactile versatility demanded by the terrain while staying true to its lightweight and hydrophilic qualities.
The urbanity so commonly encountered in contemporary life is a common mountain that we all climb, the common thread between each of us is the tunnel vision that we climb it with. Demanding environments call for fabrics and design techniques that answer the call for hardy and intense, durable, flexible, versatile needs; C.P. Company delivers on these needs.

After years of continued respect for its customers, the design language of C.P. Company is more thoughtful, more functional and more authentic for SS21.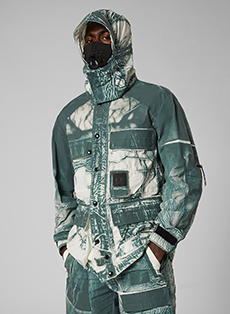 Étoile Filante by Louis Vuitton
Étoile Filante by Louis Vuitton Inspired by the striking imagery and boundless inspiration caused by a shooting star of comet glimpsed in the night sky, Maître Parfumeur Louis Vuitton Jacques Cavaller Belletrud, created the new fragrance 'Étoile Filante' or 'Shooting Star'.

In his father's laboratory in Grasse, an eleven year old Jacques discovered osmanthus absolute. "It immediately fascinated me", he recalled, years later on the master perfumer's journey through China he would happen upon a combination of exquisite magnolia and osmanthus dancing on the cool night air at the flower market, swooning him into a heady dream. Adding a touch of Jasmine from Grasse obtained using CO2 extraction, a technique exclusive to Louis Vuitton, the floral harmonies of the scent combined with light notes of sun-ripened strawberry are amplified.

On the olfactory composition of Étoile Filante, Belletrud calls it "A perfect illustration of floral freshness that is vibrant and rich in contrast, with marvellous tenacity", speaking openly about jasmine's effect on the fragrance, he says simply "it's an ingredient that makes you smile" says Belletrud. Stars dancing in the sky, racing unthinkably fast to wherever their journey takes them, if only to remind us there is an energetic and restless light out there in the dark.

This latest fragrance from Parfums Louis Vuitton, is an ode to the pure and simple joys that remind us our natural world and place in the cosmos can still reignite an undeniable sense of wonder and hope to pierce through the fog of uncertainty and doubt.

As of January 28, 2021, Étoile Filante will be available at select Louis Vuitton stores and online.
Fashion
Upcycled MiuMiu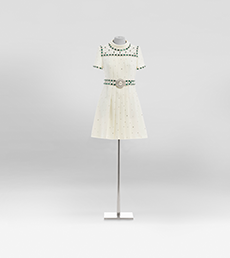 Nearly thirty years and many great strides in fashion since Miu Miu was founded by Miuccia Prada, the iconic brand is debuting its 'Upcycled by Miu Miu' collection. A special collection of vintage dresses has been given new life, once loved and soon to be loved again as Miu Miu garments. Each piece is unique and entirely one-of-one, adorned with signature Miu Miu embroideries and embellishments. The limited run of 80 upcycled dresses will be available in nine cities at Miu Miu boutiques worldwide. These cities that the 'Upcycled by Miu Miu' line can be found in are Milan, Paris, London, Tokyo, Moscow, Hong Kong, Shanghai and St. Moritz. Each item has been carefully reworked and renewed by the designers at Miu Miu, a dress from the 'Upcycled by Miu Miu' collection that is found in one city will never be found in another city. For example, item 26/80 is a 1970s silver and gold knitted cocktail dress customised with all-over diamanté embellishment, a crystal neckline and rose peach silk gazar bow detail; available at Miu Miu Paris, while item 14/80 is a 1960s short belted dress in white silk crepe with one-sided pleats on the front, customised with white and emerald green crystal embroidery and all-over diamanté embellishment; available only at Miu Miu Tokyo. Each dress is lovingly restored by hand and re-imagined through the Miu Miu lens to ensure they are loved once more and maintain continuity with the brand's oeuvre.

www.miumiu.com
Fashion
Lamborghini x Roger Dubuis
Horology is invigorated with the roar of Lamborghini's supercars in the Excalibur Huracán STO. Designed by the legendary Roger Dubuis, this new piece is an unbelievable encapsulation of the powerhouse car brand, elegantly concealed within a stand out accessory. Rules are thrown out of the window with this watch, where a strong futuristic sentiment gives the bold blues, oranges and blacks real excitement and vigor. The watch's clear similarities to its namesake don't end at its title, the exhilarating power of the super sports Huracán STO captured in the watch's automatic RD630 calibre with a honeycomb motif and a 12° angled balance wheel combined with a 360° oscillating weight. Roger Dubuis ijets adrenaline and excitement into every detail of this timepiece, a car and watch lover's delight in each respect.

www.lamborghini.com
Fashion
Support Our Future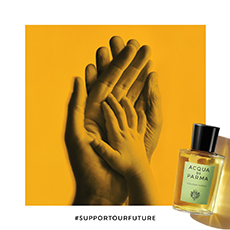 With the bold hashtag "Support Our Future", Aqua di Parma proudly presents their new charity campaign. From December all UK profits from their Colonia Futura will be donated to The Prince's Trust, to help support young people, who are facing an increasingly bleak and unpredictable future. In keeping with it #StayAtHome solidarity campaign in reaction to the Covid crisis in Italy earlier this year, Acqua di Parma continues in its global support of those in need. The Prince's Trust remains the Uk's leasing youth charity, first set up by the Prince of Wales in 1976. With this stoic history behind it the charity continues to make huge strides to bring positive change to many young people's lives. Acqua di Parma's new campaign is a strong reflection of a brand dedicated to using their influence and platform for good.

www.acquadiparma.com

Fashion
Zegna X Leica
The indomitable pairing of fashion and photography are realized brilliantly in an exciting new collaboration between Zegna and Leica Camera. Both legends in their own field, it feels a long awaited union, the iconic German camera manufacturer moving into the world of fashion with a distinctive collection of high-end camera accessories. First seen in the January on the runway, the modern photographer is gifted with an array of accessories all made extra special by their handmade craftsmanship. Consisting of PELLETESSUTATM camera holsters for Leica Q2 and Leica M cameras; PELLETESSUTATM protectors for Leica Q2 and Leica M cameras; functional crossbody bags called Insta-Pack and the Leica CL with the 18mm 'pancake' Leica lens; carrying and wrist straps; Leica keyrings and round wallets (both for coins or the Leica Q2 lens cap) this collaboration caters to every photographer's need. Zegna's Artistic Director, Alessandro Sartori is himself a photography enthusiast not to mention a Leica lover, and this unrivalled passion is clear in the collaboration that is a celebration of both photography and fashion alike.

www.zegna.com
Fashion
Teaser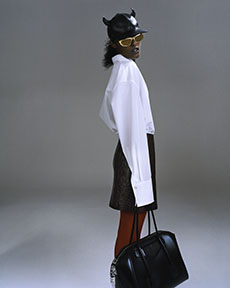 Soon after being appointed the Maison's Creative Director in October, Matthew M williams released his debut collection for Givenchy. Following the success of the Spring Summer 2021 collection, the fashion house has now dropped an edited selection from this line, a playful grungy expression of leather, denim, chains and classic white shirts. Statement outerwear composed of crocodile print and decadent leathers give way to relaxed silhouettes paired with horned baseball caps and distinctive hardware, a unique and urban aesthetic. Amidst denim co-ords and leather sliders, there is a wonderful sense of youthfulness and freedom, a new iteration of the beloved Antigona woven into this exciting rebellious narrative. The Teaser capsule collection premiers today, (1 December 2020) exclusively in seven Givenchy stores across Europe, Asia and the US, as well as on their online store. This collection is a testament to the magnetic power of great design and creativity.

www.givenchy.com
Fashion
Set in Paris
Longchamp returns to the city of love for its new film campaign. Set in Paris, fantasy meets reality as the infamously romantic city becomes cinematic backdrop to this eccentric yet subtle production. With the dynamism of a music video, Longchamp have selected emerging actresses to play a lively cast of Parisian women with the "joie de vivre" of the city. In this wonderful typically french take, two Longchamp bags become accidentally exchanged, and it is in this quaint storyline that Longchamp's iconic accessory is showcased in an understated but undeniably present and engaging way. Describing her vision, the brand's Artistic Director explained, "I wanted to depict an active, spontaneous and open-minded woman, one who grabs hold of life with elegance and independent spirit." For a fashion house so inextricably tied to the city of Paris this film is a visually stunning tribute to such a nostalgic and meaningful location.

www.longchamp.com
Fashion
A Touch of Color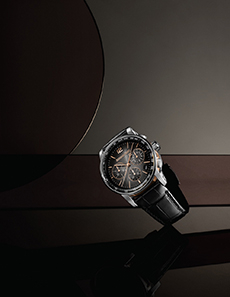 Audemars Piguet is undoubtedly part of the select few houses which form the peak of the watchmaking business. The oldest fine watch manufacturer still in the hands of the founding families, the name Audemars Piguet has become synonymous with luxury and an incredible dedication to the perfection of the craft which has resulted in numerous masterpieces. This strive for perfection is deeply ingrained in the house's DNA having continuously nurtured talented craftsmen who have pushed the limits to create rule-breaking trends. Unwilling to rest on its laurels, Audemars Piguet is constantly looking to improve their current selection. For this reason, the Code 11.59 receives a colorful twist, now shining in hues of burgundy, blue, purple and grey. The sunburst lacquered dials enhance the timepiece with a myriad of refined details, slight nuances in coloration depending on the angle from which the watch is seen. Each model is elegantly encased in an 18-carat white or pink gold case depending on the color and finished with an alligator strap in the color of the dial. Refined and contemporary these novelties will bring a touch of brightness to your wrist. The resulting watches are not only aesthetically appealing, but Audemars Piguet also equips them with their self-winding mechanism. Visible through the caseback, the wearer will be able to admire the intricate inner life, the beautiful micro-mechanics revealing the functions and components usually hidden from our sight.

www.audermarspiguet.com
Fashion
Season Greetings
FENDI gets into the holiday spirit with their new collection, unapologetic in its dedication to the most jubilant time of the year. Versatile in essence, the collection is both functional and aesthetic in its championing of chunky knits and sporty tracksuits. With their menswear featuring urban puffers and their womenswear articulating the feminine form beautifully in a new set of skirts, FENDI has everything covered. Taking the season in full fling, the collection showcases an exciting new collaboration with K-Way®, offering their customers practical wear for months of cold and wet weather. Any union with K-Way®, would not be complete without their legendary windbreakers, FENDI creating a dark blue color way for men and black and fold for women. An exclusive style is also offered, the FF logo printed on mink fur in brown. Continuing the tone of luxury brilliance, gold metallic accents sparkle in the Golden Capsule Collection, another nod to the holiday season. In this collection, silhouettes become fluid, Lurex jersey frocks, draped collars and sculptural plunging necklines transforming their wearer into the life of the party.

www.fendi.com
Fashion
Mirror Image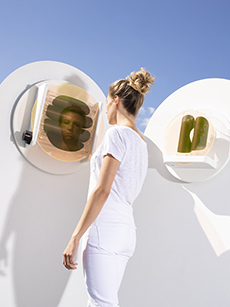 "A mirror image is not the same as a reflection" reasons Maite Denolf, graduate of the Design Academy Eindhoven. Rather the mirror produces a reflection with a shifted perspective, a distinction that is explored in Denolf's graduation project, the "Reflective Compass". Composed of rotating tubes with black vinyl forms, a transparent reflective glass which overlays these moving parts produces changing reflections coming in and out of focus. In its illusionistic sense of play, the designer/architects hopes "the Reflective Compass can cause people to stand still from time to time and take a moment to interact with themselves".

www.maitedenolf.com
Fashion
By My Side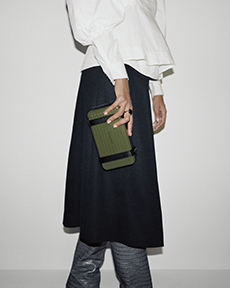 RIMOWA announces a brand new collection of personal cases this autumn. Crafted in the latest polycarbonates Essential collection colors, the launch is a timely celebration of the brand's 20th anniversary of their pioneering polycarbonate suitcase in 2000. RIMOWA pushes the boundaries of travel, encompassing lifestyle in this new collection which was unveiled at Dior's summer 2020 show, available as part of a capsule collection in collaboration with kim Jones. This latest collection made in Germany, has practicality and easy travel at its core, made in ultra-lightweight, dent-resistant grooved polycarbonate, perfect for keeping your staple travel items safe and protected. Coming in 4 glossy colorways, the monochromatic classics black and white are joined by 2 seasonal hues, Desert Rose and Cactus, in keeping with the most recent RIMOWA Essential collection rooted in the mojave desert.

www.rimowa.com
Fashion
Larger Than Life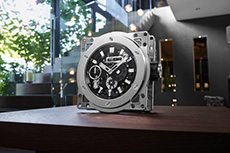 Hublot delights with its new version of the MECA-10, an oversized version of their beloved January 2016 model. The table clock extends Hublot's rich repertoire moving from wearable craftsmanship to innovative interior design; in the process treating its host of loyal watch enthusiasts to a domestic centrepiece. In collaboration with the Jura-based L'Epée manufacturer, the MECA-10 has been enlarged by four times, realizing its full potential, impressively retaining its original specifications, most importantly its 10-day power reserve. Reimagining the manual movement in a uniquely technical light, the manual mechanism's seamless performance is delivered by its Meccano construction system. The world-renowned clock-making expertise of the L'Epée manufacturer, flourishes in this new venture, its 19.60 by 18.10cm case housing the meticulous system, coming in two versions. The first model showcases Meccano-inspired angles and a ring in polished satin-finished steel and transparent composite; the second version is covered with PVD consolidated by supporting brushes coated in black. Hublot makes an impact with this bold design of limited edition pieces, presenting a table watch larger than life.

www.hublot.com
Fashion
Adrian Ghenie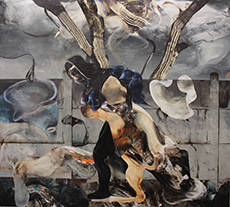 Presenting the fifth solo exhibition of Adrian Ghenie, the Tim Van Laere Gallery are proud to present nine new paintings and three new charcoal drawings by the Romanian born artist. Born in 1977 in the city of Baia Mare, Ghenie graduated from the Art and Design University of Cluj-Napoca and now works between Berlin and Cluj. Engaging with a unique and illusionistic spatial arrangement, Ghenie's work is characterized by distinct pictorial motifs that are at once hedonistic and radical. Transposing his extensive knowledge of history on to his eclectic and diverse subjects, Nazi Germany and Greek Mythology appear in narrative form in many of his works. Referencing the genre of history painting, classic techniques such ad chiaroscuro, reveal a real and genuine connection with traditional practices. Known for his emotional investment in his practice, feelings of vulnerability and frustration come to the surface, challenging the viewer's own collective memory through the stories he presents. Adrian Ghenie will be exhibiting at the Tim Van Laere Gallery from 15 October until 28 November 2020.

www.timvanlaeregallery.com
Fashion
The Triple Stitch
The fall winter season is welcomed with innovation and style by Ermenegildo Zegna, their presentation of the Triple Stitch, keeping at bay the winter blues. This versatile slip-on sneaker has pleasure and ease at its core, promising elevated comfort in a wonderfully light weight shoe. A luxury essential for the modern man's wardrobe, the Triple Stitch evades dress code in its sheer versatility. Its flexible construction is realised by a sole made in an extra light rubber, matching the pace of day to day life. Clever in its allusion to Zegna's rich and iconic history, the enduring triple elastic which allows it to be slipped on and off also recalls the three hand stitches on the brand's suit lapels. In its crafty design, Zegna makes a trainer that can be worn across the seasons, particularly in its range across a spectrum of colors. Featuring beige, dark vicuna and red leather, a contemporary combination of grained calfskin and suede dyed grey, blue or chocolate brown is also offered. For an even sorter finish, a supple deerskin version is also available, the perfect remedy for the biting cold of crisp winter days.

www.zegna.com
Fashion
The Finer Things
NET-A-PORTER launches its first ever exclusive pop-up with iconic jewelry brand Jessica McCormack. The U.K based jewelry company has solidified its place as a household name, having been worn by everyone from Victoria Beckham to Meghan Markle. In their striking commitment to heirloom-inspired designs, Georgian-era characteristics are integrated stunningly with a fresh, contemporary aesthetic. A pioneering light in the world of wearable jewelry, Jessic McCormack has proved that its customized, layered designs are as personal and intimate as they are luxurious and classic. For the pop-up NET-A-PORTER will showcase key collections: Signature, Ball n Chain, Tattoo, Chi Chi, Gypsets, Hex and Wings of Desire, all making a welcomed appearance. In their effortless aesthetic each piece in each collection exudes contemporary cool, a perfect and fitting addition to a globally-acclaimed site renowned for its dedication to innovate and wonderful design. Speaking excitedly about this collaboration, Jessica McCormack's CEO, Colleen Caslin said "NET-A-PORTER's approach to client satisfaction, upheld by their exceptional team of personal shoppers, dovetails with Jessica McCormack's – where anything is possible and service is unparalleled.'' With craftsmanship at the essence of Jessica McCormack, high quality products, this union between itself and NET-A PORTER is an exciting prospect for both companies' future.

www.net-a-porter.com
www.jessicamccormack.com
Fashion
Stone Island: Storia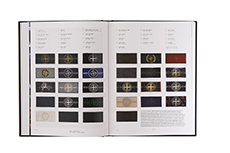 Since its foundation in 1982, Stone Island has unquestionably left its mark on the fashion landscape. From Milanese paninari to British football diehards, Stone Island resonates with a diverse audience. It is its distinct mix of elements of fashion, luxury and streetwear, which has kept the Italian house relevant throughout its almost 40-year existence. Not just relevant, but a veritable cultural cornerstone, a status enhanced by its celebrity following, but primarily thanks to its ardent fans all across the world. Central to the brand is its relentless pursuit of excellence, may it be in the design language or in their continuous efforts to bring innovation to the world of fabric treatment and dyeing. Stone Island: Storia captures the house's illustrious story and ethos. Previously unseen images are combined with three major texts by Eugene Rabkin, Paul Gorman and Jian Deleon offering seasoned and new fans alike new insights into the world of Stone Island. A special edition with slipcase and a poster depicting the history of the house's iconic branded badges has been produced exclusively. These special editions will be available exclusively in Stone Island stores and online starting from October 6, 2020.

www.stoneisland.com
Fashion
Balenciaga Spring Summer 2021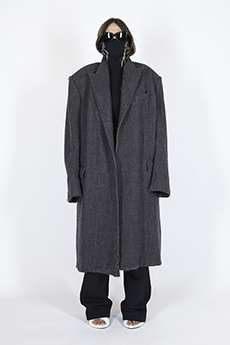 The pandemic has given each of us a chance to reflect, and clearly something has happened to Demna Gvasalia. After his apocalyptic show last season and in face of a slightly different dystopia at the moment, Gvasalia returns with an almost optimistic attitude. With the ongoing pandemic, Gvasalia abandons the classic runway show, as many others have done, and reimagines the collection presentation as a music video. The models are strutting in a purposeful step through an abandoned Paris at night to the 80s track Sunglasses At Night, because, to put it in Gvalsalia's words, "Is there anything more absurdly fashion than that?" His tribe of night time people embodies a sense of modern glamour, representing the type of people who turn heads after dark. In his typical fashion, Gvasalia continues to fuse couture with comfort, applying the Balenciaga DNA to everyday pieces. The standout of the collection was not a single piece, rather the story behind. 93.5% of the plain materials used are either certified sustainable or upcycled. Conscious about the environmental impact that the industry has, Gvasalia show commitment to change, "It became very obvious to try to do garments that are unisex, uni-size, uni-everything—or whatever we want to call it. It drastically reduced the number of cuts and fits we had to make. Also, I like the fact that according to who wears it, the silhouette changes, but whoever wears it, it looks good."

www.balenciaga.com
Fashion
Chloé Spring Summer 2021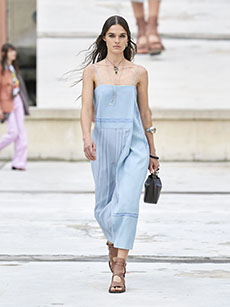 A soft wind brushing between the hair. Taking pictures of the Seine. Strolling on a quiet day in the city, then stopping for a moment to contemplate the serenity of everydaylife, of a simple gesture, of a day like any other. Chloé Spring Summer 2021 collection was presented through a set of cameras following models, merged together, overlapping. Natacha Ramsay-Levi has built her Chloé by exploring the female gaze, its strength, its fragility, and that unconventional emotional and intimate gesture. Over the years Ramsay-Levi has reached out to great female artists and activists, bringing their work into Chloé, creating a debate over these exceptional visionaries. This season the collection feature a selection of print created by American artist Corita Kent also known as Sister Mary Corita. Born in 1918 at the age of 18 years old she became a sister under the Immaculate Heart order in Los Angeles known for being very progressive and nurturing artistic sensibility. She developed a great interest in art and after obtaining her master degree in Art History at University of Southern California, Corita became the head of the art department at Immaculate Heart College in 1964. Her teaching method was so revolutionary that great artists like Charles and Ray Eames, Alfred Hitchcock, Buckminster Fuller were invited as guest speakers. Corita often mentioned how Charles Eames played an important role in her artistic vision. A self–taught serigrapher, she became interested in the potentials of the medium creating several hundreds different works, that over the years became increasingly political. When in 1968 she was accused of blasphemy for her continuous activism against war and female discrimination, Corita returned to secular life and became a prolific artist and openly civil rights activist, until her death in 1986. For Chloé Spring Summer 2021 collection, Natacha Ramsay-Levi featured several of Corita's artworks: 'hope' (1965), 'give the gang our best' (1966), 'i can handle it' (1966), 'for emergency use soft shoulder' (1966), and 'viva' (1967). It's interesting how the apparent delicacy of text and words related to Christian fait actually disclose the incredible strength of the artist's activism. Celebrating Corita's work, the house of Chloé, will also donate part of proceeds from the Spring Summer 2021 collaboration to the Corita Art Center, a non-profit organization dedicated to preserving her legacy.

www.chloe.com
Fashion
Kenzo Spring Summer 2021
"How can one draw conclusions from a situation that is far from ending and in which the consequences are impossible to grasp? The world is ill, the world is bleeding, but it is still alive. And, as long as there is life there is hope.[…] Going p laces… a mirage of dreams, hope, excitement and discovery. We will not give that up. Clothes that transform themselves to adapt to all situations. The fully covered and protected becomes fragile and naked, daring danger and rules". Felipe Oliveira Baptista's words speaks about his reflection and reaction to today's challenge. Baptista's first collection for the iconic brand was shown just few days before the World declared state of emergency. The Portuguese designer has always experimented around the idea of versatility, a youthful and contemporary silhouettes around what he often called 'post-sportswear' Last year in a press release marking Baptista's appointment, Kenzo's CEO, Sylvie Colin, said: "His innovative and modern creative vision and well-rounded artistic approach will enable Kenzo to reach its full potential while respecting its unique heritage." For Spring Summer 2021 Baptista created a raw youthful and daring sensibility. Clothes for nomads, to explore and create a new world, were contrasting elements recall the dichotomies of our current life, the paradox of our times. Flowers, bees, nature. Archival Kenzo poppies and hortensias were given a digital crying effect. From flowers the primal feeling of protection and cocooning came an ode to the bees, one of the most important insect for the survival of human species. Recently populations of bumblebees have steeply declined in many places, largely because of insecticide and global warming. Some species are now even listed as endangered species. If all of the world's bees died, there would be a major rippling effect throughout the ecosystem, and although it would not likely lead to famine, it would dramatically alter human food systems. But for Baptista bees and the beekeepers with their mesmerizing clothing and hats also strongly echo "the fragility and distance imposed and needed today". The collection features a series of sheer beekeepers hats a ttimes elongated along the body and worn over. Deconstructed, draped, twisted, cut out garments: floating and grounded, transparent and solid, romantic and utilitarian. Felipe Oliveira Baptista's vision for Kenzo is whispered through his small handwritten note printed inside the pamphlet that served as invitation to the show, and voicing this celebration of life: "There are no norms. All people are exceptions to a rule that doesn't exist."

www.kenzo.com
Fashion
Born of A dream: A Man of the Future
Since the success of IWC's "Born of a Dream: A Boy from San Mateo", a short film starring the brand's ambassador Tom Brady, the Swiss luxury manufacturer has embarked on yet another cinematic adventure. With its first film recounting Brady's journey to becoming a champion quarterback, ICW embraces a story far closer to home, the story of its founder, Florentine Ariosto Jones. Born in Boston, Jones' dream was to apply America's advanced industrial technology to the established Swiss tradition of craftsmanship in the emblematic form of a pocket watch. American entrepreneurship meets Swiss heritage, a fusion that to this day sets ICW apart from its competitors. Titled "Born of a Dream: A Man of the Future'', the film sees actor James Marsden establish his pioneering watch company in Switzerland in 1868. Speaking on his role in the film Marsden stated, "I am thrilled to be part of this project and be up on the screen with Tom to recount how he – and F.A. Jones – achieved what they did. It's about setting your goals high, overcoming adversity and the importance of determination and hard work. Even though their stories take place over a century apart, it's a timeless journey". IWC's affinity with cinema and storytelling is a core essence of a brand with a strong and affirming heritage and history. This personal installment of its "Born of a Dream" promises to be its most exciting yet.

www.iwc.com
Fashion
MM6 Spring Summer 2021
For MM6 the Spring Summer 2021 collection is all about perspective. In a new reality in which we communicate mainly over the screen, the MM6 design team reinterprets the notion 'business on top, party on the bottom' with subversive ensembles optimized for the new 9-5. The collection is mix and match up and down, showing menswear with lingerie following the motto opposites attract. MM6 archetypes receive surprising twists through scale, surface and silhouette, chopped garments and contemporary formality. As we all, the MM6 design team focuses on the domestic, the familiar, we all had time to reacquaint ourselves with over the last months.The collective behind the collection revisits some of the house's founder Martin Margiela's best work while infusing it with the energy and feminine touch of current creative director John Galliano. The short film offered insights into the process of image creation with studio perspectives. We are able to observe staff and models closely interact with the garments in a smart, engaging, wry and super on-brand mise-en-scene.

www.maisonmargiela.com
Fashion
Versace Spring Summer 2021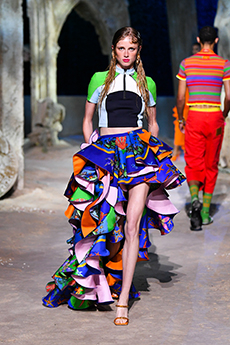 The mise-en-scene of Versace's SS21 runway, is taken from the depths of the sea. Depicting the sunken ruins of a baroque city, Corinthian pillars jut out of the floor, Versace's iconic motif presented as a head stone, amidst broken statues of Greek gods and goddesses. Illuminated by theatrical lighting and beneath these watery reflections, models appear, transforming the sea floor into a unique runway. Glittery starfish appear as brooches on garments, a nod to the marine scenery, a fun and vibrant detail from a house renowned for its use of color and sparkle. Crop tops on men and women as well as bralets, appear in neoprene a further consolidation of this underwater dwelling, allowing the theme to run cohesively through the collection in their investment in materials. Colors appear bold and kitsch, garish patterns, also featuring the motif of the starfish, are paired with blacks and navy. A carnivalesque spirit grips the show as greens, orange, pinks, reds and blues build up a real sense of celebration to the background of fast paced techno. Versace curates a party underwater, skirts and dresses featuring exquisitely dramatic ruffles, adding a sense of autonomy and motion to each of the looks. After strutting down the runway, models join the statues in the background, consecrating each look in the graveyard of classical Greek ruins. Color and sparkle joins the shadows once more for an ending of a show that captivated and enthralled, presenting an alternative vision to a summer that has been undeniably dampened by the current crisis.

www.versace.com
Fashion
ETRO Spring Summer 2021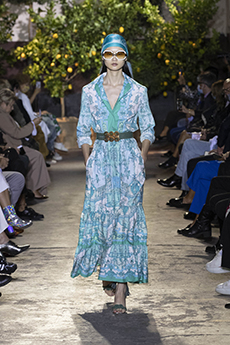 Over the last months we have rediscovered the joy that simple gestures, like traveling, reuniting with your loved ones. For many, the places that were once familiar became distant, inaccessible. We became overwhelmed with longing for our native territories, like Ulysses for his Ithaca. For Spring Summer 2021 Veronica Etro, creative director of ETRO Womenswear, explored the enchanting Italian summer landscape, the flora and motives found in Italian Riviera: marine chains, anchors, seashells, nautical rope, summer stripes, sailboats, green foliage, together with the brand's signature Paisley now proposed in monochrome color ways. The collection also presented archival foulard prints - Bandiere da Parata (1992), Albero delle Meraviglie (1993), Trionfi e Soffitti (1994) and Palais Jamais (1995), reminiscent of sumptuous frescos of Italian palazzos. Playful and uncomplicated with shirt knotted at the waist, knotted scarf's worn under blazers as tops, denim and micro shorts paired with fluid tunics, bustier long dresses worn with rope lace-up flat sandals. Straw basket bags, chokers in gold rope, high-heeled sandals with silk ties wrapping around the ankles. It's a collection celebrating the outstanding beauty of Italian life and ETRO's roots. With its rich prints and summer color palette in Sicilian lemon yellow, lavender, mint, orange, turquoise, and lavish silk, floating as the models walked to the beat of 90s music hits.

www.etro.com


Fashion
FENDIFRENSIA PINK: The Sound of Fragrance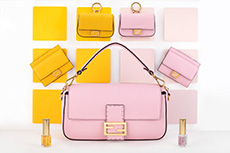 It is now almost a year since the Roman house Fendi and Maison Francis Kurkdjian have launched the FENDIFRENSIA Yellow Scented Baguette line. This project, which was born out of an artistic conversation between Silvia Venturini Fendi, Creative Director of Fendi, and Francis Kurkdjian, composer and co-founder of the eponymous perfume house. Natural materials, most noteworthy the Selleria Cuoio Romano leather, represent the tangible intersection of the world of perfumery and accessories. At this year's Milan Fashion Week, Fendi presents the second edition of this ongoing collaboration with Maison Francis Kurkdjian. After the initial yellow, FENDIFRENSIA returns in pink, with the bags in rose hues being mirrored by the matching floral scent. Fendi classics, such as the Baguette bag or the Nano Baguette shine in the pink, whilst this special occasion also marks the launch of five Yellow Men's Regular Baguette bags, with each bag coming with a 5ml bottle of the respective fragrance.

FENDIFRENSIA Yellow and Pink Scented Collection will be available online as well as in FENDI boutiques worldwide starting from September 25th.

www.fendi.com
Fashion
Brunello Cucinelli Spring Summer 2021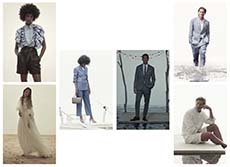 Brunello Cucinelli seeks inspiration from the humble pleasures of life for their SS21 Men's collection. The simple unadulterated joys of our day to day, the renewed sense of happiness that comes with the most delicate of moments is captured deftly by the brand. With this in mind, unique and distinctive elements construct the new collection, minimalism allowing for thoughtful reflections on casual elegance. This sense of effortlessness translates to the lightness of the fabrics too, where fine blends of natural fibers find new ways to articulate and shape shirts, t-shirts, polos and trousers. Beiges, greys and blues present a muted summer palette warm in its attention to summer hues, this sentiment translates across to the women's collection. Here sage and moss greens denote a calming serenity against tones of pink, light blue and sun bleached limes tones, monochrome looks also feature blacks and charcoals. Similar to the sense of return felt in the men's collection, the womenswear collection returns to nature and wellbeing. Calm, gracefulness and flow run through the looks, creating a fluid path that looks beyond the presentation to the world at large inspiring a welcomed sense of peace.

www.brunellocucinelli.com




Fashion
Big Bang Camo Yohji Yamamoto
The timeless essence of Yohji Yamamoto has been captured boldly in Hublot's new watch, Big Bang Camo Yohji Yamamoto. For 50 years the Japanese fashion designer has offered transcendent design and creative ingenuity, Hublot's response is a tribute to the designer and a strong extension of their own connoisseurship. Responding to Yamamoto's iconic use of textiles, the Big Bang Camo Yohji Yamamoto comes in camouflage, a seminal pattern, fitting of Hublot's new limited edition. Releasing 200 pieces, each watch is imbued with irresistible exclusivity adding to the aura surrounding the watches. The watches' 45 mm case is cut from matte black ceramic, indicative of true sophistication and elegance A Sapphire dial features add exquisite detail to the watch, biomorphic patches a nod to Yamamoto's camouflage motif, his signature also subtly featuring at 6 o'clock. Hublot once again proves itself as a pioneering force in its industry, using brand new technology to create its new watch. Its constituent shapes fused together using the vulcanisation process, its straps exhibiting beautifully the beauty of this newly discovered process. Hublot's Big Bang Camo Yohji Yamamoto is a powerful ode to its namesake, an object of creative defiance.

www.hublot.com
Fashion
MESSE IN ST.AGNES
Koenig Galerie presents MESSE IN ST. AGNES, its second edition following its first success in June this year where they welcomed over 4000 visitors in just 12 days. Taking place from September 12 till 20 September 2020, the former Church in Berlin Kreuzberg will be made accessible to the public for a second time, transformed into a spectacular gallery's saleroom. MESSE IN ST. AGNES was initially set up as an experiment to compensate for this year's cancellation of ART BASEL, but has since come into its own, becoming something of a niche event in the art world. Showing over 200 high ranked artworks from the primary and secondary market, pieces will be made available for sale. Works included are by internationally renowned artists, Rita Ackermann, Daniel Arsham, Georg Baselitz, Monica Bonvicini, Jonathan Lyndon Chase, Nicole Eisenman, Katharina Grosse, Subodh Gupta, Sarah Morris, Man Ray, Tomas Saraceno, Lee Ufan and Cosima von Bonin amongst many others. This event aims to curate a unique and unprecedented insight into the contemporary art market, often a mysterious and impenetrable world for the humble art lover. In displaying the price of all exhibited artworks, MESSE IN ST. AGNES enforces real and exciting transparency, a completely fresh and alternative approach to art fairs. The fair's first edition sold around 80 pieces, totaling up to 2 million euros, comprising works by the likes of Damien Hirst, Gerhard Richter and Neo Rauch. A no photo policy adds to the aura of the event, imbuing the brutalist church with a tantalizing exclusivity. Tickets are available online and at the gallery with free entry for children under twelve.

www.koeniggalerie.com
Fashion
Coach: We Are family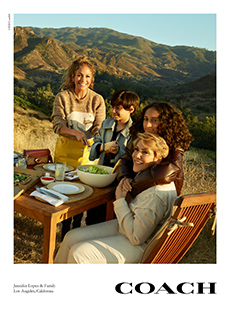 Coach launches its global advertising campaign, "Coach Family", for the House's Fall 2020 collection. Strengthened by stories of community, bonds of togetherness and enduring love in the face of adversity, Coach seeks its inspiration from our turbulent present and its test of the most important relationships we have in our life. The campaign features ambassadors of the brand Kiko Mizhura and Jeremy Lin alongside longstanding Coach face Jennifer Lopez and other individuals regarded as the House's extended family. Channelling the wholesome essence of family life, the campaign recalls home videos in its aesthetic of archive footage interspersed with unfiltered stills, optimism and inclusivity resonating throughout. New portraits will be released over the course of the season, creating a campaign that feels spontaneous in its reveal of new and established Coach faces. Creative director Stuart Vevers uses our current time to "re-examine our values" forming a campaign around the heart of the family.

www.coach.com
Fashion
To Travel
Louis Vuitton has long celebrated the luxury and freedom of travel, its suitcases an iconic part of the House since its establishment in 1854. As part of this appreciation the House will be adding 2 new photography books to its series Fashion Eye. Greece by François Halard and Ukraine by Synchrodogs. Each work portrays a country, region, city or a destination through the unique gaze of a fashion photographer. For the Greece edition the French Photographer captures his own personal journey and experiences whereas the Ukraine edition is taken by a photographic duo that intersects land art with nude photography. Fashion Eye is a tailor-made series whose intimate editorial process creates books that are akin to art, artisanal in their craftsmanship. Large-format photographs sit alongside biographical information and critical essays are interchangeable with interviews from the relevant photographer. Each book uses an intertextual lens to curate a picture of a place that is reflective and thoughtful, giving way to an understanding of the photographer also.

www.louisvuitton.com


Fashion
The New ghost
Explaining the inspiration behind their most technologically advanced Rolls-Royce to date, Rolls-Royce's Chief Executive Officer has a new generation in his sights. Male and female clients looking for a "slightly smaller, less ostentatious means to own a Rolls Royce" are catered for by the new Rolls-Royce Ghost which "distils the pillars of [the] brand into a beautiful, minimalist, yet highly complex product". In keeping with a "Post Opulent" design philosophy, superficial and traditional expressions of wealth are rejected in search of a new and refined aesthetic. Rolls-Royce uses a rigid aluminium spaceframe architecture, with all-wheel driving and steering to create a vehicle that exudes craftsmanship and quality. In addition to creating a visually pleasing car, the new Rolls-Royce Ghost also promises an effortless and reactive driving experience, the result of the world's first Planar suspension system. The car also fitted with hallmark 6.75 litre twin-turbo V12 engine, delivering 571PS and 850 nm. With ease and accessibility a formative part of the car, doors now open electrically. In keeping with the minimalist aesthetic a down lit Pantheon grille subtly illuminates the Rolls-Royce iconography. The new Ghost is an engineering feat that has a new and budding generation of clients at its core.

www.rolls-roycemotorcars.com
Fashion
"lo dico io"
Dior's Autumn Winter 2020-21 campaign is a tribute to versatile femininity and the Italian feminist art that it inspired. T-shirts are printed with the words "I say I", translated from the Italian "lo dico io" and taken from the introduction of the 1971 manifesto "La presenza dell'uomo nel femminismo" by Italian feminist, Carla Lonzi. Photographed by Paola Mattioli, the models are captured in a series of natural and spirited portraits that feel incredibly personal and intimate in their portrayal of free and effortless dressing. The ready-to-wear collection features key elements from the runway, eye-catching patterns composed of polka dots and checks animating the iconic Bar silhouette. The Dior Book Tote and Lady D-Lite Bag undergo a velvet makeover appearing strikingly new next to the new Dior Bobby and the House's emblematic scarves. Dior continues transforming old classics, as it revisits the Bar Jacket that consecrated Christian Dior's success back in 1947. Maria Grazia Chiuri creates a new version, producing form-defying structure with its knit silhouette. Opening the Fall Winter 2020-21 show, the Bar Jacket presented a huge challenge to the House's ateliers, relying on 4 prototypes in order to render such impressive volume and shape. In its return to such a statement piece, Dior blends comfort and elegance, building upon the House's diverse heritage.

www.dior.com


Fashion
Digital Escapism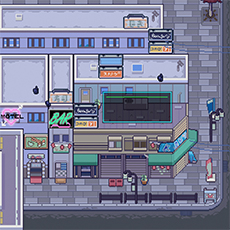 As part of the exhibition series THE ARTIST IS ONLINE, curated by Anika Meier and Johann König, Thomas Webb launched his solo digital show EXERCISE IN HOPELESS NOSTALGIA -WORLD WIDE WEBB on 14 August 2020. In the artist's digitally rendered world, visitors were asked to enter through their browsers or smart phones, recreating the spontaneity of a post covid time where freedom of movement was exercised to the fullest. Grappling with the internet in this multiplayer simulation, Webb offers thought provoking reflections on the hypocrisy and inconsistencies that prop up this global digital realm. Speaking on the Koenig Galerie's instagram live, Thomas Webb will be in conversation with Johann König on Thursday, 20 August, 4pm CET to discuss this work and further thoughts on our digital age.

www.koeniggalerie.com
Fashion
FENDI Fall Winter 2020-2021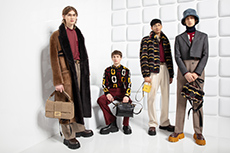 Silvia Venturini Fendi produces a surprising and inventive collection for Fall Winter 2020-2021, deceptive in its one of a kind FENDI craftsmanship. Concealed pockets and reversible outerwear curate a wardrobe that is both intriguing and mystifying in its disruption of traditional garment wear. Retro-futurist undertones navigate a sea of melton wool, heavy twill, flannel, flocked denim and corduroy suede. Illusion underlines this collection, the application of trompe l'oeil fabrics and extraordinary proportions bringing a new perspective to a familiar take on utility wear. This collection unabashedly celebrates the House, with FENDI Roma taped seams, the FF logo as a chain link animalia pattern and of course the iconic Fendi yellow which runs so defiantly through the entire collection.
Also situated within the collection is the collaboration between Silvia Venturini Fendi with Japanese designer Anrealage. Birthing a selection of photochromic outerwear and accessories, four FENDI Men's silhouettes represent the first photochromic Menswear on a European runway and include four light-sensitive transformations across sports-inspired outerwear, mittens, inside-out tailoring, bags and accessories. When exposed to UV sunlight a white tiger quilting shines a FENDI yellow and a white diamond quilting reveals a new FENDI Code in black. Fendi creates a Men's collection that is pioneering, in its embrace of the future as well as the past.

www.fendi.com
Fashion
Prada Timecapsule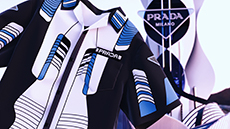 Prada's initiative, Timecapsule, is an exclusive drop where 50 items are released on the first Thursday of each month. As part of this bold launching strategy, Prada is proud to announce an exciting new drop on August 6 at 3pm CET for 24 hours only. Presenting a new unisex cotton popeline shirt, whose print's motif includes a specific limited edition number 1/50, 2/50… Prada serves us retro sporting vibes in an eye catching graphic print of black, light blue and white. Biking culture, tour de france and '60s bowling culture collide, invigorating this new drop with a sense of sporting pride. Mother of pearl buttons grace this boxy silhouette with a succinctly Prada elegance, revealing a touch of luxury amongst its sporting aesthetic. Enabled by the new Prada e-commerce platform, this new section is now available solely in Europe, reaching other markets over the course of 2020 following the new prada.com layout-relaunching calendar. The Prada Timecapsule drop will be available on August 6th at 3pm CET.

www.prada.com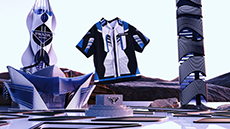 Fashion
Miu Miu Wonder Woman 2020
Miu Miu serves us retro empowerment in its new capsule celebrating the legendary superhero, Wonder Woman. Said to have been crafted in clay by her mother Queen Hippolyta and endowed with magical powers by the Greek gods, Wonder woman, known to loyal fans as Princess Diana of Themyscira, is a pioneering figure of female strength and adversity.
Her timeless appeal animates three t-shirts for the collection, each treated with a vintage effect, giving the designs an irresistible sentiment of nostalgia. Illustrated in classic athletic poses, Wonder Woman assumes an air of defiance whilst also referencing the much loved pin up girl. These t-shirts are the perfect throw on for a casual look, or can even be dressed up for an evening out.
The Miu Miu Wonder Woman t-shirts capsule is available now online and in stores.

www.miumiu.com


Fashion
Dior Cruise 2021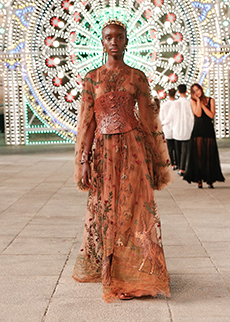 Set in Lecce, a city imbued with heritage and craftsmanship in the Puglia region, Dior Cruise 2021 collection highlights the excellence of these priceless skills, and many creative dialogues between the House of Dior and Lecce that began long before the health crisis and the confinement. Paying homage to Nature and the region's unique landscapes, as a land that has always been close to Maria Grazia Chiuri's heart. "During this period, I sought to give collective efforts a new dimension. Despite the disadvantages of distance, bringing a different perspective to our daily lives has given us strength and imagination", Maria Grazia Chiuri supports and showcases the virtuosity of these artisans and artists: from the architectures of the Luminarie, dazzling light structures that have been illuminating local streets and palaces for the feast of the patron saints, to the essential role of dance performed by the dancers of Notte Della Taranta Foundation, a foundation promoting local culture, and reinventing traditional Italian music and dance. For Dior Cruise 2021 show in Lecce, choreographer Sharon Eyal created a timeless choreographic performance that re-engages anew with the profound meaning and symbols of these powerful Puglian rituals around the Pizzica, the iconic folkloristic dance from the region. The dancers performed on the music created and directed by Paolo Buonvino. Buonvino: an exclusive composition especially for this show, a captivating reinterpretation of traditional Puglian melodies. The beauty of the gestures, emotion and poetry of the performance resonate in the exquisite craftsmanship celebrated in the collection: delicate weaves of Le Constantine Foundation displayed on various pieces, with the atelier's motto «Amando e Cantando» embroidered on a series of skirts; the Tombolo, an extremely delicate style of lace, born in Italy in the 15th century and spread throughout Europe during the 16th century, is created for the collection in collaboration with Marilena Sparasci, one of the last remaining embroiderers to practice and teach this technique; the waving of Tessitura Calabrese, a family business located in the heart of Italy's Puglia region, perpetuating traditional weaving techniques of fine threads intertwining craftsmanship and technology. "We rise by lifting others"; "On peut souvent créer des révolutions sans les avoir cherchées"; "La differenza per le donne sono millenni di assenza dalla storia"; "A wish is revolutionary because it seeks what cannot be seen". Phrases chosen by the artist and activist Marinella Senatore, interwoven with her scenography of Luminarie for the show, are an ode to women's empowerment and to local communities, reaffirming Maria Grazia Chuiri's ongoing celebration of women and the role of heritage.

www.dior.com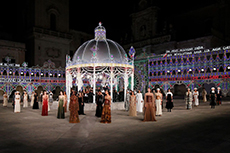 Fashion
Salvatore Ferragamo Pre-Spring 2021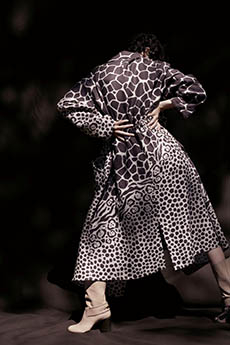 Certain events undoubtedly leave a mark for the better or for the worse. The current global pandemic is certainly one of them as it brings with it a set of challenges for each individual and every business. The fashion industry is by no means an exception, neither is the Italian house of Salvatore Ferragamo. As the house's Creative Director has put it himself, 'This collection was made in exceptional times, under exceptional conditions, through which we were all obliged to adapt and innovate.' Despite all the challenges, Ferragamo's Pre-Spring 2021 collection can be presented with pride. A distillation of necessity and passionate craftsmanship, the garments combine natural shapes with design structure. The clean and minimal lines and softly tailored silhouettes are contrasted with the print of the season, a hybrid of giraffe and leopard patterns. The print itself derives from Andrew's deep dive into the archives, more precisely a scarf first seen in 1970. In continuation of the house's ongoing initiative to increase environmental mindfulness, materials and fabrics are largely sourced responsibly. Various fabrics, cashmere and leather were upcycled, nylons were recycled and the cottons were produced organically. Inspired by functionalism and nature, the collection features minimal construction and only very few ornaments, representing Andrew and Ferragamo's successful attempt to turn the limitations of the period into positives by focusing on what is most essential.

www.ferragamo.com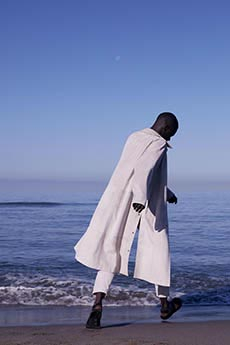 Fashion
Prada Men's and Women's Spring Summer 2021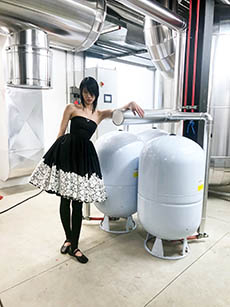 The show that never happened. With her signature witty approach, Miuccia Prada orchestrated a series of multiple views on Prada Spring Summer 2021 collection for both Men and Women. Terence Nance, Joanna Piotrowska, Martine Syms, Juergen Teller and Willy Vanderperre, Five different artists, five different takes on Miuccia Prada's vision through videos, a medium the Italian designer has explored and supported over the years. They tell the story of a house beyond the collection. These are stories within a story. Multiple facets of Prada's own curiosity. The collection dives back to the origins of the house in the 90s, when the minimal and innovative approach created the renowned Prada aesthetic, speaking a language that continuously evolved through the years, and became imbued of that idiosyncratic approach to fashion codes we have known Prada for. Both Men and Women for Spring Summer 2021 explore technologically innovative fabrications of Prada nylon and stretch materials juxtaposed with traditional suiting: if for Men silhouettes are sharp and fitted, for women they transform into couture volumes and treatments. Taffeta, cotton, nylon. Lingerie, sportswear, couture. Voicing fragility, gender fluidity, and nowness. History and futurism coexist in Prada's quintessential paradox

www.prada.com
Fashion
Louis Vuitton Men's Spring Summer 2021
Louis Vuitton Men's Creative director Virgil Abloh dove into boyhood since his very first collection, while exploring the Maison's signature theme: travel. For Men's Spring Summer 2021 Abloh created a short film with the use of animation, to serve as the first chapter of a story unfolding in the following months to gradually unveil the collection. Starting from Vuitton ancestral home in Asnières, it follow the adventures of a group of friends – going by the name of "Zoooom with friends" – hiding in Vuitton's shipping containers, traveling along the river Seine. As they cross Paris leaving for Shanghai, they resurface to enjoy the city of lights one last time, playing music and dancing. On 6 August 2020, after crossing the oceans, the shipment will arrive in Shanghai and the runway show will fully unfold. No longer animated, 'Zoooom with friends' will come to life. Throughout its voyage the collection will transform in an evolving exchange across cultures and nations, unveiling its up-cycling nature: new looks made from recycled material, looks repeated from the Fall-Winter 2020 collection, looks freely created by the studio during the lockdown using recycled material, and new looks created from existing ideas. Transcending the traditional rules of fashion and seasonality.


Fashion
Furla Metropolis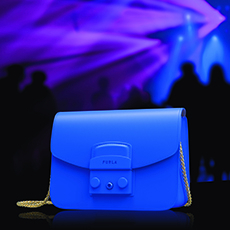 In keeping with their distinct Italian heritage, Furla proves itself to be a brand that while staying true to its essence, still knows how to redefine and build on a classic. The label's iconic Metropolis bag is back in a new guise yet still manages to respect and pay homage to its heritage style that has always been its greatest attribute. This renewed and updated line welcomes new volumes, re-designed silhouettes all available in a selection of bright colors like electric blue, energetic ruby or vibrant orange.
The designs are also available in more understated, neutral tones of black and white to match any ensemble. This cross-body bag is now reimagined as a new cute phonecase or small, rounded clutch handbag is now on its way to becoming the emblem of the iconic brand, founded over 90 years ago in Bologna.
Standing for quality, colorful creativity, joyfulness and of course a contemporary Italian lifestyle, Furla continues honoring its own righteous code of conduct in the world of fashion and accessories.

www.furla.com
Fashion
A New Big Bang
Through their extraordinary design, the watches out of Hublot's Big Bang series have become contemporary icons, with each representing the house's commitment to tradition whilst fusing their outstanding craftsmanship with cutting edge materials and now, even the newest digital technology. Two years after first exploits into wearable technology, the Swiss manufacturer returns with the Big Bang E, a connected watch, a culmination of the latest technology and existing iconic codes. Following their 'Art of Fusion' philosophy, this latest model highlights the efforts to unite the innovation and technological sophistication of the digital smart watch with the time-honored Hublot aesthetic. The resulting piece perfectly fits with the Hublot watchmaking tradition with all the iconic codes being instantly recognizable by experts and enthusiasts alike. The first edition of the Big Bang E will be part of the #HublotLovesArt movement with a series of eight different dials stemming from the imagination of artist Marc Ferrero. Every three hours, the dial will change colors with each display being inspired by a specific color. Furthermore, every full hour is marked with the appearance of an animation, which lasts five seconds. For the first time in Hublot's history, this watch will be available online aside from the traditional network.

www.hublot.com
Fashion
Woolly eyes
It is no surprise to us that Chanel's Fall eyewear collection is inspired by the brand's emblematic fabric — tweed. Now reinterpreted as a metallic weave or engraved on titanium, the collection is signed with the tweed motif displaying a play between feminine and masculine lines, between strength and fragility. For the iconic fabric to be so well translated onto eyewear is a mystery, but no surprise for the iconic maison. Just as it works for a Chanel suit, tweed also works just as well in accessories, working for every innovation. For the first time the metal structure that holds each temple melts into a weave of metallic threads, positioned between two acetate plaques, breathing a spirit of sophistication into the design. Tweed metal inserts highlight the angles of the cat eye styles in black, brown, green or tortoiseshell acetate. To round off the collection, a design inspired by the Fall-Winter 2020/21 Ready-to-Wear runway show shows volumes exaggerated in relief, with a lightweight nylon frame, these butterfly glasses adopt a sporty chic allure ideal for any season.

www.chanel.com
Fashion
Cartier Women's Initiative
When Cartier launched the Cartier Women's Initiative in 2006, they made a commitment to helping women in reaching their full potential. Open to women-run and women-owned businesses that aim to have a strong and sustainable social and environmental impact. The names of the 7 laureates of the Cartier Women's Initiative were announced virtually this week after being selected by an international jury committee. This year's laureates include Adriana Luna Diaz, Stephanie Benedetto, Anna-Sophie Hartvigsen, Temie Giwa-Tubosun, Nadia Gamal El Din, Chunguang (Charlotte) Wang and Joanne Howarth. They will each receive $100,000 in grant, while runner-ups will receive $30,000. The 7 laureates and 14 finalists will all receive support on strategic financial thinking, one-on-one strategy mentoring, media visibility and international networking opportunities, as well as the opportunity to join an education programme on scaling social impact. Now, with the addition of a new award, the programme is expanding. starting from the 2021 edition. Three more women impact entrepreneurs will be recognized thanks to the Science & Technology Pioneer Award, to support women impact entrepreneurs at the forefront of scientific and technological innovation. Applications for the 2021 edition of the Cartier Women's Initiative are now open until July 31.

www.cartierwomensinitiative.com
Fashion
Berluti Buggy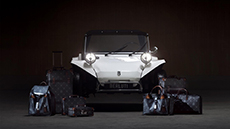 In an elegant and fun filled tribute to the beachy culture of 1960's California, Berluti has launched a brand new design object for this summer, the Buggy. Inspired by the recent Globe-Trotter luggage collaboration and the brand's signature printed canvas designed by Kris Van Assche, Berluti's new beach buggy reflects many of the brand's signature design elements including the leather interior alongside the emblematic Berluti logo, a canvas top in signature print and the B logo on the bonnet. The original Buggy was developed by Bruce F. Meyers in Newport Beach in 1964 for the purpose of roaming the dune landscape in search of a perfect surf spot. A rollover protection structure doubles as a surfboard stand, making it ideal for those looking to take it off-road in search of the best waves. Just like back then, today's buggy is based on a VW Beetle frame and engine and is available by special order. The stately body does not distract from the clear homage to the laid-back lifestyle of 1960's California.

www.berluti.com
Fashion
Nostalgic About the Future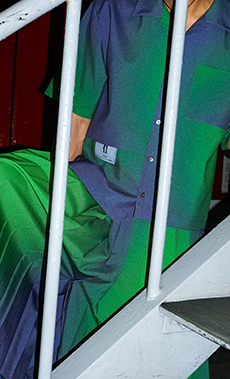 Distant memories of characters in sci-fi novels, films and TV shows are used as inspiration for Keenkee's SS20 collection. As the season commences, Korean-born designer Kee Kim celebrates the start of the future with a mixture of fabrics and textures. The virtually-produced abstract prints run a gradient motif, adding a certain aura to the perfectly crafted paneled shirts and pleated shorts. Bright hues are softened by contrasting subdued shades, and glossy fabrics are paired with lighter materials to create a sense of balance. Loose-fitting mauve trousers are designed with a coordinating cropped blazer jacket, proposing silhouettes that stretch gender rules. Paired underneath is a violet-colored jacket, which elongates the entire outfit and contributes to the contrast of purple tones.

www.keenkee.net
Fashion
Acta Non Verba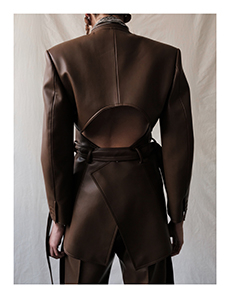 Peter Do launched his eponymous New York-based brand in 2018 to much acclaim. Since then, the designer has proved consistent yet surprising, making more than just a uniform for the modern woman. It all started with a flurry of sketches during his high school years in Philadelphia. These days, since he was granted the LVMH Graduate Award, Do has taken the temperature of women's desire and and locked it into each of his designs. After returning from Paris, where he studied under the expertise of Phoebe Philo at Celine, Do amassed relationships with nine stockists, designing out of his friend's apartment, where he showed his SS19 collection . Philo herself once said, "there is absolutely a gap in the market for 30-something women and, the more I look at it, the more I feel there needs to be a sense of ease and choice." Do clearly didn't take that lightly. With Do's SS20 collection, color trumps all. Textures with an enigmatic opacity do a lot to display the relationship between shape and tone, evoking the modern masters that made America their home: Mark Rothko, Clyfford Still and Ellsworth Kelly. It can be said that Rothko explored the spectrum of single shades like no other, and the designer deftly conjures this fascination for SS20. The restraint and care taken by Do in his latest collection builds on the wardrobe of a contemporary metropolis, while serving the sensitive demands of the modern woman from New York to the world over.

www.peterdo.net
Fashion
Monochrome Royalty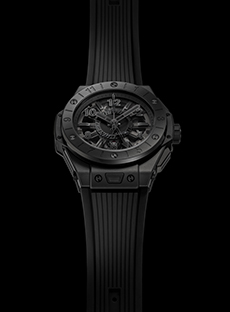 Japanese designer Yohji Yamamoto is renowned worldwide for his dark, punk and japanese inspired clothing that has been victorious in the fashion world since his 1981 debut at Paris Fashion Week. The general vibe of Yamamoto's work is one of deconstruction, whether in form or in idea, his clothing presents an antithesis of traditional Western dressmaking using harsh and impactful silhouettes with a monochromatic color scheme.
This crowned king of moncohrome represents his design values across any medium, and it seems only logical that his design for swiss watch brand Hublot is entitled 'Big Bang GMT All Black Yohji Yamamoto', made to celebrate the grand opening of its new flagship Boutique on Chuo-dori Street in Ginza, Tokyo. When Hublot launched a pioneering concept: "Invisible visibility", in 2006, the all-black design of this new limited edition expressed a philosophy symbolising the very essence of the brand which now seems to compliment Yohji Yamamoto's own design character. The timepiece displays two different time zones, local time is read easily via the conventional main hand while the time at home is indicated using a second arrow-shaped hour hand. True to the All Black concept, tone on tone, the signature of Yohji Yamamoto can be discovered at six o'clock.
"This watch can easily display the time zones of the two cities where I'm based, Tokyo and Paris. Moreover, the hours are invisible. As a person who isn't always forthcoming, I find that highly amusing." reflects Yohji Yamamoto.  

www.hublot.com
Fashion
Diesel Upfreshing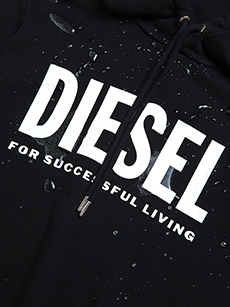 Since almost the entire world has and is going through massive changes, we have begun to reevaluate our decisions, our routines and of course our shopping habits. A shift in thinking is underway in western society as we take a leaf from eastern cultures and start to consider a lean towards a more collective society, one that considers the needs of others rather than just our own immediate universes. Health, prevention and of course sustainability are the words buzzing around everyone's brains right now and Diesel's new technology is an ideal solution for these worries. Using technology, Diesel will take a limited amount of items from the Spring 2020 collection and give them a new life and finish with the innovative tech that provides a series of treatments that function as a wearable safeguard against bacteria and germs. Like most things, being fashionable today is equally about being responsible, Diesel 'Upfreshing' allows our clothes to be washed less, meaning less water and energy usage and of course less washes means an extended garment lifespan.

www.diesel.com
Fashion
Savoir Faire
Meaning to possess the ability to act appropriately, to be able to adapt and knowing what to do in any situation, Savoir Faire is an appropriate phrase to use when referring to Fendi's iconic Peekaboo bag. The Italian house has just released a new video that exalts the adaptable nature of the bag, showing three different takes on the accessory. The male and female universes collide in this fendi-scape which presents the Peekaboo X-Lite for Men with laser-cut workmanship, the Peekaboo for men where Selleria stitching is combined with the intarsio fur and the Women's Peekaboo, in different sizes, with leather interlacing. The fil rouge of the video is the Roman maison's trademark yellow, while the Palazzo della Civiltà Italiana shows impressive architectural perspectives rounding together the video's purpose of highlighting the Italian houses creativity and unparalleled craft.

www.fendi.com
Fashion
#MiuMe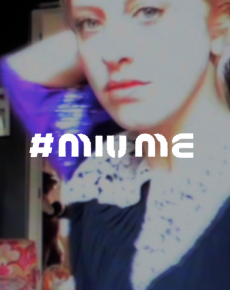 Among the many social media campaigns that have been announced in recent weeks is Miu Miu's #MiuMe campaign. The initiative invites a diverse cross-section of people from around the world to use their mobile phones to film themselves going through their wardrobes, wearing pieces by Miu Miu. Notable figures from the realms of sport, art, dance and fashion, as well as Miu Miu fans are free to present themselves in any manner, elevating the selfie to a statement about identity. From the participants' homes around the world, these FaceTime moving-image self portraits will be collated and curated for the first stage of the brand's ongoing project that stands to produce bundles of noteworthy content.

www.miumiu.com
Fashion
Brands Giving Back: AGL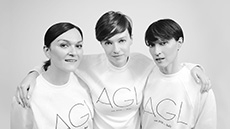 Another brand doing their part to combat the ongoing pandemic is AGL shoes. In an effort to express gratitude to the dedicated healthcare workers, 30% of the proceeds made on agl.com for the month of April, will be donated to benefit Doctors of Marche Region - Province of Fermo, Italy - and provide them with personal protective equipment.

"We are very fortunate to be able to stay safe at home and we think It's our responsibility to take care of our families and be grateful. Above all, It's time to utilize our resources to help others, in particular the people who are running the risk of their own lives to protect ours", the Giuti sisters.

www.agl.com
Fashion
Gute Luft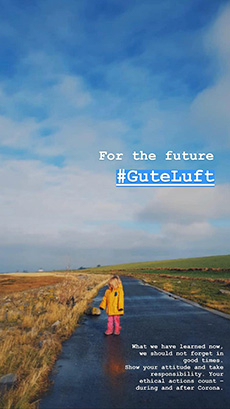 Through this collective experience, we have come to a point that has caused us to stop, and reevaluate our lives and the way we live them. The lack of unnecessary movement and human activity has resulted in lowering of emissions and even some signs of nature 'healing' itself. In the wake of this, people are reexamining their values and rethinking our consumerist nature and asking what the future will be like post-pandemic?

'Gute Luft' is a campaign to playfully draw attention to these thoughts and raise awareness for how negligent society has treated nature, resources, animals and people. Through this, THINK INC. hopes to steer people towards a new, more ethical future. It encourages people to share their Gute Luft moment along with the text, 'What we have learned now, we should not forget in good times. Show your attitude and take responsibility. Your ethical actions count - during and after corona', in a hope to spread a hopeful message.
Fashion
Brands Giving Back: Fendi
In support for their country and it's healthcare system, Italian maison Fendi has donated €250,000 to the organizations in the Regione Lombardia and donated masks to health professionals in Regione Toscana. The Carla Fendi Foundation, established in 2007 to aid the preservation of cultural heritage, also made a €100,000 donation to support the intensive care unit at the Presidio Sanitario Columbus in Rome. In a recent post on instagram Fendi expressed a message of positivity and hope, "Aware of the difficult moments that the world is going through, we are committed to designing the best way to start again, stronger than ever, supporting Fendi's production ecosystem and its values."

www.fendi.com
Fashion
Virtual Arts #Rijksmuseum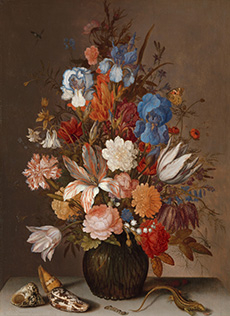 In light of museum closures, the national museum of the Netherlands has launched ten ways to experience the museum and its works from the comfort of your own home. Presenting online tours, educational videos and research information, the gallery successfully utilises the online sphere to educate its patrons in this time of crisis. Launched in 2012, the Rijksstudio has been a great resource since its inception, allowing users to create their own collection with over 700,000 high resolution artworks available. While the Gallery of Honor has reopened via an online platform, Rijksmuseum Masterpieces Up Close, showing an adjacent look at classics such as Vermeer's Milkmaid or Rembrandt's The Night Watch. On top of all this the Rijksmuseum hosts Rijkstube and Rijkscreative, as well as bundles of social media content for education and entertainment.

www.rijksmuseum.nl
Fashion
Woolrich Summer Jackets
As the weather starts to improve and our spirits along with it, we start to dream of places to go and people to see and above all, we dream of the outfits we will wear on such occasions. Although the weather is as unpredictable as, say, life itself, Woolrich's SS20 collection boasts a colorful selection of durable garments ideal for mixing, matching and layering suitable for a range of climates. The sophisticated Peony Coat in Extra Light Ripstop is not only water repellent but also wind resistant – perfect for a casual commute. The use of micro and macro checks add an element of playfulness and much-needed variety to the collection. While the clever use of color-blocking boasts a vibrant personality and feminine touch. Summer models are available in many color variations such as red, green or the iconic pink check pattern, all perfectly suited for those long evening-stretches. The combination of playful color, durability and functional design employs the outerwear brands mantra: Woolrich Keeps you Warm, Dry and Protected.

www.woolrich.com
Fashion
Dior's Delectable Books
Originally we looked to literature for faith or education but today we look to books for all kinds of reasons. In these extra long days spent in our homes we find ourselves on the hunt for some sort of escape to ease our anxieties and allow us even for a moment to forget about all that is going on in the world outside. Whether it's to escape, to dream or to better ourselves books are a wonderful medium that allows the realms of art, imagination and reality to collide. So, it makes perfect sense for Dior to bring us a selection of ten books to take you on a timeless journey celebrating the magic of couture.

Featuring a selection of ten luxurious livres the books showcase the maison's history and explores the spellbinding secrets of the iconic brand. Escape to 20th century Paris with the personal story of Monsieur Dior by delving into Dior by Dior or discover the vibrant, captivating work of Peter Lindbergh in Dior Images. Let yourself be carried away by the magic of the Maison's heritage, brought into focus by the greatest fashion photographers thanks to a wealth of reading material to inspire and lead you behind the scenes to a world of elegance and beauty, in the comfort of your home.

www.dior.com
Fashion
Z Zegna presents TECHMERINOTM and TECHMERINOTM WASH&GO for SS20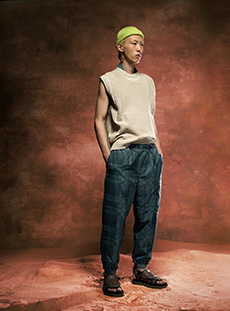 Zegna: A Conscious Lifestyle Zegna has been at the forefront in developing reforestation and environment preservation for over eighty years with successful results on the outstanding Oasi Zegna in Biella, Valdilana Region. Therefore it's no surprise that Artistic Director Alessandro Sartori utilised the concept of desertification for the SS20 collection. A theme that embraces an ethical and conscious lifestyle, the collection features a new generation of technical garments with innovative fabrics and functional construction. Loose outwear styles such as windbreakers, anoraks and bombers feature mix and matching textures that are paired with pants cut in slim, cargos and carrots. While the crease-free merino natural wool shines with tactile effects, the striking colors are reminiscent of a desert at sunset. Nocturnal indigo is refreshed with off-white and orange shades, while desert and khaki neutrals are paired with the neon boldness of lime green and pink red for added modernity.

Driving the choice of materials and techniques, the range is derived from up-cycled and recycled fibers using water-friendly treatments and washing processes, as well as fiber blends.The deconstructed silhouettes, ultra-lightness, high-performance and unquestionable style of the collection are synonymous of the esteemed Italian label.

www.zegna.com
Fashion
Dior Maison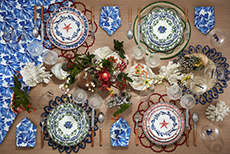 In 1947, Christian Dior opened a boutique called "Colifichets", at the same time as his better-known couture house at 30 Avenue Montaigne. A quick success, the boutique expanded soon presenting an array of home accessories. Consistently developing alongside fashion and beauty creations, the boutique collaborated with the likes of Maria Pergay and Gabriella Crespi to create original pieces. Revisiting the plant-filled atmosphere of the SS20 ready-to-wear show from Maria Grazia Chiuri, the Dior Gardens line, designed by Cordelia de Castellane, features new pieces that elevate table settings. The delicate motifs that adorn the different looks unfold with grace and refinement across earthenware plates. A highlight of Dior Maison's is the Copacabana collection. Seaweed motifs adorn plates while vases and decorative glass balls transform into precious aquariums populated with fish and coral. In these extended hours spent at home, Dior invites you to bring a touch of magic into your home and add a little extra comfort to the simple pleasures of everyday life. As Christian Dior himself wrote, "Living in a house which doesn't reflect who you are is a bit like wearing someone else's clothes."

www.dior.com
Fashion
Woolrich Hike and Seek SS20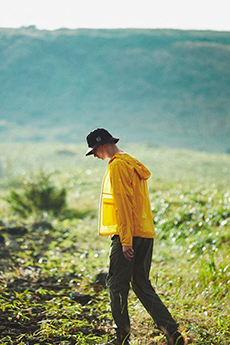 Taking inspiration from earthly elements, the Woolrich SS20 sustainable collection is designed to embrace the privilege of the outdoors. Referencing the challenges of the Appalachian Mountain Trail, the campaign focuses on durability and utility. Inspired by iconic shapes such as the Hunting Jacket, and patterns like the Shadowbark camouflage from 1987, the pieces reflect the will to merge tradition with novelty. With an emphasis on layering, the garments in the collection are multi-purpose, an example being the quick dry merino wool that works as a super-stretch second skin. For their SS20 collection Woolrich have utilised sustainable technology and methods that minimize fabric wastage. Featuring materials such as Cordura, Pertex and Solotex the range boasts attributes like extreme durability, high air permeability, and a super-stretch essence that tie in to the theme, Hike and Seek. Where possible, they employed a focus on biodegradable composition of materials as well as a Green Cycle approach guided by a ripstop recyclable nylon. Already available online, the collection will be in selected retailers as soon as they reopen their doors.

www.woolrich.com
Fashion
GUESS x J Balvin Colores
Iconic fashion brand teams up with international superstar to create an exclusive 'GUESS x J Balvin Colores' capsule collection. For their second collaboration Guess and Balvin have developed a collection inspired by the Colombian artists new album Colores. The campaign, directed by Nicolai Marciano showcases the vibrant clothing throughout the kaleidoscopic streets of Medellín, the city Balvin hails from. Incorporating red, yellow, green, blue and purple tones in each piece the robust collection for men, women and kids successfully blends J Balvin's musical stylings with a colorful ready-to-wear collection. Styled by model and DJ Sita Abellan and shot by fashion photographer Tatiana Gerusova, the campaign shows Balvin accompanied by fans of all ages showcasing the beauty of Colombia as well as "the surging artistic vibes throughout the city and country." www.guess.eu Following their first successful collaboration The Vibras collection, Colores has allowed the artist to further expand his role in the creative and design process. "It provided wonderful creative inspiration to envision a new album and corresponding new fashion collection together from the beginning – both connected to how I've been exploring new music through a lens of individual colors."

www.guess.eu
Fashion
Camper Together with Pop Trading Co.
Back in 2006 footwear brand Camper had the genius idea to develop an initiative to collaborate with leading designers and creative thinkers from the worlds of fashion, art and architecture to design and create exclusive products as well as unique stores. The concept, known as Camper Together has been hugely successful resulting in numerous fruitful collaborations with names like Kengo Kuma, Jonathan Olivares and Doshi Levien. The latest collaboration with Amsterdam-based brand Pop Trading Co aims to push the boundaries of contemporary design while staying true to the brands distinct heritage. Founded in 2013, Pop Trading Co initially began as a distribution company for the Benelux market but has since developed their own line that fuses menswear with the brands strong skateboard heritage. For S/S20 the Dutch brand presents two distinct styles, the first style taking inspiration from the Camper archives, revisiting the Camper Runner XL sneaker. While the second style has a more relaxed sensibility, updating the Chassis Chukka boot with a rubberised sole and crepe rubber foxing tape. The unisex styles are available in a choice of colors and will be available from April 3.

www.camper.com
www.poptradingcompany.com


Fashion
Service à Café en Marbre
Our morning routine becomes leaps and bounds more luxurious when we use a vessel that not only enhances the aesthetic but is forged by a brand name that by its very essence screams opulence. Back in October 2019, YSL's Anthony Vaccarello launched his reimagined retail concept, the new Saint Laurent Rive Droite. A creative space with a selection of highly curated objects. Now with products available online, the creative retail space is designed with a youthful and revolutionary vision synonymous with the French Maison since the original Saint Laurent Rive Gauche boutique, opened in 1966. Featuring an abundance of items from sportsgear to decorative homewares to aesthetically pleasing paper-clips the store has grown to be a collection of stylish gadgets that appeal to all ages. Hand-cut from fine marble, this decorative coffee service consists of two saucers and two cups with an elegant, heart-shape that exudes a luxurious sensibility. Available in black and white the marble coffee service acts both as a decorative piece to be seen and not touched or it could become our new, albeit decadent morning ritual.

www.ysl.com


Fashion
Paris Fashion Week Women's - Recap
CHANEL

Karl Lagerfeld and Anna Piaggi met in 1974. For a decade Karl Lagerfeld constantly drew her for years to record her aesthetic, her ability to mix vintage, costume, daily finds. Karl described her as "a great performer", but also as " the writer of the play". There are many photographs, mostly in black and white, portraying the power duo. One in particular caught the eye of Virginie Viard: in the old photo Piaggi is wearing a skirt suit, the skirt at floor length paired with a jacket with pronounced shoulders and cinched waist. Lagerfeld's instead sported a striped jacket and matching gilet together with jodhpurs pants and riding boots with contrasting flaps. Lagerfeld loved the reinterpretations of classic codes of costume history: the military uniform, the riding clothing vocabulary, with humor and a witty attitude. Virginie Viard celebrated this image in her latest collection for Chanel, one year after the passing away of her mentor. The reinterpretation of jodhpurs pants, with open sides at its bottom through a series of CC press-stud buttons. At times the split would be along the whole leg, transforming it into a flared trouser with jackets of Edwardian allure. There were variation to the theme: long tweed coat paired with bustiers and shorts, skirts with a deep split, cropped lace tops, dresses with balloon sleeves and jackets with ruffled collars reminiscent of the prevalent trend of Romanticism from the 1820s through the mid-1840s Viard is trying to achieve her own vision on womanhood, on what means today power dressing, with simple elements and great courage to bring in Chanel her very own point of view. "One is happy as a result of one's own efforts once one knows the necessary ingredients of happiness: simple tastes, a certain degree of courage, self denial to a point, love of work, and above all, a clear conscience." (George Sand, Letter to Charles Poney, 1866)

www.chanel.com
MIU MIU

Miuccia Prada knows how to nod at the 40s (one of her favorite decade) and create a collection modern, playful and jovial true to the spirit of the house. Miu Miu is the fun and experimental side of Prada Group. It tells a story of a woman far from traditional aesthetic values, subversive, emancipated and a true feminist. Rebellious and seductive. Set at Palais d'Iena designed by legendary architect Auguste Perret breaking the rules of the space and setting a new aesthetic, AMO, the counterpart of the iconic architectural office OMA directed by Rem Koolhaas and long time collaborator of Mrs. Prada, worked in antithesis to the nature of the building: metallic structures with LED lights around each concrete column, a velvet element at the base, cinema chairs together with wooden ones. Irreverent and playful, juxtaposed to the solemnity of the modernist Palais d'Iena are the set where Miuccia Prada created her Miu Miu Fall Winter 2020. Long crushed silk satin dresses in vibrant colors, yellow, blue, pink, paired with wool coats. Transparencies, paired with big furs, cinched at the waist creating a wasp like silhouette and beaded hairpieces. It's the contradiction of that special decade, the wartime, the glamorous Hollywood - Joan Crawford to Bette Davis, Ava Gardner to Rita Hayworth - but also Italian Neorealism - Sofia Loren, Anna Magnani, Ingrid Bergman for Roberto Rossellini's Stromboli - stars of the time, despite the imposing hardships post WWII. There is a certain austerity but also liberation, and positivity. Resonating today's current dramatic world climate. There is no much difference between the fear of a war and the fear of an strong enemy without face. Miuccia Prada has always been a visionary in this sense: her wish for hope, for joy, fierce in these obscure times.

www.miumiu.com
HERMÉS

"She walk through a forest of vertical bars/ and she dashes / she needs to jump to move forward/ moving forward to play" The show notes welcoming us at our arrival at la Garde Républicaine, a museum dedicated to the traditions of the Garde Républicaine, the ceremonial unit of the French National Gendarmerie located in the 4th arrondissement created to presents its traditions from 1802 to the present day, including its infantry, cavalry, and military bands. What better venue for Hermès to breath its equestrian inspiration? A myriad of bars recalling jumping obstacles in equestrian competitions with their primary colored stripes and placed vertically to form a forest. Walking through to loose yourself. Yellow, red, green, blue, brilliant tones Nadège Vanhee-Cybulski brought to the classic palette of Hermès. Inspired by Jean-Charles de Castelbajac, one of her modernist heroes, present at the show, Vanhee-Cybulski designed a collection of warm elegant timeless staple true to her signature for the Maison. With exquisite craftsmanship and a peculiar attention to details: the silk carrè and Kelly buckles placed at the neck line of pulls-bodes, horse-blanket coat with leather pockets, pleated skirts knitted and doubled with silk, leather pinafores with quilting. Nadège Vanhee-Cybulski 's vision, distant from seasonal trends, also introduced a strong feminine silhouette reminiscent of equestrian riding jackets. A "manifest of purity," as she called it, with a strong graphic allure and minimal white cotton paired with boots and derbies. "What is useful must me beautiful/ A style is created to changes us/small gestures don't exist/ At the end of this research/there will be equilibrium".

www.hermes.com
Fashion
Paris Fashion Week Women's - Recap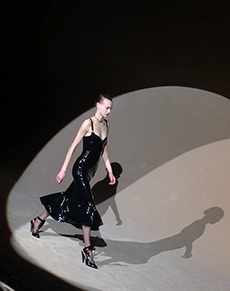 SAINT LAURENT

Cy Twombly, one of the most relevant contemporary artists of our time, who created mostly large-scale paintings with aggressively big gestures and his signature scrawling scribbles, he was anguished by the flood of people and his only desire was to paint. Yves Saint Laurent was not far from that. He repeatedly admitted additionally his benign shy. Nevertheless his work, like Twombly's broke the rules of what was considered the norm. He developed a multitude of highly original approaches, including changing the way modern women dress, putting them into pants with his 1966 Le Smoking" collection, or into safari jackets. Both famously worn by Betty Catroux, his close friend, muse and almost "his double" for her uncanny resemblance as mentioned in one of the video accompanying the ongoing exhibition " Betty Catroux, Yves Saint Laurent: Feminine Singular", at Musée Yves Saint Laurent Paris. Curated by Anthony Vaccarello it celebrates the the pair's lifelong friendship and the donation of 180 items of clothing from Catroux to the foundation. "I am just giving back what was given to me" Catroux remembers in the conversation with Vaccarello recorded for the exhibition. Her icy and androgynous look was perfect for Monsieur Saint Laurent's creations and loved to gift her couture looks and often unproduced prototypes. He loved to see her wearing his clothes. But Yves Saint Laurent was ahead of time. His animalier prints collection in 1982, or constant inspiration from art: Picasso, Matisse, Mondrian. He often declared how he abhorred bourgeoisie, and its pedantic colorless lifestyle. He was a master of the unconventional and contradictions. He matched sheer dresses (a scandal at the time) with exquisite embroideries, or the bon-ton silk bow shirt with pants. Since his very beginning at the maison, Anthony Vaccarello expressed a strong respect for the legendary designer. His first collection was a strong homage to his work but also an interpretation through his own eyes. Now at his 4th year as Creative Director of Saint Laurent , Vaccarello embodies the desire of strong powerful sensuality for women. For Fall Winter 2020 Vaccarello revisits Monsieur Yves apparent strident contrasts. Everything is a matter of tension between discipline and pleasure. "I wanted to find the balance between control and abandonment, the tension between discipline and pleasure that defines the modernity of Saint Laurent". For Fall Winter 2020 Vaccarello explored latex declined in pants, dresses, skirts. Combined with wool blazers – mostly in Monsieur Saint Laurent's signature vibrant colors emerald, purple, blue - and bow shirts between nocturnal life and well-mannered girls. "For Saint Laurent, elegance is mandatory but it also goes with perversity; one without the other would only be plain bourgeoisie or vulgarity […] I was really stimulated by that tension this season, it made me want to break the codes that are too conventional. Saint Laurent is about danger".

www.ysl.com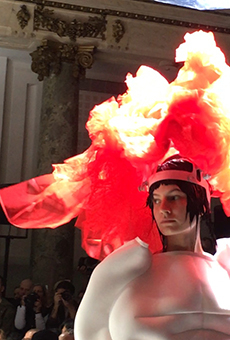 COMME DES GARÇONS

20 different looks. 20 different soundtracks: each created out of vinyls mixed live by sound artist Calx Vive. Calx Vive's first collaboration with Rei Kawakubo dates back to 2014 when he was asked to create a sound installation for the freshly opened Dover Street Market retail space in New York featuring all CDG lines and the brands under its umbrella like Junya Watanabe , but also brands like Rick Owens, Saint Laurent, Thom Browne, among the rest, who have created site-specific work for the store. In 2014 Kawakubo declared how she lost interest in creating what looked like real clothes. When 2017 the Japanese designer was asked by the Met to be the protagonist of a new exhibition, Kawakubo designed it closely with curator Andrew Bolton, to mirror her poetic to the core. Divided into distinctly Comme themes rather than chronologically: Absence/Presence, High/Low, Fashion/Antifashion and Object/Subject. Comme des Garçons Fall Winter 2020 is non other than a beautiful vocabulary of Kawakubo own obsession to these themes. Her own dictionary rendered into 20 looks, revisiting her most iconic collections: 1997's 'Body Meets Dress-Dress Meets Body', 2005's 'Broken Bride' , 2012's "White Drama", 2015's "Blood & Roses", 2017's "The Future of Silhouette," and more. The bride veil suspended by a transparent structure , the lumps and bumps (the nickname of her 1997 collection), voluminous gown that combined clouds of foam with restrictive protuberances, and geodesic-like structures. On the show notes she questioned: "Is it not impossible to make something completely and utterly new, since we are all living in this world? " She described her work as "a perpetual futurist", working from "within the Comme des Garçons world.". Visceral, and unforgiving.

www.comme-des-garcons.com
DIOR

Every Italian guest present at Maria Grazia Chiuri's Fall Winter 2020 RTW show for Dior undoubtedly felt that nostalgia, that languid feeling when listening to Roisin Murphy's cover of legendary Lucio Battisti's "Ancora tu" written in 1976. The show continues the ode to feminism and to women's world with a collection inspired by the seventies, when Maria Grazia Chiuri was a child blossoming into a teenager. These crucial coming of age years are the starting point of the collection: her mother's haute couture atelier, the rebelling women in Italy using fashion, literature, science to assert themselves. Crucial figures like Carla Lonzi and her book "Autoritratto" published in 1969, a collection of conversation with relevant figures of the art world of the time in Rome. On the 23 of March a relevant retrospective celebrating Italian women artists and based on Lonzi's manifesto and vision - will be held at Rome's National Gallery of Modern and Contemporary Art supported by Dior. Lonzi's work as feminist but also as art critic first serves as inspiration to the manifesto –like sentences build in the set design of Maria Grazia Chiuri show in the form of illuminated sign suspended from the ceiling. In collaboration with Claire Fontaine collective the setting highlights crucial moment of women's emancipation but also underscore the contradictions in our society. Claire Fontaine collective uses the language and slogans of non-reformist feminism : "I say I", Women raise the Upraising", Women are the Moon that Moves the Tides". While on the floor models walk on a new version of Fontaine's work "Le Monde Pixèlisè" where pages of Le Monde are all glued together. Inspired by a photo portraying Henri Matisse By Robert Capa taken in 1949 is again a source of dialogue, of necessity to shed light on to questioning our world. It's a succession of the frees spirit of women against their unrecognized role in the 70s: the small bandana on the head, the handcrafted silk fringes, long pliseé dresses and skirts paired with chuncky checked wool jacket , mantels, but also Chiuri's signature sheer long dresses worn with flat combat boots, mary-janes and slippers. In the collection Chiuri pays homage to Monsieur Dior's love for check but also to Marc Bohan who was at the helm of the maison in the 70s.

www.dior.com
YOHJI YAMAMOTO

The soundtrack played and sung by Yohji Yamamoto haunted us all. Its beautiful melancholy, gentleness, heartrending notes. Yohji-san has been reflecting on the passing of time, on the meaning of life itself for quite a while. The passing away of legends Azzedine Alaïa, Karl Lagerfeld – who both deeply respected Yamamoto - and the recent decision of Jean Paul Gautier to stop designing, had a huge impact on him. Losing his antagonists, his rivals, like he phrased. For Yohji Yamamoto history has always been an interesting point of investigation, a common ground with Alaïa. The two also shared a great friendship for decades. In 2005 an exhibition, "Juste des Vetements" – and what a better title as Yamamoto has been describing himself as "just a dressmaker" - at the Musée Des Arts Décoratifs celebrated hiss inspiration and respect towards the iconic French Couturiers: Cristobal Balenciaga, Christian Dior, Mademoiselle Coco Chanel, just to mention few. Rigorously innate to Yohji-san, that spirit of research and rebellion to the fashion establishment, to the homogenisation of the industry, has been constantly present in his work. Journalists have tried to phrase the delicacy, strength and purity of his deconstructed poetry where imperfection, laceration, distortion have always been a source of beauty rather than glamour. In Yamamoto's eyes fashion shows resemble Noh, the Japanese musical theatre performed since the 14th century (and the oldest form of theatre in the world) where the actors walk to the centre of the stage slowly, without talking, and almost without acting. Since years now Yamamoto shows have been characterized by slow peace walking models. They wear each outfit solemnly and you cannot but feel the layers of work and emotions through each garment. In the latest show the Japanese designer experimented a complex succession of deconstructed garments with a look at the 19th century including the late 19th century riding-dress-inspired ensembles with their military simplicity. The declinations of references are immense as well as the new vocabulary created by Yamamoto for the collection: strings recalling the figure-framing style of severe corsetry, the crinoline here knitted or pleated, the low waistlines, woven sculptural dresses revealing graciously the skin and merging with a jacket, veiled overskirts, hand painted brush strokes on long coat created with a manipulation of fabric and drapery. The poignant feeling inside any Yohji Yamamoto's show defies definition. The legendary designer, almost at his 50th anniversary in the industry, never ceases to evoke deep emotions through his work. The invite anticipated all: a soft wool fabric sample. To accomplish understanding you must feel.

www.yohjiyamamoto.co.jp


Fashion
Milan Fashion Week Women's - Recap
PRADA

Raised up and voyeuristic yet strangely detached we viewed Prada's Fall/Winter womenswear collection that portrayed a surreal sense of glamour. The selection of pieces compared ideas of femininity against stereotypically masculine components. A boxy belted jacket is paired with a fringed skirt that seems to exude a sense of confidence, a sporty aesthetic is enriched with elongated basketball jerseys and sneaker-boot hybrids. The extreme colors, utility accessories and lingerie components further the collections nod to Miuccia Prada's world where fashion equates power.

www.prada.com
MISSONI

Any designer worth their salt carefully conceptualises a collection and even better if they can back it up with some literature or text. The 1886 novella Flatland - A Romance of dimensions was the inspiration behind Missoni's Fall collection '20 that was a visual love poem to geometry. A story of feminine strength, empowerment and self awareness presented beautifully with horizontal, diagonal and vertical stripes littering the runway with earthy burnt tones brightened by dashes of red and turquoise. Each aspect from colors to patterns to silhouettes shape the collection in the freewheeling Missoni spirit.

www.missoni.com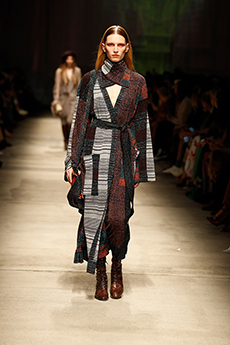 FENDI

The current approach in fashion seems to be attempts of redefining and challenging gender norms employing new meanings onto femininity and masculinity. Yet Fendi's Fall collection seemed to embrace the double standards that accompany the male gaze whilst simultaneously exuding a sense of self gratification - dressing for oneself rather than for the world. A balanced selection of structure, softness, rigor and sensuality is reflected with accentuated waists, strict silhouettes and expansive shapes with corset detailing. The offbeat contrasts end elegant monochrome furthered the sense of soft power that embodies the whole collection.

www.fendi.com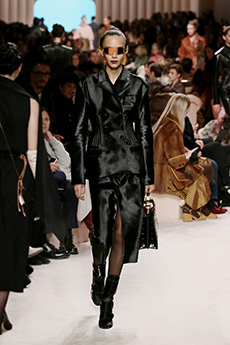 BALLY

Exploring nature and realising our impact as humans seems to be a pertinent thought across designs for the coming seasons. Swedish luxury brand Bally presented their AW20 collection through a sensory art installation that showcased their understated ready-to-wear garments using subtle choreography, film and sound. Guests traversed the runway as a crowd moved in the opposite direction with models clad in earthy tones and luxurious layering. Titled 'Purity of form' the collection encompassed organic materials, soft shapes and sculpted silhouettes reflecting the brands passion for design innovation.

www.bally.eu
Fashion
Paris Fashion Week 2020 - Balmain Men's Fall/Winter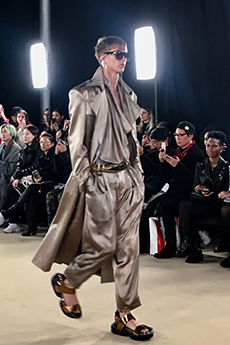 Discovering your roots at a adult age is always a an emotional and powerful moment. Last year the documentary "Wonder Boy" portrayed Olivier Rousteing journey in search for his biological parents in Africa. The Men's Fall Winter 2020 show was a joyful celebration of these roots. Set at Parc de la Villette, the beautiful and complex architectonic wonder designed by French architect Bernard Tschumi, the show unveiled a very new Balmain for Men's: relaxed silhouettes declined in camel tones, wrapped tunics, mantels, silk slouchy suits, safari outwear. A wardrobe of a man traveling to Africa to discover a new world. Reminiscent of Bertolucci's "The Sheltering Sky", its melancholic desert breeze, the orison vastitude.

www.balmain.com
Fashion
Spirit of Departure
With the current state of affairs, one might get a bleak idea of the new decade ahead. Not for notorious Canadian outerwear brand Moose Knuckles. Borrowing from science and science-fiction, he translates his personal and optimistic vision of the future. Classic staples collide with futuristic influences resulting in new yet familiar silhouettes reflecting the past as well as the future.This nod to the future can not only be found on the surface, but is literally ingrained in the collection's fabric. Cloud is a groundbreaking innovation reducing the overall weight of the Core parkas. This novelty material gets its chance to shine in one of the collection's newest additions, the Cloud Trinity jacket, a ultra-lightweight parka, delivering intense warmth in a weightless package. As part part of the FW20 collection, the Canadian brand also unveils its Eco Soft-Shell Collection, an eco-conscious line fabricated from recycled and reused materials, showcasing Moose Knuckles continuous efforts to combat fashion's adverse effects of over-consumption and pollution. 
Fashion
Paris Fashion Week 2020 - Yohji Yamamoto Men's Fall/Winter
 Yohji Yamamoto is a master of humor. "Naughty Yohji" "100 ways to forget Yohji" are all sentences marking the back of coats for his Fall Winter 2020/21, shown at the historical headquarters in rue Saint Martin few steps away from Centre Pompidou. A bitter-sweet humor. Yohji-san played with his usual high craftsmanship - at times whispered gestures that only a close look can return the appreciation they deserves – together with his irony towards the meaning of death, of disappearance and resistance. See the coats with multiple chains or the hand painted heavy knitted sweaters with a ripped, raw edge placed on top of coats. Like an armor ripped by a battle. It's an homage to the French resistance during World War II. To the women partisans who are often forgotten. We see the portrait of one of them in the show invite. She is a very young woman, standing proud with a basque and the typical armband partisans used to wear. She is the embodiment of hope and of unconditional strength against oppression. Yohji Yamamoto has been always working around the meaning of freedom with great coherence and poetry while delivering an exquisite men's collection true to his aesthetic.

www.yohjiyamamoto.co.jp
Fashion
Sportmax Book Launch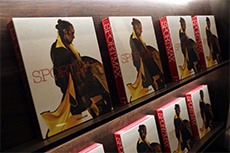 The unwavering energy of SPORTMAX celebrated in a eponymous volume marking its 50 years anniversary and Italian savoir faire. Born from Achille Maramotti's intuition in 1969 fascinated by the fresh dynamism found in the new age investing Europe at the end of the Sixties, and particularly in London with its youth-driven cultural revolution. Published by Assouline as part of its Legends collection and edited by historian and curator Olivier Saillard, the volume documents the history of the Italian brand from the Seventies till today with dedicated chapters for each decade. Peter Lindbergh, Sarah Moon, Albert Watson, David Sims to name a few of the many iconic international photographers who have interpreted SPORTMAX's style. The book also includes previously unpublished material including backstage photos, drawings and a series of images lensed by Grègoire Alexandre. Capturing the brand's DNA, from its iconic knitwear to the total look graphic colors, two SPORTMAX very own themes since its origin till today. And the uncompromising continuous research on excellence.

www.assouline.com
Fashion
Milan Fashion Week 2020 - Fendi Men's Fall/Winter
With her new FW 2020 Menswear collection, Silvia Venturini Fendi lays out her personal vision of the modern man. Inspired by the classic notion of the gentleman, Fendi presents a collection that features classic men's garments enhanced with modern twists, proving that even tradition is not always what it appears to be at first sight. To achieve this, FENDI teams up with Japanese designer ANREALAGE, combining Italian craftsmanship with the famed futuristic spirit of Japan's fashion scene. The collection itself combines the retro with the futuristic resulting in an exciting wardrobe for the modern gentleman. Blazer as well as coats are turned inside out with visible contours of lining and inside pockets, which themselves were adapted to the modern times, with the cigar pocket being replaced by a compartment for credit cards or AirPods. Another highlight of the collection was the utilitarian nature of several of the garments. Through strategically placed zippers, the garments receive a shape-shifting ability, allowing the wearer to adapt the garments to his needs, whether as overcoat, jacket or bolero. The collection was rounded out with accessories in the typical FENDI yellow, with the oversized shopper reminiscent of the FENDI packaging being the stand-out piece amongst various new takes on the classics.

www.fendi.com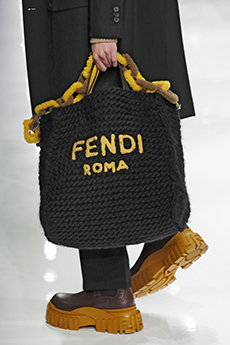 Fashion
Revealing the Hidden
 Due to the quick progression of technology, there is a tangible disconnect between ourselves the items that surround us on a daily basis. Despite everybody being able to use the newest technology in our daily lives, only a very few actually grasp how they work. This creates a certain lack of trust, a feeling of discomfort. At the Swiss manufacturer, they are driven by their belief that people are once again longing for the time when they could understand how things work and they decided to look deeper into the essence of this idea. Their mechanical watches radiate a sense of honesty, which we can relate with in the most natural sense, as we can create a tangible connection to their inner workings. Inspired by the natural sincerity of the Waldenburg Valley, which has surrounded the village of Holstein, where Ortis has been bases since its foundation in 1904, the traditional Swiss house introduces the Big Crown ProPilot X Calibre 115. Without unnecessary decoration, no superfluous complication or flashy colors, this masterpiece is laying bare its inner workings. Nothing remains hidden, visually reconnecting the wearer to the aesthetic inner worlds otherwise hidden behind the dial. The watch itself follows a modern approach to luxury, no longer showy or indulgent, the focus is simply on the appreciation for excellent craftsmanship and quality. The Oris Big Crown ProPilot X Calibre 115 is presented to the public on November 18th at the Oris Watch Night hosted by the Swiss manufacturer in Munich.

www.oris.ch
Fashion
Woolrich x Aimé Leon Dore
Two brands born and made in America, one with a rich history rising to the challenge of dressing the U.S. naval officers in hardy garments, and the other serving a young and modern public. Aimé Leon Dore, founded just a handful of years ago, has had very fruitful collaborations in the past, they are gifted at seeking out contemporary classics and putting their own twist on them. Woolrich, a very well trusted brand in weather-proof materials, strong heritage and consistently proving it has a grasp on street-casual style. Far from the realm of novelty accessories or couture fashion, both brands have an overriding respect for creating timeless articles of clothing.
Their FW19 campaign takes place in a cozy New York diner, two friends munching away at their breakfast; neither of them willing to remove their coats and flannels. There is an element of comfort that people can sense, the sort of wear that never gets old each time you put it on. Woolrich has opened its archive for Aimé Leon Dore and reaped the rewards of a fresh perspective; the same vestige of quality down puffers and coats are resurrected for the street. Whether by fate or by entering one another's periphery until they became impossible to ignore, the teachers have learned from disciples of a new generation and given city dwellers a collection too comfortable and unabashedly urban to be denied.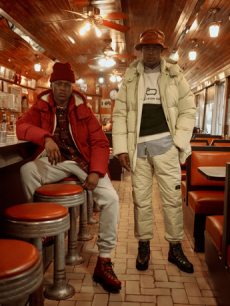 www.woolrich.com
www.aimeleondore.com
Fashion
Armani Art Exchange: #st_ART
In the fifth issue of #st_ART, dedicated to combining contemporary and street-art, Armani has released a capsule collection with young, international artists at its heart. Artists involved in the Art Exchange this year include Max Reed, Harry Hambley, Bunny Michael, Freddy Carrasco and Jacob Rochester. All distinctive and endearing in their own right as they sit on the precipice of wider acclaim in the art world, they have created designs just for Armani. Where street art meets contemporary art is a hard place to define, mostly because contemporary art often overlooks street artists who are quite literally creating art in the most contemporary sense. Whether in print, on a gallery wall, on social media or sprayed on a brick wall in a car park, art and artists live everywhere. Armani has acknowledged and commended this, giving six artists the opportunity to design for their latest capsule collection.
Whether it's the humble beginnings of a senior high school student's drawings or the quest for the point where home and heritage meets; these artists are ascending rapidly. Freddy Carrasco, born in the Dominican Republic and raised in Toronto journeyed to Rural Japan in order to find his inner creator, spreading murals around Japan while cultivating cabbage and cucumber as a form of creation in its own right. Harry Hambley was finishing up high school when he penned the character 'Ketnipz' to embody his own confusion and sense of misdirection. That character took off on Instagram and consequently led to Hambley working on designs with Snapchat and Instagram. Jacob Rochester, designer and illustrator based in Los Angeles will bring his blend of ephemeral style and obscure art references to #st_ART. Each one of these artists has a voice that cannot and will not be quieted; now amplified by Armani's latest capsule collection.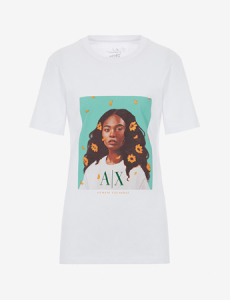 Fashion
Miu Miu SS20
The freedom of dressing, of moving in your own personality, "Something raw, simple, naive, not a big deal: I am suggesting a way of dressing to people where they are free to do their own thing" Miuccia Prada told to the group of journalist who gathered around her to warmly congratulate after the show. The collection was intelligent and naturally appealing, simple and playful, as only Miuccia Prada is capable of. When a fellow journalist asked why of the relevant difference with Prada Spring Summer 2020 collection, the nonchalant Mrs Prada underlined how when designing Miu Miu there is "more spirit, more lightness and lot of enthusiasm". And there it was, the lightness: canvasses created from artist's toile freely painted or adorned with knotted gestures.

In contrast silk duchesse pleated pinafores paired with mohair boiled-wool-like cropped cardigans worn underneath. With the generously long crimped hair it reminisced of Romy Schneider's look portraying Empress Elisabeth in Sissi trilogy and later in the ambitious and beautiful Luchino Visconti's "Ludwig". The structured and austere elements coupled with the light-hearted and youthful: ruffled fabric just directly collaged on the garments. Flowers and oversized buttons as if in a DIY gesture, to underline that simplicity and spontaneous attitude Mrs Prada mentioned backstage: "reflected in the wood, the set, like theatres where people used to improvise."

AMO's set design played with the austerity of the magnificent Auguste Perret's reinforced concrete Palais d'Iena and its monumental Salle Hypostyle. AMO's space-inside-the-space in OCB wood resulted in a strong juxtaposition with Perret's original design: its mono-materiality and bas relief created almost a fictional space as out of a computer drawing, a pure simplicity, a "un-palace".

www.miumiu.com
Fashion
Isabel Marant SS20
The streets of Rio's Copacabana through the work of iconic landscape architect Roberto Burle Marx, a key figure of Brazilian modern art and design. His lifetime call for the preservation of Brazilian endangered forests, and his aesthetic influenced by peculiar attention to nature but also cubism, and abstract themes.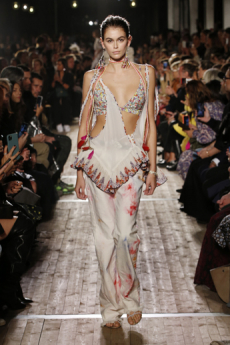 Isabel Marant Spring Summer 2020 celebrates this very special figure together with another two key South American artists: Colombian sculptor, painter and graphic artist Omar Rayo and Salvadorian painter Gennaro De Carvalho
The collection is imbued with geometrical motives next floral prints. Big ponchos worn over relaxed denim, cropped crochet tops, shorts matched with fluid shirts, jumpsuits. The collection is playful and sensual reminiscent of Marant's love for both travel and the daring 70s allure.
Jewels are adorned with ropes and feather, charm-like accents adding that playful motion signature of the brand.

www.isabelmarant.com
Fashion
Issey Miyake SS20
The 81 years old Issey Miyake has been always a researcher and pioneer in terms of technology and the construction of garments around the body. Many times during his long career he turned over the direction of his brand to his associate in order to dedicate himself fully to research.

Arriving at Centquatre - a cultural centre where dance, theatre, street art come together at the northeast edge of Paris in the 19th arrondissement – we a saw a place buzzing with excitement and creative spirit.
Satoshi Kondo, the newly appointed designer at Issey Miyake, already working for the brand for the last 13 years, delivered a spectacle we haven't seen at the brand since a while. Several "chapters" disclosed through a beautiful dance performance that injected in the audience what Kondo addressed as the main theme of the collection: joy.
The opening skin tones colored looks, the prints depicting two embracing figures in a Yves Klein blue, but also parachute-like fabric rendered in coat on models on skateboards running across the space. The performance arrived at his best when pleated dresses came down from above through wires directly on the models and disclosing the beautiful hand pleating in circular patterns bouncing at the dancers' moves.

www.isseymiyake.com
Fashion
Musings on Fashion & Style: Kate Moss @ Saint Laurent Rive Droite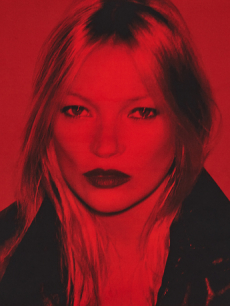 The Museo De La Moda has published a book of 'Musings on Fashion & Style'. In the book, published by Rizzoli, documents pivotal moments in fashion history. As the book's guest editor Moss introduces readers to a personally curated selection of her favorite couture and costume pieces from the museum. With a storied legacy in fashion and iconic looks from runways in all major cities, the mind of Kate Moss is a treasure trove of fashion knowledge. The book, a collaboration between Chile's Museo De La Moda, Rizzoli and herself, features dresses owned by fashion greats like Monroe and Elizabeth Taylor. The museum also boasts the largest privately owned collection of Marilyn Monroe dresses.
The museum houses dresses and garments that span all the way back to the baroque period. Museo De La Moda is dedicated to the restoration and conservation of fashion history. Home to more than 17,000 dresses, the museum also has collected sketches, accessories and decorative arts. As an institution it is focussed on offering an introduction to the history of costumes and the evolution of fashion. With the large collection left to him by his parents Jorge Yarur Banna and Raquel Bascuñán Cugnoni, Jorge Bascuñán has maintained the Museo De La Moda's status as a home for historic moments in fashion. It was fitting that Saint Laurent Rive Droite, home to a plentiful intersection of art and fashion, should host a book signing. Kate Moss arrived at Saint Laurent Rive Droite where she graciously signed copies of 'Musings on Fashion & Style' for fans of herself and fans of fashion culture alike.
www.ysl.com
www.museodelamoda.com

Fashion
Max Mara SS20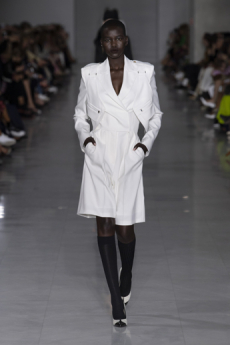 Natasha Walter, writer of spy-thriller 'A Quiet Life' has observed a turning tide, "Fiction needs more female spies" for the simple reason that it would make sense. Women can be inconspicuous, manipulative, powerful and discreet; all highly regarded qualities in secret agents. Charlize Theron's character in the film Atomic Blonde was one of the more recent female spy heroines yet it is only a beginning and a long awaited one at that. Adding to this the new Bond film will have its screenplay looked over by BBC America's "Killing Eve" screenwriter, Phoebe Waller-Bridge. Creative Designer, Ian Griffiths poses the question, how would these spies dress?
She wears shorts that graze the knee and multi-pocketed shirts in eau-de-nil, shell pink and powder blue. The look is sleek, ever graceful and infallibly professional in sweeping trench coats, sharp shouldered trouser-suits in 'Sharkskin' and 'Prince-de-Galles' colors. Tasteful discretion and precise tailoring provide a cunning visual feast in Max Mara's SS20 collection. At the core of this design was the notion that spy thrillers and spy novellas are missing intuitive and highly trained female characters and by doing so, letting down an entire demographic. Max Mara have brought this idea to life, the jet-setting woman with her ear to the ground in any city, effortless style to match, is passionately evoked on the runway of Milan Fashion Week.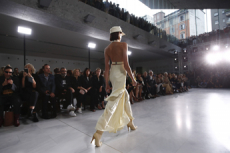 Fashion
NYFW: COACH SS20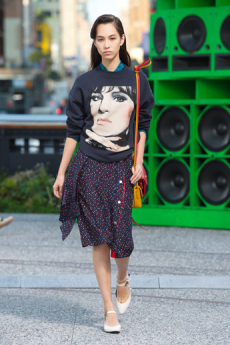 Creative director of Coach, Stuart Ververs, presented his Spring 2020 men's and women's collections on the Spur and Coach Passage, the newest additions to New York's High Line. A bright range of garments embellished with the pop art illustrations of Richard Bernstein brought to life notions of joy against all odds. A star studded audience including Kyrie Irving, Marina Testino, Miles Heizer, Megan Thee Stallion and Princess Nokia gazed at the joyful Spring 2020 collection.
Sandals and flats walked the runway in a laid back style rarely seen during such a high-class event. Multidisciplinary talent and the current face of Coach, Michael B. Jordan made a gesture to the next generation. He brought with him interns of his own initiative, 'the Outlier Society Fellowship' in order to reassert the boundless possibilities that young people from all walks of life can harness through Coach's 'Dream It Real' initiative. Along with the eager young interns, Jordan also invited the fashion club from his hometown school in Jersey, Essex County Newark Tech High school.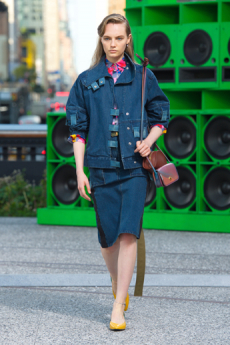 Robert Hammond, co-founder of 'Friends of the High Line' as well as High Line's inaugural artist, Simone Leigh came to see a myriad of colorful leathers, knits, flowing coats and dresses. Leigh received the first commission for High Line, she named it 'Brick House' and dedicated it to strong black female figureheads and indeed black beauty everywhere. Prominent models walking for Coach included brand ambassador, Kiko Mizuhara as well as Kaja Gerber, Julia Nobis, Adut Akech and Abby Champion. Coach's Spring 2020 line embodies new beginnings, free spirited models walked the The High Line to evoke a raw authentic energy and the infinite possibilities ushered in by a new decade.
Fashion
Louis Vuitton: The Art of Travel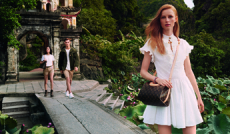 One of the foundational aspects of the house of Louis Vuitton, to travel freely and frequently where your heart truly takes you. It is this empassioned spirit that propels their latest collection, 'The Art of Travel'. To dream is to escape the seemingly closed window that is reality, to escape is to truly live. Dreams and travel are intrinsically linked, as if there is more life to be lived in another place, in another way. There is no greater key to freedom than an immediate departure, gripping the present moment and doing away with instinctual hesitation.


Kit Butler, Rianne Van Rompaey and Fei Fei Sun are depicted in the farthest reaches of Vietnam's moss green plains. Under the artistic direction of David James, photographer Angelo Pennetta captures the inimitable art of travel and the savy of those that flirt with the notion of where they feel most alive. The Petite Malle, the On The Go shopper as well as a large Steamer bag, of the finest materials display how distinctive yet subtle Louis Vuitton's iconic motif really is. To never appear out of place is a valuable thing. Some prefer to move in a way that screams when most others whisper, this collection ebbs and flows as jauntily as the traveller. The gut feeling when a plane lifts off the runway and into clear skies, after this nothing but the destination matters. Well, that and your luggage of course.

www.louisvuitton.com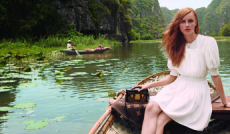 Fashion
Frédéric Malle presents 'Rose & Cuir'
Frédéric Malle has called upon close collaborator and highly skilled perfumer, Jean-Claude Ellena, to concoct the latest fragrance in Malle's "Editions de Parfumes" collection. They have named the fragrance, for the first time personably appearing under the name of the perfumer himself, Jean-Claude Ellena, 'Rose & Cuir'.
A teasing of rose leads us to that smell of power withheld in fine leather, this is followed by custom extractions of timut pepper and geranium bourbon scents. Ellena maintains his signature minimalism, attained as a disciple of legendary perfumer Edmond Roudnitska , while brandishing less common and intricately selective aromas.

Notes of vetiver and cedar elevate an already present maturity in 'Rose & Cuir'. The initial pleasantry of rose is almost an introductory formality; in order to cleanse your palette for Jean Claude's more prized scents. 'Rose & Cuir' was inspired by the storied Mistral winds that grow faster and faster as they sweep through the south of France and up toward the Gulf of Lion.
In Grasse, France, the exact ingredients that Jean-Claude requested were then created by Frederique Remy, the owner of Floral Concept, the most advanced natural extraction laboratory in the world. The meeting of these minds and their shared intentions have brought to life a seductive, rich and curiously controlled crescendo that needs no musk or additives to finish. Ellena ensures that there is no singularly overbearing scent, in his own words "perfume is a soft caress, nothing must shock, nothing must shout".

www.fredericmalle.com
Fashion
Onitsuka Tiger x Christian Dada
Even after 70 years, Japanese brand Onitsuka Tiger has not lost a bit of appeal. Still a staple amongst streetwear enthusiasts and fashionistas alike, the iconic shoe combines the world of fashion and sports, its own heritage and innovation.

For the 70th anniversary, Onitsuka Tiger announced a series of special collaborations, with 7 distinct designers, one for every decade of its existence. For the third edition of this ongoing series, Christian Dada's Masanori Morikawa gets the opportunity to leave his personal mark at the legendary Japanese brand.

The resulting piece, in Christian Dada's signature color black, takes after Onitsuka Tiger's iconic running shoe 'Rebilac Runner'. In his signature fashion, Morikawa infuses his leather and mesh design with the references to Dadaism, such as the arrangement of the laces reminiscent of a crawling snake. Alongside the shoes, the collaboration also features a matching jacket and pants. In a culmination of functionality and design, Onitsuka Tiger's distinct sporty vibe meets Christian Dada's signature loose silhouette. In line with Dadaism, the jacket's breast pocket and inner back pockets of the pants are adorned with rubber patches, carrying a statement.

The Onitsuka Tiger x Christian Dada collaboration will be available from August 26th in select shops and online.

www.onitsukatiger.com
Fashion
BOSS x MEISSEN
With their joint capsule collection, two of Germany's most prestigious brands come together. HUGO BOSS is a global player in the luxury fashion scene, whereas MEISSEN has enjoyed a premier status amongst the world's porcelain manufacturers. Both houses have, since their foundations, unceasingly stood as embodiment of the German values of quality and innovative design and exported them all around the globe.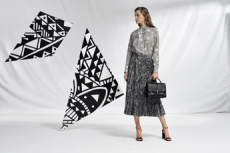 These shared core values have laid the foundation for the collaboration. The starting point for the unique capsule collection were MEISSEN's Big Five figurines. Inspired by the angular style of traditional wooden African sculptures, they depict the continent's rich wildlife in form of the lion, leopard, elephant, rhino and buffalo

These majestic creatures appear as motifs in embroidered, jacquard and printed form on BOSS' casual and formal pieces. The monochrome palette of black and white, heavily reminiscent of the porcelain aesthetic, is a direct visual reference to MEISSEN and its rich heritage, fused with HUGO BOSS' signature craftsmanship and experience in garment construction.
Alongside the garments, the collection features a series of five limited-edition porcelain mugs featuring the same aesthetic. In recognition of the underlying theme, HUGO BOSS pledges a donation to Elephants for Africa, a charity focussing on the conservation of the iconic species.

The capsule collection of BOSS Mens and Womenswear will be available in BOSS and MEISSEN stores around the globe.

www.boss.com
www.meissen.com
Fashion
CARRIE and IVA: Maison Héroïne for Work and Play
Since 2016 Maison Héroïne has created bags for all settings, bridging the gaps between work and play, fashion and function. Working with the finest Italian leathers the Milanese designer, Marta Vitali, has created the new norm for professional women the world over. Maison Héroïne has a polished simplicity and elegance about their design that can be viewed as a statement piece or a means of convenient organization poised for greatness in a workplace setting.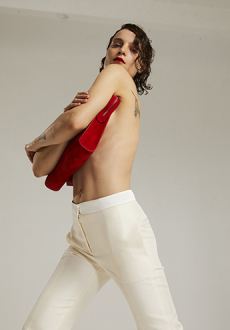 The forms and shapes of Maison Héroïne's designs keep tablets and notebooks in mind, the modern woman carries both and should not have to compromise her elegance for either. The sleek design and care that IVA encapsulates throws the focus back on the wearer, if less is more then IVA does the most, in Italian brick red suede or sleek black leather, even an expressive gold it does what other bags cannot and does it with spectacular ease. CARRIE, on the other hand is sure to be everywhere in offices from New York to Paris just in time for Summer. Worn as a cross-body, belt-bag or clutch, coloured in 'deep berry prugna' among others, CARRIE is at the cutting edge of women's workwear.

www.maisonheroine.com
Fashion
Panthère de Cartier
The days of the wristwatch as functional items are over. Wearing a watch is not about being able to tell the time, it is a statement, an essential part of your accessories, especially if it comes from the Parisian house Cartier.

The French house keeps redefining and reinventing its products, iconic models are instilled with new energy through creativity and innovative design in an ever-evolving stream of ideas. Ultra-feminine in spirit, the two new interpretations of the Panthère de Cartier celebrate the essence of Cartier, a daring and triumphant elegance.

Inspired by the original, both the styles are a play on proportion, combining signature features, such as the Roman numerals or the iconic soft square shape with a new and contemporary housing. The Manchette accentuates the flowing bracelet of the watch. The dial is set slightly off-centered in a bracelet-styled, open-worked chain to create a casual yet stylish piece. As the name suggests, the Mini Watch is kept very close to the original. Smaller in size, the watch keeps the original's elegant appearance, making it a well-suited pairing for several bracelets.

The new Panthère de Cartier models will be available from September.

www.cartier.com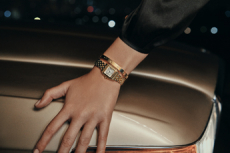 Fashion
#MeAndMyPeekaboo - Majorie Yang & Dee Poon
Most of Europe's luxury heritage houses share an identical story. Initially founded by a single person or family, they have developed over time into international businesses until the only remaining remnant of the distant beginning is the founding family name.
One of the exceptions is Roman house FENDI. Since its foundation in 1925 by Adele and Edoardo Fendi, the Fendi family has remained central to the company over three generations with a family member, Silvia Venturini Fendi, taking over as Creative Director in 2019. With the #MeAndMyPeekaboo campaign, the FENDI honors the family values so closely associated with the history of the house. Throughout the campaign, ten of the world's most iconic families have been captured in their most authentic and intimate moments accompanied by FENDI's iconic Peekaboo bags. For the newest edition, FENDI focuses on the special bond between mother and daughter by the example of Majorie Yang and her daughter Dee Poon.
Remaining faithful to the narrative, the video portraits the strong relationship between the two highly successful women, captured during intimate moments in Hong Kong. Just like the special family values, the Peekaboo bag, defined through great form and design, never goes out of trend and is treasured by younger and older generations of independent women alike.

www.fendi.com
Fashion
Griffin x Woolrich 'Second Life'
It was only a few decades ago that humans started to recognize their negative impact on the natural environment. Nevertheless, this uncomfortable truth has been repressed in our collective mind and life continued just as it did before.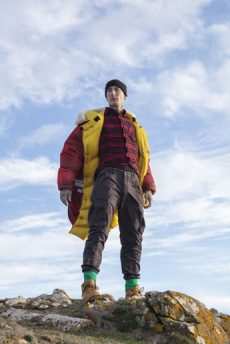 Fast-forward to the year 2019. Protecting the environment has become a pressing global issue, with the effects becoming more visible day-by-day. No longer can this important issue be put off and the time has finally come to act. With the consumer's growing awareness and the increasing demand for sustainability, the fashion industry started to modify its wasteful ways.

For the third time, Woolrich teams up with Griffin Studio to reveal the Fall/Winter 2019 collection, distinguished through its minimal environmental impact. Throughout the collection, Woolrich and Griffin present three methods of sustainable production, tackling fashion's biggest sources of pollution. On the one hand, the Woolrich branded Eco Ramar Cloth, used for the Griffin Reversible Parka, is printed instead of dyed, cutting the water usage by 70%. The America T-Shape and Sleeping Bag Coat, on the other hand, are produced in an eco fabric, gained from recycled plastic garbage with over 40% harvested from the sea. Special attention is directed toward the four 'Second Life' styles. This highly limited capsule collection uses reappropriated surpluses of the high-end Italian fabrics, which would otherwise have been discarded for a variety of reasons. This highlights the idea of reusing and recycling, legitimizing it as modern way forward. Produced 100% in Italy, all components were sourced within 30km of the production site.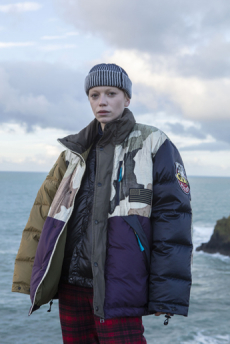 Woolrich and Griffin Studio combine their typical modern urban aesthetic and functionality with a sustainable way of production. By proving that recycling is still a great source of untapped potential for the fashion industry and that sustainability does not have to come at the expense of style, they hope to not only showcase its inherent value but also positively shape the customer's ways of consumption.

The collection will become available in the winter of 2019.

www.woolrich.com
Fashion
HUGO x Liam Payne
The highly anticipated HUGO x Liam Payne capsule collection was finally launched at Berlin Fashion Week. Over 1.000 people, including Winnie Harlow, Stella Maxwell and Lena Gercke, attended the party that included a live performance by the man himself to get a first close-up look at the garments co-designed by Liam Payne.

The ten streetwear-inspired pieces reference the artist's unique personal style and blur the lines between formalwear and athleisure. The capsule collection is defined by easy-to-wear silhouettes, fused with reflective tape trims and statement logo graphics for the desired urban-inspired vibe.

Apart from Liam Payne's live performance, the guests enjoyed an exclusive preview of the HUGO Spring Summer 2020 collection which was inspired by Berlin itself. The evening concluded with DJ sets from object blue and Sebo K that took the party into the early morning hours.

The HUGO x Liam Payne capsule collection will be available on hugo.com and in selected stores around the globe from July 5th.

www.hugoboss.com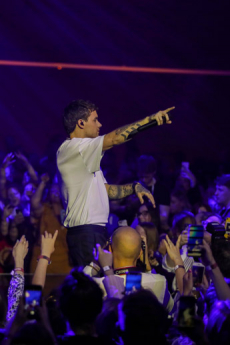 Fashion
Juun.J Spring Summer 2020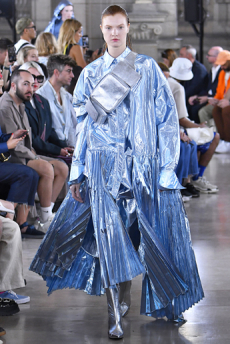 Juun.J returns to show at the beautiful Ècole de Medicine. It was a celebration of all the pieces and silhouettes we have loved this brand for.

Born more than 10 years ago, Juun.J has build a aesthetic imbued with beautiful modern tailoring: blazers with sharp oversized shoulders matched with leather shorts or leather overalls (black leather was definitely one of the key element), and suits with fluid palazzo pants declined in a beautiful grey English check, both for men and women. But also the brand's signature oversized windbreakers styled as always by being placed on the head pushing further ¬- as the models storm in - that fluidity Juun.J is fond of.

Fluidity and breeziness we found as well in dresses played around transparency and asymmetrical layering, in beautiful lemon yellow or the signature metallic.

Juun.J's love to reinterpret military clothing codes was also a focus: boxy pants, sleeveless jackets and overalls with multiple pockets at times generously oversized in green or with camouflage print.

www.juunj.com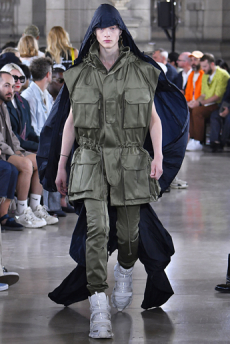 Fashion
Paul Smith Spring/Summer 2020
Oversized suits in dusty colors from pink to sage. Beautiful double breasted elongated blazers worn just buttoned at the inner side, leaving the wide lapels on a fluid motion.

For his eponymous label's Spring/Summer 2020, Paul Smith revisited the '70s in New York with its artistic vibrancy and young art scene. Having experienced first hand during his travels at the time, Paul Smith channelled all of that eclectic atmosphere, imbued of unconstrained creativity.

Tailored leather jackets worn with drawstring tracksuit trousers in sage nylon, double breasted blazers at times cropped on the waste and worn with high rise fluid pants both for men and women. The color palette is also filled with hues reminiscent of Pop Art chromatic scale: yellow, fluorescent orange and cobalt blue.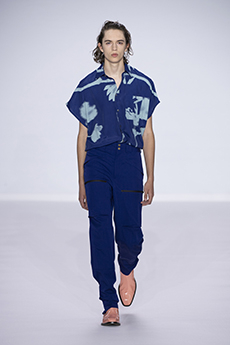 During his visit in the big apple, Paul Smith breathed the environment around iconic galleries, like Leo Castelli, definitely the most prominent art venue in the world during those years and one of the first in late 50s to showcase Pop Art when Jasper Johns joined the gallery.

The collection almost stripped of accessories presented few beautiful slouched big drawstring bag worn cross body over suits, both for men and women's. A relaxed mood so appealing and modern we have loved every bit.

www.paulsmith.com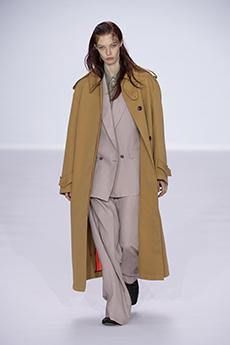 Fashion
Berluti Spring Summer 2020
The iconic Alessandro shoes have been a source of inspiration since the beginning for Kris Van Assche at Berluti. The headquarters marble table in Ferrara where the shoes receive the special patina, and its coloured stains were rendered on suits already for the Fall Winter 2019 debut collection at the house. For Berluti Spring Summer 2020 Kris Van Assche intensifies the same colour palette with more brilliant hues channelling the rebellious spirit we are acquainted with: intense violet, cobalt blue, fluo orange, yellow.

During last season's debut collection Van Assche talked about carefully finding the new codes for Berluti in beautiful excellent crafted clothes but with a new energy and seductive allure.

For Spring Summer 2020 Van Assche adds little by little new elements together with confirming what already proposed, building up a language made of details, where heritage meets modernity, also declined in Women's looks. Like the zip at the bottom of tailored pants to underline the presence of the shoes Alessandro in the version Diamond already available for Fall and the new design with a sneaker sole - Alessandro Edge. Or the house's legendary scritto motif – a 19th century old manuscript from Berluti's archive – printed on jacquard suits, shirts and leather pieces.
Kris Van Assche also expands Berluti silhouettes: suits jackets are often sleeveless or paired with bermuda. If we see motocross pants added to Berluti's vocabulary - further driving in the direction of Van Assche love for New Wave rock - the women's suits counterpart are declined with ostrich feathers, channelling a delicate femininity, a game of contrasts.

We applaud to the brave spirit of Van Assche and we are already looking forward to next season's new staples.

www.berluti.com
Fashion
Max Mara Art Prize for Women: Helen Cammock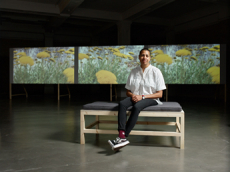 The Max Mara Art Prize for Women was established in 2005 in collaboration with the Whitechapel Gallery. The only visual art prize for women in the UK, its mission is to nurture and promote female artists with the gift of time and space in the form of a six-month Italian residency. During this time, the chosen artist to realize a new and ambitious project, which is then presented in the Whitechapel Gallery in London and the Collezione Maramotti in Reggio Emilia.

The seventh winner of the Max Mara Art Prize for Women is Helen Cammock with her exhibition 'Che si può fare', translating into 'What can be done'. In this exhibition, Helen Cammock explores the idea of lament in women's lives across histories and geographies. Throughout her six-month Italian residency, the artist excavates the expression of lament of unheard, buried and hidden female voices in the archives opened by historians, musicians, artists and singer across all of Italy.

Cammock's multimedia approach embraces text, photography, video, song, performance and printmaking in order to present a new body of work, challenging mainstream historical narratives around womanhood, poverty and vulnerability.

The exhibition will be open to the public from the 25th of June until the 1st of September in the Whitechapel Gallery in London and from the 13th of October 2019 until February 2020 at the Collezione Maramotti in Reggio Emilia.

www.maxmara.com
www.whitechapelgallery.org
www.collezionemaramotti.org


Fashion
#UseTheExisting: Ermenegildo Zegna Spring/Summer 2020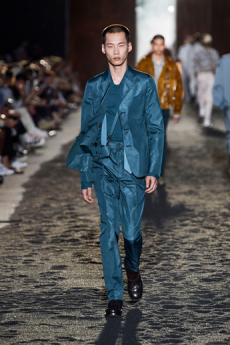 Creative Director Alessandro Sartori realizes that his profession is not all about making beautiful garments. Yes, it is still a crucial part, but what is the price to pay? Fashion has found itself among the top three polluting industries in the world, trying to satisfy the insatiable desire for consumption without considering the environmental impact.

Sustainability is at the center of the Ermenegildo Zegna SS20 collection. With the project #UseTheExisting, Sartori proves that environmental protection and high fashion can go hand-in-hand. The incorporation of upcycled wools and technical fabrics form the house's own textile division showcases that an alternative and sustainable way to produce refined materials out of discarded ones is indeed possible.
In his collection, Alessandro Sartori takes a new approach to tailoring, using traditional techniques in a new concept, such as the leather jacket that becomes a short-sleeved shirt. Overall the collection features wider silhouettes, making the fit just as pleasant as the good feeling one gets when putting on this sustainable and ecological garment.

www.zegna.com
Fashion
FENDI Spring/Summer Menswear 2020
The inspiration behind the FENDI Spring/Summer 2020 Menswear becomes apparent at first sight. The location itself, the handsome gardens of the Villa Reale, acted as a first hint, reinforced by the show's opening look, a workwear inspired overall rounded off with a clipping basket and gloves to achieve the desired gardening look.
Silvia Venturini Fendi is said to be a passionate gardener herself and she translates this passion as the starting point for her creative journey. Running through the collection like a red thread, the gardening references are not always as literal as in the opening look, but are instead infused with a certain lightness and the exquisite FENDI elegance. The natural materials, in a natural earthy color palette with soft greens, are combined with floral motifs to fit Silvia Venturini Fendi's nature-inspired vision.

Luca Guadagnino, a long term friend of the designer comes aboard as guest artist. His help was invaluable in the design process. Not only did he provide sketches - that later acted as inspiration for some of the prints and introduced elements of the almost formal Japanese workwear - but his input was also invaluable in terms of art direction, show location and the soundtrack, which was composed by Japanese Ryuichi Sakamoto.

www.fendi.com
Fashion
FENDI Resort 2020
In a way, the new Resort 2020 collection represented a turn of the page for the Roman house. After a tenure of almost half a decade, this was the first presentation of FENDI that was not designed under the guidance of Karl Lagerfeld.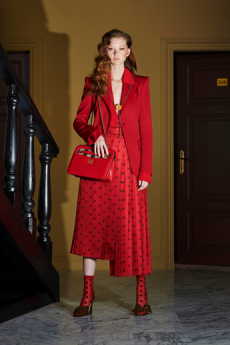 Nevertheless FENDI is moving forward, staying true to the DNA that Lagerfeld has established for the house. Silvia Venturini Fendi, who has worked alongside Lagerfeld all her career, seamlessly continues the brand's celebration of strong femininity. Inspired by the '80s thriller movie Gloria, Silvia Venturini Fendi presents beautifully constructed clothes, defined by softening shapes that radiate a hint of Seventies bourgeois refinement, alongside a hyper femininity highlighted through mannish details of tailoring.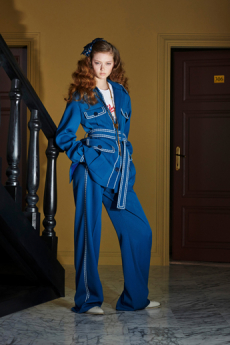 As expected from a house like FENDI, throughout the collection, only exclusive materials are used alongside fine furs, in subtle combination with the houses signatures; the Pequin logo-no-logo stripes, Karligraphy and the traditional FF monogram. To round off their retro-elegant look, FENDI unveils new interpretations of the iconic Peekaboo and Baguette, alongside an archive-inspired tote design and structured chained bag.

www.fendi.com
Fashion
Cartier Magnitude
Not many brands have become as synonymous with elegance and luxury as Cartier. With its new high jewelry collection, the French manufacturer does not only celebrate its long tradition of excellent craftsmanship but also showcases a boldness for a new stylistic adventure and novelty in its designs.
Magnitude is an unexpected and bold encounter of materials that were never meant to meet. Side-by-side precious stones confront ornamental hard stones, complementing and highlighting each other in a display between opacity and transparency and pure colors and shimmering nuances.

To celebrate Magnitude, Cartier held an exclusive event in London. The iconic London building, 180 The Strand, was chosen to present the Maison's newest collection, followed by an evening gala dinner hosted by Cyrille Vigneron, CEO & president of Cartier International. Alongside a performance by Beth Ditto, among the selected guests were notable friends of the house, as Claire Foy, Lily Collins, Bianco Brandolini as well as Ella Balinska, Iris Law and Diana Silvers.

The collection will be on show to the public at 180 The Strand London between June 27th and June 30th.

www.cartier.com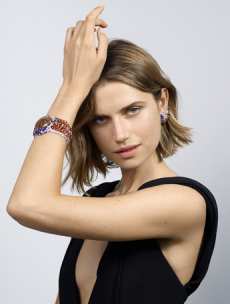 Fashion
Christian Louboutin: The Exhibition
On a global level, fashion exhibitions have gained immense popularity over the last decade. As the exhibitions' curation becomes more and more elaborate, the visitor numbers reach record-breaking levels. Following the major success of two exhibitions, "Alexander McQueen: Savage Beauty" and "Christian Dior: Designer of Dreams", solely focussing on just one designer's work and vision, iconic shoe designer Christian Louboutin is the next in line whose work is celebrated with a major exhibition.
Under the curation of Olivier Gabet, the Palais de la Porte Dorée dedicates a whole exhibition to the Parisian's rich creativity and varying sources of inspiration. The designer's vision and creative processes are explored in every facet through a selection of his most precious works from his personal collections and loans from public collections.

This exhibition presents one of the most complete collections of shoes, showcasing previously unseen historic and artistic pieces alongside a number of exclusive collaborations, which pay tribute to Louboutin's admiration for craftsmanship and know-how.

For the first time, we are offered a full insight into one of fashion's most outstanding minds and we will be able to follow what shaped the Parisian's designs throughout his stellar career. The Palais de la Porte Dorée from which the French designer was fascinated and borrowed a whole repertoire of forms and motifs for his first designs, unquestionably underlines the exhibition's personal touch and immersion into Louboutin's creative spirit.

The exhibition will be open to the public from February 25th 2020 to July 28th 2020 in the Musée de la Porte Dorée in Paris.

www.christianlouboutin.com
www.palais-portedoree.fr
Fashion
Givenchy Pre-Spring 2020
With her Spring 2020 Pre-Collection, Givenchy's Artistic Director Clare Waight Keller explores the notions of moving through the urban environment and today's on-the-go, city-hopping lifestyle. Just like herself, constantly on the move between Paris, London and other various destinations, the modern person is always moving forward, whether along routes they have traveled countless times or across borders and time zones.

With the urban-chic collection, Clare Waight Keller takes couture to the streets, drawing inspiration from Paris and her own spring couture collection and London's increasingly flamboyant and colorful streetwear scene. She merges traditional and technical, reviving classic pieces in saturated color and modern materials in order to achieve the practicality, formality and glamour she desires. The result is hybrid pieces that, according to the wearer's needs, are easily dressed up or down.

In addition to this, Givenchy introduces its new line of women's leather accessories. The four newly unveiled bags are intended to cover every facet of life for the modern woman on the go.

The Givenchy Spring 2020 Pre-Collection will arrive in store in July.

www.givenchy.com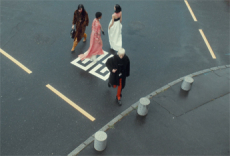 Fashion
New Outdoor Label by Woolrich
The phenomenon of Ametora, meaning American tradition, first landed on Japan's shores as early as the 1980s with the arrival of the East Coast Ivy League style. At first, only referring to Ivy, this phenomenon swept over the Japanese islands time and time again, always bringing along another American style, from California surfer to hip-hop style.
Historic American brand Woolrich writes the next chapter in this Japanese-American exchange with the unveiling of its New Outdoor Label. In cooperation with renowned Japanese outdoor brand Goldwin, Woolrich redefines and replaces their iconic American outdoor line. Inspired by a new notion of balance between humanity and nature, the design team unveils a subtle 80's and 90's throwback sports concept, defined by functionality and minimalism, comprising a number reimagined staples, among others parkas, jackets and vests. The principally neutral color palette, at times adorned with hues of sunrise and sunset, as well as water and sky-blue, blends perfectly with a variety of backdrops, from the peaceful nature of forest to the busy city life.

The collection will be available in Woolrich stores and online.

www.woolrich.com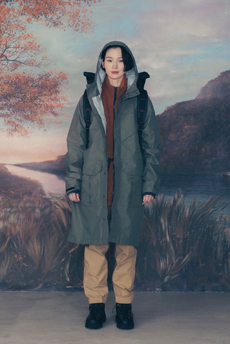 Fashion
LOEWE & the Elephants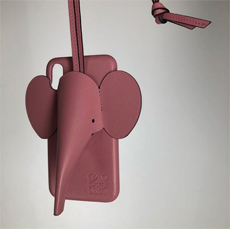 LOEWE cares for natural preservation and the well-being of endangered species. Creative director Jonathan Anderson expressed his compassion by partnering with Knot On My Planet last year to support the Elephant Crisis Fund. The resulting elephant-shaped bag aimed to raise awareness and to set a clear sign condemning the demand and trafficking of ivory.

The elephant motif has remained with the house ever since, as just this year, Iconic Disney character Dumbo the Elephant gave inspiration for a limited edition capsule collection. The elephant-motif will now available hand-size in form of a phone case, as a continuation of the expertly crafted line of elephant-shaped bags. This case, adorned with an elephant's head, is just the latest embodiment of LOEWE's campaign fuelled by its love for elephants.

www.loewe.com
Fashion
Birkenstock x Hotel Il Pellicano - Il Dolce Far Niente Collection
At first sight, the collaboration between the German traditional sandal manufacturer Birkenstock and the iconic Italian Hotel Il Pellicano seems a bit peculiar. After all, they do not seem to share a lot of similarities besides their worldwide renown.

Marie-Louise Sciò, Creative Director of Pellicano Hotel Group and herself an avid lover of the cult shoe explains that the heart of both lies a passion for materials of the highest quality and a timeless aesthetic.
Setting out with the goal to capture the spirit and style of the Tuscan hotel, they create a unique collection perfectly encapsulating the Italian Dolce Vita. The resulting Arizona sandals perfectly mirror the hotel's understated and simple elegance, by only combining high-quality materials and craftsmanship with an eye for the details.

Seven designs are set to be launched and are available at the Hotel Il Pellicano or MATCHESFASHION.COM. Pre-orders of the collection launch on May 15th on MATCHESFASHION.COM, with the worldwide release scheduled for June 15th.

www.1774.com
Fashion
Louis Vuitton Cruise Collection 2020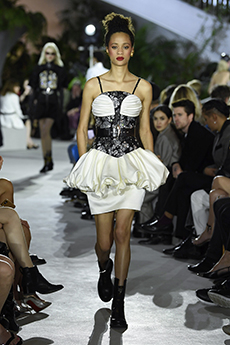 Nicolas Ghesquière once more stunned with his 2020 Louis Vuitton Cruise Collection. Quite suitable to a house, which started as a trunk manufacturer, this year's theme was the joy of discovery. This does not only include the physical departure to new places, but also the comprised spark of personal growth. TWA Flight Centre at John F. Kennedy International airport offered the perfect scenery for this collection, with is architecture reminiscent of the Jet Age, a time where the world started to become as never before, and the invited guests resembling the waiting crowds at an airport's terminal.

No other city in the world quite captures this spirit than the chosen destination, New York. This cultural melting pot is ever-changing, due the thousands of people arriving and leaving the city everyday. Everybody enriches the canvas that is New York City, leaves a part of oneself behind, but in return receives much back.

The collection captures the spirit of the city, the legendary buildings transposed as sophisticated prints, the bright colour accents in homage of the city's bright lights and the suave brocade and embroideries, reminiscent of the city's glam.

Just like the city of New York, Louis Vuitton blends cultures, the French tradition and the American spirit, to form a sartorial expression, enriched by one another.

www.louisvuittion.com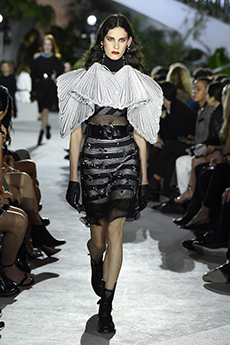 Fashion
Travel Transformation
A transformation for one night into an adventures experience.

Montblanc introduced its new travel line. This time in Berlin, the energetic, electric and engaging city, which also happens to be a common destination for travelers. Due to this, it made the perfect fit for the launch of Montblanc's new travel campaign.

The campaign is all about reconnecting. Reconnecting with the world to set the mark of the brand due to experience by giving guests the opportunity of visiting a cultural spot, which has been shut down for years. The guests were journeyed through a travel tunnel to arrive in the heart of the Metropol, surrounded by projections of a variety of urban destinations. Among the entire travel destination discoveries showed, a central wall sculpture of trolleys  was created by Marc Jung that reflected artworks on the Berlin wall, marking the 30 years since its fall.

Montblanc created a new generation of entrepreneurs, trailblazers and urban explorers travelling the world with new Montblanc Nightlight Silver Trolley and the reimagined Extreme 2.0 collection. Created as lifetime companion's crafted through the skills and quality of the Maison.

To read more about the event and Montblanc's travel collection, go to www.montblanc.com
Fashion
A New Intimate Approach in Femininity
Miu Miu's Fall / Winter 2019 collection comprehends an interesting dialogue about the power of images produced through all sorts of new media. The show represents the dynamic creative work of New Zealand born artist, photographer and filmmaker Sharna Osborne. Her work is praised for the beautiful details that are often highlighted. Osborne created a physical space full of imagination and wonderment for this show. She used a personal selection of her work to create an innovative intimate approach to the contemporary standard of femininity.

The intriguing monumental hypostyle hall is filled with a jumbled array of giant prints, short video clips, old TV's and LED-screens that produce a non linear visual overload of contrasting images and stories. Special and unique is that the installation is intrinsically connected with the collection itself. Both form a storytelling interaction by consisting an arrangement of frames, supports and structures that shape a chaotic and absorbing ensemble of divergent narratives.

The model path unfolds playfully through the hall and brings the installation with the models to life. The catwalk is a confrontational embodiment of images, opinion and language about fashion as an intimate extension to femininity.

www.miumiu.com
Fashion
Seriously Studious
In Paris this week, as a celebration of the tailored sensibilities in menswear, Thom Browne presents its studious, sturdy looks catered for women. Serious, scholarly looking models appear bespectacled, donning attire displaying rigorous couture craftsmanship.
A decade since Manhattan based Thom Browne first launched his vision in Europe, the seed of an idea that has ignited an ever-evolving and expanding brand, is resown and replicated for this Fall / Winter collection. Full wardrobes are strictly tailored, aptly reinvented for a modern climate where women adopt the roles traditionally dominated by men; socks, briefcases and brogues. Here the fashion follows, yet retains a strictness and playfulness full of charisma and character.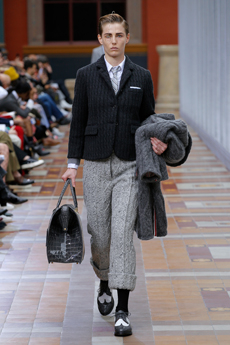 The clear base of the looks leaves ample room for experimental invention and creation and it is here that Thom Browne's brand signature is full realised and used as a canvas for playful exploration with plenty of embellishments, grosgrain tape and duck motifs. All the outfits, from chesterfield coats and checked tweeds and wools, create a trompe l'oeil effect showing off details born from a real technical prowess.

www.thombrowne.com
Fashion
Marine Serre Fall 2019-2020
It has been a very short time since her debut, but Marine Serre has already conquered the industry.

The cutting edge attitude and vision have come strong at the latest show during the second day of Paris Fashion Week.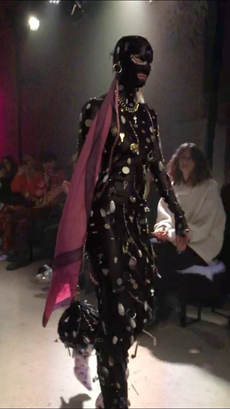 If last season we witnessed the collection on a bridge in the 18th arrondissement, this season set was poles apart: a wine cellar in Paris's outskirts that looked more like a bunker.

Marine Serre dives further into her fascinations about fashion challenged by the current global eco-war: up-cycling garments found anywhere has been one of her signature. This season she envisions a post apocalyptic time where humans strive to survive in an underworld made of infinite darkness, waiting for the right moment to resurface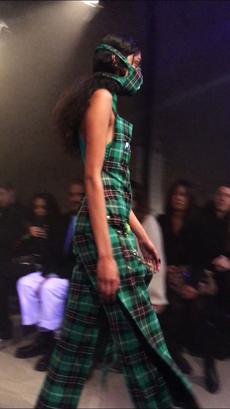 Yumi Tamura's "7 Seeds" series surely comes to mind: The earth will soon be devastated and we will all forced to live underground waiting centuries for the air to be breathable again.

Fluorescent catsuits with the signature crescent moon, flowing scarf–dresses (obviously up-cycled scarves) and coats with big furry collars, all reminiscent of night creatures. There were anti-pollution masks created in collaboration with French specialized brand R-Pur, but also beautifully Marie-Antoinette garments constructed with couture skills. The denim, the plaid checks up-cycled from picnic blankets.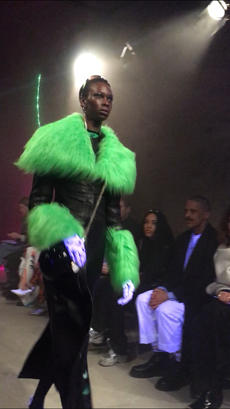 Marine Serre is not just having a new vision but she is also a very skilled designer. She is creating a new credo and we are all already subscribing.
Fashion
Re interpreting Dior's "New Look"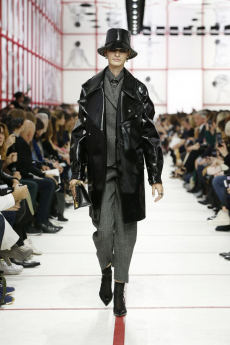 Each collection of Dior forms a new alchemy born of a confrontation between images, bodies, silhouettes and language. By reconnecting these elements over and over again, a new contemporary spirit emerges. It is a new gateway to reinventing the wealth and style codes that have made the Dior atelier so big.

Artistic director Maria Grazia Chiuri went back to the 1950s and used the pioneering "New Look" as a new research object in combination with an feminine counterpoint: the Teddy Girls.

The teddy girls were brutal characters originated from Edwardian times and were at odds with everything that was the norm. The women were rebellious; they wore leather men's coats, velvet scarves, and large skirts. This counter reaction created a new female fashion perspective. Princess Margaret was at this time the leading icon of the trend by being one of the first who worn creations from Dior's "New Look" line.

There is obviously a clear fascination with the mix of English classicism and subversion, elegance and rebellion that can also be seen in the exhibition Christian Dior: Designer of Dreams, now at the Victoria & Albert Museum in London. The concept of the "New Look" has now been applied to extremely elegant sportswear. The collection is a tribute to the heritage of Dior equipped in the codes of our time. The iconic silhouette of the Miss Dior dress has been re-released and radiates artistic strength and grace. Evening dresses are made out of bodysuits and skirts with embroidery and transparent sequins are decorated with flowers in relief.

The collection contains more odes and references, such as a pal tree print (Toile de Jouy) that refers to artist Mario Schifano. You also recognize the literary work of the American feminist poet Robin Morgan with elements from Sisterhood Is Forever (2003). The scenography of the show is based on ABCs representing a woman made by the Italian artist Tomaso Binga.

The collection transcends the idea of gender and promotes the reinterpretations around identity discovery; an idea that has been supported by Dior for a long time already.

www.dior.com
Fashion
A Darker Side of Prada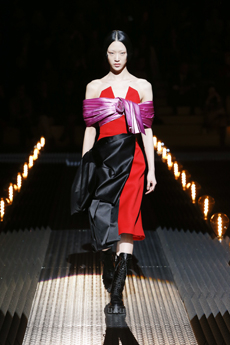 This time at the grand hall of the Deposito, Prada unveiled to us its darker side. The Fall / Winter 2019 collection seems to take inspiration from the fantastical. Boxier forms and heavy tops feature, a look that combined with the plaited hair cannot help but remind us of the precocious Wednesday Addams. Crimson red makes its expected appearance throughout both in accessories and in the garments themselves.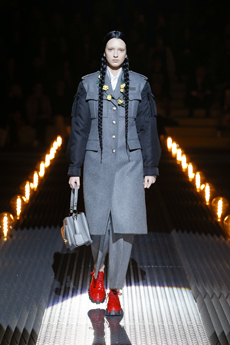 Prada does however stay true to its roots with some staple pieces, the women's décolletage flattered in a wonderfully tasteful and feminine fashion, the dresses sensually slimming down the form, creating silhouettes that are ultra feminine. The former looks however, are a stark polar opposite - much preppier and defiant.



Fashion
Crystallized Flamboyance
The magical, pure rays of the Northern Lights are an intrinsic source of inspiration for Byblos's creative director Manuel Facchini. The pristine polar areas that have hardly been affected by humanity are an example of dedication to a more sustainable life. The colors that come together through the interaction of light, ice and temperature on the Aurora Borealis create a natural, flamboyant atmosphere.
Facchini's aim in this Fall Winter collection is a more sustainable luxury life; plastic recycled bottles are reused by being turned into magical eco-friendly pearls that pursue the same aesthetics of the durable ice crystals and mountain diamonds. By imitating luxurious flamboyance in recycled plastic, Facchini shows that this graceful lifestyle does not only have exist at the expense of our fragile living environment.
Byblos's signature is characterized by all sorts of sports. Elegance and sportiness come effortlessly together in ergonomic constructions from cozy buffers to tight streamlined dresses, all embellished with classic 3D sport protection. Structured silhouettes alternate origami-styled suits with molecular ice structures that seem to melt slowly. Coconbomber jackets, hoodies and crystallized parkas are lined with beautiful graphic and geometric motifs, all are inspired by our own natural, nothern atemporal cosmos. The forms of the prints in this collection are copied from the effects of the Aurora borealis; collisions between electrically charged particles produced by the sun that slowly penetrate the earth's atmosphere. Footwear is characterized by sturdy, cool "cocoon" sneakers, eco-furry booties and hockey-inspired over-the-knee boots.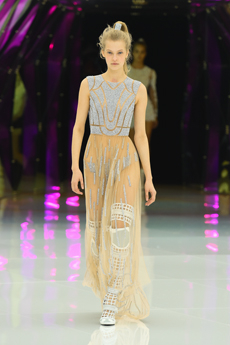 This new collection is a kaleidoscopic range of practical natural wonders with an inventive, sustainable, extravagant flair. By re-using materials and resemble terrestrial sources, a new challenge arises to save this planet and still live in luxury.
Fashion
Flooded in News
Jeremy Scott, NY Fashion week Fall/Winter 2019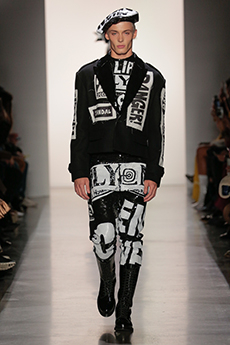 Jeremy Scott thinks that we are guided by the order of the day: the news cycle. Sensational and earth-shaking headlines keep us in their grips, a trap that is hard to escape. Scott wants to make people aware of this issue and designed this collection together with artist Aleksandra Mir, who does not hesitate about mapping the present in a confrontational way.

The endless news cycle does not only make us spectators but also witnesses, victims and perpetrators of an event, something that does not only affect our view on politics, but also pop-culture. Scott's Autumn / Winter collection 2019 forms therefore a declaration on this tendency.

Mir brought the New York Post and the New York Daily news to life by enlarging the blown-up headlines into large graphic expressions, which are displayed large on the clothing. The collective obsession with salubrious headlines, false scenarios and click-bait drama causes unnecessary tension and divides societies into different groups, something that according to Scott is an unnecessary pattern and must be broken. His designs reflect the latest news that penetrates our lives so uninvitedly. Only black and white have been used to emphasize the contrast and to get into the graphic atmosphere.

Fabrics such as soft and liquid vinyl printed with blazing headlines formed in geometric dresses with a full zoom give the headlines a new context. Denim and leather also dominate and are embellished with a precious counterpart: Swarovski crystals.

Preformed bustiers are interspersed with layered feather-light tulle skirts - again transparency and layering play an important role. Today's catastrophes are covered in chiffon, the scandals of tomorrow in sequins, silk and tulle to express the horror and displeasure of this time.

By placing the powerful images in a different context, another meaning is created and that is exactly what Scott wants to give us.

www.jeremyscott.com
Fashion
Infinite Creativity
Hugo Boss, NY Fashion week Fall/Winter 2019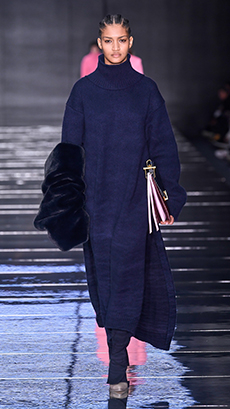 New York is the city where all sorts of cultural influences come together; art, design, architecture, and fashion. Disciplines fuse here faster than anywhere else. This visionary New York culture has been the starting point for Hugo Boss's new women and men's collection.

The collection was presented in the gallery district of Chelsea, the heart of the Manhattan art scene. Boss' decent and modest spirit aims to pursue formality, which has evolved in this collection into a more sporty identity that wants to stand out.

Long, custom made coats and voluptuous capes are made out of luxurious alpaca wool and double-faced cashmere. Edited patchworks are interspersed with graphic stripe constructions and sturdy quilts. Him and her are in contrast with the combination of extremely elegant flowing dresses and slouchy knitwear sweaters.

Traditional craftsmanship has been incorporated in this collection in high-end fabrics to refine the noble identity in a refined, creative way. The volumes of the designs have also been given unexpected proportions with raw-edge finishes and stitch details. Boss is nodding here to the great variety of architectural influences that New York richly possesses.

The basic colors have remained true to the roots. Subdued colors camel, mélange gray, biscuit and winter white are connected to extremes like cool yellow, bright blue and dark pink.

The diverse artistic references reflected in the details make the collection individual and quirky. The new designs from Boss invite you to watch twice - and then again; the unexpected is combined with the expected.

www.hugoboss.com
Fashion
TECHMERINO™ Wash&Go by Z Zegna starring Alexander Zverev
Today Z Zegna introduces the new TECHMERINO™ Wash&Go collection tested and presented by the youngest tennis winner of the ATP Finals and face of Z Zegna, Alexander Zverev. During playing, Zverev can fully count on high quality performance-capable material, encompassing lightweight comfort and sustained flexibility.

Zegna has an unprecedented passion for tennis and designed the TECHMERINO™ Wash&Go wardrobe with this obsession in mind. This assemblage includes suits, jackets, bombers, t-shirts, and pants, all with a fast-drying wool fabric for optimal comfort and performance. This collection contains best of both worlds; elegance and ultimate convenience. This can be seen in the variety of fabrics: maxi meshes playing with transparency executed in an inspiring spring color palette. This apparel shows how the limits of active wear can be re-interpreted with innovative techniques that lead into a sophisticated look.

TECHMERINO™ Wash&Go breathes well by offering a continuing thermo regulation that keeps the body on a constant temperature in both heat and cold. All the pieces are made out of the natural fabric; pure Merino wool treated with special finishing techniques so that it will be easy to wash and maintains its rich quality.

www.zegna.com
Fashion
Jil Sander Fall 2019 Mens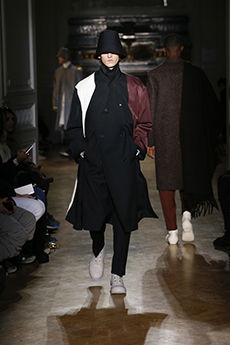 Jil Sander's creative directors Lucie and Luke Meier are building their own aesthetic for Jil Sander, gradually adding elements to their aesthetical structure every season.

Take for instance the new campaign by Mario Sorrenti for Spring/Summer 2019, that emotional and authentic aesthetic rendered through a slice of life, a moment, a collection of memories of a road trip to the Japanese coast. Delicate instants, small gestures.

Held at the Hôtel Salomon de Rothschild, with its wonderful Salon D'Honeur's ceiling décor from the XIV century featuring a heavenly sky with cherubim, Jil Sander Menswear for Fall 2019 add another element to the brand: the modern and minimal aesthetic made of boxy silhouettes, a classic color palette - featuring ice grey, off-white, camel, beautiful cream tones, navy, burgundy - and razor sharp cuts.

The collection emanated bits of the codes dear to the iconic identity of Mrs Jil Sander herself in the 90s: a cool elegance far from stiff formalwear. Functional, free-spirit.

A particular attention was given to outwear often paired with color matching trousers: the opening navy mackintosh, the calfskin pieces cut and treated like oversized shirts. But also to a certain dualism of materials and textures like the patchwork sweater worn over fluid silk shirt.

It was a smart and appealing collection we are definitely looking forward to see in store.

www.jilsander.com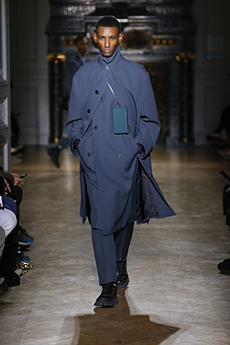 Fashion
Sacai Fall 2019 Menswear / Pre-Sacai Fall 2019 Menswear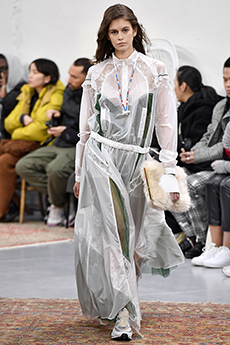 When the morning of the yellow vest protests we all tried to arrive on time for Sacai held at the Grand Palais, Paris seemed a ghost city, lost in space and time. With the Grand Palais in the middle of the restricted area and dozens of police's special forces at every single corner surrounding the area it was surreal. In 2 hours the people fighting for their future would march those streets.

Feeling blessed to have succeeded to arrive on time at the show after several attempt to enter the area, as we saw this beautiful collection full of all Sacai's signature traits playing with the construction of silhouettes and juxtaposition of materials: the deconstructed pleated asymmetrical skirts, performance fabrics hybridizing formal garments, coats where the liner becomes a pumped up outer layer, a sweater traditionally worn under a jacket instead becomes its outer shell.

Chitose Abe mentioned a "cultural melting pot", in her show notes and the importance of feeling "the freedom to be different, to be an individual". Symbolized by the iconic London's Bar Italia collaboration for t-shits and hoodies, where Abe spent time as student.

www.sacai.jp
Fashion
Dries Van Noten Fall 2019 Mens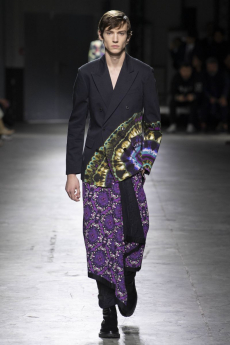 The sound of cicadas, and summer breeze. A warm male voice starts talking in Italian: "According to Proust the only true paradise is a paradise lost. It is a famous quote. But I dare to add that there might exist paradises even more appealing than the lost ones: the ones we never lived, the places and the adventures we barely see afar, not at our back like the lost paradise filling us with nostalgia but in front of us, in a future that maybe as a dream coming true we can finally reach... Maybe the we really stop being young when we miss and love only the paradise lost". It's no other than Marcello Mastroianni's voice in his "Mi ricordo, si io mi ricordo", filmed in September 1996 in Portugal with a small troupe of close friends . A collection of memories, reflections around his life and the human nature itself.

For his Fall 2019 Menswear 's soundtrack Dries Van Noten choose these words together with fragments of other notable man who inspires him since the beginning: John Lennon, David Hockney, David Bowie, amongst the others.

As Mastroianni's words are an ode to youth and a spur to life the fullest, Dries Van Noten addressed his elegant collection to a younger audience, striving to live free from stereotypes: beautifully floating boxy suits are styled with quilted scarves wrapped around them rendering them an appealing staple for the young client, far from streetwear. Oversized double-breasted blazers are presented next to hourglass silhouettes, belted jackets - at times in leather - suits. A splash of colourful tie-dye prints on coats, shirts and sweaters provided that nonchalant playful personality Dries is known for. David Bowie melancholy echoed in the finale "For we're creatures of the wind. And wild is the wind"

www.driesvannoten.be
Fashion
Dior Homme Fall 2019
Inside the monolithic black temporary structure built at Plateau Joffre stands a 76 meter long moving walkway where models stood still. Kim Jones is sure to have a particular sense of spectacle: he created a wow-effect by a simple gesture where his new collection was carried monumentally, stripping back the stage and downsizing it compared to his previous Tokyo show.

The heritage of Dior together with the contemporary and experimental Jones' attitude produced an elegant and smart collection with tailoring declined in couture techniques and materials.

A Mona Lisa reinterpretation and other pen work by American artists Raymond Pettibon infused across the collection giving a strong graphic spirit. Pettibon was always a strong influence since Kim Jones's teenage years.

What strikes is the silk stole applied around a pinstripe suit or along a cashmere coat extending till the floor. It is so subtle but so showstopper.

Kim Jones created a new masculine attitude at Dior Homme taking also elements dear to Monsieur Dior like his 1947 panther print, reinvented in this collection alongside other animalier gestures that extend to scarves, jackets and sweaters. Kim Jones stays true to his own language: jackets have removable leather sleeves , hybrid garments, nylon mirroring silk and accessories composing a whole with the entire collection. The saddle bag is reinvented once again and worn cross body on the tailleur oblique. The high craftsmanship and elegance of Dior fuse with the techno fascinations of Kim Jones vision.

www.dior.com
Fashion
Playful Drama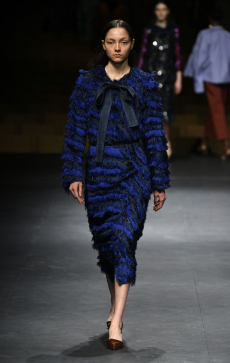 Odeeh's Jörg Ehrlich and Otto Drögsler want to create some drama for FW19. They conceptualized strong, individual pieces that can stand on their own. Many of the pieces play with opposites and challenge our understanding of a classic. Instead Ehrlich and Drögsler play on emotions with playful silhouettes. We see a dress with a pleated skirt and denim contrasts, a voluminous pink dress with fringe that teeters like feathers. What could have been all over the place comes together quite nicely with a limited color palette and standalone prints which find just the right balance.

The starting point for this collection was a 1920s workwear shirt found on one of their vintage tours in London. Both immediately translated that into a shirt in a fairly similar cut, but made from gray cashmere with an added pink fake fur collar. Low-slung waists too reference the 20s and show off Odeeh's nonchalant approach to the gender binary.

www.odeeh.com


Fashion
"To The Moon"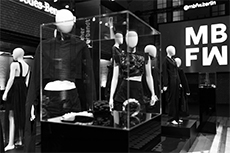 Keeping with this theme, interdisciplinary fashion icon Esther Perbandt presented an installation of her new collection "To The Moon" during Berlin Fashion Week and introduced her limited partnership with Feminista - the first political perfume. The showcase also serves as a celebration of Perbandt's 15 years in the industry. With "To The Moon", a tale as old as time re-imagined anew, she complements the almost stern and deconstructed collection with beautiful organic, harmonious shapes, made from manipulated and molded leather. Futuristic technology, such as 3D printing and CNC milling, meets traditional leather craft processes, resulting in shapes that are inspired by the feeling that one could indeed fly to the moon.

www.estherperbandt.com
Fashion
Fendi's Fall/Winter Collection Captures Classic Italian Style with a Contemporary Twist
In Fendi's Fall/Winter 2019 Menswear line, Karl Lagerfeld and Silvia Venturini pay homage to the classicism of Italian street style, drawing influences from more modish urbanwear and employing traditional tailoring in a contemporary fashion. The collection is a full demonstration of Lagerfeld's hand and encyclopedic knowledge of menswear, seeping with clean and timeless style.

Fendi achieves the fine balance between venerating the distinctive staples of the brand whilst subverting the notion that tailoring is characterised by clean cut, stark symmetry. Beautifully fabricated sleek a-line jackets with sharp shoulder cuts, flared trousers softly secured around the waist, leathers and furs feature are all expected features however the bags and accessories are perhaps the most notable feature in the collection, creatively devised and expertly crafted.

The dynamism of featuring asymmetrical half-half jackets and overlayers reminds us that this formula is available for adaption. The integration of bold, intrepid urban staples such as oversized anoraks and quilted puffer jackets stitched with colourful inner linings excite the collection with a freshness that never oversteps into the core essence of Fendi.

The collection loyally adheres to palettes of sharp blacks, metallic sheens and classic neutrals focussing on rich chocolates, nutty browns and creamy whites. The occasional dash of bold reds, yellows and oranges seen in the sleek footwear trimmings is a clever, understated touch that adds a subtle flair of zest and contemporary edge to the collection.

www.fendi.com
Fashion
The Zegna Way to Play: Holiday Gifts, Iconic Leather
Italian luxury fashion house Zegra celebrates the magic of this holiday season. Ermenegildo Zegna created three new characters: Romeo, Enzo and Luigi. All of them are made from iconic fabrics, whose playfulness and sense of humor reflect the joy of the festive season.

For the stylish, the sporty, or the man about town, Zegna presents an exclusive gifts collection which is made from lightweight and versatile leather - pelletessuta. A story in fabric, this woven leather is made from placing extremely thin strips of nappa leather on special looms, thereby replicating the traditional way of weaving cloth. Holiday Gifts available in major Ermenegildo Zegna stores and also online.

www.zegna.com
Fashion
Parisian Femininity
Femininity defies definition, every woman has her own femininity, and it comes from the charisma she exudes. In years past, lingerie was simply the ladies undergarment. Now it means far more – lingerie has become the language for women to appropriate their own femininity through shape and form.

Parisian Lingerie experts Aubade helped to free the women form allowing ladies to celebrate their independence. With this freedom lingerie's requirements began to evolve. Physical support no longer dictated - glamour, sensuality, and seduction took the helm.

To honor sixty years of vigorous devotion Aubade has dedicated the year 2018 to love and creativity. Their autumn-winter collection encapsulates the range of emotions that flutter through the soul as romance ensues, from the frivolity of flirtation to the seduction, sensuality, and passion that follows.

Over the past sixty years, the Parisian brand tirelessly drew inspiration from the ladies of the day interpreting their desires in the world of emotion. Aubade champions the craft refining their skills throughout their evolution, now, luxurious embroidery, refined silks, and decadent lace epitomize the collection.

Autumn-Winter is a delightful collection for those who wear it and those who are lucky enough to see.

www.aubade.fr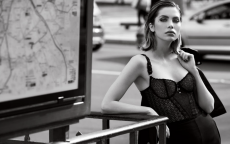 Fashion
Saint Laurent Spring 2019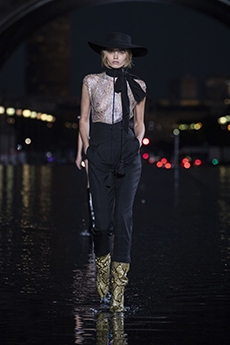 Fluorescent-like huge palm threes designed by artist Vincent Lamouroux looking at a glittering Tour Eiffel at dawn, where a stunning pink red light pervaded the whole Trocadero. And models walking on water. Anthony Vaccarello's postcard from Saint Laurent Spring Summer 2019 never felt so charming. It evoked our desire of Summer, of far-away places like Yves beloved Morocco.

Vaccarello showed a collection true to his aesthetic, shorts in all declinations, mini dresses and several version of tailored tuxedo ensembles. But also Western America style looks and a series of sheer fluid dresses. The hats, the bow shirts, the knee boots: the 60s, the 70s and the 80s where all part of Vaccarello reference palette, inspired by Monsieur Yves' archive, delivering a collection where the feeling of the "night" was a big protagonist.

As the last looks glided on the water with long fluid animal print chiffon dresses the reference built up strong. We felt the references to the iconic 1971 couture Spring Summer collection inspired by Yves' longtime friend Paloma Picasso but also the overall references to Saint Laurent woman. Running late to her own wedding in a black fitted leather jacket and incorrigibly spraying her favourite fragrance in front of an astonished marriage officiant interrupted as he reads the vows, the 80s Rive Gauche perfume advertising could not be more on point: pas pour le femmes effacées. Definitely not for the modest woman.

www.ysl.com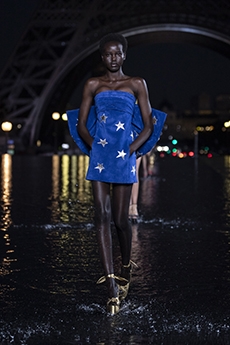 Fashion
Highlights from Milan Fashion Week
Prada Spring 2019
Defiant as ever  —  for Spring 2019 —  Prada continued the battle against tradition. An aura of a 60's girls swept the Prada Fondazione space in Milan, an ode to the daywear of that time and captured the aggression of the era with a typical Prada ease.

At first glance, te collection seems otherworldly, almost alien. Soon after, the oxymoron reveals itself. Spring 2019 is a collection of conservatism, personality, and sheer beauty. The result is a highly wearable collection of plunging bodysuits with straps below the breasts, very typical Prada A-line silhouettes in the shape of coats, jackets, and dresses along with juxtaposing experimental tie-dye skirts and dress that are equally mesmerizing.

This was a very out-spoken Prada collection. During Prada's pre-show press conference she mused about the fact that —  "Fashion shouldn't follow excessive simplification, because the more you simplify, the more slogan you use, the less content there is".

www.prada.com
Sportmax Spring 2019
The Sportmax runway approach is uniquely, unique. This is an essential collection, a sporty parade that has been revved to the max.

Surf references were rife throughout the Spring 2019 collection. Men's tailoring may have accented the start of the show, but what was to follow was utter femininity. Bikini tops were casually paired with multifaceted jackets that boasted layers of intricacy. Barefoot outfits demonstrated the ease of the brand while dresses stole the show with their splendour; each garment took the show to a new level evolving the concept radically one step at a time. The sheer range of Sportmax's Spring 2019 collection is quite astounding.

www.sportmax.com
Roberto Cavalli Spring 2019
Notorious for his exploits in the men's business Paul Surridge demonstrated his precision tailoring for Roberto Cavalli's Spring 2019 collection. Here, Surridge demonstrated the flexibility of the bike short, while showing off its sex appeal. Taking many forms the traditional formal wear paired with; plain blazers, printed blazers, loose shirts, blouses and dresses. Spring 2019 exhibited an authentic abundance, particularly in the choice of prints. This abundance carried through to the unique variety of dresses. Intentional or not, Surridge has inched the gap between male and female fashion even closer.

www.robertocavalli.com
Fashion
Diesel x Mustafa Capsule Collection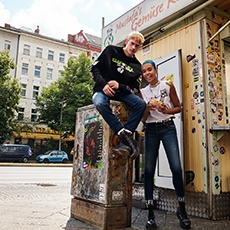 Diesel have their tongue firmly lodged in their cheek for their new collaboration. A campaign that sees the Italian Denim Brand propose that the coolest brands are found in the coolest places. A proposition that has landed them in the diverse metropolis of Berlin to collaborate with "the only true artist in berlin", Mustafa.

Mustafa's Gemuse Kebap to be exact. Known quite simply as the best kebap in the world. With a minimum wait of 20 minutes Mustafa's kebap has a collosal reputation one that quite literally busts the block. Diesel is not without their own reputation of course. Collaborating with a kebap stand despite its iconic stature in pop culture defies normality. This is the game.

Graphics combining the logo of both esteemed brands adorn the T-shirts, sweatshirts and caps that complete the 14-piece capsule collection availavle in Europe, China and the USA.

www.diesel.com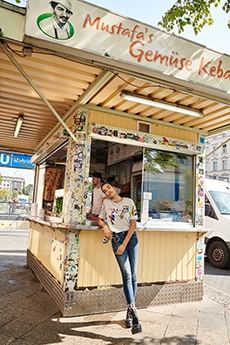 Fashion
Rimowa celebrates its 120th anniversary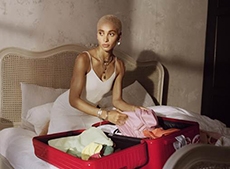 Famous German company of premium luggage Rimowa celebrates their 120th anniversary with their first globally integrated campaign.

In honor of this milestone Rimowa invited a host of celebrities to New Yorks, 7 World Trade Centre. The famous faces included men's Artistic Director at Louis Vuitton Virgil Abloh, Dior Men's jewellery designer Yoon Ahn, model Adwoa Aboah, international chef and restaurateur Nobu Matsuhisa and Swiss professional tennis player Roger Federer. Rimowa gifted each guest with a personalized leather luggage tag, graffitied by American artist Curtis Kulig with his signature "Love Me" to mark the occasion. Guests also took time to share their personal interpretations of what travel has meant for their lives.

"What makes this campaign very different than any other is that these aren't typical endorsements, these are people who have been traveling with Rimowa for many years," says Muelas. "Their own suitcases are in the campaign."

The campaign also marks the beginning of an exclusive partnership between Roger Federer and RIMOWA that will extend to various projects over the next two years.

www.rimowa.com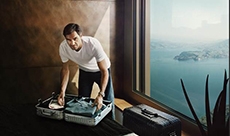 Fashion
Woolrich releases new capsule collection designed by Ms. Lauryn Hill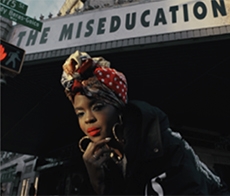 American brand Woolrich announces 'Woolrich: American Soul since 1830' Fall/Winter 2018 starring the iconic Ms. Lauryn Hill in her first ever fashion campaign. This campaign marks the beginning of a new era for Woolrich rooted in authentic creators who define American innovation and reflect the creative magic in the soul of the brand. Ms. Lauryn Hill – American singer, songwriter, rapper, record producer, and actress designed and customized the new limited-edition capsule collection. It will launch in Woolrich stores worldwide and in collaboration with top retailers in North America and Europe.

"The opportunity to work with Ms. Lauryn Hill was the perfect start to our ongoing 'American Soul' project, highlighting Woolrich's American heritage. We wanted Ms. Lauryn Hill to bring her unique artistic eye to the product and DNA of the brand so we invited her to put her own spin on these classic Woolrich styles, reflecting her interpretation of 'American Soul.'" – explained Andrea Canè, Creative Director of Woolrich.

www.woolrich.com


Fashion
Aesop opened a new signature store in Nuremberg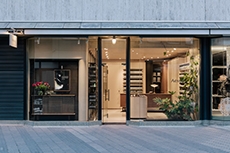 Australian skin care brand owned by Brazilian company Natura opened a new elegant store of 40 square meters in Nuremberg. New shopping space situated on Fleschbrucke and designed in-house by Aesop, and executed by Munich-based design studio einszu33.

The space appears almost as a cinematic tableau. Screed concrete, velvet, visible from pavement outside that swathes a wall behind the display window and rusty iron — invite tactile exploration and realize a sense of refined domesticity. Clients can explore skin care products and also products for body and hair, distinguished by botanical and laboratory-generated ingredients of the highest quality.

www.aesop.com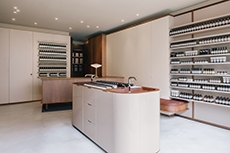 Fashion
Wood Essence by BVLGARI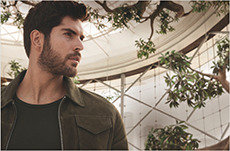 Italian luxury brand BVLGARI introduced a fragrance ''Wood Essence'' with the energy of nature for the cosmopolitan man living in harmony with his environment.

The new perfume sensation is made by master perfumer Alberto Morillas who combines intense woody tones with bright citrus accents. This fragrance is an exciting addition to the BVLGARI Man collection.

BVLGARI Man Wood Essence included coriander extract and zest of Italian lemon, Cypress wood and Haitian vetiver extract, Benzoin from Siam cedar wood and amber chord. The result: a final touch of invigorating power. This eau de parfum proves that the perfect balance between city and nature is not only possible, but also necessary.

www.bvlgari.com

Fashion
Versace Menswear Spring Summer 2019
"Versace, Versace, Versace, Versace, Versace…" the campaign video featuring a noticeable selection of supermodel reciting the brand's name infinitely in a sort of spell-like chant for the Spring Summer 2018 marked a new air in the house in celebration of this iconic Italian maison's 40th anniversary.

For Men's Spring Summer 2019 the powerful link between past and present, that attitude on life "so Versace", defines once again the new collection.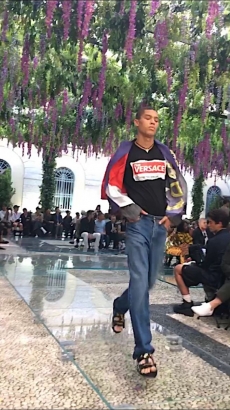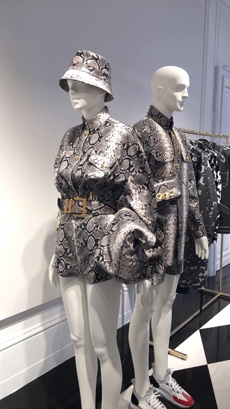 In the show notes Donatella Versace mentioned how this collection takes into account the free spirit of Versace's men. "These are men who do not care about the rules and that is exactly what it love: they have an opinion and make their own style choices", hinting also to the various range of garments, inspired by many different kinds of masculinity.

Printed piton ensembles, powers suits in neon colours, relaxed knits, but also track suits with newspaper print where the season's motto "It's Versace not Versachee!" delivered a playful collection with contrasting elements through a contemporary take.

Also this season a Womenswear capsule collection joined the show at the stunning family palazzo in via Gesù, where a cascade of wisteria adorned the inner courtyard ceiling in a mesmerising backdrop.

www.versace.com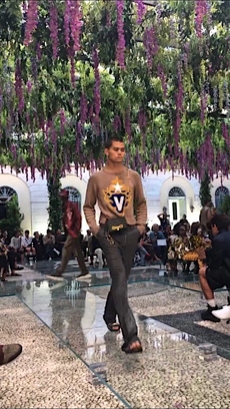 Fashion
A double soul – Fendi Summer 2019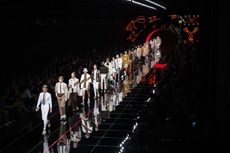 The performing collection presented by Fendi for Summer 2019 is nothing but a provoking anagram. FENDI/FIEND.ROMA/AMOR.

Love and tiny demons reign over raincoats, blousons, anorak, tailored pants, shirts, sport shorts and knitted polo-shirts. Dualism is the tempting theme, better enhanced by graphics and contrasting chromatic codes.

Pequin taping on waterproof gear, FF-forked snakes, clawed frogs, horned demons cards and dice that multiply over the surfaces, interpreted by italian artist Nico Vascellari.

For the accessories, the iconic Peekaboo X-Lite bag, as well as bucket hats, crossbody puches and hi-tech running sandals follow and fluidly communicate a strong functionalism and confidence with Rome's inner spirit.

www.fendi.com
Fashion
Here and Now – Roberto Cavalli SS19
Immediacy is the leading mood presented by Paul Surridge for Roberto Cavalli Spring Summer 2019 Menswear collection.

The astute combination of athletic tailoring and clean proportions determines the contemporary spirit of the outerwear, knitwear chinos, slouchy bermudas and shorts proposals.

Stretching from pure white to decisive black, the range explores the full chromatic scale and especially focuses on hybridized animal motifs, which enhance the sensation of a concrete jungle.

Functional rather than decorative, the artisanal feel is still evident, sophisticatedly recalled through precious intarsia and Macrame details on the knitwear.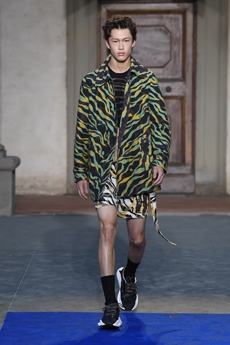 On the occasion of Roberto Cavalli Menswear Show at the Pitti Immagine Uomo, the brand launches also the men's eyewear collection developed with Marcolin.

As well, all the accessories accentuate a juvenile, swagger attitude. Materials play a key role in the determination of this new urban vocabulary.

Eye-shelding visors and and polymath running shoes define the outlines of the ultimate luxury, which follows the speed of the concrete landscape, here and now.
Fashion
Giorgio Armani to celebrate the opening of the new Giorgio Armani and Armani/Casa boutique in London with a private "Giorgio's" pop-up club at Tramp
A private Giorgio Armani trunk show hold at Giorgio Armani boutique in London inaugurates the opening of Giorgio Armani and Armani Casa boutiques in prestigious Sloane Street, London.
The renovated space of 1000 square meters that hosts the two adjacent boutiques features 5 display windows that introduce to a totally new concept, which was curated by Giorgio Armani and his team of architects.
Mirroring the refined sense of distinctive, minimal elegance characteristic of the Maison, the boutiques focus on the extensive use of space. As well, a light and clean distribution of lights and linear shapes meticulously highlights the balance between rigour and refined luxury.

To best celebrate the event, the trunk show has been followed by "Giorgio's" pop-up club at Tramp Nightclub, which for the first time bring the private members night out of the Armani/Privet nightclub in Milan, including De La Soul's live performances and DJ Harvey DJ set.
Fashion
Berluti new store opening in Munich
The immediate sensation is that of a quiet intimacy, as if one could slighlty hear the clock tickings spread over a place that has always been there.

The new Berluti flagship store in Munich is the second one to be opened in Germany, yet it is the first in Europe to launch a totally new concept for the interiors.

Located on prestigious Maximilianstrasse and in a Neo-Renaissance building, the design highlights the brand's luxury heritage, yet respecting the typical Munich architecture.
On the one hand, the preference for a square, clean design suggests Berluti affinity with sobriety and composure, which is in turn calibrated with the presence of delicate textures that characterise the stone finished beige walls.

As well, the hand-polished bronze shelves and frames, the marble tables, the polished wood cabinet and the herringbone pattern over the matte wooden floor seem to complete each other.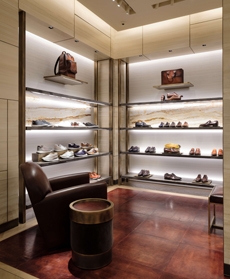 More elements, such as a dramatic wall lined with symbolic tincture bottles, a wooden display cabinet and classic club armchair intensify the relaxed atmosphere, gently illuminated by pale lightings that unveil the precious details of Berluti collections.

The new Berluti boutique is the perfect place where contemporary gentlemen can talk about elegance in detail.
Fashion
Peuterey Icon
With two new proposals Peuterey continues working on their innovative Icon Project, which this season introduces two pieces for the outerwear. Bail for men and Corduroy for women are down jackets made of cotton poplin, featuring a water repellent surface and thermo-taped internal seams. A detachable hood with drawstring, wind protection and reflective details underline the urban design and feel for technology. On the other way around, Carve and Shaka are regular fitting parkas introducing a bond technology that allows for a reduced thickness. Light and versatile, Peuterey products are future-oriented, yet perfectly communicating that balance between contemporary style and the highest functionality.
Fashion
Highlights from Paris Fashion Week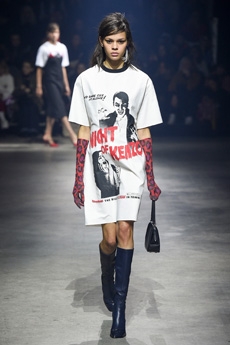 When French painter Henri Rousseau realised renowned artwork "The Dream", he recreated a jungle scenario only observing tropical plants and flowers at Paris Museum of Natural History. For Fall 2018, designers Carol Lim and Humberto Leon bring the surreal painting into a dreamlike collection, melting the brand language with inspirational references taken from the past. Therefore, soft knit sweaters, parkas and skirts function as a canvas and accurately reproduce lotus flowers, jungle animals and natural landscape. By contrast, bright colors over striped knitwear pieces recall Kenzo graphic identity, remarking brand prowess in combining art and contemporary fashion.
Atavistic yet extraordinarily conceptual, Rick Owens is a master in transcending fashion discussion to the highest level. Hence, ancient myth of Sisyphus is reinterpreted with approach recalling the radical language of Arte Povera. Femininity turns abstracts and is deconstructed and layered trough a brown color palette unveiling pilled fabrics and padded swaddling. Mythology is recalled by bulky and extravagant panniers, yet balanced by a sporty feel that runs over the entire collection.
Oversized coats and over-the-knee cowboy boots introduces us to Isabel Marant's imagery, which this time takes inspiration from old American westerns. Paisley motifs, fringed decorations, lace details over delicate blouses and a warm color palette alternate with pieces that recall 80s glamorous femininity trough ruffled mini-dresses and wide shoulders. For both men and women, the collection evokes a strong sense of sophisticated comfort, assuring a distinctive take on this modern reinterpretation of America.
Set in the Unesco building, Loewe show under creative director Jonathan Anderson unveils an intriguing collection, which seems to support the need for a comfortable wear. Although, the relaxed outlines face with a more contemporary approach to fashion aesthetics, as well as they reveal a strong focus on classic tailoring and enhancement of volumes. Flowing dresses and shirts are adorned with ruffled sleeves, leather collars external pockets and eventually silk bra attached in the front, offering women a very variegated range.
With his collection, Haider Ackermann deliberately points out the fragility of our times. Models are perceptibly androgynous, yet their silhouettes remark the presence of a sober, linear elegance. The bitter shines trough the color palette, including light olive green, pink, caramel and sky blue tones emphasizes the richness of fabrics, which in turn reveal interesting embroideries and ruffles over suits in jacquard and velvet dresses.
At Hermes Vanhee-Cybulski presents a women collection that is nothing but an attentive work on details and hourglass silhouettes. This is a collection that cover up the body to let the clothes speak for a classic elegance. The abundance of dark leather (alongside different proposals in light olive green, red and caramel) that would be conventionally associated with a subversive seductiveness, here is sophisticatedly transformed in a sober yet luxurious take on classic pencil midi-skirts and jackets in what seems to recall the compelling fascination of noir movies.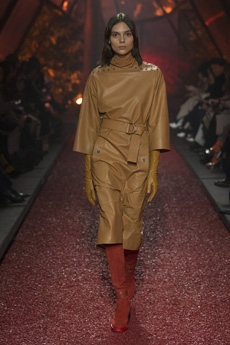 Fashion
The future starts now - Moncler Genius
Creativity is our energy, multiplicity is our strength. Truthfulness is our credo. Change is what drives us forward. Moncler is continuing to explore the surrounding spirit of its uniqueness. The future starts now."

On the 20th of February and with a powerful manifesto, new forms of expression for iconic duvet brand have been announced. Conceived by Remo Ruffini, Moncler Genius is the result of a consistent work of research culminating in different languages that narrate only one identity.
Using the jacket as a starting point, fragmentation becomes the main concept and guideline. Eight projects turn the product in an object and communication mean, strongly oriented to functionality and newness.

The new Moncler building hosts several areas identified by a number, each of them dedicated to a single project (which will be realised monthly) interrelating with others and interpreting the singularity of Moncler consumers.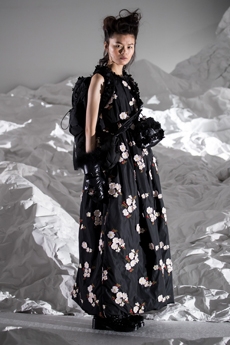 Starting from 1 Moncler Pierpaolo Piccioli that focuses on purity of forms, Moncler 1952 instead pays tribute to the brand's year of birth, adopting a curatorial approach.

The journey into the exhibtion-like space continues with Monocle Grenoble focusing on prints and fabrics, Moncler Simone Rocha on deconstruction, Moncler Craig Green on the dialogue between clothing and the body, Noir Kei Nimomiya on wereable geometries, Fragment Hiroshi Fujiwara on reinforcing the duvet cult-status and eventually Palm Angels working on logos and slogans.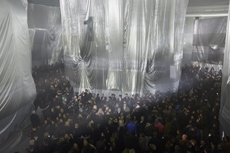 With Moncler Genius, a new and really clever direction for the company has been set up, extraordinarily combining those diverse medium that celebrate imagination and uniqueness.
Fashion
Peter Hujar's first full- scale retrospective exhibition at the Morgan Library & Museum
Vulnerable figures, dramatically portrayed in black and white over diagonal compositions, form the language of Peter Hujar, whose artistic production was recognised for the spontaneous yet touching immediacy of his 'difficult subjects'.

Over a span of 30 years, since the beginning of the mid-fifties, Hujar's production has faced and been influenced by shaking moments of cultural history, including the public unfolding of gay life between the Stonewall and the AIDS crisis, the emergence of punk performances in art and music and downtown subcultures during the Reagan Era, as well as the meeting with influential personalities, such as Susan Sontang (who contributed to Hujar's 1976 monograph).

The interest for subcultural forms of expression and drag performance, led him to meet with Warhol Superstar Candy Darling, who asked Hujar to make her a portrait as "a farewell to the fans". Set in a hospital room where Candy was admitted for lymphoma, what should have been resulted in an unpleasant image of death was actually transformed in an elegant atmosphere highly suggesting a calm serendipity.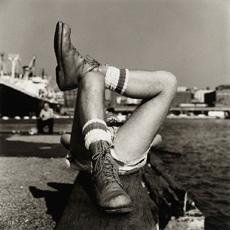 On the one hand, the artistic authority that Hujar's work has achieved overtime collects an immersive and wide contemplation of human bodies and their shapes, investigating on the transient fugacity of life, highlighting both their corporeal presence and interiority. On the other hand, additional works (such as the shots taken at the Palermo catacombs in 1963) featuring still-life, landscapes and animals unveil his sophisticated and melancholic sensibility for existence as a whole.

Peter Hujar died of AIDS in 1987 and more than thirty years after his death, his photographies are gaining worldwide traction more than ever.

For the first time and at The Morgan Library & Museum until the 20th of May 2018, a full-scale retrospective presents 140 photographs of this great artist, displaying the prints how Hujar wanted his work to be exhibited: flirting with disorder to let the viewer dive in the deep storytelling of each single image.
Fashion
The lighthearted woman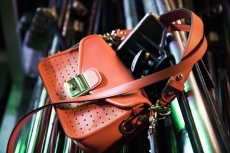 Paris is a soft backdrop for Longchamp's Spring 2018 campaign, where a happy-go-lucky Freja Beha Erichsen explores the romantic city photographed by Angelo Pennetta.

Featuring different pieces from the ready-to-wear collection as the safari jacket coming in a variety of materials, from laser-cut leather to canvas, worn with shorts and fringed skirts.

The campaign foucsus on the iconic Mademoiselle Longchamp hobo bag in perforated calfskin, which this season will be proposed also in a mini size. The second pillar of the range is the structured Madeleine that stands out with an innovative three-tone graphic version. Longchamp introduce its new sunglass collection, including the butterfly model with an oversized frame that softly enhances the alluring mood of the season.

Launching the 20th of February worldwide, a film directed by Ujin Lin will be shared on the website and social media channels.


Fashion
Fashion
Lanvin Fall Menswear 2018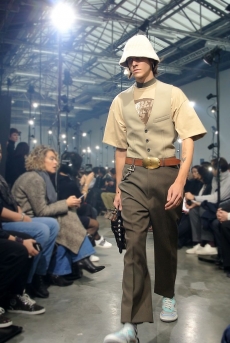 A landscape of lights. A cityscape and its never-sleeping crowd.

Lanvin Fall 2018 collection epitomises Lucas Ossendrijver's extraordinary know-how in constructing a garment and inventing totally new codes.

We have seen the seminal elements in his Summer Spring 2018 presented last June: combined fabrics, double inlays that revealed a duality.

This season we see the apotheosis of this idea: deconstructed and layered garments play together where everything is masterfully balanced blurring the borders of the garment's identity itself.

It's that strong sense of the unexpected invading the entire collection. Sports pieces in fabrics borrowed from the tailoring world: see the puffer gilet delivered in grey pinstriped wool worn over a classic coat.

It was mesmerizing trying to capture all the annexed elements, the attached from the layered, the inserts pieces where the subversion of the traditional idea of a suit is the main theme.

"I focused on the most classic, almost passé item, drawn directly from the legacy and origin of the Lanvin man: the suit. What is a suit? Two pieces, a jacket and trousers, cut from the same fabric. I wanted to deconstruct this idea, using layering". Ossendrijver's approach on tailoring delivers a modernity merged with sartorial tradition.

The use of sleeveless parkas is striking: layered on tailored pieces or part of a articulated garment: a part-technical, part-suit parka jacket – in an updated Price of Wales check – sported an asymmetric zip around the collar to reveal a shirt and another suit jacket beneath.

"For me, these combinations make a modern suit. I wanted to create a smokescreen".

www.lanvin.com
Fashion
Dries van Noten Menswear Fall/Winter 2018
A warehouse in raw concrete, with all its stripped down connotations, once the distribution centre of the French Post. Like last's season venue - the former Liberation offices - it gave a feeling of nostalgia, and a sense of austerity.

As the model walked in the space above the audience pit, on the notes of Underground's Born Slippy in a 2008 remix by Get Well Soon, we felt that play between contrast Dries Van Noten has often chosen in his poetic.
The collection is as complex and intricate in mixing different styles and influences as it could be the individual course of a lifetime, with different patterns, mood swings, travels and ages.

There is an incredibly appealing modern take on tartans and Prince of Wales plaid with the warm tones of traditional suiting.

But also slightly oversized silhouettes next to slim and elongated ones; fringed embellishments reminiscent of a Western age; half kilts styled on top of matching pants; white cotton trousers with broderie anglaise; jackets hand embroidered next to boxy sporty trench coats; pongee silk for the most alluring pyjamas.

The show note mentions "the tension and spark of the habitually incongruent".

Dries Van Noten has created a collection beautifully balanced with all the elements that have been classics staples in his oeuvre – modern English tailoring, sporty, lush prints, florals, dark colours next to a vibrant palette – while delivering a show that didn't fail to deeply touch us in a crescendo peaked in the finale lineup: over 40 billowy raincoats declined in a rainbow of variations featuring hand painted marbling technique used traditionally on paper.

There was a sense of joy, of youthful atmosphere, of life.

www.driesvannoten.com
Fashion
THIS IS NOT A F*CKING STREET STYLE BOOK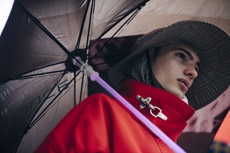 The one about streetstyle being a hardened enemy of high fashion is such an old story. In the digital era and trough the empowerment of individual communication over everyday aesthetics, we witness continuous splices between collection proposals and catwalk attenders.

Thanks to the amazing works of photographers like Adam Katz Sinding aka Le 21eme, it has been shown how streetstyle has gradually evolved into trend empowering new emerging figures, especially in the fashion area.

In facts, the influencer and photographer has attended more than 20 Fashion shows around the globe, capturing with his camera the greatest designers, models, stylists and contemporary fashion icons.

With the publication of "This Is Not a F*cking Street Style Book" Sinding's first monograph, fashion and photography lovers will have the chance to leafing trough a captivating documentary on paper, which gathers the best images taken on the street and behind the stages.

The book is also accompanied by a conversation about the streetwear phenomenon between Adam Katz Sinding, Virgil Abloh and MENDO. Made by MENDO, it is available for pre-order now and will be released by February 2018.

www.mendo.nl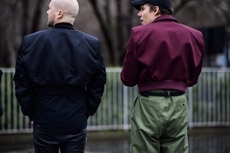 Fashion
Woolrich's New Store Experience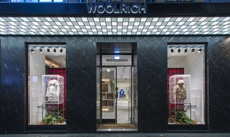 Woolrich hosted a private cocktail in its first Milan flagship store located on Corso Venezia 3. Taking place on the opening day of Milan Men's Fashion Week, the event featured a live DJ set by François Pochez. The boutique, spanning 700 square meters, was designed by Japanese studio Wonderwall under the guidance of Masamichi Katayama. The store's interactive concept comprises a lounge area, a dedicated space for customization, a green area curated by Green Fingers and an Extreme Weather Experience Room, all of which offer an innovative and fully engaging in-store experience.

www.woolrich.com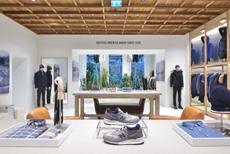 Fashion
Gucci Garden
When past, present and future are linked together, their linearity is transmuted in a circular movement and the magic of eternal return begins.

A giant neon eye artwork illuminating the façade of Palazzo della Mercanzia last 9th of January has celebrated the opening of Gucci Garden, a great project designed by Creative Director Alessandro Michele and meant to completely regenerate the functions of the old archive.

Starting from the ground level two rooms, respectively Gucci Osteria and the Boutique, host a restaurant and the retail store.

The Osteria is the result of a creative collaboration with chef Massimo Bottura, who decided to propose a menu combining Italian cousine and the influences from his travels worldwide, as a reminder that "Florence has always been a centre of cultural exchange".

With its floor of hand painted wooden boards with purple ribbons and vines on a pale green base, the bazaar-like store recreates the atmosphere of vintage florentine shops resulting from the enormous work of restoration of old furnitures (tables, sideboards and cabinets) and precious decorations in a range of florentine shades. The boutique will sell Gucci Garden's exclusive products, including bags and shoes in special materials and the silk bomber jackets featuring the Gucci Garden gothic script.

With the help of Italian curator Maria Luisa Frisa and contribution of artists Jayde Fish, Trevor Andrew and Coco Capitan, the Gucci Museum has evolved from a more classic archive into a multifunctional space devoted to the creativity and celebration of art and fashion.
For this reason according to Frisa, in the gallery the displays follow purposefully no chronology. Rather, they create a fluid harmony suggested by items organised by themes and intensify the dialogue between old and contemporary pieces.

Gucci Garden Galleria's six rooms on the first and second floor (Guccification, Paraphernalia, Cosmorama, Cinema da Camera, De Rerum Natura and Ephemera) tells not only the brand's history, but also homages the splendour of florentine architecture as much as its craftsmanship traditions. Each of them explore several aspects concerning the gradual transformation of the brand overtime, with a focus on the double G or the brand's historical icons evolutions.

Other rooms instead dedicate space to diverse projects, such as the red velvet cinema auditorium with a selection of experimental movies or De Rerum Natura showcasing the narrative behind the iconography of animals and gardens. Once again, Alessandro Michele's astonishing project is the metaphorical (de)materialization of time and memory into an incredible structure, which definitely confirm the aesthetic and philosophic vision of the House.

www.gucci.com
Fashion
Fendi Spring/Summer 2018 Menswear Collection
This is an incredible era of change. The extraordinary enhancements that tecnology is introducing in the job industry are simplifying the way we approach daily chanllenges and creating new exciting opportunities for a new generation of creative minds.

Being aware of this overwhelming revolution, Fendi Men's SS18 ad campaign establishes the features of the businessmen of today, who are costantly floating between high professionalism and flawless humour.

Shot in Rome's brand headquarter and on the beach of Gaeta, a treasure of Lazio Region, the campaign stars a young Dylan Fender wearing a neutral palette made of casual yet classic outfits. The collection introduces us to the new vocabulary of menswear and combines refined tailoring with sportswear and streetwear.

The vibe of creative freshness and entrepeuneurial spirit is perfectly commmunicated by the new Mini Peekaboo Fit briefcase, vivaciously erniched by illustrations by guest artist Sue Tilley. "Be open minded and use creativity". In Silvia Venturini Fendi's statement lies the whole essence of the collection, and we ebrace her captivating enthusiasm towards 2018.

www.fendi.com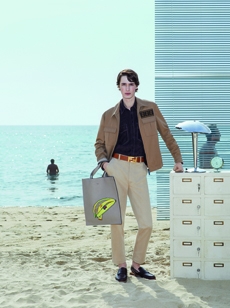 Fashion
Karl Lagerfeld Jewelry Spring/Summer 2018 Collection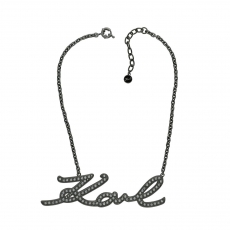 The icon Karl Lagerfeld is widely known for his cutting-edge approach to fashion. The KARL LAGERFELD fashion house, which is creative directed by the designer himself, has its roots in a DNA that stands for accessible luxury and coolness. For the SS18 jewelry collection, the brand combines elegant elements with a rock-chic style and playful embellishments. A palette of multi-colored pastel Swarovski crystals gives the pieces a timeless feel.

Divided into three groups, the collection covers every kind of style. Klassik Karl is inspired by the personality of Karl Lagerfeld himself. His world famous cat Choupette and his handwritten signature appear in pavé Swarovski crystal finishes. A collection of necklaces, bracelets and earrings is featuring the letter "K" as a pendant, embellished with Lagerfeld's silhouette.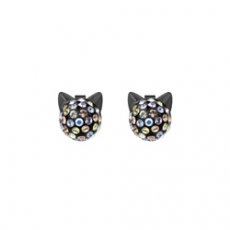 The Ikonik-part of the collection is rooted in the brand's cool creative aesthetic and characterized by celestial stars and hearts paired with sketchbooks and safety pins. The pieces are made out of rhodium, gunmetal, gold and rose gold plating with Swarovski crystals. Further, the range offers an interchangeable charm program allowing the wearer a customized look.

Exuding an elegant and sophisticated aesthetic, the third part of the jewelry collection, called Essentials, makes the day-to-night look an effortless transition. Centered around faceted pyramids and Swarovski crystals, these pieces provide dramatic looks that are modern, rocky and cool at the same time.

The necklaces, pendants, ear jackets, hoop earrings, bracelets and rings all come in a mix of geometric pyramid shapes. The KARL LAGERFELD Spring/Summer 2018 jewelry collection will be available from the end of January in stores and online.

www.karl.com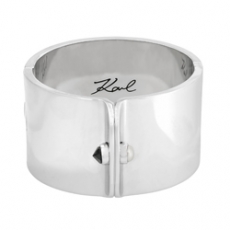 Fashion
Storytelling Through Clothing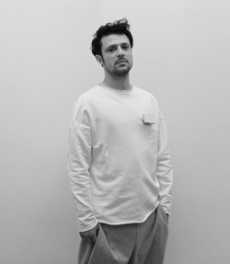 For several years now, the fast fashion trend has gripped the industry, but signs of a change heading into a more sustainable direction are being watched. The former fashion consultant and communications director, Lina Miccio, recently launched the label Speaking Garments. Focusing on creating less, but with more meaning, the brand is offering highly personal pieces that are meant to outlast seasonal trends.

The collections exist at the edge of fashion and fine arts, because the brand collaborates with international cross-disciplinary artists each season. The first collaboration is with Cologne-based artist Michail Prigelis, who highlights the beauty of disused airplane fragments, which are sourced from a discarded DC-10 aircraft and flown in from the Mojave Desert of California to his studio.

In the Speaking Garments production facilities, they are then repurposed as brooches onto a limited edition collection of sweatshirts. The garments are limited to 100 pieces, each hand sewn, outfitted with a detachable airplane part and sold with a certificate hand-signed by the artist. In addition to the sweatshirts,  T-shirts, depicting a black and white photograph of Spanish-French clown Charlie Rivel, which was once a Pan Am publicity, are concluding the collection. 

This is making each garment a desirable piece of art. Speaking Garments focuses on telling compelling, unusual stories. The label reinvents each garment as a canvas for artistic freedom rather than exploiting it.

www.speakinggarments.com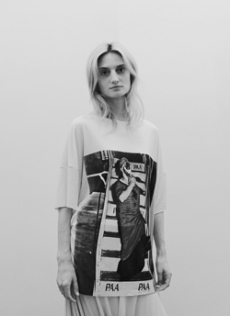 Fashion
Versace Reopens Boutique in Frankfurt
When entering the newly designed and reopened Versace boutique in Frankfurt, one is greeted by a blend of traditional Italian architectural values and the incomparable dynamism and energy of Versace. Fior di bosco marble, onyx and brass elements create an ambience with a contemporary twist and emphasise the mood of supreme luxury. The boutique is a meeting point between the past and the future. The store is a unique and exclusive area of 345 square meters, which is perfect to present the Versace prêt-à-porter collections and accessories for men and women. According to Donnatella Versace, the interior design pays tribute to Italy's cultural heritage and represents the spirit of the brand.

www.versace.com
Fashion
Paris By Night
With its new capsule collection, Highlight, the french brand Sandro presents an evening wardrobe with Parisian flair just in time for the party season. The 15 pieces are inspired by different decades of party wardrobe, offering the ideal outfit for each taste and occasion. Shades of black, silver and white, geometric shapes and volumes meet asymmetries. Pleats and frills bring twists to a feminine silhouette. The looks are formal but have the typical oh-so Parisian casual edge to them. The lustrous moiré of a draped bustier is combined with a full-circle skirt, silvery sequins can be found on a shawl-collar smoking jacket, worn over a short skirt in draped lurex and a white top with gigot sleeves contrasts with the deep black of a skirt enhanced with an asymmetric frill. Details of lace and brocade capture the final glow of Paris at dusk. The Sandro Highlight collection knows how to play with the dreams and desires of a starry night and channel chic femininity.

www.sandro-paris.com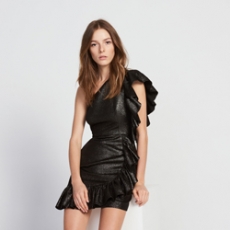 Fashion
The Piazza by Bottega Veneta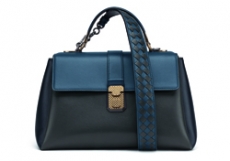 The ideal bag is often described as versatile, elegant and convertible. The newest bag Bottega Veneta created for their Cruise 2018 collection is combining all these attributes. It is a fresh take on the classical top-handle style. With The Piazza the Italian fashion house has transformed the traditional silhouette for today. Sleek, timeless lines and graceful design make the bag, crafted out of calf skin, an epitome of modern elegance. A soft construction, an internal compartment and a cross-body-strap, for some styles with an intruiging intrecciato detail, combine design and function successfully. A wide color palette of neutral tones as well as reds, greens and blues makes sure there is a The Piazza for every taste.

www.bottegaveneta.com
Fashion
Gucci Cruise Advertisng Campaign 2018: Roman Rhapsody
Alessandro Michele, Gucci's Creative Director, chose his home town as the backdrop of the Italian brand's latest cruise campaign, taking us on a journey to Roman apartments and neighborhood parks. Unfiltered portraits, taken by the British photographer Mick Rock present real people in real places. Rock's experience in capturing legends such as David Bowie, Syd Barrett, Lou Reed, Iggy Pop, Blondie, Talking Heads, the Ramones and the Sex Pistols on camera, stood him in good stead on this assignment for the Gucci cruise '18 collection. The title, "Roman Rhapsody", already implies the rock'n'roll atmosphere of the pictures. A wide portfolio of mainly Italian talents star in the vintage-inspired images, celebrating genuine non-conformists and eccentrics. The flamboyant portraits were created in the talents' homes, local gardens and during intimate studio shoots. In addtion to the quirky fashion shots, still-life images of everyday objects are placed randomly throughout the campaign. A film component, shot by Chuck Grant, completes this unique project.

www.gucci.com
Fashion
Sacai Spring/Summer 2018
Chitose Abe returns to her DNA with transformable-layered silhouettes in a trompe l'oeil language. Tops and outwear were worn on the bust line with the sleeves tied as to create a seamless corset with a floating volume, held together by big sporty straps. The second look to storm in the catwalk already anticipated Abe's vision for the season: a wind jacket in tech nylon tied over a silk light blue short dress. It's a language Abe has been using since the start. Deconstructed skirts in denim or cotton lace patchwork-frayed paired with knits delivered a youthful look that felt confident and effortless.
Fluid floral tops with matching jackets knotted over them and long dresses in several tartan patterns patched with transparent chiffon, created a fresh ethereal and appealing atmosphere full of that cool but feminine attitude Abe's vision is always set on. It is the intricate match of textiles and codes: camouflage cotton, trench textile, lightweight fabrics, all just in one singular dress in a play of hybrids where what seems to be a belt is in fact a soft blazer.
The colour palette was vivid: magenta, bright blue, green, yellow, all the colours that slowly became the signature of the brand. Chitose Abe, the famous protégé of Rei Kawakubo first and Junya Watanabe later, has been always mixing versatility and layered silhouettes. But this season felt extremely genuine and intuitive.

www.sacai.jp
Fashion
HUGO BOSS and VITRA mark the exhibition "An Eames Celebration"
On October 5th Hugo Boss and the Vitra Design Museum introduced the exhibition "An Eames Celebration" with a cocktail event held in Berlin. One part of the program was the presentation of the limited BOSS accessories collection, which was especially created for the exhibition project. It's a limited unisex collection of 125 pieces including a tote bag, a portfolio bag, a clutch and a card case. The event took place at the historic pump station of the art collector Christian Boros at Hallesches Ufer. The guests in attendance included international and national film stars as well as socialites from Berlin's culture and fashion scene. Hugo Boss is the lead sponsor of the retrospective Charles and Ray Eames' oeuvre running at the Vitra Design Museum in Weil am Rhein from Septmeber the 30th to February the 25th 2018.

www.hugoboss.com
Fashion
Saint Laurent Spring/Summer 2018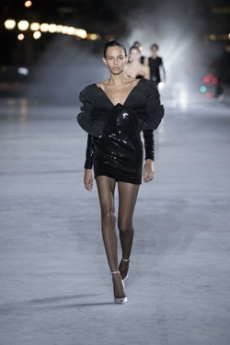 What is more French than the Tour Eiffel? Anthony Vaccarello orchestrated a grand show in celebration of the French Maison and its historical patron Pierre Bergé who sadly passed away just three weeks ago.

He paid homage to Bergé, to Yves Saint Laurent, to their visceral love and to the revolutionary years in fashion that they both represented.

Bergé's words to Vaccarello at the eve of his debut have already become legendary - " You are not Yves Saint Laurent, don't try to be Yves Saint Laurent" - the young designer could not be more Yves Saint Laurent in spirit than anyone else.

His style, irreverent, individualistic, and extremely sexy in a way that you literally wish to wear anything he designs regardless of your own style is without doubt so "Monsieur Saint Laurent". The Monsieur Saint Laurent who managed to move – sometimes with unfavourable opinions - entire fashion crowds in the late 70s, in the 80s, and who was not afraid of fashion critique and consequently pushed boundaries.

We can find traces of Monsieur Saint Laurent's DNA in Anthony Vaccarello's Spring Summer 2018 collection: that gypsy shirt from the 70s, the 80s mono-shoulder dress, the feathers – but the collection remains very much about Vaccarello's powerful identity.
As we were welcomed at the impressive location at the Fontaine de Trocadero, facing the Eiffel tower, the atmosphere culminated into an epic moment when the light spectacle of the tower served as backdrop halfway through the show.

"The Saint Laurent woman is a traveller who reaffirms her complex personality, full of a subtle tension. She is a dark angel with a sensual allure and drapes herself in black-sequined dresses, shining like the asphalt after the rain".

Vaccarello's words are emblematic of the several elements that constellated the collection. As the designer's summer travels took him from the Cote d'Azur to Capri, to LA we reencountered everything that fascinated him: the white Italian lace, the French flamboyant look, the West Coast leather looks.

A series of final sculptural dresses, with a scarlet red declination worn by the muse and face of the house Anja Rubik, left the audience speechless.

www.saintlaurent.com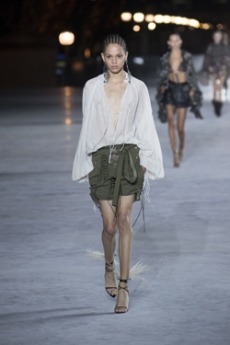 Fashion
Amsterdam is Everywhere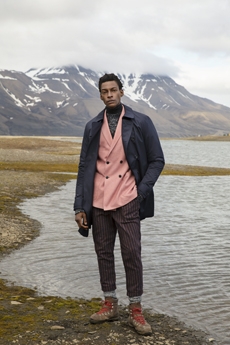 Scotch & Soda take a trip to the world's remotest Amsterdams for its latest campaign, paying tribute to its stubbornly curious spirit. The Dutch fashion brand journeyed by air, rail and sea to get to an Amsterdam untouched by Google Street View, the one in the Arctic, that is.
Amsterdam Island, located in the northwestern corner of Norway's Svalbard archipelago, is just one of twelve other places across the globe that share their name with the brand's home city. And if you're left wondering why the brand opted for the remotest Amsterdam there is, the answer is simple: that's exactly what Amsterdam is really about; resisting simplicity and discarding practicality if it means realizing a seemingly impossible dream.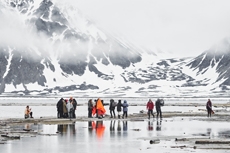 With frozen fjords and monochrome peaks as its backdrop, the explorer-themed short film and its enchanting voiceover speaks to the mind and soul of Amsterdammers the world over. Highlighting the city's free-thinking spirit and its inclusivity, the film celebrates the Dutch capital's allure, because Amsterdam is wherever you want it to be.

www.scotchandsoda.com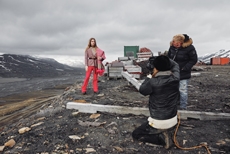 Fashion
Jeremy Scott Spring/Summer 2018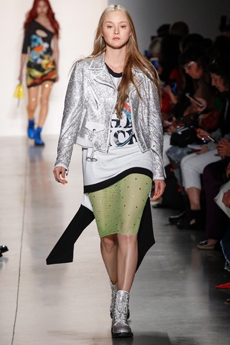 Jeremy Scott is celebrating his birthday. Not the birthday of Jeremy Scott, the 42-year-old designer from Kansas City; rather Jeremy Scott, the distinctive namesake brand. But really, what is the difference? Scott is a designer who's personality is so transparent in his designs - his collections time and again let us peek into the mind of the fun-loving, eclectic American who 20 years ago staged his first show off-schedule in Paris.
For the anniversary show, Scott strived to refresh his distinct style while remaining true to what attracts his loyal following (basically, streetwear on acid). "It was a challenging process," Scott admitted. Not to undermine his word, but the show felt as challenging to process as a favorite guilty pleasure chick-flick. And why should fashion be any more complicated than that, anyway?
Neon phantom trousers overlaid bedazzled fishnet bodysuits, comic book printed body-con dresses were styled with over-the-knee python boots, fun bathing suits worn with chunky leather jackets: as per usual, Scott is hailing every contrast, clash and fashion faux-pas in the book. Perhaps the biggest contrast of all was Ms. Jourdan Dunn, one of the most commercially successful models, strutted down in a one-piece which read "VIVA AVANT GARDE." Oxymoronic, indeed.

www.jeremyscott.com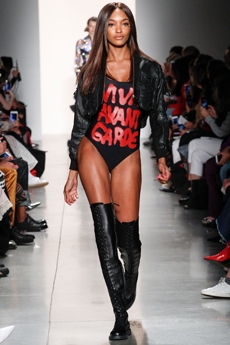 Fashion
Go With the Flaw!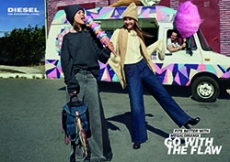 Always eager to challenge conformity and outdated notions of flawlessness exacerbated by social media and endless filtering as a means to perfection, Diesel strikes again with a new campaign bursting at the seams with positivity.

It's time to Go With the Flaw! You got that right, forget the flow, embrace the flaws and find the bravery to wear them with pride as an intrinsic part of your true self.
The campaign is focused around a film by François Rousselet, the French director behind collaborations with the likes of Snoop Dogg, Madonna and The Rolling Stones while print and billboard imagery was shot by photographer Tom Sloan.

Edith Piaf provocative and unapologetic 'Je ne regrette rien' provides the perfect soundtrack as the cast embrace the uncomfortable imperfections of everyday life and rise above it with smiles on their faces.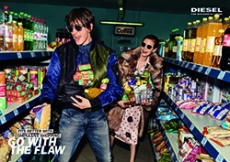 A carefully curated cast of people with interesting features front the brand's latest campaign. Each and every one of them selected by Diesel's Artistic Director Nicola Formichetti for one simple reason: "Being unique is much more beautiful than being perfect".

The official launch of the 2017 Fall Winter campaign will take place in Beijing on Wednesday, September 6th and will be accompanied by a limited edition capsule collection with Chinese music idol, Chris Lee, that advocates a candid approach towards one's ego and celebrating imperfection.

www.diesel.com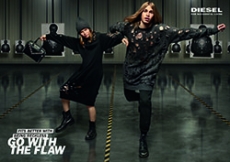 Fashion
Alexander McQueen Spring/Summer 2018 Menswear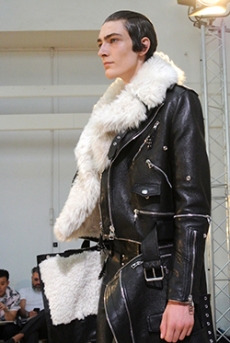 "Come, gentle Spring, ethereal Mildness, come, And from the bosom of you dropping cloud, While music wakes around, veiled in a shower of shadowing roses, on our plains descend".

James Thomson poem Spring from his The Seasons printed on the show's invitation resonated in the enchanting space of the Orangerie du Sénat as the models walked in.
Sarah Burton's Alexander McQueen Men's 2018 started slowly to unveil itself, telling a story gracefully balanced, like the gradual passing time of melting snow and moving clouds as the mild warmth of Spring approaches overcoming the cold Winter.

If the first looks presented sleek tailoring, leather outwear in black, off-white or crimson red - three colours running throughout is the whole collection – and a spectacular leather perfecto with matching pants adorned by a constellation of zip, buckles and studs, they are the last looks to steal the scene.
As a white leather cape embroidered with Rudyard Kipling's "The Explorer" excerpt walks in, we feel the storm, the storm that precede any changing of the season, the sea storm of discovering journeys.

Sarah Burton continues the delicate island folktale for Alexander McQueen from her Women's Fall collection.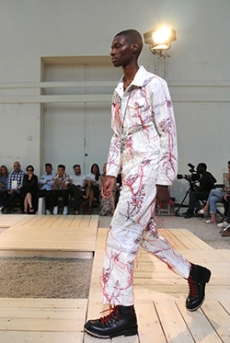 Loose threads in red and blue wool adorns coats and suits in off-white, black and denim recalling the wishing tree. Maps scribbles and ancient poems are embroidered over the collection throughout. The closing looks, with a tree of life embroidered in crystals on a black suit and coat deliver the final emotional blow to this moving and ethereal collection.

"While softer gales succeed, at whose kind touch, dissolving snows in livid torrents lost, The mountains lift their green heads to the sky".

www.alexandermcqueen.com
Fashion
Junya Watanabe Spring/Summer 2018 Menswear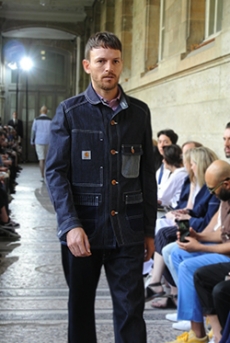 Junya Watanabe's aesthetic has always been played around the notion of classic menswear.

With his specific model casting and strong vision., also this season the Japanese designer collaborated with Carhartt, Levi's, Karrimor and The North Face delivering garments played around the notion of heavy-duty clothing.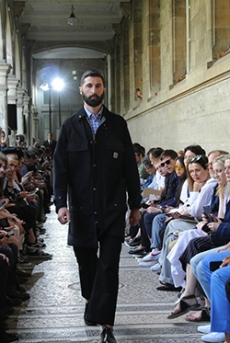 The jackets featuring the latter's backpack embedded at the back and cut-up all over with The North Face elements confirmed the subtle genius of this legendary designer.

There were beautiful oversized denim, Jackets that pointed at authenticity rather than a fashion exercise.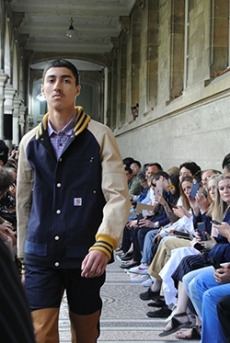 Junya Watanabe created a youthful collection but shown once again with grownup next-door-guy and often bearded models, outside of the usual male casting. His "legit way to wear workwear" as the show note mentioned.

Or we could say, his poetic ode to the "real" and to the "ordinary" versus this over-constructed fashion system

It's a vision Junya Watanabe has been building since a while now and the beautiful collection displayed pieces that will easily find their way to the wardrobe of many

www.junwatanabe.jp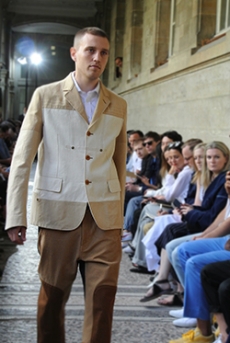 Fashion
Hermès Spring/Summer 2018 Menswear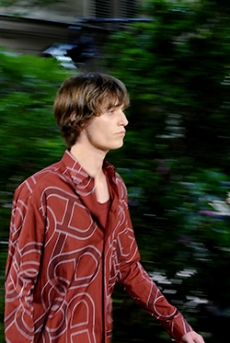 A specific red hue named "H", a deep, intense red spacing between burgundy and brick colour. Splashed on Hermes Spring Summer 2018, together with taupe, navy, royal blue. It's a collection full of playful graphics, sporty and smart.
Veronique Nichanian's normcore for Hermes Menswear has been balanced on relaxed silhouettes, cotton suits, leather sandals, paper-thin knitwear in caramel on top of emerald green chinos, a white shirt with a cardigan, a spectacular crocodile bomber in black.
Nichanian's Hermes is that power dressing far from being loud, that discreet approach with a French attitude. Wear a pair of casual trousers, a beautiful fresh pullover, a sporty anorak on top and you are ready to be off duty in a breezy summer night. And yes, with sneakers. It is the quintessential vision of Hermes, its discreet approach and the meticulous leather work.

As the versatile big tote bag and the lambskin bomber jackets with contrasting stitching hint to baseball references it gives a different angle to this historical Maison and its equestrian heritage.

www.hermes.com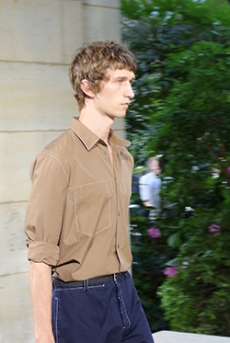 Fashion
Louis Vuitton Spring/Summer 2018 Menswear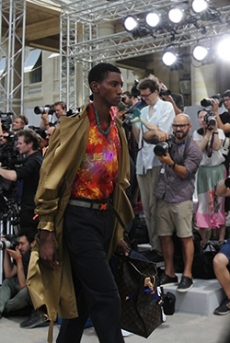 A nomadic traveller. A wanderlust of island-hopping. Scuba zips, Aloha shirts in contrast with relaxed tailoring and fluid outwear as the modern trekking expert would oblige.

Kim Jones delivers a fresh and relaxed collection where sportswear and suiting play a dual identity game in an archipelago of declinations.
Fabrics as lightweight as modern. A paper-thin lambskin leather bonded with neoprene scuba parka floating in the heat-wave of the Palais Royal's Jardin on the notes of the exclusive soundtrack composed by Drake for the collection.

As the new colours of the signature Monogram are introduced in the shade of blue: Pacific, a cobalt shade of blue, and Reflect, with its reflective finish is naturally recalling high-impact sport.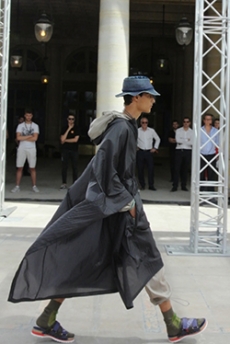 The sportswear theme is crucial in Louis Vuitton Spring Summer 2018. Kim Jones plays with these elements in terms of colours, texture, and shapes. It is a playful and relaxed spirit pervading the entire collection – the Hawaii inspired floral patterns on silk organza for a short sleeved shirt layered on top of a tee with a matching print, intarsia knits of exotic foliage. The island as inspiration but also as state of mind.
The island as inspiration but also as state of mind.

Earth colours contrasting neon shades, the discovering of nature and the adventure of pushing the limits. The clogs sandals mixed with hiking boots bring a further staple items in Louis Vuitton fresh and sophisticated collection

www.louisvuitton.com
Fashion
MSGM Spring/Summer 2018 Menswear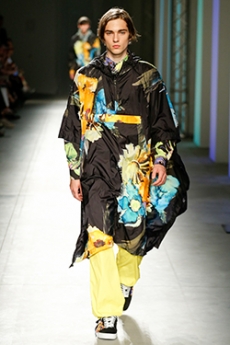 This season marks a new chapter for Massimo Giorgetti's MSGM after his departure from Emilio Pucci earlier this year. The move has been a catalyst for him to dedicate himself fully to his own brand MSGM, that's been making street wear waves for quite some times now and shows no sign of slowing down.

Giorgetti's MSGM Spring/summer 2018 Menswear collection was a well-travelled one. Drawing inspiration from modern street culture has been a constant for the designer who, this time, travelled to sunny California picking up on the inimitable vibes the west coast has to offer. From skaters and latter-day hippies to Burning Man festival-goers, Giorgetti's references are as current as they are multi-faceted.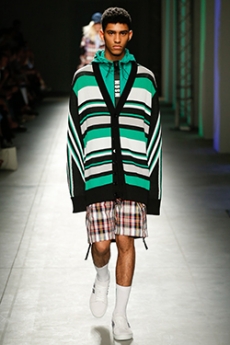 This season is all about workwear-inspired apparel in the form of madras parkas reworked into oversized volumes, paired with extra large backpacks. But colour is never far from the designer's mind who offered his sports-alluding shapes an extra pop by pairing army green with bubblegum pink or turquoise while elsewhere graffiti and watercolour flower motifs elevated nylon ponchos and a chino pantsuit. Thick, cosy knitwear pieces embroidered with boisterous lettering were paired with short shorts and blousons were seen layered over boxy t-shirts.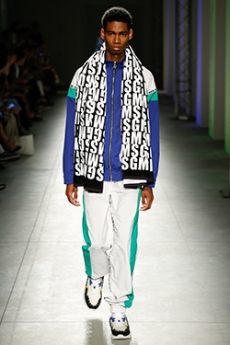 The MSGM man's sartorial identity may seem hard to pin down, but that's exactly where the beauty is: as he floats between identities, influences and moods he picks his battles of rebellion carefully while remaining in the now.

www.msgm.it
Fashion
Prada Spring/Summer 2018 Menswear
Remaining faithful to her eclectic style that has the ability to transform everything, from the most mundane to the most regal, into high fashion, Miuccia Prada turned her gaze to comic books for her Spring/Summer 2018 Menswear collection. You may be thinking of oversized capes a la Superman billowing in the wind but there was none of that!
"On one side there's virtual reality and on the other the reality of the human part" said Miuccia Prada backstage justifying this season's inspirations and how these shaped the sporty and streamlined collection presented in a space lined with oversize comic book graphics complete with a light beam-shooting Prada spaceship and speedy steam trains.

Even though comic books may deal at times with the realm of the fantastical, the sci-fi and the bizarre, for Miuccia Prada, it was a different quality they possess that propelled her to utilise them as the central theme of both her collection and runway décor. "They are hand-drawn, human, simple and real", she said. Need we say more? Shirts with ample shoulders in red or black nylon and sleeves rolled up high, fanny packs and popped collars once reserved to the frat-boy look get the Prada seal of approval this season. Silhouettes were super cinched-in at the waist, a pattern visible throughout many ensembles.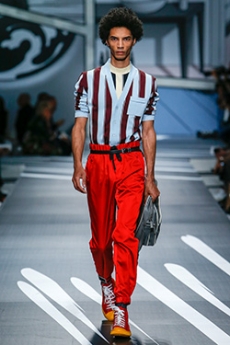 Elsewhere, high technical knit socks were paired with short shorts in bright red or cool, steely grey as if harking back to something that wouldn't have looked out of place on a 1970s baseball court. Steering away from such a literal interpretation, however, Prada paired the micro shorts with pointed oxfords – there was no Chuck Taylor All Star in sight. For those less keen on showing off their pins, enter the jumpsuit proposed by the iconic fashion house in navy or black, a clear continuation of the utilitarian dressing trend.

www.prada.com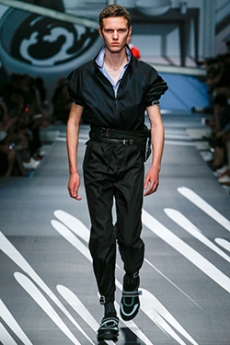 Fashion
Philipp Plein Spring/Summer 2018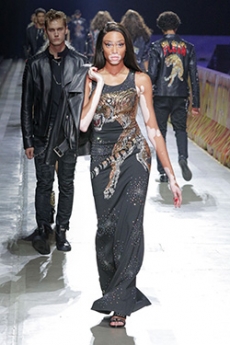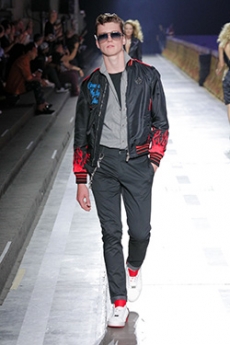 True to form, Philipp Plein delivered yet another runway extravaganza for his latest men's and women's collection showcased at Milan Fashion Week. Revved-up engines, super cars, boy racers and tough girls comprised the mood of the tire-screeching spectacle accompanied by the sounds of Greased Lightning.

Frayed denim, studded leather jackets and sleeveless t-shirts for the rebels of a modern West Side Story were paired with chequered flag patches, flaming eight balls and 'Glorious Bastards' insignia while applique red flames adorn their jeans.

The ladies present a fresh twist on Grease's queen bee persona, the inimitable Rizzo, as they hold their own in the leather bomber jackets and crop tops, leggings and bejewelled killer heels. Men and women stand their ground as equals, all members of a speed-obsessed squad that transcends gender stereotypes.

Hooded crocodile and leather biker jackets are decorated with airbrushed painting of Deat Proof hot rods, skulls and lightning bolts mirroring the designs emblazoned across the hoods of the pimped-out car zooming past.

Here, it's the details that do the talking as every element counts in fine-tuning a look. Adrenaline-fuelled fashion for life in the fast lane where noise, power and speed conflate to give birth to something akin to a religion with 'no guts, no glory' as its mantra.

www.philipp-plein.com
Fashion
Moncler Gamme Bleu Spring/Summer 2018 Menswear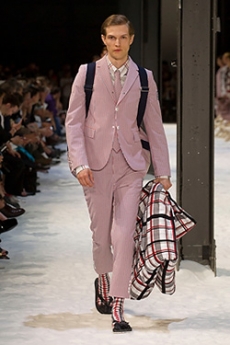 Thom Browne brought his signature hand-made tailoring sensibility to Moncler Gamme Bleu Spring Summer 2018 Menswear collection. Thus was born a perfect conflation between Browne's flair and the brand's expertise in active sportswear and outerwear for a collection that highlights an ease in seasonal transitions.

Down-filled looks made with over-sized plastic zippers and worn over identical looks without the down-filling epitomise the concept of smooth change. The collection was split into three colour-coded subcategories: grey and grey and white, red, white and blue and formal.

Trademark Thom Browne tailored pieces were present in traditional suit material iterations as well as more technical versions that incorporated highly functional fabrics such as technical wool and cashmere, nylon, ripstop, mesh and rainproof slicker.

www.moncler.com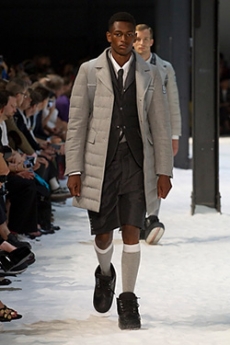 Fashion
Amsterdam Trail: A Unique Art Route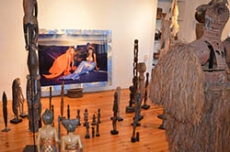 From the 5th to the 7th of May 2017, the sixth edition of The Amsterdam Trail and its unique approach to art are coming to the Dutch capital. The trail combines ethnography with contemporary arts and this year's edition will concentrate around the Spiegelgracht, Amstelveld and Jordaan areas. Unexpected combinations that explore time and origin arise as artworks dating back to 3000BC, Egyptian mummies and contemporary videos are visited.

Jaap Wagemaker's artworks will be shown at the Borzo Gallery in conjunction with objects from Oceania inspired by his original ethnographic collection.

Gallery Lemaire will host an installation from artist Jan Hoek in which 'The Pattaya Sex Bubble', central image of the piece, is surrounded by images from Africa, Indonesia and New Guinea. Additionally sculptures, jewellery, images and even chairs designed by Wieki Somers who drew inspiration by the austere furniture still in use in China, will be shown.

As the lines between ethnography and contemporary art seem to fade into each other we are left to wonder what constitutes contemporary art and what is ethnography. Take Izaak Zwaartjes' artworks that is very close to a fetish mask from Mali and will be exhibited at the Upstream Gallery.

www.amsterdamtrail.nl
Fashion
Chanel Fall/Winter 2017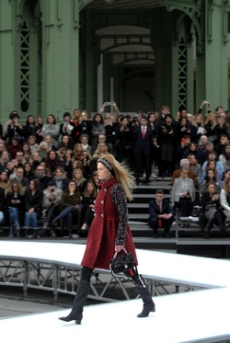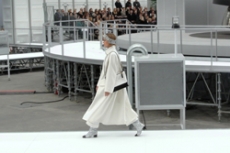 The magic sets of Chanel Ready-to-Wear shows are always expected with anticipation and this season Karl Lagerfeld confirmed once again to be a visionary. A giant 35-meters-high rocket ship was waiting for us at the centre of the Grand Palais, envisioning the recent NASA news of potentially earth-size and consequentially habitable-zone planets.

It does not surprise that the humongous double C rocket was designed to lift off for more than 10 meters in the finale, leaving us completely stunned in smoke and pyrotechnic lights with Elton John's Rocket Man in the background, Lagerfeld playfully used a whole vocabulary of space references: metallic matelassé stoles in silver and pink as space blankets, knitted headbands lifting the hair into a voluminous round cloud hinting to the space suit helmet, heavenly beaded black evening dresses to match the stardust castellated sky.

The classic Chanel skirt suits is also reinvented with matching shorts and completed with sequined tights and half gloves. It's a fantasy as out of the best interstellar tale, and we hypnotically want to be part of it. Sparkling signature tweed in metallic silver, white electric blue and Karl's favourite powder pink, together with the most glittery lunar boots would provide the perfect mise for our final space mission to escape this tired Mother Earth.

www.chanel.com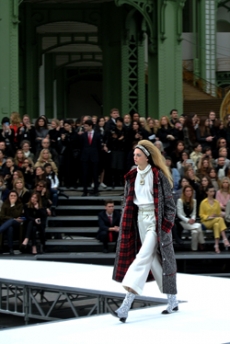 Fashion
Hermès Fall/Winter 2017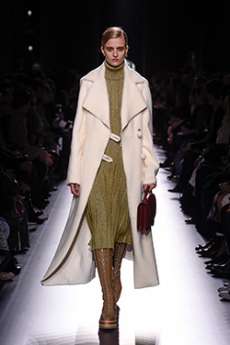 "How enduring, how we need durability / The sky before sunrise is soaked with light / Rosy colour tints buildings, bridges, and the Seine" Nadège Vanhee-Cybulski chose Nobel Prize Czes?aw Mi?osz as backdrop for her collection. More than an homage to her ancestors, it's the sense of surprise and anticipation every non-Parisian feels when experiencing this city that Vanhee-Cybulski aimed to hint. It's that wandering around as in a sort of situationist walk, not sure what will resurface from its powerful heritage. The expectation and the excitement.

Hermés Fall/Winter 2017 is all that. Vanhee-Cybulski's wish to build Hermés identity as timeless but playful, a dialogue between the contemporary fresh attitude with that effortless spirit expressed since her first collection at the French house, was clear from the start. The collection felt polyhedric and at a closer look it revealed all its beautiful craftsmanship.

A beautifully timeless wool long cape in midnight blue lined in a rosy dusty brick tone and paired with a sporty ribbed sweater and tights. A sweeping floor leather coat in pale powder pink. Classic cut pants and laced-up thigh-high boots as borrowed from man's wardrobe. Relaxed turtleneck knits matched with statement patchwork leather outwear with shearling trim. But also 70s vibes with scarf dresses in mousseline. Vanhee-Cybulski is revising the codes of haute modern dressing for this equestrian-routed French maison.

www.hermes.com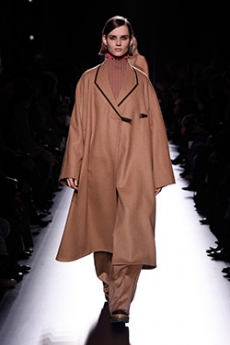 Fashion
Acne Studios Fall/Winter 2017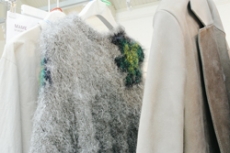 When everyone is playing urban street-wear, Jonny Johansson used a romantic and soft approach for his Acne Studios Fall/Winter 2017.

The creative director is transforming the Scandinavian brand known for years as a denim forward label with a minimalist approach. For a while now we have seen Acne Studios feeding a new direction, a new light in terms of the brand's identity increasingly far from the street. Acne Fall Winter 2017 is a spontaneous and playful collection with a strong sense of individuality and easiness.

Soft oversized mohair knits with polka dots, gently alluding to a sense of naiveté. Floral prints combined on a big selection of fabrics, from cotton to silk plissé. Long coats, in beautiful classic textiles, pin striped or checked, evolving into tunic-like dresses turned back-to front.

Johansson plays with the notion of tailoring almost as an ironic gesture, to vouch for the idea of an uncomplicated way of living, a different way of feeling the notion of femininity itself.

The designer's love for accessory research once again was expressed with the beautiful statement jewellery in metal and enamel, together with the large oversized bags with wide straps and graphic knots. The asymmetric shades matching the floral deconstructed dresses and creating a further contrast to the soft organic feel of the whole collection gave the perfect youthful accent. We see a confident woman, she is intuitive and optimistic. No matter what.

www.acnestudios.com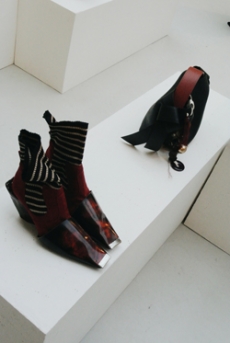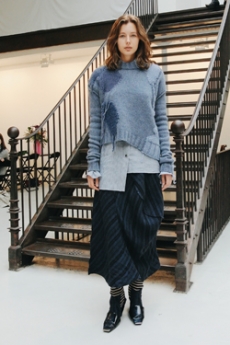 Fashion
Dries van Noten Fall/Winter 2017 Ready-to-Wear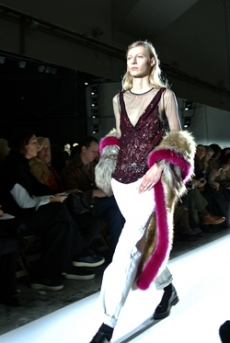 Imagine a tribe of legendary models from the 90s, with their ageless beauty, power walk and barely-there makeup. Imagine them now walking for the most loved and respected fashion designer of our time for his 100th show.

Dries van Noten surprised everyone when the show started: all the models who walked for him, from the very beginning, were all present: Amber Valletta, Caroline de Maigret, Malgosia Bela, Kirsten Owen, Trish Goff, Kim Noorda, Guinevere Van Seenus and legendary Kristina de Coninck opening the show. Together with the more recent favourites. It was an overwhelming flow of emotions for whomever has followed and worked with this acclaimed Belgian designer since 1993.

The collection was a parade of all the prints, the cuts, the colours from past collections, the story of Dries van Noten in toto. It was an incredible archive research, as some of the print designs didn't exist anymore. The strong sentiment of timeless style and ageless beauty was pervasive, look after look. The oversized coat, the relaxed long dresses, the denim, velvet, and beautiful fur stoles. The mix-matched colours with a lemon yellow splashing the entire collection. It was a celebration of joy, of positivity, of the essence of femininity itself.

The sound of a crowded street, the cars, the people, a dog barking accompanied the vastitude of a collection of music and movies extracts played: from Jun Miyake's Lilies of The Valley - the musician who closely worked together with Pina Bausch, one of Dries Van Noten's dearest muses – to the late David Bowie singing Heroes in the a cappella finale. "…you, you can be mean. And I , I'll drink all the time. Because we are lovers. That is a fact"

www.driesvannoten.com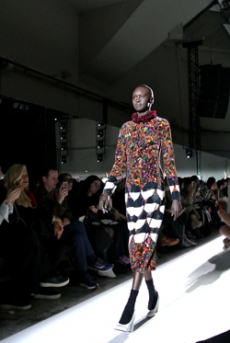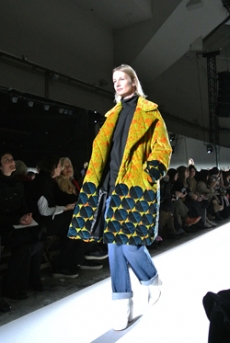 Fashion
Gucci Fall/Winter 2017-18 The Alchemist's Garden
An air of magical curiosity filled the air as Alessandro Michele's Fall/Winter 2017 Gucci collection was presented at Milan Fashion Week. Complete with streetwear elements, fused with historical costumes and oversized floppy hat featured alongside vest tops with anarchic messaging, the collection was vibrant, exciting and oh-so Gucci.

There's a garden of plants and animals. Inhabited by signs, symbols and archetypes invoking and recalling remote worlds, blending the conscious with the unconscious as imagination forces the inertia of reality. This alchemist's garden is an anti-modern laboratory that refutes rigidity and determinism, aiming instead to recover the complexity of existence with the contradictions that permeate it.

This ubiquitous cycle is perfectly embodied in the Ouroboros, an ancient Egyptian symbol of a snake eating up its own tail. It destroys and conceives in a never ending cycle of self renewal and reflects Alessandro Michele's fascination with the role of fashion in modern society.

www.gucci.com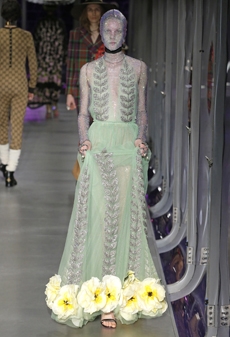 Fashion
Make Love Not Walls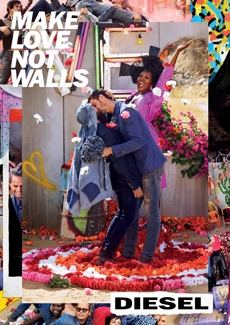 Through photographic material and a series of global actions, Diesels breaks down all barriers in communication with its #makelovenotwalls movement and tears down the mental and physical walls that separate us. In a time where hate, walls and fear seem to prevail, the brand urges us all to unite for the greater good.

"At Diesel we have a strong position against hate and more than ever we want the worlds to know that. Love and togetherness is crucial in creating a society we all want to live in, and the future we all deserve" explains Diesel Artistic Director Nicola Formichetti.

For this campaign, Formichetti collaborates with legendary artist and photographer David LaChapelle using the Wall as a symbol of separation and breaking it down to create strong stories through a simple yet powerful narrative: walls are built and the heart-shaped Diesel love tank tears them down. As a symbol of separation is reinterpreted into a symbol of unison and flowers fills the space, a celebration of freedom and love is born. Diesel is known for pushing the boundaries creatively.

From its 1995 LaChapelle campaign with two kissing sailors, to this year's anti-wall ads, it encourages us to let fear aside and focus on what brings us all together rather than what divides us. If You've got walls, Diesel's got wrecking balls!

www.diesel.com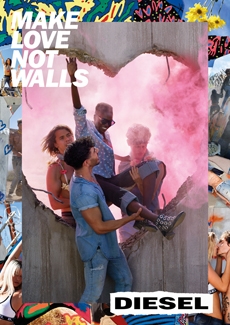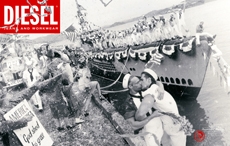 Fashion
Woolrich Re-imagines Men's Outerwear
Woolrich continues its long-standing tradition in conceiving and manufacturing technical outerwear of exceptional quality, a tradition born in the late 70s that has continued to be well-received by avid mountaineers.

The brand is relaunching its Mountain Jacket, one of the first examples of technical outerwear that ushered in the expansion of men's outdoor clothing in order to cater to the requirements of outdoor activities such as backpacking, camping and cycling. Designed with functional elements that suit the requirements of such activities, Woolrich's latest edition of the Mountain Jacket strikes the perfect balance between style and function thus also catering to the more aesthetically driven consumer.

A more contemporary style is brought to the fore ensuring maximum freedom of movement, comfort and warmth with its form-fitting cut, adjustable cuffs and ergonomic style. Gore-tex®'s lightest fabric, the Paclite, guarantees the best performance. Despite the air of innovation that characterises the latest jackets, the brand loyally adheres to the design elements of the late 70s that proved so successful in the past.

With a perfectly breathable waterproof Gore-tex® layer beneath the traditional durable and water repellent outer layer, the Mountain Jacket has proved itself to be a perfect companion for adventures in nature.

www.woolrich.eu
Fashion
JUUN.J Fall/Winter 2017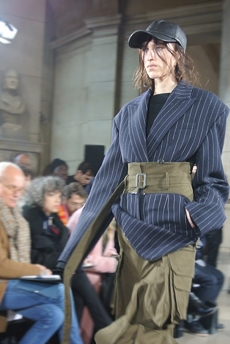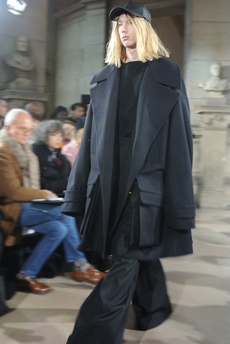 As the models stormed inside Universite Rene Decartes's suggestive neoclassic space, and the fluid body of Juun J's work floated around, we caught the power of history. The history of this brand evolved within the last ten years into an acclaimed fashion forward entity. for this celebratory collection Juun J - in name of a decade spent imagining the future of his eponymous label - choose the emblematic subtitle: "Archive".

Oversized long sweaters, heavy, massive, almost suffocating in all their fierce presence. The architectural outwear, the brand's signature trench coat and the MA1 bomber jacket. All the iconic pieces of Juun J's past collections, in a splendid parade, as an ode to this Korean designer who has influenced the wardrobe of boys and girls in recent years. The girl who has been wearing Juun J forever and who got a special place in the future course: the new Juun J will have from now on feature a Womenswear collection.

And so the oversized cargo pants transformed into high waist long skirts with maxi pockets on the hips and slits on both sides which will be a hot piece for next season. Khaki, military green, black, white and pin-striped blue: the palette focused on the brand's favoured colours. The large parachute hooded outwear with a myriad of swinging straps were certainly the protagonists, underlined in the closing act when all the possible declinations marched in, as if to suggest the impetuous movement and space of Juun J in the upcoming decade.

www.juunj.com
Fashion
Y/PROJECT Fall/Winter 2017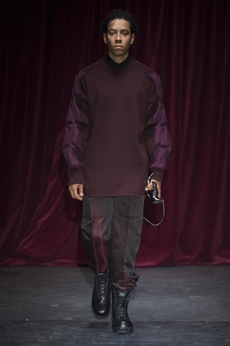 A mobius of forms, shaped in the seam lines, leading to dramatic volumes. Beautifully balanced but also true to his roots, Glenn Martens created a collection where Y/Project's identity is declined to a new sphere, all played through Martens' all-time favourite ironic approach to dualities.

The low and the high, the elites and the masses, deconstructed garments and slouchy fits. Between historical reinvention and street culture, Y/Project's Menswear collection for Fall/Winter 2017 continues to master that relaxed and youthful attitude that has characterized Martens' work from the start.

Doubled silk shirts, deconstructed faux fur, reinvented corduroy suits, slouchy oversized track suits straight from a rapper's videoclip, followed by the impressive sweatsuits with wired piping in a blobbing volume, reminiscent of that mantle draping we have seen on 1808 Jean-Auguste-Dominique Ingres's portrait of Napoleon.

As Napoleon and consort printed on scarves in football merch fashion - part of Martens' playful reference along with other royal couples such as Louis XVI and Marie Antoinette - steal the scene and we cannot choose. We can only root for this talented Belgian designer.

www.yproject.fr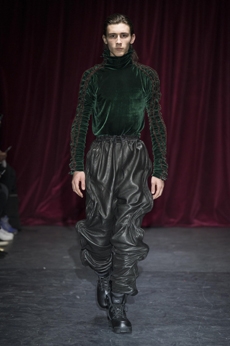 Fashion
Osservatorio Prada: the love story between cultural statements and fashion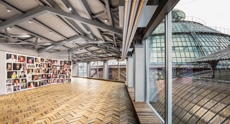 An invisible thread silently connects fashion with art, a thread that only a few can pick up and follow. A feat that when achieved unlocks the secret behind timeless designers like Miuccia Prada.

Famous not only for creating garments and accessories that are considered pieces of art, Miuccia, has never hidden her devotion to art. Therefore, dedicating the famous Fondazione Prada based in Milan to art, seemed only natural. Collecting the most interesting exhibitions and pieces from contemporary and modern artists, Fondazione has become one of the most coveted destination for art-o-holics. Last December saw the opening of a new venue of Fondazione Prada that pays homage to photography and celebrates visual languages: Ossevatorio Prada.

Based in the Galleria Vittorio Emanuele, the core of the Milanese fashion area, Osservatorio is a place of exploration and research of the latest tendencies and expressions of contemporary photography. Photography is, indeed, the contemporary epicenter of the global flux that digital communication is going through; that is why Osservatorio wants to unveil the cultural implications that it has on our society.

"Give Me Yesterday" by Francesco Zanot was the inaugural exhibition for Fondazione Prada's latest venue. A collection of more than fifty pieces of Italian and international artists that explores the usage of photography presented like a personal diary that travels from the 2000's to the present day.

Fondazione Prada's contribution to the Italian art scene will leave an indelible mark, just like a photograph does.

www.fondazioneprada.org
Fashion
Plein Sport Fall/Winter 2017
Sport and fitness are the latest addiction of modern society and that's a fact. It's not all about keeping fit anymore, it's a lifestyle. Designers have also caught the athleisure bug and among them is Phillip Plein who delivered a Fall/Winter 2017 collection dedicated to sportswear during this year's Milan Fashion Week.

On a runway made over to resemble a racetrack, models, boxers and workout fanatics presented the first ever Plein Sport line. The collection features sweatshirts, puffer gilets and bombers, among many other fitness apparel favourites, fusing cutting-edge technology with luxurious materials.

Innovation is Philipp Plein's mantra and a key word for his collection that also offered sleeve pockets for iPhones and pioneered lightweight footwear and anti-sweat fabrics.

www.philipp-plein.com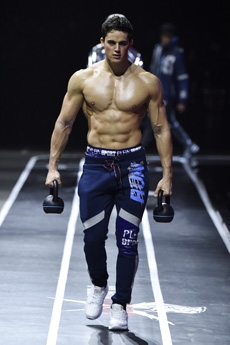 Fashion
Dior Homme Fall/Winter 2017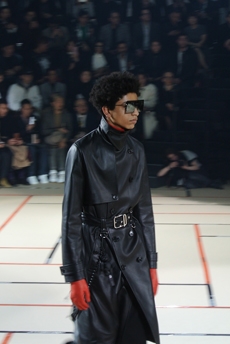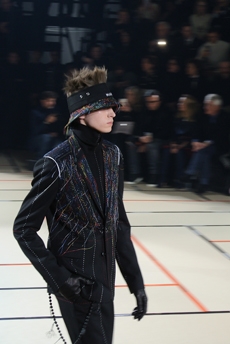 Thousands of little flags suspended from the Grand Palais ceiling, as one of those summer festivals when the night breeze brush them gently. The coloured lights illuminating the room mimicking the stage reflectors of any hard rock concert we have attended in our teens.

When the Depeche Mode lyrics started to play and the lights went up revealing the cardboard boxes and "HARDIOR" packing tape paving the regal space, it all came together.

Kris Van Assche channelled his childhood memories in 90s Antwerp clubs, the music, the parties, creating an electrifying collection that explored not only the new course of Dior Homme after 10 years at its reigns but also the possible declination of modern tailoring.

Van Assche designed the suit for the young man, a dialogue between the cool boy party animal and formal clothing. Close fit blazer revealing baste stitching matched with relaxed loose high waist trousers worn with trainers and white socks. Winking to street-wear.

A sweater with the clustered image of monsieur Christian Dior himself - whose birthday was surprisingly the day of the show - and the sentence written right below "They should just let us rave" turned quickly the attention to a more rebellious side of Van Assche: the gothic sweeping floor length capes and teddy bear chain trousers, the hand painted short fur bomber jackets, the aquamarine jumpers and the orange pony double breasted trench coat.

The Belgian designer picked the candy boys, the gabba, the new wave and the mosch pits at raves as his references. The latter, illustrated by the hand of American artist Dan Witz and printed in few closing looks - like the intricate reverse sequins suit - gave a poignant accent to the whole collection.

Dior Homme is beautifully evolving into a strong luxury fashion brand and as the light goes down we can't help but be excited, like the post feeling of any great concert.

www.dior.com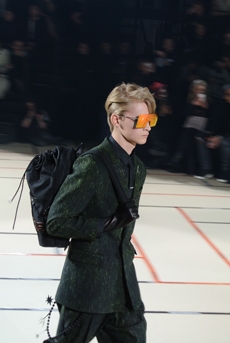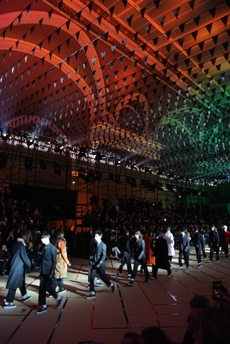 Fashion
PORTS 1961 LOVERS ARMY
PORTS 1961 Fall/Winter 2017 collection is all about love and its universal meaning. A collection that is minimalist and gives off a younger appeal than past seasons, will definitely warm your wardrobe and your heart.

The Ports 1961 man is ready to face whatever the day has in store. From protective sports clothing inspired by urban workwear to construction suits. Materials are primarily sober, solid and thick, giving a touch of virility to a pretty chic sportswear collection. In the contrasting palette of black, grey, red and orange, reversible bombers, slit sleeves' coats, studded blousons and piped trousers are just a bite of this collection that sees heart and love all over it.

Details are what bring this collection its tempo – camouflage prints adored by Milan Vukmirovic are reworked and the quintessential white shirt is embellished with a blood red embroidered heart.

www.ports1961.com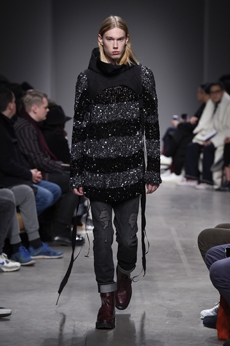 Fashion
Colette x UNDEFETEAD: the hypes' sneaker exchange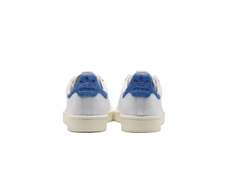 The hype around sneakers has never been so present. Parisian it store Colette, one of Europe's biggest go-to destinations for street-wear designer apparel has partnered with LA-based label UNDEFEATED for the much-anticipate "Sneaker Exchange". Included in the exchange are no less than 84 brands like Bodega, END, Kith and Slam Jam just to name a few.

Two limited edition and revamped Adidas sneakers to be launched during Paris Fashion Week will be part of this January's exchange. The redesigned editions of iconic models, the Campus 80 and EQT Support. The Campus 80 is bright, in white leather with a royal blue heel while the EQT Support's darker influences are manifested through its deep navy blue shades.

Both models are playing with the concept of opposites, pairing and simultaneously contrasting influences, ideas and cultural currencies, personifying perfectly the concept of the exchange.

www.colette.fr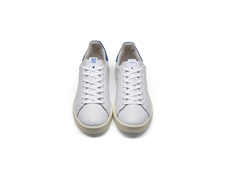 Fashion
The Givenchy Tribe
Givenchy's latest campaign has just been released and the abundance of the brand's signature codes do not go unnoticed. Shot by photographers Mert and Marcus and designed as a double page spread, the campaign plays on the concept of duality and features powerful men and women whose intrepid natures manage to withstand space and time.

A well-balanced blend of feminine and masculine elements that remain classic and chic are the focal points of the campaign. Two girls become twins by dressing identically and a boy plays fashion chameleon by rocking a formal and a streetwear look in a Mars-like landscape. Pair the adventurous nature of the above with the tightly cropped portraits of Givenchy's personality gang and you are given the impression that, although they appear different they do in fact to belong to the same style-savvy tribe.

Of course, Givenchy's now iconic Horizon and Cross Body bags could not be left out of the equation. Serving as a mark of recognition for the brand, their presence encapsulates the luxury label's long-standing fame while looking towards a future of duality.

www.givenchy.com
Fashion
Acne Studios Resort 2017 collection's film is now out, and it's all about Hype Fever
Highlighted shades, slow motion pictures and pop vibes merge together to give birth to the new Resort 2017 collections film by Acne Studios.

Inspired by musical counter culture, free and fluid silhouettes mixed and matched with generous draping, patterned knitwear and elongated evening wear. Sneak peeks from the runway are given together with backstage scenes to present a collection that is nothing but common.

Resort 2017 is all about shapes and prints that are achieved through a variety of dyeing techniques from tie-dyeing to oil-dyeing, in order to create a look that is both soft and romantic without ever forgetting a taste of sane hippie-rock attitude.

www.acnestudios.com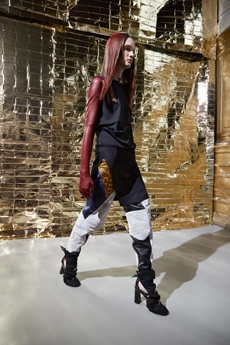 Fashion
Levi's and JUGEND GEGEN AIDS: T-shirts with a good cause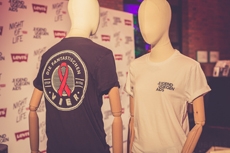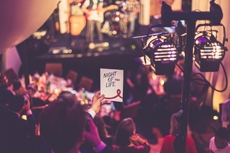 On world's AIDS day Levi's decided not to stay in the corner, taking part together with the JUGEND GEGEN AIDS association to a special night that merged fashion, music and sexual education.

In order to make a difference and let young people feel close to the cause, the denim brand organized the "Night of Life" in association with DJs and starred chefs in order to turn a pool party at the Hamburg East Hotel into something unforgettable.

The 'STOP AIDS' sign was shown on black and white limited edition Levi's T-shirts during the party, whose proceeds will go to the benefit association JGA that since years fight to create awareness around AIDS.

"Do what you want. Do it with love, respect and condoms"

www.levi.com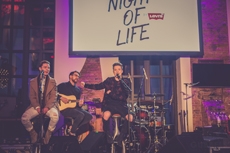 Fashion
The DiorAlps Capsule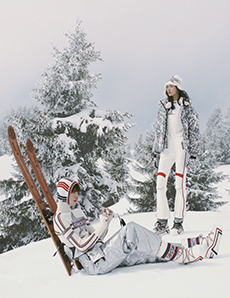 As winter approaches, Dior unveils a breathtaking capsule to the enchanting allure of the mountains with its latest DiorAlps line, curated by the visionary Maria Grazia Chiuri. This exceptional collection, inspired by the House's recent shows, seamlessly marries couture-style creations with high technicity, presenting a unique fusion of fashion and function for the snowy slopes. The DiorAlps line features an array of winter essentials, from puffers and jackets to après-ski boots and the iconic Dior Book Tote, all adorned with the mesmerizing Plan de Paris print. Crafted by the Creative Director herself, this print intricately maps the City of Light, creating a hypnotic interplay of shadows and perspectives. Ski goggles with a bold "Christian Dior" strap and the iconic Dior Oblique further elevate the collection's aesthetic appeal. The pants, available in creamy neutrals or classic black, include knee reinforcements for optimal comfort in all circumstances. The Diorunion capsule's signature coat of arms is embellished with the powerful motto "L'union fait la force." This capsule promises a winter wardrobe that transcends traditional boundaries, offering a daring yet refined look for those who seek style, excellence, and innovation in every winter adventure.
www.dior.com 
Fashion
Louis Vuitton Flight Mode Collection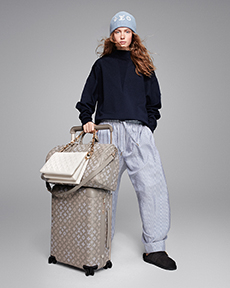 In a captivating homage to its rich legacy of trunk-making, Louis Vuitton unveils the "Flight Mode" capsule collection -- a celebration of the Maison's enduring spirit of travel through timeless designs. Crafted to be the perfect companions for this season's adventures, the collection features a range of enveloping pieces that showcase sumptuous, cosy materials. In the hands of Creative Director Nicolas Ghesquière, Louis Vuitton's timeless designs take flight, epitomizing a stylish journey to distant destinations. The collection captures the essence of escape as refined women embrace the travel narrative, transitioning from the hustle of the city to serene winter landscapes. Cropped monogram puffer jackets, pinstriped silk shirting, and slouchy pyjama pants form the perfect travel uniform, complemented by models adorned in scarf-encrusted coats and practical reversible outerwear. The addition of two-toned Medallion blankets and handbags in beige leather with gradient logos further accentuates the collection's commitment to luxury and functionality. As Louis Vuitton once again redefines the boundaries of fashion, the "Flight Mode" capsule collection stands as a testament to the Maison's enduring legacy.
www.louisvuitton.com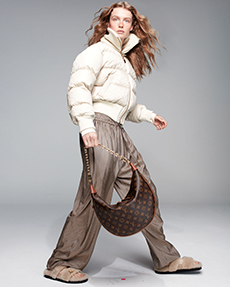 Fashion
ZEGNA X Real Madrid
In a seamless fusion of Italian Luxury and sports spirit, ZEGNA, the eminent menswear house with a heritage dating back to 1910, proudly continues its exclusive partnership with Real Madrid, the iconic football club that has been dominating the pitch since 1902. With the motto "Every king needs a tailor," the collaboration between these two reinforced their shared values and commitment to surpassing limits. As the Official Luxury Travelwear Wear Partner for the 2023-2024 season, ZEGNA will dress both the football and basketball first team of Real Madrid in exclusive outfits tailored to perfection. The first Champions League Trip of the Season unveils their new wardrobe, showcasing ZEGNA's ALBA Overshirt, GHIACCIO Blouson in Oasi Cashmere, jogger bottoms, crewneck, and the latest version of the Triple StitchTM shoes. The made-to-measure collection, goes beyond fashion, extending into a commitment to excellence, hard work, societal responsibility, and a continuous pursuit of new frontiers, blending the heritage of both brands. It is now available in selected ZEGNA boutiques globally. ZEGNA and Real Madrid, with their respective championships in luxury menswear and on the football pitch, epitomize the idea that success is not just about the destination but also the journey.
www.zegna.com
Fashion
Paul Mescal and Xiao Zhan Star in the Gucci Horsebit 1953 Loafer Campaign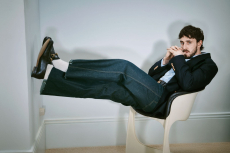 Through the campaign starring actor and Ambassador Paul Mescal and Global Brand Ambassador Xiao Zhan, Gucci proudly celebrates the 70th anniversary of the Horsebit 1953 loafer, an enduring symbol of the maison's rich heritage and savoir-faire. The Gucci Horsebit loafer, introduced in 1953, revolutionized the world of footwear, bringing together comfort and sophistication. The loafers are especially characterized by their distinctive design, featuring a miniaturized horse bit which gives the footwear their iconic name and which quickly became one of Gucci's distinctive marks, bridging the gap between past heritage and contemporary fashion. Throughout the decades, the Gucci loafers have evolved to become a staple piece in every man's wardrobe thanks to their versatility and elegance, which allows the wearer to pair them effortlessly with every outfit. The Gucci Horsebit Loafers are a synthesis of high-skilled Italian craftsmanship, America outdoor lifestyle, and classic British equestrian aesthetic. The new campaign starring Paul Mescal and Xiao Zhan showcases the timeless allure of the loafers and of the Gucci style, perfectly capturing the feeling of ease, comfort, and classic elegance that the Horsebit Loafers embody. The portraits of the campaign are proof of how the loafers' heritage and silhouette continue to inspire and captivate generation after generation.
www.gucci.com
Fashion
CLEO'S MIDNIGHT TALES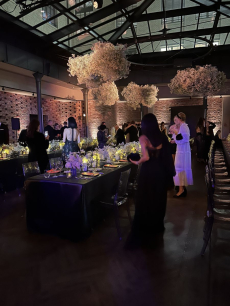 "Cleo's Midnight Tales," a collaboration between Breitling and Princess Cleopatra zu Oettingen-Spielberg, took place in Berlin for its second edition. Departing from its inaugural event at Oettingen-Spielberg Castle near Munich, this soirée hosted around 100 distinguished guests at Berlin's Telegraphenamt. The event embodied Breitling's #SquadOnAMission philosophy, uniting creative individuals committed to effecting change and aiming to inspire the brand's growing female clientele. The guest list included notable figures like actresses Janina Uhse and Gizem Emre, musician Elif, models Veronika Heilbrunner and Ronja Furrer, jewelry designer Begüm Khan, and TV presenter Stephanie Brungs. DJ Kungs provided the musical backdrop, and attendees had the opportunity to admire the Breitling "Navitimer 32" from the latest collection. The night continued in the stylish bar within the Telegraphenamt, well-regarded for its award-winning design and its proximity to Museum Island in Berlin-Mitte. DJs Alyssa Cordes and Giannina Haupt ensured the party's energetic atmosphere extended into the late hours. "Cleo's Midnight Tales" underscored Breitling's dedication to celebrating influential female figures and proved to be a resounding success. www.breitling.com
Fashion
BOSS | Samsonite Aluminium Capsule Collection
In a harmonious fusion of elegance and durability, BOSS and Samsonite have joined forces to create a capsule luggage collection, ensuring that you can always travel in style. This collaboration marries BOSS's commitment to bold, self-determined style with Samsonite's legacy of durable travel solutions, reflecting premium quality, innovation, and timeless design. Crafted from high-quality aluminum, the BOSS | Samsonite shells are embellished with an anodized signature BOSS monogram pattern in a tone-on-tone black motif, adding a sleek luxury touch. The interior features the iconic BOSS camel color, complemented by prominent branding and adjustable packing straps for convenient organization. What sets this collection apart is not just its aesthetic appeal but also its thoughtful design for fashion-forward explorers. Co-branded leather handles, paired with high-performance wheels, a secure TSA lock, and the option to add your personalized touch through initials, exude sophistication. Samsonite CEO Kyle Gendreau expressed excitement about the collaboration, emphasizing both brands' dedication to delivering high-performance products. The luggage seamlessly aligns with the new BOSS FW23 collection. Available in limited edition from October in select BOSS and Samsonite stores and online, the BOSS | Samsonite capsule collection offers four models, including a cabin, two check-in suitcases, and a trunk. For those who refuse to compromise on style, this collaboration is a passport to jet-set elegance, marking a new era in the intersection of fashion and travel. As the collection extends its availability in 2024, it promises to continue offering fashion-forward travelers the perfect blend of sophistication and functionality with ever-lighter and stronger products.
www.samsonite.de/boss_samsonite/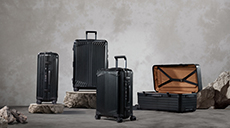 Fashion
Paris Fashion Week - Louis Vuitton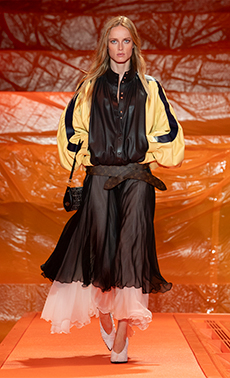 The Louis Vuitton Women's SS24 show, which was being teased on Instagram through voice notes from house ambassadors like Sophie Turner and Jaden Smith, was finally unveiled on Monday, October 2nd. The show took place in the ethereal ambience of 103 Avenue Des Champs-Élysées, Paris, a setting that seamlessly blended nostalgia with contemporary daring. Nicolas Ghesquière, the creative force behind Louis Vuitton for over a decade, orchestrated a vibrant journey through time and style in the venue draped in vibrant orange plastic, which transported guests into a reimagined hot air balloon basking in the warm summer light. The Creative Director skillfully merged familiar silhouettes with modern details, evoking the Maison's spirit of voyage. Travel-ready bags with references to Rubik's cubes and digital cameras paired effortlessly with versatile sunglasses embodying the collection's thematic essence. The designer expressed his clean-cut visual language, playing with layered volumes, ethereal movements, and mismatched graphics, paying homage to French elegance by fusing classic Parisian fashion with vintage codes. Leather bomber jackets found unexpected companionship with ruffled skirts, Y2K-inspired chunky belts, and monogrammed leather. Linear patterns wove through the collection on layered bottoms and buttonless shirts while textured corsets and volumed tops found equilibrium with solid tones. The collection transitioned into double-breasted outerwear in diverse glossy textiles and ended in a reworked houndstooth with layered bedazzled necklaces. The pointy-toe shoe dominated, alongside a daring open-toe style, exposing only the thumb. This season was a fresh journey through retro flair, fluid silhouettes, and oversized proportions with structured accessories, adding a striking dimension and marking a significant chapter in the Maison's legacy.
www.louisvuitton.com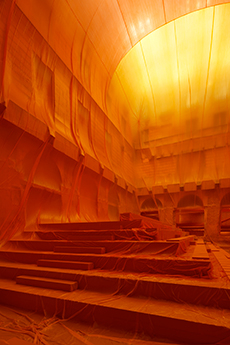 Fashion
Milan Fashion Week - Ferrari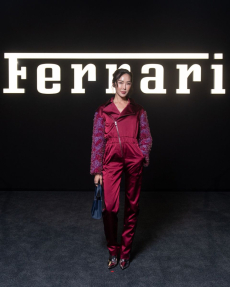 Ferrari unveiled its SS24 collection at Teatro Alcione during Milan Fashion Week, focusing on the power of desire. Connecting to the strength and the passion that has always driven Ferrari, the collection focuses on the unconditional passion and the continuous dedication that traces the contour of the legendary brand. The collection is built around a sentiment that constantly strives for excellence and elegance, be it in design, performance, or innovation. Ferrari's Creative Director Rocco Iannone leans towards a new dimension of complex simplification, focusing on feelings that guide the path to emotions, resulting in a collection that exudes Ferrari's powerful allure through fashion. The brand's style codes, racing, workwear, and tailoring, are filtered through the creative director's lens putting the body and its silhouette at the center stage. The silhouettes are carved, molded, and exaggerated through volumes and sharp lines, which also contribute to the dynamic feel of the garments. Iannone goes to the core of forms and materials, de-saturating colors to emphasize the shapes. Through tightness and voluptuousness, a new language of the body is born as a symbol and the expression of the brand's perpetual desire to create, innovate, and communicating the passion that drives it.
www.ferrari.com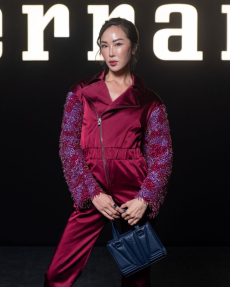 Fashion
Milan Fashion Week - Bottega Veneta
The Bottega Veneta Summer 24 collection presented at the Milan Fashion Week is the continuation of a journey of transformation and escape following the vision of Matthieu Blazy, Bottega Veneta's creative director. In this collection, the travel is both literal and metaphorical, encompassing an array of influences from all over the world. The models traverse the world of the show walking across the continents and oceans that spread before them in a quest for inspiration through dislocation, at the border between reality and imagination. The trope of the journey becomes the emblem of the effortless passage between ordinary and extraordinary, encompassing both the manmade and primitive world. The clothing showcases the ethereal nature of this journey through simple silhouettes that challenge the notion of "getting changed". Clothing from the previous season is metaphorically shed, brought in oversized, basket-woven intrecciato bags. The collection explores all kinds of journeys, from the city commute to the journey of a castaway. The notion of a "national dress" transforms into that of an "international dress", which borrows and takes inspiration from cultures all over the world. Newspapers are morphed into foulard bags, and highly crafted leathers take on a new meaning, in this collection where everything appears to be possible.
www.bottegaveneta.com
Fashion
Milan Fashion Week - Brunello Cucinelli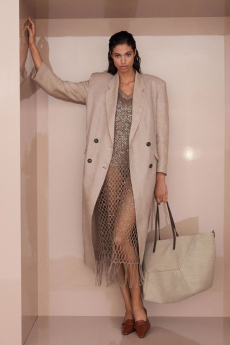 Brunello Cucinelli's Spring Summer 2024 Women's collection Natural Aequilibrium was presented on September 20th at the Milan Fashion Week. The collection is all about equilibrium, a balance of opposing forces that balance each other: addition and subtraction, minimal and ornate, aesthetics and functionality. Brunello Cucinelli's collection stays true to the brand's classic, elegant aesthetic while looking into the future and honoring the needs of our time. The new contemporary luxury gives way to a dynamic equilibrium that results in a "rebalanced" wardrobe where two different souls coexist. On the one hand, pure, simple garments make for everyday staple pieces, while on the other there are unique, one-of-a-kind pieces. The whole collection exudes the attraction to a timeless style, which is ultimately at the core of Brunello Cucinelli. Unique impeccable sartorial taste offers a fundamental reference point for contemporary balance, expressed through apparent simplicity and refined effortlessness. Each garment expresses balance and authenticity, renewing the Maison's desire to dress with taste and to forego excess. The color palette is neutral, in line with the shapes and the proportions of the garments. With this collection, the brand showcases its ability to renew itself according to the stimuli of the moment, while naturally preserving the elements that make it unique.
www.brunellocucinelli.com
Fashion
Gucci's New Jewelry Campaign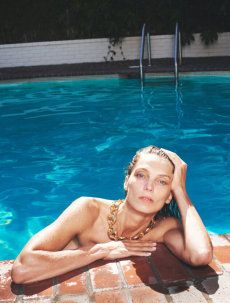 In his first campaign for the brand, Gucci's new creative director Sabato De Sarno presents the Maison's new jewelry campaign starring Polish-Canadian supermodel Daria Werbowy. The campaign, centered around Gucci's Marina Chain jewelry collection and photographed by David Sims, is a celebration of Sabato's past debut in the fashion world and its current debut as Gucci's creative director. The Marina Chain jewelry collection is inspired by the chain of an anchor, and it was first introduced with a bracelet in the late 1960s. Throughout the decades, the Marina Chain collection has come to represent an iconic element of Gucci's history and jewelry line. The campaign's shots have a free, light, and elegant feeling to them. The aquatic theme perfectly embodies the Marina Chain's source of inspiration, the sea, now reinvented with an eye that looks at the future. Daria Werbowy and David Sims showcase perfect symbiosis between model and photographer, effortlessly bringing to life the character at the core of the campaign, and perfectly representing the classic and innovative aspect of the Maison of Gucci. The campaign was shot at the Chateau Marmont in Los Angeles, perfectly capturing De Sarno's vision of an unfolding, meaningful story.
www.gucci.com
Fashion
Louis Vuitton Presents Fantastical Jewels by Francesca Amfitheatrof
Louis Vuitton is constantly expanding its jewelry repertoire with a new collection designed by the creative director of Louis Vuitton Jewelry Francesca Amfitheatrof. Through a book offering an enthralling glimpse into four extraordinary jewelry collections, the designer brings a fresh, innovative perspective to the ancient art of jewelry design, telling about the creation of revolutionary collections for the Maison. Each of the collections, masterfully designed and conceived in the heart of Paris, is approached by Amfitheatrof through conceptual themes that ultimately tie them together. In the same way that a writer approaches the plot of a novel, Louis Vuitton Jewelry's creative director develops collections that tell a story about the history and the origins of the craft of jewelry. The pieces of the collection are made of the most ancient materials on our planet, gemstones that have been on Earth for as long as time, such as diamonds, colored stones, and gold. The book recounts the most minute and intricate details of the alchemic journey that brings to the creation of precious pieces of jewelry. It is written in a journal-like style and is embellished by exclusive sketches, collages, and personal photographs of Francesca Amfitheatrof, who, together with art director Fabien Baron, has created a personal volume that goes to the core of jewelry artistry.
www.louisvuitton.com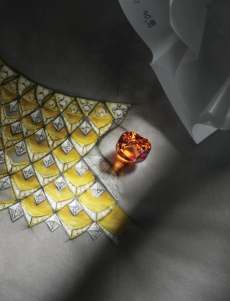 Fashion
Sacai X CARHARTT WIP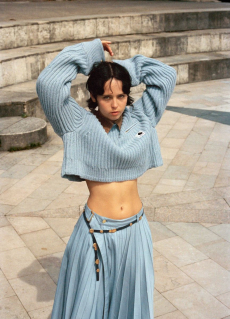 Marking a creative joint offering between Sacai and Carhartt WIP, the extraordinary pieces from Sacai men's 2023 Fall Winter Collection and Sacai 2023 Fall Collection will be launched on on September 8th. By embracing the essence of utilitarian wear, Sacai has teamed up with Carhartt WIP and crafted an array of men's and women's silhouettes that fused with the resilient, functional attributes and hardware associated with both brands, at the same time, incorporating Sacai's distinct design language. The collaborated collection displays delicately intertwined design elements of Carhart WIP's iconic duck fabric jackets and Sacai's distinctive nylon twill, which elevate the typical workwear into stylish daily ensembles. Emphasizing a deconstructive aesthetic, the unique items were unveiled in a unified manner, reimaging the traditional chore jacket with Sacai's distinctive signature. Moreover, displaying Carhartt WIP's iconic colors, the collection presents an intricate color match ranging from khaki and light blue to warm brown and black. Meanwhile, the accompanying campaign features a cast drawn from Carhartt WIP's skate team, including Pepe Tirelli, and Tolia Titaev, as well as Dede Lovelace and Kasper Kacia. Captured through the lens of filmmaker Joaquim Bayle, the visuals spotlight rituals, and peculiarities that define skateboarding. Elsewhere, a series of special pop-ups will exhibit the collaborated pieces at multiple locations worldwide. While Saci has been defining technical deftness and elegant style with an avant-garde touch through comprehensive and innovative silhouettes, the exclusive collaboration with Carhartt WIP, brings a unique aesthetic to the brand. Sacai x Carhartt WIP collection is available at both Sacai's online and offline stores as well as Carhartt WIP's online store. www.sacai.jp www.carhartt-wip.com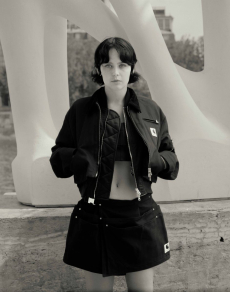 Fashion
Audemars Piguet's New Pieces in Collaboration with Matthew Williams
The renowned Swiss horlogerie brand Audemars Piguet announces a collaboration with the American designer Matthew Williams, founder of the fashion label 1017 ALYX 9SM. The partnership results in four new editions of Audemars Piguet's iconic Royal Oak and Royal Oak Offshore models, plus one unique piece of the Royal Oak made of stainless steel and 18k yellow gold. What makes the watch unique is the duo-chrome bracelet and the signature touch of both brands, which is distinguishable on the dial. The one-of-a-kind Royal Oak was auctioned off in Tokyo on the night of the collaboration's launch, raising $1 million to benefit underprivileged children. The new pieces combine the unmistakable design features of the manufacturer and the sophisticated signature style of Matthew Williams. This cooperation gives life to a modern collection that aims to be enjoyed by fans of urban fashion. The timepieces allow for the expression of individuality, effortlessly combining modern fashion with the classic practice of wearing a watch. A shared avant-garde worldview, great attention to detail, and the advocacy for a holistic and sustainable approach unite Audemars Piguet and Matthew Williams. Their collaboration on the design of their Royal Oak Watches showcases elegance and attention to detail.
www.audemarspiguet.com
Fashion
Elie Saab X Aubade - New Capsule Collections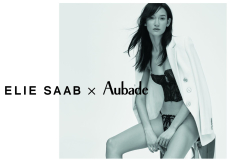 Aubade announces its collaboration with haute couture brand Elie Saab on three luxury lingerie capsule collections for winter 2023. Through its lingerie, which celebrates glamour, beauty, and strength, Aubade aims to express the essence of French sensuality. It does so through high-quality materials, seductive designs, and a purpose to bring joy and comfort to whoever wears their lingerie and nightwear. Aubade's pillars pair perfectly with the brand Elie Saab, known for its dedication to high craftsmanship and its dreamy collections. Elie Saab pays particular attention to understanding the female body and creating sophisticated compositions that pay homage to it. The two brands have created lingerie and nightwear collections that bring the feminine form to the forefront, embracing every silhouette with flattering materials and designs. The "My Desire" lingerie collection and the "Whimsical Affair" nightwear collection are designed with a playful seduction in mind which materializes in feminine forms through the workings of a chiaroscuro effect on the skin. The collections are available in two color palettes, "Naughty Black", a deep black, and "Love Affair," a nude rose. Elie Saab's understanding of the female body, and Aubade's sophisticated glamour, evoke a sensual interplay through beautiful details and careful use of materials and fabrics.
www.eliesaab.com
www.aubade.com

Fashion
Bottega Veneta Supports Biennale Danza for the Third Year
In lieu of its ongoing collaboration with Biennale Danza, Bottega Veneta is supporting the event for the third year in a row. Biennale Danza is the International Festival of Contemporary Dance, which, this year, marks its 17th edition. The festival is famous for its international, diverse program and for representing a platform for new and emerging artists on the international dance scene. The new Biennale College Danza's project is titled "When I Am Facing U" and developed under the supervision of notable Chinese dancer Xie Xin. Bottega Veneta is not only supporting the event for the third time but is ever present in the show. In fact, the costumes worn by the dancers of Biennale College Danza during their performances have been designed by Matthieu Blazy for Bottega Veneta. The costumes feature denim silhouettes replicated on viscose silk, thus creating an interesting contrast between the rigidity of the pictured denim and the fluidity of the silk. The lightness and malleability of the shapes and the feel of the clothing reflect the sensuality imbued in the choreographies performed. Through radical minimalism and departure from form and context, the show leaves a lot of space for improvisation and freedom of interpretation. The choreographies are explorative and experimental, perfectly enhanced by Bottega Veneta's costumes.
www.bottegaveneta.com
Fashion
Berlin Fashion Week - Fassbender
"Original" is the provocative title of Fassbender's SS24 collection presented at the Berlin Fashion Week 2023. The collection indeed plays with the meaning of the word "original," which stands for both the real thing that already exists and something completely new. The Hamburg-based label, formed by Christina Fassbender and Matthias Louwen, combines elegant and sophisticated tailoring with comfort and functionality, resulting in a unique style that appears effortless in its complexity. The brand was founded in 2017 alongside Christina's brother, Sebastian Steinhoff. With a strong focus on sustainability, the brand uses the most innovative techniques and findings to ensure that its garments are made sustainably throughout the process without compromising style and affordability. Fassbender believes in a solid circular economy, contributing to the well-being of nature and living beings. The garments manufactured in Europe are made to adapt to a constantly evolving wardrobe: they are versatile and wearable on multiple occasions. Fassbender's passion for innovation is evident in their interest in using AI in fashion design, something the brand's creatives are eager to integrate into their process. One of the brand's goals is to draw attention to the work of craftsmanship that takes place behind the scenes of every collection. The care that goes into crafting each garment is part of the sustainability behind the brand, which poses itself in direct contraposition to the culture of fast fashion, emphasizing the timelessness of their clothing.
www.myfassbender.com
Fashion
Berlin Fashion Week - William Fan
At the 2023 Berlin Fashion Week, William Fan brings a collection focusing on the play with different materials, finishes, and colors. The German designer, whose homonymous label has been producing clothing, shoes, bags, jewelry, furniture, and objects since 2015, conceptualizes his designs according to the critical Euro-Asian dialogue he conducts within himself, thus honoring his Asian roots. Indeed, his designs mix European elements with Chinese influences, resulting in a proper merge between the two cultures. Indeed, according to the designer, the inspiration for his collections comes from his past and future experiences and environment. In this context, the city of Berlin represents a significant source of inspiration for the designer, as it is a melting pot of different cultures and a place where it is easy to live immersed in the art scene. The collections focus on neither gender nor age, adopting gender neutrality as one of the main principles of the brand. Instead, the clothing is directed towards expressing Fan's purpose of telling a story through his fashion shows. William Fan has studied fashion and worked in the industry in The Netherlands, London, Hamburg, and Berlin, where he finally founded his brand in 2015. The brand has been a part of the Berlin Fashion Week since its beginning and still views the event as a major support to its growth.
www.williamfan.com
Fashion
Mixing of Dress Codes in Louis Vuitton's Men Prêt-à-Porter Fall 2024 Collection
For its Fall 2024 Menswear collection, Louis Vuitton adopts a dual wardrobe approach based on the elevation of everyday clothing that can adapt to an array of situations. Professional and casual dressing is hybridized according to Maison's practice of code-switching, resulting in a transitional wardrobe. The Louis Vuitton Studio Prêt-à-Porter Homme designed the collection as a standalone proposal. Every look is styled by mixing different dress codes and with accessories that diverge from standard archetypes. The visual elements that distinguish the Maison also take on a different character, as is showcased in how the emblematic Epi is brought to life using various materials, creating optical effects. An element that characterizes this menswear collection is the use of accessories, specifically their role in morphing with the clothes. The LV Pacific slip-on shoe exemplifies the blending of formal and casual styles, combining a sneaker sole and a suede upper. In the jewelry, corduroy and Maison's classic Epi are fused in embossed metals with an aged gold finish, to be found on bracelets, necklaces, and band rings. A different interpretation of the Epi leather is translated on the red Maxi Epi texture on the Alma bowling bag. At the same time, the classic Louis Vuitton monogram emerges in two new colorways (olive-green canvas with orange lining and blue canvas with brown lining) on various bag models. This menswear collection fully captures an innovative light on Louis Vuitton's iconic style.
www.louisvuitton.com
Fashion
An Archaic Past is Revived in Dior's FW23/24 Collection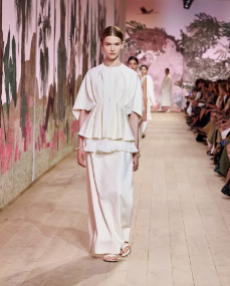 Maria Grazia Chiuri presented Dior's FW23/24 Haute Couture Collection in the afternoon of July 3rd. The collection is constructed around the idea of time, reflecting the care that is put into creating couture. The past is integrated into the present: the sketched form is immediately translated onto the dress without making use of any paper patterns. The forms are simple, morphed into archetypal sartorial elements such as the peplum, the tunic, or the cape. Maria Grazia Chiuri has worked on the collection presentation with the artist Marta Roberti, transforming the catwalk into an art gallery that evokes archaic artistic elements such as goddesses and animals. The artist assembles these elements to represent myths of a distant world where the female figure was revered above all else. The Mediterranean region is a reference point, as the ancient cultures in those areas produced the anthropomorphic and zoomorphic images present in Roberti's art for the Dior fashion show. The models' composition recalls divinities through a vertical silhouette and flat shoes. The main colors are white, beige, silver, and pale gold, with coats evoking the shape of classical statues. The shimmery dresses are intertwined with pearls, symbolizing purity. Overall, the presentation of this collection aims to represent the strength and fragility of femininity through the cult of goddesses, enhancing sensitivity and attention to detail.
www.dior.com
Fashion
Moose Knuckles' Partnership with the Prism Prize for Music Videomaking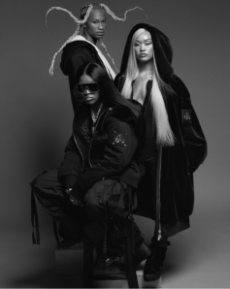 The Prism Prize, awarded yearly to videomakers, has partnered with the Canadian clothing brand Moose Knuckles. The Prism Prize yearly awards videomakers with the Heatmakers Grant. One of Moose Knuckles' priorities is to support emerging creatives, and the brand is excited to uplift promising Canadian artists that can have a positive impact on the future of the hip-hop scene through their videos. This vision pairs perfectly with that of the Academy of Canadian Cinema & Television, which aims to promote and encourage local artists. The award, which can be worth up to $35,000, is intended to promote the production of high-quality videos in the Canadian hip-hop scene. The winners of this edition, announced by the Academy of Canadian Cinema & Television, are Sean Leon, iaamSam, and Skiifall. The three artists are a diverse representation of the Canadian hip-hop music industry. Sean Leon, who was awarded the title of "Ambassador," has been present on the Canadian music scene for over a decade. iaamSam is a self-taught multidisciplinary audio-visual artist, while Skiifall is a music creator quickly building visibility. The commission awarding the Heatmakers Grant is composed of music and fashion professionals, such as Canadian all-round musician Kardinal Offishall and Moose Knuckles' Global Artistic Director Carlos Nazario. With more than 170 applications from all around the country, the committee had to shortlist 25 artists to determine the three recipients. The winning artists will work alongside a creative team to bring to life the music videos financed by the Heatmakers Grant.
www.mooseknuckles.com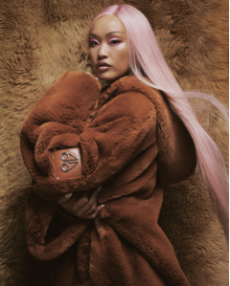 Fashion
Saint Laurent's SS24 Men's Collection
'Each man kills the thing he loves' is the expressive title for Saint Laurent's SS24 men's collection, dreamed up by Creative Director Anthony Vaccarello. In line with Saint Laurent's world tour, the SS24 show revealed the designer's deep appreciation for Berlin – a landscape that speaks to his own past. The impressive Neue Nationalgalerie, designed by architect Ludwig Mies van der Rohe and representative of classical modernism, set a certain novel-inspired mood to begin immersing the guests into the collection's atmosphere. As a continuation of the womenswear line, the word evolution comes to mind when thinking about Vaccarello's future aspirations. A desire to transcend gender codes is also apparent, opening up space to leave behind limitations. Sharp tailoring remains central: shedding special attention to structure and volume. Boxy suit jackets with broad shoulders are purposefully combined with delicate silhouettes, appearing weightless. Mousseline de Soie, as well as the timeless leopard print and polka dots provide elegance while retaining a certain sensual touch – seen in trench coats, tank tops with décolletés, and blouses. Trousers rise high and are narrow at the waist, while also cut at the ankles to accentuate heeled boots. After the show, guests were led to the Kraftwerk Berlin club for some dining and dancing. It was only fitting to finish off with a nod to Berlin's intense party scenery.

www.ysl.com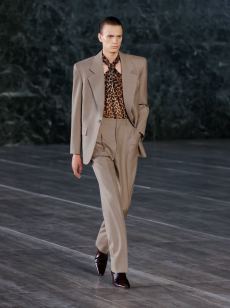 Fashion
Welcome Back to The Savoy
For Gucci, the luggage has always represented more than just a carrier of personal belongings. The luggage is the creative spark that started it all. Back at the turn of the century, the fine leather suitcases accompanying the international jet set were the inspiration for Guccio Gucci, at the time a porter at The Savoy Hotel in London. He had but a simple vision to connect the suitcases he encountered there with the incomparable leather craftsmanship from his home in Florence. Over 100 years later, Gucci luggage is constantly being reimagined from design and structure to color and material treatments. Today the Gucci Valigeria, the House's iconic, extensive travel collection, includes an array of trolleys, hard and soft suitcases, duffle bags, trunks, hat boxes, and beauty cases.

In the Summer of 2023, the Gucci Valigeria campaign grants us the opportunity to time travel back to where it all began. The second chapter of the campaign stars Gucci's Global Brand Ambassador, Jungjae Lee, with emblematic designs in hand, venturing through the historic hotel from the House's origin story. The imagery features backdrops in The Savoy's marquee and their flagship Royal Suite by Gucci, decorated especially with pieces from the Gucci Décor collection, and showcases the heritage-infused Savoy line and the new Gucci Porter selection in collaboration with FPM Milano. The campaign presents the consistent narrative between Gucci's innovative and forward-thinking present and its groundbreaking, unforgettable past.

www.gucci.com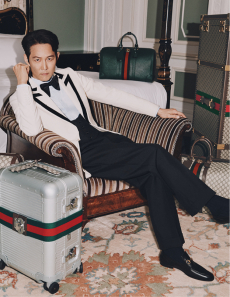 Fashion
Men's Milan Fashion Week - Ralph Lauren
During Milan Fashion Week, Ralph Lauren presented its SS24 Purple Label collection. The event held at The Bar Ralph Lauren, and made in collaboration with Esquire, was an intimate dinner for close friends of the brand, such as Chris Pine and Damson Idris. The collection presented has as its central focus the Purple Label's European craftsmanship mixed with American design. But this time, the clothes are inspired by the Mediterranean summer and the romance that comes with it. Indeed, Purple Label's collections are titled Ralph's Dolce Vita to recall the timeless elegance and glamour of old villas. The clothes honor Maison's iconic high artisanship while at the same time presenting fresh colors and fabrics. The lightweight fabrics such as linen are combined with lush textures to ensure comfort and wearability; the eveningwear is characterized by sleek silhouettes, which, once again, are reminiscent of the brand's enduring items and classic style. The color palette is quite varied, from classic linen shirts to colorful swimwear that presents a tropical pattern. The SS24 collection is a continuation of the Purple Label's classic American style while being inspired by the Mediterranean summer.
www.ralphlauren.com
Fashion
Men's Milan Fashion Week – Brioni
For its Spring 2024 menswear collection during Milan Fashion Week, Brioni transforms a quality embedded in its spirit into a creative perspective. Lightness becomes this season's guiding principle, providing ease and freedom to enrich possibilities of self-expression. Instead of being overpowering, the new garments dissolve into the everyday: a practical tool to fit the wearer's daily needs and occasions. Intrinsic to life, clothing becomes your best companion in exploring new ways to look at the world and live in it accordingly. This season, the embodiment of this newly embraced perspective is what Brioni is about.

At the top floor of a stern-looking, hard-edged building, guests are immersed in Brioni's world of light as the aerial view of the city unfolds in front of their eyes, setting the ambiance for the collection's presentation. Nodding to the history and spirit of Brioni, the collection is suffused with painterly Roman hues. Formalwear remains impeccable in craft, but attains a certain softness with a relaxed fit and construction achieved through fuller volumes and hollowed shoulders. Similar levity is found in the treatment of nubuck leather and suede, while at night, lightness takes on a mantle of muted shine.

The circularity of intents defines a fluidity of new perspectives.

www.brioni.com
Fashion
Tod's SS24 Men's Collection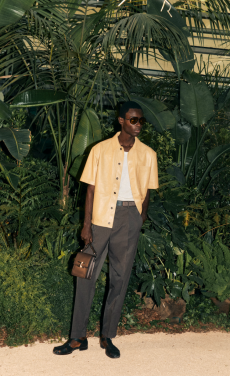 Giardino Italiano, Tod's SS24 men's collection, zeros in on the passion of handmade that affords Italy its unique position in the world. Not surprising then, Italian craftsmanship and excellent quality form the very essence of this season's collection. For its all-round Italian homage, the historic Milanese location linked to the Tod's brand, Villa Necchi, sets the scenery for the presentation with a traditional Italian garden. To go with Tod's Italian lifestyle, casual tailoring is even more relaxed, made from high quality materials in warm tones of brown and ecru. A triangular leather pattern becomes a recognizable symbol on the jackets, which ensure a simultaneously timeless, refined, and relaxed style. Key garments of the Italian wardrobe are indispensable, such as the short and light cabans which never compromise a man's elegance and taste for quality. Further undisputed protagonists are the Bubble Gommino and the iconic Gommino, combining the classic tradition of the driving shoe with a modern twist. Typical of Italian craftsmanship, the leather handmade construction process is clearly visible in the moccasin. Tod's Riviera Slip-on with tassels marks another symbol of the Italian lifestyle, while bags and belts become the foundation of the contemporary man's looks. Italian know-how meets continuous experimentation with Tod's.

www.tods.com
Fashion
Men's Milan Fashion Week– Prada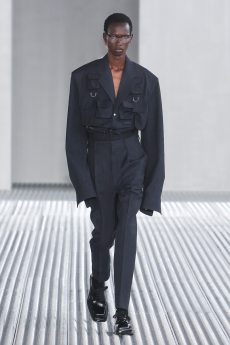 Prada's SS24 menswear show during Milan Fashion Week unveiled Miuccia Prada and Raf Simons' new collection, Fluid Form. At the very core of the collection is an exploration of fluid architecture and the human body: a realization of bodily liberation and awareness through the silhouette and materiality of garments. Simplicity and fluidity permeate throughout. The structure and details of a shirt are borrowed to transform and reconstruct staple menswear pieces; leather bags take on a striking softness; headbands and eyewear are crafted to appear as if capturing fragments of motion. Purpose and function are reimagined as well, transitioning from expansion to elaboration. Utilitarian pockets leave behind their conventional use to become decorative devices, while the floral print is animated through applications of corsages and fringe. Silhouettes are intended to surprise us: while borrowing their lines from masculine suiting, their structure carries an intrinsic flexibility. The showspace, the Deposito of the Fondazione Prada, adds another layer to the concept of fluidity with abstract walls that form an ever-shifting enfilade. Prada's SS24 menswear collection speaks to humanity's underlying qualities of life, to its natural state. A state characterized by its inherent dynamic movement and constant transformation: fluidity.

www.prada.com
Fashion
The Gateway from Paris to India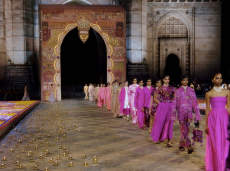 Dior's Fall 2023 collection, dreamed up by Creative Director Maria Grazia Chiuri, was a poetic marriage of Dior's fundamentally Parisian elegance with the dazzling splendors and savior-faire of India. In an unprecedented new documentary, an exclusive take on the behind-the-scenes story of the collection reveals every stage of the collection's genesis. Through the collection and the documentary, Chiuri wished to highlight her inspiring collaboration and relationship with experts and artisans from India, and in general, the integral role that India has in the system of fashion. Over many years she has forged an unwavering friendship with Karishma Swali, the head of the Chanakya Ateliers and the Chanakya School of Craft, which champions the inclusion of women into the competitive and traditionally male domain of fashion creation. The documentary reveals an intimate perspective from Dior's cross-cultural inspirations and history to captivating dialogues with artisanal masters of silk and embroidery, right up to the debut of the collection last March on the runway in Mumbai. The resulting pieces, including shantung silk saris and tunics and the Christian Dior "bar" jacket reimagined with a Nehru collar, were elevated to a level that could only be achieved through the collaboration and deep respect between Indian artisans and the French house. From their practical wearability down to the most intricate details in the design, the collection reflects outstanding expertise and a fascinating imagination, which can now be discovered on YouTube.

www.dior.com
Fashion
Journey into the Unknown of LV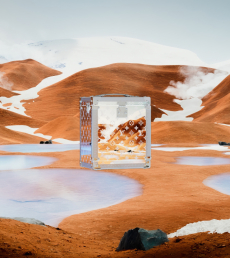 Louis Vuitton is embarking on a new voyage of creation with Web.3, where the physical and digital are seamlessly woven into one material for the Maison to create, dream and craft the exceptional. A material designed to unlock a new form of travel and a renewed sense of wonder for the brand and its clients.

The voyage will begin with a key, dropped several weeks after the Digital Trunk itself, unlocking digital collectibles. An ongoing series of digital keys available to owners of the trunk will follow, each with its own digital collectible that will pair with exclusive access to physical counterparts. The result is a never-before-seen shopping journey inviting the most loyal clients of the Maison to wonder and wander a step deeper into the universe of Louis Vuitton. From dissecting clues of what's to come; to creating new connections with like-minded innovators, expanding their horizons, and sharing collectibles with their own communities, the world of VIA will renew the bounds of shopping as we know them. Louis Vuitton's first digital trunk, the VIA Treasure Trunk, is available from the 8th of June in the United States, Canada, France, the United Kingdom, Germany, Japan, and Australia on Maison's website.

www.louisvuitton.com
Fashion
Your New Milano and Tokio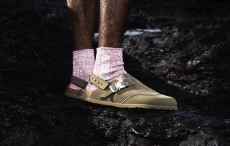 The latest venture of the high fashion brand Dior is a brand-new Beach Capsule made in collaboration with the legendary footwear pioneer Birkenstock. Kim Jones, Artist Director of Dior Men, and Birkenstock together are a force to be reckoned with, this second collaboration revolves around the reinvention of two iconic models from the famous footwear brand.

Embodying function and quality, the German brand creates unique shoes – both in form and practicality – to support walking as nature intended, drawing from a heritage that can be traced back to 1774. The journey of the brand, however, can be traced back to Konrad Birkenstock's orthopedically designed footwear journey in 1897.

The Milano launched in 1965, was designed as an outdoor sandal for active people and nature lovers, whereas the Tokio appeared in 1987 as a protective accessory for walking and professions requiring a lot of standing. Both of the collaboration's suede models are dressed in the season's hues, namely pastel shades of yellow, khaki, and green. The models combine summery elegance and practicality with ease, providing irrefutable comfort and support embellished by rubber details and industrial buckles– meant to reflect the bright rays of the sweltering summer sun. The aesthetic product is a love child between the aesthetic codes of both brands: Birkenstock's anatomically shaped orthopedic cork footbed is lined with smooth leather, while the outsole combines the Dior Oblique pattern with the German brand's signature Bones graphic.

www.dior.com
www.birkenstock.com
Fashion
A Solid Footing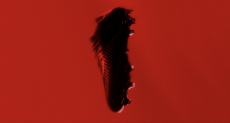 The leading brand in performance-supporting shoes, Adidas has come together with the luxury brand Prada to create their first-ever Joint Football Boot Collection. This iconic beginning of a new story recodes iconic Adidas silos through Prada's Linea Rossa. The power of the Football for Prada collection rests on the individual mastery of both of the brands, the high-performance football technologies unique to Adidas, and the elegant aesthetic vision of Prada's Linea Rossa.

The collection reimagines the three leading Adidas products - the Predator Accuracy, the Copa Pure, and the X Crazyfast. Creating design cohesion across the pack, all footwear has a lining and upper expertly crafted with the finest leather - using the material in fresh ways for Adidas in football - the bold red iconography of Linea Rossa, and a clean mono-color base of black, white and silver. The sleek silhouette of the boots extends the limbs of the athletes, providing immense support for maximizing performance whilst imbuing the athlete in the light of aesthetic mastery and understanding.

All of the reimagined boots share the triangle spikes that increase traction during a game and represent the Prada codes embedded into the brand's DNA. Merging art and sport, high-performance with elegance and luxury, the Football for Prada collection will be available in limited numbers via the Adidas CONFIRMED App from the 22nd – 25th May 2023, as well as prada.com and selected Prada stores from the 25th of May, 2023.

www.adidas.com
www.prada.com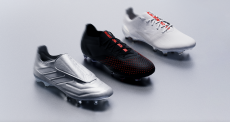 Fashion
Old-fashioned Craftsmanship and Modern Design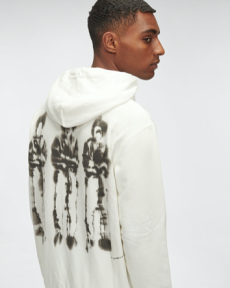 C.P. Company explores new ways to incorporate handmade and old-fashioned craftsmanship techniques in its forward-thinking, cutting-edge design process. A special capsule of T-shirts, sweatshirts, and shirts made in complete antithesis to serial mass production and elevated through the use of such artisanal techniques. Not to mention that they also keep alive the know-how of Italian printers and graphic designers.

This special capsule includes both prints and designs developed with the Italian artists of the Stamperia Artigiana Marchi, as well as handmade pieces made with modern digital screen-printing techniques. The Stamperia has been running since 1633 and specializes in wood block printing. Quantities are limited and each piece is unique as the manual technique causes slight imperfections. The prints are crafted using a method employed since the shop's foundation. The process begins with the realization of the mold, carved by hand from pear wood. The natural pigments are fashioned by the printer, who then spreads them on the mold and beats it with a wooden hammer to transfer the design on the T-shirt, which is then dipped in a special liquid and hung to dry. Also producing one-of-a-kind garments, which are numbered with the date and time of their creation, are the designs developed by screen printing the outline of the iconic British Sailor and dampening the fabric with a cloth while the ink is still wet – producing smudges, an unpredictable expansion of pigments, and stains which are then fixed into the fabric.

This special capsule is now available in stores.

www.cpcompany.com
Fashion
Color Me Bright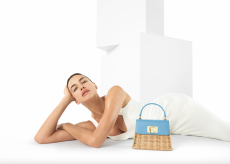 Revolutionizing leather craftsmanship since 1927– the high-fashion Italian brand Furla unveils a new multi-media advertising campaign exhibiting the elusive and highly awaited Pre-Fall 23 collection. "Furla Colors", starring the sophisticated and elegant world-famous supermodel Irina Shayk, encapsulates the entire essence and heart of Furla. Shayk is seen situated between the transcendent shots of Koto Bolofo and Paolo Zambaldi strengthened by the liveliness of the colors compromising the collection and the minimalist and almost-surreal set decorated with blocks and plain surroundings to reflect Furla's timeless dedication to design and architecture.

Color and its full essence are at the forefront of this collection. Iconic and widely-loved signature Furla bags have been reimagined- featuring new hues, new shapes, and new materials. Now, Furla's Opportunity, Metropolis, and Unica are available with changes that bring a different breath of air to the classic and timeless silhouettes of the bags. Most importantly, the collection is deeply imbued with the brand's DNA– the use of monogram canvas and precious leathers, an oscillation between squared profiles, and rounded lines. Furla, women's most loyal companion, and confidante, continues to reinvent and reimagine the role and character of luxury leather goods in the lives of women for every and any occasion.

www.furla.com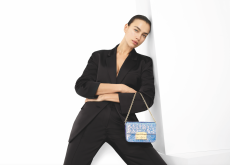 Fashion
Florence Pugh is Valentino's Latest DI.VA.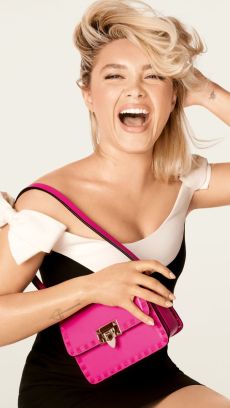 Florence Pugh is "known for her authenticity, vulnerability and fearless self-expression, both on-camera and off", making her the perfect new Valentino DI.VA.

Florence is a talented actress and activist with an eclectic personality. She carries the value of authenticity into all her work, including Valentino's latest advertising campaign directed by Steven Meisel.

She is unafraid of being unapologetically herself, embracing non-conformity and revealing herself in a fierce and carefree fashion. Florence enters the Valentino world and brings their one-of-a-kind creations to life with the full range of emotions. She fully embodies the DI.fferent VA.lues code, having already worn Valentino on the red carpet numerous times.

She expresses the uniquely Florence Pugh "encyclopedia of feelings", with an exciting, and unexpected facial expression for each shot paired with the Rockstud handbag, heels and ballerinas. The campaign celebrates the creation of its latest edition, the Rockstud23, adorned with pyramid-shaped studs in vibrant pink and mirror silver.

www.valentino.com
Fashion
New Dimensions in The Spirit of Big Bang Sang Bleu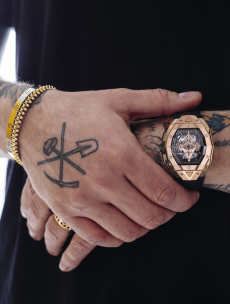 In his third collaboration with Hublot, Maxime Plescia-Buchi inks the art of tattooing into watchmaking. Just as his tattoos have the power to unleash a new identity, he reimagines the strokes and architectural design of The Spirit of Big Bang. He infuses Hublot's DNA, the enhanced three-dimensional and ergonomically enhanced design of an iconic timepiece, with the geometry and symmetry of Sang Bleu. The Salone del Mobile of 2023 in Milan saw the unveiling of The Spirit of Big Bang Sang Bleu.

The Spirit of Big Bang takes on the Big Bang's original features in a 42mm diameter barrel-shaped case. Maxime retains its distinctive quality with three limited editions with a perfectly proportioned design that becomes one with the case. The Sang Bleu signature is instantly recognizable in each model: 200 units in titanium, 200 in All Black ceramic and 100 in King Gold. In addition, two models are set with 180 diamonds weighing approximately 2.4 carats, in titanium and King Gold. Each indelible line is chiseled, beveled, polished and satin finished, while hexagons, diamonds and triangles overlap to create a new mysteriously magnetic interpretation of volume. A sapphire dial disc displays the HUB4700 automatic skeleton chronograph movement. The back of the case has been arched to ensure the watch fits flush across all wrist sizes, for both men and women.

In a quest for perfection, Maxime has revisited each component of Hublot's The Spirit of Big Bang, ultimately creating a tattooed chronograph that embodies the Hublot philosophy 'Be First, Unique and Different.'

www.hublot.com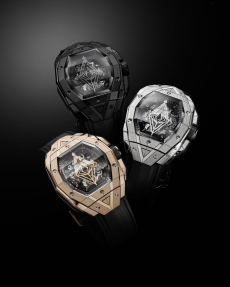 Fashion
An Unforgettable Afternoon with Breitling
To celebrate its newly launched models of the Top Time Classic Cars and Premier B01 collection, Breitling delivered an unforgettable afternoon with the Style & Speed Event 2023 in Berlin. Breitling CEO, Georges Kern, invited guests, friends of the brand, VIPs, media and concessionaires for a full immersion into Breitling's impressive world. The energic afternoon kicked off with an exclusive Breitling diner, followed up by a spectacular live concert by the country rock band The BossHoss.

"We are going after that sense of freedom and fun with the 1960s-inspired Top Time Classic Cars collection, and are thrilled to once again partner with Ford to introduce the new Thunderbird model, along with updated versions of the Ford Mustang, Chevrolet Corvette, and Shelby Cobra chronographs", says Georges Kern. The four watches feature the colors and emblems of their 1950s and 1960s sports car counterparts, and now all come with one of the most highly regarded chronograph movements in the industry, the Breitling Manufacture Caliber 01. The manufacture movement provides an approximately 70-hour power reserve, a five-year warranty, and a water resistance of 100m with the enhanced Top Time case. However, the Breitling Manufacture Caliber 01 now also features in six new Premier models, introduced with a heritage-inspired design. Willy Breitling – who designed the Premier line, a series of elegant chronographs with the best materials, finishes, and calibers – has been an incomparable inspiration within the Swiss watchmaking brand. The new Premier B01 Chronograph 42 assortment lives up to Willy Breitling's uncompromising technical standards.

www.breitling.com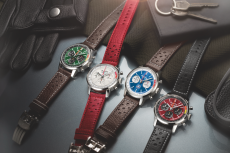 Fashion
Bottega Veneta and Gaetano Pesce's "Vieni a Vedere"
"Vieni a Vedere", meaning Come and See, is an invitation into the design world of the future, commissioned and presented by Bottega Veneta. The brand's Montenapoleone store was transformed by Humanist architect-designer-artist Gaetano Pesce into 'a grotto', an extension of his artwork that constituted the show space for Bottega Veneta's SS23 fashion show. Upon entering, visitors are immersed in a resin and fabric installation, and are set on a unique path of discovery. Within the installation await the exclusive artist editions of two Bottega Veneta handbags – "My Dear Mountains" and "My Dear Prairies".

Pesce is a true multidisciplinarian with numerous public and private works realized globally spanning the fields of architecture, town-planning, interior design, industrial design, and exhibition design. At the core of all his works is an unapologetic commitment to experimentation and refusal of repetition. He designed his first bag with an optimistic, figurative, and personal approach, telling the story of his upbringing near the mountains of Este, Italy, and his life now in the prairies of America.

The expert handcrafting of Bottega Veneta's leather workers and artisans breathed life into Pesce's vision. The brand's signature Intrecciato is redefined according to his vibrant and joyful sketches. To resemble Pesce's watercolor renderings of the mountains, the Nappa leather of each "My Dear Mountains" bag is individually painted with an airbrush technique. A meticulous crochet technique combining seven shades of the green calf and lamb leathers fabricates thick, whirling grass on the "My Dear Prairies" bag.

www.bottegaveneta.com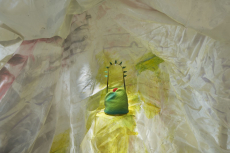 Fashion
Woolrich's Swan Song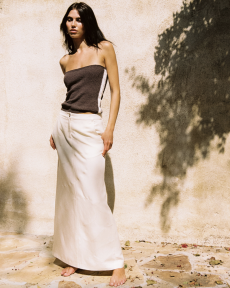 The fourth Season of The Woolrich Woman designed by Daniëlle Cathari, explores and quantifies the essence of an existence intertwined with nature. The Amsterdam-based designer works to create pieces that intentionally deconstruct fashion and explore the borders of design, consciously coloring outside the lines of traditional tailoring practices. Cathari found inspiration in the serenity of water and everything it encapsulates, specifically mimicking the shape of the graceful swan through direct influences of art-nouveau and line dispositions in garments outlining this SS23 collection.

Tube tops, maxi skirts, scarves, and bomber jackets, the culmination of the garments and their artistic stance allude to the curved and grandiose but elegant physicality of the snow-white bird. Combining the black tube top and the buttery white maxi skirt creates a reconstructed silhouette of the swan– highlighting the lines and curves of the female body - Cathari imbues the collection with the feminine strength and beauty of The Woolrich Woman. Colors play on aspects of the swan's dance with water additionally featuring the supporting cast of water lilies and the bubbles that line the edges of the moving tides.

The use of soft and delicate materials, such as linen and bouclé yarns, in the production of the garments, further submerges this season's Woolrich Woman into the comfort and soft femininity of water and nature. Daniëlle Cathari rethinks femininity with a natural lens – playfully implementing the quiet power and the loud soul of the world around us into the seams of traditionally acclaimed silhouettes and designs.

www.woolrich.com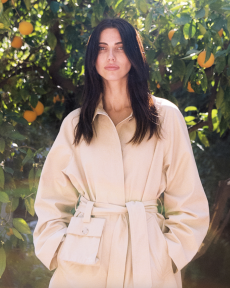 Fashion
Louis Vuitton's Unveilings at Milan Design Week
This Milan Design Week, from 19 to 23 April 2023, Louis Vuitton's latest Objets Nomades, the Cabinet of Curiosities by Marc Newson, and the Marc Fornes pavilion will all be showcased at Palazzo Serbelloni.

The Louis Vuitton Objets Nomades collection grows with the unveiling of 11 new innovative furnishings and objects created by a renowned selection of international designers. Creations from Atelier Oï, Raw Edges, Atelier Biagetti, Marcel Wanders, Zanellato/Bortotto, Studio Louis Vuitton, and Campana are exhibited in a space especially curated in the historic Palazzo Serbelloni. Amongst the new additions are designs inspired by Louis Vuitton's iconic monogram, such as Atelier Biagetti's Flower Tower lamp, with 15 glass bubbles that appear to float when lit and Studio Louis Vuitton's Flower Carafe and Twist Glass, handmade by Venetian artists.

Louis Vuitton will also premiere the fascinating Cabinet of Curiosities by Marc Newson. A hard-sided travel trunk transformed into a presentation case with 8 doors and secret compartments by the Australian industrial designer. The trunk houses 19 leather-covered metal cubes in 3 sizes and 3 colorways. The cubes can be arranged in over 1,000 configurations to display books, art, souvenirs, or anything the heart desires.

Finally, the Maison presents its annual exhibition of nomadic architecture in the palazzo's courtyard. Architect Marc Fornes designed the structure from 1600 uniquely shaped anodized aluminum sheets. The structure resembles a coral-like, living entity, and will host a series of events throughout Milan Design Week.

www.louisvuitton.com
Fashion
BOSS Legend Series: Bruce Lee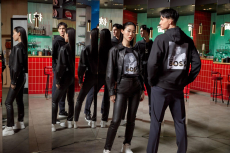 BOSS has announced their latest capsule collection as part of the inspiring BOSS Legends series. The next instalment is a tribute to the legendary martial artist Bruce Lee. The collection celebrates and channels his pioneering and courageous spirit; a call to be your own BOSS.

Bruce Lee is a true, global icon. He created a legacy not only in martial arts, with his unique hybrid philosophy, Jeet Kune Do, but also in pop culture, where he bridged the gap between East and West. In both worlds Lee was one of the most influential figures of the 20th century and is still well-known today. He transcended the idea of having a single goal, instead seamlessly combining his passions to revolutionise martial arts and cinema. From his massive impact on centuries of fixed styles and systems in martial arts, to his trailblazing career as a movie star and director, Bruce Lee's legacy is exemplary of the unbelievable feats that one can achieve through the power of self-belief.

The capsule collection has a laid-back, casual and gender-neutral style, but each piece packs a punch. Black, white, and blue T-shirts and hoodies are printed with snapshots of his signature, unforgettable moves. A baseball cap with 3D embroidered calligraphy rounds off the collection. His popular stage name, "Lee Little Dragon," is spelled out in traditional Chinese characters throughout the collection. This capsule is next in the series, which has previously spotlighted Freddie Mercury, Muhammad Ali and Frida Kahlo.

www.boss.com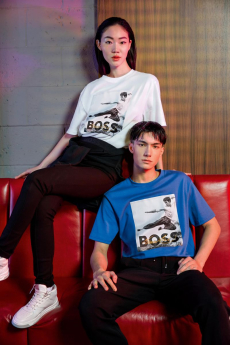 Fashion
The World of Ralph Lauren Arrives in Miami
In April of 2023, Ralph Lauren welcomes consumers around the globe to its newest luxury concept store in Miami's iconic Design District. The store is an immersive shopping destination that integrates the brand's signature vision of timeless luxury with it's goal of implementing digital innovations and interactive experiences.

An assortment of the Men's Purple Label and Women's Collection apparel and accessories, alongside one-of-a-kind handbags, and accessories exclusive to the Design District location will be available in the store. Additionally, interactive digital screens throughout the store unlock access to all the Ralph Lauren products available across North America and personalize the shopping experience with options to book styling appointments and more. This will be the first of Ralph Lauren's locations to accept cryptocurrency as a form of payment, including Bitcoin (BTC), Ethereum (ETH) and Polygon (MATIC), thanks to a partnership with BitPay.

Drawing inspiration from the contemporary yachts and elegant waterfront residencies outside its doors, the store features a sleek, crisp, and modern design. From warm teakwood to blond mahogany and black ebonized detailing, the space embodies the brand's devotion to effortless sophistication. Furniture from the Ralph Lauren Home Collection and carefully curated artworks fill the space, inviting local and touristic shoppers alike.

In late April, the world of Ralph Lauren comes to life to celebrate the stores opening. Guests are invited to a three-day exclusive and fully immersive experience at a water-front private estate in North Miami.

www.ralphlauren.com
Fashion
Dive into the BOSS Metaverse
BOSS took a bold step into this year's Metaverse Fashion Week in late March offering a fully immersive, interactive experience centered around their SS23 collection.

Fans worldwide are welcomed into a virtual BOSS showroom created with artificial intelligence for a gamified digital buying experience. The visual identity of the space is a deep dive into the physical event's liquid theme, contrasting ethereal open air and tranquil pools of water with brutalist architecture. The SS23 BOSS collection, already introduced in the BOSS Miami Fashion Show, awaits discovery, exemplifying BOSS's aim to lead the fashion industry in the use of digital innovation.

The BOSS Metaverse features menswear and womenswear separates that epitomize the brands timeless design codes of the German company and draw in the details and colors introduced on the Miami runway. Users guide an avatar to find five looks linked to product pages on the BOSS online store. Collecting prizes throughout the space rewards them with a digital blue BOSS suit fresh from the Miami runway which can be worn in the muti-game avatar platform Ready Player Me.

BOSS immersive showroom is an exciting leap into the future of fashion made possible by Spatial. As one of the co-hosts of the 2023 Metaverse Fashion Week, it offers a platform for virtual events that bridge the gap between physical and digital fashion realities. Furthermore, the showroom is the result of a collaboration with the Web3 agency Exclusible and Polycount, its studio for Metaverse experiences.

www.hugoboss.com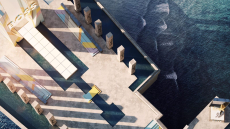 Fashion
W&W CHANEL: Into The Cosmos
For the 2023 edition of Watches & Wonders, CHANEL debuted its new timepieces created in its laboratory in La Chaux-de-Fonds. Inspired by science fiction, space and time travel, we accompany CHANEL on an intergalactic journey, traveling throughout the cosmos. Dreamed up by CHANEL's Watch Creation Studio, the new Interstellar Capsule collection presents seven exclusive watches – including reinterpretations of some of the French Maison's beloved designs.

The J12 watch is continuously reinvented without sacrificing its singularity. The new J12 Interstellar and J12 Cybernetic watch are no exception. The former carries an aventurine effect black glittery lacquered dial, while the latter is a graphic interpretation of the J12 watch that produces contrast, apparent in the black-lacquered dial with a matte white-varnished pixel motif. The designs align with the Maison's stellar odyssey: the Première Lucy Star watch comes with a steel comet-shaped charm set with 6 brilliant-cut diamonds, whereas the J12 Cosmic watch comes polished with rhodium-plated space-inspired stickers. Similarly, a black-lacquered dial with a rhodium-plated printed circuit motif set distinguishes the Boy·friend Cyberdata watch. In line with the collection's theme, an 18K yellow gold, black ceramic and titanium robot-shaped case adorns the Première Robot watch. Lastly, the Code Coco Cybergold watch is fashioned with a golden quilted calfskin strap with black trim and black calfskin lining. As an ode to Gabrielle Chanel's astrological sign, Leo, four new pieces, such as the Lion Astroclock and the lion-sculpted cuffs, launched alongside the new collection. The creations are now available in CHANEL boutiques around the globe.

www.chanel.com
Fashion
Big Dreams, From New York City to the Whole World
Alicia Keys dares us to dream with her new collaborative collection with Moncler. The collaboration fulfills her childhood dreams in a way she never imagined. She takes us back to the New York winters of her youth, where Moncler spotted the streets, a vision of excellence that always seemed out of reach. And now, her collection transports us to the place where her dreams were made, to her vision of New York City, the intersection of hard work and aspiration.

The Alicia Keys x Moncler collection brings the energy and hopeful optimism of New York to the world. Baggy '90s silhouettes shape an effortlessly gender-neutral collection reminiscent of the unforgettable pre-millennial aesthetic. From oversized tracksuits to cropped and shrunken tops, the collection radiates youthful confidence. Ebullient greens, reds, and Alicia's signature purple piece together with silver metallics and crystals in designs that epitomize swagger and street style.

The accompanying campaign imagery tells the story of the collection in two perspectives. The first, shot by Ibrahem Hasan, stars Keys with a cast of New York's up-and-coming talents swinging above a backdrop of the city's skyline – a visual metaphor for striving, reaching, and then surpassing your dreams. The second is a series of candid portraits reflecting the character and personality of Keys, shot by Laura Jane Coulson.

The collection was unveiled during London Fashion Week of 2023 at Moncler's The Art of Genius event, first worn on stage in a live performance by Little Simz and Cleo Sol. It launched online and in Moncler boutiques in late March 2023.

www.moncler.com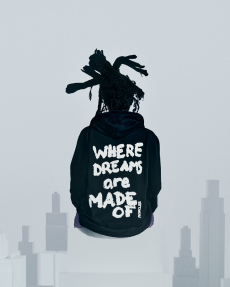 Fashion
Carlos Nazario to Carve A New Direction for Moose Knuckles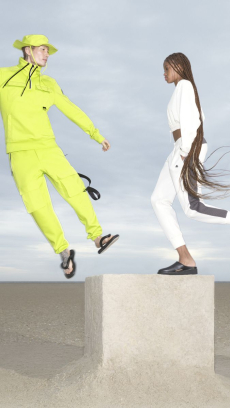 Effective immediately, Carlos Nazario has been announced as the new Global Artistic Director for Moose Knuckles, the Canadian sports- and outerwear brand. Moose Knuckles is devoted to creating luxurious clothing with ethically sourced materials and impeccable tailoring that can keep one warm from the city to the wildest voyages in the tundra.

A native to Queens, New York, Nazario is hailed as a key shaper of the modern fashion industry. He has left his mark, a provocative and creative force, on numerous magazine covers and luxury brands and has broken boundaries in his work with various world-famous talents. He is currently the Global Fashion Director at i-D.

From March 21st, 2023, Nazario joins the Moose Knuckles community, taking over the collection design, image content, brick and mortar presentation, and marketing/communication expressions across all channels. He has served as a stylist and guest creative consultant in their recent campaigns and is excited to reinvigorate the strong foundation of the brand. He has a clear vision, to introduce a new chapter that broadens and widens the scope of Moose Knuckles with innovations in product design and communication. Moose Knuckles and Nazario are ready to carve out new directions for the evolution of the brand, while staying true to its uncompromising craftsmanship, its highest quality creations, and its unequivocally irreverent nature.

www.mooseknucklescanada.com
Fashion
W&W Bulgari: A Night to Remember
On March 27th 2023, during the Watches & Wonders 2023 week, the shores of Lake Geneva set the scene for a thrilling celebration of Bulgari's latest collection, Octo Roma. The event transported over 150 guests, friends, celebrities and journalists into a world of watchmaking excellence: an exciting peek into Bulgari's aspirations to enrich this world. The Italian Maison's CEO, Jean-Christophe Babin, and the Managing Director, Antoine Pin, unveiled the new models at the heart of the location, altered to direct all focus to Bulgari's iconic octagonal design. "First presented in 2012, the Octo symbolically opened a new decade last night, a new chapter in its history," said the CEO. The collection's celebration engendered a sense of marking time with style, partially on account of the presence of actors Alessandro Gassmann and Lucien Laviscount, "both proud to be among the first to wear the Octo Roma watch". The event concluded with a performance – exclusively organized by Béjart Ballet Lausanne's Artistic Director Gil Roman – to convey the versatility and status of the Octo Roma as a classic yet non-classic timepiece. Leaving the spectators in awe, three dancers moved with intensity during the eight-minute choreography, which included the watches themselves and showcased their eight-faceted case. Marking a radical breakthrough in the watch making community, the Octo has the ability to renew and strengthen its aesthetic signature, and includes a wide range of expressions. In a short period of time, this versatile and sophisticated status piece has become an epitome of a profoundly innovative and powerful Italian design.

www.bulgari.com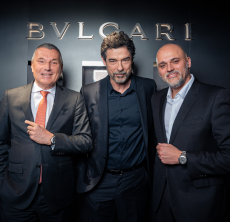 Fashion
Woolrich Takes the Next Step for Environmentally Conscious Outwear with Brewed Protein™ Fiber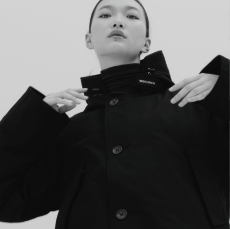 Woolrich is the oldest American outdoor clothing company, committed to creating products for any weather that last a lifetime, since its founding in 1830. In FW23, they take this oath to global environmental conservation to the next level with the latest innovations in material creation and technology. Woolrich has announced the new Woolrich Arctic Parka in collaboration with Japanese sport apparel manufacturer GOLDWIN will be made with Brewed Protein™ fibers.

Brewed Protein™ fiber is a structural protein material with an inspiring potential for alternative fabrics that are free from petroleum and animal products. The material gets its name from the way it is produced, a microbial fermentation that uses plant-derived sugars that is similar to the brewing of alcohol. Spiber Inc., the Japanese biotechnology venture company that jointly-developed Brewed Protein™ fibers with GOLDWIN thus provide a solution to reduce the microplastic pollution and greenhouse gas emissions associated with the fashion industry.

In line with their shared goals of reducing the environmental burden of fashion and developing a more sustainable society, Woolrich and GOLDWIN offer the new Woolrich Arctic Parka. The garment has become an iconic staple winter jacket around the world since it was first created to serve the Alaskan Pipeline workers in 1972. In FW23, it will be available in physical and online stores in the US, EU, and Japan.

www.woolrich.com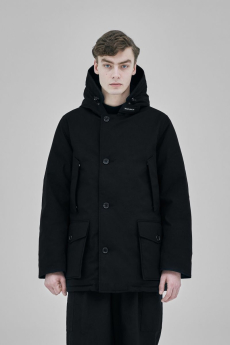 Fashion
Saint Laurent's New Kate Chain Bag
The Kate bag was first introduced by Saint Laurent in 2010 and has since become one of their most iconic accessories. Equally elegant and it is easy-to-wear, the bag is a practical and distinguished addition to any day or evening look. Its timeless rectangular form is finished with a flap structure that closes securely by means of a magnetic snap. One of its most distinctive elements is the jewel chain that allows for a crossbody style, a short shoulder porté, or can be tucked away to transform the bag into a glamorous clutch. Front and center, the bag is embellished with the signature YSL logo designed in 1961 by graphic designer Adolphe Mouron Cassandre's.

Saint Laurent's SS23 Collection welcomes a new edition of the Small Kate Chain Bag.

In its latest interpretation, the bag is given a two tone, two material treatment. A glossy spazzolato leather makes up the outer frame in a luxurious "black veau brilliant". The center of the bag is crafted from a contrasting lambskin in "off white nappa". The design is adorned with the Cassandre logo in a light bronze-toned metal finish that matches its chain strap. The new edition of the Small Kate Chain Bag embodies Saint Laurent's commitment to bringing together quality and practicality with a timeless and sensual aesthetic.

www.saintlaurent.com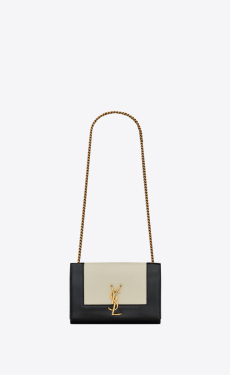 Fashion
Bally SS23 Campaign: Villaseñor's Take on Modern Luxury
After welcoming Rhuigi Villaseñor as its new Creative Director in January 2022, Bally's SS23 campaign is a tribute to his debut collection and future ambitions for the house. Villaseñor builds onto the Swiss brand's 172-year rich heritage of craftsmanship and its longstanding relationship with art, architecture and the environment with his creative vision: an evocative and fresh play that conveys his interpretation of modern luxury. "I wanted to introduce a new visual language to Bally campaigns," he explains, "a mix of bold sophistication and sensuality".

Under Villaseñor's direction, the SS23 campaign honors the power of nature that has always been at the heart of Bally. Photographed by Harley Weir and styled by Emmanuelle Alt, the models – including Vivienne Rohner, Kayako Higuchi, Nyakong Chan, Yeray Allgayer, Hong Seong Jun and Feranmi Ajetomobi – are captured in natural elements overlooking a windswept, rocky coastline. The ingenious use of the landscape produces a captivating outcome. An innate sense of confidence pervades, while a dichotomy arises. Sophisticated silhouettes with rich materials, such as velvet and snake-printed leather, lie in contrast with the rugged terrain. The vision is taken further as the light and shade of the water and saturated blue skies are used to amplify metallic leathers, golden-toned Bally emblem hardware, washed denim and cutaway forms. In continuation of Bally's craftsmanship legacy, Villaseñor introduces a new category: jewelry geared to suit an energetic lifestyle.

The Creative Director elucidates his intentions to remodel Bally, and, under his direction, we impatiently wait to see what is next on his agenda.

www.bally.com
Fashion
Bringing Back the Unica Furla with Biodegradable Leather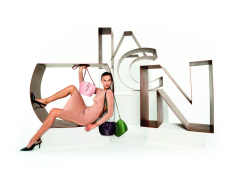 Unica Furla is an icon unique in its expression, unique in its style, and now reinterpreted to be unique in its fabrication. The Unica Furla Earth Limited Edition is the first 'Made in Italy' bag crafted from biodegradable leather. Unveiled in February 2023 in Milan, the circular model for its production was made possible in collaboration with Cyclica. The unveiling campaign typified its contemporary elegance with the storytelling of photographer Koto Bolofo and international top model Irina Shayk.

The one-of-a-kind crossbody pays homage to the essentials. The shape of the bag holds true to Furla's architectonic DNA. Available in a maxi and medium size, its bold structure is softened with soft curves and a stylized arch logo. Drawing inspiration from historical women in cult cinema and TV, it carries the creative, inclusive, and elegant philosophy of the brand.

Furla was able to achieve its first biodegradable bag thanks to Oleum®, Cyclica's own leather brand. By-products of the food industry from traceable European farms are vegetable tanned. Thus, the material is metal-free and environmentally non-toxic. The bag is available in a vibrant array of colors in addition to black and white, all achieved with organic dyes from components such as corn, spirulina, logwood bark and fern. The innovations in leather manufacturing techniques are finished with natural elements such as beeswax and salts. True to its Italian style and craftsmanship, the Unica Furla Earth Limited Edition does not compromise on quality and performance.

www.furla.com
Fashion
PFW - Transforming Perception with Miu Miu FW23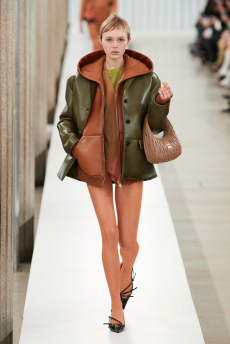 For FW23 Miu Miu collection, Miuccia Prada is "focused on the instinctive process of looking, […] and how an act of observation can, in turn, transform the object of its focus." As models walk down the runway with messy hair, tights over tops and no trousers, it becomes clear that – to transform how we visually read looks – the structure of how we dress, what lies underneath and outer layers are redefined through fabrication, styling and perception. A casual yet elegant line with a youthful attitude is put together as familiar clothing items take on new arrangements and meanings. In the Palais d'Iéna, Mia Goth initiates the show as she walks down the lifted runway wearing Miu Miu's iconic prim cardigan and slingback heels with a matching purse on her wrist. Transparent chiffon reveals commonly concealed elements: bright tights are exposed, lowered waistlines and layered fabrics create complexity, dresses are overlaid and the trending only-panties-look is notably embraced. A muted color palette, emphasis on comfort, and broad-shouldered silhouettes characterize the looks – as seen on a mustard corduroy jacket, hooded sweatshirts and twinsets. Conforming with the collection's spirit is the show's accompanying installation by artist Geumhyung Jeong, whose work examines "the relationship between her own body and clothing". The youthful touch is not only visible throughout the collection but also in the character cast, including Amelia Grey and Emma Corrin among others, and the incorporation of male models for Miu Miu's genderless philosophy introduced by Prada. This amusing collection has something for everyone's next wish list.

www.miumiu.com
Fashion
PFW - RICK OWNENS FW23 - Goth Goddesses
The Egyptian city of Luxor granted Rick Owens a creative stimulus for its FW23 women's collection. This eye-catching and evocative ready-to-wear-line draws on the monumentalism, mystery and exoticism that permeates throughout the breathtaking ancient ruins, pyramids and deities of the city. Taking place at the Palais de Tokyo, the show encapsulates the spirit of goth goddesses and punk pharaohs as fog machines lead the way for models to start walking down the runway. Black stripes cover faces and black lenses cover eyes. Muted tones of lime green, art deco pink and bordeaux catch our attention in contrast to the predominant use of black. The human figure is almost unrecognizable: sleeves are prolonged down to the leg and voluminously inflated garments covered in matte black and pink sequins encircle the body. Ribbed knits made from GRS-certified recycled cashmere and indigo denim from Japan, which had been treated with mineral was and shredded by lasers produce amusing outcomes. Coats appear to be decomposing. Skirts, on one side, show the hip bone, while, on the other side, cloth trails behind them – conveying the impression of a mummy. Armor-like features are apparent in platform boots that rise over the knee and flowy capes. Sculpturesque jackets appear as if something was about to break free from their protruding shoulders. The designs sway from fantasy to reality, protection to vulnerability, to reveal an aesthetic yet realistic approach that recognizes both the beauty and harshness of the world. This is an all-around Rick Owens spectacle.

www.rickowens.com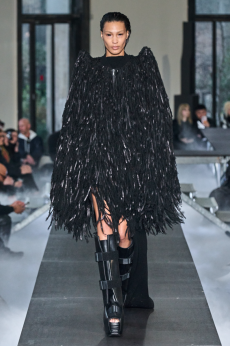 Fashion
PFW - FW23 - Alexander McQueen: Anatomy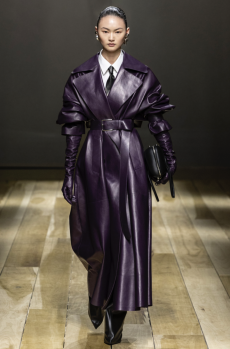 What lies beneath - Alexander McQueen's FW23 collection Anatomy is a divine exploration of the anatomy of the human body, clothing, and flowers. Sarah Burton, Alexander McQueen's Creative Director delicately communicated the brand's dramatic and romantic essence through an extensive study into tailoring and its implications. Women and men's garments shared similar values of smooth lines, structured silhouettes, and a display of intricate sensuality, further emphasized by the displays of the flower of love, the orchid. The garments asserted a confidence associated with an intimate relationship to the proportions, lines, and composition of the human body- seemingly displaying and playing with it. Suits with dramatic shoulders, narrow waists, and trousers that go past the nipples - McQueen displays a desire to subvert classic expectations of the mysterious aesthetic. The collection grows more experimental, knitwear hugs and forms the body akin to parts of the body, the orchid takes a central role, and leather is used to create garments that imbue the idea of a wild second skin. The role of leather in the collection is best observed in the stand-out look of the beautiful dark purple belted trench coat, accessorized with monochromatic leather gloves and a black leather tie. Apart from the energy imbued into the collection through exquisite tailoring, the intentional use of the orchid print and motif reinforces the dark, sultry, and romantic aura of Anatomy. The orchid, much like Anatomy personified, is the embodiment of individuality, beauty, and power. Sarah Burton successfully continues the legacy of Lee Alexander McQueen by breaking traditional conventions of tailoring and experimenting with the vast possibilities.

www.alexandermcqueen.com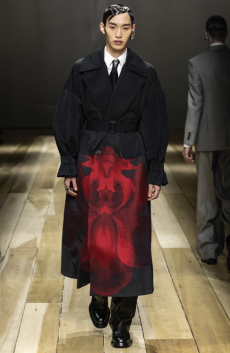 Fashion
PFW - Saint Laurent FW23
A collection highlighting the dichotomy between masculine and feminine, opulence and simplicity, seduction and power- the Saint Laurent Women's Winter 23 collection exhibits a masterful expression of play. The Italian fashion designer and the current Creative Director of the brand infused the familiar aesthetic of the tailleur-jupe with the ethos of the classic Saint Laurent style and his own codes of creative expression. The outcome is a collection that provides women with aesthetic agency.

The collection comprises garments that embed elements found traditionally in masculine tailoring juxtaposed with a traditionally feminine silhouette. The color scheme is heavily focused on neutrals such as brown and black and supplements the play between the masculine and feminine. The subdued color, harsh cuts, and exuberant shoulder pads allow the models to shine. As suggested by the seductive garments underlining the oversized garments of outerwear, the women are given agency. The collection orbits around the desires of the feminine- fostering the temporal modes and roles of women, the garments break conventional boundaries of tailoring and mix practicality with elegance and feminine power.

Playing with the relationship between opulence and simplicity, the venue pays homage to the ballroom of the Intercontinental hotel where the brand showcased its Haute Couture collections for over 25 years. With an eye for detail, Vaccarello makes it clear that the Saint Laurent woman is above the values of tradition.

www.ysl.com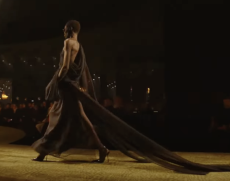 Fashion
MFW - Genetics: the legacy of house Gucci - FW23
Taking on the concept of genetics, Gucci highlights its intention to foreground the house's legacy for its women's FW23 collection. Describing itself as an "ecosystem of designers and artisans whose shared understanding of the house has passed down and evolved from creative to creative for over a century", Gucci evokes a dialogue between past, present and future to honor the contribution of the visionaries that propelled the house and paved its future. In line with this vision, the house of Gucci is the focal point throughout the show: from cast and sound to scene and collection. In the Gucci Hub, elevators move the collection from building to runway – mirroring the creative process that traces its starting point, the archives, all the way to its final destination, the runway. A nostalgic attitude pervades the silhouettes, drawing on Gucci's early 1990s and 2000s erotic form language and the 2010s energetic color palette. Voluminous shoulders and dropped necklines outline oversized wool or leather suits. Evening wear, such as the drop-waist skirt of a double-duchesse bustier dress, takes on the shape of a heart – a Gucci symbol. Colored visor sunglasses, which allude to a classic Gucci flacon, convert vision through Rush-tinted glasses. In honor of an iconic archival piece, the Jackie bag is softened in its composition and adapted in two-tone colors while keeping its original shape. The veneration of the old and a devotion to the new pays tribute to the creative culture and community found at the heart of Gucci's legacy.

www.gucci.com
Fashion
Fendi Women's FW23
For Fendi's womenswear FW23 collection, Kim Jones takes Delfina Delettrez Fendi as an inspirational starting point. Drawing on her instinctively chic and pervasive form of individual expression through her Fendi archive wardrobe, this Creative Director presents a collection marked by a nonchalance illusion and a lens of subtle subversion that explores classicism and elegance, and entertains with binary constructions. An admiration for DIY and a critical attention to deconstruction elevated the designs into luxurious pieces, capable of being worn in all manner of ways. Feminine sophistication is disrupted through the interpolation of gender stereotypes: masculine tailoring and fabrics are deviated from their traditional purpose to now compose feminine forms. A touch of sensual femininity is visible in intimate apparel occasionally peeking through, thigh-high lace-up boots and layered lace. A perfected and more chic punk style is apparent throughout the collection along with influences from Karl Lagerfeld's 1981 sketches. Knitwear is cleanly slashed or carefully wrapped, ribbed knitted pieces are left unbuttoned or worn asymmetrically. Glances into the history and innate features of house Fendi are omnipresent. Jones draws on graphic motifs from the FW 1996 Fendi archives. The brand's multipurpose sensibility is shown with Silvia Venturini Fendi's introduction of the Fendi Origami. By design, this new handbag is two things in one – it transforms between two distinctive silhouettes. Silvia's daughter, Delfina, shows off Fendi's appreciation for duality with her jewelry designs – directly in line with the collection's essence. Fendi's ability to transform complexity into simplicity, purity and sophistication hints at the collection's success.

www.fendi.com
Fashion
Burberry FW23
The British fashion designer Daniel Lee presented his first collection for Burberry in London. Prior to the showcase of the charismatic collection, the brand presented a redesign and introduced the 120-year-old Equestrian Knight Design motif completed with the Latin phrase "Prorsum" - translated as forwards. This redesign was disclosed as Lee's first creative expression under the brand - efficiently establishing his position as Creative Director and stepping away from the previous direction of Lee's predecessor Riccardo Tisci.

The collection reinforces the brand's historical connection with outdoor exploration through garments that hide the models - but accentuates their form and aura through deep elementary colors features in monochromatic sets and experimental silhouettes.

Several elements such as the argyle and Aran patterns, Equestrian Knight Design, and the English Rose were highlighted through the garments. As seen in the 51st look - deep colors that are sewn into the narrative of the colder months such as dark purple, supplemented by its complementary partner yellow, are utilized to create a medium for the respective pattern of the garment to produce a high-fashion camouflage adjacent visuality. The use of purple continues through the silhouette - an extravagantly large lavender ushanka, plum rubber rain boots, and a violet satchel that balances the optics of the silhouette with a cross-body handle.

Burberry once again successfully blends practicality with elegant aesthetics producing an eye-catching collection schematized using color in a space designed by Lee that fosters the protective nature of the brand's garments against the harsh elements of the cold.

www.burberry.com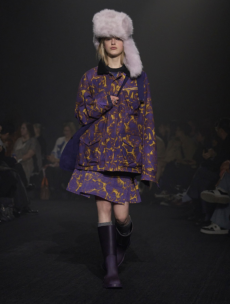 Fashion
NEW YORK - TORY BURCH FW23
About her newest collection, Tory Burch had to say the following, "for the FW23, we wanted to challenge perceptions of beauty and femininity. [...] This collection is about the confidence that comes from being unapologetically yourself. Women aren't interested in rules, and every piece is designed to be endlessly mixed, layered and individualized." The new FW23 collection does indeed break away from the traditional wardrobe and rebuild it with a new undone attitude. It is this attitude which emphasizes the beauty of imperfections which can be found as a fil rouge throughout the collection, whether it is through the raw-cut and weather luxurious materials or broken heels. Overall, the garments are defined by their simplicity of form with a dichotomy of silhouettes and shapes varying between relaxed and cure-hugging. It's an eclectic collection which shows that there are no rules, and no boundaries when it comes to how anything should be worn. No details of the collection might embody this philosophy more than the safety pin brooches and other interior details that are prominently shown throughout instilling the right edge and off-hand attitude to the collection. Each look is then only complete with the right selection of accessories. For this collection, Tory Burch revisited its archives and brought back some of its favorite silhouettes and details, most notably in the Jessica chain hardware, which was reinterpreted and stripped down before becoming a leading motif throughout this season's accessory selection.

www.toryburch.com
Fashion
Positive Changemaker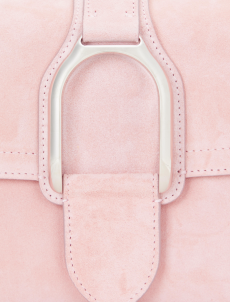 Over the past years, we were able to observe a big shift in consumer behavior, especially when it comes to how consumers are engaging and buying fashion products. It's no longer just about the product, consumers are looking for more depth, they are showing an increased awareness about all the different aspects of the brand. Of course, brands have recognized this trend and have started to take responsibility in regard to their environmental and social impact, becoming positive changemakers. In this regard, Ralph Lauren has always been a pioneer, having been a leader for over two decades in the fight against cancer most notably through their Pink Pony Initiative, a global and year-long philanthropic program which was founded in 2000. A cornerstone program of the company, it is deeply rooted in Ralph Lauren's DNA, raising awareness and generating attention whilst also aiming to reduce disparities in cancer care and prevention. Through this initiative, Ralph Lauren has partnered up with some of the leading research institutions such as the German Cancer Research Center. Within this context, Ralph Lauren is therefore launching a new special edition of its Wellington Bag. With the bag being a modern reflection of Ralph Lauren's equestrian heritage, this special edition is completely crafted in pink suede in reference to the Pink Pony Initiative. With each sale of this new special edition pink suede Wellington Bag Ralph Lauren is donating parts of the proceeds in order to support research, screening, early diagnosis, treatment, education and patient navigation.

www.ralphlauren.com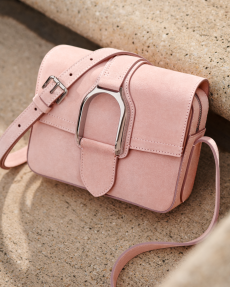 Fashion
HUBLOT Ambassador Novak Djokovic wins Record-Breaking 10th Australian Open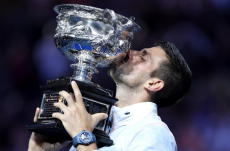 What similarities do Swiss watchmaking company Hublot and living tennis legend Novak Djokovic share? Not only is the Serbian professional a Hublot brand ambassador, but both also share many values such as their relentless pursuit of excellence and performance. Whether it is on the tennis pitch or within Hublot's fine watchmaking ateliers, each step needs to be perfect with each movement having been refined over and over again. During the past weekend, Djokovic confirmed his status as the most successful player in men's tennis history with a record 10th Australian open and a record-equalling 22nd Grand Slam win. To congratulate its ambassador Novak Djokovic, also known as Nole, Ricardo Guadalupe, Hublot CEO, stated, "There's no one like Nole! First, unique, different – and the most successful tennis player in men's tennis history. What a player! On behalf of all your friends at Hublot, I want to congratulate Djokovic on an incredible tournament, on extending your record and on your 22nd Grand Slam. Wow! You are truly a unique athlete and we admire your dedication, generosity and will to win so much. You are an inspiration, and we are proud to call you not just a Hublot ambassador, but a friend. Good luck with the rest of the season!"

www.hublot.com
Fashion
Touch of Crude
The SS23 Prada campaign accompanying the new men's and women's collections by Miuccia Prada and Raf Simons is a testament to the artistic virtuosity of the house. Not only does one see a true appreciation for the art of clothes and tailoring in the design and execution of the new collection; the short film and campaign reveal a true sensibility toward art as a medium for communicating stories and messages.

The film 'Touch of Crude', written and directed by filmmaker Nicolas Winding Refn, is a collaboration between the director and Prada – a short-format feature film is a surrealist take on fluid femininity. Vibrantly colorful, unsettling and creepy, the short feature film plays out like a dream sequence, replete with strange dialogue and nonsequiturs. A floating black box, a peephole to other realities, and three women (Sungirl, Moongirl and Superstar) all outfitted in Prada are all central elements in this short yet dense storyline (or rather, lack thereof).

The seemingly unrelated lives of the three main characters, Sungirl, Moongirl and Superstar (or "The True Fairy of Punk", as she calls herself) respectively, are connected solely by the enigmatic black box, as well as the clothes they wear. The symbolism of the clothes represents the longstanding tradition of the House of Prada: the way clothes are passed down from generation to generation of women. As items travel along the passage of time, they represent a kind of continuity from the past; echoing realities, accompanying stories, figures and settings.

Photography figures into this campaign as well, with actors Vincent Cassel, Jaehyun Jeong, Louis Partridge, Hunter Schafer, Letitia Wright, as well as models Guinevere van Seenus and Rachel Williams starring in the campaign by David Sims. Each photograph tells its own story of Prada characters, a plurality of stories and stars in their own rights. Through this complexity, a Touch of Crude contradicts, in its inherent directness and purity. This is reflected in the style of photography; minimalist, stark, and real, putting the people of Prada in the foreground. HZ

www.prada.com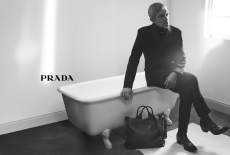 Fashion
Paul Smith at Paris Fashion Week
Debuting in Paris, inside the American Cathedral, Paul Smith's FW23 Collection is a true testament to the designer's past. As ever, designer Paul Smith has stayed unfalteringly loyal to the integrity of his craft, with each new collection a reflection of a high caliber of tailoring and fabrics.

This season, Smith took a new approach to the art of tailoring. A contemporary take, including more modern items such as the puffer jacket, a crew neck vest in place of a waistcoat, or simply oversized everything, gave the collection a distinctly 2023 feel. A looser narrative structure defined Smith's vision for this collection, leaving more space to explore different avenues. One such avenue of inspiration was the modernist movement, from which evolved many of the collection's silhouettes, defined by sharp, geometric lines.

Paul Smith carried some of his signature motifs into this new line. His penchant for bold and saturated color, evident in the vibrant cobalt blue and bright candy pink, plays out against a backdrop of more somber autumnal colors – the whites, beiges, browns and blacks that form the basis of the collection. Smith's vivid graphics ripple across the clothing as well, for example in the Big Floral or the Signature Stripe, a fun and youthful juxtaposition to the tweed, houndstooth and bouclés of the collection. HZ

www.paulsmith.com
Fashion
Celestial Bodies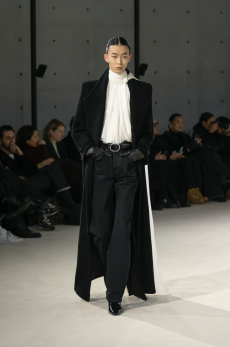 Long, thin, elegant shadows swept anti-clockwise around the circular room in the grand finale to the Saint Laurent Men's FW23 show. Accompanied by a tense musical score emanating from a grand piano, the entire experience created an air of intrigue and mystery, not least owing to the inordinately elegant looks being presented, but also to the room itself. On the eve of Tuesday, the 17th of January 2023, Saint Laurent laid claim to the rotunda room of the Bourse de Commerce – Pinault Collection. Reimagined by the Japanese architect Tadao Ando in a project spanning three years, the architectural elements he introduced to the centuries-old building were envisioned to act as a dialogue between the old and the new. Such was especially the vision behind the rotunda room, whose modern-concrete-cylinder lower half meets together with a magnificent fresco cupola.

Somewhere between the past and the present, Saint Laurent joined this dialogue with a statement of timelessness of its own. The collection, elegant to a fault, represented Saint Laurent's progressive vision of genderless clothing. "I really want them to be almost one person," said Creative Director Anthony Vaccarello. "So women could be the men, and the men could be the women. No difference. I want more and more to put them at the same level. No distinction." In this spirit, the FW23 "menswear" collection seemed to cater much more to entities than genders, through uniformly long and svelte silhouettes. As they cascaded along the runway, the models of Saint Laurent seemed to be floating more so than walking; blending in rather more with the angelic figures on the celestial ceiling above them than the mere mortals watching from below. HZ

www.ysl.com
Fashion
FENDI FOR THE FALL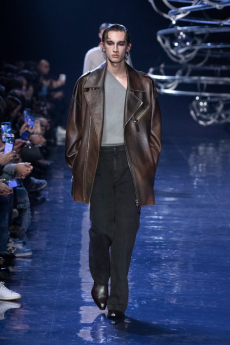 FENDI unveiled its newest, and perhaps coolest, collection to date. The surrounding setting complemented the free-spirited ethos of the collection, the interior taking on the form of a giant roller disco pinball machine. Elements of nostalgia permeated the collection and show, with a distinct nod to archetypal 1970s disco styles. Especially the one-shouldered neckline was a motif that ran throughout, apparently inspired by Silvia Venturini Fendi's enthusiasm for one-shoulder styles while partying at Studio 54 in the 1980s. The detailing served as a touch of thrill in a collection that otherwise emphasized comfort and luxury. Shades of dove grey, oatmeal, burnt umber, mocha, mauve, lavender, deep navy and black create a feeling of understated elegance. Swaddled in cashmere, engineered leathers or jacquard silks, the models of FENDI exuded sophistication above all. Accessories added to this effect, infusing the rest of the more sober-colored collection with a touch of playful glamor. Bags stood out as a particular highlight amongst the accessories collection – the Peekaboo, the Baguette and the new hobo satchel were particular stand-outs. Suave, sexy, cool. The new FENDI Men's FW23 Collection designed by Silvia Venturini Fendi is a testament to the simultaneity of elegance and opulence that emanates from each new FENDI collection. HZ

www.fendi.com
Fashion
PRADA FW23 Menswear Collection
The Deposito of the Fondazione Prada is a sobering space, once the site of a gin distillery within a former industrial complex on the southern edge of Milan. Here, set against a cold stone scenery and towering columns, was where Miuccia Prada and Raf Simons presented their newest collection. The location is usually a site for art exhibitions, however doubled as a runway space in Prada's most recent show for its Men's FW23 collection. The barren background of the scene fit well to the concept of the new line: a crosscut between modernism – reductionist and sparing in its design – and comfort, bringing baggy and exaggerated silhouettes to an otherwise subtle and minimalist design style.
The "LET'S TALK ABOUT CLOTHES" collection is a testament to both designers' personal tastes – Miuccia Prada's penchant for subtle luxury meeting Raf Simons' darker flair. Their past collaborations have similarly been marked by elements of futurism and modernism. The skeleton of this collection was a look to archetypal masculine silhouettes, rethought with notes of reductionism and comfort. Muted tones and colors added to this effect. The collection continuously reflected a sound awareness of contemporary styles and trends, with items such as the bomber jacket and the tote bag revisited and reformed in the codes of the Maison. HZ

www.prada.com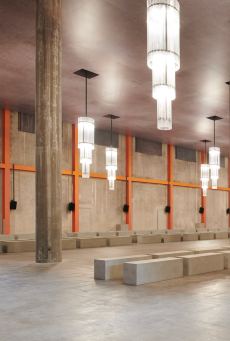 Fashion
Golden Sunshine
"My wine overbrims a whole summer;
My bowl is the sky,
And I drink at my eye,
Till I feel in the brain
A Delphian pain -
Then follow, my Caius! then follow:
On the green of the hill
We will drink our fill
Of golden sunshine,
Till our brains intertwine
With the glory and grace of Apollo!"
                       - John Keats (1818)

Written shortly before his death, Keats wrote this poem as an appeal to Apollo, the Sun God. Drinking up the golden sunshine – the glory of Apollo – with his eyes, he remains, until the pain becomes un-withstandable.

If only Keats had had the adaptable pantoscopic lenses, anti-fog technology and sleek metal accents, all offered within the LV 4MOTION sunglasses! A Maison-favorite, the model equips its wearer to drink in the sunshine while looking chic and sporty. With their universal fit, the shades are expected to be an essential statement accessory on the runway for the Spring/Summer 2023 "Rainbow Playground" men's wear collection. The LV 4MOTION sunglasses will be available in store starting February 2023. HZ

www.louisvuitton.com
Fashion
Memories of Beauty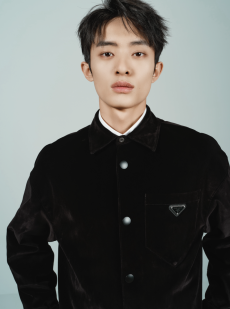 Prada's "Memories of Beauty" campaign for the Lunar New Year 2023 features some of the most familiar faces of Chinese youth pop culture today. Singer, songwriter and rapper Cai Xukun (better known as KUN) graces the campaign, alongside actress Li Chunxia, actor Bai Yufan and model and actress Du Juan. The campaign is shot by Nick Yang, the Shanghai-native emerging photographer with a special eye for intimate images. His work is often characterized as sensitive, perceptive; a poetic take on the fashion industry. His images, playing on deep shadows and tight framing, take on a cinematic quality that echo the sensual and surreal aspects of everyday life.

The campaign looks not only to the stars themselves, but also to the everyday objects that bear witness to specific moments from their respective pasts. These tangible items – a vinyl player, a telephone, a flower pot, a camera – pay tribute to the individual's story. The collection of images thus takes care to balance past, present and future, looking to tokens of the past while preparing for the year ahead. The campaign is extended onto a social media project that invites WeChat users to create their own personal time capsule. The new ready-to-wear collection is available from January 2023 online and in selected Prada stores. HZ

www.prada.com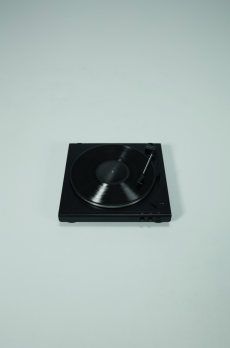 Fashion
radio.cubo 50°
Brionvega is a name that is synonymous with quality engineering and elegant design. Masters of such cult-design objects as the radiocubo or the radiofonografo, the Italian design house has recently shifted its focus toward revisiting and reinventing these timeless bestsellers. In time for Milan Design Week, the brand is unveiling the remake of the legendary radio.cubo TS502 designed by Richard Sapper and Marko Zanuso in the early 1960s.

The two designers, the German Sapper and the Italian Zanuso, were two true pioneers in the world of industrial and technological design. A masterpiece of the 'Made in Italy' label, the radio.cubo stands out as "the radio that changed the radio." In its time, the radio.cubo was a fresh and fun take on a heretofore rather dull piece of technology. Since the 1960s it has become an icon of this design period, being exhibited in major museums such as various branches of the MoMa.

Like a cube sliced through the middle, the radio unfolds into two shells. Light, portable and playful, the radio.cubo was a rebel to the old-fashioned static radios that prioritized function over style. Now, Brionvega revisits the design icon of the 1960s with the radio.cubo 50°, with the latest generation Bluetooth technologies, in high definition, allowing you to stream your playlists directly. It is available in Orange and Yellow Sun, White Snow, Black Night and Red. As part of the rebirth of the radio.cubo, Brionvega also unveils a collaboration with Supreme, emblazoning the famous cube with Supreme's iconic logo and red and white colors. HZ

www.brionvega.it
Fashion
Welcome to The Party
"People were not invited – they went there… Sometimes they came and went without having met Gatsby at all, came for the party with a simplicity of heart that was its own ticket of admission."

With the onset of the holiday season, Valentino introduces its new "The Party Collection 2022". The collection of ready-to-wear garments and Valentino Garavani accessories are an explosion of light and color. Vibrant emeralds, purples and yellows lay the foundation of the collection, with bold gold, rhinestone and sequins acting as splashy details on an all-around splashy selection.

The campaign emulates the kind of house party most can only dream of attending at some point in their life. Glamorous, Gatsby-esque figures draped in beautiful sparkling attire indulge in the joy of the moment and the company of friends. The collection, dedicated entirely to the art of merrymaking, comes at a historical time at which people all over the world have real cause to celebrate: the first holiday season after nearly two years inside.

A series of six short films shows a group of friends gearing up for the big festivities; blowing up balloons, unveiling the cake, singing karaoke and so on. A sense of joy, extravagance and coming together is what defines this collection – an invitation to party like Gatsby, swathed in the latest and greatest of Valentino.

The Party Collection 2022 will be available in Valentino's boutiques, as well as on Valentino.com, until the close of the holiday season. HZ

www.valentino.com
Fashion
ETRO Christmas Capsule Collection
ETRO – Milanese fashion house, family business, and connoisseur of textiles – celebrates the oncoming festival season with Marco De Vincenzo's latest SS23 Collection, "Step into the Holidays." De Vincenzo, a veteran of the Milan fashion scene, was named Creative Director of ETRO, the over 50-year-old brand, a mere few months ago.

Presented in Milan during Fashion Week this last September, the ready-to-wear selection includes bags, shoes, accessories and jewelry, and features two of the brand's most characteristic visual codes: the arnica motif and the colored stripes. ETRO's visual brand identity is strongly associated with the paisley design, popularized in the early 1970s, but representing an ancient decorative symbol born in Mesopotamia.

The campaign images look like the scene from a retro-futuristic dream, shimmering and surrealistic against the night sky. Appealing to the imagination, the campaign reintroduces us to some of ETRO's more iconic designs, as well as introducing us to some newer and more eclectic designs, including the new Love Trotter shopping bag with 3D Pegasus embroidery, a gold metal apple jewel bag and Aladdin's clogs.

The Step into the Holidays preview will be available exclusively from November 28th on NET-A- PORTER, etro.com and in a selection of Etro boutiques worldwide. HZ

www.etro.com
Fashion
Canadian Winter Meets New York Street Style
"Not for you – for everyone" is a philosophy that lies at the heart of TELFAR, the New York based unisex fashion brand. Telfar Clements is the mastermind behind the brand, a queer Liberian-American designer, who became a success story during a pandemic that wreaked havoc on large swathes of the fashion industry. In the world of high fashion, Telfar has made a lasting impression with his emphasis on inclusivity and diversity. The relative accessibility of prices distinguishes the brand from large segments of the fashion industry, which explains in part its far-reaching popularity. Its cult-favorite, the TELFAR shopping bag, became somewhat of an "It bag", coveted for its sleek design and rather egalitarian accessibility. Telfar applies himself to the subversion of traditional fashion expectations, from classism to gender binaries and beyond.

Moose Knuckles, Canadian luxury outerwear brand, has made a name for itself as an industry leader in producing high-quality, resilient garments. A 24-piece ready-to-wear collection marks the second collaboration between the two brands, "where Canadian technical innovation merges with unapologetic New York style designed for all." The collection includes the classic weather-resistant Bomber jacket with a matching pair of pants, both trimmed in either fox fur or lamb shearling. Additional pieces all feature TELFAR quilted monogram and embroidery. Building upon the mania surrounding the TELFAR shopping bag, the collaboration also unveils a new shopping bag range. Moose Knuckles will also be engineering and manufacturing the debut TELFAR outerwear collection dropping this fall. HZ

www.mooseknucklescanada.com
Fashion
Breitling x Deus Ex Machina unveil new Top Time in Limited Edition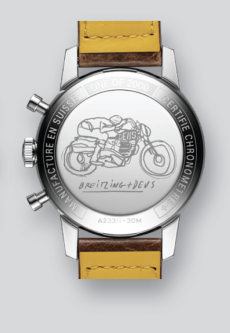 Dating back to 1884, the Swiss brand Breitling SA has long championed the art of watchmaking. A favorite of anyone from Jerry Seinfeld (who wore either a Breitling Navitimer or Chronomat in nearly every episode of Seinfeld) to Sean Connery as James Bond (who is given a Breitling Top Time with a geiger counter in Thunderball to track down two stolen nuclear warheads), the Breitling watch is a timeless favorite.

The Breitling "Top Time" watch was first developed in 1965, designed to offer a more dynamic and contemporary feel to the chronographs that had been at the center of the brand's watchmaking. In a second collaboration with the Australian motorbike and surf apparel brand, the Top Time is reinvented as a watch designed for the modern adventurer. "Deus Ex Machina" derives from Latin, meaning literally "god from the machine," and is used to denote persons or things that bring order out of chaos. Casual, robust, and stylish, like its wearer, the Top Time does just that, bringing order into the open-road adventure it was designed for. The color scheme is new, yet the underlying details are the same. Limited to only 2000 pieces, each Top Time Deus is delivered together with a travel bag produced out of fine linen. The Breitling x Deus collaboration extends on to an entire clothing and accessories line, to be found in six of Breitling's flagship stores worldwide. HZ

www.breitling.com
Fashion
Dior at KaDeWe
Situated in Berlin's famous Ku'Damm district, a historical center for shopping and indulgence, sits the Kaufhaus des Westens, or KaDeWe for short. The KaDeWe is more than just a momentous building that looks like it's been plucked from a Wes Anderson set, but by now also a historical heritage site. Erected in 1907 and witness to two World Wars, the KaDeWe became a symbol of West Germany's Wirtschaftswunder – the economic prosperity in the postwar era. Since then, it has retained its status as a symbol of glamor and affluence, on par with Galerie Lafayette in Paris or Harrod's in London.

For the 2023/4 winter season, the House of Dior is setting up shop in the KaDeWe and lending a peek at its intricate scenographies to the outside world through the window displays of the KaDeWe. Placing the Dior cruise 2023 collection at center stage in both the window displays and the Dior pop-up shop inside, the House invites the visitors of KaDeWe to ponder over Maria Grazia Chiuri's most recent designs and inspirations. Conceptualized as a "voyage of discovery, imagination and reflection, a combination of heritage and inventiveness," the Cruise collection drew inspiration heavily from Spanish and especially Andalusian influences, from the art of the flamenco dance to the equestrian traditions. The looks from the Dior Cruise Collection 2023 will be presented in KaDeWe windows until January 7th, 2023. The pop-up will remain until January 28th, 2023. HZ

www.dior.com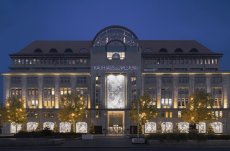 Fashion
Dior's Winter Wonderland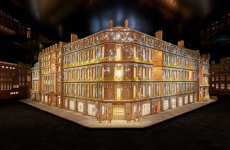 Enter into a dream at the Dior Exhibition at Harrods this winter. A display of childlike wonder awaits visitors. The miniature dollhouses are not only tiny reproductions of iconic Dior sites, such as via 30 Montaigne or the Château de La Colle Noire, but are also made entirely from gingerbread and biscuit. An incredible eye for detail accompanies the entire exhibition, with golden lights and arabesques carved into the surface of the confectionery walls, adding to the fairytale scenography.

Walking through the exhibition takes you on a dreamlike sequence through the history of Dior. Tiny silhouettes of iconic Dior designs peek out within and alongside gingerbread replicas of Dior's most loved houses, and gingerbread men feature as tiny employees hard at work in the Dior ateliers. White lights made to look like falling snowflakes dance on the surface of the little houses. A gingerbread Christian Dior sits at his desk smiling over his designs. Faces on flowers, as if in a scene from the Nutcracker, skate around in the gardens of La Colle Noire.

The Fabulous World of Dior is a fairytale escapade from beginning to end that calls out to the inner child, whilst taking one on a journey through the heritage and inspirations of the House of Dior. HZ

www.thefabulousworldofdior.com
Fashion
Goodbyes at Gucci
Alessandro Michele is bidding "Arrivederci" to the House of Gucci. In announcing Michele's departure, François-Henri Pinault, Chairman and CEO of Kering, stated, "I am grateful to Alessandro for bringing so much of himself in this adventure. His passion, his imagination, his ingenuity and his culture put Gucci center stage, where its place is." Alessandro Michele has certainly left his mark on the House during his tenure. Gucci's vast successes in recent years have often been attributed to Michele's visionary character, whose fresh and unorthodox ideas breathed new life into the company. His experimentation with such things as gender-fluid styles, digital exploration, and environmental conservation brought Gucci back into the focus of younger audiences. Creative collaborations with the likes of Harry Styles, Måneskin, and Jared Leto furthered this cause. His inauguration as Creative Director back in 2015 followed on from predecessor Frida Giannini's reign, one which painted a rather rigid image of Gucci: exclusive, sophisticated, jet-setter lifestyle – a few words often used in association with Giannini's Gucci. Michele's Gucci, by contrast, favored a looser, romantic, more contemporary approach. His inventiveness spelled reinvention for the House. Gucci has yet to announce the new creative lead, as it bids goodbye to the era of Michele. HZ

www.kering.com
Fashion
A Lesson in Victory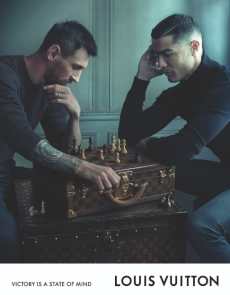 A single photograph, a chessboard, and the two reigning football champions of our generation. A photograph taken by legend Annie Leibovitz has rocked the world in the new Louis Vuitton brand campaign featuring none other than Cristiano Ronaldo and Lionel Messi. The campaign, entitled "Victory is a State of Mind" shows the two football legends consumed in a game of chess improvised out of and played on top of a Louis Vuitton Damier attaché case. It follows on from an earlier campaign, shot also by Annie Leibovitz for Louis Vuitton that similarly featured the football hall of fame greats Pele, Maradona and Zinedine Zidane, poring over a game of foosball in a dusty bar in Madrid, LV baggage sitting idly by in a corner or draped over a chair. "Three exceptional journeys. One historic game." – the name of the former campaign.

Louis Vuitton once again shows an exceptional feat of marketing, capturing the hearts and minds of football fans across the world with its image of these two icons enthralled in a game that is, like football, as old as time. The game in fact mimics an iconic match between Chess Grandmasters Magnus Charlsen and Hikaru Nakamura, played at Norway Chess in 2017. Ahead of the FIFA World Cup 2022, it is certain that the eyes of the world will be locked upon these two stars, as they enter into what it is to become both of their final World Cups. An historic moment for the world of sports and popular culture, for which Louis Vuitton has secured itself a place amongst these two victors. HZ

www.louisvuitton.com 
Fashion
Cool in the Cold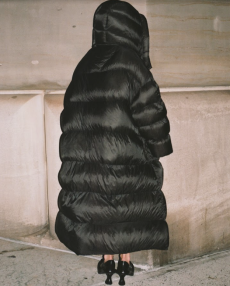 The FW collection 22/23 represents a second collaboration between Canadian luxury outwear brand Moose Knuckles and American fashion label ECKHAUS LATTA. The collection brings Moose Knuckles' specialization in innovating and engineering to create high-quality outerwear together with Eckhaus Latta's cutting-edge design. "Fearless yet functional fashion" is the purpose behind this collaboration, according to Moose Knuckles' Chief Marketing Officer Ayal Twik. As one of the world's leading producers of luxury outerwear, Moose Knuckles has garnered over 100 years of experience in the business of creating "resilient garments for the most unforgiving conditions". The brand specializes in product design and technical expertise, invoking special knowledge of fabrics and fashion engineering in order to produce the highest quality outerwear.

ECKHAUS LATTA is an American fashion label established in 2011; the brainchild of Mike Eckhaus and Zoe Latta, who met during their studies at the Rhode Island School of Design. At the time, the two founders were studying Sculpture and Textile Design respectively. This intersection between art, design, and fashion remains a core tenet of the brand even today, which regularly participates in art installations and exhibitions with projects, videos, and collections – exhibiting for example at the Whitney Museum of American Art in 2018. The designs, at times grunge and edgy, sometimes colorful, are unfailingly inventive. A partnership of "artistic and technical exploration" has resulted in a revisiting of some of Moose Knuckles' core styles, reinterpreted by ECKHAUS LATTA to offer a more contemporary look using oversized, exaggerated proportions. Moose Knuckles' technological mastery is most evident in the puffers – filled with RDS-certified down but designed in hyper-light form for better mobility. The accompanying campaign was shot by Mary Manning and styled by Matt Holmes, under the artistic direction of Eric Wrenn. HZ

www.mooseknucklescanada.com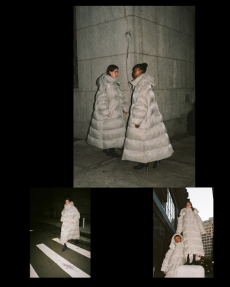 Fashion
Belvedere: New Global Campaign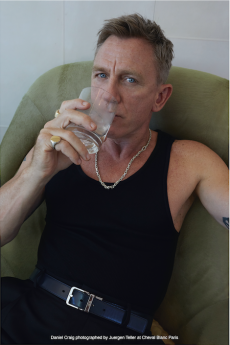 Belvedere, the world's first super premium vodka, is a Polish rye vodka, which receives its name from the Belweder, the Polish presidential palace in Warsaw. Representing 600 years of Polish vodka-making tradition, the production processes adhere to the traditional regulations, using only Polska rye, purified water, and a distillation process by fire, without any additional additives. For its newest campaign brings together a stellar community of creatives inspired by pure emotion captured by a moment of feeling gloriously free. In this spirit, Award-winning filmmaker Taika Waititi, photographer Juergen Teller and choreographer JaQuel Knight create exciting visuals, a perfect mise-en-scene for the campaign's face, Daniel Craig. Through Waititi's unique lens, we get to follow Daniel Craig in picturesque Paris, making his way through the luxurious Cheval Blanc Paris arriving at a spectacular suite, and dancing his way to the Belvedere bar, where he takes an ice-cold sip before we hear the director yelling cut and giving instructions to take it from the top. It's a unique take that brings together the choreographed mise-en-scene as well as snapshots of how life might look like when the cameras are not rolling. This coming together of an inventive and gifted group of provocateurs, each with a taste for the unconventional results in the captivating yet unique campaign, a nod to Belvedere's longstanding beliefs of self-expression, authenticity, and style.

www.belvederevodka.com
Fashion
The Concerto Bag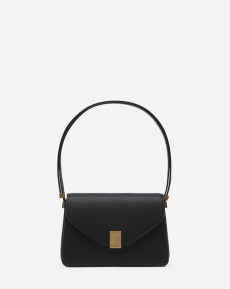 The French fashion brand Lanvin is presenting the Concerto bag, paying tribute to the daughter of its founder Jeanne Lanvin. Marie-Blanche de Polignac was the only child of the renowned fashion designer and later pursued a career in the music industry.
The Concerto bag is defined by a minimalistic aesthetic and provides true luxury à la française. The exceptional accessory can be worn during the day or in the evening as it is designed for women with an equally active and elegant lifestyle. Its versatility consists of the slip-on strap which can be changed in three different ways, that is over the shoulder, across the chess, and carried. Furthermore, it is reflected in the variety of materials incorporated in the leather goods, including metallic leather, pony-effect calfskin, and matt calfskin. The sophisticated details adorning the crisp design are reminiscent of the Concerto dress designed by Jeanne Lanvin in 1934. This can be seen in the bag's precious clasp with a diamond texture which translates the collar decoration from the beautiful dress. Hence, the bag carries on the legacy of the Maison while at the same time adding a new timeless yet modern piece to the Lanvin world. JW

www.lanvin.com
Fashion
A-COLD-WALL* x Eastpak
A-COLD-WALL* and Eastpak teamed up for the first time to create a new collaborative collection. United by their vision of freedom of movement, they are releasing three pieces in iconic Eastpak shapes reimagined with A-COLD-WALL*'s signature look. They thus combine complex materials with an unmistakably crafted feel. Beyond that, bold colors and experimental techniques define the designs. Reflected elements embellish the unique pieces, which thus fit perfectly to the urban adventurer.
Part of the collection is the ACW Padded, distinguished by the shape of the iconic Padded Pak'r. Clashing materials, colors, and prints, it is composed of dual front zippered panels, contrasting trims, and co-branded logos.
Another piece included in the collection is the ACW Orbit, shaped as the classic compact daypack. The look is reminiscent of A-COLD-WALL*'s unique take on British streetwear as it juxtaposes the organic shape with asymmetrical forms, extra-long coated zipper pullers, and functional jacquard webbing. Furthermore, the collection features the ACW One, a mini shoulder bag that incorporates the same contrasting jacquard webbing, elongated zipper pullers, and reflective components as the above-mentioned model. Zippered front stash pockets round off the design, which is available in black and gray.
Designed to get you through the challenges of city life, these items connect style with functionality. JW

www.eastpak.com
www.a-cold-wall.com
Fashion
Alexander McQueen presents SS23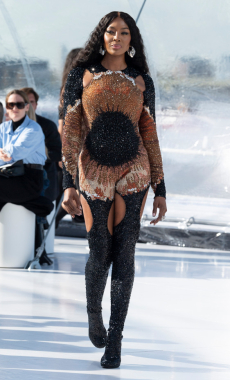 During an exceptional fashion show amid the Old Royal Naval College in Greenwich, Alexander McQueen introduced its Spring Summer collection 2023. Within the collection, Alexander McQueen's creative director Sarah Burton explored the search for humanity as well as human connection. "The eye is a symbol of that humanity, a register of emotion, an expression of uniqueness.", she says. The clothing items in the collection are designated to have an empowering effect on their wearers, which is why the designs focus on cut, drape, and bold silhouettes. In order to create the magnificent pieces, Sarah Burton gathered inspiration from the Dutch Painter Hieronymus Bosch, whose works are attached to the late Gothic as well as the Renaissance. The creative director was deeply fascinated by the dark yet beautiful paintings, from which she took on some elements for the collection.
High-profile models such as Naomi Campbell walked the circular runway, presenting black leather pieces, white mesh bodysuits, trenchcoats, cropped tailored jackets, and many more extraordinary garments in a rich color palette. In front of internationally renowned celebrities, in